Zu Besuch bei BRABUS | Wie entstehen die Autos? | GERCollector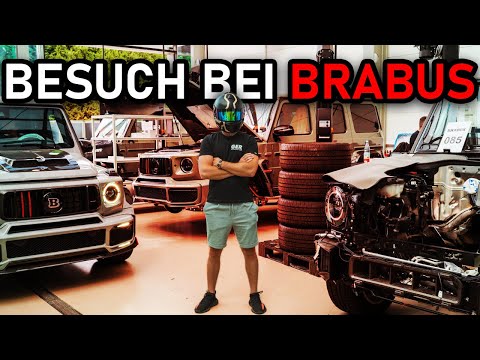 Show Video
Okay, Robert, if you won't find your daily today, I must say, you're picky. There are a lot of G-Class cars. I wonder why they let us pass through, we've got a Mercedes, but it has been modified by Renntech which is Opus by now. Guys, today we are visiting Brabus. We will see how the process of tuning a G-Class or any other cars looks like.We have driven a few cars by Brabus, so it's time to see how it's done. Robert, have you been here before? Yes a few times! Did you pick up a car a few times or what do you mean? Yeah, this and other things. Well, that's the first time for me here. Let's see, Sven should be waiting for us. Take a look at this parking area, it's full of G-Class cars! Robert, you can choose any!
Sven, hi! Welcome! It's good to have you here. Finally, I managed to come to visit you. Well, we've always been here. I'm not a big fan of driving a long distance, you know? I guess, you would like to show us a little bit what's going on here. Yes, I will guide you. I can't show you everything. There are a few departments which you're allowed to see but some things might not be for filming with the camera.
You saw a few cars, we've got Rocket Edition, as well as G800 and 700-series, everything you can imagine. Let's go to our workshop, so you can see more. All those G-Class cars over here, are they all about to be modified? If they haven't been modified yet, yes, we will modify all of them. We don't have any usual cars, here are cars like the Rocket with 900 HP. Here is one of our main workshops. Here are also some S-Class cars and also some cars by Porsche. For those of you who didn't know, we also started to modify cars by Porsche. We have two options to choose from: 720 HP and 820 HP. Our customer chose the latter for his car.
This car will get new turbochargers, exhaust system by Inconel, new tires... Basically this car will get everything new. We drove a car like this one before. We drove a convertible and a coupé, both were amazing! Now, you also modify cars by Porsche! Well, we all work with passion, we are Porsche fans and somebody ask us to modify a Porsche, that's a pleasure for us! We also do S-Class cars and Maybach. As you might see here, we upgraded the interior. We bring the carpet out of the car, we do the upgrade and we put it back in. You see, the orange color is trendy right now. I just wanted to mention, these black and orange combination seems to be trendy. Sometimes it is a different orange or more black. Our customers can choose the look of their car.
That's true, your software where you can pick and choose different options for your car is pretty awesome You really have a great software. We go even one step further, we even meet our customers and we choose the design together with them. Some customers might need some help or they have some specific questions. Here is one of our highlights, the Rolls Royce ghost. We upgraded it and made some details dark which were light before - shadow chrome. We also attached the 22 inches tires. This car has been upgraded, we put leather inside, carbon lip, the flaps, it got a new exhaust system etc. I see that every workbench is full. Do you have space left if you also upgrade Porsche and Rolls Royce cars? Well, we're expanding. We've got a new central warehouse. The demand is getting bigger, so we had to do something. As you might know, standing still is making a step back. So, sometimes a car like this GLE coupé has to be in the hallway and we work from there. Soon, we will expand this workshop as well, we employ a new mechanic. We will continue working but also keep our quality standards.
This is crazy! So, basically, if a car arrives, it is fully assembled. So you take all the parts off and upgrade the car? Exactly, we get a car by Mercedes or AMG and we detach everything down to the chassis. We will exchange carpet for leather here. It was white and we changed the lacquer to stealth grey because our customer wanted it to look like a Rocket Edition. Here you can see another car in graphite lacquer. We can upgrade it from 600 HP to 900 HP. We do it with different steps: You can get the cat with 700 HP and an additional control unit, 800 HP with different chargers plus the control unit or 900 HP with 4.5 l engine with 900 HP. This is the maximum amount of improvements that we offer. This is crazy how much effort this is to tune a car! Now, let's say, you got a GLE from Mercedes or AMG and you need to modify it. How much time does it take from the moment you get the car until you finished your work? Well, you saw all those cars waiting for somebody who starts modifying them. We have a lead time of six months. We try to make it as fast as possible but we don't want that the quality gets worse. This is what I noticed about your work, no matter which car you modify, Porsche, Rolls Royce or other cars, the result has top quality! Times change, you have manual work but also machines. Usually, the machines can do more but we still rely on manual work where it's needed.
We focus on individual customer's requests. You have a lot of choices to make as a customer and we can offer you more. So, we use our machines without having to forgo our manual work. It's important for us to have competent employees. As I said, we're expanding. To answer your question, to modify a car usually takes about 3 months. It is possible to do it even faster. We also have to collaborate, we need somebody to confirm that the leather is ready? Does it have the right color? We have our lead time. Despite the fact that we have to detach most of the car's components, we're pretty fast! Let's say, the customer orders a car from a seller, it takes about a year and then he has to wait another six months until it's done...
Well, we try to include the waiting time onto the whole process. If the customer ordered a car, we know it might take 18 months. So, we know when the car will arrive and we can plan everything. The car has arrived, the parts too, it goes faster! Three months remain. Sometimes we also build exhibition vehicles and we can sell them right away. They are not meant for our customers but sometimes you can buy a car from us. Here is a GLE Coupé Rocket Edition. We modified the tires, red carbon, the signature stripes at the grille. Nice! It is usually black, grey and silver, we added red here. At this moment, the interior is yet to be done. It is perforated... Take a look at those buttons and window regulators... If you add all the components together, you would count more than 100 parts. This car is like a jigsaw puzzle. This has been done very carefully. Take a look at those amazing air vents! The guys did a great job. This is the reason why we came here. We came to see, how are those details like this window regulator being made. If you take a look here, this detail over here can have two different looks! You can customize your car the way you want it! Well, this car has its usual tires, we will attach new tires with 23-24 inches. Sure, with those rims, you need a different set of wheels.
Here, the Rocket Edition has tires with 24 inches. 24 inches!? Crazy! This one right here is a matt black right-hand-drive V-Class car. Well, we modify E-Class, S-Class, Coupé, GLS, AMG and Maybach. Let's take a look at the G-Class right here, we detached pretty much everything here. This one will get a single seat bench. We even detached the door. There will be a dashboard designed for the single seat bench. We will attach a steel plate and will be no back seats anymore.
There will be single seats like in a limousine, a dashboard and a control unit. Robert, this car is ready to drive, isn't it? Let's put a chair inside and let's call it "Lightweight G-Class". Just attach a steering wheel and we're ready to go! Incredible how you can simply detach everything from a car! You can see all those cables laying around. Incredible! We go pretty far with the enhancements. We will also put a different engine inside. Right, there's still the old engine. You're going to detach it. This takes a lot of effort to detach an engine. Here is the plan for this car. This car will be sent to Dubai once it's finished.
I see, Robert, is this one for you? Yeah, that's my car. You don't want to drive the car here? You want to drive it in Dubai because of the desert? Exactly! Well, let's continue our tour. Sure, where should we go? To the right? Let's go over here. The GLS over here. This will be all black later it but now there is leather which is white like snow. You shouldn't touch it. Incredible, it's white outside and inside!
The only grey things are the carpet, the dashboard and the top due to safety reasons because otherwise the reflection would be too strong. That's right! I never saw this in my life. Everything in white! Every customer likes something different. Now, this is going to be interesting! Here, everything is about manual work and support by our machines. With those we can create special patterns. We combine stitching and embroidery and we've also got a machine to partially perforate to give it another look.
You can mix colors and have your name there or emblems or simply the Brabus lettering. These materials are suited for the ships I just wanted to mention it, it's a different material. This is leather, and this is synthetic material, for the sun and saltwater. You know, leather and saltwater don't like each other. We use this for the Shadow 900. This material is water-repellent and dries quickly. Here is the place where it will be created. You see some leather hides here, they all have been examined. It might me interesting what you can do with leather. That's Mecedes Nappa leather. The customer can choose between different leather qualities. I think, you can feel the difference. It's very soft. This leather is thicker and Nappa is flat. This is natural material, so you have to look if there are any damages, so it won't be on the seat later. So, we use stencils like this orange one here. So, our colleague make those individual components. So, the components are tailored for the customers and the machines help us to create patterns on those. This one is orange, we also have some in blue. We have different requests This one right here will become a black mat for the trunk. Incredible, all those combinations you can choose from. You can also choose to have different colors. This right here has black seams. If you take a look at this one, you see, the seams are red.
Those materials lay here and they will be sent out to our colleagues who make foot mats, seat covers etc. Here they started to make a black foot mat. Basically, you can have endless combinations. That's right, you can have this stripe in red or two colors for another element, that would be no problem! Working with machines is also really important for us. Hi! The machine customizes the components. Here, this one has a rhombic pattern. The machine does this step by step. It works with a special method. It starts over here and continues right there, so the material won't be damaged. You could use a different seam or whatever.
If you want it to be extreme, you can make switches, buttons, blends, speaker vents etc. in different colors! If you want to have some synthetic material in blue or any other color, we have a method for that. You don't your whole speaker to be blue after all. It has to look like the leather, that's why we have those things here. Take a look, we have a lot of orange here. You can come right here. My colleagues were productive. There is love of detail. Here is the center of a dashboard. Here is a switch for a GLS Maybach or the GLS 63. They are all red and you have to make them piece by piece. For example, you have to modify this piece right here and you need it to still be able to let the light shine through. I really like the color! You can choose whatever color you like, blue, yellow, green, silver is the standard. We also make a special shadowy color... I recognize this color! It's from the Rocket Edition! Exactly! We give the customer the choice. Here you can see a standard and yet untouched component. Here, you can see the difference, before and after. It is important to do it properly since the car gets an upgraded look. Take a look, a customer wanted to have something decent.
Yes, I see. This will be a super black customization, everything will be black, even the speakers and switches. Take a look, a colleague is working on a door trim. It might sound unexpected but a door trim has a lot of technology built in, as much as a half power plant. It has speakers, cable, it recognizes when the door is open, the window regulator, seat heater regulator, we build all the components one after another, that's really a lot of work! Maybe, there is a customer who wants it to be green.
This looks amazing! We saw this in a Rocket Edition before, a customer wanted to have components exactly like this. You want that all the illuminated components are still being seen by people if you drive at night. That's why we use this special method. Here, take a look at this, it has the shadow look. We use such little parts like this for that. Here, this is a switch for adjusting the seat and memory. We make the components from those little parts. People work on the products here. The leather for the GLS is being made here.
The stencils are being made and the customer gets it the way he requested. Here you can see some seats that are finished, so you can see the creative requests of our customers. Here is an alcantara seat with green seams and green material at the bottom. This actually looks pretty good and it will fit the car well. I see the difference between the orange and the black seats. This has a black and red combination. Here, this part is alcantara and this is leather. This black and red one would be my favorite. Here, we have some seats with rhombic designs made with partial perforation, black elements and shadow, black contrast. This seat right here is also different from the other. So, you can design every car individually. Indeed! You will see later, orange and orange might not be the same color at all! There are no limits in customization.
Here, a colleague is working on a headrest. Unfortunately, you can see it only from behind, maybe he will turn it around. The challenge here is to work very precisely. One millimeter can make the difference whether it looks good or you can't see at all. That's right. Here, the emblem is being made. Somebody is preparing the cover of the dashboard. It's a complicated procedure, here the combination with a black seam, perforation. When it's finished, we will put it over the seat. This is the middle peace, that's for the sitting surface. Step by step a seat cover will be made. This is a different orange color! We have some customers who say "I want this exact same orange!", so we create this exact one for them.
Here is something for another customer who wanted to have stuff in blue. Parts of a dashboard cover are being made. You must know what you have to do because all kinds of leather must be treated differently. There's soft leather and there is hard leather. You have to be careful, if you are not precise enough, if you have a small gap of 1 mm but the leather is 1.5 mm thick, it won't work. The seams must be straight, it must be done carefully, you have to know exactly what you do! This is crazy! Robert, take a look at this hard work! There are stencil, you know exactly where those things come in handy, cover, GLE, dashboard. This customer wants have them in black instead of grey. Sometimes, it's the other way around or they want to have everything in black or orange. In the end, a door trim or a dashboard will be created with these colors. Crazy! My colleague tries to make the whole car's floor to be made of leather.
Hello! Incredible! This was a carpet floor once and we try to fulfill a customer's wish to have many different patterns like a flying kite. This will be made of leather. It will me examined and it will be marked with an "e". You have to stitch it before you pull it across the component it was made for. Every material is different and you don't want to cut anything exactly on the seam. This doesn't look good. If you make a pattern, it really depends on the leather since there are many kinds of leathers and they're different. I see.
Incredible! This is a finished component and this is an airbag cover. You have to it like this, the floor will be there and the dashboard here. You have to think about the movement of the feet. This is crazy how complicated it is! Here is a finished component, this is the back area of the front seat. You sit like this, your feet are here. You can put a floor cover here and this can be in any cover you want!
Robert, we have to look if black seam, it would fit well for the GL63. Let's see if we can get in black with yellow seams. Keep your eyes closed. Here are steering wheels for the customers. Is this green!? I hasn't to be all orange. The 12 o'clock marker is funny.
Here you can see that every customer has his own wish. It's about the customer, we want to have happy customers and we try to make their wish come true. The next one is orange. Here you can see the many shades of orange. Here is the 12 o'clock marker, it's orange an it has black seams. This is a dashboard of a G-Class. There is a speedometer and display which shows the temperature. Here you might see how much effort it is to make a cover. You have to know exactly how much of the material you need, it depends on the spot. The seam is also important. At the end, there will be something like this. And this is made of different materials I've made this a few times, this should be no problem! You have to be talented in order to do that. You have to be a professional. As you might know, not every leather has the same quality. As yo can see, this is a rest piece, we wouldn't work with this.
You can see that our Brabus leather still has some natural elements, it's not synthetic only. It's not too cold if you sit on it in winter. In summer, you don't sweat too much on it. This machine right here makes gaps into the leather, we make the leather thinner with it. As you can see, it has a thickness of 2.03 now, the machine has a band knife which sharpens the leather from both sides. Let's slide it right through. Unfortunately, you can't see much of the process. Take a look and compare, I chose it on purpose so that you can see the difference. Robert, let's show it when light shines through. Well, you can look through. If it were a little thicker, you could cover some components with it. We don't have enough left. I guess someone must've stolen it. You see, this is the bottom piece, let's put it at the top, so, the band knife doesn't press it, it cuts the leather horizontally. You have the leather, the structure, we do full-surface bonding, this guarantees stability. Thank you for your explanations. You're welcome!
Okay, let's continue. Honestly, I didn't tell much because I'm speechless. I've been driving Brabus cars and it's fascinating to see the interior. I'm blown away by the work of your colleagues! This is a great quality. Quality is a must. Sure, it is! I've never imagined this to be so exciting! This is really hard work you do in there and you don't only use machines for that. I love the variety in your results! Speaking of variety, here are even more components that are finished. Here are even some finished cars like this Rocket Edition here. You've driven this one, it's black and red, but black and red can mean something else. One customer wanted a completely different interior. He asked us to do everything in red. Don't be afraid, the seats are covered as a protection. Let me put this away. Wow, take a look at this, here is alcantara, the seams and the leather, carbon, the top is made of alcantara...
Well, this was a lot of work. Take a look at this aerodisk with 24 inches. The customer will also get a new foot mat. The car is not completely done yet, there will be some minor changes until the car is perfectly done and ready. Well, there is definitely a lot of red in here! Let's continue, there will be other cars in other colors. Take a look at all of these different G-Class cars made in orange! The color is very trendy, right? You're right! Do you have any idea why? Well, we showed these colors in the past, I guess that the people like it. It also looks very good! It also looks like luxury! It looks great if the car is black from the outside! Now, here, some parts we saw before will be used for some of the cars here. Take a look here, there is a dark grey graphite color. The other component will get another color, like this green caliper right here. This car is going to look good.
Right, we saw a few seats before that are about to be built in. Some of them already are. That's right, some components are already built in. Take a look, a dashboard has to be done, otherwise it's quite finished. This looks amazing! Ah, here are the blue ones we saw before! Later all the components will be pieced together. You can film inside if you want to. Here, Robert, take a look and tell me if you like your new car. I like that! Black on the outside, green interior... If you finished work with this and with the green brake calipers and all the little details, this will be an awesome car! This car is going to be sent to a customer in the USA.
Is there any region where you sell the most of your cars? No, not anymore. To be honest, three regions were buying most of our cars in the past. This was in the Middle East. Meanwhile, we have many customers in Europe. There was a time, we didn't have that many. Meanwhile we also have customers from the Czech Republic and Poland. What about Germany? We have many customers in Germany, we are impressed. There was a time when they would never buy an E36 but an E-Class car instead and they would ask us if we can remove the lettering. That's what I wanted to say, removing all the lettering... This was in the past. During the 90s and the 2000s people drove their black S-Class cars with 7.3 l engine and 600 HP. They wanted the lettering to be removed because people tended to envy those who had a better car. They wanted to show it and now, the customers from Germany and from foreign languages are very similar. I believe this is a good thing and very important. Here, you can see how a G-Class without an engine looks like. The engine is about to be modified and later we will put it back into the car. You can look straight through, this is crazy!
Here, we talked about this before, the combination of grey and orange. Those colors are trendy. The signature stripes are in orange, we will add carbon later on. Guess what? The next car has the orange color as well! We also get new toolboxes. My colleague works on the vehicle identification number. The engine has also been removed. The wind blew it away. Inside, you can see alcantara, not so much leather. If you look inside, you see the difference. Here is the next car which is about to get everything detached. We already detached a few things. Let's go around here and take a look. Robert, follow him. Everything has been detached here, take a look! Robert, take a look, this might be a great chair for you. This is insane, everything has been detached here.
The carpet floor has been removed as well. This is crazy! This might be a silly question but all those seats will get a new leather and they will be brought back into the car, right? The exhaust pipes are completely new, right? What happens with the old one? Well, most of it has to be brought back due to the customs regulations. Everything what we remove and could sell will not come back if that's not on the list. Those parts that are on the list, we out everything in one box and we send it back together with the car. For example tires can be used for the winter. All the stuff made of leather can be brought to kindergardens and schools. Things made of metal like the crankshaft will be recycled. So, basically, you don't throw things away. We sort things by their material. We also separate foil and residual waste. This is crazy if I think about the fact that the cars arrive here, they're complete, they're ready to drive and what you do is basically removing everything and start from the beginning. That's true. Well, we have to do it if we want to create a car which was customized for you only. I can't change the color of the car without removing everything. Sometimes, the customer isn't happy with just a black leather, he wants more.
Here you can see components of an S-Class, which are yet to be finished. Here, the engine of this car was removed as well that's a Rocket with 900 HP. Let's see, this goes to... Singapore! We don't have many customers from there, you see, we're international! A special thing about this car is that it is a right-hand-drive vehicle. This has alcantara dashboard and ceiling. Keep in mind, this is a different orange once again. Everything else is black. Let's take a look at the next car. This one is a left-hand-drive vehicle. This one is orange as well but the customer wanted to have alcantara as well as leather for his car.
Nice! Especially, when you have the contrast with the black seams. Look, this one is made in another color. That's right. This one is continuously as well as partially perforated. Everything that you see here is made of synthetic material. I didn't see a car here which has the same interior, every car is different Come, take a look, the whole trunk is made of leather! Take a look at the handle. There is even a refrigerator. There are many details, leather, carbon. If you take a look here, the colleagues are not finished with this one yet but there are elements which are shadowy and dark. This is impressive! There are still a few things that have to be done. The door trim is not finished yet. This car is going to have 800 HP. This car is monstrous!
What we also do is, well if we work with this chrome like here, we use shadow chrome because some customers thin, this is too much. We also use carbon for the chassis which is very precisely built. Now, let's talk about the last thing in this building. This is where our inspection takes place. Every car for the customers or cars for exhibitions will be inspected here. This might take three days. Every component will be inspected as well although this also happens in the production. What's the most time-consuming inspection you might do? That's when a car was completely lacquered. If you made a mistake and didn't work properly, you will hear it. The tires are also important!
Ah, this is the Super Black, we drove this one! You drove this one, it will get new tires and then it will be shown at an event. Here you can see, how many different things we can do with leather. This one is completely black but it has different pattern with perforation and seams. It has dark lettering, all switches are darkened, the floor is made of leather, carbon etc. Sometimes you can tell the difference not by a color but by detail. I really like this backed out detail. There is the difference to the Rocket Edition, it is for the people who want to be seen. This car looks a little more down to earth. This is exactly what I wanted to say, at the first sight you might think that's just black. Soon, you will see all those beautiful details.
You could also use any other material. You have so many possibilities, you can darken and enhance the lettering, you have a spare tire etc. I would say, let's get into the car and drive to the workshop number 3. Sounds good! Do you want to drive with my car or... no, let's better drive with your car, I'm excited to see what you have. I think, I have something interesting for you. Robert, I guess we could take a few engines with us today. Let's put it into the trunk. Will you help me? Well, one man, one engine! You have to carry it on your own. We've been to Affalterbach and we saw how it's done. We do manual work here, the engine will be sent here and our colleagues detach everything and upgrade it. Let's see, the colleague is not here today, they're not finished yet, there is still something to be done.
The sealing material is going to be removed. There is another engine, it was upgraded from 4 l to 4.5 l. There is still things to do, the colleague log what has been done. Every single piece will be inspected and worked with carefully. At the end, the engine will have 900 HP. How long does it take? It takes about 14 days for everything. We remove the sealing material and we clean everything before we put everything back together. It will also get special chargers. You use the 4.5 l engines only for cars that are going to have 900 HP, correct? Correct, otherwise we use different turbochargers with a bigger diameter.
I have to say, I have a G63 with about 840 HP and we would easily upgrade it to 900 HP. It's fascinating that you do everything that must be done, so that the car won't get damaged with those 900 HP! Of course, if you want a better performance, you have to look, does the car have a small combustion chamber, does it have a big one, will the performance be split into 8 cylinders or not. If you always just add a new chargers, it might get boring. We also have a warranty of 3 years, or 100,000 kilometers in other words so the engine should be able to perform for that amount of time. Let me show you a prototype. It's funny, usually, an engine is not made of synthetic material, but here are some things we printed and shaped.
We did it to look, if it is possible to make our ideas reality, so we tested a few things before we start for real. We made 3D scans and everything, but you never know. We made a new nozzle for the oil cooling. Usually you would work with the nozzles you have and modify them. We made a new nozzle for this engine. You can see the different shapes of pistons. It depends on the engine, combustion engine or naturally aspirated engine. This piece here is thin. But you can also find pistons that are thick like this one. This one is an older one. This is also something we created. This is a V12, 900 HP, very big. It also has a heat protection cover. You see a huge difference! Sometimes, the chargers won't fit, so we have to shape new engine holders. Well, the pistons are being made for us but we still have to design a lot of different things in order to prevent malfunctions. We try our best to give the customer performance and suitability for daily use. We don't simply make a car with 1000 HP for the sake of it. We check the revolutions per minute, we look if we can test the emissions. This is what I wanted to tell. You could get your 900 HP in a 4 l engine but it also mustn't stop working. The performance should be great as well. But honestly, making a 4.5 l engine out of a 4 l engine is a huge task!
This a big step, you're right! You have to put much more effort in comparison to the other performance enhancement techniques. You can do a lot but you have to ask yourself the question: What will come out of the exhaustion pipe and how long can the engine do these things? If you create a whole new engine, you can get a piston which is great, other things, so you can generate durability, the engine will survive this! You can drive either in Dubai where it's hot or in other regions where it's very cold. How long has it been that you offer the 4.5 l engine for your customers? This should be 2 and a half or three years. So, you build the 4.5 l engines since the first Rocket Edition? That's right, it was in the GT. We built in a different car before. So, we knew how we would the technology in the G1 and the G-Class cars later. We did a test drive but we decided to make the Rocket Edition first. So, later, we were working with the G-Class. Now we use it in the GLE Coupé and we offer the engine in our normal cars like the G900 Super Black you already drove or the XLP. The engine is built in a few of our cars. This is impressive! Let's see, what else is there... Robert, you know, if you find something, I'm going to distract Sven, we've got a bag, this should be no problem!
Sometimes, we need a 7.3 l naturally aspirated engine. We have to prepare some things like the cylinder heads here. There is yet another engine. We have the possibility to make something out of very old engines like the 600 SL right here. You might find that engine in one of our modern cars. This is a really great engine. It helped Brabus a lot since it was built in our earlier cars as well. I like the fact that we have customers and employees who love both the old cars and modern cars. Imagine, there are only electric cars. One day, these things wouldn't exist anymore. You're right, we would need to think of something else for my colleagues. Thankfully, they're able to adapt. Now, that you mention the other employees, this would be a big change. Sure, you will still have the older cars. You would detach an engine like here. It's tough to think about it. One thing I want to talk about is, you don't know if that will ever happen. People keep discussing this topic. Everybody has his own opinion. In some things I agree. You also upgrade cars by Tesla, right?
You also have Porsche Taycan, Mercedes EQS, EQC... That's right, we try to upgrade other cars as well. We also upgraded a electric car with 4 electric engines because we want to see how close we can get to the new technology. We want understand it and we want to learn how to use it. We are already working on hybrid cars and we boost the combustion engine and the electric motors. We can achieve this with extra control units. Soon, the AMG Performance Plus models will come. We have to learn how to use those as well since you have different electronics there You have the combination of electric engine and the combustion engine . This is more complicated. Do you think that this technology has any future or do you look what the future will be? Of course, there is potential in this technology. We made a GT with 843 HP. This is really interesting but we have to learn to work with it? How does the two-gear transmission work? We want a perfect result. So, we will come closer to it step by step. The future is unknown. I'm excited to see whether we will still have the 12- or 8-cylinder engines. This is an interesting example, the GLE has a semi-electric engine inside the converter.
That's true! In comparison to the GT, we needed a different crankshaft. In the end, we need to tell whether we can continue with this technology or not. You said, we could get to the 900 HP without a new engine. So we measure our emissions, do another tests and if we come to a conclusion that something doesn't work, we build new prototypes, do even more tests until we can offer a great product! We can't deliver an upgraded car right when the standard version is released. We need some time to develop it. There is also a difference between driving 800 HP and 900 HP! I drive an E-Class with 840 HP. I drove it for 60,000 km already. I never had any problems with the chargers and with the engine. Sure, 900 HP is extra 60 HP and you expect the engine to deal with it. There is a big advantage having a 4.5 l engine for that.
It's also a hard job to build one! That's true, this is what I mean. It's just extra 60 HP but it takes 14 days until everything is done! It needs 1 week to clean and you have to detach and attach it, this could take 2 days. The colleagues inspect everything and we use high-tech technology for that. We do the crankshaft, cylinder heads, drill of the engine and many components, pistons etc. Here is another engine, biturbo, 6.3 l. In the end, this will become the classic 900 HP engine in a S-Class. Now, the new Maybachs will be released soon and they will have 12 cylinder engines and all-wheel drive. Here, you can see how much effort this is, we have new turbochargers and 4 coolers. This is also a little detail which is usually not that broad. This engine can bring up to 1,500 Newton meters. 900 HP and 1,500 Newton meters are amazing!
By the way, I think you might have some cars that we could drive. You drove a few of our cars but we sure have some that you didn't. It's a nice coupe which unfortunately isn't in production anymore. I really like this car! It's a pity that they don't produce it any more. Konstantin loves this car as well. We bring it here and we wish you a lot of fun on the road! Sven, thank you so much, it was fascinating to see how much work it is to upgrade your cars! It was also great to see how the engines are made. Sven, thank you so much! You're welcome!
Robert, I hope you have something for us in your bag. Guys, be excited for the next video! See you soon! English translation and subtitles by Kons-T
2022-08-30 15:45
Show Video
Other news