Water Wednesdays - Surveying at DWR by Drone and Boat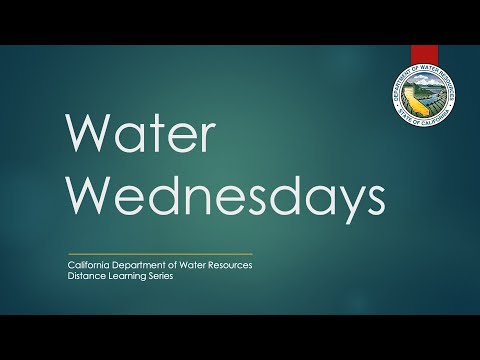 Show Video
>> GOOD AFTERNOON, EVERYONE. I'M LAURENCE CAMPLING, AND I'M   VERY HAPPY TO BE HERE WITH YOU AGAIN  TODAY TO HOST ANOTHER WATER WEDNESDAY.  OUR GUEST PRESENTER THIS WEEK IS JAMES CAMPBELL,  AND I THINK HE HAS ONE OF THE COOLEST JOBS HERE   AT DWR, AND THAT'S SAYING SOMETHING BECAUSE  THERE ARE A LOT OF REALLY COOL JOBS AT DWR.  THIS MONTH WE'VE BEEN FOCUSING ON PEOPLE  WHO HAVE MADE THEIR CAREERS IN WATER   RESOURCES-RELATED FIELDS CONNECTED  TO ENVIRONMENTAL AND HUMAN HEALTH. 
AND LIKE OUR PREVIOUS GUESTS,   JAMES ARRIVED IN HIS CURRENT POSITION BY  AN INTERESTING AND SOMEWHAT UNUSUAL PATH.  NOW, BEFORE I TURN THINGS OVER TO JAMES, I NEED  TO GO OVER THE USUAL REMINDERS ABOUT USING ZOOM.  FIRST, PLEASE KEEP YOUR MICROPHONES MUTED TO  AVOID INTERRUPTIONS AND DISTRACTING NOISES,   AND ALSO KEEP YOUR CAMERAS TURNED OFF. IF YOU HAVE QUESTIONS FOR JAMES, YOU CAN   SUBMIT THEM IN THE CHAT FUNCTION, WHICH IS THE  WORD BUBBLE ICON AT THE BOTTOM OF YOUR SCREEN,   AND IF YOU'D LIKE TO READ CAPTIONS,  JUST CLICK ON THE CAPTIONS ICON. 
NOW I'LL TURN THINGS OVER TO THIS WEEK'S  GUEST, GEODETIC SURVEYOR JAMES CAMPBELL.  JAMES, WELCOME TO WATER WEDNESDAY. >> THANK YOU, LAURENCE.  MY NAME IS JAMES CAMPBELL, I'M IN THE GEOMATICS  BRANCH, AND I WILL SHARE MY SCREEN HERE.  YES, I'M LUCKY ENOUGH TO HAVE ONE  OF THE COOLEST JOBS HERE AT DWR.  I'M IN THE GEOMATICS DIVISION OF ENGINEERING. COINCIDENTALLY THIS WEEK, IT IS THE I'M --   IT'S ACTUALLY NATIONAL SURVEYORS WEEK AND  YESTERDAY WAS THE GLOBAL SURVEYORS DAY,   SO I JUST WANTED TO MENTION IT HERE,  JUST HAPPENED TO COINCIDE WITH MY   PRESENTATION SO IT'S SERENDIPITOUS. SOME KEY TERMS I WANTED TO GO OVER  
WITH EVERYONE BECAUSE I DIDN'T WANT IT TO BE  TOO TECHNICAL BUT THERE ARE SOME TECHNICAL   TERMS, JUST TO GET EVERYONE FAMILIAR. ONE OF THEM IS PHOTOGRAMMETRY, AND IT'S   A WAY THAT WE CAN MEASURE THE GROUND SURFACE  USING EITHER DRONES, UAVSOR FIXED-WING AIRCRAFT.  HERE IS A DRONE AND ONE OF OUR FIELD SECTION  MEMBERS AS WELL AS THIS IS HOW WE MAP THE SURFACE.  ANOTHER ONE IS BATHYMETRY, THE MEASUREMENT  OF WATER, THE DEPTH OF WATER, RATHER,   THROUGH WATER, USING SONAR AND DIFFERENT MEANS. AND HERE'S OUR VESSEL AS WELL AS WHAT -- A HEAT   MAP SHOWING THE SURFACE UNDERNEATH A PORTION  OF THE STATE WATER PROJECT, THE AQUEDUCT.  AND HERE IS SOME LIDAR THAT  WAS COLLECTED OF THE TERRAIN. 
AND THIS IS ACTUALLY JUST MILLIONS OF POINTS, AND  LIDAR IS A LASER SENSOR THAT WE CAN USE AS WELL.  IT'S COOL FOR REMOTE SENSING. AND THEN A COUPLE MORE THAT YOU MAY BE MORE   FAMILIAR WITH, UAS, WHICH ARE DRONES, UNMANNED  AIRCRAFT, AND OUR USV, WHICH IS OUR UNMANNED   SURFACE VESSEL, A REMOTE CONTROL BOAT. HOW I ARRIVED AT MY CAREER, WELL,   I STARTED ACTUALLY AS A CIVIL ENGINEERING  MAJOR AND WAS HIRED AT A LAND SURVEYING FIRM   AND I INSTANTLY ENJOYED GOING OUTSIDE AND  GETTING TO USE THE DIFFERENT TECHNOLOGIES   AS WELL AS BEING PLACED IN SOME PRETTY COOL  SPOTS WHERE I WAS ABLE TO UTILIZE LIDAR AT   THE BEGINNING OF THE TECHNOLOGY, AND IT KIND OF  -- IT SEGUED ME INTO THE CAREER THAT I HAVE NOW,   BUT PART OF THAT AS WELL IS FINDING THOSE LICENSES  THAT YOU WANT AND THAT YOU NEED FOR YOUR CAREER. 
AND SO, FOR ME, IT WAS A -- I HAD TO BECOME  A LICENSED PROFESSIONAL LAND SURVEYOR.  YOU HAVE TO BE ONE IN ORDER TO ACTUALLY  -- TO BE RESPONSIBLE FOR PHOTOGRAMMETRY.  THERE'S BOTH A NATIONAL AND  STATE-SPECIFIC EXAM YOU HAVE TO PASS. 
YOU HAVE TO GO GET YOUR PART 1 OF 7 UAS LICENSE,  WHICH IS REQUIRED FROM A FEDERAL LEVEL, BUT IN   ORDER TO FLY ALL THE DRONES, AND THEN ONE OF THE  BIGGEST AREAS OR BIGGEST WAYS THAT I WAS ABLE TO   MAKE IT IN MY CAREER WAS FINDING THAT AREA, THAT  LIDAR AREA THAT I REALLY ENJOYED AND THEN GETTING   GOOD MENTORS AND HAVING THEM HELP ME ALONG THE  WAY AND TEACH ME THE THINGS THAT I NEEDED AS WELL   AS ALWAYS BEING READY TO KIND OF HELP OUT, EVEN  WHEN, YOU KNOW, MAYBE YOU DON'T KNOW EVERYTHING   OR YOU'RE NOT QUITE SO SURE BUT STILL TRYING  TO HELP OUT WHERE YOU CAN WITH THOSE PEOPLE,   AND IT'S RECOGNIZED, AND THEY DEFINITELY  WANT TO ENCOURAGE YOU AND HELP YOU ALONG.  SO IF YOU CAN HELP OUT IN AREAS WITH THOSE JOBS  AND THOSE PEOPLE THAT ARE ALREADY DOING THAT,   THEY'LL HOPE MOVE YOU ALONG AS WELL. WHY I HAVE ONE OF THE COOLEST JOBS,   FOR ME, IS, I GET TO PLAY WITH SOME REALLY,  REALLY COOL CUTTING EDGE TECHNOLOGY.  WE'RE VERY FORTUNATE HERE AT THE DEPARTMENT OF  WATER RESOURCES THAT THEY RECOGNIZE THAT WE NEED   THESE TOOLS, WE NEED TO BE CUTTING EDGE SO THAT  WE CAN PROPERLY PROVIDE, WHETHER IT'S MONETARY OR   DESIGN PURPOSES, BUT ALL OF OUR DIFFERENT  FACILITIES AND ALL THE DIFFERENT PROJECTS   THAT WE HAVE, WE CAN ONLY DO THAT IN AN  EFFICIENT WAY WITH THESE TECHNOLOGIES. 
SO I GET TO PLAY WITH REMOTE CONTROL BOATS AND  DRONES AND ALL KINDS OF NEAT STUFF LIKE THAT.  I WORK IN A MAPPING LAP THAT'S ACTUALLY PRETTY  NEAT, IT'S DOWN AT THE HEADQUARTERS IN SACRAMENTO,   AND IT HAS ALL THE HISTORICAL IMAGERY AND BIG  PLOTTERS AND STEREO PLOTTERS, WHICH ARE JUST   THESE WAYS THAT YOU CAN VIEW THE GROUND IN 3D. IT'S A PRETTY NEAT SETUP THAT WE HAVE.  AND ON TOP OF THAT, WE GET TO EXPLORE THE WHOLE  STATE, AS WE ARE WITH THE DEPARTMENT OF WATER   RESOURCES FOR THE STATE OF CALIFORNIA,  SO WE GET TO GO THROUGHOUT THE STATE.  WE SERVICE MORE OR LESS THE ENTIRE STATE. AND BEFORE MY TIME HERE AT DWR, I WAS ABLE   TO ON THE PRIVATE SIDE -- MY CAREER HAS  TAKEN ME ALL AROUND THE COUNTRY AND ALL   AROUND THE WORLD SO I'VE BEEN ABLE TO SEE  SOME PRETTY NEAT THINGS IN THIS CAREER. 
ON TOP OF THAT, TO BE HONEST  WITH YOU, I WAS A LITTLE   NERVOUS, MY FIRST FEW DAYS I STARTED WORKING  WITH MY CURRENT -- THE PEOPLE THAT I WORK WITH,   AND THEY WERE ALL JUST SO INTELLIGENT  THAT IT MADE ME A LITTLE NERVOUS AND I   FOUND MYSELF READING A LOT OF JOURNALS TO  MAKE SURE THAT I WASN'T FALLING BEHIND.  BUT THERE'S SOME OF THERE, FLYING THOSE DRONES. AND ONE OF THE THINGS I DO NOT LIKE IS COVID,   IS NOT BEING ABLE TO EITHER BE OUT IN THE FIELD  AS MUCH OR NOT BEING ABLE TO WORK IN THAT LAB.  SO HERE IS SOME OF THE DRONES  WE GET TO USE IN ACTION.  IN OUR SECTION, WE HAVE THREE PILOTS, WHICH  IS PRETTY NEAT, SO WE ALL GET TO UTILIZE THESE   DIFFERENT DRONES AT DIFFERENT TIMES, AND SOME  OF THEM ARE SOME PRETTY EXCITING SITUATIONS,   AS YOU CAN SEE ON THAT PHOTO ON THE RIGHT. THEY WERE FIRST IMPLEMENTED DURING -- WHEN   THE OROVILLE SPILLWAY HAPPENED, WHICH WAS  PRETTY EXCITING FOR THOSE PILOTS AT THAT TIME. 
ANOTHER PURPOSE THAT WE USE THEM FOR IS  INSPECTIONS, AND THIS IS A BIG THING.  THIS IS A PYRAMID SPILLWAY DOWN IN L.A., WHICH  IS IN THE MOUNTAINS ABOVE LOS ANGELES, AND   WE DEFINITELY NEED TO STAY ON TOP OF THAT. SO WE'RE ABLE TO SEE AREAS THAT WE WOULDN'T  
TYPICALLY SEE BECAUSE OF THE  PERSPECTIVES OF THESE DRONES.  AS WELL AS DIFFERENT AIRBORNE AND  VIDEOGRAPHY AND FEATURES THAT WE HAVE,   WE CAN USE THEM NOT ONLY FOR MAPPING SCIENTIFIC  PURPOSES BUT ALSO FOR MARKETING PURPOSES AND   TO GENERATE THESE VIDEOS AND SEE THINGS  THAT WE TYPICALLY -- OR WHERE WE WOULD NEED   A FIXED-WING AIRCRAFT WHICH IS ALSO DIFFICULT. WHAT I GET TO USE THEM PRIMARILY FOR IS AIRBORNE   MAPPING AND WE DO THAT THROUGH THE PRINCIPLES I  TALKED ABOUT, PHOTOGRAMMETRY, AND THAT'S DONE BY   TAKING ALL THESE IMAGES AND PLACING THEM TOGETHER. AND THEN WE'RE ABLE TO MAP THE GROUND, AND WHEN  
WE MAP THESE GROUNDS, ONE OF THE BIG REASONS WE  DO IT IS THE VALLEY IS ACTUALLY MOVING, PEOPLE   DON'T THINK THAT A LOT OF THESE -- THAT -- THEY  THINK THE GROUND IS PRETTY STABLE, BUT IN REALITY   IT MOVES QUITE A BIT, AND IN SOME INSTANCES  VERTICALLY AND IN SOME INSTANCES HORIZONTALLY.  HERE IS -- WHEN WE TAKE THOSE DRONES, WE CAN PLACE  ALL THOSE IMAGES TOGETHER IN MOSAIC, AND THIS IS   AN ACTION ORTHOPHOTO, IT'S ACTUALLY A SCALABLE  IMAGE BUT WE'VE DONE THIS THROUGH CONTROLLING IT,   AND THIS IS DONE FROM THOUSANDS AND THOUSANDS  OF INDIVIDUAL IMAGES FROM THE DRONES.  HERE IS -- CURRENTLY WE'VE BEEN UTILIZING  THE DJIS, WHICH I'M SURE EVERYONE HAS SEEN,   THEY'RE PRETTY READILY AVAILABLE, THEY  DO A GREAT JOB, BUT RECENTLY WE'RE   IN THE MIDDLE OF ACQUIRING THIS BFD, IT'S AN SE-8. IT'S A VERY LARGE DRONE; FROM SIDE TO SIDE,   I THINK THERE'S ABOUT EIGHT FEET  OR SO, SO IT'S SIGNIFICANTLY LARGER   THAN THE TYPICAL DJI ONES THAT YOU SEE. IT'S GOING TO BE PRETTY POWERFUL. 
ON TOP OF THAT, WE NEED TO USE DIFFERENT  TECHNOLOGIES LIKE GPS AND GNSS, WHICH IS LIKE YOU   WOULD HAVE ON YOUR PHONE OR SOMETHING LIKE THAT,  BUT WE USE THAT SAME TECHNOLOGY FOR SLIGHTLY MORE   PRECISE LEVELS AND WE CAN CONTROL -- WHEN I SAY  CONTROL, IT MEANS TO FIX THESE PHOTOS TO POINTS   ON THE EARTH SO THAT WE KNOW WHERE THEY ARE. AND THEN ON TOP OF THE DRONES, WE'RE ABLE TO,   AT LEAST FOR ME, WE GET TO USE THIS USV,  THIS CATAMARAN BOAT, REMOTE CONTROLLED BOAT.  YOU THINK REMOTE CONTROLLED BOATS ARE PRETTY  SMALL AND SOME OF THEM ARE BUT THIS ONE IS   ABOUT 15 FEET LONG. IT'S A LARGE VESSEL. 
AND YOU CAN SEE IN THAT PHOTO ON THE BOTTOM  THERE, THAT'S ACTUALLY AS -- THAT'S THE SONAR   AS IT'S COLLECTING ALONG THE AQUEDUCT,  WHICH IS A PRETTY NEAT SETUP WE HAVE.  ON TOP OF THE REMOTE CONTROL BOATS,  WE ALSO HAVE SOME LARGER BOATS, BUT   THOSE ARE TWO OF THE WAYS THAT WE MAP THE GROUND. AND YOU CAN SEE HERE, THIS IS WHAT IT LOOKS LIKE   WHEN YOU -- WHEN THOSE SONAR WAVES ARE COMING  BACK ON THE GROUND SURFACE OVER HERE ON THE RIGHT.  AND THAT'S ACTUALLY UNDER THE WATER SURFACE. SO THERE'S TWO WAYS THAT WE'VE DONE THAT IN  
THE PAST, AND I'LL GO BACK REAL QUICK,  THIS IS WHAT'S CALLED MULTI-BEAM.  IT'S ESSENTIALLY A WAY TO COLLECT MANY, MANY, MANY  RETURNS AS OPPOSED TO PREVIOUSLY -- OR PREVIOUSLY   WHERE WE CALLED IT SINGLE BEAM AND ESSENTIALLY IT  WOULD BE ONE OF THOSE POINTS AT ANY GIVEN TIME,   AND IT'S LESS -- IT'S NOT THAT IT'S LESS ACCURATE  BUT IT'S LESS DATA SO YOU WON'T SEE NEARLY   THE AMOUNT OF DETAIL AS YOU DO ON THE RIGHT. YOU'RE ABLE TO SEE THE GROUND SURFACE UNDERNEATH   A LOT OF THESE WATERWAYS THAT WE HAVE,  LIKE WE'VE NEVER BEEN ABLE TO SEE BEFORE,   WHICH IS SHOWING US LOTS OF THINGS. WE'RE ABLE TO MORE ACCURATELY DETERMINE   WHETHER THE GROUND IS MOVING BUT ALSO DIFFERENT --  THE CAPACITY OF HOW MUCH WATER WE CAN PUT THROUGH   TO ALL THE -- FOR ALL THE DIFFERENT FACILITIES. WE USE THEM FOR DIFFERENT OPERATIONS AS   WELL, SUCH AS SEARCH AND RESCUE OPERATIONS,  AND IF I RECALL, THIS IS FOR AN UNDERWATER   VESSEL, LIKE A HULL OF A BOAT, I WANT TO SAY. WE'VE ALSO -- IT KIND OF CAUGHT ME OFF GUARD. 
WE'VE BEEN ON A PROJECT WHERE WE'VE BEEN  MAPPING THE AQUEDUCT, THE STATE WATER PROJECT,   AND WE'VE ACTUALLY FOUND AROUND A CAR  PER MILE, WHICH WAS PRETTY SURPRISING.  I DIDN'T THINK WE'D FIND THAT MANY, BUT IT  ACTUALLY WORKS OUT TO, WE'VE MAPPED ABOUT   70 OR 80 MILES OF IT AND THERE'S ABOUT A CAR  PER MILE, WHICH I THOUGHT WAS PRETTY AMAZING.  YOU WOULDN'T THINK THAT THERE WOULD  BE THAT MANY, BUT THERE DEFINITELY IS. 
ANOTHER NEAT TECHNOLOGY THAT I MENTIONED  EARLIER WAS LIDAR, AND WE GET TO   PRIMARILY USE TERRESTRIAL LIDAR, WHICH IS WHERE  WE'RE DOING IT FROM THESE FIXED POSITIONS.  SOME, WE'VE ALSO UTILIZED AIRBORNE LIDAR,  WHICH IS WHEN WE'RE DOING IT FROM AN AIRCRAFT,   AND WE HAVE UTILIZED IT IN MANY DIFFERENT PROJECTS  AND PURPOSES AND ALL KINDS OF STUFF, WHETHER IT'S   FOR -- FOR LANDSLIDES WHERE THE GROUND IS MOVING  AND YOU'RE NOT ABLE TO GET TO OR FOR CONSTRUCTION   PURPOSES OR WHEN THE SPILLWAY, WHEN THAT OCCURRED,  WE WERE ABLE TO USE IT TO MAP SOME OF THESE   SURFACES THAT WE NEVER WOULD HAVE BEEN ABLE  TO BEFORE, AT LEAST NOT AT THE DETAIL WE HAVE.  YOU CAN SEE ON THE PHOTO ON THE RIGHT, THAT  IS A VERY COMPLEX MODEL IN ORDER TO REPEAT,   SO LIDAR, WE'RE ABLE TO ACCURATELY DO  THINGS THAT WE WEREN'T ABLE TO PREVIOUSLY.  AND THIS IS WHAT THE RESULTS OF THESE LIDAR  INDIVIDUAL SCANS, POINTS, WHEN THEY'RE PUT   TOGETHER, YOU CAN SEE, WHEN YOU ZOOM IN,  IT LOOKS LIKE A SOLID MODEL BUT IN REALITY   IT'S THE RETURN OF MILLIONS AND MILLIONS AND  MILLIONS OF POINTS, AND THIS IS DONE THROUGH   LASERS, WHICH IS ANOTHER NEAT TECHNOLOGY. I KIND OF WANTED TO GIVE YOU A QUICK IDEA   OF A PROJECT, HOW IT GOES, SO YOU CAN SEE WHAT  ALL THESE DIFFERENT TOOLS WHEN THEY'RE ALL PUT   TOGETHER -- THIS IS THE SACRAMENTO RIVER,  SO THE PORTION THAT WE ARE LOOKING TO MAP,   AND JUST TO KIND OF GIVE YOU A ZOOM IN,  THESE ARE THE CONTOURS THAT YOU MAY OR   MAY NOT HAVE SEEN IN THE PAST. THESE ARE LINES OF ELEVATION. 
AND AS YOU GO THROUGH, YOU CAN SEE THIS  IS THE SAME LINES, THEY'RE ACTUALLY 3D,   AND HERE YOU CAN SEE IT IN AN OBLIQUE VIEW, BUT  AS WE KEEP GOING, THIS IS ACTUALLY UNDERWATER   AND ABOVE WATER THROUGH BOTH THE LIDAR AND  SONAR THAT WE PUT TOGETHER AND THEN YOU CAN   SEE THE GROUND SURFACE, THAT EVEN THOUGH IT LOOKS  LIKE IT'S FLAT, WHEN YOU LOOK AT IT FROM ABOVE,   BUT IT ACTUALLY REPRESENTS THE SURFACE. I WANTED TO SHOW YOU A LINK OF A VIDEO   THAT KIND OF JUST SHOWS YOU SOME OF THE DIFFERENT  MODELS THAT WE'VE BEEN ABLE TO CREATE OVER TIME.  SO THESE -- EACH INDIVIDUAL ONE OF THESE,  THESE ARE THE THOUSANDS AND THOUSANDS   OF DRONE IMAGES THAT WERE PUT TOGETHER  IN ORDER TO GENERATE THE MODEL. 
YOU CAN SEE THERE WAS LOTS AND LOTS  OF INDIVIDUAL PHOTOS THAT WERE TAKEN.  WHEN THEY'RE ALL MOSAICED TOGETHER,  IT LOOKS LIKE ONE PHOTO, BUT IT'S   THOUSANDS AND THOUSANDS OF THEM. AND FROM THAT, WE CAN EXTRACT THESE   POINT CLOUDS THAT YOU SEE HERE. THESE ARE ALL INDIVIDUAL POINTS.  IT ALL LOOKS LIKE A MODEL; IT'S  ACTUALLY INDIVIDUAL POINTS.  AND THEN FROM THOSE, WE CAN GENERATE  THESE SURFACE MODELS OF THE GROUND. 
AND HERE YOU CAN SEE THIS IS THE SPILLWAY,  AND THAT'S THE PORTION OF THE SPILLWAY THAT   HAD THE ISSUES THAT WE'RE ALL FAMILIAR WITH. AS IT GOES ALONG HERE, SORRY.  AND ONE OF THE NEAT THINGS WE'RE  ABLE TO DO, UTILIZING THIS,   WAS TO CREATE THESE MODELS THAT YOU SEE HERE. AND THIS WAS ACTUALLY USED WITH OUR -- I FORGET   WHICH DEPARTMENT BUT THEY GENERATED, FROM THE 3D  PRINTER, AND WE WERE ABLE TO CREATE A MODEL THAT'S   IN THE HEADQUARTERS FIRST FLOOR, SO IF ANYONE EVER  HAPPENS TO BE THERE -- I'LL GO BACK AND SHOW IT   AGAIN KIND OF REAL QUICKLY THERE. THAT'S IT THERE.  IF ANYONE IS IN THE FIRST FLOOR OF HEADQUARTERS,  WHEN WE HOPEFULLY REOPEN AFTER COVID, YOU CAN GO   SEE IT AND THAT WAS DONE FROM 3D PRINTING FROM  THE MODEL THAT WAS GENERATED FROM THE DRONES   THAT WE COLLECTED AND THEN AN ARTIST HERE AT THE  DEPARTMENT WAS ABLE TO PAINT THAT AND PUT THE   TREES AND DIFFERENT TEXTURES ON IT TO MAKE IT  MORE REALISTIC, BUT THAT WAS FROM A 3D PRINTER.  WE'VE BEEN ABLE TO UTILIZE A LOT OF DIFFERENT  NEAT TOOLS, WHETHER IT BE DRONES OR 3D PRINTERS OR   LIDAR OR ALL THESE, YOU KNOW, THESE  REMOTE CONTROLLED BOATS USING SONAR,   TO -- FOR ALL THESE DIFFERENT PURPOSES AND  PROJECTS THAT WE'VE BEEN ABLE TO UTILIZE AND   SERVICE NOT ONLY PEOPLE IN OUR DEPARTMENT BUT AS  WELL AS OTHER PEOPLE THROUGHOUT THE WHOLE STATE. 
SO I'M VERY, VERY LUCKY THAT I'VE BEEN ABLE TO  FIND MY NICHE AREA AND THE MENTORS AND EVERYONE   WHO HAS HELPED ME ALONG THE WAY AS WELL AS THE  DEPARTMENT PROVIDING US ALL THE TECHNOLOGIES AND   SEEING THE VALUE THAT WE ALL HAVE. SO THANK YOU VERY MUCH.  JOSH? >> OR LAURENCE, I'M SORRY.  >> SORRY, I WAS MUTED. AMAZING STUFF, JAMES. 
THANK YOU. THE TECHNOLOGY IS JUST MIND-BLOWING.  I IMAGINE YOU'RE ALWAYS HAVING TO LEARN NEW  TECHNOLOGY, BECAUSE IT'S ALWAYS EVOLVING, RIGHT?  CAN THAT BE CHALLENGING SOMETIMES? >> OH, YES, FOR SURE.  LIKE I MENTIONED BEFORE, WHEN I WAS FIRST  HIRED, I FOUND MYSELF READING JOURNAL ARTICLES,   LIKE -- EVEN THE TECHNOLOGIES THAT I KNOW ARE  CONSTANTLY CHANGING, SO JUST STAYING ON TOP OF   THEM, IT'S -- IT'S A CONTINUING STRUGGLE BUT IT'S  A GOOD STRUGGLE, LIKE I SAY, WE GET TO -- SOME OF   THE THINGS THAT WE'RE ABLE TO DO NOW WE WOULD  NEVER BE ABLE TO DO WITHOUT THESE TECHNOLOGIES,   SO LIKE I SAY, NOT ONLY ARE WE FORTUNATE ENOUGH  TO BE ABLE TO -- WE LIVE IN A TIME WHERE WE'RE   ABLE TO USE THEM BUT ALSO IN A DEPARTMENT HERE  AT THE STATE TO WHERE WE CAN, WHICH IS HUGE. 
YES, DEFINITELY READING, READING,  CONSTANTLY TRYING TO STAY UP ON IT.  >> WE'VE HAD A FEW QUESTIONS, THERE  SEEMS TO BE A LOT OF INTEREST IN LIDAR,   WHICH FOR MYSELF -- WE'VE ALL HEARD  OF RADAR BUT NOT SO MUCH ABOUT LIDAR.  DO LIDAR AND RADAR REALLY DO THE SAME THING? >> YES AND NO.  ONE IS LIGHT -- WELL, ESSENTIALLY WHAT WE UTILIZE,  IT'S A -- LIDAR IS A -- IT'S A LINE OF SIGHT BASED   SENSOR, SO ALL IT'S REALLY DOING IS SENDING OUT  A -- IN SIMPLEST OF TERMS, A LASER AND THEN IT   MEASURES THE RETURN AND THE TIME THAT IT  TAKES TO RETURN SO THEN IT CAN CALCULATE -- IT   DETERMINES THE DISTANCE BASED ON THAT. AND WHAT HAPPENS IN LIDAR, IT DOES THAT   NOT ONCE BUT MILLIONS AND MILLIONS AND MILLIONS  OF TIMES PER SECOND, DEPENDING ON THE SENSOR. 
SOME ARE HUNDREDS OF THOUSANDS, BUT THE  ONES THAT WE USE ARE MILLIONS OF POINTS.  AND RADAR, IT'S A DIFFERENT SORT OF --  ONE IS LIGHT AND ONE IS A RADAR WAVE, SO   YOU COULD USE IT FOR SIMILAR APPLICATIONS. ONE OF THE THINGS THAT WE'VE BEEN USING RADAR FOR,   IT'S A LITTLE BIT MORE DIFFICULT TO  MEASURE EXACT POSITIONS, SO INSTEAD OF   DETERMINING THAT EXACT POSITION FROM -- BASED  ON THE RETURN, WE CAN MEASURE THE WAVELENGTH SO   INSTEAD OF A TRUE POSITION WE'RE UTILIZING IT MORE  AS LIKE A CHANGE FROM A PREVIOUS POINT IN TIME.  SO LIKE IF SOMETHING WAS AT ONE CENTIMETER,  NOW IT'S TWO CENTIMETERS, NOT NECESSARILY   AT 1100 FEET AND NOW IT'S 200 FEET, BUT  IT'S THAT CHANGE OF -- THAT'S OCCURRED.  IT'S A LITTLE BIT MORE DIFFICULT TO DETERMINE  SOME OF THE ACTUAL XY POSITIONS WITH RADAR. 
BUT -- SO WITHOUT GOING INTO A WHOLE THING,  THEY'RE SIMILAR BUT THEY ARE -- THEY'RE JUST   TWO DIFFERENT REMOTE SENSING TECHNOLOGIES. BUT WE HAPPEN TO UTILIZE THEM BOTH.  BUT RADAR, NOT QUITE AS MUCH AS LIDAR. >> HOW MUCH OF -- HOW MUCH ARE YOU ABLE TO SEE   IN REAL-TIME, OR DO YOU HAVE TO WAIT UNTIL YOU  GET BACK TO THE LAB AND PROCESS ALL THE DATA?  >> WELL, WITH LIDAR, WE TYPICALLY  -- IF YOU HAVE A LAPTOP WITH IT,   YOU CAN SEE IT ON THE FLY, WHICH SOMETIMES WE DO. IT'S ACTUALLY MORE DIFFICULT NOW IN THE FIELD,   WHEN WE'RE GOING OUT THERE, TO TAKE  A LAPTOP WITH US BECAUSE WE ACCESS,   LIKE YOU WERE SAYING IN THOSE PHOTOS,  LIKE AT OROVILLE, YOU'RE IN SOME PRETTY   DIFFICULT POSITIONS AS FAR AS LIKE WHERE YOU'RE  STANDING FROM, SO TO HAVE A LAPTOP WITH YOU IS   A LITTLE BIT MORE OF A PAIN, SO IN THE OLDEN  DAYS WHEN WE WERE RUNNING THEM, YOU HAD TO   HAVE A LAPTOP WITH YOU, THERE WASN'T THE --  THERE WASN'T THE TOUCHSCREENS THAT WE HAVE NOW,   SO IF YOU HAVE THAT, YOU CAN SEE THEM OR IF  YOU HAVE A TABLET THAT YOU CAN SEE THEM ON,   SO YOU CAN'T SEE THEM IN REAL-TIME BUT  IT DOESN'T REALLY HAPPEN QUITE AS MUCH. 
ON RADAR THAT'S ALL POST PROCESS. IT HAS TO BE SEEN IN THE OFFICE.  YOU CAN'T SEE THAT ON THE  FLY, LIKE WE CAN WITH LIDAR.  WHEN YOU ARE DOING LIDAR, YOU  CAN SEE IT AS IT'S COLLECTING.  I GAVE A PRESENTATION ONCE WHERE I WAS STANDING  AND LETTING IT GO IN THE ROOM AND NOBODY KNEW THAT   IT WAS OCCURRING, AND THEN YOU SHOWED THE MODEL,  YOU SHOWED ALL THE PEOPLE SITTING THERE AND,   YOU KNOW, THEY HAD NO IDEA, AS IT WAS COLLECTING,  SO IT'S -- IT KIND OF MADE EVERYBODY GIGGLE.  >> I IMAGINE, ESPECIALLY WHAT YOU SHOWED US,  THESE ARE PRETTY EXPENSIVE PIECES OF EQUIPMENT. 
HAVE YOU EVER CRASHED OR LOST A DRONE? >> WELL, WE'VE HAD SOME FLY-AWAY EVENTS.  I HAVE NEVER CRASHED ONE, LUCKILY,  FINGERS CROSSED, BUT LUCKILY THESE DJIS,   THEY'RE PRETTY COST EFFICIENT, WHICH IS  NICE, SO EVEN IF SOMETHING DOES OCCUR,   IT'S USUALLY NOT A VERY EXPENSIVE THING, BUT THAT  NEW DRONE THAT WE'RE GETTING, THE LARGE ONE, IT'S   SIGNIFICANTLY MORE EXPENSIVE AND WE ARE DEFINITELY  MAKING SURE THAT THERE'S EMERGENCY, YOU KNOW,   THINGS IN PLACE TO -- SO THAT -- LIKE A PARACHUTE,  THINGS LIKE THAT, SO IF ANYTHING DOES OCCUR,   THAT IT'S NOT GOING TO COME CRASHING TO THE EARTH  BECAUSE SOME OF THE DIFFERENT SENSORS THAT GET PUT   ON THERE ARE HUNDREDS OF THOUSANDS OF DOLLARS  AND YOU DON'T WANT THAT HITTING THE GROUND.  SO THERE WILL BE PARACHUTES ON THOSE. >> YOUR BOSS WOULD NOT BE PLEASED I'M SURE.  >> NO. >> DO ANIMALS AND PEOPLE SHOW UP IN THE MAPPING,   IN THE IMAGERY THAT YOU'RE COLLECTING? >> YES, YES, THEY DO. 
LIKE I JUST SAID, I GAVE A PRESENTATION ONCE  -- WITH LIDAR, THE -- IT'S VERY MUCH A -- IT'S   NOT -- IT'S A DUMB TECHNOLOGY. WHAT I MEAN BY THAT, IT DOESN'T KNOW,   IF IT CAN SEE IT, IT COLLECTS IT. IT DOESN'T, YOU KNOW,   MAKE ANY DETERMINATIONS ABOUT WHAT IT HAS. THE BIGGEST THING IS THE -- SINCE IT IS A LIGHT,  
IT'S REALLY BASED ON THE REFLECTIVITY  OF THE TARGET, SO IF YOU HAVE SOMETHING   THAT'S BRIGHT AND WHITE, IT WILL REFLECT  AND YOU'LL BE ABLE TO GET A MEASUREMENT.  IF THERE WAS THEORETICAL BLACK, IT  WOULD COMPLETELY ABSORB THE LIGHT,   AND YOU WOULDN'T GET ANY RETURN. SO REALLY DARK THINGS, YOU   MAY NOT GET AS MUCH OF A RETURN OR AS MANY RETURNS  ON, AS YOU WOULD ON LIGHT OBJECTS, BUT THAT'S   REALLY ONLY THE DETERMINING FACTOR WITH LIDAR. WITH THE DRONES, SAME THING, IT'S A PASSIVE   SENSOR AS FAR AS IT NEEDS SOME LIGHT,  SO, YOU KNOW, IT CAN -- IT CAN SEE   WHATEVER, IT'S JUST TAKING PICTURES, SO IT  CAN SEE WHATEVER THE LIGHT CAN SEE, AS LONG   AS IT'S NOT DARK TIME -- OR NIGHTTIME, EXCUSE ME. AND WE DO HAVE ON THESE NEW DRONES THAT WE HAVE,  
THERMAL CAMERAS, ALSO, SO WE CAN SEE AT NIGHT,  TOO, BUT, YEAH, IT WILL COLLECT ANYTHING.  IT DOESN'T MATTER. >> SO JAMES, HOW MUCH OF YOUR JOB   IS IN THE FIELD AND HOW MUCH IS IN THE LAB? >> WELL, FOR ME, WE HAVE -- WE ACTUALLY   HAVE A FIELD SECTION THAT THEY DO PERFORM --  THEY'RE OUT EVERY DAY THROUGHOUT THE STATE. 
I'M IN THE PHOTOGRAMMETRY AND 3D  MAPPING SO I DO A LOT OF THE MODELING   SIDE OF IT SO I'M IN THE OFFICE MUCH MORE. I DO GO -- AS OF NOW, I'VE BEEN MORE OF LIKE   A BACKUP KIND OF THING FOR A LOT OF OUR FIELD  SECTION BECAUSE THAT'S WHAT THEY DO EVERY DAY,   SO I GET TO FLY KIND OF LIKE WHEN -- IF THEY'RE  BUSY ON SOMETHING ELSE, THEN I'LL GO OUT AND FLY   SOME OF THE DRONES OR IF WE NEED FOR DIFFERENT  EVENTS, I GET CALLED OUT FOR THOSE, BUT PRIMARILY   FOR MY SPECIFIC JOB RIGHT NOW, I'M IN THE MAPPING  LAB, SO I'M PRIMARILY IN THE OFFICE THESE DAYS.  BUT I PROBABLY GET INTO THE FIELD, PRE-COVID,  PROBABLY ABOUT 10 TO 15% OF THE TIME. 
>> HOW MUCH OF THE JOB YOU'RE  DOING IS ABOUT INFRASTRUCTURE   AND STRUCTURE AND -- IS IT POSSIBLE TO SAY? YOU MENTIONED YOU ALSO DO SEARCH AND RESCUE STUFF.  WHAT'S THE MAJORITY OF YOUR WORK RELATED TO? >> WELL, CURRENTLY WE'VE BEEN ON THIS HUGE   PROJECT UTILIZING THAT REMOTE -- THAT UAV  BACCY BOAT, THAT CATAMARAN THAT YOU SAW THERE,   AND WE'VE BEEN MAPPING THE WHOLE STATE  WATER PROJECT, AND THAT'S BEEN GOING ON   SINCE -- I SHOULDN'T SAY THE WHOLE STATE. WE'VE BEEN GOING FROM BASICALLY THE -- WELL,   CLIFTON COURT AREA, LIKE WHERE IT TAKES OUT OF  THE DELTA THERE AND ALL THE WAY DOWN TO BASICALLY   THE TEHACHAPI MOUNTAINS, TO LIKE PYRAMID OR SO. >> YOU'RE LOOKING FOR LEAKS AND STUFF LIKE THAT?  >> EXACTLY, YEAH. A LOT OF THESE FACILITIES -- OR  
A LOT OF THESE DIFFERENT AREAS WE'RE SEEING,  WE'VE NEVER BEEN ABLE TO SEE BEFORE, YOU KNOW,   LIKE ON THE -- WHEN I WAS TALKING ABOUT CAPACITY  BEFORE, SOME OF THE ORIGINAL -- WHEN THEY WERE   ORIGINALLY CONSTRUCTED, THEY'RE CALLED  AS BUILTS, LIKE IN ENGINEERING PLANS,   AND THEY HAVEN'T -- NOBODY HAS ANY IDEA WHAT'S  OCCURRED SINCE LIKE THE 1960SOR 50S, SO WE'RE   ABLE TO SEE THINGS NOW THAT WE NEVER HAVE BEFORE. SOME OF THOSE PIPES THAT I WAS SHOWING YOU WHERE   WE WERE UTILIZING THE LIDAR, WE'RE LOOKING FOR  CRACKS OR SOMETHING ON THE INSIDE TO THE PIPES   TO WHERE WE MIGHT BE LOSING FLOW, AND  -- OR WHERE POTENTIALLY THERE MIGHT   BE -- LIKE IF A FAILURE EVER OCCURRED,  WE MIGHT BE ABLE TO SEE SOME THINGS.  BUT WE'VE NEVER BEEN INSIDE OF THESE THINGS  BEFORE, THESE PIPES, SO NOW WITH THESE   TECHNOLOGIES, WE'RE ABLE TO GO IN THERE AND  COLLECT THIS DATA THAT WE JUST HAVEN'T BEFORE.  THAT'S ONE OF THE MAIN THINGS. AND IT'S BEING UTILIZED -- THE NEAT THING,   TOO, IS -- NOT ONLY IS THERE VALUE FROM --  THAT WE'RE ABLE TO PRODUCE, BUT EVERYONE ACROSS   THE DEPARTMENT IS SEEING THE VALUE OF ALL THESE  DIFFERENT TOOLS, AND SO EVERYONE -- IT'S KIND OF   NEAT BECAUSE EVERYONE'S FINDING NEW WAYS TO USE  THEM, EVEN IN AREAS THAT WE MAY HAVE NOT THOUGHT   ABOUT, HEY, CAN YOU DO THIS, WELL, ACTUALLY, I  THINK I CAN, I THINK I CAN, SO IT'S -- SO WE'RE   BEING CHALLENGED FROM SOME OTHER DEPARTMENTS,  WHICH IS GREAT BECAUSE THERE MAY BE SOME AREAS   THAT WEREN'T PREVIOUSLY THOUGHT OF. >> THAT'S GREAT. 
UNFORTUNATELY, WE'RE RUNNING OUT OF TIME. I MEAN, I HAVE A LOT OF QUESTIONS   THAT WE DIDN'T GET TO. SUCH A FASCINATING FIELD.  >> YES. >> AND WE COULD   TALK FOR MUCH LONGER, I'M SURE, BUT IF ANYBODY  HAS OTHER QUESTIONS, JUST GET IN TOUCH WITH US   AND WE'LL TRY TO ANSWER THEM FOR YOU. SO I JUST WANT TO SAY, YOU KNOW,   THANK YOU, JAMES, FOR JOINING US TODAY AND  THANKS TO EVERYONE WHO JOINED US ON HIM. 
IF YOU'RE INTERESTED IN LEARNING MORE ABOUT  DWR, PLEASE VISIT OUR HOME PAGE AT WATER.CA.GOV,   AND IF YOU'RE A TEACHER OR A PARENT WITH  KIDS AT HOME, WE HAVE LINKS TO NUMEROUS KID   AND TEENAGER APPROPRIATE WATER EDUCATION RESOURCES  ON OUR WEBSITE AT WATER.CA.GOV/EDUCATION.  FROM THERE, YOU CAN ALSO ACCESS OUR  WATER EDUCATION MATERIALS ORDER PAGE.  AND ALL THE MATERIALS ARE FREE  TO RESIDENTS OF CALIFORNIA. 
DWR'S MISSION IS TO SUSTAINABLY MANAGE THE  WATER RESOURCES OF CALIFORNIA TO BENEFIT   THE STATE'S PEOPLE AND PROTECT, RESTORE, AND  ENHANCE THE NATURAL AND HUMAN ENVIRONMENTS.  SO STAY UP-TO-DATE ON WHAT DWR IS DOING AND  TO FIND OUT ABOUT UPCOMING WATER WEDNESDAY   PRESENTATIONS, PLEASE FOLLOW US ON SOCIAL MEDIA. WE ARE ON FACEBOOK, TWITTER, INSTAGRAM,   AND LINKEDIN. NOW, THERE WON'T   BE A WATER WEDNESDAY NEXT WEEK DUE TO THE CESAR  CHAVEZ HOLIDAY BUT WE'LL BE BACK ON APRIL 7TH.  APRIL'S PRESENTATIONS WILL BE CENTERED AROUND  THIS YEAR'S EARTH DAY THEME, RESTORE OUR EARTH. 
AND WE'LL BE FEATURING SEVERAL PROJECTS THAT  DWR IS WORKING ON TO HELP RESTORE AQUATIC   ENVIRONMENTS THROUGHOUT CALIFORNIA. OUR FIRST GUEST IS CHARLOTTE BIGGS,   A PROGRAM MANAGER IN DWR'S DIVISION  OF MULTI-BENEFITS INITIATIVE.  CHARLOTTE WILL BE DISCUSSING CHANGES TO  THE SACRAMENTO/SAN JOAQUIN RIVER DELTA   OVER THE PAST 150 YEARS AND SOME OF THE  RESTORATION PROJECTS DWR IS WORKING ON THERE.  SO THAT'S ON APRIL 7TH. WE HOPE YOU CAN JOIN US THEN.  UNTIL THEN, HAVE A GREAT WEEK. STAY SAFE AND THANKS FOR WATCHING.
2021-03-30 23:42
Show Video
Other news