Virtual Open Day 2022: Information and emerging technology at Deakin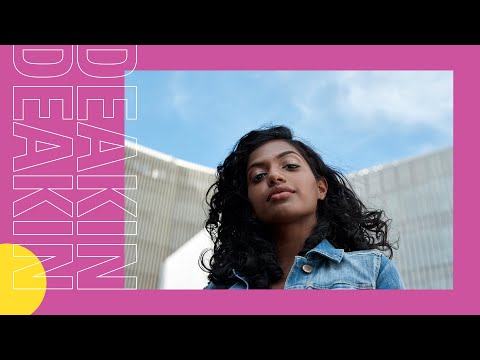 Show Video
Hello, welcome to Deakin's virtual open day. My name is Andrew Cain. And I'm thrilled to have you with me as we look to explore the different computing degrees offered by Deakin. We're going to host a live Q&A session following this presentation in which we hope to answer any questions you might have. You can start asking those questions at any time by posting them in the panel on the right hand side of the screen.
We'll look to address those when we get to the live Q&A. Let's get started. NARRATOR: As we gather for this meeting, physically, dispersed and virtually constructed, let us take a moment to reflect on the meaning of place. and in doing so, recognise the various traditional lands on which we do our business today.
Deakin would like to acknowledge the traditional custodians of the lands on which our university campuses are based. The Wadawurrung people of the Kulin Nation on whose country our Geelong campuses are located. The Wurundjeri people of the Kulin Nation on whose country our Burwood campus is located and the Peek Whurrong people of the Maar Nation on whose country our Warrnambool campus is located.
I myself am located on Wadawurrung country and on behalf of us all, I pay our respects to all Aboriginal and Torres Strait Islanders, traditional custodians, elders and ancestors of all the lands from which you may be joining our gathering today. I express that gratitude for the care of country, which continues to sustain us as it has done from millennia. Education has long and rich heritage on this continent, which we aim to honour and reflect in the ways we teach and learn.
Let's begin with some quick introductions. As I said before, my name is Andrew Cain and I'm associate head of school for learning in the school of IT at Deakin. My area of expertise is around computing education, where my work focuses on helping students get the most through their computing degrees.
My name is Chathu Ranaweera. And I'm an executive course director in Information Technology. My area of expertise in networking and communication, where my work focuses on enabling secured high bandwidth, uninterrupted access to internet services from anywhere at any time.
Computing is really helping revolutionise everything that we do at the moment. Everything in terms of the way we live, the way we work, from agriculture, to driving, to the way power works, the way we exercise the data we collect from these activities, the way we work, the way we connect. Everything is being touched by computing. It has a great potential to accelerate what we can do by drawing information together, helping make better decisions, helping improve processes, helping make things more efficient and more sustainable as we go forward into the future. There is so much potential now for great and amazing things to happen because of what we are achieving through computing. With this huge potential and this great demand for IT and computing solutions, there is a massive need for IT graduates.
People capable of taking advantage of these computing resources and helping us create solutions to the big problems that we have, facing society and industry today. IT graduates are more in need now than they ever have been. And the projections are only for increased growth in computing as we go forward. To get started in the IT industry, requires you to master some core concepts, requires some practical hands-on skills in order to be able to put those concepts into practise, to use them to make change in the world.
And then the attitude to go out there, get things done and to help make industry and society better through the use of computing. With the right start, you'll have the knowledge and skills necessary for a great career in computing. This will be something that will set you up, not only with the skills you need to get a job to start with, but the skills you need to grow with the industry as it evolves. One thing we will know about the IT industry or computing in general is that things are going to change and having the skills, the learning skills that you'll pick up through something like a bachelor's degree will mean that you'll be able to continue to grow with the industry as you progress through your career.
In this presentation, we'd like to show you how Deakin could be the right place for you to start your IT career. We'll have a look in this presentation first, at the different computing degrees that we offer. Deakin offers a wide variety of computing degrees.
Each one is focused on a different area of the IT industry, and we'll provide you with different opportunities. So we'd like to cover off on what these different opportunities are to help you choose the degree that would be best fitted to where you see yourself going forward. We'll look at our approach to help you get the most out of your degree.
We have some innovative teaching and learning approaches that are designed to make you the best that you can be, helping you achieve more. And then we'll see how you can go beyond the basics of the course, looking at the extra opportunities that exist beyond the coursework material that you can use to get a competitive advantage and to really grow yourself as a person and as a professional, as you look to move into the IT industry. Let's get started. First thing first, let's look at different computing degrees we offer at Deakin.
At Deakin, we offer an extensive range of computing degrees, each with its own focus and value proposition. Which course is right for you, depends on what you want to get out of the experience. Let's start by looking at each course to help you work out, which of these may best fit your future career aspiration. Computers are assisting humans to automate a range of task with the power of artificial intelligence. As an AI graduate, you will work alongside others, utilising your knowledge and skills to harness the power of artificial intelligence, bringing new level of automation and intelligent assistance to computing at all level. With the scope of the world's ambitions for computing, we need rigorous approaches to solving challenges of today and into the future.
Computer Science combines a scientific approach to problem solving with core computing and programming concepts. As a Computer Science graduate, you will work alongside others to create the algorithms and design right solution to challenging problems. Computer systems are now embedded in our everyday life from managing finances, distributing power, controlling traffic, to connecting you with your family, friends, and colleagues. Most of these computing systems use store and communicate sensitive data. There are some people who are looking to take advantages of these and looking to hack into these systems for profit or to cause disruption. Therefore we need professionals with right skills and knowledge to protect our computer systems.
As a cyber security graduate, you will work alongside others to help secure, and operate these computer systems. The world is now full of data. Data is being constantly collected through computer systems that we use every single day. To use this data, we need professional capable of discovering useful insights from the wealth of data available now.
As a data science graduate, you will work alongside others to use your understanding of data, to help inform and influence decision making. With all of these computing systems are integrated into our work and life, we need professionals who can help connect the dots, professionals with broader understanding of computing and the skills to connect, manage, and lead projects. As an it graduate, you will work alongside others to help the project progress and things get done.
You will have the skills to work on the technical aspects of the project when needed, and also you will have the people skills to help manage and connect with others. Software system need to be built and maintained. More and more aspects of our work and life are transformed, we need professionals capable of building software. As a Software Engineering graduate, you will work alongside others to build the next generation of software system. You will apply rigorous engineering practises to help ensure that the system is built in a way it achieves its goal.
So that gives you a summary of different areas of computing offered at Deakin. We have separate videos for each of these courses. Please make sure to watch those videos for more details on career opportunities and core structures. Each course we looked at today is a great option, which one to choose really depends on where you see yourself in the future.
One last note, if you are not sure to choose the area of computing you want to study, you can start your journey with Computer Science or Information Technology. As these courses provide basic skills and knowledge in computing and different major study options that you can choose later. Now that you've seen our different course options, let's move on to have a look at how our approach can help you achieve more. At Deakin, we see education as a collaborative exercise. Staff and students coming together with staff, helping support and guide students through these learning experiences.
That way the student will get the most out of those. We think that the best education systems are one in which staff and students really work together closely. In the school of IT, we have a particular focus around teaching innovation. And putting in place systems and practises that are going to help encourage this guiding activity, and help, encourage, and support students and staff so that everybody achieves the most. We all want people to learn a lot.
We want them to achieve a lot through these educational experiences. In this section, we'll have a look at some of the ways in which we do that in the school. The system that we are pioneering moves away from the old tell and test mentality of assessment, to use assessment to really help learning, to use assessment to encourage and reward students for achieving, what we all want, great learning outcomes. So we're moving to a system which is more about guiding and supporting.
The way we do this is to divide the unit's assessment. So each unit or subject that you study throughout the course, we break the assessment down into a series of tasks that are scaffolded across the trimester. Students will attempt or work through these tasks and they'll be teaching and learning resources that go alongside those to help give you the information, the knowledge and skills you need to undertake that task. But when you finished it, you can submit the task, not for a numeric grade, not for a score, but for feedback from the teaching staff.
They can tell you how you're going with that task and whether you've achieved the required learning outcome, and support you to achieve that rather than test you and give you an numeric score. The way the final score then works is that we divide the tasks across different grades. So the grades that we're using are called pass, credit, distinction, and high distinction, which are in increasing orders of value. So we have a number of pass tasks that help scaffold your learning. There are credit tasks that help build upon those. Distinction tasks that help you distinguish yourself to show what you are capable of.
And then there are high distinction tasks to show how you can excel in a particular area. And so the grade that you get in the unit, isn't a numeric score based upon how well you did in one assessment task or a couple of assessments and in exam, instead of that, you achieve a pass by completing all of the pass tasks. If you want to achieve a credit or higher, then you do the pass and the credit tasks, and so on. In this way, we can focus each of these different tasks on different aspects of learning and different qualities. In this way, the pass tasks end up providing the foundational skills. So the foundational knowledge and skills that you need to be able to engage with that particular subject matter.
These will guide you through making sure that if you achieve a pass in a unit, you understand the core concepts. it's moving away from that idea that achieving a 50% score is a success. Instead of that, what we are looking at in the units that we have in the school is really a pass means that you've got understanding of all of the fundamental knowledge and skills that you need. So that you are set up to succeed as you go forward. We then scaffold beyond those through credit tasks, which help you build your understanding and start to apply it in a more creative and more interesting ways.
Then when we move on to areas such as in the distinction and high distinction range, we are looking at things like custom projects, where you can put all of those knowledge and skills that you've learnt together to build something that you're interested in, or to explore some data in a way that you're interested in exploring that or securing systems in different ways, depending on which degree you're in and which particular unit you're focusing on. And the great thing is then, the high distinction is really about excellence. Showing how you can go above and beyond what we've covered to really show all of your potential, all of your capabilities. In this way, you can help personalise your learning experience to each unit. You can focus on particular units that you want to excel in and other units, if they're important, but not your main focus you could achieve, you could have a lower target grade.
So that's the great thing with this system. You can pick the grade that you're after, you achieve the tasks or you work through the tasks to achieve that grade. And then at the end, you're able to be supported or through the process, you're able to be supported by staff so that you will achieve the grade that you're after. And at the end, you come out with something that will showcase your capabilities, regardless of how challenging you might think a subject is or where you are wanting to excel. So the great thing is we can use that system throughout your course, but the course itself is then structured in a way to help you take all of those special things that you've developed, all of those skills that you've learned across your course, and showcase those to the world at the end through what we call the School of IT Capstone Programme.
So this Capstone Programme comes at the end of your course. So in third year for a three year undergrad or in second year for a master's programme, and in this programme, you work alongside your fellow students under the guidance and direction of staff to work on a project inside these large companies that we run inside the school Capstone Programme. Each of these companies have ambitious goals that they have, where we're applying technology to solve different problems in the world. As a near graduate, you can use this Capstone Programme to really combine all of the things you've learned across all of your different units to showcase the knowledge and skills that you have, and to produce a portfolio at the end of this programme, that shows what you are able to achieve. So these companies that we run in the Capstone Programme have between 60 and 100 students in the company, and which provides you with this huge opportunity to work together with a whole lot of different students, to collaborate on a project that you are keen and motivated in order to achieve that will then go on to evolve through the Capstone Programme as it evolves over time. So we think this is a really interesting way of getting people to create or helping students create these showcase pieces.
So at the end of this Capstone Programme, everything you've been able to achieve will be captured in your portfolio, and then this becomes something you can take to job interviews or something you can keep with you as a record of your achievements throughout your course. Now all of these teaching and learning experiences are backed by our modern campus and our effective views of online platforms. Deakin has a very long history for combining online and on-campus activities so that you can get the best out of your learning experience. We're focusing at the moment on building out a new maker space, which is gonna be a really interesting and creative space in which you can combine real world technologies in new and interesting ways. We have a robotics and IOT lab, which is focused on connecting humans and computers through the use of robotics and the internet of things.
We have a range of different Mac and PC facilities, as well as spaces for students to work in these Capstone companies on campus, in real work-like scenarios. We are also gonna focus around the idea of active learning spaces. So really trying to move beyond the idea of lectures, where people get up and talk at you. Instead, we come together in learning spaces, designed for collaboration. So you can collaborate and learn from your fellow students and from staff. And you can get the most out of that learning experience.
Active learning is really been shown to be much more effective than the old sort of chalk and talk mentality. We also make extensive use of teams in the school to help create, Microsoft's online teams platform to create learning communities so that you can connect with other people in your course, and you can connect with people in your units. We really think connecting with others is gonna make your learning experience much richer and much more valuable. Hopefully you can see how passionate we are about creating really great learning experiences for our students. And this has been recognised through the various awards that Deakin has achieved in the teaching and learning the space. Deakin is known for excellence in teaching and learning.
We are number one in Victoria for educational experiences, learning resources and teaching quality. We've been consistently number one for student satisfaction in Victoria and in the top 1% of universities in the world with a long history of doing online and on-campus education, and now looking at really creating blended learning experiences that combine together the campus and the online learning experiences. Now that you have seen our approaches to help you achieve more in our computing degrees. For our last point, let's look at how you can go beyond the basics to get an advantage to grow yourself personally, as well as professionally for an exciting career in IT industry.
In our computing degrees, we focus on building fundamental knowledge and skills in the first year. In the second year, our focus is on professional practise. In the third year, you will get the opportunity to engage with the industry and put the things that you have learned into practise through internships and placements.
Some of these placements are long term paid placements, and these opportunities will provide you a smooth transition to your career in industry. To help you prepare for your internship and your career beyond your studies, Deakin also offer a programme we call DeakinTALENT. This programme empowers students to explore a wide range of carrier opportunities, build skills and experience valued by employers and present yourself confidently and positively to employers. At Deakin, we offer many other opportunities to help you grow personally and professionally. These opportunities include hackathons, innovation events, study tours, and student club. This will not only provide opportunities to engage with other students and academics at Deakin, but also with the broader community.
For example, some of these opportunities have led students receiving industry awards, competing not only with students, but also with the broader community and industry. University education is about learning from experts, academics who have deep understanding of the field and who help advance and pass on the knowledge to research and education. Deakin offers pathways to become an expert, joining other academics researchers industry in making new discoveries and sharing this with the world.
A bachelor's degree is a start of this journey with options to grow and incorporate research aspects through honours programme and also through master degrees. This provides pathways to PhD opportunities where you work closely with existing experts in the field to advance the state of art technologies and become an expert in a particular field. As IT grows, demands from industry and academia for new expert is constantly growing. And you have pathways at Deakin to become an expert in the field.
Are you ready to join with the staff and students at Deakin, on your learning journey to a successful career in computing? Computing is revolutionising industry and society, changing the way we live and the way we work. And we need talented professionals capable of harnessing the power of computing to help tackle the challenges that we face in the world and in society today. In this presentation, we've been focusing on how Deakin can be the right place to start your career in IT. We've looked at the different computing degrees that we offer at Deakin, from the Artificial Intelligence degree through to the Software Engineering degree, showing the whole spectrum of the IT industry and the different kinds of careers that are available.
Hopefully this will help you choose the right degree based on your personal interests and your career aspirations. We've seen how our approach will help you get more, making sure that you have those core knowledge and skills that you have the practical hands-on skills that go with those so that you can put that knowledge into practise, to have real impacts in society and in the world. And we've seen how you will develop the attitudes and the learning skills necessary to evolve with the IT industry as you go through your career. And we've looked at how Deakin provides opportunities for you to go beyond the basics, to connect with those extracurricular activities that will help give you that competitive edge, making sure that you graduate as the best graduate that you can be, ready to enter into the workforce and have some real impacts going forward. We hope that you'll choose Deakin as the right start for your career in IT.
We hope you'll join us in our collaborative learning environment, where we can work together to develop your potential so that you will have the knowledge and skills necessary to harness the power of computing so that you can go out into the world and into society to impact change so that you can lead the changes needed for the future. You'll have all of the capabilities and skills behind you to have a really successful career, no matter which of the degrees you choose. Thank you for your attention throughout this presentation. I hope that we've been able to provide you with some insights into the career opportunities in IT, and the different degree opportunities available through Deakin. We hope that you'll choose to join us at Deakin and that we can help put you on the path to success. Please remember there is also the individual videos on each of our courses.
These will deep dive into the course in particular, show you the structure of the course, as well as giving you insights into the different career opportunities in that course. Thank you again for joining us today. It's really great to see so many people interested in computing at Deakin.
I'd encourage you to stick around for the live Q&A session that follows. We'll be able to use this to answer any questions you've posted up in the panel on the right hand side. If you do have any more questions, keep posting them up and we'll try to address them as we go through the live Q&A session. If we don't get to them in the actual live session time, we'll still try to respond to them after the session. So that you'll get a response to your question.
We look forward to talking through any questions you do have. Otherwise we thank you for your participation, and have a great rest of the day. Thank you.
Hello and welcome to the information and emerging technology at Deakin live Q&A session. I'm Kerri and I'm a senior lecturer in the school of information technology, and work in the area of graph theory and applications. Today I'm joined by three presenters, Andrew, who is the associate head of school for learning and manages the teaching in our school.
Chathu, who is the course director for postgraduate courses and works in the area of networking. And Kevin, who is the course director of software engineering and works in the area of internet of things. If you would like to ask a question, please type your question into the Q&A section in the question panel on this page. We will do our best to respond to all of your questions during this session.
If you have any unanswered questions at the end of the session, our team of experts will be available on web chat all day to assist with any questions, including any specific international student related questions. At the bottom right hand corner of your screen, you will notice a yellow chat now icon. Please click on this after the session to be connected with our team. Our first question is from an anonymous person. As someone interested in studying data science who has done absolutely no computing work in the past, how would you recommend preparing for the start of university? Andrew would you like to give us your thoughts on this question? Yeah, I can start the discussion on this.
That's a really interesting question. I think, probably the main thing to be reassured is that all of the courses do cover the foundations that you need for the particular course. So data science, but also applies to software engineering, computer science, AI, et cetera. Really I guess the main thing would be just to get enthused, make sure you're ready to really engage with the study. I guess the main thing, but basic computer use would probably be one thing that's generally assumed, but beyond that, we'll pretty much cover most things. Any thoughts Chathu, Kevin? Yes, we cover from the basics, to high level content.
So at the end of the course, you will know most of the things in that particular course, like the data science, you will be ready to go and join industry. But basically we cover everything that you want from the basic to expert, as Andrew said. Yeah. So pretty much it, I guess. So I can add that, normally we get the question, what programming languages do I need to know before I start? Like, do I need to start in advance? For all of courses, first day, you'll come in and you'll start learning programming languages. If you've done some that's fine, but if not, then we start from the basics.
And we give you a lot of support as well. We have drop in sessions, we have lots of support sessions. So there's plenty of opportunity very early on to learn that.
Yep. Okay, thank you. I have another question this time I'm gonna ask Kevin, what sort of work placements do the different courses offer? So it's a really nice question.
So a lot of people are, as you should be very interested in employability at the end of your degree. So we can make sure as we scaffold that across the course, right from the beginning. So we around the second, between the second and third year or during the third year, all students will be doing work placements.
So, at the end of the second year or so, you'll start receiving communications about these. Now you can find your own placements, or Deakin will help you find placements. And there's a large amount of placements available. We have partnerships, we lots of companies in Melbourne and in Australia generally.
Does anybody else on the panel want to say anything about that? I mean, there's also a couple of different options. So towards the end of the course, if you go on a longer term extended placement, then that can form what we call part of your capstone for the course. So that's where you demonstrate your achievement of the course learning outcome. So that's a really great way to work in industry over an extended period of time, also being paid, which is great. And using that as your stepping stone into the industry, it's a really great thing. So capstones, for all of bachelor's degree, it's embedded within the course.
So you have to do some form of work placement, but if you can get those longer term paid ones, they're much more valuable. One, you get longer real experience, but when the company's paying you, they're usually keen to hold onto you afterwards. So we find many people who do those paid placements, go on to work in that company as well. I wanna emphasise a little bit, these are proper placements. So, your internships when you go into companies they're proper placements.
So if your course is data science, you'll be doing data science in the company. If you're focused on software engineering, you'll be doing software engineering. So that's one of the things that's really good about Deakin and it's placements, is that they're very, very relevant, and they help you build your CV while you're doing your course. I was just going to, oh sorry, Chathu? CHATHU: No, no, that's okay.
I was just gonna add that, nearly every industry you can think of uses IT. So the range of different placements is really, really interesting. You could end up in the banking sector, in insurance, in consulting, in small startups. Even in some of the not for profits, they need IT people.
So you can get a whole range of industry experiences and use your IT skills. Sorry, Chathu. Oh, no no, that's good, that's okay.
I just wanted to highlight the fact that Kevin said, yeah, you broaden your skills, you learn things during your course and you put that into practise when you go to internship. And then you will be ready at the end, when you graduate, you can join industry, you are comfortable in joining industry through the placement. And we got a lot of successful stories. Some students, they found graduate roles through the internships as well.
So I wanted to, yeah, just mention that one. Thank you. Okay, another question. Can I take a minor degree, if I'm pursuing a bachelor in software engineering. Kevin, can you help us with this one? I'd love Kerri, thank you.
At Deakin all of our degrees have a number of required units, and then there are some space for you to be able to choose other units within the school or throughout the university. Now, what we do at Deakin is we give you the opportunity of studying a major or a minor, and these are collections of units that allow you to focus on a particular area. So, all of our degrees, all the courses within the school offer this. So for example, the question you asked about, was about software engineering. So in software engineering, you can take a minor in the third and fourth years of software engineering in artificial intelligence, or cloud technologies, or cyber security, or data science, or game design, or VR, or AR.
Now you can look at our website for all of these, you type the name of the course you'd be able to see. And all of our courses offer similar options. So I'd recommend that you attend the information sessions for those particular courses, if you're interested.
Yeah. I think that's a good thing. And I was just thinking back to the data science question earlier, I probably should have mentioned it in that one. We'd be good to have a look at, for each of the courses, there is a sort of a dedicated video on demand session available in the virtual open day today. So you can get much more details about the course specifics in those sessions. Yeah, so that would apply of as well for things like minors, but also the kinds of things you might be doing in the course itself. Thank you. I'm just gonna put this next question,
cause it's about software engineering again. I'm a software engineering graduate, I've decided to go with cybersecurity. I do have a basic grip on the basics of the prerequisite courses. As an international student I want to confirm if intermediate knowledge of the basic units would be enough to go into such a high end industry. Chathu, could you give us your thoughts on that one? Yeah, I think it's the same with what Andrew mentioned about data science, because we cover the fundamentals. So if you know the basics, basically if you know the, if you have the basic computing skills, then you are ready to go and study any undergrad course we have, because we cover the fundamental from the start.
So, yeah. And I think if we think about it from the other end as well. If you studied software engineering and then wanted to go work in cybersecurity, if we think exiting the course. You'd have a good understanding of the IT, or the breadth of IT through your course. And this is where things like the minors can come in to help really extend out your course.
So if you were interested in doing software engineering, but thinking about progressing into cyber security, then you could do the software engineering bachelors and pick up a cybersecurity minor. And you could also go the other way, you know, do a cyber security bachelors with sort of a software development related minor, if you were interested in the combination, but more from the cybersecurity angle. And the same across all of the other courses, the data science, and other courses as well. Okay, thank you. Okay, another question this time I'll ask Chathu.
What other study abroad opportunities within their IT courses at Deakin? Yeah, sorry. Yeah, that's actually good question. There are many ways to learn at Deakin and many ways to get credit points. There are different options you can choose. One of the options we have is study abroad. Not only that we have study tours, and also exchange study programmes.
So to answer your questions. Yes, we do have those options, study abroad, study tours, exchange study programmes. Yeah, it depends on your course. It depends on different, different partners we have. So yeah, simple answer is yes.
But you need to enrol into course, and then you need to check the availability of those options at certain time of the year as well. Anybody else? No. Okay, thank you Chathu. Okay, another question.
What is your most popular IT course, Andrew? That's a interesting question. I think in general, probably the computer science, or specifically the computer science and the bachelor of IT course tend to be our more popular at the undergraduate level. However, we've only just, introducing for next year, the bachelor of data science. So that'll be a new course, which I imagine will also be very popular. The master's level, the bachelor of, sorry, the master of data science, is our most popular course. So I'd imagine that that'll reflect in the undergraduate space when the course comes on.
But all of the courses have plenty of students. So you'll have great opportunities to interact with other people. And it's probably more important that you're doing the course that suits your interests and the kinds of things you want to do when you graduate.
So that's why I'd watch the specific, and if you're not sure have a look at all of the different videos. For each video for each of the courses, we'll give you an idea, a flavour of what that course is about. And then you can use that as your entry point. I was just gonna add to what Andrew said there. If you're not sure which course to do, you can look at the course map for each of the courses, and they're available on the internet, and have a look at the units that are compulsory for each of those courses. And what I do is put a little smiley face by the subjects that appeal to me, put a sad face by the ones I don't like.
And it gives you a really good picture of which course is more appealing to you. Because the great thing at university is you actually do something that you feel really passionate about. You know, I think that's really, really important. Yeah. I think that's a, the doing something you're passionate about is really the key.
If you're not passionate about it, gotta remember this will be setting you up for your longer term career, and the career will reflect the kinds of things you're doing at university. So now you wanna get that onto the right path. The other good thing to think about is there is lots of overlap in the first year between most of the courses. So if you did come in to do one course, then there's the possibility of shifting to other courses and not losing anything cause the units you'll have studied will be embedded in those courses as well. So if you were at uncertain of which course, then probably the computer science course is the most what I would say central course for the school.
If you did that course, then the units that you're doing in that would mean that you could transition into pretty much any other course. The other one would be the bachelor of IT. That's similarly flexible, but is sort of, a bit less technically focused.
So that would be the other option. So it would be between those two, if you are not sure. Thank you, okay.
We've got another question about courses, and this one's about the data science course. And they want to know what types of applications and programmes are useful to know before joining uni. Okay so it's great to think about preparing beforehand.
So we'll get Andrew to answer that one. Oh, sorry I was just distracted for a second. What was the question? Sorry. Sorry Andrew. So what types of applications and programmes are useful to know before joining uni in data science? So I think that's the same as our original question. What you'd need will be covered in the course itself. General computer use I think would be the main thing.
If you're not comfortable using a computer, then get more experience using a computer. Specifically for data science, maybe brush up some of the mathematical concepts you learned in high school. That's also useful for most of the courses I think. Brushing up on some of the abstract thinking associated with mathematics is good.
I think that's really it. Sorry, go Kerry. I was gonna add one thing that I think is good for a lot of IT degrees is just problem solving. So think about, you know, even something simple like doing sudokus and things where you're thinking about what's a good algorithm, what's a good step by step way of doing this. And then that translates into the computer language you might learn, into the strategies you use. Right? So I think some problem solving's always good.
Yeah, yeah. I agree. Coming in with energy and being prepared to do things is the most important thing I think. If you engage with the staff, everyone's really keen to help you. That's what I really like about working at Deakin. So when you come in, you know, people are here, we want to help you, we want to help you succeed, we wanna make sure that things work for you.
But having the energy, we can't learn it for you unfortunately. That would make it much easier. But if you come in with that energy and you're really keen and interested, then the staff will really work to help you succeed, regardless of sort of what level you come in at. So don't worry about feeling unprepared.
I know there should usually be a little bit of nervous, sort of anxiety getting started with the course, but you could use that to really then engage with the staff and get connected with your peers, form some really good networks to help, establish, get yourself going. You'll progress very, very quickly. Which is really great to see.
So a lot of people are worried right now about their technical skills, specific things. So they're worried about their maths, they're worried about their general IT, they're worried about programming. In the first trimester in all of our courses, we specifically study these areas, and we study them from quite early on.
So very basic programmes, basic computer systems, relatively basic mathematics, at least for computing. So yes, it'd be great if you come in with a bit of a programming experience, it'd be great if you come with a little bit of knowledge about IT, and it'd be great if you brush up on your mathematics. But for everybody early on in their degree, it's more about kind of settling down into university, understanding how things work, understanding how to learn, and what the support mechanisms are.
So yeah, it's great if you've got this enthusiasm, and you've done a little bit of reading. But in reality you can kind of hit the ground running, just by coming. Yeah, you made me think of a really good example I had.
I remember a few years ago I had one student in introduction to programming who was really struggling around halfway through the trimester still. But he asked lots of really good questions, sat down and tried to go through, okay, what do I not understand? And then he said, it was like just a light bulb moment where he said, "ah, yeah, I get it now." And he went on to get like a hundred in the unit, so a hundred out of a hundred. And became one of the best tutors that I ever had teaching in that unit a few years later. So you don't have to come in knowing all this stuff.
You can start from really not knowing much, it's about engaging with the process, engaging with the staff. You can get there and you can achieve really high results without having, you don't have to come in with all of the, knowing how to programme, as you said Kevin, or having good grasps on all these concepts. That's what we are here to help you achieve. I'm just gonna, sorry Kevin, after you. Yeah, It was just a good time to mention the support. So, we talk a lot about you as a kind of individual, as a student.
But the support mechanisms we have are large. So all the way from from the material is all available online, and you have fantastic in-person sessions, where you're getting together in groups of students. Everything's recorded in terms of lecture material, in terms of support material, constantly updated. We have regular support sessions for all of our courses, and we have in person help hubs that happen across the university. Universities, libraries, and lots of study spaces are open all the time.
There's lots of mechanisms to be able to connect with your peers. At Deakin our academic staff are generally open to receiving questions a lot of the time. And we really kind of help you out to try to understand the material and to help you succeed.
Yeah, I suppose I was just gonna say similar to Kevin, we do have dedicated help hub support for lots of our first year units. Which means online and in person you can drop into those sessions and get help with those core first year units. Also I can understand you might be feeling a bit anxious and want to do some pre-work before hitting your first trimester of uni. And one thing you can do is just the same, as I said. You can look at your course map online, you can look at those individual units, and you'll get a high level description of what you're gonna be doing in those units. So if you wanna do a little bit of work, you can look at those and you get an idea what that unit requires.
Rather than us telling you generally what overall generic requires, which may not be relevant for your choice of units. However, do be careful not to overdo it. Maybe you're doing too much background work for a unit. Can I say one last thing? So yeah, don't worry.
We are here to help you. So that's basically the message, we all want to pass, I guess. Yeah. You might be feeling bit anxious, but yeah, don't worry. Thank you Chathu. That summarises it well.
Okay, I've got a question, and it's about what type of practical learning is available in the course? Andrew, can you explain that one? Yeah, it's a great question. So I think all of our units, we focus on, how can we put it, it's practical application of knowledge associated with IT. So it's not just about learning things to regurgitate the things that you learned. But it's about learning things so that you can do things. So our programming is all about doing programming, for example. So you learn about sort of the theory that underpins it so that you understand what you're doing.
So rather than just being able to get the programmes to work, you understand why they work, you understand how they work. And so it's a combination of sort of the theoretical underpinning, the things you need to understand, and the practical application of those. So I think just about every one of our units, I can't think of any that are not like that. Every one of our units is that combination.
So they're all very practical, but the practical side is paired with the theoretical side so that you are doing things and understanding them. Cause at the end of the day that's the most important thing, is that you understand how to do those things. And we can add that, in terms of the practical stuff, we're using the cutting edge technology. So we're using what industry uses. So if we use particular programming languages, it's because industry uses those. Particular tools, it's because industry uses those.
So it's all about building your knowledge to be able to go into industry and be able to use those technologies. And just to kind of add to that as well. It's not just using the technology, in all of our units we try to have you use technology to solve problems that are relevant in that particular area. So we might be using embedded systems to monitor health, or we might be using robots to solve particular rescue problems, this type of thing. Trying to kind of have relevant examples to use that technology. Okay, I've got a couple of questions here.
Both about scholarships, so I'll just give you them both. So the first is from Peace. Are there scholarships for masters in information technology coursework? And the second question is, is about scholarships that are available for women to enter IT degrees. So maybe Chathu, could you answer both of these, the first about masters in information technology, and the second about just IT degrees for women? Yes, thanks.
Thanks for asking those questions, they are wonderful questions. And master of IT, I think any post grad courses we got, we have scholarships. We offer a range of post graduate scholarships to help you complete your study, and also try to help you reach your full potential, supporting financially as well. In my mind, I can remember two scholarships. That's Deakin scholarship for excellence. That's one of them.
I'm pretty sure that all the information available in the website as well. And the other scholarship is the Deakin student support scholarship that's for post grad studies. And the second question, we have a dedicated session for women in information and emerging technology. Please, if you are interested in that topic, please, I recommend you to go and watch that video.
And then we have a separate Q&A session for women in IT, women in information and emerging technology. And that starts at 11:30 am. So yes, answer to your question, so please go and watch the video. We have all the information there, but to answer your question. Yes, we do have a range of scholarship for women who starting in emerging and information technology. We have, as I can remember at the moment we've got four special scholarship for women studying in IT.
One of them is the, I think that's the Ford Australian Women in STEM scholarship. We also have Helen Macpherson Smith Trust scholarship. So there's a range of scholarships available for women studying in IT. Yeah, please do watch the video. We got all the information there for you.
Yeah, I think that would be good if people could watch that. Even if you're not a female, you could come and watch that presentation, that would be really good. There's a bit of time between now and when that happens. So if you wanted to watch some of the other video on demand sessions for the different courses, you can come and join us in that final live Q&A session.
We'll try to prioritise answering any specific ones related to women in IT. But if there are general questions around courses, we can also answer them there. So if you watch those other videos and then have questions, feel free to drop into that other live Q&A, and we'll try to answer some of those questions there too. And on our website, there's a great page on scholarships at Deakin including a find a scholarship tool. So that's another great place to look and a link to applying for the scholarships. Okay. I've got a final question.
And for this question, I'm going to ask Andrew. What is the difference between data science, and computer science, majoring in data science. So if I want a bachelor of data science or a bachelor of computer science, majoring in data science. That's a great question. I guess it's the emphasis.
And this applies, I'll sort of answer it generally, rather than specifically. In general, the course that you study sets the main focus of your studies. So if you did the bachelor of computer science, it's all around the algorithms, coming up with unique solutions for particular problems, that's your core focus.
And then the major or minors, so majors are basically six units associated with the degree, whereas a minor is four units. So they're not actually hugely different majors and minors. The majors and minors then sort of add a flavour to that core focus. So if you had a bachelor of computer science with a data science major, then your main thing is around this scientific approach to solving problems, which is the core of computer science.
And you would have an extra, you know, a flavour around understanding and exploring data within that context. Whereas if you have the data science course, then you have exploring and discovering insights as the primary focus of all of your units. So it's more about that. So you don't have quite as much of the scientific approach to solving problems, not quite as much programming, those sort of things.
But you've got a greater emphasis on exploring data. So they're not miles apart, But they are different in the way I would think about it, the kinds of person that I would be thinking each of those graduates was. Kevin or Chathu, anything to add to that? Thanks, Andrew. I think that unfortunately, that's all we've got time for today. And I wanna thank everyone for joining us.
And it's been really great to see that so many of you are interested in information and emerging technology, and that we've received so many questions. If you'd like to learn more, you'll find loads of really useful resources on our Deakin open day website. And we encourage you to explore that.
Thank you for your time, and we hope to see you at Deakin soon.
2022-06-12 09:55
Show Video
Other news