Unparalleled data and insights from NTT DATA at the BMW International Open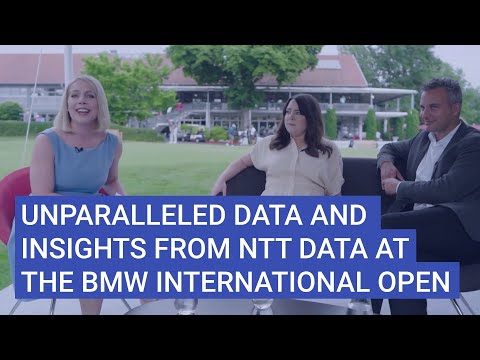 Show Video
We're here at the BMW International Open in  Munich. The course is set, the players are ready,   and for the first time the NTT DATA Wall  is here with every shot hole and player   covered. Welcome to the NTT DATA experience  and welcome to golf club ivy league. Here is your host Hello and welcome. I'm Mandy Clark and we are here  in Munich at the BMW International Open. With me   is Jörn Plinke, BMW's Head of Golfsport, and  Paula O'Connell, NTT DATA's Head of Sponsorship. Today we'll be talking about partnerships,  the passion for sport, and how technology   is changing the sporting experience. But  sports wouldn't be sports without the fans   and Jörn, I notice there's a big  sign that says welcome back...
Oh yeah, finally welcome back! I mean  the last time we could run a full event   was in Iceland in 2019, so that's nearly three  years ago, and after two tough years - one   cancellation of the event, one year with  restricted numbers of spectators, we really   look forward to having everyone back! All the fans  in Germany, Austria, Switzerland to come over here   and we can't wait to to to have them back  with the atmosphere and get this week started. And Paula, I know you're a  big golf fan and you love   live sporting events. What does it mean  to be able to be back on the course? Oh it's amazing man, dear it really is. I mean  there's nothing quite like a live sporting event,  
you just you just can't beat it  and I think as Jörn rightly says,   you know we've we've been on  quite a long journey together.   As you say, nearly three years and to  actually physically finally now be in Munich,   see our Data Wall and our Brand Lounge, it just  it brings it all to life. It really is amazing. What do you think, or how do you think, the  fans changed the atmosphere on the course yeah? I think everyone realized over the last couple of  years how sporting events look like and feel like   without fans and the emotions. Even the reactions  by the players are getting just more emotional   and, yeah, the atmosphere and the experience  is just a different one. This is the reason why   we all love sport because there are so many  emotions and fans are absolutely part of that.  
Every player I talked to earlier this  week here can't wait to to play in front   of these crowds again. It's just something  different, a different product we have here. What's interesting, you mentioned the  players. I wonder if it does matter to them,   because do they get that energy from the fans? I think so. I mean these are all professionals  so they are used to playing in front of crowds,   in front of tv cameras, and so  on. So they're probably not so  
nervous at all but at least the fans gives  them the final push and the final focus,   and obviously celebrating with fans, the  applause, the reaction and the feedback   is just something different and just  much more enjoyable for for everyone. It definitely is a shared experience and I  know for the experience of the fans they not   only get to see the their favourite  players and experience the course,   but there's also some goodies  that BMW has on display. Yeah, absolutely. I mean the main reason why we  are doing this to give our fans, our customers,   a proper experience with our newest products.  We have some great products that recently came   out to the market, especially our new Seven  Series - the first fully electric 703 ever   produced as our flagship car. But also other  fully electric cars like the iX, like the i4.  
It's just a perfect stage to to show  these products to our customers,   but also to our partners and give them a  great experience in our tournament village. Amazing. Numbers-wise, what are you  expecting over the whole tournament? Yeah, I mean today is a pro-am day. We had a  smart start, but just laughed about the numbers  
we already had today. I heard about 5,000 people  at the pro am day. Over the next four days we   expect additional 50 to 60 thousand. Overall,  we we hope to get back to the numbers we had   before the pandemic; to 60 to 65,000. And  the ticket prices went pretty well. I only   heard from the team that the ticketing hotline is  running really hot over the last couple of days. We can't wait for for for the tournament to be  started and clearly the fans can't wait either,   but as you pointed out last year it was very much  a different story. But you did a lovely video  
showcasing how last year's event was and  it's so nice, so let's let's have a look... Hi Ralph, how are you? Good to meet you. Hi Jörn, thank you I'm doing good. What about you? Yeah very good. Welcome here to Golfclub  München Eichenried and let's go for a ride.
Oh wow, cool. Yeah let's do it! I've been electrified too,  for around two months ago   and I like it. There's a lot happening in  the automotive industry and the technology   goes further, but let's not only talk  about BMW tell me a bit more about you. Yes, I'm in charge for the  business together with BMW   on behalf of NTT DATA Group. We have a Japanese  history, so NTT DATA headquarters Tokyo means   trust, commitment, and the long term  relationship is very much important for us.
Absolutely, yeah. We're arriving here on the 18th fairway,  where we meet a historical place. Yeah, great players we have had here  like Ryder Cup captains and one of them   made an albatross here. Wow, 28th of June  2009. Great memories for all the spectators   here looking at the players and then from  here having a hole. It is so amazing. Let's   see what this year's tournament is bringing for  news stories around that, but I'm pretty sure   with NTT DATA as a data partner, we can capture  more about great shots and and great moments.
Our teams were working together for a  long time to develop that experience on   BMW-Golfsport.com. I think we are providing  a real data experience on the European tour. Yeah, so we have also a long history around golf.  We have been involved in the British Open since   2013 and we want to use our knowledge in  sports especially for fan engagement and I   think the consumption of sports in general  has developed further over the years.  
With our data center, powered by NTT DATA, we have  a great opportunity to give all our fans not only   the live feed and every single second  that is produced from the tournament   live and free on BMW-golfsport.com. We  we also offer a second screen experience   with some cool data and real life statistics  and I can't wait to see that online too. Yeah, me too. We now arrived here at hole number 17, also a  very traditional hole. Yes the hole in one hole. The hole in one hole.
You had a great tee shot here. Yeah, it's not a hole in one. Let's see if  I can make a birdie so let's give him a try. Oh! Great birdie, but no hole in one, Ralph. Yeah, thank you. So I think we'll  leave this hole one to the players. Absolutely, let's leave it to the players.
See you there. See you, yeah, thank you. Well maybe we'll see some of those players  manage a hole-in-one on the course. You know   what I always find exciting is watching  players and how they tackle different   holes and I know for the first time  this year the NTT Data Wall will be   here at the BMW International Open. What  and experience will it bring to the fans. Yeah that's absolutely right randy and I  think just to say that we are so proud to have   the NTT Data Wall finally here in Munich. It's  fantastic to be located here in the heart of   the spectator village, right behind us, and  it displays all the action as it unfolds   in real time on the screen so all the fans  can sit there and have a beer and we do all   the hard work. We analyze the data so they  just get to to see all those key moments  
brought to life and enjoy the experience. But  it's more than just a big screen isn't it. Yeah absolutely, when we created that  there's a lot of considerations for design,   challenging because you've got to think  about it being easy to read whether it's   10 meters or 100 meters away and that  it's easy to digest all of that data   in in all weather conditions,  whether the the sun is shining or   there's torrential rain, which I think we might  see a mixture of over the the next four days. You know that it's easy to read and so there's  a lot of considerations to think about for sure. Jörn, what do you think this  is going to bring to the fans? I mean this was always a starting point of our  conversation, and this is now three years ago, and   when NTT DATA came to us and we started  the conversation about the partnership we   were, from the very beginning, excited  about bringing that experience NTT DATA   runs at The Open Championship for many years to  a tournament like this - The first DP World Tour   event where we have that kind of technology.  Obviously a huge story for us as a tournament,   for us as a brand, and to tell that story  together with NTT DATA it's just very exciting. And for the fans.
I mean the fans obviously just don't know what  they have to expect. I'm very interested in   seeing them sitting in front of that wall  and realizing this tournament is delivering   something completely new and they have never seen  before. They get even more information around the   play, around their favorite players, and I can't  wait to see them sitting in front of the wall. Absolutely, and if they're not right  in front of the wall there's still   a digital experience to be had. Yeah absolutely, and I think you know it's  important to understand that golf is a very   challenging sport and to, you know, to think  about whether you're on a course or at home   that, if we take the course here for example,  but it it spread across six and a half thousand   yards - 350 acres - so you can't possibly  know what's happening across the 18 holes. Even 156 players starting the tournament and  that's the beauty of of our technology and,   you know, it brings all those key moments to  life. The fantastic thing about our online  
data experience that we brought to together  last year is that you have the ability to   personalize that experience, so whatever the the  players that you're most interested in you get to   to see all the interesting information  come to life on on those players. I wonder how important is technology  for the BMW International Open. I mean it's especially due to the pandemic  and all the digital topics and that developed   further and how to consume sport, especially  golf, where you don't have a fast sport. Where you have see short shot and  entertainment, you always have a gap in between,   and to to deliver something in addition to that.  Obviously the technology part plays a huge role   and having that digital experience to for the  fans at home, but also for the fans on site,   because while they are waiting for some groups  to come, what to do? Take out the smartphone and   enjoy the live ticker enjoy the additional  statistics we deliver there. So technology   plays an important role for consuming sport and  making it even more entertaining for for the   fans and therefore we really appreciate to have a  partner like NTT DATA to bring us that experience.
Yeah, I mean absolutely. I think you know it plays   such an important role and for us  it it is all about engaging the fans   and providing them with all the information  they need to fully understand and participate. Whether you're a seasoned golf fan or you're  completely new here for the first time at the   golf course, that you then become interested  and you continue continuously watch golf,   whether it's at the course or online in our  data experience and you continue coming back. Obviously for us it's a it's a good story as a  brand because we have high technology cars and   there so much stuff happened over the last  years in the development of that cars, and   showcasing this also on one of our  most important experiential formats   the BMW International Open and I find that joint  story, that authentic story, to tell it just makes   sense. I think it's a win-win situation for  NTT DATA and BMW but of course for the fans. Yeah definitely, and you know the great  thing about it is it's something that   you know we had to develop together in partnership  in real-time last year and challenging times,   so you know when you think of something like  Covid, it was incredibly challenging and it was   challenging as we evolved our partnership, but it  certainly brought about a great opportunity for us   and now we we bring back the the live events which  is great to see. But, you know, we still have a  
mixture of both the live and the online experience  which is great, a nice hybrid experience. Yeah absolutely, but I understand, of course, golf   is not only the sport that NTT DATA is involved  with across the globe. You have partnerships   with lots of different sports. I find it  absolutely fascinating. Let's take a look
Sports are fast and furious, precise  and hard hitting. Sports can be a slog   or elegant, but sport is always  about the fans all across the world.   NTT DATA is using technology to shape the future  of sports and bring fans closer to the action What I love most, I think just that human  interaction with the machine and both of   them having to have a perfect day to  celebrate win in the Indianapolis 500. What I love about the sport today  is there's still those elements of   why we were built to test technology and no  place is better to test new technologies than   the IndyCar and the IndyCar series,  but then in the venue as well making   sure our customers feel that  technology experience as well You can't see the whole track so you don't know  what's happening if you're sitting in turn one,   what's happening in turn three, that's been  really exciting to be able to have a partner   that has the knowledge that has the experience  that has the desire and the passion to know   just as much about our sport as we do. Bringing  all of that together makes that experience better   for our customer. The customer really feels  engaged and they walk away feeling like they   got insider information that at the end of  the day makes the experience so much better   and I got a better chance of getting them  to come back and enjoy the Indy 500 again What I love in the Tour de France this is  the technical challenge every day and when   you are talking about the technology, when you are  explaining that every day all the infrastructure,   all the system is moving he's shutting down  moving during the night and in the morning it's   it's really complicated. It's really complex.  We absolutely need to be agile to be scalable  
it's always inspiring to see that we can push the  buyers go further together and create new ideas.   We need to connect, we need to engage with all  these kind of fans with the smart stadium. We can   create even more connection between people who are  on the road and people who are watching the Tour   de France in front of their TV or on their mobile.  This is the the concept of a smart stadium.
A lot of services have been deployed in  unfit stadium for the fans and our idea   is to build the same time of experience but  outdoor, in the middle of nowhere. I would say   give more services to the people. You need to  download an application for localizing the race   and thanks to NTT DATA you are definitely more  part of the Tour than before. Close to the spirit   of the truth. Of course we are just building  something that doesn't exist for the moment. What I personally love about technology  is definitely the social connection   that technology can create that's a  part of the greatness of the Tour. MLB and NTT DATA have partnered to  contribute MLB's further success   by accelerating the future of smart  sports and by providing a new fan   experience of watching sports  through technological innovation   that transmits the experience of watching dynamic  MLB baseball to remote locations in real time.
Well NTT DATA and The Open have now had a 10-year  relationship which is is great. 10 years has   flown by and I'm delighted with the innovation  NTT DATA has bought The Open, and really   brought the championship to the forefront of  sport with everything they do for us, giving   the spectators and the fans as much information  on the course. They can watch live tv on their   app and they can track all the scores of all the  players they can see the the most birdied hole,   the most difficult hills, everything is  better for the fans and great for the open NTT DATA, shaping the future of sports You know what I found really fascinating  is that not only do NTT DATA do lots of   different sport, but you use different  technology in those different sports.
What I am wondering is there  any new technologies coming up? Well, I can't say too much because we're launching  a lot of this technology in in the coming weeks,   but I think you know certainly there is very  much a theme and there is the emergence of   digital twin technology across many  of our different sporting events. Digital twin is essentially high quality mapping  of a physical thing and in this instance it's a   3D representation of a golf course. And what does  that allow us to do? That is essentially gathering   real-time data across every shot and ball  positioning across the four days of of the event,   which results in us having really really  rich data insights and allows us to   to make very complex comparisons and head-to-head  comparisons and even future predictions. So,   really excited about it and that's it.
I guess in terms of the the golfing industry and  we as I say we're also introducing it into other   NTT DATA and sponsorships this summer our  Indie sponsorship. Recently at our Indy 500   we had a digital twin of the  Indianapolis motor speedway,   where the event took place and and that enabled  us to to run a very safe event on site for fans,   which is something that's really important as the  the largest single sporting event in the world. We're also launching a digital twin  technology at the Tour de France this year,   which is essentially creating  a digital twin of every single   aspect of the route, so every single stage of the  route, and we think golf courses complex with 350   acres, in that instance you're talking about over  3 000 kilometers, and so I guess it's something   you could condemn as the largest sporting event  or venue in in the world. That is just incredible. And is there any technology coming  up that you were excited about? I mean hearing that, what NTT DATA  is doing and delivering for the sport   is quite impressive. Capturing data and delivering  with that data is a cool fan experience. It is  
just cool and to have it at our event the BMW  Open event. I think the combination with us   seeing ourselves as a technology brand and and  tech magic is became now part of our brand DNA as   well with all the stuff that is coming in the next  year is just as a keyword, the autonomous driving,   and then experience the car from interior  and getting that entertainment infotainment   and all that technology into the car and keep  our core freud. Forever for all the customers. So yes there is technology in our products, but  also having that showcased with together with   NTT DATA in a BMW surrounding and benefit  from the experience NTT DATA is delivering,   it's just a perfect mix for us, you know.
What I've really noticed, there it seems to  be a very close relationship between BMW and   NTT DATA. How important is that  to have in a technology partner? Technology, you need all the secure data, you need  to develop it further and further and learn from   things, and I think this is pretty much  in the DNA in both of our companies.   This is just exciting and I learned when we  started our conversation three years ago that   you are a business partner, an important business  partner, for BMW for for nearly 30 years now. Yeah, yeah, it really is, yeah, and I think now  with the BMW International Open partnership, we we   just brought another aspect in that obviously, not  our core business, but nevertheless a pretty cool   showcase to deliver our expertise and especially  your expertise in a different surrounding. Yeah and partnership. I think for you,  
having the trust of a client and having that  shared vision how essential is that to succeed,   well I think it's you know vital  to have that trusted partnership. I think in order to have that really  successful sponsorship you have to have   aligned goals and values and and that's really  important. I think to already have that there   cemented with our relationship, it just  it makes it so much easier and I think   now we have a really authentic and strong  partnership, which is great, but let's be   honest this is not a small event. This is a  massive event. How do you guys work together? I mean this event happened this year for the  33rd time. Beside the majors, I can't remember  
a tournament on the DP World Tour existing  under the same name with such a tradition and in   having that history and having  in our DNA that we want to   learn from things every year and develop  it further and further and further. I think this is, yeah, something really special  and differentiate us from other events as well   and keeping that spirit to together with  you get get new input also because you have   great experience at The Open which is probably  the biggest golf tournament in the world, but   benefiting from this experience and and  transported to to our event here in Munich,   it's just a great story and I'm gonna throw  something at you, Paula. The importance of   passion I know that Paula has been following  golf since she was little especially BMW events. Yeah, I know it it's it's amazing to know I  think that I work on them and work on them so   closely and was, you know, part of the team that  made our sponsorship happen so there's obviously   a real sense of pride for me as a kid. I used  to go watch golf at Wentworth every year and  
learning the team there last year to progress  our partnership and now finally here on site,   it's great. But I think it's also, and you  ask about the partnership, it's also about   the people working in that industry and having  that passion for not only the game of golf but   for the sports. I think this is just a cool aspect  next to the delivering a tournament, delivering an   experience to the fans, but having these people  behind the scenes and it's just much more   enjoyable. And then you see also the impact on the  turnout of what we're doing together and so on. I think as well, like, you look here and it  all seems seamless and it looks effortless   and you know it's not until  you're here and you see   I think the work the great work that you  and the team do is is truly remarkable.   It it takes a mammoth amount of effort to  put an event on of this size and and scale   and lots of different teams and organizations  working together, I mean as soon as this event   is over we all start working with the team and  looking at next year's event and you know what   advances we can make in our technology, how we can  help you, and the team build on that even further.
You know how can we elevate that fan experience  even more... Do they feel like a vendor? Do they   feel part of your team? This, I mean, we in  earlier years everyone was calling sponsor.   I think we are only calling that partnerships  now and I think it is definitely a big team. Luckily we have other great  partners as well so it's a huge   family we also want to bring the  partners together it should be   a platform to exchange, to work  together and also create new businesses.
And yeah, I would definitely call it  family and NTT DATA is part of the BMW   International Open family of course that's  really lovely that you see it all as family. Thank you Jörn and Paula. I think that's all the time we have for now. I think it's time to join the fans  and get that live golf experience. I'll see you tomorrow.
Goodbye
2022-06-25 21:36
Show Video
Other news