Unlocking continuous innovation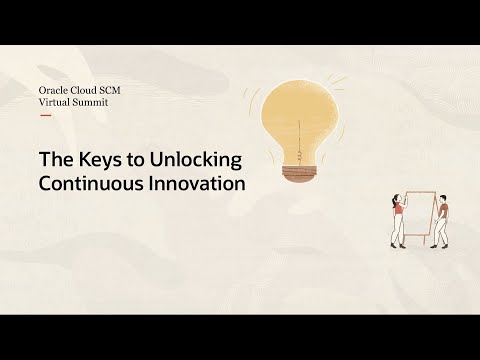 Show Video
[MUSIC PLAYING] RICK JEWELL: At Oracle, we have over 3,200 supply chain customers, and throughout today's summit, we'll refer to some of their stories. And we'll also direct you to where you can learn more about these customers. So achieving success with continuous innovation and supply chain and manufacturing is a challenging but also a very rewarding endeavor.
We hope you'll find these keys useful as you unlock continuous innovation in your organization. Thank you for joining us. [MUSIC PLAYING] When you are manufacturing product, when you are distributing product, when you are delivering product, it has to be a hands-on job.
What the pandemic has really done is not just showed supply chain issues, but it's exacerbated problems that already existed before. And it's those sorts of things during the pandemic that were significantly disrupted, and the knock-on effect across different regions kind of rolled, which is why even now, today, we're still seeing those shortages, because things-- disruptions that occurred nine months to a year ago are actually taking shape now with some of the resultant shortages. As a result of these disruptions, people are now really thinking about, how do they properly serve their customers? How do they better serve the customers with the products that they have? How do they expand their offerings to enlarge their customer base, but then also provide more services. Companies have become much more customer-centric. They're wrapping their customers with not only the products that they have been selling, but also the services that they are providing.
What we're seeing more and more companies doing is setting up manufacturing facilities, distribution centers in the countries where the point of demand is and where the point of sale is. They're looking to not just pick up the way they used to manufacture product and put that down in a new manufacturing facility, but rethink the method and the means by which they manufacture the product. And in many cases, that's using emerging technologies, preventative-- maintenance capabilities, IoT, things like that, and robotics.
They're looking to build things in a much more automated way. Oracle made the decision a number of years ago to begin to build cloud applications from the ground up. No one else in this industry has decided to do that. Everyone else is hanging on to their old on-premise system, hoping it will live a few more years.
We've built out our applications on the Oracle stack, if you will, from the technology up. And what is unique about not only our brand new applications that address some of the driving issues of the 21st century, but it's built on an infrastructure in our Gen 2 Cloud Infrastructure that exists in our data centers that really is optimized to run our autonomous Oracle database, which, in turn, is optimized to run our middleware suite of capabilities, which, in turn, is optimized to run our applications. We've seen, in the past, our customers spending an inordinate amount of time integrating, and not that it isn't a heterogeneous world. No one is all Oracle. That said, if you're building integrations between disparate products, well, you know, that's not really moving the ball forward at all. That is doing the necessary work, the necessary plumbing, if you will, to run your business.
And so what we believe is having a single platform upon which all of these applications are based that you can leverage and use as you see fit. There's multiple paths, because we've built it that way. And what you should really do, initially phasing, if you will, is focus where there's the biggest bang for the buck. You know, where is the biggest pain area? Where is the biggest return on investment? Do that first.
And then go through, in a modular fashion, the other areas, and over time, you end up leveraging the platform, leveraging these modular applications, but building out a fully integrated system. One of the true benefits of cloud applications is the configurability. On-prem systems that many people are still using today are customizable, but they were never built to be configurable. Well, in the case of our cloud applications or, for that matter, any cloud application, it's the opposite.
It's built to be configurable, and you can't customize it. You can extend it, but you cannot customize it. It's just not possible. It's that configurability that is one of the keys, because you can configure our applications to do what you need at this particular point in time. However, as we've seen, the volatility of the market, the volatility of life today is things change. There may be new opportunities that present themselves in different industries, different markets that nobody had ever even conceived of before.
The huge difference in the cloud is our ability to innovate, and it's not only your ability to innovate, but our ability to innovate. There's over 1,100 applications that make up ERP and supply chain. And those continue to evolve and get better as well as us building out new modules and new modularity. We do quarterly releases for our cloud applications, and, on average, we deliver 200-plus features, functions, technologies, machine learning opportunities, all those sorts of things on a quarterly cadence. I have a manufacturing customer, who, last year, on the 1st of a month, took four manufacturing plants live.
On the 15th of that month, they took one of our updates. And on the 1st of the following month, they implemented four more manufacturing plants. So literally, in an active deployment, they took one of our updates and just moved on. It was a non-issue.
Oracle has changed to being a service provider to the point where we embrace customers. Now, one of the tools that our customers know of is called Customer Connect, which is the ability for our customers to put in ideas, which are basically enhancements that they'd like to see in the products that they're using. If there is a feature or something that a given customer asks for, and a huge number of other customers jump on that and agree that that's the highest priority thing, well, then that's what we build.
Every development group inside of Oracle has an outreach function. There are lots of opportunities and means by which you can keep up to date with not only what we're doing inside of Oracle, but what is going on in your industry. I had mentioned Customer Connect as a vehicle by which we regularly present capabilities for our software, but also things beyond that. This virtual summit is just one part of an extended program, if you will, around innovation and extended innovation, extended education. One of the successes, if you will, that we are experiencing is that we do have a lot of happy referencible customers in the cloud.
Matter of fact, our 95% retention rate kind of showcases that. And, in fact, most of them are moving forward on their journey and adding more capability. We have thousands of customer stories and successes, and the way people have gone about doing things, take your opportunity to look at those stories, because I guarantee you'll find companies that are in your industry doing work with our cloud and in your functional area of expertise, who is moving the ball forward in their company.
[MUSIC PLAYING] SPEAKER: Innovation-- a lot of the time we hear about it coming from people working in a garage, because a lot of the time, it does. But what makes garages such reliable sources of innovation? Here's a hint. It's not the grease stains or the ping pong table. It's about what a garage does.
It puts everyone involved-- design, planning, manufacturing, the entire supply chain-- together. It puts everything they need within reach. It makes communication instantaneous. It puts customers close, so you can understand what they want and know instantly when they want something else. Most importantly, expertise from every part of the business is naturally captured as soon as they appear, rapidly tested, and quickly either discarded or implemented. Operating at scale makes all of those things more difficult, but there's a way to keep that flexibility, that ease, that spirit, a way for feedback and input to move without friction, a way to capture inspiration, wherever it happens, to quickly test solutions for feasibility and strategic alignment, and be able to move quickly and decisively when it's time.
Oracle Cloud opens the floodgates, letting data and insights flow in any direction between departments, between devices, between every part of the organization and its customers. With Oracle, whenever and wherever a good idea happens, you're instantly ready to design it, plan it, make it, deliver it, maintain it, and provide services around it, giving you not just a way to win today, but to increase the pace and keep winning every day, so innovation becomes a continuous state, and your garage can stretch across departments, across buildings, across the world. Oracle Cloud-- your platform for continuous innovation.
JON CHORLEY: Over the last few weeks and months, I've seen a tremendous increase in the number of inquiries about sustainability. And those come from every direction, often linked to specific product areas. I'm a logistics guy. I'm a product design guy. I'm a manufacturing guy.
I'm a planner. And as we look forward with that, our goal is always to make sustainability an intrinsic part of all of those conversations-- conversations with customers, customer advisory boards, ideas that we drive into our products-- and really think about that as an intrinsic part of what makes excellence in each product area. Things are evolving. I think that if you go back a few years, it was difficult to really be objective and measure your performance, but increasingly, the measures are there, and the standards are there, standards like SASB, Sustainability Accounting Standards Board, the Global Greenhouse Gas Reporting Initiative, GRI, is a great standard. Carbon Disclosure Project helps manage that process. The United Nations sustainable development goals really aim to look at a broad spectrum of goals-- social goals, economic goals, as well as environmental and sustainability goals.
They really do help us understand the targets we want to shoot for if we're going to really transform our economy into a sustainable economy. When you think about sustainability, you need to go back into your supply chain and understand, where are the materials coming from, and what is the nature of those materials? How do you move material around? How efficient is that? What kind of packaging do you use? Manufacturing processes-- are you driving those as efficiently as possible? Transportation-- are you making the best use of transportation assets? As you look at the sell side, clearly, there's opportunities to reduce packaging so that you reduce waste. Excess and obsolescence could also have a big sustainability impact. Thinking about your products at the end of their lifecycle, how do you get back those products, bring them back into either your supply chain or a partner supply chain, and make use of the components that made those products? So it really is thinking about things in an end-to-end and circular way. I'm sure many of us have heard the phrase, "smart manufacturing," which is often interpreted to mean addition of things like IoT technology, 3D printing, AI, machine learning, and that's obviously all true. But I think if we're thinking about sustainability, we have to add sustainability to that idea of what is smart.
Something like IoT helps you reach into the real world and monitor it in real time. So the combination of that real time information together with very powerful analytics gives you the insights you need to really make smarter decisions, and those smarter decisions are going to help you eliminate waste. It's going to help you track what's going on in your supply chain.
It's going to monitor equipment and make sure that it's performing properly at an optimum level. Increasingly, sustainability is a requirement, both from your customers you're dealing with, the regulatory environment, the society you're in. And so if you're not innovating inside that framework, you're going to struggle. We've really celebrated all of the initiatives that our customers have driven using Oracle technology and other technologies to drive sustainability initiatives within different businesses, different organizations. We have customers in the food packaging industry, and their goal is to really decarbonize the entire supply chain. In the industrial manufacturing sector, Alcar who is an automotive parts supplier of steel wheels, is looking how they can use less and cleaner energy in their manufacturing processes.
Unilever is a classic example of a business-to-consumer company with many, many brands, and we've worked with them very closely on transportation, where we have significantly reduced their CO2 emissions from the transportation of their products. Reducing inventory and waste in the food industry is obviously critical, and we've worked with LiDestri around their planning processes in order to achieve very significant goals in that area. Enabling smart cities is a critical aspect of sustainability, and we've worked with the City of San Jose on a variety of initiatives around efficient transportation, improved waste management, and improved connection to all of their citizens. Oracle is a big and complex global company, and we have many different aspects to our business.
We embed all of these sustainability policies and practices into how we operate that aspect of our business and, indeed, every aspect of our business. We've consistently driven down our water usage, our energy consumption. We use the catchphrase at Oracle, at Oracle, sustainability is everyone's business. And truly, that's the way you need to look at it.
Embed it in how you live, the products you build, how you use them, how you engage with your suppliers, how you engage with your business partners. All of that has some aspect of sustainability. [MUSIC PLAYING] EWONNE LENNARTSSON: We are founded on a promise, and that promise is, protect what's good-- protecting food, protecting people, and protecting the planet. And that is really what's driving Tetra Pak. Sustainability has been a big part of our journey from the beginning, since we are made of a renewable source, paper. We package food and beverages into cartons.
Our founders said, a package should save more than it costs, and that is really a principle that we are trying to live by. Another thing that is also guiding us and that we are using a lot is the UN sustainability development goals. The biggest one is to become carbon neutral by 2030, but by 2050, secure that our whole value chain is carbon neutral. We realize that we need to evolve as a supply chain, so we looked at different platforms, and we chose to go with Oracle Transportation Management. We wanted to say in logistics, specifically, what can we do to support the sustainability? We can, of course, reduce the number of transports, but if we need to have transports, how can we do them in the smartest way? And this is where Oracle helps us a lot.
We can now see what is ahead of us. Before, it was difficult to imagine what we could do with this. Now, the more technology we have, the more we can see. It's our planet together. It's our Earth. It's our resources.
So why shouldn't we together find the solution? Imagine that I work for a company that, in the future, we might create a package that doesn't leave anything behind? For me, that's super exciting. NICOLE WILKINSON: My name is Nicole Wilkinson. I'm a leader in our Oracle Cloud practice, where I specifically focus on manufacturing clients who want to leverage supply chain as a catalyst for transformation. Deloitte's a very robust Oracle Cloud practice when it comes to both our professionals with their deep industry knowledge, and the goal of our Oracle Cloud practice is not just to help our clients connect their business with the cloud application, but to do so leveraging innovative solutions and methodologies that we've built that really put Deloitte in a league of our own when it comes to delivering. So at Deloitte, we have five different ways we really recommend our clients start their cloud journeys, one of which is to participate in one of our digital supply chain and finance labs.
And this is where we work with our clients in kind of a workshop environment to really educate them on what the art of the possible is and what the latest and greatest technologies are in their industry. A second way we encourage clients to get involved with the cloud journey is to visit our Experience Center at the Deloitte Smart Factory on the campus of Wichita State University. This is a space where manufacturing companies can see, touch, and feel a fully functional production line connected to Oracle Cloud with an agenda that we tailor to their specific needs.
This helps our clients to really visualize what the art of the possible is for their organization. A third way is to engage a partner with experience in Oracle Cloud manufacturing, like Deloitte, to come and do a roadmap and business case for their organization. When we talk about the business case, we typically go and look at a client's current day capabilities and map that to what a future state capability could look like an Oracle Cloud.
And by helping define a roadmap for the client, we really help lay out a path of what an implementation could look like for them. So whether it be big bang, a phased approach, we help tailor that to the organization's appetite for risk. A fourth way is to identify opportunities with other manufacturing companies at conferences like Oracle Open World to hear about their experiences migrating to the cloud firsthand. And the fifth way we recommend clients look at moving to the cloud is to take advantage of webcasts to educate themselves and their teams about Oracle Cloud and the latest and greatest capabilities of the solution. Some examples of our solutions and methodologies that we have include Deloitte Ascend, which is a framework we take to our clients that provides a host of industry-specific digital enablers that really allow us to get a jumpstart on digitally transforming our clients organizations. Some of the use cases we're working on with our Smart Factory are production scheduling and asset maintenance, so these really allow us to take the data that we're getting from the sensors that we've implemented with Oracle IoT and allowing us to build out, what's in predictive maintenance? What does it look like from a production scheduling process, not only on a specific machine, but cross-organization for an industry as a whole so that we can make better decisions in terms of where we need to shift manufacturing based on what's going on at the different locations, based on the data we're collecting, leveraging machine learning to better predict overall maintenance so that we can get ahead of an issue before an issue actually arises on a manufacturing line.
Leveraging cloud technologies, we're able to streamline where our clients' data is coming from to a single platform and allow them access to that data any time, anywhere, and from any device in order to accelerate their decision-making around business critical components and innovate. Some clients decide to go all in with a full scope transformation, big bang, while others prefer to start small. And starting small, there are a lot of benefits when it comes to reducing and mitigating risk. You can also minimize disruption to the business and IT by starting small. And you also enable the organization to progressively adapt to change.
One such case study of a pilot approach that we have is with a defense manufacturer. So they decided to start with a small portion of the business in order to find the future state business process blueprint and prove out a new technology footprint in the aerospace and defense industry. And as a government contractor, by starting with a small portion of the business, they were able to highlight the need for cybersecurity compliance as they look to expand to the rest of the business. This really allowed them to work with both Deloitte and Oracle on how Oracle Cloud could meet their requirements within the government cloud. So for them, starting small enabled them to prove out the viability of a cloud solution in a heavily data protected environment in order to then transform the organization as a whole.
When it comes to moving in the cloud, one of the biggest challenges we've seen companies face is knowing where to start their cloud journeys. The beauty of Oracle Supply Chain Cloud is that you can really customize the journey based on your needs and your organization's appetite for risk. And most manufacturing companies have a strategic goal to move to the cloud.
They just need help and guidance in making that first step. [MUSIC PLAYING] SPEAKER: Industry 4.0, the fourth industrial revolution, bridges the divide between the physical and the digital, merging the capabilities of human and machine. It's powered by massive and simultaneous advances in data collection, artificial intelligence, machine learning, and robotics, and it's transforming the business landscape at an astounding pace.
Industry 4.0 isn't just a new set of technologies. It's a whole new way to think about business. Smart Manufacturing is what happens when these technologies and solutions are applied in a manufacturing ecosystem. Many enterprises have started using one or more of these components, but the real benefits of Industry 4.0 aren't realized until not only are all systems in place, but they're seamlessly connected, allowing them to reinforce and amplify one another's capabilities in real time.
Oracle's Smart Manufacturing solution doesn't just connect your shop floor data and IoT devices with your manufacturing, maintenance, and planning business systems. It uses artificial intelligence and machine learning to contextualize the information and provide actionable insights. With Smart Manufacturing from Oracle, you'll be able to predict machine failures to get ahead of maintenance, adjust production schedules, and avoid costly downtimes. You'll analyze productivity and efficiency in real time, be able to instantly respond to trends, and improve quality across the board. Built-in planning and production scheduling means you can track inventory levels in real time, monitor work order progress at any point, and fully optimize your supply chain.
You can even run factories fully lights out with all aspects of manufacturing completely automated, from the time a custom product is selected for purchase until a produced and verified item is shipped. Oracle builds prototypes of these unified platform solutions to demonstrate scenarios and business models, to study every stage of every process, and to test and fine tune our solutions for the real world. It's all part of our commitment to finding ways to deliver continuous innovation for you, so you can deliver continuous innovation for your customers. With Smart Manufacturing on a unified automation platform, every piece works with every other piece, strengthening the entire enterprise in the process.
Where are you in your smart manufacturing journey? Find out more today from Oracle. TERRI HISKEY: Cloud technology is the foundation of a smart manufacturing facility. When I think of smart manufacturing, it's really where man meets machines. It's powered by Industry 4.0 innovations
like artificial intelligence, machine learning, robotics, automation, even things like drones that I've seen in the factory with RFID scanners that are able to take an inventory of what's in a warehouse, for example, without actually having to touch things. So it's really applying these innovations to factories, to processes within those factories, to make things easier to do, easier to repeat, and, also, a bit safer for workers. Oracle Smart Manufacturing solution consists of four main building blocks. It's our Cloud Manufacturing Solution, our Cloud Maintenance Solution, and then our IoT Production Monitoring Intelligent Application, as well as our IoT Asset Monitoring Intelligent Application. So with these solutions all working in conjunction with each other, it really gives operators, chief operating officers a really great view of a factory.
Asset Monitoring is a very important part of overall maintenance within your factory. With IoT sensors, you can set certain thresholds based on what you want to measure, whether it's temperature, throughput, vibrations, fluid levels, et cetera. You want to have as much control and advance notice of anomalies that are happening with your machine so that you can address those things before that machine completely breaks down and perhaps even throws your whole production line. I've seen a few very interesting examples of artificial intelligence.
It can take a backwards look at historical data, for example, with a machine, and it knows, this machine produces x amount of parts per hour. It will alert you if there's something wrong and suggest things to the operator. Do you want to schedule this for downtime? Do you want me to reschedule production to another line, for example, so that it makes things easier. But there's also challenges with training them and retaining them, and artificial intelligence can help with that, right? So visibility is key to production monitoring. Without that visibility, you're not going to have a good sense as to what's going on in your factory, or your factories if you're monitoring several of them. It may happen that one of your factories was expecting a delivery of parts for a certain product that they're working on, and because of supply chain shortages, they didn't get those parts.
So then you can look globally and say, hey, we can get those parts from another place, and so we can send them to this factory, or maybe what we have to do is shift production to a different factory that already has those parts. It's kind of like putting a puzzle together, where you're trying to juggle all of these schedules against when you've promised those products. Having an advanced view of that really helps you to address these things before you have to shut down production lines.
We are now getting smarter about applying technology and intelligence to these machines to really help us address issues before they become crises. Production Monitoring is really understanding what the throughput is within certain production lines. Having a view into your production line really helps with efficient forecasting and planning.
Customer stories and use cases are a great way for other customers to learn what's going on in the market. We've got some great customer stories that we've curated for you, including Alcar, Tetra Pak, Tramontina, DP World, Unilever, LiDestri, and the City of San Jose. [MUSIC PLAYING] STEFANO MARIANI: Alcar is a Swiss-based company that design, produce, and distribute steel wheels for car. Swiss qualities are a sort of dogma. Every type of item, if made in Switzerland, you expect top level of quality, top level of on-time deliveries.
The problem is that we have to produce with Swiss quality but with the worldwide competition costs. And this is the reason why technology in hardware and software is our constraint to survive. Alcar implemented Oracle Fusion Cloud Supply Chain and Manufacturing, and we went live with a system that covers all our key processes-- Manufacturing, Planning, Order Management, Procurement, and Financials. Alcar integrated Oracle Supply Chain Management with Oracle Cloud ERP.
One of the most important concept of the cloud systems is the real time. From April, 2020, Alcar included into our system the Oracle Autonomous Database capability. The capability from Oracle IoT technologies to analyze the sensor data and to anticipate the fail help us to reduce dramatically lost time during the production. SPEAKER: When a global pandemic ground most of the world to a halt, there was one thing that kept on rolling-- the supply chain.
Every link, every handoff, every delivery helped us stay connected, safe, confident, and strong. Now, with a vaccine at the ready and time at a premium, the supply chain is stepping up to another gigantic challenge-- to deliver for the people once again, because pioneering a vaccine at record pace was a long shot. Now, getting a vaccine to hundreds of millions of people is the kind of problem only the supply chain can solve. This isn't just a historic logistics task.
It's an incredibly complex one with extremely tight tolerances, and every step of the journey, every link in the chain-- planning, manufacturing, delivery, service, and administration-- involves different companies, different people, different partners, using different systems. Thankfully, they can all talk to each other from procurement to warehousing to logistics. Every transaction, every shipment, every delivery is secure and accessible, so together, we're making history. Thank you for all you do from all of us at Oracle.
2021-08-18 04:54
Show Video
Other news