Uber CEO | Bloomberg Technology 11/01/2022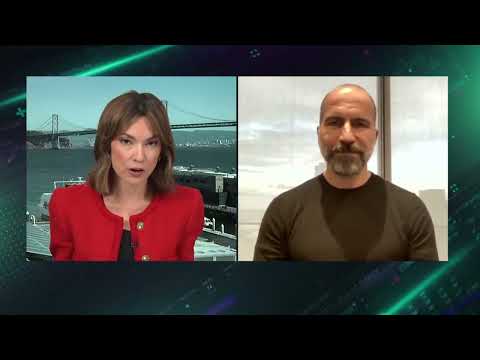 Show Video
ANNOUNCER: FROM THE HEART OF WHERE INNOVATION, MONEY, AND POWER COLLIDE IN SILICON VALLEY AND BEYOND, THIS IS BLOOMBERG TECHNOLOGY WITH EMILY CHANG. EMILY: I'M EMILY CHANG IN SAN FRANCISCO. THIS IS BLOOMBERG TECHNOLOGY. COMING UP IN THE NEXT HOUR -- UBER RISES AFTER THIRD QUARTER SALES JUMPED 72%. I WILL ASK THE CEO WHY HE'S SAYING THE BUSINESS IS NOW STRONGER THAN EVER. PLUS ELON MUSK IS NOW THEY TWITTER COMPLAINT HOTLINE OPERATOR ACCORDING TO HIS TWITTER BIO AND GIVING US AN IDEA OF WHAT THE SUBSCRIPTION MODEL TO THE PLATFORM WILL LOOK LIKE. HE FOUNDED ONE OF UBER'S
BIGGEST COMPETITORS -- THE GRUBHUB FOUNDER JOINS US TO TALK ABOUT HIS JOURNEY FROM THEN TO NOW. ALL OF THAT IN A MOMENT, BUT FIRST, STOCKS BOUNCING BACK FROM SESSION LOWS BUT NOT MUCH MORE. I WANT TO BRING IN ED LUDLOW FOR A LOOK AT THE MARKETS. ED: LET'S GET RIGHT TO EARNINGS AND AIRBNB.
THE DEBT -- THE STOCK DOWN 6%. IT WAS ABOUT A DISAPPOINTING OUTLOOK FOR THE FINAL THREE MONTHS OF THIS YEAR. BELOW STREET EXPECTATIONS, BUT THE LANGUAGE, THE PACE OF KNIGHTS AND EXPERIENCES LOOKED WILL MODERATE SLIGHTLY INTO THE FOURTH QUARTER. A&E MISSED ON THE FOURTH QUARTER , BELOW STREET EXPECTATIONS BUT THE BROADER CONTEXT -- THIS IS A TIME WHEN THEIR COMPETITORS ARE SEEING CONTRACTIONS. ALSO TOPLINE GROWTH FOR ITS SERVER BUSINESS WHICH OFFSET WEAKNESS IN PC MARKETS. IN THE MAIN SECTION, THROUGHOUT TUESDAY, IT WAS ANOTHER CASE OF GOOD ECONOMIC DATA, BAD NEWS FOR THE MARKET. REINFORCING THIS IDEA THE FED
WILL STAY AGGRESSIVE. YOU SEE WEAKNESS IN THE NASDAQ 100 AND TECH UNDERPERFORMING BUT STRENGTH IN SEMICONDUCTORS WITH THE YIELD NOT MOVING AS MUCH AS WE HAVE SEEN IN PREVIOUS SESSION AND BITCOIN TRADING SIDEWAYS. ONE OF THE BRIGHT SPOTS WAS UBER , HAVING ITS BEST DAY SINCE THE FIRST WEEK OF AUGUST. IT'S NOW TRADING AT ITS HIGHEST LEVEL IN SIX WEEKS. A BEAT ON THE TOP LINE, COMING IN 8.30 4 BILLION, ABOVE EXPECTATIONS. SOME FIGHTING TALK FROM UBER
AND ITS CEO WHO SAYS FRANKLY THAT COMPANY IS NOT WORRIED ABOUT CONSUMER DEMAND DROPPING OFF RIGHT NOW. EMILY: WE WILL TALK TO HIM ABOUT THAT RIGHT NOW. FOR MORE ON UBER, LET'S BRING IN THE MAN HIMSELF, THE CEO. LET'S START WITH THE GOOD STUFF -- ACTIVE RIDERS BACK TO PRE-PANDEMIC LEVELS. HOW WELL DO YOU SEE IT KEEPING UP IN THE ECONOMIC DOWNTURN? DARA: THE TREND WE ARE SEEING NOW, ESPECIALLY THE U.S. CONSUMER IS STILL SPENDING. BUT YOU ARE SEEING A SHIFT OF THAT FROM SPEND ON RETAIL GOODS DURING THE PANDEMIC, PEOPLE WERE AT HOME, BACK TO SERVICES, THE TRAVEL SECTOR IS INCREDIBLY STRONG, THE RESTAURANT AND HOSPITALITY SECTOR IS INCREDIBLY STRONG.
PEOPLE GOING BACK TO WORK AND THAT IS BENEFITING THE UBER BUSINESS. OUR MOBILITY BUSINESS IS INCREDIBLY STRONG. DELIVERY IS PROVING TO BE A STICKY HABIT. THAT TRANSLATES INTO $29
BILLION, UP 32% ON A YEAR ON YEAR BASIS. ADJUSTED EBIT COMING IN SUPERSTRONG IN TERMS OF OVER 500 MILLION IN THE QUARTER AND WHAT WE INDICATED FOR NEXT QUARTER IS AN ADJUSTED RANGE OF 600 TO 630 MILLION, SO EVEN MORE STRENGTH FOR US. EMILY: STILL, PEOPLE ARE NOT TAKING AS MANY RIDES AS THEY USED TO. WHAT NEEDS TO HAPPEN BEFORE
UBER SEES A FULL RECOVERY OR DO YOU EVER GET BACK TO THOSE NUMBERS? DARA: I THINK WE WILL ABSOLUTELY GET BACK TO THOSE NUMBERS AND BEYOND. YOU ARE SEEING SIGNS OF THAT, WHICH IS TRIPS OR MONTHLY ACTIVE, PRE-PANDEMIC, ABOUT 5.7 TRIPS PER MONTHLY ACTIVE. THEY WERE STUCK AT ABOUT FIVE TRIPS PER MONTHLY ACTIVE AND YOU SEE THAT COME UP TO 5.3 NOW AND IT IS ABSOLUTELY HEADED IN THE RIGHT DIRECTION AS THE WORLD OPENS UP, AS PEOPLE GO TO RESTAURANTS, ETC.. WHAT WE HAVE IS A POWER OF THE PLATFORM. OUR RIDES AND EATS BUSINESS ARE NOW OF EQUAL SIZE AND ESSENTIALLY, WE ARE MOVING OUR RIDERS, UP SELLING UBER EATS AND GROCERIES AND BACK WITH AN UBER ONE MEMBERSHIP PROGRAM, WHICH HAS LAUNCHED AN EIGHT MARKETS.
SO WE ARE CONFIDENT WE CAN DRIVE HIGHER FREQUENCY, HIGHER ENGAGEMENT WITH OUR PLATFORM BECAUSE OF THE BREADTH OF USE CASES WE HAVE NOW. EMILY: LET'S TALK ABOUT DELIVERY -- DEMAND HOLDING UP. IT'S A STICKY HABIT BUT WE ARE NOT SEEING NOTABLE GROWTH. IS THIS AN AREA WHERE YOU ARE
SEEING THE IMPACT OF INFLATION'S SAID IN WHERE SOME CUSTOMERS MIGHT SAY MAYBE I'M GOING TO ORDER OUT ONE LAST TIME THIS WEEK OR MONTH TO BE MORE CONSERVATIVE? DARA: WE DEFINITELY SEE THE IMPACT OF COMPS. WHEN YOU LOOK AT OUR DELIVERY GROWTH X FOREIGN-EXCHANGE. THAT'S FOR BASICALLY ANY GLOBAL COMPANY OUT THERE, OUR GROWTH ON THE DELIVERY SIDE ACCELERATED FROM 12% TO 13%. WE THINK Q4 WILL BE SIMILAR OR SLIGHTLY HIGHER IN TERMS OF YEAR-OVER-YEAR FX GROWTH. WHAT WE ARE SEEING IS OUR AUDIENCE OF DELIVERY CONTINUES TO GROW.
BASKET SIZES ARE HIGHER. SOME OF THAT IS INFLATIONARY AND WHEN WE LOOK AT THE FREQUENCY OF DURING OF USERS, THAT IS STABLE, SO YOU USERS ARE CONTINUING TO USE OUR DELIVERY PRODUCT AS THEY HAVE BEFORE AND WE ARE COMPING AGAINST PANDEMIC COMPS AND BEING HURT BY FOREIGN-EXCHANGE BUT THE UNDERLYING GROWTH OF THE BUSINESS IS HEALTHY AND WE THINK IT WILL KEEP HEALTHY FOR SOME TIME. EMILY: I HAVE BEEN TRAVELING A LOT AND MY RIDES PER MONTH ARE GOING UP BUT PRICES ARE STILL ELEVATED. WHEN OUR PRICES GOING TO FULLY COME BACK DOWN OR WILL THEY EVER REALLY COME BACK DOWN TO WHERE THEY WERE? DARA: I DO THINK INFLATION HAS AFFECTED EVERYBODY. I DON'T THINK PRICES ARE GOING TO GO DOWN TO PRE-PANDEMIC LEVELS BUT WE HAVE SEEN PRICING EASE.
Q3 PRICING VERSUS Q2 PRICING, SURGE LEVELS CAME DOWN. AVERAGE ETA'S AS AND WHEN YOU PUSH A BUTTON, WHEN DO YOU GET YOUR CAR, THAT HAS IMPROVED, SERVICE QUALITY LEVELS HAVE IMPROVED, SO WE ARE HOPING PRICING CONTINUES TO EASE GOING INTO NEXT YEAR BUT I THINK THIS IS A NEW BASELINE AND OUR CONSUMERS ARE WILLING TO PAY, AS YOU CAN SEE FROM THE GROWTH RATES AS IT RELATES TO AUDIENCE UP 14%, TRIPS UP 19% AND GROSS BOOKINGS, WHICH ARE DOLLARS IN THE BANK, UP 32%. EMILY: DRIVER SUPPLY IS MATERIALLY IMPROVING. WHAT IS HAPPENING WITH INCENTIVES? WILL THEY GO AWAY COMPLETELY? WILL YOU KEEP SOME AROUND? DARA: WE ARE GOING TO KEEP INCENTIVES AROUND BUT DRIVER SUPPLY IS IMPROVING BECAUSE WE MADE REAL INVESTMENTS IN THE DRIVER EXPERIENCE.
WE HAVE RADICALLY IMPROVED OUR ONBOARDING PROCESS, SO A HIGHER PERCENTAGE OF DRIVERS WHOSE SHOW AN INTEREST IN DRIVING FOR UBER ACTUALLY MAKE THE FIRST TRIP. WE ARE MAKING THE ONBOARD FLOW FASTER AND EASIER, CUSTOMER SERVICE EASIER ENCASE YOU ARE HAVING ISSUES WITH DOCUMENTS. DRIVER EARNINGS LEVELS ARE QUITE ROBUST. DRIVERS IN THE
U.S. ON AVERAGE MAKE $36 PER HOUR ENGAGED ON THE PLATFORM. THOSE ARE VERY ROBUST EARNINGS LEVELS, ESPECIALLY WITH THEN ACTIVITY THAT IS COMPLETELY FLEXIBLE, YOU CAN DRIVE WHERE AND WHEN YOU WANT AND WE ARE INNOVATING FOR DRIVERS. DRIVERS COULD SEE THE UPFRONT PRICE OR DESTINATION.
THAT WAS ONE OF THE MOST REQUESTED FEATURES AND WE SHIPPED THAT FEATURE FOR OUR DRIVERS SO THEY CAN SEE THE UPFRONT DESTINATION AND CAN PICK AND CHOOSE WHAT IS THE TRIP THAT IS RIGHT FOR THEM AND IF THE TRIP IS NOT RIGHT FOR THEM, THEY CAN MOVE ON TO THE NEXT TRIP AS WELL. ALL OF THAT IS ADDING TWO MORE DRIVERS COMING ONTO THE PLATFORM. NOT ONLY ARE THEY COMING ONTO THE PLATFORM BUT TURN RATES ARE DOWN AND THEY ARE MORE ENGAGED WITH US. THE SUPPLY HOURS PER DRIVER ARE UP 16%.
IF TURN IS DOWN AND ENGAGEMENT IS UP, IT TELLS YOU WE ARE DOING SOMETHING RIGHT. IT IS EARNINGS LEVELS THAT ARE REALLY GOOD BUT WE ARE VERY FOCUSED ON IMPROVING THE DRIVER EXPERIENCE AND TO BE THE PLATFORM FOR EARNERS TO COME AND EARN FLEXIBLY AND SAFELY. EMILY: I WANT TO ASK YOUR THOUGHTS ON PROP 30. GAVIN NEWSOM, THE GOVERNOR, ONCE IT TO FAIL. THE REVENUE FROM THIS GENERATED TAXING WEALTHY PEOPLE WOULD GO TO EV CHARGING, WHICH IT SEEMS UBER HAS A VESTED INTEREST IN.
WHY HAVEN'T YOU TAKEN A STRONG STANCE ON THIS? HAVE YOU TALKED TO HIM ABOUT THIS? DARA: I HAVE TALKED TO HIM AND IT IS OUR FEELING THAT CALIFORNIA IS MAKING VERY SUBSTANTIAL INVESTMENTS IN TERMS OF INCENTIVIZING EV OWNERSHIP, IN TERMS OF CHARGING INFRASTRUCTURE, AND IT IS DEFINITELY SHOWING UP IN OUR BUSINESS. WE'VE MADE SUBSTANTIAL INVESTMENT MOVING OUR FLEET TO EV'S AND WE HAVE A GREAT PARTNERSHIP WITH HERTZ TO GET MORE TESLAS ONTO THE UBER FLEET. CALIFORNIA IS LEADING THE PACK IN TERMS OF MILES OR PERCENTAGE OF MILES THAT ARE EV MILES. NOW 9% OF MILES DRIVEN IN CALIFORNIA ARE EV'S, WHICH IS A PRETTY EXTRAORDINARY NUMBER.
WE FEEL LIKE WE ARE MAKING THE RIGHT INVESTMENTS, WE ARE LOWERING OUR OWN BOOKING FEE, MAKING SURE DRIVERS CAN MAKE MORE ON A PER TRIP BASIS WHEN THEY MOVED TO EV'S AND IN PARTNERSHIP WITH PUBLIC AND PRIVATE, WE THINK CALIFORNIA IS HEADED IN THE RIGHT DIRECTION, WHICH IS WHY WE HAVE STAYED OUT OF PROP 31 ONE WAY OR THE OTHER. EMILY: THE ECONOMY MAY BE HEADED IN THE WRONG DIRECTION. BLOOMBERG DATA SHOWING A RECESSION IS VERY LIKELY. HOW ARE YOU THINKING ABOUT COST AND SPENDING? YOU HAVE DOUBLE THE FREE CASH FLOW MEADOW REPORTED. WILL YOU BE OPPORTUNISTIC AND LOOK FOR POTENTIAL M&A OPPORTUNITIES DESPITE EVERYTHING GOING ON MORE BROADLY? DARA: I THINK THIS IS ONE OF THE MOST UNCERTAIN ENVIRONMENTS I'VE BEEN A PART OF.
IT IS VERY DIFFICULT TO TELL WHERE THINGS ARE GOING TO WIND UP. EUROPE IS GOING TO BE WEAKER AND IS LIKELY HEADED INTO A RECESSION. IN THE U.S., IT'S UNCLEAR, SO FROM OUR STANDPOINT, WE WANT TO BE PREPARED FOR ANY EVENTUALITY. WHEN YOU LOOK AT OUR MARKETPLACE, WE ARE A MARKETPLACE BUSINESS SO WE DON'T HAVE FIXED COSTS. IN A WEAKER LABOR ENVIRONMENT, OUR SUPPLY POSITION WILL TEND TO GET BETTER AND WILL BE A PLACE WHERE MORE DRIVERS CAN COME TO EARN REAL MONEY.
THIS LAST QUARTER, FOR EXAMPLE, EARNERS EARNED MORE THAN $10 BILLION ON OUR PLATFORM, SO WE THINK OUR MARKETPLACE GETS MORE ATTRACTIVE TO DRIVERS AND AS IT GETS MORE ATTRACTIVE TO DRIVERS, PRICES COME DOWN AND THAT ATTRACTS RIDER S AS WELL. WE THINK THAT CAN DO WELL IN STRONG ECONOMIES AND PERFORMING WEAKER ECONOMIES AND AS AN ECONOMY, WE HAVE BEEN RELATIVELY FORWARD THINKING MAKING SURE WE PREPARE OURSELVES FOR AN UNCERTAIN WORLD, MAKING SURE WE ARE CONSERVATIVE IN THE INVESTMENTS WE ARE MAKING AND WHEN AN INVESTMENT IS NOT PAYING OFF, PULL BACK AND PUT YOUR MONEY WHERE THE GROWTH IS. IT IS SHOWING IN TERMS OF TOPLINE AND FREE CASH FLOW AND OUR OUTLOOK, IS A SUPERSTRONG OUTLOOK AND WE WANT TO KEEP IT THAT WAY. EMILY: THANK YOU FOR STOPPING BY. DARA: THANK YOU VERY MUCH. EMILY:
A STRONG REPORT FROM ERIS NETWORKS. WE WANT TO TALK TO THE WOMAN ON THE LIST OF SELF-MADE WOMEN. THAT'S NEXT. THIS IS BLOOMBERG. EMILY: LET'S GET TO ARISTA NETWORKS WHICH BEAT EXPECTATIONS AND PROMPTED BANK OF AMERICA TO UPGRADE THE STOCK. SHARES WERE UP 5.7 PERCENT. LET'S BRING IN THE PRESIDENT FOR MORE. RATE TO HAVE YOU BACK WITH US. I BELIEVE IT HAS BEEN A YEAR
SINCE WE LAST TALKED IN YOUR SALES GOING 57% AND ARE ON TRACK TO GO -- GROW 45% WHICH IS BIGGER THAN YOU PROJECTED AT THE START OF THE YEAR. WHAT ARE THE LEADING DRIVERS EVEN CONTINUING SUPPLY ISSUES, MACRO CONCERNS -- HOW ARE YOU BUCKING THE TREND? >> GOOD TO BE BACK. WE HAVE TO KEEP THIS ANNIVERSARY TREND GOING. FIRST OF ALL, IT IS GREAT TO
HAVE OUR MICRO MOMENTUM IN A LARGER SET OF ISSUES YOU DESCRIBED FROM A MACRO AND I WOULD CONTRIBUTE THAT TO GREAT PRODUCTS AND TECHNOLOGY, A GREAT SET OF CUSTOMERS HEADLINED BY MICROSOFT AND META, OR AS I AFFECTIONATELY CALL THEM, M AND M, SINCE I LIKE CANDY. THE CONFLUENCE OF THESE DIVERSE USE CASES WE ARE PART OF, ARISTA HAS BEEN WELL KNOWN AS A DATA CENTER COMPANY AND WE ARE BECOMING MORE OF A CENTERS OF DATA COMPANY WHERE WE ARE BRINGING THAT DATA TO EVERY LOCATION. EMILY: SPEAKING OF M&MS, MICROSOFT AND META ARE -- WHY DID THEY RELY ON ARISTA SO MUCH WHEN THEY SEEM TO RELY ON WHITE BOX RETAILERS FOR THE BACK AND STUFF? JAYSHREE: IT'S A GOOD QUESTION BUT A BIT OF A MISNOMER THEY ONLY WANT WHITE BOX LOW COST. THE TRICK IS TO EMBRACE THE REQUIREMENTS AND CODEVELOP A PARTNERSHIP WHICH HAS BEEN ON MORE THAN A DECADE. WE DO CODE ENGINEERING WITH THEM AND PARTNER WITH THEM ON THE SUPPLY CHAIN AND PROCUREMENT. WE WORK WITH THEM ON DIFFERENT DESIGN AND USE CASES.
AND THEY LOOK FOR DIVERSITY AND BUILD ON THEIR OWN OR USE OTHER VENDORS BUT THE KEY THAT WE ARE IN MANY DIVERSE CASES FROM THE DATA CENTER TO THE INTERCONNECT TO A NEW USE CASE COMING UP MORE AND MORE. THE PARTNERSHIP IS NOT A CLASSICAL VENDOR CUSTOMER ONE BUT WE TAKE THAT STRATEGICALLY AND NOT LIGHTLY. EMILY: THE TIGHT SUPPLY ENVIRONMENT HAS DENTED THE GROWTH FOR MOST TECH BELLWETHERS, UNLIKE ARISTA. GIVE US AN UPDATE ON SUPPLY ISSUES AND INVENTORY ISSUES.
JAYSHREE: THESE ARE THE TIMES I WISH I WAS JUST A SOFTWARE COMPANY BUT WE ARE REALLY A PLATFORM COMPANY. WE BUILT A LOT OF HARDWARE AND HAVE HUNDREDS OF MANUFACTURERS AND VENDORS WE WORK WITH AND HAVE THOUSANDS OF COMPONENTS. A COUPLE OF YEARS AGO, WE PUT A PLAN TOGETHER WHICH WE APPROVED BY OUR BOARD TO SPEND TO THE TUNE OF FOUR TO $5 BILLION IN GETTING COMPONENTS AND INVENTORY, WHICH IS AN ORDER OF MAGNITUDE GREATER THAN OUR MENU.
THIS IS UNHEARD OF AND WE TOOK A MONTHLY VIEW ON THIS. AS WE GOT APPROVAL, WE STARTED PLANNING WELL AHEAD AND THE GOOD NEWS IS IT HAS PAID OFF SOME BUT WE ARE NOT GETTING ENOUGH OF IT. WE WOULD LIKE MORE COMPONENTS. DESPITE OUR BEST PLANNING EFFORTS, LEAD TIMES ARE PROLONGED AND WE ARE WAITING FOR THE GOLDEN SCREW. THE LAST COMPONENTS ARE NOT AVAILABLE AND IT'S HARD TO BUILD A SYSTEM WITHOUT COMPONENTS.
WE ARE LOOKING FORWARD TO OVERCOMING THAT BUT AS WE CROSSED ARE FORCED EARLY IN DOLLAR QUARTER AND MARCHING AHEAD, WE NEED MORE AND MORE OF THESE COMPONENTS TO GET STRONGER THIS YEAR AND NEXT YEAR. EMILY: META IS RAISING ITS AND ARISTA ALONG WITH NVIDIA AND A FEW OTHERS WERE CALLED OUT AS BENEFICIARIES. TELL US ABOUT THE CHANGING NATURE OF YOUR PARTNERSHIP AND HOW WE SHOULD EXPECT THAT TO EVOLVE. JAYSHREE: WE ALL KNOW META FOR THE STRENGTH THEY HAVE BROUGHT AS A SOCIAL NETWORKING COMPANY BUT EVERY COMPANY HAS TO REDEFINE AND INVENT ITSELF AND MARK IS DOING JUST THAT AND IS LOOKING FORWARD AT WHERE TO INVEST AND WHERE TO PUT HIS MONEY WHERE HIS MOUTH IS. ONE OF THE IMPORTANT AREAS IS THIS AREA OF AI AND ML APPLICATIONS WILL TREMENDOUSLY TEST THE NETWORK ITSELF WHEN YOU PUT IN DP USE AND STORAGE, ETC., THE PRESSURE YOU PUT ON THE NETWORK AND BANDWIDTH, LOAD-BALANCING IS HUGE.
AN ORDER OF MAGNITUDE MORE THAN WE HAVE SHIPPED TO META. IT WILL GIVE THAT KIND OF DELIVERY OF HUNDREDS OF 400 GIG PORTS AND PREDICTABLE LATENCY AT A BUFFER AND ARCHITECTURAL LEVEL, WHERE THEY CAN HANDLE THE APPLICATIONS COMING IN. THIS IS LONG-TERM PLANNING BUT A LOT OF THE INVESTMENT WILL GO INTO AI AND ML WHICH WILL HAVE AN IMPACT ON THE INFRASTRUCTURE AND HOW WE DESIGN FOR THEM, DEVELOP FOR THEM AND HOW THEY PROCURE FOR US. EMILY: TALK TO US ABOUT HOW WE SHOULD BE LOOKING AT GROWTH FOR THE NEXT YEAR. WILL THESE MACROECONOMIC CONCERNS BE A HEADWIND FOR ARISTA? HOW WILL IT IMPACT CLOUD ADOPTION OF WE ARE HEADING INTO A RECESSION? JAYSHREE: THAT'S REALLY GOOD QUESTION. WE'VE JUST HAD ONE OF OUR BEST QUARTERS EVER BUT THE REST OF THE WORLD IS NOT AS BEAUTIFUL.
AS WE LOOK AT IT, WE ARE GOING TO BE THOUGHTFUL AND VIGILANT OF IS THERE A MACRO RECEPTION AND WHAT IS OUR PART IN IT BECAUSE WE ARE HAVING MICRO MOMENTUM. WE THINK SOME OF THE KEY TRENDS HAS NOT AFFECTED THE DATA CENTER AND IT REMAINS STRATEGIC AND RELEVANT. SHOULD A RECESSION COME, WE WILL NOT BE IMMUNE TO IT. BUT AT THE MOMENT, WE ARE FEELING GOOD AND HAVE GOOD VISIBILITY FOR THE NEXT SIX TO 12 MONTHS AND ARE LOOKING FORWARD TO A GREAT ANALYSTS DAY. EMILY: GOOD LUCK AT ANALYST DAY LATER THIS MONTH. THE CEO OF ARISTA NETWORKS. WE WILL BE RIGHT BACK WITH MORE
EMILY: TIKTOK SHOULD BE BANNED ACCORDING TO THE SEC COMMISSIONER AS REPORTED EARLIER -- A COMMENT THAT SENT SHARES OF META RISING TO SESSION HIGHS. SNAP SPIKING AS WELL. AXIOS SAYING IT IS THE STRONGEST LANGUAGE USED TO URGE ACTION ON TIKTOK. WHILE THE SEC HAS NO AUTHORITY TO REGULATE TIKTOK, CONGRESS PREVIOUSLY ACTED AFTER THEY VOICED CONCERNS ABOUT CHINESE TELECOM COMPANIES. TESLA SENDING WORKERS TO CHINA -- FROM CHINA TO HELP ITS EXPANSION IN FREMONT, CALIFORNIA. ABOUT 200 PEOPLE FROM THE
SHANGHAI PLANT WILL HEAD TO THE FREMONT PLAN ON AN ASSIGNMENT THAT WILL LAST AT LEAST THREE MONTHS. ELON MUSK WANTS TO QUADRUPLE THE COST OF TWITTER BLUE SUB CHRISTIANS, CUT JOBS AND POSSIBLY RINGBACK VINE. EMILY: WELCOME BACK TO BLOOMBERG TECHNOLOGY. TWITTER OWNER ELON MUSK IS TEASING A NEW SUBSCRIPTION MODEL -- EIGHT DOLLARS A MONTH. HE'S ALSO MAKING MAJOR CHANGES, INCLUDING LIMITED CONTENT ENFORCEMENT JUST BEFORE MIDTERMS BY FREEZING EMPLOYEE ACCESS USE FOR CONTENT MODERATION WHILE ADVERTISERS ARE BEING URGED TO BOYCOTT THE FORM IF IT'S NEW OWNER LOWER SAFETY STANDARDS.
LET'S GET INTO IT WITH ALEX BARINKA AND ED LUDLOW. GIVE US THE LATEST. LET'S START WITH GOD CUTS. WE HAVE BEEN WAITING FOR MORE. HAVE THEY HAPPENED? ED: AT ALL LEVELS OF THE COMPANY, YES. A NUMBER OF DIRECTOR AND SENIOR MANAGING PEOPLE, INCLUDING JAY SULLIVAN, THE HEAD OF ENGINEERING HAS DEPARTED. THE VP OF POLITICAL SALES HAS REPORTED TO HAVE DEPARTED DURING THE DAY ON TUESDAY. SO THIS IS ALL HAPPENING.
A SOURCE TOLD ME OVER THE WEEKEND THAT ACROSS THE ENGINEERING GROUPS, THEY WERE ASKED TO PUT TOGETHER A LIST FOR LAYOFF CANDIDATES THAT WOULD REDUCE HEADCOUNT BY 50%. WE HAVE NOT SEEN A BROAD WAVE OF LAYOFFS, BUT WHAT I'M TOLD BY SOURCES IS WHEN DETERMINING WHO SHOULD BE LAID OFF, THEY HAVE BEEN ASSESSING AN INDIVIDUAL BASED ON THE CODE CONTRIBUTIONS AND -- DURING THE DURATION AT THE COMPANY, THERE IS AN ALL HANDS MEETING CALLED FOR WEDNESDAY MORNING AND THAT IS PRETTY MUCH IT. A LOT OF INSIDERS AND STAFF ARE BRACING FOR THAT. EMILY: LET'S TALK ABOUT CONTENT MODERATION. WHAT'S BEING MODERATED AND WHAT NOT BEING MODERATED? ALEX: IT SEEMS LIKE ELON MUSK IS SELF MODERATING IF YOU ARE FOLLOWING THE NANCY PELOSI TWEETS OF THIS WEEKEND.
BUT IT SEEMS LIKE THERE HAS BEEN ACCORDING TO BLOOMBERG SOURCES A SLOWDOWN IN WHAT IS BEING MODERATED BECAUSE THEY HAVE TOLD THAT TEAM TO PAUSE WHAT THEY ARE WORKING ON. ELON MUSK SAID THEY WOULD CREATE A CONTENT MODERATION SYSTEM WITH A GROUP OF DIVERSE PERSPECTIVES WHICH AS SOMEONE WHO FOLLOWS SOCIAL MEDIA CLOSELY REMINDS ME A LOT OF WHAT THEY ALREADY HAVE. THIS WILL BE AN AREA WHERE ELON MUSK WILL ABSENTLY HAVE TO LAY OUT WHAT THE PLANS WILL BE BECAUSE IT'S NOT JUST USERS AND THE POSTERS OF CONTENT WHO CARE ABOUT THIS, IT IS, IMPORTANTLY, THE ADVERTISERS WHERE TWITTER MAKES MOST OF THEIR MONEY. THOSE ADVERTISERS WON'T WANT TO BE PAYING TO HAVE THEIR BRAND SHOW UP ALONGSIDE CONTENT THEY FIND UNSAVORY. SO THAT IS A PIECE THAT IS WIDELY TALKED ABOUT IN THE FEW DAYS SINCE ELON MUSK HAS BEEN THE DEFECTIVE OWNER OF THIS COMPANY. BUT WE ARE YET TO SEE THE ROADMAP HE PLANS TO TAKE FOR TWITTER GOING FORWARD. EMILY:
THEN THERE ARE THESE DEVELOPMENTS ABOUT TWITTER BLUE AND THE SUBSCRIPTION SERVICE -- EIGHT HOURS A MONTH. WHAT'S THE LATEST THERE? ED: ELON MUSK IS ARGUING ON TWITTER AS SHE SET THIS OUT ON 2 -- THOSE COMPELLED TO PAY FOR THE PRIVILEGE OF BLUE CHECK MARK VERIFICATION WILL WANT TO DO SO TO SEPARATE THEMSELVES OUT FROM THE REST OF THE CROWD. HE TALKED ABOUT BLUE CARRYING WITH THAT IN TERMS OF PRIORITY AS WHERE RESPONSES APPEAR AND FEWER ADS APPEAR IN THE TIMELINE. TWITTER'S VERIFIED USER BASE IS
ABOUT 450,000 IF YOU GO TO THE VERIFY ACCOUNT. IF HE DOES THAT, IT'S NOT A MEANINGFUL SHIFT IN A BUSINESS MODEL. IT IS NOT GOING TO DISPLACE THE NECESSITY TO HAVE A REVENUE STREAM FROM ADVERTISING BUT THE IDEA IS TO ELEVATE PREMIUM CONTENT AND HAVE IT STAND OUT FROM WHAT WE KNOW MUSKA BELIEVES IS A PERVASIVE ISSUE, WHICH IS THOUGHTS ON THE PLATFORM. EMILY: WHAT ABOUT THE TEASING OF VINE COMING BACK TO THE PLATFORM , WHICH WAS A SHORT FORM VIDEO PRODUCT WHICH ARE BOUGHT AND THEN QUICKLY DISSOLVED. IS THIS POTENTIALLY HAPPENING? ALEX: IT IS BEING TWEETED ABOUT AND THAT IS WHERE THE LATEST IS HAPPENING FROM ELON MUSK.
SOURCES HAVE TOLD BLOOMBERG THAT VINE CAN BE REVIVED BUT THERE ARE SOME HURDLES TO DOING THAT. IT RUNS ON THE OLD SOURCE CODE. THERE HAVE BEEN A LOT OF UPDATES BEHIND THE SCENE, SO FOLKS ARE IN PLACE LOOKING AT THE VIABILITY OF THAT OPTION. IF YOU SPEND TIME ON TIKTOK, PEOPLE TALK ABOUT VINE ENERGY AND THERE IS A NOSTALGIA FOR THAT. IT WAS THE FIRST SHORT FORM VIDEO APP THAT GOT THAT TYPE OF CONTENT POPULARIZED AND WOVEN INTO THE CULTURAL FABRIC OF CONVERSATIONS ONLINE.
IT SEEMS LIKE, AND ELON HAS JOKED ABOUT THIS, THAT HE IS TAKING RECOMMENDATIONS ABOUT WHAT COULD BE COMING BACK, BUT SOURCES ARE TELLING US THAT IS ONE OF THE POSSIBILITIES ON THE TABLE. EMILY: THERE'S DEFINITELY SOME EXCITEMENT ABOUT THE POSSIBILITY OF VINE BECOMING TRUCKERS VERSION OF TIKTOK. ARE THESE CHANGES GOING TO IMPACT THE MIDTERMS? WE ARE LITERALLY A WEEK AWAY WHEN A LOT OF MODERATING IS NORMALLY HAPPENING. HOW COULD THIS PLAY OUT OVER
THE NEXT SEVEN DAYS? ED: IT'S IMPORTANT TO BE CLEAR ON WHAT WE HAVE REPORTED. THE GROUP OF PEOPLE WHO HAVE ACCESS TO THE DASHBOARD AND TOOLS THAT ALLOW FOR POLICY ACTIONS TO BE TAKEN AGAINST THE ACCOUNTS THAT HAVE BREACHED POLICY HAS GONE FROM A GROUP OF 150 TO 15 PEOPLE. INSIDE THERE, THERE'S A LOT OF CONCERN THAT EFFECTIVELY, TWITTER WILL BE SHORT IN ITS ABILITY TO DEAL WITH CONTENT MODERATION OVER THE COURSE OF THE MIDTERMS NEXT TUESDAY AND WEDNESDAY. WE REPORTED OVER THE WEEKEND THAT THERE WAS SOME CONTENT MODERATION IN A LIMITED WAY GOING ON WITH THE BRAZILIAN ELECTION DESPITE THE SUSPENSION OF THOSE TOOLS IN THE FREEZING OF ACCESS. IF YOU GO ON YOUR TWITTER TIMELINE, YOU WILL START TO SEE ALERTS FROM TWITTER ABOUT THE UPCOMING MIDTERM ELECTIONS AND EXPLAINING SOME OF THE WORK THEY'VE ALREADY DONE AND WE WOULD IMAGINE THEY HAVE GOT POLICIES IN PLACE. THE QUESTION IS SINCE ELON MUSK
HAS COME INTO TWITTER, WHETHER HE AGREES WITH THE PLAN AND POLICIES THAT WERE SET. EMILY: WE JUST GOT BREAKING NEWS THAT THE TWITTER CEO -- TWITTER CMO IS LEAVING. THIS ALONG WITH A NUMBER OF TOP EXECUTIVES, INCLUDING THE CEO, CFO, THE LEGAL TEAM. THE CHAPTER CMO, LESLIE BERGLUND LEAVING THE COMPANY. SHE CERTAINLY WILL NOT BE THE LAST ONE IF OUR REPORTING IS CORRECT. THANK YOU BOTH.
TURNING NOW TO THE WORLD OF GAMING, ACTIVISION BLIZZARD SAID CALL OF DUTY HAS RAKED IN $800 MILLION, THE BEST IN FRANCHISE HISTORY. HERE FOR AN EXCLUSIVE INTERVIEW IS THE SENIOR VICE PRESIDENT AT ACTIVISION BLIZZARD. THANK YOU FOR JOINING US. A HUGE WEEKEND. WHAT IS DRIVING THIS, GIVEN THE BROADER MACRO CONCERNS AND PRESSURES ON CONSUMERS, WIFE ARE WE SEEING THIS SHOW UP WITH CALL -- WHY ARE WE SEEING THIS SHOW UP WITH CALL OF DUTY? >> THIS IS A TESTAMENT TO THE COMMUNITY WORLDWIDE. THERE'S SO MUCH PASSION, PARTICULATE FOR MODERN WARFARE II. IT REFLECTS HOW POWERFUL THE COMMUNITY OF PLAYERS WE HAVE
AND THE MAGIC THAT HAS BEEN POURED IN BY DEVELOPMENT TEAMS AROUND THE WORLD AT ACTIVISION BLIZZARD AND WE ARE IN A VERY CELEBRATORY MOMENT. IT PROVES WE HAVE A BLOCKBUSTER ON OUR HANDS AND WE COULD NOT BE PROUDER. EMILY: IT IS TOPPING SOME OF THE BIG MOVIE THEATER BLOCKBUSTERS. TOP GUN AND DR. STRANGE -- COMBINED -- WHAT DOES THAT TELL YOU ABOUT THE POPULARLY OF GAMES VERSUS OTHER KINDS OF ENTERTAINMENT AS AUDIENCES EVOLVE? JOHANNA: IT FEELS LIKE THE MODERN MEDIUM FOR ENTERTAINMENT. IT'S HOW PEOPLE ARE GATHERING, CREATING FRIENDSHIPS, CREATING LIFELONG CONNECTIONS THROUGH CALL OF DUTY AND THIS IS THE MOMENT WHERE WE COULD NOT BE MORE PROUD TO SEE SO MANY DIFFERENT REGIONS OF THE GLOBE CONNECT IN THIS WAY.
SOME OF THE NUMBERS ARE STAGGERING. IT PROVES THE POWER OF GAMING. WE HAVE FIERCE COMPETITION OURSELVES, SO WE KNOW WE ARE ALL FIGHTING FOR CONSUMERS TIME AND HOW THEY MAKE THEIR CHOICES. TO SEE SO MANY PLAYERS RALLY
TOGETHER AND POUR IN THEIR FEEDBACK AND CONNECTIONS JUST THREE DAYS OUT OF LAUNCH HAS BEEN AMAZING AND WE ARE INCREDIBLY EXCITED FOR WHAT IS TO COME. BLOOMBERG HAS REPORTED ACTIVISION IS REPLACING NEXT YEAR'S CALL OF DUTY WITH CONTENT FOR THIS GAME. TELL US WHERE THE FRANCHISES GOING NEXT. FANS WANT TO KNOW. ALL -- JOHANNA: OUR EYES ARE ON A COUPLE OF WEEKS FROM NOW -- ANOTHER WAY TO PLAY CALL OF DUTY -- THIS IS THE 2.0 VERSION. IT IS FREE TO PLAY, SO EVERYONE CAN DROP IN AND HAVE IT EXTERNALLY AWESOME EXPERIENCE PLAYING BATTLE ROYALE. WE ARE REALLY EXCITED ABOUT
THAT. THERE IS SO MUCH GOING ON IN THE MODERN WARFARE UNIVERSE, SO WE ARE EXCITED. THIS HAS BEEN A TREMENDOUS LUNCH. SO, MORE TO COME. EMILY: I WILL LET YOU GET AWAY WITH THAT ONE DESPITE FANS WANTING TO KNOW. IT'S NO SECRET ACTIVISION HAS BEEN WORKING THROUGH SOME CULTURAL ISSUES. I WOULD LOVE TO HEAR YOUR
PERSPECTIVE ON HOW THAT IS EVOLVING AND WHAT IT IS LIKE BEING A SENIOR WOMAN IN GAMING AT ACTIVISION. JOHANNA: WE HAVE HAD OUR CHALLENGES. A LOT OF COMPANIES HAVE THEIR OWN CHALLENGES AS WELL. WHEN YOU THINK ABOUT HOW BIG
OUR WORKFORCE IS, IT IS NOT SOMETHING WE TAKE LIGHTLY. IT'S A PRIORITY FOR US TO IMPROVE WORKPLACE CULTURE. I'VE ALWAYS FELT SO WELCOMED HERE. I'VE BEEN HERE ABOUT FOUR YEARS AND HAVE BEEN BLOWN AWAY BY THE CALIBER OF TALENT AND COLLABORATION WE SEE AND WE HAVE MADE THIS A TOP PRIORITY. WE HAVE NO TOLERANCE FOR BAD BEHAVIOR. WE SAID THAT IN MANY STATEMENTS AND WE CONTINUE TO MAKE THESE INVESTMENTS TO MAKE SURE THIS IS A PLACE PEOPLE WANT TO WORK AND IT ALL COMES DOWN TO TALENT. WE NEED THE BEST AND BRIGHTEST
HERE AND WE ARE LUCKY TO HAVE THEM HERE. WE HAVE AMAZING TALENT ALL OVER THE WORLD POURING IN AND WE WANT TO CONTINUE TO GET BETTER AND ATTRACT THE BEST TALENT WE CAN. EMILY: MEANTIME, YOU ARE NAVIGATING A POTENTIAL HUGE ACQUISITION BY MICROSOFT. U.K. REGULATORS ARE SCRUTINIZING THE
DEAL. WHAT CAN YOU TELL US ABOUT WHETHER OR NOT AND WHEN THIS DEAL IS GOING TO HAPPEN? JOHANNA: ALL OF MY EYES HAVE BEEN ON CALL OF DUTY. I PROMISE YOU THAT. THE STATEMENTS ARE OUT THERE
AND MICROSOFT AS COMMENTED ON THIS. THE POSSIBILITIES ARE VERY EXCITING. WE ALL UNDERSTAND THE SCOPE OF THAT AND WE ARE FOCUSED TO DO WHAT WE CAME HERE TO DO, WHICH IS TO DELIVER THE BEST POSSIBLE PLAYER EXPERIENCES WE CAN AND THE CALL OF DUTY MILESTONES HAVE BEEN TREMENDOUS AND A TESTAMENT TO HOW MUCH WORK HAS POURED IN. MORE TO COME BUT ALL EYES ON THIS MOMENT AND I FEEL HONORED AND HUMBLED TO BE PART OF IT. EMILY:
THANK YOU FOR SHARING THOSE NEW NUMBERS ON CALL OF DUTY WITH US. WE WILL STAY TUNED. THANK YOU. COMING UP, GALAXY DIGITAL MULLING A BIG RESTRUCTURING. THIS IS BLOOMBERG. EMILY: THE CRYPTO FIRM GALAXY DIGITAL CURRENTLY HAS 375 EMPLOYEES, BUT THAT NUMBER COULD CHANGE. SONALI BASAK IS HERE TO EXPLAIN. SONALI:
GALAXY MAY BE LAYING OFF 15 TO 20% OF ITS WORKFORCE. THAT COULD AMOUNT TO AS MUCH AS 75 PEOPLE. I WANT TO POINT OUT THAT RECENTLY, GALAXY HAD BEEN HIRING, SO THIS IS A NEW PLAN. THE STOCK IS OFF MORE THAN 70% THIS YEAR. EARLIER THIS YEAR, THEY HAD THE
PLAN TO BUY BIT GO. THAT WOULD HAVE ADDED MORE STAFF. A REVERSAL OF TRAJECTORY HERE AND 75 POSITIONS COULD GO AT GALAXY. ALEX HE REPORTS RESULTS NEXT WEEK. HEARING WHAT MIKE NOVA GRATZ HAS TO SAY WILL BE INTERESTING. GALAXY IS ONE OF THE EARLIEST INVESTMENT BANKS IN THIS SPACE.
A HUGE RESEARCH ARM. WHERE ARE THEY GOING TO TRIM SOME OF THAT WILL BE OF INTEREST. ALSO OF INTEREST IS WHAT THEY WILL SAY IN TERMS OF LIQUIDITY POSITIONS.
1.5 BILLION AS OF JUNE 30, A BILLION IN CASH. BUT WE HAVE A LOOK AT THE JOB CUTS SPREADING ACROSS THE BUSINESS. THE QUESTION IS, YOU'VE TALKED ABOUT THE REVOLVING DOOR ON THE C-SUITE -- WHERE DO THOSE JOBS GO NEXT? IS THERE CAPACITY IN THE CRYPTO INDUSTRY TO PICK UP THOSE JOBS AS WE SEE LARGE FIRMS START TO SCALE BACK EVEN THE RANGE BOUND TRADING YOU'VE SEEN. EMILY: THANK YOU FOR HELPING US DIG IN THERE. COMING UP, THE FOUNDER OF GRUBHUB TALKS ABOUT HIS NEW BOOK . HE'S. THIS IS BLOOMBERG.
♪ EMILY: THE FOUNDER OF FOOD DELIVERY GIANT, GRUBHUB IS OUT WITH A NEW BOOK ABOUT HIS FOOD BUSINESS -- HANGRY DETAILS THE STEP-BY-STEP GRIND OF BUILDING AN INNOVATIVE BUSINESS. MIKE EVANS JOINS ME NOW TO DISCUSS MORE. AFTER EVERYTHING YOU'VE BEEN THROUGH, WHAT INSPIRED YOU TO PUT IT A BOOK? MIKE: THE BOOK IS THE STORY OF STARTING IT IN MY APARTMENT AND RUNNING IT THROUGH AN IPO. IT'S AN INTENSE EXPERIENCE TO CREATE SOMETHING FROM NOTHING AND GO THROUGH THE CAPITAL INVESTMENTS AND ALL THE THINGS THAT COME THROUGH. I WANT TO SHARE THAT EXPERIENCE AND IF I CAN CHANGE A FEW PEOPLE'S MINDS ABOUT THE IMPORTANCE OF THINKING ABOUT WHAT THEY ARE TRYING TO ACCOMPLISH, THAT'S MY GOAL WITH THE BOOK AND WHY I WROTE IT ALL DOWN. EMILY:
WE HAVE HEARD ELON MUSK SAYING THINGS LIKE STARTING A COMPANY IS STARING INTO THE ABYSS OF DEATH AND SWALLOWING SHATTERED GLASS -- MIKE: TAKE IT DOWN A BIT. IT'S NOT THAT BAD. EMILY: I WANT YOUR METAPHORS. MIKE: IT'S NO PIECE OF CAKE SINCE I HAVE TWO RELATED TO FOOD. IT WAS CHALLENGING AND THAT'S ONE OF THE THINGS I HAVE HAD TO REMEMBER.
THE PATH FROM START TO SUCCESS IS NOT A STRAIGHT PATH. IT'S MORE LIKE A DRUNKEN RAMBLE. IT'S IMPORTANT TO QUIT THE THINGS THAT AREN'T WORKING AND DOUBLED DOWN ON THE THINGS THAT ARE. IT TAKES AN ITERATIVE AND EXPERIMENTAL APPROACH TO TAKE A BUSINESS AND MAKE IT SOMETHING CUSTOMERS LOVE. EMILY:
HANGRY IS SOMETHING I HAVE CERTAINLY FELT AND FOOD DELIVERY COMPANIES HAVE HELPED APPEASE. WHY DID YOU CALL IT THAT? MIKE: I STARTED THE BUSINESS BECAUSE I WANTED PIZZA AND I WAS HUNGRY. IT STARTED AS A HOBBY AND I DID NOT LOVE WORKING FOR ANOTHER PERSON BEING JUST A SOFTWARE DEVELOPER AS I WAS CALLED A FEW TIMES IN MY EARLY PART OF THAT WORK EXPERIENCE. THAT'S WHERE THE IDEA CAME FROM. I WAS TRYING TO SOLVE A PROBLEM AND I MAKE THE POINT THAT ENTREPRENEURS TEND TO NOT BE HAPPY PEOPLE. YOU LOOK AROUND AND SEE
SOMETHING IS WRONG AND YOU ARE MORE ANNOYED BY IT THAN MAY BE SOME OF YOUR FRIENDS AND FAMILY ARE. THE DIFFERENCE BETWEEN THAT PERSON BEING A MISERABLE GRUMP AND AN ENTREPRENEUR IS GETTING OFF THE COUCH AND DOING SOMETHING ABOUT IT. A LOT OF THAT MOTIVATION CAME FROM BEING SICK OF HAVING TO CALL ON THE PHONE AND HAVING ORDERS GET MESSED UP.
I CAN'T COOK, I CAN'T STAND COOKING, SO I HAD TO SOLVE THE PROBLEM AND THAT'S WHY I STARTED THE FOOD ORDERING BUSINESS AND ULTIMATELY IT DID SOLVE THE PROBLEM. IT GOES THROUGH THE EXPERIENCE OF WHAT IT IS LIKE TO DO THESE 80, 90 HOUR WEEKS OVER THE COURSE OF A DECADE. EMILY: STARTUPS ARE HARD, FOOD DELIVERY STARTUPS ARE HARD. WE JUST HAD THAT HUBER CEO ON IN THE SHOW AND UBER EATS IS STILL DOING WELL. GOOD PROFIT BUT NOT A HUGE
AMOUNT OF GROWTH. I'M CURIOUS WHEN YOU LOOK AT THE FOOD DELIVERY WARS TODAY, BETWEEN GRUBHUB AND UBER EATS, DO THEY ALL SURVIVE? TODAY COEXIST? IS THERE A CONSOLIDATION? MIKE: I DON'T THINK THEY CAN COEXIST. ULTIMATELY THE WINNER IN THE SPACE WILL BE THE ONE THAT CREATES THE BEST PRODUCT FOR CUSTOMERS. THE ONE THAT CREATES THE BEST
BUT FOR CUSTOMERS IS THE ONE THAT CREATES A BEST PRODUCT FOR RESTAURANTS AND DRIVERS AND THAT IS WHERE INNOVATION AND DIFFERENTIATION IS GOING TO COME FROM. THE COMPANY THAT DOES THAT BEST WILL WIN THE LOYALTY AND FREQUENCY OF THE DINERS THAT USE THE PLATFORMS. I'M LOOKING FORWARD TO SEEING HOW IT SHAKES OUT. I THINK THERE'S ROOM FOR DIFFERENTIATION AMONG THOSE THREE RIGHT NOW. EMILY: SO YOU ARE NOT UNBIASED. WHO DOESN'T SURVIVE? GRUBHUB HAS A PARTNERSHIP WITH AMAZON.
IS THAT A REAL DIFFERENTIATOR OR NOT? MIKE: I THINK GRUBHUB HAS AN EDGE BECAUSE AS MORE INDEPENDENT RELATIONSHIPS WITH RESTAURANTS. I THINK THE NEIGHBORHOOD GEMS AND INDEPENDENT RESTAURANTS, THE BUSINESSES THAT MAKE UP THE HEART OF A LOT OF DOWNTOWNS, WHETHER BIG CITIES WERE SMALL CITIES, THOSE ARE THE THINGS CUSTOMERS LOVE THE MOST AND GRUBHUB HAS AN ADVANTAGE THERE. THAT IS MY HOPE. I'M NOT BIASED, BUT ULTIMATELY IT COMES DOWN TO WHICH COMPANY INVESTS IN THOSE THINGS MOST. EMILY: YOU HAVE TALKED ABOUT STEPPING DOWN.
WHY WAS WHEN YOU STEP DOWN THE RIGHT TIME AND AS YOU SAY, STEPPING DOWN ISN'T QUITTING. MIKE: I TALK ABOUT THIS IN THE BOOK. MY GOAL WAS TO PAY OFF THE SCHOOL AND I OVERSHOT BY A LITTLE BIT. FROM MY APARTMENT TO THE IPO, AS I GOT TOWARD THE END OF THE JOURNEY AND APPROACHED THE IPO, THE REASON I DECIDED TO GO ON AND DO THE NEXT THING IS I WANTED TO WORK ON A BUSINESS FOR THE IMPACT OF WHAT I WAS DOING FROM A SOCIAL PERSPECTIVE AND THE PROFIT I WAS CREATING WAS THE SAME IN WHATEVER THE BUSINESS MODEL WAS. I'M NOT EVEN SURE IT'S POSSIBLE A LOT OF TIME. I WANTED TO START A NEW COMPANY
WHERE WE COULD MAKE THAT THE DNA OF THE COMPANY FROM SCRATCH, SO THAT IS WHY I WENT ON TO START MY OWN THING.
2022-11-03 19:33
Show Video
Other news