Tin quốc tế mới nhất 19/6, Giao tranh Mỹ - Trung sẽ bùng nổ ở quần đảo Đông Sa? | FBNC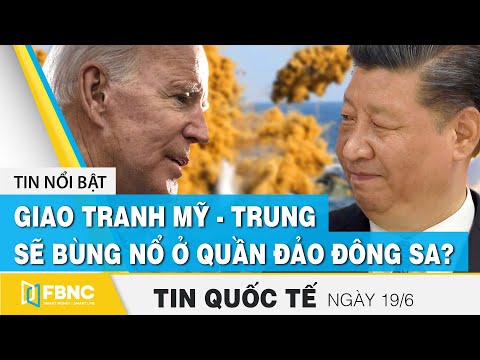 Show Video
Welcome to FBNC's June 19 morning International news Here are today's outstanding news 7 Chinese military aircraft enter Taiwan's ADIZ Taiwan's Penghu Defense Command conducts live-fire drills US: China aims to unite with Taiwan A tiny Taiwan island could be trigger for US-China clash US president 'makes logical mistake' in splitting China-Russia ties Trump Says Summit Was 'Good Day for Russia', We Got Nothing', Raps Europe for 'Screwing Us' on Trade Kremlin Sees No Reason to Remove US From Russia's List of Unfriendly Nations Seven Chinese military aircraft flew into Taiwan's air defense identification zone (ADIZ) on Thursday morning (June 17), marking the sixth intrusion this month. Two People's Liberation Army Air Force (PLAAF) Shenyang J-16 fighter jets, four Chengdu J-7 fighter planes, and one Shaanxi Y-8 electronic warfare aircraft carried out exercises in the southwestern section of Taiwan's ADIZ, In response, Taiwan sent aircraft, broadcast radio warnings, and deployed air defense missile systems to track the PLAAF planes. Since last September, Beijing has dialed up its gray zone tactics by frequently sending planes into Taiwan's ADIZ, with most instances taking place in the southwest corner of the zone. The Army's Penghu Defense Command stated on Thursday (June 17) that it carried out live-fire drills the day before in order to maintain combat readiness amid a surge in COVID-19 cases. Defense Commander Lieutenant General Liu Hsieh-ching oversaw the exercise and said he appreciated the hard work of the officers and soldiers involved, Troops followed the proper protocol for checking equipment and ammunition and successfully carried out firing procedures, tactical maneuvers, and gun placement procedures. After the firing order was given, waves of artillery hit their targets with great accuracy.
Commander Liu said that although the current COVID outbreak is still severe, combat readiness training must not be forfeited. The troops were able to use various weapons and undergo live ammunition training to fully understand their tasks and familiarize themselves with their weapons as well as their enviroment US Defense Secretary Lloyd Austin says the United States believes China aims to unite with Taiwan. Austin spoke at a Senate hearing on the topic of building the US-Taiwan relationship on Thursday. He said uniting with Taiwan is a goal of China although the timeline for that remains to be seen. He added, "There are a number of intelligence estimates that address that issue."
Austin said, "Our position is that we remain committed to helping the defense of Taiwan in terms of providing the ability for them to defend themselves." Jonathan Fritz, Deputy Assistant Secretary of State for Taiwan affairs, said, "The US government's view is that as Beijing seeks to disrupt the status quo by upping the pressure, it is incumbent upon us to further reinforce our support for Taiwan." The rest broke off and briefly darted further south towards tiny Pratas Island in the South China Sea before turning back. The PLA has flown close to the atoll uninhabited except for a garrison of Taiwanese marines and coastguard officers once a week on average since September 16, when Taiwan's defence ministry began releasing detailed data. When 28 Chinese warplanes streaked through the skies around Taiwan on Tuesday the largest such fly-by this year – they followed a pattern that has generated alarm among US and Taiwanese military planners. The strategy also tests the limits of Washington's security commitment, and whether it is willing to go to war to defend largely vacant reefs hundreds of miles from the nearest American base.
Ben Schreer, a professor at Macquarie University in Sydney who studies Taiwan's defence policy "There is now a serious possibility that China seeks to occupy one of the outer islands," Although there were no concrete outcomes that could make US allies or American people happy, China was the topic that persisted all the way through Biden's trip, even in his one-man press conference after his meeting with Putin in Geneva on Wednesday. The word "China" wasn't even included in a question raised by a reporter at the conference, which is about the potential of a new cold war between the US and Russia, but Biden, in his answer, said that "let me ask a rhetorical question: [Russia] got a multi-thousand-mile border with China. China is moving ahead…seeking to be the most powerful economy in the world and the largest and the most powerful military in the world." "Your [Russian] economy is struggling; you need to move it in a more aggressive way, in terms of growing it… I don't think he's [Putin) looking for a Cold War with the US," Jin Canrong, associate dean of the School of International Studies at the Renmin University of China, told the Global Times that "apparently, just as most people had predicted before the Putin-Biden meeting, Biden would definitely create some discord for China-Russia relations in his talk with Putin, but his approach was extremely poor and it would bring no effect." "China's economic development is not a threat to Russia, but an opportunity. This is common sense for both China and Russia.
Hilariously, Biden told Putin that the Russian economy is struggling and he even tried to use this point to split China-Russia ties. Can he tell the difference between who is making the Russian economy struggle and who is helping Russia overcome economic difficulties?" Jin said. Kremlin spokesman Dmitry Peskov told Sputnik on Wednesday after the top-level summit. There are no grounds yet to remove the United States from Russia's list of unfriendly nations, The Russian government approved the list of "foreign states committing unfriendly actions against Russia" in mid-May.
The list only consists of the US and the Czech Republic. "No ... There are no grounds yet," Peskov said. "I guess the overall is we did not get anything.
We gave a very big stage to Russia, and we got nothing.We nothing.We gave up something that was unbelievably valuable. I stopped the pipeline, Nord Stream, and that pipeline was stopped.
And it was given back, and nothing was gotten for it. He added: "I think it was a good day for Russia. I don't see what we got out of it." Regarding Biden's decision not to hold a joint press conference with Putin in Geneva, Trump stated: Trump stated: "I got along really well with him.
Nobody was tougher on Russia. He would say that, but nobody was tougher on Russia." "So, you know, his age is not the problem, and look, I hope he has no problems… I want him to do well. I think the election was unbelievably unfair, but I want this guy to go out and do well for our country," said Trump. Hong Kong police on Friday charged the publisher and the editor-in-chief of the Apple Daily tabloid with conspiring to collude with external elements under the national security law, On Thursday, officers raided the homes of top editor Ryan Law Wai-kwong and publisher Cheung Kim-hung also the CEO of the paper's parent company, Next Digital – as well as three other senior executives, arresting all five.
Law and Cheung are slated to appear at West Kowloon Court on Saturday morning. The force on Thursday cited the publication of dozens of articles understood to be mostly commentaries and opinion pieces, including several written by tabloid's jailed founder and opposition activist Jimmy Lai Chee-ying as evidence of conspiracy to collude with foreign forces or external elements. The US government on Thursday denounced Hong Kong's arrest of the editor- in-chief, publisher and three other executives of local newspaper Apple Daily on charges of conspiracy to collude with foreign forces and external elements. State Department spokesman Ned Price called the Hong Kong government's claim that the publication used "news coverage as a tool" to harm national security an effort to stifle dissent in the city and a violation of the Sino-British Joint Declaration that was signed by Britain and China in 1984 "We are concerned by increased efforts by authorities to wield the national security laws of tools suppress independent media to silence dissenting views and to stifle freedom of expression."
"We call on authorities to stop targeting the independent and free media," he added. "Efforts to stifle media freedom and to restrict the free flow of information not only undermine Hong Kong's democratic institutions, but they also hurt Hong Kong's credibility and viability as an international hub." UAE Being 'Forced' To Opt Between US & China; F-35 Stealth Jets & Huawei's 5G Rollout. The US is indirectly pressuring the UAE to abandon its telecommunication integration with Chinese tech giant Huawei or risk losing the F-35 stealth fighter deal, reports suggest. This move creates a dilemma for the Arab nation, which is a traditional ally of the West and a robust economic partner of China. The F-35 Joint Strike Fighter deal came to light in the aftermath of the US- brokered Abraham Accords, led by UAE which became the third Arab country and first from the Gulf to normalize ties with Israel.
A $23-billion deal for 50 F-35 fighters and MQ-9B Reaper drones was signed Washington's disapproval of the UAE partnering with Huawei is not new, according to a report by Bloomberg. During the time of the Trump administration, the US pushed the Emiratis to consider an alternative to th controversial Chinese telecom giant, However, the UAE went ahead to partner with Huawei Technologies for a 5G rollout in the country to have a technological edge in the region. Emirati officials have shown displeasure over the short time period and have insisted sought more time to look for a feasible and affordable alternative to Huawei.
The UK that previously suspended Huawei in its 5G rollout program has given time till 2027 to its telecom operators to find a replacement. In continuation of the policies of his predecessor, Biden has taken the rise of China as a direct challenge to liberal and democratic international order. Washington's concerns stem from the fear of access to US military technologies to the Chinese and Russians who have close ties with the Emiratis. Canon 's subsidiary company in China, Canon Information Technology, installed cameras equipped with artificial intelligence in its office that are programmed to only let in smiling employees, the Financial Times reported on Thursday.
Workers without smiles would not be able to enter rooms or book conference rooms. The "smile recognition" technology, which is part of a workplace management system, was presented as a peculiar way to promote a positive and cheerful atmosphere in these post-pandemic times. "Workers are not being replaced by algorithms and artificial intelligence. Instead, the management is being sort of augmented by these technologies," an experimental AI system will be deployed in a school in the Moscow region in Russia, to track children's behaviour and their psycho-emotional condition. The system is expected to detect dangerous behaviour and identify pupils that have bad moods over a long period of time. Meanwhile, the imperceptible infiltration of AI in surveillance tools is also widely used by a number of large Western companies, including Amazon.
A huge wildfire burning in the U.S. state of Arizona had scorched 148,299 acres (600.1 square km) started on June 10 in Pinal County it has become the sixth largest wildfire in Arizona history. Over 1,000 crews were fighting the blaze, the authority said.
However, firefighters lost more ground overnight after 139,615 acres burned on Tuesday The firefighters focused on protecting Top-of-the-World and other communities near the mountain area torched by the fire. Local residents have received the order to prepare for evacuations. Rebecca, a local resident said "We had one like two years ago, but nothing like this.
This spread like this whole mountain. And before, it was just the one mountain, just a little one. Thailand lost about $50 billion in tourism revenue last year, but this week its prime minister said he was willing to take a calculated risk to reopen the country. Its prime minister described it as a calculated risk to revive its troubled economy. Thailand is to start a pilot reopening its most popular island, Phuket, from July 1st, In a televised address this week Prime Minister Prayuth Chan-ocha said the goal is to reopen the tourism-reliant country to fully vaccinated travellers without the need to quarantine.
A full-size pilotless 'flying race car' has taken to the sky for the first time ahead of remotely piloted races to be held later this year at three international locations still to be revealed. MATT PEARSON, FOUNDER ALAUDA AERONAUTICS AND AIRSPEEDER SAYING: "It is a momentous day. we've gone through the first flights with the Mark 3 vehicle.
We haven't been able to share anything like and it's been a huge piece of engineering work to get to this point and to be able to showcase the Mark 3 to the world Alexandra Kerlidou sits in her wheelchair on stage in Athens. With only the shift of her eyes across a computer screen, the 21-year-old fills the air with harp She is playing the "Eyeharp," gaze-controlled digital software which allows people with disabilities to play music. "Eyeharp" is a program that uses digital eye-tracking technology to manipulate The Eyeharp creator has taught the program in special-needs schools and says more than 2,000 people have downloaded the program These are FBNC's morning International news Thank you for watching See you in the next FBNC's morning International news
2021-06-20 14:19
Show Video
Other news