Tin quốc tế 30/7, Tàu chiến Mỹ ghé eo biển Đài Loan, Trung Quốc tố Mỹ hủy diệt hòa bình | FBNC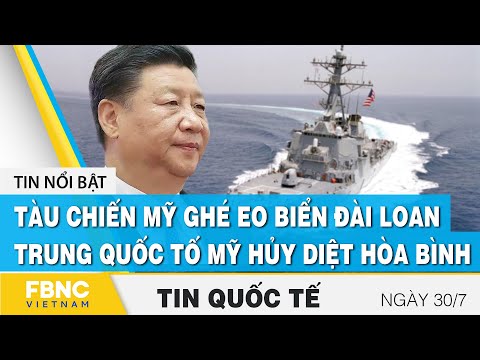 Show Video
Welcome to FBNC's July 30 morning International news Here are today's outstanding news Taiwan signs US$340 million deal for reconnaissance pods to allow surveillance of Beijing's navy PLA monitors US warship movement in Taiwan Straits, ready against provocations US hackers ramp up attacks on online petition calling for Fort Detrick probe as signatures reach nearly 20m China's new ambassador arrives in U.S. with words of optimism Russia concerned over US intelligence activity on its territory — Kremlin Israel tells France it is taking NSO spyware allegations seriously US Senators Urge Biden to Deny American Visa For Attending UNGA For Iran's President-Elect Raisi US Senate votes to advance huge infrastructure Bill Trump Blasts Senate Republicans for 'Terrible' Infrastructure Deal Taiwan has signed a NT$9.63 billion (US$343 million) deal with the United States to buy six reconnaissance pods and related equipment to allow its air force to greatly increase surveillance over the Chinese navy's coastal activities as the island shores up its defences against the threat from Beijing. The deal, revealed by the island's defence ministry on Wednesday through a government bidding website, was signed by the ministry's mission stationed in the US and the American Institute in Taiwan, which represents US interests in the absence of formal relations.
The deal – which includes six MS-110 pods, three transportable ground stations, one fixed ground station, spare and repair parts, system and logistics support, personnel training and training equipment – was approved by the US State Department in October. The MS-110 is a multispectral pod fitted to an aircraft to capture images and intelligence at long range. The pod is compatible with advanced fighters – including F-16, F-15 and F/A-19 jets – and can capture high-resolution imagery at long range or stand-off range during both peacetime cross-border surveillance and wartime scenarios, Collins said on its website, adding that it could detect targets with a high degree of confidence and through poor weather. According to US supplier Collins Aerospace, a unit of Raytheon Technologies Corp, MS- 110 allows day and nighttime, wide-area and long-range imagery coverage.
The MS-110 reconnaissance pods would be delivered to Hualien in eastern Taiwan where the air force bases its F-16 fighter jet squadron, the contract said. In its report to the legislature in September, the air force said it sought to buy the pods from the US to fit its F-16 jets at a proposed cost of NT$9.81 billion for delivery between 2022 and 2029 The island's air force has 142 F-16 fighter jets. It has ordered 66 more advanced F-16V "Viper" jets from the US and opened a regional maintenance and repair centre for the warplanes. In October, the State Department said the sale would help improve Taiwan's capacity to "meet current and future threats by providing timely intelligence, surveillance and reconnaissance (ISR) capabilities for its security and defence".
The Chinese People's Liberation Army (PLA) Eastern Theater Command monitored a US warship when it sailed through the Taiwan Straits in yet another provocative move on Wednesday, the command's spokesperson revealed on Thursday. Its repeated provocations show that the US is the biggest destroyer of peace and stability as well as maker of security risks in the Taiwan Straits, Shi said. The command organized maritime and aerial forces, tracked and monitored the USS Benfold guided missile destroyer through its entire course when it made a transit in the Taiwan Straits on Wednesday, said Senior Colonel Shi Yi, spokesperson of the command, in the statement. Its repeated provocations show that the US is the biggest destroyer of peace and stability as well as maker of security risks in the Taiwan Straits, Shi said. Troops of the PLA Eastern Theater Command stand ready to deal with all kinds of threats and provocations, and are determined, confident and capable of safeguarding national sovereignty and territorial integrity, the spokesperson said.
US-launched cyberattacks have ramped up attacks against an online petition for a probe into Fort Detrick lab on COVID-19 origins as it has gathered nearly 20 million signatures. The petition has been a channel for overseas netizens to contribute their signature as many have expressed their support. As of Wednesday evening, the online petition demanding the World Health Organization (WHO) investigate the US' Fort Detrick lab on the origins of COVID-19 has gathered more than 17.75 million signatures, and the number is still growing. demanding the WHO include the US biological laboratory at Fort Detrick in its second phase of the COVID-19 origins tracing investigation.
A group of Chinese netizens drafted the open letter urging the WHO to investigate Fort Detrick lab, and entrusted the Global Times to post the petition on WeChat and Weibo on July 17 to solicit a public response. investigate the US' Fort Detrick lab on the origins of COVID-19 has gathered more than 17.75 million signatures, and the number is still growing. Meanwhile, the server that hosts the petition has been under continued cyberattacks launched from US IP addresses, including DDoS (distributed denial of service) attacks on a large scale. Earlier, the US-launched attack had come on Saturday evening when the number of signatures reached 10 million. Tedros Adhanom Ghebreyesus, WHO head, outlined a plan recently for a second investigation in China of the origins of coronavirus, including a proposal for "audits of relevant laboratories and research institutions operating in the area of the initial human cases identified in December 2019." The proposal was rejected by Zeng Yixin, China's
vice minister of the National Health Commission on Thursday, saying it "disregards common sense and defies science." China's new ambassador to Washington, Qin Gang, on Wednesday (July 28) wished the United States victory against COVID-19 and said great potential awaited bilateral relations, striking an optimistic tone as he arrived at his new post amid deeply strained ties. Qin's arrival comes days after high-level talks in the northern Chinese city of Tianjin between U.S. Deputy Secretary of State Wendy Sherman and senior Chinese diplomats ended with both sides signalling that the other must make concessions for ties to improve. "I firmly believe that the door of China-U.S. relations, which is already open, cannot and should not be closed," Qin told reporters at his residence in the U.S.
"The China-U.S. relationship has come to a new critical juncture, facing not only many difficulties and challenges, but also great opportunities and potential," Qin said. He said relations kept moving forward "despite twists and turns," and added that the U.S. economy was improving under President Joe Biden's leadership. "I wish the country an early victory against the pandemic," he added.
Qin, who did two stints as a Chinese Foreign Ministry spokesman between 2006 and 2014, has earned a reputation for often pointed public defenses of his country's positions. U.S and Russia mark three decades of cornerstone arms control deal START July 31 marks 30 years since the United States and the Soviet Union signed the Strategic Arms Reduction Treaty, known as START, in an historic agreement reducing their stockpiles of nuclear warheads by about a third.
START, signed in July 1991 by U.S. President George Bush and Soviet President Mikhail Gorbachev, led to the largest bilateral reductions of nuclear weapons in history. It was the follow-up to the earlier Strategic Arms Limitation Talks (SALT) that dated from 1969-79. The treaty was the result of nearly a decade of sporadic talks between the United States and the Soviet Union in the final years of the Cold War.
It stipulated that neither side can deploy more than 6,000 nuclear warheads and no more than 1,600 strategic delivery vehicles, which includes intercontinental ballistic missiles, submarines and bomber aircraft. The implementation of START was complicated by the break-up of the Soviet Union although Ukraine, Belarus and Kazakhstan agreed to transfer their nuclear missiles to Russia. In 2010 the New START which was signed between Washington and Moscow. It capped at 1,550 the numbers of strategic nuclear warheads the sides can deploy and to 700 the numbers of deployed strategic missiles and heavy bombers. The U.S. and Russia extended the New START arms control treaty for five years, preserving the last treaty limiting deployments, at the beginning of U.S. President Joe Biden's term.
In May, Russia raised concerns over Washington's implementation of the New START, saying the number of U.S. launchers and bombers exceeded the agreed limit. The U.S. has said it is in full compliance with the treaty and that it stands by its conversion procedures to render launchers and heavy bombers incapable of employing nuclear weapons and put them outside the treaty. Russia is concerned over the activity of US special services on its territory, Kremlin Spokesman Dmitry Peskov said on Wednesday, declining to compare the successes of both countries' intelligence agencies. "The US special services are active on our territory and this, of course, is a cause of concern," Peskov said. "This has been evident for a long time, and it is ongoing," the Kremlin spokesman said.
Responding to a question about whether the Kremlin agreed with US President Joe Biden's assertion that the American special services were far more efficient than their Russian counterparts and also that President Vladimir Putin of Russia was seriously concerned over this, Peskov noted: "Of course, the US special services are very strong, and their intelligence is very powerful." "However, it's a thankless job to assert who is stronger and who is weaker," the Kremlin press secretary said. "Naturally, it would be strange if the head of the US state told his intelligence staff something different," Peskov said. "Believe me, we have a lot of reasons to be proud of our intelligence and counter- intelligence," the Kremlin spokesman said. Haiti's new Prime Minister Ariel Henry on Wednesday said the government plans to create conditions for the Caribbean nation to hold elections as swiftly as possible following the assassination of President Jovenel Moise earlier this month.
Already struggling with political paralysis, economic malaise and gang-fueled violence, Haiti was pushed deeper into turmoil by the killing of Moise, which the government blamed on a group of mostly Colombian mercenaries. Western powers have encouraged Haiti, the poorest country in the Americas, to elect a new leadership as early as possible to give democratic legitimacy to the government. Presidential and parliamentary elections had been due to take place in September. "The mission of this government is to prepare the conditions to hold the elections as quickly as possible," Henry told reporters at his first news conference since taking office last week. Henry said he would be working to restore confidence in the government, and that there would be dialogue with civil society and political leaders to reach consensus on how to move forward.
The discussions would strive to eliminate "all irritants" that could get in the way of holding elections, he said, without elaborating. Nor did he give a target date for the elections. One potential stumbling block for elections is Moise's prior plan to concurrently hold a referendum on changing the constitution to strengthen the presidency at the expense of parliament. Henry, a 71-year-old neurosurgeon, was tapped by Moise to be the new prime minister just days before the president was assassinated.
Israel is taking seriously allegations that spyware developed by an Israeli company was used against public figures including French President Emmanuel Macron, Israel's defence minister told his French counterpart during a visit to Paris on Wednesday. Israeli defence chief Benny Gantz met French Defence Minister Florence Parly in part to share initial findings from an Israeli government assessment of exports to France by NSO Group, which sells the Pegasus spyware. An investigation published by 17 media organisations, led by the Paris-based non-profit journalism group Forbidden Stories, said the spyware had been used in attempted and successful hacks of smartphones belonging to journalists, government officials and human rights activists. Macron's phone was on a list of potential targets for surveillance by Morocco, which used the Pegasus software, French newspaper Le Monde reported. Macron has called for an investigation. Israel has set up a senior inter-ministerial team to look into the spyware allegations. Gantz told Parly that "representatives studying the issue came to NSO today, and that Israel is looking into the issue with the utmost seriousness".
NSO has said the report about Pegasus was "full of wrong assumptions and uncorroborated theories". Pegasus is intended for use only by government intelligence and law-enforcement agencies to fight terrorism and crime, the company has said. NSO says it does not know the specific identities of people against whom clients use Pegasus, but that if it receives complaints it can acquire the target lists and unilaterally shut down the software for any clients found to have abused it. An Israeli official said the defence ministry would support such actions by NSO if wrongdoing was determined.
Republican Senators Tom Cotton, Ted Cruz, Chuck Grassley, Rick Scott, Marco Rubio, and Marsha Blackburn called on US President Joe Biden to bar the Iranian president- elect, Ebrahim Raisi, from entering the United States to attend the UN General Assembly. Ebrahim Raisi was chosen as the next Iranian president in the country's 13th presidential election that took place in mid-June. His inauguration is scheduled for 5 August. In a letter penned to the US president on Tuesday, the GOP lawmakers labeled Raisi a "violator of human rights" who "consistently supports inhumane punishment against the Iranian people". They also asserted that Iran's president-elect "continued to subject the Iranian people to extrajudicial prosecution, torture and execution". Biden has not commented on the senators' calls. Iran's president-elect is alleged to be part of a so-called Death Commission from 1988, which is accused of ordering the arrest and execution of thousands of Tehran's political opponents at the time - something that the Islamic republic strongly denies. The US Senate voted to advance a historic, trillion-dollar infrastructure package late Wednesday (Jul 28), a breakthrough after weeks of often-bitter negotiations on a Bill that President Joe Biden said could "transform America".
The deal, if passed by Congress and signed into law, would pump historic levels of federal funding into fixing US roads, bridges and waterways, ensuring broadband internet for all Americans and expanding clean energy programs. The bipartisan measure passed 67-32, with 17 Republicans joining all 50 Democrats to formally begin debate on the Bill. The plan, part of Biden's sweeping domestic agenda, includes around US$550 billion in new spending. It came together despite a near collapse of the volatile talks, which Biden and his Democrats wanted to see concluded before Congress breaks for its August recess. The legislation's language has yet to be written, but because the Bill itself is just a shell, the Senate can advance it before voting on the final text. Biden called it "the most significant long-term investment in our infrastructure and competitiveness in nearly a century".
"This deal signals to the world that our democracy can function, deliver, and do big things," he said, adding that the plan had the potential to "transform America and propel us into the future". - Former US President Donald Trump blasted Senate Republicans for striking a deal with their Democratic counterparts on a near $1 trillion infrastructure package. "Hard to believe our Senate Republicans are dealing with the Radical Left Democrats in making a so-called bipartisan bill on 'infrastructure'… This will be a victory for the Biden Administration and Democrats, and will be heavily used in the 2022 election. It is a loser for the USA, a terrible deal, and makes the Republicans look weak, foolish, and dumb," Trump said on Wednesday. Trump took particular aim at Republican Senator Mitt Romney, calling the latter a "super RINO" - a popular acronym for Republican In Name Only - a term used by some to describe Republicans who are perceived to legislate in a similar way to Democrats.
Despite not holding any office, Trump reportedly continues to wield significant influence over the Republican Party, threatening GOP lawmakers with his opposition at primary elections should they go through with the so-called Bipartisan Infrastructure Framework (BIF) deal. Alphabet Inc's (GOOGL.O) Google and Facebook Inc (FB.O) said on Wednesday all U.S. employees must get vaccinated to step into offices. Google is also planning to expand its vaccination drive to other regions in the coming months.
U.S. coronavirus cases have been rising due to the Delta variant, which emerged in India but has quickly spread and now accounts for more than 80% of U.S. coronavirus cases. Health authorities on Tuesday said Americans fully vaccinated against COVID-19 should go back to wearing masks in indoor public places in regions where the coronavirus is spreading rapidly. San Francisco-based ride-hailing company Lyft Inc (LYFT.O), which had already made vaccinations mandatory for employees returning to the office, postponed its reopening to February from September. According to a Deadline report, streaming giant Netflix Inc (NFLX.O) has also implemented a policy mandating vaccinations for the cast and crew on all its U.S productions. Apple Inc (AAPL.O) plans to restore its mask requirement policy at most of its U.S. retail stores, both for customers and staff, even if they are vaccinated.
Many tech companies including Microsoft Corp (MSFT.O) and Uber (UBER.N) have said they expect employees to return to offices, months after pandemic-induced lockdowns forced them to shift to working from home. These are FBNC's morning International news Thank you for watching See you in the next FBNC's morning International news
2021-08-02 06:11
Show Video
Other news