Tin quốc tế 22/2 | Nga báo 1 thắng lợi gần tử địa Bakhmut; Ukraine tung 30 đòn không kích | FBNC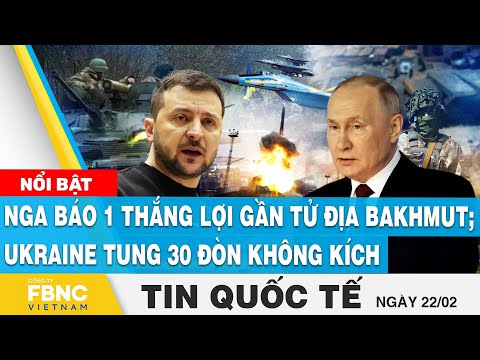 Show Video
Fierce Eastern European War: Russia claims control of an important village near Bakhmut, Ukraine launches 30 airstrikes. In the meantime, Russia develops 100% accurate strike weapons based on combat experience. Kyiv accuses Russia of wanting to "totally destroy Ukraine", determined to end the conflict this year. Elsewhere, relations between Russia and Moldova are increasingly deeply fractured. The relationship between the two US-China rivals shows signs of escalation, when China publishes a document criticizing the US hegemony.
Meanwhile, the island of Taiwan affirms close cooperation with the US in the military field. Iran denies enriching uranium, close to being able to produce nuclear weapons. Young doctors union in the UK votes to strike next March. Russia's armed forces took control of the village of Paraskovievka in the suburb of Bakhmut, while Ukraine claimed it launched assaults on assembly points of Russian troops over the past day. The village of Paraskovievka holds the northern railway line to Bakhmut, Russian Defense Ministry spokesman Igor Konashenkov said at a daily briefing on Monday.
The Russian army also wiped out some Ukrainian soldiers in the directions of Hongliman, Donetsk, Kupyansk and Zaporozhye. Meanwhile, the spokesman said that Russian air defense force shot down 15 Ukrainian unmanned aerial vehicles. The General Staff of the Armed Forces of Ukraine (AFU), on the same day, claimed that the Ukrainian troops repelled Russian attacks near seven settlements in Ukraine's eastern Donetsk and Luhansk over the past day. Meanwhile, the Ukrainian air force carried out 20 air strikes on areas where Russian servicemen and military equipment were concentrated, and seven strikes on Russian air defense systems. Russia's state tech corporation Rostec is developing weapon systems with 100% accuracy of striking targets based on present-day combat experience, the Rostec press office told TASS at the IDEX 2023 international arms show in Abu Dhabi in the United Arab Emirates (UAE) on Tuesday. "The range and accuracy of weapons are a top priority in modern warfare.
We are moving along the path of creating systems with the target engagement accuracy close to 100%, i.e. weapons that ensure guaranteed target destruction," Rostec said. Rostec is focused on providing the Army with advanced armaments, military and special hardware. In this effort, it attaches a top priority to electronic warfare systems, unmanned aerial platforms and other robotic vehicles, armor, next-generation aircraft, communications, reconnaissance, command and control systems, precision-strike weapons and capabilities against them, it explained. Rostec is also developing technology to convert any military hardware into a robotic vehicle, it said. "In particular, we are fine-tuning the technology of converting any seaborne, land or airborne hardware - a fighter jet, a helicopter, a tank, an IFV [infantry fighting vehicle], an MLRS [multiple launch rocket system] and so on - into a robotic vehicle," Rostec said.
Rostec enterprises are rolling out all the weaponry massively involved in the zone of the special military operation in Ukraine at an accelerated rate: tube and rocket artillery systems, armor of different classes, attack and transport helicopters, assault aircraft, fighter jets, heavy flamethrower systems, small arms and ammunition and many other items. Ukraine's Ambassador to Australia Vasyl Myroshnychenko says Russians are "destroying Ukraine completely". "They're killing people, they're destroying civilian infrastructure," Mr Myroshnychenko told Sky News Australia.
"They're hitting targets throughout the country." Mr Myroshnychenko discussed the recent visit from US President Joe Biden to Ukraine and the pledging of further support for the war-torn country. "For us to have this war end, we have to be able to hit Russian targets, to hit their military bases, to hit their stockpiles," he said. "And for that, we need the capabilities." Ukraine's President Volodymyr Zelenskyy has expressed gratitude to US President Joe Biden for visiting Kyiv. Zelenskyy said in a video released on Monday, "We have to do everything to put an end to Russian aggression this year," and that "all we need is determination."
Zelenskyy said he saw such determination in President Biden during his surprise visit to the Ukrainian capital. The Ukrainian president also thanked the United States for promising another package of aid, which he said will "definitely strengthen our guys on the frontline." In the last few moments, the adviser to the Ukrainian defence minister Yuriy Sak has spoken to Sky News. Speaking about Joe Biden's visit yesterday, he said it was a "powerful, motivating factor for Ukrainians" and it sent a clear message to the Kremlin.
"This message goes Ukraine will definitely win this war and Russia will never win because for Russia this is an unwinnable and unsustainable war," he said. "It also sends a message to a wider international audience that Western allies will continue to stand with Ukraine until victory." He explained that Ukraine's air defence has improved significantly since the start of the war, and its forces are getting better at shooting down Russia's drones. However, the country still needs support and is continuing to talk to its partners about the supplies of long-range missiles and fighter jets. He said Kyiv needs the weaponry "sooner rather than later" as it is preparing to launch a fresh counteroffensive.
The first anniversary of Russia's invasion will be marked on 24 February, and Mr Sak said there has been a risk of "renewed and intensified Russian offensives" in the build up to the significant date. "It hasn't happened yet," he said, pointing to Ukraine's success in degrading Russia's military capability as a reason why. "Russia has a liking for these symbolic dates, but we are prepared for any turn of events and this will be a year of Ukrainian resilience and a year of Russia's failures," he added. Russia's special military operation in Ukraine offered hope for peace to the Lugansk People's Republic (LPR), acting regional head Leonid Pasechnik said in an interview with TASS. "I can't even imagine what Ukraine could have done to our land. The special military operation offered us hope for lasting peace.
LPR residents realized that they weren't alone. We have Russia behind us, and it gives us the strength to fight," he pointed out. According to Pasechnik, LPR troops and military servicemen from other Russian regions are now fighting "shoulder to shoulder" against Nazism. "I have no doubt that we will prevail and peace will return to the Lugansk region," he stressed. Moldova's new prime minister, Dorin Recean, has emphasized his intention to demand the withdrawal of Russian troops stationed in his country. Recean spoke at the national assembly on Thursday before assuming his new post under the pro-Western government led by President Maia Sandu.
He said, "We want to be a full-fledged member of the European Union." The prime minister also said he aims to boost Moldova's defense capability. He added that investments must be made in human and technological skills to protect their own country. He added that investments must be made in human and technological skills to protect their own country. The former Soviet republic is Ukraine's neighbor and home to the pro-Russia breakaway region of Transdniestria, where Russian troops have been deployed.
Recean said it is important to continue on the path to realize the disarmament and withdrawal of Russian troops in the region. Kremlin spokesperson Dmitry Peskov responded on Monday that Russia's relations with Moldova "are already very tense." He said, "We would recommend our Moldovan interlocutors to be very cautious about such statements." Peskov warned Moldova against further aggravating relations. Moldova is increasingly on guard against Russia after Moscow's invasion of Ukraine. On February 13, President Sandu accused Russia of plotting to overthrow her government.
Russia's statistics agency says the country's gross domestic product contracted by 2.1 percent last year. Although the result is better than expected, it still shows the impact of sanctions the West imposed last year over the invasion of Ukraine. The state-run Tass news agency says the wholesale and retail sectors shrank 12.7 percent, while the manufacturing sector contracted 2.4 percent. It says agriculture, forestry and fisheries grew 6.6 percent, while construction rose 5 percent.
Analysts had speculated Russia might post negative growth in the double digits for 2022. But soaring prices of energy and natural resources boosted the country's exports and pushed up the GDP. The Group of Seven and other nations set a price cap on seaborne Russian crude oil late last year.
The Russian economy remains under pressure as Western countries step up their sanctions. The US has been abusing its hegemonic position in the world for decades to reap benefits for itself and sow rivalry and instability in other nations, a report published on Monday on the Chinese Foreign Ministry's official website claims. The document seeks to draw international attention "to the perils of the US practices to world peace and stability and the well-being of all peoples." It offers examples of Washington's purported selfishness in the areas of politics, the military, the economy, technology and culture. For a century, the US has treated Latin America as its backyard, where those who resist the US face "political interference, military intervention and regime subversion," the text claims. Elsewhere, it creates divisive blocs under its influence, and fosters "color revolutions" against opponents.
Lately Washington has posited the false dichotomy of "democracies vs. autocracies" and arbitrarily labels nations as members of one of the camps. The use of force has been a feature of US expansionism since its independence, the document says. Since 2001 alone, wars launched by Washington "in the name of fighting terrorism have claimed over 900,000 lives with some 335,000 of them civilians." The US government has used the dollar's status as the global reserve currency, and its influence on the international financial system, to quash competition and slap unilateral sanctions against opponents. Washington "is basically collecting 'seigniorage' from around the world," and during the Covid-19 pandemic, disrupted the global economy by injecting trillions of dollars into it, the report says.
The report accuses the US of using its status as a leading technological power to conduct electronic surveillance and espionage, including against its closest allies, as well as cyberwarfare, noting that having the leverage of big tech companies allows the US government to censor speech online and push its narratives on a global scale, while silencing critics. The document concludes that the US should do some "soul-searching" and change its approach, as "the historical trends of peace, development, cooperation, and mutual benefit are unstoppable." MC: Taiwan island issue is expected to escalate tensions between US and China.
A delegation from United States House of Representatives has just visited this island, a move that can clearly make Beijing be furious. Taiwan is bolstering its military ties with the United States and will cooperate even more closely with it and other friendly nations to deal with "authoritarian expansionism", President Tsai Ing-wen told visiting U.S. lawmakers on Tuesday (February 21). Ro Khanna, a member of the U.S. House China Select Committee and who is leading the U.S. bipartisan delegation, told Tsai the group was there to strengthen both security and economic ties. The United States, like most countries, has no formal diplomatic ties with Chinese-claimed Taiwan but is the island's most important international backer and arms supplier, a consistent source of friction in Sino-U.S. relations. While the United States no longer maintains military bases in Taiwan, the two have a good military relationship.
China has claimed sovereignty over Taiwan and is ready to take it back by force. Beijing also asked Washington to respect "One China" principle and stop aiding "separatists" on the island of Taiwan. Chinese Foreign Minister Qin Gang met with his Singaporean counterpart Vivian Balakrishnan in Beijing on Monday. Qin said that China attaches great importance to bilateral ties with Singapore and the unique role Singapore plays in regional and international affairs.
China stands ready to work with Singapore to implement the important consensus reached by the two heads of state. Noting there are important opportunities for the integration and mutual promotion of modernization of the two countries, Qin said the two sides should seek greater synergies between each other's development strategies, advance the joint construction of a high-quality Belt and Road, and promote the upgrading of cooperation. For his part, Balakrishnan said that since the outbreak of COVID-19, the two sides have helped each other and stuck together through thick and thin. The mutual trust between Singapore and China has been enhanced, he said, while the practical cooperation has also progressed smoothly. Noting that the interests of the two sides are highly integrated, Balakrishnan said Singapore is full of expectations for cooperation with China in various fields, adding that Singapore will continue to uphold multilateralism and safeguard peace and prosperity together with China. MC: The United Nations Security Council has held an emergency meeting about North Korea's latest ballistic missile launches.
Most of the member nations are standing united, but Russia and China continue to block any strong response. During Monday's emergency meeting, member nations criticized North Korea for launching the missiles in violation of Security Council resolutions. US Ambassador to the UN Linda Thomas-Greenfield said, "The United States condemns in the strongest possible terms the DPRK's February 18 and February 19 launches of three ballistic missiles." She also said, "Those who shield the DPRK from the consequences of its escalatory missile tests put the Asian region and entire world at risk of conflict." Japan's ambassador Ishikane Kimihiro echoed those strong concerns. Ishikane said,
"A considerable number of Security Council members have mentioned the need for a unified message on North Korea." Ishikane added that Japan's delegation will do its utmost to enable the Security Council to send a unified message. Eleven countries issued a joint statement. Security Council members Japan, the US and Britain were among the eleven. The statement notes that North Korea has been emboldened by the Council's silence. It stresses that the members must act now.
China and Russia have divided the Security Council by blocking attempts to expand the sanctions against Pyongyang. They have instead accused the US of heightening tensions around the Korean Peninsula. MC: Tehran has rejected as misleading a Bloomberg report, which claimed that the International Atomic Energy Agency (IAEA) was investigating how the country enriched uranium "to levels just below that needed for a nuclear weapon." The news agency cited two anonymous diplomats, who alleged that the UN nuclear watchdog found uranium of 84% purity, or "just 6% below what's needed for a weapon" in Iran, Bloomberg explained in its article, published on Sunday.
Responding on Monday, Behrouz Kamalvandi, spokesman for the Atomic Energy Organization of Iran (AEOI), said the piece was "slander and a distortion of the facts". "The presence of uranium particles above 60% during the enrichment process does not mean enrichment above 60% level," he told IRNA news agency. Bloomberg did, however, acknowledge the possibility that the sample was found after unintended accumulation in an enrichment centrifuge cascade. The IAEA has commented on the news by stating that it was "discussing with Iran the results of recent Agency verification activities" and would report the outcome to its board of governors when appropriate. The nuclear deal, known as the Joint Comprehensive Plan of Action, is a deal Iran signed with other world powers in 2015. Iran agreed to impose restrictions on its nuclear industry, including enrichment activities, to clear other sanctions.
The agreement was torpedoed by US President Donald Trump, who pulled out in 2018 to pursue a so-called "maximum pressure" campaign of sanctions. Iran eventually started reneging on its commitments, and announced it was enriching uranium to 60% purity at its Natanz facility and at the Fordo site. Tens of thousands of North Koreans and people in South Korea, Japan and China could be exposed to radioactive materials spread through groundwater from an underground nuclear test site, a Seoul-based human rights group said in a report on Tuesday. North Korea secretly conducted six tests of nuclear weapons at the Punggye-ri site in the mountainous North Hamgyong Province between 2006 and 2017, according to the U.S. and South Korean governments. The study by the Transitional Justice Working Group said radioactive materials could have spread across eight cities and counties near the site, where more than 1 million North Koreans live, and where groundwater is used in everyday lives including drinking. It also said that neighbouring South Korea, China and Japan might be at risk due partly to agricultural and fisheries products smuggled from the North.
The group, formed in 2014, worked with nuclear and medical experts and defectors and used open source intelligence and publicly available government and U.N. reports for the study, which was backed by the National Endowment for Democracy, a non-profit corporation funded by the U.S. Congress. "This report is significant in showing that North Korea's nuclear tests could threaten the right to life and health of not only the North Korean people, but also of those in South Korea and other neighbouring countries," said Hubert Young-hwan Lee, the group's chief and a co-author.
Telephone calls by Reuters to North Korea's diplomatic mission to the United Nations in New York went unanswered. In 2015, South Korea's food safety agency detected nine times the standard level of radioactive cesium isotopes in imported hedgehog mushrooms that had been sold as Chinese produce though their actual origin was North Korea. China and Japan have ramped up radiation monitoring and expressed concerns over potential exposure following the North's previous nuclear tests but did not openly provide information on contaminated food. Many outside experts have raised concerns over potential health risks from contaminated water, but North Korea rejected such concerns, saying there were no leaks of harmful materials following past nuclear tests, without providing evidence. When North Korea invited foreign journalists to witness the destruction of some tunnels at the nuclear test site in 2018, it confiscated their radiation detectors. Seoul's Unification Ministry, which handles inter-Korean affairs, stopped testing defectors for radiation exposure since 2018 amid a thaw in cross-border ties.
But, out of 40 defectors from the regions near Punggye-ri who were tested for radiation in 2017 and 2018, at least nine showed abnormalities. The ministry said, however, that it could not establish a direct link with the nuclear site. More than 880 North Koreans have escaped from those regions since 2006, the report said. The rights group urged a resumption of testing and an international enquiry into the radiation risks for communities around Punggye-ri. The Unification Ministry did not immediately respond to a request for comment.
Seoul and Washington have said Pyongyang could be preparing for a seventh nuclear test. Tens of thousands of junior doctors in England have voted for strike action next month, their trade union said on Monday, adding to a series of walkouts by nurses and ambulance workers putting pressure on an already strained health system. The British Medical Association (BMA), which represents some 45,000 junior doctors in England, said 98% of those taking part in a ballot had voted in favour of strike action, adding that they will stage a 72-hour walkout next month. The BMA did not give a date for the strike.
Junior doctors agreed in 2019 to an annual 2% pay rise as part of a four-year deal but say that is now inadequate in light of much higher inflation. "This vote shows, without a shadow of a doubt, the strength of feeling among most of England's junior doctors," the BMA said. ." "We are frustrated, in despair and angry and we have voted in our thousands The BMA describes junior doctors as those who are qualified in clinical training and have up to eight years' experience working as a hospital doctor or up to three years in general practice. They work under the supervision of a senior doctor.
British health minister Steve Barclay called the vote "deeply disappointing." "I've met with the BMA and other medical unions to discuss what is fair and affordable, as well as wider concerns around conditions and workload. I want to continue discussing how we can make the make the NHS a better place to work for all," he said in a statement, using the acronym for the National Health Service.
The BMA says junior doctors have suffered a more than 25% real-terms pay cut since 2008, leaving many demoralised and four in 10 wanting to leave the profession, according to a recent survey. Another trade union for doctors, the Hospital Consultants and Specialists Association, said its junior doctor members had also voted to carry out strike action in a separate ballot. That strike, on March 15, involves less than a thousand staff. The strikes will heap more pressure on Britain's state-funded NHS which is already stretched by staff shortages and record backlogs, and is now experiencing waves of disruptive strike action by health workers. Prime Minister Rishi Sunak's government has argued that higher pay rises would only cause more inflation and interest rates and mortgage rates to go up further. More than 10,000 ambulance workers were on strike on Monday, while the nursing trade union last week announced a fresh 48-hour strike from March 1.
China's photovoltaic (PV) sector posted robust growth in 2022 with the total output value of the industry exceeding 1.4 trillion yuan (about 200 billion U.S. dollars), official data showed. The output of the major links of the industrial chain, including polysilicon, wafers, cells and modules, all registered year-on-year growth of over 55 percent, according to the Ministry of Industry and Information Technology. Last year, the country saw a steady expansion of the construction of large-scale PV bases and the application of distributed photovoltaics, with the country's newly-added installed PV capacity reaching 87 gigawatts. Strong overseas market demands for new energy drove up the export of China's PV products.
The country's PV exports totaled 51.2 billion U.S. dollars last year, the data revealed. The country's renewable energy industry continued to lead globally, with China-made PV modules, wind turbines, gear boxes and other key components accounting for 70 percent of the global market last year, according to the National Energy Administration. In 2022, China's renewable energy generation was equivalent to a reduction of 2.26 billion tons
in domestic carbon dioxide emissions, the administration said. International Energy Agency (IEA) head Fatih Birol has warned of possible energy shortages next winter as relatively little new liquefied natural gas (LNG) is coming to the market while China's consumption set to rise this year. European governments made many correct decisions over the last year to ensure energy supply, such as building more LNG terminals to replace pipeline deliveries of Russian gas, Birol told Reuters on the sidelines of the annual Munich Security Conference on Saturday. But they also got lucky, he said, with a mild winter dampening demand while economic weakness in China led to the first drop in consumption there for 40 years. "For this winter it is right to say that we are off the hook", said Birol. "But the question is, in my view, what happens next winter?" An additional 23 billion cubic meters (bcm) of LNG is expected this year, Birol said, adding that even with only a small increase in economic output as pandemic restrictions ease, China would likely swallow 80% of the extra gas.
"Even though we have enough LNG import terminals, there may not be enough gas to import and therefore it will not be easy this coming winter for Europe," he said, noting this would likely push prices up again. "It is not right to be relaxed, it is not right now to celebrate." Even with a renewed push to develop new gas fields, it would be years before they came online, he said. Households and firms therefore need to continue efforts to reduce gas usage while renewable energy output needs to expand faster, he said. Birol warned countries that had decided to phase out nuclear energy to reconsider if this was the best time to do so, saying the temporary extension of Germany's last nuclear plants until April for example was a step in the right direction. "We need all energy sources to help us for the next winter," he said.
Japan's health ministry plans to extend a free COVID-19 vaccination program until March of next year. NHK has learned that officials are working on plans to extend the scheme, which is currently due to expire at the end of next month. The officials want to reduce the number of patients who develop serious symptoms through the extended program.
They plan to make free vaccinations available to those who are most vulnerable, such as seniors, in the spring and summer, and to all eligible people in the latter half of the year. The ministry is scheduled to make a formal decision in early March, following discussions at a meeting of experts on Wednesday. Carnival ravellry heated up in Rio de Janeiro on Monday (February 20) as dozens flock to the street to dance to the rhythm of the street party Virtual music band to the amusement of first-time foreign carnival-goers. Tourists from Chile to Canada delighted themselves with the street party, "bloco," Virtual – a street orchestra made up of around 50 members – marking the pace of Leme neighbourhood's outdoor party. Toby, a visitor from Germany, said for him, Brazil's Carnival was a once-in-a-lifetime experience. Rio's Carnival 2023 will run from February 17 to February 25.
On Monday night (February 20) the remaining six Special Group samba schools will compete at Rio's Sambadrome. Experts hope this year's Carnival will help revive Rio de Janeiro's economy which was deeply impacted by the COVID-19 pandemic.
2023-02-22 23:07
Show Video
Other news