Tin quốc tế 17/7, Mỹ cử chiến cơ "vua bầu trời", TQ cảnh cáo bắn hạ máy bay vào không phận | FBNC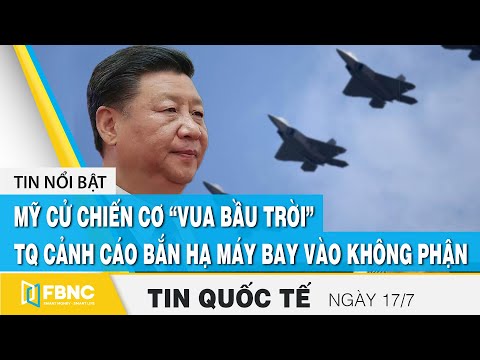 Show Video
Welcome to FBNC's July 17 morning International news Here are today's outstanding news US Air Force to send dozens of F-22 fighter jets to the Pacific amid tensions with China U.S. to sanction Chinese officials and warn companies over Hong Kong -sources Biden, Merkel stress friendship while agreeing to disagree on pipeline China missing from itinerary of U.S. diplomat's second Asia tour US, DPP warned as military aircraft lands in Taipei Russian Navy warships launch torpedo attack on enemy sub in Arctic drills Biden says no U.S. plans to send troops to Haiti at the moment
48 countries send letters to WHO, calling for stopping politicizing virus origins probe The United States Air Force is sending more than two dozen F-22 stealth fighters to an exercise in the western Pacific this month, an unusually large deployment of the powerful jets that analysts say sends a strong message to a possible adversary in China. Pacific Air Forces in Hawaii this week said approximately 25 F-22s Raptors from the Hawaii Air National Guard and from Joint Base Elmendorf-Richardson, Alaska, deploy this month to Guam and Tinian islands for Operation Pacific Iron 2021 The F-22s are fifth-generation combat jets, the world's most advanced fighter aircraft, incorporating stealth technologies and connecting on-board sensor systems with off-board information systems to give their pilots a detailed view of the battle space. US F- 35s are another example. Deploying a large number of F-22s for the exercise sends an immediate message to China at a time when relations are tense over Pacific flashpoints like Taiwan and the South China Sea, said Carl Schuster, a Hawaii-based defense analyst and a former director of operations at the US Pacific Command's Joint Intelligence Center.
Normal F-22 deployments consist of six to 12 aircraft, he said. "The Pacific Air Force is demonstrating that it can deploy as many or more fifth- generation aircraft into the theater on short notice than (China) currently has in its entire inventory," The Chinese air force has about 20 to 24 operational fifth-generation fighters, Schuster said, but he noted Beijing's capabilities are improving at a rapid pace. The US Air Force has around 180 F-22s in its fleet, although only about half are mission capable at any one time due to maintenance requirements, according to Air Force statistics. For Operation Pacific Iron, 10 F-15 Strike Eagle fighters from Mountain Home Air Force Base in Idaho and two C-130J Hercules transport planes from Yokota Air Base in Japan will join the F-22s to fill out the air fleet for what the Air Force calls an Agile Combat Employment operation, Agile Combat Employment is designed to spread US combat planes and other warfighting assets among airfields across the region to increase their survivability from enemy missile strikes. In Pacific Iron, the forces will practice from smaller, less developed airfields like Tinian International Airport on the island in the Northern Marianas, Won Pat Intenational Airport on Guam or Northwest Field, a remote strip separate from the main runways of Andersen Air Force Base.
That would increase the number of targets enemy missiles would need to destroy and give US air power a better chance of being able to fight back. A 2019 report from the RAND Corp think tank, funded by the US military, shows how the concept is envisioned to counter growing Chinese capabilities China's People's Liberation Army "possesses a growing quantity and quality of long- range precision cruise and ballistic missiles that can threaten key targets on air bases," the report says. A successful exercise would have deterrent value toward China, he said. The United States is preparing to impose sanctions on Friday on a number of Chinese officials over Beijing's crackdown on democracy in Hong Kong, as well as a warning to international businesses operating there about deteriorating conditions, two people with knowledge of the situation told Reuters. The sources said the financial sanctions would target seven officials from China's Hong Kong liaison office, the official platform which projects Beijing's influence into the Chinese territory.
A separate updated business advisory issued by the State Department would highlight U.S. government concerns about the impact on international companies of Hong Kong's national security law. Critics say Beijing implemented that law last year to facilitate a crackdown on pro-democracy activists and free press. The moves, certain to anger Beijing, mark the Biden administration's latest effort to hold the Chinese government accountable for what Washington calls an erosion of rule of law in Hong Kong. "We know that a healthy business community relies on the rule of law, which the national security law that applies to Hong Kong continues to undermine," U.S. President Joe Biden said when asked about it at a news conference with visiting German Chancellor Angela Merkel. "The situation in Hong Kong is deteriorating. And the Chinese government is not keeping its commitment that it made on how it would deal with Hong Kong, and so it is more of an advisory
as to what may happen in Hong Kong. It's as simple as that and as a complicated as that." The U.S. Treasury Department has declined to comment on the issue following media reports this week about possible new sanctions. A Chinese military plane flew into Taiwan's air defense identification zone (ADIZ) on Thursday afternoon (July 15), marking the ninth intrusion this month. A single People's Liberation Army Air Force (PLAAF) Shaanxi Y-8 anti-submarine warfare aircraft entered the southwest corner of Taiwan's ADIZ, according to the Ministry of National Defense (MND). In response, Taiwan sent aircraft, issued radio warnings, and deployed air defense missile systems to track the PLAAF plane.
Yesterday's intrusion marked the fourth day in a row Beijing had sent planes into the identification zone. All the planes this month have been slower-flying turboprops, consisting of electronic warfare, anti-submarine warfare, and reconnaissance variants. Since September of last year, Beijing has stepped up gray zone tactics by frequently sending planes into Taiwan's ADIZ, with most occurrences taking place in the southwest corner of the zone. According to MND data, Chinese aircraft were tracked in Taiwan's ADIZ 10 times in June, 18 times in May, 22 times in April, 18 times in March, 17 times in February, and 27 times in January. Last year, they were observed 19 times in December, 22 times in November, and 22 times in October. The Chinese People's Liberation Army (PLA) can expel, fire warning shots or even shoot down foreign military aircraft that trespass upon China's airspace, Chinese military observers warned Thursday, after a second US air force plane landed on the island of Taiwan in less than two months, which also triggered stern responses from the Chinese Defense Ministry and the Taiwan Affairs Office of the State Council. Fu Qianshao, a Chinese military aviation expert, told the Global Times on Thursday that Taiwan is Chinese territory and its airspace is Chinese airspace. Therefore, "we will take corresponding measures."
The Taiwan Affairs Office of the State Council also made a stern warning to the DPP authorities in a statement on Thursday. The DPP authority, colluding with external forces and seeking secessionism but rejecting national reunification, was leading residents in the island to disaster, which is doomed to fail, read the office's statement. A US C-146A Wolfhound landed at Taipei Songshan Airport on Thursday morning and took off after 34 minutes, local media reported. It's not the first time that US air force planes landed in Taiwan in 2021 On June 6, three US senators arrived on the island of Taiwan by taking a military transport plane, a US Air Force C-17 Globemaster III, instead of a civilian plane that normally performs such tasks. Analysts said that the US keeps on using such salami-slicing tactics to make further provocations and attempts to make military aircraft landings on the island a routine move. The expert believes that the PLA has monitored the whole process of US planes' flights and landings, as the advanced radar system of the PLA's early warning plane could conduct precise identification and risk assessment.
July 15 (Reuters) - U.S. Deputy Secretary of State Wendy Sherman will visit Japan, South Korea and Mongolia next week, the State Department said, making no mention of any stop in China that had been anticipated in foreign policy circles and reported in some media. It said Sherman and Japanese and South Korean counterparts would hold a joint meeting to discuss cooperation on North Korea and other issues, including climate change and global health. She will hold further talks in Seoul before heading to Ulaanbaatar to reinforce the U.S. Mongolia Strategic Partnership, the statement said, adding the trip would run from July 18-25. It said Sherman would "reaffirm the U.S. commitment to working with allies and partners to promote peace, security, and prosperity in the Indo-Pacific and to upholding the
international rules-based order," language the State Department uses to refer to its efforts to push back against China. Both leaders said they would stand up for democratic principles and universal rights when they saw China or any other country working to undermine them.' However, Washington and Berlin also have differing views on doing business with China, which Germany has wooed for trade. Biden reiterated his concerns about the Nord Stream 2 pipeline being built under the Baltic Sea from Russia to Germany; the United States fears Moscow will use it as a cudgel against Ukraine.
But Biden said he and Merkel were united in their belief that Russia should not use energy as a geopolitical weapon. "We stand together and will continue to stand together to defend our eastern-flank allies at NATO against Russian aggression." Merkel noted the differences of opinion but emphasized points of unity between the two countries.
"We all share the same values; we all share the same determination to tackle the challenges of our times," she said. At what is likely to be the German leader's final visit to the White House before she retires from politics. After the combat exercise was fulfilled successfully, the personnel of the torpedo recovery vessel recovered the torpedoes and delivered them to the naval base he anti-submarine warfare ships Onega and Naryan-Mar of the Northern Fleet's Belomorskaya naval base launched a torpedo attack on a hypothetical enemy's submarine during scheduled drills in the White Sea, the Fleet's press office reported on Thursday. The heavy nuclear-powered underwater cruiser Dmitry Donskoi simulated the enemy submarine in the drills, the press office specified. After the combat exercise was fulfilled successfully, the personnel of the torpedo recovery vessel recovered the torpedoes and delivered them to the naval base, The anti-submarine warfare ships Onega and Naryan-Mar are completing a set of combat training exercises for surface ships as part of a naval task force. Earlier, they held artillery firings against the sea and air targets, grenade, and depth charge throwing at the Northern Fleet's naval combat training ranges in the White Sea, and practiced providing anti- submarine and air defense support for a convoy of civilian vessels.
President Joe Biden on Thursday appeared to rule out the possibility of sending U.S. troops to Haiti to stabilize the Caribbean nation following the assassination of President Jovenel Moise. Haiti's Acting Prime Minister Claude Joseph has requested troops from both the United States and the United Nations to help secure its airport and other infrastructure. Biden said the United States was sending Marines to guard the U.S. Embassy in capital Port-Au-Prince to make sure "nothing is out of whack" and it is secure. The United States, however, continues to assist in the investigation into the murder of Moise, and a large number of former Colombian soldiers are suspects. Moise's assassination has pitched the already-troubled nation into chaos, coming amid a surge in gang violence that has displaced thousands and hampered economic activity in the poorest country in the Americas. U.S. President Joe Biden said on Thursday the United States is prepared to send vaccines to Cuba if it is assured an international organization would administer them but he is not
considering easing U.S. policy around sending remittances to the country. Thousands of Cubans on Sunday staged the biggest anti-government protests in decades to demonstrate against an economic crisis that has seen shortages of basic goods and power outages. They were also protesting the government's handling of the coronavirus pandemic and curbs on civil liberties. Dozens of activists were detained. Biden told reporters during a press conference after his meeting with German Chancellor Angela Merkel. "I'd be prepared to give significant amounts of vaccine, if in fact I was assured an international organization would administer those vaccines," With regard to remittances, or payments Americans can make to their families in Cuba, Biden said he is not going to do that now.
Remittances to Cuba are believed to be around $2 billion to $3 billion annually and represent Cuba's third biggest source of dollars after the services industry and tourism. Biden also said the White House is reviewing whether the United States can help Cubans regain internet access after Cuba's government restricted access to social media and messaging platforms including Facebook (FB.O) and WhatsApp amid the protests. On a separate call on Thursday, a senior Biden administration official said the United States has contingency plans and a "robust presence" in the Florida Straits if it has to deal with any increased flow of migrants fleeing Cuba by sea. 48 countries have sent letters to the World Health Organization (WHO) opposing the politicization of the probe on the origins of the virus, urging the organization to act according to the resolution made by the World Health Assembly (WHA) and push forward the global probe on the traceability of the virus, the Chinese Foreign Ministry spokesperson said on Thursday, stressing it shows that objective and fair justice still accounts for the majority.
The 48 countries who signed letters to the director general of the WHO Tedros Adhanom, emphasized that virus is the common enemy humanity currently faces and it can only be conquered by the joint effort of the global community. Since last year, China has invited WHO experts twice to conduct traceability research in China. At the beginning of this year, international experts from 10 countries, including the US, the UK, Japan, and Australia formed a joint expert group with Chinese experts to conduct a 28-day joint research in China. During their visit, they analyzed data, conducted field visits and communicated with peers. They built up scientific consensus. With the joint efforts of China and the WHO, the research has achieved positive results and reached many important conclusions. These actions have seriously disrupted and undermined international cooperation in traceability research, created great difficulties and obstacles for countries to fight the epidemic and save lives, and aroused widespread dissatisfaction and opposition in the international community.
Los Angeles County will again require residents to wear masks indoors regardless of vaccination statues starting this Sunday because of recent increases in new coronavirus cases and rising concerns over the Delta variant of the virus. The latest order in the most populous county in the United States comes after it reported 1,537 new COVID cases, an 83% increase over the last week. What they're saying: Though the county will allow some exceptions to the order, the masking requirements will be similar to what they were before California officially reopened in June, Muntu Davis, the county's health officer, said Thursday, according to the Los Angeles Times.
"Anything is on the table if things continue to get worse, which is why we want to take action now," Davis added. He said further restrictions could be implemented if conditions worsen. Johnson & Johnson is voluntarily recalling five Neutrogena and Aveeno brand aerosol sunscreen products after detecting a cancer-causing chemical in some samples. Fred Katayama reports. is voluntarily recalling five sunscreen products after it found a cancer-causing chemical in some of them. The company said Wednesday consumers should stop using five of its aerosol sunscreens and throw them out: Neutrogena Beach Defense, Neutrogena Invisible Daily Defense, Neutrogena Ultra Sheer, Neutrogena Cool Dry Sport, and Aveeno Protect + Refresh.
J&J said internal testing detected low levels of benzene in some samples even though it's not an ingredient in its sunscreen products. That chemical could potentially cause cancer depending on the level and extent of exposure. The company says it's investigating the cause of the contamination and is in touch with regulatory agencies over the recall. The recall is another blow to the storied consumer products giant. The company already faces billions of dollars of potential court losses and settlements from damages And J&J's one-shot vaccine that some viewed as a game-changer in the fight against COVID-19 has not only been hurt by production problems but has also been linked to two very rare side effects. J&J shares declined in early trading Thursday.
These are FBNC's morning International news Thank you for watching See you in the next FBNC's morning International news
2021-07-19 21:37
Show Video
Other news