The Future of Farm Safety | University Place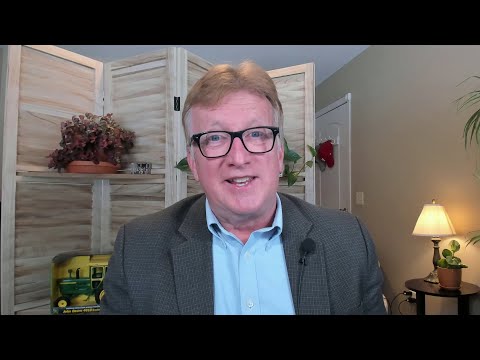 Show Video
- Welcome everyone to Wednesday Nite @ the Lab. I'm Tom Zinnen. I work at the University of Wisconsin-Madison Biotechnology Center. I also work for the Division of Extension Wisconsin 4-H. And on behalf of those folks and our other co-organizers, PBS Wisconsin, the Wisconsin Alumni Association, and the UW-Madison Science Alliance, thanks again for coming to Wednesday Nite @ the Lab.
We do this every Wednesday night, 50 times a year. Tonight, it's my pleasure to introduce to you John Shutske. He's a professor in the Department of Biological Systems Engineering here at UW-Madison, and he's a state specialist with the Division of Extension. He was born in Valparaiso, Indiana and went to Kouts High School there, and then he went to Purdue University for all three of his degrees.
His bachelor's is in ag mechanization and his master's and PhD are in ag engineering. Then he went to the University of Minnesota as a professor, and in 2008, he came to UW-Madison. Tonight, he's going to speak with us about the future of farm safety, especially in light of artificial intelligence and autonomous vehicles, and how those and other factors might affect safety in farm fields, on the farmstead, and on rural roads, and other places. I look forward to hearing what he has to say about how things are gonna be looking in the area of farm safety. Would please join me in welcoming John Shutske to Wednesday Nite @ the Lab? - All right, thank you very much Tom for the introduction. I appreciate it; as Tom said, my name's John Shutske.
I am a professor in biological systems engineering, College of Ag and Life Sciences. I do wanna just do a little bit of a shout-out to our department, which is where the majority of my research occurs. We are an accredited engineering program within the College of Agriculture, and our roughly 200 undergraduate students as well as graduate students work on issues connected to agricultural technology, machinery systems, natural resources in the environment, and we also have a big program dealing with bioprocessing and food, and that includes alternative energy sources. So I'm gonna be talking today about the future of farm safety.
That seems like sort of an old topic that's been around for 50 or more years, but we really are at an exciting time when we look at agricultural innovation technology, the potential to use things like robots on farms, autonomous or driverless equipment. And I wanna talk about what is happening in that realm? What are the implications for safety? And then also, what are some of the things that stand in the way as we look at innovation in agriculture in the future? I really have four different topics that I'm going to cover today. First of all, I'm gonna give you a little bit of an update of kind of where we're at here today in agricultural safety. I'll talk about farm injuries and farm fatalities that occur in the workplace. I'll also talk a little bit about, I'm gonna tease this a little bit right now, but I'm going to talk about D to the third power or D3 industries and how we have some opportunities in agriculture to improve the safety record. I'll provide you with a few examples of some of these cool, new things that are happening.
Again, robots, autonomous equipment. And then especially, I wanna spend some time talking about what it's really going to take, what are the barriers and some of the headwinds that we need to overcome to move this industry forward. I do wanna give special thanks to USDA NIFA. USDA, of course, is the United States Department of Agriculture, and NIFA is their agency that deals with the Institute for Food and Agriculture, and they have provided the funding that has allowed me to do my research through what we call the Hatch Program. So when I'm out talking with farmers, I do a lot of traveling around Wisconsin and other states here in the Midwest.
I've also done quite a bit of work in the last several years nationally. I often lead my programs by asking farmers or people who work in the ag sector, is there really any more of a risk-filled industry as compared to agriculture? When we talk about farming in particular, we have a big workplace safety issue. I'm gonna come back with another slide in just a moment and go into a little bit more depth, but it is a very dangerous or potentially dangerous occupation for a large number of people in this country. In agriculture, we also have other kinds of risks. We have labor risks. Right now, it is very difficult to find workers to do some of the types of work that we ask people to do.
For a producer, this is a big expense, the availability of labor; we have a shortage essentially. As a result, we see a lot of economic uncertainty. That economic uncertainty is also connected to things like the weather, to global markets, to politics and policy.
So there just are a lot of different things. And then the final thing that I wanna mention is it is costly. You think about farming a modern farm, even a relatively small farm in a state like Wisconsin, we're talking hundreds of thousands or millions of dollars' worth of investment to get into the industry, to expand a given operation, or to reconfigure. And when I talk about reconfiguring, that includes thinking about and actually adopting some of the technologies that I'll be talking about here today. So my answer is no, there is probably not a more risky industry than production agriculture or farming as we typically refer to it as. So when we talk about agriculture and we talk about farming here in the state of Wisconsin, we are far and away the most dangerous industry, not only in Wisconsin, but in America.
We have to talk about the fatalities that occur among people who are working or living on farms. We also need to think about the people who are affected in other ways. For example, people who are operating machinery on the highway. Not only do you have a farmer and farm safety risk, but you also have a risk to the general motoring public. So farming, the death rate in farming is about seven times greater than it is in all other industries combined. That includes manufacturing, mining, construction, some of the other hazardous industries in America.
We see about 25 to 35 deaths on the average here in the state of Wisconsin. About one in five of our Wisconsin farms will have an injury in a given year, and if you do the math, that's roughly 10,000 to 12,000 people who are affected annually. About roughly 80% of those injuries, according to our research, require some type of professional medical care or treatment.
The chart that is on this slide actually are our four most recent years of data. In my program and in my research, I work closely with the National Farm Medicine Center. They are located in Marshfield, Wisconsin. And we do an in-depth, almost a CSI-style investigation.
We work with the Department of Health Services. So you can see the numbers, 2017, we had 41 fatalities. 2018 we had 34, 2019 we had 40, and then in 2020 we had 28. One of the things that we've done in the last four or five years is to also look at that impact of farm accidents or farm fatalities on the general motoring public, and they actually make up a fairly significant number of these fatal injuries. I also now wanna talk, and I teased this a little bit at the beginning. Generally, much of agriculture could be characterized as a D to the third power industry.
And when I say that, I am talking about jobs and tasks which many people would consider to be dull, dirty, and dangerous. Or in some cases boring, or they have the ability to create a great deal of fatigue. When I say dirty, that includes work in an environment that is oftentimes filled with different types of health hazards, pathogens, bacteria, chemicals in some cases. And last but not least, as I've talked about with injuries, it's a dangerous industry as well.
And we know for a fact that other industries that face this issue of being dull, dirty, and dangerous, in many cases have moved towards higher and higher levels of mechanization, automation, and are eventually moving towards fully autonomous or operatorless or driverless equipment. That includes the manufacturing sector. Manufacturing, we've had things like welding robots in factories and manufacturing plants for now more than 20 years. But now we're also beginning to see some of these applications enter the mining industry, the construction industry, and not too long after, we will see a number of these applications happening in agriculture. The vehicle that you see, the big Caterpillar truck, this is from a surface mining operation. And now it's commonplace to see driverless and operatorless equipment in this particular sector.
So let's take this back to agriculture and let's talk about innovation and how it has changed things over the last 100 to 150 years. There are a number of different lists that really outline the importance of different agricultural technologies and how they have changed the industry of farming. A few of these include things that are more along the lines of biology or chemistry. A couple of examples where the understanding of genetics allowed us to develop hybrid crops, to understand how to do a better job of crossbreeding animals, for example. We also had a process that was developed many decades ago called the Haber-Bosch process that allowed us to essentially manufacture nitrogen fertilizer from the air, and from other products that went into the process, really enabling a great deal of additional productivity, especially on the crop side of agriculture.
But a lot of these other technologies are machinery-related. Machinery or what we might think of as hardware, things that involve nuts and bolts and iron and steel. The cotton gin is one, and I'm just gonna ask you to make a little notation there. By the cotton gin, there's an asterisk. I wanna come back to that in a second.
The other things that happened is in the late second half of the 1800s, we began to see more steam engines providing power on farms. Steam engines eventually, after several decades, gave way to tractors, which were much more mobile. I'll talk more about these in a few minutes. But then we began to add other components and systems like hydraulics. We then developed self-propelled harvesting equipment for grain and row crops, and here in Wisconsin, for forage products that are harvested in the fall typically. And then eventually, as we moved into the 1960s and '70s, we really started to see a lot more high-tech electrical and electronic monitoring and control.
And again, I wanna go a little bit deeper into some of these as I go through my presentation. Let me circle back and talk about cotton gin. The cotton gin, you'll notice that little notation next to it. One of the things that I'm looking at in my research is to make sure that we not only look at the enabling factors from a technology perspective as we look at these new forms of equipment. We also need to think very carefully about the community and societal implications. My example with the cotton gin is back in the late 1700s and early 1800s, as the cotton gin became more and more sophisticated and powerful and more people knew about it, it made cotton production much more profitable.
And the unfortunate aftermath of that was the increased demand for slaves on plantations, particularly in the southern part of the country. Now, I don't necessarily see that sort of thing happening with new technology in agriculture, but there certainly will be impacts perhaps in the other direction, where we may see the loss of jobs, the impact on communities, for example, migrant and immigrant farm workers. And these are all things that we need to pay close attention to. So where are we with this landscape of agricultural technology? This is actually a slide that is now several years old, from 2018, and this represented back at that time this sort of constellation of all of the different companies that were beginning to enter agriculture technology, particularly on the livestock side of things.
And I don't want to go into a great deal of detail, but you may notice, or you may recognize some company names on the right-hand side of the slide under automation and robotics. Just as an example, a number of these companies are operating here in Wisconsin, where we have milking robots. These are actually machines that are milking cows. Some of those companies include DeLaval, Lely, and there are other companies that are represented on this slide. The idea here is that dairy farming in Wisconsin is beginning to think strongly and heavily about automation because of the labor issues that they face in many of our communities.
A couple of examples, what do these machines look like? This is actually a Lely automated feeding system, where we put feed products in in the correct formulation, the correct ratios, it might be hay, it might be silage, it might be protein or minerals. This machine essentially mixes that product and then delivers it out to the cows or the calves or the other animals that require feed. One of the things that's really interesting about this particular technology is it's fully automated and it is fully autonomously driven, but you also need a whole infrastructure of products to go with it. For example, a large machine like this, you can probably guess is driven by electricity, so it requires battery power. So a farm might have one or two of these feeding machines, but then they're also going to have docking stations that go with them. So this, again, this move towards technology is costly, it's sophisticated, and it requires a whole new way of thinking about the farming operation.
These are pictures that I took just a couple of, not too long ago at the World Dairy Expo, which if you've never been to that, it happens here in Madison, Wisconsin in the early fall. The little red robot that you see on the left-hand side, that is a feed pusher that essentially replaces a person or two who is gonna spend much of their day pushing feed from the aisles and other areas that the cows have pushed their feed away. And it's basically pushing it back to where the cows can reach the feed. So we're replacing human labor, back labor, labor that can cause injuries or repetitive motion trauma and ergonomic issues with machine power. The product on the right-hand side is a BouMatic milking machine or a milking robot, or now oftentimes referred to as a automated milking system or AMS, and again, we see a huge amount of interest because of the labor intensity involved in milking cows. Even with a modern parlor and modern equipment, it still requires a lot of people.
So we're seeing more and more interest in milking robots. Let's now talk a little bit about the crop space. This actually is a slide from a little bit more recently, from 2022. Again, if you study this carefully, and I'm not gonna spend a lot of time on this slide, but you'll recognize some names, Case IH, Deere, CLAAS, and you also see a number of other really small companies that you may have never heard about before. And one of the things that's happening, this is a really quickly involving ecosystem. We have small companies, venture capitalists, inventors and innovators in places like the Silicon Valley of California, and they're working heavily.
And then there are the bigger companies that you may have heard of in the past that are watching closely. In some cases you have mergers, acquisitions. There's a lot of partnerships that are happening. So it's a really cool and interesting time, especially on the field crop side of agriculture, looking at robots, autonomy, and driverless equipment.
Now, I just wanna spend a moment talking. For most of you who are watching this, even if you did not grow up on a farm or you're not familiar with farm life, you probably recognize this green, large-scale John Deere tractor. What you may not see at first glance is there is no operator in this tractor. And this is a picture that was used or part of a promotional effort that was done in 2022 at what we call the Consumer Electronics Show. The Consumer Electronics Show, if you've never been there before, it happens in Las Vegas. It's typically the very first part of each calendar year.
And as the name suggests, the Consumer Electronics Show-- By the way, it draws several hundreds of thousands of people. It is about consumer electronics, and yet in 2022, John Deere chose to be one of the featured exhibitors at the Consumer Electronics Show. It really does suggest to me that this is real. This is something that we really know John Deere and some of these other large agricultural machinery companies, they really want to get exposure.
They want the public also to see and eventually to be able to understand and then even further down the road, to accept that this is going to be a part of modern agriculture. If you think about it as you're driving down a roadway and you may see a farmer out plowing or tilling their land, as you see in this picture, at first glance, you may look up, you may not notice anything, but if you happen to see that tractor going at full speed and there's no operator, that's gonna be a little bit unnerving, especially in the early days of innovation or the early days of adoption with these machines. So that's part of why companies like Deere are really beginning to talk more publicly and at the consumer level with some of these pieces of equipment. Also, think about a piece of equipment like this that you might encounter maybe 10 or 15 years from now on a public highway.
If it doesn't have a driver, we're gonna lack some of the visual feedback, the eye contact and things that happen when we typically meet a person on the highway. Another quick example, and I'm gonna come back and talk about this in just a moment or two, this is a product called the GUSS sprayer. It looks like it's brushed stainless steel. It's basically just sheet metal that is nicely polished up. This is a sprayer that is being used actively out in, particularly right now out in California. There are several dozen of these units operating.
And you can see that as a sprayer, there's no place for an operator to sit. This is essentially an autonomous vehicle, or some might characterize it as a robot that is able to go out on a predetermined path to be able to detect obstacles, to spray the product in something like an orchard, it might be an avocado orchard, an almond orchard or citrus perhaps, and the idea here is that you can remove the person from this particular system and actually improve the safety for that person. And essentially, you're not exposing a person who might otherwise have to sit in a vehicle or a tractor and spray. So just an example, I want to come back and talk about that in a moment. And I would be remiss if I didn't talk about other colors or categories of large machinery.
Just as an example, CNH, formerly Case IH or even before that, International Harvester also is very aggressively pursuing this market, as are other companies like CLAAS and AGCO and the ones that many of you have probably heard of, especially if you are or maybe were connected in the past to agriculture. There are also a number of smaller platforms. This is a very small, about the size of a picnic cooler, just as an example, that's a small-scale robot that is being used, again, in the southern part of the U.S. This might be used on a small acreage, perhaps one to three to five acres, perhaps somebody who is a farmer's market grower. Could be used for tillage, for weed control, for planting, or for a range of different purposes. This is one more example that I will show you.
This is what I will characterize as a helper robot. So out in places like California and also here in Wisconsin and some of the other Midwestern states where we grow products that are harvested by hand, in many cases, workers might be out in the middle of the field doing harvest or the middle of the orchard. So think about a farm worker in California with a large bag where they're harvesting avocados. What happens now is they fill their bag to a given limit and then often, they have to walk to the edge of the orchard. That walk might be a couple hundred yards.
They have to empty their product into a larger bin or transport vehicle, and then they have to walk all the way back. Now, what we see happening is a lot of this is happening through automation. It could be a UTV, a utility vehicle that's being driven by a person, but increasingly, people are very interested in how we might do this with autonomy, with equipment that will follow a predetermined pathway, and that may in fact involve machine learning or artificial intelligence so that it actually is able to learn and adapt from its changing environment on the go. And from season to season will actually build its database so that it understands more deeply each particular operation that it's involved with. So as I talk about this and as I travel Wisconsin and other states, I present this information from time to time, and I have a lot of people who think this is really cool, but perhaps don't quite buy into the notion that this is real and that this is really going to occur. And I would like to suggest to you that we saw the same phenomenon back more than a century ago as we began to transition from animal power, literally horsepower from horses, or in some parts of the country, mules or donkeys or other animals, we began to transfer from animal power to machinery power.
And what ended up happening is this actually took decades. If you look in a history book, it might make up a page or two of a history book, but this actually, this transition occurred over 50 to 75 years, depending on how you look at the technology. It was not until 1954 that we actually saw the number of tractors overtake the number of horses being used as a power source on farms.
1954, we were more than 50 years into this transition. There was a lot of pushback. People who were engaged either directly in agriculture or at the edges; for example, people who took care of horses, people who shoed horses or provided harnesses and other types of leather and hardware products, they said, like, "Yeah, this is really gonna mess with our industry. It's gonna maybe make it worse."
People said, "It's gonna change agriculture forever. "Do we really wanna go down this path of tractors replacing horses?" This move that we saw, it didn't even, if you look at that 50 or 75-year period, even that period had its share of bumps and bruises and fits and starts. We started, for example, with the steam engine, and if you've never seen a steam engine, these are big, lumbering, in some cases, tens of tons of steel and equipment. Very difficult, very complex to operate and not very mobile, especially in the early days. Steam engines eventually, because of the invention of the internal combustion engine and its application in, like, mobile, like, cars and tractors and things, that allowed for a great deal more mobility. We also initially when we had tractors, we had steel wheels.
So think about driving a steel-wheeled tractor literally with large steel lugs down a highway. It was difficult to do. Ergonomically, it was not very healthy.
We then eventually moved towards rubber tires. We then began to add some of these components, hydraulic systems, power takeoff. In the '60s, then we started to think about safety. And the reason for that is we started to see a number of injuries occur on tractors and other forms of equipment. So we started to think about things like shielding for power takeoffs, the slow-moving vehicle emblems that many of you probably see when you're traveling on rural highways, and also cabs that would protect operators from the dust, the dirt, the noise, the sunlight, and the other potential health exposures.
Now what I wanna do in this last little bullet here of my slide is to tell you that safety issues don't necessarily go away when we adopt new technologies, but they certainly do change. My example here, I have a data set that goes all the way back to 1943 for all of the farm deaths, all the farm fatalities here in Wisconsin. 1943, we saw 166 documented farm deaths. I would actually, by the way, say that our data systems are so much better now than compared to back then. That number was probably closer to 300.
But if we count the 166 that we documented, or my predecessors documented, 20 of these fatalities were from horses. And we simply don't see horse-related fatalities here in Wisconsin any longer. If we do, it's because of a recreational incident.
We did see 18 from tractors; we saw 7 from bulls. So 20 from horses, 7 from bulls. Both of those have changed pretty dramatically, essentially eliminated. We do occasionally see some people who are gored or trampled by a bull, but in the case of bulls being used on dairy farms and other types of operations, that has gone away because we have substituted actually having a bull on the farm in many cases with a technology called artificial insemination. So technology has always played a role in safety. So we are now in a really similar transition time.
I'm not gonna go through each one of these bullets in a great deal of detail, but in the '60s, we started to apply different types of electronics. The picture that you see here is an electronic planter monitor that could be used by corn and soybean growers. In the 1990s, especially after the military efforts in Kuwait and Iraq, I think it was called Operation Desert Storm, we saw a fairly widespread release of GPS.
We now all know about GPS, right? But back before the 1990s, we did not have the global positioning system available to consumers and especially available to farmers. The GPS allowed for things like yield monitoring, mapping of our crops, the ability to adjust our inputs on the go, and to provide what we call precision farming or precision application of things like pesticides and fertilizers and other types of products. We now see this technology as widespread. We see auto steer systems that take away some of the burden and reduce some of the fatigue associated with machine operation.
Also, almost all modern equipment has some type of self diagnostic. A tractor oftentimes has the ability to text the operator if it needs a air filter change or it needs some type of routine maintenance. If we're talking about a milking robot that might be milking cows independently from a human operator, there's lots of contact between that particular machine and the operator or the person who's kind of responsible for maintaining and overseeing the operation through technology.
And again, where we are moving is toward much, even more full-scaled automation and eventually, fully autonomous operation, where we don't need a driver, where this is essentially a self-operating piece of equipment. So you might ask the question, why do this? Obviously, we've talked a little bit about labor. I also want to talk about this idea of the potential to improve safety. This graphic is actually a graphic or it's a concept or a model. It's kind of what I've built much of my career on. I call it the safety hierarchy.
When I say I call it that, it's not my original idea. This is actually an amalgamation of a lot of work that's been done over the last several decades. But the safety hierarchy I think is really important for all of us to think about. It essentially says if you want to improve the safety of a dangerous system, in many cases, historically, we've talked about trying to educate people, provide them with more training. In the case of keeping people safe from the recent pandemic, we spent a lot of time talking about masks or different forms of personal protective equipment. Those are all very important, they are very necessary, but by themselves are not sufficient.
And the idea of a person like myself working as an engineer on safety, whether that's safety on the farm or automobile safety, roadways, whatever it might be, is if we can use engineering strategies to separate the person, the operator, the public, any other type of individual or group who might be impacted by a hazard. If we can separate them in time and space through the redesign of a system, that's much better than trying to apply a training solution, putting warning labels on a product, or in the worst case scenario, asking them to wear personal protective equipment. I'm gonna give you a real specific example. Is it possible to eliminate the roughly 40,000 people who die every year in our country on roadways, general roadway collisions? It is probably possible if we could somehow design or eliminate through isolating vehicles or simply telling people to stay home, we would eliminate the hazard essentially through the redesign of a system. In some cases, that's not very practical. So that's why we go to the second layer or the second tier of the safety hierarchy, and that's the safeguarding devices.
We go back to this idea of driving on a public roadway. The safety devices in my car, there are many of them, right? So we've got the collapsing steering wheel, we've got airbags, we have seat belts, a crushing bumper that will actually absorb a lot of the energy. So what we've said is in some cases, it's not possible to separate the person from the hazard. So we're gonna apply some of these other methods.
The idea, going back to the top layer of the safety hierarchy, is if we can get people off of equipment that we know to be dangerous, we are separating them in time and space. Ultimately, will probably be one of the biggest factors to have a dramatic impact, say 20 or 30 years from now, in that high rate of fatalities that I talked about. So the safety hierarchy is an important concept in safety that can really be applied to many aspects of our life. So that's the safety benefit. Let me just spend a moment talking about labor. You may remember that it looked again like brushed stainless steel, the GUSS sprayer being used in California.
If you look at a typical spraying operation in an orchard, you're probably going to need at least two workers. And the GUSS sprayer on a small-scale farm would allow you to go from two workers to one. Where this technology really begins to be leveraged is if you look at larger and larger operations. The upper left-hand corner of this slide would represent a large grower in a state like California, Wisconsin. It could be a cherry grower, it could be an apple grower in Michigan.
So these are not just isolated to California. In that case, if you had a large operator, the labor equation might change even more dramatically. Instead of having four workers spraying your crop, you may be able to go down to one. Or if you are a large, what I will call a custom service provider, if you spray other people's farms or crops or orchards or fields and you do that as a custom service, by employing some of these technologies, you may be able to leverage even to a point of having a five to one reduction of labor. So you can begin to see why from a labor cost perspective, some of these things are particularly attractive. Now I wanna just show you a slide that has some video of one of these particular technologies in action.
And this is sort of a, I'm gonna call this a co-robot. It is not designed to work fully independently and fully autonomously, but what this machine is doing is it's driving itself through the field, it is using a combination of cameras, machine learning software, and artificial intelligence to do its job. In this particular case, what is it doing? It is actually removing weeds from a field in Fresno, California.
And what I said, a co-robot, it's not operating totally independently. You have a person on the left-hand side. He actually sort of walks in and out of the frame. That person is actually a former worker who would typically do this job by hand. He did it frequently as he was growing up. He's got an iPad that he's carrying, and that iPad allows him to make really small, little micro adjustments.
He's also able to communicate with a fleet operator located, in this case, in another part of the state. And that field operator is overseeing not only this robot, but several others located in several other states. So it's kind of cool. Again, if you grew up on a farm, you may look at this and say, "Now, how is this any different than driving the tractor "through a cornfield or a soybean field like I did as a kid growing up and cultivating?" The big difference is, first of all, and I'll talk a little bit more about some of the cost issues, but not only is he tilling and removing weeds between the plant rows, he's also able to do this between the plants. And that is why we typically have had workers do this by hand; they walk along, they carry a hoe.
In many cases, you may have a crew of 24 or as many as even 30 workers that are working together as part of a team, and it might take them a full day to do this particular field by hand the way it had traditionally been done. So now we have one worker and one machine replacing a crew of 24. You've got a remote operator who is able to make small adjustments on the go. Also with this piece of equipment, which is really cool, when he loads this up onto the truck to take it to the next farm to provide this service, the remote operator is able to upload all of the idealized software for that next crop.
That next crop may not be spinach. It may, or in this case cabbage. This next crop might be romaine lettuce or some other type of crop that requires some tweaking in the software. Cost, we're talking about one acre costing $800 with traditional labor, taking that all the way down by about a factor of four from $800 to $180 an acre. So you can begin to see where some of the efficiencies and some of the benefits are realized. This one is even more interesting to me.
This one is another fully self-contained, automated piece of equipment. You see essentially a light curtain or a beam of light that is being cast underneath this machine. And this machine, by the way, is a laser weeder. This particular piece of equipment is weeding a densely-planted spinach crop. And with a spinach crop, it's really hard to go in with a hoe or any type of traditional hand or machinery-operated equipment.
What are we doing? We're scanning, we're using cameras, we're using machine learning and artificial intelligence. This machine is able to differentiate between spinach plants and weed plants and use a laser beam. So occasionally, you'll see little bursts of light. Those little bursts of light are literally weeds being fried by a CO2 laser.
So again, lots of interesting things that are happening, lots of interesting applications. There are a number of specialty crop industries here in Wisconsin that are really interested in things like this, who are gonna need to learn to adapt and make these work for the unique features and aspects of Wisconsin agriculture, but it will be coming down the road in the future. Additional benefits, I've talked about safety, I've talked about labor at the beginning and the potential to dramatically reduce the amount of labor that's required for some of these jobs.
I have just a few more that I want to hit on. One is the ability to really precisely deal with input products. Input products being seed, chemicals, pesticides, fertilizers, and even water. If we go toward increased levels of automation and we're using computers and cameras to detect conditions and we can differentiate between a weed and a spinach plant, or here in Wisconsin, between a weed and a cranberry plant, we really have a great opportunity to increase the level of sustainability. This is something that our consumers are demanding.
It's all enabled with all of the same technology and will eventually allow us to be much more efficient in how we use some of these resources, not only for the benefit of the farmer, but also for the benefit of the environment and ultimately the consumer. A few other things, just to kind of clear the deck here, some other benefits. Some of these machines are going to be operated in the future on a 24/7 basis. So instead of being dependent on a worker who may be willing to work 8 or 10 or 12 hours. By the way, if we go more than 12 hours, we greatly increase the dangers and the risk associated with an injury, so 24/7 operation is interesting. Also, nighttime operation is interesting.
In part, one of the things that I've learned here in the last year is it could be for the benefit of pollinators, particularly when you look at nighttime application of certain types of pesticides, which may be a risk for active pollinators. Being able to apply certain, in particular, insecticides during the evening time when these pollinators are less active, it could potentially present some benefits. Technology and automation is also probably going to be something that benefits people with different types of physical limitations, whether they're disabilities or other types of physical issues and health problems. We also see that it's going to be much more appealing for future generations. There's a lot of hope here in Wisconsin that one of the answers to our issue of not having enough young people involved in agriculture in the future is they may find some of this technology to be more appealing to work with. Also, if we can reduce the safety issues, the health issues, the exposures, the fatigue, it may in fact draw more people into agriculture.
And as I've talked about, it may be the only solution in some of those parts of the country where it is literally impossible to find workers. And we all know that this is happening. We see occasionally stores with reduced hours, restaurants that are either going out of business or really having difficulty finding people. It is even more difficult in many of our rural and farming communities.
So that's my, you know, the big picture, like, why is all this happening, where's it going, where might it go in the future? I also need to give you a whole list of caveats. And these caveats are really what I am basing much of my research on. There are headwinds, and just like that transition from horses to machine power, we really need to think really carefully about how we approach things like risk, things like safety. And let me give you a few of those very specific examples. When we start to talk about driverless, automated, autonomous, any form of highly automated equipment, that does not mean safety issues are going to go away.
For those of you who have been tracking the move toward being able to have driver assist systems within vehicles, within cars, some of the brand names you probably have seen in the news here recently, it's not a perfect technology. And so we need to think real carefully about if things don't quite go right, like, what will the risks to people be? Historically, we have done that through a process we call risk assessment. Risk assessment, as you see here on the slide, a relatively simple concept where we look at hazards, we identify the hazards, we calculate and we determine using past data, really important, past data, we try to estimate what is the probability of a person being hurt or injured or encountering a hazard? And if they do encounter the hazard, how bad might the injury be? That's the severity level. And from that type of a risk analysis, we're able to prioritize our safety efforts as engineers and as people who are designing and actually putting these ideas together. The problem with some of this equipment is we have no data. We have lots of historical data, as I showed you with horses and with tractors and with traditional machinery.
But when we start to look at other machine forms, we simply don't have the data that is required from traditional risk assessment methods. The other thing that my lab group is working on is, like, what about the hazards that are introduced with machine learning and artificial intelligence, where the behavior of the equipment is entirely controlled by software? Now, when I say entirely, most of these systems are typically connected or tethered to a smartphone, or you have other remote means of stopping a piece of equipment, but 95% of its operation out in a field or farmstead or barn or orchard or other location will be done autonomously, so how do we think about these new issues, these new hazards associated with artificial intelligence? And then the other thing my group is really interested in is what about the kind of awkward transition time? We are going to have farms that eventually begin to implement and adopt some of this technology, but they're not gonna do it wholesale. They may have some pieces of equipment that are traditional, where we have to be super careful about particular hazards that have been around for 50 or 100 years, and now we have new pieces of equipment that are entirely controlled by software, it will really change the equation. It will require new forms of training, new ways of thinking about these issues from a farm, employment, and almost an HR type of a perspective.
We also have to think about regulation, and I will tell you that the state of California, which I have mentioned several times, they are more or less at the forefront of a lot of this, especially with some of the smaller equipment, but some of the bigger equipment that's not quite yet being used as much is happening here in the Midwest. But California is the state that everybody's watching. In California, back in the middle part of 2022, there was a really important landmark decision. It was actually a vote that happened by the California OSHA board. And by the way, the board has a heavy representation from labor.
And what they did was they examined a lot of documentation that came in from the industry and in particular, from one manufacturer called Monarch Tractor that really wanted to begin to aggressively market and pursue autonomous tractors in California. California though had an old regulation that was passed back in the 1970s that prohibited any type of autonomy. And it essentially says if you've got a tractor or a farm machine operating, you have to have a person at the operating controls. So right now in California, things like the Monarch Tractor cannot legally be operated on an OSHA-regulated farm.
One of the things that's really important from the perspective of my research, it really is driving a lot of the demand of what they're doing. They said, "We need more data. "We need to figure out how we can assess the risk, "how we can compare the new risks and hazards "with the traditional risks and hazards "before we are going to allow some of this technology to move forward." I do see some of the same types of issues occurring here in the Midwest and the upper Midwest. I also see some of the same concerns among insurers.
If I'm going to go out and buy a million dollar piece of equipment, it's going to need to be insured. And I think that insurers are going to have a little bit of a struggle in the coming decade or so, really figuring out how you insure, how you assess risk as an insurance company on these new forms of technology. We also need to think a little bit about environmental hazards and risk.
There are a number of these, as I talked about with the GUSS sprayer in California that are applying chemicals, and here in the Midwest, this might be one of the first major applications. So here you see a Case IH applicator that's probably set up to apply fertilizer, and all this is going to go well and good until perhaps there might be a spill, a rollover, an overturn, or even some type of a misapplication. As part of my research, we have looked at historical incidents.
We've looked at about 435 accidents or fatalities that have involved traditional equipment. And we really dug deep to find out how experienced was the operator who ended up literally dying as a result of some of these incidents. And what we found is more than 80% of the people who are killed or seriously injured on farm machinery actually are considered to be relatively well experienced.
So we know that the software, the artificial intelligence and the other types of software that are going to be driving these machines in the future need to be at least as good as a human operator. The other thing that I alluded to earlier is highway travel. Without the ability to move relatively easily from farm to farm or field to field autonomously, some of the value associated with these new forms of equipment may never be fully realized. So we're gonna really need to think hard about that, especially because we already have a big issue with some of these big types of equipment being moved on Wisconsin public highways.
Incidentally, this Case International or Case IH sprayer or fertilizer applicator that you saw in the slide has a cab. Why does it have a cab? It has a cab so that you can transmit or transition this piece of equipment from field to field to field. You still need some form of operator, at least at this stage in time.
Just a few other things that I wanna talk about in terms of the future of farm safety and where we need to think about risk. Cybersecurity is one. You can probably imagine the potential vulnerability for hacking, for cyber attacks, whether they're accidental or especially malicious, and how you might be able to cripple or change the behavior of some of this equipment.
We also are really concerned about the risk associated with downtime. If I'm a farmer, you know, most of you have probably heard the old adage, "Make hay while the sun shines." We have this very limited time window, especially here in the Midwest, to get crops out of the field or to get fields planted or take care of some of these very time-sensitive operations. So what happens if there's a breakdown? What happens if there is a software failure? Changing or repairing or replacing or upgrading software is very different than performing a traditional machinery-related task like changing a hydraulic hose.
So it is really gonna change the nature of the types of people, their qualifications, their training, their education. Two other things that I wanna talk about. Broadband access. We can probably imagine we are gonna need robust internet access in the form of broadband to really fully operationalize a lot of these technologies. I've done quite a bit of work since 2017. We still know that about 20% of our farm operations here in Wisconsin still don't have access to broadband.
So this is gonna be a potential limiting factor. Down at the bottom, I've had a lot of people, for example, recently at the World Dairy Expo where they said, "Yeah, "we may not have broadband in the form of a cell phone signal "or a fiber optic network serving a farm household or a community, but we do have Starlink." So Starlink is one of these systems based on satellites being put out by the companies run by Elon Musk and other people. The only issue with Starlink, it works really, really well, little bit more expensive, but it works really, really well with what I will call fixed applications. If you are not moving from place to place to place, in other words, not being mobile, Starlink works pretty well, but when you start looking at mobile applications like controlling a sprayer in the field or sending data from a tractor or a harvester to a central processing unit or the cloud, we're going to need robust internet access. Access to talent is the last bullet on this slide.
I have two just things I wanna show you quickly. We have done a lot of work to examine what are some of the barriers that are going to inhibit the adoption of some of this technology on farms. On this one, you see the, I wanna just emphasize the four at the top. Farmers.
This is based on a survey of just over a thousand farmers. 61% are concerned about privacy and security, as well they should be. These are things that we are really gonna need to figure out in the future, and then you see that category, 55% and 54.5% people are concerned about their comfort level. Am I really going to be able to keep up with all the things that I have to do? I'm gonna have to go from being a farm worker and/or a farm manager to now being a technician and a person who is operating equipment via my smartphone or other forms of software. And I'm gonna need to understand a little bit about how artificial intelligence works.
So there's a lot of concern that we're maybe not quite ready to go there yet within the farm work environment. And then, related to that is this idea. We also surveyed 462 people who provide services, what I will call agricultural service providers. And what we discovered in that survey when we looked at technology is more than 50% say we are having a great deal of difficulty attracting a qualified workforce.
That includes a workforce who might wanna work in a rural community that has all the right skills to work on computers and operating systems and sensors and cameras and controls, and also just the ability to attract young people into rural communities. This is something that we're gonna need to really think about and hopefully overcome in the future. I do see that this is a fantastic opportunity for many of the technical colleges. They oftentimes have strong programs in many of these fields, including agriculture, manufacturing, and other types of technology type educational programs.
And I'm hoping that through my work and other types of relationship building that we can help them to really fully, I guess, capitalize on and make a difference out in this environment. Let me just conclude by talking a little bit about trust. As I have done my research, what I have learned is trust is vital. Just like trust was vital back in the days when we transitioned from horsepower to machine power, it was all about communications. It was all about building relationships. And so that communication and that relationship building needs to happen not only between manufacturers and farmers, but also between workers and farmers and the industry.
Some really interesting work is being done out in California; this gentleman, Mr. Hernan Hernandez, I spent quite a bit of time talking and listening to him. I think that his thoughts and opinions would also be well-reflected here in Wisconsin.
A couple of quotes, he's from the California Farm Worker Foundation, upper right-hand corner. He talked about a grower in California who was trying to pilot a new machine, and he was going out with this new, fancy piece of sophisticated equipment to harvest row crops. And when he got out to the field, they had never, ever talked with the workers. And as a result, that equipment really never was able to achieve its full potential. The middle box, he talked about how the workforce that we have today, they know these farms, they know these fields. In some cases, they have worked in these fields for 10 or 15 or 40 or 50 years.
They know exactly what goes into the work. So we really do need to have more farm workers included in these conversations. You could replace Mr. Hernandez's quotes with people who are working in Wisconsin's dairy industry.
In some cases, these workers have been with a particular operation for 10 years or more. Workers also recognize that technology in the 21st century is something that they do need to pay attention to. They do see the opportunity. The very last sentence that's underlined says, "Helping farm workers to obtain economic mobility and obtain a safer work environment." So we really do need to think about programs and opportunities to connect and have conversations at that community level and at the individual farm level. And again, that's part of what I'm doing as part of my, not only my research work, but also my Extension work.
A couple of other just quick bullets on trust. Trust needs to occur also between the farmers and the growers and the workers, but also the technology gurus. Putting a new piece of equipment that might cost a million dollars, maybe several pieces of equipment, is totally different than upgrading your cell phone or installing a $9.99 app.
Once you make that transition, it is really difficult to go back. And we really need to work on not only the trust and the conversation, but we also need to work on economics. Right now, there's a lot of things that are happening. There are a lot of advertisements, there are trade shows, there is a lot of, I'm gonna call it hype. And I think that we need to build that economic trust as well as the safety trust.
We need to do that through data, through case studies, through economic analyses, through testimonials and case studies. And again, not only looking at California, which I've talked about a number of times here, but thinking about how these technologies will find their application here in places like Wisconsin, Minnesota, Iowa, the Midwest, and the other major producing parts of the U.S. Two more slides.
This one is about outrage. We talk about trust, we talk about risk communication. We need to make sure we are doing these things very carefully. There is a science in risk communication that talks about the importance of outrage as a factor, highly emotional and something that can permanently cripple a project, a technology, or a change effort.
And things that generate a lot of outrage include things that are industrial versus natural, or things that are exotic versus familiar, things that are knowable versus unknowable. Something unknowable, we don't oftentimes understand exactly how a piece of software in an AI-operated machine might be working. And so we need to be careful because the idea here is that if there is an incident, if there is a fatality or a serious injury, we have the potential to really have a major setback in this industry that could cripple it forever. So my last slide that I wanna end on here is this quote from John F. Kennedy that was back in 1961,
where he talked about this infamous speech of the desire to send a person to the Moon and return them back safely within the decade. Something that we all learned about in grade school and children still learn about today, and many of us actually probably remember from back in the 1960s. I personally believe that the challenge that we face here today is equally compelling. We know that we are going to need to feed 10 billion people by the year 2050. That's only about a quarter of a century away.
We're also going to have to do it with less land availability, with all of the challenges that we face with things like climate change, pressures on water, a shrinking land base. So technology will absolutely have to play a role. But at the same time as we use technology to solve these big global challenges, we are going to have to do it right. We're going to have to do it with the degree of trust and safety that I've talked about here today, and also the trust and safety that engages and involves and includes conversations with the general society. With that, I did want to make sure that I mentioned my program website.
I'm happy to hear from you. You're welcome to log on and take a look at all of the other programs and projects that we do in our agricultural safety and health program. With that, I'll conclude my presentation.
Thank you for inviting me to be part of Wednesday Nite @ the Lab.
2023-05-16 22:36
Show Video
Other news