The Best Game Engines of 2021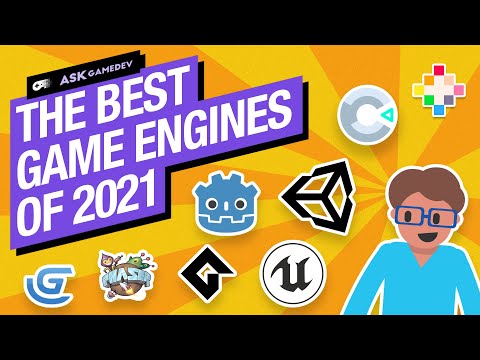 Show Video
Are you wondering what game engine you should use on your gamedev journey? Then this video is for you! There are countless options when it comes to choosing game engines! Ask yourself a few questions to help narrow your search. Is your game going to be 2D? Will it be 3D? Do you know how to code? Do you prefer visual programming? This video will provide game engine options for all of the above. In previous videos, we have talked about game engines we personally like but for this episode, we asked the Ask Gamedev community to tell us about their game engine of choice. Well... the community has spoken. While there were too many suggestions to list, we've tabulated the votes, and have come up with the Ask Gamedev community's top 5 favourite Game Development Engines.
We are Ask Gamedev and these are 2021's Best Game Engines Welcome back! We make videos on how to elevate your game development and inspire others. If after watching this video you want to continue the gamedev conversation, check the video description for a link to our Discord server. We are now making fresh Ask Gamedev content on all of the major social networks, so be sure to check us out there too. Starting in 5th place, we have Construct 3 - a web-based, no-code, game engine. In 2007 Scirra LTD, a London-based computer software company developed and released a DirectX 9 Open Source game engine called Construct - fun fact, the first version of Construct was renamed Construct Classic and you can still download it from its repository at SourceForge. We'll leave a link in the description of this video.
The project took off and by 2011, Construct 2 was released as proprietary software. A third version, Construct 3, was released in 2017. Construct 3 is very popular amongst indie and hobby developers, with over 50% of the HTML5 games submitted to Kongregate being made with it. It is also the second most popular game engine in itch.io as of this video's date. Construct aims to be the best tool for non-programmers to make great 2D games. It's also one of the best tools out there for creating quick prototypes.
Due to it being web-based you can even access the editor from a tablet/smartphone and create or change projects on the go. Although simple at first glance, Construct 3 is packed with features like timeline animations, a physics engine, built-in CPU and GPU monitors, an image editor, monetization tools, and more. With Construct, you can export your games to Windows, Mac, Linux, Android, iOS, and as mentioned earlier, HTML5 (which makes it easy to publish browser games on sites like itch.io, Newgrounds, and Facebook). If you'd like to give the engine a spin, there is a free limited version of Construct 3 available at Construct.net - just launch it from the website and start building games within minutes. For the full version, Construct 3 is available via subscription model.
Prices start at USD $16.49/month or $99/year for a personal license. There are no extra cuts or royalties after you export and sell your games. Construct 3 also has a great community, who, over the years, have built up and shared a vast library of add-ons, extensions, and project examples. There is also an official asset store where you can buy and sell things like graphics, animations, sounds, and even templates for premade games. Lastly you can find great tutorials in the community forums, within Construct3's own landing page, and on YouTube - Ask Gamedev even has a Construct 3 tutorial! . We've mentioned this engine several times in past videos, as we are fans of the games that can be achieved with it. We're also big fans of their official game hub, the Construct Arcade.
It's a place where Construct 3 developers can share games and ideas with the community. This is a great place to gather ideas for your next game. Some awesome entries we've seen there include: * Yet Another World by Hostage * Red Tie Runner by Reflextions * and Tag by Joeriri Next on the list is another engine that's great for 2D games, GameMaker. GameMaker was first created as an animation tool by university professor Mark Overmars and released under the name Animo in 1999. He developed the tool further until it turned into a complete game development tool. In 2007 Mark joined Yoyo Games, which at the same time absorbed Gamemaker and development on the engine continued.
Gamemaker Studio released in 2012, followed by Gamemaker Studio 2 in 2017. Gamemaker Studio 2 is a 2D-only game development suite that offers all the tools necessary to fully develop and publish a game from scratch. It's a favourite of many beginner game developers and creative professionals as, due to its renowned visual scripting system, it can be used with little or no knowledge in coding. More advanced developers enjoy the engine too, as users have the capability to inspect the code behind the visual script and modify it to get exactly what they're looking for.
GameMaker also includes all the editing tools and engine technologies necessary to build a modern 2D game in terms of art, animation, and physics. GameMaker runs on Windows and Mac. Users can export games to up to 12 platforms including modern consoles, last-gen consoles, and mobile & desktop platforms. In order to export to each different platform, a specific license must be purchased.
The entry level tier of licenses, the Creator tier is USD $39 for a 12-month license. This tier allows for export to either Windows or Mac depending on the platform you choose. The developer license tier starts at $99 for a permanent license. This tier includes options for Desktop, Mobile, Web and UWP.
Finally, there is a Console tier which starts at $799 for a 12-month license. This tier includes options for PlayStation, Xbox, and Nintendo Switch. Lastly, if all you want to do is learn GameMaker, there's a free tier for just that purpose! The process of learning game development with Gamemaker has never been easier. Apart from the resources and tutorials shared by Yoyo Games, you will find excellent game development channels on Youtube like Shaun Spalding and Slyddar that focus on Gamemaker. Additionally, in May 2021 Yoyo Games released Little Town, the first tutorial of a new series that helps students and new developers jumpstart their Gamemaker knowledge.
Early in June 2021, Firejump - Infinite Platformer, the second tutorial of this series was released. GameMaker has spawned some of the most popular indie titles of the last decade, making it one of the top engines for indie developers. Some of these hall-of-fame indie games we're talking about include: * Undertale by Toby Fox * Spelunky by Derek Yu * And the gorgeous Hyper Light Drifter by Heart Machine At #3 we have the powerhouse of game development engines, Unreal Engine. Unreal was born from a one-man project back in 1992. Tim Sweeney, who was a 21 year old university student at the time, went solo and developed a game called ZZT.
The game was not a big thing in itself but it was the seed for Sweeney to start building a framework that focused on object-oriented programming. This led to the first version of the Unreal game engine, defined by Sweeney as "A game engine with high-productivity, a what-you-see-is-what-you-get tools pipeline, bundled with a programming language aimed at simplifying gameplay logic." Unreal Engine was released in 1998 in parallel with the game Unreal: a first-person shooter that would showcase the engine's power and compete directly with games like Quake, by id software.
John Carmack, co-founder of id Software said "The Unreal engine has raised the bar on what action gamers expect from future products. The visual effects first seen in the game will become expected from future games." Unreal Engine is used by a wide variety of developers to make 2D and 3D games with virtually full freedom.
Its scripting language is C++, and the engine offers the option to use Unreal Blueprints. These blueprints provide drag-and-drop functionality that can enable faster programming in-engine. Throughout the years, Unreal Engine has seen several iterations, with the latest being Unreal Engine 5.
Unreal Engine 5 introduced new tech called Nanite Virtualized Geometry which makes it possible to create the highest level of detail seen in game development up to this date. The engine is currently in early access and set for a full release in 2022, you can download it through the Epic Games Launcher. Unreal Engine 4 and 5 run on Windows, Mac, and Linux. It is capable of exporting games for Windows PC, PlayStation 5, PlayStation 4, Xbox Series X, Xbox One, Nintendo Switch, Google Stadia, macOS, iOS, Android, AR, VR, Linux, SteamOS, and HTML5. To access the next gen export functionality, you have to register with Epic as a developer. In terms of pricing, Unreal Engine is free.
There are no restraints, no plans, no subscription unlocks, no tiers. Anyone with a piece of hardware that meets the minimum requirements can start developing right away. When a game created with Unreal Engine surpasses a lifetime gross revenue of USD $1,000,000, the developer must start paying a 5% royalty to Epic Games. For those getting started with Unreal Engine, Epic hosts an impressive virtual learning center that can be accessed for free by any member with a user account. The courses take users all from the basics, all the way to the advanced applications, awarding you with certificates for completion along the way.
In the Epic Games Launcher, you will also find the asset market for Unreal Engine, where you will not only get access to tons of assets and tools, but you will also be able to claim free high-quality assets from Epic every month. Upcoming games made with Unreal Engine include: * Hogwarts Legacy by Avalanche Software * Kena: Bridge of Spirits by Ember Lab * And Senua's Saga: Hellblade II by Ninja Theory The penultimate engine on the list is Unity. With Unity being one of the most famous game engines right now, it might surprise you to know that it had a very humble origin.
Back in 2002 Nicholas Francis, Joachim Ante, and David Helgason started a home-brew project in hopes of creating an open-source shader/compiler. Using Helgason's apartment as a base camp, the idea quickly escalated to a Game Development Studio with a licensed and distributable tech infrastructure - in other words, a game engine. The idea kept evolving until in 2005, when the team released a game called GooBall. Their game had no success at all.
The tool used to create it was released that same year at Apple's Worldwide Developers Conference as Unity 1.0, and surprisingly, it caught the eye of many developers there. Why? Unity was created with the idea to provide an accessible tool for all indie devs - one that could "democratize game development". In 2007, they had already added Windows as a supported platform and released Unity 2.0. From there on, Unity became a common topic amongst indie developers and had only space to grow.
Now, Unity is described by its developers as a "robust ecosystem designed to enable your success". You can develop any type of game you can currently dream of: 2D, 2.5D, 3D, VR, AR, MOBILE, Single Player, Multiplayer, Procedurally Generated… It even expands further to other industries like Industrial and Automotive design, Architectural Visualization, and the Film Industry. The scripting language used to develop in Unity is C#. Unity offers well-integrated development tools all built-in to the engine, enabling users to access prefabricated assets and scripts, AI assistants, visual scripting, monetization, analytics, and more without the need for external software.
The engine runs on Windows, Mac, or Linux, and you can build games for more than 20 platforms including all the mainstream consoles, mobile devices, computers, and even some TV operating systems. In terms of purchasing a license, there are four different categories: Personal, Plus, Pro, and Enterprise. Personal, the base level is aimed at devs whose revenue or funding is less than USD $100,000 per year… and it is free.
No royalties, no subscription payments, and no cuts. Once again, only those under 100k yearly revenue, or students, are eligible for a Personal Plan. Plus, Pro, and Enterprise plans come at the prices of USD $399/year, $1,800/year, and $2,000/month subscriptions respectively.
To get started developing with Unity, you can access a vast library of knowledge and tutorials directly through Unity's website. There, you'll find all types of courses from Unity Essentials to Specialized courses in Engine Physics - which at the same time will get you officially certified. Additionally, there's the Unity Asset Store, where you can buy and sell all kinds of assets and tools to ease your development. You can also access Unity's forum where countless indie and AAA devs chat non-stop about everything related to the video game industry. Some of the most popular recent titles Made with Unity include: * Ori and the Will of the Wisps by Moon Studios * Fall Guys: Ultimate Knockout by Mediatonic * And Hollow Knight: Silksong by Team Cherry Before we get to the final engine on our list, let's look at some honourable mentions. These engines received votes from the community as well - just not enough to reach the top 5.
First, there's GDevelop by Florian Rival, another 2D drag and drop engine with excellent capabilities meant for anyone who wants to build a game. It works using event-based visual scripting, very similar to the one seen in Construct 3. One of its greatest advantages is that it is Open Source. This means there are no royalties or subscriptions to pay. GDevelop is completely free and you can use a light version directly on your web browser to prototype simple ideas.
Download the full version to your desktop to get access to all of the engine's power. You can run it in Windows and Mac, and export games to Android, iOS, Web, Windows, Mac, or Linux. Some of the latest games made with Gdevelop include: * Miko Adventures Puffball by Coriander Games * Swamp by After Apocalypse * and Eggventure: Savior of Galaxy by Rebel Valley Inc. Next is Phaser by Photon Storm, a 2D game engine focused on HTML5 games. This engine requires knowledge in Javascript or TypeScript, but fear not! There's a friendly community over at Phaser's Discord server, where you can discover all the tips and tricks you'll need to get started. Phaser's website is also filled with documentation and tutorials to get your games running in no time.
This engine is Open Source and completely free to download. Additionally, the team behind the engine develops and sells several plugins that take the experience with the engine to another level. Some cool games made with Phaser include: * Slimoban by adgard * Super Disc Duel 2 by Cartoon Network Games * And Pickem's Tiny Adventure by Mr. BOOMplop Our third honourable mention goes to Pico-8 by Lexaloffle, a fully-fledged game development suite built inside a virtual fantasy console that emulates 80s consoles.
Pico-8 is designed to run games with very limited specs. There's a 128 by 128 pixel display, 16 colour palette, 8 by 8 pixel sprites, 64 sound slots, and that's pretty much all there is to it. These limitations have spawned a passionate community that revolves around pushing this technology to its limits. You can find a vast library of games on the Pico-8 website and play them all for free, without even creating an account. In order to develop Pico-8 games on Windows, Mac, or Linux, you'll have to buy the Fantasy Console for a one-time payment of USD $14.99.
After that, you'll not only get access to the game development suite, but you will be able to see and edit the source code of any game uploaded to Pico-8's official library "SPLORE". If you want to delve deeper into Pico-8, we recently released a video talking in-depth about this amazing tool. Some of the latest additions to the Pico-8 game library include: * The Lost Night by arlefreak * Boulder Run by Pahammond * And Dominion Ex by extar Before we get to the final engine, one last thing: thank you again to the Ask Gamedev community for making this video possible by sharing your thoughts and opinions on game game engines with us! We picked a few games at random that we'd like to give a shoutout to: * Saving P.I.P.O by Team P.I.P.O, developed with Unity. * The Mariachi Loco by Alex_Dul, developed with Unreal Engine.
* Neon Farmer Bros by Sid Fish Games, developed with Gamemaker. * Indiana Rogue by QuintupleA, developed with Construct 3. * And Black Pellet by Raiser Edwards, developed with Godot And finally, the game engine voted as the favourite by the majority of the Ask Gamedev community, is Godot! Godot has been in the works since 2001 and has had many names before reaching its final form: Larvotor, Legacy, NG3D, Larvita, Larvita2, Larvita3, and finally Godot. The team responsible for its first version were Juan Linietsky and Ariel Manzur, hailing all the way from Argentina, South America. The engine most recently made headlines when they won an Epic Mega Grant in 2020 for $250,000 in the category of open-source graphics software.
Speaking of graphics, Godot engine is perfect for both 2D and 3D projects offering options for all types of developers. In terms of scripting languages, you can use C#, C++, visual scripting, and a custom Python-like language native to Godot called GDScript. The visual scripting option in Godot is a direct adaptation of GDScript, giving users with no knowledge of the scripting language a way to program without writing code, while at the same time helping them learn the logic and language over time.
The advantage of this visual scripting method is that later on, you can go back, find, and edit all the variables on the script in just seconds. Godot runs on Windows, Mac, Linux, and even an OS called BSD. Furthermore, it can deploy games to Windows, Mac, Linux, BSD, Universal Windows Platform, Android, iOS, HTML5, WebAssembly... and while it doesn't officially support consoles, members of the community have already found ways to export games for PS4, Xbox One, and Nintendo Switch. Godot is free-to-download, free-to-use, open-source software, published under the MIT license. There are no subscriptions, fees, cuts, or royalties in using and modifying the engine or publishing games developed with it.
To start learning Godot you can either access Godot Docs, a codex that lists every aspect of the engine in the form of a user manual, or join the community of developers working with Godot through different channels such like Discord, YouTube, Reddit, Twitter, Facebook, Steam, and Github. Some great Godot games in the works include: * Until Then by Polychroma Games * Solar Knight by Vini Menezio * And The Garden Path by CarrotCake Thanks for watching! For more Ask Gamedev check out this playlist of game engine game showcases, or this video on mobile game development.
2021-07-20 14:14
Show Video
Other news