The Bears Are Out | Bloomberg Surveillance 09/25/2023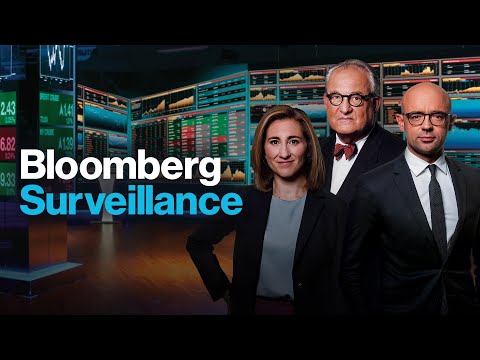 Show Video
>> THE DIGEST HIGHER RATES FOR LONGER WILL TAKE TIME. >> I DON'T THINK RATES NEED TO GO FARTHER THAN WHERE THEY ARE TODAY. >> WHAT IS GOING ON IN MARKETS IS QUITE DIFFERENT TO THE REAL ECONOMY. >> THE SOFT LANDING NARRATIVE IS BEING CHALLENGED.
>> THIS IS "BLOOMBERG SURVEILLANCE" WITH TOM KEENE, JONATHAN FERRO, AND LISA ABRAMOWICZ. TOM: GOOD MORNING. SOME OF US ARE BACK TO NEW YORK. JONATHAN FERRO ON ASSIGNMENT. LISA ABRAMOWICZ AND MYSELF
BRING YOU AN INTERESTING MONDAY ON RADIO AND TELEVISION. WE CAN GET TO THE NATIONAL RATE ADJUSTMENT GOING ON. A SOUP OF HIGHER YIELDS. MOMENTS AGO THE U.S. 10 YEAR REAL YIELD UP TO NEW LEVELS. 2.12% ROUNDED UP. LISA: THE HIGHEST REAL YIELD GOING BACK TO 2009 AT A TIME WHERE IT HAS SOMETHING ELSE TO DO THAN JUST INFLATION. IT HAS SOMETHING TO DO OTHER THAN GROWTH. THERE IS SOMETHING ELSE GOING
ON IN DEUTSCHE BANK PUT OUT A NOTE SAYING THIS IS PARTLY QUANTITATIVE TIGHTENING AND PARTLY SOMETHING ELSE NOT TIED TO TRADITIONAL REASONS FOR YIELDS GOING HIGHER. TOM: CANNOT EMPHASIZE ENOUGH HOW MUCH I AGREE WITH THAT. WE WILL GO OVER THE OTHER FACTORS INTO OCTOBER. ONE OF THE OTHER FACTORS WE HAVE, AND I DID NOT SEE THIS IN LONDON.
BANK RATE, 30% -- 30 YEAR MORTGAGE. 7.75%. LISA: WE HAVE BEEN TALKING ABOUT WHO IS PAYING IT. IS THIS ACTUALLY GOING INTO EFFECT? MICHAEL MCDONOUGH AT BLOOMBERG INTELLIGENCE SAID THE AVERAGE MONTHLY PAYMENT HAS GONE TO ABOUT $2300 FROM LESS THAN $1000. THERE IS THIS FEELING OF THINGS
GETTING MORE EXPENSIVE AND THE BASIC DAY-TO-DAY NECESSITIES. TOM: THERE ARE NUMBER OF STORIES GOING ON. A MYSTERY OF WHAT CHINA WILL DO. ONE OF THEM IS THE STRIKE. ONE OF THEM AT THE SHUTDOWN. GOOD NEWS FROM HOLLYWOOD.
THANK GOD THERE IS SOMETHING OUT THERE. THERE IS A DIFFERENCE BETWEEN THE SCREENWRITERS AND THE ACTORS. LISA: THE ACTORS ARE USUALLY DIFFERENT PHRASING ONE. THAT IS SOME GOOD NEWS. IS THERE A WORD QUADFECTA? THERE IS THE AUTO STRIKES, GOVERNMENT SHUTDOWN, STUDENT LOAN REPAYMENTS, AND HIGHER GAS PRICES. ANYONE OF THOSE COULD DERAIL THE U.S. ECONOMY. INCREASINGLY THERE IS A QUESTION IF PUT TOGETHER THIS IS A DIFFERENT KIND OF TOXIC GROUP. -- THIS IS A TOXIC BREW.
TOM: WE ARE IN A NEW STUDIO. WHAT DO YOU THINK? IT BRINGS BACK MEMORIES. I GOT EMOTIONAL. ME AND SCARLET FU AND SARA EISEN. THEY SHOULD PUT A BRASS PLAQUE OUTSIDE, THE ALIX STEEL ROOM. LISA: I THINK JOHN WILL NOT COME BACK UNTIL WE RESOLVE THE GOVERNMENT SHUTDOWN ISSUES. TOM: WE ARE BUILDING A NEW EDIFICE FOR YOUR MORNING ATTENTION. THEY ARE WORKING ON IT.
FOR FOUR OR FIVE WEEKS WILL BE HERE AS WELL. THE DATA CHECKS ARE THE SAME WHETHER WE WILL BE HERE OR IN OUR NEW STUDIO. THE VIX 17.83 SAYS THAT ALL. THE DOOM CREW HAS PICKED UP ON A NUMBER OF THINGS LISA HAS TALKED ABOUT INCLUDING CHINA REAL ESTATE. NEGATIVE THREE ON XP X FUTURES. WE HAVE TO DO BITCOIN BECAUSE JOHN IS NOT HERE. $26,000. KATIE GREIFELD IS UP EARLY WATCHING.
WE ARE 4.49%, ALMOST 4.5% ON THE 10 YEAR YIELD. THE SPREAD GIVES US DISTANT VERSION. THAT IS AN IMPORTANT PHILOSOPHY. THE REAL YIELD 2.12% IS RIGHT WHERE WE ARE. THAT IS AN ABSOLUTE KEY
DETERMINANT. I LOOK AT DOLLAR STRENGTH. WE HAVE NOT BROKEN OUT TO NEW DOLLAR STRENGTH. YEN ROUNDED UP. WHAT IS IN THE DATA THAT GETS YOUR ATTENTION? LISA: CRUDE. THE FACT THAT ON WTI YOU ARE ABOVE $90 AND THERE IS DATA OVER THE WEEKEND SHOWING HEDGE FUNDS ARE THE MOST BEARISH -- THE MOST BULLISH ON CRUDE GOING BACK TO FEBRUARY 2022. TOM:
DO THE BRIEF. LISA: YOU KNOW HOW YOU DON'T LIKE FED SPEAK? THERE ARE SEVEN FED SPEAKS THIS WEEK. THIS WEEK ALONE. ME APPLE'S FED PRESIDENT NEEL KASHKARI AT 6:00 P.M. TODAY.
TOMORROW WE HAVE MICHELLE BOWMAN. FED GOVERNOR LISA COOK, CHICAGO FED PRESIDENT AUSTIN GOOLSBY. ON FRIDAY THE FED'S JOHN WILLIAMS. WHETHER THEY LEAD INTO THIS IDEA THAT THEY ARE DONE, BECAUSE IT SEEMS LIKE THAT IN THE LITERATURE, ELLEN ZENTNER SAYING THEY ARE DONE. EARNINGS, THIS IS A BIG DEAL OFF MIKE WILSON'S COMMENTS. RETAIL EARNINGS IN PARTICULAR. TUESDAY COSCO.
WEDNESDAY H&M AND MICRON. THURSDAY IS NIKE. CURIOUS TO SEE WHETHER THESE ARE BESPOKE STORIES OR WHETHER WE GET A THEME. ON THE ECONOMIC DATA FRONT YOU TALK ABOUT HOME PRICES AND THE MORTGAGE RATES.
HOME PRICE DATA AS WELL AS NEW-HOME SALES. WE GET THAT TOMORROW. JOBLESS CLAIMS THURSDAY. PERSONAL INCOME AND CORE PCE ON FRIDAY. THE CONSUMER.
HOW MUCH DID THEY CONTINUE TO SURPRISE TO THE UPSIDE? TOM: IS NOT A SLEEPY WEEK INTO OCTOBER. ON THE DES SCREEN, A PLETHORA OF DATA. JP MORGAN OCTOBER 13. THEY ALSO HAVE DECEMBER, WHEN THE BRUINS PULL AHEAD. JOINING US IS LUKE KAWA.
WHAT DID YOU WRITE ABOUT THIS WEEKEND? WHAT IS THE DISTINCTION YOU SEE IN THE CACOPHONY OF NEWS WE HAVE? LUKE: THIS WEEKEND IS A LOT MORE READING THAN WRITING. VERY INTERESTING FOR US TO WATCH AND YEAR END. A COUPLE OF THINGS THAT SEEM LIKE BIG HIGHLIGHTS. A LOT OF THE -- THERE IS THE QUINTET. THROW IN HIGHER RATES INTO THE
MIX THAT THE U.S. ECONOMY WILL BE DEALING WITH. WE ARE DEALING WITH A TURN IN THE SECOND DERIVATIVE OF U.S. GROWTH FROM Q3 INTO Q4. THE MOST PERSISTENT TREND HAS BEEN U.S. GROWTH ACCELERATING AND SURPRISING TO THE UPSIDE. THAT IS SOMETHING THAT WILL
CHANGE. ON THE OTHER HAND TWO OF THE BIGGEST DRAGS FOR MARKETS HAVE BEEN RESILIENCE OF U.S. GROWTH THAT HAS DRIVEN PART OF THE HIGHER REAL YIELD STORY.
ALSO ELEMENTS OF TERM PREMIUM AND SUPPLY. THAT CHANGING AS A SECOND DERIVATIVE OF U.S. GROWTH. THAT RELATIONSHIP IS AT THE FOUR IN TERMS OF DRIVING MARKETS. TOM:
BE SURE LUKE GETS THE MEMO THAT WE DO NOT DO NEWTONIAN CALCULUS ON MONDAYS. THERE IS A GREAT RULE ON THAT. WE HAVE A SMART IDEA THAT EARNINGS HAVE NOT DETERIORATED. THE SITE GUYS THIS MORNING IS SHOULD I SELL STOCKS? DOVETAIL THAT WITH THE IDEA THAT I REALLY WANT TO GET OUT OF EQUITIES. LUKE: I GUESS WE WOULD TAKE THE OTHER VIEW TO THAT. WE ARE NOT ADDING RISK OR CYCLICALITY OF THIS PULLBACK AT THIS TIME. OUR VIEW IS THE REAL UNDERLYING STORY IS WHAT WILL WIN OUT AT THE END, THERE IS A LIMIT TO HOW MUCH GOOD NEWS FOR THE ECONOMY CAN BE BAD NEWS FOR STOCKS IN TERMS OF VALUE IT -- IN TERMS OF THE VALUATION PRESSURE.
YOU HAVE A KEY DRIVER OF EARNINGS GROWTH. SINCE THE S&P 500 PETER, EARNINGS ESTIMATE STILL UP. WE THINK THAT IS THE STORY THAT WILL WIN OUT WHEN IT COMES TO THE EQUITY MARKET BUT WE ARE COGNIZANT THAT SOME OF THE SITES WE HAVE SEEN IN MARKETS, CREDIT SPREADS PERKING UP, SOME OF THE OUTPERFORMANCE OF DEFENSIVE EQUITIES, THOSE ARE THINGS THAT HAVE US ON ALERT. LISA: IF YOU COULD FRAME WHERE YOU ARE, BECAUSE YOU HAVE BEEN BULLISH, WHETHER YOU ARE BECOMING LESS BULLISH BECAUSE OF THE QUINTFECTA, THE FIVE DIFFERENT AREAS COMING TOGETHER, I CAN SEE TOM LOOKING AT ME LIKE WHAT DID YOU JUST MAKE UP? I AM MAKING UPWARDS. AT WHAT POINT DO YOU SEE THINGS -- SIGNS THAT THINGS ARE TURNING AND ECONOMIC DATA WILL START SURPRISING ON THE DOWNSIDE? LUKE: ONE THING WE EXPECT TO SEE OR WE WILL BE JUDGING IS THE ODD JUXTAPOSITION OF THE SECOND DERIVATIVE OF TURNING IN THE U.S. BUT STILL EXPECTATIONS SEEM TOO LOW. YOU CAN QUIBBLE WHETHER THE
ECONOMIC FORECAST FOR Q4 GDP IN THE U.S. OF .5% IS WHAT THE MARKET IS PRICING IN. THE MARKET IS PRICING IN A BETTER OUTCOME. IT IS THE JUXTAPOSITION OF THESE TEMPORARY FACTORS SLOWING GROWTH IN THE FOURTH QUARTER BUT WE PROBABLY SEE GROWTH COMING IN AHEAD OF THAT. HOW DOES THE MARKET DEAL WITH THE ISSUE OF THE TURN VERSUS CONTINUING TO BE POSITIVE VERSUS EXPECTATIONS. WE ARE VERY COGNIZANT OF THE IDEA THAT AS YOU TURN THERE WILL BE POINTS IN THIS MARKET THAT IS GOING TO BE TOUGH TO TELL WHETHER YOU ARE HEADED FOR A SOFT LANDING OR WHETHER THE DECELERATION CONTINUES AND YOU ARE HEADING INTO SOMETHING MORE SEVERE.
OUR VIEW IS WHAT IS SHAPING UP IN THE FOURTH QUARTER WILL NOT BE THAT MORE NEGATIVE OUTCOME, BUT SOMETHING WE WILL CONTINUE TO MONITOR. LISA: IF YIELD STAY WHERE THEY ARE, CAN STOCKS KEEP DOING WELL? LUKE: IT IS A MIRROR OF THE QUESTION WE ASKED WHEN WE STARTED THE YEAR. IN THE ECONOMY HANDLE 5% FEDERAL FUNDS RATE FOR THE ENTIRE YEAR? THE VIEW THEN WAS YES. THE VIEW THEN WITH STOCKS IS STABILITY IS WHAT IS NEEDED, MUCH MORE SO THAN YIELDS COMING DOWN. IT IS THE NEGATIVE MOMENTUM IN THE BOND MARKET DOES HAVE TO -- THE POSITIVE MOMENTUM IN OIL PRICES HAS TO POOL A BIT. THE COOLING FOR THE SECOND DERIVATIVE FOR RATES WILL BE SOMETHING THAT OFFSETS THE SECOND DERIVATIVE FOR U.S. GROWTH AND A LITTLE BETTER FOR
RISK ASSETS. LISA: ARE YOU STILL BULLISH ON CHINA? LUKE: WE HAVE BEEN NEUTRAL ON CHINA FOR A WHILE. IN CHINA IT IS THE CONTINUED DICHOTOMY BETWEEN THE FACT THAT VALUATIONS ARE VERY DEPRESSED. IT IS NOT CLEAR THERE IS A CATALYST TO SEE FASTER GROWTH IN CHINA.
WHEN RISK ASSETS IN CHINA ARE AT THIS DEPRESSED VALUATION, WHEN THEY ARE THIS UNLOVED BY FUND MANAGERS, THAT IS OFTEN A TIME YOU GET TO SEE MORE MOVES TO THE UPSIDE. A NEUTRAL VIEW ON CHINA BUT WE ARE COUNTING ON SOME OF THE PIECEMEAL STIMULUS PUTTING MORE OF A FLOOR UNDER GROWTH. DO NOT EXPECT ANYTHING BIGGER FROM CHINESE POLICYMAKERS.
TOM: WHAT IS THE BET ON THE STREET? IS THERE A MASSIVE SHORT BET OUT THERE? LUKE: THE BET ON THE STREET IS EVERYBODY KNOWS WHAT HISTORY SAYS ABOUT BUYING THE LAST FED HIKE, BUYING THE END OF CYCLE HIKE. I THINK THE BIG BET IS ALSO THE BIG WORRY. THE IDEA -- LISA TALKED ABOUT IT IN THE INTRO. THE OTHER FACTORS PUSHING UP YIELDS. THAT IS MAKING THE TERM PREMIUM ARGUMENT. NOBODY UNDERSTANDS IT. WE WILL ALL HAVE DIFFERENT
DEFINITIONS OF IT. SOME OF THE THINGS PEOPLE ASSOCIATE WITH TERM PREMIUM WILL CORRELATE. WHAT IS DIFFERENT THIS TIME IS SUPPLY IS MOVING MUCH MORE COUNTER CYCLICALLY -- MUCH MORE PRO CYCLICALLY THAN IT HAS IN THE PAST. THAT IS SOMETHING WHERE YOU HAVE THIS ELEMENT OF TERM PREMIUM WE HAVE ASSOCIATED WITH GROWTH.
WITH INFLATION THAT MIGHT BE MOVING IN A DIFFERENT DIRECTION AND THAT IS WHAT CAUSES A BIT OF A SCARE TO RELYING ON TRADITIONAL MODELS FOR HOW AND WHEN TO BE ADDING DURATION. TOM: LUKE KAWA AT UBS. THANKS FOR GETTING US STARTED STRONG. MIRIAM EMAILS IN AND SAYS WHAT IN GOD'S NAME WAS THAT, BRAMO'S QUINFECTA? I THINK IT PERFECTLY CAPTURES WHERE WE ARE. IT IS ALL THE REASON NOT TO PARTICIPATE. LISA: I ORIGINALLY THOUGHT IT WAS A QUADFECTA BUT LUKE KAWA, I WAS GRATEFUL TO HIM TO MAKING IT A QUINFECTA.
WHEN YOU PUT CERTAIN THINGS TOGETHER THEY TAKE ON A NEW MEETING. THAT IS THE REASON PEOPLE ARE STARTING TO FEEL LIKE MAYBE THIS TIME WE WILL CARE A LITTLE BIT MORE ABOUT A GOVERNMENT SHUTDOWN. TOM: OUR FOCUS AFTER LONDON AND THE GREATER PICTURE IS MARKET DYNAMICS. LUKE KAWA WITH US. COMING UP KATIE KAMINSKI OUT OF BOSTON. SHE IS BRILLIANT ON THE NEW TREND. >> I STILL BELIEVE IF YOU SHUT DOWN YOUR IN A WEAKENED POSITION.
>> DOES THAT MEAN YOU WILL TRY TO PUSH FORWARD? >> I WOULD LIKE TO. TOM: HE IS THE BELEAGUERED SPEAKER OF THE HOUSE. KEVIN MCCARTHY. INTERESTING BACKGROUND FOR HIM BELOW THE IMPERIAL VALLEY, BAKERSFIELD CALIFORNIA, A DIFFERENT STORY OF REPUBLICAN POLITICS. OVER THE WEEKEND -- THERE ARE VARIOUS SUNDRY PEOPLE IN THE KEENE HOUSE. I HAD TO WATCH LIKE FIVE ARNOLD SCHWARZENEGGER MOVIES. I PUT THEM ON FOR VARIOUS PEOPLE IN THE FAMILY THE ARNOLD SCHWARZENEGGER SPEAK AT THE 2004 REPUBLICAN CONVENTION.
IT MIGHT AS WELL HAVE BEEN FROM VENUS OR MARS COMPARED TO WHAT MCCARTHY IS PUTTING UP WITH TODAY. LISA: DOES HE DRINK MARTINIS WHILE HE WATCHES ARNOLD SCHWARZENEGGER MOVIES? TOM: HE GETS THE OLIVES. MCCARTHY IS BELEAGUERED AS ARNOLD SCHWARZENEGGER NEVER WAS. THIS IS THE SHUT DOWN.
LISA KNOWS WHEN THE SHUTDOWN OCCURS. I HAVE NO CLUE. A LITTLE CHURN OF THE TAPE WITHIN THE BRAMO QUINFECTA OF TENSION. COMMENT ON A 4.49% 10 YEAR YIELD. LISA: THIS IS BEING DRIVEN BY SOMETHING AMBIGUOUS.
IT IS NOT THAT GROWTH EXPECTATIONS ARE GOING UP. IS THIS SOMETHING ELSE, WHETHER IT IS PEOPLE PROTESTING THE BUDGET, OR IS IT BECAUSE THE FEDERAL RESERVE IS SELLING BONDS, THEY ARE NOT THE BUYER OF LAST RESORT IN THE SAME WAY. THIS IS A GAME CHANGER IN A VERY UNUSUAL CYCLE AND THAT IS SOMETHING PEOPLE ARE PICKING UP ON. TOM: WE WILL WATCH THIS CAREFULLY AS GLOBAL WALL STREET GREETS THE WEEK. CURVE DISSEN VERSION, WE WILL GET IT -- CURVE DISINVERSION. WANT TO JUMP TO A SET OF A SERIES OF INTERVIEWS WE WILL DO TO BRIEF YOU ON A SHUTDOWN OF THE FEDERAL GOVERNMENT OF THE UNITED STATES OF AMERICA.
IT IS DIFFERENT THAN MANY OTHER PROCESSES. DEBT, DEFICIT, BUDGET SHORTFALL. ONLY ANNMARIE HORDERN UNDERSTANDS. BRIEFING US ON WASHINGTON. JEANETTE LOW, DIRECTOR OF POLICY AT RESEARCH. YOU HAVE A 75% CHANCE OF ODDS ON SHUT DOWN. WHAT WE LISTEN TO TODAY OR TOMORROW TO CHANGE YOUR ODDS TO CALIBRATE A GOVERNMENT SHUTDOWN? JEANETTE: GOOD MORNING.
WE WILL NOT HAVE CONGRESS WORK ON ANY POTENTIAL BILLS UNTIL TOMORROW SO THAT IS WHERE WE WILL SEE THE PROCESS DEVELOPMENT. OUR ANTICIPATION IS THE SENATE WILL MOVE FOR -- WILL MOVE FIRST AND TRY TO PUT FORWARD A BUDGET RESOLUTION THAT WILL KEEP THE GOVERNMENT FUNDED FOR A MONTH OR TWO MONTHS INTO EARLY DECEMBER. THEN THEY WILL SEND IT TO THE HOUSE. THE HOUSE HAS TO DECIDE DO THEY HAVE THE VOTES TO PASS THAT CR EVEN IF IT IS WITH CHANGES OR DOES MCCARTHY HAVE TO MOVE WITH THE DEMOCRATS TO TRY TO PASS THIS OR DOES HE ALLOW THE GOVERNMENT TO SHUT DOWN? WE WILL BE LISTENING TO THE RHETORIC WE HEAR WITH THE HOUSE. YOU HAVE HEARD A LOT OF REPUBLICANS OVER THE LAST WEEK FRUSTRATED BY THE HANDFUL OF CONSERVATIVES WHO BLOCKED ANY MOVEMENT.
AS THAT COURSE MIGHT CHANGE WE MAY SEE THIS POTENTIAL CHANGE. WE DO NOT HAVE A GOVERNMENT SHUTDOWN IF THEY ARE WILLING TO WORK FOR DEMOCRATS. TOM: BRAMO BUT INTO MORRISTOWN ON THE GULFSTREAM.
IF THERE IS A SHUT DOWN, IS THE BORDER CHECK CUSTOMS LINES WORSE THAN THEY WERE WHEN I CAME BACK TWO DAYS AGO? JEANNETTE: THAT IS ALWAYS THE RISK. THERE BEEN THOUGHTS THAT YOU HAVE TO BE CAREFUL YOU MIGHT SEE MORE DELAYS AT THE BORDER, AT THE AIRPORTS. THEY DO HAVE AN ESSENTIAL COMPONENT TO A SHUT DOWN. ANYTHING DEEMED ESSENTIAL SHOULD STILL BE IN OPERATION. AS WE HAVE SEEN IN SHUTDOWNS IN THE PAST, IF YOU ARE SHOWING UP TO WORK AND NOT BEING GIVEN A PAYCHECK, SOMETIMES PEOPLE DO NOT SHOW UP. THAT IS WHERE WE HAVE SEEN ISSUES IN THE PAST WITH FAA AND TRANSPORTATION SCREENING AND THE LIKE. LISA: THIS IS A MADDENING ISSUE.
THERE WILL BE 800,000 WORKERS, INCLUDING MILITARY AND TEACHERS, WHO WILL NOT BE PAID AS THERE IS THIS SHUT DOWN. THIS IS AT A TIME THAT IS FRAGILE. HOW MUCH WILL THIS END UP BEING A POLITICAL TIT-FOR-TAT WHERE DEMOCRATS COUNT ON REPUBLICANS AS GAINING THE BRUNT OF THE BLAME FOR THIS AND HOW MUCH WILL THIS BE SOMETHING LARGER THAT LEADS TO AN ECONOMIC SLOWDOWN THAT LEAVES BOTH PARTIES WITH EGG ON THEIR FACE? JEANNETTE: WE HAVE SEEN LOOKING AT THE SHUTDOWNS THAT HAVE OCCURRED, IN GENERAL THEY DO NOT HAVE A MAJOR ECONOMIC IMPACT. YOU DO HAVE PEOPLE THAT ARE FURLOUGHED AND NOT RECEIVING PAYCHECKS. GENERALLY SHUTDOWNS LAST EIGHT DAYS. THE GOVERNMENT REOPENS. THAT IS PAID BACK. EVERYTHING IS FILLED IN TO SOME EXTENT.
THERE IS NOT BEEN A LARGE ECONOMIC IMPACT. ALEXIS -- THE LAST SIX SHUTDOWNS OCCURRED IN POSITIVE ECONOMIC GROWTH. THE ISSUE IS WE ARE SEEING INCREASING PRESSURES ON CONSUMERS FROM STUDENT LOANS REPAYMENTS, HIGHER OIL PRICES, YOU HAVE THE FED HAS HIGHER INTEREST RATES AND THAT IS LEADING TO HIGHER DEBT ISSUANCE IN THE U.S.. THESE THINGS ARE PUTTING A STRAIN ON THE U.S. ECONOMY. THE LONGER THE SHUTDOWN LAST IS
WHERE THE ISSUES COME INTO PLAY. IF WE LOOK BACK AT THE 2013 SHUT DOWN, THAT LASTED 16 DAYS. TWO WEEKS IS A LONG TIME BUT IT IS NOT AS LONG OR HAS AS BIG OF AN IMPACT AS YOU MIGHT THINK. IF WE HAVE SOMETHING ABOUT THE SAME TIME PERIOD THAT WOULD NOT BE THAT EGREGIOUS TO THE ECONOMY OR TO THE STOCK MARKET, BUT WE DO HAVE TO THINK ABOUT HOW DOES THE GOVERNMENT REOPEN? USUALLY THERE IS POLITICAL PRESSURE THAT STARTS TO KEEP IN THAT THEN FORCES THE HAND OF POLICY TO GET BACK TO THIS.
THIS COULD END UP BEING SHORTER OR LONGER. THE LONGER IT LASTS THE MORE RISK THERE IS TO THE ECONOMY, TO THE MARKETS. THE OTHER THING WE ARE WATCHING OUT FOR IS THERE SOMETHING LIKE MOODY'S COULD START TO PUT THE U.S. ON CREDITWATCH BECAUSE THE CREDIT AGENTS HAVE BEEN MORE FOCUSED ON PROCESS RATHER THAN THE U.S. FINANCES AND THOSE DECISIONS. LISA: PRESIDENT BIDEN IS HEADING TO DETROIT TO JOIN THE PICKET LINE, THE FIRST TIME A SITTING PRESIDENT HAS JOINED STRIKERS GOING BACK MORE THAN 100 YEARS. WHAT IS THE SIGNIFICANCE THAT
THE FOCUS WILL BE ON DETROIT RATHER THAN WASHINGTON DURING THE SHUTDOWN JEANNETTE:? JEANNETTE:IF THERE IS 8 -- RATHER THAN WASHINGTON DURING THE SHUTDOWN? JEANNETTE: IF THERE IS A SHUT DOWN A POLITICAL PRICE HAS TO BE PAID BUT BIDEN COULD HAVE AN OPPORTUNITY TO IMPROVE HIS STANDING IN SHOWING HE IS TRYING TO HAVE THE GOVERNMENT REOPENED. THE FACT THAT THERE IS A LOT OF PRESSURE ON AUTOWORKERS IS TRYING TO HIGHLIGHT A LITTLE BIT ABOUT THE IMPACT THIS COULD HAVE ON THE ECONOMY AND THAT WILL BE IMPORTANT AHEAD OF THESE DECISIONS. WE ARE PROBABLY NOT GOING TO KNOW WHETHER OR NOT WE WILL SHUT DOWN OR NOT UNTIL FRIDAY OR SATURDAY AS THE DEADLINE HITS. TOM: HELP ME. I JUST LISTENED TO YOU VERY CAREFULLY ON THE PATH OF A SHUT DOWN. IF IT IS EIGHT OR NINE DAYS AND EVERYBODY GETS RETRO PAY, WHY ARE WE DOING THIS? JEANNETTE: THIS IS USUALLY ABOUT MAKING A POINT.
THE 2013 SHUT DOWN OCCURRED BECAUSE THE REPUBLICANS WERE LOOKING TO BLOCK FUNDING FOR THE AFFORDABLE CARE ACT GOING INTO IMPLEMENTATION AT THAT TIME. THIS THAT ARGUMENT ABOUT SAYING WE WANT LOWER SPENDING AND WE WON SOMETHING DONE ABOUT THE SOUTHERN BORDER. USUALLY THE PEOPLE IN CONGRESS FEEL THAT DOING A SHUT DOWN WILL ALLOW THEM TO GET THEIR MESSAGE ACROSS. IT HAS NOT BEEN SUCCESSFUL. THEY DO NOT WIN CONCESSIONS. THIS TIME IF WE LOOK AT WHAT MIGHT HAPPEN WE CAN SEE WHERE THE BIPARTISANSHIP IS IN CONGRESS THAT WE ARE GOING TO HAVE A SPENDING DEAL. IT WILL BE HIGHER SPENDING. CONSERVATIVES ARE THE ONES PUSHING FOR THE SHUTDOWN.
THEY HAVE TO SEE WHETHER THEY WILL HAVE LEVERAGE TO GET SOMETHING DONE ON THE BORDER WHICH IS WHAT THEY WANT. SHUTDOWNS HAVE NOT BEEN USEFUL POLITICAL INSTRUMENTS. THEY DO NOT GET MUCH OF A POINT ACROSS. THEY ALLOW PEOPLE TO GET THEIR FRUSTRATIONS OUT BUT THEN WE HAVE TO GO BACK TO THE GOVERNING.
THAT CAN BE A POSITIVE OUTCOME THAT WE HAVE FLESHED OUT SOME OF THE FRUSTRATIONS OF BOTH PARTIES IN CONGRESS, BUT THEN YOU HAVE TO OPEN THE GOVERNMENT AND START GOVERNING AGAIN AND THAT CAN BE A POSITIVE OUTCOME THAT COMES OUT OF THIS. TOM: THANK YOU SO MUCH. I NEED TO TELL YOU ABOUT "BALANCE OF POWER." A VERY FOCUSED ATTENTION ON
WHAT WE SEE GOING ON IN WASHINGTON. JOE MATHIEU, AND REORDER, KAILEY LEINZ, LOOK FOR THAT IN TOM: THANK YOU FOR JOINING US. THRILLED WITH THE ANECDOTAL EVIDENCE DISCERNED IN LONDON ABOUT A GLOBAL AUDIENCE.
THRILLED YOU ARE WITH US AROUND THE WORLD. FUTURES FLAT. I AM BOARD. NO I'M NOT. IN THE YIELD SPACE VOLUMES ARE BEING SPOKEN. 10 YEAR REAL YIELD, NEW LEVEL BACK TO 2009. LISA: EVERY THURSDAY AT 4:30 P.M. I AM THE PERSON WHO LOOKS AT THE FED BALANCE SHEET AND I HAVE BEEN WATCHING IT AND IT IS FASCINATING, IT IS DOWN TO ABOUT A TRILLION DOLLARS.
THE PEAK WAS ABOUT $9 TRILLION. $1 TRILLION OF BONDS THAT THEY HAVE ALLOWED ROLLOFF. HOW MUCH IS THAT THE UNDERESTIMATED STORY BEHIND THE REAL YIELDS CONTINUING TO CLIMB WHEN IT IS A GLOBAL QUANTITATIVE TIGHTENING? TOM: I LOOK AT THE FINANCIAL CONDITIONS INDEX. THERE WILL NOT BE A QUIZ. IT HAS BECOME MORE RESTRICTIVE. .19%. NOT RESTRICTIVE BUT NOT THE ACCOMMODATION THAT WAS CONFOUNDING CHAIRMAN POWELL EARLIER. BRENT CRUDE ROUNDED UP $94 A
BARREL. WE ARE OVER THE ATLANTIC OCEAN, FLYING IN, DOING CIRCLES OVER WHITE RIVER JUNCTION, VERMONT FOR AN HOUR. LISA: NOT THAT YOU ARE BITTER. JONATHAN: I AM THINKING -- TOM:
I AM THINKING ARE YOU GOING TO RUN OUT OF GAS? LISA: WE ARE TALKING ABOUT THE MIDLANDS AND WHAT WILL HAPPEN. WE ARE WATCHING PRESIDENT BIDEN JOINING THE PICKET LINE IN SUPPORT OF STRIKING UAW WORKING. HE'LL BE SPEAKING FROM MICHIGAN ON TUESDAY. TOM: ON WEDNESDAY DOES HE GO TO THE BOARD MEETING OF FORD? LISA: THE UNION IS EXPANDING ITS STRIKE AGAINST GM AND STILL AM JUST. -- AND STELLANTIS. NOT FORD. IS HE PICKING SIDES AT A TIME WHEN AUTO MANY ARE GETTING SUBSIDIES FROM HIS POLICIES WITH SOME OF THE ELECTRIC VEHICLE MAKERS AND FORMER PRESIDENT DONALD TRUMP WILL BE THERE ON WEDNESDAY. INSTEAD OF GOING TO THE DEBATE
THAT WILL BE HAPPENING. TOM: JON FERRO, DO YOU REMEMBER JON FERRO? HE WAS VERY GOOD ON THIS. HE IS ON ASSIGNMENT IN ENGLAND. SOMEONE SAYS IT WAS ARSENAL-TOTTENHAM. HE HAS A PROJECT GOING ON. HIS HUGE SUCCESS WITH DANIEL LEVY MAKING GLOBAL NEWS WAYS. WHAT WAS SO COOL AS ANY OF THIS ENVIRONMENTAL STUFF, IS IT ECONOMICALLY FEASIBLE? THAT IS A SIDE PROJECT. LISA:
IS IT ECONOMICALLY FEASIBLE ON THE TIMEFRAME THEY ARE TALKING ABOUT. THIS IS WITH THE RISHI SUNAK LONDON FLAVOR WHERE HE IS PUSHING BACK AND DELAYING IT. THE OTHER THING IS THIS RESOLUTION, MAYBE, FOR HOLLYWOOD WRITERS STRIKE. YOU CAN SEE THE MOVE IN DISNEY AND NETFLIX. THE WGA SAY A TENTATIVE DEAL LATE SUNDAY NIGHT. THE NEW DEAL IS EXPECTED TO
LIFT PAY AND CREATE NEW RULES AROUND ARTIFICIAL INTELLIGENCE. THE SCREEN ACTORS STRIKE ONGOING . THE CHANGES IN TECHNOLOGY UNDERPINNING SOME OF THE ANGST FUELING THESE STRIKES IS SOMETHING WE CANNOT TALK ENOUGH ABOUT. TOM: IF YOU GO DOWN TO THE
UNIVERSITY OF TEXAS IN SCREENWRITING, IT IS LIFETIME EMPLOYMENT. THAT IS WHAT THIS AGREEMENT IS ABOUT. LISA: I DO NOT KNOW THE CONTOURS. TOM: ASK YOUR OFFSPRING. LISA: SHE CAN READ THE DEAL. JONATHAN: -- LISA: EXECUTIVE VICE PRESIDENT FOR THE EUROPEAN COMMISSION MADE THE COMMENTS, HE'S IN CHINA AND SAYS THE EU WELCOMES COMPETITION, HOWEVER COMPETITION MUST BE FAIR AND WE WILL BE MORE ASSERTIVE AND TACKLING UNFAIRNESS.
EARLIER THIS MONTH THE EU DID TALK ABOUT SOME NEW PROBE INTO CHINESE SUBSIDIES FOR ELECTRIC VEHICLE, BUT THIS TRIP IN CHINA IS VERY INTERESTING AT A MOMENT THAT IS PIVOTAL FOR EUROPEAN CHINA RELATIONSHIPS. TOM: IT IS INTERESTING TO SEE THE DISTANCE BETWEEN BERLIN, FRANKFURT, AND LONDON. WITH THE VOICE ON THIS, PICKING UP THE DEBRIS OF OUR LONDON TRIP IS THE CHIEF ECONOMIST AT BERENBERG AND HE HAS BEEN INCREDIBLY PERCEPTIVE ABOUT THIS LINKAGE OF MONETARY AND FISCAL ECONOMICS IN EUROPE AND CHINA. LISA:
WHICH IS A KEY QUESTION AT A MOMENT OF FLUX. I WOULD LOVE TO GET YOUR OPINION STARTING ON WHAT WE WERE JUST TALKING ABOUT, WHICH IS THIS TRIP IN CHINA. WHAT IS THE LIKELY OUTCOME TO SOME OF THE RHETORIC INCREASINGLY HARD OUT OF EUROPEAN LEADERS? >> GERMANY, THE EUROPEAN UNION IS REDUCING ITS DEPENDENCE ON CHINA. DE-RISKING IS THE WORD, NOT DECOUPLING. THE MESSAGE IS CLEAR. WE ARE SERIOUS ABOUT THIS. IN A WAY WE ARE SELF-CONFIDENT
IN EUROPE. WE HAVE SOME ECONOMIC PROBLEMS BUT CHINA HAS PROBLEMS THAT ARE WORSE. WE ARE THE BIGGER MARKET THAN CHINA. WE DO NOT HAVE TO ACCEPT WHAT CHINA DOES WITH SUBSIDIES, WITH ITS DISTORTIONS. WE CAN PUSH BACK. LISA:
IS THERE A TACIT ACCEPTANCE OF SLOWER GROWTH WORK RECESSION DURING THE TRANSITION PROCESS AWAY FROM DEPENDING ON TRADE WITH CHINA? >> THERE IS A TACIT ACCEPTANCE THAT THE DE-RISKING WITH CHINA WILL MEAN SHORT-TERM LOSSES. THERE IS ALSO AN ACCEPTANCE THAT IF WE WANT TO BE LESS DEPENDENT ON CHINA IN THE LONG RUN, THERE IS AN ECONOMY IN CHINA THAT WILL STRUGGLE, IT MEANS WE GET LESS BOOST OUT OF FOREIGN TRADE WITH CHINA. HAVING SAID THAT, THE LESSON WE HAVE LEARNED FROM PUTIN IS CLEAR. IF YOU ARE TOO DEPENDED ON
SOMEBODY YOU DO NOT TRUST YOU MAY PAY A HEAVY PRICE. IT IS PROBABLY WORTH DE-RISKING NOW WITH MODEST NEAR-TERM PAIN IN ORDER TO SECURE A LONGER-TERM FAIRER AND MORE EQUAL RELATIONSHIP WITH CHINA. TOM: ONE OF THE GREAT -- THE PLAZA HOTEL HAS BEEN SHUT FOR 20 YEARS. BEAUTIFUL AND HISTORIC ROOM. RIGHT NOW WITH DOLLAR, UP, UP, EURO DOWN, DOWN. ARE WE GETTING A DISTANCE TO A PLAZA COURT? HOW MANY KILOMETERS OUR WAY FROM A DISCUSSION OF A NEW PLAZA ACCORD? >> I THINK WE ARE FAR AWAY FROM ANY DISCUSSION OF THAT.
THE MOVE IS GRADUAL AND SEEMS TO REFLECT THE U.S. ECONOMY IS MOVING BETTER THAN EXPECTED WHERE THE EUROZONE IS IN STAGNATION. AS LONG AS THE CURRENCY MOVES GRADUALLY AND DOES NOT SEEM TO BE FULLY OUT OF KILTER WITH THE FUNDAMENTALS I DO NOT THINK WE NEED A MASSIVE INTERVENTION.
NEXT YEAR WITH EUROPEAN ECONOMY PICKING UP AND THE FED CUTTING RATES NEXT YEAR AND THE ECB POSSIBLY NOT CUTTING RATES, THE EURO WILL LIKELY RECOVER ON ITS OWN. TOM: THIS IS IMPORTANT. A KEY THING YOU SAID IS WE ARE NOT DISRUPTIVE RIGHT NOW. MARKET PARTICIPANTS FEEL WE ARE DISRUPTIVE. WE ARE MAKING JOKES ABOUT FIVE DIFFERENT THINGS WE ARE BOUNCING OFF OF RIGHT NOW. WHAT IS THE BEST POLICY PRESCRIPTION FOR CHRISTINE LAGARDE AND LEADERS IN BRUSSELS? >> IS BASICALLY STAY THE COURSE. FOR MONETARY POLICY WE HAVE TIGHTENED MORE THAN WE SHOULD HAVE.
NOW THE CLEAR MESSAGE IS WE ARE AT THE PEAK, WHICH HAS BEEN REASSURING FOR MARKETS AND FOR FISCAL POLICY I WOULD SAY THE SAME, STAY THE COURSE, WHICH LARGELY MEANS WE HAVE A BIG FISCAL PROGRAM IN EUROPE, WHICH IS NOW ABOUT $800 BILLION. THE TASK IS MORE TO MAKE SURE THE MONEY IS BEING SPENT RATHER THAN THINKING ABOUT ANY NEW MONEY. TOM: IS JEROME POWELL CENTRAL BANKER TO THE WORLD.
IS CENTRAL BANKER TO EUROPE? >> NOT QUITE. EUROPE IS NOT THAT DEPENDENT ON THE U.S.. FOR EUROPE IT IS MADAME LAGARDE THAT WE ARE GLAD TO WATCH. LISA:
YOU THINK PEOPLE ARE TOO BEARISH IN EUROPE? >> NOT FOR THE NEXT FEW MONTHS. WE ARE HAVING A SHARP INVENTORY CORRECTION. THE U.S. ECONOMY NEAR-TERM WILL BE SLOWING DOWN. NEAR-TERM EUROPE IS HAVING TROUBLE. NEXT YEAR, GLOBAL MANUFACTURING WILL PICK UP. INVENTORY CORRECTION WILL BE OVER. NEXT YEAR EUROPE GOOD SURPRISE
ON THE UPSIDE. LISA: WILL SOME OF THIS SLOW DOWN AND NEGATIVITY CORRECT INFLATION? >> OUR INFLATION DOES NOT HAVE THAT MUCH TO DO WITH DOMESTIC DEMAND. INFLATION IS COMING DOWN BECAUSE THERE IS A BIG SHOCK ON ENERGY AND FOOD PRICES IS FADING. WE HAVE A BIT OF WAGE INFLATION FOR THE NEXT HALF YEAR, BUT ALL IN ALL INFLATION IN EUROPE IS AROUND 2.5% BY THE SECOND HALF
OF NEXT YEAR. LISA: THIS IS THE DILEMMA TO ME. IF IT WILL NOT LEAD TO LOW-INFLATION, IF WE ARE FACING A STAGFLATION ENVIRONMENT IN EUROPE, HOW MUCH IS THAT THE TEMPLATE THAT WE ARE BEING FORCED TO LIVE WITH HIGHER INFLATION EVEN WITH TAKING THE PAIN OF DE-RISKING, EVEN WITH TAKING THE PAIN OF RECESSION, EVEN WITH ALL OF THE OTHER TOXIC BREW WE ARE TALKING ABOUT THIS MORNING? >> STAGFLATION IS A DESCRIPTION OF WHERE WE ARE NOW IN EUROPE. WE MAY SEE LATER THIS WEEK A FALLEN THE INFLATIONARY YEAR INTO THE 4% HANDLE FROM A 5% HANDLE ON BASE EFFECTS.
THE RISE IN ENERGY, ESPECIALLY GAS AND ELECTRICITY PRICES, DROPS OUT OF THE COMPARISON. GOODS PRICES ARE STABILIZING. EVEN WITHOUT NEEDING TO CONSTRAINT DEMAND FURTHER, INFLATION WILL FALL TO AROUND 2.5% BY THE SECOND HALF OF NEXT YEAR ON ITS OWN. TOM: I LOOK AT OUR TRIP TO LONDON AND I LOOK BACK AT HOW EUROPEANS, THE UNITED KINGDOM, HOW THEY PERCEIVE AMERICA IN DISARRAY. HOW IS IT DIFFERENT THIS TIME? >> IT A WEIRD PERCEPTION. ON THE ONE HAND WE MARVEL THE U.S. ECONOMY IS HOLDING UP BETTER
THAN EXPECTED DESPITE THE MASSIVE FED RATE HIKES. WE FIND REASONS FOR THAT. CONSUMERS AND COMPANIES HAD GOOD MONEY TO START WITH. WHEN WE LOOK AT ANYTHING THAT COMES CLOSE TO U.S. POLITICS, WE BASICALLY SHAKE
OUR HEADS. HOW IS THIS GOING TO END? WAS THERE ANOTHER TALK OF A GOVERNMENT SHUTDOWN. LISA: JOHN IS STAYING IN LONDON. >> WE THINK EUROPEAN POLITICS ARE NOT WORKING BADLY. TOM: THANK YOU SO MUCH. GREG BELLYACHE PUBLISHES SOMETHING -- GREG VALLIERE PUBLISHES THIS MORNING.
HE FRAMES OUT THE MCCARTHY OPTIONS. HE SAYS THIS COULD BE A CRISIS "WELL INTO WINTER." LISA: IS ONE OF IDEOLOGY MORE THAN PRACTICALITY. EVEN IF SOME OF THE DESIRES OF THE HOLDOUTS GOES INTO EFFECT, THE DEFICIT WILL ONLY DECLINE SLIGHTLY BECAUSE IT IS A SMALL PACKAGE OF CUTS NOT AFFECTING SOCIAL SECURITY PAYMENTS AND SOME OF THE OTHER MAJOR ELEPHANTS IN THE ROOM THAT A LOT OF LAWMAKERS SAY NEED TO BE DEALT WITH. TOM:
AS CHURCHILL SAID IN ST. LOUIS A FEW YEARS AGO, SOMEHOW WE GET IT DONE. WHERE WE WILL BE OCTOBER 2 OR OCTOBER 3 WILL BE INTERESTING TO STATE. DID YOU SEE THE POLL THIS WEEKEND? LISA: WASHINGTON POST -- WHICH ONE? TOM: WASHINGTON POST. IT PUT TRUMP 80% AHEAD OF BIDEN. EVEN ABC WASHINGTON POST CAME OUT AND SAID WE ARE NOT SURE ABOUT OUR PULLING. LISA: IT IS SO EARLY.
HOW CAN WE KNOW ANYTHING? I AM CURIOUS TO SEE WHO WILL BE IN THE RUNNING. TO ME THE BIGGER PICTURE WILL BE DO YOU END UP WITH VIRGINIA GOVERNOR AS THE FRONT LEADER OF THE REPUBLICAN PARTY? DO YOU END UP WITH A DIFFERENT CANDIDATE FOR THE DEMOCRATS? I THINK THAT IS INCREASINGLY THE DISCUSSION. IS THIS THE FIELD THAT WILL MAKE IT TO THE END? TOM: REPUBLICAN DEBATE WEDNESDAY. WE WILL HAVE COVERAGE ACROSS BLOOMBERG. FUTURES WERE UP AND THEN DOWN OFF CHINA NEWS.
RIGHT NOW DOW FUTURES AT -35. VIX TO AN 18 LEVEL. 17.98. VICKS AT 14 OR 13 LIFE IS GOOD AND WE EASE BACK. 2.12% ON THE 10 YEAR YIELD PERMEATES THE AMERICAN FINANCIAL EXPERIMENT. THAT WILL BE INTERESTING TO
WATCH. BRENT CRUDE 93.44. GOLD 1943 AN OUNCE. LISA ABRAMOWICZ AND TOM KEENE. >> WEEKEND AND WILL GO ALL OUT IF OUR NATIONAL LEADERSHIP DECIDES COMPANIES ARE NOT WILLING TO MOVE. STELLANTIS AND GM WILL NEED A SERIOUS PUSHING. ALL OF THE PARTS TRICIA BHUSHAN CENTERS -- ALL OF THE PARTS DISTRIBUTION CENTERS ARE BEING CALLED TO STAND UP AND STRIKE. TOM: INCH BY INCH, MILE BY MILE, LEADING A STRIKE AT THE UAW.
PRESIDENT OF THE UAW THERE. THEN ON FRIDAY, WHICH SEEMS DISTANT. THIS IS FOR REAL. LISA: 38 NEW PLANTS, NONE OF THEM FORD. WHAT DID FORD DO RIGHT?
TOM: THEY AGREE TO NEGOTIATE. I WOULD ALSO POINT OUT THEY DID NOT GO BANKRUPT WHICH IS A HERITAGE ON THE SEISMIC SHIFT IN THE UAW AND THE RESTRUCTURING OF AMERICAN MANUFACTURING. A QUICK MARKET CHECK. 2.12 PERCENT ON THE 10 YEAR YIELD. THAT IS A HUGE DEAL ON THE REAL YIELD. 93.53 ON BRENT CRUDE. VIX NEARING 18. THERE IS SOME TENSION IN YOUR MARKETS. FOLLOWING US ACROSS THE ATLANTIC OCEAN, CRAIG TRUDELL
AND I HAD TO FLY CONVENTIONAL, THAT WAS A NIGHTMARE. JOINING US RUNNING ALL OF OUR AUTO COVERAGE, CRAIG TRUDELL ON HIS WAY TO DETROIT. I WOULD RIP UP ALL OF DISCUSSION ABOUT THE STRIKE AND UNDERSTAND THAT EISENHOWER OR KENNEDY OR LBJ DID NOT JOIN THE PICKET LINE. TO ME THIS IS A HUGE DEAL. BIDEN WILL PICKET. MI WRONG? CRAIG: THERE HAS BEEN A LOT OF QUESTIONS ABOUT THAT AND THE FACT THAT THE UAW WENT FROM BEING IN NO HURRY TO INVITE HIM TO INVITING HIM IS FASCINATING. THE FACT THAT WHEN IT SURFACED THAT TRUMP HAD PLANS TO GO VISIT WORKERS, THE UNION VERY CLEARLY GAVE HIM A BRUSHING OFF AND A YOU ARE NOT WELCOME HERE MESSAGE.
THE POLITICIZATION OF EVERYTHING IS COMING TO CARS IN WAYS WE HAVE NOT SEEN BEFORE. TOM: IS GINA RAIMONDO, SECRETARY OF COMMERCE, WILL SHE DROP BY DEARBORN? WHAT DOES THE SECRETARY OF COMMERCE, HOW DOES SHE RESPOND? CRAIG: IT'LL BE INTERESTING WHERE THE LINES ARE DRAWN. AT THE FACTORY LEVEL WE HAVE REPORTERS IN DETROIT SPEAKING WITH WORKERS ON THE PICKET LINES ABOUT THEIR LEVEL OF COMFORT OR LACK THEREOF WITH BIDEN JOINING THEM IN THESE ACTIONS.
I THINK THEY ARE WARY OF BIDEN BECAUSE OF WHAT HAPPENED WITH THE RAIL STRIPES, THE FACT HE INSERTED HIMSELF THERE. THAT SAID THIS IS A PRESIDENT WHO CALLS HIMSELF THE MOST PROUNION PRESIDENT IN HISTORY. HAS MADE NO BONES ABOUT THE FACT HE WANTS TO GET BEHIND THE LABOR MOVEMENT IN THE U.S.. ABSOLUTELY PUTTING MONEY WHERE HIS MOUTH IS IN TERMS OF FREEING UP IRA FUNDS. THE WAY HE WAS TRYING TO STRUCTURE THAT LAW BEFORE IT WAS PASSED TO BENEFIT UNION MADE EV'S, HE WAS NOT ABLE TO GET THAT DONE.
HE IS VERY MUCH GOING OUT OF HIS WAY TO BOOST LABOR IN THE U.S.. LISA: THERE WAS AN AWKWARD MOMENT ON FACE THE NATION OVER THE WEEKEND WITHOUT CENTURY OF CAUSE IO CORTEZ, THE REPRESENTATIVE FROM NEW YORK -- WITH ALEXANDRIA OCASIO-CORTEZ WHO BOUGHT A TESLA DURING THE PANDEMIC THAT WAS NOT UNION MADE AND HAD TO SQUARE THE CIRCLE THAT THEY WANT TO PUT FORWARD ELECTRIC VEHICLES AND IT IS NOT BENEFITING THE CONSTITUENTS THEY WANT TO REPRESENT. HOW MUCH DO YOU FEEL THAT ANGST AND RECONSIDERATION OF POLICIES YOU HEAR OUT OF THE WHITE HOUSE? CRAIG: IT IS REALLY INTERESTING, THE FACT THAT -- ALEXANDRIA OCASIO-CORTEZ HAS SAID BEFORE SHE WAS LOOKING TO TRADE IN HER TESLA.
I THINK THIS IS A LONG AND THE WORKS MOVE AWAY FROM ELON MUSK ON THE PART OF SOME MEMBERS OF CONGRESS IN WASHINGTON. ABSOLUTELY IT IS THE CASE THAT THE UNION WAS NOT MAKING A TON OF ELECTRIC VEHICLES UNTIL VERY RECENTLY AND FOR THE MOST PART THE CARS THEY ARE MAKING ARE ON THE HIGHER END SIDE. CADILLACS AND BIG PICKUPS AND EXPENSIVE VEHICLES YOU WOULD NOT NECESSARILY SEE -- YOU WOULD NOT FORESEE AOC IN. WE WILL SEE THAT CHANGE IN A SIGNIFICANT WAY IN THE NEXT FEW YEARS. MAYBE THE LONE EXCEPTION IN MAKING A CHEAP ELECTRIC VEHICLE HAS BEEN THE CHEVROLET VOLT AND THEY HAVE NOT MADE THOSE IN SIGNIFICANT NUMBERS BECAUSE THE DEMAND IS NOT THERE.
WE ARE SEEING A HUGE MOVEMENT ON GENERAL MOTORS AND FORD TO MOVE DOWN THE PRICE SCALE AND BRING ELECTRIC VEHICLES TO MORE OF A MASS-MARKET AND FOLLOW TESLA INTO THAT. LISA: HOW MUCH IS PRESIDENT BIDEN CONSIDERING DOING WHAT RISHI SUNAK DID, THE IDEA OF PULLING BACK SOME OF THE MORE AMBITIOUS GOALS TO ROLL OUT VEHICLES IN THE UNITED STATES? CRAIG: IT IS MORE THE CASE OF THE U.S. -- I THINK WE HAVE TO CALL STRIKES. THE U.S. IS FAR BEHIND IN MAKING THE ELECTRIC VEHICLE TRANSITION THEN EUROPE HAS BEEN MAKING FOR SEVERAL YEARS. THERE IS A LOT OF CONCERN IN
EUROPE ABOUT THE FACT THAT THE IRA IS GOING TO MAKE AN EFFORT TO SIGNIFICANTLY CHANGE THAT. YOU WANT TO TALK ABOUT ANTI-SUBSIDY INVESTIGATIONS THE EU JUST LAUNCHED AGAINST CHINA. THE AMOUNT OF MONEY FLOWING INTO THE SECTOR, NOT ONLY ON THE CONSUMER SIDE, THERE'S A LOT OF ATTENTION, BUT A LOT INTO THE MANUFACTURING SECTOR AND THAT IS LEADING TO HUGE INVESTMENTS. THERE IS REAL EFFORT TO PLAY CATCH-UP AND FOR THE UNIONS TO COME ALONG IN THAT JOURNEY. TOM: THIS IS THE BLOOMBERG ADVANTAGE. WE HAVE THE TEAM IN DETROIT.
WE HAVE CRAIG IN LONDON LOOKING AT THE GLOBAL EV MARKET. WHAT I LEARNED IN LONDON WAY AHEAD OF ALL THIS CHITCHAT IN EUROPE AND CHINA IS WE HAVE CHINA, CHINA, CHINA AND WE GO BACK TO DON MCLEAN AMERICAN PIE, WE HAVE THE CHEVY GOING OVER THE LEVEE BUT THE LEVEE IS DRY. NOT GOOD. WHAT DID CHEVY DO OVER THE LEVEE TO COMPETE AGAINST CHINA? CRAIG: ONE OF THE INTERESTING THINGS WE ARE SEEING IS AN ATTEMPT TO GO FROM A GLOBAL INDUSTRY TO BATTENING DOWN THE HATCHES AND BRINGING MANUFACTURING -- TOM: ARE WE GOING TO BUILD AMERICAN NONUNION EV'S IN SOUTH CAROLINA OR ARE WE GOING TO TRY TO BUILD THE $40,000 FOR A CHEAP EV IN DEARBORN? CRAIG: WE WILL TRY TO BUILD A LOT OF CHEVYS IN GENERAL MOTORS PLANTS THAT HAVE BEEN MAKING COMBUSTION ENGINE CARS. WE WILL ALSO SEE NEW PLANTS IN THE SOUTH FROM SOME OF THESE DETROIT COMPANIES. YOU SEE FORD MAKING BIG INVESTMENTS. THAT IS THE BIG QUESTIONS AND THE BIG RUB OF THE UNION NEGOTIATORS.
IN TERMS OF THE ELECTRIC PICKUP THEY ARE GOING TO MAKE IN THE SOUTH I WOULD BE SHOCKED IF THAT IS NOT A UNIONIZED PLAN. IN TERMS OF THE BATTERY MANUFACTURING, THAT IS THE BIG RUB BECAUSE THESE ARE JOINT VENTURES BETWEEN FORD, GENERAL MOTORS, AND STELLANTIS AND COMPANIES THAT ARE NOT UNIONIZED AND HAVE LITTLE DESIRE TO BE UNIONIZED. DOWN THE SOUTH. LISA: MY FAVORITE PART OF EVERY DAY IS WHEN YOU ASK A QUESTION LIKE THAT AND THE GUEST TESTED ANSWER SERIOUSLY WITHOUT LAUGHING IN WITH YOU ABOUT TO BREAK INTO SONG. TOM: WITH CRAIG.
CRAIG HAS BEEN A HUGE VALUE AT. LISA, JUMP IN. WE ARE ON RADIO. WE ARE INVENTING BLOOMBERG SURVEILLANCE WITH JONATHAN FERRO. THAT WAS OVERTIME WORK. HE IS GOING ON ABOUT AFRICA AND I STARTED WITH THE LYRICS TO TOTO. HE IS LOOKING AT ME LIKE WHAT HAVE I DONE? [LAUGHTER] LISA: IS MY FAVORITE. HOW CLOSE ARE WE TO SOME SORT OF RESOLUTION? ARE WE HUNKERING DOWN FOR THIS LASTING A LONG TIME? CRAIG: I THINK WE GOT A POSITIVE MESSAGE ABOUT PROGRESS ON THE PART OF FORD, BUT I DO NOT THINK WE HAVE THE DETAILS FROM HIS COMMENTS TO HAVE A STRONG SENSE OF HOW CLOSE THE UNION AND THIS COMPANY ARE. MY BET IS THIS WILL CONTINUE
FOR SEVERAL MORE WEEKS. THE FOLKS IN DEARBORN ARE HOPING WE DO NOT SEE ANY SETBACKS AND A FEELING OF BAD FAITH ON THE PART OF THE UNION THAT NOT ONLY PROLONGS THE STRIKE BUT RESULTS IN THE UNION ADDING ADDITIONAL FORD PLANTS. TOM: FOR FOSSILS LIKE ME, IT IS SIMPLE. BIDEN WALKING THE PICKET LINE IS STUNNING. LISA: HAS NOT BEEN SEEN. TOM: I WONDER IF I'M OVERPLAYING
THIS. LISA: WE DO NOT KNOW IF YOU'LL BE WALKING THE PICKET LINE. HE WILL BE THERE. TOM: IN DEARBORN I HEAR THE DRUMS ECHOING. LISA: CHEVY TO THE LEVEE BUT THE LEVEE WAS DRY.
>> TO DIGEST HIGHER RATES FOR LONGER WILL TAKE TIME. >> I DON'T THINK RATES NEED TO GO FURTHER THAN WHERE THEY ARE TODAY. >> IT IS NOT THE LEVEL OF RATES, IT IS ADJUSTMENT. >> WHAT IS GOING ON IN MARKETS IS DIFFERENT TO THE REAL ECONOMY. >> THE ECONOMIC SOFT LANDING NARRATIVE IS BEING CHALLENGED. TOM: GOOD MORNING. "BLOOMBERG SURVEILLANCE"
ON RADIO AND TELEVISION. JON FERRO ON ASSIGNMENT AFTER A 2-2 DRAW ARSENAL AND TOTTENHAM. I WATCH THE HIGHLIGHT. LISA: I DID, TOO.
TOM: JON FERRO RECOVERING. LISA: I DO NOT TAKE A PRIVATE PLANE. PEOPLE HAVE STOPPED ME AND SAY WHY ARE YOU NOT ON A PRIVATE PLANE. I HAVE NEVER TAKEN A PRIVATE PLANE. CARRY-ON. TOM: I WAS STOPPED AT HEATHROW ABOUT LISA ON THE GULFSTREAM.
YOU ARE WAKING UP ON A MONDAY TO A CHANGED WORLD. BRAMO NAILS IT WITH THE QUINF ECTA IDEA. REAL YIELD GENERATIONAL HIGHS, 2.11%. CHINA, THE DEVELOPERS, THAT STORY UNRAVELS TO THE POINT I CAN SAY THERE IS NO BID IN THE MARKET BECAUSE THERE IS NO MARKET. THERE IS A FEELING THERE COULD
BE A REAL DEFAULT AND SUDDENLY THERE IS A DIFFICULT SCENARIO THE GOVERNMENT IS UNABLE TO CONTROL ANY MEANINGFUL WAY. WE TALK ABOUT THE QUINFECTA THAT INCLUDES REAL YIELDS AND THE GOVERNMENT SHUTDOWN AND THIS IDEA OF HIGHER GAS PRICES AT A TIME OIL PRICES ARE RISING. YOU PUT THAT TOGETHER AND IT IS HARD TO SEE HOW ANY OF THAT -- MAYBE IN ISOLATION NOT THAT SIGNIFICANT. YOU PUT THEM TOGETHER IT FEELS DIFFERENT. TOM: IT IS LIKE CRAIG TRUDELL AND ELECTRIC VEHICLES. NO ONE CAN AFFORD THEM BUT RICH PEOPLE. I WILL LOOK AT THE HOUSING
MARKET WERE NO WOULD CAN AFFORD HOUSING. WHEN YOU AND I WERE IN LONDON, I WAS WEST OF MAYFAIR LOOKING AT A CLOSET. BANKRATE 37.75%. HOW CLOSE ARE WE GETTING TO AN 8% MORTGAGE? LISA: AT A TIME PEOPLE ARE NOT PAYING FOR THAT MORTGAGE RATE. YOU COULD SEE THE HOUSING MARKET IS BROKEN. IT HIGHLIGHTS HOW EXPENSIVE THINGS ARE GETTING. MARCUS PUT THIS OUT SAYING IT COSTS $734 MORE EACH MONTH TO BUY THE SAME GOODS AND SERVICES AS IT DID TWO YEARS AGO FOR THE AVERAGE MEDIAN HOUSEHOLD IN THE UNITED STATES.
YOU START LOOKING AT THAT AND YOU UNDERSTAND DISSATISFACTION. YOU UNDERSTAND WHY PEOPLE ARE LESS CONCERNED ABOUT THE PACE OF DISINFLATION AND LOVING AT OUTRIGHT INFLATION AND MAKING MORE DISCRETIONARY CHOICES. TOM: WE HAVE A GUEST ON THIS. CATHERINE KAMINSKI WILL JOIN US IN MOMENTS. LISA: LET'S BRIEF BECAUSE THIS HAS TO DO WITH THE WEEK AHEAD. REAL YIELDS CLIMBING TO THE HIGHEST LEVEL SINCE 2009. SEVEN FED SPEAKERS. TOM IS ON THE EDGE OF HIS SPEAK
-- HIS SEAT WAITING TO HEAR THEM ALL . THURSDAY THE FED BONANZA. CHICAGO FED PRESIDENT AUSTAN GOOLSBEE. TOM HARKIN. ON FRIDAY WE HEAR FROM JOHN WILLIAMS. HERE -- KEEN TO HEAR ANYTHING ON REAL YIELDS. HOW MUCH DO PEOPLE KEEP BUYING IF THEIR OVERALL EXPENSES CONTINUE TO CLIMB? EARNINGS ON TUESDAY FROM COSCO. WEDNESDAY H&M. THURSDAY IS NIKE. HOW MUCH ARE WE LOOKING AT NEW PRESSURE ON CONSUMER DISCRETIONARY? TOM: SALES OF ALL OF THIS IS DONNA NOMINAL, INCLUDING MICHAEL MCKEE'S RETAIL SALES NUMBER. I THINK YOU ARE DEAD ON.
THIS TIME AROUND THE RETAIL PULSE IS A HUGE PRECURSOR TO WHAT WE SEE GETTING OCTOBER 13 WITH J.P. MORGAN. LISA: ANECDOTALLY WE HEAR PEOPLE PULLING BACK. WHEN WE START TO SEE THAT IN THE GRAINY ONLY -- IN THE GRANULAR EARNINGS DATA? WHY WOULD PEOPLE SPEND THAT IF THEY ARE SPENDING SO MUCH. HOME PRICE DATA AS WELL AS THE NEW HOME SALES, THAT COMES OUT TOMORROW. I'M CURIOUS IF ANYTHING IS MOVING. JOBLESS CLAIMS THURSDAY. THE KEY DAY OF THE WEEK IS FRIDAY AS WELL AS CORE PCE DATA.
HOW MUCH DO WE SEE THE ECONOMIC SURPRISE INFLICT UPWARD IN A U.S. SEEING THIS QUINFECTA OF THREATS, THIS TOXIC BREW THAT MAY BE IT IS GETTING DIFFICULT. A HEXFECTA, WHAT IS THAT? TOM: SIX. LISA: IS THAT BILL HAVING A MARTINI? TOM: HE HAS THE OLIVES. WE HAVE CUT HIM OFF. IF YOU ARE PART OF GLOBAL WALL
STREET, ARGUABLY THIS IS THE CONVERSATION OF THE DAY. KATY KAMINSKI, THE TITLE IS BORING, CHIEF RETAIL STRATEGIST AT ALPHA SIMPLEX. FAR MORE IMPORTANTLY, OUT OF THE BUYING IN M.I.T.
BOSTON, IS TREND BASED. SHE AND HER SHOP FOLLOW TRENDS AND THE PROBABILITY OF COMING OUT OF A RANGE INTO SOME TREND ACROSS ALL ASSETS LIKE NOBODY ON THE STREET. KATY KAMINSKI TO BRIEF US. YOU CORRELATE ACROSS BONDS, ECONOMICS, OVER TO EQUITY MARKETS WHERE YOU ARE MORE THAN TENTATIVE. TELL US ABOUT THE REPRICING WE COULD SEE IN THE EQUITY MARKETS. KATY: GOOD POINT.
THIS YEAR WHAT WE HAVE SEEN IS THAT THE EQUITY MARKET HAS BEEN DISJOINTED FROM THE FIXED INCOME MARKET. BLISSFULLY GOING ALONG POSITIVELY, IGNORING THE FACT THERE MIGHT BE ISSUES AND WE MIGHT NEED TO HAVE HIGHER RATES FOR LONGER. WE FEEL LIKE LAST WEEK WE FINALLY SAW A POINT OF RECOGNITION. WE SAW A BREAKOUT IN THE FIXED INCOME MARKET WHERE WE SAW YIELDS HIGHER ON THE LONG END. THIS MEANS THE MARKET HAS FINALLY SAID WAIT A MINUTE. UPSIDE RISKS ARE REAL. HIGHER ENERGY PRICES, THAT IS A CHALLENGE.
THESE THINGS HAVE TO BE SOLVED FOR THE EQUITY MARKET TO WAIVER THROUGH THIS. TOM: HERE TO TREAD, 1978, WITH KATY KAMINSKI. CUT TO THE CHAIT -- CUT TO THE CHASE. THERE IS A GREAT EQUITY FEEL. IT IS A TOXIC SOUP OF CALCULUS. WHAT ARE YOU LEARNING RIGHT NOW FROM A BROADER S&P OR NASDAQ 100 AVAILABLE ONLY ON THE BLOOMBERG TERMINAL? KATY: IF YOU LOOK AT MOST OF THE TECHNICAL SIGNALS, THEY ARE ALL PRETTY CONSISTENT. IF YOU LOOK AT FIXED INCOME, LET'S BE HONEST, FIXED INCOME IS SAID TO HAVE TWO YEARS IN A ROW OF NEGATIVE RETURNS.
FIXED INCOME SIGNALS HAVE BEEN CONSISTENTLY SHORT FOR MONTHS AND WORKING WELL THIS MONTH. ENERGY BREAKING OUT MORE RECENTLY AND WE HAVE SEEN IN THE CURRENCY BASKET, WE HAVE SEEN THE DOLLAR TRADE BEING ONE OF THE STRONGER ONES OF THE LAST TWO MONTHS. WE ARE SEEING LAST YEAR REPEATING ITSELF. LISA: ARE YOU BASICALLY DOUBLING DOWN ON YOUR BOND BAYER THESIS AND DOUBLING DOWN ON OIL PRICES GOING HIGHER OR ARE YOU SEEING THIS STARTING TO REACH A TOPPING POINT THAT MAKES YOU PULLBACK? KATY: THIS IS A GOOD QUESTION. WE ARE NOT IN THE BUSINESS OF PICKING TOPS AND BOTTOMS BUT WE ARE FOLLOWING WHERE MARKET GAINS ARE MOVING AND WHAT PEOPLE ARE DOING. WHAT PEOPLE HAVE BEEN DOING ALL YEAR IS SOLD BONDS BUT SAID THAT THEY LIKED THEM. IT IS A WEIRD DICHOTOMY.
WHAT WE ARE SEEING IS CONTINUED ACCELERATION IN THE BOND MARKET ON THE SHORT SIDE, NOT MORE THAN BEFORE. I WOULD NOT SAY WE ARE SEEING MORE SHORT POSITIONS, WE'RE JUST SEEING A CONSISTENT VIEW. WE HAVE SEEN SOMEONE OF A BOTTOM OF THE SHORT END OF THE CURVE. EARLIER THIS YEAR WE SAW THE SHORT END OF THE CURVE BOTTOM. WE ARE LOOKING FOR MORE OF A BOTTOM ON THE LONG END OF THE CURVE. WHEN ARE RATES GOING TO SELL OFF? THAT IS WHAT WE SAW LAST WEEK.
THAT WAS OUR POINT OF RECOGNITION WHERE THE MARKET SAID WAIT A MINUTE, YOU ARE RIGHT, MAYBE WE HAVE TO BE HIGHER FOR LONGER AND WE NEED TO JUST INVERT THE CURVE. THAT IS FINALLY STARTING TO HAPPEN. LISA: I WAS STRUCK BY MAY BE PEOPLE CAPITULATE JUST AHEAD OF THE MARKET TURNING THEIR WAY OR THE ECONOMY TURNING THEIR WAY. IT FEELS LIKE A MARKET THAT WANTS TO INFLICT THE MOST PAIN ON THE GREATEST NUMBER OF PEOPLE. IT FEELS LIKE THINGS ARE TURNING ON THE EDGES IN A WAY THAT MY CHALLENGE THE THESIS OF HOW HIGH YIELDS CAN GO. IS THIS THE POINT WHERE YOU
START TO REASSESS THAT THIS IS THE CAPITULATION MOMENT WHERE THINGS START TO NORMALIZE. HOW MUCH ARE YOU LEADING INTO THAT? KATY: WE DID A STUDY WHERE WE STUDIED THE SHORT BOND TRADE. EMPIRICALLY IF YOU LOOK OVER DIFFERENT CYCLES OF THE MARKETS DURING INVERTED YIELD CURVES, TREND SIGNALS WORK WELL BEING SHORT FIXED INCOME. DURING A FLATTER YIELD CURVE IT BECOMES MORE MIXED.
AS WE SEE A STEEPER YIELD CURVE WE TEND TO LEAN MORE INTO LONGER POSITIONS. THAT IS SOMETHING WE HAVE BEEN THINKING ABOUT OVER THE LAST YEAR'S THIS CONCEPT OF FINDING THAT INFLECTION POINT. SINCE WE HAVE A MUCH FLATTER YIELD, LOOK AT THE 10 YEAR, THAT IS PRETTY FLAT.
AS WE SEE THE FLATTENING AND EDITION VERSION, THAT MEANS WE WILL SEE MORE OF THAT INFLECTION POINT CLOSER TO THE BOTTOM OF THE BOND MARKET. TOM: WHAT YOU JUST HEARD HIS GOSPEL FROM KATY KAMINSKI. I CANNOT SAY AS MUCH ABOUT THIS INVERSION. TO PICK UP ON THAT, I AM LOOKING AT THE BLOOMBERG TOTAL RETURN TREASURY INDEX.
BACK TO 2016 PRICING. YOU MENTIONED TWO YEARS OF NEGATIVE RETURN IN THE BOND MARKET. ON NOTES, ON BONDS, DO THEY HAVE GAMMA LIKE EQUITIES? IS THERE ANY MOTION WHERE IF WE BREAK THROUGH CERTAIN SUPPORT LEVELS ON PRICE, GO LOWER IN PRICE, HIGHER IN YIELD, YOU GET GAMMA OR THE EMOTION GET ME OUT? KATY: THAT IS PART OF WHAT WE HAVE SEEN RECENTLY.
AT A CERTAIN POINT YOU HAVE THE MOMENT. WE HAVE THAT IN SHORT-TERM BONDS WHEN PEOPLE FOCUS ON THE SHORTER END OF THE CURVE. RIGHT NOW YOU'RE GETTING THE MOMENT WHERE PEOPLE ARE SAYING IF INFLATION IS HIGHER FOR LONGER, LONGER CASH FLOWS WILL BE EXPOSED MORE TO THAT PRESSURE, AND EVEN IF WE HAVE HIGHER YIELDS, WE HAVE TO HAVE HIGHER NOMINAL RATES UNTIL WE DEAL WITH THE PROBLEMS. THE PROBLEMS ARE HIGHER OIL PRICES COME INFLATION NOT GOING DOWN, DEALING WITH SUPPLY CHAIN ISSUES AND OTHER THINGS WE DID NOT HAVE BEEN A LOW INTEREST RATE WORLD. TOM: A CLINIC.
THANK YOU VERY MUCH. KATY KAMINSKI WITH ALPHA SIMPLEX. LUKE KAWA WAS DOING NEWTONIAN CALCULUS. QUANTITATIVE AND I DO GREEK. ALPHA, BETA, OMICRON. LISA:
THERE WAS A TECHNO SONG THAT MY OLDEST SON LISTEN TO TO REMEMBER ALL THE GREEK LETTERS. TOM: YOU SHOULD MEMORIZE YOUR GREEK LETTERS. KATY KAMINSKI, CLINIC FOR GLOBAL WALL STREET. THE S&P 500 DOWN .1%. LISA: WHAT ARE YOU LOOKING AT MOST OF
THIS WEEK? TOM: KILLER QUESTION. LISA: I THINK RETAIL SALES MIGHT BE THE MOST INTERESTING PART, ESPECIALLY PAIRED WITH EARNINGS. TOM: I THINK THE EARNINGS PLAY INTO IT BECAUSE THAT IS THE HOPE AND THE PRAYER OF SOFT LANDING. I GOT CHINA AND I'M UNDERPLAYING THE GLOOM. I COULD BE WRONG. WHAT AM I WATCHING? IT'S GOT TO BE THE REAL ECONOMY. THE PARLOR GAME, THE FED, LESS IMPORTANT NOW THAN WHAT DOES NIKE DO, HOW BAD IS IT? LISA: I WOULD AGREE WITH THAT.
I DO NOT THINK THE FED SPEAK WILL HAVE AS MUCH OF A FEATURE IN MARKET RESPONSE. PEOPLE HAVE MOVED BEYOND AND ARE LOOKING AT GRANULARITY. THIS MIGHT BE THE LAST DATA WE GET BEFORE GOVERNMENT SHUTDOWN REMOVES ALL THE PUBLIC DATA. THE RETAIL SALES AND CORE PCE MIGHT BE SOME OF THE LAST NUGGETS WE GET FROM OFFICIAL CHANNELS. TOM: I WILL GO BACK TO THE REAL ECONOMY, WHICH IS NOMINAL GDP. WHAT DOES IT MEAN FOR REVENUES AND THE SHOCK OF CONSTRUCTIVE MARGINS. THE HEART OF THE MATTER, WAKING
UP ON MONDAY, THE BASIC IDEA IS WILL BE GOING TO EARNINGS SEASON AND ONCE AGAIN BE SURPRISED THAT EVERYBODY WILL PLAY ON THE 7.5 STOCKS. THAT IS WHAT IS NOT EXPECTED. LISA: PEOPLE ARE ALL BUYING THE IPHONE 15 COME EVIDENTLY CRUSHING IT. TOM: LAST SIGHTING OF JON FERRO WAS IN COVENT GARDEN. HE WAS OUTSIDE THE STORE. LISA: I LOVE HOW YOU PROJECT ON EVERYONE. TAKE THE JET STREAM, SPENT TIME IN APPLE STORE.
PRES. BIDEN: THE GOVERNMENT SHUTDOWN CAN IMPACT EVERYTHING FROM FOOD SAFETY, CANCER RESEARCH, HEAD START PROGRAMS FOR CHILDREN. FUNDING THE GOVERNMENT IS ONE OF THE BASIC RESPONSIBILITIES OF CONGRESS AND IT IS TIME FOR REPUBLICANS TO START DOING THE JOB AMERICA ELECTED THEM TO DO.
TOM: PRESIDENT OF THE UNITED STATES SPEAKING TO THE CONGRESSIONAL BLACK CAUCUS DINNER ON SATURDAY, LARGELY DEMOCRATIC ROOM. YOU WILL HAVE TO GIVE -- HE WILL HAVE TO GO TO MICHIGAN WHICH IS FRACTIOUS. A DEMOCRATIC AND REPUBLICAN STATE. TRUMP LOOKS AT THAT IS FAIRGROUND. LISA: WHICH IS THE REASON THEY WILL BOTH BE IN DETROIT. I AM CURIOUS WHO WILL GAIN MORE TRACTION AND WHETHER THAT WILL TAKE OVER ANY PUBLICITY FROM THE GOVERNMENT SHUTDOWN. TOM:
WELCOME TO ALL OF YOU. IN OUR TEMPORARY STUDIOS IN NEW YORK. JON FERRO WITH OUR INTERIOR DESIGNERS IN LONDON, PICKING UP CURTAINS FOR THE NEW STUDIO. LISA ABRAMOWICZ AND TOM KEENE WITH INTERESTING MARKETS. STAY WITH US THROUGH THE MORNING AS WE SEE IF YIELDS ADJUST. EQUITIES QUIET SENT. THE VIX SHOWS THE RELATIVE TENSION OVER 14 DAYS, 10 BUSINESS DAYS.
WEST TEXAS INTERMEDIATE, WE HAVE TO GO TO THE YIELD SPACE. I'M SORRY TO WALK IN AND SEE 2.12%. THAT SHIFTS THE GAME FOR ANY AND ALL. LISA:
HOW MANY DAYS THAT WE THOUGHT YIELDS WOULD GO LOWER AND THINK PEOPLE WOULD BUY BECAUSE EVERYONE WAS SAYING THEY WERE BUYING IT AS KATY KAMINSKI SAID THEY ARE ALL SELLING EVEN THOUGH THEY SAID THERE BUYING. WHAT WILL BE MORE IMPORTANT, THE GOVERNMENT SHUTDOWN DISCUSSIONS OR DETROIT? ANNMARIE HORDERN IS BACK IN WASHINGTON, D.C.. I AM CURIOUS. WHAT IS MORE IMPORTANT? THE SHUTDOWN DISCUSSIONS OR DETROIT? ANNMARIE: WHEN YOU PUT THEM TOGETHER THAT IS WHEN YOU HAVE CONCERNS FOR THE U.S. ECONOMY. EVEN THOUGH SHUTDOWNS IN THE NEAR TERM DO NOT IMPACT THE U.S.
ECONOMY THEY DO COST MONEY IN THE SENSE WE ARE PAYING PEOPLE TO NOT WORK AND SO NOT COLLECTING FEES AT THE NATIONAL PARK. THAT CAN COST THE U.S. GOVERNMENT OF THEIR AMOUNT OF MONEY. TO THE CONSUMER THERE IS NOT INTENSE IMPACT OF A SHUTDOWN. IF YOU COALESCE ALL OF THESE THINGS TOGETHER AND YOU HAVE HIGHER OIL PRICES COME INFLATION, GOVERNMENT SHUTDOWN, AND THE AUTOWORKERS STRIKING, THAT COULD BE VERY DIFFICULT FOR THE U.S. ECONOMY.
IN WASHINGTON, LASER FOCUS ON THE SHUTDOWN BECAUSE THERE'S NOT A LOT OF TIME TO GET THIS DONE AND YOU SEE A LOT OF POSITIONS WITHIN THE REPUBLICAN PARTY ARE JUST HARDENING AND IT IS TAKING A LOT LONGER. THERE WAS NOT A TON OF MOVEMENT THIS WEEKEND. THEY WILL BE BACK IN SESSION TOMORROW. SPEAKER MCCARTHY WANTS TO GET
APPROPRIATION BILLS ON THE FLOOR , POTENTIALLY COMING TOGETHER WITH A HARD RIGHT TO SHOW AN OLIVE BRANCH THAT HE WANTS TO DO THIS BY APPROPRIATION BILLS. MAYBE THEY WOULD ALLOW HIM TO STOP -- TO PASS THE STOPGAP FUNDING MEASURE. THERE POTENTIALLY COULD BE A SHUTDOWN, AT LEAST AS FAR AS RICK DAVIS AND JEANNIE SHANES A NOTE SAY IN 48 HOURS -- AND JEANNIE'S A NOTE SAY IN 48 HOURS -- I WAS WRONG WHEN I SAID IT IS UNCLEAR OF PRESIDENT BIDEN WOULD JOIN THE PICKET LINE.
HE DID PUT OUT AN X POST ESSAY I WILL GOADED TO MICHIGAN TO JOIN THE PICKET LINE AND STAND IN SOLIDARITY WITH THE MEN AND WOMEN OF THE UAW AS THEY FIGHT FOR A FAIR SHARE OF THE VALUE THEY HELP CREATE. WILL THIS BE VIEWED AS A VICTORY POLITICALLY FOR PRESIDENT BIDEN OR A LIABILITY? ANNMARIE: LOOKING AT THE PRESIDENT SCHEDULE. TUESDAY IT IS BLACK-AND-WHITE. WAYNE COUNTY MICHIGAN IS WHERE HE WILL BE. PETE BUTTIGIEG. HE IS DEFINITELY BEING BACKED UP BY THE DEMOCRATIC PARTY TO JOIN THE PICKET LINE AND STAND IN SOLIDARITY WITH AMERICAN WORKERS. THAT IS THE TONE FROM THE DEMOCRATIC PARTY. THERE ARE CONCERNS BECAUSE THEY ARE IN THE MIDDLE OF A NEGOTIATION WITH THE THREE BIG AUTO COMPANIES AND OBVIOUSLY THE PRESIDENT WANT TO SEE AUTO COMPANIES IN AMERICA PROSPER. THE PRESIDENT WILL MAKE A SHOW
TO MAKE SURE HE IS BEING SEEN AS THE MOST PROLABOR UNION PRESIDENT IN AMERICAN HISTORY. HE LIKES TO TOUT IT AND NOW HE IS PUTTING HIS MONEY WHERE HIS MOUTH IS. INTERESTING THIS FACTOID FROM THE WASHINGTON POST. LABOR EXPERTS SAY DOES PROBABLY THE FIRST TIME A SITTING PRESIDENT HAS VISITED A STRIKE IN 100 YEARS. FEELS LIKE A PARADIGM SHIFT. TOM: I WANT TO DIGRESS FOR OUR INTERNATIONAL AUDIENCE AND AMERICANS IN AN IPHONE WORLD. I AM FASCINATING HOW BLIND JOE
MATHIEU IN AND REORDERED OUR WHEN LOOKING AT POLLS -- JOE MATHIEU AND ANNMARIE HORDERN ARE WHEN LOOKING AT POLLS. GIVEN NBC PULP, YOU HAVE A WASHINGTON POST FULL, THEY ARE NOT EVEN CLOSE. THERE USED TO BE A TIME WHEN PEOPLE IN BOW TIES SAID THIS IS THE WAY THE POLL IS. IN THE POLLS NOW THAT WE ARE ALL LIVING ON CELL PHONES? ANNMARIE: I THINK THEY MATTER CLOSER TO AN ELECTION. IT IS VERY DIFFICULT TO LOOK AT THESE POLLS SO FAR OUT. WE ARE OVER ONE YEAR AWAY FROM
THE NOVEMBER 2024 PRESIDENTIAL ELECTION. IT IS QUITE ASTONISHING WHEN YOU LOOK AT THIS WASHINGTON POST/ABC NEWS POLL. IF EVEN A SLIGHT BIT OF IT IS TRUE, THE DEMOCRATS HAVE A BIG PROBLEM. TRUMP IS LEADING BIDEN 10% IN THIS PULP.
IF YOU DATE -- IN THIS POLL. UNDER 35 TRUMP IS LEADING BY 20 PERCENTAGE POINTS. THIS IS A GROUP THAT BIDEN SCORED MAJOR WINS WITHIN 2020, LEADING BY DOUBLE DIGITS. AT THE MOMENT THIS IS AN OUTLIER, BUT LOOKING AT THIS POLL IT COULD BE CONCERNING IF A FEW OTHER POLLS START TO SHOW UP LIKE THIS. ALSO ONE THING IS VERY CLEAR. AMERICANS CONTINUE TO GIVE THIS ADMINISTRATION POUR REMARKS ON THE ECONOMY.
EVEN THOUGH THEY TAPPED THE LOW UNEMPLOYMENT RATE COME INFLATION STILL SEEMS TO BE THE NUMBER ONE CONCERN. TOM: WHAT IS THE PRESCRIPTION TO GET MICHIGAN -- TO GET THE UNDER 35 VOTE IN MICHIGAN. DOES EVERYBODY SHOW UP AT A NICKELBACK CONCERT? ANNMARIE: NICKELBACK, I DON'T EVEN KNOW IF THEY ARE STILL PERFORMING. TOM: I PRICE THEM FOR A FAMILY
OUTING. THEY WANT TO $750,000, BASED FEET. LET'S CONTINUE. ANNMARIE: I DID NOT REALIZE THE KEENE HOUSEHOLD WERE BIG NICKELBACK FANS. I THINK THIS MICHIGAN TRIP, THE PRESIDENT WILL TRY TO SHORE UP EVERYONE IN THE STATE TO SHOW HE IS IN SOLIDARITY WITH THE WORKERS AND COMMUNITIES.
SO MANY OF THESE WORKERS, THEIR FAMILIES ALSO WORK ON THE SUPPLY CHAIN IMPACTED BY WHAT IS GOING ON. THE DEMOCRATS WANT TO SHOW WE ARE ON THE SIDE OF WORKERS, LESS ON THE SIDE OF CORPORATE AMERICA. THIS ADMINISTRATION ALWAYS TOUTS THE IDEA OF CORPORATE GREED AND A LOW CORPORATE TAX RATE THEY HAVE WANTED TO BRING UP AFTER THE TRUMP ERA TAX CUTS. THAT IS HIS MISSION IN MICHIGAN
AND WHY MICHIGAN IS SO IMPORTANT IS BECAUSE BIDEN WON IT IN 2020 BUT PRESIDENT TRUMP WAS ABLE TO FLIP IT IN 2016, THE FIRST TIME SINCE THE 1980'S. LISA: WILL WE HEAR ABOUT THE GREEN AGENDA FROM PRESIDENT BIDEN? ANNMARIE: I DOUBT IT. UNLESS HE IS ASKED ABOUT IT HE WILL SAY HE WANTS TO SUPPORT A FAIR TRANSITION TO THE GREEN AGENDA WHERE WORKERS ARE THE FIRST ONE TO GETS THOSE JOBS.
YOU WILL NOT WANT TO TOUCH THIS INDUSTRIAL POLICY. TOM: A TERRIFIC MONDAY BRIEF. HOPEFULLY SHE WILL BE HERE FOR THE TUESDAY BRIEF. THE NEWS FLOW EXTRAORDINARY. I LOVE YOUR INSIGHT ABOUT THE UAW STRIKE OR GOVERNMENT SHUTDOWN, PROJECT LEAD OF A SHUTDOWN IS PRESUMED TO BE EIGHT DAYS A WEEK AND EVERYBODY GETS PAID AT THE END OF IT.
WE WERE PRETENDING. IF UAW IS LONG LIKE THE HOLLYWOOD STRIKE, THAT IS MAY BE MORE IMPORTANT. LISA: ESPECIALLY BECAUSE YOU HAVE POSTURING FROM PRESIDENT BIDEN AND FORMER PRESIDENT TRUMP IN MICHIGAN TRYING TO GET THAT VOTE AT A TIME WHERE IT IS UNCLEAR WHERE THE ALLEGIANCE LIES. TOM: IF THE ENCYCLOPEDIA.
AN EXPERT AT BLOOMBERG ON ALL OF THIS. THE ELECTION IS ONLY 10 STATES, NINE STATES? LISA: THE SWING STATES. THIS IS ONE OF THEM. ANNMARIE WAS TALKING ABOUT HOW A LOT OF PEOPLE GREAT BIDEN NEGATIVELY WITH THE ECONOMY AND IT COMES DOWN TO INFLATION. COSTS ARE GOING UP IN A NOTABLE WAY AND REAL WAGES JUST CROSSED WHERE INFLATION WAS A COUPLE OF MONTHS AGO.
IT IS TOUGH WHEN YOU'RE LOOKING AT A FIXED COST. GAS PRICES ARE RISING, MORTGAGE RATES ARE CRAZY. IT BECOMES A DIFFICULT MOMENT. TOM: RIGHT NOW WE ARE FEELING A MARKET CHECK. THE VIX NEAR 18 LEVEL.
THE YIELD SPACE SPEAKS. TOM: BLOOMBERG SURVEILLANCE ON RADIO AND TELEVISION. TOM KEENE, JONATHAN FERRO, AND LISA ABRAMOWICZ. HE WAS BACK IN A CORNER. EVERYONE HAS AN OPINION ON THE
GAME. ARSENAL DIDN'T DESERVE TO WIN. LISA: WHAT A SHOCKER. TOM: THE ANSWER IS FERRO WAS DOWN IN THE CORNER WITH THE TOTS CREW. HE WAS NOT HUGGING PLAYERS, BUT HE WAS GOING MENTAL. IT IS GREAT. HE IS ON ASSIGNMENT IN LONDON, RECOVERING. FUTURES NEGATIVE FOUR.
WE ARE FOCUSING ON THE BONDS SPACE AS WE SAY. WHAT IS THE CURVE INVERSION RIGHT NOW? 62 BASIS POINTS. GREAT -- THE HAND CHECK WILL BE GREAT. WE ARE DIS-INVERTING. LISA: MAYBE THAT IS THE TIPPING POINT WHERE YOU REACH SOME SORT OF NEW REALITY WHERE PEOPLE START TO UNDERSTAND MAY BE THIS IS THE LEVEL WE WILL LIVE WITH FOR A LONGER PERIOD OF TIME AND THAT IS WHY YOU ARE GETTING THAT FLATTENING. EVERYBODY HAS BEEN SAYING THAT THEY ARE BUYING BONDS BUT THEY ARE SELLING THEM. TOM:
A YIELD BASIS LIKE PRICE DOWN YIELD UP THAT IS WHERE WE ARE GOING. YOU MUST LISTEN TO THE INTERVIEW LIKE ZZ TOP YEARS AGO. LISA: [LAUGHTER] TOM: IF YOU ARE WITH THE GLOBAL WALL STREET YOU HALF TO LISTEN.
HE WAS HUGELY CONTROVERSIAL LAST TIME. WTHE PRESIDENT OF THE UNITED STATES WEARING PATAGONIA ON THE PICKET LINE. LISA: WHAT IS THE POLITICAL STEW THAT WILL TAKE PRECEDEN PRECEDENTS -- PRECIDENCE THIS WEEKEND. IT SEEMS LIKE A GOVERNMENT SHUTDOWN IS INCREASINGLY LIKELY, UNCLEAR THOUGH WHETHER THE LENGTH WILL JUSTIFY ITS RANKING AMONG THE QUINTUPLE THREATS FACING MARKETS RIGHT NOW. TOM: THE BIG THINGTOM: IS THE STORY.
MOGENSEN GOES TO EMORY. IT IS A NEAR-TERM, LET'S GO LET'S JUMPSTART THIS, BUT HE HAS BEEN TRYING TO DO THAT ALL SUMMER. LISA: EUROPE SEEMS LIKE IT IS A WELL OILED MACHINE. MORGAN STANLEY IS SAYING IT IS HIGHLY UNLIKELY THE FED HIKES RATES IN NOVEMBER. INSTEAD, THEY BELIEVE THE FED IS DONE AND THEY EXPECT RATE CUTS TO THE STAR IN MARCH OF NEXT YEAR.
"THEY HAVE UNTIL THE END OF THE YEAR TO DECIDE IF THEY ARE GOING TO HIKE FURTHER AND THEY HAVE LEFT THE DOOR OPENED A HIKE FURTHER IF NEEDED," BASICALLY TALKING ABOUT HOW THE BAR IS INCREDIBLY HIGH, GIVEN THAT THEIR BASELINE EXPECTATION IS FOR AN ACCELERATION. TOM: JIM CARREY AND APPLIED IT TO THE BOND SPACE. THIS IS THE MORGAN STANLEY BET, PRICE UP, YIELD DOWN AT SOME POINT. LISA: THERE IS A CONVICTION RIGHT NOW. THIS IS NON-CONSENSUS, IF YOU
THINK ABOUT IT. EVERYONE SAYS THEY ARE BUYING BONDS, AND IF YOU BELIEVE -- BONDS, BUT THEY ARE SELLING. IF YOU BELIEVE ELLEN ZELLER, IT WILL BE INTERESTING WHETHER PEOPLE LEAN INTO THAT. TOM: WE WILL HAVE TO SEE. EVERYONE WILL DO THEIR Q4 ESTIMATES ON OUTLOOKS. LISA:
DELIVERY TIMES FOR APPLE'S LATEST IPHONES, THE IPHONE 15, WHICH I KNOW YOU ARE VERY EXCITED ABOUT. THE LINES TO WAIT FOR APPLE'S CHEAPEST IPHONE 15 ARE TWICE AS LONG THIS YEAR THAN IT WAS FOR ITS PREDECESSOR. PREORDERS FOR THE IPHONE 15 PROMAX INCREASE TO A RECORD. SIGNIFICANT UPGRADES TO BOTH MODELS ARE WHAT IS DRIVING DEMAND. EVEN IN CHINA -- IT IS NOT ONLY IN THE U.S.. YOU HAVE TO WONDER IF THE PUSH BACKS OF THE CHINESE AUTHORITIES DO NOT HAVE AN IMPACT ON THE CONSUMER, IN TERMS OF PUSHING THEM AWAY FROM THE IPHONE. TOM: THANK YOU FOR WATCHING AND
LISTENING IN LONDON. WE JUST HAD A FWERRO SIDING -- SIGHTING. THIS IS HUGELY ANTICIPATED. THIS IS WHAT BLOOMBERG SURVEILLANCE IS ABOUT. OUR TEAM IS 24/7.
OVER THE WEEKEND WE SAID GET CATHERINE KAMINSKI AND EARLY DAVIS -- EARL DAVIS. EARL DAVIS JOINS US TO BOUNCE OFF OF WHAT CATHERINE KAMINSKI JUST SAID. YOU HAVE A GREATER CONVICTION ON THAT THAN THE LAST TIME WE TALKED. >> THE ANSWER IS DEFINITELY YES. WE STILL SEE SIGNIFICANT ROOM FOR A SELLOFF ON 10 TO 30 YEAR BONDS, POSSIBLY
2023-10-03 03:31
Show Video
Other news