The AI War With China | Bloomberg Technology 06/28/2023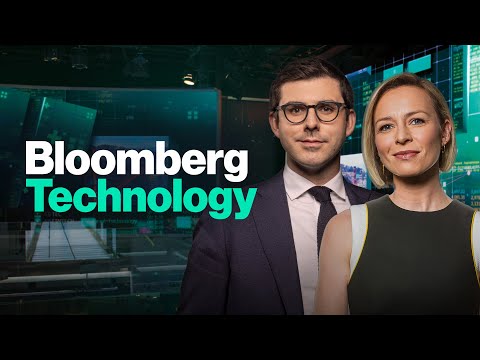 Show Video
ANNOUNCER: FROM THE HEART OF WHERE INNOVATION, MONEY, AND POWER COLLIDE IN SILICON VALLEY AND BEYOND, THIS IS "BLOOMBERG TECHNOLOGY" WITH CAROLINE HYDE AND ED LUDLOW. ED: I AM ED LUDLOW IN SAN FRANCISCO. CAROLINE HYDE IS OFF TODAY. THIS IS "BLOOMBERG TECHNOLOGY". NVIDIA TAKES A HIT AS THE U.S. PLANS MORE AI CHIP CURBS AGAINST CHINA. AND YOU STICK WITH ARTIFICIAL INTELLIGENCE AND GO LIVE TO THE COLLISION CONFERENCE IN TORONTO FOR A CONVERSATION WITH COLIN MURDOCH.
PLUS THE CEO OF AIR TAXI SURGES. WE HAVE THE EXCLUSIVE CONVERSATION WITH THE CEO LATER. LET'S GET A CHECK ON THE MARKETS. THERE IS NOT A HUGE AMOUNT OF ENERGY WHEN IT COMES TO THE TECHNOLOGY SECTOR. WE HAD ALL OF THE WORLD'S BIGGEST CENTRAL BANK LEADERS ON STAGE TOGETHER. THE MAIN POINT COMING FROM
JEROME POWELL DOWNPLAYING THE ODDS OF RECESSION. THE NASDAQ ONE UP 0.4%, A VERY TECH HEAVY AND DECKS. IF YOU LOOK AT THE SILICON VALLEY TECH INDEX, IT REMAINS LOWER. WE WILL GET INTO THE DETAILS LATER. YIELDS LOWER, DOWN 0.35%. BITCOIN WAS ON A NINE-DAY WINNING STREAK THAT HAS NOW SNAPPED.
WE ARE TRADING AT 0.6% BUT IT WAS TRADING HIGHER SINCE 2020 TWO. JONATHAN: AVIATION IS A STARTER PRODUCTION FACILITY IN CALIFORNIA. THE FAA CERTIFICATION WILL TEST LIKE THAT.
WE WILL SPEAK TO THE CEO AND FIND OUT WHAT IS GOING ON. WALL STREET JOURNAL REPORTING THE U.S. IS CONSIDERING TIGHTENING CURBS ON THE EXPORT OF CHIPS TO CHINA TO INCREASE LOWER POWER CHIPS. THIS IS IN THE CONTEXT OF AI AND NVIDIA HAS BEEN THE LEADER OF THIS SPACE. IT IS DOWN 0.9%. AMD IS HIGHER BY 0.5%. LET'S UNDERSTAND THE INDUSTRY. THIS IS THE REPORTING. THE U.S. WILL TIGHTEN RESTRICTIONS TO
INCLUDE LOWER POWER CHIPS THAT NVIDIA MOVED TO INTRODUCE TO GET AROUND THE ORIGINAL CURBS. WHAT IS THE IMPACT? >> AT THIS STAGE, THE IMPACT ON NVIDIA INITIALLY IS ROUGHLY $5 BILLION ON THEIR TOP LINE WHICH WILL PAY. THAT IS THEIR EXPOSURE TO CHINA WHICH IS 20% OF THEIR ROUGHLY $28 BILLION OF REVENUE EXPECTED FOR 2023. ON A BROADER SCALE, AI CHIPS AND AI ITSELF IS EXPECTED TO GROW ROUGHLY 20 FOLD BY 2030. THERE IS SO MUCH DEMAND FOR THESE CHIPS THAT NVIDIA MAKES THAT, IN THE LONG RUN, I BELIEVE IN THE VIDEO WILL BE ABLE TO MAKE UP ANY LOSS TO THE CHINA MARKET. I WOULD SAY, HOWEVER, THAT
CHINA IS A SIGNIFICANT MARKET. IT IS HUGE. COMPANIES LIKE NVIDIA AND OTHERS, WHETHER IT IS MICRON OR AMD HAS MINIMAL EXPOSURE -- COMPANIES WANT EXPOSURE TO CHINA SO THEY CAN PARTAKE IN THE UPSIDE. THIS LATEST EXPANSION OF THESE SANCTIONS SUGGESTS THIS MAY SHUT DOWN TO THE CHIP SECTOR IN THE NEAR TERM. ED: WHAT IS INTERESTING IS YOU ARE NOT TALKING ABOUT THE CUTTING EDGE OF GPU. WHAT NVIDIA DID WAS DESIGNED CHIPS THAT FELL BELOW THE THRESHOLD TO REQUIRED U.S. LICENSE TO EXPORT TO CHINA. IT BRINGS INTO FOCUS CHINA AS A
CONSUMER. TALK TO US BROADLY ABOUT THE CONSUMER CHIP INDUSTRY AND HOW THIS IS GOING INTO CHINESE PRODUCTS. >> IN TERMS OF ASSEMBLY, IF YOU LOOK AT APPLE, THEY ARE TRYING TO EXPAND INDIA WITH THEIR ASSEMBLY OPERATIONS. BUT THE REALITY IS, CHINA IS A SIGNIFICANT MARKET, AS I SAID BEFORE. IT IS THE LEADER IN TEST AND ASSEMBLY. IT HAS VERY LOW EXPOSURE TO THE ADVANCED CHIPS, BUT IT IS A GROWING MARKET. COMPANIES ARE SORT OF IN THE
MIDDLE OF THE U.S. AND CHINA'S TRADE TENSIONS BECAUSE THEY WANT THE EXPOSURE AND WANT TO PARTAKE IN THE GROWTH IN THE CHINA MARKET. ED: ANOTHER CHIP NAME IN THE U.S. THAT IS CONFRONTING THE CHINA ISSUE IS MICRON, REPORTING AFTER THE BELL. WHAT ARE YOU EXPECTING AND HOW DO THEY COMMUNICATE THEIR HANDLING OF THE SITUATION? >> MICRON ALREADY ANNOUNCED THEIR DOUBLE-DIGIT REVENUE HIT BY THE MOST RECENT SANCTIONS IMPLEMENTED BY THE U.S. GOVERNMENT -- OR BY THE CHINA GOVERNMENT. I WILL EXPECT THIS WILL NOT IMPACT THIS PARTICULAR QUARTER BUT THIS QUARTER WILL BE REALLY BAD BECAUSE YOU HAVE HAD SLUGGISH DEMAND, ON PCS AND COMPUTERS, AND YOU HAVE HAD REALLY LOW AND DEPRESSED MEMORY CHIP PRICES.
MANY BELIEVE THIS COULD BE A TROUGH FOR THE COMPANY AND THAT IS WHAT THE MARKET HOPES. I THINK YOU CANNOT EXPECT MUCH FROM MICRON FOR THE REMAINDER UNTIL 2024. ED: WE ARE TALKING DEMAND. BLOOMBERG'S PAULA PENKAL SAYING IT WILL BE BAD. PAULA PENKAL, THANK YOU SO MUCH. IN TODAY'S BLOOMBERG BIG TAKE, CHINA'S TECH SECTOR HAS A NEW OBSESSION, COMPETING WITH THE U.S. AND THINGS LIKE GOOGLE AND MICROSOFT IN THE BATTLE FOR DOMINANCE.
>> CHINA'S TECH SECTOR HAS A NEW OBSESSION. COMPETING WITH U.S. GIANTS IN THE GLOBAL AI RACE. $50 BILLION IS THE AMOUNT CHINA IS EXPECTING TO SPEND ON AI THIS YEAR. FROM BAIDU, ALIBABA, AND MORE HAVE ANNOUNCED THEIR OWN PRODUCTS IN THE LAST SEVERAL MONTHS. THE FOUNDER OF A SEARCH ENGINE AND ANOTHER FOUNDER ARE ALSO POURING MONEY INTO THEIR STARTUPS TO BEAT CHINA'S OWN OPENAI.
NEW PLATFORMS ARE EMERGING TO HOST A WAVE OF REVOLUTIONARY APPLICATIONS, WHAT HAPPENED IN THE MOBILE INTERNET ERA. FROM A CHATBOT TO HELP CONSUMERS, TO APPLICATIONS IN THE GAMING INDUSTRY TO REPLACE CONCEPT ARTISTS. AS WELL AS TO HELP AND MINDS AND -- HELP ORGANIZE MEETINGS. THE GAP MAY BE GETTING SMALLER. THE NUMBER OF CHINESE COMPANIES
INTRODUCING AI REACHED MORE THAN TWO THIRDS OF THE U.S. TOTAL FROM THE BEGINNING OF THIS YEAR TO MID JUNE WHICH IS JUST ABOUT 50% PREVIOUS TWO YEARS. EVEN WITH OBSTACLES LIKE CENSORSHIP AND U.S. CHIP BANS, CHINA IS READY TO TAKE ON THE BOW AND THIS IS JUST THE BEGINNING. ED:
THANK YOU FOR THAT REPORT. STICKING WITH ARTIFICIAL INTELLIGENCE, ANOTHER STORY WE ARE WATCHING. LACK ROCK IS JOINING THE AI MANIA ON THE PROMISE OF PRODUCTIVITY -- BLACK ROCK IS JOINING THE AI MANIA ON THE PROMISE OF PRODUCTIVITY. IT PICKED OUT SEMICONDUCTOR MAKERS AND COMPANIES OF FAST SETS OF DATA OR HIGH POTENTIAL FOR AUTOMATION AS THOSE MOST LIKELY TO BENEFIT.
COMING UP, HOW GOOGLE DEEPMIND IS TRYING TO TACKLE HUMANITY'S BIGGEST CHALLENGES FROM CLIMATE CHANGE TO CURING CANCER WITH AI. THE CHIEF BUSINESS OFFICER, COLIN MURDOCH, WILL JOIN US LIVE. GIVING A QUICK CHECK ON SHARES OF GOOGLE OR ALPHABET, THE PARENT COMPANY. THE COMPANY CUT JOBS AT WAZE TO TRIM ITS OPERATIONS FOR EFFICIENCY. SOME FOCUS ON ADVERTISING AND THEY WERE A LIMITED -- WERE ELIMINATED AS THEY TRANSITION TO USING GOOGLE.
THIS IS BLOOMBERG. ED: LET'S HEAD OVER TO TORONTO WHERE THE TECH AND MEDIA COLLISION CONFERENCES UNDERWAY. SURPRISE, AI IS TOP OF MIND. JON ERLICHMAN IS ON STANDBY WITH A VERY SPECIAL GUEST. A LEADER IN THE AI FIELD. JON: GREAT TO BE WITH YOU. AI IS ALL THE RAGE IN TORONTO AT THE COLLISION CONFERENCE.
A LOT OF PEOPLE ARE TRYING TO FIGURE OUT WHERE WE GO FROM HERE. FOR GOOGLE DEEP MIND, THEY HAVE BEEN THINKING ABOUT THE PROMISE OF AI FOR MORE THAN A DECADE. COLIN MURDOCH BUSINESS OFFICER -- IS THE CHIEF BUSINESS OFFICER. THANK YOU FOR JOINING US. IT IS A HUGE GATHERING FOR A CITY LIKE TORONTO TO HAVE 36,000 COME HERE. AS ED WAS ALLUDING TO, THE FOCUS IS AI, AI, AI. WHAT IS THE MESSAGE YOU ARE TRYING TO BRING TO THE TABLE? COLIN: IT IS ALL ABOUT AI.
THE LAST SIX TO 12 MONTHS, THE WORLD IS WORKING ON THE POTENTIAL. THE MESSAGE I AM TRYING TO GET OUT AS I THINK AI CAN HAVE HUGE IMPACTS. JON: MAYBE EXPLAIN THIS IN GREATER DEGREE BECAUSE THE DEEPMIND TEAM IS WORKING ON BIG POSSIBILITIES WHETHER IT IS CLIMATE CHANGE OR CANCER. COLIN: LET'S TAKE CLIMATE CHANGE. IT IS A HUGE ISSUE FOR SOCIETY,
ONE THAT AI CAN BENEFIT. FOR ONE EXAMPLE, WEATHER IS A BIG EXAMPLE. WE CAN HELP COUNTRIES AROUND THE WORLD ADAPT TO EXTREME WEATHER. ANOTHER EXAMPLE IS INFRASTRUCTURE. IT REQUIRES HUGE NUMBERS OF COMPUTERS AND DATA CENTERS TO WORK.
DEVICES CAN MAKE IT EXTREMELY HOT. THERE IS A LOT OF ENERGY THAT GOES INTO THIS. 40% OF ENERGY USING AI CAN KEEP DATA CENTERS UP AND RUNNING WHICH IS A FANTASTIC EXAMPLE. I CAN TALK ABOUT NUCLEAR FUSION AS WELL IF YOU WANT. THE POWER THAT POWERS OUR STARS IS CLEANEST. WE ARE NOW USING AI TO CONTROL THE PLASMA INSIDE NUCLEAR FUSION REACTORS TO HELP BRING FOR THE PROMISE OF NUCLEAR FUSION.
AS WE CAN DO THAT, WE ALMOST HAVE AN UNLIMITED SOURCE OF ENERGY. JON: FOR THOSE CURIOUS ABOUT GOOGLE'S VELOCITY -- PHILOSOPHY ON AI, WE HAVE KNOWN THIS FOR A LONG TIME GOING BACK TO 2010. BECAUSE ALPHABET HAS BECOME A BIG AI COMPANY, SOMETIMES THERE IS CONFUSION ABOUT WHAT GOOGLE AND DEEPMIND ARE CONNECTED TO. WHY IS IT BENEFICIAL TO HAVE
THIS RESEARCH ARM? COLIN: GOOGLE DEEPMIND IS STAYING AT THE FOREFRONT OF THE RESEARCH. IT IS REALLY VALUABLE TO GATHER TOGETHER LIKE-MINDED PEOPLE TO STAY AT THE FOREFRONT. IT CLUSTERS FOLKS TOGETHER TO ALLOW US TO STAY AT THE FOREFRONT OF RESEARCH, DEVELOP IT, AND POINT TO PRODUCTS LIKE FIXING CLIMATE CHANGE BUT ALSO HEALTH CARE AND MORE. HEALTH CARE IS ANOTHER GREAT
AREA. JON: SO YOU WOULD BE IN GOOD POSITION TO UNDERSTAND THE OPPORTUNITIES AND THE RISKS OF FAST-CHANGING TECHNOLOGY. ONE OF THE BIGGEST QUESTIONS FOR YOUR PARENT COMPANY OR ANY BIG COMPANY BETTING ON AI IS, ARE YOU MOVING TOO QUICKLY? WHAT DO YOU THINK ABOUT THE SPEED OF ADOPTION CONSIDERING DEEPMIND HAS BEEN THINKING ABOUT THIS FOR MORE THAN A DECADE. COLIN: IT IS IMPORTANT THAT YOU GO THROUGH THIS RESPONSIBLY. IT IS AN EXTREMELY POWERFUL TECHNOLOGY SO WE NEED TO TAKE EXCEPTIONAL CARE OF.
EVEN AT THE BEGINNING OF DEEPMIND, WE HAVE TO MAKE SURE THE AS WE DO OUR WORK, WE ARE TAKING THE RIGHT NEGOTIATION STEPS AND INVOLVING THE RIGHT PEOPLE AT EVERY STEP. JON: ON THE REGULATORY FRONT, WE JUST SPOKE TO THE INNOVATION MINISTER IN CANADA WHO HAS LEGISLATION ON THE TABLE TO TRY TO AT LEAST HAVE SOME REGULATION AROUND AI. I WONDER HOW YOU THINK ABOUT THE RIGHT REGULATION OR WORKING WITH DIFFERENT GOVERNMENTS ON REGULATION? COLIN: WE ARE SPENDING TIME THINKING ABOUT THIS ACROSS THE GLOBE. WE WANT TO MAKE SWEAR WE ARE SHARING OUR ASSETS -- INSIGHTS SO WE CAN TALK ABOUT REGULATION ALLOWS FOR INNOVATION AND AMAZING BREAKTHROUGHS BUT ALSO POTENTIAL RISKS. A REALLY IMPORTANT TOPIC. JON: DO YOU FEEL THEN, BECAUSE YOU ARE WORKING ON PROFOUND, POTENTIAL CHANGE FOR SOCIETY, THAT SOMETIMES WE GET CAUGHT UP IN THE WHAT-IFS? BECAUSE THOSE SEEM WORRISOME AS WELL. COLIN: IT IS IMPORTANT TO MAKE SURE
YOU ARE ADDRESSING THE RISKS AND HAVE A GOOD FUTURE FOR EVERYONE. WE HAVE TO REMEMBER THAT IN THE END, THIS IS A POWERFUL TECHNOLOGY THAT WILL BE IMMENSE FOR SOCIETY. WE CANNOT LOSE THAT IN THE DISCUSSION. JON:
YOU MENTIONED THE RESEARCH YOU DO CAN ULTIMATELY NOT JUST BE SHARED WITH PARTNERS AND GOVERNMENTS BUT CAN BE IMPLEMENTED INTO DIFFERENT PRODUCTS THE PARENT COMPANY IS FOCUSED ON. WHEN DO YOU KNOW THE RESEARCH YOU HAVE DONE IS WORTH PASSING ON AND SHARING WITH THE REST OF THE TEAM? AND ULTIMATELY MIGHT BE SOMETHING CONSUMERS OR COMPANIES COULD SEE? COLIN: I WILL GIVE AN EXAMPLE IN HEALTH. WE ARE TALKING ABOUT THE THINGS KEEPING YOU AND I RIGHT NOW. WE HAVE DEVELOPED TECHNOLOGIES THAT UNDERSTAND PROTEINS AT A MUCH DEEPER LEVEL WHICH HAS BEEN USED BY A WHOLE RANGE OF COMPANIES. THERE IS A GROUP IN TORONTO THAT HAS BEEN ABLE TO USE THIS TECHNOLOGY, CALLED ALPHA FOLD, TO FIND A CURE FOR LIVER CANCER. THAT IS AN AMAZING EXAMPLE OF
HOW WE HAVE TAKEN AI WITHIN A LAB AND BROUGHT IT TO DO SOMETHING WHICH IS PROFOUND. JON: ARE YOU FINDING TALENT HERE AS WELL FOR YOUR TEAM? COLIN: I AM IN MONTRÉAL WITH A GREAT TEAM IN CANADA. I LEFT THE COUNTRY. JON: THANK YOU FOR YOUR TIME.
COLIN MURDOCH, FROM DEEPMIND. ED: FASCINATING. AI DEVELOPED IN THE LAB AND THEN TAKEN OUT. COLIN MURDOCH, CHIEF BUSINESS OFFICER OF DEEPMIND, AND OF COURSE JON ERLICHMAN. COMING, MICROSOFT'S DEAL WITH
ACTIVISION COULD DELIVER A BLOW TO PLAYSTATION, ACCORDING TO SONY. THIS IS BLOOMBERG. ♪ ED: TIME FOR TALKING TECH. FIRST UP, SAMSUNG IS IN OF ITS TECH BUSINESS BY ADVANCING ITS MANUFACTURING TECHNIQUE.
IT WILL INTRODUCE A TWO NANOMETER PRODUCTION FOR MOBILE PHONES BY 2025 AND EXPAND ITS APPLICATIONS. PLUS MICROSOFT'S ACQUIRING ACTIVISION COULD DELIVER A BLOW TO PLAYSTATION, ACCORDING TO A SONY TESTIMONY THAT SAID THE DEAL WOULD GIVE PLAYSTATION PLAYERS A DEGRADED EXPERIENCE. THIS IS A MAJOR TEST FOR THE FTC'S ABILITY TO BLOCK MAJOR DEALS. PLUS FTX ABRUPTLY STOP THE STEAL OF ONE OF ITS MOST SOUGHT AFTER ASSETS, A STAKE IN THE AI ANTHROPIC.
IT ASSESSED PRIVATE INFORMATION ABOUT THE ANTHROPIC STATE. LET'S GET MORE ON THE STORY AND BRING IN --. >> EVER SINCE FTX FILED FOR BANKRUPTCY LAST YEAR, THE NEW LEADERSHIP OF FTX HAS ONE MAIN GOAL WHICH IS TO RECOVER AFTER MUCH VALUE AS POSSIBLE FOR CREDITORS.
THERE ARE MULTIPLE WAYS OF ACHIEVING IT. ONE IS TO HAVE AN ASSET SALE. WE KNOW FTX BANKERS EARLIER STARTED A PROCESS TO SELL FTX BIGGEST ADVANCEMENT FOR FOLIO WHICH IS A STAKE INTERNALLY VALUED AT $500 MILLION BY FTX.
ANTHROPIC IS ONE OF THE HOTTEST AI STARTUPS NOW. WE KNOW THE PROCESS BEGAN EARLIER BUT AT SOME POINT THIS MONTH, THE BANKERS DECIDED TO ABRUPTLY STOP THE PROCESS. THERE IS NO EXPLANATION GIVEN. WE KNOW EVERYTHING THEY DO IS WITH THE GOAL OF TRYING TO MAXIMIZE VALUE FOR CREDITORS.
AT THE BACKDROP, THE VALUATION FOR A LOT OF STARTUPS HAS INCREASED THIS YEAR AS AI AND CHATGPT BECOME MORE POPULAR. ED: A PRETTY REASONABLE QUESTION IS WHY CRYPTO EXCHANGE WOULD INVEST MONEY IN AN AI START UP IN THE FIRST PLACE. >> THAT IS A GREAT QUESTION. IF YOU LOOK AT THE PORTFOLIO SAM BANKMAN-FRIED BUILDS UP BEFORE HIS FIRM COLLAPSED, THEY INVESTED IN A VARIETY OF STARTUPS ACROSS DIFFERENT SECTORS. WE REPORTED MINING WAS A SECTOR THEY HAD. THEN AI IS ANOTHER SECTOR THEY HAD MADE MULTIPLE STAKES. THEY ALSO INVESTED IN PLENTY OF
CRYPTO AND BLOCKCHAIN STARTUPS. THE ONE ASSET THAT HAS BECOME MORE POPULAR AND SOUGHT AFTER IS THERE STAKE IN AI. ED: WE HAD AMY WU ON, FORMERLY THE HEAD OF ATX -- FTX. IT REMINDED US FTX WAS THE PLAIN, INVESTING IN AREAS FROM A BIGGER PICTURE PERSPECTIVE. WITH ANTHROPIC, WHAT DO YOU THINK WILL HAPPEN NEXT? THEY PUT THIS ON HOLD BUT IS THE LONG-TERM GOAL TO STILL DIVEST OR SELL OFF THE STATE? >> THAT IS YET TO BE SEEN. YOU KNOW THAT FTX HAS BEEN
LOOKING INTO POTENTIALLY RESTARTING THE INTERNATIONAL EXCHANGE. WE REPORTED THERE ARE SOME INTERESTED IN LOOKING FOR A FINANCIAL RESTART OF THE FTX EXCHANGE. GOING BACK TO ANTHROPIC STAKE, I DON'T THINK THE STORY ENDS HERE AND I THINK THERE WILL BE MORE REACTION ON HOW TO ASSESS HER PARTICULAR STAKE. ED: BLOOMBERG'S YUEQI YANG WILL KEEP US UP-TO-DATE WITH THE LATEST REPORTING. THANK YOU SO MUCH.
COMING UP, AN EXCLUSIVE INTERVIEW WITH THE CEO OF AVIATION COMPANY JOBY AS THEY RECEIVE APPROVAL TO TEST PROTOTYPE PRODUCTION UNITS. LOOK AT THE SHARES AND WHERE YOU ARE TRAINING. THEY ARE SURGING. WE ARE NOW UP 41%. DO NOT RUB YOUR EYES. YOU ARE SEEING THIS. THIS MOVE IS COMING OUT OF
NOWHERE. LET'S FIND OUT NEXT. THIS IS "BLOOMBERG TECHNOLOGY". ♪ ED: WELCOME BACK TO "BLOOMBERG TECHNOLOGY". ED LUDLOW IN SAN FRANCISCO. LET'S CHECK MARKETS.
TECHNOLOGY IS A PART OF THE STORY. NASA IS MODESTLY HIGH AT ZERO. THE MAIN TAKEAWAY IS JEROME POWELL, FED CHAIR, SAYING THE CHANCE OF A RECESSION IN THE U.S. IS ONE OF THE LEAST LIKELY SCENARIOS. THAT IS PUSHING STUFF HIGHER. WALL STREET JOURNAL REPORTS THE U.S. WILL TIGHTEN RESTRICTIONS ON
THE EXPORT OF CHIPS TO CHINA, IMPACTING NVIDIA. WE ARE SOFTER BY SEVEN -- 0.7% ON THE TECH STOCKS. WE ARE HITTING 1% LOWER ON BITCOIN, 30,300 U.S. DOLLARS. WE HAD SOME BUOYANCY TIED TO THE MOMENTUM AROUND BLACKROCK REPORTING FROM FIDELITY. IF THERE IS ONE NAME IN THE TECH.
WE ARE LOOKING AT CLOSELY, IT IS JOBY AND -- AVIATION. IT IS THE HIGHEST ON RECORD DEPENDING ON WHEN YOU CLOSE. DRAIN US IS THE CEO JOEBEN BEVIRT IN -- JOINING US IS THE CEO JOEBEN BEVIRT IN CALIFORNIA. HAVE RECEIVED PERMIT -- YOU HAVE RECEIVED PERMISSION TO TEST FLY THE PLANES COMING OFF THE PRODUCTION LINE. HOW BIG OF THIS -- IS THIS FOR
YOU? >> THIS IS A HUGE MOMENT. THE JOBY TEAM HAS BEEN WORKING HARD. WE HAVE BEEN FLYING PROTOTYPES OF OUR AIRCRAFT SINCE 2017 BUT THIS IS THE FIRST TIME AN AIRCRAFT OFF OUR MANUFACTURING LINE HAS RECEIVED CERTIFICATION FROM THE FAA TO BEGIN FLIGHT TESTS. THIS IS A PIVOTAL MOMENT. I AM STANDING AT OUR PILOT MANUFACTURING LINE. NOT ONLY TO BE HAVE THE FIRST
ONE COMING OFF THE LINE BUT MULTIPLE BEHIND US. ED: HOW MANY DO YOU THINK YOU WILL BUILD IN THE REMAINDER OF 20 AND HOW MANY IN 2024 -- 2023 AND HOW MANY IN 2024? >> YOU ARE STILL IN THE CRAWLSPACE OF THIS JOURNEY. THIS IS JUST THE FIRST STEP TO A REALLY EXCITING JOURNEY. ANOTHER PIECE WE ARE ANNOUNCING TODAY IS THAT PRESIDENT AND CEO OF TOYOTA NORTH AMERICA IS JOINING THE JONATHAN: BOARD -- JOINING THE JOBY BOARD. IT WAS OUR LARGEST INVESTOR IN
2019 AND THEY HAVE BEEN CONTINUING TO LEAN IN. WE HAVE TOYOTA TOY MEMBERS -- TEAM MEMBERS WORKING WITH US AND TEAM MEMBERS FROM JAPAN THAT'S ARE LEANING INTO THIS SECTOR. TOYOTA NORTH AMERICA PRODUCED 1.7 MILLION CARS LAST YEAR. AND GENERATED MORE THAN $100 BILLION IN REVENUE. IT IS AMAZING TO HAVE HIM JOINING OUR BOARD.
HE IS HERE WITH US TODAY FOR A ROLLOUT OF THIS AIRCRAFT. ED: OUTLINE THE CURVE FOR ME IF THIS PRODUCTION LINE -- WE ARE CALLING IT A PILOT LINE. WHEN DOES IT BECOME SERIAL PRODUCTION AND UNITS BEYOND YOUR DEAL WITH THE MILITARY? >> WE ARE WORKING WITH STATES ACROSS THE COUNTRY TO PUT SUPPORT PACKAGES TOGETHER. WE ARE GOING TO BE SELECTING A SITE FOR OUR PHASE ONE MANUFACTURING WHICH WILL GIVE US THE CAPACITY TO BUILD HUNDREDS OF AIRCRAFT PER YEAR IN THE NEXT FEW MONTHS. THIS WILL MARK A REALLY IMPORTANT STEP AS WE SCALE. EVEN BEFORE WE CAN GO INTO VOLUME PRODUCTION, WE NEED CERTIFICATION WITH THE FAA. YESTERDAY, WE HAD 80 MEMBERS
FROM BOTH THE DOT, DOE, NASA AND THE FAA THAT CAME TO VISIT US IN MARINA TO SEE OUR PROGRESS ON OUR MANUFACTURING FACILITY AND ALSO ARE REALLY LEANING IN. TWO WEEKS AGO, I WAS WITH GLOBAL REGULATORS IN GERMANY WITH THE FAA AND FOLKS FROM THE JCA BE -- JCAB IN JAPAN AND REGULATORS AROUND THE WORLD LEANING IN ON THIS TECHNOLOGY. ED: EVERY TIME AN EXECUTIVE LIKE YOU COMES ON THE SHOW, I GO ON TWITTER AND SAY JOEBEN BEVIRT WAS COMING ON THE SHOW, WHAT WOULD YOU ASK? MOST HAVE A QUESTION. FOR THE AVERAGE TWITTER USER, WHEN WILL THEY BE ABLE TO GET INTO A JOBY AIRCRAFT THAT HAS NOTHING TO DO WITH THE MILITARY? >> OUR TARGET IS TO LAUNCH OUR COMMERCIAL SERVICE IN THE U.S. IN 2025.
WE HAVE AN AMAZING PARTNERSHIP WITH THE TEAM AT DELTA AIRLINES. RECENTLY, I HAVE HAD THE OPPORTUNITY TO GO TO JFK, LAGUARDIA, AND ALAE X -- LAX ON WHERE YOU ARE GOING TO SITE AND THE TAKEOFF AND LANDING LOCATIONS. TO DELIVER THE REALLY SPECTACULAR CUSTOMER EXPERIENCE WE WANT TO GIVE TO DELTA CUSTOMERS WHERE YOU CAN STEP OFF OF YOUR AIR TAXI AND ONTO A DELTA FLIGHT AS SEAMLESSLY AS POSSIBLE. ED: THE STOCK IS UP 40%. WHAT DO YOU MAKE OF THAT? >> STOCKS GO UP AND DOWN. THE TEAM AT JOBY'S LASER
FOCUSED ON DOING WHAT YOU DO BEST, DELIVERING. WE ARE ROLLING OUR FIRST AIRCRAFT OFF THE MANUFACTURING LINE. WE HAVE THE CERTIFICATE FROM THE FAA TO BEGIN FLIGHT TESTING AND WE ARE EXCITED ABOUT TAKING THIS AIRCRAFT TO EDWARDS AIR FORCE BASE IN CALIFORNIA TO BEGIN TESTING WITH THE DOD. THIS IS A SPECTACULAR
OPPORTUNITY FOR US TO BEGIN BUILDING THE OPERATIONAL MUSCLE AND BEGIN MOVING GOODS AND PEOPLE AROUND MILITARY AIRBASES FOR WE HAVE OUR FAA CERTIFICATION. ED: SO DELIVERIES TO THE MILITARY AND AIR FORCE START IN 2024. IF YOU THINK ABOUT NEW YORK CITY, YOU CAN TAKE A HELICOPTER RIDE FOR AROUND UNDER DOLLARS. HOW WILL YOU PRICE A SERVICE IN
THE FUTURE? HOW DO YOU GET COMPETITIVE WITH WHAT ALREADY EXISTS WHICH IS A HELICOPTER WITH A PILOT? >> OUR GOAL IS TO BE COMPETITIVE WITH THE COST OF GROUND TRANSPORTATION BUT TO DELIVER YOU TO YOUR DESTINATION FIVE TIMES FASTER, AND WITH A DRAMATICALLY BETTER EXPERIENCE. BEING ABLE TO SEE THESE BEAUTIFUL CITIES LIKE NEW YORK FROM THE AREAS AN AMAZING WAY TO START YOUR DAY. ED: JOBY AVIATION FOUNDER AND CEO, JOEBEN BEVIRT. THAT STOCK IS UP ALMOST 40% FOLLOWING THAT NEWS. THANK YOU. COMING UP, AND NEW PRODUCTS USING AI TO TRAVEL. WITH THE PRICELINE CEO, BRETT KELLER.
THIS IS "BLOOMBERG TECHNOLOGY". ♪ ED: PRICELINE, UNVEILING A NEW PRODUCT USING AI TO HELP MAKE SUMMER TRAVEL PLANS EASIER. THE ONLINE TRAVEL AGENCY LAUNCHING "TRIP INTELLIGENT", A SUITE WITH OVER 40 NEW TOOLS WHICH INCLUDES AN AI CHATBOT NAMED PENNY. JOINING US IS BRETT KELLER. TELL US ABOUT PENNY. BRETT:
PENNY IS A VERY SPECIFIC CHAT MODEL BASED ON THE HOTEL EXPERIENCE. AS YOU COME TO PRICELINE AND BEGIN SHOPPING FOR A HOTEL, WE HAVE BUILT A TOOL TO ANSWER ALL THE QUESTIONS YOU MAY HAVE ABOUT YOUR BOOKING EXPERIENCE. IF YOU WANT TO KNOW ABOUT THE HOTEL AND WHAT IS NEARBY, IF YOU ARE LOOKING FOR A WALKING PATH, OR BEGIN FOOD. IT CAN ANSWER QUESTIONS THAT HAVE BEEN HISTORICALLY DIFFICULT TO LOOK FOR. NOW YOU CAN GET THEM ANSWERED IN REAL TIME AS YOU ARE BOOKING YOUR HOTEL. IT CAN ALSO ANSWER QUESTIONS ABOUT THE ROOM YOU ARE STAYING IN AND THE CANCELLATION POLICY. MANY THINGS THAT WOULD REQUIRE
MORE DUE DILIGENCE TO UNDERSTAND . THIS TOOL WILL MAKE IT EASIER FOR CUSTOMERS TO COME IN AND GET WHAT THEY NEED. ED: WE ARE SHOWING IMAGES ON THE SCREEN OF HALPENNY WORKS AND THE EXPERIENCE OF USING IT. WHY DID YOU FEEL YOU NEEDED TO DO THIS? BRETT: CUSTOMERS ALWAYS HAVE MORE AND MORE QUESTIONS ABOUT TRAVEL. THINGS ARE BECOMING MORE
COMPLEX. TAKE A TRIP OVERSEAS AND CONSUMERS ARE MORE AND MORE LOOKING TO TRAVEL TO NEW LOCATIONS, PLACES THEY HAVE NEVER BEEN BEFORE. THEY DON'T KNOW ANYTHING ABOUT THE AREA OR THE HOTEL THEY ARE STAYING IN, SO THIS GIVES THE CONSUMER MORE ACCESS. THE PRIMARY MOTIVATION IS TO GIVE THE CONSUMER MORE INTEL ON THEIR STAY, TO ANSWER QUESTIONS SPECIFIC AND UNIQUE TO THEM.
IF YOU ARE TRAVELING WITH A FAMILY, THAT IS A DIFFERENT EXPERIENCE THAN IF YOU ARE TRAVELING FOR BUSINESS. THIS OPENS UP THE HORIZON OF WHAT YOU CAN TELL YOU AS A CONSUMER. IT WILL ALSO HELP CONSUMERS BUT MORE EASILY. THEN THE CHATBOT, YOU CAN FINISH THE TRANSACTION. YOU ARE FINISHED, WE WILL POPULATE THE FORMS RIGHT WITHIN THE CHAT BOX. YOU CAN EVEN PAY USING OUR SECURE TOKEN NIGHT PAYMENT MECHANISM. ED:
WHAT KINDS OF ADVANTAGE DO YOU FEEL THIS GIVES YOU ECHO IT IS RIGHT AROUND THE CORNER FROM SUMMER IN CHALLENGING MACROENVIRONMENT. IF YOU THINK ABOUT ABB -- AIRBNB AND WHAT THEY ARE DOING TO FIX THE EXPERIENCE, AI'S ALL ABOUT WINNING EYEBALLS AND CONVERTING THEM INTO BOOKINGS. DO YOU THINK PENNY WILL HELP YOU DO THAT? BRETT: WE DO. ALONG WITH ALL THE OTHER FEATURES WE JUST RELEASED AND MANY MORE TO COME. WE HAVE BEEN IN THE HOTEL ACCOMMODATIONS BUSINESS FOR 25 YEARS. WE INVENTED MANY OF THE
INNOVATIVE WAYS FOR PEOPLE TO SAVE MONEY. THIS NEW TECHNOLOGY LAID ON TOP OF THE AXES TO A PRICING MAKES IT MORE COMPELLING, ESPECIALLY IN THE HOTEL ACCOMMODATION SPACE, WHICH IS ONE OF OUR SPECIALTIES. ED: BRETT KELLER FROM PRICELINE, TALKING ABOUT PENNY. NEXT WE ARE GOING TO TALK ABOUT VIDEOGAMES. WHY NOT ARTIFICIAL INTELLIGENCE ED: MICROSOFT'S CO SATYA NADELLA DURING COURT TO DEFEND THE COMPANY'S PROPOSED $69 BILLION TAKEOVER OF ACTIVISION BLIZZARD, AGAINST AN ATTEMPT BY FEDERAL REGULATORS TO BLOCK THE DEAL. WHAT IS THE LATEST? >> IT IS A BIG DAY FROM -- FOR MICROSOFT.
THEY BROUGHT IN THE ACTIVATION CEO WHO WAS JUST IN THE ROOM A FEW MINUTES AGO. AND SATYA NADELLA WILL BE TESTIFYING THIS AFTERNOON. THEY BROUGHT EXECUTIVES TO DEFEND THE DEAL AND TRY TO PUSH BACK AGAINST THE ARGUMENTS THE DEAL IS NOT GOOD FOR COMPETITION IN THE CONSOLE GAMING MARKET. ED: HOW KEY IS THIS CASE? IS THIS AN EVERYTHING OR NOTHING SITUATION, WHERE IF THE COMPANIES CANNOT CONVINCE THE COURTS, THE FTC WILL BE ABLE TO BLOCK THE DEAL? >> THE FTC IS CURRENTLY SEEKING AN INJUNCTION THAT WOULD BLOCK THE DEAL WHILE THE LEGAL CHALLENGE IS PENDING. THIS WOULD BE THE CURRENT STEP AND GET IN THE WAY OF THE JULY 18 THE CLOSURE DEAL. IT NEED TO GET THROUGH THIS
THAT WOULD ALLOW THEM TO CLOSE THE DEAL OF POSSIBLE NEXT MONTH. RIGHT NOW, THEY ARE TRYING TO PUSH BACK AGAINST AN INJUNCTION OR RULING AGAINST THE JUDGE THAT WOULD PUT THE DEAL ON HOLD WHILE THE FTC'S CHALLENGE IS PENDING. ED: THANK YOU SO MUCH. FROM THE COURTROOM IN SAN FRANCISCO.
LET'S KEEP THE CONVERSATION GOING WITH VIDEOGAMES WITH A WIDER LOOK AT E-SPORTS AND EVIL GENUISES'CEO NICOLE LAPOINTE JAMESON. EVERYONE KNOWS YOU GO BIG ON GAMING BUT E-SPORTS IS AN INTERESTING MOMENT. TALK TO ME ABOUT HOW YOU SEE THE INDUSTRY. NICOLE: E-SPORTS IS AT A REALLY INTERESTING POINT AS WE HAVE ALWAYS BEEN A DIGITAL PRODUCTS THAT BRIDGES AND STRADDLE SPORTS AND ENTERTAINMENT.
BUT WITH MORE EYES ON ADVANCED TECHNOLOGY WITH AI AND SPORTS DERIVATIVES, WE ARE SEEING PROFESSIONALIZATION AND AWARENESS OF THIS PRODUCT IS IT A RATE -- THIS PRODUCT AT A RATE WE HAVE NOT SEEN BEFORE. ESPECIALLY POST-PANDEMIC WHERE LIVE EVENTS IN PERSON HAVE BECOME MORE COMMONPLACE. IT IS AN EXCITING TIME TO BE PART OF THE COMMUNITY. ED: IT IS INTERESTING ABOUT THE CONCEPT AND SIDE OF THE STORY. YOU THINK ABOUT EVIL GENUISES, YOU HAVE YOUTUBE AND TWITCH, A LOT OF WHAT YOU ARE DOING IS GOING OUT FOR FREE.
HOW ARE YOU GOING TO MAKE MONEY AND TURN FREE MERCHANDISING INTO OTHER REVENUE STREAMS? >> THIS IS THE EXISTENTIAL RUB WHERE YOU ARE CONTENT MACHINES. BILLIONS OF MINUTES A YEAR ARE PRODUCED OF CONTENT WHETHER IT IS IN GAME COMPETITION MOMENTS AND BEHIND-THE-SCENES SOCIAL ENGAGEMENT. WE HAVE THE EYES AND HEARTS OF GEN Z ENGINE ALPHA -- AND GENERATION ALPHA. HOW YOU FIND AND FACE THE MEDIA RICE OWNERSHIP AND DISTRIBUTION THAT IS NOT AS PROFESSIONALIZED IN TRADITIONAL SPORTS, WITH THE ENTERTAINMENT OF YOUTUBE AND TWITCH. IT IS INTERESTING IS WE ARE SEEING TRADITIONAL LINEAR MEDIA, WHETHER IT IS MOVIES AND CINEMA, AND IN PERSON EVENTS, MOMENTS WHERE OTHER PEOPLE WHO ARE HUNGRY FOR CONTENT AND A AUDIENCE ARE LOOKING FOR NEW WAYS TO BRING IN THE GAMING COMMUNITY WHICH HAS TRICKLE-DOWN EFFECTS ON REVENUE. A VERY PUBLIC THING THAT WENT OUT WAS A BIG GAMING STREETWEAR -- STREAMERS SIGNING WITH CAKE. THAT IS BIGGER THAN ATHLETES
RIGHTS TO A TEAM. IF YOU LOOK AT HOW BRANDS ARE AWARE THAT THE GAMING CONTENT IS POWERFUL AND THEIR PURCHASING POWER IS INCREASING, WE ARE HOPING MEDIA RIGHTS VALUES WILL INCREASE AS TIME GOES ON. ED: WE JUST GOT INTERESTING DATA ABOUT YOUR USER BASE. 64% ARE AGE 13 -- AGED 18 TO 34. ARE YOU COMPETING WITH OTHER PLAYERS IN THE SPACE? ARE YOU ALSO COMPETING DIRECTLY WITH TWITCH? NICOLE: I WOULD NOT SAY YOU ARE DIRECT COMPETITORS WITH TWITCH OR YOUTUBE BECAUSE YOU LOVE THOSE SPACES TO ENGAGE WITH OUR COMMUNITY. E-SPORTS IN PARTICULAR IS MORE OF THE PLATFORM.
THINK OF THE ACTUAL ATHLETIC TEAM THAT CREATES THE COMPETITOR MOMENT THAT THE PUBLIC MODEL OF OUR COMMUNITY INCLUDING MEDIA DISTRIBUTION LIKE WHICH HELPS US -- LIKE TWITCH HELPS US. WE STILL HAVE TO DIVERSIFY AND FIGURE OUT HOW WE STAND APART. BUT WE ALSO COMPETING AGAINST TRADITIONAL SPORTS, MEDIA, TRADITIONAL POP-CULTURE AND MUSIC AND FASHION. GEN Z HAS SPOKEN AND GAMING IS A PART OF THEIR CULTURE. ED: HOW DIFFICULT IT IS YOUR DAY JOB RIGHT NOW? THINKING ABOUT THE NEWS IN APRIL ABOUT THE ROSTER CHANGES. I THINK YOU HAVE DONE A FEW ROUNDS OF LAYOFFS AS WELL.
HOW IS RUNNING THAT BUSINESS? NICOLE: E-SPORTS, CONTINUING FROM THE SPORTS MONETIZATION MODEL, IS TRANSFORMING INTO ENTERTAINMENT. WE, LIKE MANY OTHER BUSINESSES IN TECH AND ADVERTISING, THE MACROECONOMIC POSITION EARLIER THIS YEAR WAS HARD. IT REQUIRED US TO BE REALLY JUDICIOUS AND PIVOT REALLY QUICKLY AROUND WHAT IS VALUABLE INVENTORY, WHAT IS THE VALUABLE MARKET RATE OF TALENT? WE HAD TO COURSE CORRECT TO THE MACROECONOMIC MARKET. THE GOOD NEWS IS, WITH THESE ADJUSTMENTS AND REDUCTIONS, WE HAVE BEEN ABLE TO FIND IT HEADWINDS AND DOUBLE DOWN ON WHAT MAKES OUR BRAND STRONG IN THE SPACE.
EVIL GENIUSES IS A LEADER IN GAMING AROUND INCLUSION WITH WOMEN, THE LGBT COMMUNITY, AND POC. WE ARE ABLE TO RESONATE WITH ADVERTISERS AND BRANDS TO ENGAGE WITH THE GEN Z COMMUNITY AND OUR PLATFORM AND WHAT YOU HAVE. I AM GRATEFUL TO THE AMAZING TEAM BEHIND ME TO HELP US STAY ROBUST FOR MANY TECHNOLOGY AND ECONOMIC CHANGES. ED: WHAT IS THE ONE THING THAT WILL PUT ENERGY BACK INTO E-SPORTS? NICOLE: SORRY? ED: SOME ENERGY AND MOMENTUM BACK INTO THE INDUSTRY. NICOLE: BACK? I WOULD SAY THERE IS SO MUCH ENERGY. WHEN YOU LOOK AT TIKTOK WITH 40 BILLION VIEWS OF THINGS CONSISTENTLY.
LAST YEAR, LEAGUE OF LEGENDS HAD A NORTH AMERICAN ROADSHOW SELLING OUT. WHAT WILL CONTINUE TO DRIVE ENERGY IS MORE MULTIGENERATIONAL AUDIENCES BEING AWARE THAT THIS IS THE POWER OF GAMING AND GAMING IS HERE TO STAY. ED: EVIL GENIUSES' CEO NICOLE LAPOINTE JAMESON.
THAT DOES IT FOR THIS ADDITION OF "BLOOMBERG TECHNOLOGY". DO NOT FORGET THE PODCAST ON APPLE, SPOTIFY, AND ALL THE BLOOMBERG PLATFORMS. REALLY BIG MOVES DISCUSSED DURING THE SHOW. JOBY, -- KEEP AN EYE ON JOBY. SO MUCH TO COME FROM SAN FRANCISCO. THIS IS "BLOOMBERG TECHNOLOGY". ♪
2023-07-05 05:15
Show Video
Other news