Thời sự quốc tế 16/3 | Quan hệ Mỹ-Nga 'chạm đáy'; TT Putin kêu gọi khẩn cấp sản xuất vũ khí | FBNC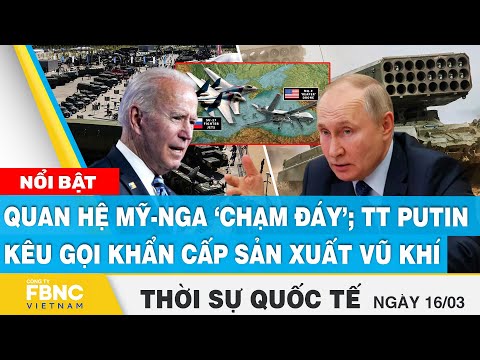 Show Video
Kremlin: Russia-US relations at "lowest point" after drone incident over Black Sea Downing of US drone shows Putin's 'readiness' to expand conflict Syria's Assad renews support for Russia in Ukraine conflict Putin announces large-scale effort to increase weapons production Kremlin not considering declaring second wave of mobilization — spokesman China announces naval drills with Russia and Iran China gravely concerned about IAEA statement regarding Australia Australia PM visits Fiji to discuss nuclear submarines, regional security North Korea launches apparent ICBM ahead of South Korea-Japan summit Welcome to the international news program. Highlights related to tensions in Europe, along with many new developments around the world, will be presented to you on today's program. A senior Ukrainian security official has said the downing of a US drone that collided with a Russian fighter jet is a "signal" of Vladimir Putin's "readiness to expand the conflict zone". Tweeting today, Oleksiy Danilov, secretary of Ukraine's National Security and Defence Council, said The jet crashed into the US MQ-9 Reaper drone in international airspace over the Black Sea yesterday, causing the latter to crash. The Kremlin has denied any involvement but says US activity near Russia's borders is "cause for concern".
So far the drone has not been recovered, but Kremlin Security Council Secretary Nikolai Patrushev told the Rossiya-1 TV channel earlier today that the Russians will work on retrieving it. Kremlin spokesperson Dmitry Peskov told journalists Wednesday Relations between Russia and the US are at their "lowest point" and in a "deplorable state," after the US military said a Russian fighter jet forced a US Air Force drone to crash in the Black Sea Peskov added that "Russia did not refuse constructive dialogue, and is not refusing it now." According to Peskov, Russian President Vladimir Putin was briefed on the incident, but there was no contact at the highest level between Moscow and Washington. It also accused Washington of being "directly involved" in the war in Ukraine.
American aircraft have no business being near the Russian border." The Russian ambassador to the US said Russia does not want "confrontation" with the US, for the benefit of the people of the two countries. Turkish Defence Minister Hulusi Akar said on Wednesday (March 15). Turkey is monitoring closely the incident in which a U.S. military drone crashed in the Black Sea
the Demiroren agency reported Akar also said they have made several contacts about the incident without giving further details Akar also said Turkey will continue discussions to extend a deal that allows grain shipments from Ukraine's Black Sea ports for 120 days rather than 60 days. Parties of the deal will evaluate and decide on a further extension of the agreement Akar also said, adding that Ankara hoped for a resolution soon. Since Russia and Ukraine signed the U.N.-backed Black Sea Grain Initiative in Turkey on July 22, millions of tonnes of grain and other food products have been exported from Ukrainian ports, helping lower global food prices from record highs. As the talks continued, Russia suggested allowing the deal to be renewed for 60 days half the term of the previous renewal, but Ukraine rejected it.
Russian President Vladimir Putin announced a large-scale effort to build up capacities in order to produce more weapons for his war in Ukraine. Putin said increased production of weapons is "urgently needed," and he assured that special attention would be paid to the legalities and allotment of funding toward the initiative while speaking to the board of the Prosecutor General's Office of Russia on Wednesday. "Primarily, in terms of the timely fulfillment of obligations for the supply of necessary weapons, equipment, ammunition for the needs of the special military operation, for the accurate implementation of all tasks of the state defense order and the effective use of budgetary resources," he said, using the euphemism for the full-scale invasion of Ukraine.
According to Putin, the government is allocating many resources for defense needs "without detriment to other areas." But the funds "must be spent rationally, in strict accordance with the law," he added. In addition, prosecutors should supervise the modernization of defense industry enterprises including building up capacities for the production of an additional volume of weapons A lot of effort is underway here. We need it urgently now and it will come in handy in the future," he said. Putin said Russia is on a positive path and "strengthening the sovereignty" of the country. "We are with you at the stage of large-scale, positive changes aimed at strengthening the sovereignty of the country its independence, the future of Russia and creating conditions for its confident development," Putin said. Russian presidential press secretary Dmitry Peskov told TASS on Tuesday.
The Kremlin is not looking at declaring a second wave of mobilization "We aren't having any such discussions," he said, in responding to a relevant question. The topic emerged amid reports from the Voronezh Region authorities that call-up papers are being served to men at their places of residence and at their workplaces. The regional government claimed that this practice is purely motivated by the need to verify military registration data. The Kremlin said on Tuesday (March 14) that a peaceful resolution in Ukraine was not possible without taking into account the "new realities" of the situation. Kremlin spokesman Dmitry Peskov said Russia's position regarding an end to hostilities was "well known."
Moscow has repeatedly said that Ukraine would need to accept Russia's claimed annexation - rejected as illegal by Kyiv and the West - of four regions of Ukraine that it partly occupies. Syrian President Bashar al-Assad on Wednesday (March 15) offered Russian President Vladimir Putin his support in the conflict in Ukraine. During a televised meeting with Putin at the Kremlin, Assad said Russia was fighting neo-Nazis and "old Nazis" in Ukraine Without offering evidence, Assad said that the West after hosting "old Nazis" during World War Two, was now supporting 'new Nazis' as well. Kyiv and the West say Russian accusations that Ukraine has become a hotbed of Nazism and "Russophobia" are a baseless pretext for an unprovoked war of aggression in Ukraine. Russia's military support for Assad helped him to turn the tide in a ruinous civil war that began in 2011 as a pro-democracy movement.
Meanwhile, Syria is one of the very few international allies backing Moscow in the war in Ukraine. In a UN vote held on the one-year anniversary of the outbreak of conflict last month, seven nations voted against a resolution calling for an end to the conflict, and demanding an immediate withdrawal of Russian troops. immediately from Ukraine. These include Belarus, Syria, Eritrea, North Korea, Mali, Nicaragua and Russia. Russia, China and Iran are holding a five-day maritime exercise, seeking to bolster their naval security Beijing's Defense Ministry announced on Wednesday. The ministry said the three-nation 'Security Bond-2023' wargames in the Gulf of Oman run from March 15 to 19, and that several unspecified countries will also be joining.
"This exercise will help deepen the practical cooperation between the navies of the participating countries, further demonstrate the willingness and ability to jointly maintain maritime security," the ministry stated, adding that it will "inject positive energy into regional peace and stability". China's guided-missile destroyer Nanning will be taking part, the ministry said, noting that 'Security Bond-2023' will build on the drills held by China, Russia and Iran in 2019 and 2022. Earlier this week, Russian Defense Minister Sergey Shoigu said cooperation between Moscow and Beijing had "reached a whole new level," with the partnership serving as "one of the main deterrents to the aggressive activities of the United States and its henchmen in the Asia-Pacific region." In late February, China conducted another naval drill with Russia, along with South Africa. The US also weighed in, with the White House spokeswoman Karine Jean-Pierre stating in January that Washington "has concerns about any country… exercising with Russia" as Moscow continues its military campaign in Ukraine. the Chinese foreign ministry said on Wednesday (March 15).
China is gravely concerned about the International Atomic Energy Agency's statement regarding a plan to provide Australia with nuclear-powered submarines "(China) firmly opposes the U.S.-British-Australian coercion of the Agency secretariat to endorse its nuclear submarine cooperation on the issue of safeguards," spokesperson Wang Wenbin said at a regular news briefing. Under the deal, which angered Beijing, the U.S. intends to sell Australia three U.S. Virginia class nuclear-powered submarines. The pact is a major step by the three countries to counter China, which has been building islands and airstrips and expanding its military presence in the South China Sea.
Australian Prime Minister Anthony Albanese met with his Fiji counterpart in Nadi on Wednesday (March 15) to discuss regional security, a day after unveiling details of the AUKUS submarine program in San Diego with the leaders of United States and Britain. It is expected that Albanese will press Canberra's message that its US$245 billion nuclear-powered submarine program does not violate its nuclear non-proliferation commitments. Australia insists that the provisions in AUKUS do not violate its commitment to denuclearization.
Australia is party to a nuclear-free zone treaty with 12 other South Pacific nations including Fiji, in a region where sensitivity over nuclear weapons is high because of the effects of nuclear weapons tests by the United States and France. Under the AUKUS agreement, Australia will buy three Virginia-class submarines in the early 2030s, as well as the right to buy 2 more from the US if needed. In the next phase, the UK and Australia will produce new submarines of the AUKUS class, based on British design and advanced American technology. Canberra emphasizes two things. First, they do not equip their submarines with nuclear weapons. Second, do not take advantage of the source of fissile material (supplied by the UK and the US) to use for weapons development purposes. Australia also says it will effectively deal with nuclear waste. Speaking to the Guardian on March 14, Australian Foreign Minister Penny Wong affirmed that Australia would work, listen to and address concerns from neighboring countries related to the AUKUS agreement, including the South Pacific island nations. Ocean and Southeast Asian countries.
The likely presidential candidate for Taiwan's ruling Democratic Progressive Party (DPP), Vice President William Lai, pledged on Wednesday (March 15) to protect the island against China and ensure peace, as he formally registered to run in the campaign. He affirmed that he would do everything to maintain peace in the Taiwan Strait, and protect the interests of the island in the face of increased military and political pressure from Beijing. Lai, who assumed the DPP's chairmanship in January this year, spoke at party headquarters and added that Taiwan stood on the frontlines of democracy.
As in the last election in 2020, which the DPP won handily by promising to stand up to China relations with Beijing are likely to top the agenda for 2024 especially as China ramps up pressure to get Taiwan to accept Chinese rule. Lai angered China in 2018 while he was premier, telling parliament he was a "Taiwan independence worker" and that his position was that Taiwan was a sovereign, independent country - a red line for Beijing. North Korea fired a suspected intercontinental ballistic missile (ICBM) into the sea between the Korean peninsula and Japan on Thursday, hours before South Korea's president was due to fly to Tokyo for a summit expected to discuss ways to counter the nuclear-armed North South Korea's Joint Chiefs of Staff (JCS) made the announcement, but did not provide further details. The Japanese Ministry of Defense also confirmed the launch The missile, from Pyongyang, flew about 1,000 kilometres at a lofted trajectory, South Korea's Joint Chiefs of Staff said. North Korea has conducted multiple missile launches this week amid ongoing joint South Korea-U.S. military drills
that Pyongyang condemns as hostile actions. North Korea has not commented on the report. Yoon is headed to Japan for the first such summit with Kishida in more than a decade part of an effort to overcome historical, political and economic disputes in the name of better cooperating to counter North Korea and other challenges. Britain's Defence Minister Ben Wallace stressed the importance of a new partnership with Japan and Italy at the Defence and Security Equipment International industry trade show on Wednesday (March 15). The three countries have launched a collaboration called Global Combat Air Programme (GCAP) under which they will build an advanced jet fighter. A model of the fighter was on display at GCAP's exhibition booth.
"We can unlock paths to new technologies and new platforms, unlock export markets, unlock potential new partners, but lock in a strategic partnership of the liberal open democracies who believe in the rule of law and upholding international values, across the world and are threatened so strongly today," Wallace said. It's a global partnership. It's not a local partnership." U.S. Ambassador Rahm Emmanuel cut a ribbon to mark the opening of the exhibition and also highlighted the importance of "shared interests" among allies. Ukrainian Deputy Defence Minister Volodymyr Havrylov also attended and made a keynote speech, saying Ukraine needed technologies from other countries to help it in its fight against Russia.
Meanwhile, some local antiwar protesters objected to the defence show taking place and demonstrated outside the exhibition hall. Finnish President Sauli Niinistö will visit Turkish President Recep Tayyip Erdogan later this week to discuss the Nordic country's application to join NATO. The visit, at the invitation of Erdogan, will take place Thursday and Friday the Turkish presidency said Wednesday. Niinistö will first visit earthquake-affected areas in southeastern Turkey and then head to Istanbul for talks the Finnish presidency said in a statement. Turkey's concern about Sweden and Finland's potential accession to NATO centers Turkey claims that both countries, though particularly Sweden, are harboring militants from the banned Kurdistan Workers' Party (PKK), a designated terror group in Turkey, Sweden, the United States and Europe.
Erdogan says he would like these individuals to be extradited; Sweden has made clear this won't happen In late February, NATO chief Jens Stoltenberg said that although Turkey had expressed some concerns about both Sweden and Finland's applications to join NATO, it was predominantly concerned by Sweden's application. Stoltenberg has repeatedly called Finland and Sweden's accession a "top priority" for the alliance calling on Hungary and Turkey to ratify both countries' applications soon. Recently, the parties have signaled that Finland may enter NATO before Sweden.
In mid-February 2023, Finnish President Niinisto expressed confidence that they and their neighbor Sweden would attend the NATO summit in Vilnius, scheduled for July 11-12. as a full member of the military alliance. He noted that if Finland and Sweden's NATO membership is not obtained this summer, the alliance's accession progress will become increasingly uncertain.
Japan on Monday (March 13) relaxed its face mask guidelines, saying that wearing them was now a personal choice, but many Japanese remained cautious about going maskless after the three-year COVID-19 pandemic. Yutaka Izawa, 60, said as he walked around the Ginza shopping district in Tokyo. "I think it is safer to wear one when riding on public transportation to guard against contagion," Japan is one of the last major economies to relax official guidance on the coverings, whose usage has been nearly universal throughout the country even without firm regulations or penalties governing their use. South Korea dialled back most requirements on indoor masking in January while Singapore allowed bare faces on public transport last month. The United States and England halted most mask mandates early last year. But a rapid behavioural change in Japan is unlikely, given the country's long history of mask usage and a pollen onslaught that has given hay fever sufferers one of the worst spring seasons in years Tokyo resident, Tomoko Kamiguchi, 75, said she would wait until after the upcoming long holiday season in early May.
"I am not taking my mask off yet. In May, at the end of Golden Week (COVID cases) always go up every year, so let's wait and see. It's a little long, but I am not going to remove mine now." Peru's President, Dina Boluarte, in a televised address on Tuesday (March 14) issued a red alert for Lima and surrounding areas after the devastation caused by Cyclone Yaku. The cyclone churned south after leaving dozens of families without homes and a death toll of at least six in the northern provinces Yaku unleashed torrents of rain in many parts of the metropolitan area threatening to wreak havoc. Eyewitness video obtained by Reuters showed muddy water running down a street sweeping away a vehicle in its path Authorities from Peru's National Hydrology and Meteorology Service (SENAMHI) said earlier on Tuesday they expected Yaku to leave Peruvian territory over the next few days. Nearly 60 people have died since the start of the rainy season in Peru, according to the National Institute of Civil Defense (INDECI).
This number was recorded for several months, although the exact date is unknown. Parts of the community remain inundated with floodwaters after a levee on the Pajaro River failed late Friday night (March 10), sending dark brown waters rushing through neighborhoods and forcing emergency evacuations into the morning. We decided to stay here because we felt safer here than to go to an evacuation center But it's also been a little difficult with the children too," Gonzalez, 35, said. The Gonzalez and Martinez families are without water at their apartment but they still have bottled water for drinking and cooking, they said.
The two mothers chose to stay in their apartment instead of evacuating. Gonzalez estimated that they have two or three days more worth of provisions before they might have to leave but they're unsure whether they'd be able to get back. Martinez hopes it won't come down to leaving and hopes that the government will truck water in for community members. "More than anything, the message I want to send is that they (need to) support us with water As I said, if it's contaminated, they can bring water here to the community" said Martinez, 35. since late December.
The floods have become a frequent occurrence in California this year with a string of storms slamming the coast On Monday (March 13), emergency crews preparing for the season's 11th "atmospheric river," an airborne current laden with dense tropical moisture from the ocean, renewed sand-bagging operations and round-the-clock patrols of levees and rain-swollen riverbanks. according to the Federal Emergency Management Agency. Mandatory evacuation orders remained in effect for residents in 10 California counties The National Weather Service (NWS) posted flood watches for much of the state along with warnings for gale-force winds and extensive uprootings of trees.
2023-03-18 23:44
Show Video
Other news