Sveaverken Product Launch 2021 - replay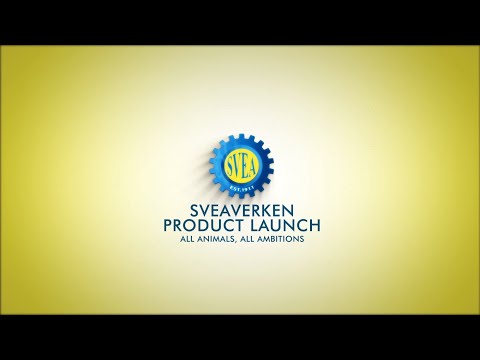 Show Video
Do you know that animal health and comfort have a big impact on food quality? My name is Mats, and today I am proud to act as the host for the Sveaverken product launch event of 2021. We will hear about Sveaverkens next steps to support modern and prosperous livestock farming. As a well-established brand specializing in animal husbandry machinery, Sveaverken has developed over time. People from different generations have witnessed our growth: all animals, all ambitions. Sveaverken sees the opportunity for innovation and has taken the next step forward to smart-farming solutions. We will cover a few different topics at the event today: Sveaverken's innovation, three exciting new product releases, and sales updates.
Later today, we will have a giveaway for our audience. Listen carefully, and be ready to take the chance to win a prize! Ladies and gentlemen, I don't want to take too much of your time. I need to leave some, for Mr. James Wu, the CEO of Sveaverken, to share some recent company updates.
Let us welcome Mr. James Wu. Hello everyone, welcome to Sveaverken Product Launch Event 2021. Sveaverken, like many other companies in the world, has been facing severe challenges from the pandemic in 2020. However, it is encouraging that most our dealers, customers and suppliers have been standing with us.
I would like to thank you for your support. And thank you for watching this online event considering your busy schedule. Facing the tough situation affected by COVID-19, Sveaverken has never stopped the steps towards innovation. innovation. We are always committed to our mission and vision, which is working on smart farming solutions to make the husbandry work easier and more efficient. Our ultimate goal has always been to help our customers to accomplish business success and improve the working environment. So that our young generation would like to work and feel proud to work in this industry.
As early as 1911, Sveaverken developed the groats mills, used by the farmers to grind their own grain to produce feed for the animals. This was a novelty design by then. Other early products were circular sawmills and wool scissors. Then we introduced feed and grain augers in the 1950s.
We started the production of ventilation fans in 1967, and in-house production of control units for ventilation in 1973. As time goes by, with our well-established position and knowledge in the industry we didn't just stop there. We always strike for more in order to create innovation in the animal husbandry industry. That is why we have been transferring our business from traditional farming equipment to smart farming solutions.
Starting from our ownership change in 2019. After a century of development, we have established 30 sales centers, attracted over 200 employees and served more than 30,000 customers globally. Now Sveaverken is entering a new area with our latest products in 2021 coincided with our 110th anniversary. All animals, all ambitions. Sveaverken is committed to provide our customers with latest technologies and quality services. Here is a short video that brings you to Sveaverken.
We would like to let you know more about us via this video. And of course, you are welcome to visit us anytime. Now, please enjoy the video. Thank you for watching.
As a leading supplier of smart farming solutions, Sveaverken is committed to provide you, our customer with the most advanced technologies, quality products and good services. Now, we will introduce and launch three new exciting products in the first half of 2021. From the world´s first vision guided feed pushing robot to cow welfare equipment and to our cloud-based herd management system. We will work with you to redefine the husbandry industry. Ladies and gentlemen, now please welcome Head of R&D, Jan Stendahl to be on the stage and tell you more about these exciting products. Thank you.
Hi everyone! My name is Jan Stendahl, and since the summer of 2019, I have been responsible for research and development at Sveaverken in Katrineholm. However, I have been with the company since 1991. As the head of the research and development team, I keep asking myself what makes animals feel good and why it is important to make animals feel good. When we say animal welfare, we mean a suitable environment, balanced nutrition, and a good mental state. We believe it is our duty to ensure all animals are treated humanely, responsibly, and with respect.
This is particularly relevant in the farming industry. There is no doubt that animal welfare is important for good animal health which is the farm owners' foremost concern. Your animals, our concern. Established in 1911, Sveaverken has always been committed to providing customers with reliable farming solutions.
From the early years' grinders and sawmills to today's feed and grain augers and manure systems. Our products are widely sold in European countries and have gained a good reputation. With an aging global population and the continued shortage of manpower in farms, coupled with the new coronavirus's impact on social mobility, the intelligent and digital transformation of farms has been valued by more farmers and related companies. Sveaverken would not miss this chance for innovation. All animals, all ambitions.
Our upcoming smart farm solutions include smart feeding systems, smart manure cleaning systems, smart ventilation systems, and animal welfare equipment. Sveaverken can provide feed augers, automatic manure scraping systems powered by hydraulic rams, ropes, chains, etc., mechanical and natural ventilation systems, and various farm robots. Everyone is familiar with our traditional products, and many customers are very interested in our intelligent facilities.
Today I'm going to introduce 3 new products on this platform. As we all know, to ensure well-functioning milk production, dairy cows are provided with sufficient and fresh feed every day. Moreover, with the new corona virus's impact, the price and availability of feed are affected. Effectively improving feed utilization rate is an issue that many farms need to consider. Traditional manual feed raking is time-consuming and hard work.
This means that, when done manually, the feed is often not pushed in time and can spoil before it reaches the cows. Consequently affecting the taste of the food. The noise of people or vehicles entering and exiting the barn alley can easily disturb the cows and affect their eating.
This, in turn, negatively impacts milk production. Feeding level is the key factor to cattle growth and milking. A milking cow needs 15~30kg dry matter intake to sustain milk production. Consequently, feed cost is one of the main farm expenses, with a share of up to 50%. A more effective and efficient usage of scattered feed, that meets the nutritional requirement for milking cows, will cut your costs and ensure milk production.
Some of the existing pusher robots in the industry require large installation costs, since the environments needs to be adapted for the robots to operate. As we have experienced, many farms have feed gates of different heights and models in one single barn. Others have gaps or crossing alleys.
Traditional robots that find their way by following the feed gates can't be deployed in those cases. The Sveaverken feed pushing robot is the first robot in the industry to use visual navigation technology. It can distinguish the boundary of the road through the vision system to control the robot's position. The software is based on the WEB interface and runs on computers, tablets, or smartphones allowing the user to set the operation time, routes and when to start tasks. With the camera, the user can get real-time information from the cowshed on the screen and remotely control the push robot..
The Sveaverken feed pushing robot works independently of other systems in the barn and is, therefore, an excellent solution as a complement to existing feed distribution systems in older barns. For now, please take a look and let us know what you think of the Sveaverken feed pushing robot. The navigation module, which I would like to say is the "eyes'' of the robot, consists of a smart camera and a WiFi6 antenna. It keeps moving parallel to the feeding bar by visual ranging.
Meanwhile, it transmits video data and receives remote control instructions. The working module, I should compare it to hands, contains a two-way rolling drum and a durable scraper. This ensures maximum reclamation of scattered fodder back to the feeding bar, improving feed utilization. Then we have the driving module, something of the legs of the robot. The 400W powered motor-equipped driving wheel enables 15m/min speed with a 6 degree slope climbing. It can "walk" smoothly and silently on passages in most farms.
Lastly, I would like to brief you on the safety module. It is one of the most important parts. The bumping-stop strip is configured with an internally installed touching-sensor. It will stop running if it bumps into an obstacle to ensure safety. The safety button also enables a one-key stop function in case of any emergencies.
Now, Let's look at a video of the Sveaverken feed pushing robot in action! Welcome back! I hope you enjoyed seeing the robot in action. Sveaverken Feed Pushing Robot is designed based on the basic needs when feeding animals in large farms. By using computer vision technology, automation control, and advanced network technology it can conduct feed pushing automatically without manual involvement. It can operate fully in a modern large farm and with automatic feed storage and conveying devices it will work unmanned, thereby liberating manpower and improving feeding efficiency.
The use of visual navigation can effectively solve the problem that traditional feed pushing robots have with navigating accurately along the pre-set path when the feed gates vary in size and height. The required installations on the feed table are few because the visual navigation uses existing structures as reference points. This assures low installation costs. On one hand, armed with a two-way rolling drum and durable scraper, the robot ensures maximum reclamation of scattered fodder back to the feeding bar, thus improving feed utilization.
On the other hand, using visual navigation and advanced processing technology, the Sveaverken robot can increase the running speed to 15m/minute, increasing the feeding speed and ensuring the freshness and taste of the feed. The Sveaverken feed pushing robot supports WIFI 6 technology, which can support high-bandwidth data transmission, effectively improve the efficiency of video transmission, and clearly obtain the operating status of the feed pushing robot on the computer. It is effectively a mobile surveillance camera. The robot uses a large-capacity lithium battery.
It only needs to charge for 2.5 hours to complete 22-hour work, which greatly increases the robot's effective working time and thereby assures frequent operation, and that more food is accessible to the cows during a longer time which results in increased feed intake. The navigation system allows the feed pusher to operate in more than one barn. If there are no physical obstacles, it can transfer itself outdoors from one barn to another. This ability, combined with the high battery capacity, means lower investment costs, as one robot can be used instead of two or three. What an amazing robot, Jan! Thank you.
Let us move on to the next point in today's program. As I mentioned earlier we will have a giveaway. We have 10 cool wireless car chargers appropriate for most smartphones. To be a part of the giveaway you need to provide the correct answer to the upcoming question.
Please write your answer in the chat box. The 10 first to respond with the correct answer will receive a charger. The question is; after 2.5 hours of charging, how many hours can the Sveaverken feed pushing robot keep running? Don't miss out on this chance.
Now, let's give the floor back to Jan Stendahl. At present, most ranches lack effective scientific management methods for the cow herd. Basically, they rely on human and visual observation, which consumes time and labor, increases work burden, lacks precision, and is mistake prone. More than 70% of cows' estrus at night, and some cows do not have obvious estrus behavior, which increases the difficulty and labor cost of estrus identification. Herd management plays an important role in the modern scale-up farm operation.
Early disease detection is critical in controlling the impact on the herd and minimizing loss. Pregnancy & calving is the key to the milk yield of a dairy farm. According to statistics, just one missed "heat-detection" will extend the calving interval by 30~40 days, resulting in over 50 dollars loss. Besides, each breeding failure causes a waste of frozen semen worth 12 dollars, 38 dollars for gender control insemination, while optimum breeding time is the key to the success rate. Therefore an effective herd management system is expected.
Sveaverken Smart Neck-tag is partially designed for heat detection based on the variation of motion and body temperature. A smart sensor collecting individual cows' physiological information and conducting data analysis based on the smart algorithm's information provides optimal herd management. It applies to semi-open and free-ranging farms in different sizes and would especially exert perfectly in a modern scale-up farm, significantly improving production performance and management capacity.
Sveaverken Smart Neck-tag comprises the functional module, neck-straps, counterweights, buckles, wireless gateways, and software systems. Based on the analysis of the motion of the cow and relative body surface temperature data, the Sveaverken Smart neck tag identifies cows in estrus and abnormal physiological activities, helping to increase the detection rate of estrus in the herd and early detection of abnormal behaviour or diseases.. The coverage of the Sveaverken Smart Neck-tag function includes heat detection, health management, etc., with the help of which the farm would have lower labor cost, less resource waste and loss, higher milk yield, and better human and animal welfare. The system collects physiological data from up to 500 cattle through built-in sensors and generates the best management plan through intelligent algorithms. As with the feed pusher, our neck tag operates independently of other systems in the barn.
It is an affordable alternative for improving the control of a dairy herd regardless of make and type of milking equipment. The intelligent neck tag obtains accurate physiological data of cattle and uses big data analysis and intelligent algorithms to avoid artificial interference and greatly improve estrus' detection rate. Adopting an ultra-low power consumption design and large-capacity lithium battery it can last for more than 5 years, covering the entire production life of a cow. Using ultra-long-distance telecommunication technology, it can effectively cover cows within 1km.
Users can obtain cattle information anytime and anywhere through the mobile application, realizing remote pasture management. The application interface is simple and easy to use, without the need for technical skills. Many farms still lack useful animal welfare equipment. Animals are still suffering from discomfort caused by parasites and itching. Cleanliness and inflammation will also affect milk quality. Good comfort not only contributes to the physical and mental health of animals but also promotes production.
Dirt, mud, and parasites on the cow cause itching and severely affect the heat dissipation of the cow in the hot season, thereby affecting its health and reducing milk production. Based on this, there is a need for welfare equipment that can clean the cow's body and improve its comfort. Sveaverken cattle body brush is made of durable materials, high-strength bearings, refined design, and safe to use. The stable rotation speed and the mechanical design in line with the cow's body structure and behavior habits. This is to provide a comfortable service, remove dirt and parasites on the surface of the cows body, and promote body heat dissipation and blood circulation, thereby improving the comfort and health of the cow and the quality of the milk. With a proper design special for animal structure and behavior, it provides a comprehensive massage covering the body, neck, head, rump, and tail.
NSK bearing and time-proof bristles ensure a durable and strong brushing. With a responsive angle sensor, it starts rotating when triggered by contact from the cow, and ceases when contact stops, animals learn to use it very quickly. The brush auto-stops as soon as the contact with the cow stops and helps avoid idle running that wastes power. It has a safety switch and overheating stop as well as an overloading stop. The cow brush comes with multiple mounting holes for different bracings, to make for an easy installation.
Sveaverken hopes to provide a comfortable life for humans and animals through intelligent technology and our professional services. This is our responsibility and motivation. Thank you. I think that was a great introduction to our most recent products. Now I think we have a much better understanding of smart-husbandry.
After getting to know more about these products, I am sure that many of you wonder about our sales and services policy. Per Thörner, the Head of Sveaverken Nordic sales, will brief us on the latest sales update and related policies. Per, the stage is yours. Thank you. Thank you, everyone.
Firstly, I would like to express my sincere thanks to every distributor, dealer, and customer for joining this online event. I am sorry we did not have many opportunities to visit our dealers and customers during the past year. Unfortunately the pandemic made traveling difficult. Yet, the good news is that we achieved good sales performance in 2020.
Our sales in the Nordic region last year were up over 10% year-on-year growth. As you know, Sveaverken from Sweden, has a history that spans over a hundred years, and is one of the largest husbandry equipment companies in Northern Europe. We are committed to provide excellent solutions at reasonable prices to Swedish and international customers. Up until now, we have expanded to over 30 sales and service centers around the world.
We have local sales in Finland, Norway, and Switzerland. The European marketplace provides an excellent potential for us to distribute our unique products over various channels and countries. This enables us to provide our products to more customers in need.
We have received orders from European countries like the United Kingdom, Ireland, Italy, Bulgaria, Germany and many more. What's more, our market is rapidly expanding all over the world. In recent years, East Asia has become another fast-growing area for our business and we successfully promote our products and solutions in China, Japan, Thailand, and Indonesia. With the development of new processes and technology in animal husbandry, we are facing diversified and customized needs from customers.
Innovation is as essential as keeping tradition alive. That is why we developed our latest products, the Feed Pushing Robot, the Smart Neck-tag, and the Electric cow brush. I have always believed that professional service is as important as a good product, which will give clients confidence. When we were researching and developing new products, our sales team participated in the development and acceptance together with the R&D team. This has enabled our developers and engineers to view the systems through the eyes of various potential users with different needs and preferences.
We have conducted field-tests with the product prototypes with improvements being made before they become publicly available. In sales, top performers don't just sell— they serve as trusted advisors to our clients. We are trying to give every customer the best farming solution. Let us see some feedback from customers. Thanks for watching.
I believe some of our audience is looking forward to obtaining our new products and enjoying our service. Don't worry. We ensure adequate inventory, strong productivity, a short production cycle, and rapid delivery. The feed pushing robot, the electric cow brush, and the smart neck-tag will be shipped to you within a month after you have placed your order. The continuous development of the market also means that our products will reach even more people in more places. We already established a large sales team of trained professionals available to the needs of your business.
You can always reach out to our sales and service team through email, phone, or chat on our website. If you want to know more about Sveaverken, find us on our website, Facebook and LinkedIn. Anyway, we aim to ensure every customer enjoys high-quality procurement and service experience no-matter where you are. Thank you! Thank you, Per for your information about sales and services! As part of this event we also have a special offer! Let me share the great news before you go ahead and contact our Sales team.
We offer a $500 US dollars coupon for any order above $3000. This coupon will be valid until May 13th. Yes, you have one-month to consider what you want to order. Apart from our new smart products, you also can choose from our classic products such as an auger, manure scraper, manure pump, and so on. There are no limits to what you can order to take part of the deal.
This is an incredible offer. You only need to pay $2500 for products at a total value of $3000, meaning you get more than a 15% discount! What's more, we have another surprise. There are five free cow brushes, each valued at $1800, for the first five feed pushing robot buyers.
This promotion is also valid until May 13th. First come, first served. I hope you have learned about our new products and our time limited special offers. If you missed the information, here is a short reminder: The deadline for our event promotions is May 13th.
Don't miss out on this great opportunity. That is all for the online event today. Thank you to our loyal audience and to our speakers. We are looking forward to seeing you again at the next event! Thank you, bye bye.
2021-04-15 15:03
Show Video
Other news