Spring 2022 Commencement: 10 a.m., Saturday, May 14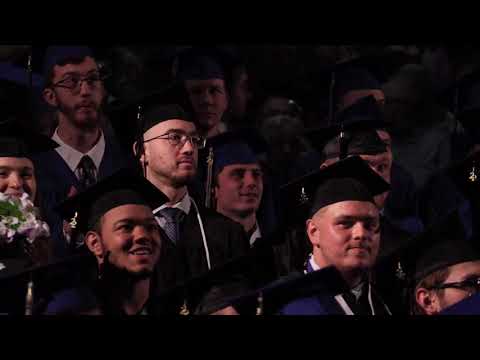 Show Video
(music). >> Good morning, everyone. I welcome you to the commencement Please join me now in welcoming the candidates for graduation. Entering next is the faculty and school administration lead by the school Deans and the platform party will complete the processional.
>> The National Anthem will be sung today. Please stand if you are able. Gentleman, please remove your caps. O say can you see by the dawn's early light What so proudly we hailed At the twilight's last gleaming Whose broad stripes and bright stars through the perilous fight O'er the ramparts we watched Were so gallantly streaming And the rockets' red glare The bombs bursting in air Gave proof through the night That our flag was Still there O say, does that Star-spangled banner Yet wave O'er the land of the free And the home Of the brave >> Thank you. Please be seated
Joining today we have friends who have supported to reach the goal of graduation. On the platform are the college faculty and staff who have motivated, encouraged, and inspired as they completed their collegiate journey. Before us are the candidates for graduation who have become good friends, mentors, and colleagues, developing relationships that will serve them well as they move into the future together. We join them as members of the extended support network to celebrate with our candidates and to witness your accomplishments. That
celebration now begins. And now it is my honor to introduce the President of Pennsylvania College of Technology, Dr. Gilmore who will preside over the spring commencement ceremony . Please welcome Dr. Gilmore.
(Applause). >> Good morning. Oh, please. Good morning. >> Good morning. >> Thank you. Thank you. I want to welcome everyone to the ceremony where we will honor the accomplishments of the Spring 2022 graduating class. Those
who know we well know that I like to find a good quote. When you think about the experience that these young women and men have been through the past couple of years, one quote particularly came to my mind. It is from Benjamin Disraeli, a 19th Century prime minister of the United Kingdom, who said There is no education like adversity. If you believe that to be true - and I certainly do - You and your peers here and on college campuses nationwide may have received more education than you bargained for.
Together, we surmounted the unique challenges posed by the pandemic. You kept your focus You did the work, and you satisfied all of the requirements for your degrees and certificates. You rose above the clamor in relentless pursuit of your career dreams and aspirations.
Today, we pay tribute to the perseverance you demonstrated, and we celebrate your successes. As you prepare to embark on professional and personal journeys I trust that you will build upon the skills - and life lessons - You learned here to make your mark in the world. Your Penn College degrees and certificates provide the foundation for lifelong success as essential, indispensable employees in business, industry, and the public sphere. You - as well as your families, friends, and supporters - Can, and should, be justifiably proud.
This ceremony today will provide milestone memories that each of you will cherish forever. As a college president, acknowledging students one last time before they embark on rewarding careers and life passages is a privilege that I never take for granted. As you make your way in the world of work and service, I know that you will make us all "Penn College Proud." now this is the time where the President or the master of ceremonies would say please silence your cell phones.
Respect the dignity of our service. This is Penn College. We're going to do things a little differently. I really don't want to hear the new theme to the "Top Gun" movie. I ask you to silence your cell phones a little bit. Keep them out.
I'm going to take the first picture today. We want you to capture today's memories as you go along throughout the entire ceremony. I'm first. This is the Pennsylvania College of Technology, we do things differently. It is PCT -- grad We look forward to seeing what you share. Congratulations. Enjoy the ceremony. >> It is my now President to introduce Mr. Strickland, Vice
President for Student Affairs. President Gilmour, Senator Yaw, Provost Reed, distinguished faculty and staff, family, friends, and most importantly the May 2022 graduating class. It is my great pleasure this morning to introduce your Student Commencement Speaker.
What would have motivated someone to move 2,847 miles from western Oregon to the Penn College campus? In the Spring of 2019, I'm sure Frachesca Ybarra hoped it was because of the transformational experience that a Penn College education could have. Knowing her today, I'm betting she say that journey turned out better than she hoped. A Dean's List student, Frannie immediately succeeded in the classroom. This was evident in her being awarded the Miller 90th Anniversary Scholarship and the William A. Rice Family,
Women in Welding Scholarship. But Frannie's involvement in and passion for welding extended outside of the classroom as well. She cofounded the Penn College Welding Research & Development Committee and always went above and beyond in helping to support her peers and the program, including serving as a tutor in the College's Tutoring Center. Frannie is also an example a strong female role model in a male dominated field, and she thrived in that environment (she told me it helped that she had ?? brothers). Frannie played a key
role when the College hosted Rae Ripple on campus this spring. Rae is a world-renowned metal artist, television personality, motorcycle stunt rider, and author (if you don't follow her on social media, you should). Franchesca graduates today Cum Laude with her Bachelor of Science in Welding & Fabrication Engineering Technology with a Minor in Non-Destructive Testing. It gives me great pleasure to introduce your Student Commencement Speaker, Ms. Franchesca C. Ybarra. (Applause).
>> Hello! Greetings and good morning everyone! Thank you, Mr. Strickland for that wonderful introduction. Thank you, Dr. Gilmore, family, friends, faculty, and the graduating class of 2022 for all being here today! First, I want to thank and give all the glory to God, who has been my rock and who has guided me throughout my 3 and ½ years here at the Pennsylvania College of Technology. I also want to thank Joette Siertle, for nominating me for this once in a lifetime opportunity as student commencement speaker. I'm so honored to speak amongst this incredible group of graduates, and everyone who is able to be here today. Thank you to my mom, dad, and brother who travelled from Oregon, and thank you to my boyfriend and other guests here today for your constant support.
I am blessed to have so many people wanting to share this special day with me. You all mean so much to me. Second, I want to thank all the staff and faculty of the college for their dedicated time and patience, and for sharing their passion, knowledge, skills, and crafts. We would not be here
today without them. I know my welding instructors deserve a special thank you for putting up with me over the years. I learned something from each and every one of you, and thank you for pushing me to be my best self in and out of the classroom. I wouldn't be the person I am today, or the future welding engineer I'm made out to be, if it wasn't for your commitment, leadership, and skillsets. This college, as a
whole, is very engaging and tremendously devoted to their students. NOW, to the graduating class of 2022: WE MADE IT!! We are all here today to celebrate us and our great accomplishments. You all should be so proud. All that
studying, all those essays, all those lab hours, all the times we heard Jake yell out "BREAK" in his loud voice, all the due dates, math assignments, and shared group presentations led us to today. There was stress, excitement, sleepless nights, tears, smiles, yawns, sighs of relief, and definitely a lot of coffee that was included in these last few years. In the words of Mr. Nau, "this is fun stuff", has come to an end here at Penn College. Take time to reflect on how much time, commitment, passion, and energy you put forth, to get you to this moment. It's a lot. Take a minute to thank those who contributed to today's accomplishment and who supported you. For we certainly did not
make it here on our own or succeed by ourselves. You had plenty of chances to walk out, drop out, or to quit. But you didn't, and you made the choice to keep going. You made the choice to show up. You made the choice to put you and your education first, and for that you should be proud. Speaking of choices, I want to share a couple thoughts on that topic.
You see, every day consists of choices. And the powerful thing about them is that they are made by you. You get to make the choices, and you get to set forth your path of desire by making these certain choices. Whether you want to live a busy life, an easy life, or a stress-free life, the choice is yours. If you know me, and some of my instructors would agree, I can be high strung sometimes and put a lot on my plate. I
overthink and at times I'm confused on what choice to make, just like a lot of other students. One day during Junior year, I walked into my instructor's office and I just let everything out that was on my mind: Classes, internships, future goals, and the stress of the unknown around all of it. He told me to slow down, and that it will all come together. His
exact words went "You got the good problems that everyone wished they had. You got a lot of what many don't have, kid. And that's CHOICES." Thank you for setting that tone for me Schelb. Ever since then, I
always think clearly about the choices I make for myself. For those of you who don't know, I'm from Oregon. I made the choice, about 5 years ago, to move to Pennsylvania and attend the Pennsylvania College of Technology. I was just 24 years old and had no friends this way.
I knew no one who lived here. I trusted the process and before I knew it, I started my first classes in the spring of 2019. It didn't take me long to make a few friends, and year after year I continued to step out of my comfort zone. I picked up a couple part-time jobs that helped me pay rent, tuition, and other bills while I attended school. One of them being a work-study student in the tutoring center. I'm so glad I made that choice every year I've been here. I have gained great
friends and mentors through Tutoring Services. Another choice I made was to get more involved my senior year. I became a member of the AWS (the American Welding Society) club. I started attending Woman Wednesdays where female staff and students talk about and encourage women in male dominated trades. I even helped establish a new club for the college: The Penn College Welding R&D Committee. Shout out
of my fellow founders: Bobby, Eric, and Joe. We made that happen together! All these opportunities were presented to me and I made a choice to say 'Yes' to them all. I knew that if I said yes to all of that, I had to juggle everything on top of studying for classes, working at jobs, and being present for my boyfriend and home life. It wasn't easy, but it was worth it. And I'm so thankful that my supervisors and managers were flexible to allow me to live this busy student life. But just
imagine if I had said 'no', I would have missed out on so many opportunities, connections, and memorable experiences. Everything I've gone through these passed 4 years, everything I've experienced here, everything I've worked for, led me here today. I couldn't have done it without my mom and dad's support. They have supported me from Oregon since day one. They are also the reason why I was able to pursue and accomplish this dream. Thanks mom and dad!
And thank you to all my friends and family back at home, or wherever you are if you're watching the livestream, for the support and encouragement throughout the years. I'm beyond thankful for everyone who's been in my corner, because in the end it's not what you have, it's who you have. And I have a lot of amazing people by my side. I am so confident that my fellow graduates here today, feel the exact same way toward the people in their lives that have helped them through as well.
My point is, class of 2022, you have the choice to set your own goals and dreams, you have the choice to move cross country, you have the choice of future careers and jobs, you have the choice to be busy, or to travel, or to start a family, and you have the choice to start fresh every day. As we begin this next chapter in our lives, new opportunities will arise, and you have the choice to take control of your life. My hope for you is that you choose to be true, choose to be happy, to be healthy, self-driven, courageous, and inspiring. Choose to step out of your comfort zone. Choose to keep people around who are in your corner rooting for you and who lift you up. Most importantly, choose yourself.
Good Luck and Congratulations class of 2022! >> And that's why we come to work every day. The distinguished award is presented to Larry A. Ward. A 1966 alummist who developed skills at two institutions that propelled him to a career as a successful innovator and entrepreneur. Larry chose the
Williams Port Technical Institute for the strong reputation in producing graduates with real world skills. After graduation, he applied the skills he less than learned in a variety of settings. He transitioned to design and sales. He create the his own business, packages films and equipment company out of his home in 1981. He designed
automating packaging blinds, installed and serviced equipment, and told the materials that ran the packaging machines. Always an innovator, Larry started packaging progressions Inc. An invention that deploying an electric arc that produces a clean vent hole for all kinds of packaging, including foot product -- food products. The company is now the leading manufactures and supplier of high speed interweaving and stacking machines. It has grown from
$250,000 in sales in the first year to a $30 million a year business. He is a strong advocate for American manufacturing. Larry is committed to enhancing Penn College's automated manufacturing and machining curriculum and facilities and to offer opportunities that prepare our students for successful and sustaining careers. That commit cultivated in his $1 million donation to completely transform the colleges machining lab, now known as the Larry A. Ward
machining technology center. That lab dated back to Larry's early days at WTI. Today approximately 90 Penn College students from five manufacturing related programs receive vital, hands-on experience in the amazingly new revamped facility each semester. Over the years,
Larry has also donated materials and equipment to the college, sponsored a commercement award for outstanding megatronics students and hired graduates and interns as his work force needs grew. It is my personal honor to warmly welcome Larry A. Ward as the distinguished alumni award recipient. Larry? >> Good morning. I would like
to thank Dr. Gilmore and all of the staff for the great honor. I would also like to thank President Gilmore for the fantastic job she's done in the last 20 plus years to lead PCT in becoming the finest -- one of the finest schools for training students in the latest technology and for giving American manufactures the workers they need. Thank you, Dr. Gilmore. >> Thank you.
(Applause). >> To you, the graduates, I would like to say congratulations on a job well done. Today is the beginning of the rest of your life. And you now have the key that will open a lot of doors for you. It is only a key to get in the door.
It will not make a living for you. What you have learned at Penn College of Technology are the tools to make you great at what you choose to do. When I left here in 1966, I had no idea what my dim employee ma -- diploma was going to do for me.
It did not make a living for me I had to work and prove myself. What you have learned here at Penn College are the tools that will make you successful. I was fortunate in that I always loved to work. And I know that gave me a head start in beginning a successful in my careers and my life. I never worried about how many hours I put in, how much I was making. If I liked my job,
I was happy. If I didn't like my job, I moved on and found another job that I did like. What I learned here allowed me to do that. Once I found out what I really liked, I worked hard and become very successful I founded three successful businesses, and as a result, I was able to come back to Penn College and donate over $1 million to overhaul and update the machines and technology center. I hope and pray you'll find a career that you love and are successful at and give back to Penn College.
6:00 technology -- Penn College of Technology. It doesn't have to be $1 billion. The future of Penn College is now in your hands. Some day you might find
yourself in a position to help support and further the vision of the great school. For some of you that may be financial, and for others that may just mean staying engaged. Either way industry alumni are a very effective mechanism in guiding the future of Penn College of Technology. You can make a difference. You need to bring manufacturing back to America.
America has given up manufacturing to China and other countries with cheap labor. With the use of the technology that you learned here, you can bring manufacturing back to America. I started my first business in 1981. In 1989, the majority of the countries I was selling to had left the country I knew if I didn't do something, I wouldn't be able to continue to make a living. In 1989, I founded packaging progressions and using the latest technology, I was able to build machines that ran faster with more accuracy than any other machines in their class. Packaging
progressions become the world leader in what we did and when I sold the company, we had our machines in more than 15 countries. America needs you and the skills that you've learned here at Penn College of Technology to bring manufacturing back to America. You can do it. God bless you all. God bless Penn College. God bless America. (Cheers and applause).
>> Thank you, Mr. Ward. A many of you know, the legal corporate body of the Pennsylvania College of Technology is the Board of Directors. This is the body by the charter is given financial responsibility for the governance, welfare, and interest pertaining to the college. Ultimate authority
rests with the board. At this time, I would like to call upon Senator Gene Yau, chair of the board of directors to authorize the conferring of the degrees. >> This is a very special occasion for all of you. The degrees being awarded have come from hard work, from the guidance and wisdom of the faculty, and from strong support from your family and friends. On behalf of the Board of Directors, I extend to all of the graduates our congratulations and best wishes.
And to all the supporting family members, the faculty, and friends, I extend our thanks for your support. Now I turn to my official duty: Dr. Gilmour, by virtue of the authority vested in the Board of Directors of the Pennsylvania College of Technology, I authorize you on behalf of the Board, to confer on each of these candidates the degree earned, as certified by the appropriate School Dean.
>> Are the candidates for the bachelor of science degree please rise? >> You have a black robe on. (Cheers and applause). >> Don't worry it happens. >> I am pleased to inform you they have completed the requirements. >> Thank you. By virtue of the
authority vested in me by the Board of Directors of the Pennsylvania College of Technology, I implore on you all that you have earned. Congratulations. You may be seated. >> Will the candidates for all associate degrees and certificates please rise? (Cheers and applause).
>> Dr. Gilmore, I'm pleased to announce they have completed their requirements. >> Thank you. By virtue of the
author vested in me by the Board of Directors of Pennsylvania College of Technology, I hereby the degrees that you've earned with all of the rights and privileged. Congratulations from the Board of Directors, faculty, and staff. Congratulations. Now with the bachelorautte graduates please rise as well? Everybody should be standing please. Thank you, Frannie. You processed into the theater today as candidates with the certificate in degrees that it was my honor to award to you as symbol into the world of educated men and women, turn the tassel on your graduation cap as I turn the tassel of Frannie.
It symbolizes for the entire world to know. Congratulations. (Cheers and applause). >> You may be seated. As individuals and institutions we pass through clear stages of development where we grow in responsibilities. This ceremony is a transition event today for all graduates. Today we're pleased to recognize individuals with academic honors.
Outstanding academic achievement will be recognized for all students. The gold, silver, or white cords that they wear during the ceremony today, white for honors, it is silver for high honors, and gold for highest honors will identify those students. Blue cords will signify academic achievement for certificate students. And in addition we are proud to recognize two honor societies, the Phi BetaKappa and the Alpha Chi. We would now like to recognize our veterans. They
will be identified by red, white, and blue cords as they cross the stage. It includes those who have served in active duty and those serving in current branches of the military. I would ask the veteran students in the class to please rise please. I know you are there. (Applause). >> If you would remain standing, I would like to tell the veterans, 250 of them are on campus. Two of them have a
bronze star. 19 have Iraq medals and 11 of them have Afghanistan campaign medals. We are very, very proud of our veteran students.
Congratulations. You may be seated. Now during the ceremony today we'll also acknowledge graduates who have received awards. That's recognition by faculty and staff for distinguished academic performance, leadership service, and strong character. Dr.
Strickland will announce the awards when she announces the graduates. They will be presented by provost Reed with some assistance on the other side of the stage. That's where you'll be picking up your award There's no greater prize for President than to shake the hand of a graduate. And today we're
not wearing masks unless you want to. We're going to shake hands. If you are going to not shake my hand, well, we have little instructions here. If you decided you prefer not or yesterday we had somebody with a broken arm, and you are going to do a fist bump or elbow bump, it would be really great if you gave me a sign right there. So for the picture I'm not doing this and you are doing this. It doesn't always look great. This
is a picture that somebody is going to want, probably you. If you just give me a little hent, -- hint, we'll be fine. One last note before we begin, parents and guests, you are welcome to take pictures. We ask that you leave the area around the photographs open to capture their pictures as well.
Now we're ready to begin, Dr. Strickland. Let's go. (Applause).
Colton Joseph Sager John T. Catanzaro Christopher L. Cutrona David Nathaniel Fisher James Anthony Brubaker James Stephen Cameron Jesse Alex Fogel Lonnie G. Whipple Jr.
Nathan A. Hunsinger Nicholas A. Cantisani Nick A. Christopher Trapper S. Stevens Brandon M. Zellers
Charles W. Gaumer Jr. Dawson C. Arnold Jase C. Thomas
Justin David Sandner Michael A. Cassar Forest G. Cressley Jacob Allen Trowbridge Jacob M. Sperry Joshua R. Werni
Chase K. Sahm Colton A. Loreman Dylan R. Houck Evan Donald McConnell Graham E. Wiand Jared Thaddeus Corson Logan Xavier Jerome Noah Burke Owen Patrick Anton Sadie L. Miller
Alicia A. Passmore Jack W. Graham Jahiel Marlon Lawrence Jr. >> I present the graduates from the School of Technology.
Brandon E. Fisher Dennis A. Saar Garrett F. Storch
Ryan D. Evert Chelsea Taylor Lahr Faith E. Mitchell Grant Walters Nicholas E. Yule Jadyn Sindel Reeder Rebecca Allison Cornish Alec Gabriel Sharkey Breit R. Ketterer Jr. Bryan Edward Benz Christopher Robert McFarland Codie A. McCarthy Jared R. Ward
Joseph Louis Elinski Matthew David Kolonauski Samuel Van Dermark Daron M. Bingaman James Ronald Koch Riley M. Heidenthal Gregory Shiposki Alexander Thomas Acree Bethany D. Hunt
Bo Hunter Lewis Charles R. A. Howard Colton A. Crebs Dylan Scott Klemas Hunter Robert Zimmerman Jared Daniel Schultz Jeremy Norman Long Kelly Ann Williams Kolden Dennis Kosmer Kolten Charles Johnson Luke Connor Brick Matheo S. Angulo Matthew Joseph Eck Megan Nicole Nosker Peyton S. Kadyk Sarah Elizabeth Booher Scott Richard Seneca Taylor Diana Tompkins Zachary S. Hartland
Autumn Marie Ankiewicz Chase K. Goodwin Evan C. Dangle Henry H. Dumm Steven Austin Millheim >> Pardon me for a moment for interrupting the ceremony. As you know, President Gilmore is retiring after years in the college. In the last quarter
century, he's led 132 ceremonies and shaken the hands of 19,719 graduates. Until this spring. We are excited to announce that Steven is the 20th graduate -- 20,000th graduate. (Applause). >> 20,000 graduates. That's
20,000 handshakes and 20,000 tomorrow makers. Join me in congratulations Dr. Gilmore and Steven.
>> For the lucky 20,001th student. Tyler J. Dumm Wyatt E. Bartley Jacob Ryan Bensinger Joel Verrico Thomas J. Keene
Tyler Dalton Klingensmith Brandon B. Zechman Chad Michael Bomboy Eric Michael Barna Evan M. Bucks Griffin Robert Arnold Jarad David Sarna Jarred Lee Shuman Mitchell Nicholas Moran Noah James Schaffer Patrick J. Maeulen
Paul Glover Robert Joseph Swart Ryan Michael DiRienzo Trevor R. Quarry Tyler R. Ratliff Von Anthony Gushka Zachary B. Strock
Alec E. Dickey Alexander William Bibber Anthony Joseph Marturano Blake T. Blodgett Brandon Lee Rogers Christopher J. Bajek Demetrius J. Hill
Eric V. Trischitta Heath Robert Wertz Jack L. Hunter James F. McCann Joseph Gallina Joshua David Main Kailon R. Londberg Kyle T. Cejmer
Nicholas A. Cassel Nicholas R. Smith Robert Richard Ruda III Seth Colten Radel Steven Raymond Auerbach Veronica F. Fitzhugh
Raj K. Saha Andrew B. Stafford Carson David Beach Christopher Walkinshaw Cyle D. Hiller Evan H. Darroch
Evan L. Wendt Jacob Andrew Steward Jared M. Kiess Jarred Joseph Ocwieja Noah Matthew Cooper Reis Matthew Salvatori Robert Edward Kisner IV Thomas Henry Mann Seth Michael Bowers Wyatt Charles Hax Alex L. Giffin Colton N. Wartman
Jesse Brian Paugh Jorge M. O'Hanlon Lucas E. Krug Morgan H. Perry Serena V. Bergeron Mark Robert Bierly Shawn R. Simmons Benett B. Bauer
De'Vonte Tyrese Washington Emerson T. Woodward IV James C. Kelsey VI Luke Joseph Cisler William Spencer Massie Brett M. Robison Jason M. Wollermann
Joshua D. Bortz Mackinley S. Barry Maxwell T. Empson
Morgan Stephenie Wood Nash Dalton Berfield Nathan A. Persing Nathan Craig Brinker Neil Forte IV Frederick A. Moore Alexander H. Granlund
Brandon Pieszala Corey R. Chucci Kenneth P. McGullam Kevin Pradel Mark A. Coppola Ryan David Potts Samuel Cole Aaron Dylan McGarvey Mitchell G. Gordon Peter D. Manganelli
Franchesca Cheyenne Ybarra >> Your connection to the college does not end today. You are members of the alumni association. I welcome you to the alumni family. As the main link between you and your al alma mater, the alumni office will be in touch regularly by mail and social media. We look forward to welcoming you back on campus to hear about your success in your career and what you are doing with your Penn College education. In about six months, you are going to get a survey from us that's really important. That's how we track
our placement rate, how students are doing and graduates are doing in the career field. I really encourage you to keep your information up to date on the alumni relations connection and keep an eye out for the survey, so you can respond to us. You know, I get the last two minutes to talk to you before you walk out of the auditorium. It is a pretty serious time for me, as I think about what would I like to say to the group of graduates for the last time before they leave Penn College. I'm not going to keep you long. I know you are ready to go out to lunch and celebrate. Maybe just one or
two minutes. I would ask you to pretend there's no other family and friends here. Just us. There's a quote e that I like. It is a ten-word sentence. But each word only has two letters.
It is by William Johnson. It says if it is to be, it is up to me. I would like to change that today to if it is to be, it is up to you. You heard that from Frannie in some extend. We
didn't coordination plans. You do hold the key for future success. The people behind you that are proud of you. The faculty members that you've spent the last 1, 2, 3, or four years with or maybe some five have worked hard with you.
They've spent time in the classroom with you. They've spent time outside of the classroom with you. They've given you all they can. You now face a new chapter in your life If it is to be, it is up to you Here's the thing. We're pretty
confident you are going to do just fine. Because you've persevered, you've committed, and you made it to today. Every day won't be perfect. In fact, rarely will there be a perfect day. But we are confident that
you are the skills and abilities to make a difference in the world. Take the opportunity before you and keep a couple of things in mind. Frannie's advice was right. You have to do what you love. You have to
be passionate about what you do You have to wake up every day and want to make a difference. You know, people are going to talk about how proud they are of you today. We heard that as you came across the stage and your family and friends called out for you. There's a great deal
of pride in the room. But the pride I'm really interested in is yours. Are you proud of you Are you proud of what you've done and how you've done it? Because here's the bottom line. If you make yourself proud every day, I guarantee you, we will be Penn College Proud. We can't
ask for any more than that. You have left a great impression on us. We will miss you more than you have any idea. Go out into the world and make a difference Be honest and open with yourself. Make yourself proud. And remember you always have a place at Penn College. Congratulations.
(Applause). >> I invite those who are able to please stand for the singin of the Penn College alma mater. Geleman, please remove your ca. >>hank you. Pase be seated d remain ated until the atform party h recesse >> We ask that the audience remains seated while our graduates exit next. Family and
guests can follow the graduates recessional. Congratulations. Please join me in giving one final round of applause for our graduates.
2022-05-18 10:42
Show Video
Other news