SoCalGas Pledges Net Zero by 2045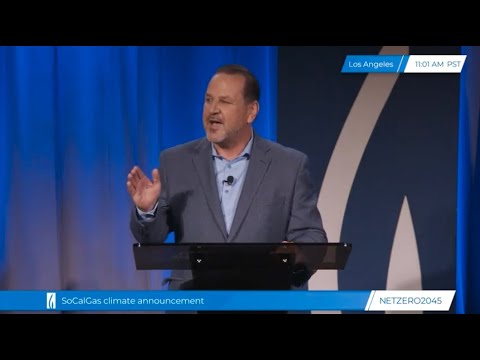 Show Video
- Good morning, I'm Michelle Sim, director of sustainability at SoCalGas. Thank you to the members of the media and everyone joining remotely today. For decades, sustainability has been integral to our core values here at SoCalGas. It drives our culture, it shapes how we serve others, and it defines how we see every challenge and opportunity.
Today's an exciting day at SoCalGas, unlocking a new chapter in our history with our 22 million customers, our state and beyond. And here with me today to announce our exciting new endeavors, SoCalGas CEO, Scott Drury. - Thank you, Michelle. Michelle's one of the amazing 7,000 women and men that work at SoCalGas and quite a rising star in our company, so I appreciate the opportunity to be with her this morning. Thank you for joining us here in the city of Downey to talk to you about the future of energy.
As we all know, California has set ambitious and important climate goals. Here at SoCalGas, we support those goals and in a few minutes, I'll explain the bold form that our support is taking. But before getting to that, I'd like to focus on a local clean energy initiative we're undertaking here in Downey. I'm speaking to you in our Energy Resource Center, California's first ever LEED building. LEED stands for Leadership in Energy and Environmental Design. And I'd ask you to hold that concept around leadership and energy.
I'm excited to share another first, the state's first fully integrated hydrogen home right outside of where we're standing. SoCalGas is building a home to demonstrate the important role that hydrogen can play in achieving California's carbon neutrality aspiration. The H2 Hydrogen Home is the first fully integrated demonstration project with solar panels, a battery, an electrolyzer to convert solar energy to hydrogen, and a fuel cell to supply electricity for the home. Appliances for heating, cooking and laundry will run on a blend of hydrogen and natural gas and performance will feel exactly like your current home. Reliable, clean energy 24 hours a day, seven days a week, 365 days a year. SoCalGas is really proud to plan our hydrogen home right here in Downey, a city that's led in technology and innovation.
Six NASA space shuttles, six were built right here in Downey and the command modules for the Apollo program that went to the moon and back, also built right here in Downey. Here with me today is Downey's mayor, Claudia Frometa. In addition to her duties as mayor, she serves on many councils and commissions focusing on emergency preparedness. During weather events or natural disasters, access to reliable energy can be the difference between life and death. We're thankful for her focus in this area as well as her support for first responders which is deeply shared by SoCalGas.
I'd also like to thank the Downey City Council for issuing a proclamation signed by the mayor recognizing the amazing women and men of SoCalGas for their commitment to build the H2 Hydrogen Home, the first of its kind in the United States and importantly for their commitment to build the cleanest, safest and most innovative energy company in America. And now Mayor Frometa, please come to the podium. - Thank you, Scott. And it is a privilege to join you this morning to help kick off the H2 Hydrogen Home. You mentioned so many SoCalGas firsts, and yes, Downey is proud of our many firsts. And thank you for noting that Downey is home of the Apollo, where the Apollo command modules were built as well as six space shuttles.
Today, the technological breakthroughs of those years continue to benefit our entire nation, and we in Downey are proud of our heritage and excited about our future. As part of our way forward, I have been a strong supporter of enhancing environmental sustainability through the use of solar in other technologies like you. SoCalGas does a lot more than deliver natural gas. You were early adopters of flexible solar panels, fuel cells, and renewable natural gas right here in Downey. Your Energy Resource Center, where we are standing right now was built from 80% recycled and reused materials, which was almost unheard of at the time. After becoming the first LEED certified building in the state, as you noted Scott, the Energy Resource Center went on to win Silver, Gold and Platinum LEED Awards.
We in Downey have been glad to welcome your innovation among our city's firsts. Today, with a help of SoCalGas, Downey now welcomes the latest fuel cell and hydrogen, and we look forward to the H2 Hydrogen Home expected to be the first demonstration home of its kind in the nation. Our city slogan is future unlimited, and operating at the forefront is certainly part of Downey's nature.
So we couldn't be more excited to have a part in furthering the development of green hydrogen. We know green hydrogen will be essential to tackling one of the biggest challenges of our day, climate change. It's a challenge that can't wait.
It's time to start scaling up this green hydrogen technology. And we need demonstration projects like the H2 Hydrogen Home to help. Downey is ready. We look forward with all of our enthusiasm to your pursuit of this project and to all of the great data and next generation knowledge that will come out of the H2 Hydrogen Home.
And to that end, I now like to present you, Scott, with a special proclamation from the Downey City Council. This is certainly an exciting time for our city. Whereas Southern California Gas Company has a long history of serving the residents of Downey, and today announced a major climate commitment and their intention to build on Downey the first H2 Hydrogen Home in America designed to demonstrate the benefits of increased integration for solar, fuel cell, hydrogen, battery and renewable natural gas technologies and whereas SoCalGas has supported many of Downey's efforts throughout the years, including sharing time and expertise as an original member of the Downey's Green Taskforce. And whereas SoCalGas built what is believed to be the first LEED certified green building in California, the Southern California Gas Company's Energy Resource Center on Firestone Boulevard in Downey, and has since won additional Silver, Gold and Platinum Awards from the United States Green Building Council and others, and whereas Downey, California, home of the Apollo and with its motto, future unlimited is an ideal location for cutting-edge technology with a potential to benefit people of the world, thank you.
- Thank you, thank you, mayor, thank you for your leadership. - Thank you. Wear my ask now. It is a pleasure, Scott. Congratulations. - Thank you very much. Thank you mayor, I personally appreciate your leadership and your acknowledgement of our company and the men and women of SoCalGas appreciate that as well.
At SoCalGas, we live by three important values, do the right thing, champion people and shape the future. These values guide how we think and they drive our actions. And I'll be very clear about this. Our mission is to build the cleanest, safest and most innovative energy company in America. And to that end, SoCalGas is leading the transition to carbon neutral energy. Today, we announce our commitment to achieve net zero greenhouse gas emissions across our entire energy value chain by 2045.
Our net zero commitment aligns with the Paris climate agreements, recommendations and it reflects our company's focus on supporting California with a resilient gas grid through the energy transition to support a carbon neutral economy. Our commitment to net zero is ambitious. It is very ambitious. It includes scope one, two and three, both direct and indirect GHG emissions. Put another way, it means not only will the cars we drive and the buildings we own, but the pipelines that we operate will make this transition. We are decarbonizing energy.
To decarbonize, California requires a broad portfolio of clean energy resources, including renewable sources of electricity such as wind and solar, but it also requires RNG and hydrogen to maintain reliability and resiliency. Over the next five years, we'll invest $2 billion associated with reducing emissions in advancing the decarbonization of our infrastructure. While it's impossible to predict with precision what the energy ecosystem will look like more than two decades from now, three things are clear. It must be safe, it must be reliable, and it must be affordable.
A carbon neutral California needs continued leadership at all levels. Support from policy makers is essential. And I wanna recognize and thank two outstanding state government leaders who represent Downey who are showing that leadership today. Senator Bob Archuletta, who's advocacy for hydrogen as a clean energy source led to the governor signing into law his bill SB-895, putting more zero emissions vehicles on the road. Transportation accounts for 40% of California's greenhouse gas emissions, which is why today SoCalGas is committing to accelerating the conversion of our own fleet consisting of thousands of vehicles to be 100% zero emissions by 2035.
And now ladies and gentlemen, please join me in welcoming Senator Archuletta. - Thank you, Scott, good to see you again, especially here in Downey, the 32nd Senate district, I call it the fighting 32nd. It was not too long ago, we got together, actually it was this past July that we're both here in the 32nd Senate district in Southern California, in Pico Rivera, down the road at your facility celebrating the installation of the bloom fuel cells. Let me say that again, bloom fuel cells and what an innovation project that was. There's another innovative change right here in Southern California, it's right here at the gas company and I'm so excited about it. But I will say this, I can't say enough how thrilled and proud I am that you've chosen the City of Downey, the 32nd Senate district to announce your net zero gold program.
Achieving carbon neutrality, net zero emissions, it's so important and yet it's not gonna be easy. Scott, it's not gonna be easy and I know you're up for the fight. And as one of the most important energy providers in California, we need your expertise, your entire team at the Southern California Gas Company. We know that the gas company pipeline and the network is crucial to providing a reliable energy supply and to supporting our electric grid. If California was to reach net zero, we need to decarbonize the gas grid.
You know that, and we're gonna go ahead and go forward with that. And I believe strongly that hydrogen will be an important tool for doing just that. As you know, I've been working very hard in the Senate to get more legislation passed around hydrogen, in particular green hydrogen, which is the kind that is produced using renewable electricity, through electrolyzing and or by reforming renewable natural gas.
As California switches more and more to zero emissions cars and trucks, we will be the leaders when it comes to green hydrogen, hydrogen fuel cell mobility, solutions that are important to develop this battery-based vehicles. We need to be open to all varieties of technologies. We must support and advance every zero emission mobility option possible. As we work towards important goals, we're gonna do this together here in California.
That's why I work to pass Senate Bill 895 last year, one of the bright spots in 2020, if there was one. That bill will allow the state energy commission to provide more fuel funding for say, electric trucks and cars, helping to clean the air surrounding our state's transportation corridors and improving the health of all who live near these corridors. But the benefits of green hydrogen don't stop with cleaning the air, green hydrogen will play a key role in achieving net zero emissions by providing clean fuel for power generations, heavy industry and even gas appliances in the home.
Can you imagine gas appliances in the home with hydrogen? And that's just what we're talking about today. That's just exactly why we're here today. Your H2 Hydrogen Home planned right here in Downey will be a showcase to show the entire state, if not the nation. We'll be able to show how solar panels and electrolyzing can make green hydrogen and how that hydrogen can power a fuel cell and be blended with natural gas for home appliances. Imagine going to that stove, turn it on, and it's hydrogen.
These are technologies whose time has come. So I commend the Southern California Gas Company, the entire team for your efforts to advance hydrogen and the fuel cells in California, but especially on this very important commitment right here in Downey to achieve net zero emissions by 2045. What an announcement you're making. Thank you again, Scott, for inviting me to join you here today. I'm very honored to be part of this important ambitious announcement right here in the 32nd Senate district and congratulations Scott, and to your entire team at the Southern California Gas Company, thank you.
- Thank you Senator, we really appreciate your leadership at the state level, thank you for serving. I'd also like to recognize another exemplary state leader and Assemblymember, Christina Garcia, who's joining us today by video link and I wanna thank her for her work and improving air quality through clean transportation options. Ladies and gentlemen, please join me in welcoming remotely Assemblymember, Christina Garcia. - Good morning, I'm assemblywoman Cristina Garcia and I represent the 58th District in the California Assembly. Thank you for including me to kick off the H2 Hydrogen Home, what an exciting day.
I have long been an advocate of safeguarding the health of our communities and first to address the toxics in our area, like PFAS in our water and like pollution created by the Exide facility. But caring for the environment goes beyond managing pollution, and most often includes swift action to curb climate change. And that means stopping greenhouse gas emissions, achieving net zero greenhouse gas emissions is a bogle and I'm grateful that SoCalGas is pledging to get there by 2045. Let's face it, achieving carbon neutrality in California will be quite a challenge. It will take our all and it will take all of us, all of us working together.
This is why I have joined forces with my colleague Assemblymember, Al Muratsuchi and introduced AB 1394. A bill that requires the state agencies to recommend measures and track progress towards achieving carbon neutrality by 2045. AB 1394 also specifies that in the working towards carbon neutrality, our state agencies engage and support partnerships of universities, investors, communities and businesses, businesses like SoCalGas. We know that as California brings on more and more renewables, solar and wind power that we will need not only clean electricity, we also need clean fuels like hydrogen and renewable natural gas to make our grid more reliable. California will need SoCalGas and all of their resources you can bring to bear to provide a reliable clean fields to support the transition to net zero.
I very much appreciate all the work you're doing to take renewable hydrogen and fuel cell technologies forward. Those tools will be indispensable and must be scaled up as quickly as possible. I think that H2 Hydrogen Home is a great way to showcase how important these tools are, to show how solar panels work with electrolyzers and batteries, fuel cells and blended gas all integrated just as our energy system must be integrated to provide a reliable, clean energy. I cannot be more excited that you have announced the H2 Hydrogen Home here in the California Assembly, 58th district. And I look forward to following your progress, Scott, as you've worked to achieve net zero. Thanks again for allowing me to be part of this very special occasion.
- Thank you, Member Garcia. We appreciate your leadership at the state level. Very, very much needed and very outstanding.
SoCalGas has delivered energy to Californians for over 150 years and we're excited to continue the journey to carbon neutrality with California. Net zero 2045 is our ambitious pursuit to make a meaningful difference for our customers, our communities, and California. Thank you so much for spending time with us today. We appreciate you being here and being part of our exciting announcement.
2021-03-25 10:45
Show Video
Other news