Samsung Galaxy Unpacked February 2023: Official Replay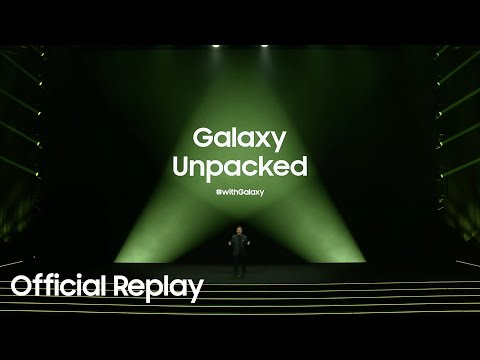 Show Video
Welcome to Galaxy Unpacked 2023! Thank you all for joining us today— online, and in person. I can feel the energy in the room. It is good to be back together. This is an extraordinary moment. More than ever, people turn to brands they trust… for the tools on which they can depend… to navigate our rapidly-changing world.
At Samsung, this demand for trusted performance pushes us to deliver more meaningful innovations— beyond the specs. It pushes us to create devices that are truly the best: and be a brand you can be proud of. Technology that is great right now… and still great years from now— with even less impact on our planet. And there's no better proof than the industry-leading Galaxy S Series. For more than a decade, the Galaxy S Series has redefined what a smartphone can deliver, constantly pushing the envelope of groundbreaking technology and reliable performance.
And this year's S Series continues in that intrepid tradition… Building on the S Series' legacy... Exceeding your expectations… Once again redefining what a smartphone can be. With the most impressive, pro-grade camera— You can take the best photos in any light. And with the most powerful, but also power-efficient, performance— You can open up the ultimate productivity and creativity experiences, in the palm of your hand. And the exciting part is: Your Galaxy is expanding.
Whenever you add new devices or services, you unlock an even better experience… With seamless connectivity… in a growing ecosystem… So you can do, create, and accomplish more with your Samsung Galaxy device. Meaningful innovation doesn't stop at the best performance. It also means devices that are engineered to last longer— With industry-leading durability, easy repairability, and software updates for years to come. And this extends to the materials we use— including more recycled ocean-bound plastic Plus recycled metals and glass. We earn—and re-earn— your trust with quality...
And with purposeful design and performance that is setting a new standard... again and again. Today, we're excited to introduce two amazing devices. The Galaxy S23, our best Galaxy S Series ever.
And our new Galaxy Book3 PCs, with our first Ultra PC. The Ultra brand means big. It means bold. It means the best of the best.
We created these devices to set the new premium standard for innovation… To deliver powerful performance— without compromise. For every consumer, and for the planet we share But you do not have to take my word for it! Seeing is believing. The presentations you'll see today were all filmed with the Galaxy S23 Ultra. Welcome to Unpacked! The Galaxy experience has always been fueled by our commitment to deliver innovation and technology to help you do more each day. The power of Ultra comes from our best hardware, working hand-in-hand with our most innovative software… It stands out by introducing groundbreaking experiences, year after year, representing our most cutting edge products.
Ultra was inspired by the Galaxy Note series, combining powerful performance and an outstanding S pen, with a best-in-class camera and entertainment experiences of our S series. I think you'll agree, the Galaxy S23 Ultra is as iconic and striking as ever. And this year, the Galaxy S23 and S23 Plus take cues from this groundbreaking design, creating a cohesive look and feel across the series. >From design, to power, to intelligence, the elements of Ultra come together in our best camera yet. In fact, the presentations at today's Unpacked were filmed using the Galaxy S23 Ultra! To show us what the Galaxy S23 Ultra's pro-grade camera can do, we worked with world-renowned director-producer Sir Ridley Scott to create a special film. He is best known for his iconic films Alien Covenant, Gladiator, The Martian, and more.
His approach to cinematography and visual storytelling highlights the capabilities of our most powerful camera … It's truly a sight to 'Behold' Behold… It's a very simple piece of storytelling, where we're in an environment, which is aggressive… and every turn this man takes, it seems to have an aggressive side to it. […] He finds absolution and [...] peace with an animal, with a horse that he turns loose at the end… Out of a dark world becomes good things with good behavior.
It is therefore a little bit poetic. I thought it's a great challenge - a very interesting challenge. Because the scary thing is, this small object is going to take the place of all the big cameras, which is great. At first, I feared it wouldn't give me the range of options I normally have available when working. But once I became accustomed to its settings, I was pleasantly surprised by how versatile it was… […] once I became more familiar with the S23 I was impressed with its capabilities… the quality of image and the dynamic range of the sensor.
A professional camera can be this big or this big. This is amazing. […] I like being able to go into real environments where a lot of rooms and a lot of spaces are very small, so it's very useful. It's great. Sometimes the visual is more powerful than the word, and sometimes the words more powerful than the visual. Therefore, to me, a story can come out of something that is completely silent and only visual.
So, I love always to explore the visual side. Just do it. Make sure you know what you're doing. Incredible! And we'll be releasing the full film soon. We can't wait for you to see it! The Galaxy S23 Ultra can capture epic details with professional-grade quality! It's the most advanced camera ever on a Galaxy device. And with the cameras on the Galaxy S23 series, you'll be able to capture and share pro-grade content, too.
Over to Jacs to tell you more. Thanks, Drew! When we create memories, we often rely on our smartphones to preserve those moments. That means the quality of our camera is super important. With Super HDR, you can capture a wider range of light and dark tones in your videos, with more accurate colors. The cameras combine readings from both low and high ISO to produce high-quality images with a wider, 12-bit dynamic range, spectrum of colors.
This means that your footage will depict light and dark areas more accurately, thanks to the 1.5 times increase in Full Well Capacity… which increases the maximum amount of charge that each pixel can hold before saturation… allowing us to bring 4K Super HDR technology at 60 frames per second to both the rear and front cameras for the very first time! It's all made possible by the new, advanced sensor on the Galaxy S23 series. It supports Super HDR to improve color clarity, and allows for faster processing which is necessary when capturing in high quality.
With this model's processor, you can now film in 8K at 30 frames per second, with a wider angle for a more cinematic feel. We've also enhanced the camera to absorb 2.5 times more light than before — giving you brighter footage! Your photos should be as epic as your videos! The Galaxy S23 Ultra packs 200 million pixels in the main, wide camera! That means you can even capture details of the background in your images! These pixels transform based on lighting conditions with our new Adaptive Pixel Sensor. When lighting is low, 16 pixels combine into one larger pixel to capture more light, resulting in brighter photos. In standard lighting conditions, the pixels combine into groups of 4 through our new Tetra Squaring process, resulting in higher quality, 50MP images.
Of course, amazing photos require more than high resolution. We've made it easier to autofocus with Super Quad Pixel, which uses each of the 200 million pixels to easily bring your subject into sharp focus. By using 4 adjacent pixels to detect differences from left to right and top to bottom, it allows the camera to auto focus faster because it has more points of reference. This gives you the power to shoot higher quality and more accurate photos, which is super helpful in low light conditions, where it is typically more difficult to focus. These innovations behind the screen are incredible… so how can you use these developments in your everyday? Whether you're just beginning to explore content creation or you're a professional filmmaker, the cameras on the Galaxy S23 series help you capture photos and videos in epic detail.
To bring the shots they envisioned to life, Pro Video mode gave our directors the ability to meticulously change their camera settings... for focus, white balance, ISO, and more. And with "Clean Preview" they were able to remove the UX when monitoring takes, which meant they could frame every shot with ease. This is a new feature added to Camera Assistant, our app that lets you choose and adjust a range of camera settings, from activating a faster shutter to Auto Lens Switching… The Galaxy S23 series brings you more flexibility to help you create shareworthy content, whether you're documenting your vacation or making a film of your own. With photos from "My Gallery," I often create high quality GIFs to share with friends and family… But some of my favorite GIFs that I receive or find online are low resolution. With GIF Remaster, I can sharpen each frame to enhance the quality of GIFs that somebody else created… You can also take videos and photos that are out of this world! Astro Hyperlapse allows everyday users to capture the starry night sky with professional quality.
And with Expert RAW, users can get detailed meta-data for more creative control. To help you easily take photos that would usually require an elaborate setup, we're also introducing Multiple-exposures and Astrophoto to Expert RAW. These are just a few of the ways that the premium offerings of the Galaxy S23 series let you easily create professional content, every day. To tell you more, back to Drew. Thanks, JACS.
The Galaxy S23 Ultra delivers pro-grade camera experiences that let you capture life as you see it… We introduced Nightography last year to help you take crisp and clear photos in low light. And this year, we're taking that power to the next level, so you can capture striking footage with vivid colors even at night. To showcase its capabilities, the esteemed and award-winning director Na Hong-jin created a film using the Galaxy S23 Ultra. He is known for his films The Wailing, The Chaser, and The Yellow Sea. His unmistakable style uses dark imagery, combining elements of horror and suspense to tell stories that are both entertaining and profound. Let's go behind the scenes to see how Na Hong-jin used the Galaxy S23 Ultra to capture an action packed thriller in the dark….
As the title suggests - this film is about faith. I wanted to explore the complicated subject of values… And how our personal values and beliefs can vary significantly from another person… Values are not absolute. Filming a movie with a smartphone can seem simple at first. But we needed to ask ourselves… How does this change our production process? To deliver movie quality, what do we need to consider? The biggest challenge was that most of the filming was to take place in an extremely dark environment. For projects like this, which take place in the dark, there are limitations to what cameras can capture. Usually, we would need to prepare more lighting to create a brighter filming environment.
But adding more lights can change the mood of the scene, altering the atmosphere of the director's original intent. With HDR, we were able to capture details in the dark, which was incredibly helpful. Similar to how we approach such scenes with a traditional camera, we reduced lighting to accentuate the darkness of the scene.
Surprisingly, all the details in low light were clearly visible. Now this is a game changer that makes things really interesting. I can have fun with this! When filming with a smartphone, one of the biggest considerations is to avoid moving or panning the camera as much as possible. But for this project, you'll notice that the camera is constantly moving.
The Galaxy S23 Ultra was able to maintain focus while moving, to create natural motion within the scene. Surprisingly, it was able to shoot at 120 frames per second, similar to a professional, high-speed camera. The ability to capture natural motion blur and speed was impressive. We're very happy with it. There's a scene where the main character bursts through the door.
I told my staff to hand me a S23 Ultra, and placed it in a precarious position… It allowed us to capture a very dynamic, lively shot easily. I think that's the greatest benefit of filming with a small camera. I believe that smartphone cameras have evolved to become powerful enough to create professional videos. With all these features and performance improvements smartphones have really come a long way to be able to produce movie-quality footage. And with this smartphone, I can wholeheartedly say that you can create high quality content… And I believe that everyone will be able to create amazing videos using these smartphones. Wow! It's incredible what Na Hong-jin could bring to life with the Galaxy S23 Ultra! And even more impressive, it was all filmed in low light.
This all-new experience helps everyone create epic content with Galaxy. Here's Yoonie to tell you more. Thanks, Drew.
The Galaxy S23 Ultra takes the innovation of Nightography to the next level. As you just saw, it has the power to bring the details of that ominous night to life. Just imagine the things you'll be able to create! All you need to do is bring your ideas and Ultra will do the rest. Filmmakers know that filming in low light can be challenging, often resulting in shaky footage, noise, glare, and color saturation. The Galaxy S23 Ultra is designed to tackle these challenges and help you capture pro-grade videos. Optical Image Stabilization, or OIS, is a technology that helps increase the steadiness of your footage.
It adjusts the lens in the opposite direction of motion detected while filming. On the Galaxy S23 Ultra, we've doubled OIS' capabilities to increase the area in which motion can be offset. This OIS hardware works alongside Adaptive VDIS to analyze and subdivide your movements, and to recognize light conditions around you. Improved software and AI further strengthen the low light video experience. A dedicated new image processing algorithm separates noise and details by performing multi-frame processing with AI, which combines multiple images across frames to reduce noise. The Galaxy S23 series uses an enhanced solution to reduce overexposure and color saturation in your videos.
What this all means is that with Nightography on the Galaxy S23 Ultra, your creations will be so good, the only thing left to do will be to share them! Nightography on the Galaxy S23 series isn't just for video… it's for photos, too! Come on let's go! With our improved Night Solution, the image sensors on the Galaxy S23 series work to minimize visual noise. And an AI-powered ISP algorithm enhances object details and color tone. This makes snapping a photo at night easier. And for portraits, AI Stereo Depth Map is able to detect individual objects. It can even separate a person's glasses from the background of your photo… so the details of your portrait are crisp and clear. See? Nightography on Galaxy S23 series brings you even more ways to capture what's around you.
Now, let's bring it back to the real world. I'm really excited to try out the Galaxy S23 Ultra's camera at some of my favorite spots! Life gets busy and it can be hard to get everyone together, but when I do… I always try to take at least one group selfie with my friends and family! Before, I never really got asked to share my photos… but now with the Galaxy S23 series, everyone always wants me to share photos with them. Take a look! That's the AI at work. When we're taking a group shot, the AI Object Aware Engine recognizes different objects, like our hair and clothes, and separates them from the background… Then it enhances the details of each object for clearer photos and videos. Meanwhile, the camera's Dual Pixel technology improves autofocus, so you can see the depth and detail more accurately.
And depending on the mood you want to convey in your selfies, we've added Color Tone, which lets you choose from Natural or Warm tone. And that's just the beginning of the epic camera experience that Galaxy S23 series provides! With Nightography, your gallery will be full of share-worthy photos and videos that truly capture your favorite memories in vivid color. So, get ready! Because everyone will be asking: "Hey, can you send me that?" These days, we all share important memories on social media.
It's how we keep up with friends and family. I usually share vacation photos, and a lot of the time, the people who were there with me see my posts and ask for the originals to keep for their memories. Sharing full resolution files is simple with Quick Share. I can easily share original files, even to friends on a different platform. The Galaxy S23 series gives you the power to create and share. And with our most powerful camera yet, it has something for everyone – whether you're a professional, or just love to take pictures with friends, family, or pets! These cameras combine incredible hardware and innovative software to take your photos and videos to the next level.
The Galaxy S23 and S23 Plus bring you a 50 megapixel wide camera and the Galaxy S23 Ultra provides our highest resolution, with a 200 megapixel camera. Powered by a revolutionary image sensor, You can enjoy a groundbreaking, professional camera experience and take advantage of everything from Super HDR to our AI camera. And that's across the entire Galaxy S23 series.
Here's David to tell you more. The Galaxy S23 series offers impressive performance across the board. And the Galaxy S23 Ultra's design builds on that innovative foundation to provide tech that truly delivers. The Galaxy S23 series has powerful battery while maintaining the smartphones' compact form.
The Galaxy S23 and S23 Plus have 3900 mAh and 4700 mAh, respectively. And for the Galaxy S23 Ultra, we maintained the 5000 mAh battery without increasing the device's size… even with the larger camera! We've [also] improved the cooling system on the Galaxy S23 series, so your smartphone can regulate its temperature while maintaining powerful performance. The Vapor Chamber is central to this process and is now larger than before... So you can game, or stream music and videos for even longer. As part of our commitment to open innovation, we've worked closely with our partners at Qualcomm to optimize the Galaxy experience with the brand-new Snapdragon 8 gen 2 for Galaxy. It's the most powerful and efficient platform ever in a Galaxy smartphone.
and it's the fastest Snapdragon ever! The newly designed CPU micro architecture boosts the processing abilities of the Galaxy S23 series by about 30% compared to last year. The CPU has eight cores — five dedicated to high performance, and three for high efficiency… … bringing you a difference you can feel with enhanced multi-core performance. When you're multitasking, you can listen to music, download new apps, and scroll through your social media feeds, with consistent and efficient processing.
And today, you've seen all that the Galaxy S23 series' camera can do! Capturing stunning photos in low light requires trillions of calculations per second... and we've optimized our highly efficient NPU architecture, that balances performance and power, by about 49%... using an AI algorithm, to help you take epic photos and videos.
And this year, the most significant improvement is the optimized GPU, which is approximately 41% faster and designed for power users. The GPU architecture has been enhanced for performance and efficiency… giving the Galaxy S23 series the ability to create graphics that can only be described as EPIC. It's all rooted in our philosophy that technology can be used to create the world we want, and that innovation can produce groundbreaking tech.
Back to Drew, to tell you more. With the Galaxy S23 series, you'll experience stronger performance – across CPU, NPU, and GPU… for faster and smoother gameplay. Upgrades to our GPU are essential to that experience, with optimized frames per second, to provide our most powerful gaming experience yet! Our new GPU also enables a Ray tracing module that makes your gaming experience more immersive and lifelike. Here you can see two sets of gameplay.
On the right, you can see the visuals enhanced by ray tracing. Look at the lights and reflections. The in-game lighting, reflections, and shadows are even more realistic, so you get a PC-like gaming experience.
And now, gaming outdoors is even better! The entire Galaxy S23 series – base, plus, and Ultra – now features screens with a peak brightness of seventeen hundred fifty nits. Our intelligent display adapts to the lighting of your environment and helps you see your screen clearly, with 3 levels of brightness and color adjustments. To take the gaming experience even further, we continue to work with studios, publishers, and game engine companies to optimize performance. The Galaxy experience pushes the boundaries of tech providing premium, holistic experiences – from camera to gaming, it's driven by innovation, designed with you in mind.
As you can see, you get a powerful gaming experience with the Galaxy S23 series! And Ultra lets you accomplish more, in the ways that work best for you… So, for the first time, we're bringing the power of Ultra to our PCs! Introducing the Galaxy Book3 Ultra. This is the stunning Galaxy Book3 Ultra, right here! It has a sleek, premium design, with a full-glass display, a slim bezel, and a much wider touchpad… And even though it's thin, it has multiple ports, so you don't need to carry around a USB hub. It's the most advanced PC in the Galaxy Book3 lineup. And you're probably asking yourself, 'what are the specs?' Let's take a look.
The Galaxy Book3 Ultra is equipped with the latest 13th gen. Intel core processor. You can choose from the Core i7 or i9. And its powerful H-series CPU can support up to 45W for high performance. Combine that with the NVIDIA RTX 4070 laptop GPU – and you have the strongest CPU and GPU in the Galaxy Book series.
There are also two new Pro models – the Galaxy Book3 Pro 360, for those who want the benefits of a tablet and a PC in one, and the Galaxy Book3 Pro for everyday performance. I'm super excited that the Pro and Ultra lineups bring our impressive Dynamic AMOLED 2X displays to our PCs for the very first time ever! Let's see how people are reacting to the Ultra unveil. It seems like people want to see our new PCs in action.
So, I've asked my friends to help me show you what they can create. Hey! We've been challenged to show off what the Galaxy Book3 Ultra can do... can you help? Of course! I started creating this model... I'm adding more details here…
The Galaxy Book3 Ultra features an expanded 16:10 ratio, with a new, crisp 3K display. That means it's optimized to view more content… And with the new Dynamic AMOLED 2X display, the 120% color volume really makes details pop. When you're creating a video, the NVIDIA RTX 4070 laptop GPU helps you bring your imagination to life. It's great for editing videos, live streaming, or creating complex 3d renderings like this one.
Thanks to the fourteen-core 13th Gen Intel Core processor, it delivers superfast processing and high bandwidth that is critical to accelerate content creation and productivity workloads, including, complex, data-heavy projects. The Galaxy Book3 Ultra's 120Hz refresh rate, and new GPU provide an incredible gaming experience… Its response is fast and smooth, bringing you next level gaming. And when you combine those visuals with powerful Quad speakers, you can really immerse yourself into the world of your game. When you're playing with a team, being on-mic is part of the fun! Run run run! Into the building!! The studio-quality microphone has AI noise cancellation, so your voice can be heard with no distractions. Yes! And it looks like our rendering is done! That looks awesome! I'm glad you like it! I'll see you later. We just saw how the Galaxy Book3 Ultra can help you work and play.
But what makes a laptop is the ability to take it wherever you go. Let's check in with another friend. She's a creative influencer who's always on the go. Her Galaxy Book3 Ultra lets her do her best work virtually anywhere. The Galaxy Book3 Ultra and Pro series turns any location into a workspace with advanced phone-to-PC connectivity, thanks to our partnership with Microsoft.
Instant hotspot makes it quick and easy to connect to your phone's mobile network – no need to retype your password, it's just one click. And now you can continue browsing the recent website from your phone, right on your PC. When you're working remotely, multi device connectivity comes in handy.
With Multi-control, interaction between devices is super seamless and even simpler to control – all from one single point of input. You can even copy and paste across displays. And with second screen, you can turn your tablet into a second display for your PC to make full use of your PC, phone and tablet all at once! Hey! How's it coming? I'm almost done! I'm just gonna add one more thing! Sure! With intuitive phone-to-PC connectivity, it's easy to transfer uncompressed RAW images. Once paired through Expert RAW, images sync automatically to the Galaxy Book3 Ultra, so you can edit in Adobe Lightroom, and truly make your vision come to life. Expert RAW lets you control more aspects of the photography experience, from start to finish. Ryan Hey! How's it going? I saw the post on social and it inspired me! Let me show you.
Alright, cool! With a flexible 2-in-1 form factor, the Galaxy Book3 Pro 360 brings you multiple ways to use your PC, and create in ways that suit you best. It has touch screen and S Pen capabilities, letting you sketch, draw, and write in more ways… and with nearly zero S Pen latency, you can have a true to life pen-on-paper experience. Hey! What is that? Hold on, just one second… So, what do you think? That looks amazing! I'm impressed! Thanks team for showing us how the Galaxy Book3 Ultra and Pro series can be used to create epic projects, optimizing your time and creating seamless interactions between your connected devices.
Because when it comes to creativity, your imagination is the only limit, and the Galaxy Book3 series is up to the task. You can do so much with the new Galaxy Book3 Ultra and Galaxy Book3 Pro Series… and we can't wait to see what you create! We designed these PCs to offer powerful performance… through GPU and CPU enhancements, the bright and accurate colors of our Dynamic AMOLED 2X display, and a multi-port design. It's all a part of the Galaxy experience, which brings you more choice and connection across the ecosystem. To tell you more, here's Kim. The Galaxy experience is designed to fit your unique lifestyle and preferences. It's all about empowering you to customize and personalize how you use your devices together.
And now, we're bringing you even more options so that everyone in the family can do more with Galaxy. Your phone should reflect who you are, from the outside in. With One UI, you can truly make your smartphone your own...
by selecting up to 15 photos and videos of your favorite memories for your lock screen. Every part of the lock screen can be customized, so it looks and feels how you want it to. Smart suggestions help you personalize your experience even further, by recommending apps and actions when you'd usually use them! Like when you put in your Buds2 Pro - Smart Suggestions will remember that you usually listen to Spotify, and pull up a custom playlist.
Privacy and security are essential when it comes to your connected experience. And there's no privacy without security. Even when you're getting your phone fixed! Maintenance Mode limits access to your personal data. When your phone is being repaired, customer service staff won't be able to see your messages, gallery, or files. It also keeps all the apps you've downloaded private, like banking apps. Your phone's all set! When you turn on Maintenance Mode, you're the only person who can turn it off by using the verification method of your choice.
Do you know how to check the security and privacy status of your phone? One UI 5 combines privacy and security controls into one streamlined dashboard, so you can see security status and potential fixes in one place. Because staying protected should be simple and intuitive. We innovate to bring you and your family more peace of mind through enhanced safety features. It's a foundational part of the Galaxy experience. Ready to get some work done? Sure. Great! Being productive comes easily with upgraded Samsung Notes.
You can share a work in progress or co-edit in real time. And for even more collaboration, edit Samsung Notes together in Google Meet. I feel like we need a different photo. Good idea. Let me find one…
The S Pen brings you flexible ways to use your devices, helping you to be more productive! Handwriting to text with the S Pen is supported in select Google apps, such as Chrome or YouTube. It's super helpful when it comes to quick searches and notetaking. It switches to text just like that! Perfect, that looks great.
I'm home! Oh, my dad's here. I gotta go, see you in class tomorrow! Galaxy truly is for the whole family. Bringing you more creativity, More convenience, And more connection. You can bring two of The Freestyle projectors together to create a bigger, wider, and more immersive view with improved aspect ratio and minimized black bars. With a single tap, Theater Mode gets your home ready for your favorite film, activating Do Not Disturb mode so you can watch uninterrupted.
SmartThings brings you more convenience and connectivity, from your smartphone to The Freestyle, and across your devices. It even works seamlessly with non-Samsung products, and is now compliant with Matter standards. When using the new SmartThings Station — you can charge your devices, activate preset routines, or use it as a hub to connect your smart devices and appliances. Flexibility is the foundation of the Galaxy experience.
With more options, you can use your technology your way. With increased customization, stronger privacy and security, and a seamless ecosystem, we bring you more ways to personalize your experiences to fit your lifestyle. The Galaxy experience is designed to fit your lifestyle, no matter how you like to use your tech. The Galaxy S23 series will come with One UI 5.1.
And we're excited to announce that One UI 5.1 will be rolling out to some of our other Galaxy devices soon. With Nightography, a high-res camera, and powerful performance, the Galaxy S23 series delivers our most advanced mobile experience yet. The Galaxy S23 series will be available for preorder starting today. Pricing starts at seven hundred ninety-nine dollars, with the S23 Plus at nine hundred ninety-nine dollars, and the S23 Ultra at eleven hundred ninety-nine dollars. The S22 will be available in the US from six hundred ninety-nine dollars. You can also preorder the Galaxy Book3 Pro series today, with the 16 inch Book3 Pro starting at twelve hundred forty-nine dollars and the Book3 Pro 360 starting at thirteen hundred ninety-nine dollars Or preorder the Galaxy Book3 Ultra on February 14th, starting at twenty-one hundred ninety-nine dollars.
We are committed to delivering powerful, premium tech that not only helps you… but also contributes to a sustainable future. Here's Mark to tell you more. Today you've heard about how our devices bring you powerful and exciting experiences to match your lifestyle. We're committed to making these experiences more sustainable by bringing innovation and sustainability together, to catalyze positive change today and more importantly for the future. Samsung's Everyday Sustainability commitment starts by addressing climate change. This means achieving net zero carbon emissions in all our owned consumer products operations by the end of 2030.
To move faster to advance these goals, we designed the Galaxy S23 series with the planet and you in mind – from the materials we chose for the product, to what the packaging is made from, to how long it sustains its best performance… Let me tell you more. The Galaxy S23 series incorporates more recycled materials than any other Galaxy smartphone to date. Specifically, the Galaxy S23 Ultra features recycled materials in 12 components, including internal, and for the first time, external components.
That's double the amount used for Galaxy S22 Ultra. And we're introducing new pre-consumer recycled materials like aluminum and glass and continuing the use of recycled ocean-bound plastic in the device. The Galaxy S23 series is the first to use Corning® Gorilla® Glass Victus® 2, which contains 22% pre-consumer recycled glass. On the back of the device, we also used PET film, made with up to 80% recycled material. And we're working to eliminate single-use plastics from packaging.
The Galaxy S23 series comes in a redesigned box made with paper that is 100% recycled and certified as sustainably sourced. Integrating sustainability into the product experience doesn't stop with the Galaxy S23 series. The Galaxy Book3 series also uses recycled ocean-bound plastic and post-consumer material. Look, we all know that a more sustainable lifestyle requires innovative technology that's built to last.
That's why the Galaxy S23 series comes with up to four generations of OS upgrades and five years of security updates. Samsung opens up endless possibilities that enrich our lives and help create a more sustainable future. It's the result of innovation and sustainability working together, without compromise, and open collaboration with like-minded partners who help us to bring the best experiences to you. To tell you more, please welcome back TM Roh! Thank you so much Over the years, we have reshaped the mobile industry. We have given people better choices… Through our commitment to open collaboration and open innovation with a Galaxy of trusted partners —including and especially // Qualcomm and Google. Today, we are transforming the future of mobile —once again, by building the next XR experience together.
We foresee a future in which immersive, s hared experiences enhance and enrich people's lives —revolutionizing how we connect with one another… Even on opposite sides of the planet. We'll share real-life experiences, in real-time. New possibilities for working and playing that we barely even imagine today To reveal more about how we are building this future, I am excited to welcome two very special guests to the Unpacked stage: Cristiano Amon is the President and CEO of Qualcomm. He started his career as an engineer, like me… and helped move mobile technology forward through a number of groundbreaking products and services. Hiroshi Lockheimer is Google's Senior Vice President for Platforms and Ecosystems —and one of the visionaries behind the pioneering Android ecosystem. Let's give them a warm welcome! We are so glad you are with us I would like to invite Cristiano to kick things off.
Thank you, TM. It's great to be here. I want to congratulate you and the Samsung team on the launch of the amazing Samsung Galaxy S23 Series. These devices truly set the industry benchmark. Qualcomm and Samsung have a long history of collaboration and innovation. It's a partnership that has enabled us to deliver the best mobile experiences for more than 25 years.
Recently, our relationship has grown even closer as we continue to push the boundaries of what's possible to deliver leading premium experiences. The Galaxy S23 is the latest example. We are thrilled that this incredible smartphone is powered by the world's fastest and most power-efficient Snapdragon ever! The Snapdragon 8 Gen 2 Mobile Platform for Galaxy.
It features leading system processing performance … as well as groundbreaking AI that enables truly extraordinary experiences. This includes the AI-powered Cognitive-ISP, which enhances photos and videos in real-time for professional-quality camera experiences… even in dark settings. The Qualcomm Adreno GPU is optimized to provide ultra-realistic lighting and reflections for desktop-level gameplay.
And it delivers the ultimate in connectivity with the world's best and most reliable 5G modem-RF system, as well as industry-leading Wi-Fi and Bluetooth. Galaxy fans across the globe are going to love this device. We're also collaborating to bring next-generation experiences to other Galaxy products, including laptops, tablets, XR, and more. In XR, we're working to create a new era of highly immersive digital experiences that blur the lines between our physical and digital worlds.
With our Snapdragon XR technology… along with Samsung's amazing products and Google experiences, we have the foundation to make these opportunities a reality and drive the future of the spatial internet. Together, we are truly driving the industry forward and developing technologies and devices that meet the needs of Galaxy users today and tomorrow. Thank you for having me, TM… and congratulations again to the entire Samsung team on today's launch. Thank you, Cristiano.
Such an exciting vision—for all of us. For even more… please take it away, Hiroshi! Hi everyone, it is great to be here today! Massive congratulations to the Samsung team, I can't wait to get my S23 Ultra in Green! TM and I last shared the stage together 3 years ago, right here in San Francisco. I'm truly humbled and inspired by how our partnership hasn't skipped a beat since then, as we've delivered many new experiences that empower you to do more with Google. Our deep collaboration around Google Meet and Messages has been super helpful in bringing people closer together. This includes our roll out of the RCS messaging standard, which enables end-to-end encryption to keep your communications safe and secure.
We've also doubled down on optimizing for large screens, to enhance what you can do on Samsung's foldables and tablets. And on the platform side, we've built a best-in-class wearable platform in Wear OS. With the launch of Wear OS 3 in 2021, there are now over three times more active Wear OS watches around the world than before. An exciting space where Google has been investing in for a long time – across both experiences and technology – is AR and VR. These technologies are integral to the new phase of computing, as they can change the way we interact with people and information to get things done in the real world. But delivering this next generation of experiences requires cutting-edge, advanced hardware and software.
That's why our collaboration with Samsung and Qualcomm is so exciting. Google has been investing in AR experiences that are more immersive and fundamentally different from traditional 2D formats for quite some time. On mobile, we've scaled ARCore to over 1 billion Android devices.
We've also brought AR to Search, YouTube, and Google Maps. And Google Lens is now being used for more than 8 billion visual searches per month. These examples are just a prelude to our long-term vision.
We're working towards a new generation of computing – enabled by immersive experiences across brand new form factors – that will further elevate what you can do with Google. All of this is incredibly exciting – from the hardware and core technological capabilities to the apps and services. I can't wait to see what we build together! Thank you, Hiroshi—and thank you again, Cristiano. Open, proven, trusted collaboration with iconic industry leaders. A whole greater than the sum of its parts.
Bringing the best of our technologies together… To transform the future of human connection. Please give a warm hand to our friends! I am grateful for the chance to connect with all of you today -online, and in person. Thank you so much for being part of this Unpacked. I will see you again soon!
2023-02-08 03:12
Show Video
Other news