ReVillaging February 10, 2021: Emerging new visions for work and family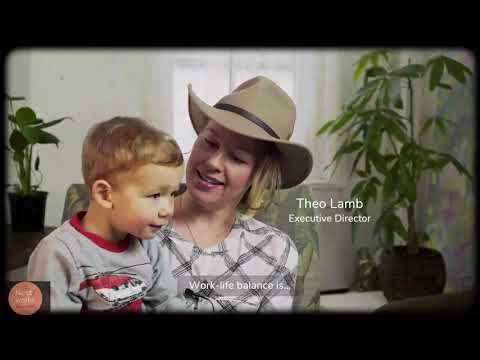 Show Video
Okay, rolling. Okay. Hi, how are you doing guys? Good.
We're 10 days into parenthood. What was the question again? The question was... This is Malika and she's 18 months right now. Work life balance is... Can you give me the burp cloth? Sorry. Hold on.
Work life balance. Hmm. That's a funny concept. Logistically it can get kind of tiring and challenging to manage all that right like to get her to daycare.
I feel at this stage in my life with a three and a half year old, that I'm just coping. 'Cause there's no daycare, and it's really hard to find. So it's a constant juggle and struggle. So... I think Vancouver is known as a very unfriendly city to families.
So my name is Madeleine Shaw, and I am the founder and Board Chair of Nestworks Workplace Society. In Vancouver, today, less than 40% of all the demand for childcare is being met. So we have 60% of parents who are basically stuck with without childcare. And that, of course, has massive economic implications.
It's also extremely frustrating and stressful. It's just basically inhibiting families from functioning optimally. Nestworks is a response to this. Nestworks is a way of saying "How about this, how about we do something different, we do something that is designed around a working family." You know, the vision is that a parent and child or children come to Nestworks.
And then we have the parents' quiet, private workspace on one side, and we have a full suite of childcare amenities on the other with high high quality childcare and after school care as well. What really really excites me about Nestworks in the longer term is that we're not just solving the problems of child care and needing a place to work with, you know, fast wi-fi, and coffee and whatever. It's so much more than that. One of our board members calls this "ReVillaging."
The vision of Nestworks...it is a community. Yes, it will have all of the things a good coworking location has, and it will have future citizens that we're raising here. I really don't think that it's impossible, I think it is definitely something that we just need to think a little bit outside the box. We are living in urban environments where we don't necessarily know our neighbors where there's a sense of disconnection, and mistrust and loneliness. And so I really foresee Nestworks as being a great place for social innovation that will come out of these family needs being met through the alleviation of stress through improved mental health and overall improvement of quality of life for families to thrive in Vancouver.
I love this idea. I can think of so many of my friends that would jump on this. This is the future of work and family. And it's it's ahead of its time, in a lot of ways. This idea of Nestworks bringing together professionals to build things and create things and to innovate, while nurturing social relationships, while providing spaces that are safe for children.
And to be able to demonstrate that and put that out to the world is...we just need more of that. More Nestworks.
Great, thank you, Dylan for making that happen for us. Really happy to welcome you all here this evening. My name is Vanessa Richards. And it's my pleasure and privilege to be your host this evening. If you are happy to be here, can I get one of these? Right. If you've come from another meeting, can I get one of these? Whoaa.
All right. If you've just woken up because you're somewhere across the world, can I have one of these anybody? All right. Okay, well great. Where I stand and meet you from in Mount Pleasant in Vancouver. This is the homelands, unsurrendered, unceded of the Musqueam, the Squamish and the Tseil-Waututh people. It's my hope and our time together, that we can have the kind of conversation and intentional connection that will earn us the privilege of being here.
Those relationships have been... emerging ones that we know, then make the difference for the well being of the land and the people. So I greet you with a, with a great, relaxed, and happy heart on this beautiful date spring in Vancouver. Just before we talk, you know, I want you to wherever you are in the world, just take a nice breath in. See if you can smell anything spring-like.
Maybe like me, you have some daffs in the house or hyacinths in another room. Let's take a listen to what you can hear outside your window. And just feel your feet on the ground or if your feet are tucked up under you, just feel the chair supporting you. And as we think about and reimagine our lives during this COVID time, because we don't know how long it's gonna last. So let me not jump to post COVID.
But imagining this during COVID, as well as post COVID world. Along with the heartbreaks and the hardships, we've really gotten close to the critical need for better childcare. It's also offered us challenges and opportunities to think about the way that we work.
And the way that we appreciate our family and friendship relations, or collegial relations, collegial relations, that people with whom we do the work of the world. Our speakers today are just a few of the new voices and leaders who are stepping forward to present new solutions for both family and career needs. Or just plain labor.
Maybe it's not even a career for you to work in, which is why they call it work. Now, just a few housekeeping things. The way that our time this evening is going to work is that we'll be hearing from Minister Katrina Chen. This will be followed by audience questions. Following that there'll be a conversation between Amanda Munday and Madeleine Shaw, with more opportunities for conversation and dialogue after that. And then we'll be opening up to breakout rooms facilitated by the Nestworks board members.
And if you're a Nestworks board member, can you give us some of this? So people can see. It's kind of got a little bit of a swing in it. There you go. You got that very nice.
And we'll we'll be talking about what about your work life. And your situation has changed with the impact of the current conditions that we're living in. And what are your needs now? I want to thank our community sponsors.
Alces Technologies, which is an independent, mission based technology and sustainability consulting company. Mission based technology. Like it! Their name is inspired by the genus and species of one of the most majestic animals of the boreal forest. Can anybody does anybody know what alces is stands for? And I guess that's a Latin word for this magnificent creature. If you know what it is, before I say it, I'm going to count to three put it in the chat right now. Alces, without googling the genus and species.
Yes, yes, Belinda. Are you from Alces? Yeah, it's moose. It's moose. Moose, moose, majestic. Great, then we're going to go into so thank you for that Alces.
Really appreciated. The Women's Enterprise Centre is also a nonprofit organization devoted to helping BC women start, lead and grow their businesses grow like a young buck in spring with these moose horns. And we'd like to invite the Women's Enterprise CEO Jill Earthy to share a few words with us now.
Thank you very much, Jill. Well, thanks, Vanessa, and amazing act to follow. I'm so honored to be here.
I say I'd like to say a friend of Madeleine as a champion of this. But also many of you I recognize from years ago, when I had an initiative called Mom Cafe where we had events and we brought women together and brought their kids there together too. And so I just so believe in this movement and the future of work. But I'm here on behalf of Women's Enterprise Centre as Vanessa said, we're here absolutely to support women entrepreneurs and their unique growth paths.
So Vanessa, I love how you position growth. But I think it's really important to note that we're all about embracing the strengths that we have as women and not to fix the women are fit into new new or traditional ways but to really embrace the strength of women entrepreneurs, so we can grow and thrive. So we're happy to be here as a support other as a partner, and look forward to continuing to champion this great work and supporting all of you, so if you need anything at all, just let me know. Okay, thank you. Um, yeah, my, my example of growth was actually really male as well, too. So I'm gonna have to come think of a feminine version of something could go out.
It could go out, it can go all around. Yeah, yeah. And also that isn't only related to childbearing that grows because not all women bear children. So I just want to thank you, Jill. And it's an honor this evening to hear from the Honourable Katrina Chen, Minister of State for Childcare.
Minister Chen is the MLA for Burnaby Lougheed. That's where I used to live growing up as a teenager. So thank you for keeping that place together and in a good way. And she's a graduate of Simon Fraser University, as well as UBC. She's also a mom to a young son, I like to spell it s-u-n, and is well acquainted with the struggles faced by working with BC parents to find childcare, and manage this work life balance mystery. Please put any questions that you have for Minister Chen into the chat.
And I'll do my best to share as many of them as possible once she's finished speaking. Remember that even if we run out of time, there will be a chance for everyone to share in the breakout room. So um, please feel free to hold on to your questions there and continue to talk through that. And do feel free to use the chat freely. And Minister Chen we're ready for you.
Thank you so much for your presence. Thank you so much. And you can just call me Katrina. And I have to say that I'm already falling in love with this event.
This is the type of event and conversation that I really enjoy. Seeing a lot of moms, parents, dads as well, and little kids. It's just so wonderful to see all the beautiful faces here. And of course, I want to begin by recognizing that I'm calling in here from the unceded traditional territories of the Coast Salish people from my community office here in Burnaby. And Vanessa, if you don't mind, I think I'm going to steal your little tips about getting everybody moving in front of their screen. I thought I was a brilliant idea.
I think everybody was laughing hard. So thank you for that. And I just really want to say thank you to Madeleine and your board members for engaging with me during the past, I think that we met probably over a year and a half ago or so or two years ago. And then also connecting again, during the past year, and having some meaningful conversations about how we can work together. And I've learned a lot from your advocacy. And tonight, I think it's a great opportunity that we can learn from each other again, just want to thank you for inviting me to be here.
And I really want to say I know Vanessa, you're so kind to say that, you know, we have some expertise in this area. But really when I started the work as the Minister of State for Childcare, I am the mom who struggled with childcare and continue to struggle with childcare as a working parent and immigrant, a single parent, trying to find a balance between my childcare needs, my work, my life. And sometimes you probably feel that you don't even have time for yourself.
And I see some noddings there. It's it's just such a you know, a juggle, that you have to try to balance everything. So I think the idea of trying to find creative solutions to meet the needs of parents and the critical needs to have a universal, inclusive, affordable quality early learning and care system is so important to our families, for parents to be able to continue their work to contribute to our economy, and also for our young children as well. So they have the opportunity to access equitable, early learning opportunities.
And I was thinking about the theme tonight about revillaging. That word really brings me back to my childhood memory of how I remember growing up. My parents were always busy with their work, did multiple different types of jobs.
I was pretty much raised by my grandmother, who lives in the community where there's tons of other grandparents, uncles and aunties. I grew up in Taiwan. So we call everybody uncles and aunties and cousins and brothers and sisters. It's part of our culture. And I grew up with children similar age, and sometimes the families would help each other with childcare needs. And I also remember how my mom, she did different types of small business.
She ran, she operated you know, she had a restaurant for a period of time and I would be running around in her restaurant or hiding back room. And then she also tried, I don't know how she'd do so many jobs, but she had a beauty salon for a period of time I remember and when I was young, I loved lying on the bed and she worked with her customers. And then you think about how you know parents for generations have had different types of childcare struggles and you know, we had our experience and now we as parents have already experienced but the community continues to change and the need for childcare continues to change all the time. Well, if you look at right here in BC in our contacts that a lot of parents and families have to work multiple jobs to make the ends meet, when they're dealing with high cost, housing cost, affordability issues, high childcare costs, childcare can be more expensive than your housing cost.
A lot of times, especially when you have more than two kids, that could be a family struggle. So how do we work together as government, as communities, to rebuild that sense of village, that network of support to make sure parents have solutions to be able to juggle between our childcare, our work needs. That is something I think we have to work together and we have to continue to work together. And I remember when I started the work in 2017, I kept asking How come nobody has really put like, how come the government has never put childcare as a top priority.
This is not a new struggle. And, and I'm honored and thankful that our government has been putting it as a top priority since 2017. And in a very short period of time, this $1.3 billion new budget was over three dozens of initiatives, lots of work that was done during the past three and a half years.
But we are not just storing money in a system, we have to have strategies that work to deal with diverse family needs. And that's something I've been learning a lot during the past three and a half years. And I want to continue to learn as we of course, has made some progress in a short period of time. But there's so much more we have to do before we can fully have a system. We didn't start with a system, it was pretty much patchwork as I would always describe it. But how do we put a focus on childcare and early learning, focus on parent needs, focus on what our community needs, and to build an inclusive learning and care system that is affordable, high quality, and that works for all families in BC.
And that is something I'm passionate about. And I want to work with you I want to learn from you. But you know, it is critical. I can talk a little bit about how that I, for example, yesterday had a provincial territorial federal meeting with all the other ministers across Canada. Different provinces has different strategies, and BC could be the second province after Quebec to create finally a system even though we're still very late to create a system. But one thing that really hit me yesterday was that some provinces are still thinking about maybe patchwork or investing here and there.
Whereas I think it's so critical, we need a national childcare plan. And we need here in BC to build a comprehensive strategy that focuses on what we started, which is affordability to bring down the cost of childcare for families. Currently, we have about 35,000 families that pay $10 a day and different types of families pay different amounts, we have different measures that we're testing and see which one works the best.
And how do we build a new, better future funding model. And we can make childcare affordable. But we also need to create spaces and continue to make sure there are enough spaces to meet the demands in different types of spaces. We've accelerated the creation of childcare spaces.
We've funded about 20,000 in the past three years. But that's not enough. There's more demands, and how do we partner with communities. For example, when you think about the ideas of village, I always see, for example, school grounds as a perfect place where we can build more opportunities when parents drop off their older kids, the younger kid can go to the childcare, it's a sense of community, you can interact with other parents at the school, but also other public grounds or at a business, more employer-driven childcare. We've piloted and worked on some projects that we can work with employers that is at a worksite to address the needs of different hours of work, different type of work.
So those are all ideas that we have to pull together and continue to build diverse spaces that meet family needs. And we know we cannot build a system without early childhood educators. One thing that we've learned is that quality of childcare is key when you're building a system, high quality safe, childcare is critical. And we have to support the work of early childhood educators to be able to meet that quality. So we have rolled out over a dozen initiative initiatives to support wages, wage enhancement, bursary programs, workforce support.
But we're still we're still adjusting, we're still improving along the way. So conversations like this would be very helpful as we come together as a community to build that village. And I think an idea of having a workspace where you can have your child access childcare and early learning, someone can look after your little ones while you focus on your work and also connect with other parents who share that workspace is going to be huge, and hopefully, personally, I may use that service as well as I continue to struggle with childcare. So I just want to thank you for the opportunity and I look forward to your questions. Thank you.
Okay, great. Thank you so much, Katrina. And I think this is a fair time to say "Kung hei fat choy" to everybody and showing everybody a solid way to experience the new year, the coming of the ox. And I think the ox has a lot in common with women. Yeah, pushing through.
And, yeah, just really grateful to be in a culture where we're starting to acknowledge the presence of everybody's cultures and celebrating the times that matter with each other, and finding ways to just be with the times that matter for all of our neighbors. Katrina, as by your request, I do have one question for you right now. And I'm also willing to take some more in the chat if any others come through. This one's come through. And the question for you is, what do you see as the most promising options for innovative, flexible childcare solutions today? The most promising options for innovative flexible childcare solutions.
There are a lot of ideas, I- it's hard to rank them and decide which one is the best. I've seen employer driven childcare that really works for different hours of work. For example, the Vancouver horse race- Horse Race Course, that is actually one of our prototype sites that their workers sometimes have to work from four or five o'clock in the morning, that they're able to make sure they accommodate the workers needs to adjust their hours based on employer and employees' needs.
So that's a really good example I can think about. There are, you know, family childcare, for example, that has served so many communities across the province. Not every community has the ability to put together a big center with tons of spaces, some families and some communities really count on smaller providers. And a lot of centers are run by a well trained early childhood educator. There's a lot of different ways.
And I think tonight is really the opportunity as we see how Nestworks has this idea of creating a workspace plus childcare. It's pretty similar to employer driven childcare. But with flexible hours and flexible type of care.
We do have a type of childcare called licensed, sorry, called occasional childcare that is one of the licensing type. But currently, it has some restrictions in terms of because it's easier to create a standard. It's a bit lower. So Madeleine and I had a great conversation about that and see how we can look at current licensing rules. Is there a middle ground or somewhere we can look at to create a new type of more high quality, but also childcare type of flexibility. So I'm actually really open to any ideas.
Of course, our poor ministry staff has to take the ideas back and work on them. But it's great to hear those ideas to be able to move on yet. Sorry. Thanks. Thank you, Katrina.
And that ties into our next questions, which I'm going to put together. And this is. And it's just moving. Let me get back to it here. Thinking about, we're curious if you could say more about how the province is exploring flexible alternative options to childcare.
And inside of that, I'm wondering if there is a conversation with what other politicians, other governments globally that you're taking inspiration from or that you're in conversation with, that you're seeing examples, either across so called Canada or another countries in the world where you're seeing advances that we can think about, and who is doing all of this work for you? Is it just your one small team? And what is the best way to support you in getting some of that research done? I would say everybody's doing the work together. We've got a lot of input from early childhood educators, advocates in the sector, parents, and people who have diverse ideas. And we've looked at other jurisdictions as well. And I would say the most successful examples I've seen is employer driven childcare. So the care type that ties to a workspace or a community.
There's actually a great example in my community here in Burnaby. It's also a childcare center created by an employer. And that's always packed with their employees using the center and nearby workers, because it's an industrial area, which you don't only expect to childcare, but exist in the middle of industrial area and nearby workers would use that center. But I have to say my understanding is that it has always been a challenge for even other jurisdictions as well, affordable care to five hours of care.
Go ahead. Pardon me. Thank you. I want to give you a chance to I want to get one more question in before you start your conversation with Madeleine.
And I know some of these questions will be addressed in the convo with Madeleine but I want to I want to ask you this one that's coming in that I have seen very little covered when we talk about childcare and this is about the measures being considered to encourage equitable parenting responsibilities across genders. And how are we supporting? How might we build systems that encourage fathers to be able to play a larger role, particularly as we do see these gangs of guys pushing their prams through the streets man, like, how are we going to support them being able to be part of the childcare system more equitably? Well, you are so correct. I don't know if I have a solution to be honest with you. And I think that's why we're having this dialogue to look for solutions together. And as a government, I think it's important that we always learn about what can work in what type of environment and system we we have to provide.
And I think one key thing to encourage that gender equity is to have a universal inclusive early learning and care system. So the cost is no longer...the barrier and then options available for families, you would encourage both parents to be able to, to pursue their career or their family goals and their their choices.
And I think it's important to highlight that, even though we do see more father of being the primary caregiver of young children, that currently if you look at the childcare workforce, 97% of women are working in this work. Well, sorry, the workforce is was 97% of women. So you know, how can we also create a workforce that encourage more men to become early childhood educators? Do we encourage more male to show that they can be caregivers of young children? I think those are all questions that we and ideas that we have, and how do we create that incentive so bursary programs have really helped, and we definitely want to explore other options.
Thank you very much. I appreciate your replies to these questions. I'd like to invite now into the conversation. Amanda Munday and Madeleine Shaw, the founder of Nestworks. I will tell you that Amanda is joining us from Toronto, where in addition to being a published author, and a regular Globe and Mail columnist, she's the founder of The Workaround a family friendly workplace. Madeleine is a Vancouver based feminist entrepreneur who shares Amanda's passion for seeking innovative solutions to work life balance, while supporting the growth of entrepreneurship.
Welcome, friends. Okay, wow, I'm super excited. And just for one, I forgot to put it in your notes, Vanessa but, to thank Minister Chen for joining us.
And yeah, no, that was totally my bad, not you. But I would like to actually because I was going, when can I tell her and say thank you for your brave and sacred work of doing public office in a woman's body in a time and a place where you're both being heralded and under supreme attack. And I know, it's a lot of courage and guts and grace. And and it's a lot to do the work you do.
And so I just want to say thank you so very much for your work. Absolutely. Thank you Vanessa. And and yeah, I kind of jumped in without this: Minister Chen needs to leave early because she's got to go to more meetings and do more stuff and just keep on working, in addition to being a mom, and oh, my goodness.
So thanks, Vanessa. Thank you, Katrina. Thank you, everybody, for being here. I'm absolutely thrilled. And I love so much of what the minister had to say. And we can circle back and discuss it as a group and I'm really looking forward to that.
But in the meantime, I have invited today one of my favorite most inspiring entrepreneurs in the kind of childcare work life balance innovation space, my good friend, Amanda Munday, joining us from Toronto, Amanda. So this is mostly a Vancouver crowd. Although I will note there are people on the call from Ottawa and people here from Los Angeles amongst other places that I'm really excited about.
But Amanda, just could you give us a brief background about you to start off and tell us about The Workaround and why you started it and welcome, welcome. Welcome. Thank you for being here.
Thank you for having me. I didn't expect to get emotional. But between the opening video and Minister Chen, I have seeking validation for both the work I'm doing and just how important it is and just your enthusiasm around collaboration Madeleine, I'm just so honored.
I could just spend my whole time. Can I just spend my whole time gushing over you and my love for this because I don't really want to talk? No. So The Workaround is, is hanging on. So it's a thirteen thousand coworking space with childcare that I created in 2018 after being pissed off with working in, just the systemic barrier that women and non-binary individuals face. I worked in tech so I had a lot of it there. But also as a parent, my choices were, reduce my income, choose part time work, take lower salary, rely on family.
I hated all the options, and I'm just quite stubborn. And you know, very briefly it the intention with The Workaround is not to be an overlord are an Amazon of childcare that takes care of everything that's it's not at all that, it's really intended and always has been intended to be a proof of concept to shake up the notion that one type of childcare does not fit all families, and that we need to test new ideas in order to serve different types of workers to encourage women and non binary individuals to stay and thrive in the workplace. And if we don't enable that with systems like workspace that has separate childcare, we just can't do it.
The Workaround is not a licensed childcare facility, we operate under an exemption that's very similar to BC where as long as parents around the premises, we don't need a license, which means we can operate with high quality registered early childhood educators who are on site. And we can do it hourly and affordable. And it's just, it's so important to me that The Workaround serve entrepreneurs, part time workers, I have students, I have paternity leave workers who don't want to return to their job or can't return to the job, many, many, many workers who've been laid off.
Lots of dads, lots of fathers, it's probably... my my first question is, is this a bank because I flipped a TD Bank. And so there's a big bank fault. That's the number one most common question.
The second most common question is, is this just a space for moms. And my response every time is YOU said mom, I said parents. Dads are not only welcomed, but they're encouraged, the sooner we encourage and normalize fathers coming to the work around taking the brunt of child care, you know, stepping away from their career trajectories that are in many cases enabled for them to be easier, the easier it will be for women to get to that same place. I would like to turn it around now Madeleine. I would like you to tell everyone on this call a bit of your background professionally and let's just connect the dots between The Workaround and Nestworks.
Let's share what Nestworks is and where your inspiration came from. And maybe where what stage you're at right now. Thanks, Amanda. Yeah, totally.
Um, so for folks I haven't met yet, I'm I would say I'm kind of an all purpose feminist social entrepreneur and have created a few ventures the one I'm best known for today is known as Aisle, which is short for period aisle, and was formerly known as Lunapads. We specialized in natural natural products, and been doing that for a long time. But interestingly, that actually led to Nestworks. Because in the early 2000s, my business partner, Suzanne, Siemens, and I were having kids, and, and we were kind of stuck in a way.
I mean, we at the time, maternity leave was not a thing for business owners, it just wasn't available in any way, shape, or form. No benefits, I guess. In the government's wisdom, the idea of being a business owner wasn't something that a woman- a mother would do, I'm not sure. But anyways, it wasn't happening. There were only five of us on staff, we just had to, we just had to work, honestly.
And so we had three kids between the two of us within the space of five years. And we just kind of hacked it together. And by you know, my parents were part of it, my staff were part of it. And we relied on each other like we literally physically brought the children to work with us.
And it was really eye opening. Like it was something I'd never seen that before. I'd never witnessed children in a workplace ever. And it was interesting, because it opened my eyes to the fact that it's such a profoundly false social construct, the idea that work and family absolutely must be separate, like in people's minds. And then we get all stressed out about work life balance, work life balance, because we're, you know, the world has been designed to keep them so separated.
And then we struggle to manage that. And it's like, what's the mystery here, like, when the world is not designed to support working families? Then, then, of course, it's extremely stressful. So it was kind of driven like the seed was planted through a very raw experience that went on for several years that I loved.
It was a joy to have the kids at the office with us. We practiced extended breastfeeding, and we, you know, had just I think it really gave something to the kids as well. Like, I think it really gave them a different idea of what work was at the early stage. You know, I think a lot of kids imagine work is something that steals their parents from them for 10 hours a day.
And it's this kind of negative thing that is distant and separate. So the genesis of Nestworks was born at that time, and then the idea just wouldn't leave me alone. Like it just, it just kept sort of showing up.
And I kept telling other people that they should do it, for example, a lot. And then finally in sort of late 2016, early 2017 the penny kind of dropped that I stopped telling other people to do it. And I got together with some friends, many of whom are on the call, Hilary Henegar and the other excellent Hilary Mandel, Michelle Hoar.
And we got together and formed a nonprofit society and decided to really work on the idea and have subsequently been joined by some other excellent board members who are on the call today. And so to bring it fast forward three years, we started with a series of community engagement events like this, but in real life and and then worked up to having pop up events, which you saw in the video earlier. And the last one that we had was on February 22nd. And then everything kind of went quiet after that, because of COVID. And now we're we're gearing up we're and trying to kind of recalibrate and reconnect with people and just sort of see what's up and how we can serve the community in this. As we enter the post Covidien era, let's put it that way.
And we're as excited and as energized as ever. Thank you so much for asking. Okay. Now, here's my question for you, Amanda, is what is what is revillaging? Katrina Chen had an interesting answer to this. What's your concept of revillaging? What does it mean to you? Yeah, I've been thinking about it a lot since I saw the name for this event, revillaging, and we've talked about this.
Before then, being energized for me, in one word, I say it's an invitation. It's an invitation, an opportunity, not just from a business perspective, though, I think there's there's ample abundant opportunity for more people to seek out the work they want to do and need to do. But an invitation to just restructure what work has looked like. Just as you're saying, you know, this, this idea of work being a place adults go to, and it's sort of a drag, you know, we have a lot of connotations of childcare in that way. It's expensive, it's inaccessible, it's this place, we have to, we have to seek it out in order to work.
We're all so any of us with young children at home in the pandemic are pained by having to add childcare on top of work. Revillaging to me is an invitation to say, we can do this much better. Much, much, much better. If there's anything that I am grateful for as a gift from the shutdown, you know, your last pop up was in February, I was last at The Workaround on May 13- March 13, before we reopened, but in a totally different way.
We'll never- I don't think we'll ever again have to explain why services like The Workaround or Nestworks are needed. I think we'll ever, you know, it was only eight or 10 months ago, a year ago, I was attending meetings like this explaining why The Workaround is important. I don't have to do that anymore. Everybody gets it, you get it, we need a way to work. And we need our children to be engaged and have access to early learning opportunities and socialization so I can give a much longer answer. The fast one is it's an invitation.
Join us. Let's do this differently. Let's look at who's who has access to work opportunities and the barriers in place. The thing about childcare that makes me the most angry is it's so fixable. Let's fix it. This is a fixable problem.
There is a pretty good recipe for how to do it, how it doesn't work. Certainly there's nuance, certainly there's costs, certainly there's barriers, but we can we can start to get at this. I would ask you the same question. What does revillaging mean to you? Yeah, it's a beautiful term. And it was actually coined by Hilary Henegar who's one of our founding board members who's on the call and I don't know where she got it from but it just kind of landed for all of us were like yeah, that's what we're doing and and what it why resonates for me is because I guess I just believe in pre industrial society that work and family life weren't really that separate. Like they they just couldn't have been like, you know, you would have had your home and maybe somebody was- had a weaving thing going or a blacksmith thing going or raising animals or whatever is going on.
And it was just it was all one. And you know, that was before industrialization and major urban centers and that kind of thing. And I know maybe that's a bit of a fanciful, romantic notion, but it's something about what Katrina, alluded to earlier this, that she was raised by her grandmother and you know that the proximity to elders, proximity to our neighbors, and communication where, you know, if you need a job, and then somebody's got a job on offer, then there's a kind of a network and communication for people to know about that, or somebody needs help with their kids and, and in a way that we're much more connected to one another than I think we are right now in urban centers. And my friend, Charles Montgomery, who's the author of a wonderful book called Happy Cities, talks about a wonderful Greek word called eudaimonia, which means happiness. And he's he has uncovered research, basically, that says that the more trust in quality relationships that someone has in their life, the happier they are, in fact, it's the greatest- trust is the greatest indicator of happiness. And to me that it just implies like a whole new way of approaching connecting with community.
And that's why Nestworks to me, as I explained in the video is about so much more than just solving the problem of wi-fi and my kid, and it's, it's about connection. And so yeah, that's why we're using it to kind of move forward. So So, Madeleine. Yes.
Madeleine, you had asked me to reply, to think about this concept of revillaging as well, too. And when I pull in something that somebody said here as well, too, and it's just gone up the chat. But it was from Stacy. Revillaging invites our seniors, our elders to participate in our lives. And when Madeleine first asked me the question, let's say- I'll tell you where I've arrived.
And and it's kind of like a blanket idea that I'm hoping we can work towards as we imagine our city with a place like Nestworks as we're starting to reimagine places like Granville Island. And what I'm interested in, and this relates also to the immigrant services, that ICCS that's been doing the childcare model, and you can put the right words after that acronym or correct the acronym. And, you know, we're gonna be getting this new people coming into our lives who are coming from cultures that are village-based, that are market-based. And we ask them to fit into this really uncomfortable format that isn't working for us that are here. And then we asked them to lose their village life and village ways, market ways. And I think there's a beautiful opportunity as a world of the people of the world reconfigure themselves into places that are politically and geographically safer, that we can say we welcome your skills to reimagine our village.
Cause we need you. We welcome your market life. We know how to think about business in scalable, doable, handcrafted ways. And so when Madeleine, you asked me that question, that's where I've come to, as I see it as a way of making an invitation to the people who are- come into Vancouver or Western- into Canada.
And they're like, where have I landed? And what why am I a grandmother with no children on my knee or a grandfather with nobody to show how to whittle? Like, we need to really think of it as as a welcoming, and a gift to us, from people who still remember what a village feels like. Totally, Vanessa, thank you so much for sharing that. And it actually raises a bit of a shout out to our childcare partners, Pacific Immigrant Resources Society, some of whom are on the call right now and who are going to be guest speakers at our next event on April 7th. And so yes, yes, yes.
Yes, you put that so beautifully. And I know we're closing out on my time to chat with Amanda. So I'm just going to ask her one final question.
So Amanda, we're as you because you write for The Globe and Mail. Like you're an expert on childcare in general. And I'd love to get your take on where you see opportunities for innovation, not just when it comes to more childcare, to more childcare, but to different types of offerings.
What do you think that working families, especially women in the post-COVID "shecovery" need most right now. And now, sleep room, you know, we had a there's a hammock at The Workaround for a reason. In all seriousness, the frustrating answer is, you know, I've heard this from other calls. Joseph Fuller, who Madeleine and I talked to from Harvard Business School said it, others have too, there's not one, there is not one sweeping change to childcare across Canada, even a national universal affordable childcare program.
It's important, I believe strongly it will happen. There is complexity at the provincial level. And even when that rolls out, we will still have huge portions of our, of our country who a universal childcare program- it doesn't it doesn't meet it. Part time workers, health care workers who are working 24 hours. Like there will be how do we get a large group of people covered by a universal program, and then who will we be leaving out? Who will land on the margins of that program? I- that is an opportunity for innovation now. I think, a barrier that's happening, I've heard it at the employer level, especially when you think of corporates and you know, Fortune 500, the big companies in Canada with the money to make change yesterday, I really think they're sitting on their hands.
And they're saying let the government figured out, you know, government's rolling out universal childcare programs. So let's not think about this. Well, that's totally unacceptable for a whole bunch of reasons. But the main reason is that the program is not going to replace you putting through an employer driven program right now, or if nothing else, advocating for one, and using social capital. The other thing is that small business, neighborhood community spaces, local spaces, will always be important, regardless of what a federal program looks like, regardless of what a corporate employer driven program looks like. There are opportunities for revillaging, for neighborhood for community care, that blends niche, work focus, even, you know, I would love to see The Workaround is considered a niche, co working space.
I'd love a niche on a niche where it's artists in the same sector and their children. And then we have like The Accountant Workaround with all the finance nerds and their babies. Right? And, how cute would that be? I think we the idea of collaboration over competition, and abundance over scarcity.
There's so much need, there's so much opportunity for wealth. For wealth generation, for early childhood educators who can do more should be paid more, who can start businesses, I really think we need to look at ways to generate wealth in a sector that needs it as a complement to whatever rolls out on the public side. Not in not as a band-aid or a temporary solution to it kind of a long answer. But I think that- There's three questions that I'd like you to get to before we allow people to probably get to their dinner.
And this next one relates to your the comments that you're making right now. And I'm wondering if you could talk about when you mentioned artists and and accountants, there's a question here from Maggie Knight about models that work for knowledge and office workers aren't going to work for all sectors. So accessibility is about more than affordability. And how might...What are you thinking about that in terms of various models for different kinds of sectors? And I've got another question that'll tag on to it. And then we'll close with one more.
The second question is, and have we talked to children in these sectors about what works for them? Yes, great. It's a great question. So I'm going to this is a bit simplistic and a bit silly, but I think it's apt I've been thinking about it a lot over the last two weeks.
The comparison of childcare as a workplace amenity or right the same way, we think of lunch rooms and break rooms. So I looked it up. Employer and labor laws say you have to offer breaks, you have to- you're regulated in terms of how many hours of work, how many breaks, you know, cross sector, lots of different rules.
But we've established we have to offer breaks, there actually is no regulation around the lunch room, the facility, only that you have to offer breaks. But we've established that a lunch room of some kind will exist in all kinds of different workplaces, whether that's a hot plate and a coffee at a Honda dealership, or a Google chef in-house with, you know, endless meals that really the subversive goal is get people to stay in the office and not go out. We've established the range of break room and lunch room offerings.
In order to enable work. I want to ask that everyone consider childcare as just as simple as that. Like if there was just simply a childcare room at every workplace scaled to the size and the needs of the demand. So you just might need a hot plate or you need a Google campus for childcare and that's going to depend on money, on your employee demographic makeup, on needs, but the idea that we are overcomplicating a lot of pieces of it. And this is completely separate from early learning and access to early education and brain development for children zero to five. That is an important conversation.
And it is completely separate. And to that point, thank you very much, Amanda, I'm wondering if you could say something about how this relates to some of the comments that Laura Saimamoto has been putting in, and in particular around the regulatory frameworks and cities and building codes. And I know Minister Chen is doing their work.
But we are confronted with so many policies that don't help us and as there have been work or are there teams of swaths of policy people out there that are going to help reframe the opportunity for every place to have the equivalent of a break room without being you know, shackled by... Regulation? Regulations. You know, okay, census, everyone's afraid of hurting babies, right? And we're all afraid, oh, these regulations are in place for a reason, because the children, we must not hurt the children. And yet, our regulation is hurting children and the barriers in which we can roll out innovation and childcare.
So it's a bit silly. A lot of the zoning regulations, the some of the space requirements made sense at some time. That doesn't make sense now. And, again, there are- there's two different lenses.
There's an early education curriculum-based framework that I do think the Ministry of Education and ministries of child care should be actively involved in regulating, and that's on the work of the educators providing the curriculum that is completely different from the access to the facilities at all. And that area, with regards to building out facilities in workplaces, or regulatory barriers that I think somebody smarter than me in an architectural zoning, construction-based lens can offer alternatives to what is just too, it's too restrictive. Thank you. Appreciate those comments. Can I just jump in with one quick point to add to what Amanda's saying, and that is that the what she cited earlier as the ability because of an exemption and licensing for- because the parents are on site at The Workaround for the kids to be there, that does not exist in British Columbia.
So we're required to have a license for I think it like anything longer than a child being somewhere for two hours. And it's extremely restrictive. So just that's sort of a fine point there. Thanks. I'm wondering if we can just have a show of hands right now.
And I'm gonna ask you this question as well, Amanda. Could we see who not has children in care? Well, or child care, but who had childcare when they were kid? If you experienced daycare, can I get one of these? Let's just scroll through. Okay. Okay. So, actually, it's kind of not that many of us, which is going to be a very different demographic to the children nowadays, I can tell you as a child who spent all of like my mother's working life in daycare, happy to talk to you about my experience and why food needs to work. But I'm wondering what you're doing about the children themselves and the conversations.
What are the kids saying they need? And who's paying attention to their voices? I think it's such an important question. I- I, this is where I admire, thank, and we don't do enough to recognize the work of so many of the early childhood associations, the legacy organizations that have been advocating for early childhood education for decades. And in Ontario, we have the Association of Early Childhood Educators, the College of Early hildhood Education, the Coalition of Childcare, there's a few running in Ottawa, that federal...their lens is very laser-focused on fair pay and quality work for early childhood
educators and the environments for children and they engage with children in a really important way. And it's, it's hard, it's hard right now, you know, we it's a hard time to recognize and hear what children need: socialization, being in play, open spaces, and to know that we there's a lot of that we can't, we can't offer to them in this COVID era. I think we could do a lot better. I certainly could do much better.
Well, I thank you for your time and I'm looking forward to some of those kids on knocking on the door of policy makers...you would like. Hey, Vanessa, are you, are you frozen? Are you live? And...can you see me now? I see, I should just also bring your attention to, we do have a child in this conversation that's Blue Davis in the background with Katie and Jacob, who are also going to be like if you haven't already connected with them and the work that they do around coworking spaces, and certainly around childcare, and they're a great resource to talk to as well. Madeleine, take it away.
Okay. Well, I think there is so much more that I could we could keep going. But according to the kind of run a show that we've created, I think it's time to move on to getting into like, even just watching the chat.
Well, first off, thank you, Amanda, you are as always, compelling and knowledgeable and passionate and amazing. And I just love listening to you. And if I wasn't already busy being me, I think I'd want to be you. And so yeah, I just thank you so much for making the time and joining us from Toronto and just keep doing what you're doing. Because it makes a huge, huge difference. Thank you.
Thank you. Totally. Okay, so now it's time to sort of turn things over to everybody else.
There's a lot of activity in the chat. I was just asking somebody to save it so I can read it later because I haven't been able to follow it. Yes, we can save it Madeleine. Yep, that's, that's going to happen for sure. So, but the idea with the next chunk of time is to, we're going to be divided into breakout rooms. And we are going to...the the topic that we have selected as a group, and I was- Vanessa,
do you have it in front of you? Yes, I do. The question is, is how has your situation/work life changed during COVID? And what are your needs now? That. So yeah, so what's going to happen is that we're going to have, I believe, four breakout rooms. And each breakout room is going to be staffed by a Nestworks board member who's going to act as a moderator slash facilitator. And somebody who's going to take notes, because we want to know. We had a vision for Nestworks, before COVID.
And then COVID happened. And we want to understand what people need now and maybe how that's different than what we knew before. And also just give people a chance to just share whatever's on your mind. There's a lot of really, really powerful thoughts and insights that people are sharing in the chat. And so yeah, this is really an opportunity to re-village in the form of getting to know one another. And, and also works for the Nestworks team to try and amp up our value proposition for all of you by getting a little bit of firsthand user feedback on what people's lives and situations look like right now.
And the question is now in the chat. And so if you want to just look at it with your own eyes, and then consider it as you go into the chat. And if- I hope it won't feel intrusive or unmannerly. But I am going to pop in and out of some of these meetings, and I hope you'll find my popping in and out not too intrusive. You are the most pleasurably intrusive person I think I've ever met.
And yes, anybody is lucky to have you in their breakout room. I noticed that Jill's leaving. Jill, thank you again, so much from the Women's Enterprise society. And thank you for joining us. You make it all happen. And yeah, and I think Amanda, I don't know if you, I'm assuming you probably want to go to bed because it's 9pm in Toronto, and some and thank you again so much for joining us.
And then I'll ask Dylan, I think to divide us into the breakout rooms and we'll just take it from there. We'll come back in around 20 minutes to reconvene. We're going to be hearing from one of our guest speakers for our next series. We're going to be talking about ways to get involved, and if we run out of time in the conversation, it's okay, we're gonna have more of a, you know, a casual conversation to follow the breakout room discussions, so we're not done yet. Thanks, Amanda. You're awesome.
Okay, if you can hold on just a moment. I'm just assigning everyone to rooms now. I'll be with you- and just- I'll assign you all in just a moment.
So I had an idea then that I'll share with you next time you need to pop in and out of a room. This is just a suggestion. Make of it what you will you can go like this. Everybody like to try that just for practice fun. For that time you have to like pop in.
Oh, you are silly. Okay. ...how to self regulate how to take care of your own needs. I think Zoom meeting...Yeah, need more silliness, more random, spontaneous, you know, desk bobbing
or whatever that was. Yeah. So I just want to give some praise to you here Madeleine, they, and Katrina. And yeah, from Angela. She's just on her way into another meeting.
But was happy to have been here with us. And I'm going to go into room one everybody, look forward to seeing shortly. Here we go. From a mental health perspective, so what I'd be looking for, especially when we think about revillaging and hopefully and getting back into a space is, there's child care. But then there's also kind of mind minding ideas and minding aspirations.
And I think there's an opportunity for these teams to learn alongside and be accepted for who they are, despite maybe if they're sitting on their phone, they're, they might be sitting next to someone who can talk to them and inspire, inspire them to do or be an entrepreneur, or whatever it might be, whoever the person is that they're sitting next to. So I'm really interested in in a lot of that kind of more osmosis, mentorship versus kind of a set schedule type thing, and I'll talk a bit about that too. Later.
Others? What are some of the things you've experienced, or you need? There we go. Everybody's back. Alright, I'm not the only one.
Sorry, John, you got cut off there. But thank you, thank you for sharing. Great, it's wonderful to have everybody back. There were some beautiful conversations happening in the room, and we're gonna hear from the Nestworks board members, if you could share some of your findings with us, we'd be grateful. Thank you Shayna.
...Me to start with that with that invitation. And then maybe you pass it onto the next board member. Sure. Sorry. I'm still synthesizing.
I actually thought we had a few more minutes. So It's alright, it doesn't have to be everything that like maybe a nugget or two. Couple nuggets.
I mean, there's just a conversation around the need for flexible childcare and affordable. And like the nine to five system just doesn't work for everyone. So we had some great examples around that. I just want to acknowledge the variety we also had in the room, like we had one person joining the house and had children yet but starting to think about it. We had a few of the with young kids, a few with teens, and then those that are on the other side. But we're all still looking for community, for care, for opportunities to participate.
So it's just that that insight around is not just for care for young kids that that came up and just wanted we were joined by Elizabeth and I'm forgetting Elizabeth's partner name. I wrote it down from where I was terrible. Victoria? Victoria, Elizabeth and Victoria, I think are their names. Yes. Who just hacked the system and opened, you know, a space called called OneSpace where they've cobbled together a physical space to work and are figuring out how to bring in care. And, you know, I just acknowledge that some of us are trying to live by the strict guidelines right now, for reasons of following the rules are also it's what our family needs.
A year without any childcare support is draining. So yeah, screw it, just do it was the closing words in our session. I'm going to pass over to I can see Jennifer. So Jennifer. Thank you. Hi, I'm Jennifer Sandoval, also a Nestworks board member.
And thank you, everybody, for being here tonight. We so appreciate all the wonderful conversations that we had. And we also had wonderful conversations in our own separate break room. So one of the ones that stood out to me is, you know, we kind of brought up that idea of revillaging. And we had a lovely person who was, you know, who is an empty nester.
And she was very interested to learn more about this and get involved and kind of try to be a part of this community and making these connections within our community. Even though you know, her her daughter is grown up and you know, someday she'll have her granddaughter and she would love to have this option and, you know, just kind of be involved. And we talked about how wonderful it is to, you know, to have that intergenerational connection and we talked about maybe having some teenagers, you know, helping out.
And maybe even you know, getting paid make tons of money. So, anyways, lots of good ideas. And, you know, thanks, I just want to thank everybody for sharing.
Please choose another board member. Hilary. And it's similarly we had a people at a variety of different places in their life some with kids, some without some with kids who had grown up and hearing from some that they're really yearning for a family-like environment to to integrate into their their work life and that how, how much joy children bring and being able to have relationships with children who aren't their own children, and have that be an ongoing part of their life.
And someone who's thinking about having kids and researching childcare options, as they start to go into their entrepreneurial journey and trying to figure out how- what are the solutions? What, what new solutions are there out there that I can integrate into my life to try to address this desire I have to have a- to birth a business and birth a family. Then hearing from one one family, they have the benefit of having a multi generational home. And so speaking to while they've had challenges with COVID, one of the beauties has been that their child is no longer going out of the home for childcare, they're staying in, and that the family life has become richer as a result. And hearing that, as one parent shared about their, their grade eight children, they like, they go to school for two hours a day. And so it's actually worse than when their kids were in preschool.
And basically, she said I get to work, I get to work from nine to 12. And then for the rest of the day, she sort of has distracted moments of being able to do some work, but also being available for her kids who are at home. And speaking to that time between three to 6pm. for most parents, for many school aged parents, where what do you do with your kids in that childcare can be quite precarious, because offering someone three hours a day of work, it's not enough for a lot of people. So it's hard to find someone who's who can stay and be there for the long haul.
And so the constantly trying to re hire someone new for that stint, I totally resonate with that, especially now with COVID. Like, my mom's been carrying the load of that three to 5:30pm shift. And she's frankly burned out and has asked for a break. So now my partner are trying to juggle that. And so that really resonated with me for sure. And and there were several actually, folks in there who didn't have kids, but who were really trying to understand what these innovative solutions are.
And, and they had different ways in which they wanted to be part of the solution. And were really coming with their listening ear. So it was a great conversation. Dayna, do you want to share about your conversation? You heard, but we had a mix of people, different backgrounds, differing ages, as well for the childcare. The initial theme was that you know, not having an actual physical office to do work, right, like having to share your, your office environment with a child or with another spouse or partner that was also now working from home, how does that dynamic impact, you know, your work, your work environment, and how it's hard.
Talking about the restrictions, the barriers that exist with creating a daycare center, a daycare, and how there seems to be a disconnect with the differing regulation bodies, but it was brought up that there was a working group in the City of Vancouver. So which was really great about trying to coordinate all those different regulating bodies together. But just more addressing bringing that forward and talking about sort of how how they're, you know, it just it's the what I took away from it is that there's still a lot of red tape and if the left hand isn't talking to the right hand or working in the same way that the right you know, the arms are working, then it's just going to the struggle is just harder to create what we- what what Nestworks is trying to create. Madeleine, was there anything else that you heard? To just, yeah, echoing t
2021-03-15 01:16
Show Video
Other news