Proactive health and welfare technology use in care solutions and processes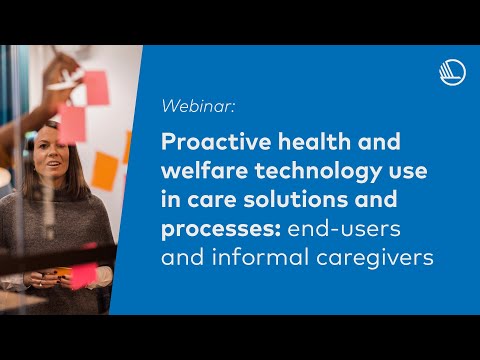 Show Video
Welcome, Helinä! You will present what the PROTECT Project is about. Welcome, Helinä. The word is yours. -Thank you Bengt.
My presentation will show up soon, I'm sure. So I'm, as Bengt already mentioned, a professor at LUT- -coordinator of the project and the chair on this network for health and welfare technology- -in line with the Finnish presidency, in the Nordic Council of Ministers. Now I'll tell you a little bit about this project. The PROTECT Project, next slide please.
So that you know about the background of this webinar. I wouldn't really need to tell you who are participating today, that the use of- -health and welfare technology is playing an increasingly important role. We also need to keep in mind that it's not only a role in users' life- -but also in care work, care processes and care organisations- -and in our Nordic societies as a whole.
So we need more and more understanding of end-users' needs- -and of informal care-givers' needs. For instance, when we talk about older people, their relatives' needs. We need more understanding of the implementation of technology- -and systemic understanding on the use of health and welfare technology. Proactive, that is a word in the title of this project of ours. Proactiveness is really an important aim- -when you talk about health and welfare technology. Because we often see situations where technological solutions are- -taken into use too late.
You could even say that when there is serious need for health and welfare technology- -it may be too late to really get the benefits out of the use of the technology. These kinds of technologies should be taken into use earlier- -so as to avoid problems before they even arise. Our Nordic societies are in many ways quite similar. We have relatively similar care systems, and societies. Of course, there are many differences, but still. This region provides an excellent environment for research on this topic.
So PROTECT is a networking project to synthesize- -and advance Nordic research-based knowledge on this proactive health and welfare technology- -with all these perspectives that I mentioned earlier. My university is the coordinating university, and then we have- -Norwegian Center for E-health Research, Danish Dementia Research Centre- -and Mälardalen University from Sweden as partners. Our funding comes from the NOS-HS, and its secretariat at the academy of Finland. Our activities are also supported by NVC and this research network. Next slide. We have these Nordic workshops where we focus on the three levels: End-users and their informal care givers.
By end-users, I don't only mean older clients or patients- -but also people with disabilities and other age groups who may benefit- -from the use of health and welfare technology. Then we focus on implementation, the perspective of professional care-givers- -and care organisations, and the societal level. The group of researchers is truly multi-disciplinary. We also have many stakeholders participating from our four countries. So this trans-disciplinarity principle is important for us- -to hear from various types of stakeholders including private and public sectors and NGO's. An important additional feature is that we support early career researchers.
We have many of them involved in the project and we give them opportunities- -to present their research and discuss that together with other researchers. Our very basic aim is also to understand the diversity of users, and really value- -their voices and narratives in our research and our project. Thank you.
- Thank you! I understand that what we will hear now- -coming up from you, Christina and Elin, is the results of the first workshop. That was the first of three, wasn't it? - Yes, that's right. - Focusing on the end users. There are plans for two more workshops coming up? - That's right, one in the end of March, next year, focusing on this implementation level- -professional caregivers and care organisations, and then the last one- -in September 2022, focusing on the societal level. - So you started with the end-user and stakeholder perspective? - Yes, they are quite relevant perspectives. - The bottom-up perspective, so to speak. Good, we like that.
Thanks, Helinä. Now let's go to Christine and hear about the synthesis and the Nordic challenges- -based on what we figured out during these workshop days and the hybrid meeting. Welcome, Christine. - Thank you! My assignment is to present the synthesis on the Nordic challenges. I will also be a panelist in the discussion after the presentations.
Here is the slideshow. We have the great opportunity to have Raquel with us during the workshop. I think what she's doing is called a visualization- -of the documentation from the workshop. So we will use her pictures of the discussions.
Next slide, please. Here is the visualization of the summary from the workshop, from Raquel. I will walk you through the challenges that were presented from each country team. We will start with Norwegian challenges. Next slide, please. One of the most important challenges that was discussed was the loss of the universal design- -of development of health and welfare technology.
They also stated that user involvement must be started early on- -it must be included in the work. We also need to look into the timing of the training of the users. For example, if you have a person with dementia we must start at an early stage- -to introduce the technology that might support them in their daily life. We also have a challenge in digital illiteracy, and some kind of knowledge need- -we need to learn more about this kind of technology and also how to use it. It's also about the basic training of e.g. nurses, social care and health care professionals- -who will support the users of the technology.
The Norwegian workshop also said we have a very fragmented service today- -with many actors and professionals, it's a complex field to navigate through. There's also an ongoing displacement and task shift. Moving into the next slide, it's about challenges discussed in the Finnish workshop.
They identified that the participation opportunities- -and that we need to listen to the users. Not only the patients or people with needs- -it is also about their relatives, and professionals. Also as users and in the decision making, when we choose what technology we will use.
It's also about that we, in early stages, need to work with digital skills- -it's about the proactiveness in the field, instead of being just reactive. It's also about the provision of knowledge in early stages. Really early stages, maybe before you even know you have a need for health care or social care- -where you can use technology to encounter the needs. It's also about co-creation requiring many resources, and co-creation processes. It takes a lot of resources. It's neither an easy process... We don't always have structures to support that.
We need to work with that in the aspect of sustainability. Looking into the Swedish workshop about their challenges... Next slide, please! The Swedish workshop stated that we are in the middle of a demographic challenge- -with a growing amount of older people, and also fewer workers available to do the care work.
So we need to look into other ways of delivering support and health care. We also stated that we live in "technology optimism"- -that there are massive expectations on what technology could offer us. Maybe we need to be more pragmatic in that discussion. Technology isn't the only solution available- -and it can't help with everything.
Like the other country teams mentioned- -they also talked about digital competence exclusion, which we need to handle. It's about citizens' competence with using digital ways in everyday life- -but also about professionals' competence, and the question about- -exclusion due to not having internet, or the skill to use this technology. It's also about participation in service design and usage of this technology.
From the Denmark workshop... Next slide, please. It was discussed that there implementation issues to handle- -as well as the timing of implementation. It can't be too late, it must be in an early stage. We can't just hand over when they come home from the hospital. We need to work with competence from the early stages.
It's also about compliance issues, causing barriers for professionals. The environment must be appropriate for the technology in question. This leads to the discussion that there is no one solution that fits all. We need to look in to the individual's needs and the context- -in which the individuals lead their life. Another challenge is that we don't have enough professionals with resources or knowledge. It's also about data security, safety and ethical issues.
This must be considered when working with this kind of technology. Finally, when synthesizing the challenges, which is on the next slide: We can see that all countries' workshops were talking about early user inclusion- -and involvement in design, innovation and decision-making processes. This is when I talk about the user, the relatives but also the professionals.
When talking about co-creation, we need to take into account that- -it requires many resources, so we must work with this is in a sustainable way. It's also about knowledge skill and education issues. The public knowledge among the citizens about how to use digital technology- -but also about training professionals.
When looking into this issue, it's considered that there must be digital or- -health and welfare technology content in every implementation. It's also about resilience in relation to new solutions- -as we all know technology development goes quite fast. So what we buy today might be old tomorrow. Here we must have the strategies and business models that give us- -the possibility to use the newest and best technology for solving our needs. When looking into universal design, it might be a tension due to the statement- -from the Danish team, where they said "there is no one solution for all". Here is a tension or a possibility on how to work with design or user-involvement in design.
We must consider safety, security, legal and ethical issues. There are fragmented services and many actors- -which is considered as a complex feed to navigate into. It's also about implementation and compliance issues.
We need instruments or methods to look into- -and also find evidence of the effects of using this kind of technology. To handle and understand technology optimism in this area. Thank you, over to you, Helinä. Bengt: Perfect. You did my job now, handing over to Helinä! That is no problem. Thank you, Christine. You will be back later, during the discussion.
Back to you, Helinä, to look at Nordic trends. And then we can take the next slide. Helinä: Thank you, I'll present this synthesis or Nordic trends- -in a similar way as Christine presented the challenges.
I'll go through each country and then the synthesis slide. So, next slide please. First, about the trends that were expressed concerning Norway. The government is looking at how to provide more holistic services.
There is a tendency to move toward a more holistic care. This was shown in the workshop, so that it was emphasized- -that it is about users, not technology, when it comes to health and welfare technology. Technology is not about solutions and devices. Rather, the people are important. Telehealth care was discussed.
The third point is related to the first one, too. It was emphasized that there is a need, a tendency or trend- -to move from from single solutions to various platform solutions- -providing more comprehensive services. Thus, the infrastructure also becomes more complex. There are these newer, emerging technologies more and more in use in Norway.
Chatbots and robots were mentioned. More and more piloting and research is needed of these issues. E.g. everyday technology, the role of technology in our everyday lives. It can offer more time to be together in one way or another, if we use technology. We also need to focus on how we understand technology- -together and individually.
Next please. The trends in Finland... I need to also mention that it wasn't easy- -to capture the essentials from these country sessions- -because the discussions were so lively and there were many people involved- -and many kinds of stakeholders as well. So, this is somewhat arbitrary, in the sense that we can't recapture everything- -that was said during the webinar. In Finland, it was quite clear that increasing safety and security was essential.
As well as national trends in the usage of health and welfare technology. Usability issues are also being discussed more and more. So, we shouldn't just look into having separate gadgets for people- -but we should make sure they are easy to use- -and also solutions that can be tailored to individual needs.
Whether it's a question of the needs of clients, professionals or informal care givers. It was also emphasized that we need solutions- -or it is a trend to focus on solutions that are suitable for networks of service providers- -or networks including different kinds of organisations- -and care professionals, in a network. So that we also, at the same time, are able to increase knowledge in the network. Knowledge-related issues are important when we talk about health and welfare technology use. But currently, solutions are still often in "silos". This is actually related to what was discussed in Norway- -about the trend of providing more holistic services.
So, we should get rid of silos in service provision. Interaction was mentioned as a trend, emphasizing its need. We have all realized that the corona pandemic has changed attitudes- -towards the use of technology, and the opportunities of interaction between people. Remote care was also mentioned as a trend.
In Sweden, the keywords, so to say, that were discussed regarding trends- -were digital transformation, proactive activities- -demands of digital caring support, and independency. Sweden is a bit behind in the social care, and primary health care- -in terms of digital transformation. There are more opportunities than are currently being used.
We talked about the proactiveness, for example, newly-retired people- -planning their later life to an increasing degree. We need to talk about this proactiveness- -from the point of view of service providers and the service system. So, it's a both an individual issue and a service system issue- -and a service level issue about how to ensure more proactiveness in the future. In Sweden, it's clear that citizens really want to have digital health care. There's a demand for it.
Also, independence has a high cultural value in Sweden. Moving on to Denmark. Technology at home was emphasized as a trend. Also health parameters, health awareness, and sharing of data. There's lots of health and welfare technology implemented in homes- -both in treatment and monitoring. Virtual and augmented reality was another trend in the area of care services.
The topic of health awareness was also brought up. We can see that health and welfare technologies enables greater awareness- We can monitor our health better and better, and become more aware of the current situation- Whether that leads to action depends on the individual. It was also emphasized that it depends on the willingness in Denmark- -to share data that is produced in daily life monitoring, for research purposes. This is an interesting note as well, because- -at least in all the other countries, it wasn't too clearly expressed. Then to the synthesis list. In all countries, there's a trend moving towards more holistic services.
Of course, there are still many questions relating to- -how to provide them in practice. There are also national differences in the provision of care services. But in general, there were many similar issues. The second point is about the silo issue. We need to think about network perspective, and it's thought about- -more and more in all four countries. Also, the trend of moving from single solutions to platform solutions.
This was a joint issue as well. Remote care, telehealth, technology at home, for treatment and other purposes- -in addition to these treatments and interactions. Another trend was citizens really wanting to have digital health care. The reasons for this are independency, safety and security. There's a great need or trend towards asking and finding out- -about everyday technology. Usability is important in all countries; solutions that can be adapted- -to individuals and users' needs, and that are easy to use for all.
Proactiveness was mentioned by all. Health awareness was more emphasized in Denmark- -but it's also something we can discuss about the other countries. Data-related issues were also emphasized more in Denmark- -but this also characterizes research in other countries. Newer technologies are talked about all countries- -and implementation and piloting of the newer research. That was the final point on this list. Now to Bengt. Thank you. - Thank you! It's very interesting to follow all this.
I've participated in the workshop, and to see all this gathered and put down in- -these areas... We will get back to this. I hope this raises a lot of questions to the listeners. Back to this after Elin has presented the next step- -being the synthesis of present and future research needs- -what came out of these two day's hybrid workshop.
I leave the word to Elin! - Thank you! I will try to make a synthesis. Here we have the same picture, as an overall view. All participating countries had their own discussion regarding- -the present and the future research needs.
I will just jump directly to the synthesis, so that we won't repeat too much. Next slide, please. When I did this synthesis, I found five main areas I want to present. Maybe there are more, but it wasn't easy to cover all things discussed. I have these five main areas; the first one is digital exclusion. We discussed that we live in a time of rapid technology development- -with more areas being digitalized.
At the same time, we know there are large groups outside the digital development- -like the elderly and people with cognitive challenges. We need to think about how to include more people in this- -and how we can design inclusive services and technology. We need to learn how to motivate the non-users. Could this be a relevant topic for our joint research project- -between the Nordic researchers in this group? We also talked about when doing research about digitalization- -it's also important not to only study the current needs- -but also consider what needs we will have in the future. In the future, there will be more older people that are used to technology- -and of course at the same time, the technology will have changed.
It's not easy for us to know now how the technology will be- -in the future, but it's still important to try to find and see what- -the trends for the future are, and to take them into consideration. At least, it's also important to see and learn more about the social- -and societal perspectives of digital exclusion, -because in the future, there will also be people who are digitally excluded. We have also seen that implementation of technology- -is a complex field with many challenges. For technology to be used, it's important to involve users- -at different levels, to an even greater degree than we are doing today.
There's a need for new methods of involvement- -especially for marginalized groups. We also need to develop methods for co-creation- -that involve all actors to deal with the complexity- -of implementation and use of technology. So next slide please. I was maybe a bit slow to say "next slide".
This is about the methods to involve users and how to cooperate with different stakeholders. Another topic was this implementation of technology. We have demographic challenges that in the future will put great pressure- -on health services.
Therefore, there will be a lot of pressure on municipalities- -to implement technology to streamline their services. Therefore, we need to know how to design services for best possible quality and efficiency. For this, we need client-centered and organisation-centered research. Also, multidisciplinary research is necessary to avoid silo thinking.
It's also important to increase competence and have in-depth knowledge- -on why technology is not used. As mentioned, multidisciplinary research is essential. But this can be a challenge to achieve- -because disciplines use different terminology. There should be more focus on concepts and terminology- -so that different disciplines better can understand each other.
We also see that we surround ourselves with technology in increasingly more areas. Therefore, we need to find how to align ourselves with technology- -in several areas of our lives, in houses, at work- -and in connection with different activities. We were also discussing that we need more research into the ethical field- -and we also need more knowledge on security and safety- -and I think we should have added "legal issues" on this picture. It is an important aspect. Also, as a response to developers' or vendors' technology optimism- -they might not understand where technology is needed -and what kind of technology that is best suited, sometimes. We therefore need to understand peoples,' everyday needs and practical conditions- -and limitations in homes and workplaces.
This is also an ethical issue, I think. Next slide. This is the last one. Different methods for research were also discussed in the groups.
In order to respond to the research needs that we have outlined- -there is a need for different approaches. We need both qualitative and quantitative research. We need to use valid instruments and also relevant theories in research. Where there are no valid instruments today- -we should develop and test these instruments. In addition, there is also a need for large, multidisciplinary studies- -to embrace the complexity in this field.
I think these were the main areas that I found in the discussions. Of course, there were more topics, and maybe also in the discussions- -more topics will come up, I suppose. -Thank you Elin. Thank you all three. There are so many interesting things to hear about here. I must also underline that one practical thing here- -is the illustrations you have seen made by Raquel Benmergui- -who was a part of the workshops. She made them during the workshops. When they are available, you will see more of these illustrations - -from the reports on the work coming up.
I think you could all put on your cameras now. We will now open up for the possibility to ask questions- -to Helinä, Christine and Elin, based on their presentations. Raise your hand, so that I can see who wants to say something. While you are thinking about that, I could maybe say what I haven't said.
We've said this was a 2-day workshop with a hybrid solution. We were supposed to meet physically, but because of certain circumstances- -it was set up to be a hybrid meeting. In Finland, you had a totally digital meeting, -but in Sweden, Norway and Denmark, we met physically in place and had these workshops. I think there were over 60 participants in all, for these two days- -from all countries gathered. Stakeholders, researchers, participants from authorities and professionals- -but also stakeholders from the user perspective area- -which was important to have.
I can start with a question to you: Do you think this result mirrors where we are here and now- -or does it also have a future perspective? Christine? - Regarding the discussion, I think the content mirrored both, I'd say. Both present needs and problems, but also looking into the future- -for example when we discussed the knowledge issues, the skill issues, -but also about inclusion and exclusion and how to work with that for future populations. So I think it was both. -Helinä, what do you think? -I agree. In a way you can say that the future perspective was also brought in- -by the stakeholder involvement, because we had so many user organisations- -and many types of stakeholder organisations participating. Challenges, trends and research needs are also very much intertwined.
Even though, we were focusing overwhelmingly on challenges or trends- -we were at the same time looking into the future. It is possible to have more visible elements of future research at some point. But I'd say that, in this project, we have these theories of workshops- -that focus on the three different levels: Users, care professionals, and the society. That's one way of including a broader perspective, and being more future-oriented.
-Elin, you looked into the future research- -and I guess that's what you saw both here and in the future? -Yes, but of course we don't know how the technology will be in the future- -because it develops so rapidly. I think some of the main issues are about competence needs- -and to tackle these rapid changes. That's important. In a way, they're fundamental questions that we need to cover in the future. We get more and more expertise, and get better at using what we have learned. Of course it's relevant, both in the future and today.
Christine: Looking back at the workshops, I think our participants- -were very serious about this discussion. They tried to have a neutral view on the discussion. "I represent the retired population, but looking at the future, I think the needs will be like this". That's the kind of discussion we had. Also, discussing the needs, I don't think today's needs are so similar to the future's needs. But the technology to meet those needs and solve the problems might be different.
Again, I think we must work with the needs- -to express and explain the needs for the technology providers and the innovators. That's one of the challenges: to have a future perspective. Today, we're still in the hands of the technology providers- -and they're not so broad in the ways that they can support us in care work and daily life. Helinä: I agree with both. I'd also like to highlight the role of the decision makers. They are the people and organisations that should have broader knowledge of needs.
Needs on a broader level, but also about the diversity of users. And somehow, even though it's not possible to have detailed knowledge of different groups' needs- -but still on a broad level, have an understanding that there's no one solution that fits everyone. Bengt: Any questions from the participants? Some of you were at the workshops. Do we have the same picture of the workshops as you have? Any other questions? Yes, Janne! - Thank you for the presentation. I was present at the Norwegian site.
It was a nice workshop! I wanted to comment on the point presented- -whether it's a clash between the requirements for universal design- -and that there are no solutions that fit for all. It was a point that was made out, because from the Norwegian session- -we discussed the need for universal design. In the Danish session, they said there are no solutions that are fit for all. They need to be individualized.
Those are quite opposite. The requirement for universal design was put forward- -by The Association of the Blind and Partially Sighted. If all technologies are universal or have the elements or requirements for universal design- -they can be used, and these are off-the-shelf everyday technologies- -like mobile phones, all people can used them. Not in the same way, but they are usable by them. This will diminish the pressure for assistive technology and special solutions. That's really why they bring that forward.
They do that, wherever we are together, they will bring that forward. I think that's a requirement for universal design or IT and ICT solutions. In the field of welfare technologies, they're not always fulfilled. That's really what they wanted to bring forward. Bengt: Yes, it's a real challenge.
How do we deal with that from a research perspective? It's difficult. Any comments? Christine, Helinä or Elin? Christine: I think it's important to have the discussion. That's my idea of this. It'd be great if we had universal design- -but I don't know if it's possible.
It's complex; if one disability doesn't fit with another... There are individual needs, individual skills... So I think we need to be somewhere in between, and flexible in this area. Another aspect of this is that today, it could be the situation- -that, for example, the homecare staff have 17 different devices- -in their pockets during their daily work.
Maybe, there are patients or older people in the home- -and we fill their homes with 20 different electrical cables. Maybe that's one angle of the discussion, -that we need a more holistic solution or a platform- -where we could have different choices, corresponding to the needs. That's another angle, but in the same field, so to speak. Bengt: Helinä? Helinä: I think it's essentially about the discussion Christine mentioned- -concerning universal design and adapted services and devices- -discussion and knowledge building, awareness raising. Perhaps we need to see that different people and different organisations- -have different roles in this regard- -whereas it can be important for, say, a technology company- -to understand universal design, while someone making practical decisions- -for an older person's services... They might need understanding of diversity and solutions suitable for that particular person.
So perhaps it's different roles on different levels. It's definitely a question about balancing these two issues. Bengt: This is connected to what we discussed.
The digital exclusion challenge that we have... This is something that will not be as much of a problem- -over time as more older people become more digital. In the Swedish news today, there was a new result- -from The Swedes and the Internet, stating that nothing really happens. The digital excluded are still as excluded, as they were 5-8 years ago.
We have a real challenge, when it comes to digital exclusion. That's one of the five points we discussed, Elin. You raised your hand? You are muted. Elin: So difficult to find the unmute button. Yes, it's maybe it's a part of the form of discussion.
Because I think that we will, in the future- -have people who are digitally excluded. I think it's also important for us as researchers to look into how we can make services- -that cover both the digitally included and the digitally excluded. I think that it won't disappear. If we think that the future generation will be included- -I think we are committing a big mistake. There will always be some people, who will be outside of it.
But from an optimistic view, if we work close together with the vendors- -and indicating the need for universal design and technology that is easy to use- -I hope that some technology solutions in the future will be more easy to use- -also for people who aren't mainly digital. That the solutions are there without a need to actively take them into use. But of course, there you also have GDPR issues, and so on. But I hope, for some groups, there will be better technology- -but we still need to think about both. Christine: I think this is an issue when we are working with research in this area.
I had the opportunity to look into some Nordic research in this area. One of my conclusions was that I would say sometimes we are a bit biased. The informants in the studies are people who choose to participate- -in using telemedicine or digital devices, and so on. So this is actually an area that needs research.
You mentioned comparative studies before. But also, what would help include people in using digital devices- -and incentives are there to join the digital society? Or are there other choices behind not going digital? Or is it not a choice? Does it depend on what is offered, or is it economy? I don't think we know the story behind this. So it's an important research area. - I always highlight that from my point of view- -that there isn't so much research done on analogue social services, for example. I don't know how many research publications there have been on the user perspective- -on physical night patrols coming out, looking out for your safety- -compared to research on digital night visits, and so on.
What is your perspective on this, Helinä? Helinä: Related to the original question for us about exclusion- -I think it will continue to exist, since aging will continue to affect us. It's individual how people experience physical changes along with aging. But unless we find some miracle medicine -we continue to experience changes in eye sight and manual dexterity with age.
When we talk about digital exclusion- I'm wondering whether it is similar to other types of exclusion in the future. Because we can see that societal exclusion may even be- -inherited from previous generations. Will we see inherited digital exclusion in the future? Hopefully not. About these night patrols, there has been research done on safety services- -Nordic research, on the types of services that combine both physical and digital services.
At least that kind of research exists. -Hello everybody out there, any questions from you? What are you sitting there and thinking? What are your reactions on what you've heard? You have your chance here to raise questions, if you want to. Annikki. - Thank you for an interesting discussion. My question is about user-involvement in the development of technology. Do you have any ideas on how it could be done? Because this is an issue that has been a topic, several times. How can we do it in the practical field? We have a project where we try to create a project based on user perspective- -and user involvement.
This is connected to the discussion on inclusion and exclusion. Do you have any ideas on this kind of topic? Christine: I'm sorry, you directed the question to me, but this is not my area. Annikki: No, not just you, all of you. Christine: Maybe there are other people who have more knowledge in this field- -but one of the key questions is to involve users that represent the broader user group.
Both people who are interested in this technology and digital ways to live your life- -but also digitally excluded people. That is my only comment. There are different models on how to use this, and work with user involvement. But this is not my area of expertise. Maybe Elin is? - I wouldn't say that I'm an expert, but I can try to say something. I think that involvement is really hard work, especially if you are going- -to involve persons who are outside, or normally don't have to raise their hands and be active.
One aspect is that it's very important to put in enough time with the involvement. The trend now is to not only have user perspective in limited areas- -when doing a project. You should involve early, and also involve users- -when you formulate the problem, throughout the entire project. But it's very time-consuming and not always easy, -because you also have to think about how to handle the users' perspective. They are not always the same as yours. It's something to think about, but I still think it's really useful- -to try to do these exercises, and trying to think in new ways about involvement- -throughout the whole project.
And, as I mentioned, to have more resources to do that. It's not a quick-fix, though. So, those are some thoughts about that. Annikki: Thank you, Elin, it's what we're struggling with. I agree that it's important, it's the core in the problem: How to include the users, otherwise we can't develop the things we want.
Thank you for that answer! Bengt: Thank you. Then we have a question from Helene. Helene: Thank you, it was very interesting. I'm a political scientist, involved in disability policy development. I wish to hear your reflections on the needs of policy development issues- -as well as future directions on policy statements.
Not the least regarding the four Nordic countries; what trends do you see? It'd be interesting to hear your perspective. Christine: Interesting question! I work at Mälardalen University, but I also work with quality management- -and development in Eskilstuna municipality. So, I'm in the middle of this discussion on a local level with politicians. We're in the middle of a demographic challenge- -with a growing population of all people, and not enough people as care workers. We also have limited financial resources. How should be manage the future needs, due to these challenges? As we're working on a local level in Eskilstuna municipality- -there is some kind of policy that states that whenever it's possible and ethical- -we need to replace someone with something.
That's some kind of trend that we're working with. I think it's also what the politicians consider- -due to the responsibility area, and of course you have political issues as well. But it's a pragmatic way of looking at what we're facing, in a way. But, of course, we need to do it as correctly as possible. There are safety and security issues that need to be worked with, and researched- -and, of course, the ethics of it.
Looking at the western value of staying independent- -this is something that corresponds to this trend as well. What I will come to is that I think we need to- -work more proactively, versus reactively, to support people to stay independent- -and help people with disability develop their independency. It's a key question of security, to feel safe and secure in one's own home. This is kind of a trend, and it refers to policy questions as well.
Bengt: Elin? Elin: I think Helinä was first. Bengt: Sorry, Helinä first! I couldn't see your hand. Christine: It's an ethical issue... /laughing/ Helinä: No offense taken.
Specifically related to people with disabilities and policy development- -there's still much less attention towards people with disabilities than e.g. older people- -when talking about use of health and welfare technology- It's also very visible in policy development. I've been highlighting the user diversity, I will also highlight it in policy development. Because you can see that the view of health and welfare technology users- -is still quite narrow. This also concerns people with disabilities in working age- -who are working, employed in various occupations, that can benefit greatly- -from different solutions of health and welfare technology. But it's not supported or understood.
So, the views of users in policy development is also quite stereotypical in many ways. Elin: I can supply that I think the issues Christine was highlighting- -about the trends and challenges and also the moments from Helinä... I think we really need to increase the competence- -within the health care, and the people planning for the future. Because these issues are so extremely complex- -and the answers aren't there yet, for how to deal with these problems. There's also a danger about responsibility shift- -because of the lack of resources, there will be a lot of responsibility put on relatives- -and informal caregivers as well as the persons themselves. We need to know when it's okay and when it's not okay.
And also some ethical issues around this. We really need to know more about the consequences- -and what we decide to do, and not to do, to meet these challenges. Bengt: I'd like to comment on Helene's question from my point of view. Not from a research point of view, but from Nordic Council of Ministers' point of view. I worked at NVC 2012. I can see a large difference now in 2021-
-when it comes to how governments and we work on these issues. We are more bottom-up now, from the macro-meso perspective- -looking on what works on a micro-level. We look from the rural areas' perspective- -and we have seen that what works there also works in the suburban areas. It's going in the right direction, compared to 2012.
I'm happy with that. Janne? - I was thinking about the same thing, we have been planning- -several sessions for the EHiN-conference in Norway- -where hopefully a lot of us with meet in November. I'm attending several sessions there. Even though there are so many challenges, we are really lucky- -to live in Nordic countries. I just gave a presentation in Ireland. You helped me a bit with the information there, Bengt.
Digital exclusion is a far larger problem in other parts of Europe. We have this network, we work together. In Norway, we have the national program that pushes this development forward. We can learn from each other. I think that, at least in Norway, the municipality is in charge of a lot of the services- -which means it is not divided, further increasing the complexity.
So, I think we have a lot going for us, although there are challenges- -and we should address them, just as we are doing now: together. So we are lucky, even though it's a bit difficult. We are in a privileged position. Thank you for having this network and the project as well.
It brings forward important knowledge. Also, the connection between the research and government. At least in Norway, they have been working with this field- -without really bringing in the research. There has been research going on, but it has been a bit slow- -to actually bring in the research.
By being in a network like this, the impact of research will be stronger. That is a good thing. Bengt: I promise you, we will push on. We won't stop. This is just the beginning.
Elin: Bengt, there are also some comments, before we close the session. Bengt: I see a comment from Annikki. "Is it impossible to combine the development of technology based on universal design?" Who wants to answer that? Christine: It's a yes or no question. I don't think it's impossible, but there are challenges, I believe. Bengt: I absolutely believe it could be done.
Then we have Torhild. "One aspect that often is neglected is the users ability to cope and succeed- -with everyday living beyond safety and security- -that assistive tech may support performance of daily tasks which enables better lives." Comments on that? Christine: Yes, it's true! But sometimes we may stay at the basic level with basic needs. But, of course, there are other possibilities. For example, people with intellectual disability.
I was in a study where they said they are more equal by using the internet- -because you aren't facing people the same way as in a room- -where it might be visible that you have a disability. So, of course, there might be a better chance of equal lives, from that aspect. But there must be more possibilities to live richer lives. I saw a video on Youtube with persons with disabilities working at cafés in Tokyo- -from home, remotely controlling robots working in cafés. It opens up the labor market, even for people with profound disabilities.
Wonderful innovations. Bengt: There are only five minutes left. Let's go to all three. I have two short questions: Was there anything that surprised you during the two workshops? What do you have to say about the similarities or differences between the Nordic countries? Christine? Christine: I wasn't so surprised. When looking into the summaries, we are similar. We might use different words or talk about the issues in different ways. But we're quite similar, I'd say.
Elin: I think I will say much of the same. Maybe I'm thinking more about the similarities than the differences- -and how it's very much the same questions raised between different countries. So I think we have a lot of things in common.
That's the basics, I think, from the workshops. Helinä: I also thought... I wasn't very surprised, but I was happy to see the similarities unfold themselves. Also, I think we can learn a lot from each other- -both from differences and similarities. In line with the similarities, we're also stronger together, as a region. Elin: Maybe there will be more differences when it comes to policies in the next discussion.
It will be exciting to follow the workshops. Christine: One idea with the project is to serve the researchers' ideas- -for further research that is needed and asked for from these different areas: The users, the professionals and society. It gives me a reason for why I should use this network for our development: We are stronger together! Bengt: Yes, we are! Thank you all for this presentation and discussion.
We will move on with the project, and we will for sure come back. Before we leave this meeting, I will say that we will be at EHiN in Oslo on November 9-10th. If you want to come then, we will have a network meeting- -and it's possible to participate remotely, between 15:00-17:00 on the 9th. More info later. On the 10th, we will have an entire day presenting from Nordfors for example- -with research presentations, etc.
It will also be a hybrid meeting, so that you can participate via video. We had Helinä sharing the networks for 2021- -as Finland has the chairmanship of the Nordic Council of Ministers. We're also planning for Norway, taking over chairmanship for next year- -as they will have the chairmanship then. Thank you all, hopefully we will see you soon again. Bye!
2022-01-12 05:27
Show Video
Other news