OpenAI CEO Sam Altman on the Future of AI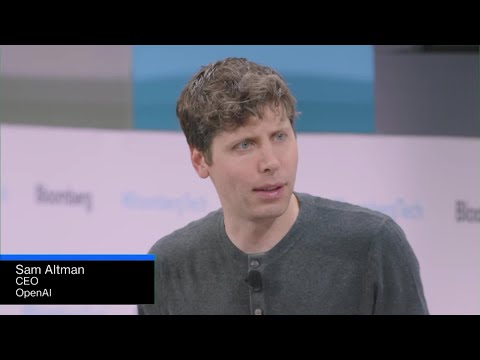 Show Video
MY GUEST NOW IS THE ONE AND ONLY PERSON WHO IS GOING TO BE DECIDING OUR FUTURES. BRAD: I DON'T THINK SO. [APPLAUSE] EMILY: YOU HAVE BEEN EVERYWHERE. >> THAT WAS A LONG TRIP. EMILY: YOU WERE IN RIO, TOKYO. WHAT SURPRISED YOU MOST? >> A LOT. IT IS LIKE A VERY SPECIAL EXPERIENCE TO GO TALK TO PEOPLE THAT ARE USERS, DEVELOPERS, SO RULED LEADERS INTERESTED IN AI. YOU REALLY GET AN UNDERSTANDING
OF WHAT IS GOING ON. I THINK THE BIGGEST SURPRISE WAS THE LEVEL OF EXCITEMENT, OPTIMISM, BELIEF IN THE FUTURE AND WHAT THIS IS GOING TO MEAN EVERYWHERE. I KIND OF KNEW WHAT IT WAS LIKE IN THE BAY AREA AND IT WAS MUCH MORE INTENSE EVERYWHERE ELSE. EMILY: MORE EXCITEMENT THAN ANXIETY? >> ANXIETY, TOO, AS THERE SHOULD BE. YOU HAVE TO HAVE BOTH. BUT JUST THE THOUGHTFULNESS,
THE UNDERSTANDING, THE NUANCE, THE TENSION BETWEEN THE TWO. THAT EXISTS EVERYWHERE AND PEOPLE'S DESIRE TO REALLY FIGURE OUT HOW TO DRIVE SOCIAL WITH THIS TECH AND WHAT IT WILL TAKE TO COME TOGETHER AS A PLANET TO REALLY MAKE SURE WE AVOID SOME OF THE DOWNSIDE SCENARIOS WAS QUITE SOPHISTICATED. EMILY: HOW MIGHT YOU CHANGE YOUR APPROACH TO THE DEVELOPMENT OF AI AS A RESULT OF WHAT YOU LEARNED? >> THERE'S A BUNCH OF SPECIFIC FEEDBACK, MORE THAN 100 PAGES OF NOTES FROM MEETING WITH DEVELOPERS ABOUT COMPLAINTS PEOPLE HAVE OR THINGS THEY WANT. EMILY: I SAW YOU TAKING HANDWRITTEN NOTES. >> I DO TAKE HANDWRITTEN NOTES. THERE IS ALL OF THAT AND THERE
IS SORT OF THE WAY PEOPLE WANT TO CUSTOMIZE THE TOOLS, MAKE SURE THEIR OWN VALUES, CULTURE, HISTORY, LEG WHICH ARE REPRESENTED IN WHAT WE HAVE TO DO TO ENABLE THAT. THERE WILL BE A BUNCH OF SPECIFIC CHANGES WE WILL GO MAKE. AND THEN THE DESIRE FOR THE WORLD TO COOPERATE, LIKE THE NUMBER OF WORLD LEADERS WHO WOULD SAY THINGS LIKE I THINK THIS IS REALLY IMPORTANT, WE WENT TO GET AGI RIGHT, TELL ALL OF THE OTHER WORLD LEADERS I AM IN ON IT AND WORK TOGETHER.
THEY CAME UP MAYBE EVERY TIME BUT ONE. EMILY: YOU SIGNED A 22 WORD STATEMENT WARNING ABOUT THE DANGERS OF AI. A REIT'S OF MITIGATING THE RISK OF EXTINCTION FROM AI SHOULD BE A GLOBAL PRIORITY ALONGSIDE OTHER SUBTLE SKILL RISKS THAT JUST PANDEMICS AND NUCLEAR WAR." CONNECT THE DOTS FOR US.
HOW DO WE GET FROM A COOL CHATBOT TO THE END OF HUMANITY? >> WE ARE PLANNING NOT TO. EMILY: THAT IS THE HOPE, BUT THERE'S ALSO THE FEAR. >> I THINK ARE MANY WAYS IT COULD GO WRONG BUT WE WORK WITH POWERFUL TECHNOLOGY THAT CAN BE USED IN DANGEROUS WAYS VERY FREQUENTLY IN THE WORLD. AND I THINK WE HAVE DEVELOPED OVER THE DECADES GOOD SAFETY SYSTEM PRACTICES IN MANY CATEGORIES. IT IS NOT PERFECT. THINGS WILL GO WRONG. BUT I THINK WE WILL BE ABLE TO MITIGATE SOME OF THE WORST SCENARIOS YOU CAN IMAGINE. BIOTERRORIST, CYBERSECURITY. MANDY MOORE WE COULD TALK ABOUT.
-- MANY MORE WE COULD TALK ABOUT. THE MAIN THING I FEEL IS IMPORTANT THROUGHOUT THIS TECHNOLOGY IS WE ARE ON AN EXPONENTIAL CURVE AND A RELATIVELY STEEP ONE. HUMAN INTUITION FOR EXPONENTIAL CURVES IS REALLY THAT IN GENERAL. IT CLEARLY WAS NOT THAT IMPORTANT IN OUR EVOLUTIONARY HISTORY. SO I THINK WE HAVE -- GIVEN WE HAVE THAT WEAKNESS, GET TO REALLY PUSH OURSELVES TO SAY, OK, GPT4, HOW SURE ARE WE THE GPT9 WON'T BE? IF THERE IS EVEN A SMALL PERCENTAGE CHANCE IT WILL BE BAD. EMILY:
IF THERE IS THAT SMALL PERCENTAGE CHANCE, WHY KEEP DOING THIS AT ALL? WHY NOT STOP? >> A BUNCH OF REASONS. I THINK THE UPSIDES HERE ARE TREMENDOUS, THAT OPPORTUNITY FOR EVERYONE ON EARTH TO HAVE A BETTER QUALITY EDUCATION THAT BASICALLY ANYONE CAN GET TODAY, THAT SEEMS REALLY IMPORTANT. MEDICAL CARE AND WHAT I THINK IS GOING TO HAPPEN THERE, MAKING THAT AVAILABLE TRULY GLOBALLY. THAT IS GOING TO BE TRANSFORMATIVE. THE SCIENTIFIC PROGRESS WE ARE GOING TO SEE. I AM A BIG BELIEVER THAT REAL SUSTAINABLE IMPROVEMENTS IN ALL THE OF LIFE COME FROM SCIENTIFIC TECHNOLOGICAL PROGRESS AND I THINK WE WILL HAVE A LOT MORE OF THAT. THERE ARE THE OBVIOUS BENEFITS.
I THINK IT WOULD BE GOOD TO END POVERTY. BUT WE HAVE TO MANAGE THROUGH THE RISK TO GET THERE. I ALSO THINK AT THIS POINT, GIVEN HOW MUCH PEOPLE SEE THE ECONOMIC BENEFITS POTENTIAL, NO COMPANY WOULD STOP IT. THE GLOBAL REGULATION, WHICH ONLY THINK SHOULD BE ON THESE POWERFUL EXISTENTIAL RISK LEVEL SYSTEMS -- OVERREGULATION IS HARD. YOU DON'T WANT TO OVERDO IT FOR SURE. BUT I THINK GLOBAL REGULATION CAN HELP MAKE IT SAFE, WHICH IS A BETTER ANSWER THAN STOPPING IT. I DON'T THINK STOPPING WOULD WORK. EMILY:
LET'S TALK ABOUT GLOBAL REGULATION. YOU HAVE MET WITH PRESIDENT BIDEN AND THE CEOS OF MICROSOFT AND GOOGLE, AND YOUR CONQUER REGULATION BUT WITH CAVEATS. THE CRITICS SAY IT SOUNDS LIKE YOU'RE SAYING, REGULATE US BUT NOT REALLY. OR THAT YOU ARE CALLING FOR REGULATION IN PUBLIC BUT LOBBYING FOR SOMETHING ELSE IN PRIVATE. HOW WOULD YOU RESPOND TO THAT? >> WE ARE PUSHING FOR IN PRIVATE, TOO. OBVIOUSLY, WE HAVE THINGS ABOUT WAY TO DO IT THAT WILL BE EFFECTIVE AND INEFFECTIVE. WE, FOR EXAMPLE, DON'T THINK
SMALL STARTUPS AND OPEN-SOURCE BLOWS AND HIKE OF ABILITY THRESHOLD SHOULD BE SUBJECT TO A LOT OF REGULATION. WE HAVE SEEN WHAT HAPPENS TO COUNTRIES THAT TRY TO OVERRATE -- OVER REGULATE TECH. BUT ALSO, WE THINK IT IS SUPER IMPORTANT THAT AS WE THINK ABOUT A SYSTEM THAT COULD GET A RISK LEVEL LIKE YOU'RE TALKING ABOUT, THAT WE HAVE A GLOBAL AND COORDINATED RESPONSE AS POSSIBLE SO WE HAVE BEEN TALKING ABOUT THAT PUBLICLY, PRIVATELY. I THINK IT IS IMPORTANT. YOU COULD POINT OUT WE ARE TRYING TO DO REVELATORY CAPTURE HERE, WHATEVER, BUT I JUST -- I THINK THAT IS SO TRANSPARENTLY INTELLECTUAL HE DISHONEST, I DON'T EVEN KNOW HOW TO RESPOND.
EMILY: THERE IS THE SKEPTIC'S VIEW YOUR BUILDING THESE RARE ASHLEY SHOULD SHIPS WITH REGULATORS AND IT IS GOING TO BOX OTHER STARTUPS. >> THAT IS WHAT I MEANT ABOUT THE REGULATORY CAPTURE. WE ARE SAYING EXPLICITLY SHOULD NOT REGULATE SMALL STARTUPS. IT IS A BURDEN ON THEM THAT WE DON'T WANT IN SOCIETY. EMILY: WHAT YOU THINK ABOUT THE CERTIFICATION SYSTEM OF AI? >> I THINK THERE SOME VERSION THAT IS REALLY GOOD.
I THINK PEOPLE TRAINING MODELS THAT ARE WAY ABOVE ANY MODEL SCALE WE HAVE TODAY, BUT ABOVE SOME CERTAIN CAPABILITY THRESHOLD -- I THINK YOU NEED TO GO THROUGH CERTIFICATION PROCESS FOR THAT. I THINK THERE SHOULD BE EXTERNAL AUDITS AND SAFETY TEST. WE DO THIS FOR LOTS OF INDUSTRIES WHERE WE CARE ABOUT SAFETY. EMILY: ELON MUSK WAS SCARED OF GOOGLE. IS GOOGLE STILL A THREAT?
>> GOOGLE IS UNBELIEVABLY COMPETENT AND IT SEEMS LIKE THEY'RE FOCUSED WITH AN INTENSITY. EMILY: SO THEY ARE STILL SCARY? >> THEY ARE A COMPANY THAT I DON'T THINK ANYONE SHOULD EVER WRITE OFF. EMILY: WE HAVE SEEN NEW BARBS YOU AND ELON HAVE BEEN TRADING IN PUBLIC AND IN INTERVIEWS. >> I DON'T REALLY -- EMILY: YOU ARE RESPONDING. YOU ARE RESPONDING TO PEOPLE ASKING LIKE PEOPLE LIKE ME.
WHY DO YOU THINK HE IS SO FRUSTRATED OR DISAPPOINTED WITH THE DIRECTION THAT OPENAI HAS GONE? >> I MEAN, YOU SHOULD ASK HIM. HE CAN GIVE YOU BETTER ANSWER. I CAN SPECULATE. I AM HAPPY TO TALK ABOUT THIS. I THINK HE REALLY CARES ABOUT AI SAFETY A LOT, AND I THINK THAT IS WHERE IT IS COMING FROM. A GOOD PLACE. WE JUST HAVE A DIFFERENCE OF OPINION ON SOME PARTS BUT WE BOTH CARE ABOUT THAT. HE WANTS TO MAKE SURE THAT WE
THE WORLD HAVE THE MAXIMAL CHANCE. EMILY: YOU'RE NOT WORRIED HE'S GOING TO CALL YOU OUT, CALL YOU TO COME TO SOME CAGE MATCH IN THE VEGAS OCTAGON LIKE HE JUST DID WITH MARK ZUCKERBERG? >> I WILL GO WATCH IT AND ZUCK DID THAT. EMILY: MUCH HAS BEEN MADE OF THE MICROSOFT RELATIONSHIP. IT IS NOT JUST HIM, BUT HE HAS SAID HE IS WORRIED MICROSOFT HAS MORE CONTROL THAN THE LEADERSHIP AT OPENAI HAS. >> I THINK WHAT HE MEANS IS THEY COULD BREAK THE CONTRACT AND TAKE AWAY OUR ACCESS TO THE DATA CENTER. EMILY:
AND A LOT OF MONEY THAT YOU HAVE ACCESS TO. >> WE HAVE MONEY, IT IS THE DATA CENTER THEY OPERATE. EMILY: HOW WOULD YOU CHARACTERIZE THE RELATIONSHIP? >> WE THINK IT IS GREAT. ANY DEEP COMP LOOKS
RELATIONSHIP, IT IS NOT WITHOUT ITS CHALLENGES BUT IT IS REALLY GREAT. IT IS BY FAR THE BEST MAJOR PARTNERSHIP I HAVE EVER BEEN A PART OF. IT IS KIND OF LIKE -- ON BOTH SIDES, IT WAS A CRAZY THING TO JUMP INTO. SURPRISING IT WORKS THIS WELL. BUT IF YOU LOOK AT THE RESULT, WE ARE VERY HAPPY. EMILY:
IN 2018 COME THE LAST TIME WE TALK IN PERSON, YOU TOLD ME YOU THOUGHT AI WOULD HELP US BE OUR BEST BUT ALSO STOP OUR WORST IMPULSES. WHAT MAKES YOU COMPETENT ABOUT THAT BECAUSE SO MANY TIMES, TIME AND TIME AGAIN, IF IT PSYCH TECHNOLOGY HAS ONLY AMPLIFIED -- TECHNOLOGY HAS ONLY AMPLIFIED OUR WORST. >> WILL DO BAD THINGS, TOO. I DON'T HAVE THIS ONLY VIEW OF IT, I HAVE A REALISTIC VIEW. IT IS HUMAN NATURE TO TALK ABOUT THE BAD MORE THAN THE GOOD.
I THINK YOU CAN LOOK AT OTHER TECHNOLOGIES THAT HAVE DONE A LOT OF GOOD AND PLENTY OF HARM AND TALK 99% ABOUT THE HARM AND 1% ABOUT THE GOOD. I DID THAT, TOO. THAT IS UNDERSTANDABLE. IN 2018, THAT WAS WAY BEFORE THE GPT SERIES WAS A THING SO AT THAT POINT WE HAD SOME INKLING IT WOULD GO LIKE THIS, WE CERTAINLY DID NOT KNOW EXACTLY. BUT I THINK WHAT WE ARE HEADING TO IS THIS PERSONAL TOOL THAT CAN HELP YOU IN WHATEVER WAY YOU WOULD LIKE. ONE OF THE FUN PARTS OF THE TRIP WAS HOW DIVERSE AND BROAD THE STORIES ARE OF HOW PEOPLE ARE USING IT AT WHATEVER THEY WANT TO BE BETTER AT AND HELP THEM.
I THINK IF YOU GO TALK TO CHATGPT USERS, WILL FIND A LOT OF SUPPORT AND YOU CAN ALSO FIND PEOPLE WHO ARE MISUSING IT. EMILY: THE REALITY IS YOUR BUILDING IS ON THE BACK OF HUMAN DATA, THAT IS BIASED, RACIST, SEXIST, EMOTIONAL, THAT IS WRONG. A LOT IS WRONG. HOW DO YOU SAFEGUARD AGAINST THAT? >> THERE WAS A RECENT STUDY THAT GPT4, THE MODEL THAT IS RELEASED, IS LESS BIASED ON IMPLICIT BIAS TO TEST EVEN FOR HUMANS WHO THINK THEY HAVE REALLY TRAINED THEMSELVES TO BE GOOD AT THIS. IF YOU LOOK AT THE MODEL THAT COMES OUT OF THE PRETRAINING PROCESS, THAT MODEL WILL BE QUITE BIASED AND WILL REFLECT THE INTERNET. BUT REINFORCEMENT LEARNING HUMAN FEEDBACK, ONE OF THE TECHNIQUES WE USE TO ALIGN THE MODELS, WORKS QUITE WELL.
IF YOU LOOK AT THE PROGRESS FROM MODEL TO MODEL, EVEN SOME OF OUR BIGGEST CRITICS ARE LIKE, WOW, THEY HAVE GOTTEN A LOT OF THE BIAS OUT OF THE MODELS. I THINK IT CAN BE A FORCE FOR REDUCING BIAS IN THE WORLD, NOT FOR ENHANCING IT. THERE ARE QUESTIONS ABOUT WHAT IF THE USER WANTS TO USE THE MODEL IN A BIASED WAY? HOW MUCH CONTROL DO YOU GET A USER? WHO DECIDES THAT LIMITS OF THE VALUE SYSTEM? THAT WILL BE A TOUGH QUESTION FOR SOCIETY TO WRESTLE WITH.
THERE IS NOT A ONE SENTENCE BUTTONED UP ANSWER, BUT THE TECHNOLOGY I THINK HAS GONE MUCH FURTHER THAN PEOPLE THOUGHT IT WAS GOING TO IN TERMS OF BEING ABLE TO ALIGN THESE MODELS TO BEHAVE IN CERTAIN WAYS. EMILY: WE HAVE BEEN TALKING GOING BACK TO YOUR DAYS AT N.Y.C. AND IT HAS BEEN FUN TO WATCH THAT JOURNEY. I THINK PEOPLE REALLY WANT TO UNDERSTAND YOUR INCENTIVES AND DON'T NECESSARILY UNDERSTAND YOUR INCENTIVES. PEOPLE ARE PERPLEXED. THERE PERPLEXED YOU HAVE NO EQUITY. CAN YOU EXPLAIN THAT A LITTLE?
IS THERE ANY FINANCIAL STRUCTURE WHEREBY YOU DO BENEFIT IF OPENAI IS A BIG THING? >> I GET WHY PEOPLE ARE PERPLEXED ABOUT THIS, AND I HAVE WONDERED IF I SHOULD JUST TAKE ONE SHARE OF EQUITY SO I NEVER HAVE TO ANSWER THIS QUESTION AGAIN. A FEW THINGS. ONE, WE ARE GOVERNED BY NONPROFIT WHICH I AM A BOARD MEMBER AND OUR BOARD NEEDS TO HAVE A MAJORITY OF DISINTERESTED INVESTORS. LIKE, DON'T HAVE EQUITY IN THE COMPANY. I ORIGINALLY DID NOT DO IT FOR
THAT REASON. EMILY: BUT ARE THERE ANY FINANCIAL INCENTIVES? LIKE ON A CERTAIN BENCHMARK? >> NO. I HAVE A TINY BIT OF INVESTMENT BUT IT IS IMMATERIAL. EMILY:
IF OPENAI IS MASSIVELY PROFITABLE, YOU WON'T BENEFIT FINANCIALLY? >> ONE OF THE TAKEAWAYS I HAVE LEARNED FROM QUESTIONS LIKE THIS IS THIS CONCEPT OF HAVING ENOUGH MONEY IS NOT SOMETHING THAT IS EASY TO GET ACROSS TO OTHER PEOPLE. EMILY: IT IS HARD FOR PEOPLE TO UNDERSTAND. [APPLAUSE] >> I HAVE ENOUGH MONEY. I'M GOING TO MAKE WAY, WAY MORE FROM OTHER INVESTMENTS. IF I JUST HAD TAKEN THE EQUITY, PEOPLE WOULD BE LIKE, THAT MAKES SENSE.
THEY GOES TO THE NONPROFIT AND I TRUST THE PROPHET TO DO A GOOD THING WITH IT, BUT I HAVE ENOUGH MONEY. WHAT I WANT MORE OF IS AN INTERESTING LIFE IMPACT. I STILL GET A LOT OF SELFISH BENEFIT FROM THIS LIKE, WHAT ELSE AM I GOING TO DO WITH MY TIME? THIS IS REALLY GREAT. I CAN'T IMAGINE A MORE INTERESTING LIFE THAN THIS ONE AND A MORE INTERESTING THING TO WORK ON. I GET A TON OF BENEFIT BUT, YES, SOMEHOW THIS IDEA OF HAVING -- IT DOESN'T COMPETE FOR PEOPLE. EMILY: IS THAT ABOUT POWER? CONTROL? >> I WANT TO MAKE MY CONTRIBUTION BACK TO HUMAN TECHNOLOGICAL PROGRESS. I GET TO BENEFIT FROM ALL OF
THIS STUFF THAT PEOPLE DID BEFORE. I GET TO USE THIS IPHONE THAT I STILL MARVEL AT EVERY DAY, ALL OF THE WORK THAT HAD TO GO INTO THAT. THOSE PEOPLE, I DON'T KNOW WHO THEY ARE, I AM VERY GRATEFUL TO THEM. THEY KNEW THEY WERE NEVER GOING
TO GET RECOGNITION FOR ME PERSONALLY, BUT THEY ALSO WANTED TO DO SOMETHING TO CONTRIBUTE. AND SO DO I. I CAN'T IMAGINE BETTER COMPENSATION OR FEELING. IT WOULD BE MAYBE WEIRD IF I HAD NOT ALREADY MADE A BUNCH OF MONEY AND PLANNED TO MAKE WAY MORE FROM OTHER INVESTMENTS. I JUST DON'T THINK ABOUT IT. -- I THINK THAT THIS WILL BE LIKE, I THINK IT WILL JUST BE THE MOST IMPORTANT STEP YET THAT HUMANITY HAS TO GET THROUGH WITH TECHNOLOGY. AND I CARE ABOUT THAT. EMILY: WHAT IS ONE QUESTION PEOPLE REALLY WISH PEOPLE LIKE ME ASKED? SAM: THE PERSON [LAUGHTER] DRAMA OF THE DAY. EMILY:
SERIOUSLY. I UNDERSTAND YOU ARE GETTING A LOT OF THOSE QUESTIONS. SAM: I'M ALWAYS EXCITED TO JUST TALK ABOUT WHAT CAN HAPPEN IN THE COMING FEW YEARS AND DECADES WITH THE TECHNOLOGY. EMILY: SO WHAT DO WE HAVE TO DO? SAM: TALK ABOUT ELON MUSK? [LAUGHTER] WE DON'T TALK ABOUT, IT'S DEEPLY IN OUR NATURE TO WANT TO CREATE, TO WANT TO BE USEFUL. TO WANT TO LIKE FEEL THE FULFILLMENT OF DOING SOMETHING THAT MATTERS.
IF YOU TALK TO PEOPLE FROM THOUSANDS OF YEARS AGO, HUNDREDS OF YEARS AGO, THE WORK WE DO NOW WOULD HAVE SEEMED, YOU KNOW, UNIMAGINABLE BEST AND PROBABLY TRIVIAL. THIS IS NOT DIRECTLY NECESSARY FOR OUR SURVIVAL IN THE SENSE OF LIKE FOOD OR WHATEVER. THE SHIFT HAPPENS WITH EVERY TECHNOLOGY REVOLUTION. ANY WE WORRY ABOUT THE PEOPLE DO ON THE OTHER SIDE AND EVERY TIME WE FIND THINGS AND I SUSPECT -- EXPECT NOT ONLY WILL THIS BE AN EXCEPTION TO THAT, BUT THE THINGS WE FIND WILL BE BETTER, MORE INTERESTING, AND MORE IMPACTFUL THAN EVER BEFORE. A LOT OF PEOPLE TALK ABOUT AI AS THE LAST TECHNOLOGICAL REVOLUTION. I SUSPECT THAT FROM THE OTHER SIDE IT WILL LOOK LIKE THE FIRST. LIKE THE OTHER STUFF WILL BE SO SMALL IN CAN -- IN
COMPARISON. THE TECHNOLOGICAL REVOLUTION, IT'S A CONTINUOUS ONE. CONTINUING AND EXPONENTIAL. WHAT WILL BE ENABLED, WHAT WE CAN'T IMAGINE ON THE OTHER SIDE, WE WILL HAVE TOO MUCH. IF YOU WANT TO SIT AROUND AND DO NOTHING, THAT WILL BE GOOD, TOO. EMILY: BONBONS AND PEACHES IN MY
FUTURE. SAM: I DON'T THINK THAT IS WHAT YOU WILL WANT, BUT IT'S UP TO YOU. EMILY: YOU TALKED ABOUT AI DECIDING OTHER AI. SAM:
THIS IS THE CLASSIC SCI-FI IDEA. THAT AT SOME POINT THESE SYSTEMS CAN HELP ADDRESS THEMSELVES, CAN DISCOVER BETTER ARCHITECTURES AND WRITE THEIR OWN CODE. I THINK WE ARE ALWAYS AWAY FROM THAT THAT IT IS WORTH PAYING ATTENTION TO. SAM: YOU DIDN'T -- EMILY: CHINA AND RUSSIA, YOU DIDN'T GO THERE? SAM: I DID SPEAK THERE. EMILY: VIRTUALLY? SAM: YEAH. EMILY: WHERE ARE THEY ON AI AND SHOULD
WE BE WORRIED? SAM: I DON'T HAVE A GREAT SENSE. EMILY: DOES IT CONCERN YOU THAT WE DON'T KNOW? SAM: YEAH, I MEAN AGAIN LIKE ANYTHING, IMPERFECT INFORMATION CAUSES CONCERN. I WOULD LOVE TO HAVE A BETTER SENSE.
BUT YOU KNOW, I'M OPTIMISTIC THAT WE CAN FIND SOME SORT OF COLLABORATIVE THING AND I THINK THE THING THAT GETS SAID IN THE U.S., THAT IT'S IMPOSSIBLE TO COOPERATE WITH CHINA, THAT IT'S OFF THE TABLE, IT'S ASSERTED AND PEOPLE ARE TRYING TO WILL IT INTO EXISTENCE BUT IT'S NOT CLEAR TO ME THAT THAT'S TRUE IN FACT I SUSPECT IT'S NOT. EMILY: I'M SO GRATEFUL YOU HAVE BEEN AROUND THE WORLD TALKING ABOUT THIS ENTER WITH US HERE TODAY.
EVEN YOU WOULD ACKNOWLEDGE THAT YOU HAVE AN INCREDIBLE AMOUNT OF POWER AT THIS MOMENT IN TIME. WHY SHOULD WE TRUST YOU? SAM: YOU SHOULDN'T. LIKE YOU KNOW, I DON'T, YOU HAVE KNOWN ME FOR A LONG TIME. I WOULD RATHER BE IN THE OFFICE
WORKING. BUT AT THIS MOMENT IN TIME PEOPLE DESERVE BASICALLY AS MUCH TIME ASKING QUESTIONS AS THEY WANT. BUT MORE TO THAT, LIKE KNOW ONE PERSON SHOULD BE TRUSTED HERE.
I DON'T WANT 7 BILLION SHARES. THE BOARD OVERTIME TIME NEEDS TO GET LIKE DEMOCRATIZED TO ALL OF HUMANITY. THERE ARE MANY WAYS THAT COULD BE IMPLEMENTED. BUT THE REASON FOR OUR STRUCTURE, THE REASON IT IS SO WEIRD, THE CONSEQUENCE OF THAT READ -- WEIRDNESS IS WE THINK THIS TECHNOLOGY, THE BENEFITS, THE ACCESS TO IT BELONGS TO THE WHOLE. LIKE IF THIS REALLY WORKS IT'S LIKE QUITE A POWERFUL TECHNOLOGY AND YOU SHOULD NOT TRUST ONE COMPANY AND CERTAINLY NOT ONE PERSON. EMILY: ARE YOU SAYING WE SHOULD? -- SHOULDN'T TRUST OPENAI? SAM: IF WE ARE A FEW YEARS DOWN THE ROAD AND HAVEN'T FIGURED OUT HOW TO START DEMOCRATIZED TROLL, YOU SHOULDN'T.
BUT LIKE IF WE FIGURE OUT SOME SORT OF NEW STRUCTURE WHERE OPENAI IS LIKE GOVERNED BY HUMANITY, AND THAT COULD HAPPEN IN MANY WAYS, INCLUDING THE ALIGNMENT THAT WE PICK. IT COULD MEAN ACTUAL BOARD CONTROL. WE ARE TALKING TO A LOT OF PEOPLE ABOUT WHAT I COULD LOOK LIKE IF WE DON'T DO THAT, I DON'T THINK LIKE JUST TRUST US IS GOOD ENOUGH. EMILY: WELL THANK YOU FOR EXPLAINING WHY WE SHOULD MAYBE CONSIDER TRUSTING YOU. YOU HAVE A PLANE TO CATCH. WE ARE SO GRATEFUL FOR YOUR TIME. SAM:
THANK YOU SO MUCH FOR HAVING ME. EMILY: THANK YOU SO MUCH. SAM: FOR SURE.
2023-07-01 13:35
Show Video
Other news