Nokia Midsummer Launch 2023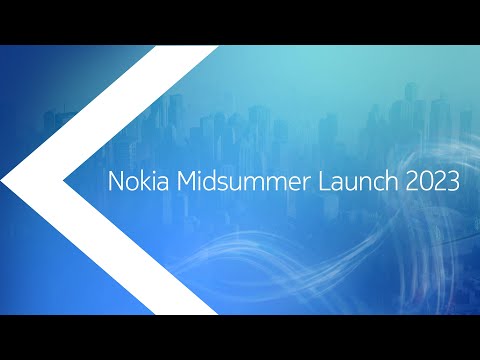 Show Video
Hello, everyone, and a very warm welcome to our Midsummer Launch event. My name is Steph Delvoye and I'm the Mobile Networks marketing leader. I'm delighted to host this event and very excited about the news we'll be sharing in the next 30 minutes In Finland, home of Nokia, Midsummer is a time for celebrations. It's held around the summer solstice.
Wonderful time of year. Nice weather, The holiday is approaching and when the sun never sets. Here at Nokia, we have even more to celebrate this season.
Soon you will hear about our new product launches. But first, let me introduce our speakers for today. Firstly, we have our Mobile Networks President Tommi Uitto, who will highlight our path to performance and future-proof investments. Then we will be joined by Mark Atkinson, Senior Vice President and Head of RAN Product Line Management, who has exciting news concerning our portfolio.
Tommi, over to you, please. Thank you, Steph. Thank you, everyone, for joining us today. Let me start with a few words on the great progress we have made in the past year. It's a result of our focused investments in R&D and especially in the development of our ReefShark System-on-Chip.
Basically, all of our 5G portfolio is now based on this technology. We have built innovative products that leverage the latest and greatest in System-on-Chip technology, further strengthening our technology leadership in several key areas of the mobile market where performance, efficiency and serviceability are crucial. This has helped us win the trust of our customers and grow our business. In fact, we have added 46 new RAN customers and increased RAN share with 31 customers since the start of 2019. Throughout this event, you will hear from some of our customers from around the world.
They have first-hand experience of our products and solutions, and they know that they can count on our support. In 2021, we launched our AirScale Osprey radios and baseband products, which set us on the path of unrivaled performance. Those products have since been widely deployed in both greenfield and network modernization projects. We have seen that one of the key drivers for modernization is energy efficiency.
But the most important driver for 5G deployments is the outstanding mobile experience it can provide for both consumers and enterprise use cases alike. We help our customers build high-capacity, high-performance, low latency and resilient networks all contributing to user experience. One enabler for this is 5G Standalone. In fact, we are seeing more customer interest and deployments now to move to 5G Standalone architecture, which is a key for the introduction of 5G-Advanced and, in due course, 6G.
Building on the success of Osprey, we launched new AirScale Habrok radios earlier this year, named after a bird from the Nordic mythology. In addition to our mobile network products, we have introduced a wide range of other important innovations. For example, our digital services with AI-based automation help increase network agility, speed time-to-market and boost efficiencies. In microwave transport, we brought new innovations to our already very extensive and market-leading Wavence portfolio.
It's a natural complement to our radio solutions in so many locations from dense urban to rural areas. And for some enterprise customers, it can be the first building block for entering the world of high-capacity wireless networks. And let's not forget the non-terrestrial networks - quite simply out of this world. A great example is our collaboration with AST SpaceMobile, with whom we are finding viable solutions to help close the digital divide and enable digital inclusion, which will bring positive social impact across the world.
So this has been a great year for Mobile Networks. Very shortly we will be joined by Mark. He will tell you about the next boost that our radios will be getting from our next generation of baseband products. And he will show you how we are hitting all the key baseband criteria: boosting the number of cells, increasing the number of connected users, providing more throughput capacity for both backhaul and fronthaul connectivity, and reducing power consumption. Very important for both cost savings and helping our customers meet their sustainability targets.
But before we go to Mark, I will hand back to Steph to give you a recap on our activities at Mobile World Congress this year. Thank you, Tommi. Indeed, MWC23 was truly special for Nokia, with the launch of our exciting and highly acclaimed new brand.
It was wonderful, and it was very special for Mobile Networks too. Firstly, it was great to see so many people at our booth experiencing the possibilities of our technologies and solutions. I hope many of you had a chance to be there with us or at an Amplify event that is organized on customer premises nowadays. The undoubted stars of the show were the new Massive MIMO Habrok Radios that Tommi already mentioned, taking pride of the place in the center of the arena.
They provide even higher performance with 30 percent lower energy consumption, combined with leading antenna design and beamforming capabilities. Many visitors were also interested in hearing about one of the key building blocks that's taking us right into the future of RAN: Collaborative Advantage. We launched our anyRAN approach in Barcelona, introducing a really revolutionary approach to building future-proof radio access networks, leveraging an ecosystem of leading industry partners. With anyRAN, we enable our customers with the freedom of choice between purpose-built and Cloud-based RAN solutions ensuring feature and performance consistency. Of course, mobile networks and specifically cell sites need to connect to a variety of end points. What better way to do this than with our Wavence Microwave transport portfolio and its ability to leverage the AirScale baseband.
Another crucial but unseen element of all networks is the software that runs on them. Carrier Aggregation is one of the key software components that helps enable the best possible performance and coverage and making the best use of the available spectrum. We showcased the world's first live demo of five component carrier 5G Carrier Aggregation using our latest liquid-cooled baseband, reaching downlink data rates of 4.5 Gbps. If that wasn't enough, we also combined this with two component carrier uplink Carrier Aggregation. Another world-first, enabling more symmetry for the downlink and uplink channels.
Additionally, we showed the breadth and depth of the rest of our comprehensive portfolio, including: the latest additions to the AirScale Osprey radio family; indoor and outdoor small cell solutions, enabling coverage and capacity where and when it's needed; our leading capabilities in both RedCap and L4S both of which are increasingly relevant for our customers. Confirmed in many customer discussions, energy efficiency is an important driver for radio network transformation, and our services department has plenty to offer in that space. Our network design services help tackle peak hour energy consumption. Depending on the network, we can reach an average of 20 percent energy savings. In addition, our new Site Solutions, which we also showcased in Barcelona, help reduce the power consumption of radio sites by up to 30 percent.
Our customers are also increasingly interested in automation and artificial intelligence. For example, with the digital site surveys and site design automation, they can speed up deployments by 30 percent. What's more, our customers are using Nokia Digital Assistant already today.
It's the first AI chat bot tailor-made for the telco industry, which responds to queries written in natural language. It helps care engineers access the right data 40 percent faster. As you can tell, we are on the roll and it's about to get even better as we welcome Mark Atkinson, who will take you through our Midsummer Launch products and solutions. Mark, over to you. Hello and welcome to our Midsummer Launch event. It's great to see so many of you here today.
As you know, Nokia is doing really well in the market. A big reason for our success is that we have been continuously increasing investments and enhancing productivity in R&D. In the radio access network space, we're enhancing our products and roadmaps, enabling you, our customers to differentiate yourselves. It's our goal to develop the best baseband and radio products in the market. To do this, we have partnered with world class companies to create a leading-edge System-on-Chip technology, specifically for radio access network.
Each new generation of ReefShark System-on-Chip technology has made our products faster, smarter, lighter and more energy efficient. Now we are commercializing our latest generation of ReefShark System-on-Chip technology, which is at the heart of the products that we will share more about today. As we heard from Steph, those who saw us at Mobile World Congress in Barcelona loved the new Nokia brand and our booth. I'm sure many of you had a chance to experience our technology firsthand.
But just to refresh. We launched impressive new products and solutions, including our new Airscale Habrok 64 and 32 TRX Massive MIMO radios. The performance of these radios shows that our investments in R&D are really hitting the right spot.
Now let's hear from Mr. Takki the Vice president and Head of the Infrastructure Technology office at SK Telecom. One of the key points he will be talking about is why energy efficiency of our products is so essential. Firstly, big congratulations on launching brand new AirScale system.
Korea is one of the most advanced markets in the world in the mobile industry. Our customers' requirements and expectations are very high. They require high data rates, high capacity and low latency.
So in order to accommodate their requirements from operator perspective, we need always very powerful and stable and reliable systems, like Nokia's new AirScale system. I think that there are four key success factors in the design of the new system. First one is definitely performance: high data rates and high capacity, and low latency. And second one is energy efficiency.
It is getting more and more important these days. We need to reduce carbon emissions in ICT sector. So it is a very important factor. And third one is reliability to ensure stable and efficient operation of the network. And the last one is flexibility to enable efficient and flexible and scalable operations and open architecture support as well. So using Nokia's new system embedded with the four key success factors, we believe that we can implement many of the best new technologies, including 5G of the past and beyond.
Habrok uses our latest ReefShark System-on-Chip technology to deliver outstanding radio performance with 30 percent better energy efficiency, leading to a 30 percent reduction in weight. Habrok is O-RAN ready and will be deployed in both purpose-built RAN and Cloud RAN scenarios. We also launched the first 64 TRX dual-band Osprey Massive MIMO radio at Mobile World Congress. This combines the 3.45 band and the C-Band for the US market. We have Ospreys deployed in our customers networks all over the world, and the first wave of Habroks will be flying in later this year to join them.
But today, the flock gets even bigger. The new birds joining Osprey and Habrok include Pandion, our latest generation of FDD remote radio heads supporting up to three FDD bands in a single, optimized form factor And Shikra, one of the smallest birds of prey, which is very appropriate to represent our leading-edge small cells for both indoor and outdoor deployments. So there you have it. Our radio portfolio for Open RAN, Cloud RAN and purpose-built RAN scenarios, represented in a simple and memorable way.
Habrok, Osprey, Pandion and Shikra flying you into the future. One big reason we are here today is to launch our latest products in the AirScale baseband family. These will make the data in your network flow like the wind. Firstly, I'm excited to launch our next generation of capacity cards. The high-performance Lodos and the ultra-performance Levante. These truly next-generation cards use the latest ReefShark System-on-Chip technology to provide industry-leading baseband cell capacity and processing power.
This will ensure that we continue to stay ahead of traffic growth requirements in the network in a green way. In addition to these new capacity cards, we are also launching our new control card, the ultra-performance Ponente, which supports baseband control plane functions and high speed transport connectivity. Operators are continuously enhancing their networks with new 5G layers and looking to offer advanced 5G services for both consumers and industries. This requires a baseband platform that provides high capacity, high bandwidth and high speed. Recently we discussed with Ulf Ewaldsson, President of Technology at T-Mobile USA. He will share his thinking on T-Mobile's strategic focus areas and expectations of Nokia's baseband and radio products as we help them extend the reach of 5G to every corner of the United States.
As T-Mobile is building out our 5G amazing coverage all across the country, it is very important - the performance of our prime vendors, and I'm very delighted that Nokia's new generation radios and new generation basebands are becoming big part of our build. We have some very important expectations for you. One is to really live up to the roadmaps of the industry and perform well on that. But most of all, it's the quality of the product and the performance in the field that we need to focus on, delivering the best quality for our customers. We expect Nokia to live up to that and I'm excited that you are so focused on it as well.
At the same time, there is a pressing need to keep network and energy costs at a minimum whilst paving the way to meet ESG goals. This requires a baseband solution with the best scalability, energy efficiency and TCO, all in one. Let's now hear from Kent Wu, Vice President of Access Networks Strategy, Planning and Quality at Optus. Our friends from Optus are regular visitors to Nokia Oulu campus, where they have a chance to meet with our experts in R&D and testing.
We really appreciate this open collaboration together with our customers. Optus and Nokia have been really long-term partners. We launched our 2G networks with Nokia network equipment way back in the mid 1990s, and then after that our partnership journey continued to 3G, to 4G, to the 5G today. And of course looking forward to more generations of the partnership in the future as well. We really love to come to Oulu, the home of radio for Nokia.
We achieve a lot of benefits in the interactions and the visit in the Oulu center. So firstly, we get to see in the first hand what are the latest technology development and the R&D research areas in Nokia. And secondly, we have deep discussions with the experts here about the future technology trends, about the latest Nokia strategy and product development focus areas.
And more importantly, actually, we have feedback to the Nokia team, what operators would like to achieve, what we would like to see in the Nokia products in the future. And I think this kind of discussions and collaboration is truly beneficial. Because we have seen a lot of the good development work in the collaboration together with the operators. And in the end, we deliver the technology leading solutions in the market. So indeed we love to come to Oulu every year and take a look at the latest trends and have the deep discussions with experts here. Ponente, Lodos and Levante check all the right boxes in these areas.
Together with our modular and agile AirScale System Module, they enable future-proof network evolution to 5G-Advanced and beyond. They serve new use cases that demand extremely high capacity, always with the latest high-performance, energy-efficient technology. To meet different customer requirements from lean entry to premium capacity, the modularity and scalability of AirScale baseband enables utmost flexibility and optimized TCO. AirScale baseband continues to provide investment protection. You can combine existing deployed and new cards to work together seamlessly in Single RAN configurations.
And as you would expect from Nokia, Ponente, Lodos and Levante will be deployed with our own radios and third party products using Open RAN compliant interfaces. They will also work perfectly in hybrid networks with our Cloud RAN solutions. Now let's take a more in-depth look at our all-new family of baseband capacity cards, which we are really, really proud of. Firstly, the Lodos is our latest high-performance 4G and 5G capacity card, enhancing scalability with nine 50 Gbps fronthaul interfaces. Lodos reduces energy consumption by up to 30 percent with a focus on sub-6 TDD and FDD use cases.
However, the star of the show is without doubt Levante, a 4G and 5G capacity card offering ultra-high performance for very high capacity use cases both for sub-6 GHz TDD and FDD spectrum, as well as for high-capacity mmWave. Levante doubles the number of supported cells and reduces energy consumption by up to a whopping 60 percent. It also offers exponential scalability with 12 fronthaul interfaces, each with 50 Gbps, which will enable three times larger site configurations. To complement the new capacity cards, We are also launching Ponente, our new ultra-performance 2G, 3G, 4G and 5G control card for smooth network evolution and extreme energy efficiency.
It races ahead of continuing traffic growth with up to 100 percent higher throughput capacity. It offers high-speed site connectivity with three 50 Gbps backhaul connections and importantly, reduces energy consumption by up to 80 percent. Ponente also provides future-proof site evolution from 5G Non-Standalone to 5G Standalone as well as efficiency in spectrum refarming. To get the maximum benefits from Ponente, Levante and Lodos,
We also launch our latest AirScale sub-rack. This has an even higher-speed backplane to combine the cards. And it is optimized for the new plug-in cards and for network evolution. This high-spec baseband solution offers a wealth of additional benefits such as low acoustic noise, enhanced serviceability, and innovative cooling. Combined with the new plug-in cards, we are setting the competitive bar for baseband performance, scalability and efficiency even higher.
To complement our new family of indoor baseband products, we also have latest compact outdoor zero-footprint baseband solutions, which also build on our ReefShark System-on-Chip technologies and use common software. Firstly, we have the Tuuli 12, which has 12 fronthaul connections and is ideal for compact TDD and FDD site solutions. It might interest you to know that we are deploying thousands of Tuuli 12s in India every week. Secondly, we have the Tuuli 6, which is perfectly weight and size optimized for co-deployment with both indoor and outdoor small cells. Now, you will always remember the word for wind in Finnish. It's Tuuli.
We usually talk a lot about product specifications and capabilities. However, it's perhaps not always clear how much effort goes into testing these products to ensure quality. We invest heavily in industry-leading test facilities to make sure that the products you deploy meet our stringent design and quality criteria. Our team kindly prepared a short video to give you some insights into this area. Now you know all about our leading-edge radio and baseband products, how about a refreshing dive into the underwater world? It gives me great pleasure to introduce you to our new intelligent network management and optimization solution portfolio: MantaRay MantaRay brings the power of artificial intelligence to mobile networks. With the Manta Ray Solution portfolio,
we bring AI-driven automation and optimization to enhance efficiency and take your network performance to the next level. Firstly, we have MantaRay SON. According to analysts, we are already the market leader when it comes to SON, not only supporting our RAN but also in a multi-vendor environment. We have the industry's widest range of SON modules and our SON solution is making more and more use of artificial intelligence and machine learning for self-configuration, self-healing and self-optimization. With MantaRay SON, We continue investing in advanced artificial intelligence and cognitive capabilities to lead the transformation of mobile networks. Customer experience and love for customers is a dear value to T-Mobile.
As we are thriving in this industry, moving forward, we are a technology leadership company. And that means that our expectations on the network, always performing to enhance customer experience wherever they are, whatever they're doing is highest on our agenda. Our expectations on Nokia to help us with that are very high.
We know we have SON in the network, I don't think we're using it enough. I know we have several other products that you supplied us with, and I don't think we're using them enough for customer experience. So we need Nokia's help not only on what we have out there, but also adding on customer experience software, that I know your company is focused on. This is all about our customers. Our company's highest value is to meet customer expectations and even thrive on making them delighted by the experience that we can provide. Secondly, in the portfolio, we have MantaRay Network Management.
This is Nokia's future platform for Radio and Core network management and the next evolutionary step from today's NetAct product. MantaRay Network Management is targeted for both CSPs and enterprises. It can scale from a single server for small enterprises all the way to large-scale implementations in the biggest mobile networks in the world.
MantaRay Network Management will manage both purpose-built and Cloud RAN as well as mobile core and packet core. It also has built-in AI functionalities, which take network operations and efficiency to the next level. For example, in our AI-based Alarm Pattern Recognition, the AI function automatically handles up to 80 percent of the alarms, thereby letting human engineers concentrate on higher value tasks.
Complementing both of these, we have MantaRay RIC - RAN Intelligent Controller. We continuously get positive feedback from the many customers which have tried out O-RAN compliant near real-time RIC. This technology, though, is still evolving and has the potential to become a key enabler for RAN programmability. We will further enhance MantaRay RIC with advanced artificial intelligence capabilities. Last but not least, in the portfolio, we have MantaRay Energy, which brings together our capabilities to optimize energy consumption of radio access networks with the help of artificial intelligence and machine learning. We are already leveraging machine learning and automation for configuring and optimizing the usage of RAN energy-saving features depending on network traffic conditions.
As artificial intelligence continues to evolve, We will enter into a world where the network learns and decides how to best reduce power consumption. So with MantaRay SON, Network Management, RIC and Energy, we are really putting investments where it matters most in your network. Thank you for joining us today and happy midsummer to all of you! And now, back to Tommi. Thank you, Mark, and especially our customers for sharing your views. It was great to hear Mark introducing our new baseband products.
I hope that you are as impressed with their performance specifications as I am. We are building on a position of strength. Nokia is the 5G industry leader already today.
But what is the most important thing is that the products we launched help you build a smooth evolution path of radio networks towards 5G-Advanced and ultimately, to 6G. Our 5G leadership is backed up by three leading industry analyst companies who recently said that Nokia has taken market share in 5G and in radio access networks overall for the past five or six quarters. As a B2B technology innovation leader, we want to bring the benefits of high-capacity, high-performance networks to our customers.
And through this, help amplify our Nokia purpose: We create the technology that helps the world act together. Thank you for joining us today. I look forward to many discussions with you all.
Thank you, Tommi. A truly inspiring and informative session. What a great position to be in. First, we introduced a new generation of high performance, Massive MIMO radios and now they are complemented by the latest generation of market-leading baseband products. Let me also mention that as a relative newcomer to Nokia, I welcome the straightforward naming approach for our products that Mark highlighted today. And I hope you do too. This is something different than the numerous acronyms and product codes.
For more information on today's launch and the new products, please do reach out to us through any channel, whether it's nokia.com, midsummerlaunch.com, our social media channels like Nokia and Nokia for service providers, and of course contact our customer teams with every question you might have. There's a wealth of information online, including our increasing series of case studies, which convey how our customers are leveraging our products and solutions in their networks to meet their business objectives. With that, it just leaves me to say a big thank you to all our speakers and guests for their kind support. And of course, to all of you for joining us today for our Midsummer Launch.
We hope you enjoyed it. Thanks again and goodbye for now!
2023-08-26 12:11
Show Video
Other news