Netflix shakeup, Elon Musk Email | Bloomberg Technology 1/19/2023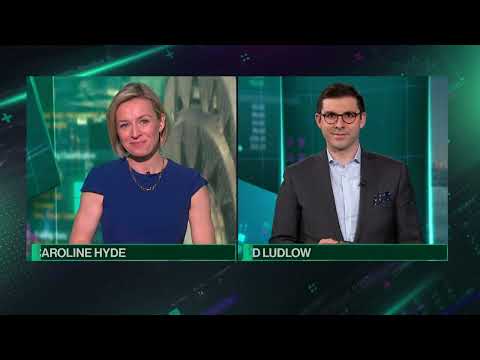 Show Video
>> I'M CAROLINE HYDE A BLOOMBERG'S WORLD HEADQUARTERS IN NEW YORK. >> THIS IS BLOOMBERG TECHNOLOGY. >> A STORY OF SUBSCRIBER GROWTH LEADING INTO THE EARNINGS AND THE CHANGES AS WE LEARNED REED HASTINGS WILL STEP DOWN AS CEO. >> EMAILS FROM ELON MUSK'S DEADLINE ON THE 2016 DEMO THAT EXAGGERATED AUTOPILOT CAPABILITIES. CAROLINE: THE HACKS TO STOP HACKERS TAKING YOUR MONEY AND THEY ARE WORKING. THE FEWER COMPANIES ARE PAYING, THAT DOESN'T MEAN THE NUMBER OF ATTACKS IS ACTUALLY DOWN.
WE WILL DISCUSS THAT, LET'S CHECK IN ON THE MARKETS. ANOTHER DOWN DAY WHEN YOU LOOK AT THE NASDAQ UP BY ALMOST A PERCENTAGE POINT. THIS WAS A GLOBAL SELLOFF AT ALL COMES BACK TO A FEDERAL RESERVE. HAWKISH COMMENTARY COMING OUT OF A PRETTY DOVISH RADAR. THE VICE CHAIR OF THE FEDERAL RESERVE SAYING THOSE RATES DON'T NEED TO BE UP TO BE TACKLING INFLATION.
YIELDS ALSO FOLLOWING SUIT, PUSHING UP FOUR BASIS POINTS ON THE TWO-YEAR. THAT IS AS WE FACTOR IN THAT THE FEDERAL RESERVE WON'T BE TAKING ITS FOOT OFF THE PEDAL AND QUITE THE GREAT THAT WE ANTICIPATED. WE SEEM MORE DOWN. WE SEE A REBOUND HOLD IN THE WORLD -- BITCOIN. OFF ON THE TODAY BASIS. WE DID SEE IT MANAGED OLD ONTO ITS GAINS VERSUS THE U.S. DOLLAR. WE ACTUALLY GOT SOME INTERESTING NEWS COMING OUT OF FTX U.S.
WILL WE SEE THE EMERGENCE OF THAT EXCHANGE AS WE START TO PIECE TOGETHER THE COMPANY POST BANKRUPTCY. FOAM RECEIVING OPTIMISM AROUND CRYPTO GOALS. ED: ALL THE NEWS THAT BROKE AFTER MARKETS CLOSED. THAT START WITH T-MOBILE, INTERESTING PIECE OF NEWS.
SHARES HIRED TO TENSE OF 1% HAVE BEEN SIGNIFICANTLY LOWER AFTER SAYING THAT THEY WOULD TAKE INSIGNIFICANT EXPENSES FROM A CYBERSECURITY. THE COMPANY IS SAYING THAT THEY IDENTIFIED MALICIOUS ACTIVITY WITH DATA TO A SINGLE APPLICATION PROGRAM OBTAINED WITHOUT AUTHORIZATION. WE CAN GET THE REACTION LATER ON THE SHOW. NOT REALLY CLEAR THE FULL DETAILS. STOCKS HIGHER ADDED 10TH OF 1%. NETFLIX IS A NEW STORY.
CONVEYOR BELT OF CEO CHANGES. LET'S TALK ABOUT TEXAS INSTRUMENTS BECAUSE THEY ANNOUNCED THAT THEY HAVE A CHANGE WITH THE LONG TIME CEO STEPPING DOWN. A LONGTIME COO TAKING OVER AFFECT COMPANY. IT'S BEEN IN THE WORKS FOR A LONG TIME. A GOOD EXAMPLE OF SOME SUCCESSION PLANNING, THEN YOU HAVE NETFLIX. THIS WAS THE BIG HEADLINE, NOT
THAT THEY BEAT SUBSCRIBERS IN THE FOURTH QUARTER, 7.7 MILLION. THAT REED HASTINGS IS STEPPING DOWN AS CO-COO. GETTING PROMOTION CO-CEO, THIS IS A COMPANY THAT HE HAS BEEN HELPING OVER 25 YEARS AFTER FIGHTING IN THE 19'S IN NOR-CAL. LET'S HIRE BY 6% IN HOURS.
CAROLINE: IT'S INTERESTING WE ARE GETTING SUCCESSION PLANNING AND A CHAIRMAN REMAINING OVER AT TEXAS INSTRUMENTS. SIMILAR FOR NETFLIX, SUCCESSION PLANNING, UM -- UNLIKE AT DISNEY. IT'S INTERESTING TO BRING ON SOMEONE WHO INTERESTINGLY UNDERSTANDS THE COMPANY. HE'S A MAN HIS FOCUSED ON
CULTURE AND SO MANY WAYS. WHAT DO YOU MAKE OF WHO NOW STEPS UP FOR GREAT TAKING THE CO-COO RAINS AND WHO WILL HAVE THE ULTIMATE DECISION-MAKING POWER, BECAUSE HE REMAINS AS EXECUTIVE CHAIRMAN? >> MY ASSUMPTION IS THAT REID WILL SAY THAT THEY GET ULTIMATE AUTHORITY. OBVIOUSLY AS CHAIRMAN OF THE BOARD, AS CO-FOUNDER, AS A MAJOR SHAREHOLDER, IF THERE WERE HUGE TRANSACTIONS AND NETFLIX DECIDED TO SELL ITSELF OR BY SOMETHING SIGNIFICANT, I IMAGINE HE WOULD GET INVOLVED. HE'S BEEN STEPPING BACK FROM THE DAY-TO-DAY OPERATIONS OF THE COMPANY.
HE DELEGATED MOST OF HOLLYWOOD STUFF. HE HAS PUT CRAIG IN CHARGE OF THESE TWO BIG INITIATIVES. AND I THINK THAT'S HOW THE COMPANY IS MOSTLY GONNA KEEP OPERATING WITH GREG LOOKING OUT PRODUCT INSTITUTES -- STRATEGIC SET IN HE'S LOOKING AT PROGRAMMING OPERATIONS. ED:
WAS SICK ABOUT THE FORWARD-LOOKING NATURE. HE WAS ALREADY LEADING THE CHARGE ON THE AD SUPPORTED TEAR IN THE CHARGE ON THE CRACKDOWN. THE MAN ABOUT HOLLYWOOD DOING THE DEALS, THINKING ABOUT CONTENT. GIVEN THE NUMBERS WE JUST GOT, WHICH WAS STRONG SUBSCRIBERS IN THE TOP LINE -- BOTTOM LINE WEAKER, WHERE WERE THEY FOCUS THEIR ENERGIES GOING FORWARD FOR 2023? >> IT WILL BE CONTINUED EXECUTION ON ADVERTISING.
THAT IS OVER TWO MONTHS OLD. THE IMPROVING ON THE KNOLOGY BEHIND IT, TARGETING SALES. HE GOT OFF TO A RELATIVELY SLOW START BUT I THINK THEY LIKE WHAT THEY ARE SEEING.
IT WILL BE ROLLING OUT THE PASSWORD CRACKDOWN, WHICH WILL START THIS QUARTER AND RAMP UP IN THE MIDDLE OF THE YEAR. IT WILL BE CONTINUING TO TRY TO IMPROVE PROGRAMMING IN CERTAIN AREAS. THEY'VE DONE REALLY WELL RECENTLY ON ENGLISH LANGUAGE TELEVISION PROGRAMMING. NOT WELL ON THE FOREIGN LANGUAGE TELEVISION. THEY WANT TO CONTINUE THEIR
RADON MOVIES. AND THEN THERE'S THE GAMING PIECES, WHICH IS A SMALL PART OF THE BUSINESS, BUT THEY ARE INVESTING A LOT IN IT. ANOTHER KEY WILL SEE A TON OF NEWS IN 2023, BUT IT'S SOMETHING THAT THEY WILL CONTINUE TO STOCK ABOUT. WHILE THEY HAD A REALLY STRONG FINAL QUARTER OF THE YEAR IN TERMS OF SUBSCRIBER GROWTH, THE THINGS TO KEEP IN MIND IS THAT FOR THE FULL YEAR THEY DID STILL POST THERE WERE SUBSCRIBER GROWTH SINCE 2011. ED: GREAT REPORTING ON WHAT'S CHANGING AND NETFLIX AND GOOD ANALYSIS OF THE NUMBERS. LET'S BRING IN THE INDUSTRY ANALYST AT PARRA ANALYTICS. THIRD-PARTY DATA SUGGESTED THAT
IN THE FINAL THREE MONTHS OF LAST YEAR NETFLIX IS FACING ITS GREATEST COMPETITION FROM THE LIKES OF WARNER, DISCOVERY AND DISNEY AND DEMAND OVERALL IS STARTING TO PULL BACK. WHEN YOU SAW THOSE NET SUBSCRIBER ADS FOR NETFLIX, WHAT'S YOUR REACTION? >> AM STILL NOT SURPRISED. NETFLIX HAS ALWAYS BEEN SAVVY WITH ITS GUIDANCE. IT LIKES TO SET THE STAGE FOR POSITIVE NARRATIVES, WHICH WE ARE NOW ENGAGING IN. WE LOOK AT NETFLIX FROM OUR ANGLE, MOST GLOBAL SUBSCRIBERS IN THE MOST IN DEMAND OVERALL CATALOG WITH U.S. AUDIENCES IN ALL OF 2022 AND THAT INCLUDES ORIGINAL AND LICENSED TV SHOWS. IT LEAVES THE ENTIRE INDUSTRY
AND GLOBAL ORIGINAL DEMAND. SO, YES, THAT IS SHRINKING AS IT SEATS GROUND TO HUNGRY COMPETITORS GAINING MARKET SHARE, BUT THEY STILL HAVE A MASSIVE LEAD. I THINK ALL THE DOOM AND GLOOM AROUND NETFLIX LAST APRIL WAS A BIT PREMATURE. EVEN WITH WHAT WE JUST POINTED
OUT, THEIR LOWEST SUBSCRIBERS SINCE 2011. ED: LUCAS SUMMED UP THE COMMENTS ABOUT THE AD SUPPORTING TEAR AND THEY WERE A LITTLE BIT MUTED FROM NETFLIX. THEY WERE PLEASED WITH THE PROGRESS ON THE AD SUPPORTED TEAR. THEY SAY IT'S BRINGING IN COST-CONSCIOUS CONSUMERS.
DO THINK THAT THAT WAS PART OF THE BEAT WHEN IT CAME TO SUBSCRIBER GROWTH IN THE LAST THREE MONTHS OF LAST YEAR? >> YEAH, THEY POINTED OUT IN THEIR LETTER TO SHAREHOLDERS THAT THEY ARE SEEING CONVERSIONS FROM PREMIER SUBSCRIPTIONS SAT SHARES. THEY WANT THE AD TEAR -- THE AD TEAR TO EXPAND THE GLOBAL MARKET AND AT A TIME WHEN CONSUMERS ARE FRAYING RECESSION FEARS, MAY BE MORE COST-CONSCIOUS. NOT THE FASTEST, MOST EXPLOSIVE ROLLOUT, BUT THIS WILL BE A MUST-HAVE FOR ALL ADVERTISERS LOOKING TO GET INTO CONNECTED TV'S IN DIGITAL TV'S, SO WE WILL SEE THAT GROW THROUGHOUT 2023. THEY TURNED AROUND FROM YEARS OF ANTI-AD STANDS HAD CREATED THEIR ADD TWO-YEAR AND ONLY SIX MONTHS SO THERE IS A LOT OF ROOM TO GROW. CAROLINE:
THEY SAID THE EARLY RESULTS THEY ARE PLEASED WITH, BUT THERE'S MUCH STILL TO DO. CAN YOU TALK ABOUT THE CULTURAL INNOVATION OVER AT NETFLIX. THAT IS WHAT WE'VE COME TO KNOW, HAVING READ THE NO RULES RULES BOOK BY REED HASTINGS HIMSELF. IT'S ALL ABOUT THE WAY IN WHICH THEY SET APART THE CULTURE. IT'S INTERESTING TO COMPARE SUCCESSION PLANNING WITH DISNEY + VERSUS NETFLIX.
BUT WE ARE SEEING DISNEY + AND WARNER BROS. DISCOVERING TAKING CHUNKS OUT OF MARKET SHARES FOR NETFLIX. HOW CAN NETFLIX ENSURE THAT IT CAN KEEP ON GROWING AND INNOVATING AND PERSONALIZING? >> NETFLIX HAS ALWAYS FANCIED ITSELF AS THE GREATEST DISRUPTOR IN HOLLYWOOD HISTORY, BUT NOW IT REACHED A POINT WHERE IT IS RE-CREATING THE PLAYBOOK OF ITS LINEAR RIVALS INSTEAD OF VICE VERSA. THE MARKET EMPHASIS HAS SHIFTED TOWARDS PROFIT REVENUE, WHICH THEY ARE CLEARLY EMPHASIZING. IN THEIR STRATEGY AND PUBLIC NARRATIVE IS FOLLOWED SUIT. CLEARLY THEY ARE ADJUSTING TO THE TIMES AND THEY ARE IN A BETTER FINANCIAL SITUATION THAN ANY OTHER MAJOR STREAMER.
THE ONLY ONE THAT'S PARABLE WITH DISNEY + AND HBO MAX -- BUT IN TERMS OF CONTINUING TO GROW, THEY WILL EMPHASIZE NOT ONLY THE AD TEAR AS A MOST COST-EFFECTIVE ALTERNATIVE TO COST-CONSCIOUS CONSUMERS, NOT ONLY PASSWORD SHARING WHERE IF THEY CONVERT 10% OF THE 100 MILLION PASSWORD SHARES THAT'S 10 MILLION NEW SUBSCRIBERS. THEY WANT TO INVEST IN NON-ENGLISH CONTENT AND CREATE NOT JUST REGIONAL HITS THAT CONNECT WITH THE LATIN AMERICAN MARKET, BUT TRAVEL GLOBALLY. WE SEE THAT STEADILY INCREASING. CAROLINE:
REALLY INTERESTING A BRING UP THE GLOBAL PERSPECTIVE. WHAT'S INTERESTING IS THE WAY IN WHICH INVESTORS HAVE STARTED TO BUY IN. IT WAS YUAN TWITTER WHO SAID MORE 90% OF FROM THE LOWS AT NETFLIX SHARES PRICE AT HIT. ANALYSTS ARE LOOKING ON THE BUY SIDE IN TERMS OF THE SELL SIDE. FROM YOUR GEOGRAPHICAL PERSPECTIVE, WHERE WILL THEY BE GROWING THE MOST? IS IT LATIN, IS IT ASIA VIS-A-VIS U.S., EUROPE? >> NETFLIX HAS YEARS LONG UNRIVALED INVESTMENT IN OVERSEAS CONTENT. THEY HAVE A LEAD ON THE
COMPETITION. ASIA-PACIFIC HAS BEEN THERE BIGGEST GROWTH OVER THE LAST FIVE OR SIX QUARTERS. SO THEY WILL CONTINUE TO HYPERFOCUS ON THAT. WE SEE IN SOUTH KOREA BECOME A MAJOR INTERNATIONAL HUB FOR HITS AND HITS THAT CAN HOPEFULLY TRANSLATE TO THE DOMESTIC AUDIENCE. AND THEN THERE'S THE BIG WHITE WHALE STREAMING. EVERYONE'S TRYING TO CRACK THE
CODE IN INDIA. NETFLIX GOT OFF TO A SLOW START, BEHIND AMAZON AND DISNEY + IN TERMS OF MARKET SHARE, BUT THEY CONTINUE TO EXPERIMENT WITH MOBILE ONLY PLANS. SIX-MONTH LANDS THAT OFFER DISCOUNTS AND INFEST AN ORIGINAL CONTENT THAT COVERS A VARIETY OF REGIONAL DIALECT.
THEY WILL HYPERFOCUS ON THE AREA WHILE STILL SERVING THE AREAS THAT HAVE PROVED TO BE FRUGAL TO THEM, SUCH AS LATIN AMERICA. ED: PARA ANALYTICS BRANDON KATZ, WE WILL HAVE THIS CONVERSATION ABOUT THE FUTURE OF NETFLIX AND THE MANY WEEKS TO COME. THANK YOU FOR JOINING THE PROGRAM. I WANT TO BRING IT QUICK
CORRECTION. EARLIER SHOWED THE BOARD OF THE SHARE PRICE OF AT&T. WE MEANT TO SHOW T-MOBILE, WHICH IS DISCLOSED OR TAKE A SIGNIFICANT CHARGE FROM A CYBER SECURITY VULNERABILITY THAT IS DISCLOSED IN A REGULATORY FILING AFTER THE MARKET CLOSED. T-MOBILE DOWN 1.5%. I GOT MY BLOOMBERG TERMINAL IN FRONT OF ME AND I CAN CONFIRM IT'S DOWN 1.5% IN AFTER HOURS. WE WILL CONTINUE TO TRACK THAT
STORY. EMAIL SHEDDING LIGHT ON ELON MUSK'S INVOLVEMENT IN THE 2016 DEMO. WHAT IS THAT MEAN FOR THE EV MAKER? COULD HAVE PHASE PROBES, HOW DOES IT MARKET ITS TECHNOLOGY? WE WILL DISCUSS THAT NEXT. THIS IS BLOOMBERG. CAROLINE: QUITE THE SCOOP COMING FROM BLOOMBERG NEWS TODAY. ELON MUSK OVERSAW THE CREATION OF A 2016 VIDEO THAT EXAGGERATED THE ABILITIES OF TESLA'S DRIVER ASSISTANT SYSTEM. THE YUAN DICTATED THE OPENING TEXT THAT WAS CLAIMING THE COMPANY'S CAR DROVE ITSELF.
THIS IS ACCORDING TO INTERNAL EMAILS VIEWED BY BLOOMBERG. WE DISCUSSED THE SCOOP AND ITS EXTRAORDINARY THE RELEVANCY THAT THIS STILL HAS. SIX YEARS ON WE ARE STILL DEBATING WHETHER AUTO PILOTS IS REALLY WHAT IT SAYS IT IS. >> THIS IS PRETTY EXTRAORDINARY. THIS VIDEO THAT I'M REFERRING TO IS STILL ON TESSA'S WEBSITE. IT'S THE VIDEO IN THE HISTORY OF THE COMPANY. A GREAT VIDEO SET TO THE TUNE
OF THE ROLLING STONE SONG PAINTED BLACK. IT STILL ON TESSA'S WEBSITE AND PURPORTS THE CARS DRIVING ITSELF AND THE ONLY REASON A DRIVERS IN THE CAR IS FOR LEGAL REASONS. BUT WHAT WE LEARNED VIA THE EMAILS IN VIA A DEPOSITION THAT WE GOT A HOLD OF THIS WEEK IS THAT MUSK OVERSAW THE PRODUCTION OF THIS VIDEO AND DOZENS OF TESLA STAFFERS WERE INVOLVED IN MUSK WROTE THAT LANGUAGE THAT YOU SEE WHEN THE VIDEO STARTS PLAYING. ED:
I WANT TO GO BACK TO THE BASICS OF THIS STORY, BECAUSE IT'S IMPORTANT. WE ARE TALKING ABOUT EMAILS THAT ELON MUSK SENT TO A LARGE GROUP OF THE AUTOPILOT SCENE. WE HAVE SOME OF IT THAT WE CAN BRING UP THAT I WILL READ YOU.
SINCE THIS IS THE DEMO IT IS FINE TO HARDCORE CODE SOME OF IT. SINCE WE WERE BACKFILLED WITH PRODUCTION CODE LATER, WHAT IS ELON MUSK TALKING ABOUT? >> THE FIRST EMAIL WE GOT WAS AN EMAIL THAT WENT OUT TO THE ENTIRE AUTOPILOT TEAM IN MID-OCTOBER IN 2016 90'S LIKE ALL HANDS ON DECK FOR THE DEMO ANY SAYING, DON'T WORRY, WE WILL CONTINUE TO WORK ON THE CODE AND REFINING FOR THE UPDATES. AND IT'S SOMETHING THAT TESLA REGULARLY DOES. WHAT'S IMPORTANT IS THAT NINE
DAYS LATER HE, AND THE SECOND EMAIL, HE SAYS THIS IS THE LANGUAGE I WANT IN THE VIDEO. CAROLINE: IN THE LANGUAGES BASICALLY, ULTIMATELY SAYING THIS IS GOING TO DRIVE ITSELF. I'M TELLING YOU WHERE WE ARE GOING TO BE RATHER THAN WHERE WE ARE IN THIS HERE AND NOW.
THE HERE AND NOW IS ALSO THAT THERE ARE LOADS OF PROBES IN THE AUTOPILOT FROM VARIOUS AUTHORITIES IN THE U.S.? >> THIS IS THE THING THAT WILL BE INTERESTING TO WATCH GOING FORWARD. TWO SIMULTANEOUS THINGS ARE HAPPENING. THE FIRST IS FAMILIES OF DRIVERS THAT DIED IN CRASHES WHERE AUTOPILOT WAS ENGAGED OR MAY HAVE BEEN ENGAGED ARE SUING THE COMPANY. THERE ARE SEVERAL CIVIL CASES ONGOING, INCLUDING THE CASE OF WALTER, WHICH IS IN THE BAY AREA IN THAT TRIAL BEGINS IN MARCH. SECONDLY, YOU HAVE THE CALIFORNIA DEPARTMENT OF MOTOR
VEHICLES LOOKING AT AUTOPILOT ON TWO FRIENDS. BOTH THE TECHNOLOGY ITSELF AS WELL AS HOW WAS MARKETED TO CUSTOMERS. BUREAUCRACY MOVES VERY SLOWLY. I DON'T KNOW THE LATEST IS ON MOST INVESTIGATIONS, BUT THIS IS TECHNOLOGY THAT HAS BEEN UNDER SCRUTINY FOR SOME TIME NOW AND WHAT'S RELEVANT IS THAT, YES, WE GOT EMAILS AT OR SIX YEARS OLD. THEY SHOWED JUST HOW HEAVILY INVOLVED MUSK HIMSELF WAS IN THE CREATION OF THE VIDEO, THE PRODUCTION OF THE VIDEO AND WHAT THE LANGUAGE OF THE VIDEO WILL SAY. ED: TERRIFIC REPORTING. THANK YOU SO MUCH. COMING UP, WHAT ARE SOME OF THE
ETHICAL ISSUES POSED BY HOW AI SYSTEMS ARE BUILT AND HOW THEY ARE RELEASED. WE WILL DISCUSS ALL OF THAT AND MORE WITH OUR AI EXPERT. THAT'S NEXT. THIS IS BLOOMBERG. >> JUST A FEW YEARS AGO PEOPLE WERE WRITING STORIES ABOUT HOW IT STIGMATIZED AND HOW PEOPLE SHOULD NOT TALK TO AIN IT'S CREEPY AND STRANGE. THIS IS NOT A QUESTION ANYMORE. NOW THE QUESTION IS, IS OK TO HAVE AN AI OUTLET? CAROLINE: CEO OF THE AI CHATBOTS , WHICH WE SPOKE TO LAST WEEK. FOR MORE CONTEXT ON ALL OF THIS, WE BRING IN ANDREW. FOCUSING ON RESEARCH, POLICY, PRACTICE.
DATA IN A HIGH WORK FOR PEOPLE, WORK FOR SOCIETY BUT WHAT'S SO FASCINATING ABOUT YOUR BACKGROUND IS YOU'VE LONG WORKED IN A CONTACT MODERATION. IT WAS BOUGHT BY ALPHABETS GOOGLE. TALK TO US ABOUT WHEN WE ARE THINKING OF REPLICA OR THE INNOVATIONS AROUND AI. ARE WE UP TO SPEED WITH THE ETHICAL RAMIFICATIONS? ANDREW: IT'S A GOOD QUESTION.
I WOULD SAY WE HAVE CONTINUED TO NOT DO THE BEST OF JOBS OF COLETTE -- OF COMMUNICATING LIMITATIONS AND RISKS THESE TECHNOLOGIES CAN RAISE. THESE ARE VERY EXCITING TECHNOLOGIES, NO DOUBT TO SAY THAT THEY ARE RAISING ALL KINDS OF EXCITING APPLICATIONS FROM WRITING TO THE COGENERATION, BUT THEY ARE NOT MAGIC. THEY ARE BUILT ON HIDDEN PROCESS OF LABOR THAT ARE RELYING ON EXPLOITED AND UNDERPAID WORKERS AND THEY CAN HAVE A VERY SERIOUS IMPACT TO SOCIETY THAT NEEDS TO BE BETTER COMMUNICATED. IT'S CRITICAL AS DEVELOPERS THESE POLICYMAKERS WE CREATE CONDITIONS FOR TECHNOLOGIES TO BE BENEFICIAL FOR PEOPLE IN SOCIETY. THAT'S SOMETHING WE CAN SEE TECH COMPANIES DOING MORE OF. CAROLINE: IT FEELS LIKE OPEN AI. IT IS VERY MUCH CHINA HAVE THE NARRATIVE OF HOW DO WE ETHICALLY INTRODUCES, HOW DO WE AI ENSURE THAT IT'S ITERATING AT A SAFE PACE? WHERE IN THE WORLD IS WORKING WELL WITH PRIVATE, WITH UGLY, WITH ACADEMICS, WITH GOVERNMENTS? ANDREW: THAT'S A GOOD QUESTION.
ONE THING WE COULD SEE MORE OF HIS INITIAL CONSIDERATION OF THE POTENTIAL USES OR MISUSES IN BUILDING AND SAFEGUARDS THAT ARE MEANINGFUL TO PREVENT THE MISUSES. WHEN THEY RELEASE IT, THEY WERE CAREFUL TO PUT IN PLACE SAFEGUARDS TO PROTECT HARMFUL CONTENT OR DANGEROUS CONTENT FROM BEING SHARED. BUT AS YOU CAN SEE, THESE CAN VERY QUICKLY BE OVERCOME. IF YOU TYPED IN THE APPROPRIATE
RESPONSE, YOU CAN GET THEM TO GIVE YOU INSTRUCTIONS TO MAKE A MOLOTOV COCKTAIL OR HOTWIRE CAR. IT'S NOT JUST THE STORY OF CHAT GT P AND OPEN AI PUT IN THESE SAFEGUARDS, OTHER COMPANIES MAY NOT DO THE SAME. SO A FEW THINGS I NEEDED. ONE IS A NEEDS TO BE MORE CROSS INDUSTRY COLLABORATION, COMMUNICATION AND DISCUSSION ABOUT THE RISK THESE TECHNOLOGIES POSE. THERE NEEDS TO BE DISCUSSION AND CLARITY ABOUT THE STANDARDS IN ORDER FOR THESE TECHNOLOGIES TO BE RELEASED SAFELY. AND THEY NEED TO BE A BIT MORE CLARIFICATION AND COMMUNICATION WITH MEMBERS OF THE PUBLIC. PARTICULARLY EDUCATORS AND CREATORS WHO ARE MOST IMPACTED BY THE TECHNOLOGIES. LASTLY, WE NEED A REALLY STRONG
AND STRINGENT REGULATION. WE DO A LOT OF RESEARCH AND ARE IN SITU AND ONE OF THE MOST CLEAR MESSAGES THAT COMES ACROSS AS PEOPLE WANT REGULATION FOR AI, THEY WANT TO FEEL SAFE, THEY WANT TO HAVE SOME SENSE THAT GOVERNMENT HAS A GRIP ON TECHNOLOGIES AND IS PUTTING THE RIGHT SAFEGUARDS IN PLACE TO KEEP THEM SAFE. ED: THE BIG NEWS HEADLINE I SAW ON THURSDAY WAS THE FBI DIRECTOR CHRISTOPHER WRAY SAYING HE'S DEEPLY CONCERNED ABOUT CHINA'S RESEARCH IN THE FIELD OF AI AND ITS AI PROGRAM AND WHAT I MIGHT USE AI FOR. AN INDEPENDENT RESEARCH GROUP LIKE YOURS, TO SEE WHAT CHINA IS DOING IN THE FIELD OF AI AS A WORRY? I THINK WITH THE FBI'S TALKING ABOUT AND PROBABLY WHAT OTHERS ARE TALKING ABOUT IS THE MILITARY APPLICATION OF AI THAT COULD POSE A THREAT TO SOCIETY. ANDREW: IT'S A CONCERNING DEVELOPMENT WHENEVER YOU ARE RUSHING INTO THE USE OF AI FOR MILITARY WEAPONS. BUT THAT'S NOT SIMPLY A CHINA PROBLEM.
MANY MILITARIES AROUND THE WORLD ARE DEVELOPING THESE TECHNOLOGIES. OFTEN TIMES WITHOUT MUCH CONSIDERATION FOR THE KINDS OF RACE DYNAMICS THAT IT COULD CREATE IN OTHER COUNTRIES. U.K., U.S., OTHER PARTS OF THE WORLD, THESE WEAPON SYSTEMS ARE BEING DEVELOPED.
THERE IS EXCELLENT WORK DONE TO HAVE ETHICAL CODES OF PRACTICE. BUT IT IS IMPORTANT TO ACKNOWLEDGE THAT THOSE ARE NOT RISK UNIQUE TO CHINA, THAT THOSE ARE VERY SERIOUS, ETHICAL AND LEGAL CONSIDERATIONS THAT NEED TO CONSIDER THE ADDRESS ON THE INTERNATIONAL LEVEL. ED: ASSOCIATE DIRECTOR OF EMERGING TECHNOLOGY. THANK YOU FOR STAYING UP SO LATE FOR US FROM LONDON. COMING UP, WHY COMPANIES
DECIDED NOT TO PAY RANSOM IN 2022. INTERESTING CYBERSECURITY DISCUSSION. THAT'S NEXT. THIS IS BLOOMBERG. ♪ CAROLINE: HELLOCAROLINE: WELCOME BACK TO THE BLOOMBERG TECHNOLOGY, I'M CAROLINE HYDE IN NEW YORK. ED:
ED LUDLOW BACK IN SAN FRANCISCO. LET'S GET BACK TO THE NETFLIX NEWS IN THE FUTURE OF THE COMPANY. WE WILL BRING IN JOHN KLINE, THE CEO AND FORMER PRESIDENT OF CNN. LET'S BE HONEST BY WE'VE GOT YOU ON THE SHOW, YOU KNOW THE INDUSTRY, YOU KNOW THE NAMES IN THE INDUSTRY, THERE WAS A STOCK REACTION TO THE NUDES THAT REED HASTINGS WOULD STEP BACK IS CO-CEO AND THE EXECUTIVE CHAIR POSITION, GREAT PETER STEPS UP TO CO-CEO, WHAT YOU MAKE OF ALL OF THIS? IS THIS AN EXAMPLE OF GOOD SUCCESSION PLANNING? >> AT FIRST LOOK IT FEELS LIKE THE OPPOSITE OF BOB IGER SITUATION WHERE HE DECIDED TO BACK INTO A HORRIBLY MESSY MACRO ENVIRONMENT THE HOPES OF FIXING IT. WHEREAS REED LOOKS LIKE HE IS STEPPING BACK A LITTLE BIT. THEN AS YOU THINK ABOUT IT A LITTLE FURTHER, AND EXECUTIVE CHAIRMAN IS VERY DIFFERENT FROM A NONEXECUTIVE CHAIRMAN, EXECUTIVE CHAIRMAN SORT OF SAYS, I STILL HAVE TO CLEAR EVERYTHING. I STILL HAVE AN OFFICE.
AND YOU WILL SEE ME ALL THE TIME. PLUS THE FACT THAT THEY BROUGHT IN A CODE CEO STILL. I THOUGHT WHEN THEY ELEVATED TED TO CO-CEO, THAT WAS A SIGN THAT HE WAS THESE SUCCESSOR. SO IMAGINE NOW THE IDEA THAT HE WAS NOT THE SUCCESSOR, AND HE SORT OF CAME IN ON BOTH SIDES. I DON'T KNOW HOW THAT WILL PLAY OUT, I DON'T KNOW ANY OF THE PSYCHOLOGY INVOLVED AMONG THESE PEOPLE, BUT I JUST WONDER HOW THAT'S GOING TO PLAY OUT. ED: YOU'VE LED LEGACY TRADITIONAL MEDIA COMPANIES IN DIGITAL COMPANIES, WHERE DOES NETFLIX IT RIGHT NOW AND THE LEADERSHIP OF THIS GROWING INCREASINGLY COMPETITIVE FIELD.
DISNEY, WARNER BROS., DISCOVERY, THEY ARE ALSO CONSIDERING WHETHER THEY CAN AGGRESSIVELY SPEND OR BACK, IS NETFLIX A HEALTHY COMPANY DESPITE THE SHAPE UP IT HAD AT MANAGEMENT? >> NETFLIX TRANSFORM THE ENTIRE MEDIA INDUSTRY, NOT BY THE CONTENT CHOICES THEY MADE, BUT BY DEPLOYING AI, DATA CRUNCHING TO BETTER UNDERSTAND WHAT CONTENT THEY AUTOMATE AND HOW TO MARKET IT. SO THEY BELONG IN THE HALL OF FAME FOR THAT, BUT I THINK EVERYBODY IS IGNORING TIKTOK, TIKTOK HAS PASSED NETFLIX AS THE NUMBER TWO STREAMING CHOICE FOR U.S. AUDIENCES UNDER 35. AND THAT IS HUGE. GEN Z IS -- THEY ARE A TSUNAMI, AND THEY ARE MAKING THEIR CHOICES WITH SHORT FORM VIDEO, IT DOESN'T COST BARELY ANYTHING, AND IN THE MEANTIME EVERYBODY IS OBSESSING OVER NETFLIX SUBSCRIBER GROWTH, BUT THE PEOPLE ARE VOTING WITH THEIR SLIGHTLY FINGERS. THE GEN Z PROGRAM ENABLES THEM TO WATCH SPORTS ALONGSIDE ATHLETES, AND WE SPEND NEXT TO NOTHING ON CONTENT, BUT WE GROW 1000 PRIMARILY WITH GEN Z USERS BECAUSE THEY CARE ABOUT THE IMMEDIATE, THEY CARE ABOUT MEANINGFUL MOMENTS, AND THEY WANT TO BE ABLE TO DIP IN AND OUT WHENEVER THEY FEEL LIKE IT. THAT'S VERY DIFFERENT THAN THE
BEAUTIFULLY CONSTRUCTED CONTENT MODELS THAT ALL THE TRADITIONAL STREAMING PLATFORMS ARE USING. I THINK EVERYBODY IS IGNORING THE TIKTOK ELEPHANT IN THE ROOM. CAROLINE: I THINK THAT'S REALLY INTERESTING, I ALWAYS REMEMBER THE SURPRISING COMPETITOR FOR FOR NETFLIX WAS GAMING AND WE FELT THAT'S WHERE IT WAS, BUT NOW SETTING UP THEIR OWN GAMING FOCUS. YOU'RE ALSO SAYING IT SOCIAL MEDIA, THIS NEW GENERATION OF SOCIAL MEDIA. AS TALK ABOUT CULTURE, BUT YOU ALSO HAD A THINK ABOUT THIS HARD WITH THE ORIGINAL MEDIA, CNN ROLLS, THINKING ABOUT CULTIVATING THAT INNOVATIVE STYLE, AND THAT'S REALLY ALL REED HASTINGS WAS KNOWN FOR, SHAKING THINGS UP WHEN IT COMES TO REINVENTING THE WAY IN WHICH PEOPLE HAVE RESPONSIBILITY AND FREEDOM.
ARE THEY ABLE TO INNOVATE. ARE THEY ABLE TO TAKE OVER AND TAKE ON THE LIKES OF TIKTOK AND THEIR OTHER COMPETITORS? >> IT'S VERY DIFFICULT TO ESTABLISH INCUMBENTS TO CHANGE A CULTURE, BUT WE'VE SEEN IT HAPPEN AT MICROSOFT, AND HERE THEY ARE, STILL PLAYERS, SO IT CAN BE DONE, BUT IT'S A BIG MISSION, IT'S A LITTLE HARDER TO DO WITH THREE PEOPLE AT THE TOP, WHICH IS WHAT NETFLIX NOW HAS. I'M THE MEDIA CONSULTANT FOR THIS SHOW SUCCESSION WHERE IT'S A DIABOLICAL AND ARE HANDING GOING ON IN THE CORPORATE SUITE. BUT IT JUST LOOKS TO ME, CULTURE STARTS AT THE VERY TOP.
THAT'S HOW -- HOW CULTURES ARE SET. THAT'S WHY THING GEITHNER CAME IN. HE WAS ONE PERSON WHO CREATED THE CULTURE AND ENFORCED IT.
TRICKIER WHEN YOU'VE GOT THE FOUNDER OF THE COMPANY STILL THERE. WHEN IRAN CNN, TED HAD BEEN THERE FOR A GOOD 10 YEARS. AND IT WOULD'VE BEEN KIND OF AWKWARD FOR MANAGEMENT TO MAKE DECISIONS WITH THE FOUNDERS STILL SITTING THERE. HE HAD THE GOOD GRACE TO EXIT. A LOT OF CEOS AND FOUNDERS REALIZE THAT IT'S TIME TO MOVE ON. WHEN YOU'RE DONE, YOU ARE DONE. I'M NOT SURE HOW THIS IS GOING
TO PLAY OUT. CAROLINE: THERE'S A QUESTION OF BENCH. AND THAT WAS AN INTERESTING NEWS, SHE TAKES THE ROLE OF CHIEF CONTENT OFFICER AND HAVING BEEN HEADING OUT THE GLOBAL TESE -- TV SIDE OF NETFLIX, CONTENT IS KING. FROM YOUR PERSPECTIVE, WHAT IS THE INNOVATIVE WAY TO THINK ABOUT CONTENT, WILL SHE HAVE TO THINK ABOUT HOW SHE KEEPS PEOPLE GLUED AMID THE DISTRACTION OF SOCIAL MEDIA? >> THEY ARE LUCKY. I GUESS I SHOULDN'T SAY LUCKY BECAUSE IT WAS ON PURPOSE. THEY HAVE BUILT AN INCREDIBLE DATA CAPTURE AND ANALYTICS ENGINE THAT ELIMINATES THE GET INSTINCT OF EXECUTIVES, WHICH ARE SO OFTEN WRONG. LOOK, NEW SHOWS ARE LAUNCHED IN
A TV SEASON VERSUS HOW MANY LASTS IN A MONTH. I THINK WHAT SHE'S PROBABLY DOING AS WE BEAT -- AS WE SPEAK IS DOUBLING DOWN INTO DRILLING ON THOSE THOUSANDS OF DIFFERENT TASTE BUSTERS THAT TELL THEM WHAT YOU LIKE TO WATCH VERSUS WHAT ED LIKES TO WATCH, VERSUS WHAT 100 OTHER PEOPLE LIKE TO WATCH, AND YOU ARE ALL GETTING HIT WITH DIFFERENT SUGGESTIONS. IN EACH PRESENTED IN A DIFFERENT WAY BECAUSE WE ALSO UNDERSTAND WHAT KIND OF THUMBNAIL PICTURES YOU RESPOND TO. WHAT KIND OF PREVIEWS AND HIGHLIGHTS YOU TEND TO CLICK ON RATHER THAN ANYBODY ELSE. SO EVERYBODY GETS ZERO NETFLIX, AND THAT'S TRUE, THAT'S AN ADVANTAGE FOR NETFLIX AND FIGURING THEIR WAY THROUGH THIS DESERT.
THEY''VE DOUBLED DOWN ON THE AMOUNT OF CAREER AND PROGRAMMING THAT THEY ARE BUYING NOW. THAT'S BECAUSE THEIR ALGORITHMS ARE TELLING THEM TO DO THAT. SO YOU ARE JUST TALKING A LOT ABOUT AI, ANOTHER WAY AI IMPACTS THE INTEREST PAYMENT INDUSTRY AND WILL DO MOVING FORWARD IS BY ITS ABILITY TO MAKE US DUMB HUMANS HAVE INSIGHTS THAT WE NEVER COULD HAVE ACHIEVED ON OUR OWN. CAROLINE: INTERESTING, ALL ABOUT THE TECH BACKGROUND.
YOU ARE NOW DOING. COFOUNDER AND CEO, WE THANK YOU SO MUCH. LET'S PIVOT, LET'S TALK ABOUT THE AI WE'VE BEEN WORRYING ABOUT WHAT THE IMPLICATIONS FOR CYBER. STILL A BIG CONCERN THESE DAYS, BUT FEWER COMPANIES ARE ACTUALLY INFECTED WITH RANSOMWARE AND THEY ARE HAVING TO YIELD THE EXTORTION PAYMENTS DEMANDED BY THE HACKERS ACCORDING TO NEW RESEARCH BY THE BLOCK CHAIN FIRM. WHAT'S THE REASON BEHIND THIS? THE HEAD OF CYBER THREAT INTELLIGENCE, WONDERFUL TO HAVE THE RIGHT HERE IN THE STUDIO.
JUST TALK TO US A LITTLE BIT. RANSOM ATTACKS HAVEN'T DIED DOWN, BUT IT FEELS AS THOUGH COMPANIES HAVE SOME OF THE PROTECTIONS IN PLACE TO STOP FROM HAVING HAND OVER CRYPTO OR WHATEVER THEY ASK FOR. >> IT'S WHERE WE GET A NEWS STORY ASSOCIATED WITH RANSOMWARE, SO WAS ENCOURAGING TO SEE OUR RESULTS THIS YEAR IN TERMS OF BEING DOLED OUT. IT HAS DECREASED SIGNIFICANTLY, AS MUCH AS 40%. HOWEVER, THAT'S NOT TO SAY THAT
RANSOMWARE ATTACK'S ARE ON THE DECLINE. THEY ARE SLIGHTLY DEPRESSED SINCE THE LAST YEAR. WHAT THIS MEANS IS THAT VICTIMS AND REPRESENTATIVES OF VICTIMS AND THEIR INSURERS ARE DECIDING NOT TO PAY, AND THAT'S IN PART BECAUSE OF CONCERN OVER SANCTIONS, WHETHER THEY ARE PAYING A SANCTION ENTITY, AND ALSO BETTER DEFENDED TO BE ABLE TO RECOVER WITHOUT HAVING TO PAY THE RANSOM. ED: I WANT TO GO BACK TO BREAKING NEWS WE GOT IN THE LAST HOUR OR SO, WHICH MOVE MARKETS, T-MOBILE HAS DISCLOSED A HACKER OBTAIN 37 MILLION CUSTOMER ACCOUNTS DATA, BUT IT DID NOT INCLUDE PAYMENT OR CARD INFORMATION, THE COMPANY SAYING IT DISCOVERED THE HACK ON JANUARY 5, IT TRACED THAT HIKE TO THE SOURCE AND STOPPED IT WITHIN A SINGLE DAY. THEY ARE INVESTIGATING BUT SAY EARLY INDICATIONS THAT THIS THREAT WAS ABLE TO OBTAIN THE INFORMATION FOR A SINGLE ENTRY POINT SERVING CUSTOMER DATA. IT DID NOT REACH THE KIND OF CUSTOMER SYSTEMS OR NETWORKS. I'D ASK YOU FOR YOUR REACTION
TO THAT, THE INFORMATION WE HAVE, HOW COMMON IS THAT THREAT THAT CORPORATE AMERICA FACES? >> UNFORTUNATELY WE SEE VICTIMS GET RE-VICTIMIZED, THIS IS NOT THE FIRST DATA BREACH THAT HAS AFFECTED T-MOBILE. BUT THIS GOES ON TO PROVE THAT THE UNDERGROUND ECONOMY THAT IS FUELING DATA BREACHES AND INCLUDING RANSOMWARE IS STILL THRIVING. THERE ARE STILL THREAT ACTORS OUT THERE THAT ARE ABLE TO SELL DATA FOR MONEY WHETHER OR NOT THEY ENCRYPT IN THE VICTIM SYSTEMS. AND THEY ARE VIBRANT MARKETS SELLING USER CREDENTIALS FOR VARIOUS PURPOSES, AND WE CANNOT LET OUR DEFENSES DOWN AT 2023 DESPITE THE PROMISING NEWS THAT WE UNCOVERED IN 2022. CAROLINE: CAN YOU TELL US ABOUT THE DEFENSES BEING USED AND HOW WE CAN KEEP UP WITH RANSOMWARE AND THE USE THREATS THAT CORPORATE AMERICA DOES FACE AND INDIVIDUALS.
HOW ARE WE ABLE TO ENSURE THAT WE FEEL WE DON'T HAVE TO COUGH OVER THE MONEY EVERY TIME? >> PART OF IT IS THAT INSURANCE COMPANIES ARE BEING MORE STRINGENT ABOUT THE INSURANCE COMPANIES THEY COVER. IN ORDER TO COVER THEM THEY MUST INCUR SOME SECURITY PRACTICES. THEY MUST HAVE BACKUPS IS A BIG ONE SO THAT IF THE SYSTEMS DO GO DOWN, THAT THE COMPANY CAN VERY QUICKLY RECOVER AND RESUME BUSINESS. IT'S NOT FOOLPROOF, THERE IS NO ORGANIZATION OR COMPANY THAT IS IMMUNE, UNFORTUNATELY. COMPANIES NEED TO HAVE A PLAN.
WHAT HAPPENS IF THEY DO GET ATTACKED. HOW WILL THEY HANDLE IT FROM LEGAL PR AS WELL AS SECURITY STANDPOINT? CAROLINE: GO BACK TO THE ROOTS OF HOW CRYPTO IS INVOLVED IN ALL OF THIS. MUCH OF THE AGGRAVATION FROM A CRYPTO COMMUNITY IS THAT IT'S TARNISHED WITH MONEY LAUNDERING SPECULATION AND USE FOR DRUG MONEY. BUT THE BEAUTY OF CRYPTO'S THEY MUST BE ABLE TO SEE WHERE IT GOES. HOW MUCH OF THE WASHING IS
HAPPENING, HOW CAN WE ENSURE THE MONEY IS MOVING AND WE ARE ABLE TO SEE WHO ARE THE BAD ACTORS. >> WE CALCULATED ALYSSA CRYPTOCURRENCIES REACHED AN ALL-TIME HIGH. HOWEVER, ONLY .24% OF ALL CRYPTOCURRENCY ACTIVITY WAS ILLICIT.
AND SO WHILE THE RAW NUMBERS DID INCREASE, OVERALL IT IS A SMALL FRACTION. WE ARE ONLY ABLE TO CALCULATE THAT BECAUSE OF TRANSPARENCY OF CRYPTOCURRENCY AND THE BLOCKCHAIN, AND THAT ALSO ENABLES US TO CHECK THAT ACTORS, TO RECOVER FUNDS, TO PINPOINT WHICH CRYPTOCURRENCY EXCHANGES ARE BROKE WORD TO BE ABLE TO DISMANTLE THEM LIKE WE DID WITH THE LOTTO EXCHANGE YESTERDAY, WHICH WAS TAKEN DOWN AS FAR AS THE INTERNATIONAL ACTION DISMANTLED BY INTERNATIONAL LAW ENFORCEMENT AGENCIES. ALSO, THE HEIGHT OF THE DARK MARKETPLACE. WE ARE ABLE TO HAVE THE SUCCESSES BECAUSE OF TRACEABILITY. AND IT'S ONLY A SMALL FRACTION
OF CRYPTOCURRENCY ACTIVITIES. ED: WE STARTED THE YEAR WITH THE DIRECTOR AND HER MESSAGE AT CVS WAS THE PRIVATE SECTOR HAS TO DO A LOT MORE RIGHT FROM WHEN YOU'RE DESIGNING YOUR PRODUCT TO ITS ORIGINS THROUGH TO HOW YOU CONDUCT BUSINESS. THAT'S WHY SHE WAS THERE IN VEGAS TO GET THAT MESSAGE. YOU SEE THE PRIVATE SECTOR DOING ENOUGH TO WARD OFF THE THREATS THAT YOU YOURSELF ARE WARNING OF -- WARNING ABOUT? >> I REALLY VIEW THIS YEAR'S FINDINGS OF 2022'S RANCID MERE PAYMENTS ON THE DECLINE AS REPRESENTATIVE OF PUBLIC AND PRIVATE SECTORS WORKING TOGETHER. WE HAVE GOVERNMENT ENTITIES DOING TAKEDOWNS AND SANCTIONS.
WE HAVE PRIVATE SECTOR PARTNER INSURANCE COMPANIES TIGHTENING AS FAR AS WHAT THEY ARE WILLING TO PAY AND BEING A PARTICIPANT TO SANCTIONS CONCERNS, AS WELL AS THE RESEARCH COMMUNITY THAT IS ACTIVELY FINDING VULNERABILITIES THAT THESE RANSOMWARE ACTORS ARE USING. IT REALLY IS THAT FINE BALANCE OF NOT PENALIZING VICTIMS, BUT BEING ABLE TO HELP THEM WHEN NEEDED. IT HAS BEEN A REALLY PHENOMENAL PUBLIC AND PRIVATE SECTOR EFFORT AND WE REALLY GET THE OPPORTUNITY TO QUANTIFY WHAT THAT IMPACT IS. CAROLINE: GREAT TO HAVE YOU HERE IN THE
STUDIO. HEAD OF CYBER THREAT INTELLIGENCE. MEANWHILE, COMING UP, THE TECH BEHIND FAKE ME AND WHY INDUSTRIES BELOW BY SILICONE VALLEY ECS IS NOW -- THIS IS BLOOMBERG. CAROLINE: WE HAVE GOT TO TALK ABOUT BLOOMBERG'S BIG TAKE BECAUSE IT IS ONE OF THE MOST RED ACROSS THE PLATFORMS. IT WAS ALSO ABOUT THE BIG FAKE MEAT. A FEW YEARS AGO LAB MADE ME WAS POISED FOR THE TRILLION DOLLAR MEAT INDUSTRY. JOINING US. ULTIMATELY, THIS IS A TECHNOLOGY STORY. IT WAS AN IDEA YOU COULD USE LABORATORIES AND INNOVATION TO GET SOMETHING THAT FELT AND TASTED LIKE MEAT BUT WAS IN AND HAD A BETTER FOOTPRINT ON THE ENVIRONMENT.
NOW WE ARE ALL HOPING THAT IT WILL BE THE ANSWER BECAUSE IT FEELS LIKE BEYOND MEAT DIDN'T GROW IN THE RIGHT WAY. >> THAT'S RIGHT. BASICALLY WE HAD THESE FOUNDERS COME OUT, ETHAN BROWN FOUNDED BEYOND MEAT IN 2009, PAT BROWN AND 2011 WITH IMPOSSIBLE FOODS AND THEY MADE THESE REALLY BIG PROMISES. ETHAN BROWN TALKED ABOUT
BASICALLY COPYING THE STRUCTURE OF MEAT BY DOING IT WITH PARTS THAT HE EXTRACTED FROM PLANTS. PAT BROWN TALKED ABOUT -- WHICH IS FOUND IN LARGE CONCENTRATIONS IN RED MEAT, AND HE WAS GOING TO MAKE IT WITH GENETICALLY MODIFIED YEAST AND SOY, AND IT WOULD BE THE HEMOGLOBIN, WHAT HE CALLED HIS MAGIC INGREDIENT, AND THIS WOULD GIVE HIS BURGERS THIS MEATY TASTE. BOTH COMPANIES PROMISED TO BASICALLY UPENDS -- WELL, IMPOSSIBLE REALLY SAID THEY WOULD UPEND ANIMAL AGRICULTURE. AND IT WAS MORE ALONG THE LINES OF SAVING THE WORLD FROM HEALTH AND ENVIRONMENTAL DISASTERS. JUST LITTLE THINGS, AND THAT THEY WERE GOING TO CREATE PRODUCTS THAT WERE SO IDENTICAL TO THE MEAT THAT PEOPLE LOVE THAT PEOPLE WOULD JUST SWAP THEM IN AND SIDESTEP THE ANIMAL.
IT REALLY HASN'T WORKED OUT THAT WAY AND THEY THINK MOST PEOPLE WOULD AGREE THAT THESE BURGERS ARE A LOT CLOSER TO BEEF THAN THEIR FORBEARERS, LIKE MORNINGSTAR FARMS FROM KELLOGG'S, BUT THEY ARE CERTAINLY NOT CLOSE ENOUGH, AND MEAT EATERS JUST AREN'T THAT INTERESTED, OR AS ONE EXPERT TOLD ME, THEY ARE JUST NOT THAT INTO IT. ED: ETHAN BROWNED LIKENED IT TO TECHNOLOGY DOING AWAY WITH THE COURSE PULLED CART WITH WHAT THEY WERE DOING IN THE LAB WOULD CHANGE WHAT'S ON OUR PLATE. WE ALL SAW THE AUDIENCE AND WHAT THEIR OWN ATTITUDE IS TO LAB GROWN, LAB GENERATED MEAT. 47% SAID, NO. DOES YOUR REPORTING BACK UP THE FINDINGS THAT POLE? WHAT IS THE ATTITUDE OF CONSUMERS RIGHT NOW? >> BASICALLY, THE MARKET FOR THEIR PRODUCTS IS DECLINING.
A LOT OF PEOPLE TRIED THEM WHEN THEY FIRST CAME OUT, THEY WERE REALLY EXCITED ABOUT THEM. AND NOW, PEOPLE ARE MOVING AWAY AND THEY ARE GOING EITHER TO -- MAYBE THEY WANT TO KEEP THEIR MEAT CONSUMPTION DOWN SO THEY ARE GOING TO SOMETHING LIKE LENTILS OR BEINGS, OR MAYBE THEY ARE GOING TO CHICKEN, WHICH IS LESS EXPENSIVE THAN THE PRODUCTS AND LESS EXPENSIVE THAN BEEF. AND A LOT OF PEOPLE TRY THE PRODUCTS, SEARCH MAYBE EVEN TWICE, BUT THEY JUST DON'T STICK WITH IT AND IT JUST DOES NOT STAY AS PART OF THEIR NORMAL ROUTINE, THE PEOPLE THAT YOU THE MOST OF THE STUFF ARE VEGANS AND VEGETARIANS THAT WERE VERY MUCH NOT THE TARGET.
CAROLINE: INTERESTING. FROM ANECDOTAL EVIDENCE, WE BROUGHT IN A LOT OF BEYOND MEAT INTO OUR HOME, LARGELY BECAUSE WE HAVE AN ALL PAIR WHOSE VEGETARIAN. BUT I DIDN'T LIKE THE WAY MALE -- MILK MADE HIM FEEL AND WANTED TO CUT DOWN BUT THEY WERE NOT HEALTHY ENOUGH. IT DIDN'T FEEL LIKE LENTILS WAS A BETTER OPTION.
ARE THESE COMPANIES TRYING TO UPROOT THEMSELVES? ARE THEY TRYING TO CHANGE AND LISTEN TO FEEDBACK TO INNOVATE THAT OR IS IT JUST GOING TO GO QUIET? >> THEY DO TALK ABOUT MORE INNOVATION, AND THEY CONSTANTLY RELEASE NEW VERSIONS. THERE'S A NEW BEYOND BURGER ALMOST EVERY YEAR THAT THEY SAY THIS ONE IS GOING TO BE JUICIER, MOIST, MORE MEAT LIKE, AND IMPOSSIBLE ALSO DOES THE SAME THING, THEY SAY, BY DOING THIS, SOME OF THE IMPROVEMENTS WOULD MAKE IT HEALTHIER. BUT I THINK FOR A LOT OF PEOPLE, THE IDEA OF FURTHER PROCESSING IS SORT OF ANTITHETICAL TO MAKING IT HEALTHIER. THEY MIGHT SAY LOWER THE CALORIES ARE LOWER THE SODIUM, BUT THAT'S AN CHANGE WHETHER OR NOT IT'S AN ALTAR PROCESSED FOODS -- FOOD. CAROLINE: FASCINATING TO SEE HOW THE MCDONALD'S DEALS AND OTHERS GO THROUGH. THANK YOU FOR COMING. SOCIAL MEDIA APPS THAT AMPLIFY POSITIVE REINFORCEMENT.
THIS IS BLOOMBERG. ♪ CAROLINE: GOING VIRAL TODAY IS THE INFLUX OF VENTURE CAPITAL MONEY FLOWING TOWARDS SOCIAL MEDIA APPS FOCUSED ON HAPPINESS. IT LETS USERS SEND ANONYMOUS COMPLIMENTS JUST RAISE $2.6 MILLION.
REACH NUMBER ONE ON THE GERMAN IOS APP STORE, FOUR DAYS OF THE LAUNCH. THEN THERE IS GAS. IT'S HERE IN THE U.S. SENATE USES ANONYMOUS POLLING TO SEND COMPLIMENTS AND BOOST CONFIDENCE OF USERS. THESE APPS ARE JUST PUTTING KIND OF A SPIN ON SOCIAL MEDIA LANDSCAPE THAT HAS IMPROVEMENT TO THRIVE ON TOXICITY. I THINK IT WILL BE INTERESTING TO SEE HOW IT MAKES YOU FEEL GOOD, AS WELL AS THE OTHER PERSON FEEL GOOD. BUT I WONDER IF ADVERTISERS GET INTO THAT AS WELL. ED:
THE OWNERSHIP IS BEING DEBATED, BUT THE DATA WAS STAGGERING. THE MONTH OF OCTOBER THE APPLE IS ADDING 30,000 NEW USERS PER HOUR IN OCTOBER. I THINK EVERYONE NEEDED SOME FEEL GOOD WHEN TWITTER WAS UP IN THE AIR. AN INTERESTING ONE.
CAROLINE: AS I SAID, THE KIDS ARE GOING TO SAVE US. KEEP THEIR POSITIVE APPS OUT THERE. THAT DOESN'T FOR THIS EDITION OF BLOOMBERG TECHNOLOGY. ED: SOMETHING VERY SPECIAL COMING
UP FRIDAY AT NOON EASTERN, WE ROUND UP THE BIGGEST TECH NEWS ON OUR WEEKLY TWITTER SPACES. WE LOVE DOING THIS, HOSTING OUR BIGGEST NAMES ACROSS BLOOMBERG NEWS, BLOOMBERG INTELLIGENCE. AND IF YOU'RE LUCKY, THIS FRIDAY WE WILL HAVE A SPECIAL SURPRISE GUEST. CAROLINE: WE WILL TALK VC, THE BIGGEST STORIES AND GET Q&A.
BUT THE AUDIENCE.
2023-01-21 14:31
Show Video
Other news