MIT iHQ Virtual Open House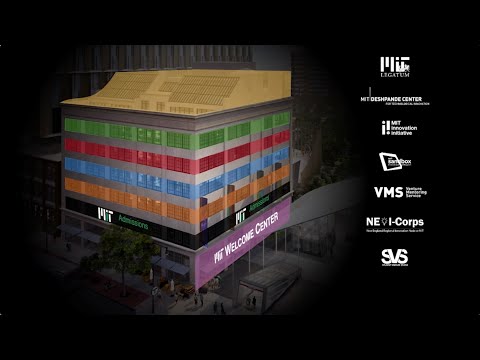 Show Video
Whitney Espich: Hi, I'm Whitney Espich, the CEO of the MIT Alumni Association and I hope you enjoy this digital production created for alumni and friends like you. Hi. I'm Gene Keselman, executive director of MIT'S Innovation Initiative and a Sloan MBA alum. Thank you for joining, everyone.
Welcome. Today is going to be very special. I'm standing here in the heart of Kendall Square behind 292 Main Street, MIT'S new Welcome Center. And we're very excited to give you a sneak peek of that new Innovation Headquarters, the top five floor of this building. This is special because it's the very first time we are doing an organized tour of the new MIT iHQ.
And we especially wanted to do this for you, our alumni community, because you are one of the few groups who can really understand the profound change this space brings to MIT, and the impact we know it will have on students and hopefully on the world. Before we begin, there are three things I want you to keep in mind. First the past year has been really hard and we'd like to bring you a little fun for the next 90 minutes. So please relax and enjoy this exclusive sneak peek. Second, we want you to understand that the mission of the iHQ is to provide a home for MIT's innovation community and support those who pursue ideas with a passion for serious impact. And that includes you.
You are such an important part of this community. And third, we're going to talk about the three ways you'll be able to personally engage with the iHQ. Either by participating in Innovation and Entrepreneurship programs, by volunteering as a mentor, or by donating to support the programs you'll be previewing today.
With that in mind, I'd like to introduce Fiona Murray who will tell us a little bit about how the iHQ came to be. Hello. I'm Fiona Murray, professor of Entrepreneurship at MIT, associate dean for Innovation and Inclusion at our School of Management, and co-director of the MIT Innovation Initiative. I'm so happy to have the opportunity to talk to you today. Alumni are critical to MIT'S Innovation and Entrepreneurship activities and I'm thrilled to share some exciting updates about how we continue to build innovation infrastructure to support that community, literally and figuratively, with bricks and mortar as well as online.
Obviously we are entering the summer lull after a challenging year for our community but I'm so looking forward to the fall. September is always a busy time on campus. Students moving in, the start of classes, reconnecting to the energy of Kendall Square. But this year is even more exciting.
The campus will spring to life after a year and a half of COVID lockdown. I&E activities will finally resume in person allowing for the critical connectedness we've really missed for so long. Perhaps the most exciting part about returning to campus for I&E community is the opening of MIT'S new home for Innovation and Entrepreneurship. Our Innovation Headquarters. During lockdown, the full reconstruction of the Suffolk building at 292 Main Street, which you may remember is the home of MIT Press, was completed.
The space is ready to be filled with the organizations, programs, and people who power MIT's innovation engine. But let me take a step back. What is this new place that we call the Innovation HQ? Back in 2013 when President Rafael Reif charged a committee to form an Innovation Initiative he stated, and I quote, "In its physical realization, the Initiative will be literally institute wide. A chain of new and existing spaces that would, together, create an infinite innovation corridor to include a new innovation center."
After seven years of careful planning, and three years of constructing, that center is set to open the first week of September. And I'm excited to say that you, the MIT Alumni, of the very first group we are bringing inside for a tour, albeit a virtual one. Innovation Headquarters, or iHQ as we call it, you know MIT loves a good acronym, is 5 floors of open coworking maker and event space which sits atop MIT's new Welcome Center and the MIT admissions office.
The building itself serves as MIT's new front door and iHQ is the home of six key Innovation and Entrepreneurship organizations. The MIT Legatum Center for Development and Entrepreneurship, MIT's Deshpande Center for Technological Innovation, MIT Innovation Initiative, the MIT Sandbox Innovation Fund Program, MIT Venture Mentoring Service, and the New England I-Corps at MIT. There's also dedicated space for student innovators in the student venture studio, as well as a home for some of the many alumni programs from I&E organizations in our new Alumni Venture Studio.
The space will support I&E activities from all five schools and the college and was designed to encourage those chance collisions which spark the innovation process amongst people or teams who may not otherwise meet. iHQ fills the need to have a physical space co-locating many efforts but, as you know, no one building can contain the volume of innovation happening campus wide. Imagine iHQ is MIT'S innovation hub with community members, information, ideas flowing in all directions. A true opportunity for world changing impact. Now, because Kendall Square is known as the most innovative square mile on the planet, iHQ will, we hope, have an important impact.
Not only at MIT but also with our local Cambridge neighbors and the greater Boston innovation ecosystem, as well as much further afield. You, our alumni, continue to spread MIT's mission around the globe and we hope you will consider supporting the programs that train our students to be the next generation of innovators who seek to build a better world. In my role as Associate Dean for Inclusion, and in support of MITii's stated goal of establishing MIT as a world leader in enabling diversity, equity, and inclusion in Innovation and Entrepreneurship, I'm keenly aware that the infinite innovation corridor needs to be broadened to enable the participation of all those traditionally underrepresented.
Students, faculty, and community members. I'm excited to build upon MITii's DEI activities which will also have a new home at iHQ, including our Inclusive Innovation programming, Inclusion Internship grants, and WISDM, the Women in Innovation and STEM Database at MIT. There's so much to say about the impact this exciting new space will have for the MIT community and the world.
You can dig deeper into the floor plans, the resident organizations, and even the history of the Suffolk building at mitii.news/ihq. It will be such a pleasure to have the opportunity to meet many of you in person at MIT's Innovation HQ in the near future and to talk about the many ways you can get involved. But for now, let's take a look inside Innovation HQ, shall we? Welcome back. We're now on the third floor, the official entry into the iHQ.
On this floor is an open creative workspace for students, and located behind me in the Jameel rapid prototyping room is the Voxel lab, a new music and art prototyping lab. We are really, really excited about this. Here to introduce the Voxel lab, and talk about the importance of creativity and innovation, is Associate Dean for Innovation, Michael Cima. So how do you become an innovator, an inventor, a change maker? It always seems like people like that just stumble upon good ideas. Well, it's also said that chance favors the prepared mind. So the question comes down to how do you prepare? And I think the best way to prepare is to practice being creative.
It doesn't matter whether it's music, woodworking, welding, poetry. What matters is that you're always practicing being creative. Voxel labs is such a place. It's a place to practice being creative. It's a lab at the intersection between music and technology.
A collaboration between the MIT Innovation Initiative and the music department here. It's basically a prototyping facility and music makerspace. I've learned that the best student labs at MIT are not about the infrastructure, not about the stuff in the labs. It's more about the community that they create. So come join us Voxel labs and never stop making.
I am starting. [MUSIC PLAYING] Hey everybody. Welcome to the fourth floor of the MIT Innovation Headquarters building. This is a student centered floor. On this side of the building we have the MIT Sandbox Innovation fund program, which is an amazing entrepreneurship education program focused on giving students up to $25,000 of non-dilutive funding and support to let them work on their ideas and startups. And on this side of the building we have the Student Venture Studio, which is a space for the student community across the Innovation and Entrepreneurship ecosystem, for them to come and be a part of the building and collaborate with each other.
And here we have Lauren Tyger, our Program Manager for Community and Resources, talking with one of our amazing MIT students. Thanks, Gene. Hi, everyone. I'm Lauren Tyger, Program Manager for Community at MIT Innovation Initiative.
And with me today is Louise. Louise is an amazing Course 20 undergrad student and she was a part of our Inclusive Innovation Grant program last summer. Last summer we met students who were interested in experiencing great internships with MIT affiliated startups. It was a great opportunity to work with MIT alumni, MIT affiliated ventures, and partner students looking for really exciting summer opportunities. Louise, tell us about your summer internship last year.
Yeah. So last year I was paired with a startup called Bolden Therapeutics. They are a neuroengineering market startup. At the time they had five members.
So they were in their very early stages and I got to be a neuromarketing research intern for them where I was basically looking at different neurological disorders such as Parkinson's, Alzheimer's, schizophrenia, et cetera, and really gathering background information on current therapies for these diseases, their cost, effectiveness, all of that because they were such a new company. Just so that they had that background information to build on and figure out which direction they wanted to take their company, what kinds of therapies they could develop, or current ones that they could use, and how they really wanted to structure their company. That sounds like an amazing summer experience you had. I'm curious, how did any of that impact your interests or complement your coursework or academic interests? Yeah. So I am studying bioengineering but I've always been interested in the neuroscience space. So I think this really gave me a new perspective in that field of research and has inspired me to pursue neuroscience further.
I think I'm going to minor in that in addition to bioengineering and really try finding a way to combine the two, possibly doing some engineering or something in the future. So it's really inspired me to pursue more of that. That's awesome. In working in such a dynamic small startup that you did, I'm curious if that impacted your thinking about how innovation happens or really your perception of startups in general. Yeah, it's definitely inspired me to be more involved in that space and pursue startups more. Because it really showed me something that I enjoy a lot, that fast paced, always keeping on your feet.
Because there isn't a defined structure to anything. It's really just doing what needs to be done at any given time. So you never really have a boring day. There's always something new to learn. There's something new to do.
So it's definitely something I want to continue pursuing in the future and be more involved in, for sure. That's great. In this new interest in innovation, how do you think that will affect your involvement for the rest of your time at MIT? I think I'll definitely try being more involved in startups. Boston is a great area for bioengineering startups in general so I definitely want to do more research, or intern at more of these companies, get more experience with that. And possibly, maybe in the future, have a startup of my own in that space.
Great! Love to hear that. Can't wait to see you as a founder. And lastly, whenever you tell people about your summer internship, what was the highlight? I think the highlight was really making all the connections and meeting all the people I did. And just seeing how driven and motivated they were to create this thing, this startup company that they can call their own, and develop all their dreams for neuroengineering. I think it really inspired me to-- I guess that passion that they carried and motivation really inspired me.
Awesome. Well, thank you so much, Louise, for your time today. It was great to hear about your experience and so glad you had a good one. Thank you so much. And for everyone else thank you so much for listening.
To hear more about student experiences with startups I'm going to be in a breakout room with another student who participated in the Venture Match Program. Thank you. All right. Welcome, everybody. This is Gene coming to you from the iHQ.
I'm so glad you joined us for the first part of our virtual tour. Now we want to give you an opportunity to hear directly from the leadership students and alumni who are working with the innovation programs that will be a part of the iHQ ecosystem. So, there are seven programs and we realize you can't hear from all of them today. We're going to give you the option to choose your own path in selecting two sessions over the next 20 minutes. So these mini info sessions will take place in separate breakout rooms here on Zoom.
So on your screen, you'll see a prompt to join a breakout room. The programs are listed as the room names. Select one of the programs to join the room and after 10 minutes you'll be able to select a second program. So don't worry you'll get two different program choices.
And additional instructions are here on the screen and you should see a prompt to join a room on your screen. Enjoy the exploration of these programs. Please ask questions, stay involved, and we'll see you back here in a minute. Please select your breakout rooms now. I want to make sure you guys know, if you want to learn more about any of the programs that you did not get the chance to hear about, there will be plenty of materials that come to you after the event and you'll be able to reach out, for those that didn't hear the first time I said that. For our next segment it's my pleasure to bring back to the program Professor Fiona Murray who will be speaking with Sloan alumna and MIT Corporation member, Hala Fadel.
Hala will share some insights on the importance of innovation and the opportunities this new amazing building space brings to MIT. So please enjoy this. Thank you for joining us. We very much appreciate it. Particularly because I know you joined MIT cooperation in 2019 and so, as a long time alum and supporter of MIT, we very much appreciate your taking this really the expanded leadership role.
Hala, maybe you can tell us just a little bit about yourself and your background before we start to talk about Innovation HQ. Sure. Thank you, Fiona.
So my name is Hala Fadel and I'm the Founder and Managing Partner of Leap Ventures. I started my career in Mergers and Acquisitions at Merrill Lynch in New York, then London, and then Paris, and caught the technology virus or the innovation virus while I was studying at Sloan. There were so many initiatives on campus, that was '99 to 2001, so many initiatives on campus around entrepreneurship and innovation that I felt I had to be part of all of the initiatives that were taking place on campus. I ended up starting a company while at Sloan. Exited that company and then went into the world of investing, investing in late stage companies. And then more recently started the venture capital firm investing in early stage.
But always in innovation and technology and meeting young entrepreneurs from around the world. I wonder if you can talk about the kind of role that you hope that a new Innovation HQ space like this could represent for the MIT community. So there are so many initiatives that are going on around campus around Entrepreneurship and Innovation, but also outside of campus that involve the MIT alumni community, the alumni community being investors or starting companies.
And there's no confluence of all these initiatives. So a place that would be a platform where you have visibility on everything that's going on. So of course you could build this online but then there is also the serendipity that happens in a particular space where you could be randomly meeting because you just decided to show up that day, or because you're visiting campus, or you're visiting Boston, or you're organizing a meeting on purpose with the different people that are involved in those MIT initiatives. And then there's this magic that happens.
The collusion of two people that randomly meet and decide to do something together. Do you have any particular advice for us as we think about really bringing in and welcoming a diverse community into our Innovation HQ? And any advice on how we can make sure that it feels inclusive for everybody? Fiona, from what I hear and what I've seen from the Innovation HQ, I see you're doing the right thing. As I understand, it's really a grassroots building where you listen to what students wanted, what the alumni community wanted, what the teachers wanted, what the different initiatives on campus wanted. And I think this is a process whereby if everybody gets what they feel like having in a space then they are more likely to come and it will be, by definition, a welcoming space. And this is really what you want.
People attracted to this space as walk ins, or as part of the community, to the broader possible base of people that can come, and then you let the magic happen. We cannot control everything. It just needs to be open doors and attractive to all kinds of people and then I'm pretty sure that, given the mentality that's on campus, then people will meet and create diverse teams.
And it's important that at the beginning the pool of people that is attracted to this space is as diverse as possible because this is how the magic happens. The diversity comes from how broad the pool of people attracted to this Innovation HQ is and this is what we need to do. Talk about it, attract more and more people to it, and listen to what users of this space want to see happen in it. Hala, thank you so much for joining us. We absolutely appreciate it. Thank you for sharing some of your insights.
You've given us lots to think about and much for us to do. We have a very significant agenda bringing this building to life. We've had a year throughout the pandemic to become really excited about it, to start to prepare, and we're absolutely delighted to be opening the doors very soon. And we're really glad to be able to do that for our alumni. And particularly to have you, as an MIT alum, and member of the MIT Corporation, to be part of this grand opening. So, Hala, thank you so much for joining me.
I appreciate it very much. Thank you, Fiona, and good luck. Here we are on the fifth floor of the iHQ and on this side of the building is the Legatum center for Development and Entrepreneurship. An amazing program that accelerates social and economic change around the world.
And over on this side of the building is the Alumni Venture Studio, an amazing space that we're really excited about. We're going to tell you a lot more about that later. And that is the fifth floor. And here we are on the sixth floor of the MIT Innovation Headquarters building where some of the premier innovation and entrepreneurship programs from all across the MIT have their offices, including MIT Deshpande Center, MIT Venture Mentoring Service, New England I-Corps at MIT. In my organization, the MIT Innovation Initiative. My name is Tim Miano, I'm the Program Director at the MIT Innovation Initiative, and I have the distinct honor and pleasure of getting to introduce to you, for the first time ever, the Alumni Venture Studio.
Let me share my screen. There we go. So, welcome. First thing I want to talk to you about is why we're building the Alumni Venture Studio. And it's something you've probably heard a couple of times today, which is about the iHQ's mission. So we have a mission to provide a home for MIT's innovation community, supporting those who pursue ideas with the passion for serious impact.
Now, there's a key phrase in there. Innovation community. And you might be wondering, well, who exactly is part of the innovation community? It turns out that that is a tricky question. So we can start with MIT's past a little bit and understand that, historically, the MIT innovation ecosystem has been recognized as being made up of a whole bunch of stakeholder groups. This obviously includes the student stakeholders, the prospective students, and the [INAUDIBLE] the undergraduates and graduates and student groups that participate in the various programs and the [? INE ?] ecosystem.
This also includes members of the Institute, the administration, the department [INAUDIBLE] and the staff, those that are putting on the various programs, many of which you've gotten to see today, as well as the faculty and the postdocs, those that are developing technologies and intellectual property and what we think of as a lab based innovation. This is also included, the greater I&E ecosystem. Right? So this corporates and corporate partners that fund sponsored research connected ventures that are licensing the IP out of the University. A whole range of different types of mentors that are giving back their time and volunteering to help young student founders learn to be entrepreneurs. A lot of different supporters and donors, those that are putting money into the programs so that they can be made possible, as well as a variety of different types of partners. Universities, government entities, and all sorts of other NGO's.
So that kind of brings us to the present and what's interesting is that over the last several years, with the rise of University led innovation ecosystems, there has been a sea change. There is an increasing recognition that, in fact, alumni, many alumni like you, really are recognized as having a role in the innovation community and therefore should be part of the iHQ's mission. So this might include the more than 450 alumni founders that MIT produces on an annual basis. But it might also be people that have been graduated for 10 or 20 or 30 years that are just now taking the lessons they learned at MIT many years ago and becoming founders today. It also includes all manner of alumni connected ventures. Not just those that are using MIT IP, but those who might have found co-founders that are still students , or those that are hosting many of the diverse students that we are able to provide internships for.
This also includes alumni mentors and volunteers, those that specifically want to give back because they themselves have experienced MIT's innovation ecosystem or have a lifetime of experience that they want to share with the next generation. It also includes alumni supporters and donors, those who are very passionate about many of these programs and would like to financially support them to make them possible. And finally it includes all manner of high impact alumni champions, like Hala who you heard from earlier, that gives her time by being a member of the board of the MIT Corporation.
So, now that we've talked about a little bit of the why and some of the who, I can explain to you where and what the Alumni Venture Studio is. So I'm, right now, up on the seventh floor of the iHQ in the Hacker Reactor. But just down on the fifth floor we have set aside space for the new Alumni Venture Studio right next to the Legatum center. And what the Alumni Venture Studio does is, in the current form, will serve as a physical anchor and an administrative umbrella to current and future programs that support connections with the alumni innovation community.
So let's unpack what that means a little bit. So if you go to mitii.news/avs you'll be able to see a website that we put together to help you better understand the offerings of the Alumni Venture Studio and what some of the goals of it are. So one of the big things you'll see is a menu of programs.
These are many of the programs you've gotten to see from today, as well as many others from across the campus. And these are opportunities where you, right now, can connect with them in some form. Whether if you have a startup or you're a founder and you would like to utilize them as a participant, some of them provide that. If you are looking to be a volunteer or a mentor, some of them provide you with that opportunity.
And if you're just looking to be a supporter through financial contribution you can select those and participate in that way. But importantly, no matter what, how, or with whom you participate, the physical space of the iHQ, the Alumni Venture Studio, will be available so that when any of these programs are having activities or events that bring in the alumni community, you will be able to use this space through these programs and actually come inside the iHQ and be physically part of our community, which we think is really important. So that's a little bit of the present, that's the plan. But let me take one more minute and talk about the future.
The future of the Alumni Venture Studio. So what does this mean for the future programs? Well, over the last couple of months I've had the great pleasure of getting to connect with dozens of different MIT alumni looking to understand what ideas are out there or what this could be, as well as what are alumni looking to support. And there's been a whole bunch of really great whiteboard ideas.
Some people are interested in a fellowship program where alumni could be innovators and residents, stay at the iHQ for a semester or for a year and give back in a very deep way. Others are really in favor of the Inclusive Innovation Grant program that allows underrepresented students to receive grants to do internships at MIT connected ventures. Some people are really interested in the idea of an alumni venture incubator where alumni, no matter how long you've been out of school, could come back and incubate their startup. Whereas others are really keen to see some sort of alumni seed fund and alumni participating in a funding board where endowed donations would go directly to student startups and alumni would be part of the process in selecting which of those startups receive funding. Still others are interested in just continuing education to learn more about what is at the edge of innovation education at MIT so they can stay apprised for their own business lives or personal interests.
And others would really like to support what we think of as the new burgeoning science of innovation. And this ranges from outfitting the iHQ with a sensor grid so that we can collect data and do empirical innovation in real time, as well as consider all manner of experimental opportunities to run different types of Venture Studio models that would play with how we think about innovation and entrepreneurship or different types of goods. But all of these are just whiteboard ideas and what really matters is I and the MIT Innovation Initiative would really love to hear from you about what ideas you think the Alumni Venture Studio could support, and looking to understand how you would like to get back if you're interested in any of this. So here's how you can help. You can email me, Tim Miano, at timmiano@mit.edu.
Send me a note. Tell me what you thought of today's presentations. Tell me your ideas for the new programs that could exist in the Alumni Venture Studio. Tell me how the iHQ can support alumni, what you might think that could be.
Tell me what you'd be passionate about supporting and how we can all work together to come up with really impactful and empowering ideas that really change how we think about innovation and MIT. In all cases I really appreciate you being here. And with that, I'll kick it over to Gene who is going to finish off the floor. Thanks. And here we are in the last stop of our tour of the MIT Innovation Headquarters building, the seventh floor.
We call this the Hacker Reactor. It's an amazing modular space with an executive conference room, a full catering kitchen, and really we can use this space for hackathons, other types of innovation events, conferences, anything for about 120 people. And we really hope to have this space vibrant and used all the time throughout the weeks and weekends at MIT. That's it for the tour of the Innovation Headquarters building and for this virtual tour for all of you alumni. We're really happy that we could spend this time together. We hope you enjoyed yourself.
And really if there's anything I want you to take away from here, it's that you, the alumni, can get involved and we really want you to be involved with the I&E ecosystem. So if you want to learn more about ways that you can give to the iHQ and to the ecosystem, please go to mitii.news/support and we'll see you soon. That was the tour of the building, the breakout sessions, some great interviews with some great folks, and now we're getting to the real meaty part. We're going to get to your questions.
So you'll see the chat feature. Hopefully either at the bottom of your screen you can click chat or it's already up there on the right. You can put some questions into the chat screen and I will try to get through as many of them as I possibly can.
We don't have infinite amount of time left so we'll try to go pretty quickly. And we already have some cued up. And I'll ask for those groups that are here, I can't see you all on my screen here, but I'm going to try to answer questions quickly and then, if there are groups that want to jump in as well, please go ahead unmute and answer the question. So, let's see. There was a question earlier about how do I join the Innovation Initiative? Is that not a thing to join? We run lots of programs.
We have a Venture Studio. We have a corporate program. We do lots of student focused programs, and Venture Match, and Inclusive Innovation. I would just really welcome you to shoot me an email, or you saw Tim's email previously, shoot us an email and just tell us what you're interested in doing and how you're interested in participating. And we'll be, if it's not something with initiative, we'll be able to point you to the right group on campus. So probably the best way to do that so we don't take up too much time right now.
So there's a question about internships for students. Can you share how alumni can offer those to undergrads and grad students? So there's a lot of different ways at MIT that had nothing to do with this building, necessarily, as well. I mean, Lauren, I don't know if you're on here and can unnmute. But specifically for us, we did have the Venture Match Program that matched students with startups. But if you're looking to match with larger corporations or you just want access to MIT students for your workplace, there are other ways that are already established at MIT that aren't actually iHQ related.
So, I don't know, Lauren, if you can unmute real quick and tell them what those are? Or else I can move on to the next question. Yeah I could quickly add that the inclusive Innovation Grant Program is something we've mentioned a couple of times today. And I can drop the link in the chat for what that will look like for the fall.
And you could reach out if you are an alumni working at an MIT affiliated startup, yourself as a founder, or with a colleague, and would like to be a part of that program, we'd love to hear from you and we'll drop in our email. Great. Thanks, Lauren. Let's see. Are there prototyping or other incubation capabilities available through the Innovation Initiative for the alum. So, certainly we welcome alum to the building and through the Alumni Venture Studio space that you saw Tim talking about earlier.
In terms of prototyping, the music and arts prototyping lab, right now it's for students, primarily, and for folks inside the building. We wanted to move in last year in July and, because of COVID, we're just starting to create the policies and the programs that go with these spaces. So, not to say that they won't be available in the future, but right now we're really focusing on the students using the music and arts prototyping facilities. There's another question here.
How does MIT's The Engine fit into iHQ? So it's a great question. The Engine and Innovation Initiative were kind of created at the same time. We have a very close relationship with them.
They come and teach in our Venture Exploration Program. We do a lot of stuff, kind of bottom of funnel, top of funnel things, where things coming out of MIT go to the top of the funnel at The Engine. And I think because of all the new exciting things that are happening at The Engines, there will be a lot more work that's going on with The Engine. At least, specifically, from the Innovation Initiative. And I don't know if there's any other groups on right now that want to talk about their activities with The Engine as well. I'll open up for a second and see if anyone else wants to chime in.
OK. OK, question. Let's see. It's an interesting question.
So far you've shown us a building, and some tables and chairs. Right. What other facilities are there? Are these programs more about communication than doing? Can you describe the work? So, yes. This is [INAUDIBLE] so we always want to be doing. So the third floor is really about design and prototyping.
In this case, we're doing a three year pilot with music and arts. After three years we might look at doing more traditional prototyping, manufacturing prototyping, and we have looked at putting a design studio on the third floor as well. As I mentioned, because we're a year delayed of moving in due to COVID, we really still are looking at this first year as a pilot year of figuring out how to use the space. To not just have tables and chairs. To not just be about people sitting in rooms together.
But for really making things in the spirit of MIT. So that's a great question. Let's see. If anyone wants to unmute and jump in, yell in with a question that I might be missing, as well. Eleanor or anyone else, please do. Are there prototyping or other incubation capabilities available to the Innovation Initiative for the alum? So, certainly for alum, in terms of mentoring, we definitely think you should reach out to our friends at the Venture Mentoring service and talk to them as they work a lot with alums.
In terms of prototyping, not really other than what I just mentioned about the prototyping facility here in the building. But incubation capabilities, we did have a program where, like the Alumni Venture Studio where you were able to have some space to sit, and we're still looking at that model through the Alumni Venture Studio, and I think we'll be announcing a lot more really interesting initiatives with the Alumni Venture Studio in the future, where we'll be able to maybe provide a little bit more incubation stuff as well. Now we do have the Dual-use Ventures program.
So if you have a chance, maybe someone can drop the link in. The Dual-use Ventures Incubator is, if you have a dual use company where you are looking for government seed money, grant money as well, we do have a program that does incubation for MIT alumni and MIT startups through that program. And hopefully someone can drop the link into the chat for that. Thank you, David.
Let's see. OK. You mentioned, at the beginning, ways alumni could support the new iHQ besides donations. The students have access to the capital they need to be as innovative as they wish to be. I'm in northern California, how can the West Coast alumni help? So, there's two great answers for that, I think.
The Sandbox program here in the building provides non-dilutive capital to students, up to $25,000 to work in the startups and programs. So that is one way we could do it. And I totally forgot about the I-Corps program and we'll have Roman to talk about it in a second. And so the sandbox provides ways students can get access to capital. But I will also note, there is a Innovation Headquarters fund that you can also give to that would provide support to the students, the Student Venture Studio, specifically.
If you provide funding to the Innovation Headquarters fund, that money will go towards the Student Venture Studio as well. So, Roman, are you unmuted? Did you want to say something? No, I'm good. Thanks. Well, I forgot to mention you in the for alumni and other [INAUDIBLE] So could you say a few seconds about what I the I-Corps does? Sure, absolutely. So the I-Corps program was started by the National Science Foundation to help increase the number of innovations that make it out of University labs to commercialization. And what we really do is work with people at very early stages, as early as possible, to help them connect the research that they're working on with real problems that need to be solved, and understanding who has those problems and why people would find it valuable to have those problems solved.
And we offer courses, short training courses, that primarily PhD students and postdocs can participate in. But we also do offer our programs to alums. If you're working on a technology startup idea, and it's pretty early stage, you can sign up for one of our courses and we will help you think about who would use your stuff and why . We also, on the other end of the scale-- These teams can go to an NSF national program that's very intensive, it's seven weeks long, where they have to conduct a hundred customer interviews. And during that program, they need industry mentors.
These are people that work a few hours a week, eight or ten hours a week, for those seven weeks with the team members as they participate in that program. And it's a great way to see what's going on in some lab and meet some very interesting graduate students and postdocs and PI's. So if you're interested in any of that, just reach out to us.
icorps@mit.edu. Thanks. Thanks, Roman. Also one of our great partners here in the iHQ. We'll get a few more questions. Then we'll be out of time.
Are the services for Deshpande Center available for startups by alum outside of New York area? Anyone from Deshpande want to take that question on? Yeah, I actually-- Frankly, we support work being done at MIT. So we're not available to alumni, per se. We're happy to have you join us and help to mentor our projects, but we're supporting work that's done specifically by a PI at MIT with the idea that it'll spin out. Does that answer-- Yes. Thank you, Karen. Appreciate it.
Let's see. Anyone live have their-- David, you raised your hand? Do you want to say something? No? OK. Let's see. Happy to see the commitment to make MIT Innovation equitable and accessible to all students. Virtual has allowed greater access to many in our physical spaces.
With this new physical space, how will you continue to allow it to be inclusive? Or might you consider using a hybrid model? Wow that's a pretty deep question. I will probably say whatever I say now is liable to change within the next few months, six months, a year. We are super, super focused on inclusivity and accessibility here. This building was certainly designed with all that in mind. The way that we're going to work in the future from a virtual hybrid perspective is still all TBD.
MIT's being very, very thoughtful about how we're going to go into the future of work. And we're really interested in ideas. So, if you have experience and thoughts about how this stuff works in the new world of virtual and hybrid, we're definitely open to hearing from alumni and other thought leaders on this topic. So please feel free to shoot us some emails. Let's see.
David, did you want to say something? Yeah, I went to hit my unmute button and hit the leave button instead. Kind of an en masse answer to a lot of questions. And I keep seeing that there are a lot of questions about how does this organization fit in, how does another organization fit in? And I want to go back to that visualization that was up when Fiona was speaking. When we did our survey of the I&E landscape, I think the last count we had was 84 Innovation and Entrepreneurship organizations on campus.
And this is a great building, it's a gut renovation and gives us lots of space. But not enough space for 84. One of the goals of MITii really is to connect all the organizations, whether they're physically in the iHQ or not.
It's kind of that hub with the information flowing back and forth. So, while there are many, many organizations that are not housed within iHQ, it really is our goal to help them expand their event capabilities, their program capabilities, to have shared space with them here that isn't technically residential space. So just know that, even the organizations that are not housed here, we work very closely with anybody considered I&E on campus. Thank you, David. I think that's all the time we have, actually. Unless anyone else wants to jump in and say any last words? I'll leave it open for one second.
If not, then look. I'm going to put my email here into the chat. As one MIT alum to another, I welcome your participation, your mentoring of our students, your input, your thoughts on how to best do innovation at MIT. And I'm sure I speak for the rest of the groups here, we really treasure and welcome the relationship with the alumni community.
And we hope that this building strengthens that, allows you more opportunity to engage with the Institute. So, with that, I will stick around for a second but please do feel free to reach out. And if you're in the area, shoot me an email, and if you want to tour the building I'll walk you around and show you all the cool things that we're doing here. So, with that, stay in touch. And thanks again.
Have a great day, everyone. Whitney Espich: Thanks for joining us and for more information on how to connect with the MIT Alumni Association please visit our website.
2021-07-17 15:57
Show Video
Other news