Mine Your Business: Building Value from the Green Transition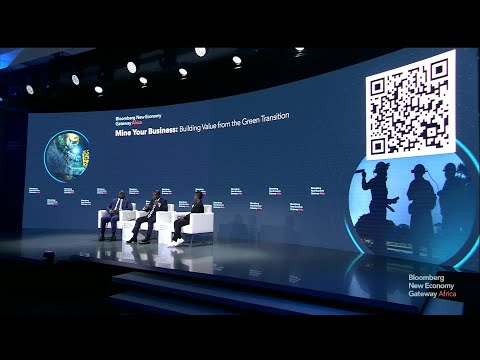 Show Video
GOOD TO HAVE YOU. THANK YOU FOR JOINING US. HONORABLE MINISTER, IT IS GOOD TO SEE YOU AGAIN. TWO YEARS AGO BLOOMBERG DID AN EVENT ON THE POTENTIAL FOR AFRICA AND I HAD THE MINISTER JOIN ME ACT THEN VIRTUALLY AND I AM GLAD TO HAVE THE SESSION IN PERSON. I WANTED TO START WITH YOU AND OPEN THE PANEL.
I TALKED ABOUT $3 TRILLION. I WAS NOT IN THE GREEN ROOM, BUT WHEN I MENTIONED 3 TRILLION YOU WERE EXCITED. GHANA WANTS TO HAVE A SHOT. GHANA HAS LITHIUM, MANGANESE AND IRON ORE. OVER THE LAST ONE HUNDRED
YEARS, GHANA HAS HAD A HISTORY WITH MINING, AND NOT SO MUCH INDUSTRIALIZATION AND OTHER FACTORS. HONORABLE MINISTER, WHY WOULD IT BE DIFFERENT THIS TIME? SAMUEL: THANK YOU. LET ME THINK BLOOMBERG IN THE AUDIENCE FOR HAVING US HERE TO DISCUSS THIS CONSEQUENTIAL MATTER, WHICH CLEARLY, AS YOU ADEQUATELY PRESENTED IN YOUR PRESENTATION, HAS A LOT OF BEARING ON THE FUTURE PROSPECTS OF AFRICA AND MY OWN COUNTRY, GHANA. YOU ARE RIGHT, GHANA HAS BEEN A BIG MINING COUNTRY OVER THE YEARS FIRST CENTURY NOW. WE HAVE A LOT OF GOLD AND MINERAL RESOURCES.
AS A MATTER OF FACT, TODAY, GHANA HAS BEEN NAMED THE LEADING PRODUCER OF GOLD IN AFRICA. KWASI: THAT DESERVES A ROUND OF APPLAUSE. [APPLAUSE] SAMUEL: I THINK THAT THE STORY SHOULD NOT END THERE, WHICH IS WHY YOUR QUESTION IS VERY IMPORTANT AND FUNDAMENTAL. HOW THE WE BENEFIT FROM THESE RESOURCES? I DON'T REFER TO ONLY GHANA, I REFER TO THE AFRICAN CONTINENT. OVER THE YEARS, THE TRUTH IS WE HAVE NOT POSITIONED OUR ECONOMIES IN THE MANNER WHERE WE WOULD BENEFIT OPTIMALLY.
IN GHANA WE HAVE A DIFFERENT PATTERN SHIFT WHERE THE AGE OLD REGIME OF THE EXPORTATION OF RAW MATERIALS. FROM 2017 OUR PRESIDENT HAS COME UP WITH A NEW POLICY FRAMEWORK WHICH HAS MEANT THAT WE ARE TAKING SYSTEMATIC STEPS TO RETAIN THE HIGHEST END OF THE VALUE CHAIN IN OUR COUNTRY. I THINK IT IS IMPORTANT WHEN WE DISCUSS THIS TO BE REALISTIC. IT CANNOT HAPPEN FROM OVERNIGHT. FROM 11 BILLION TO 7 TRILLION YOU HAVE TO ACCEPT YOUR REALITIES AND CHALLENGES THAT YOU HAVE TO OVERCOME TO BE ABLE TO ULTIMATELY REACH THE HIGHEST END OF THE VALUE CHAIN. IT TAKES A COUPLE OF INTERVENTIONS IN MY VIEW. ONE IS POLICY. YOU HAVE TO PUT IN PLACE THE
POLICY FRAMEWORK, WHICH IS WHY THE PRESIDENT, FOR EXAMPLE, THROUGH VARIOUS ACTS OF PARLIAMENT, HAS PUT TOGETHER THIS FRAMEWORK WHICH IS MEANT FOR EXAMPLE IN THE CASE OF BOX SITE WE HAVE PASSED A LAW THAT YOU CANNOT EXPORT THAT RESOURCE IN ITS RAW FORM. WE HAVE DONE THE SAME THING FOR IRON ORE. THE VERY MUCH SOUGHT AFTER LITHIUM, WHICH IS VERY IMPORTANT FOR THE GREEN ENERGY TRANSITION, WE HAVE A POLICY BEFORE THE CABINET AS I SPEAK TO YOU NOW WHICH IS GOING TO ENSURE THAT WE WILL RETAIN -- NOT THE HIGHEST END AT THIS TIME, BUT AT LEAST A SIGNIFICANT PORTION OF THE VALUE CHAIN AND COUNTRY. KWASI: JUST TO CONFIRM, GHANA IS PLANNING A POLICY TO RETAIN VALUE FOR LITHIUM? SAMUEL: CORRECT.
THE POLICY IS BEFORE THE CABINET NOW. THE CABINET IS EXPECTED TO DISCUSS IT AT THE NEXT MEETING ON THE 29TH. WE ARE NOT COMMITTING TO LITHIUM. THE IDEA IS WE SHOULD PUT IN
THE POLICY FIRST. THE INTERNATIONAL INVESTOR COMMUNITY, EVERYONE KNOWS, IF YOU ARE COMING TO PARTNER WITH THE GHANAIAN PEOPLE AND THEIR GOVERNMENT IN GREEN MINERALS GENERALLY, THIS IS OUR POLICY. THE HEART OF THE POLICY IS TO SAY AS MUCH AS POSSIBLE WE RETAIN A SIGNIFICANT PROPORTION OF THE VALUE CHAIN. IF YOU WANT TO HEAR ME LOUD AND CLEAR, WE EXPORT OUR LITHIUM RESOURCES IN THEIR RAW FORM OR GREEN MINERALS IN THEIR RAW FORM, WE WILL NOT. IN CONCLUSION, THERE IS A REAL, GENUINE EFFORT TO CHART A NEW PATH WHICH WILL ENSURE THAT WE HAVE THE BENEFITS OF OUR MINERALS AND COUNTRY. KWASI: BEFORE I COME TO YOU, THE SAME
QUESTION. JUST TO BEGIN, A FEW THAT DON'T KNOW, BLOOMBERG IS A GREAT ORGANIZATION. THE REASON THAT I SAY THIS IS WE HAVE THIS PROGRAM WHERE HIGH SCHOOLERS CAN COME INTO THE OFFICE AND SHADOW WHAT WE DO ON A DAY-TO-DAY BASIS.
I HAD THE PLEASURE OF A HIGH SCHOOL STUDENT JOINING ME ON FRIDAY AND I WAS TRYING TO TELL HER WHAT I WAS GOING TO DO TODAY. I SHOWED HER THE PANEL. SHE SAID, SHE IS UGANDAN. I AM UGANDAN, TOO. SHE WAS INSPIRED BY YOU. I WANTED TO LET YOU KNOW THAT. I MADE A PROMISE TO HER THAT I WOULD ALLOW HER TO ASK THE FIRST QUESTION TO YOU. THIS IS WHAT SHE SAID.
DEAR JOSEPHINE, I CAN SEE YOU ARE AN OIL AND GAS PERSON. WHAT ARE YOU DOING ON A METALS PANEL? JOSEPHINE: IT IS A PRIVILEGE TO BE PART OF ANY BLOOMBERG CONVERSATION. THE REASON I USUALLY END UP ON A METALS PANEL IS TIED TO THE POINT THAT THE HONORABLE MINISTER SAID, WHICH IS IMPORTANT,. THIS SECTOR WE DON'T SEE THOSE OUTCOMES. THOSE AMAZING NUMBERS DON'T HAPPEN WITHOUT GOOD LEADERSHIP AND POLICY. GHANA IS CLEARLY DEMONSTRATING THIS LEADERSHIP AND POLICY.
THE PEACE THAT COMES NEXT TIES INTO ONE OF THE POINTS THAT YOU RAISED. INFRASTRUCTURE. INFRASTRUCTURE TODAY, IF WE WANT TO INDUSTRIALIZE AND DRIVE UP INFRASTRUCTURE, WE NEED ENERGY. THIS TIES INTO THE BROADER ENERGY DEBATE, WHICH HAS BEEN DISCUSSED ON MANY PANELS. FOR ENERGY, WE NEED INVESTMENT. IN THE CURRENT GREEN AGE THAT WE ARE IN AND THE TENSION WITH TRADITIONAL EXISTING ENERGY TRANSITIONING TO NEW ENERGY SOURCES, THE REALITY IS, AND I SAY THIS, AND I AM AN OPTIMIST, BUT THE REALITY IS THE TIME THAT IT WILL TAKE TO TRANSITION, PARTICULARLY ACROSS SUB-SAHARAN AFRICA, WILL BE LONGER THAN OTHER PARTS OF THE WORLD. TRADITIONALLY OIL AND GAS WILL STILL BE NEEDED, PARTICULARLY GAS IN THE SHORT TO MEDIUM-TERM. THAT FEEDS INTO MANUFACTURING, WHICH ALLOWS US TO START, AS THE MINISTER PUT, BUILDING OUR WAY THROUGH THE JOURNEY. WE WILL NOT LEAPFROG TO THE EV
MARKET. KWASI: YOU SAY THAT COUNTRIES WHO FOCUS ON GAS RATHER THAN CLEAN ENERGY? JOSEPHINE: IT DOES NOT HAVE TO BE EITHER/OR, AND I FEEL LIKE WE MADE IT AN EITHER/OR. WE DON'T HAVE TO SAY THAT IT IS THIS, OR THIS, OR THIS. WE CAN SAY THAT IT IS SOLAR, WIND, OIL, GAS. KWASI:
I KNOW A FEW PEOPLE WHO MAY NOT BE HAPPY WITH THAT. JOSEPHINE: THEY MAY NOT BE HAPPY, BUT LET'S TALK ABOUT REALITY. UNTIL I SEE A TECHNOLOGY ADVANCED THAT ALLOW SOLAR AND WIND TO GIVE THE POWER WE NEED TO RUN MINES AND INDUSTRIALIZATION, AND WE ARE HOPING FOR THOSE TECHNOLOGICAL LEAPS, THE REALITY IS THE TRADITIONAL FUELS THAT WE HAVE TODAY, PARTICULARLY IN MARKETS THAT NEED TO INDUSTRIALIZE FAST, WE NEED TRADITIONAL ENERGY SOURCES.
WHEN I RAN THE NATIONAL OIL COMPANY, WHEN YOU COME LATER IN THE GAME YOU CAN DO IT BETTER. WE PUT IN POLICY, WE MAKE SURE THAT WE FOLLOWED ALL OF THE IST STANDARDS ON NATURE AND SOCIAL IMPACTS. THERE ARE WAYS TO DO IT BETTER THAT HAS LESS IMPACT ON THE ENVIRONMENT AS IN PARALLEL WE DO THE GREEN TRANSITION. KWASI: TO BE THE CEO OF UGANDAN OIL COMPANY. MINISTER, I WILL SET THE PACE FOR US. BABY TO THE AUDIENCE, IF YOU
ARE -- MAYBE TO THE ON ITS PEER IF YOU WANT TO JOIN THE CONVERSATION THERE SHOULD BE A QR CODE BEHIND ME AND PUT YOUR QUESTIONS THERE. I HAVE AN IPAD. YOU WILL BE PART OF THIS CONVERSATION. WE TALKED ABOUT INFRASTRUCTURE. OBVIOUSLY, ONCE YOU MOVE INTO THE BULK MINERALS, INFRASTRUCTURE PLAYS A KEY ROLE. I STARTED TO LOOK INTO NUMBERS. IF YOU TAKE GHANA AS AN EXAMPLE, ACCORDING TO THE WORLD BANK WE HAVE 947 KILOMETERS OF RAILWAYS COMPARED TO SOUTH AFRICA, ABOUT 20,000 KILOMETERS OF RAIL LINES. I THINK THAT GHANA HAS DONE TREMENDOUSLY WELL WITH THE PRECIOUS METALS WHERE YOU DO NOT NEED MORE CARRIERS. IF WE BECOME THE NUMBER ONE FOR MANGANESE AND OTHER MINERALS, INFRASTRUCTURE LIKE RAILS WOULD PLAY A CRITICAL ROLE.
HOW DO WE BRIDGE THE GAP? SAMUEL: I GO BACK TO MY PET SUBJECT, POLICY. IN ALL THAT YOU DO YOU MUST HAVE A MASTER PLAN. THE PRESIDENT AND HIS GOVERNMENT HAVE PUT INTO PLACE A VERY AMBITIOUS MASTER PLAN WITH LINKAGES. THE QUESTION THAT YOU ASKED IS KEY. YOU CANNOT BUILD A MINING INDUSTRY IF YOU DON'T HAVE THE INFRASTRUCTURE. I THINK WHEN IT COMES TO MINERALS WE ARE TALKING ABOUT RAIL INFRASTRUCTURE. UNTIL 2017 WHEN THE PRESIDENT
TOOK OVER THE GOVERNMENT OUR COUNTRY DID NOT HAVE A MINISTRY OF RAILWAY. HE FOUND IT SO IMPORTANT TO THE REALIZATION OF THE MASTER PLAN I TALK ABOUT TODAY WE HAVE A MINISTER OF RAILWAY DEVELOPMENT DEDICATED TO BUILD THE REQUISITE RAILWAY WHICH WILL SUPPORT OUR INDUSTRIALIZATION MASTER PLAN. THE INDUSTRIALIZATION MASTER PLAN HAS LINKAGES TO THE AUTOMOBILE INDUSTRY. FOR THE FIRST TIME, GHANA IS BUILDING AN AUTOMOBILE INDUSTRY. SO, YOU HAVE THE AUTOMOBILE INDUSTRY, THE RAILWAY COME YOU NEED AN EFFECTIVE PORT SYSTEM WHICH IS WHY WE ARE MODERNIZING AND EXPANDING. THAT IS ABSOLUTELY IMPORTANT. YOU ALSO NEED VARIOUS
INSTITUTIONS TO SUPPORT YOUR INFRASTRUCTURE, WHICH IS WHY WE HAVE AN AGENCY CALLED THE MINERALS INCOME INVESTMENT FUND WHERE WE ARE INVESTING OUR ROYALTIES TO PUSH OUR INFRASTRUCTURE DEVELOPMENT. WE HAVE THE GHANA INFRASTRUCTURE FUND. ABOVE ALL, IN MY VIEW, QUITE IMPORTANT IS THE ROLE OF THE PRIVATE SECTOR.
I MEAN, DOMESTIC AS WELL AS INTERNATIONAL PRIVATE SECTOR. WE NEED TO CREATE A CONDUCIVE ENVIRONMENT AND ATTRACT INVESTORS INTO OUR COUNTRY. THE GAMBIT OF MEASURES AND POLICIES PUT INTO PLACE SHOULD ATTRACT INVESTORS. RULE OF LAW, GOOD GOVERNANCE, CONSISTENCY, THE SANCTITY OF CONTRACTS. YOU CHANGE GOVERNMENTS COME YOU DON'T CHANGE CONTRACTUAL RIGHTS. GOVERNMENTS DON'T WAKE UP OVERNIGHT AND CHANGE THE RULES IN THE MIDDLE OF THE GAME.
YOU MUST HAVE JUSTICE. ALL OF THESE TENETS OF A DEMOCRATIC COUNTRY ARE KEY TO ATTRACTING INVESTMENT.I CONCLUDE BY MAKING MY POINT THAT I ENJOY THE MOST, AND I MAKE THAT POINT WITH A LOT OF PRIDE AS A GHANAIAN, GHANA IS AS DEMOCRATIC AS ANY DEMOCRATIC COUNTRY IN ANY PART OF THE WORLD. THE TENANTS OF DEMOCRACY ARE ROOTED IN GHANA AS IN ENGLAND, AMERICA, GERMANY.
WE HAVE A ROBUST DEMOCRACY AND I THINK THAT IS OUR BIGGEST CHARM ATTRACTING INVESTORS. [APPLAUSE] KWASI: OBVIOUSLY, DEMOCRACY MUST YIELD RESULTS. PART OF THAT IS THE INVESTMENT IN PEOPLE. INVESTMENT THAT I KNOW THAT YOU ARE OBVIOUSLY PASSIONATE ABOUT, SKILLS DEVELOPMENT PARTICULARLY IN THE YOUTH. I WANTED TO BRING YOU IN. IT IS IMPORTANT IF YOU ARE TALKING ABOUT TRANSITION THAT WE HAVE A TRANSITION THAT CARRIES EVERYONE ALONG. THAT T WOULD MEAN THAT THE
RIGHT SKILL SET IS DEVELOPED TODAY. IF YOU LOOK AT THE SKILLS GAP, THE WORLD INTELLECTUAL PROPERTY HAS A RANKING OF INNOVATION. MOST AFRICAN COUNTRIES SCORE QUITE LOW. TO BRIDGE THAT WE NEED TO BE INNOVATIVE. HOW DO WE BRIDGE THE SKILLS GAP
BEYOND INNOVATION? JOSEPHINE: I WILL BUILD ON WHAT THE HONORABLE MINISTER SAID. WHAT WE SAID IN OIL AND GAS IN UGANDA, WE FIRST LET ADDRESSING SKILLS BE DRIVEN BY POLICY. WE WERE VERY CLEAR RIGHT FROM THE MORE TECHNICAL LEVEL, APPRENTICESHIP LEVEL, TWO EMPLOYMENT LEVELS THAT COMPANIES HAVE TO MAKE SURE THAT THERE IS LOCAL EMPLOYEES TO CERTAIN LEVELS AND SETTING TARGETS THROUGH POLICY THAT INFORMED DECISIONS AT TEACHING LEVELS, SCHOOLS, UNIVERSITY. PEOPLE WERE SENT TO DELIVER
UNIVERSITIES ABROAD TO BE TRAINED. IT STARTED WITH LEADERSHIP AND POLICY BECAUSE GOOD INTENTIONS CAN ONLY GET SO FAR. THERE IS A RECURRING THEME THAT IF WE WANT TO CLOSE THE SKILLS GAP, WE HAVE TALKED ABOUT INNOVATION AND OUR YOUTH, BUT IF WE AREN'T DELIBERATE, AS THE MINISTER IS DEMONSTRATING POWERFULLY, IF YOU ARE NOT DELIBERATE ON POLICY ON THE SKILLS GAP THAT WE NEED TO FILL AND QUOTAS CAN HAVE NEGATIVE EFFECTS, BUT IF THEY ARE DELIBERATE AND WELL THOUGHT THROUGH IN THE OIL AND GAS SECTOR WE SAW THE PEOPLE STARTED TO GO TO THE RIGHT UNIVERSITIES AND TECHNICAL COLLEGES. THEY GOT TRAINING. IT WAS ALWAYS UNDER THE UMBRELLA OF THE STRONG POLICY AND REGULATION THAT DIRECTED THOSE EFFORTS. KWASI:
I WILL PUT YOU ON THE SPOT. WHAT ONE SKILL SHOULD THEY FOCUS ON TO BE PART OF THIS TRANSITION? ONE SKILL? JOSEPHINE: I ALWAYS GET ASKED THAT QUESTION AND AM SLIGHTLY HESITANT. BY VIRTUE OF ANSWERING THAT, SOMEONE WHO MIGHT NOT BE INTERESTED IN THAT SKILL FEELS THEY ARE LEFT OUT. I DON'T WANT TO DENY ANYONE'S DREAM. THERE WILL BE MANY DIFFERENT SKILL SETS REQUIRED. WE USED TO TALK ABOUT THE
DIRECT SKILLS THAT WILL BE IN MINING AND TECHNICAL SKILLS. THEN THE INDIRECT SKILLS LIKE THE SERVICE INDUSTRY, LEGAL. THERE ARE SO MANY ASPECTS. ARE YOU INTERESTED IN BEING DIRECTLY INVOLVED IN THIS MARKET OR INDIRECTLY INVOLVED BASED ON YOUR INTERESTS? WE ACTUALLY LISTED DIFFERENT SECTORS AND ROLES THAT YOU COULD HAVE. BUILDING IT BACK INTO POLICY AND RECOGNIZING THAT THERE WILL BE DIRECT AND INDIRECT ROLES AND MAKING THOSE AS EXPLICIT AS POSSIBLE, LETTING PEOPLE FIND WHERE THEIR CONNECTION IS, AS OPPOSED TO SPOTLIGHTING ONE OR TWO ROLLS AND EVERYONE FEELS PRESSURED TO TAKE ON ONE EVEN IF THEY ARE NOT INTERESTED AND THAT HAS A NEGATIVE EFFECT. KWASI: ALMOST ALL OF MY FRIENDS NOW ARE AI EXPERTS AND A YEAR AGO THEY WERE BLOCKCHAIN EXPERTS. YOU ARE ABSOLUTELY RIGHT.
SOMETHING IMPORTANT, SUSTAINABILITY. I THINK THAT YOU HAVE THE MOST DIFFICULT MINISTERIAL JOB IN THE WORLD. ON ONE HAND YOU HAVE A PORTFOLIO THAT IS MEANT TO PROTECT THE LAND IN THE FOREST OF GHANA. ON THE OTHER, YOU HAVE A PORTFOLIO THAT IS SUPPOSED TO DIG UP THE FOREST AND GET THE RESOURCES.
IT IS IMPORTANT THAT YOU DO BOTH WELL TO DO YOUR JOB WELL. WHEN WE PUT THE SPOTLIGHT ON GHANA AT THE MOMENT, HOW DO YOU ENSURE THAT AS DEMAND FOR THE METALS GROW AND MINING ROSE WE DON'T HARM THE ENVIRONMENT? -- GROWS WE DON'T HARM THE ENVIRONMENT? SAMUEL: YOU ARE RIGHT. THAT IS THE BIG CONUNDRUM, THE ELEPHANT IN THE ROOM. THE DEBATE HAS BEEN HEATED. YOU HAVE DISTRICT ENVIRONMENTALISTS AND CONSERVATIONISTS WHO BELIEVE THAT YOU SHOULDN'T TOUCH ANYTHING NATURAL RESOURCE.
LEAVE IT THERE SO WE HAVE VEGETATION AND THE ENVIRONMENT INTACT. THEN YOU HAVE THOSE WHO TAKE THE VIEW THAT WE NEED TO EXPLOIT THESE RESOURCES FOR ECONOMIC GROWTH, DEVELOPMENT, AND ENRICHMENT OF PROSPERITY. THAT DEBATE IS A CONTEST IN THE BACKGROUND ON WHICH WE TRY TO APPROACH THIS SITUATION. IN GHANA, WE HAVE BEEN VERY DETERMINED TO ADHERE TO THE HIGHEST STANDARDS OF ENVIRONMENTAL, SOCIAL, AND GOVERNANCE PRINCIPLES. WE TAKE THAT VERY SERIOUSLY.
EVERY ASPECT OF THE INDUSTRY, WE KEEP AN EYE ON WORKING TO ENSURE THAT WE PROMOTE THE HIGHEST STANDARDS OF ESG'S. TO DEVELOP SUSTAINABLY. WHATEVER WE DO WITH WE HAVE REAL CHALLENGES ON THE GROUND PARTICULARLY IN THE AREA OF LARGE-SCALE MINING.
IT'S A BIG ISSUE FOR US AND THE GOVERNMENT IS TRYING TO TACKLE IT. WE WANT TO REACH WHERE WE SHOULD BE BUT WE ARE MAKING THE EFFORT WE ARE CONFIDENT WE WILL BE ABLE TO RESOLVE THIS. >> WHAT ARE SOME OF THE MEASURES THE GOVERNMENT IS WORKING ON IN TERMS OF ADDRESSING THE CHALLENGES? >> FUNDAMENTALLY, TWO POLICY PILLARS. ONE IS REFORMING THE SECTOR. GETTING THEM EQUIPMENT FOR
CONSTRUCTION OF THE OR. WE ARE PARTNERS WITH THEM AND RESPECT THE DETAILS OF THE CONVENTION. AND THEN AN ENFORCEMENT REGIME. TO MAKE SURE EVERYTHING IS IN LINE. WE ARE MAKING THAT EFFORT. MY FUNDAMENTAL POINT IS THAT EXPLOITING THESE MINERAL RESOURCES IN A SUSTAINABLE MANNER AND NOT JUST OUR NOT MUTUALLY EXCLUSIVE. I THINK THEY CAN PEACEFULLY COEXIST. I DON'T WANT TO
MENTION OTHER COUNTRIES THAT DO THIS BUT I KNOW OF COUNTRIES WHICH OF GOING ABOUT THEIR MINING SECTOR AND INDUSTRY IN A MANNER WHICH IS ALSO PROTECTING THE INTEGRITY OF THE ENVIRONMENT AND THE CLIMATE WE CAN DO ALL OF THAT. MY FRIEND JOSEPH MENTIONED SOLAR AND USING GAS AND ALL OF THAT. THESE ARE ALL VERY AMBITIOUS TECHNOLOGICAL INTERVENTIONS THAT WE RELY ON. GHANA IS DOING JUST THAT. >> WE WILL TALK ABOUT SUSTAINABILITY AND I WILL COME FROM A DIFFERENT ANGLE. 30 OR 40 YEARS AGO, IF YOU HAD TOLD ANYONE THAT THE WORLD WOULD ACTUALLY NOT BE EXCITED ABOUT OIL ANYMORE, MANY PEOPLE WOULD PROBABLY NOT BELIEVE YOU BECAUSE IT'S SO ENTRENCHED IN OUR DAY-TO-DAY LIFE. THE OIL INDUSTRY FAILED TO
ADAPT TO WHERE THE WORLD WAS MOVING AS FAR AS SUSTAINABILITY IN THAT WE HAVE ALTERNATIVES. DO YOU THINK WE COULD POTENTIALLY HIT THAT ROADMAP ONE DAY WHERE PEOPLE WAKE UP AND GO WE PROBABLY DON'T NEED THE MINING INDUSTRY AS A RESULT OF SUSTAINABILITY AND WHAT WOULD IT TAKE FOR US TO PREVENT THAT? >> EXCELLENT QUESTION I WANT TO COMMIT INTO DIFFERENT WAYS BUT I WANT TO COME BACK TO YOUR QUESTION OF THE HONORABLE MINISTER ABOUT FINDING WAYS TO BALANCE MINING WITH PROTECTING CONSERVATION. A PIECE OF THAT IS DATA. WHEN I PUT ON MY SCIENTIST HAD, THERE IS A LOT OF SYSTEMS THAT ALLOW YOU TO ANALYZE THE EARTH, THE ENVIRONMENT AND THE BIODIVERSITY AND SOIL HEALTH SO THE TRADE-OFFS CAN BE UNDERSTOOD WITH DATA IN TERMS OF WE NEED TO MIND HERE OR CONSERVE HERE. THAT'S A TECHNOLOGY INVESTMENT
THAT IS REALLY POSITIVE AND HELPING KEY DECISION MAKING TO BE ABLE TO MAKE THAT TRADE-OFF WITH INFORMED DATA. TO YOUR IMMEDIATE QUESTION, I WANT TO DEFEND THE OIL AND GAS AND I MAY GET IN TROUBLE FOR THIS BUT I THINK PEOPLE DON'T APPRECIATE THAT A LOT OF THE CUTTING-EDGE RESEARCH AND DEVELOPMENT THAT IS GOING ON IN FINDING ALTERNATIVES IS COMING THROUGH OIL AND GAS COMPANIES. NO ONE IS PERFECT BUT THERE IS A LOT -- >> ARE YOU SAYING THE OIL COMPANY'S ARE DEVELOPING NEW TECHNOLOGIES? >> OFTEN, THE WORK THEY ARE DOING IS NOT OFTEN APPRECIATED AND RECOGNIZED. >> CAN YOU GIVE ME AN EXAMPLE? >> ANY OF THE MAJORS, YOU WILL FIND THERE ARE HUGE DEPARTMENTS LOOKING AT ALTERNATIVE FUELS, ALTERNATIVE TECHNOLOGIES AND INVESTING SIGNIFICANTLY IN THOSE AREAS. I FEEL THE MORE WE CONDEMN EACH OTHER, MORE WE DON'T PROGRESS.
EVERYBODY IS TRYING TO GET THE SAME END GOAL COMING AT IT FROM A DIFFERENT LEGACY AND TO THE FOLLOW ON QUESTION, YES, THERE WAS A POINT WHERE IS THEIR INNER ALTERNATIVE TO OIL AND GAS AND WE KNOW THERE ARE ALTERNATIVES NOW. WE KNOW EVEN BATTERY TECHNOLOGY IS NOW ADVANCING. WHAT'S INTERESTING IS WE ARE FINDING FREE TECHNOLOGY THAT'S MOVING AWAY FROM MINERALS AND SAYING LET'S NOT EVEN MINE, LET'S USE -- ONE COMPANY IS DOING COMPRESSED AIR AND RECYCLED ENGINES FROM CARS AND AIRPLANES TO CREATE THERMAL ENERGY TO DRIVE BATTERIES WITH LONGER STORAGE THAN LITHIUM BATTERIES. TECHNOLOGY IS MOVING AND I
THINK WE ALL HAVE TO BE READY FOR THAT JOURNEY WHETHER YOU ARE IN OIL AND GAS OR BATTERY TECHNOLOGY, WE WANT THE END GOAL. IF WE TAKE AWAY THE US AND THEM AND FOCUS MORE ON PARTNERING AND COLLABORATING AND MOVING THE NEEDLE ON ALL FRONTS AND RECOGNIZING MINING HAS ITS PROBLEMS AND ITS CHALLENGES ON ENVIRONMENTAL EMPLOYMENT PERSPECTIVE, EVERY SECTOR HAS TO CONTINUALLY LOOK AT HOW WE CAN DO BETTER AND WORK TOGETHER TO DO BETTER. >> WE CAN ONLY GO UP FROM HERE AND TOMBS OF DOING IT BETTER. I HAVE A FINAL QUESTION -- I GET THE PRIVILEGE OF TRAVELING AROUND AFRICA A LOT AND WHETHER IS THE CEO OF A COMPANY OR GOVERNMENT OFFICIAL OR EVEN A MINOR, THERE ARE TWO WORDS THEY ALWAYS ASK ME. WILL THIS TRANSITION BE JUST? WANT TO PUT THE SPOTLIGHT ON BOTH OF YOU IN ONE SENTENCE, HONORABLE MINISTER, WHAT DOES A JUST TRANSITION MEAN TO YOU? >> WE MUST BE FAIR, IT MUST BE INCLUSIVE AND IT MUST BE JUST TO USE YOUR WORDS. THE WORLD MUST KEEP ITS COMMITMENTS. A LOT OF THE DISCUSSIONS WE ARE
HAVING TODAY FUNDAMENTALLY WE HAVE BEEN BROUGHT WHERE WE ARE PRINCIPALLY BECAUSE OF THE HISTORICAL DEVELOPMENTAL EFFORTS OF THE DEVELOPED WORLD. AFRICA ALTOGETHER CONTRIBUTES FOR PRESENT TO EMISSIONS. THE INDUSTRIAL REVOLUTION OF THE 18 CENTURY AND THE USE OF COAL AND THE REST HAS GOT SOME PEOPLE DEVELOPED. FINALLY, THE COMMITMENTS WHICH WE HAVE MADE IN COPENHAGEN HAVE CONTRIBUTED ONE HUNDRED BILLION DOLLARS PER YEAR FOR CLIMATE ACTION. I WANT TO SUBMIT THAT THE AFRICA TODAY IS FUNDAMENTALLY DIFFERENT FROM THE AFRICA 50 YEARS AGO. WE TEND TO BE TOO HARD IN
OURSELVES AND EFFORT IS DIFFERENT. IN ALL HUMILITY AND MODESTY, LOOK AT THE THREE OF US HERE. AFRICAN PEOPLE ARE BREAKING BOUNDARIES, BREAKING GLASS CEILINGS AND DOING THINGS DIFFERENTLY. I HAVE ABSOLUTE CONFIDENCE THAT OVER A PERIOD OF TIME, AFRICA WILL PULL THROUGH AND WE WILL BE JUST AND FAIR AND INCLUSIVE AND PROTECT THE VULNERABLE AND BRING PROSPERITY TO THE AFRICAN PEOPLE. [APPLAUSE] >> IT'S HARD TO FOLLOW THE MINISTER HE'S SO ELOQUENT.
>> NEXT TIME I WILL START WITH YOU. >> FOR ME, I SUMMARIZE IT IN A JUST TRANSITION HIS ACKNOWLEDGING WE ARE NOT STARTING THIS RACE AT THE SAME PLACE. THERE ARE ECONOMIES THAT HAVE HAD 200 OR 60 YEARS HEAD START YOU'VE GOT A HEAD START AND WE HAVE A 600 MILLION TON WEIGHT ON OUR SHOULDERS, TRYING TO RUN THAT SAME RACE. 600 MILLION PEOPLE TODAY RELY STILL ON CHARCOAL AND FIREWOOD. TO ASSUME THAT WITH THAT WEIGHT AND A MINIMUM 60 YEAR UP TO 200 YEAR LAG, WE ARE SOMEHOW GOING TO GET TO THE FINISH LINE AT THE SAME TIME IN THE SAME WAY IS WHAT I CALL AN UNJUST TRANSITION. WE DON'T ACKNOWLEDGE THAT TODAY
THERE ARE NEEDS THAT NEED TO BE MET WITH EXISTING SOLUTIONS THAT CAN BE DONE BETTER WHILE WE RUN THE RACE, THE LOAD GETS LIGHTER AND WE CAN MOVE FASTER. IF WE DON'T ADDRESS THAT LOAD OF 600 MILLION PEOPLE STRUGGLING TODAY, I'VE NEVER SEEN A RACE WHERE YOU GET FASTER AT THE END. USUALLY -- I HAVE TO FOLLOW THE HONORABLE MINISTER. [APPLAUSE]
>> ACKNOWLEDGING WHERE WE ARE, AND INCLUSIVE TRANSITION IS DELIVERING A JUST TRANSITION AND BY THIS, I WANT TO SAY THANK YOU TO THE WONDERFUL PANELIST AND THANK YOU TO YOU THE AUDIENCE WERE STAYING WITH US AND BEING A BIG PART OF THIS. A ROUND OF APPLAUSE. [APPLAUSE]
2023-06-18 02:30
Show Video
Other news