Meta Moves Into AI | Bloomberg Technology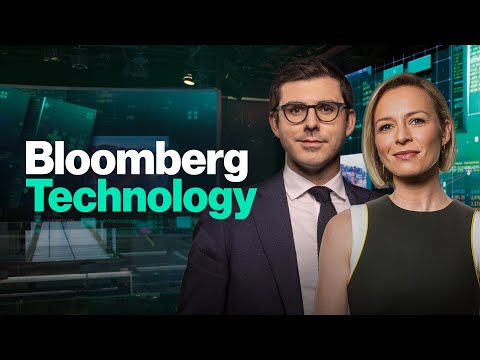 Show Video
CAROLINE: I'M CAROLINE HYDE AT BLOOMBERG WORD HEADQUARTERS IN NEW YORK. ED: I'M ED LUDLOW. CAROLINE: COMING UP VENTAS PUSH INTO GENERATIVE AI. MARK ZUCKERBERG ANNOUNCES ARTIFICIAL INTELLIGENCE TOOLS. WE RUN THROUGH THE ENTIRETY AND GET THE CONNECTION. EDIT: APPLE ASKS THE U.S. SUPREME COURT TO REVERSE THAT
APP STORE RULING ONE BY EPIC TWO YEARS AGO. CAROLINE: MOMENTS AFTER CANDIDATES SPARK COMIC AND SECURITY CONCERNS FOR THE APP. MORE ON THAT AND THE COMPANY'S E-COMMERCE COOK -- AMBITIONS. LET'S CHECK THE MARKETS.
THE NASDAQ MANAGED TO PUSH UP MORE THAN A PERCENTAGE POINT EVEN IN THE FACE OF GROWING YIELDS. ON THE 30 YEAR BASICALLY FLAT UP ONE BILLY -- BASIS POINT. WE HAD BEEN AT DECADE HIGHS SINCE 2010 ON THE 30 YEAR.
MAYBE I CORRECTION WITH YIELDS DOWN ON THE FRONT END. WEAKER MACRO DATA ON THE FRONT END TRYING TO WORK OUT THE DIRECTION OF TRAVEL FOR FEDERAL AND GLOBAL CENTRAL BANKS TACKLING STRONGER ECONOMIES PARTICULARLY IN THE U.S.. THE DOLLAR PULLS DOWN AFTER DAYS OF RALLYING. IT MAY BE A SIGH OF RELIEF FOR SOME RISKIER ASSETS AT THE MOMENT. THE DOLLAR INDEX IS UP BY .5%.
BITCOIN HIGHER VERSUS THE U.S. DOLLAR. RISK APPETITE BUILDING A LITTLE IN THE OJI WORLD OF CRYPTO. IF WE CAN SHINE A LIGHT ON BITCOIN HIGH ON THE DAY UP 3.3%.
ED: WE HAVE NEWS AND EARNINGS. ON THE NEWS SIDE PELOTON HAS A CONTENT DEAL WITH LULULEMON. THE STOCK UP 7% NOW. IT HAD BEEN MUCH HIGHER LATER IN THE SHOW. WE WILL BRING YOU ANALYST REACTION.
IT'S ALL AROUND LULULEMON'S MIRROR. BUT IT HAS A FINITE LIFE AT IT IS INTERESTING TO SEE THE STOCK BOUNCE ALL OVER THE PLACE. MICRON, THE BIGGEST U.S. MAKER OF MEMORY CHIPS PREDICTING A WIDER THAN EXPECTED LOSS FOR THE FISCAL FIRST ENDING IN NOVEMBER. THERE ARE SIGNS THE MEMORY MARKET MAY BE COMING OUT OF THE TROUGH.
WE WILL GO DEEPER ON THAT LATER IN THE PROGRAM. THERE IS AN INTERESTING DAY TWO TO MEANT TO CONNECT. THE META-DEVELOPERS CONFERENCE. ON A TWO DAY BASIS TRADE IS ALL OVER THE PLACE. WHILE META-CONNECT WAS GOING ON
KIND OF DISINTERESTED. THE STOCK CLOSES BASICALLY FLAT WEDNESDAY. BUT, WAS A SIGNIFICANT A HIGHER TODAY. WE HAD A HARDWARE ANNOUNCEMENT
AROUND THREE AND SMART GLASSES. IT'S ABOUT THE INTEGRATION OF THE RESEARCH SIDE. LARGE LANGUAGE MODELS. NOW, GENERATIVE AI TOOLS INTO ITS SUITE OF ABSENT OFFERINGS. CAROLINE: LET'S LISTEN TO WHAT MARK ZUCKERBERG REALLY ARTICULATED ABOUT AI THE EVENT.
>> OUR VIEW IS PEOPLE WILL WANT TO INTERACT WITH A BUNCH OF DIFFERENT AI'S FOR DIFFERENT THINGS YOU WANT TO DO. I THINK OVERTIME A LOT OF YOU WILL WANT TO MAKE YOUR OWN A HEIST TO ADVANCE INDIVIDUAL GOALS YOU HAVE. WHETHER YOU ARE A SMALL BUSINESS AND YOU WANT TO INTERACT WITH CUSTOMERS OR YOU ARE A CREATOR AND YOU WANT TO ENGAGE YOUR COMMUNITY. WHATEVER IT IS YOU DO. CAROLINE: MARK GURMAN IS OUR HANDS ON PRODUCT GUIDE.
HE WILL DELVE INTO HOW MUCH OF THESE SORTS OF CHATBOTS AND CELEBRITY ENDORSEMENTS AND THE WAY YOU THINK GENERATIVE AI WILL UP THE ANTE ON SOME DEVICES AND THE OFFERING THEY HAVE ACROSS THE BOARD FOR SOCIAL MEDIA. MARK: I THINK THE NEW DEVICES ARE IMPRESSIVE. BUT, THIS IS REALLY MAY BE THE LAST STAND FOR META-.
META-FOR THE LAST FEW YEARS HAS BEEN PUSHING THE IDEA OF THEIR QUEST HEADSETS BEING THE VERY CORE OF THE METAVERSE. THE IDEA OF USING HEADSETS IN VIRTUAL REALITY FOR THE FUTURE OF WORKING ONLINE, FOR COMMUNICATING WITH PEOPLE, AS THE FUTURE OF THE SOCIAL NETWORK. IF YOU WATCH META-CONNECT YOU WILL NOTICE MARK ZUCKERBERG DIDN'T REALLY MENTION THE METAVERSE. THE LATEST SMART GLASSES WITH RAY-BAN, IT TO PIVOT AWAY FROM THE METAVERSE HAD A MOVE TOWARDS TWO THINGS. THEY ARE PUSHING TOWARDS WHEN APPLE IS DOING WITH MIXED REALITY. I THINK THE QUEST HEADSET, THE
GOAL IS TO FOCUS ON PERFORMANCE, GAMING, AND PRODUCTIVITY. WHEREAS, THE SMART GLASSES HAVE A LOT OF AI FEATURES. LET'S LOOK AT AI. THERE ARE GENERATIVE AI CHATBOTS. THERE ARE THESE CELEBRITY CHILD HEADS AND A FEW OTHER THINGS RELATED TO STICKERS. THERE ARE AI BASED
COLLABORATIONS. THESE ARE THINGS MEANT REALLY NEEDED TO DO. BUT NOTHING THEY ANNOUNCED THIS WEEK IS NOVEL. WE HAVE SEEN SIMILAR TECHNOLOGY
FROM MICROSOFT AND GOOGLE AND AMAZON A COUPLE WEEKS AGO. CERTAINLY, FROM OPENAI AND OTHERS. META-IS A BIT OF A LAGGARD HERE. THEY DID WHAT THEY NEEDED TO DO
TO BE THERE IN 2024 AND THAT WOULD OF COURSE BE THE YEAR OF AI FOR APPLE AS WELL. ED: WHAT DOES AI LOOK LIKE AT META-IN ITS SUITE OF APPS? I DON'T KNOW IF YOU ARE USING FACEBOOK, BUT YOU ARE ON INSTAGRAM. WHAT DOES IT LOOK LIKE AS A CONSUMER, A USER OF SOCIAL MEDIA? MARK: AI WILL NOW BE COMPLETELY INTEGRATED ACROSS THE SUITE OF FACEBOOK APPS WHETHER IT IS THE FACEBOOK BLUE APP, INSTAGRAM, MESSENGER, WHATSAPP. YOU WILL GET A CHATGPT LIKE
SYSTEM INTEGRATED INTO CHATBOT. YOU CAN HAVE IT RIGHT MESSAGES FOR YOU. YOU CAN HAVE IT COLLABORATE ON YOUR BEHALF WITH OTHER PEOPLE IN YOUR CONTACT LIST. IT IS A
FULLY INTEGRATED EXPRESSION OF GENERATIVE AI. THAT IS WHAT CHATGPT HAS BEEN MISSING. CHATGPT IS A CORE TECHNOLOGY THAT'S NOVEL. IT CAN DO COOL THINGS. IT IS NOT INTEGRATED INTO A PLATFORM. YOU ARE SEEING META-BEING ONE OF THE FIRST COMPANIES TO SHOW INTEGRATION OF AI ACROSS THE PLATFORM. NOT TOO ON SIMILAR FROM WHAT
AMAZON SHOWED A COUPLE WEEKS AGO, GENERATIVE AI BEING BUILT INTO ALEXA. THE NEXT STEP OF THESE TOOLS IS MOVING FROM RAW DATA, RAW FUNCTIONS INTO SOMETHING INTEGRATED INTO EXISTING PLATFORMS. I THINK YOU WILL SEE THAT FROM APPLE HAPPEN AS WELL NEXT YEAR.
I THINK META-REALLY SHOWED SOME OF THE MOST COOL STUFF SO FAR WE HAVE SEEN IN THE AI WORLD BECAUSE OF HOW INTEGRATED IT IS INTO THE EXISTING WORK MOST CONSUMERS USE ON A DAILY BASIS. ED: YOU HEARD FROM MARK NUMBER ONE, ZUCKERBERG. YOU MARK GURMAN, MARK NUMBER TWO. MARK NUMBER THREE JOINS US NOW. ANALYST MARK MAHANEY ARE SENIOR MANAGING DIRECTOR. AN OUTPERFORM RATING ON BENTO. I START BY ASKING YOU, DO YOU
UNDERSTAND HOW META-WILL MAKE MONEY FROM INTEGRATING GENERATIVE AI PROGRESS INTO THE EXISTING SUITE OF APPS? MARK: YES. ED: EXPLAINED IT TO US. MARK: THEY HAVE BEEN USING AI. 3 BILLION PEOPLE USE FACEBOOK
AND INSTAGRAM. THOSE PEOPLE THAT HAVE USED IT HAVE NOTICED SOMETHING THE LAST TWO YEARS DRIVEN BY AI. WHICH IS, THE NEWS SPEED HAS CHANGED. IT HAS GONE FROM CONTENT JUST ABOUT YOUR FRIENDS AND FAMILY TO CONTENT FROM ACROSS THE INTERNET. IT HAS GONE FROM BEING A SOCIAL MEDIA SITE WITH THE ACCENT ON SOCIAL TO THE ACCENT ON MEDIA. ARTIFICIAL INTELLIGENCE HAS
HELPED THEM. THEY DEPLOYED IT TO MAKE THE USER EXPERIENCE BROADER, MORE ALL-ENCOMPASSING END IT PAID OFF. YOU HAVE SEEN RISING ENGAGEMENT. AS AN FLIPPED TO THE ADVERTISING SIDE. YOU ARE SEEING RETURN ON AD
SPEND REPROVE AND RECOVER AT MATTER -- META OVER THE LAST YEAR SHOWING UP IN DRAMATIC A SUBTLE READING AD REVENUE GROWTH -- ACCELERATING ADDED REVENUE GROWTH. WE HAVE ALREADY SEEN ITS -- SUCCESSFUL EMPLOYMENT OF AI. I DON'T THINK THE MARKET RELIES SP ARE NOW THEY ARE TAKING IT FURTHER WITH GENERATIVE AI AND THE USE OF CHAT BOX -- CHATBOTS AND THESE LITTLE WIDGETS, EMOJIS, ETC. ON THE SITE FOR THEY WILL MAKE THE SITE MORE ENGAGING USING GENERATIVE AI. ON THE CHATBOT SIDE THEY WILL BETTER MONETIZE IT INCREASING YOUR ENGAGEMENT ON THE SITE. WITH CHATBOTS THERE IS A REAL PITCH FOR BUSINESSES.
IT CAN REDUCE MATERIAL CUSTOMER SERVICES COSTS GIVING BUSINESSES A CHANCE, BUSINESSES THAT RELY ON WHATSAPP AND FACEBOOK BUT THAT YOUR TO INTERACT WITH CUSTOMERS IT ALLOWS THEM TO BETTER AND MORE EFFICIENTLY HANDER CUSTOMER COMPLAINTS AND CUSTOMER SERVICE ETC.. THERE'S A LOT OF WINS HERE. EVERYBODY FOCUSES ON NVIDIA, AWS AND MICROSOFT ON THE BIG RISE OF INFRASTRUCTURE PLATFORMS. BUT THE KILLER APP IS FACEBOOK, META DEPLOYING GENERATIVE AI RIGHT IN FRONT OF OUR FACES USING IT TO IMPROVE USER ENGAGEMENT AND ADVERTISERS SPEND. CAROLINE: A BIT OF A MIKE DROP, MARK. A GREAT ANALYSIS OF HOW WE WILL
SEE MONEY SPINNING OUT OF GENERATIVE AI. HOW DOES IT FIT INTO THE REBRANDING OF META? THE METAVERSE, THE ACTUAL HARDWARE. HOW DO YOU THINK THAT IS A DECENT COMPETITOR TO WHAT APPLE WOULD BRING US FIRST QUARTER 2024? MARK: I DON'T KNOW THE ANSWER TO THAT. THAT IS TOUGHER.
WHAT IS INTERESTING ABOUT THE WAY THE STOCK TRADED, AS WE HAD CONVERSATIONS YESTERDAY DURING META CONNECT ABOUT THE METAVERSE, ABOUT THE DEVICES AND THE GLASSES, THE STOCK KIND OF TRICKLED DOWN. THEN WE STARTED GETTING INTO GENERATIVE AI AND THE STOCK MOVED UP. THAT IS THE FOCUS TODAY. I THINK IT TELLS YOU THE MARKET
WOULD LIKE TO HEAR A LITTLE LESS FROM ZUCKERBERG & CO. ABOUT THE METAVERSE AND MORE ABOUT HOW THEY WILL DEPLOY GENERATIVE AI. I THINK ZUCKERBERG GOT THE MEMO. I THINK THIS EVENT WAS PITCHED AS PART METAVERSE PART AI. BUT WHEN IT ACTUALLY CAME TO DETAILS WE GOT A LOT LESS METAVERSE, A LOT LESS OCULUS AND QUEST AND MORE AI. THAT IS WHY THE STOCK IS REACTING THE WAY IT IS.
THE MARKET IS TELLING ZUCKERBERG , LET'S LIMIT DOWN THE AMOUNT YOU INVEST IN THE METAVERSE. WE REALLY APPRECIATE WHAT YOU ARE DOING IN GENERATIVE AI. ED: I STILL WANT TO ASK YOU, MARK, DOES SPENDING 15 MINUTES WITH A MIXED REALITY HEADSET ON EITHER WATCHING SOMETHING OR PLAYING SOMETHING ON THE WEEKEND APPEAL TO YOU? MARK: I HAVE TRIED BOTH. I HAVE BOTH VERSIONS OF THE
QUEST. THE GEN ONE ANTIGEN TWO. THE TRUTH OF THE FACT IS I GAVE IT TO MY CHILDREN AND THEY LOVED IT FOR ONE DAY. IF I SEE SOMETHING ENDURINGLY APPEALING TO PEOPLE, TWO ADULTS AND ALL SORTS OF PEOPLE, NO, NOT YET. BUT, IS THE POTENTIAL THERE? WHY NOT.
IF THERE WAS NOT POTENTIAL YOU WOULD NOT HAVE APPLE ENTERING THE SPACE. THERE IS SOMETHING THERE. I DO NOT KNOW WHETHER IT IS QUEST SEVEN THAT REALLY BREAKS THROUGH AND YOU REALLY HAVE A LOWER PRICE POINT AND WILL TO GET PEOPLE WITH MASS ADOPTION OF THE DEVICES. THERE IS THE POTENTIAL FOR THAT. THEN YOU HAVE TO FIGURE OUT ARE THERE OTHER EDUCATIONAL APPS? ABSOLUTELY. ARE THERE ENTERPRISE APPS? PROBABLY. WHETHER META CAN SUCCEED WITH THOSE ARE NOT IS A DIFFERENT QUESTION.
BUT, VIRTUAL REALITY, MIXED REALITY, AUGMENTED REALITY, I THINK THERE ARE ENOUGH THOUGHTFUL PEOPLE INVESTING IN THE SPACE LOOKING FOR A DIFFERENT EXPERIENCE. IT IS A WILD EXPERIENCE. I THINK THERE'S SOMETHING THERE. CAROLINE: TIMING IS EVERYTHING IN MANY WAYS. WE SAW CHATBOTS AND AI WITH HIM 2015 25TH -- 2015-2018 THEY PUT THAT ON ICE BECAUSE IT WAS NOT AS USEFUL.
NOW WITH GENERATIVE AI THE CHATBOTS ARE. IS THERE A WINNER TAKE ALL SCENARIO HERE? IT IS INTERESTING IN THIS RESPECT WE HAVE META TEAMING WITH BEING AND MICROSOFT HERE. MARK: I DON'T THINK SO. THERE WILL BE A LOT OF PLAYS. IF WE STEP BACK THIS IS A WONDERFUL DEVELOPMENT WE WILL ALL BENEFIT FROM. AS CONSUMERS, BUSINESSES, AND INDIVIDUALS WHAT HAVE YOU WE ARE SEEING A DRAMATIC STEP UP IN COMPUTER POWER AND IT ALL BUILDS ON, YOU WOULD NOT HAVE GENERATIVE AI IF YOU DID NOT HAVE THE INTERNET.
IF YOU DO NOT HAVE MOBILE INTERNET. IF YOU DID NOT HAVE CLOUT. THEY ALL BUILD ON EACH OTHER READ IT MEANS DIGITAL EXPERIENCES WILL BECOME MORE RELEVANT, MORE PERSONALIZED, MORE USEFUL, MORE ENTERTAINING. I THINK IT'S SUPER EXCITING AND YOU WILL SEE -- WE HAVE WAVES NOW OF INFRASTRUCTURE, PLAT FOR INVESTMENTS, PEOPLE WAITING TO SEE WHAT APPS COME OUT OF THIS. I THINK THERE WILL BE SOME APPS
THAT I CANNOT THINK OF WHAT WILL BE OUT IN THE 3-5 YEARS THAT WE WILL LOOK BACK ON AND SAY WOW. THERE IS THE ABILITY TO APPLY GENERATIVE AI TODAY TO IMPROVE EXISTING PROCESSES AND EXPERIENCES. THERE IS A WONDERFUL EXAMPLE IN FRONT OF US NOW, META. CAROLINE: EVERCORE ISI, WE THANK YOU SO MUCH. COMING UP, EVER GAINS VERSUS APPLE. THE BATTLE CONTINUANCE. -- CONTINUES. ED:
THAT GAMESTOP STOCK IS DOWN 1.4% HAVING OPEN HIGHER. RYAN:, THE BILLIONAIRE THAT WAS ITS CHAIR IS TAKING ON THE CEO ROLE. NO COMPENSATIONS BUT HE IS ABLE TO PURSUE OTHER BUSINESS INTERESTS OUTSIDE. WHAT A ROLLER COASTER WITH GAMESTOP.
THE LATEST IS RYAN COHAN FOR NOW IS THE CEO. THIS IS BLOOMBERG TECHNOLOGY. ♪ CAROLINE: EPIC GAMES IS THE MAKER OF POPULAR ONLINE GAME FORTNITE LAYING OFF ABOUT 900 EMPLOYEES ABOUT 16% OF ITS WORK WAS ACCORDING TO A SOURCE OUT SAYS JOB CUTS WERE ANNOUNCED IN A MEMO TO STAFF. IT IS ONE OF THE BIGGEST PRIVATELY HELD VIDEOGAME COMPANIES IN THE WORLD. SPEAKING OF EPIC, IT HAS HAD A
LONG-RUNNING BATTLE WITH APPLE. WE HAVE AN UPDATE. AT THE HEART OF IT ALL EPIC CLAIMS APPLE'S ONLINE MARKETPLACE POLICIES VIOLATE FEDERAL LAW. CLAIMS A FEDERAL JUDGE REJECTED TWO YEARS AGO. YESTERDAY EPIC ASKED THE U.S. SUPREME COURT TO REVIEW THE RULING. THIS MORNING APPLE FILED ITS
OWN PETITION WITH THE SUPREME COURT TO REVIEW A DIFFERENT PART OF THE RULING FROM TWO YEARS AGO. LET'S BREAK IT ALL DOWN. KEEPING UP TO SPEED WITH WHAT IS A LONG SAGA. FROM YOUR PERSPECTIVE, WHAT A THICK IS TRYING TO BRING TO THE SUPREME COURT'S ATTENTION IS ONE PARTICULAR NUANCE IN THE TWO YEARS AGO RULING, A CALIFORNIA PART OF THE LAW. >> YES, THAT IS RIGHT. APPLE WON THE MAJORITY OF THE
RULING THAT BASICALLY SAID STORED POLICY SHOWN VIOLATE FEDERAL LAWS AND THAT IS THE PART EPIC IS APPEALING AT THE SUPREME COURT. EPIC ONCE OH RULING ON CALIFORNIA STATE COMPETITION LAW WHERE A JUDGE FOUND THE FACT THAT APPLE DOES NOT ALLOW DEVELOPERS TO POINT TO ALTERNATIVE PAYMENT METHODS, PERHAPS TO A LINK, A BUTTON, OR AN EMAIL THING YOU CAN GO ON THE WEB AND MAKE A PAYMENT. THE JUDGE THOUGHT THAT WAS UNLAWFUL. THIS IS THE PART APPLE IS APPEALING. APPLE WANTS TO MAKE SURE THAT PART OF THE DECISION IS REVERSED. GUY: SO, THAT IS -- ED: SO, THAT IS
THE PART APPLE IS APPEALING. IN PARALLEL EPIC IT'S ALSO ASKING THE COURTS TO REVIEW A SEPARATE PART OF THE ORIGINAL DECISION. WHAT DOES EPIC WANT? MALATHI: EPIC, ONE PART I TALKED ABOUT. BUT, THE LARGEST ASPECT OF FEDERAL ANTITRUST LAWS, THE COURT HELD ITS APP STORE POLICIES WERE ABSOLUTELY FINE AND DID NOT VIOLATE ANY ANTICOMPETITION LAWS.
IT UPHELD UP STORE POLICIES AT LARGE AND THAT IS THE PART THAT APPLE ONE AND EPIC ONCE THAT REVERSE. ED: BLOOMBERG'S MALATHI NAYAK THE FACE OF IT ALL. COMING UP ON BLOOMBERG TECHNOLOGY GOOGLE HAS BECOME A FAVORITE FOR LAW ENFORCEMENT SEEKING LOCATION AND SEARCH DATA EVEN FOR NONVIOLENT CASES. THAT'S TODAY'S BIG TAKE. WE WILL BRING YOU ONE OF THE REPORTERS BEHIND IT NEXT. AND A QUICK LOOK AT AMD. THERE IS NO NEWS FLOW CATALYST BEHIND THE STOP ON TRACK FOR THE BIGGEST JUMP SINCE MAY.
ON A TWO DAY BASIS ALSO ON TRACK FOR THE BIGGEST JUMP SINCE MAY. A BIT OF MOMENTUM RISING FOR TWO STRAIGHT SESSIONS. IN TODAY'S SESSION UP 5.8%. THIS IS BLOOMBERG TECHNOLOGY.
♪ CAROLINE: IT'S TIME FOR TALKING TECH. SPACEX WILL PROVIDE CUSTOMIZED SATELLITE TO THE MILITARY UNDER THE COMPANY'S NEW STAR SHIELD PROGRAM. IT IS SIGNING A $250 MILLION CONTRACT FROM THE DEFENSE CONTRACT. VOLUNTEER WILL RESEARCH, DEVELOP AI AND MACHINE LEARNING TECHNOLOGY AND AFFIRMANCE RELATIONSHIP WITH THE U.S. GOVERNMENT. PLUS, APPLE UNVEILS THE NEW IPHONE 15.
MAYBE TOO HOT AND THE COMMODITY IS WHAT SOME USERS SAY. THEY SAY THE BACK OR IS THIS -- OR THE SIDE OF THE PHONE COMES TOO HOT TO TOUCH WHILE GAMING OR CHARGING IT. APPLE HAS NOT RESPONDED TO QUEST FOR COMMENT SO FAR. ED: THAT IS A LOT TO DO WITH TITANIUM AS REPORTED BY MARK GURMAN. BLOOMBERG IS SHINING A LIGHT ON
A GROWING TREND REGARDING PRIVACY CONCERNS. SOME POLICE ARE USING LAWRENCE TO DIG UP LOCATION AND SEARCH DATA FROM GOOGLE EVEN FOR NONVIOLENT CASES ARE THOSE THAT HAVE NOTHING TO DO WITH THE CRIME. THE BIG TAKE IN THE BLOOMBERG MAGAZINE OUT OCTOBER 3.
LET'S GO TO THE MECHANICS. THE POLICE ARE TRYING TO GET A WARRANT FROM A JUDGE. THEY GO TO GOOGLE AND ASK FOR DATA. WHY? >> GOOGLE HAS BECOME ONE OF THE FAVORITE DESTINATIONS FOR LAW ENFORCEMENT TRYING TO SOLVE CRIMES.
IT HAS A BIG REPOSITORY OF LOCATION INFORMATION. SO IF, SAY, A BURGLARY TAKES PLACE AT A JEWELRY STORE AND THE POLICE DO NOT HAVE OTHER SOURCES OF EVIDENCE THEY MIGHT GO TO GOOGLE TO SEE IF GOOGLE HAPPENS TO HAVE REGISTERED ANY DEVICES THAT WERE PRESENT AT THE LOCATION NEAR THE TIME OF THE CRIME. THAT CAN OFTEN BE A FIRST STEP IN AN INVESTIGATION. BUT IT RAISES BIG PRIVACY CONCERNS. ED: LET'S TALK ABOUT THOSE CONCERNS.
YOU WRITE THAT THIS IS OFTEN AVENUE WHEN A DETECTIVE IS AT A LOSS AND CANNOT GO ANY FURTHER. SO, THEY TURN TO GOOGLE. BUT THEY ARE GETTING A HOLD OF PEOPLE'S DATA. JULIE: YES. THE PROBLEM IS BECAUSE GOOGLE HAS SUCH BIG DATABASES IT MEANS IN ORDER TO FIND THE POTENTIAL SUSPECTS, THEY HAVE TO ALSO GO THROUGH DATA OF PEOPLE THAT HAD NOTHING TO DO WITH THE CRIME AND POLICE SOMETIMES WILL HAVE TO GO THROUGH THOSE INNOCENT USERS DATA IN ORDER TO HELP HONE IN ON THE USERS THAT TRULY MIGHT BE INVOLVED. CAROLINE:
IT'S EXTRAORDINARY THE NUMBERS. GOOGLE RECEIVED A RECORD 60,472 SEARCH WARRANT'S IN THE U.S. ALONE LAST YEAR. WE KNOW THAT IS A LOT. WE KNOW IN MANY WAYS APPLE HAS
A DIFFERENT WAY OF ALLOWING OR DISALLOWING THE SHARING OF SUCH INFORMATION. BUT, THEY ALSO USE GOOGLE MAPS ON YOUR APPLE IPHONE. THEN YOUR DATA WILL BE EXPOSED AS WELL. ULTIMATELY, WHAT ARE PEOPLE TAKING ISSUE WITH? HOW ARE PEOPLE STARTED TO FIGHT BACK? WHAT IS GOOGLE'S RESPONSE? JULIE: SO, THERE ARE DIFFERENT SCHOOLS OF THOUGHT ON THIS.
SOME PEOPLE FEEL WE NEED TO GIVE LAW ENFORCEMENT EVERY TOOL THAT THEY CAN TO SOLVE CRIMES. OTHER PEOPLE FEEL THE PRIVACY OF THE PATIENTS ARE JUST TOO GREAT. THEY ARE CONCERNED ABOUT THE POSSIBILITY OF USING SEARCH DATA. SEARCH FOR THE ADDRESS WHERE CRIME TOOK PLACE. THAT COULD HAVE BEEN COMMITTED
BY THE CULPRIT BUT IT ALSO COULD HAVE BEEN CONDUCTED BY SOMEONE ON THEIR WAY TO THE PLACE. SOME PEOPLE FEEL LIKE THAT IS TOO BIG A RISK TO TAKE. LEGISLATION HAS BEEN PROPOSED IN NEW YORK AND CALIFORNIA TO BAN POLICE FROM TURNING TO GOOGLE IN THIS WAY. CAROLINE: YOUR STORY FOCUSES ON ONE PARTICULAR NATIONAL ASSOCIATED CRIMINAL DEFENSE BAR YOUR AT THE DEFENSE CENTER A GUY CALLED MICHAEL PRICE HIGHLIGHTING THIS ALMOST THE OPPOSITE OF HOW A WARRANTY USED TO BE WHERE YOU WOULD ASK FOR SPECIFIC DETAILS ON A SPECIFIC PERSON AND THIS IS FAR MORE CATCHALL.
HAS ALPHABET, HAVE GOOGLE RESPONDED TO THIS? HOW ARE THEY GIVEN WITH IT INTERNALLY? JULIE: THESE WARRANT PUT GOOGLE IN A DIFFICULT SPOT. THEY ARE COURT ORDERS THAT ARE NOT OPTIONAL. THE COMPANY IS OBLIGATED TO COMPLY. THEY GO OVER THEM WITH A FINE
TOOTHED COMB TRYING TO IDENTIFY WARRANTS THAT ARE OVERBROAD AND POTENTIALLY VIOLATE THE FOURTH AMENDMENT. THEY DO PUSH BACK ON THOSE. THEY HAVE A BIG TEAMSTAFF BY LAWYERS AND ALSO OFTEN YOUNG PEOPLE JUST STARTING THEIR CAREERS THAT ARE TASKED WITH FIGHTING BACK. IF THEY DO FIND IF A JUDGE HAS SIGNED OFF ON AND THERE IS ONLY SO MUCH THE COMPANY CAN DO. CAROLINE:
IT'S AN AMAZING PIECE TO READ. GO GET THE BUSINESS WEEK ARTICLE. DELVE INTO IT. THANK YOU, JULIE. COMING, WE SET DOWN WITH THE CEO OF CHAUFFEUR SERVICE BACKPLANE ABOUT SOME NEW PARTNERSHIPS AND THE SAME THEME, UBER TAPPING A NEW CFO. CAROLINE: WELCOME BACK TO "BLOOMBERG TECHNOLOGY." I AM CAROLINE HYDE IN NEW YORK. ED: I AM ED LUDLOW IN SAN FRANCISCO.
DEEP MIND HAS A NEW VENTURE FUND THAT WILL BANKROLL YOUNG AI STARTUPS. IT HAS RAISED $14 MILLION FOR MORE THAN FOUR DOZEN DIFFERENT INVESTORS. OPENAI IS IN TALKS TO RAISE MORE THAN $1 BILLION FROM SOFTBANK TO DEVELOP A CONSUMER AI DEVICE. THAT IS THE FINANCIAL TIMES REPORTING, CITING SOURCES.
DESIGNED THE IPHONE OF ARTIFICIAL INTELLIGENCE. PLUS, IT RAISED $150 MILLION IN A SERIES E FINANCING ROUND LED BY BOND, BRINGING ITS VALUATION TO $2.5 BILLION. IT WILL GROW ITS COLLECTION OF SEARCHABLE BUSINESS CONTENT AND MAKE STRATEGIC ACQUISITIONS THAT EXPAND ITS CAPABILITIES. CAROLINE: BLACKLANE IS NOW PROVIDING PREMIUM CHAUFFEUR SERVICES. A COMPANY SEEING A VALUATION
50% HIGHER THAN HIS PREVIOUS MONTH FROM 2020. IT INCLUDES MERCEDES-BENZ MOBILITY. THE COMPANY CONTINUES TO EXPAND. JENS WOHLTORF, BLACKLANE CEO, IS JOINING US. BACK IN 2011 WHEN YOU FIRST
FOUNDED THIS COMPANY, MANY THOUGHT IT WAS THE EUROPEAN VERSION OF UBER BUT YOU MANAGED TO CARVE A DIFFERENT PATH, OFFERING DIFFERENT KIND OF RIDES. JENS: IT IS DIFFERENT THAN IF YOU WERE TO JUST HOP INTO A CAR THAT TRANSPORTS YOU AROUND THE BLOCK. IT IS LIKE FOOD IF YOU WANT. THERE IS A FAST FOOD CHAIN, A MIXED TIER RESTAURANT AND THERE ARE TOP RESTAURANTS WE REALLY WANT TO ENJOY THE EXPERIENCE. WE ARE ONE OF THE TOP RESTAURANTS, IF YOU WANT, TOP TRANSPORTATION SERVICE. YOU CAN ENJOY IT WHEN YOU SPEND A LONG TIME IN THE CAR. NATURALLY, LONG DISTANCE IS OUR
SWEET SPOT. CAROLINE: IT FEELS AS IF YOU HAVE STRATEGIC INVESTMENTS ON BOARD, MERCEDES-BENZ MOBILITY BEING ONE OF THEM. HOW ARE YOU TEEMING WITH A COMPANY THAT WOULD RENT ME A CAR? JENS: SAME EXPLANATION.
SOMETIMES YOU HAVE THE USE CASE FOR A RENTAL CAR BUT SOMETIMES DIFFERENT OPTIONS. WHEN YOU ARE ALREADY PLAYING IN A PREMIUM MOBILITY SPACE, THE PREMIUM CHAUFFEUR SERVICE BLACKLANE FITS WELL INTO THE PORTFOLIO. WE WILL BE INTRODUCED INTO THE BOOKING CHANNELS.
TO CAPTURE A NEW SERVICE THEY CAN OFFER TO THEIR CUSTOMERS. IT IS A WIN-WIN. WE ARE STARTING IN NORTH AMERICA AND WILL CONTINUE TO EXPAND GLOBALLY. ED: THE TWO BIG STORIES OF THE LAST YEAR IN THIS SPACE ARE RENTAL CAR COMPANIES NOT HAVING INVENTORY BECAUSE OF THEIR KNEE-JERK REACTION TO THE PANDEMIC AND THE RIDE SHARING SIDE, THE DRIVER DEFICIT. HOW DID CHAUFFEUR NAVIGATE THOSE TWO SCENARIOS? JENS: THAT IS A GREAT QUESTION. IT WAS A CHALLENGE FOR THE WHOLE INDUSTRY.
NOT JUST A RENTAL CAR INDUSTRY BUT THE WHOLE HOSPITALITY INDUSTRY. WE ARE OPERATING IN BOTH SEGMENTS. THERE WAS A CHIP CRISIS, IT IS ABOUT CHAUFFEURS AND A SUPPLY OF PREMIUM CHAUFFEURS. IT IS NOT A COMMODITY, A
PROFESSIONAL CHAUFFEUR IS SOMETHING VERY SPECIAL, THAT MEANS TRAINING. LAST YEAR WE QUADRUPLED OUR REVENUE. WE HAD SUCH A DEMAND SURGE. LUCKILY, WE HAVE A VERY SOLID AND LOYAL BASE OF CHAUFFEUR SERVICES. WE WERE ABLE TO PULL THROUGH THE DIFFICULT TIMES OF THE PANDEMIC AND WE WERE ABLE TO KEEP UP TO OUR HIGH STANDARDS OF ALMOST 100% FULFILLMENT RATE FOR EVERY BOOKING PLACED IN OUR SYSTEM DURING THOSE TIMES. I ALSO FIND IT INTERESTING, CAROLINE IS RIGHT. YOU LOOK AT MERCEDES. WHAT IS IT THAT YOU HAVE,
BLACKLANE, TECHNOLOGICALLY SPEAKING, WHAT IS IT THAT IS UNIQUE THAT JUSTIFIES THIS ROUND, WHAT IS A 50% JUMP IN VALUATION? JENS: IT IS THE WHOLE PACKAGE. IT IS THE DIGITAL PRODUCT. WE ARE THE TECHNOLOGY COMPANY. A HUGE ENGINEERING TEAM THAT IS DISPATCHING TECHNOLOGIES THAT ARE BUILDING APPS FOR THE MARKETPLACE, BUILDING CITY TO CITY PREDICTION ALGORITHMS TO UNDERSTAND HOW THE NEXT DAY MIGHT EVOLVE. WE HAVE PRE-BOOKED RIDES, ON-DEMAND RIDES, A VERY SPECIAL FLEET. WE WANT TO UTILIZE THOSE EXCLUSIVE FLEETS IN AN IT IS DIFFERENT IF YOU COMPARE IT TO PURE ON-DEMAND. CAROLINE: IS IT ABOUT TALENT? ENGINEERS? EXPANSION AND MARKETING? JENS: IT IS ABOUT ALL OF THAT.
WE GROW, ESPECIALLY ON THE TECHNOLOGICAL SIDE, WE WILL INVEST AND PUSH THE LIMITS TECHNOLOGICALLY. WE WILL LAUNCH MORE PRODUCTS, THE CITY TO CITY IS ONE OF THOSE. MIAMI, FORT LAUDERDALE, SANTA BARBARA, THOSE ROOTS ARE GROWING. WE WILL PUSH THEM AND WE WILL LAUNCH MORE MARKETS. WE HAVE AN ONLY FLEET IN CITIES LIKE DUBAI. WE WANT TO CONTINUE BEING THE SUSTAINABILITY LEADER IN THE TRANSPORTATION INDUSTRY. IN 2017 WE WERE THE FIRST TO
OFFSET EVERY SINGLE RIDE. NOW WE WANT TO LEAD THE ELECTRIFICATION SIDE. THIS IS ALSO SOMETHING THAT REQUIRES INVESTMENT, OF COURSE. ED:
I SAID EARLIER THIS WAS A 50% JUMP IN VALUATION. IT IS JUST CAROLINE AND I AND THE GLOBAL BLOOMBERG AUDIENCE, BETWEEN US, WHAT IS THE VALUATION? JENS: WE ARE ON A GREAT WAY TO REACH IT. WE ARE NOT THERE YET. IF WE CONTINUE TO GROW WITH THOSE NUMBERS, QUADRUPLING LAST YEAR, THIS SURE LOOKS PROMISING, I THINK WE WILL MEET AGAIN, THE THREE OF US, AND DISCUSS THIS IN MORE DETAIL. ED: JENS WOHLTORF, BLACKLANE CEO, GREAT TO HAVE YOU ON THE PROGRAM. CAROLINE: NEXT TIME.
A QUICK MARKET CHECK AS WE ASSESS THE PRIVATE MARKETS. UP BY 1.3% IN THE NASDAQ 100. EVEN THOUGH WE SEE SOME MACRO WEAKNESS AS WE ANTICIPATE THE FEDERAL RESERVE NOT HAVING TO GO SO FAR, SO FAST. THAT YOU YEAR YIELD IS STILL ABOVE 5%. WE ARE PULLING BACK A LITTLE BIT. WE HAVE HAD SOME LACKLUSTER
NUMBERS. PERHAPS NEW TEAM, NEW CEO, RECALIBRATING GROWTH. WE ARE SEEING MICRON UP SOME 3%. AS THEY CURTAIL SOME OUTLOOKS ON THE BACK OF WHAT IS STILL A DIFFICULT MARKET FOR SOME CHIP MAKERS IF THEY ARE NOT BEING REALLY SPURRE BYCD ARTIFICIAL -- SPURRED BY ARTIFICIAL INTELLIGENCE. AT THE MOMENT, WE ARE UP 17%. FROM NEW YORK AND SAN
FRANCISCO, THIS IS "BLOOMBERG TECHNOLOGY." CAROLINE: LET'S TAKE A QUICK LOOK AT PELOTON SHARES. THEY ARE DOING PRETTY WELL. AT ONE POINT IT WAS THE HIGHEST SINCE FEBRUARY AFTER AGREEING TO A DEAL WITH LULULEMON TO TEAM UP ON APPAREL. A NOTE ON WHAT ULTIMATELY SEEMS LIKE PELOTON ONCE AGAIN FINDING NEW PARTNERSHIPS AS A WAY TO BRING THEIR PRODUCT TO MORE PEOPLE AS LULULEMON SEEMS TO BE STEPPING BACK.
>> LULULEMON IS STEPPING BACK FROM ITS MERE PRODUCT BUT IT IS LESS THAN 1% OF SALES. THE PARTNERSHIP WITH PELOTON AT SOMETHING TO EACH. LULULEMON GETS DIGITAL CONTENT THAT THEY DO NOT HAVE TO PROVIDE THEMSELVES THAT NOW BECOMES A LOWER COST. IT IS A REVENUE SHARE FOR PELOTON AND THEY WILL GET A PERCENTAGE OF THE FEE. WITH BOTH COMMUNITIES HAVING ENGAGED FITNESS MEMBERS IT IS A WIN-WIN FOR BEACH. COBRANDED APPAREL IS A BENEFIT
TO LULULEMON. CAROLINE: TALK TO US ABOUT THE APPAREL PART AND WHAT IT MEANS FOR PELOTON BECAUSE THEY WERE TRYING TO MAKE THEIR OWN KIT AND IT WAS NOT WORKING OUT. DANA: IT DID NOT WORK. THE APPAREL DID NOT WORK. IT REQUIRES INVENTORY MANAGEMENT , DESIGN AND TALENT, INFRASTRUCTURE, SOURCING AND MANUFACTURING. TAKE THAT AWAY WITH THE AWARENESS THAT LULU HAS WITH THEIR APPAREL, YOU HAVE A WIN-WIN FOR EACH. FOR PELOTON, IT HELPS TO
INCREASE THEIR PRESENCE. LULU HAS AROUND 13 MILLION MEMBERS, PELOTON DOES NOT HAVE THAT KIND OF ILK. YOU CAN BASICALLY GROW THE REACH.
I DO NOT THINK LULULEMON IS BUYING PELOTON. THIS IS AN OPPORTUNITY FOR LULULEMON TO ATTRACT NEW MEMBERS AND THEY DO NOT HAVE TO BOTHER WITH ADDITIONAL CONTENT OF WHICH PELOTON HAS A TON THE CONSUMERS SEEM TO VALUE AND LIKE. ED: DANA, I STILL FIND THE SHARES REACTION WEIRD. AT THE END OF THIS YEAR, LULULEMON DISCONTINUES THE MERE. BASICALLY WHAT PELOTON GETS IS ACCESS TO AN AUDIENCE THAT EXISTS NOW BUT WILL NOT GROW IN THE FUTURE.
WHY IS THE STOCK OF SO MUCH? DANA: TO BE ABLE TO PARTNER WITH LULULEMON, A POWERHOUSE IN TERMS OF FITNESS, A REAL DIFFERENTIATOR WITH THE APPAREL ASSORTMENT AND KEEP IN MIND WITH APPAREL WHAT LULU IS DOING. APPAREL GREW 44%. YOU ARE ENTERING A WIDER UNIVERSE WITH A QUALITY PARTNER. ED: DOES THIS SIGNAL ANYTHING TO
YOU ABOUT THE VALUE OF PELOTON'S CONTENT, HOW GOOD IT IS? DANA: IT DOES SIGNAL WHAT THE VALUE IS. THEY HAVE GREAT INSTRUCTORS AND SOME OF THEM WILL BECOME LULU BRAND AMBASSADORS. THEY HAVE A CONTENT SUITE THAT WILL CONTINUE THE APPEAL TO LULU MEMBERS. IT IS A WIN-WIN FOR EACH. THE TRANSITION TO THE PELOTON APP FOR LULU MEMBERS WILL ONLY EXPAND THINGS. CAROLINE: HOW MANY MORE DEALS, HOW MANY MORE INTERLINKING AND INTERWOVEN PARTNERSHIPS CAN HE BRING TO THE TABLE? DANA: A LOT. I THINK HE NEEDS A LOT. THE STOCK IS UP TODAY BUT IT IS STILL A LONG WAY OFF FROM WHERE IT HAD BEEN. YOU ARE TRANSITIONING INTO A
NEW NORMAL IN THIS POST-PANDEMIC WORLD. THE WAY FOR THEIR CONTENT TO APPROVE TO A WIDER AUDIENCE IS WHAT HE IS LOOKING TO DO AND LOOKING FOR THESE PARTNERSHIPS TO INCREASE THE VALUE OF WHAT PELOTON IS TODAY AND WHAT IT COULD BE IN THE FUTURE. CAROLINE: $500 MILLION IS WHAT LULULEMON SPENT ON MIRROR. DANA: IT IS BETTER TO TRY AND FAIL FAST RATHER THAN KEEP IT GOING AND NOT CONTINUE INVESTING. WE KNOW WHERE THE GROWTH IS COMING. IT IS COMING FROM
INTERNATIONAL, ENHANCED PRODUCT AND NOW AN INCREASED MEMBER BASE. ED: THAT IS ORGANIC GROWTH. WHAT ABOUTIN-ORGANIC GROWTH? YOU SAID YOU DO NOT THINK LULULEMON WILL BUY PELOTON. DO YOU SEE THAT HAPPENING SOMEWHERE? DANA: IT WILL DEPEND ON THESE PARTNERSHIPS. WHAT DOES IT ADD TO THE VALUE OF THE COMPANY? THAT WILL BE THE KEY. WHAT CAN MCCARTHY DO IN ORDER TO CREATE A DATA COMPANY AND A CONTENT COMPANY RATHER THAN A PRODUCT COMPANY? THE DATA HAS MORE VALUE THAN THE PRODUCT. THEY STILL HAVE PRODUCT THAT THEY NEED TO MOVE. ED:
I AM GLAD YOU WENT THERE. IT IS TIME WE ASK YOU, DANA, GIVE US YOUR BARRY MCCARTHY SCORECARD. DANA: HE IS IMPROVING THE BUSINESS. BY PARTNERING WITH LULULEMON, DO NOT THINK ANY OF US WOULD HAVE SEEN A LULULEMON PARTNERSHIP ONE YEAR AGO. SHOWCASING THE VALUE OF WHAT THE CONTENT IS AND WHAT THE MEMBER BASE IS GIVEN THE SIMILARITY IN DEMOGRAPHIC TO A LULU, IT IS A WIN-WIN AND THAT IS A POSITIVE.
YOU STILL NEED MORE ON THE BOARD. BREAKEVEN FREE CASH FLOW IS THE QUANTITATIVE SCORECARD YOU HAVE TO MEASURE IN THE FUTURE. CAROLINE: WE ALSO REASSESSED PELOTON AND DECIDED IT IS NOT A MASS-MARKET PRODUCT. IT IS A HIGH-END PRODUCT, MORE OF A NICHE.
NOW IT FEELS AS THOUGH AS A CONTENT COMPANY IT CAN BE A MASS PRODUCT AGAIN. DANA: IT CAN BE. YOU LOOK AT SOME OF THE FLOOR EXERCISES YOU DO NOT NEED PRODUCT FOR. WE KNOW WHERE BARRY MCCARTHY COMES FROM. HE IS ON THE BOARD OF INSTACART
ALSO. HE KNOWS WHAT IS NEEDED TO CREATE VALUE. CAN HE GET FROM HERE TO THERE IN A FAST ENOUGH TIMEFRAME? ED: IS THERE A FUTURE FOR AT WORKOUTS? I AM AN EQUINOX MEMBER. THEY HAVE A MEMBERSHIP WITH SOULCYCLE. YOU CAN GO TO A HUMAN LEAD CLASS OR GO TO THE GYM AND USE A LIBRARY OF CLASSES. PELOTON HAS NOT QUITE GONE THERE YET. WILL THEY? DANA: IT IS SOMETHING THEY WILL EXAMINE OVER TIME.
I DO NOT THINK THERE IS ANYTHING THEY ARE NOT LOOKING AT IN ORDER TO EXTRACT VALUE. IT IS A MATTER OF TIME, LIKE WHAT WE HAVE SEEN FROM SOME OF THESE PARTNERSHIPS BARRY MCCARTHY IS PUTTING IN PLACE. ED: DANA TELSEY, GREAT TO HAVE YOU ON THE PROGRAM. DANA: THANK YOU. ED: COMING UP ON THE SHOW, TIKTOK'S GOING VIRAL AFTER THE REPUBLICAN CANDIDATES DEBATE IS WHAT THEY TALKED ABOUT. THIS IS "BLOOMBERG TECHNOLOGY." ♪ >> WE NEED TO WIN ELECTIONS AND PART OF HOW WE WIN ELECTIONS IS REACHING THE NEXT GENERATION OF YOUNG AMERICANS WHERE THEY ARE. >> THIS IS INFURIATING BECAUSE TIKTOK IS ONE OF THE MOST DANGEROUS SOCIAL MEDIA APPS WE CAN HAVE. ED:
THAT WAS REPUBLICAN CANDIDATE NIKKI HALEY CRITICIZING HER RIVAL FOR JOINING THE APP TIKTOK AND ECHOING OTHER POLITICIANS' CONCERNS AROUND THE APPS' GROWING ROLE IN THE U.S. A COMMERCIAL BREAK FEATURED AN AD FROM TIKTOK. ADS FROM THE SOCIAL MEDIA PLATFORM APPEARED SEVERAL TIMES FROM THE BROADCAST WITH ONE FEATURING A U.S. NAVY VETERAN KNOWN AS PATRIOTIC KENNY. LET'S BRING IN OUR TECHNOLOGY EDITOR THAT PRETTY MUCH LEADS COVERAGE OF SOCIAL MEDIA. WHAT ARE THE ARGUMENTS FOR AND
AGAINST IN THIS DEBATE? >> I THINK THERE IS A REAL PROBLEM THAT POLITICIANS HAVE. THEY WANT TO SHOW THEY ARE STRONG ON CHINA, THEY HAVE THIS ABILITY TO MAINTAIN OUR NATIONAL SECURITY AS A FOREMOST PRIORITY BUT AT THE SAME TIME THEY WANT TO MAKE SURE THEY GET ELECTED. IF YOU WANT TO REACH YOUNG VOTERS, YOU HAVE TO BE ON TIKTOK. ED: MUCH LIKE HALFTIME AT THE SUPER BOWL, ADS DURING THESE POLITICAL DEBATES GET SEEN BY A LOT OF PEOPLE. HAS ANYONE HAD ANYTHING TO SAY ABOUT THE IRONY OF THAT? SARAH: IT GOES TO SHOW HOW CRITICAL TIKTOK IS AS PART OF OUR CULTURAL INFRASTRUCTURE. THIS IS AN APP THAT WAS FEATURED DURING THE PANDEMIC BUT IS NOT GOING ANYWHERE.
THEY ARE EXPANDING AMBITION, GOING HEAD-TO-HEAD WITH AMAZON. YOU HAVE HAD THIS PRESSURE FROM THE U.S. GOVERNMENT ON, SHOULD WE BAN THIS APP? FIGURE OUT HOW TO PUT RESTRICTIONS ON THEM? THEY HAD A PARTNERSHIP WITH ORACLE. CRITICISM HAS SLOWED DOWN. THE GOVERNMENT HAS BIGGER PROBLEMS. A POTENTIAL SHUTDOWN THIS WEEKEND. TIKTOK IS NOW LIKE, HEY, WE
NEED TO USE THIS OPPORTUNITY TO ADVERTISE TO U.S. CONSUMERS. WE WILL BE PART OF THE 2020 FOR ELECTION -- 2024 ELECTION AND THAT IS WHAT WE WILL TRY TO TAKE ADVANTAGE OF. ED: WHEN WE COVER THE NEWS WITH TIKTOK, IT IS REGULATION AND THE RELATIONSHIP WITH CHINA. ACROSS AMERICA, MILLIONS OF PEOPLE USE TIKTOK AND THEY LOVE IT. CAROLINE:
1.7 BILLION PEOPLE USE IT ACROSS THE WORLD. HAS THE GROWTH AT ANY POINT SHOWN ANY DETERIORATION? HAS THE U.S. AT ANY POINT PUSHED AWAY AGAINST THE APP? SARAH: ONE STRUGGLE THAT TIKTOK RECENTLY FACED IS IN INDONESIA, A PLACE WHERE IT IS EXTREMELY POPULAR. THE GOVERNMENT IS STARTING TO GET CONCERNED. THEY SAY AS THEY EXPAND THEIR SHOP TOOL, THEY CANNOT DIRECTLY COLLECT PAYMENTS THROUGH THE APP. THAT REALLY HAMPERS THEIR
ABILITY TO EXPAND THERE. WHEN RESISTANCE TO TIKTOK'S GROWTH COMES, IT COMES IN THE FORM OF GOVERNMENT RESISTANCE. I THINK THERE WILL BE MORE OF THAT FOR THIS PARTICULAR APP JUST BECAUSE OF ITS CHINESE BASED OWNERSHIP. IT GETS A LITTLE BIT MORE OF A MICROSCOPE, A LITTLE MORE SCRUTINY THAN THE OTHER APPS AND THOSE REPUBLICAN CANDIDATES WOULD TELL YOU THAT IS FOR GOOD REASON. CAROLINE: TALK TO US MORE ABOUT THE E-COMMERCE PLAY. WE HAD A GUEST WHO HAS BEEN PUTTING OUT A NOTE ON AMAZON THE ABILITY TO BUY STOCK AND SOME OF THE COMPETITION, REAL OR FALSE, COMING FROM THE TEMUS OR THE TIKTOKS OF THE WORLD.
SARAH: WE HAD THE SCOOP AT BLOOMBERG ON THE BLACK FRIDAY CAMPAIGN THAT TIKTOK IS PLANNING. THEY WILL GIVE STEEP DISCOUNTS ON TIKTOK FOR THEIR GOODS AND THEY WILL MAKE IT REALLY EASY FOR MERCHANTS -- THEY ARE ESSENTIALLY PAYING FOR MERCHANTS TO HAVE VISIBILITY ON THE APP AND NOT HAVE THE SIN KIND OF FEES THEY HAVE WITH A LIST ON AMAZON. WHETHER THAT WILL WORK TO MIGRATE CONSUMERS TO DO THEIR BLACK FRIDAY SHOPPING OR HOLIDAY SHOPPING ON TIKTOK, I DON'T KNOW , BUT IT CERTAINLY IS THE MOST SIGNIFICANT RUN UP AGAINST AMAZON WE HAVE SEEN IN THE U.S. IN A WHILE. THEY DO HAVE THE BUDGET TO MAKE IT HAPPEN. CAROLINE: IT IS IRONIC THE FTC IS REALLY POUNDING THE ANTI-COMPETITIVE TABLE. THESE COMPETITIVE EDGES KEEP
COMING IN. SARAH FRIER, WE THANK YOU SO MUCH. THAT IS IT FOR THIS EDITION OF "BLOOMBERG TECHNOLOGY." ED: A RECAP ON THE PODCAST. LISTEN TO EVERYTHING WE DISCUSSED ON APPLE, SPOTIFY, MY HEART AND ACROSS ALL OF OUR BLOOMBERG PLATFORMS. MORE TO COME. FROM SAN FRANCISCO AND NEW YORK CITY, THIS IS BLOOMBERG.
2023-09-30 12:32
Show Video
Other news