Library Research Week 2023 Launch: A saviour or monster in our midst? AI in higher education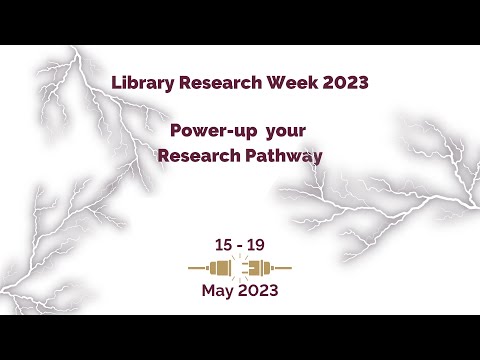 Show Video
That afternoon everyone both to the in person people are attending as well as the online attendees. My name is Siva Bangani and I'm the director of Research Services in the library. My task today is really a very easy one. It is just to introduce all the important people that are going to actually do the speaking here. On the agenda today we'll have Miss Tice, Miss Ellen Tice. Who is the senior director? Library and Information Service and she will officially welcome you to this 11th annual Library Research Week.
So it will be followed by Professor Sibusiso Moyo, the deputy vice chancellor of Stellenbosch University research, Innovation and postgraduate studies. That's the Deputy vice chancellor, research, innovation and postgraduate studies who will officially open the Library Research Week in 2023. This will be followed by a panel discussion and of course there will be a word of thanks.
Thereafter, some of the in person guests will be invited to join us for a reception in the library staff room. Ladies and gentlemen, please join me in welcoming Miss Ties to the stage. Immediately thereafter, it will be Professor Moyle. Professor Meyer will not read your biography, so you'll
just come and speak to officially open the Library Research week. Thank you so much. Thank you. So we were. And just for those of you who don't know yet, he's graduating next week with his PhD from Unisa.
So I was a little bit worried when you said I should come to forward to the stage and you need to welcome me. So it felt like, you know, the Oscar awards, but good good afternoon indeed. It gives me great pleasure to welcome you to the launch of our 11th Stellenbosch University Library Research Week. And if those of you are good with myths would then realise that our first week was held in 2013. Every year since then,
including also during the COVID pandemic and over the years, the attendance had actually really grown when we started, in fact the prior to COVID. Have to COVID-19 when we only held this event in person in 2019 the total registrations for the whole week for all the various sessions including the launch total 363. In 2020 it was 812 because then of course we held it completely virtual in 1990. In 20/21 it had grown to 992 and in 2022. There was a slight drop again to around in the 8 hundreds in this year. This morning we already learned that we have over 2000 registrations for the week. So So Library Research Week is a flagship event where we cater to researchers, academics and postgraduate students. Our
vision is to establish this event as a premier platform that invites partners from other academic support units, faculties to share knowledge, enhance research skills and foster development. It is one. It is one of many ways that the library contributes to the universities overarching. Theme of research for Impact now. So we we had actually. Uhm. Written this speech for me and in line with the theme of this afternoon, he had asked Chet GPT. Right this welcome speech to you, and if I had actually followed GPT then I would have done the following. Because this is an. I'll just read to you the first two paragraphs what they
did say I should do. Which is actually the most important part. Ladies and gentlemen, scholars and researchers, distinguished guests and effort learners, welcome to our Library Research Week. I'll also extend a warm welcome to Professor Moyo, our
Deputy Vice Chancellor, Research, Innovation and Postgraduate Studies. It is with great pleasure and excitement that I welcome you to this remarkable event. In the pursuit of knowledge, the Library serves as a beacon of wisdom, a century for curious minds, and a great way to boundless possibilities. As we gather here, we embark on a collective journey to unlock the hidden potential within our research endeavours. This week is dedicated to nurturing the
growth of your academic pursuits, equipping you with the tools and resources needed to excel in your scholarly endeavours. Making. With this walk off and I hope you will enjoy the next hour with us. Over to you Professor Moyo. I think we need to clap for Ellen again. I think that was very good.
I thought I was the only one who cheated, so I also used GTP, GP ChatGPT for the same thing. So, but I'll tell you what my speech is like at the end, right. So what I use it for. So yeah. So thank you so much for, you know, for coming. I really want to
thank you and I want to thank in particular the library for organising our this session, which helps us really to come together and to celebrate, you know, the different things that the library offers in our institution as part of creating an enabling environment. So before I start, maybe I should make acknowledgements to acknowledge the panellists. First of all, I should start off with my boss, because then that becomes a problem. Miss Ellen
Ties, of course. And I've got another boss who's here. Miss Ellen Ties is the director of the library. And then I've got Professor Jackie to 12 sitting here. The you can just raise your hands so people know she's the main implementer of the future Professors programme. And I've been, I'm delighted that
she's here because also we want to showcase, you know, the resources that are there for emerging researchers. And then I invited my personal assistant who's acting for the moment, Natalie, who's here as well. And she was very nervous. But I think I said to her, you know, the our peers, they work very hard, but they never come to any of the events. So usually
they don't know what we are doing. I think they just think we make them busy. So I thought, no, you should come and see. And so, yeah, so I acknowledge and then I should also acknowledge our panellists who are with us today. Ohh, yes, we were.
Congratulations in advance festival for the pH. D in case you become. My future boss. So I should just get that out of the way as well and then go to our panellists. Professors Michael Adaramola. W Michael Michael Daramola. It's not ohh online. Thank you to our
online colleagues. And then we could Professor Dion. Foster Dion. Yeah, I there and from theology as well. So we are very fortunate as one of the universities that have the theology faculty. They always pray for us. That's why we don't
have so much trouble if you want to know. And Mr Lennox, Olivia, thank you so much for joining us. And then I've got Mr Valter at club because with us as well. Thank you so much. And yeah, so thank you for joining us, colleagues. And then we've got staff, students, We've got the president of the SRC, where she over there. Yeah. Our future boss as well. Yeah. Yeah. Thank you so much for joining us as
well. And then So what I just wanted to say maybe starting off by, you know, the university's Vision 2040, which says. That you know Stellenbosch University will be Africa's leading research intensive university that is globally recognised as excellent, inclusive, innovative, where we advance knowledge and service of society. And for me, I think it's very important for us to think what this mission means and the role that the library plays and I believe that you know the research we can the type of resources that we have help us to actually be inclusive and and to break the the boundaries whether you are you know the class that you come from you have.
Access to the resources, it's not dependent on the class uhm that you come from or whether you have enough money to have access to those resources in terms of the knowledge that we want everyone to have access to. So in terms of our mission, we also say that the university is a research intensive university where we attract outstanding students, employ talented staff like all of you and provide a world class environment and and I think I underline world class environment, a place connected to the world while enriching. And transforming local, continental and global communities. And I know most of you have heard this several times, but I think when we talk about the library, the issue around environment is important. So providing a world class
environment, what does that mean connected to the world. So this week we will connect. We we run through a number of events. People tell us what they're doing, but for us it's also enriching and makes sure that we for the students and the staff that we support, that they have access to information to enable them to get skills. To enable them share knowledge and to enable them also innovate, as I will be able to demonstrate just now. So for the library, the mission and vision, which I should remind all of us, sent us on 6 objectives. So you remember that last year, we also
had, through the leadership of the director, the institutional review of the library, which was done by external stakeholders. And in that, we we focus on 6 areas. The first one is really being responsive, transformative and inclusive in terms of the service. That we offer as a library. So here I want to emphasise for example, which is one of the tools that helps us to evaluate the research that we do. It also helps us to equalise the playfield playing field for everyone that has access to it.
Is a free resource. There are other available resources to our students are the books, ebooks which are also quite expensive, but we know through the library if you can have access to that then you don't really need to find additional resources and we know with a deal we. Clean allowances that don't cover the expenses that everyone needs and then also we know that the other area that we focus on is ensuring that we provide optimal access to responsive collections and and and this is quite interesting, I mean to break it down what that means the other area of focus on is smart technologies which enable a digital first class library service and and.
We know that we are world class currently because that's what our our evaluators said. You know, there are many people who say to themselves like I'm excellent, I'm world class and the question is how do you know that you're world class? But from the evaluations we've got from last year, for example from this independent panel, they also agreed that this was a world class library in terms of the resources that we offer. So I really want to thank the staff and the university who make sure that our resources are world class. And that's why we also have world class researchers and by world class and I look to our SRC president, world class students, She's a very good student by the way. I think if
we just. And then that comes from also having access to information despite what the background one may come from. Yeah. And we know that there's been a recent, you know, a number of movement movements around Open Access, you know, open science, trying to make sure that everybody can have equitable share of those resources. And the other part we focus on is leadership in digital scholarship and research support. We know that we lead
and others follow within the sector. And our director for the library for example sits on the national panel, which negotiates some some of the deals that we end up with in terms of the the resources that are required and then a focus on internal and external partnerships. And for us this is important. Today, for example, the library has shown a good example of how we can collaborate internally and externally.
We we, we've been trying to break those boundaries from the research area in terms of making sure that we have interdisciplinary research, transdisciplinary research that can be applied. Also in terms of the problems we face in our community, working beyond boundaries. It's not very easy, but I think through this research week you'll see that the library went out of its comfort zone, as it normally does, to make sure that different stakeholders participate because we know that with diversity. And we get rich data, rich resources and we all tend to produce better results in any case. And then the last one, of course we can't have the library if we didn't have competent, diverse and agile stuff. Like you can see our doctorate in in
front of the new competent diversity. We we cover all those areas. So I just want again to congratulate the library as I said. And then of course like every other student these days, I decided to put my speech in ChatGPT to see what it would say. And so now I'm going to read you the real speech from Chachi PT. And it said the following. So I said can you help me you know prepare speech today because I was rushing and that so many meetings for today. So it said the following. I said
the theme for the for the library today was you know to help power up your research pathway. That was the thing, right. So under that it says the following and this will be very valuable. I guess we'll start up please researchers, emerging researchers as well. It says #1 set clear research goals. Before you start any research project, it's essential to have a clear idea of what you want to achieve. Define your research questions or objectives and make a plan of how you reach them.
OK, so that was point number one. You always have to cheque what charge deputy tells you. I think this point is true in terms of the theme which is about powering up your research. OK, the second point, it says use reliable, reliable sources.
And this is where it becomes important, I think the role that the library plays ensure that the sources you use for research are reliable and authoritative youth academic journals, peer reviewed articles, reputable websites and books written by experts in the field. So it's not saying use me chachi putty, right? The third one is organisation is key, keep your notes and research organised. And accessible Use a reference management software to manage your references and citations and create a clear, concise outline of your research project. We know that one of the things we've been dealing with with strategically is around research data management, which has also been a key issue. And for many researchers, it's an area which we need to keep. Pay
attention to most journals when you publish these days. They also want to know how the data will be stored. And then the second last point says collaborate with peers. And I liked this one. Because collaboration is key, it's always helpful to discuss your research project with peers and get feedback and suggestions from others. Collaborating with researchers can also help you broaden your perspective and approach your research from different angles. And the last one, it says stay focused. It's
easy to get sidetracked, right? And I think, well, that point is true. I mean, you can get straight to sidetracked by falling in love or, you know, putting too much. I always say to our students, especially here. So, but I thought that point was rather but but in any case with those points which came from ChatGPT, I thought they were a bit relevant. But just to say to all our organisers once again for this week, I wish a productive week. Of course for us it's important for us to continue carrying on the research momentum. Publish, publish or perish is still part
of the game even though people say publish, but we are doing research for impact. Research for impact is about storytelling and I hope that this week would be able to tell a lot of stories. And profile those stories as well. So yes to Ellen and the
team and all our colleagues online and our panellists look forward to listening to you. And welcome once again and thank you very much for your support. Thank you, Ohh. By the way, there's one part I forgot. So formally we hereby you can stand up on your side. We formally launched the library week,
right. So can we all club for that party? Thank you. Thank you Professor Mayo. I think Miss Ties forgot the other part when I sent her the speech. I did say that this thing will make us to be lazy thinkers because we will always run to it and and thank you so much for setting you know the scene in such you know a good manner in such a beautiful manner. Now I must also thank you, Miss Tice, for welcoming everybody to this launch. Now we'll move on to the panel discussion, which
will be facilitated by Professor Bruce Watson. He is the Director of the Centre for Artificial Intelligence Research at the School for Data Science and Computational Thinking here at Stellenbosch. Um, all our panellists are highly esteemed. But in the interest of time I'll only. I will not read their biographies, their full biographies, but I think I will read, you know, part of Professor Daramola's biography because he's an external guest. He's the only external, you know, panellist
among this group. Professor Michael Daramola is the is sorry. He's the head of Department of Chemical Engineering at the Faculty of Engineering, Built Environment and Information Technology at the University of Technology, University of Pretoria. Is also a professor, a visiting professor at the University of the Strand and an Honorary professor at UK ZN, of course in South Africa. He is a Registered Chartered Chemical Engineer with the Engineering Council of UK, a Registered Engineer with the Council for Regulation of Engineering in Nigeria, and he's an NRF Serrated researcher. Their second panellist will be
Professor John A Foster from Systematic Theology and Ecclesiology. That the Faculty of Theology. I just want to add that Professor Foster completed his first PhD titled Validation of Individual Consciousness in Strong Artificial Intelligence and that was in 2006.
Yeah, this shows that AI is not something new, but it's just that it's development has escalated, It's accelerated in the past few years. The the third panellist will be Mr Lennox Olivia. He is the current. Currently he is the Advisor Higher Education, Learning Technology and Programme Renewal at the Faculty of Arts and Social Sciences. The 4th 1:00 will be Mr Voter Club Vic. Here's the library's own Director of Information
Technology Services. Before I hand over to Professor Bruce Watson, who is joining us online, and also Professor Daramola, he's joined us online, I would like to invite the in person panellist to just come in front here and sit. Thank you. Yes, thank you so much. They are now Julie cited.
Watson, over to you. Thanks so much for that. That alone cheers today and it's a real treat that actually have to have most likely do today. So I'm not going to use too much time talking about that. I think it would be very surprised if there's anyone in the room that has not been exposed to chat.
You can see so that introduction of the decision shortly and then just just to say that we divide between now and maybe another computing power and the amount of drugs that are available has led to the situation where things like chat, GPS, so these kinds of artificial intelligence. To give you a vision about what our time stations and consciousness and have the ability to to present to us to the evolution of humans in terms of the speech and their speech interaction. But of course we know that under the purpose is not true. So for that reason we have the promotion of worrying
about whether we have a saviour monstering on this, which is the title of the session. And it's with pleasure that remained unchanged over here for you. Excuse me, some of our speakers today as well. So, so Watson that's one your your volume is quite low. Can you project a little bit more unfortunately you know the volume is is very low from this side.
That indeed, is that even better. A little bit, yeah. It's it's better. Yes. Using the headset which is a little bit sloppy united, but I'll speak up as much as possible. I can assure that we have to have these important person under now. So it's with the pleasure of working with asking questions and having to walk to the panel members and in the moment it will be on the screen that you can kind of nervous. But I'd like to start
with Professor Foster and Dion and we agreed beforehand that we would be using first names so it takes the audience is wondering if we decided to make this a little bit more informed so. I wonder if you could sign off by telling people about what your thoughts are about keeping our position of colleges in higher education in particular, and of course, how this can be leveraged for research, teaching, learning and what the expertise areas of yours are mainly effects. Yes. Bruce, thank you very much. And colleagues, good afternoon and thank you for the opportunity to be with you.
I think artificial intelligence presents us with a number of wonderful possibilities. We've seen in the two very excellent speeches we've heard this afternoon that there are certainly some opportunities, but also that there are some really deep challenges when it comes to these large language learning models. And of course when artificial intelligence gets integrated into other forms of not only knowledge production but other forms of engaging in tasks that relate. To generative activities that tend to be associated with humans. We might see some further challenges. But you know, the title of today's talk interested me quite a bit. A
saviour or a monster in our midst? I'm sure they included the word saviour there because I'm from theology. Now, the one thing that I can give you absolute certainty on is that artificial intelligence cannot save us. It might be able to help us in some ways, and I think that that there are some.
Some great promises in it, but saving for those of us who are engaged in the academic pursuit for knowledge and this concept that we call truth. And one of the things that we do need to recognise is that very often truths requires a measure of careful critical engagement. So I engaged in a little activity for today with Cheque GT and I asked Cheque GPT to very simple question in in three languages that I know relatively well in English in is he? Was that in in German? I asked him the question, Will there be dogs in heaven now? What do you think? Will there be dogs in heaven now? What was interesting was that Protect PPT gave its usual sort of wishy washy answer. You could see it a survey, the number of academic articles found a number of beautiful memes about puppies on the Internet and gave a sort of answer that was noncommittal but tried to sort of sketch the general idea. Now that's not surprising, I think, any of us. As academics, if we read that in our student papers, we would immediately be able to pick it up. For me the issue was. However, when I read the ****** and the German answers, what I found was that because this is a language learning model.
Cheque PPT assumes that there is one moment of language in the world, and that is American English. So if it were Chet GPT did was it didn't take any account of the fact that in Amakhosi tradition dogs are regarded very differently to how they are regarded, for example in Germany or in American cultures. And the role that animals play in social life wasn't taken into context. So I think that illustrates for US1 of the complexities. That we need to have when it comes to using these large language learning models in our research. They offer us some promise, but they also offer us some real challenges. And of
course, if we get a chance to talk about this a little bit later, we can ask some questions about who programmes these models. You know what? What gender are the persons? Who programme these? Where do they sit in the world? Are they white and male like me, or do they represent, for example? Young black woman in in their programming. So I think these are some of the the important questions that we might ask to start us off with. Thanks, Bruce.
Thanks very much indeed. To detect any questions, we will hopefully have a good time at the end of the questions continue. So Michael that he had a look for you and people just a couple of minutes to last from around the world very quickly cheque out this paper from beyond only applications are official intelligence and higher education in particular how we can leverage this. Actually, now we need to catch up.
Knowledge based economy. We always want to develop our driving students to have to thinking abilities, skills today, not to contribute to the knowledge economy. And because of that we always have everybody across the globe, the higher educations. We want to look at what we call the transformative teaching and learning and in that kind of situation we want to also have we find and replace. Is it environment to be here now to provide transformative teaching and learning in our higher institutions and looking at artificial intelligence, Artificial intelligence? To say kind of technology that would be that would help us to create that enabling environment in which our transformative technology.
The other update under that is that with the transmitted particularly we want a situation where we have an environment where there will be productive teaching and learning and also now make our teaching and learning in our institutions. People are in high schools because we have more interactive and it has that kind of would say the opportunity for us not to be, not to make our to do not anymore. Politicians are out and that will provide the opportunity for teachers and lecturers to change their role of being a activator in court. Facilitator. Where do we have to guide students without to acquire these critical thinking? Five or contribute to this knowledge become another thing that is quite very important feature would be left first, Chancellor mentioned that when she gave her speech. It's about you know when you are angry. Said you know there are things that are quite very difficult for you to or understand or you have to gather when you're being treachery and that's going to be the knowledge.
And that's what I've heard from my experience itself was going to be there to do some other researchers are really very difficult things for them and not only that even though they have identified that you are conceptualise those gaps today not to follow this very good sized questions for which we develop your objectives and therefore high time to take ChatGPT. Guide you to come up with very good research questions based on the opportunities or what has been done before in terms of the gas in the field. And with that we also if we guide researchers maybe early career researchers that matter to understand where to go and and that is very, very important maybe when it comes to teaching and learning is that with the advent of artificial intelligence. This education possible at any time at any point and not only that it makes this kind of make touch you know virtually every possible people believe that you know they they they use of that you also ask about globally and that's one that's one of the things that I would say that for that kind of capability to assist us to transform the way we teach to transform the way we do research. We focused compromising points, although there are technical issues which I believe the other professional personal mention last year to see how this discussion thank you very much. Michael, thanks very much, very much appreciated. Also the
enthusiastic viewpoints which goes well, very well with the advice that it won't be ethical guardrails as well. So I'd like to move on now, just have a couple of minutes each from Linux and from Lobster and just a moment and come from some of the related backgrounds which will start with new methods and just have to give us an overview of what you think the implications of automation until it has been particularly this kind of artificial intelligence are specifically would. These are the facts about the sizes. So over 2 minutes. OK. Thank you very much. I'm really honoured to to be here among such.
You know. Something to say Mazing panel, I feel a little bit like at the other end of things. I'm working everyday in the arts, faculty with lecturers who are really, really struggling with huge problems caused by changing PT and AI, and I would like to kind of a little bit more focus on that, especially now that we're going into exams and ongoing assessment. So JPT didn't cause a lot of panic initially in January when when we started this semester.
And particularly in undergraduate assessment concerns in the social sciences, specifically prior to and specifically during lockdown, most people became lectures, became completely dependent on what we call the take home assignment. You know, either essay or like a kind of a research mini research assignment and in a lot of, you know, multiple choice questionnaires and so on. Students could do from home. Prior to COVID this was also practise obviously, but then people did it differently and but during COVID obviously people had to do it from home, so. Something that became more popular, I would say over time was this mini research assignment which gives students the opportunity to work from home and. You know, get an opportunity to go back to the work that they've covered in the module, apply the theory to a real world engagement, and then you know right up their experiences in an academic style of writing, you know like an introduction to research papers. So the students lectures often opted for this
because it's this, this is complete open book research type assignment and you didn't have to worry about people cheating when they're doing their tests. Online and so on. And I think it worked very well for a lot of lecturers all of a sudden this year. Look, there was concerns
about tools online in the past. Paraphrasing tools like robot and so on that you could ask it to translate then you translate the translation back to English and all that kind of thing is for students use these things to get past that turn it into and so on, you know. But all of a sudden beginning of the year you know ChatGPT was released as we all know. So the take home assignment seems to become something that we cannot do anymore at all. And this is a big concern for lectures, because what are they going to do now? I mean, the multiple choice questions are simply answered by JPT. And this bot just writes text you know better than students can write it, OK. Especially undergraduate. You
know, we're talking now more specifically that so. We had to suddenly figure out the impact that this tool will have on our assistance as we know it, our existing assistants. In other words, we were forced to reconsider all our assessment methods.
And explore one could. Then that was actually the most exciting bit. How could we use AI in our assessments or as part of it, to conclude what happened in practise? Now I think people were so overwhelmed planning out of COVID, having to go online with everything they did in the past, face to face and in exam situations. They just managed to get everything online. Now they suddenly thrown at the other end with a challenge. Offline. You can't do it online anymore. It's got to go back to
handwritten. Lists in class, tests and so on. I think most of them are stored at this stage really in our faculty just struggling to overcome this challenge. Very few of them has even thought about how they could incorporate ChatGPT into their their assessments and into their research. That's that's kind of what I think is happening and the exam is still coming up now where all of these new methods and ways that they're trying to do things are going to be implemented, which I think is a. Huge challenge. I mean many of these students are sitting in
3rd year. They never wrote something on paper with their hands for the last two years. All of a sudden they're expected in an exam to write a 2000 word assignment by hand without being able to cut and paste, without auto correct grammar tools. And
I'm telling you it's not the easiest thing to mark either. It takes a lot of time this practical, you know problems that that lecturers are facing much more. But we realised. So that's just the flip side, I think. I mean, of this amazing tool that our lecturers are struggling with, I just wanted to open up with that and say that's what we're dealing with most of the time right now in our faculty, as opposed to all the amazing things that Jet Two PT could possibly and will do in the future.
Thanks so much. Thanks very much. Appreciated. And and in fact as we proceeded through this end in order to leave some time for questions from the audience at the end, I know that we also are having a number of the questions that were prepared beforehand are already being lighting on the price. We also should go back to one of the three so far. So let me hand it over to you about this with basically the same question here from your environment which is actually a very good planning reliable. So that becomes an equal.
What's your perspective on how this all fits together? And maybe you could also touch on what you feel on the mitigation aspects of this as well? Ohh, thank you. Yes, I think you you ask your how does it all fit together? Perhaps I should start with that, especially in the library environment. I think you can broadly think of AI in three classifications in a library environment, symbolic, connectionist and generative. What's what's in a liberal environment? I it's a bit different in educational in the broad sense that libraries have been involved with AI since the past 10 years. I would, I would imagine about since 2013 some big libraries in the world started to experiment with at that time, symbolic AI methods like linked data and knowledge representation. Umm. And since then, since I've shortly thereafter, should just
stand a bit back to mikes. This shortly thereafter. Umm, we've had a lot of connectionist AI.
Here's the other one, man. That one song. I said one. Here we go. We've we've had a lot of connectionist AI like machine learning coming into the fold since 2012, breakthrough in back propagation. And we've seen that in image recognition, handwriting recognition.
Metadata assignments, UM, speeding up cataloguing processes and classification. Machine learning methodologies, most of them supervised. So it's it's it's it's come to the fore in libraries to improve back back back office processes. And as of light also in more front end systems like discovery tools and and and chat tools.
But to just to get back to you your answer, I think that the the challenge is in going forward. Is that we now faced with a sort of like 1/3? Generation as such of AI, which is generative. Based on large language models, and this is new territory for libraries as well, and I would imagine the the challenges we sit with as libraries is to to feed these models the correct data to learn from, to use the technology to use the algorithm or the model as such to make our own collections more analytical and discoverable.
To make our collections summative in a way that a student or researcher can get a high level overview of what our collections are about through it to like a generative AI tool without having to work through vast amounts of data to do that sort of summation for you. Cheque GPT has absolutely no idea what you, what you, what you're asking of it. It has no context, has no understanding of what you're asking. It's just simply a text or word prediction tool and it has no idea what it's spitting out is the truth or not. So I think in a library environment we we wouldn't use it to try and make it a tool of the discovery or a information source, but rather a tool. To aid and a.
To aid in like a summation tasks and making our collections more processable. Sorry, it's a bit of a. So apologies offered by the hope that you can give me hope everyone else can be weird in the middle of following something something audio images with the feedback loop so we missed a little bit of poor audio cloud. Illness, we've proceeded quickly throughout time. It's that you know they're getting all of these three points. In line with
that, I'm wondering if I if I can ask you to evaluate some questions that we already have coming in either online or through the YouTube live stream or from within the room. Because in the 8 minutes or so remaining as 19 opportune time for us to see if we can have some questions directly to the panel. For OK colleagues, you'll you'll have the facilitator if there are any questions from both audiences in person or online. Are there any questions online? No, no. We apologise for this echo that seems to be going on in this moment. You can do all travel runs and everything is going
well and when it comes to the real people, that's when the experience problems. They just want. They just. Watson can you can you take yourself? Because I was going to say parents if you write yourself, we might not have the the challenge parents that are normally not nice. OK Are there any questions from the online audience or in person audience So it didn't say to whom was the question directed to. Perhaps
there are anybody can take it up. I think it was what are the implications for in I mean for tenant in I think they it wants to find out whether you know this can be picked up by turn it in. I think that was the the gist of the question basically. OK so. In the beginning of the year we didn't know where the Trinity was going to activate this AI detector and we had prompt, we were panicking a lot understanding we were we we had promises for it to be rolled out in in April which it was towards the end of April. And AI detector tool was I think not a full time but it was like a test run was added to turn it in where you could then get a percentage of and and highlighted text of what part of the.
Submission is considered to be a I generated. Turning gave the guarantee that it's very accurate, above 98%, I think accuracy and so on. And then lecturers very quickly fell into a habit of using this AI detector almost exactly. They would as if they like they would use, turn it in. So they started saying anything above 10% or you know, 20% detection or percentage would then be considered.
These are generated and there were two treated very similar to to to a plagiarism kind of situation with turn it in. But the problem with this is that it's not quite the same and it's it's very difficult. To kind of confirm whether the student used it or not. I don't want to say a lot more about that right now because it's it's absolutely something in progress that's happening right now. But what it means is.
If it's 100, if you chose 100% I, the chances are almost guaranteed that it was that I was used either to transcribe it or to generate it from scratch. You didn't know exactly know how it would was used. The problem is that if students have a bit of savvy and they go online and they watch a few YouTube videos on how to do this, they can get that number down to 0 rooster, two or three extra copy and pastes into different AI tools so you can catch people.
Using it, you can call them in, ask them to explain themselves and perhaps offer an opportunity to fix it and so on. See it as a training tool, which is fantastic. You know it can be used like that and most of the time students come clean and they learn from it and they didn't do it again. But I think
in the future I would highly recommend that in first year we do a complete course with students on what AI is, how it should be used and how it should not be used when it becomes plagiarism. How to reference it, what kind of activities you can ask it to do and what is completely, you know, unethical that should be done at first year level and there should be given activities to try out A and so on. We did this in the third year module in sociology with Professor Lindy Heinekens module. She's the Vice
Dean for Research will soon in the arts and it seemed seems to have worked very well. But it's in the beginning stage and I think lectures should be encouraged as a great opportunity for research. Actually this field is opening up for for a lot of recent opportunities as well for lectures to get involved in.
Both. Thanks Lennox. Thanks for that. So just just to say two things on this. One is I I serve on the Central disciplinary committee and I'm sure for the Vice Rector teaching and learning this is going to become an issue where we're going to have to think about policy and and you know for those of us who have to evaluate what students produce, particularly undergraduate students but I guess research students as well, I can see the university is going to have to generate policy fairly quickly. There must be some models. Out there. But I think that's just something that we need to flag. And the other thing that I just want to mention is, you
know, one of the ways in which I've been dealing with this with my own students is to recognise that we have to be very, very cautious, that we don't miss the opportunities that artificially intelligent, you know, technologies offer us. And and one of the things that I think we need to learn as scholars, as researchers or or teachers is that, you know, there are two very sort of. Lord categories in which it can be used. The one is this sort of consumptive AI is very good at gathering information about things. For example I asked Bing and ChatGPT to give me a summary of my own doctoral thesis on artificial intelligence. I learned a thing or two you know it was not in the thesis so so in that sense it you know it can gather information it can try to represent it and and and it's not bad at doing that. I think
the problem is however when it comes to research. We haven't yet figured out in what ways do we use artificial intelligence to become a generative tool. So for example, you know, to generate new knowledge or insight and and I think where it becomes particularly challenging is for those of us in the humanities and to an extent the social sciences who are not trained to deal with these kinds of technologies. So you know, these are things that I think
we're going to have to think about because the reality is it's here to stay. It's finding a great use case. Our students are incredibly smart. We should give them points for that at evading, you know, turn it in and other things. But there are opportunities here that we can learn from. And maybe this is an opportunity for a little bit of reverse mentorship. Call that student in and say teach me how to use this technology.
I'm I'm not sure uh proof Daramola if you want to add anything from and into this conversation. Yeah. Thank you very much. Our something that I will have to eat is this we should understand that charts GPT is a tool. It's one of the tools of AI. Artificial intelligence. We've gotten other tools that are quite, very useful in research.
For instance, if you are looking at Artificial Neural Network. Data analysis or you are even considering the programming language like Python that we use a lot in engineering. These are quite very useful when it comes to research so that we don't focus all our energy on ChatGPT there are other things that are quite very useful but something the problem is this. No matter how useful these tools are, we have to understand that there are disadvantages or shortcomings that we need to understand. For instance, there might be an issue. Data bias because these especially these tools or chart GPT and example of that they are developed based on trained.
The data is a large data set and which cannot may not be replicated at times. And another thing is that we do have our lack of control on using some of these responses that have been generated especially from ChatGPT and you know in other cases. Now is that a situation where you as a researcher you need reproducibility of anything you've you've done and if you are concentrating only on using this.
Our tools without validating using any other method. Then you find yourself that what you are producing as a researcher may not be creditable. And that's why it is very important that when we are making use of that we are teaching our students, we should rather use that ChatGPT as a source of developing their critical thinking ability. Especially now we should be able to use that one to develop their cognitive.
Thinking ability so that when you are doing your you are giving them a kind of assessment or assignment. You should give it in such a way that they will not be able to even get the response or the answers from chart GPT, but something that they have to think about but ChatGPT may help them to develop that thinking because what I've given to them is not what they can get our answers to directly from the ChatGPT and that one calls for us that. As an institution or as a country, there is a need for us now to promote responsible use of AI technologies. So like you
know I also now I look into you know ask ChatGPT that what can we do to ensure that we have our responsible use of your yourself as a technology then maybe it is now very important to for the country or even an institution maybe like a student. Which university, like other institutions now to look at an institute within the institution? To be that wiped out to promote the responsible use of AI technology, I think that one is what we need to look into apart from our governments now coming up with legislations and regulations and code of conduct of using AI technologies. Thank you very much.
Thank you. Ohh. They want to clip. Thank you so much. That was very interesting. I proper fortson you want to say something you're still facilitating? Just just your mouth. And that's that's very kind of you severe you undersell yourself very much and your your additional facilitations most welcome. I think we're actually already at the the end of time.
So and we've also heard closing remarks from almost everyone. I think I'd like to just leave one very large closing remark to Walter who's outside of my field of view on the camera. But I wonder if I could just ask a very provocative question that you have let's say 30 seconds to answer before we hand it back and that is. To what extent do you see AI in this kind of AI development as an existential threat for libraries as we know it? Yes, thank you. Thank you for the question. He's muted this time, isn't he? Alright, OK.
Well, I think, I'm sorry, I'm. I'm I'm sometimes I do this and I shouldn't but I should just correct you quickly. Sorry on something earlier and I guess I'm getting in trouble for this, but. The generative system is not really maintained or or created by people who.
6 parameters it's it's all in the title. You prepare and you feed it to determine whether you're going you're going to get bias in the data and and and and and what is going to split out So it it really does not get down to a lot of racial or gender equality when you prepared the algorithm as such and I make I'm making this point because I think the the challenge for libraries going forward with the generative. AI is to prepare the correct trustworthy data for a model to be used for certain projects and within certain collections, and I don't see it as a. As as as a a a a technology that is going to be challenging libraries in in that way. I see it as a technology that libraries can adapt very productively. For various purposes, some of them to help us do summation of data and and to make data more discoverable. So I think it's
still very early days where we as libraries have a lot of experience in in in symbolic and connectionist AI. This is very much the the beginning for for generative AI libraries, but I see actually great potential for this and also I see it's it's going to be necessary to to mean copyright rules. Rules at at least within South Africa and to be able to make a person who is using generative AI and use put substantial effort into generating something with the tool to to recognise that person as an author, where currently the only recognised as author if it's if it's all traditional work. So there's various facets of of generative art which apply to Libras going forward and some of them are challenging and some of them are great. Opportunities.
Sorry, maybe maybe I'm not taking over your role. Maybe we should also put the same questions to, I mean question to the other panellists, because we know that, you know, this technology can do a bit of research sometimes, these technologies and maybe even a bit of teaching. The same question should be put to hope that our mother, for example, and both Boston. Indeed, let's start to actually very briefly with uh, with you, Lennox, if you have a moment.
Sorry, Dion or Lennox, whoever has the the microphone, if you uh would give us your half minute sound, bite on that. Yes. Yeah. Thanks. I'm, I'm hesitant to speak before Michael, because as I say, I'm not an expert in, in this field. I mean my thoughts are more sort of theoretical.
Around this, my sense is that humans have always had to figure out how we work with technologies, and in some senses we can make the argument that that most technologies are relatively neutral. I mean, you know, we can think for example about, you know, cars or relatively morally neutral cell phones are, but we've also had to come to realise that the technologies that we create can also be used in ways that are less responsible. So my sense is that we are going to have to think quite carefully around this. And yeah, I I don't have enough expertise to know how one creates algorithms and these kinds of things, but some of the research that I am seeing. Coming out particularly in the in the sort of social sciences and humanities, his questioning the ways in which there are for example, in in banking algorithms, who gets automatically approved for a loan and who has to provide additional documentation or you know, extra information. Now to
me that says there's someone sitting behind The Who has some kind of bias about who's creditworthy and who is not either expressed or unknown. And they they developed that into a system, whether it's a committee or an individual. So those are the kinds of things that you know that that I'm thinking about is we have these technologies. In principle there should be morally neutral, but but we do have to think about the ways in which we and the problems that we grapple with might shape or must shape it. Very well said.
Michael, I would you like to add the yes, the minute or a minute to that? Yeah. Yeah. Thank you very much. There's something we should understand when we look at AI is a technique. We said it's a technique that mimic, it mimics human intelligence. Though in some cases now we find them to even perform better than the way we think. But we still need to control that. Because we are the one. They are mimicking us. And we've gotten
this. I would say, uh, very fantastic and even our superb intelligence compared to them, we made them, we wrote the, the, the, the algorithm that they are following with all the data. So it is very important that we look into that responsible usage of this AI and another thing that is quite, very important, we all know that why it has come to stay. There's no doubt about that. Even now, when it comes to research articles, you are even allowed to cite a portion of what ChatGPT has written for you.
To say our open AI so, so so so wrote this part is allowed so which means I will call on the government. Of South Africa. Maybe we can have Artificial Intelligence Institute in South Africa that would develop that responsible capacity. I'll put it responsible. We can develop capacity without being
responsible, but we want capacity developed for responsible use of artificial intelligence, and that's what we need as we progress on this. Thank you very much. Thanks very much, Michael and Leslie to you Lennox, if you if you have one or two closing comments on that? I'll just say last last week I think he spoke about existential threat is a is that correct? So that might be referring to Jeffrey Interns, recently the godfather of edge AI, resigning from Google and so on. And and he's quite concerned about, you know, the idea that A I is very quickly becoming more intelligent than than humans.
And that's the existential threat you use concerned about because it says if a less intelligent being is trying to control a more intelligent being, it's bound to go wrong, you know, And it's actually very concerned about the idea that A I. Could become a threat to humanity, you know? So I don't know about all that. I don't know enough about it. I just watched the YouTube videos. But I think in terms of Academy at this stage, there's a very nice resource that all of us should maybe have a look at. It's the sentient syllabus. Sentient syllabus. I'll I'll I'll give it to everybody. We can put it maybe
in the post but it's developed by academics and it really it's it's a global academic attempt to kind of pin what they would call the three principles of AI in the in academia. And it really focuses on three points quality truths and collaboration. In terms of quality the the point that AI cannot and should not be able to pass a course or or pass a research paper or you know. Secondly, truth AI contributes contributions, must all be attributed and must be fact checked and must be true and in collaboration using a I you know I use must be transparent and I think there's an opportunity here for all of us. Cross disciplinary opportunity, cross faculty opportunity, cross university opportunity, we're all sitting with the same problems in terms of AI. It goes across all these boundaries.
Perhaps this could be something that we could use a lot utilise to improve that kind of interaction. Collaborative action. So if I can just close off very quickly by by mixing in a couple of my own comments and and summarising some of the the thought leadership that we've heard this afternoon and you will find this back in the chat. For those of you that are in the
teams chat. I think one of the most important things also relating to what what Walter said in particular is that we do need to find our our new place in the knowledge chain that supplies of course to to all humans identifying what our knowledge ad is. So in other words the the fact that Chachi PT is overrunning. Certain kinds of jobs may actually mean that those are just jobs that are are not really suitable for for humans doing and we can we can up our own game as humans to to do something at a a further point in the food chain. Explainable artificial intelligence is one of the key things. This connects of course, to what both Dion and and Michael said. It's something
that is mandated in places like the European Union. It's a very, very difficult technical problem to crack and several of us are working on it, but. Not really, too, uh, too much success yet. And then lastly, I
would say that a kind of counterpoint or related point to what Varta said is that things like copyright and identity are dying concepts. So we of course, you know, in one sense need updated copyright or the outputs of ChatGPT. But the fact that generative AI's are swallowing large amounts of text and subtly manipulating them and regurgitating them in a sense means that copyright owners. Are getting next to 0 value out of their copyright and stemming that is going to be a very difficult problem indeed. And
the same thing goes for deep fakes and and various other things that are related to generative AI. The notion that you can actually see someone on video or see a photo and trust this as a notion of or a proxy for identity, that's something that's essentially gotten as well. So at that I'd like to then close off the panel. Thank the panellists very much. Thank
you for your patience and for me dropping in and out of video. And I'll hand it back to you, Siva. Thanks. Thank you so much. Uh, yes, uh. All that is left now is for me to just quickly do
a vote of thanks must indicate that I didn't ask for the assistance of chapter Pity in preparing this one. I wanted to be as personal as possible. I just want to express our sincere gratitude to all the speakers and panellists who generously shared their time, expertise, expertise, perspectives, advice, and words of wisdom with us today. And for many of us, AI remains a mystery that we have yet to fully comprehend and embrace from your perspectives during the panel discussion.
I hope we can find ways to seamlessly use these technologies in a positive manner for better and sustainable human development. I think I speak for everybody this evening in expressing our sincere gratitude to all the panellists and Professor Watson for his expert steering of the conversation. I extend my heartfelt thanks to Professor Moyo for always standing with us in support of our endeavours as the Library. Your presence here has elevated the stature of of this event as well as the discussions we are truly. And indebted to you, ma'am. For their support and leadership.
I'd like to acknowledge, Miss and entice for her leadership and support. Without her, breaking library research with 2023 would not have come to fruition. From the depths of my heart, I want to extend my sincere thanks to my fellow Liberal research with 2023 committee members for their unwavering dedication and contributions to the access success of this event and the overall organisation of library research work. I would like to provide special recognition to
Mr Geithner and Defender seated there and Mr Voter in Frontier and the entire entire Library IT team for their Technical Support before and during today's. And to all the members of the audience, we always value your support and we are fully aware that without you, this lunch would not have been a success. Please continue to support us by attending sessions from tomorrow until Friday. This feel free to provide us with feedback on how we can improve our service to you. At this moment I would like to invite our in person guests to join us for a reception at the library staff room. To our online audience, we apologise for your absence.
But please know that you are in our thoughts. I wish you all evening. Thank you.
2023-05-29 15:21
Show Video
Other news