Introducing Amazon's latest devices and services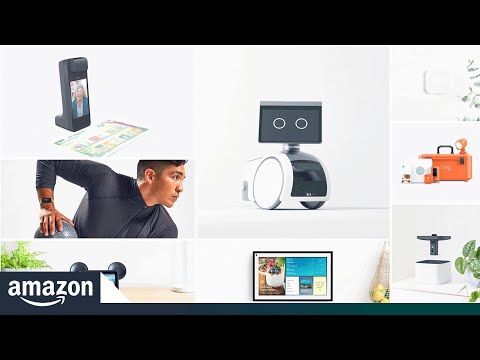 Show Video
Alexa what's my daily reminder today? You have one reminder, every day is an opportunity to get better. [Upbeat music playing] Who's such a good girl? Alexa, turn Cooper's light blue. [Toddler squeals] Hey Melissa, tell me about your husband. Smart, funny, talented. How much time do you have? I think I might have a lot of time.
That's Panda. Say hi. TODDLER: Hi Panda. Hey Shaq, what's the weather like today? Here's your Shaq-cast for the day. Good morning, Pop. I'm at the store right now grabbing stuff for you guys, and then I'll drop it off.
Love you. Love you too. Alexa play disco. [Upbeat music continues] One last thing.
I've got mad skills. Me too. [Laughs] [Cries] Rebecca What are you doing? Yes! [Dramatic music starts] [Dramatic music playing] Good morning.
Thanks for tuning in. I'm thrilled to be here with my team in the Spheres to show you what we've been up to. The last 18 months have not been easy. But I believe we can look back- -and ahead with a renewed sense of optimism, because we've seen what we can accomplish when we come together to solve hard problems. I've seen this firsthand: how a persistent focus on inventing on behalf of customers can thrive, especially in times of uncertainty.
And that's what brings us here today: Our vision for how we can craft technology to make customers lives even better. When you hear the term consumer electronics beyond the phone, it's typical to think about the gadgets around your home, or all too often in the drawer of your desk, not even charged. But, since the invention of our first device, the Kindle, our goal has been to not build gadgets, but instead devices that are deeply integrated with services. When we're at our best those services, the content, the interactions are front and center, and the device itself fades into the background. Another way that we differ from typical consumer electronics companies, is that instead of trying to transport customers out of the physical world, we believe in making your real world more connected, more engaging, more delightful and more convenient so that you can be present with the people and the things that you care most about.
When this is working, you'll know it. I certainly do. Instead of coming home and my whole family is staring at their devices with headphones in, or sometimes even staring at two screens at the same time. We're listening to music together. We're watching a movie that we all love.
And, we're being surprised by that family photo on an Echo Show. and talking about what a good time we had when it was taken. At Amazon, we want to create more of these moments for our customers. And, we believe the key to doing that is ambient intelligence. An environment where each of your devices and services is a thread in a fabric woven together by artificial intelligence, offering far more than any one single device or service could on its own. In this paradigm, AI is all around you.
It's constantly adapting to you, it understands the state of your environment and your preferences. And, helps you when you need it. Most importantly, it recedes into the background when you don't. Our job is to take this complex science, the best of AI, and make it beautifully simple to use. Throughout today, you're going to see our examples of our next big leaps forward. Science fiction becoming reality You'll see how custom AI can make your life even easier by working on your behalf.
You'll see how an ambient experience can make a more connected family. And, you'll see how this intelligent fabric means you get to look up at the world all around you. These are big shifts in the way customers will relate to technology, and that means we need to be sure we're building that technology in the right way with privacy and sustainability top of mind. As I've said, privacy is foundational to everything we do. From adding new ways to ask Alexa about your privacy settings to providing more granular information about your household's voice history.
We continue to give customers greater transparency over control of their data. Overall, we think privacy is a huge opportunity for invention. In the spirit of that invention, we're rolling out a new feature that reimagines how speech recognition is done.
Soon, customers in the US who have either an Echo Show 10 or the latest generation Echo can choose to have all of their voice requests processed locally on the device using our AZ1 processor. And, that audio is never sent to the cloud. We are the first to offer this capability on smart speakers, and we really look forward to offering it on even more devices in the future. Last year, I announced a number of critical sustainability efforts we were taking as part of our commitment to the Climate Pledge. One of the most meaningful efforts was our promise to become the first consumer electronics company that takes responsibility for the electricity used through our on our devices, through renewable energy investments. We started with Echo.
And, today I am proud to share that we're making investments in new wind and solar energy that by 2025 will be equal to the energy used by all Fire TV and Ring devices worldwide. Combined, we expect these projects will produce over 5 million megawatt hours of clean energy per year. That's enough to power more than 400,000 homes. Together, these energy investments, in addition with the expansion of our low power mode to more of our devices and the use of more recycled materials mean that we're on track by 2025 to cut the average carbon emissions per device by 50%. We are incredibly excited about the progress we're making with our device footprint, but that's only part of the solution. Because the largest household contributor to carbon emissions is not your TV, it's not your Echo device, it's your HVAC system.
And, there's a product that can be a big part of the solution. Smart thermostats. But not everybody has them, for two main reasons: First, they're just too complicated. And second, they're too expensive.
Let me introduce you to the new Amazon smart thermostat, a smart Energy Star certified thermostat that works with Alexa. This device gives customers a simple way to keep their homes comfortable and most importantly, energy efficient. We took the complexity out of the product by making it simple and compatible. But, how did we do that? We did it by partnering with the experts at Honeywell Home that bring their 130 years of experience to this product As a result, it works with most existing HVAC systems.
Secondly, there's no reason smart thermostats should be expensive. We rethought the device, invented a way to make it available to customers for just $59. That's less than half the average cost of a smart thermostat sold on Amazon.com. After utility rebates, most customers can get an Amazon smart thermostat for just $10. And, sometimes
for nothing at all. This thermostat lets Alexa's intelligence do the programming for you, automatically adjusting the temperature to suit your preferences when it has a hunch you're either home or away. You can also set up a routine when you say, Hey Alexa, good night. The device will turn down the heat or turn up the cooling to match your preferences.
It's this intelligence, and the affordable thermostat, is just one of the ways that Amazon is trying to help customers live more sustainably. Amazon Smart Thermostat is a perfect example of why we're so passionate about the promise of ambient computing. When technology is working hard behind the scenes, it can be absolutely transformational. As we work towards this vision of ambient intelligence, we know there's so much left to do. It will take many more years, and a lot of hard work. But that is what we love to do here.
Think big, and do the work on behalf of customers. So, they and you can spend more time on the things that matter. To show you how we're bringing this to the Echo family of products let me hand it over to Miriam. [Soft electronic music] Thanks, Dave.
What Dave just talked about is technology that's woven into your daily lives. It knows you and your environment, and can proactively simplify the world around you. And for years, we've seen how helpful and delightful Alexa can be in simplifying the tasks that each of us have to do every single day.
Every month, millions of customers use Alexa to remind them of something important. They ask Alexa to add items to their shopping list. They ask Alexa to set an alarm. They use Routines to easily automate their day. Even with all this extra help, keeping your household organized is way too hard.
Between the loose notes, bulletin boards, and messages left on the refrigerator, there's just too many tools we have to use to keep our families organized. We believe with Alexa and ambient intelligence, we can make this easier. This is what we created. Introducing Echo Show 15, the new digital heart of your home, bringing all of the things that make your household tick into one place. It can be wall mounted or placed on a stand, in portrait or landscape, whatever works best for your space. For my family, it quickly became the family organizer, our home connection hub, and doubles as a kitchen TV.
The device's large, 15.6 inch screen makes it possible to quickly see all of the information that's most important to you and your family. In addition to the rotating home content that customers are familiar with on Echo Show today, we are introducing a brand new user interface with Alexa widgets that make it easy to customize the display with information that's always up to date. Echo Show 15 makes accessing a shared family calendar really simple. Any family member can add events to the calendar, and everyone can see it in one aggregated view.
I personally love the sticky notes. You can just ask Alexa to leave a little note of encouragement, or tell your family when you will be home for dinner. We also know that staying organized at home doesn't just apply to managing schedules. It also means finding simple ways for you to manage your smart home. That's why we designed a widget that lets you see all your favorite devices in one place and at your fingertips.
With a simple glance at my smart home widget, I can tell if my desk lamp is still on after I've powered down for the day, and turn it off with just a tap. And, we're making it even easier for you to keep an eye on things around your home. Now, you can see live camera views while listening to music, following a recipe, or doing other things on your Echo Show 15.
Or, Alexa can show you the feed from your Ring Video Doorbell, while you're cooking or listening to music. We didn't just design this device to make everyday life simpler, we built it to be fun too. We think of it as a kitchen TV, just much, much smarter. With support for 1080p full HD video streaming, you can easily catch up on the news, or watch any of your favorite shows on services like Prime Video or Netflix. My family and I have been watching Cinderella on Prime Video, which I highly recommend.
And starting later this year, Sling TV is coming to all existing Echo Show devices, giving our customers even more access to the content they love on the devices they already own. Like many of our customers, I tend to put my devices in communal spaces around my home. And sometimes that means I want the device to truly fade into the background, like when I'm having guests over. So now you can ask Alexa to show the photo frame, which will display your favorite family pictures or pre-loaded art, making it look like it's part of your decor.
Features like the photo frame make our devices really delightful in these communal spaces. What makes it even more delightful is when the content on the screen is personalized, tailored to you, your schedule, your tastes, and your preferences. To deliver this level of personalization, we had to build several new technologies. Let me talk about a few of them.
Last year, we introduced AZ1, a custom-designed neural edge processor. This accelerates speech recognition processing and reduces latency. Today, we're announcing that Echo Show 15 is powered by our next-generation neural edge processor: AZ2. AZ2 is a quad-core scalable architecture, capable of 22 times more TOPS. That's trillions of operations per second compared to the previous generation.
And, it can process computer vision workloads in parallel on device. This powerful processor enables customers to personalize their experience using a new feature we're calling visual ID. With visual ID, Alexa can now recognize you when you are in the camera's field of view. Once Alexa has recognized you, the ambient display will show content that's personalized for you. It will show your personal calendar, enable you to send personalized sticky notes to members of your family, or even show your recently played music.
We built visual ID with privacy at its foundation. It's optional. You have to enroll to use the feature. All processing happens on device, and you can delete your visual ID profile at any time. Personalization doesn't stop with calendars and reminders. We took it a step further.
Alexa can also personalize your preferences. Last year, we introduced the ability for customers to directly teach Alexa. Later this year, you can use that technology to teach Alexa that you're a vegetarian or a Seattle Seahawks fan. Alexa will remember these preferences when you ask her for recipes, local restaurants, or sports scores. Over the past few years, we've added the ability for Alexa to understand certain sounds like glass breaking, dog barking, or baby crying.
Alexa can even understand the sound of a snore, which has been very popular in our home. But each of these sounds took a full team of engineers to craft the right algorithm, and that just doesn't scale. Also, every household is unique. We shouldn't be the ones deciding which sounds matter to you. So today, we're introducing custom sounds, which will enable customers to teach Alexa to recognize distinct sounds in their homes. Take an open refrigerator, for example. If you teach
Alexa to learn the beeping sound that your fridge makes when it's left open, you can have Alexa send a notification to close the door so your food doesn't go bad. Our goal is for you to be able to personalize your experiences. With the introduction of visual ID, teachable AI, and custom sounds, we're one step closer to that vision of AI for Everyone. Echo Show 15 will be available for $249 later this year.
And it will receive the Climate Pledge Friendly Badge on Amazon.com. We can't wait to see how Echo Show 15 helps families stay organized, connected, and entertained. We hope it will help put time back on your side, so you can spend time with the people you love. Now, I'd like to introduce Aaron to share more about what we're doing to make that family experience even more magical.
[Soft electronic music] Thanks, Miriam. Across our entire business, we see that simple, powerful technology can help families in all aspects of their lives, a that's what drives us forward. We build ambient technology that just works so our families can focus on what they love and not the technology. As a parent, I know the importance of taking full advantage of the time that I have with my children. And at Amazon,
We are particularly focused on making that family time as memorable as possible. Often, that begins with great content. Today, we have tens of millions of parents and children who are fans of our Amazon Kids+ service. Since last year, we've added thousands of new titles to Amazon Kids+, from brands like Marvel, NatGeo, and Lego. Today, I'm happy to share even more exclusive content we're bringing to Amazon Kids+ members all around the world.
This includes Do, Re & Mi, The new Super Spy Ryan mobile game; ARPO: Robot Babysitter; and LEGO Monkie Kid — a series that's been a huge hit across Asia. And just in time for the holidays, Blippi, which has over a billion monthly views, is coming exclusively to Amazon Kids+ with Blippi's Treehouse, a new series inspiring kids to be curious and learn about the world around them. Here's a sneak peek at the fun coming to Amazon Kids+ subscribers on Echo Show, Fire Tablet, Fire TV, iOS and Android.
[Playful upbeat music] Do, Re & Mi are three little songbirds who live in Beebopsburgh together, where musical instruments grow on trees and any problem they experience, emotional or otherwise, can be solved with a song. [Playful upbeat music] [Playful upbeat music] [Playful upbeat music] Here comes Monkey Kid! Hey it's me Blippi, and I am so excited about my brand new show Blippi's Treehouse. Yeah, my friends and I get to go on adventures, go on field trips. Yeah, we learn a lot about the world around us.
So excited to see you in my treehouse. Bye. When we see that our customers love what we do, it reaffirms our belief in the power of technology to make family time, fun and even magical. It also supercharges our creativity and inspires us to keep inventing. For example, earlier this year, we introduced two new celebrity personalities: Shaquille O'Neal and Melissa McCarthy.
We love to be able to give families more ways to customize their Alexa experience, and the feedback on Shaq and Melissa has been wonderful. Building on this momentum, we will soon bring even more cherished characters and family-focused experiences into homes. Whom better to do this with than Disney? To tell you more, here's Dave and Josh D'Amaro, chairman of Disney Parks, Experiences, and Products Dave, welcome to the happiest place on Earth, so happy to have you here with us today. Josh, thank you for having me. And believe me, when I we talked about meeting here at Disneyland to share the news, it was not a hard sell. For years, me and my family have loved to immerse ourselves in the world of Disney.
Basically, every dinner conversation is a debate over our favorite Avenger characters. And some of our happiest times are here in this park running around on Thanksgiving, embarrassingly wearing stuffed turkey hats. And that's why I'm so glad to be here with you to talk about our new collaboration which will integrate the best of Disney, your world-class storytelling and the most memorable family experiences with Alexa. It's another step forward in our vision of Alexa everywhere. And it's one of the most magical applications of ambient intelligence I've seen yet. Well, you're absolutely right, Dave.
And we couldn't be more thrilled to work with Amazon and to announce an entirely new kind of voice assistant called 'Hey, Disney!' It's built on Amazon's Alexa technology. Now, whether you're at home or you're in one of our Walt Disney World Resort hotels, you'll soon be able to use an Echo device to interact with your favorite Pixar, Disney, or Star Wars characters. At Disney Parks, Experiences, and Products technology is part of our magic, seamlessly integrating the physical, digital, and virtual worlds to help our guests navigate our properties and our platforms, to immerse themselves into our stories, to connect with those that they love and share their unforgettable experiences with the world, ultimately helping us provide a better guest experience. Yeah, when I first experienced 'Hey, Disney!' I was amazed at how much work the team had done.
Having been to the parks and watched the movies for so many years, I guess I shouldn't have been surprised. 'Hey, Disney!' is a first of its kind custom assistant for Echo devices, a great example of how customers can interact simultaneously with multiple agents on a single device. And that's the beauty of ambient computing. When it's done right it enables us to bring together different solutions into one delightful customer experience. Oh, we're so excited about that. 'Hey, Disney!' has been designed to make the Alexa experience even more magical with jokes, interactive trivia, greetings, soundscapes, and so much more.
There are even some special surprises built in for fans to discover. And in addition to familiar characters from stories you know and love, we also have created a new persona, the Disney Magical Companion, to be your tour guide through all the content and features. And it all starts by saying, 'Hey, Disney!' In fact, 'Hey, Disney!' will work alongside Alexa. And we're rolling out Amazon Echo devices with access to complimentary 'Hey, Disney!' across all of our Walt Disney World Resort hotel rooms. With access to both 'Hey, Disney!' and Alexa, guests can make their stay easier. They can make it more
meaningful and more fun just by using their voice. You may ask, 'Hey, Disney!' "What time does the park open?" "Where can I get Italian food?" "When is the next bus to Epcot from my hotel?" Or even request more towels or blankets to your room. 'Hey, Disney!' will even play personalized messages through your stay from some of your favorite Disney characters. Imagine Goofy dropping in to say hello.
Your team developed 'Hey, Disney!' using Alexa custom assistant, making it easy for Disney to create their own custom voice assistant, which sounds great, by the way. Disney was able to tailor their assistant to their brand and their customers with a unique wake word, voice, personality, and a whole lot more. Plus, your team used Alexa for Hospitality to further customize 'Hey, Disney!' for use in tens of thousands of guest rooms across Walt Disney World Resort. And I love the Disney experience doesn't end when you leave the park. If you purchase 'Hey, Disney!' you'll be able to access it alongside Alexa on many of our Echo devices. And, to bring a little bit more fun to your in-home Alexa experience, we're announcing the availability of a new Mickey-inspired stand for Echo Show 5.
Well, Dave, it's been great to have you here today and share more about what we've been working on together. And as we speak, the team at Walt Disney World, they're making the final preparations for the Walt Disney World fiftieth anniversary celebration in Orlando. And we plan to share more about how our collaboration with Amazon is coming to life at Walt Disney World as part of this celebration later this week. Absolutely. I just can't wait for that. And what I love about this collaboration is that it will help customers focus on being together and creating awesome memories during their vacation.
And this is only the beginning. You can imagine even more ways to use the power of ambient intelligence to enhance customers' experience in resort hotel rooms and in the parks. Josh, thank you again for having me here today. And, now back to the Spheres. [Soft electronic music] So, you just heard some examples of how we're inventing technology to enrich family experiences.
Well now, I get to share another example. It's a product that I believe is one of our boldest bets yet. There's no denying the importance of connecting with the people we love, laughing with our kids, grandkids, our nieces and nephews, playing their favorite game, sharing a book, honestly, just getting to see those adorable faces and do things together.
It's those little moments that make our lives fuller. But, staying connected to our loved ones, especially those remote, is tough. And the last year and a half has certainly been no exception. That's why we're focused on building technology that puts these meaningful connections front and center. Families that live far from each other have long understood how technology can act as a connective thread. First, it was phone calls and text messages.
Now, video calls are the next best thing when we can't be together in person. But especially when it comes to the kids in our lives, this way of communicating can be beyond frustrating. For me, it usually plays out like this. My husband's gone on a deployment or training trip.
Daddy calls. My kids get so excited to finally see his face, and I spend the whole time trying to keep them focused and inside a moving video frame. For Pop, Grandma, Aunt Jack, it's the same thing.
But even if our options to stay connected from afar are imperfect, we try our best because we see the joy kids bring to our loved ones, and we know these relationships can be incredibly impactful. For all of these reasons, I'm so thrilled to introduce Amazon Glow. Glow reimagines the way kids can connect with remote family and friends. Our goal here was simple: create a device that can go beyond just enabling a video call - and do it with kids top of mind. And that's exactly what we've done.
Amazon Glow offers an immersive, virtual experience that brings the digital and physical worlds together. It's not passive screen time... it's collaborative and interactive.
And it lets kids, be kids. Glow combines video calling with connected activities to keep everyone engaged and visible... making virtual visits feel much more like being together in person. We took projection, audio, sensing, and video technologies to create an experience like no other... an immersive experience that makes kids and their loved one feel like they're playing together side-by-side. While kids are having fun with Amazon Glow's 19-inch touch-sensitive projected area...
remote family and friends use their own tablet to interact in a shared virtual space in real time through the free Amazon Glow app. And the eight inch LCD display is designed so the kids can see their loved one the whole time. So how does this actually work? Well, let's take a look. [Upbeat music] KID: Hi, Grandpa.
GRANDPA: Hi, Scout. MOM: Now are we going to play this puzzle together? KID: Yeah, the pieces are coming in. I want to give you a challenge on your first try. MOM: Can you find some cool stuff on this page? KID: I can see a snail, and an owl. I'm drawing the sky. GRANDMA: Oh, you made the whole thing explode. Oh, just tap it.
So watch me now. KID: OK, let's flip it, flip it Flip the triangle up. MOM: First.
KID: Day. Uh-huh? of school. MOM: Good job! GRANDMA: Did you see what I did? KID: That's where it goes. Oh, wait.
Bk-bk-bk. Yay! Chicken! DAD: Oh, good work, good work. GRANDMA: And I will put the last question. There we go. Did we do it? KID: Yep! KID: O. N. MOM: What's that one? KID: Tomorrow.
MOM: Tomorrow. MOM: I'll see you tomorrow. Love you.
KID: Bye. As you just saw, the technology behind Amazon Glow allows us to unlock some pretty cool features... like the merging of physical and digital objects. You can see this one come to life with our twist on the classic activity of Tangram. Kids use physical shapes while the remote family member uses digital ones to solve challenges together. Amazon Glow also has objects scanning, which lets kids turn a favorite toy into a digital sticker for art activities, or my daughter's personal favorite into a custom jigsaw puzzle.
And to create even more exciting content for Amazon Glow, we have collaborated with four of the leaders in kids' content Disney, Mattel, Nickelodeon, and Sesame Workshop to bring kids and their loved ones a new connected way to experience some of their favorite characters. For example: Drawing activities with Elmo from Sesame Workshop, [Sesame game sounds] Puzzles to solve starring SpongeBob SquarePants from Nickelodeon, card games starring Barbie from Mattel, [Game horn sound] and animated storybooks from Disney, like Disney and Pixar's Toy Story. Even more interactive content for Amazon Glow is coming later this year. with more arriving regularly to delight kids and families. So, if you're a games or activity developer and intrigued by the new creative possibilities with Amazon Glow, please reach out. We plan on opening our SDK to a limited set of partners in the first half of 2022.
From the very beginning of our journey with Glow, we knew it was important to design with parental controls and privacy at the foundation. Kids can only call contacts the grown-ups pre-select. And, closing the visible privacy shutter on the device will instantly disable cameras and mics. Starting today, you can request an invite to purchase Amazon Glow for the early access price of $249. We'll begin sending Glow to invited customers next month. For all of us who've been lucky enough to work on this product, we truly believe the best bonds are built when you can do things together.
And that Amazon Glow creates a whole new way to do just that... even from afar. Now, here's my colleague, Melissa, who will share an example of how this immersive, integrated technology can also extend to living healthy. [Soft electronic music] Thanks, Courtney.
Technology can play such a meaningful role in our lives. This is especially true in health and wellness. We launched Halo last year to help customers use technology to achieve better health outcomes. Halo comes in two integrated parts.
The Halo Band and the Halo service, a smart membership full of AI powered features that give you insights on sleep, body composition, movement health, and even your posture. The membership combines these insights with hundreds of premium workouts, meditations, and more from partners like Halle Berry's re-spin and Headspace. It's packed with value and it's just $3.99 a month. I love hearing from customers how Halo helps improve their health.
One of my favorite stories is from our customer, Julia, who turned small steps into big changes over time. Julia started with a very simple plan-- Reach Halo's weekly activity goal of 150 points. Using Halo's AI powered insights, coupled with trying out various programs from our Discover Content library. She adopted healthy habits that have led to more energy, restful sleep, eating better, and gaining a new sense of self-confidence. This is exactly what we want for Halo members. It's more than steps or reams of data you don't understand.
It's about helping people live well. We built the first Halo Band to be distraction free, so it has no screen. Like Dave said, it's technology that just fades into the background. And a lot of customers tell us how they love how it almost disappears when they wear it. But others have told us they want a display. And at Amazon, we always want to give customers choice.
So today, we're expanding the Halo family with Halo View. Halo View introduces a vibrant AMOLED color display that provides at-a-glance access to Halo health metrics, live workout tracking and more. It offers up to seven days of battery life so you can wear it all week. It has a swim-proof design and comes in three sport band colors.
We're also offering a variety of additional sports, fabric, metal, and leather band options. We want Halo to be the best value health membership, and that includes our hardware. Halo View will be just $79 and it comes with a full year of Halo membership included. Halo View will be available in time for the holidays.
Our goal is to continually add new features, benefits, and value for Halo members. Today, we're also adding Halo Fitness an all-new service with hundreds of studio-quality workouts to help members move more and move better. Classes are led by industry experts and integrated with Halo hardware-- so you can view real-time individual metrics, such as your live heart rate and heart rate intensity zone, as you workout. Halo Fitness will be rolling out to all Halo members starting later this year. Working out is an important part of staying healthy, but so is how you nourish your body.
What you put into your body impacts your physical health, mood, and energy levels and affects your risk of chronic disease. But knowing how to eat for your health can be daunting and feel like work. And that's why we're announcing Halo Nutrition. Halo Nutrition introduces personalized tools to help you eat better and build healthy eating habits that you can sustain.
A meal planner allows you to easily plan out a week of healthy eating, pulling from over 500 delicious recipes from partners like WW, LifeSum and Whole Foods Market. You can save time with pre-curated weekly menus. And the Halo grocery list connects with your Alexa shopping list so that you can have all your grocery needs in one place. Halo Nutrition will be rolling out early next year. Along with Halo Fitness, it will be included in the Halo membership. We can't wait for customers to try Halo View, Halo Fitness and Halo Nutrition.
These products and services are examples of how we bring together different facets of your life to create comprehensive and accessible solutions in a way that only Amazon can. And, we're constantly pushing ourselves to think of even more ways we can help make our customers' day-to-day lives easier. To show you more, here's Jamie. [Soft electronic music] Thanks, Melissa.
Through the work of innovators around the world, including our developers and third-party device makers, our homes have started to become more ingrained with the ambient intelligence Dave talked about earlier. In fact, customers have connected more than 200 million smart home devices to Alexa... from lights...to grills. They're connecting millions of new devices each month. And today, more than 17 million users choose Ring to protect their homes.
We remain committed to innovating around privacy and security. Last month, Ring added support for Authenticator apps to our Two-Step Verification options We've also expanded End-to-End Encryption to be available globally and support more devices. The reason we're connecting more and more smart home devices is clear: customers want a home that works on their behalf. It's 2021. Why should you have to take out your phone to check your security cameras, or wake up in the middle of the night to make sure your TV is turned off? Wherever possible, your home should do all of that for you. Today, I'm excited to show you a few of our latest inventions, which do all of that, and a little more...
Most people think the innovation behind Ring was the Ring video doorbell, but the real invention behind Ring was and still is our mission: to make neighborhoods safer. This mission and our tagline "Always Home" are perfect illustrations of the idea that ambient intelligence will be everywhere you need it to be, including the places you aren't. Last year, we unveiled Always Home Cam, an autonomous indoor flying camera, And we've seen a lot of excitement from our customers. Let me tell you, it's taken a lot of hard engineering...
turns out, learning to fly is pretty tough! But it's certainly been worth it One of the benefits of my role is that I get to be customer #1 on a lot of our prototypes. And I have to tell you, the first time I saw the point-of-view footage from Always Home Cam flying through my house, my head exploded. I now know how that emoji really feels. If a picture is worth 1,000 words, Always Home Cam might be worth 1,000 cameras. With this device, you no longer need to have a camera installed everywhere, since it can basically fly anywhere inside and give you the view you need ... when you need it. For example, when you're away, you can just press a button, it'll fly a preplanned route and show you what's going on.
It can also be set to do routes based on a triggered event, like flying to a Ring Door Alarm sensor when it's tripped in Away mode. And, like all of our products and services, privacy is foundational. The camera lens is covered when it's in the dock, and it only films when it's in motion. Today, we're opening up the invite list for Always Home Cam. If you want to be one of the first to get your hands on this device, I would sign up quick.
Ring's roots are in innovating around the physical security needs of our neighbors, what we call our customers. But more and more, our information, our finances, and even our valued possessions like pictures, have moved to digital. So in order to truly achieve our mission of making neighborhoods safer, we realized we have to consider both the physical and digital security. This led us to working with the team at eero-- who have been delivering world-class wifi coverage, online security features, and easy set-up for years. Customers love eero-- since the start of 2019, the number of active eero networks has increased by 5 times.
Which is why we felt so lucky to be able to bring Ring and eero's award-winning brands together. Meet Ring Alarm Pro, a Ring Alarm base station with an eero wifi 6 router built-in. And this combination has unlocked so much more... Ring Alarm Pro has: Alarms that help protect against break-ins, motion detectors to alert you when something unexpected is on your property, and fast and reliable wifi connectivity. And with a Ring Pro Subscription, you get: Professional monitoring, advanced protection against online threats to help keep devices safe with eero Secure.
And 24/7 internet backup, allowing all the devices that matter to your most-- including security cameras, laptops and yes, even that Xbox--stay connected. I could not be happier about the fact that we will never hear "Dad, the internet is down" at the Siminoff house again. Ring Alarm Pro is packed with computing power, including an advanced processor, which allowed us to build Ring Edge. With Ring Edge, Protect Plan subscribers can insert a microSD card into the Alarm Pro and have all of their Ring cameras process and store videos locally. This gives customers even more control of their videos, and reduces the bandwidth used by their cameras. Ring Edge allows our customers to take advantage of the privacy, latency, and future advanced features that come with computing at the edge.
Ring Alarm Pro will be available for pre-order today. And just like all Ring products that are shipped, my email is on the side of every box, so I can't wait to see what our neighbors think. We believe Ring Alarm Pro will bring our neighbors incredible benefit.
And it has so many potential applications that we didn't even consider when we started. Most construction sites in our neighborhood have almost no security, at best a padlock on the fence. That changes today, with our new exclusive offering with Home Depot: Ring Jobsite Security. With Ring Alarm Pro at its core, Ring Jobsite Security will help pros keep an eye on their jobsite and protect their tools, supplies and--not to be over the top-- but literally their livelihoods. With the addition of a Ring Protect Plan, it can work off a cellular-only internet connection.
All you need to do is plug in the base station with the protective case. The included cameras could be wireless, using battery or solar. Ring Jobsite Security starts at $399 and is available for preorder at HomeDepot.com. Ring's "Always Home" offering brings security and peace of mind to millions of small businesses and homes, including mine. But believe it or not, I do like to sleep, and while Ring has increased the awareness of what is going on around my home to levels I could have never imagined, it would be nice if someone else could maybe watch it while I get a little shut eye.
That's why I'm proud to introduce Ring Virtual Security Guard, a new subscription service where a customer can choose to have a professional security company visually monitor their Ring cameras. So, you can go to sleep, or relax a little extra on vacation, knowing your home has an extra set of professional eyes on it. Ring Virtual Security Guard brings the peace of mind of having an onsite security guard, at an affordable price. With this service, you choose which of your cameras are monitored. If one detects motion when your Ring Alarm is armed, a security professional quickly checks the live feed and can respond to any unwanted activity.
Let's say someone is looking through the window at your small business or home.. they can speak to the person via two-way talk and take the appropriate action-- like dispatching emergency services-- based on your preferences. We think customers are going to really value having the Ring virtual security guard service-- it's another way your systems and home can work harder on your behalf.
We'll be launching with our first partner, Rapid Response, and then be expanding to other third-party security providers in the future. You can sign up today to get early access for free. After that, Rapid Response's monitoring will start at $99 per month, per location. One of the things I've loved about Ring joining Amazon is getting to work with other brands and team members who are focused on building great products on behalf of customers --like Blink. Blink's passionate team continues to deliver on their customer promise of easy- to-use, affordable smart home security solutions. And this customer- first focus is paying off: In 2021, we sold three times more Blink devices than we did in 2019.
When the Blink team and I started talking about their next product, I didn't have to look too far for inspiration. This year, I'm pleased to share that the Blink line-up is expanding with the first-generation Blink Video Doorbell. Blink Video Doorbell is designed for every home--you can install wired or wire-free. It comes packed with features, like long- lasting battery life, HD video, night vision, motion detection, two-way audio, and alerts integrated with Alexa.
Blink Video Doorbell will be available starting at just $49 In addition, we're introducing Blink Flood Light Cam, a battery-powered smart LED floodlight that works with the Blink Outdoor Camera. And for power, we're now offering Blink Solar Panel Mount, a wireless accessory powered by the sun. We work very hard to give customers choice. Every home is as different and unique as our fingerprints. And as AI understands more about the state of your home, it is able to create a tailored experience based on your unique needs. I always say our best feature at Ring is our advanced motion detection.
That said, our neighbors often reach out to me asking for more intelligent detection features and the ability to refine their alerts. And starting today, Ring customers can enable package alerts on select Ring Video Doorbells, so you'll always know when that package arrives. Package alerts are great, but we thought: "why should your camera maker limit the number or type of detectors you can have?" Today, we're announcing Custom Event Alerts. Like the Custom Sounds that Mirium talked about earlier this is a new feature that allows customers to create unique, personalized detectors on Ring cameras that are specific to the objects in their homes that matter most. With Custom Event Alerts, you don't have to wait for us.
You have almost unlimited options to build and get the alerts you want. For example, I have a Ring Cam on the front of my house, and I've trained it to tell me when a car is parked in the driveway. So now when someone comes over, instead of just the standard motion alert, I get a specific notification that a car is parked there. Custom Event Alerts allow us to teach AI about the state of the home. Another way to do this is with Alexa Routines, which enable your smart devices to do what you want, when you want.
For example, I used to forget to turn off a bunch of lights in my house when I go to bed. With Alexa Routines, I've taught Alexa to do that for me with a simple, "Alexa, Goodnight". This year, we're making Routines even better by leveraging ultrasound motion detection. If you choose to enable ultrasound on a supported Echo device, the device emits an inaudible ultrasound wave through its speakers, which reflects off nearby objects before traveling back to the device's microphones. It's just so cool. Alexa can then use this to automatically perform actions like turning off your Fire TV if it was still on when you left for work.
From Custom Event Alerts and new routine triggers, to the Ring Virtual Security Guard, and Ring Alarm Pro, expanding end-to-end encryption, two-factor authentication options, and of course, Always Home Cam.. I'm really proud of all the ways we're making homes work smarter-- and harder--for our customers. This is one of our most inventive product line-ups ever, but what's most important to me is that every day we continue to deliver and focus on our original invention: our mission, of making neighborhoods safer. And when neighborhoods are safer, you have more peace of mind. So now, to share a bit more about how we're delivering peace of mind for customers in other ways, here's Debra.
[Epic electronic music] Thanks, Jamie. You heard us talk today about building ambient experiences that are easy to use and incredibly beneficial for customers. And we hear from people every day who share their stories about the positive impact Alexa has had on their lives-- let's take a look. [Soft music starts] So, my name is Sarah. My name's Joe Sullivan.
SARAH: One day, you know, I was outside doing some yard work, and I felt burning on my hands. I was being stung. JOE: I have been caring for my special needs son for 32 years.
He now is residing in a facility about 10 minutes away from me. SARAH: I jumped up and grabbed my phone, called my husband, and I said, "oh my gosh. I was stung," and realized that they were in my clothes. My motor functions had started to fail. And as soon as I got my husband on the phone, I let him know that something was wrong. And with that, I had gone unconscious.
JOE: Even though he's nonverbal, he does communicate, you just have to learn how to listen differently. And there are few people that can do that with him. And he and I are one. SARAH: My husband dialed 911 from his work phone. And from his personal phone, he instructed my son and my neighbor how to administer the EpiPen.
And was able to do all this through our Alexa device. JOE: My son, when we get to see each other, often, if not in person, we're visiting on the Amazon Echo Show. The Echo Show has just given me the capability of maintaining the relationship that I want to have with my son. SARAH: If my husband hadn't made the decision to Drop In on the Alexa and tell my son exactly what to do, I wouldn't be here. JOE: Just for me to simply see him on a nightly basis, that gives me peace of mind.
SARAH: Our devices at our house, they're so much more than just shopping and music. You know, for us, it's... it's part of our family. [Soft music ends] Joe and Sarah--who's actually one of my colleagues at Amazon-- aren't the only examples of how Alexa can help give people greater independence and peace of mind. In my own family, we gave my 90-year-old uncle an Echo Show for his birthday and set up Care Hub, a set of features we announced last year. It's been amazing to see what the power of voice has unlocked for him: a renewed sense of independence, because now he can use Alexa to call us, or check his sports scores ... and the reassurance that his family is only a Drop In away.
As Melissa said earlier, stories like these motivate us to double down, and invent where customers need it most. That's why today we're introducing Alexa Together, a new service designed to help aging family members feel more comfortable and confident living independently, and give their families the reassurance of knowing they're doing well. This new subscription takes what our customers have loved most about Care Hub-- like Care alerts, easy ways to stay connected, and privacy by design-- and delivers an even more helpful experience. Alexa Together includes an Urgent Response feature, enabling hands- free, 24/7 access to a professional emergency helpline. It's also compatible with third-party devices that can detect when someone has fallen at home. I love knowing my uncle will be able to just ask Alexa to call for help, and Alexa will immediately connect him to a professional service.
Alexa will also proactively notify me, so I'm kept in the loop too. We know that caregiving isn't easy, and for many, it's shared among family members. That's why early next year, Alexa Together will make it possible for multiple people to provide support for a loved one.
Whether you and your siblings are both caring for your mom, or you have neighbors nearby who are helping to check-in on your grandpa, everyone can help pitch in and stay connected through the single subscription. And finally, your aging loved ones can choose to set up Remote Assist, making it simple for you to help them get the most out of Alexa from afar. Now, you can act as an easy IT resource for your mom or dad, even when you're a couple of states away. As a caregiver, you can do things like set up reminders on your loved one's devices or link to a music service so they can easily play their favorite songs. You can also add contacts to their Alexa account so they can call friends and family, hands-free. Alexa Together will be $19 a month, and you can try it for free for six months.
And, as a thank you, we'll offer a free year of Alexa Together to all of our current Care Hub customers. I can't wait to set this up for my uncle, and see how it helps him to continue to thrive. And now, to tell you about one last device that delivers peace of mind-- and a whole lot more-- here's Dave. [Upbeat electronic music] Thanks, Debra.
Often, it's the dreamers, the people who write science fiction, who are decades ahead of the builders. It's the dreamers - people like Roddenberry and Asimov - who set the direction. Take robotics, for example, a staple of many of the TV shows that I grew up with. In these shows, robots were ubiquitous and made people's lives easier.
In 5 to 10 years, we believe every home will have at least one robot. They will become a core part of your everyday life. You've already seen some of our early work in this area.
Last year, in addition to Always Home Cam, we introduced Echo Show 10, a device that can rotate its display to move with you around the room. And we found that just a little bit of movement makes the experience even more magical for customers. Now, let me show you something else we've been working on. "Astro join me on stage." [Astro tones] [Astro tones] Today I'm thrilled to introduce you to a new kind of household robot that integrates Alexa, advanced hardware, software, computer vision, and AI, in a brand new way.
And it's a beautiful illustration of how ambient computing can improve customers' lives in a way that traditional consumer electronics just can't. I've had this robot in my home for about a year, and it does so many delightful things. Let's just start with two that Jamie and Debra spoke about earlier: peace of mind and remote care. Even in homes as "Alexa-fied" as mine, there are still lots of things my home can't do, because my devices are stationary. This robot changes all of that. With live view and the app, you can send it to check on specific rooms, things, people, even pets.
For example, the other day when I was at work, I was checking to make sure that our dogs weren't lounging on the couch they're not allowed to be on. Sure enough, they were on the couch. With the periscope cam, I can also expand my field of view. Technically, building this periscope was incredibly hard, but it's so helpful if you're away from home and want to view things a little higher up - like checking to see if the stove was left on. When you combine the robot with Ring Protect Pro, you get so much more. Now, when you're away, you can use it to proactively patrol your home, investigate activity, and send you notifications when it detects something unusual.
All the while, you have the option to save these videos to your Ring account. As I've had this device in my home, I've started visualizing who in my life could really benefit from it. I have an 85-year-old dad, who I love dearly. And he's in great shape, but he lives 1,500 miles away. If I could give him a device that helps him live independently, and gives me peace of mind, that is truly priceless.
Now, I can call my dad, and it will go find him to deliver the call. Or, my dad can set up a routine that sends me a message when he's up and about. And with Alexa Together, if anything goes wrong, I know he can call a specialist 24/7. We learned early on in this program that customers don't just want Alexa on wheels. To that end, we've embodied it with a unique persona that is all it's own.
From adding eyes to the display, to a whole host of sounds, the device really comes alive. Let me give you a quick example. "Astro Beatbox." [Astro listening sound] "Beatbox." [Whimsical music starts] I just love that one.
"Astro, take a break." There are so many ways that customers will be using Astro. For instance, it'll bring all of your favorite Alexa features like music and news, podcasts and timers, directly to you. Or if you're doing a video call, Astro will move around with you in the house, so that you can continue the conversation. Of course, with a new device like this, we had to think about privacy at every turn. In addition to the many privacy features that customers are used to with Echo devices, we built brand new features, as well.
Customers can set out-of-bounds zones to denote areas where they don't want Astro to go. And you can also turn on "do-not-disturb," which will minimize how much Astro moves during certain times of the day or night. We've also embedded AI processors inside of Astro to allow for as much edge computing as possible. When we kicked off this project, I felt sure that autonomous navigation in the home was a solved computer science problem.
Four years later, I admit...I for one, truly underestimated the challenge. Every day life is messy. Floorplans vary, furniture comes in different shapes and sizes, pets move around, and people are constantly setting down sneakers and bags that can block Astro's path.
And unlike roads, your house doesn't have lines or maps that help with navigation. The team had to solve for all of that, inventing an entirely new technology construct, one that integrates autonomous movement, home mapping, visual understanding, and more. We had to leverage AI in so many new ways, including using deep neural learning to map anchor points throughout the home, and building new dynamic SLAM algorithms that are constantly refreshing. Now, who better to tell you more about this project than the team that knows it best Let's go ahead and roll the video. This type of product didn't exist. It was an unrealized vision for many years.
I was really excited to be able to work on something that was so complex, and so sort of new, within Amazon as well as new-to-world. It's taking science fiction and making it a reality. [music] [Astro tones] In one of the senior management meetings, we talked about, "Does anybody in the room think that in 5, 10 years, you're not going to have robots in your home?" And everybody's just like, "Yeah, we are." So we said "Well, let's get started."
So that's when we really started to get into a lot of the fun experiences around sort of inventing um what the customer experience should be for a feature that was just a line on a piece of paper prior to that. We've pulled together technologies from all these different areas to build something that so many roboticists have been dreaming about or thinking about. The question wasn't, "Should we build it?" But "Why wouldn't we?" Now Astro can see, infer, hear, understand. But then you add mobility on top of it. Astro is a robot that can go up to a meter per second.
It has to detect walls. It has to detect challenging situations. This is going to be an autonomous device that's driving around your home. We had to make sure that there was a system that was always looking out. And can stop Astro in a moment's notice. SLAM is Simultaneous Localization and Mapping.
This is a standard term used in robotics. It's an old problem. It's not a new problem. The complexity is immense. It's well-known in the SLAM community that people will sort of say, we solved the math 20 years ago. We still haven't figured out how to do it.
And this is a great example of how you have actually taken the math and delivered a truly impressive system. The robot has these cameras and it'll look around and it'll find points and it's able to see if it recognizes where it is in this cloud of points in space. Astro is doing millions and millions of calculations every second. We have multiple neural networks running in parallel, based on camera input. We have multiple planners in this thing, figuring out what to do and how to tie it all together.
And kind of the neat thing about it is it's all packaged up within one robot. Astro does SLAM really well to be able to do it locally. Do it so fast. Map out the, the world so quickly.
I'm I'm really impressed. Navigating autonomously and, um you know, building a map of its own. I mean, that is incredible. We took inspiration from science fiction and movies and cartoons. Places where people have looked into the future and thought about "What could it look like to have something in the home to help you?" We wanted to create a personality. Out of the top 100 robots that people love, only 5 of them didn't have eyes.
It's effectively this universal symbol for communication. And we are able to communicate a lot of things that we otherwise wouldn't necessarily have been able to. Also, we got to really think about, you know, what should a robot sound like? Phonemes and motifs, and you know, creating chords. Most consumer electronic devices are just nuts and bolts. You turn it on, it plays a sound. That's it. Astro comes to life.
This is our first robot, not our last robot. I think I'm excited to be able to launch Astro and share this with my friends and family, and point to Astro and say "This is what I've worked on." It's unlike anything I've ever done before. And the technology that we have built, I look at as foundational.
Oh, Astro's a huge step forward. The next question will be when should I get one? I am so proud of all the hard problems that the team solved to make Astro a reality. Astro is part of our Day One Editions program, which is designed to bring our most ambitious ideas to life.
Astro will be available for an introductory price of $999 Starting today, you can sign up to request an invite, and we plan to start granting invitations, and shipping the device, a little later this year. Astro already does so much, and we've just shown you the tip of the iceberg. Like Alexa, which has continued to get smarter since we launched 7 years ago, Astro too will get smarter and more capable over time.
We have shown you a lot today. Products designed to reduce your environmental impact. A reimagined home hub.
Devices that bring families closer together. Products and services that help people on their health and wellness journeys. New security devices from Ring and Blink to help you make your neighborhoods safer. And of course, Astro.
All the while, showing you that we can make AI simple enough for everybody, and move more and more computing to the edge. The reason we do this is simple: Because it matters to customers. And because we believe, when we're at our best, our products can solve the hard problems behind the scenes, so customers can spend their lives focusing on what matters most to them. Thank you so much for taking the time to tune in today. And stay well. [Uplifting music]
2021-10-02 19:40
Show Video
Other news