Interactive AR and 3D Experiences | Amazon Accelerate 2023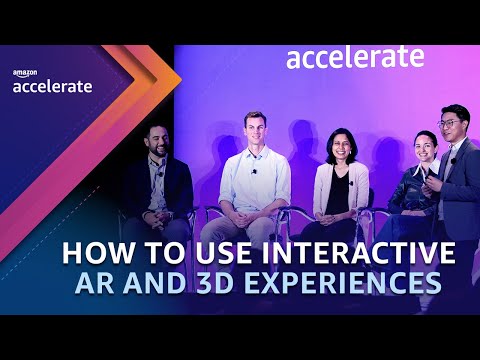 Show Video
(upbeat music) (upbeat music) (upbeat music) - [Speaker] Please welcome Bonaire Le. (upbeat music) - Hello everyone and welcome to "How to Enhance Customer Engagement with Interactive Augmented Reality and 3D Experiences." My name is Bonaire, I'm head of product for 3D and AR tech in Amazon fashion and fitness and I'm thrilled today to highlight Amazon's innovations in the AR and 3D space, launched to better build your brand and help customers better engage with your products. Today I'm accompanied by a panel of subject matter experts and product leaders who will join me on stage at the end of our discussion and presentation today to answer any questions you may have around the technologies we present, as well as how you can get these enabled on your detail pages.
These are just a handful of the Amazonians who are working tirelessly behind the scenes whose goal is to ensure that you and your brand continue to accelerate growth, reach, engagement, and success on Amazon. Today, in this talk, I'll take you through Amazon shopping innovations and our customers. I'll share why we innovate not only for customers of today but also customers of the future. We'll highlight the benefits of augmented reality and 3D on your product detail pages, how customers are responding to these experiences, and why we're excited about the impact of 3D content on detail pages overall.
We'll then take a closer look at each of the experiences in Amazon's portfolio for augmented reality and 3D. All of these experiences are live today and help customers better shop with confidence. We'll share how they've performed and what it can do for your products, whether it's furniture, consumer electronics, beauty, eyewear, shoes, and more. Most importantly, I'll share how you can get 3D content enabled on your product detail pages today. Whether or not you have 3D content already available or you're looking to enter into the 3D space, you can activate our experiences in five easy steps.
Ultimately, this will allow you to benefit from the lists and customer engagement that we're seeing through these experiences. Finally, as mentioned, we'll end with a Q&A session. Our subject matter experts will join me on stage and we'll answer any questions that you have. As we go along in our talk today, if you do have any questions that come up, feel free to submit them through our breakout sessions page in the Accelerate app.
You can reach that by scanning the QR code using the in-app scanner and submit questions as we go along. These will be queued up backstage and we'll be able to address them at the end of our talk. Before we begin, I'd like to share a brief video for you to see and hear from our customers directly why they're so excited about the augmented reality and 3D experiences that we built and more importantly, what it can do for your brand. (upbeat music) (upbeat music) (upbeat music) (upbeat music) (upbeat music) (upbeat music) (upbeat music) (upbeat music) (upbeat music) At Amazon, we are customer obsessed. Our innovations start by listening closely to the voice of our customers and that means it is always day one for us as our customer's needs change and evolve with time. We're constantly innovating on behalf of our selling partners and our customers and for selling partners like yourselves, we want to make Amazon the best place for you to launch and build your brand.
What that means in terms of innovation for us is it means that we're trying to find ways to continually excite customers. We're connecting and engaging them with your product and addressing their needs and building new ways to discover, shop, evaluate, and purchase. As a brand, we know that you spend hours creating, curating, and perfecting your products for customers. At Amazon, we're taking our innovations to ensure that we're elevating that further, enhancing engagement with those products, providing better evaluation of the features that you've created, and ultimately enabling customers to shop with confidence. Customers are constantly looking for new and better ways to engage and evaluate products before they purchase. Does the appliance they're looking to shop for have the right features? Do the sunglasses they're interested in buying actually fit their face? Does the lipstick match their skin tone? Does the chair that they're looking to buy for new furnishings actually fit in their room and compliment their environment? Customers have told us in resounding feedback, "I want to see photos showing all angles of my products."
"I want to easily understand the size and dimensions of the products from a photo." And we listened very closely to this feedback. With augmented reality and 3D experiences, we're enabling customers to experience products in all dimensions while shopping online. They can visualize products in their space through View In Your Room, whether it's furniture, appliances, TVs, rugs, and more.
They can try products on themselves, shoes, eyeglasses, makeup, and with View in 3D, customers can see products from all angles in great detail. We're moving beyond the limitations of 2D and we're solving today's customer's problems, bringing them to an interactive and immersive shopping future. While we listen to the customer needs of today, at Amazon, we're thinking forward to the customers of the future. Emerging customer groups like Gen Z who are the first digitally native generation, all use visual communications with 95% of them using them in their day-to-day life.
A further 92% are interested in using augmented reality for shopping. More and more, camera first interactions are a natural and inherent part of the way younger generations, whether Gen Z, or the further emerging Gen A, drive engagement. Augmented reality enables immersive experiences on your device and has a very high influence, driving the way younger customers and generations experiment, experience, and ultimately purchase your products.
So we talked about the needs of the customer but how does that translate to business impact? We've been thrilled with how customers are responding to these experiences. For products enabled with augmented reality and 3D experiences, they experience a 1.5 to 3.5 times higher purchase conversion versus products that do not have these experiences enabled. on the detail page. 95% of customers find our experiences easy to use.
92% find our features helpful in making a purchase decision, ultimately driving confidence in what they've purchased and ideally reducing return rates. Over 80% of customers are also likely to use our experiences again. At Amazon we are thrilled with the customer response and we'll continue to innovate, scale, and build more experiences to extend these features to make 'em as pervasive across Amazon shopping as possible. We truly believe in the transformative impact these experiences have had with brands who have 3D content enabled on their product listings and we hope we can share with you some of those experiences today. For over eight years Amazon has been building and innovating on 3D interactive experiences for our customers.
In 2015, we launched our first augmented reality experience with TVs. Two years later we launched View Your Room on Floor, which allows customers to visualize products in their space. It is currently the most widely enabled augmented reality customer experience on detail pages.
In 2019, we launched our first Virtual Try-On for beauty experience with lipliner and eyeliner and in 2020 we launched Save Your Room, an extension of View In Your Room where customers can take a photo and decorate their room offline as they please. In 2021, we launched Virtual Try-On for eyewear, our first augmented reality experience for fashion and in that same year, we further extended beauty Virtual Try-On to lip color and hair color. 2022 for us was the year of the shoe. We launched our first View in 3D experience with shoes and quickly following, we launched Virtual Try-On for shoes which enables augmented reality based experiences for customers to see shoes on themselves.
This was initially launched with sneakers and since then has expanded to multiple different shoe categories and product types. This year in 2023, we are not slowing down with our pace of innovation with six launches year to date. We first started with launching View in 3D to furniture in January. We then launched 3D content upload in Seller Central, enabling you as brand owners and selling partners to get 3D content enabled on your detail pages. We then further expanded beauty Virtual Try-On to eyeshadow in high demand product category for our beauty customers.
We then further innovated to launch a mobile 3D asset scanning feature in the seller mobile app, currently available on iOS. Just a few months ago, and as you may have heard earlier today in the general session, View In Your Room for Tabletop launched, enabling customers to take that same great visualization experience of in their space on floor to tabletop experiences where they now can see small appliances, lamps, and other products in their space, driving confident purchasing decisions. And just a couple months ago we launched View in 3D for eyewear. There's so much more to come, but now that we've walked through our arc of innovation at Amazon, let's take a closer look at our experiences. View in 3D is our highest performing 3D experience in customer satisfaction.
It is also the most wide reaching shopping experience that can be enabled on virtually any product as long as we have 3D content available. In a 3D viewer, customers are able to see products from all angles and in great detail. They can pinch, zoom, rotate through an easy, intuitive, and in-hand like experience. It is currently used by millions of customers worldwide each month and enabled on a very wide range of product types, which we are continuing to expand through the rest of year and into 2024. Products enabled with View in 3D benefit from two to 3.5 times higher purchase conversion
on average versus products that do not have this 3D content feature enabled and it's currently live in 11 stores worldwide. Since its first launch with augmented reality on TVs in 2015 through to where it is today, with its experience on Tabletop, View In Your Room has grown to become a customer favorite in augmented reality experiences on Amazon. We're enabling customers to visualize just how products fit in their space with dimensional accuracy, whether it's rugs, tabletop appliances, TVs, furniture, wall fixtures, we're helping customers better confidently purchase these high consideration purchasing decisions. In a fun and interactive way to visualize products in your space, customers are able to utilize augmented reality and a live camera feed to dynamically see and interact with products in real time. We also provide customers with the option to take a picture of their room and decorate it offline.
In the past five years, active customer usage of View In Your Room has grown by eight times. Additionally, products with View In Your Room enabled have experienced two to 3.5 times higher purchase conversion on average versus those that do not have this feature enabled. It is currently active and live on over a million products worldwide and live in nine stores. When shopping for beauty products, customers want to be able to ensure that the product that they're trying on, whether it's lipstick, eyeliner, eyeshadow, that these products compliment their skin tone and facial features. Using augmented reality or empowering customers to confidently find and purchase the right product for their unique selves.
Using front facing augmented reality, customers are able to try on makeup products on themselves in real time. We also provide them with the option to upload a photo of themselves if they prefer not to use the camera or they can select from 38 diverse model images. With our state of the art machine learning, we can identify facial feature regions, extract and render color and makeup material properties, all from brand product data.
Over the past year, customer engagement with this feature has doubled and one in five customers that utilize this feature end up making a purchase. It's live on over 70,000 different products and this experience is eligible for products in 11 stores. For eyewear, one of the biggest questions customers want to answer is, "Will this look good on my face? Does it compliment my facial features or bone structure?" Using augmented reality, customers can try on eyewear on themselves in real time from all angles. They can easily tap through lens and frame combinations and a fun and playful experience. To date, we are thrilled with the rate of adoption of this technology by brands with over 99% of our top 200 performing brands on Amazon having Virtual Try-On for augmented reality, Virtual Try-On for eyewear with augmented reality enabled across a portion of their product catalog. This feature supports a wide variety of eyewear styles and you're noticing a trend here similar to our other experiences, products enabled with augmented reality Virtual Try-On experience 1.5
to 2.5 times higher purchase conversion on average versus our products that do not have this feature enabled. Whether they're looking for shoes that compliment their outfit, seeking inspiration, trying out new trends, being adventurous about a new color, customers are looking for ways to better visualize shoe products on themselves before purchase. Using our in-house computer version and machine learning models, customers are able to see shoes on their feet in real time from all angles.
With the tap of a button and in just seconds, they can see multiple colors and styles and this can be done from the comfort of their home, on a bus from anywhere virtually where they choose. Within one year of launch, over 75% of our top 200 popular shoe brands on Amazon have augmented reality Virtual Try-On for shoes enabled. Similar to eyewear, shoe products enabled with augmented reality Virtual Try-On experience 1.5
to 2.5 times higher purchase conversion versus products without this feature enabled. We originally launched this in 2022 with sneakers. We continue to expand it to other two categories and this is currently live in 11 stores worldwide. So we've looked at Amazon's growing portfolio of augmented reality and 3D experiences, we've highlighted the customers are responding with over 95% of customers finding them easy to use.
We've also demonstrated that purchase conversion lifts with products enabled with augmented reality or 3D content ranges from 1.5 to 3.5 times higher versus products without. I'd like to share a few examples of the brand impact and success stories that have come through 3D content enablement. Maybelline believes in makeup for every look, style, and skin tone and Virtual Try-On helps customers connect with their products and find their fit. Today, Maybelline has over 80% of their lip products enabled with Virtual Try-On, leading to over hundreds of thousands of customers using this product and using Virtual Try-On per quarter.
Maybelline has also benefited from high engagement and conversion on products enabled versus those without virtual try enabled within their catalog. SOJOS is a female founded eyewear brand that sells on Amazon with stylish, luxurious sunglasses through collaboration with top designers across the US, Italy, and Spain. Through partnership with Amazon, SOJOS was an early adopter of Virtual Try-On for eyewear with over 85% of their catalog enabled today. This high coverage across your product catalog has led to increased customer engagement, purchase conversion lists on SOJOS eyewear, outpacing those of average purchase convergence for eyewear in general. As of July with the launch of View in 3D on eyewear, using the exact same 3D asset that enables customers to try on eyewear through Virtual Try-On in augmented reality, SOJOS now is able to unlock View in 3D on every single detail page where they have 3D content.
This speaks to the power of being able to unlock multiple experiences by investing in just one 3D asset. Adidas has a mission to be the best sports brand in the world by revolutionizing shopping experiences for customers. As one of the first adopters of Amazon's augmented reality and View in 3D experiences technologies at the launch in 2022, they're innovating alongside Amazon to revolutionize the way that customers shop for shoes in Amazon stores. With 80% of Adidas originals and over 50% of total Adidas shoes enabled with Virtual Try-On and View in 3D, millions of customers worldwide are able to engage and interact with Adidas products in brand new ways. The products enabled with Virtual Try-On and 3D, shopping technologies have experienced higher purchase conversion which has led to lifts in sales for Adidas and it has also resulted in a reduction in return rates.
Soundcore was looking to launch and promote a flagship truly wireless earbud, the Liberty 4 NC, which provides 98.5% noise cancellation. They partnered with Amazon brand Innovation Labs earlier this year to enhance and elevate the Virtual Try-On experience and bring their product to life in their brand stores. This allowed them to highlight key performance features through Amazon's new experience for customers. Using the same 3D asset that powers augmented reality and View in 3D, brands can now unlock Immersive Brand Stores that have scroll responsive content. This is our latest innovation at Amazon where customers are now able to visualize products in a new and interactive way, bringing products to life from all angles. We've also seen increased customer engagement through enabling Immersive Brand Stores and if you're interested in getting this enabled for your products, talk to your Amazon or ads point of contact to learn more.
So we've talked through some success stories but these are only a handful of the brands who have benefited from having 3D content enabled on their detail pages and product listings. Just as we at Amazon have been investing in ways for customers to better shop with confidence and view and engage with your products, we also are innovating and investing in ways to make it easier for brands like yourselves to enable 3D content on your products and increase customer engagement. So here's how you can get started and enable 3D content on your product listings. If you already have 3D assets, you can upload your files using the new self-service, 3D upload tool integrated into Seller Central.
This is currently available for six countries across the US and EU and we're continuing to expand this feature worldwide. If you do not have 3D assets yet and you're looking to enter into the 3D space, work with a 3D content creator to generate 3D models for your products. You can also try our new 3D scanning experience available in the Amazon Seller mobile app. This is available on pre-approved products. For beauty products, specifically, all sellers and brands are eligible to enable Virtual Try-On. Talk to your Amazon representative to identify the products you'd like to enable.
What we'll need are accurate details as well as reference images to ensure that what we're rendering is true to life of your product itself. So if you're new to 3D content, here's the five step process that you can take to enable them on your product listings. First, you'll want to identify eligible 3D products of your catalog that you'd like to have live with augmented reality or View in 3D.
You want to find a 3D content creator who will then be able to create the 3D assets that you need. You'll want to make sure that you review and share Amazon's file specifications to make sure that the 3D assets created are interoperable with our detail pages. You'll then upload those 3D assets and finally you'll check their status for publication and perform some quality checks. In those five steps, you'll be able to benefit from the increase and enhance customer engagement that we've talked through today. If you already have 3D assets available, you can skip to step three.
What you'll want to do is validate that the existing 3D assets you have available meet Amazon specifications through file type, size, et cetera. Then you're ready to upload. Let's take a closer look at step four in terms of what that looks like. As mentioned, self-service upload launched earlier this year and this can be reached by going to Seller Central, accessing the dropdown menu, going to the upload images portion of the portal, which will take you to the Image Manager, and through that you'll get to a point where you can reach bulk image uploads and 3D models. As part of this process, we'll need two to 10 reference photos, product dimensions in addition to the 3D model.
This allows us to ensure that what we're rendering on the detail pages is as true to form and realism as the products that you've created. For experiences like View In Your Room, dimensional accuracy is very important, so you want to make sure that you pay close detail in terms of this uploading process. Currently this is available in six marketplaces and we have future expansions coming. For those looking to get started with 3D content creation, Amazon has done a little bit of that legwork for you. We've identified industry leading 3D content creators for you to partner with, making it easier for you to jumpstart your business with 3D content. Hexa, SuperDNA, and Loft3Di have been pre-vetted and are able to create 3D assets to Amazon standards and specifications.
Additionally, they're familiar with our upload process to ensure that 3D content is enabled in Amazon stores. Because each of these external content providers have been pre-vetted, this further simplifies that five step process for you to enable 3D content and onboard them to your products. Now, steps three, four, and five are streamlined and can be managed by the certified content creator themselves. These content creators are insured to create 3D assets that align with Amazon specifications. They have integrated asset sharing with Amazon and they have streamlined quality checks as well.
What this allows you to do by working with a Amazon certified content creator is fully streamline 3D content enablement through a hassle fee process. Some brands may want to be more hands-on in the 3D content creation process and we recognize that. Some brands may want to manage a portion of 3D content creation in-house whether that's due to current size of business or scale. So Amazon has innovated to enable mobile 3D scanning integrated into the Seller mobile app available on iOS. By using this feature, you can save up to 45% on average in time savings, which will lead to a reduction in cost and once you've ramped up to the scanning process, it typically takes five to 10 minutes per ASIN to scan. This allows seamless integration as well into the image portal for Amazon, and as mentioned, it's currently available on iOS devices today.
So in today's talk we've shared why we continue to invest on behalf of our customers and selling partners like yourselves to transform shopping experiences in Amazon stores. Across our growing portfolio of experiences, whether it's View in 3D, View In Your Room, Virtual Try-On for eyewear, shoes, beauty, we're enabling 3D content and it's a great way to enhance customer engagement for your products. Before we open up for Q&A, I'd like to provide a quick reminder on the steps you can take today to enable 3D content for your product listings and benefit from the lifts in customer conversion and increased customer engagement. If you have 3D assets, start uploading via Seller Central's Image Manager. If you're also interested in Immersive Brand Stores, reach out to your ads or Amazon representative to learn more.
If you don't have 3D assets yet, make sure you connect with Amazon's certified 3D content creators or reach out to a 3D content creator of your own. Try out Amazon's mobile 3D scanning app as well if you'd like to try and be a little bit more hands-on in the 3D asset and content creation process. Thank you so much for attending this breakout session today on "Ho to Enhance Customer Engagement with Interactive Augmented Reality and 3D Experiences." (whooshing)
2023-10-12 00:39
Show Video
Other news