Google Marketing Live Keynote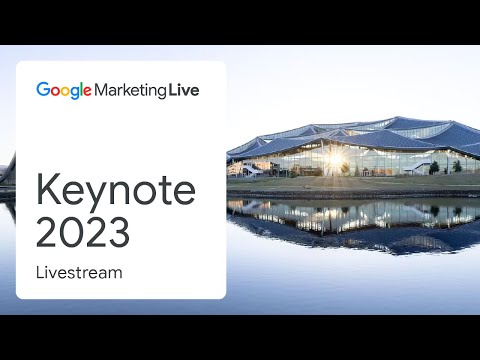 Show Video
>>LAURIE: Welcome to Google Marketing Live 2023. I'm your host, Laurie Segall, and this is Google's Vice President Global Product Lead, Jason Spero, who's here to preview today's keynote announcements. Now, Jason, I have to say I am very excited about what we're about to hear. Can you give us a little bit of a sense? >>JASON: Yeah, of course.
It's great to be here. Ten years. Ten years of doing GML. It means a lot to me.
And this is the second year that we've been back here at our Bay View Campus, which has a little extra meaning for all of us. >>LAURIE: And I'll say, full disclosure, not only is this my first GML, but this is actually my first time on campus here at Google, and it's crazy because I've covered technology for over a decade, and this is my first time here. It's beautiful. >>JASON: Well, welcome. We're happy to have you.
Bay View, where you're sitting right now, is the home to the Google Ads team. So the people who are building a lot of the products that we'll talk about in the keynotes today. >>LAURIE: And talking product, can you give us a sense of what we're going to hear? >>JASON: Yeah, of course. First off, framing all of this. our goal is to deliver better business results for marketers, for advertisers. We think about this across three areas.
The first is customer connections. Second, creative. And third, the level of confidence that we can give marketers in decision making. And we'll bring that a lot out in the keynote as we talk. >>LAURIE: So very fair. Without sharing too much, I want to talk about one of the things you spoke about, this idea of customer connections.
What do you mean by that? Can you give us some specific examples? >>JASON: Yeah, of course. I think a lot of this starts with how we all shop and how we buy things, and that customer journey that has gotten really complex as we research and think and consider, and all of this. and the valuable role that AI can help marketers as they try to engage with that. So many of the announcements today will be about helping advertisers think about how to get their brand and their message to consumers at the right time. >>LAURIE: So talk to me a little bit more about the creative.
>>JASON: Yeah, of course. Overall, the goal was to quickly create high quality ads that reach and engage the right customers. One of the solutions for that is using AI, particularly generative AI, and generative AI is a new tool, but it's a powerful tool to make the jobs of the marketers a lot easier. It will help them reach the consumers, and help them do that a lot more efficiently. >>LAURIE: You talk about generative AI. There's been so much talk about how these tools can be used.
I think it's going to be really interesting to hear how Google's thinking about how AI can help marketers. One other thing you mentioned was this idea of confidence. Now, obviously data and insights are incredibly valuable to marketers, so what more can we expect to hear there? >>JASON: Well, I think it's important to say that data matters, at the top, and to say that marketers need insights about consumers, and consumers, at the same time, have increased expectations of how responsible everyone's being, what brands do with their data, from a privacy perspective.
And all of this happens at a time where Chrome is deprecating third party cookies, which makes a lot of this, sort of we need new techniques. A lot of what we'll talk about here is how marketers can have confidence that they're making the right decisions, but do all of that in a privacy safe way. >>LAURIE: I know obviously privacy is something that everybody is thinking about, so I'm really excited to hear the team dig in on this. Jason, thank you so much for the preview. And right after the keynote, stay tuned for Google Marketing Live Keynote Post Show. >>JASON: We'll be talking about all of the biggest announcements that you're going to hear today with the people that are actually building those products, so we'll have them back here, and I also want to say, Laurie, that will be my first ever post show, so I'm looking forward to that.
>>LAURIE: I love it. Same. And not only that, we're also going to introduce you to Google's new VP and GM of Commerce, Maria Renz. Everyone is so excited to have her here with us today. We'll be talking with her about Google's role in commerce.
Now, this is from both a consumer and merchant perspective. And Jason, one other thing I have to say is I'm really excited for the post show. This is a real opportunity for us to actually dig deeper into what we heard about, and we want your input. >>JASON: Yeah, so please do give us your input. About halfway through the keynote, we're going to open up a live poll, and that will be your opportunity.
That's your opportunity to tell us what you want us to talk about back here, with those product leaders that we mentioned. And we're going to organize the entire post show around your votes. >>LAURIE: I mean, it makes total sense that of course it's organized around data. This is Google.
We are data driven here. So we will look forward to seeing those results. And I'll say there's also more content to explore after the keynote. I'm talking about the TLDR video series.
These are quick videos with tips about how to get the most out of the latest products. Now, you can find those videos and participate in the live poll by visiting googlemarketinglive.com. >>JASON: And as always, we want to hear your thoughts. And in particular, please do share your thoughts using the #GML2023. And Laurie, it's almost time to jump to the keynote, where Google Senior Vice President, and Chief Business Officer, and my boss, Philipp Schindler is going to kick things off. >>LAURIE: I'm really excited.
And it really is nice, Jason, to be able to actually be here and be with everyone in person. Something really special about that. And to all the folks watching, we hope to see you right back here, immediately after the keynote for the post show.
So don't go anywhere. But for now, enjoy the keynote. >>ANNOUNCER: Please welcome chief business officer, Philipp Schindler! [Cheers and Applause].
>>PHILIPP SCHINDLER: Good morning, good afternoon, good evening to all of you. Whether you're here with us in person or joining virtually, I'm thrilled to welcome you to Google Marketing Live 2023! Yes! [Cheers and Applause]. And not just any GML.
Today marks its 10th anniversary! Yes! [Applause]. We love this event so much. I mean, so much. It's such a great chance for us to connect with you and for you to discover our newest products and meet directly with the amazing people who make them. And we're happy to host it here at our Bay View Campus, where our ads products are actually built! It doesn't just look futuristic, it is! At 1.1 million square feet, it's all electric, water positive with the largest geothermal installation in North America.
You're sitting right on it. It has first of its kind Dragonscale solar skin, and nearby wind farms powered on carbon free energy 90% of the time. So to get everyone in the right mood for GML, I asked Bard, our Gen AI conversation experiment, to write a joke for a room full of performance marketers. Do you want to hear what it came up with? You want to hear it, I can tell. I can tell in the room.
What's the difference between a performance marketer and an optimist? An optimist thinks tomorrow will be better. A performance marketer knows it will be better because they have tested it. [Cheers and Applause].
Not bad, Bard! Not bad. But jokes aside, we believe AI is one of the most profound technologies humanity is working on today. It's a huge shift on the scale of technological revolutions, like the internet or mobile. And there's a lot of enthusiasm, But also, correctly so, lots of questions, about what that means for you and your businesses. But we have been ready for this shift, and we're here for you, because remember, when the internet brought the world online, we were there to connect people with each other, with the information they needed and, with brands and businesses around the world.
And when the world moved to mobile, we made it possible to reach people in their I want to go, I want to do, I want to buy moments. Which brings us to the AI revolution. We are ready for it.
Seven years ago we announced that Google would be an AI first company. And this research led to so many features we now take for granted, like Smart Compose and G mail, or eco friendly routes and Maps, and Google Lens and Search. And today, we have an opportunity to make this technology even more helpful, for people, for businesses, for communities, for everyone. A couple of weeks ago at I/O, we showed you how we are reimagining all our core products with generative AI. We see massive opportunities ahead for how to develop and deploy this technology. So let me share just a few examples here.
I'm sure you'll all avid Google Maps users. Google AI can now deepen your understanding of the world with features like Immersive View for routes in Maps. It's like anything you've ever experienced before. It gives you a bird's eye view of your entire journey before your trip, whether it's on foot, bike or car. I love it.
It gives you like this feeling of traveling like a superhero. And for all you photographers out there, if you think Magic Eraser is cool, just wait until you try Magic Editor. And, of course, we're bringing this powerful technology to bear to super charge Search. With breakthroughs in generative AI, we can unlock entirely new types of questions you never thought Search could answer. And transform the way information is organized to help you sort through and make sense of what's out there. You'll be able to first try these generative AI capabilities in Search Labs, a new way to access early experiments in Search.
In this new generative experience, Search ads will continue to appear in dedicated ad slots throughout the page, and you will hear more about it later today. And if you're wondering what Google AI can do for your business, Google Cloud has launched powerful foundation models that your businesses can use now. To create amazing content, to synthesize and organize information, to automate business processes, and to build engaging customer experiences.
For example, these models can turn your text into studio grade images, or into code, and can even turn speech into text so you can engage with customers in their native language. This is very cool tech that can transform many parts of your business, including marketing operations. We're launching lots of exciting products.
You'll hear about many of them today. You will see us being bold, but also incredibly responsible. We have 15 products 15 products that each serve more than half a billion people and businesses, and six that serve more than two billion people. So when we launch something in the world, it has a big impact.
That's why we have to get this right, because it's so important for our users, including businesses like yours, who count on us. But even as we work through how to make the most of this technology, multiple macro challenges, from inflation pressures to supply chain constraints, are forcing tougher P&L decisions for every business and decision maker out there. And shifting consumer behaviors and expectations are making it harder to spend your next dollar with confidence.
Marketers today need to embrace seemingly contradictory behaviors, from micro to macro, that are all happening at the same time. You could call it the Era of Everything, everywhere all at once. [Laughter]. First, Consumer journeys are now moving targets. Purchase decisions online are more complex, dynamic and nuanced than ever. On one hand, consumers are turning into real, let's call them product detectives.
We observe this "research obsession" as people explore and evaluate the options more than ever before. Three quarters of consumers say it's important to access even more sources about a product or service before making a purchase. More than half of consumers are using five or more online sources before they buy. Like Search, watching an online video, going to Maps. And so on.
This is at an all time high. Even compared to the heights of Covid. And we're seeing searches that are more refined and more specific. Consumers aren't just looking for apparel, they are searching for "matching pajamas for couples", or "best formal wear for a rainy day." Year on year searches for "pans for cooking fish" have grown globally by over 400%! Well, you get the point. On the other hand, the opposite is happening.
Impulse shopping has also grown significantly year over year since 2019, with over a quarter of consumers saying they've purchased on impulse in a two day period. For marketers, this means that getting the "right message" in front of the right consumer at the right time is a constantly moving target. Second, video viewing has exploded. Short, long, and everything in between. Here, too, we're seeing seemingly contradictory behaviors emerge.
Today, everyone has a production studio in the palm of their hand. It's fundamentally changing the world of creation. We all know this. Because of this, shorts have exploded.
YouTube Shorts averages over 50 billion daily views. Meanwhile, viewers are also watching more content on the big screen than ever before. Whether it's creator produced content, music livestreams, shows or sports, people are also loving long form content on the TV screen. We're also seeing this play out on YouTube, which is reaching more than 150 million people on connected TV screens in the US. Making us the number one most watched streaming platform in the U.S.
And the living room is our fastest growing platform around the world. But these two contradictory behaviors actually reflect the same trend, an explosion of video viewing choices. Creators and viewers want everything from 15 second Shorts to 15 hour livestreams. of Gen Z say they watch content
that no one else they know is interested in? As we say, "primetime has become personal"! For marketers, video is obviously a tremendous opportunity. If only there were a platform that could offer all formats on all screens. Oh, wait. There is one! We call it YouTube. Trend number three, we're seeing the highest bar yet for privacy and for ads relevance. 80% of people are worried about their online privacy.
They want to know what personal data brands are collecting and how they are using it. And regulators around the world are demanding a level of privacy on the internet beyond anything we've ever seen. In fact, some measures being proposed would break the digital advertising model. Now, the fact is, while users want more privacy and control over their data, they also prefer relevant, helpful ads. And millions of creators, publishers and businesses like yours rely on them. Like Lauren Allen and Liz Haslem from the food publisher Tastes Better from Scratch.
Lauren and Liz, I could not have said it better myself. They remind us that when you see ads online, it's a win for you because the content you are viewing is free. It's a win for small businesses who make money and can continue providing the content for free And it's a win for advertisers, who can serve you things you are actually interested in. So we have to deliver both. The privacy users and regulators expect AND the performance you and everyone who depends on the ads based internet needs. We're proud of our leading track record of privacy practices, technical innovation and industry collaboration.
The Privacy Sandbox is an example of our work with industry partners on privacy safe alternatives to third party cookies that preserve the performance so many businesses and publishers depend on. So you might be taking in these shifts our industry is facing and thinking, wow, it's a tough time to be a marketer. But I think it's actually the best of times. That's because AI is going to super charge.
It's going to super charge your ability to keep up with the speed, demands and unpredictability of consumers like never before. And we're here to put AI to work for your business. The same technology that powers our consumer products has helped power the ads solutions that help you run your business.
And today, nearly 80% of advertisers already use at least one AI powered Search ads product. Back in 2015 you started using AI to promote your apps through our App campaigns. And since then you have continued to use our AI powered solutions across bidding, shopping campaigns, keywords, analytics, and so much more.
You will hear more today about how we are putting Google AI to work to help you keep pace with the moving target of today's consumer journeys from AI native Search Ads to the latest PMax innovations. You will see more today about how it's helping you capture the explosion in video consumption. And with the bar for privacy and relevance higher than ever, You will learn more today about how Google AI is improving your ability to reach audiences and measure your performance in a privacy safe way. Over the next few hours, we have so much more to share with you about how we can help you drive next level demand and growth.
250 product experts are here to answer your questions and take your feedback! We are hosting more than 100 roundtables! And we have more than 20 new ads product launches! More than 20! Yes! I meet with lots of clients, and their number one question is, "What's the next best step I should take?" We're going to make this super easy for you. Later this morning, my colleague Vidhya will walk you through the AI Essentials checklist. It's not a lengthy, painful process.
Trust me. It's simple steps you can take to unlock the power of AI for your business! It's accessible, tangible, and scalable work you can implement in your marketing plans, right now, like literally as soon as you're back from GML, or maybe even live from GML if you're good at multi tasking! So, settle in and get ready for more from our Google leaders about what we're doing to equip your business for this next evolution of marketing. You will see what we mean when we say that Google has been ready for this moment. And we are with you every step of the way.
Because when technology changes the world, who you partner with is everything. Thank you so much for joining us today. And enjoy the show! [Cheers and Applause]. >>ANNOUNCER: Please welcome vice president and general manager Google Ads, Jerry Dischler! [Cheers and Applause]. >>JERRY DISCHLER: Hi, everyone. I'm so happy you're all here with us today.
This is the tenth anniversary of Google Marketing Live. When we started the event back in 2013, we were in the midst of the shift to Mobile, and as Philipp just said, here in 2023, we're in the middle of another big shift, the shift to AI. And as exciting as all of this is, we know the pressures that all of you and your businesses are facing.
You're expected to deliver results today, while building a plan to drive sustainable long term growth. Your businesses want a healthy return on their capital while examining their expenditures more closely than ever. And you're being asked to wrap your arms around what the AI shift could mean for all of your organizations.
At Google, we want to be your trusted partner to help you navigate all of this. It's a role we're deeply committed to, because it's clear that AI is going to transform our industry in profound ways. In fact, this transformation is already happening in many areas.
AI is helping us make decisions, solve problems and be more productive and creative. It's helping identify patterns and trends, ultimately unlocking new pockets of demand and opportunity. One of the super powers of AI is its ability to organize and structure data from disparate sources.
Imagine you could optimize every incremental dollar, with an agile budget across sales, marketing and operations to be sure you're driving the highest ROI. AI can help you do exactly that. Apply this thinking across your marketing channels, and you can always see where your next dollar should go to best achieve your goals. A great example of this is Wyndham Hotels And Resorts. Working in close partnership, Their CMO and their CFO use agile budgeting to respond to the changing needs of their franchises and fluctuating demands in real time.
Thanks to this, despite pressure from the pandemic, 2021 was the most successful year their franchisees ever had, and the results were even better in 2022! This is only one example of how AI is helping businesses grow. And there are thousands of others. AI has been foundational to Google Ads for years. Products that you all have helped us build and improve, like Smart Bidding, Broad Match, and App Campaigns, and most recently Performance Max, all have AI at their core.
At Google, we are committed to driving a future ads experience that's not only AI powered, but also privacy first. And today, we'll share exactly how we plan to do all of that We see Google AI multiplying your business results across three different areas. Your customer connections, your creative, and your level of confidence. I'm going to cover all three in detail. First, customer connections.
We are going to share how you can use AI to uncover new pockets of demand by marketing at the speed of consumers, no matter how unpredictable. Then creative. We're going to show you how you can create high quality ads that work for every customer, in an instant, with some help from AI. And of course, confidence. We're all under pressure to make quick decisions as technology evolves, people and regulators have higher expectations than ever for privacy. AI powered insights and measurement give you confidence that you're spending every dollar effectively.
That's your business. That's your performance. And ultimately, that's your marketing, powered by Google AI. I've heard this period of time described as uncomfortably exciting. And if you're leaning more towards uncomfortable than excited, I certainly hope that changes by the end of today.
We've been talking about the importance of getting closer to customers ever since our first Google Marketing Live a decade ago. The customer journeys we're seeing are incredibly complex nowadays. Across surveyed markets, 61 percent of holiday shoppers, for example, used five or more channels to shop over a two day period. Consumers are more important and more value conscious than ever.
They're savvy. They move fast, and they have a better understanding of their options than ever before. Their paths to purchase are winding and difficult to predict. To be present at those key moments on all of those paths to purchase, campaigns can be set up from the start to be truly AI powered. We've heard from all of you that you want to understand how your channels can work together. By figuring out your cross channel mix, you can turn your marketing into a profit center, optimizing across the board, not in silos.
One of the best examples of cross channel marketing, powered by AI, is Performance Max campaigns. You set your goal, you set your budget, and provide some core assets. And Performance Max works across all of our advertising surfaces to deliver the highest performing media campaign for you. All while generating cross channel insights you couldn't get otherwise to discover new things about your customers and your business. These agile campaigns enable your budgets to follow demand and growth, wherever they are across the channels and inventory that will deliver the most value to you. While this may be a change from channel specific approaches that some marketing teams use, it's worth it based on the results.
The AI that powers these campaigns has been working really well, and it keeps getting better. So when Performance Max came out a couple of years ago, you were seeing 13 percent more conversions at a similar cost per action. Now, advertisers using Performance Max are seeing an 18 percent uplift on average. Performance Max complements your search campaigns to drive incremental performance across all of Google's ad inventory. You've told us that creating campaigns can sometimes feel overwhelming, particularly for those who are new to Google Ads.
We've been working on a new solution, powered by a large language model tuned specifically from ads data to make campaign construction easier than ever for search ads. Our new conversational experience in Google Ads. You can have a natural language conversation with Google Ads to help you create keywords and assets that drive better performance.
I'm going to invite Sylvanus up on stage to tell you all about it. [Applause]. >>SYLVANUS BENT: Hi, everyone. My name is Sylvanus, and I am one of the product leaders on the Search Ads team.
I'd love to give you a tour of the new conversational experience in Google Ads that you can use when creating new campaigns. It's our way of enabling you to talk directly with Google during the campaign construction process, giving you a helping hand as you make decisions about your campaigns. Let's see what this looks like in action. Starting with keywords and ad creation, you're presented with a new assistive experience.
With just a URL, the AI will generate a quick description of your business, product or service. You can review and edit the description if you want to add more detail, but this one looks good to me, so we can move ahead. The experience then generates elements for your campaign, here starting with keywords. Next, you can see ad headlines and descriptions, even other assets like site links and callouts for your review.
Let's review these images. Now, these are recommended images from your site, along with stock images that match what you offer. Just select the ones you like, and add them. And now, you can start having a conversation. Here it's asking you for more info to improve your ad.
And you can see it's asking for more specifics, so let's add those in. And now you have more customized assets and your headlines are under the character limits, which I know can be a tricky thing to do. Now, as you go along, your ad strength can keep getting better. And if there's a benefit you think is missing, you can ask for more options yourself. This is your expertise, combined with Google AI to help you create a better campaign. And we'll start testing it in July.
Now that the conversational experience has helped create an awesome set of new assets for your campaign, we thought your ads themselves could do even more. So later this year, we're planning to bring generative AI to automatically created assets. In addition to drawing on text from your landing page and other ads in your account, generative AI will make these assets even more relevant to customer queries while staying true to your offering. For example, if a consumer searches about dry, sensitive skin, your ad will be able to show an AI generated headline to help you better match the customer's query. You can see how these new ones align more closely with the search. We can't wait to see how these updates help all of you drive better results in your search campaigns.
Thank you very much! [Applause]. >>JERRY DISCHLER: Thanks, Sylvanus. That's pretty incredible, right? [Cheers and Applause]. All right! There we go! Connecting with the right customers at the right time is not the only challenge you're up against.
You also have to be there with the exact right message and the right creative, and then you add in all the format options, short form video, long form video, shopping ads, display ads, and more. There are seemingly infinite opportunities to reach and convert customers. Creative, of course, is a I can't critical driver of ROI. Across all of those opportunities, getting high quality, relevant creative assets can be time consuming and expensive.
And getting relevant creative assets is a challenge, particularly for B2B advertisers. We're building AI powered solutions for every step of your creative process. You'll be able to get help with your first draft of any concept, so you're never staring at a blank page alone again. And you'll be able to generate new versions, scaling your successful concepts with only a couple of clicks.
The idea is for you to be able to show off your creativity in as many places as possible, with assets that are primed to resonate with your audience. All in a brand safe way. Google has been investing for years to help you succeed in AI powered asset creation.
Today, more than 25 percent of all YouTube video advertisers have an automatically generated video asset in their campaigns. We think that that percentage is going to go way up across text, images and video. A powerful example is taking your existing assets to create video ads in multiple orientations, including vertical ads for YouTube Shorts.
Your images and your text, your product feed or app store listings, all brought together in a video ad. Based on internal data, advertisers that included at least one video of each orientation to their Performance Max Campaigns delivered 20 percent more conversions in YouTube compared to horizontal videos alone. Our vision of your creativity brought to life by Google AI is becoming even more of a reality. With the revamped asset creation flow in Performance Max, you can create and curate best in class assets easier than ever. To get started, you simply enter your Web site.
From there, your Google AI starts learning about your brand, pulling details such as your product descriptions and logo. It also uses these to better understand your brand's unique qualities. As a result, your campaign is populated with text and other assets relevant to your brand.
We'll even suggest new images generated just for you. Then you can direct the AI to create more images based on your creative vision. Throughout this flow, you'll be able to refine assets, remove the ones you don't like, and preview your ads. You are in full control of your brand story, and Google AI helps to bring it to life. We think that this image generation capability will help you multiply your creativity, so we're super excited to bring it to more solutions, including the conversational experience in Google Ads that Sylvanus just showed you. Later this year, you'll get ongoing insights on which assets are performing along with new recommended assets.
Retailers in particular can see immediate benefits from rich, immersive visual content. But getting brand ready image content is expensive and time consuming. Using our new Product Studio to enhance and create high quality images in minutes. It's part of our ongoing efforts to make it easier than ever for retailers to showcase their products. I want to invite Brandye up for a look at what you'll be able to do with the Product Studio.
[Applause]. >>BRANDYE SWEETNAM: Thanks, Jerry. I'm Brandye, one of the product leaders on the Shopping team. Today I'm going to showcase how retailers can manage, create and upload product content directly from their feeds. We know that offers with more than one image see a 76 percent average increase in impressions, and a 32 percent increase in clicks, making this a really valuable feature for retailers.
All right. Let's see the Product Studio in action when we edit this honey and peach scrub. We're going to transform this into a lifestyle image, so let's get started.
Today, we're going to select "generate a scene," which also automatically removes the current background and increases the image resolution, so you'll get to see the full suite of features. When you click, you'll see the background is automatically removed. Then you can enlarge the image so that it really pops within your scene.
Now, this is where it gets really fun. You can add in the description of what you want your photo to look like. Let's put this one on a stone platform, and because it's a peach scented lotion, I think we should add some peaches, and plants would be good, too. You just click to generate the scene, and after a little bit, you'll have four options to choose from.
I like these, but let's say you have a new idea. Why don't we warm this one up a little bit and try a beach scene since it's almost summer here. You click to regenerate the scene, and just like that, you'll get new options to review. [Cheers and Applause]. Pretty cool, right? Personally, I like this one in the top left. So check the box, and then add to Merchant Center.
Now you can add or replace the image in your online store. And you're done! Every product image you save will automatically update in your product feed to be used across Google channels, or you can download them to use on your other channels. You can create as many different images as you want, making it really easy to update for special events, holidays or seasons.
This feature will be available in English in the U.S. later this year for customers and agencies through Google Merchant Center Next, and Shopify. Back to you, Jerry! [Applause].
>>JERRY DISCHLER: Thanks, Brandye. You really get to see the power of AI, so those are some ways that you can drive create high quality assets that drive performance for you. You also need to have solid measurement and insights so you can make decisions confidently.
You need measurement that enables you to understand the difference between a click and a fully realized customer relationship across channels. It's possible to deliver measurement and insights you can use to grow customer lifetime value and propel your business into an era of next level growth. Strengthening measurement with only the highest quality data directly enables Google AI to work harder for you. Solutions like the Insights page, Google Analytics 4, and conversion modeling open up new, privacy safe possibilities for your marketing, even as it feels like insights are tougher to come by. The good news is that privacy safe marketing and performance can go hand in hand.
In fact, after a positive privacy experience with their second choice brand, 49 percent of people said they would switch from their preferred brand to their second choice brand. If you get privacy right, customers will notice. They're paying attention. People want more transparency and control.
And we view these as core tenets of building an advertising experience for people who interact with our ads. Google as a company has strong commitments to user privacy. We have specific privacy principles that explain our practices and what we stand for. For example, we respect people's privacy and will never sell their personal information to anyone.
And we give people easy ways to stay in control of the information we use to serve them ads with revolutionary products like My Add Center. When we get this right as an industry, everybody wins. That's why we're investing in adopting the Privacy Sandbox technologies.
We'll continue testing and incorporating them into our products as Chrome moves toward third party cookie deprecation next year. As we adopt new technologies, it's also a good time to build your foundation of first party data, which is data based on direct interactions with your customers. In fact, you should center your marketing on a thoughtful approach with that data, as it's the best way to confidently steer the AI. The gap is widening between businesses with a strong foundation of consented first party data, and those without. It makes sense. With the right approach, you can reward customers for having a relationship with you.
While nine out of ten companies say that first party data is important to their digital marketing programs, less than a third of marketers consistently and effectively access and integrate first party data across channels. This year, we're addressing that imbalance between the importance and the integration of first party data. We are simplifying the way you manage your first party data with Google so you can easily measure conversions, reach relevant audiences and drive incremental revenue, ultimately leading to better outcomes for your business. This means streamlining the way you manage first party data in Google Ads, all in a privacy centric way. The emphasis on privacy ties to our principles to give you assurances that your customer data is protected.
Enabling first party data is often done by multiple internal teams, and it has to be easier for you to work across your organizations. Later this year, businesses large and small will be able to seamlessly and securely connect data sources, translate data into insights, and improve the overall accuracy of measurement. We're in a new era, and the future is arriving fast. We'll look back on this time as the moment when it finally became possible to actually market at the speed of consumers.
When instantaneous, infinitely tailored creative became a real thing. And when confidence in the ROI of every dollar spent made marketing synonymous with profit center. I see an enormous opportunity for the future of marketing, with ever better solutions powered by AI to drive results for all of your businesses. It's a chance for marketing to become a true engine of business growth.
In everything we announce today, know that it's designed to help all of you thrive. It's your marketing, multiplied by Google AI. This is our moment as an industry to embrace a new era, to rise to increased privacy expectations, and to unlock the possibilities of AI. If we get this right, we can build the future of marketing together.
Thank you for joining us at Google Marketing Live. [Cheers and Applause]. >>ANNOUNCER: Please welcome Vidhya Srinivasan! [Cheers and Applause]. >>VIDHYA SRINIVASAN: It's so nice to be back on this stage again, and just what an incredible time in our industry. So, I have three big product updates to share with all of you. This is what our teams have been working on.
And then I'm going to give you some actionable steps to unlock the benefits of AI like Philipp had been talking about earlier. So we're going to get to the actionable steps, but I'm guessing you probably want to hear all the cool product stuff first, right? Yeah? [Cheers and Applause]. All right.
Generative AI. I bet none of you saw that coming. Two weeks ago, we announced new generative AI capabilities in Search. These new experiences will make Search smarter, and searching a lot simpler. And we are doing this while connecting people to businesses online.
And you can think of this as a first step to super charge Search with gen AI technology. And ads, of course, will continue to be an integral part of the whole user experience. You will find this new Search generative experience, or SGE, in Search Labs, a new program to access early experiments in Search starting with the U.S. Today, I'd like to build on what we said at Google I/O and talk about how we're integrating ads natively into these experiences.
And to do so, we are going to be running many experiments this year, because we want to really understand what works with users and what works for all of you so that you continue to get the performance you've just come to expect from Search Ads. Let me show you what these experiments will look like. So imagine you're planning a trip to Hawaii with your kids. And now you can come back to the keynote. And you want to know what activities you might do with them in Maui, so you type your question into Search, and in this example, you see clearly labeled text ads relevant to your search right above the AI powered snapshot.
Now, as we said in Google I/O, these ads may appear throughout the Search experience. And now, as you scroll down, you see the snapshot in this greenish gray color with a summary of activities. And if you want, you can ask follow up questions.
Next, you look at all the suggestions that it's given you and then you decide, hey, I want to take my kids for a hike. But then you realize, you need a new backpack for your kids, so you tap, ask a follow up, and search for hiking backpack for kids. At this point, you enter a new mode in search for conversations, as shown here. And then you see the query followed by an AI powered snapshot with all the key considerations for choosing just the right backpack. In this case, ads are placed within the list of products.
And just pause here for just a minute, because this is a really beautiful moment. Because at this point, we have a deeper understanding of what the user is really looking for, and then we have the opportunity to delight them with something that is just highly relevant. So that's Conversational Mode, and we look forward to a lot of learnings in this space. Lastly, we're exploring how to combine your existing assets with generative AI to create highly content sensitive ad creators. Let's see an example of that.
Let's say you're done with the hiking. Kids love the backpack. And now you want to do something more adventurous. Let's say you want to take them surfing.
So you ask, is it easy for them to learn surfing? The new capability here is that the context is carried over from question to question. So in this case, both the organic results and the ads understand that you're interested in surfing, and that's just the current query you typed. But then it also knows that you're referring to your kids, and this is on Maui. So an appropriate ad is created for that. Let's take a closer look at the customized ad forget your guide.
Here the AI draws on the advertiser's landing pages, and all the existing campaigns to write a copy that brings together surfing, kids and Maui. It then finds relevant lessons to group together to match the ad to the search journey. Also, we thought this was pretty cool to bring it all together. So that's our Search update, and we expect to bring all of these new Search experiences to the U.S. customers in the near future. Now, let's talk about YouTube. You've told us that you want more ways to reach users as they are discovering new products.
We are announcing another AI powered campaign called Video View Campaigns. This is focused on maximizing views on YouTube bought on a cost per view basis, leveraging this campaign can help you rise to the top of people's minds, just as they are in their exploration phase. In fact, early testing shows video View Campaigns get an average 40 percent more views than in streams capable CPV campaigns, and this campaign combines ads in true view in stream, in feed, and Shorts, all in the same campaign. You'll be able to join our beta for this next month from anywhere in the world. And now, on to my third announcement. We are introducing another new campaign type called Demand Gen.
And no points for guessing this is also AI powered. This can help you engage and drive action among consumers with immersive and visual creators, and demanding campaigns offers a set of unique features designed especially for the needs of today's social marketers. First, Demand Gen lets you reach users on a most visual and entertainment focused touch points like YouTube, Discover and G mail. With your top performing video assets, of course. And we made it much easier for you to just lift and shift all that imagery, all your creatives into this Demand Gen campaign. You'll also be able to create brand new qualified AI powered lookalike audiences, and even better, you'll be able to tailor the creatives to specific audience segments.
Of course, you'll be able to measure conversions, but you're not just limited to that. You'll be able to get insights on Search, Brand Lift, all part of this campaign. Okay.
So that's three incredible updates. I am so proud of the work our teams have been doing to bring all of these AI and capabilities to you. But then you probably wondering, what do I do today to prepare? Well, we've assembled a new checklist of what I'm calling the Google Ads AI Essentials. These are the actions that you can take today. So let's get right to it. So it all starts with data.
And I know everybody knows this, but it's worth repeating. To drive performance and measurement, you need a strong foundation of data. You want to ensure that the AI optimizes for your specific use case. So first, establish robust site wide tagging with the Google Tag. This helps you make the most of your first party data, because it just collects and organizations all these right signals, but and also does it in a privacy safe way. Next, set up enhanced conversions.
This allows us to have a more comprehensive view of what is happening to improve the accuracy of your conversion modeling, and better conversion modeling means better bidding, smarter bidding. For conversions, now assign values such as revenue or profit. And these actions just make every conversion really work for you because you've taken all the effort to bring them in.
And once Google AI knows what a high value conversion looks like, it can optimize for it. And please refer to Google Analytics 4. I know we've been saying this a while now, but GA4 is critical for many reasons. It provides cross channel measurement, predictive audiences and targeting based on AI, and really this is the best thing you can do to just future proof your measurement.
So each one of these four foundational steps gets you more accurate measurement, and the more accurate your measurement is, the better your AI powered campaigns are. In fact, AI powered campaigns are the next part of our checklist. So Jerry talked about the power pairing of search and Performance Max, and this is truly the best way to maximize conversions across all of Google. And starting today, we are going to make this power pairing even better, with broad match brand controls, and yes, I sneaked in another product announcement, but all of you have been asking for this, so we figured you'd like it. So with this, you will be able to get additional reach for broad match while ensuring that it matches all the relevant brand traffic. And for Performance Max, we have two new optimization goals, one is around acquiring customers who have a high lifetime value, and the second is around acquiring customers who have just not been paying much attention to you recently.
You'll be able to guide Google AI to bid more for both of these categories of users, and these new goals in Performance Max are made possible because of value based bidding, because we can now align conversion values to actual business outcomes. Okay. Let me then do a quick call out to our enterprise folks here. Please upgrade to the new Search Ads 360 because this really maximizes performance across all your engines, all the engines that it supports, and there are just so many improvements that we've made, and that's just been across the board, whether it's bidding, forecasting or insights. And I don't know about you, but when I'm searching these days, I get very excited when I see and interact with a wide range of and wide and diverse set of creatives, and this is true whether I'm shopping, looking for a store or just trying to find a hotel. So my team leads the product and engineering behind all the ads that you see on Search, Shopping and Maps, and let me tell you, we see a huge difference in the auction performance when the creative that we use is high quality and compelling.
You've surely noticed that the Google results page is just more browsable and immersive these days, so please provide us all your beautiful creatives, and if you don't have them, you might want to make some, and then give it to us, because then our AI powered campaigns can get your ads to participate in all of these beautiful experiences. So that's the core checklist. But taking a step back, we noticed that the marketers who reap the benefits of AI for their business all have one thing in common, and a mindset that really is agile and de siloed when it comes to organizational boundaries. This means a culture of experimentation, of trying new things, figuring out what works and leaving the rest. And at Google, we're really here to partner with you through this process.
But I also know from talking to many of you that the shift to AI can feel uncomfortable, almost as if you're competing with it. But this is what I'd like you to remember. You're not competing with AI. You're competing with other marketers using AI.
So embrace it. Both the technology, as well as the culture that can support it. So these are our essentials. Please download this checklist, pin it up on the office wall or just make sure your teams see it. We really think it can go a long way.
And we have a QR code. Okay. So I know I threw a lot at you. And you probably have many questions and concerns. I now want to invite my friend Jason Hartley, head of Search and Shopping at PMG, which is a performance marketing company, and an active member of ANA's ethics Policy Committee to the stage, because I look forward to hearing his perspective. Jason, come on out! [Applause].
Thank you so much for being here, Jason! >>JASON HARTLEY: It's great to be here. I've been thinking a lot about AI recently. I think probably some of you out here might have as well. >>VIDHYA SRINIVASAN: I would bet on that. So some real talk. You saw the checklist.
What do you really think? What's missing? >>JASON HARTLEY: Well, it's great because there are so many things that are changing, all the things that have been announce idea the last few weeks, you know, we need a road map to keep us focused, and I think probably what I would say is missing are the details, but that's my job. >>VIDHYA SRINIVASAN: And what would you say really stood out to you? >>JASON HARTLEY: Well, it's really good to see mindsets in there because there is so much change, and that can be uncomfortable, so, you know, experimentation and agility are going to be key and I think the essentials list can be one of those tools that are going to keep us focused along the way. >>VIDHYA SRINIVASAN: That's great to hear. But I know there's also apprehension about the ways in which AI might affect jobs.
How do you think about that? >>JASON HARTLEY: Well, I think, you know, ten years ago, I was thinking about automation for my own job, as things were going, but, you know, when you're thinking about the future, it can be easier to focus on what you're losing rather than what you might be gaining because it's more tangible. But when I think about ten years ago and where we are now, we're still pretty busy, and but our jobs are more strategic, and it's more fulfilling, ultimately, we're spending a little less time in spreadsheets and more time talking like this and thinking about what we can do. And I see a lot more opportunities coming with AI. >>VIDHYA SRINIVASAN: Got it. And speaking of new opportunities, one of the things we talked about was the new Search generative experiences.
What are your thoughts on that? >>JASON HARTLEY: So I'm very excited about that. And I don't say excited a lot, just so you know. You might see I'm pretty calm, usually, but I am excited about this, because especially like the idea of being able to do follow up questions, that's really incredible, because it helps us drill down into what people really want so it's going to help us give it to them, you know, and so we're going to have better performance, and it will be a better experience for people, and we're really just at the start.
So I think there's going to be exponentially new opportunities. >>VIDHYA SRINIVASAN: And you're not even a little bit nervous? >>JASON HARTLEY: All right. I'm a little nervous. You know, it's going to be disruptive, for sure.
But when I think back about the way that Google has always done product launches, it starts out slow. It's rolled out to us, and we give you a lot of feedback, a lot of feedback, as you know. >>VIDHYA SRINIVASAN: Yes. >>JASON HARTLEY: And you respond to that.
Especially the last few years. I've seen a lot of partnership from Google as we've improved products that are out there, and then it will scale. You know, candidly, I think that over the last several years, I can't think of a product that stuck that ended up being bad for Search or bad for marketers or bad for any of my clients' businesses.
You know, Google seems to make it work. >>VIDHYA SRINIVASAN: That's great! Well, we are going to end on that. Google just makes it work. Thank you all, and thank you, Jason. [Cheers and Applause]. >>ANNOUNCER: Please welcome Selin Song! [Cheers and Applause].
>>SELIN SONG: Hello, everyone! My team works with tens of thousands of businesses online to make them succeed. And for the past 20 years, I have been lucky to have worked with businesses across the globe. I get so inspired when speaking to customers like Wheel the World, who are using Google AI to make the world more inclusive and accessible for all. You've heard a lot about Google AI today and about how these breakthroughs in technology will change the ways that people, businesses and communities function.
But what I'm most excited about is how we're integrating AI across everything we create at Google. Because when organizations of all sizes use and benefit from Google AI, it helps create opportunities for everyone to be successful. Per the World Bank, micro, small and medium sized enterprises account for 90 percent of businesses, 60 to 70 percent of employment, and 50 percent of the GDP worldwide. Put simply, SMBs are the beating heart of the global economy. And I'm glad to live in a world where we have more diverse options for goods and services. Ru9 is an incredible woman owned business based in Vietnam, founded by Trang Dang.
Trang had a vision to change people's relationship to sleep. And as a mom of two young kids, let me tell you, I know just how essential sleep is to our well being. Trang embraced this opportunity and started her journey to create the best and most affordable foam mattresses in Vietnam. Ru9 started selling mattresses online only in Ho Chi Minh City, but Trang used AI powered Ads solutions like Performance Max and Video Action Campaigns to scale her business across Vietnam, achieving a 10X return on every dollar spent.
She's now grown from a team of two to 48 strong, and Trang is inspiring the next generation of female entrepreneurs in her home country! Just awesome. Every business needs to acquire customers, get more from existing customers, and, of course, stay profitable. But when you're juggling multiple priorities, it can be daunting to find the time or the energy to get through your entire to do list.
This is where Google AI can bring you into a new era of getting things done. Take Google Workspace as an example, one of the many Google products that businesses use today. Our Smart Compose and Smart Reply features have been helping me finish sentences for years. Now with G mail's new help me write feature, you can type in a quick prompt and have it write your entire loan application or request for proposal. AI can help take your productivity to new heights, and that's a huge win for busy business owners who need to free up time so they can focus more on their customers. We're just as committed to bringing that same seamless application of Google AI to our Ads solutions.
Four in five small businesses say digital ads help them compete with larger businesses. We want all marketers to have access to more powerful tools that make it easier to drive better results. This is a game changer for SMBs, and makes it possible for all businesses to compete with the most sophisticated advertisers and drive growth. Let's start with the basics, making sure that people can find your products online. Merchant Center is the first step for retailers to reach consumers and then use AI powered ads solutions to promote their products to shoppers.
But inventory management can be time consuming and complicated, especially for smaller businesses who may not know how to get started with Google. Now, we're introducing a new merchant center experience, called Google Merchant Center Next. Businesses will be able to use our simplified experience to automatically connect product information from their Web site.
You'll have control over how your products appear on Google, without the hassle of manually uploading a feed. You'll also get insights on top selling products on Google and pricing benchmarks, even insights about the competitive landscape. Merchant Center Next is already available to some retailers and will gradually roll out to everyone soon.
It's a simpler way for retailers of all sizes to showcase their business and products across Google. Meeting consumers where they are is the starting point to building lasting customer relationships, but data and insights are the foundation that helps you maximize those touch points, and your performance. Google analytics 4 is a great example of a tool that makes Google AI available for everyone, and helps you better measure your impact, in a privacy safe and durable way.
I regularly hear from some of you that analyzing and understanding your marketing results can be overwhelming and you don't always feel you have the expertise or time to do it right. If this challenge sounds familiar, I have got great news for you. Based on your feedback, you'll be able to build audiences from Google Analytics directly in your Ads accounts, making campaign creation much, much faster. This includes predictive audiences, which uses Google AI to help you reach people who are more likely to purchase. And this feature is only available in Google Analytics 4, so if you haven't yet upgraded to the newest generation of our measurement solutions, what are you waiting for? You have five weeks left! Please, please make sure you do so by July
2023-05-26 16:16
Show Video
Other news