FTX Trial, Nvidia Chips War | Bloomberg Technology 10/17/2023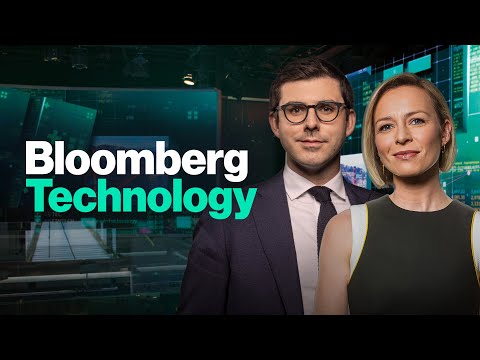 Show Video
>> THE HEART OF WHERE INNOVATION, MONEY, AND POWER COLLIDE AT SILICON VALLEY AND BEYOND, THIS IS BLOOMBERG TECHNOLOGY WITH CAROLINE HYDE AND ED LUDLOW. CAROLINE: I AM CAROLINE HYDE. ED: I AM ED LUDLOW IN SAN FRANCISCO. CAROLINE: THE U.S.
CLAMPS DOWN ON CHINA CHIP EXPORTS. ED: PLUS WE WILL BRING YOU THE LATEST UPDATE FROM THE TRIAL OF SAM BANKMAN-FRIED, AS THE THIRD MEMBER OF HIS INNER CIRCLE TESTIFIES AGAINST HIM. CAROLINE: WE WILL CONTINUE OUR CONVERSATION ON THE TECHNOLOGY ECOSYSTEM RIGHT HERE IN THE BIG APPLE. LET'S CHECK IN ON THE MARKETS AND TECH IS THE LAGGARD OF CHOICE. THE NASDAQ 100, DOWN 1/10 OF 1% AND WE KNOW STOCKS SOMETIMES STRUGGLED IN THE FACE OF RAISING BOND YIELDS.
A LOOK AT THE 10-YEAR YIELD PUSHING TO 2007 HIGHEST SO WE ARE ANTICIPATING STRONG DATA WE HAVE SEEN OUT OF THE U.S. THE MACRO PICTURE LOOKS BETTER AND THAT MEANS -- ULTIMATELY, WHAT THAT MEANS FOR THE FEDERAL RESERVE. WE ARE LOOKING AT CRINE SHARES.
CHINA ITSELF TRYING TO STIMULATE IT ECONOMY AND THE U.S. ARE TRYING TO IMPEDE ITS TECHNOLOGICAL KNOW-HOW. LET'S LOOK AT THE INDIVIDUAL AREAS OF RISK ASSETS WE LIKE TO FOCUS ON. WITH BITCOIN, WE HAVE HAD A WILD RIDE. HIS LARRY FINK -- IS LARRY FINK ON THE SIDE OF BITCOIN? CERTAINLY.
IT LOOKS LIKE HE MOVED TO A PLACE OF SOLACE AND AN AREA TO BE SEEN AS SAFETY AND THAT IS WHAT SEEMS TO BE TALKED ABOUT WITH THE HEAD OF BACKLOG -- HEAD OF BLACKROCK. ED: THERE IS A LOT IN THE NEW CYCLE THAT IS PUSHING INDIVIDUAL STOCKS. LUCID EV MAKER SAW IT PRODUCTION DROP 30% AND CASTING DOUBT ABOUT ITS PRODUCTION TARGETS IN THE STOCK DOWN IS 4%. APPLE IS DOWN 6/10 OF 1% AND IT IS OUT WITH AN APPLE PENCIL. IT IS NOT DOING MUCH TO SUPPORT
STOCK. -- EARLY SALES OF IPO 15 IN CHINA ARE NOT DOING SO WELL RELATIVE TO IPHONE 14 LAST YEAR AND AMAZON DOWN 4/10 OF 1% AND STRONG WE TELL DATA FOR THE U.S. IN SEPTEMBER AND NOT DOING MUCH TO SUPPORT E-COMMERCE RELATED STOCKS AND THE TOP STORY AND MOVER IS NVIDIA. IT IS EXPANDING EXPORT CURVES LATER TO CHIP TECHNOLOGY AND THAT MOVE IS AT 3.5%. IT HAD BEEN ON TRACK FOR ITS
BIGGEST DROP SINCE EARLY MAY AND DESPITE SHEDDING $70 BILLION OF MARKET CAP, THIS IS STILL A .1 TRILLION STOCK. THE SPECIFIC CHINA CHIPS IT WAS EXPLORING. LET'S GET THE DETAILS OUT OF D.C. WITH MACKENZIE HAWKINS.
WE KNEW THIS WAS COMING. HOW THIS -- IS THIS IMPACTING NVIDIA? >> IN RESPONSE TO LAST YEARS CURVES, NVIDIA DESIGN CHIPS SPECIFICALLY FOR THE CHINESE MARKET THAT WENT RIGHT UP TO THE THRESHOLD OF THE ADMINISTRATION SET. THEIR STOCK TOOK A HIT THIS MORNING. CAROLINE: IT WASN'T JUST NVIDIA THAT WAS BEING FOCUSED ON. TALK US THROUGH SOME OF THE AI COMPANIES THAT ARE TARGETED IN CHINA. MACKENZIE:
IN ADDITION TO TIGHTENING THE THRESHOLD FOR GRAPHICS CHIPS LIKE NVIDIA, YOU SAW THE BIDEN ADMINISTRATION ADD TWO AI FIRMS THAT ARE CHINESE AI STARTUPS TO THE ENTITY LIST AND THAT MEANS OVERSEAS COMPANIES HAVE TO GET A LICENSE TO EXPORT AND TRADE WITH THOSE FIRMS. ONE OF THOSE COMPANIES HAVE SAID WE WILL APPEAL THAT DECISION AND WE DISAGREE, THE CHINESE FOREIGN MINISTER SAID WE DON'T WANT THE U.S. TO OPEN EYES TRADE ISSUES. THIS IS THE BIDEN ADMINISTRATION CLAMPING DOWN ON WHAT THEY SEE AS PRIVATE INVESTMENT IN CHINA CHIP INDUSTRY.
IT IS NOT JUST THE ACTUAL MANUFACTURE OF CHIPS BUT THE HIGHLY EXPENSIVE AND TECHNICAL EQUIPMENT REQUIRED TO MAKE THEIR -- THEM IN ONE OF THE KEY COMPANIES IS A DUTCH COMPANY AND THEY SAID THE NEW RESTRICTIONS ARE GOING TO IMPACT SOME OF THE CHINA FACILITIES. ED: WE ARE SHOWING ON THE SCREEN ASML'S RESPONSE TO THIS. WHAT WAS INTERESTING ABOUT THIS, THE WHOLE POINT OF THE CODIFYING AND UPDATING THESE CURVES WAS -- CURBS WAS TO ADDRESS THE LOOPHOLES IN OCTOBER AND I AM WILLING TO SAY OFFICIALS ON THE U.S. SIDE DIDN'T EXPLAIN WHICH CHIPMAKING EQUIPMENT WAS GOING TO BE CULLED BY THE EXPANDING CONTROLS. MACKENZIE: THEY RELEASED THE TEXT OF THE RULES THIS MORNING AND MANY ANALYSTS AND TRADE ORGANIZATIONS ARE GOING THROUGH IT TO IDENTIFY WHICH SPECIFIC WEEK -- PIECES ARE AFFECTED. IN ASML'S CASE. --
THE U.S. HAS SUBORDINATE WITH THE NETHERLANDS ON THE POLICY BECAUSE ASML IS A DUTCH COMPANY, ONE OF THE MOST VALUABLE COMPANIES IN EUROPE AND ONE OF THE MAIN LOOPHOLES OF THE INITIAL EXPORT CONTROLS LAST OCTOBER WAS WASHINGTON WENT AHEAD BUT THEY HAD NOT GOT AMSTERDAM AND TOKYO ON BOARD FOR SOME OF THE MAIN CHIP MANUFACTURERS ARE LOCATED. CAROLINE: WE THANK YOU FOR JUMPING ON THAT NEWS AND WE WILL STAY OVER IN WASHINGTON AND TALK LOCALLY BECAUSE PRESIDENT BIDEN IS SET TO TRAVEL TO ISRAEL TOMORROW AT ANY MOMENT. THE U.S. HELP -- HOUSE ITSELF WILL HOLD
A VOTE ANNOUNCING THE NEW SPEAKER. TO THE PRESIDENT AND THE ANTICIPATED TRIP AT THE MOMENT. HOW ARE WE ANTICIPATING THIS TO BE TAKEN BY THE REST OF THE ADMINISTRATION AND BY THE REPUBLICANS? KAILEY: THIS IS SOMETHING THAT PRESIDENT BIDEN IS DOING AT THE INVITATION OF ISRAELI PRIME MINISTER BENJAMIN NETANYAHU AND IT IS GOING TO BE A LITERAL PHYSICAL MANIFESTATION OF THE U.S. SUPPORT FOR ISRAEL, A SHOW OF SOLIDARITY AND IT IS A TRIP THAT THE PRESIDENT IS MAKING A GREAT PERSONAL RISK. HE IS HEADING INTO A WAR ZONE BUT THERE ARE A NUMBER OF THINGS HE WILL TRY TO ACHIEVE. IN ADDITION TO TALKING TO ISRAELIS AND SHOWING SUPPORT, BENJAMIN NETANYAHU AND OTHER LEADERS ON WHAT THEY NEED FOR AID, HE GOES THERE WITH THE KNOWLEDGE THAT THERE ARE SEVERAL AMERICANS UNDERSTOOD TO BE HOSTAGES OF HAMAS.
HE WOULD LIKE TO SEE THEM RESCUED AS WE ARE ON THE CUSP IT SEEMS UP A ISRAELI GROUND INVASION IN GAZA AND HE WILL LIKELY BRING A MESSAGE FOR RESTRAINT. MAKING SURE THAT WHILE THE U.S. ISRAEL DOES HAVE A RIGHT TO GO AFTER HAMAS AND THEY ARE TAKING EVERY OTHER THEY CAN TO PROTECT INNOCENT LIVES AND THERE IS THE BROADER DETERRENT EFFECT OF HIM BEING THERE. THEY DON'T WANT THIS CRISIS TO EXPAND BEYOND ISRAEL AND GAZA AND THERE IS A WARNING TO OTHER COUNTRIES LIKE IRAN, AND OTHER GROUPS LIKE HEZBOLLAH, NOT TO WIDEN THIS CONFLICT FURTHER AND THAT IS WHY WE WILL SEE THE PRESIDENT TRAVELING TO JORDAN TO MEET WITH LEADERS IN EGYPT AND THE PALESTINIAN AUTHORITY. THE PRIME MINISTER -- ED: THE TENSIONS IN THE MIDDLE EACH -- EAST. WHAT ARE WE EXPECTING
TO HAPPEN IMMINENTLY? KAILEY: IT IS GOING TO LITERALLY TAKE PLACE ANY MINUTE. WE WILL SEE IF JIM JORDAN HAS THE NUMBERS. HE IS THIS -- THE SPEAKER DESIGNATED OF THE REPUBLICAN CONGRESS. IT IS NOT CLEAR THAT HE IS GOING TO HAVE THE BOATS THAT HE NEEDS. 217 IS THE MAGIC NUMBER AND HE CAN ONLY AFFORD TO LOSE FOUR BOATS AND THERE WERE 50 WHO SUGGESTED THEY WILL NOT VOTE FOR HIM ON THE FLOOR BUT HE HAS BEEN WHITTLING AWAY AT THIS NUMBERS. -- THESE NUMBERS.
HE HAD MANY FLIPS -- THAT HE WAS ABLE TO BRING ONTO BUT THERE ARE A HANDFUL OF REPUBLICANS. CARLOS GIMENEZ, WHO STILL HAVE SAID THEY WILL VOTE NO FOR HIM SO THAT WILL BE A MATTER OF WHETHER HE CAN GET ON THE BALLOT AND IF YOU CAN DO IT ON ANY BALLOT, HE WILL HAVE TO TRY TO BRING MORE PEOPLE ON HIS SIDE KNOWING THAT WE ARE WORKING WITH A NUMBER OF CLOCK'S. ISRAELI AID, THE NEED TO GET FUNDING TO ISRAEL WITH CONGRESSIONAL APPROVAL BUT TRYING TO AVOID A GOVERNMENT SHUTDOWN NOVEMBER 17. CAROLINE: TO THAT POINT, YOU SHUT THE CONVERSATION BACK FROM THE MNC -- EMINENCY OF THE VOTE ON THE HOUSE AND WHAT THAT MEANS FOR THE DIRECTION OF TRAVEL IN ISRAEL. TAKE US FROM WHAT WE KNOW -- ISRAEL. KAILEY: THERE IS BIPARTISAN SUPPORT FOR GIVING ISRAEL WHAT IT NEEDS AND FOR CONGRESS PASSING THAT AID IF YOU NEEDS TO KNOWING THAT THERE ARE EXISTING AUTHORITIES THAT THE BIDEN ADMINISTRATION ALREADY HAS AN MONEY THAT THEY CAN GIVE TO RESOURCES -- ISRAEL WITHOUT CONGRESSIONAL APPROVAL BUT IF SOMETHING REQUIRES CORRECTIONAL APPROVAL, THAT WILL GET TRICKY IF WE HAVE NO SPEAKER OF THE HOUSE AND IT IS NOT JUST ISRAEL FUNDING VIA ADMINISTRATION IS PUSHING FOR, IT IS OTHERS AS WELL INCLUDING FUNDING OF UKRAINE WHICH IS A MORE DIFFICULT TOPIC AMONG REPUBLICANS SPECIFICALLY WITH THE HOUSE OF REPRESENTATIVES AND THERE ARE GROWING TALKS ABOUT THE IDEA THAT ISRAEL AND UKRAINE FUNDING COULD BE TIED TOGETHER BUT THAT IS SOMETHING JIM JORDAN, IF HE GETS THE SPEAKER'S GAVEL, COULD HAVE A HARD TIME GETTING THROUGH THE HOUSE KNOWING THAT THERE ARE MANY MEMBERS OF HIS PARTY OPPOSED TO FUNDING FOR UKRAINE SO IT WILL BE A THORNY SUBJECT TO NAVIGATE. CAROLINE:
KAILEY LEINZ, THANK YOU, ACROSS ALL OF THE MOVING PARTS THAT ARE CURRENTLY OCCURRING IN WASHINGTON AND WE HAVE BEEN TALKING ABOUT ISRAEL FROM THE POLITICS, BUT AT THE MOMENT, THE APPLICATIONS WITHIN TECHNOLOGY AND THERE IS NOTABLE NEWS OUT -- TO SET UP A SATELLITE NETWORK TO BOLSTER COMMUNICATIONS. ED: THIS IS A ANNOUNCEMENT FROM ISRAEL'S COMMUNICATIONS DEPARTMENT. STARLINK IS NOT AVAILABLE IN ISRAEL. WE HAVE NOT HEARD FROM SPACEX.
THE IDEA THAT THE ISRAELIS ARE ALLYING, IT WILL KEEP THE TOWNS WITH THE FRONTLINE WITH A RELIABLE INTERNET CONNECTION AS THIS WAR WITH HAMAS CONTINUES AND THE OTHER STORY WE ARE FOLLOWING RELATED TO THE WAR, -- SEVERAL OTHER PROMINENT VENTURE CAPITALISTS HAVE CANCELED PLANS TO ATTEND WEB SUMMIT AND IT FOLLOWS COMMENTS FROM THE CEO BEST FRIEND WESTERN SUPPORT FOR ISRAEL. THE CEO OF WEB SUMMIT THROUGH A -- PUT UP A BLOCK POST AND ISSUED A APOLOGY FOR HIS COMMENTS HE MADE ON X. CAROLINE: IT WAS NOTABLE THAT THEY DO SAY THAT WHAT SOME VCS HAVE STEPPED BACK AND SOME AREAS OF EUROPEAN VENTURE CAPITALISTS FROM ATTENDING THE EVENT AND WEBS SUMMIT HAD DASHED IN TERMS OF ATTENDANCE, REGISTRATION AND SOME VCS HAD SIGNED UP TO ATTEND BUT OVERALL, THIS SHOWS THAT PEOPLE ARE HAVING TO NAVIGATE HOW THEY COMMUNICATE WITH THEIR OWN CUSTOMER BASE, HOW THEY COMMUNICATE WITH THE BROADER WORLD ON X. ED: I THINK HE POSTED ONTO THAT PLATFORM SAYING HE WOULD TAKE A TIMEOUT FROM THE PLATFORM WHERE HE ORIGINALLY MADE HIS NEWS -- VIEWS KNOW. CAROLINE: WE WILL TALK ABOUT THE FCX TRIAL AND WHAT IT MEANS FOR THE CRYPTO SPACE.
CAROLINE: THE FORMER DIRECTOR OF ENERGY AT FTX IS FACING CROSS EXAMINATION AT THE SAM BANKMAN-FRIED TRIAL TODAY. LET'S BRING IN HANNAH MILLER FOR MORE ON THE WAY IN WHICH THE TESTIMONIES ARE UNFOLDING AND IT FEELS LIKE THIS IS A ROCKY RELATIONSHIP FOR CNE -- TOWARDS THE END OF THE FTX FALLOUT. >> WE ARE GETTING AN INSIDE LOOK OF WHAT HAPPENED AT FTX DURING THE COLLAPSE IN THE OFFICE AND THE $30 MILLION PENTHOUSE THAT SAM BANKMAN-FRIED SHARED WITH HIS EXECUTIVES. ED: ONE INTERESTING PIECE FROM THE PROSECUTION STANDPOINT IS WHAT HE IS SAYING WHEN HE LEARNED ABOUT THE FINANCIAL DIFFICULTIES THAT FTX WAS IN, WHAT DID WE LEARN? HANNAH: IT WAS AN EXTREMELY STRESSFUL SITUATION FIRM AND IT WAS DEAD -- IT WAS DEVASTATING. HE FLIPPED EARLY ON BANKMAN-FRIED. WE KNOW THAT HE HAD A CLOSE PERSONAL RELATIONSHIP WITH SAM BANKMAN-FRIED'S YOUNGER BROTHER.
ED: WHAT WAS INTERESTING TO ME WAS THE TIMING OF THIS, HE SAYS HE ONLY LEARNED ABOUT THE $8 BILLION HOLE IN THE COMPANY BALANCE SHEET TWO MONTHS BEFORE EVERYTHING FELL APART. WHERE ARE WE IN THE TRIAL? I KNOW IT IS HARD TO WEIGH THE EVIDENCE. ARE WE IN -- NEAR THE END OF THE PROCESS OF WHAT WE EXPECT TO COME? HANNAH: THE LATEST ESTIMATE FOR THE VERDICT IS NOVEMBER 8. WE HAVE THE POTENTIAL WITNESS LIST BUT THAT COULD BE ADJUSTED. THERE ARE MANY COLORFUL CHARACTERS AND PEOPLE CLOSE TO SAM BANKMAN-FRIED WHO ARE SET TO TESTIFY. CAROLINE: BUT WE ARE ALSO GETTING IS A
STORY -- IT SEEMS THAT THE PROSECUTION IS TRYING TO IDENTIFY FLASHING'S, EXCESS DONE BY -- FLASHI INESS, EXCESS DONE BY SAM BANKMAN-FRIED. THE FACT THAT THEY WERE LEFT OUT OF THE LOOP ON MANY OF THESE DEALS UNTIL AFTER THE FACT. HANNAH: A LOT OF WHAT THE PROSECUTION HAS BEEN DOING IS SHOWING THE LIFESTYLE THAT SAM BANKMAN-FRIED ANOTHER FTX INVESTORS PURSUED -- SAM FREED AND OTHER FTX INVESTORS PURSUED. WE HAVE SEEN WITH NISHAD SINGH'S TESTIMONY AND LIVING WITH HIS $30 MILLION PENTHOUSE AT THE BAHAMAS, MANY EXECUTIVES ENJOY A LIFE OF RICHES.
-- ENJOYED A LIFE OF RICHES. ED: LET'S KEEP THE STORY GOING WITH SANDRA RO. YOU ARE DEDICATED TO FURTHERING THE ADOPTION OF BLOCKCHAIN TECHNOLOGY AND THIS TRIAL TO -- PUT A MACRO SPOTLIGHT ON IT. WE ARE SEEING THAT HAPPEN IN THIS COUNTRY. AS YOU SIT THERE REPRESENTING
YOUR INDUSTRY, WHAT DO YOU THINK THE OUTCOME WILL MEAN FOR YOUR INDUSTRY? SANDRA: ROD IS FRAUD -- FRAUD IS FRAUD IN THE TRIAL UNDERSCORES THE IMPORTANCE OF ENFORCEMENT AND BEING ABLE TO DO ITS JOB TO WEED OUT FINANCIAL CRIMES AND AS THE INDICTMENT, IF IT IS PREVENTED IN THIS TRIAL, THAT FINANCIAL MISCONDUCT WAS COMMITTED, THE U.S. IS BASED ON RULE OF LAW AND THAT IS GOOD AND WE WILL SEE THE OUTCOME OF THAT SHORTLY, IT SEEMS. FOR THE INDUSTRY, I WILL SAY THIS. LET'S TYPE -- LESS HYPE, BOSTON WAS, LESS BAD -- LESS NOISE, LESS BAD ACTORS -- GOING HAND IN HAND. CAROLINE:
TALKING OF NOISE, THERE WAS NOISE SURROUNDING FUTURE SIGN-UPS -- SIGN OFF OF SPOT ATX --ETX. THERE WAS SOME EXPECTATION THAT BE FCC MIGHT SIGN OFF ON THE -- HOW MUCH ARE YOU NAVIGATING THIS CURRENT NOISE AND EXPECTATION IN THE MARKET? SANDRA: WITH THE ORGANIZATION THAT WE HAVE, WHICH HAS FORTUNE 500'S ACROSS TO LAYER ONE BLOCK CHANGE TO CRYPTO FIRMS, WE HAVE TO NAVIGATE A WORLD WHERE WE FOCUS ON WHAT IS THE PROBLEM PEOPLE ARE SOLVING FOR, HOW IS THIS TECHNOLOGY USEFUL FOR SOCIETY AND WHAT IS THE POSITIVE IMPACT TO SOCIETY? FOR US, IT IS GETTING TOO BREAD-AND-BUTTER, WHAT REAL WORLD PROBLEMS ARE BEING SOLVED FOR AND HOW CAN THESE TECHNOLOGIES BE USED TO FURTHER SOLUTIONS THAT ARE A POSITIVE IMPACT? ED: IN PARALLEL, WE HAD THIS INDUSTRY DEFINING TRIAL THAT WILL HAVE RAMIFICATIONS FOR YOUR INDUSTRY. WE ALSO WAY TO LEARN ABOUT APPROVAL FOR PRODUCTS THAT EXPAND -- WE ALSO WAY TO LEARN ABOUT APPROVAL FOR PRODUCTS THAT EXPAND DIGITAL REACH. WHEN YOU AND ALL OF YOUR MEMBERS GATHER, ARE THESE POSITIVE CONVERSATIONS YOU ARE HAVING OUR -- OR ARE YOU DOWN IN THE DOLDRUMS ABOUT THE HEALTH OF YOUR INDUSTRY? WITH THE --SANDRA: WITH A GROUP AS LARGE AS OURS, ONE SIZE DO NOT -- DOES NOT FIT ALL. OUR FOCUS IS WIDENING THE ARBITER OF THE DISCUSSION FROM
OUR POINT OF VIEW, EVERY INDUSTRY SECTOR WILL LIKELY BE AFFECTED BY THINGS GOING DIGITAL AND IN A WORLD WHERE EVERYTHING IS GOING DIGITAL INCLUDING MONEY AND FINANCIAL PRODUCTS, WHAT DOES THAT MEAN WHAT ARE THE IMPLICATIONS FOR EACH INDUSTRY SECTOR? WHETHER WE ARE TALKING ABOUT SUPPLY CHAIN TO DIGITAL IDENTITY TO WALLETS AND INVESTING. CAROLINE: DO YOU THINK ULTIMATELY THAT THE MIDDLE OF THE NOISE -- THAT AMID ALL THE NOISE, YOU ARE ABLE TO SHOW REAL WORLD APPLICATIONS THAT DO SOLVE -- PROBLEM SOLVE. YOU ARE ON FILE COINS, YOU ARE DOING THINGS WITHIN THE EU FUNDS. WHAT PROBLEMS NEED TO BE
RESONATED -- NEED TO BE SOLVED TO WIN HEARTS AND MINDS? SANDRA: IT IS GETTING BACK TO BASICS. ARE YOU ACTUALLY HELPING TO SOLVE REAL-WORLD PROBLEMS? ONE EXAMPLE OF A PROBLEM -- PROJECT WE HAVE GOING ON WITH THE U.N. ROAD FOOD PROGRAM, BILLIONS OF DOLLARS OF MOBILE FUNDS GO TO THE SYSTEM ACROSS THE ELEMENT WORLD AND THERE IS VERY LITTLE VISIBILITY AROUND MAKING SURE THAT THERE IS A 360 DEGREE ACCOUNTABILITY ON THE FACT THAT WHEREVER IT WAS SUPPOSED TO GO, IT WENT TO THAT CITY OR VILLAGE OR COMMUNITY. I THINK WE NEED TO THINK ABOUT HOW WE DESIGN SYSTEMS TO ALLOW FOR THAT ACCOUNTABILITY, IT IS NOT ABOUT BEING BIG BROTHER.
THERE NEEDS TO BE HUMAN RIGHTS AND CONSUMER PROTECTION BILLS IN THE DESIGN BUT ULTIMATELY WE NEED TO THINK ABOUT HOW WE AFFECT POSITIVE TRANSPARENCY. CAROLINE: SANDRA RO, WHICH YOU HAVE TIME WITH YOU, CEO OF THE GLOBAL BLOCKCHAIN BUSINESS COUNCIL. FROM NEW YORK AND SAN FRANCISCO, THIS IS BLOOMBERG TECHNOLOGY. ED: TIME FOR TALKING TECH.
TSMC IS AXING PLANS TO BUILD AN ADVANCED CHIP SITE AT TAIWAN. -- ON ONE OF THE MORE PROMINENT STARTUPS AND AMY TO COMPETE WITH THE LIKES OF MICROSOFT AND OPENAI AND APPLE CEO TIM COOK MADE A SPECIAL APPEARANCE AT A TENCENT GAMING TOURNAMENT IN CHINA AND THIS COMES AMID REPORTS OF SLOWER SALES AT THE IPHONE 15 AND INCREASED COMPETITION FROM HUAWEI. ED: IT IS TECH WEEK --CAROLINE: IT IS TECH WEEK AND WE WILL SIT WITH PARTICIPANTS FROM EVERYWHERE VENTURES. AMAZON -- WATCHING SHARES OF AMAZON, JEFF BEZOS REGAINS HIS SPOT AS THE SECOND RICHEST PERSON IN THE WORLD. CAROLINE: WELCOME BACK TO "BLOOMBERG TECHNOLOGY". I AM CAROLINE HYDE. ED: AND I AM ED LUDLOW. IN THE LAST FEW MINUTES THE NASDAQ 100 HAS TURNED POSITIVE, UP 0.1%. WE GOT STRONGER THAN EXPECTED
RETAIL DATA IN SEPTEMBER. THE LOGIC THE MARKET IS FOLLOWING IS STRONG ECONOMIC DATA RAISES BETS ON THE FED HOLDING INTEREST RATES HIGHER FOR LONGER. WE KNOW WHAT HIGHER RATES MEANS FOR THE TECHNOLOGY SECTOR. THE NASDAQ 100 AROUND 70 NAMES IN THE GREEN, 30 IN THE RED.
ONE BIG MOVER TO THE DOWNSIDE IS NVIDIA AFTER THE U.S. EXPANDED CURBS ON CHIP TECHNOLOGY EXPORTS. THAT IMPACTED NVIDIA. NAMES TO THE UPSIDE ARE META,
ADOBE. A LOT OF FED SPEAK THIS WEEK AND THEN CHINA GDP WEDNESDAY. WE GOT A LOT TO THINK ABOUT. CAROLINE: WE DO. THERE IS ALSO THE MICRO TO
THINK ABOUT IN NEW YORK CITY. TECH WEEK IS UPON US. THE INDUSTRY IS GATHERING FIRST SO MANY EVENTS ALL WEEK LONG. WE SAT DOWN WITH MEMBERS OF A16Z. >> I HAVE ALWAYS BELIEVED OPPORTUNITIES LIVE BETWEEN FIELDS OF EXPERTISE. I ENJOYED THOSE INTERSECTIONS AND IT IS A METAPHOR FOR NEW YORK CITY. TECHNOLOGY HAS A TENDENCY OF CUTTING ACROSS INDUSTRIES AND I THINK THE COMPANIES THAT REPRESENT NEW YORK ARE THOSE THAT LIVE AT THE INTERSECTION BETWEEN TECHNOLOGY AND THE LARGE INCUMBENT INDUSTRIES THAT EXIST IN NEW YORK.
WHETHER THAT IS MEDIA, ADVERTISING, FASHION, OR FINANCIAL SERVICES. CAROLINE: LET'S GET MORE THOUGHTS FROM THE NEW YORK TECH SCENE. JENNY FIELDING IS HERE WITH US, MANAGING PARTNER AT EVERYWHERE VENTURES. TECHNOLOGY IS EVERYWHERE. BUT YOU HAVE BASED YOUR SELF IN NEW YORK AND HAVE BEEN GROWING SINCE 2007. HOW HAS IT CHANGED?
JENNY: I AM A BORN AND RAISED NEW YORKER. WHEN I SET OUT TO FOUND MY FIRST TECH COMPANY IN 2007 EVERYONE SAID, THIS IS A TERRIBLE PLACE TO START. REALLY? THERE WAS INCREDIBLE TALENT HERE. WE HAVE SOME OF THE BEST ENGINEERING SCHOOLS.
WE HAVE WALL STREET, WE HAVE REAL ESTATE, WE HAVE EVERY MULTINATIONAL HERE. I DUG IN MY HEELS AND BUILT MY COMPANY HERE WHILE EVERYONE WAS HEADING WEST. IT HAS TAKEN A LONG TIME FOR OUR ECOSYSTEM TO DEVELOP BUT IT IS A THRIVING ECOSYSTEM. BUT IT HAS TAKEN TIME. FROM 2007 TO NOW, MORE THAN 15 YEARS. CAROLINE: IN TERMS OF NUMBER OF VENTURE CAPITAL DEALS BEING SIGNED, IT IS SECOND BEHIND SAN FRANCISCO AND THE BAY AREA.
WHAT HAS BEEN A REAL CATALYST? WE KNOW THERE HAVE BEEN THE DATA DOGS THAT PUT MONEY BACK INTO NEW YORK. HAS THAT HELPED OR HAS THAT CARVED TOO MUCH OF A NICHE? JENNY: IT HAS BEEN AMAZING TO SEE HOW THE IPO'S HAVE CATALYZED THE SYSTEMS. THE FOUNDERS MAKE A BUNCH OF MONEY, AND NOT JUST THE FOUNDERS, THE TEAMS. THEY MAY BUY A NICE HOUSE THEY PUT IT RIGHT BACK INTO THE ECOSYSTEM. WHAT IS INTERESTING ABOUT OUR
FUND'S WE RAISE ALL OF OUR CAPITAL FROM LP'S WHO ARE FOUNDERS AND OPERATORS. WHILE MOST ARE INVESTING OR RAISING FROM INSTITUTIONS, WE ARE RAISING FROM OUR COMMUNITY. THAT IS A REAL NEW ETHOS. WE HAVE SEEN IT IN THE BAY AREA AND OUT IS TRYING TO COME HERE. ED: WHAT IS THE NEW YORK CITY
FOUNDER PLAYBOOK? THE STORY IN SILICON VALLEY AND SAN FRANCISCO IS YOU HAVE GONE TO STANFORD OR BERKELEY. YOU CAN FIND YOURSELF A GARAGE OR SPACE, GET CAPITAL FROM VC'S, AND GROW QUICKLY. EXPLAIN WHAT IS HAPPENING ON THE GROUND IN THE WIDER NEW YORK AREA. JENNY: AGAIN, I WANT TO STRESS THE WORD ECOSYSTEM. IT IS NOT JUST ABOUT WHAT THE VENTURE CAPITALISTS ARE DOING BUT WHAT ABOUT THE UNIVERSITIES? I AM AN ADJUNCT PROFESSOR AT BOTH CORNELL TECH AND COLUMBIA UNIVERSITY. WE ARE ENCOURAGING STUDENTS TO NOT JUST GO TO THE TRADITIONAL SPACES. WHEN I WAS A STUDENT, EVERYONE
WENT TO JP MORGAN AND MCKINSEY. NOW WE ENCOURAGE STUDENTS TO START COMPANIES. IT IS A VERY DIFFICULT ARE HERE THAN WHEN I STARTED -- IT IS A VERY DIFFERENT CULTURE HERE THAN WHEN I STARTED. ED: IS WHAT WE ARE SEEING HAPPEN TO
AI ON THE WEST COAST HAPPENING IN NEW YORK? THE DATA SHOWS 50% OF THE CAPITAL GOING TO SAN FRANCISCO-BASED STARTUPS. BUT IS THERE STILL ENERGY BEING CREATED BY AI IN NEW YORK? JENNY: WE HAVE INCREDIBLE LABS ACROSS OUR UNIVERSITIES AND THAT IS SPAWNING SOME OF THE BEST UP-AND-COMING TECHNOLOGISTS. I JUST HOSTED A BREAKFAST WITH AWS AND 75% OF THE FOUNDERS PITCHED ME AN AI STARTUP. IT IS HAPPENING HERE. IT IS TRUE THAT SOME OF THE LARGER INFRASTRUCTURE PLAYS WHETHER IT IS OPENAI OR MICROSOFT OR GOOGLE ARE ON THE WEST COAST, BUT WE HAVE THE OPPORTUNITY TO CATCH UP. CAROLINE: WHAT IS THE STATE, WHAT IS THE CITY DOING, TO PERPETUATE THIS? SOME WOULD SAY NEW YORK IS PUSHING BACK AGAINST AIRBNB. HOW ARE THEY MANAGING THE
BALANCING ACT? JENNY: GREAT QUESTION. I HAPPEN TO CHAIR THE ADVISORY BOARD OF NEW YORK VENTURES. THAT IS THE VENTURE FUND FOR THE STATE OF NEW YORK. THEY ANNOUNCED 00 MILLION FUND TO INVEST IN EMERGING MANAGERS. THESE MANAGERS ARE OUT THERE SUPPORTING THE NEXT GENERATION. THEY ARE PUTTING MONEY INTO THESE NEW INNOVATORS WHO ARE THAN INVESTING IN COMPANIES IN NEW YORK. I THINK THE STATE, REALLY,
ACROSS THE STATE, MAKING A BIG IMPACT. I JUST CAME FROM A COMPETITION CALLED 43 NORTH IN BUFFALO WHERE THEY GAVE OUT $5 MILLION TO FIVE COMPANIES THAT ARE MOVING TO BUFFALO STARTING THEIR COMPANIES. MANY IN AI. WE ARE EXCITED TO SEE ALL OF THE CATALYZING ACROSS THE STATE.
CAROLINE: WHAT IS INTERESTING IS TECH N.Y.C. IS HELPING GALVANIZE. THEY HAVE GOT INTERESTING DATA WHEN IT COMES TO THE BREAKDOWN OF FOUNDERS. I AM INTERESTED IN WHETHER IT IS ANECDOTAL. THEY HAPPEN TO BE MORE DIVERSE IN NEW YORK. THAT IS A REFLECTION OF THE PEOPLE IT MAKES UP, BUT IS IT DIVERSE ENOUGH? ARE YOU SEEING IMPROVEMENTS? JENNY: I AM HOSTING A FEMALE FOUNDER LUNCH ON FRIDAY. WE HAD 1000 WOMEN APPLIED. UNFORTUNATELY, WE HAVE 50 SPOTS, BUT IT IS INCREDIBLE.
WE ARE SEEING INCREDIBLE DIVERSITY ACROSS ALL WALKS OF LIFE AND WE ARE EXCITED. I DO NOT THINK IT IS JUST TALK. WOMEN ARE COMING OUT OF INCREDIBLE UNIVERSITIES AND COMPANIES AND THERE IS CAPITAL THERE FOR THEM. ED: JENNY, WHAT YOUR INDUSTRY COL COLLEAGUES OUTLINED YESTERDAY WAS NEW YORK BEING GOOD AT APPLYING TECHNOLOGY TO MATURE INDUSTRIES LIKE FINTECH BUT ALSO BIOTECH. ARE THERE ANY EXAMPLES WHERE YOU HAVE EXPERIENCED TECHNOLOGY OFFERING A SOLUTION FOR A LEGACY OR LONG-STANDING INDUSTRY? JENNY: YEAH. THOSE ARE TWO OF OUR LARGE AREAS. FINTECH, HEALTH CARE, THE OTHER IS FUTURE OF WORK AND AUTOMATION.
OFTEN TIMES THIS PLAYS OUT IN VERTICAL SASS. THESE ARE ANTIQUATED INDUSTRIES AROUND SUPPLY CHAIN AND THE LIKE WHERE NEW TECHNOLOGIES ARE COMING IN TO MAKE EVERYTHING MORE EFFICIENT. THE AREAS THAT WE FOCUS ON, FINTECH, HEALTH CARE, AND FUTURE OF WORK AUTOMATION. THESE ARE CRITICAL TO THE CITY AND THESE ARE OLD, ANTIQUATED INDUSTRIES THAT ARE BEING UPDATED THROUGH TECH. CAROLINE: JENNY FIELDING, REALLY GREAT TO HAVE YOU BACK ON THE SHOW.
THANK YOU. ED? ED: BUSY WEEK IN NEW YORK CITY. COMING UP, TODAY'S VC SPOTLIGHT. WE TALK EVERYTHING FINTECH. THE CEO OF THE COTERIE, COMING UP NEXT.
ED: TODAY'S VC SPOTLIGHT LOOKS AT THE COTERIE, A FINTECH WITH $500 MILLION ASSETS UNDER MANAGEMENT. IT HELPS INDIVIDUAL INVESTORS MANAGE INVESTMENTS IN ALTERNATIVES LIKE VENTURE CAPITAL AND PRIVATE EQUITY. AS OF TODAY, THEY ALSO OFFER PERFORMANCE DATA AND TAX REPORTING SERVICES. CEO ETHAN AGARWAL JOINS US HERE. THAT WAS THE ORIGIN, ALLOWING
INDIVIDUALS TO WRITE SMALLER CHECKS. ETHAN: EXACTLY. WE HAVE A VISION FOR THE FUTURE. WE THINK THE FUTURE CAN BE BETTER THAN TODAY.
WE THINK INVESTORS ARE OPTIMISTIC OR PESSIMISTIC. WE STARTED TO SAY LET'S DEMOCRATIZE ACCESS TO AN ASSET CLASS THAT HAS BEEN PREVIOUSLY LIMITED TO REALLY LARGE PENSION PLANS OR LARGE ENDOWMENTS. LET'S MAKE THAT AVAILABLE TO THE AVERAGE RETAIL INVESTOR. THAT IS WHAT WE FOCUSED ON.
IN THE LAST 24 MONTHS WE HAVE SEEN THAT PROLIFERATE. THERE ARE DIFFERENT COMPANIES OFFERING ACCESS. WHAT WE REALIZED WHEN WE GOT DEEP INTO IT IS THAT IT IS ACTUALLY THE TOOLING THAT IS COMPLETELY BROKEN. AS AN INDIVIDUAL INVESTOR, IT IS BASICALLY IMPOSSIBLE TO MANAGER CAPITAL CALLS, YOUR PERFORMANCE REPORTING, YOUR TAX DOCUMENTS, AND IF YOU ARE AN INDIVIDUAL INVESTOR IN MULTIPLE FUNDS, IT IS AN ABSOLUTE DISASTER. ED: WHAT DOES AN INDIVIDUAL INVESTOR LOOK LIKE? PRIVATE EQUITY ASIDE, WHICH HAS BEEN HURT BY RATES, EVERYONE IS CLAMORING FOR THE PRIVATE INVESTOR.
WHO ARE YOU TALKING ABOUT? THE EVERYDAY PERSON OR THE MILLIONAIRE? ETHAN: CREDIT INVESTORS AND ABOVE, WHICH IS MILLION OF NET WORTH OR $200,000 OF INCOME. DEMAND IS ON BOTH SIDES. NOT ONLY ARE INDIVIDUAL INVESTORS LOOKING TO INVEST, THE FUNDS ARE LOOKING FOR INVESTORS.
KKR EXPECT 40% OF CAPITAL RAISES TO COME FROM INDIVIDUALS. SAME WITH BLACKSTONE. THE PRODUCTS, THE TOOLS, THE SOLUTIONS NEED TO BE DRAMATICALLY IMPROVED IN ORDER FOR RETAIL INVESTORS TO INVEST IN THESE ALTERNATIVE ASSET CLASSES. CAROLINE: YOU'RE TALKING TO INDIVIDUAL
INVESTORS. YOU ARE ALSO TALKING TO GP'S AND THE ADMINISTRATORS OF THE FUNDS. HOW QUICKLY ARE THEY ON BOARDING WITH YOU? ETHAN: SO FAR, VERY QUICKLY. IT IS INCREDIBLE THE GP'S -- IMA AND LP IN FIVE DIFFERENT FUNDS BUT I HAVE A DAY JOB. THOSE WHO ARE GP'S IN FUNDS, THEY HAVE THEIR ENTIRE NET WORTH IN THE FUND.
ONE OF THE SIGNIFICANT COMPANIES? ONE OF THE MARKS OF THOSE INDIVIDUAL COMPANIES? THESE PEOPLE ARE SAVING FOR THEIR KIDS' COLLEGE TUITION DO NOT KNOW WHAT THE PORTFOLIOS LOOK LIKE. WE BUILT A PRODUCT THAT HELPS GP'S, THAT HELPS LP'S UNDERSTAND WHAT THEY ARE EXPOSED TO AND HELPS THEM LOOK AT ANALYSIS THEY HAVE NEVER SEEN BEFORE WHEN THEY WERE DOWNLOADING A PDF. CAROLINE: YOU HAVE RAISED MONEY YOURSELF NOT ONLY MANAGING MONEY OF OTHERS.
HOW IS YOUR OWN BUSINESS BEEN DOING IN THIS ENVIRONMENT? HAVE YOU BEEN FOCUSING ON ENSURING YOUR PROFITABILITY? ARE YOU LOOKING TO RAISE MORE MONEY? ETHAN: WE HAVE MANAGED QUITE WELL. THIS IS MY SECOND TIME AROUND, SO, WE HAVE A TEAM OF EXCEPTIONAL CO-FOUNDERS AND INVESTORS. WE HAVE LOTS OF RUNWAY. THE COMPANY HAS BEEN PERFORMING WELL. MY VIEW ON RAISING CAPITAL IS RAISE AS MUCH AS YOU CAN WHENEVER YOU CAN. BUT IN THE MARKET TODAY IT DOES NOT MAKE SENSE. WHEN THE MARKET WARMS UP, YOU KNOW, THE 10-YEAR AT 4.7%, WHERE ARE WE GOING TO GET VC'S
THAT ARE NOT EXTREMELY EXPENSIVE? THE MARKET WILL WARM UP AND THEN WE WILL RAISE CAPITAL OPPORTUNISTICALLY. YOU RAISE IT WHEN YOU WANT TO. WE NEITHER NEED TO NOR WANT TO. ED: WHAT IS AT THE COTERIE HAS TECHNOLOGICALLY SPEAKING BEYOND THE DATABASE? ARE YOU A TECH COMPANY? ETHAN: WE ARE ONLY A TECH COMPANY. ED: HOW SO? ETHAN: WE DO NOT EMPLOY ADVISORS. WE DO NOT EMPLOY ANYBODY WHO IS NOT A SOFTWARE ENGINEER. THE ADVISORY MODEL EVEN IN FINTECH DOES NOT REALLY WORK BECAUSE PEOPLE ARE NOT LOOKING FOR A COMMISSION BASED STRUCTURE OR EVEN AUM BASED STRUCTURE.
WHAT YOU WILL FIND WITH WEALTH ADVISORS OR THE BIGGER FOLKS -- GOLDMAN REPORTED THIS MORNING -- WE ARE GOING TO GET YOU TO GIVE US YOUR ALTERNATIVES SO WE CAN CHARGE YOU $50 BIPS. THAT IS WHY OUR PAYMENT STRUCTURE IS FIXED. 00 PER YEAR, PER FUND REGARDLESS OF HOW BIG THE STRUCTURE IS. THE WAY WE DO THAT IS BY HAVING
SOFTWARE. IF WE HAD PEOPLE BEHIND US, IT WOULD BE INCREDIBLY EXPENSIVE AND THERE IS NO WAY WE COULD DELIVER. THE ONLY WAY WE CAN DO THAT WITH THE SIGNIFICANT MARGINS WE HAVE IS THROUGH SOFTWARE. CAROLINE: I LIKE IT. THE COTERIE CEO TALKING ABOUT HOW THEY ARE TECH. ETHAN AGARWAL, THANK YOU FOR YOUR TIME. ETHAN: THANK YOU. CAROLINE:
COMING UP, WE ARE GOING TO TALK ABOUT TIMES GETTING TOUGHER FOR THE SWEDISH TRUCK COMPANY VOLTA. ED: WE ARE LOOKING AT GENERAL MOTORS. THE STOCK HIGHER 1.1%. IT DROPPED AFTER HEADLINES HIT THAT IT IS DELAYING EXPANSION OF ELECTRIC TRUCK PRODUCTIONS LATE 2025. WHAT THAT MEANS IS GM IS DELAYING THE OPEN OF ITS SECOND ELECTRIC TRUCK PLANT WHICH WAS DO TO BE IN MICHIGAN.
GM IS TRYING TO PRESERVE CAPITAL. THE COMMITTED TENS OF BILLIONS TO ELECTRIFICATION AND THEY ARE JUST PULLING BACK A LITTLE BIT, BUT SAYING IT IS BASED ON ENORMOUS DEMAND. THAT STOCK UP 1.1%. THIS IS "BLOOMBERG TECHNOLOGY". ED: SWEDISH ELECTRIC TRUCK COMPANY VOLTA IS FILING FOR BANKRUPTCY AFTER A BREAKDOWN IN THE SUPPLY COMPANY.
THIS TWO MONTHS AFTER THEIR BATTERY SUPPLY FAILED, CAUSING THE TRUCK MAKER TO FALL SHORT OF PRODUCTION. BRINGING IN ANALYST MANI FOR MORE. THE SUPPLY CHAIN BROKE DOWN, VOLTA CANNOT GO INTO PRODUCTION, HOW DIFFICULT IS IT TOO QUICKLY PIVOT TO A NEW BATTERY SUPPLIER? >> I THINK IT REALLY DEPENDS IF THE COMPANY HAS ANY EXISTING RELATIONSHIPS. A LOT IS UNCERTAIN AT THE MOMENT. WE SEE THAT BATTERY COSTS ARE A
MAJOR FACTOR IN THE UPFRONT COSTS OF ELECTRIC TRUCKS WHICH IS THE MAJOR FACTOR DETERRING WIDER ADOPTION. IN TERMS OF BATTERIES, WE KIND OF SEE TWO MAJOR SEGUES. FOR EXAMPLE, A LOT OF THE MARKET SOURCES FROM CHINESE BATTERY MAKERS. ANOTHER PART OF THE MARKET SOURCES FROM KOREAN BATTERY MAKERS DOING NCM AND NCA WHICH IS HIGHER IN ENERGY DENSITY, BUT ALSO HIGHER IN COST. ED:
YES. ETHAN: VOLTA WAS SUPPLYING FROM PROTERRA WHICH WAS SOURCING FROM SAMSUNG. BUT WE ARE SEEING MORE COMPANIES IN THE MARKET, FOR EXAMPLE, GRAVITATE TOWARD LFP TO REDUCE COST. CAROLINE: FASCINATING STORY. THANK YOU. WE REALLY APPRECIATE IT. WE ARE DOING A HARD PIVOT WITH EV AND SELF DRIVING TRUCKS. ROBIN LEE DECLARING HIS
COMPANY'S LEG WHICH MODEL FINALLY CAUGHT UP WITH OPENAI'S ADVANCED GPD. HE SAYS THE LEAD IN HIS COUNTRY'S RACE TO DEVELOP AI COULD RIVAL THE UNITED STATES. LET'S BRING IN RACHEL METZ FOR MORE.
WHAT PROOF POINTS, WHAT SHOW AND TELL IS ROBIN USING TO PROVE THIS? RACHEL: THEY DID A PRESENTATION LIVE AND THAT IS OFTEN A GOOD TEST OF THE SYSTEMS. BUT BECAUSE THEY ARE PLANNING IN ADVANCE WHAT THEY ARE GOING TO DO, THAT CAN MAKE IT HARD TO TELL HOW WELL IT WORKS, UNLESS SOMETHING GOES HORRIBLY WRONG. THEN YOU WOULD KNOW IT IS NOT WORKING WELL. ONE THING I THINK IS SUPER
INTERESTING ABOUT THIS IS YOU HAVE SO MANY OF THESE LARGE LANGUAGE MODELS AND BOTS THAT ARE TRAINED ON SO MUCH OF THE INTERNET THAT IS WRITTEN IN ENGLISH. IT IS REALLY INTERESTING TO SEE COMPANIES WORKING ON MODELS THAT ARE TRAINED MORE AND MEANT MORE FOR NON-ENGLISH SPEAKING MARKETS. THAT IS SOMETHING WE ARE STARTING TO SEE INCREASINGLY AND I THINK IT WILL BE INTERESTING TO WATCH AND SEE HOW PEOPLE ARE USING THIS, AND HOW WELL THEY ARE FINDING IT WORKS FOR ALL KINDS OF THINGS. CAROLINE: HOW MUCH CONSUMER ENTHUSIASM HAS THERE BEEN FOR THESE IN YOUR HAND VIRAL CHAT BOTS? THERE IS MORE THAN 180 MILLION OR SOMETHING USING CHATGPT IN THE U.S. RACHEL: I THINK IT IS SOMETHING PEOPLE WANT TO USE FOR A RANGE OF THINGS. SOME KIND OF REMINDS ME OF THE EARLY DAYS OF THE APP STORE.
APPS WHERE YOU ARE NOT ENTIRELY SURE WHAT YOU ARE GOING TO DO WITH IT, BUT YOU WILL FIGURE OUT SOME INTERESTING THINGS THAT MAY NOT HAVE BEEN WHAT WAS EXPECTED. ONE OF THE INTERESTING AND COOL THINGS ABOUT PUTTING THESE ONTO PHONES IS THAT IT ENCOURAGES PEOPLE TO USE THEM IN MORE CONTEXT WHERE YOU MIGHT NOT BE IN FRONT OF A COMPUTER, LIKE A LAPTOP OR IPAD. WHEN YOU ARE DRIVING, FOR INSTANCE, OR IN THE KITCHEN MAKING FOOD. ED:
IT IS WORTH NOTING THAT BAIDU IS DOWN THAT HAS A LOT TO DO WITH THE EXPORT CURBS. LEE SAID THEY ARE NOT INFERIOR. OK. WHAT IS IT THAT GPT4 CAN DO IF WE WERE TO COMPARE THEM? RACHEL: OPENAI KEEPS ELEVATING CHATGPT.
IT HAS GAINED CAPABILITIES THEY HAD ANNOUNCED PREVIOUSLY BUT THEY HAD NOT BEEN LAID OUT INITIALLY. YOU CAN NOW GIVE AN IMAGE AND SAY, DESCRIBE WHAT IS IN THIS IMAGE. THINGS LIKE THAT CAN BE HELPFUL FOR A RANGE OF USES. HELPING PEOPLE WITH VISUAL DISABILITIES TO HELPING YOU PICK OUT AN OUTFIT.
IF THEY CAN DO SOMETHING LIKE THAT WITH EARNING BOT, THAT WOULD BE USEFUL. THERE ARE ALSO A LOT OF PROBLEMS AND IT IS HARD TO KNOW WHEN IT IS TELLING THE TRUTH, SO TO SPEAK. IT REMAINS TO BE SEEN HOW ACCURATE EARNING BOT IS AND I GUESS WE WILL HAVE TO WAIT. ED: CHATGPT AS A WARDROBE ASSISTANT. INTERESTING. RACHEL METZ, THANK YOU VERY MUCH. CAROLINE: NO END OF APPLICATIONS. NOT DOING YOURS YET. THAT DOES IT FOR THIS EDITION
OF "BLOOMBERG TECHNOLOGY". ED: DO NOT FORGET TO CHECK OUT THE PODCAST. THANK YOU FOR THOSE THAT TUNE IN. WE ARE ON APPLE, SPOTIFY, AND ALL THE BLOOMBERG PLAT FIRMS. YOU CAN ALSO WATCH IT ON YOUTUBE. A LOT OF INFORMATION.
FROM NEW YORK CITY AND SAN FRANCISCO, THIS IS "BLOOMBERG TECHNOLOGY".
2023-10-19 14:01
Show Video
Other news