From 2.5 LPA to 45 LPA in RECESSION 2023 | How She Cracked 6 Offers During Mass Layoffs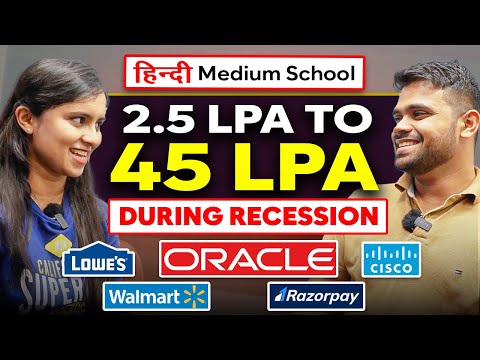 Show Video
Teachers and seniors also suggested that if you attempt GATE your life is set. Life will be set??? *You'll get a good package.* You'll get into good colleges.
They used to tell me, like, my friends told me that firstly learn English firstly learn it and come Or there were discussions where they would talk in English and I would hesitate to talk at that time. Some of my seniors told me that if you go into a service based company then it becomes a little difficult to come out of it. Covid had arrived. *Yes!* And most of the businesses were impacted from it, so even we had a little business, my father had it. Actually that was even impacted a lot. Okay! So, due to that I took the decision because I'm the only child of my family my parents so I took the decision to switch.
But still, it was a very risky move. Means due to recession, you were working in a good job, OLA, and you're leaving that. Its a very risky move. Okay! While the 3rd round arrived, I got to know that my recruiter, the one who took care of my interview process has been laid off herself. She was laid off? *YES!* Process stopped in the middle. *Yes!*
So, didn't you get demotivated at that time. Because now you've left your previous job, right!! So, there's a little pressure. That now we've to crack and start working again. I used to message 10-20 recruiters daily and at that time I used to get very less calls. I used to get response from 2-3 recruiters and that too they used to only tell me 'OK'. That yes we'll look into it, something like that.
Hi everyone. So, today we've Dolly along with us with a very interesting story. So, Dolly has done her studies from a Hindi medium school.
She has graduated from a tier 3 college. Currently she is a software engineer at CISCO. So, this is going to be a very interesting story. Apart from that, the ongoing recession firing that is going on So, it has also offered very amazing offers as well. So, we have to ask a lot of secrets from you.
So, let us start. First of all, tell us how are you? Umm.. I'm fine. How are you? I'm also fine. So, let's start with your college.
Tell us about your college. How was your college? And which college was it? So, I did my graduation from BIT which is a tier 3 college. And I took C.Sc. Branch there.
Okay! *Computer science* Because its a tier 3 college as you told, then how was the coding culture there? Did students used to code? There wasn't any scene for Coding. Because there majority of the people chose GATE and all. *Yes!* They were inclined mostly towards GATE and teachers and seniors also suggested me that if you attempt GATE your life will be set. Life will be set? *You'll get a good package* You'll get into good colleges. Life is set.
There the culture was like that. Got it! And how was the placement scenario? Did the companies visited? Companies used to visit very sparsely and the one which came were all service based companies. When their package was very low, like 2-3 LPA. They had this type of packages. If it went maximum then until 3.5 LPA
In TCS and all....... *yes, like TCS* Capegemini and TCS and the companies, as far as I remember it only 2 or 3 companies had arrived who are likeTCS, WIPRO. And the rest of the companies came through poll campus. That was the service based. *Yes it is?* It used to be like this. *Okay!* And as you told me that you have studied fom Hindi medium, right!! And after completing 12th in Hindi medium you're coming to college suddenly.
But the curriculum is in English. first thing, Secondly, people also come from English medium so, I hope you don't have any problem in college? Yes, I did face problems in college. Like, if there was any group discussion, for example they used to make presentation. So, I used to take part in making presentation. So, there were some mistakes in it, like, In English if you make a mistake on sentence, or if there's any more problem then then we used to tell him, whichever friends were here. My friends told me to first speak English first learn it or there used to disscussions where they used to talk in English then I used to hesitate to talk there at that time.
So, we used to have communication problems because until 12th it was Hindi Medium. Yes! So, they faced a lot of communication a little. Even my studies were affected.
Now a lot of people ask me, they mostly ask for interviews that Bhaiya, we don't know English, we'll learn DSA and all. But how will we talk in English in interviews that Is it important in English? Firstly, its important because you're working in MNCs so your colleagues should know English, right!! Tell me how did you overcome this in College? As yours was an English field. There were selective friends who supported me a little.
Yes! There were a couple of friends, so they knew god English therefore I used to talk with them. I started talking then because if you want to take out the hesitation then you should start somewhere or the other. So, I started talking. Apart from that, I used to do Newspaper Reading.
Little by little, so due to that my English got approved as well. Basically, you got friends those who don't judge. So, you could talk to them in English, right? *Hmm* So, its the same in starting, we start talking in broken English. After that it slowly improves things. Nice! Alright! So before moving into the video, we've an information from you On 28th Feb, PW celebrated Vishwas Diwas where they launched a lot of things.
One among them is Decode Batch which consists of complete data structure and algorithms and C++ will be covered. Let me tell you about it. It is a 6 months course. This is going to be Hybrid course. Means you'll get recorded content, along with that you'll get live classes..
These classes will be conducted by experienced mentors and just in case if you get stuck anywhere, you've live doubt support as well. Along with the course you'll be working in a lot of live projects. And the best thing about this course is that you'll get career guidance and your resume building will be strong as well. Now, often we've old laptops and while coding they become slow as well so, PW SKILLS lab will solve all these problems whatever RAM or CPU you require, you'll get it from PW SKILLS LAB and you'll be able to code smoothly even in your old laptops.
PW SKILLS LAB also give you the access to job portal along with learning you can also apply for jobs and get your interviews schedule. Alright! So, I've given the link to the course in description below, you can definitely check it out. Very amazing discount is going on here. This discount is valid Until 10th of March and if you use my coupon code FRAZ500 then you'll get an extra discount. So, link is in there in the description, you can check it out.
Now, let's move on to the video. Now, let's come to the interviews, alright! So, which company did you give your first interview in & how was the experience? Okay! So, as I told that in my college, as it was a tier 3 college so that type of companies visited there, like TCS and all the service based companies. So, some of my seniors told me that once you enter the service based company then its very difficult to come out of it.
And at that time, there wasn't much awareness, like now in your youtube channel that we watch, many people are switching from Infosys to Microsoft Title would be Infosys to Microsoft Its that type but that time there wasn't much awareness among people. In those times, I think hardly anyone would be switching. Okay!! Even if they do, nobody would've known. they wouldn't have known. There wasn't much awareness, there weren't many youtube channels so, I thought that rather than going to a service based company I'll go into such a company even with low salary where there's a better learning. Got it! Yes! So, there was a software company named DappLogix which is a startup, so this was an early startup.
So, I applied through Internshala. And I cracked here as well in the interview. You cracked the first interviews!? Yes!! And how much stipend did you earn? I got the stipend of around 7k per month. 7000 per month. Okay! So, we talked about internship. When did you start your first job? So, the company in which I was doing the internship, converted me into a full time, so then I got an offer of 15k per month.
full time *15k per month* Means they doubled up the stipend. Yes!! They doubled it. If we take the CDC, then how much does it come up to? Its even less than 2LPA. Yes!! Okay! So, didn't you regret that you left TCS and Infosys in college they were giving you around 3 LPA and now here you're only getting 2 LPA so, didn't you have any regret? The learning here was very good. If we compare TCS then, I've heard at a lot of places that they don't even give work according to that *they put on bench* Yes!! Alright!! I understood it. Its good that you didn't regret.
And how many years did you work here? I worked for around 2 years. Alright! So, you worked here for almost 2 years. What was that incident where you felt that you should switch? So, it was during the time of 2020. The starting of 2020 where covid had arrived. Okay! And a lot of business were being impacted so, even my father had a small business.
Actually, that was also impacted a lot. Okay!! So, due to that I took the decision because I'm the only child of my family my parents so, I took the decision that now, I need to switch. And this was a small startup.
So, startups were also affected as well. Lot of companies were shut down then. There wasn't a guarantee that until when will this startup run. Till when will we able to continue it. Until when will I get the salary of 20k that I'm working for, wasn't guaranteed for.
The salary had upgraded from 15 to 20. Now it was upgraded. Yes, until then. Okay, so. Basically you were contributing towards household. Means you were contributing to the house at that time. Yes! Until that time, I hadn't done that.
There wasn't any need but after covid, when the financial condition had worsened then now it was needed that YES now I have to contribute. Got it! So, this was your triggering point. Yes, this was the triggering point. Alright!! So, you might've started the preparation, applying as well, right! Let's know about preparation a little. What all did you need to prepare after that? Yes, so, my development was strong. While working in the company it got stronger.
I worked diligently in the company. Therefore, the development part was strong but DSA part was very weak. Okay! Because I didn't have any knowledge in college. *you didn't do anything* And after that, then I had an awareness that yes, if you want to go into product based companies then you need to do DSA. Yes!! So, when you apply somewhere to switch or even as a fresher you apply then the biggest problem is resume shortlisting. Right!! So, how did you get your Resume shortlisted and where did you apply at that time? So, now when you've asked then I did face a lot of problems while applying because I wasn't get selected anywhere. I used to apply 30-40 companies daily.
But I wasn't getting selected anywhere. You weren't getting shortlisted. So, one day luckily, I got a call from US based startup And because I had prepared for DSA and algorithm and all of their interviews rounds were based on DSA algo okay! So, yes, I was selected over there. Nice!! So, how much did they offer? They offered me around 70k per month. So, your main concern was salary & now you're getting a good salary - 70k per month is quite a good increment from what you were getting earlier.
So, were you happy then? Yes! I was very happy. And My mom was even telling me that take the job means mom and dad were also very happy that yes, we'll be this much salary we getting. Did you had a doubt if you want to take it or not? I felt that I can do much better. Means I can crack better product based companies. So, that was there that I should give more interviews. Got it! So what did you tell them? Did you reject the offer? No, I took their offer but along with them I gave interviews for 2-3 companies.
So, I had that offer as well. Okay! Which other companies were you giving interviews for? So, apart from this I had for BharatPe. Okay! I was also giving for OLA. Along with that, the interviews for these two companies were ongoing simultaneously.
Got it! You've given the interview for Bharat Pe and Ola, so tell us about Bharat Pe that which type of question did they ask you during innterview? They also asked DSA based question. And mostly they were asking from the resume. So, they had 4 rounds. All the 3 rounds were based on DSA. *okay!* Yes! And last round they asked me mainly from my resume and which projects had I worked in. So, they were asking about past projects.
You cracked it later on as well. Yes! I did that as well. So, now I remembered a point as you told that you're from Hindi medium you had problem in Hindi, right! So, you gave interviews in US based companies, you might've given in full English.
In Bharat Pe, you might've given interview in full English. So, now you don't face any hesitation, right!! So now I'm comfortable. Now I don't hesitate. nice, nice! Great! Its the same since a learner learns everything.
And it is necessary to keep learning things. New things with time. Right! And secondly, as you told that you cracked Bharat Pe along with OLA after that, right!! You also cracked a US based startup. So, you cracked all these interviews and you said that you had not done DSA during college. Then how much time did you take for the preparation of DSA? So, I took around 5 months.
And I was giving daily 4-5 hours, but I had done STEM properly. Like, I used to dedicate a lot of time to one question. 2 -3 hours I used to even do this sometimes.
So, that was it. * got it!* Means under 5 months you had prepared very well for DSA. Can you once tell me the topics that you've done. Yes, so I started with array, time and space complexity that you should surely know. Apart from that sorting and algorithms - searching algorithm, heaps There was map - hashing along with Linked list, Stack, Queue. DP- Dynamic programming, Graph and even did segment tree.
Okay so, you even did Segment Tree within 5 months?! Yes!! As you told ,that you did segment tree, so is it required? No, no, I wouldn't need that. Okay, but until graph? *yes, they did ask graph* I guess they ask Basic DP graph and bigger companies only ask it, but its basic. I understood. Great!! So, after that finally whose offer did you take and how much CDC was offer to you. So, I took the offer from OLA.
OLA's offer had 17 LPA CTC out of which previous 15 was fixed. Okay! Great! So, in OLA you shifted from 2.5 to 17.7, right!! I don't know how much time growth is persistent, check it out for yourself how much percent is the hike and all. But, people at home would have been very happy.
At that time, we were very happy. At home, mom and dad were very happy. My mom became very affectionate that, yes, I got a job. Now the liffe is set. And now were you happy? I was very happy as well. Means OLA is a good product based company. And we got as everyone wanted.
You got the salary hike, good company and now the work is going to be good. Nice nice! Alright! So tell us about the journey & how was your experience in OLA? Internals of learning and all. Learning curve was very good in OLA. I got the ownership in 4-5 projects. So, learning wise OLA was a really great point in my life.
So, I've worked there for almost 2 years. You worked for 2 years. Great! So, after 2 years why did you think for a switch again from OLA? So, it was the time that when most of the companies were laying off & even the management were being chnaged. Means its the time of year 2022 right!! *Yes!* Great! It was the time of 2022 October. When most of the companies were laying off & management were being changed Business was being re-structured. And then it was the time that many people were leaving because of these scenarios and some people were laid off sue to which work pressure had increased.
On Saturdays and weekends as well, we had to work. So, that was the scene. So, due to this you thought that yes, now should switch because then mom & dad supported me as well during hard times. They also told me that, your mental piece is very important.
Focus more on health. Instead of where should I stay & how to do it. So, I understood your first scenario, which was the covid one. So, then you were finding the role as a fresher but now you've a good experience as well. You've an experience of almost 4 years when you were leaving OLA. So, now you've to prepare accordingly.
What is the difference? Let's assume, you know DSA apart from that what else did you learn? So, apart from that, as everyone knows that in senior roles - low level design and high level design is also asked. Okay!! Now, LLD can be done as we do projects. So, LLD can be done. I focused more on HLD. And I started its preparation. But....
Now, tell us its topic as well that which you practiced? I finished the basic topics for HLD first. Load Balancer, Consistent Hashing that we study. After that I prepared question wise. Design an UBER kind of system.
Design a URL short note. I did questions like this. But yes, the difference was that now I didn't used to get the preparation time. I couldn't manage along with the company. The pressure was very high. *It happens as the culture was hectic there.*
Yes, it was hectic. So, I couldn't manage this, then I took the decision that Now I should resign. Means without any offer. Yes, without any offer.
And the one that you're telling is of the talk during recession. *Yes!* It was during the end of October, 2022. Then most of the companies had started layoffs. But since I had my parents support, they were very supportive that first focus on mental health. First focus in these things, you can crack companies.
And I had a little confidence that now I can crack companies, better than last time. So! Okay! Nice! But still its a very risky move, due to recession you left the job at OLA. Its a very risky move. But its fine, tell us the after story because as this is going to be interesting.
So, after that it started again, applying in companies. Through Linkedln, so this time I chose 2-3 platforms. This time I also applied on Instahyre and uploaded the profile. I also did on Naukri.com
Okay! And I also kept applying on Linkedln. So, reaching out to recruiters, hiring managers, their employees I applied in all the jobs that were available because I had good companies. I had the OLA profile itself. The situation is a little worse and everyone knows that its recession time so, calls are very low.
Very few companies are hiring. So, my first interview was Amazon. It was shortlisted on Amazon.
Yes, I was shortlisted on Amazon. I cleared OA. Okay! Which is the Online Assessment. And after clearing that my interviews were scheduled. I cleared the 1st round & 2nd round as well.
While 3rd round, I got to know that my recruiter who took care of my interview process got laid off herself. She was laid off?? Yes! Process had stopped in the middle. *Yes!* Oh god!! You might've felt very bad at that time.
Yes! I did means a very good company slipped off my hand. After that comes Microsoft. Okay!! Next you got Microsoft's offer. I got selected in Microsoft and I cleared the 1st round after OA.
Then, I got to know that Hiring freeze took place. The team for which I was giving interview, hiring freeze took place. Then two very good companies have slipped away from your hand. RIGHT!! Yes!! Didn't you get demotivated since you've left the previous job now, right!! So, there's a little pressure. That now I have to crack now and start working again.
So, didn't you have that pressure? I did have pressure but as I told that mom and dad supported me & situation was of the kind we can't control this situation. So, now whatever it is I have to crack companies. Its not that all the companies have stopped hiring so, now I started it. Then I started getting calls. I got a call from JPMC. And I gave its interview which consisted of DSA + designing *System design* All of it were included.
And I cracked JPMC. *GREAT!* And how much did they offer you? JPMC got me Low balled a lot. Because that time I didn't have nay competing offer and now its such a time that its recession time so, they told me that all the companies are laying off we're hiring. *We're hiring you at that time.* So, that was the thing. I was very much low balled. Low balled!! *15-20 LPA* okay!!! So, it was 15-20 LPA.
There was a little increment, basically of 25%. Okay! Even after that you continued the hunt. Did you take their offer or rejected them? I accepted their offer. Okay! At that time take this offer since its recession. Later we'll look into the hike. *Yes, this is a very risky situation. So, take whatever offer is being provided, such was the situation.
Then did you give the interview elsewhere? During recession? Yes, I went on to giving interviews. So, after that I got a call from Razorpay. And I got selected in Razorpay as well. They had the same interview process. They focus more on DSA, so I cleared & cracked that as well.
But they told me the same like JPMC that timing is very bad and we're hiring at that time so, the situation was similar and I got low balled again. Okay! How much did they offer you? They just increased 1 lakh and was of 21 LPA. Okay! So, after that! After that, there were many more interviews for many companies so, actually I planned to go to JPMC but they had given me a month's time to join.
They take time as they do background verification. So, during that duration I could be selected in more companies. Then I tried for LOWE'S, Walmart you've give all the interviews. Whatever you're telling is a secret, I mean you reached a lot of recruiters in recession. You got calls.
What were the mediums to reach out to companies? So, mainly I uploaded my profile in Instahyre and Naukri.com. But Walmart and CISCO type companies don't hire much. So, you've to reach out through recruiters itself. *Okay!* First I did through Linkedln.
I reached out lot of recruiters. Like I used to message 10-20 recruiters daily and even at that time I used to get very less calls, I got response from 2-3 recruiters and that too they left with an 'OK'. We'll look into it. Apart from that, as my colleagues were watching for interviews and all. So, if they had a contact then I used to take them.
I used to directly call them. *Directly call* Yes! She used to directly call me. Means I should get it. I hope she don't get angry with it. A little bit that who gave you the number, what is it? So, that was the scene. But yes, I need a job and we had to do that.
So, that happened. Now tell me, the tricks that you followed, you reached out to recruiters which was the most successful way to reach. Successful was that you can call them directly. Reach out directly is the most successful way. Alright!! Let's continue as you were telling me that you already cracked 2 companies Razorpay & JP Model, right! After that which companies call did you receive? I got it from LOWE'S. LOWE'S?! *I cracked it as well.*
Offer? They offered around 24 base LPA. Oh nice! nice! Nice! Their highest package was around 24-25, so I cracked it. *You matched it* Yes! Okay! And after that? After that I recieved from Walmart. Walmart also held 4 rounds. DSA based? Yes! DSA based along with Designing was there.
Okay! Designing will be in all of your rounds. Right! Yes, designing would come in almost all of the rounds. There was a little bit of up and down. Some had low difficulty and some had more but designing was there in each round.
Got it. Okay, so you also got the offer from Walmart yes! I also got an offer from Walmart. Walmart must've given a good offer, they wouldn't low ball. Yes, means they told me that whatever competing offers aren't as big as them.
So, that happened. Every company has atleast one logic. They have it for sure. And since its recession time, so mainly companies say that now we're hiring atleast we're hiring, not like other companies who're firing. So, that was the scene. How much did they offer then? They matched the base, but overall their CTC was around 35LPA/ 36LPA.
which is good! Yes! Its good. Because the job you left was at 15, right!! *Yes! At 15* 15 to 35 is a very good jump. Okay! Finally, comes CISCO. Then you cracked CISCO. So, tell us about the interview of CISCO. How did they reach you out?
And what was its process? Actually I started applying from December in it. Because some of my colleagues are there and some friends who told me that CISCO has a very good culture So, I started applying from December. In December I only faced rejection, my profile wasn't being selected. In CISCO?! Yes! In CISCO! The resume wasn't shortlisted. Yes! The resume wasn't being shortlisted, so I applied for 4-5 roles even there I couldn't pass.
And even my colleague had sent a resume to his recruiter. They told that now hiring freeze has taken place. Now, they weren't hiring. And in January, hiring started again I was already reaching out the recruiters, so one of them replied me back that hiring has started so, you cans end your resume. Therefore, I sent my resume there. And after that I got selected & they had a hiring drive All of the rounds would be conducted in a single day.
So, in a single day all of the rounds were conducted of CISCO. And did you got the result on the same day? I knew that my interview went well, so result is going to be positive an intuition had developed in my mind. Okay! But on Friday it was my last interview & on Monday I had to join Walmart. Ohh!! So, I got that situation.
Therefore I asked Walmart if they could delay a week so I made them delay the joining to a week And then I waited for them. I had told them because all of the CISCO and Walmart type of companies the offer letter takes time to come. They do the background verification, education, past companies and all so I told them whatever you do, please do it quickly. So, I got the result a little bit quickly. I've told someone to wait. *yes* So, that was the scene.
On Monday they gave me verbal confirmation and until Tuesday they gave me the offer. Great! This is a very good experience. First of all congratulations! In this scenario, you cracked very good offers. Secondly, you took a huge risk, right!! And you took that risk for a valid reason that you've to take care of your mental health first And then start preparing. So, yeah I think that you taking that step was worth it. Rest, how is it going with CISCO? Now, its going very good. So, the field that I wanted to work in - that is more in cloud
In technologies, so there's more work in it & *Are you having fun while working?* Main thing is that work culture and work-life balance is very good. So, the problem I had to face in OLA isn't here. It was my main reason to join CISCO. That all of it is good. Rest, while going would you like to tell people who want to switch in this recession period or suppose who have been laid off and are searching for a job.
Right! So do you want to give them a message? So, the ones who are laid off, firstly, take care of your mental health, your family and yourself. That is more important. Rest, interviews can take place later as well. And in a systematic way
keep on preparing for it. Because the current situation isn't in your control. *Correct!* We can't predict when the companies would start hiring back. *Yesh~!*
We can't predict that. But currently, we can upskill, prepare and I guess if your preparation is very good. Then you'll get interviews and crack it but you need to keep a little bit patience. You need to keep preparing. Absolutely! And secondly, you've a perfect example in front of you as DOLLY.
She used to talk to people and take the numbers of recruiters. So, you can do that as well, right!! Talk with your friends, who is giving interview and where & who all are working where suppose you school friend is working somewhere, ask referral from him. Right! So, you need to do all these.
Yes, you need to do it. Right! Okay! One more thing! There are some people who're from Hindi medium whose English isn't that strong so do you have any message for them? I guess everything is chilled, just remove your hesitation start talking with people in English they'll surely make little fun of you in the beginning It'll be there but at the end everything will be okay. Just keep on with the flow. Everything will be done. Start talking with people in companies, start with your friends Everything will be fine! And what else? What is the problem? Even if they make a little fun of you, what is the problem? Eventually you're getting a good offer later. Right! That's what matters, right!! Alright! So, it was great talking to you Dolly.
It was fun talking to you. We got to know a lot of things. We even got to know a lot of secrets. So, see you again on some another podcast. Yeah! Thanks, FRAZ! Thanks for inviting me. Thank you! I'll meet you as well in other podcast, till then, BYE, BYE!
2023-03-07 18:12
Show Video
Other news