Farmweek | July 14, 2022 | Full Show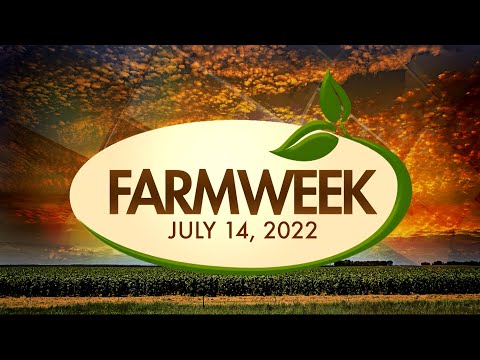 Show Video
"CELEBRATING 46 SEASONS ON THE AIR, AWARD- WINNING FARMWEEK IS A PRODUCTION OF MISSISSIPPI STATE UNIVERSITY EXTENSION." TODAY ON FARMWEEK, A SUMMER WEATHER UPDATE -- ANOTHER DERECHO HITS IOWA. THOUSANDS WITHOUT POWER. PLUS, WITH CONTINUING EVOLUTION IN TECHNOLOGY, ARE NEW RULES FOR DRONES ON THE WAY? IN SOUTHERN GARDENING, TOMATO OR TOMAHTO, TASTE IS EVERYTHING, AND GARY HAS THE DIY. AND FINALLY, IN OUR FEATURE, ANOTHER CHANCE TO MEET THE REIGNING LOGGER OF THE YEAR.
FARMWEEK STARTS RIGHT NOW! JIB ZAC HELLO, EVERYONE, I'M ZAC ASHMORE. JIB MIKE AND I'M MIKE RUSSELL. GOOD TO HAVE YOU WITH US ON FARMWEEK AS WE CONTINUE WITH OUR 46TH SEASON ON THE AIR. JONAH HOLLAND ON SET WITH US -- READY TO BRING YOU THIS WEEK'S NEWSWIRE. JONAH? JIB JONAH THANKS, MIKE -- THANKS, MIKE -- AN ABBREVIATED NEWSWIRE THIS WEEK. LET'S JUMP RIGHT IN.
VO JONAH THE NATION'S TOP FOOD DISTRIBUTOR HAS FILED SUIT IN FEDERAL COURT AGAINST THE BIG FOUR MEATPACKING COMPANIES, ALLEGING PRICE FIXING. IN A CASE THAT CONTINUES TO PUT PRESSURE ON PACKERS, -SYSCO- FILED IN LATE JUNE, SAYING THAT TYSON, JBS, CARGILL, AND NATIONAL BEEF -- WHO CONTROL 80% OF THE U.S. BEEF MARKET -- INTENTIONALLY NARROWED THE SUPPLY CHAIN -- AND THEREBY BOOSTED PRICES. SYSCO IS NOT THE FIRST TO SUE THE BIG FOUR -- AND AT THE SAME TIME, CONGRESS IS PUSHING TWO BILLS INTENDED TO HEIGHTEN OVERSIGHT AND ACCOUNTABILITY. ACTIVITY IN -THIS- CASE BEGINS IN SEPTEMBER. JONAH HIGH HEAT IN THE NATION WAS BROKEN UP BY STORMS IN -SEVERAL- STATES.
THE RAIN WAS WELCOMED BY MOST FARMERS, BUT THE WIND LEFT ITS MARK ON CROPS...IN NEARLY A DOZEN STATES. PKG A STRONG STORM STIRRED UP A DERECHO IN SOUTH DAKOTA, MINNESOTA AND IOWA LAST WEEK.
THOUSANDS OF CUSTOMERS WERE WITHOUT POWER AS DOWNED TREES LITTERED THE REGION. BY WEEK'S END POWER WAS RESTORED. THE STORM MET THE DEFINITION OF A DERECHO, WITH A DAMAGE PATH OF MORE THAN 240 MILES AND STRAIGHT-LINE WIND GUSTS OF NEARLY 60 MILES AN HOUR.
THOUSANDS OF ACRES OF CORN WERE FLATTENED IN ALL THREE STATES AS A RESULT OF THE STORM AND WHILE SOME WILL CONTINUE TO GROW, THERE WILL BE LOWER YIELDS AND THE CROP WILL BE DIFFICULT TO HARVEST. ELSEWHERE, A SMALL TORNADO STRUCK SUBURBAN CINCINNATI. 200 HOMES WERE DAMAGED IN THE AREA, AND 100,000 CUSTOMERS LOST POWER. THAT SYSTEM'S HEAVY RAIN WAS LITTLE RELIEF FOR MOST OF THE COUNTRY, WHICH SAW THE DROUGHT WORSEN IN MANY STATES. 15% OF THE MIDWEST IS NOW AFFECTED BY DROUGHT, DOUBLE THAT OF A WEEK AGO. THE WESTERN
THIRD OF THE COUNTRY CONTINUES TO EXPERIENCE EXTENSIVE WITH ALL OF THE SHORTAGES AMERICANS ARE NOW FACING, SOME ARE WORRIED -ALMONDS- COULD BE THE NEXT HARD- TO-FIND ITEM ON THEIR SHOPPING LISTS... ...EXPORTS OF THE POPULAR NUT ARE DOWN 13%, THIS DESPITE THE CROP DOING WELL AND SHIPMENTS HITTING A NEW RECORD. THE L-A TIMES REPORTS MORE THAN A BILLION POUNDS OF UNSOLD ALMONDS ARE STUCK IN PROCESSING.
EXPERTS SAY WHILE SHIPPING COSTS HAVE IMPROVED, THEY'RE STILL HIGH. THE INDUSTRY IS ALSO WORRIED THAT THE ONGOING DROUGHT IN PARTS OF CALIFORNIA COULD IMPACT ITS HARVEST. AND THAT'S IT FOR THIS WEEK'S NEWSWIRE. HAVE A GREAT WEEK, EVERYONE. MIKE? MIKE? MIKE CROP SCOUTING IS NOTHING NEW, BUT THE TOOLS TO SPEED UP THE PROCESS -ARE.-
THE USE OF -DRONE- TECHNOLOGY IS LIMITED BY FEDERAL RULES, BUT DAVE MILLER REPORTS ON POSSIBLE CHANGES AND THE IMPACT THEY WOULD HAVE ON THE INDUSTRY. PKG PKG CROP SCOUTING WITH A DRONE ISN'T A NEW CONCEPT. PILOTS HAVE BEEN SENDING THEIR UNMANNED AERIAL SYSTEMS INTO THE AIR OVER RURAL AMERICA FOR ALMOST A DECADE. BY LAW, PILOTS MUST BE ABLE TO SEE THEIR AERIAL VEHICLES FROM LIFT-OFF TO TOUCHDOWN...THAT
IS UNTIL NOW. AS OF EARLY JULY, 230 WAIVERS HAVE BEEN GRANTED BY THE FAA ALLOWING DRONES TO FLY OUT OF LINE OF SIGHT OF THEIR PILOTS. THESE EXEMPTIONS INCLUDE INSPECTION OF HIGH-VOLTAGE POWER LINES, TRACKING OF ENDANGERED SEA TURTLES AND INSPECTION OF RAILROAD LINES FROM NEW JERSEY TO LOCATIONS OUT WEST. ARTHUR ERICKSON IS THE CEO OF HYLIO, A COMPANY THAT CREATES TURN-KEY UAV SOLUTIONS FOR AUTONOMOUS CROP SPRAYING. ARTHUR ERICKSON, CEO, HYLIO AGRODRONE: "Like a lot of new industries, the regulations are, I would say about 15 or 20 years behind where the technology actually is. And by
that, I mean, 15 years ago, when the FAA made these, these regulations, they treated drones a lot like they treat just traditional manned aviation. But nowadays, drones are so advanced and so robust and intelligent that it makes a lot of sense to allow them to just go out and operate without pilot intervention. There's about four or five big regulations that we're kind of all waiting for by we, I mean the drone industry to, to pass or, or become looser for lack of a better word. And like every time you, you actually get one of these regulations overturned by the FAA or allowed as in like allowing flight beyond visual line of sight. It opens the
fire hose up like a little bit more, fire hose being like demand to buy like ag drones or spray drones." THE FAA IS STILL REVIEWING HOW IT WILL ROLL OUT ROUTINE OPERATIONS ALTHOUGH IT HAS SIGNALED PERMISSION WILL BE RESERVED FOR COMMERCIAL APPLICATIONS AND NOT HOBBYISTS. ZAC ZAC TOMATOES ARE ONE OF THE MOST COMMONLY GROWN PLANTS IN MISSISSIPPI, AND ACROSS THE U.S. FOR THAT MATTER. POPULAR FOR ALL SORTS OF REASONS -- NOT THE LEAST OF WHICH IS -TASTE.-
IN SOUTHERN GARDENING THIS WEEK, GARY BACHMAN SHOWS HOW TO CHOOSE A VARIETY THAT FITS IN YOUR GARDEN, NO MATTER HOW BIG OR SMALL. HERE'S GARY. PACKAGE PACKAGE DR. GARY BACHMAN: "I have to say my spring tomato crop is looking good this year. Let's take a look at the various selections I'm growing in my home garden." EACH YEAR AT THE HERITAGE COTTAGE URBAN NANO FARM, I GROW A VARIETY OF DIFFERENT SIZES OF TOMATOES -- FROM MICROS, TO DETERMINATES, TO INDETERMINATE VARIETIES -- ALWAYS TRYING TO GET THE BEST PRODUCTION I CAN.
I ALSO GROW DIFFERENT COLORS FROM RED, ORANGE, BLACK, AND ALSO STRIPED SELECTIONS. MICRO TOMATOES ARE PERFECT FOR EVEN THE SMALLEST AREAS. THESE PLANTS ARE GREAT FOR SPACE- CHALLENGED GARDENERS, GROWING A WHOLE TOMATO PLANT IN A SMALL POT. THEY ARE GENETICALLY SELECTED FOR THEIR SMALL, COMPACT SIZE AND ARE MUCH SMALLER THAN THEIR GIANT GARDEN COUSINS. MICRO TOM IS THE WORLD'S SMALLEST TOMATO AT A MERE SIX TO EIGHT INCHES TALL WITH BRIGHT RED FRUIT.
DETERMINATE VARIETIES GROW TO A SET MATURE SIZE OF ABOUT FOUR TO SIX FEET TALL, AND THE FRUIT RIPENS OVER A PERIOD OF ABOUT 6 WEEKS IN MY GARDEN. THESE ARE PERFECT FOR THE GARDENER WHO HAS A COUPLE OF PLANTS GROWING IN CONTAINERS ON THE BACK PATIO. INDETERMINATE SELECTIONS CONTINUE TO GROW AND SET FRUIT AS LONG AS THERE ARE FAVORABLE GROWING CONDITIONS. THESE CAN GROW INTO BIG PLANTS, UP TO EIGHT FEET AND TALLER, SO YOU NEED TO ALLOW SPACE FOR WHAT CAN EVENTUALLY BECOME A SPRAWLING PLANT. YOU MAY EVEN NEED A LADDER. DR. GARY
BACHMAN: "As you can see, there's a type of tomato for any gardener and gardening space. I'm horticulturist Gary Bachman we'll see you next time on Southern Gardening." TIME FOR THE WE'LL TAKE A BREAK RIGHT HERE, BUT DON'T GO AWAY. COMING UP
WE ANNOUNCE THIS YEAR'S -LOGGER- OF THE YEAR... ...FORESTRY A MAJOR COMMODITY, OF COURSE -- AND THIS YEAR'S WINNER A MAJOR PLAYER IN THE INDUSTRY. THE COMPANY'S BEEN AROUND FOR 70 YEARS -- AND NATURALLY, LOGGING'S CHANGED. BUT TRAVEL -WITH- US TO PURVIS, MISSISSIPPI -- TO MEET THE FATHER- SON TEAM -KEEPING UP- WITH THE TIMES -- CONTRIBUTING TO A $13 BILLION ECONOMIC FOOTPRINT. THE 2021 LOGGER OF THE YEAR -- COMING UP ON FARMWEEK. DON'T GO AWAY.
MUSIC LEMON PHELPS, MSU EXTENSION AGENT: "I believe in people, and their hopes, their aspirations, and their faith. I believe in my own work and in the opportunity I have to make my life useful to humanity..." MUSIC "...I believe that
education is a lifelong process and the greatest university is the home, that my success as a teacher is proportional to those qualities of mind and spirit that give me welcome entrance to the homes of the families that I serve." MUSIC "Because I believe these things, I am an extension professional." MUSIC MUSIC SANDY HAVARD, MSU EXTENSION AGENT: "I believe in people and their hopes, their aspirations, and their faith. I believe that
education, of which extension work is an essential part, is basic in stimulating individual initiative, self-determination, and leadership..." MUSIC "...I believe that these are the keys to democracy and that people, when given facts they understand, will act not only in their self- interest but also in the interest of society. I believe in intellectual freedom to search for and present the truth without bias and with courteous tolerance towards the views of others." MUSIC " Because I believe these things, I am an extension professional."
MUSIC MIKE TIME FOR THE MARKET REPORT THINGS LOOKING UP LAST WEEK, PRICES REBOUNDED A BIT. JIB ZAC AND THE REASON FOR -THAT- APPEARS TO BE THE RESULT OF INFLATION. WE'LL GET INTO IT, BUT FIRST... ...THE NUMBERS - SLOWLY TRICKLING ...THE NUMBERS - SLOWLY TRICKLING BACK UP. THEN...THE REASON WHY AND FINALLY... AN
UPDATE ON THE U.S. CROP SITUATION, 3 FARMERS FROM AROUND THE COUNTRY WEIGH IN. ZAC MARKETS TRENDING UP LAST WEEK, LOOKS LIKE THE DOWNTURN IS SEEING A SLIGHT CORRECTION. LET'S TAKE A LOOK, LAST WEEK'S BIGGEST LOSS? COTTON, DOWN 1.85 CENTS. BASED ON
WHAT WE KNOW, IT SEEMS THE REASON IS A CONTINUING BACK AND FORTH BETWEEN SUPPLY AND DEMAND. LAST WEEK'S BIGGEST GAIN? WHEAT, UP 47 AND A QUARTER CENTS, IT'S FOLLOWED BY LUMBER AT 45 DOLLARS, AND CORN AT 18 CENTS. ZAC ZAC WEEK THE MARKETS TOOK ANOTHER DROP, YET AS THE WEEK WENT ON THEY BEGAN TO REBOUND. WHY? WELL, ACCORDING TO MARKET ANALYST TED SIEFRIED SIGH-FRID IT WAS THE MARKETS BEING UNSURE OF INFLATION PRICES.
IT'S THE FRAGILE BALANCE OF SUPPLY AND DEMAND AND THIS TIME, IT LOOKS LIKE THE RESULT IS GROWING PRICES. SOT SOT TED SEIFRIED, MARKET ANALYST: "The switch kind of flipped after Tuesday meaning the selling pressures had subsided and that selling pressure wasn't necessarily coming from weather, although that did have a part of it on Tuesday, but it was this inflation off like we've talked about. Inflation off has been running rampant for the past two weeks, it came in on Tuesday, but then Wednesday they weren't really doing it and the markets were kind of quiet. Thursday we were kind of poking at it to see if they were going to do it and we started climbing and they didn't. And then Friday we really kind of were able to run with it a little bit. So
the question is, is this inflation off trade, is it done? What was that two weeks about? Did they achieve their mission and then now are stepping back? Have they changed their minds? Or was this a period of time where they realized the markets are very oversold and I'm not just saying corn or soybeans or crude, really all of them, I'm saying these markets are really oversold, let's take a pause, allow them to recover a little bit before we unleash round two. I don't know. I don't know what the answer is to that. We're going to find out fairly early next week I think. But it was nice to see that recovery. You had
corn and soybeans kind of recover right to the key areas that you would expect a corrective bounce to get to. They actually closed right at or just above key resistance points that were just recently key support points. It was a good look to the chart at the end of the day on Friday. But like I said,
next week is going to be very telling." ZAC ZAC WITH THE MARKET SITUATION SO TENUOUS RIGHT NOW, A LOT OF PRESSURE ON U.S. FARMERS TO STEP UP. SO, HOW DO THINGS LOOK IN AG COUNTRY RIGHT NOW? THREE FARMERS FROM AROUND THE COUNTRY LET US KNOW.
SOT CAMERON PEIRCE, KANSAS PRODUCER: "Like, our wheat crop was just super dry. All winter, all spring, at the end of May, we had 10 and a half inches over two weeks, two and a half weeks. You know, a lot of our crops thought they were back, you know, where you are in Iowa or Indiana or, you know, thought these growing conditions were as great and they were not working on a root system whatsoever.
And then as typical the Kansas heat in the Kansas wind hit them. And it was rough on some, some places, I mean, the corners turning yellow, it didn't have a root system, it couldn't get to the water, it just looked like it was just looked like a major drought. But even though like you know, four inches down, there was all the moisture it needed and just hadn't ridden down into it yet. And but I mean, you know, it's, it's, it's doing better now." PAUL THOMAS, NORTH DAKOTA PRODUCER: "We, you know, had that snowstorm and, and then we received significant precipitation throughout the rest of April and into the middle part of May, that really delayed drills and planters and everyone's field work significantly throughout our whole state. From our standpoint, we really thought around Memorial Day weekend that we were going to have at least 25% of our farm and prevent plant that there was just no way we were going to get into it. We
missed a major system that went through just about 20 miles to the east that started raining. And we miss that. And really was pretty fortunate for our farm. We ended up
getting close to 95% planted and seeded." WAYNE DULANEY, MISSISSIPPI PRODUCER: "Our progress is looking pretty good. We're just very hot, dry. It's a few little isolated areas. They've gotten
some popup showers in the past 10 days, but we're seeing a lot of stress coming on in this crop. Soybeans that are not irrigated, we're starting to see them go the other way. You're seeing them flare up in the fields. The hot spots show up. I'm a little worried about the rice crop too. We're fixing to start hitting pollination of rice and we need those nighttime temperatures to get down in the mid seventies not to affect the pollination issues on it. So that's
kind of a concern on it. A lot of the cotton is really suffering. I've seen around, everybody was like, we were really late getting planted this year in some areas. So we got some beans planted early.
Then we got some later beans. And the other thing is we got a lot of double-crop beans this year following wheat that are very small and the guys that don't have pivot irrigation are trying to furrow irrigate soybeans that are just second trifoliate. And that's kind of tricky to do, not to hurt them with the water and scald them. At the best
we're going to come out as an average crop." crop." ZAC AND THAT'S IT FOR A DEEPER LOOK INTO THE MARKETS. NEXT WEEK, WE'LL TALK ABOUT THE JULY WASDE REPORT AND ITS FALLOUT. MIKE? MIKE? MIKE THANK YOU, ZAC.
IN THIS WEEK'S FEATURE, ANOTHER FEATURE, ANOTHER CHANCE TO MEET THE REIGNING -LOGGER OF THE YEAR,- A FATHER AND SON TEAM CONTRIBUTING TO A MULTI-BILLION DOLLAR FORESTRY FOOTPRINT -- MADE POSSIBLE, IN PART, BY HOLCOMB TIMBER. PKG MUSIC THERE'S NO QUESTION THAT THE FORESTS OF MISSISSIPPI ARE AMONG THE MOST BREATHTAKING NATURAL RESOURCES IN THE STATE. NEARLY 20 MILLION ACRES ARE WOODED AND BESIDES BEING A SOURCE OF PRIDE, BEAUTY, AND RECREATION, THE TREES HARVESTED IN MISSISSIPPI REPRESENT AN EXTRAORDINARY INDUSTRY. IN FACT, FORESTRY HAD AN ECONOMIC IMPACT OF MORE THAN $13 BILLION LAST YEAR, EVEN MORE AMAZING CONSIDERING THAT 2020 WAS THE YEAR OF THE PANDEMIC.
THE LOGGERS WHO MADE ALL THAT POSSIBLE ARE A CRITICAL PART OF THE BACKBONE OF THAT INDUSTRY, WHICH IS WHY EVERY YEAR, THE MISSISSIPPI FORESTRY ASSOCIATION HONORS THE OUTSTANDING LOGGER OF THE YEAR. IN 2021...THAT LOGGER IS HOLCOMB TIMBER OF PURVIS, MISSISSIPPI. AND AS YOU MIGHT EXPECT, THERE WAS A LOT TO CONSIDER WHEN MAKING THE CHOICE. DAVE GODWIN, OF THE MFA, SUMS IT UP. DAVE GODWIN, MISSISSIPPI FORESTRY ASSOCIATION: "We look at safety.
Holcomb has had an impeccable safety track record and place a lot of emphasis on safety. We look at their approach to business. In 2021, the business of logging is very complicated and complex. Their business model, their business strategy, has been excellent. It's helped them excel in the business space in 2021. We look at how they care for the environment.
How they use best- management practices to care for the natural resources and protect the natural resources on the land that they're working on. They've done a great job with that. Then we look at their engagement and involvement in the community, the local and state community. Holcomb
has done a great job of being involved in the community in multiple ways. So they check a lot of boxes for us. Mississippi Forestry Association is proud to recognize Holcomb Timber Company from Purvis, Mississippi, as our 2021 Outstanding Logger of the Year." HOLCOMB TIMBER HAS BEEN AROUND FOR ALMOST 70 YEARS, A MULTIGENERATION AL LOGGING COMPANY OWNED BY ART HOLCOMB AND HIS FATHER ROLLAND. LIKE
MANY LOGGING COMPANIES, IT'S A FAMILY BUSINESS LIKE MOST, IT'S IN THEIR BLOOD. ART HOLCOMB, VP, HOLCOMB TIMBER: "Growing up with my dad out here doing it, I remember coming out here as a kid and we'd up be able, of course it was a lot different then. The equipment was much different, but just working for yourself maybe -- you know, the drive to really try to be successful.
And sometimes it's hard. There are weeks, there's months where it's really hard to get there. But then there's months where you do really well and you see it picking up and doing good, I guess maybe it's a chase. Maybe
it's a chase that gets into you -- trying to drive a profit maybe." TEDRICK RATCLIFF. EXEC. VP, MISSISSIPPI FORESTRY ASSOCIATION: "Multi-generation companies is something that we see a lot of in logging families, which is often what draws us to them. It's what the story is about and it's really neat when you see folks like Mr.
Roland and Mr. Art and how they have continued a family business and are able to take things that are really important to landowners, such as stream crossings, best management practices, and the way that they treat the property and continue that generation after generation. They just do a first class job at it." NATS HOLCOMB TIMBER WAS NOMINATED FOR LOGGER OF THE YEAR BY TWO FOR LOGGER OF THE YEAR BY TWO MEN FROM WEYERHAEUSER -- JEFF ROMAN CLAYTON IV, THEIR HARVEST MANAGER...AND CHRISTOPHER LONGMAN, THEIR FORESTER. BOTH MEN HAVE GREAT RESPECT FOR HOLCOMB. IT'S NOT
THE FIRST TIME THEY'VE NOMINATED THE COMPANY AND THIS TIME, THEIR EFFORTS PAID OFF. JEFF ROMAN CLAYTON, IV, HARVEST MANAGER, WEYERHAEUSER: "They're a very consistent crew. That's important for us. We've got commitments that we need to hit and just being able to put them on a track and know that they're going to handle it right, safety, environmental, merchandising, and then it comes to the wood flow, consistency is very important for us. We make pretty large commitments with our customers, and we don't like to disappoint. So having a crew that's consistent, that you can depend on, and that can do some things when the weather changes, it's very useful for us."
CHRISTOPHER LONGMAN, SILVICULTURE FORESTER, WEYERHAEUSER: "I think the thing that really sets Holcomb apart is the way that they go about merchandising. They're able to really get the most value out of every stick of timber in ways that most loggers can't, and they can do it without sacrificing their dedication to safety and all of the environmental aspects that go with making a sustainable logging crew. Another thing that really sets them apart is that it's a family crew. There's three generations of Holcombs out here and they're easy to work with. I think they're going to be around for a long time, just like they've been a big part of this industry in South Mississippi for a long time up until now. But they do things professionally and they understand why it matters to do it the right way and what that looks like."
LIKE LONGMAN MADE CLEAR, SAFETY IS PARAMOUNT AT EVERY HOLCOMB JOBSITE. THE COMPANY HASN'T HAD A LOST TIME ACCIDENT SINCE THE LATE 80s, AN IMPRESSIVE ACHIEVEMENT. ROLLAND HOLCOMB, VP, HOLCOMB TIMBER: "You've got to pay attention to your safety, but now it's not as unsafe as it used to be because there's nobody on the ground out here. I mean, everybody's in a cab or in some kind of machinery and it's not near as unsafe as it was in the past. But we do have to watch what we're doing, make sure who's around, what's going on. Keep an eye on yourself, keep an eye on everybody else to make sure everything's safe."
ART HOLCOMB: "Communication, communication when a man's on the ground out here, that's big time. We really want them to have it on their mind all the time, when they're out walking around, because I've got two older guys out here, that's a slip and fall, a turn of the ankle. Or you're overheating. Stuff like that. It's just communication, keeping an eye on everybody, keeping an eye on the older guys, keeping an eye on the younger guys.
They think they're gonna live forever." GEORGE SAFCAK, PROCESSOR OPERATOR, HOLCOMB TIMBER: "We strive to be as safe as possible, not take any unnecessary risk. The whole job itself is risky, but there's no sense in doing something that you know is dangerous.
We have monthly safety meetings. Myself, I am a first responder. I've been with the fire department for 16 years. So I have medical training in case something does happen."
OF COURSE, THERE ARE PLENTY OF CHALLENGES FOR THE LOGGING INDUSTRY COST, WEATHER, INSURANCE, THE AVAILABILITY OF LABOR, AND OF COURSE, WOOD PRICES. BUT THE INDUSTRY IS DOING WELL AND SO IS HOLCOMB TIMBER, LOGGERS WHO SUCCEED WHERE MANY OTHERS SOMETIMES DON'T AND HAVE GONE OUT OF BUSINESS. DREW BRELAND: "Everything is pretty much against a logger, if you put it on paper. It's hard. You have to... Margin is short. Margin is
small. You have to do everything right to be profitable, and these guys show that it can be done by working together." DR. JOHN AUEL, PLM PROGRAM, MISSISSIPPI STATE UNIVERSITY: "It's just an example of a really dedicated firm that does really good work, and that's what we're looking for. That's what a Logger of the Year should be. They're conscientious, they follow BMPs, they really work with the landowners they deal with, and the foresters they deal with, to make sure they're meeting the requirements that the sale has. And they're
just ... they adapt to a lot of different situations." BOTTOM LINE, HOLCOMB TIMBER REPRESENTS THE BEST IN LOGGING. ITS POSITION AT THE TOP IN 2021 IS ONE ALL LOGGING COMPANIES ASPIRE TO. IT OPERATES
WITH INTEGRITY, SKILL, EFFICIENCY, AND PASSION AND AS SUCH, HONORED AS THE MFA'S OUTSTANDING LOGGER OF THE YEAR. ROLLAND HOLCOMB: "All the men out here working and our truck drivers, they're the one that's got this. They're the one, they all do their job, do it well. And they're the reason why we're here, because that's the reason why we're successful. You can't
just do it by yourself." ART HOLCOMB: "We come to work every day and we're early getting here and we work extremely hard and we're providing a ton of stuff for these mills, you know, as far as our natural resources. Because Mississippi has an abundant amount and we're getting it there and we're doing it in a safe manner. And I hope people know that we're doing it in a respectable manner because they come right back in and they replant this stuff and we'll be back in here in 25 years to hopefully get it again." MIKE MIKE CONGRATS AGAIN TO HOLCOMB TIMBER, 2021 LOGGER OF THE YEAR. YEAR.
WELL NEXT WEEK, THEY'RE MAN'S BEST FRIENDS, BUT MOST OF THEM ARE OUT OF WORK NOW... ZAC ...WE'RE NOT TALKING ABOUT FARM DOGS, BUT GREYHOUNDS -- THEY LOVE TO RUN, BUT WITH MOST STATES BANNING DOG RACING, THEY -COULD- WIND UP ON A FARM. ADOPTION IS THE NAME OF THE GAME. MIKE WE'RE -OFF- TO THE HEARTLAND -- AND A NON-PROFIT THAT'S RELOCATED THOUSANDS OF RETIRED RACERS.
THERE'S A -LOT- MORE TO THE STORY, THOUGH - WE DOUBLE DOG DARE YOU TO WATCH -- NEXT TIME ON FARMWEEK. VO MIKE AND BEFORE WE GO, AS WE RECORD THIS SHOW -- McDONALD'S AND WENDY'S ARE BOTH GIVING AWAY FREE FRIES THIS WEEK IN HONOR OF NATIONAL FRENCH FRY DAY -- LOT OF POTATOES GOING OUT THE DRIVE-UP WINDOW. VO ZAC YOU DO NEED TO ORDER YOUR FRIES THROUGH THE APP AT BOTH -- YOU'LL GET YOUR FRIES WITH SPECIFIC PURCHASES THAT CHANGE EACH DAY.
THE PROMOTION RUNS ALL WEEK AT BOTH CHAINS. ZAC REMEMBER IF YOU MISSED A STORY, LOOK FOR PAST EPISODES OF FARMWEEK ON OUR WEBSITE AT FARMWEEK DOT TV. MIKE AND DON'T FORGET TO FOLLOW US ON FACEBOOK. WE'LL SEE YOU NEXT WEEK. THANKS FOR WATCHING.
2022-07-20 02:12
Show Video
Other news