EXPLORE 2023 Virtual Summit: The New Era in Enterprise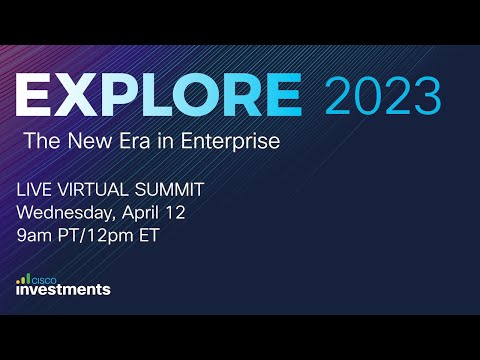 Show Video
♪ ♪ ♪ ♪ >> HELLO, EVERYONE, AND WELCOME TO EXPLORE 2023. I'M CHRIS DALLMAR, PORTFOLIO DEVELOPMENT MANAGER FOR CISCO INVESTMENTS, AND I'LL BE YOUR HOST FOR TODAY'S EVENT. TO GIVE YOU SOME BACKGROUND, CORPORATE VENTURE CAPITAL AND CORPORATE VENTURE ARM OF CISCO, TASK IN INVESTING IN AND ACQUIRING INNOVATION TO ACCELERATE OUR HOMEGROWN EFFORT. HERE'S HOW OUR TEAM PLAYS A KEY ROLE IN DRIVING THESE EFFORTS FORWARD.
THERE ARE FIVE CORE PILLARS OF CISCO'S OVERARCHING INNOVATION STRATEGY. BUILD, PARTNER, INVEST, CODEVELOP. BUILDING, PARTNERING, AND CODEVELOPMENT CERTAINLY PLAY AN IMPORTANT ROLE, BUT BUYING AND INVESTING OUR ARTICLE SUPPORTING CISCO'S EFFORTS DELIVERING A SOLUTION TO CONTINUE TO TRANSFORM HOW ENTERPRISES OPERATE AND THRIVE IN ANY ENVIRONMENT.
WEAK SLIGHT POSITIVE PROGRESS IN TECHNOLOGY AT SCALE AND GIVE TOMORROW'S INNOVATORS THE INCREDIBLE BENEFITS OF BEING SUPPORTED AND ALL THE RIGHT WAYS. ONE TEAM IS RESPONSIBLE FOR M&A AND START UP INVESTMENT ACTIVITIES AND OUR APPROACH IS BASED ON TWO FACTORS: LONG-TERM STRATEGY, AND THOUGHT LEADERSHIP. FOR OVER 30 YEARS WE HAVE ACQUIRED AND INVESTED IN EMERGING TECHNOLOGY LEADERS, AND THESE INVESTMENTS AND ACQUISITIONS CONTINUOUSLY DELIVER VALUE TO OUR CUSTOMERS. WE ARE INVESTING IN DEEPER FOOTHOLDS IN CURRENT MARKETS WHILE EXPANDING OUR FOOTPRINT ACROSS NEW EMERGING ONES. FURTHERMORE, WE MAKE INVESTMENTS THAT ENABLE OUR CUSTOMERS TO STAY AHEAD OF THE CURVE AND GAIN AN ADVANTAGE OVER THEIR COMPETITION.
CURRENTLY WE HAVE OVER 100 ACTIVE GLOBAL PORTFOLIO COMPANIES, AND REINVEST IN DOZENS OF START-UPS ANNUALLY ACROSS SIX CORE SECTORS: SECURITY, COLLABORATION, CLOUD AND DATA CENTER, ENTERPRISE NETWORKING AND IoT, I.T. OPS AND DEVOPS, AND FINALLY, DATA AND ANALYTICS. WE HAVE AN EXCITING AGENDA LINED UP FOR YOU TODAY, SO LET'S DIVE RIGHT IN. THE THEME FOR OUR PROGRAM IS THE NEW ERA IN ENTERPRISE. ENTERPRISES TODAY FIND THEMSELVES NAVIGATING A LANDSCAPE FRAUGHT WITH TO ECONOMIC AND GEOPOLITICAL COMPLEXITIES.
IF THEY ARE TO THRIVE AND EVEN SURVIVE IN THIS ENVIRONMENT, IT'S MORE IMPORTANT THAN EVER TO FUTURE PROOF THEIR BUSINESS THROUGH CAREFUL INVESTMENTS IN SPECIFIC TECHNOLOGIES. TODAY WE WILL TOUCH ON INNOVATION TRENDS FOR SHAPING THE ENTERPRISE LANDSCAPE, A PANEL FEATURING CISCO INVESTMENTS LEADERS, MODERATED BY CISCO SALES SPP CLIFF THOMAS. FULL-STACK OBSERVABILITY, MOVING INTO A CLOUD-NATIVE WORLD, FEATURING THE COFOUNDER AND CEO, MARCIN KURC, AND SECURITY ADD FOUNDER AND CEO, REHAN JALIL.
WITHOUT FURTHER ADO, LET'S GET STARTED. IN OUR FIRST SESSION TODAY, INVESTMENT LEADERS JANEY HOE, NOAH YAGO, AND ALEEM RIZVON WILL DISCUSS THE TRENDS SHAPING THE ENTERPRISE TECHNOLOGY LANDSCAPE IN OUR PANEL MODERATED BY CLIFF THOMAS. OVER TO YOU, CLIFF. >> I REALLY APPRECIATE IT. WE ARE GOING HAVE SOME FUN.
I AM JOINED, AS YOU SAID, BY JANEY HOE, NOAH YAGO, AND ALEEM RIZVON. YOU WILL TALKING ABOUT THIS CONCEPT AROUND WHAT ARE YOU DOING WITH RESPECT TO THIS NEW ENTERPRISE. THIS NEW ERA OF ENTERPRISE. AND WE ARE GOING TO DO A LITTLE DISCUSSION HERE WITH THIS PANEL, AND WE WILL START WITH YOU, JANEY.
WHEN WE THINK ABOUT CYBERSECURITY AROUND MULTI-CLOUD NETWORKING AND THIS CONCEPT OF FULL-STACK OBSERVABILITY AND VISIBILITY AND TOTALITY, WHAT DOES THAT REALLY MEAN TO THE AUDIENCE HERE AND FROM YOUR VANTAGE POINT WHERE DO YOU THINK THIS INDUSTRY NEEDS TO GO, AND WHERE ARE WE GOING WITH IT? >> FIRST, THANK YOU FOR HAVING ME ON THE PANEL. IT'S GOOD TO BE HERE. WE WORK TOGETHER ALL THE TIME, SO I LOVE BRINGING OUR CONVERSATIONS AND OUR MEETINGS TO AN AUDIENCE HERE.
FIRST, TAKING A SETBACK ON THIS ENTERPRISE, I THINK IT'S A GREAT CAUSE AND VERY TIMELY. I LIKE TO THINK THIS YEAR HAS SEEN MORE UNPRECEDENTED CHANGES, WHETHER IT'S A PANDEMIC, GEOPOLITICAL, LIKE CHRIS MENTIONED. AFTER DECADES IN A CAREER, YOU THINK YOU KNOW IT ALL, BUT WE HE NOT. ENTERPRISES THAT CARE MORE ABOUT FAIRNESS, INCLUSION, AND TEAM BUILDING.
ALL NEW TOPICS THAT ARE ACTUALLY TOPICS THAT HAVE BEEN THERE BUT THERE'S A NEW FOCUS. IT'S VERY EXCITING. I THINK THAT'S THE BACKDROP OF HOW WE WILL OPERATE. I KNOW YOU WORK WITH CUSTOMERS ALL THE TIME, SO I WILL FLIP IT AROUND AND ASK YOU SOME QUESTIONS. BUT IN THIS AREA OF FOCUS, I LOOK AT SECURITY AS A BALANCE BETWEEN THE USERS AND DATA. THOSE THREE VARIABLES THAT HAVE TO COME INTO BALANCE.
THE CHANGES OVER TIME AS THE BACKDROP. DIFFERENT TOPICS, ALL OF THESE TOPICS WILL CONTINUE TO SHIFT FOR SECURITY AND HOW WE ACTUALLY TACKLE THEM. I WOULD LOVE TO CONTINUE THE CONVERSATION. >> THAT'S GREAT, JANEY.
AS YOU SHARE, AROUND THE GLOBE ENTERPRISE, AND THIS IS A BOARD LEVEL DISCUSSION WITH EVERY CUSTOMER THAT I AM SPEAKING WITH, EVERY C SO, EVERY CIO. WHETHER IT'S TOP OF MIND AROUND PROTECTING ASSETS OF AN ORGANIZATION, IF YOU WILL. THE THREAT VECTORS ARE UNBELIEVABLY MASSIVE, IF YOU WILL. AND THE ENTERPRISE, AS WE TALK ABOUT THE NEW ERA, IT HAS CHANGED DRAMATICALLY. ALEEM, TO YOUR POINT, FROM YOUR PERSPECTIVE, WHAT DO YOU THINK HAS BEEN THE BIGGEST CHANGE WITH RESPECT TO THIS ENTERPRISE LANDSCAPE AND HOW THIS INDUSTRY IS EVOLVING IN THOSE CONSTRUCTS? >> THANK YOU, CLIFF. FIRST OF ALL, THANK YOU FOR HOSTING THIS.
WE REALLY APPRECIATE IT. I THINK IT'S FAIR TO SAY THAT THE NEW ERA OF ENTERPRISE DAWNED ON US THE DAY AFTER WE WENT INTO COVID LOCKDOWN. GETTING USED TO THE NOTION OF HAVING APPLICATIONS AND WORKLOADS OUTSIDE THE ENTERPRISE NETWORK, AND INSIDE THE ENTERPRISE NETWORK, ACCESSING THOSE APPLICATIONS. ALL OF THAT CHANGE, WHAT WE QUICKLY LEARNED IN THE PROCESS IS THE NETWORK ARCHITECTURE OUR CUSTOMERS WERE USING WERE NOT ADEPT AT MANAGING THIS NEW MODALITY WITH WHICH USERS WERE IN THE ENTERPRISE NETWORK APPLICATIONS AND EVERYTHING E ELSE.
THE ONE THING THAT WE KNOW FOR SURE THAT IS HERE FOR GOOD IS THIS, THAT HYBRID WORK IS GOING TO BE AROUND. THAT HAS PUT A NEW DEMAND. PART OF THE TIME WE ARE GOING TO BE INSIDE ACCESSING APPLICATIONS AND WORKLOADS, A LOT OF THE TIMES WE WILL BE REMOTE AND ACCESSING THE SAME THING FROM WHEREVER WE ARE. NEWER ARCHITECTURES NEED TO EMERGE, AND I THINK THE CHALLENGE FROM A HYBRID CLOUD NETWORKING STANDPOINT, FROM THAT INFRASTRUCTURE STANDPOINT, WHAT NETWORK I.T. ADMINS HAVE TO FACE, IT'S HERE TO STAY. SO THEY HAVE TO FIGURE OUT HOW TO SEAMLESSLY MANAGE THE WORKLOADS RUNNING WITHIN THE ENTERPRISE DATA CENTER, BUT ALSO PROVIDE SECURE CONNECTIVITY TO THOSE APPLICATIONS AND WORKLOADS IRRESPECTIVE OF WHERE THE USERS MAY BE.
I THINK THAT'S A NEW REALITY FOR ENTERPRISES AND IT'S GOING TO BE FAIRLY INTERESTING THINGS THAT EMERGE. WE ARE LOOKING FORWARD TO THAT. >> THAT IS REALLY INSIGHTFUL. MAYBE IF I GO OVER TO NOAH, TAKING AN OUTSIDE IN THE VIEW FROM THE TEAM, DEVOPS, AI OPS, NETWORK OPS.
AS ALEEM SUMMARIZED AN JANEY BUILD THE FRAMEWORK, FROM AN OUTSIDE IN PERSPECTIVE, WHAT ARE THESE FOLKS GOING THROUGH IN THIS NEW ERA? FROM YOUR VANTAGE POINT, WHAT ARE TOP OF MIND CONCERNS THAT THEY HAVE AND HOW SHOULD WE AS A COLLECTIVE BE SHOWING UP IN THINKING ABOUT THIS OPPORTUNITY? >> THANKS. WELL, ONE OF THE BIGGEST THINGS THAT'S BEEN GOING ON, FULL-STACK OBSERVABILITY IS THE AREA I SPEND MOST OF MY TIME ON. IT'S NOT REALLY TECHNOLOGY, IT'S BECOME A BUSINESS GOAL. I THINK IT'S A MASSIVE FRIENDSHIP THAT'S HAPPENING OVER THE LAST COUPLE YEARS. WHAT I MEAN BY THAT IS HISTORICALLY WHEN WE THINK ABOUT I.T. OPERATIONS, IT'S A COST
DRIVER. TODAY WITH DIGITAL TRANSFORMATION IT'S REALLY JUST A DRIVER OF CORE BUSINESS. IT'S CRITICAL TO EVERYTHING THAT GOES ON. SOME OF THE TRENDS WE HAVE BEEN SEEING, LIKE PROLIFERATION OF DATA, IT'S A CONVERSATION WITH EVERYTHING WE DO, AND TAKING OPERATIONAL APPROACH TO HOW YOU ACTUALLY MANAGE YOUR ENTIRE BUSINESS AND I.T. STACK IS
REALLY FRONT AND CENTER. WHEN WE ACTUALLY SEE THINGS IN THE MARKETS HOW SOME OF THE TRENDS WE ARE SEEING, THE MIGRATION OF THE CLOUD IS A MAJOR ONE. PROLIFERATION OF DATA AND THOSE SORTS OF THINGS.
IT CREATES COMPLEXITY. IN THE MARKET, WHEN WE SEEK TO DEVELOP TECHNOLOGIES OR WORK WITH OUTSIDE PARTIES, I THINK THIS IS ENDEMIC ACROSS BUSINESS AS A WHOLE, YOU NEED TO TAKE A VERY HOLISTIC APPROACH AND BE ABLE TO MANAGE COMPLEXITY, WHICH IS INCREASINGLY DIFFICULT. TEN YEARS OR SO AGO WE USED TO BE ABLE TO JUST LOOK AT INFRASTRUCTURE OR THE NETWORK OR ANY OTHER PIECE OF IT AND JUST THINK ABOUT IT AS A POINT SOLUTION.
WHAT IS EMERGING TODAY IS PLATFORM. >> TO THAT POINT AROUND THE PLATFORM APPROACH AND THE INSIGHTS, I THINK THAT'S CRITICAL. AND THINKING ABOUT THOSE FUNCTIONAL TEAMS THAT HISTORICALLY HAVE OPERATED IN SILOS, IS THERE AN OPPORTUNITY TO PROVIDE MORE OF A HOLISTIC PERSPECTIVE OR VISIBILITY OR INSIGHT FOR THAT AS A COLLECTIVE? ARE YOU SEEING THAT BECOME MORE AND MORE PREVALENT ON AN OUTSIDE INTERVIEW OF THESE FOLKS IN THESE DIFFERENT FUNCTIONAL TEAMS PROVIDING INSIGHTS TO THEIR LINES OF BUSINESSES? >> THAT'S A GREAT QUESTION. THE WAY TO THINK ABOUT IT FROM AN ORGANIZATIONAL PERSPECTIVE, I.T. OPERATIONS TOUCHES ON A FEW DIFFERENT AREAS. TECHNOLOGY IS THE OBVIOUS ONE, BUT IT ALSO TOUCHES ON ORGANIZATIONAL STRUCTURE.
WHO IS USING IT. FUNDAMENTALLY, THE PROBLEM WE ARE TRYING TO FIX IS WHEN YOU HAVE AN ISSUE, HOW DO YOU PREPARE IT AND DO IT QUICKLY? ACROSS THE BUSINESS ORGANIZATION, THERE ARE MANY CONSTITUENTS WHO CARE ABOUT THIS AND NEED TO HAVE THESE TOOLS IN THEIR HANDS. THE WAY WE THINK ABOUT PLATFORM ORIENTATION ACROSS THE INDUSTRY, YOU HAVE GOT YOUR CORE IP, ENGINEERS, SECURITY PERSONAS, AND THEN YOU HAVE PEOPLE WITH A LINE OF BUSINESS WHO WANT TO BE ABLE TO UNDERSTAND THE HEALTH OF THE BUSINESS, SOMETIMES THE SIGNALS, MEANING, IS THERE SITUATIONS WHERE YOU LOOK AT DATA ACROSS YOUR NETWORK AND USE IT TO DRIVE BUSINESS DECISIONS? IT COULD BE A SALES FUNCTION, UNDERSTANDING THE HEALTH OF YOUR SLAS, FOR EXAMPLE. WE WILL HEAR FROM MARCIN A LITTLE LATER.
BUT COMPANIES LIKE NOBL9 THAT WE INVEST IN, ALL THESE COMPANIES TOUCH ON VARIOUS ELEMENTS OF TRYING TO UNDERSTAND THE I.T. STACK AND APPLY THAT TO BUSINESS LOGIC. >> THAT'S REALLY HELPFUL. JANEY, WHEN YOU KICKED OFF THE SESSION BUILDING ON WHAT NOAH JUST SHARED, AND THINKING ABOUT GENERATIVE AI OR CHATGPT, THAT'S PROLIFERATING QUITE SIGNIFICANTLY.
FROM YOUR PERSPECTIVE, TALK A LITTLE BIT ABOUT THAT. WHAT ARE YOU SEEING THAT PERMEATES INTO THE ENTERPRISE, BOTH TECHNICALLY, GOVERNANCE? THIS IS A WHOLE TIDAL WAVE COMING AT US OF OPPORTUNITY BUT ALSO RISK, I WOULD SUSPECT. >> I AM TOTALLY IN AGREEMENT. IT'S DEFINITELY THE TOPIC OF THE DAY. AI HAS BEEN AROUND FOR A LONG TIME, ACTUALLY, IN OUR PRODUCTS, BUT IT HAS TAKEN ON THIS NEW EVOLUTION AND DISCUSSION.
BUT IT HAS THE POTENTIAL, WITH SOME OF THE LATEST TOPIC LAUNCH, PUTTING SOME LIGHTS ON THAT IT COULD CHANGE EVERYTHING ABOUT HOW WE DO EVERYTHING. LIKE YOU SAID, INCREDIBLE POTENTIAL, SUPER EXCITING. BUT WHEN YOU THINK ABOUT THE AI MODELS, WHETHER IT IS PREDICTIVE OR GENERATIVE, THOSE COMPUTATIONAL MODELS ARE ONLY AS GOOD AS THE INPUTS. IT KIND OF DEMOCRATIZE IS EVERYBODY'S ACCESS AND A MASSIVE AMOUNT OF DATA. OR NEW CONTENT IN GENERATIVE AI. THAT IS SUPERPOWERFUL.
TO THE SAME YOU CAN THINK ABOUT IT IS THE DATA SET, FOR EXAMPLE. THE OUTCOMES THAT WE USE TO DRIVE KEY DECISIONS OR WHATEVER WE ARE DOING, IT'LL BE BIASED, AS WELL. HEREIN LIES WHAT YOU ARE MENTIONING. IT OPENS UP A WHOLE DIFFERENT SET OF TOPICS AROUND WHAT IT IS AND HOW YOU MANAGE PRIVACY, TRUST. SO ALL THESE TOPICS IN THIS OPPORTUNITY, AND EVEN THE BA BASICS.
SO HOW DO YOU MODEL WHAT IT'S DOING? IN THIS FRAMEWORK. SO I THINK IT IS SUPER EXCITING, AND EXCITING OPPORTUNITIES FOR INNOVATION AROUND IT, INCLUDING CISCO. DEFINITELY A TOPIC THAT CUTS ACROSS EVERYTHING. NOT A PARTICULAR SEGMENT. IT'LL BE IMPACTING EVERY SINGLE SEGMENT. >> YOU BROUGHT UP INNOVATION A COUPLE OF TIMES, AND I THINK ABOUT LARGE ENTERPRISES.
HISTORICALLY, SENIOR MANAGEMENT WOULD SAY BUY VERSUS BUILD. BUT THEY ARE REALLY IN SCENTING AND REWARDING THE BEHAVIOR WHICH IS TO BUILD VERSUS BUY AROUND DRIVING DIFFERENTIATION AND INNOVATION. I DON'T KNOW IF YOU HAVE A PERSPECTIVE AROUND HOW WE NAVIGATE THIS WHERE WE HAVE OPEN SOURCE, THE ABILITY TO REALLY CREATE AND CUSTOMIZE, AND INTELLIGENCE AS A DIFFERENTIATOR FOR SOMEONE'S BUSINESS. BUT BY THE SAME TOKEN, HOW DO YOU SCALE? WHAT ARE THE GEOPOLITICAL SITUATIONS AND THE COMPLIANCE CONCERNS? IT'S AN INTERESTING DYNAMIC, BECAUSE WE WANT VELOCITY OF INNOVATION AND VELOCITY OF CREATIVITY, AND INGENUITY. BY THE SAME TOKEN, IN SOME ORGANIZATIONS THAT ARE REGULATED, WE'VE GOT OTHER CHALLENGES.
ALEEM, WHAT ARE YOU SEEING WITH RESPECT TO THESE LARGE ENTERPRISES AND HOW THEY ARE NAVIGATING THIS? >> GREAT QUESTION, CLIFF. IF I MAY JUST ADD A LITTLE BIT TOO WET JANEY MENTIONED, GENERATIVE AI, IT'S DIFFERENT REASONS. ONE OF THE THINGS YOU WILL SEE WITH AI AND LARGE LANGUAGE MODELS, IN THE DATA CENTERS AND CLOUD YOU ARE GOING TO HAVE A LOT OF COMPUTE CAPACITY. ANOTHER THING PEOPLE DON'T REALIZE, IT'S ALSO GOING TO DRIVE -- IT ISN'T LIKE SEARCH WHERE YOU JUST GO TAKE SOMETHING, YOU HAVE TO COMPUTE A LOT IS GOING TO BE A LOT OF TRAFFIC RUNNING HORIZONTALLY, EAST-WEST, AS WE CALL IT. ALL OF THAT IS GOING TO SPUR A LOT OF INVESTMENTS ONCE AGAIN IN THE DATA CENTER AND IN THE PUBLIC CLOUD ARENA. ONE INTERESTING THING WE ARE STARTING TO NOTICE, WHILE LARGE LANGUAGE MODELS SO FAR HAVE BEEN THE PURVIEW OF THE CLOUD PROVIDERS, WE ARE STARTING TO SEE EARLY INDICATIONS OF INTEREST FOR LANGUAGE MODELS IN ENTERPRISE NETWORKS.
SO IT'S SOMETHING YOU MIGHT HAVE STUMBLED INTO. IT'S A GREAT EXAMPLE WHERE PEOPLE WANT TO APPLY LARGELY WHICH MODELS DATA. THIS IS ONE THING I'VE NOTICED, QUITE A LOT OF INVESTMENT IN THE PRIVATE CLOUD. AND A LOT OF THOSE THINGS IN THERE. I THINK SPECIFICALLY THAT'S VERY EXCITING FOR US IS IF YOU THINK ABOUT THE LARGE LANGUAGE MODELS, IMAGINE A SCENARIO WHERE WE TAKE EVERY USER MANUAL EVER WRITTEN FOR EVERY CISCO PRODUCT AND TAKE ALL OF THE TROUBLE TICKETS, THE DATA SHEETS, WHATEVER IT IS THAT WE HAVE, AND USE THAT DATA TO TRAIN THE AI MODEL. NOW YOU HAVE AN INCREDIBLE TOOL THAT CAN ASSIST OUR AGENTS AND RESOLVING PROBLEMS ON THE FLY.
I THINK THIS IS GOING TO BE INCREDIBLY EXCITING. FROM A REGULATORY STANDPOINT, OBVIOUSLY DON'T KNOW HOW THIS IS ALL GOING TO BE AND ALL KINDS OF CHALLENGES IN THE ENTERPRISE NETWORK, FOR SURE. BUT WAS EXCITING AS SOME OF THESE LARGE LANGUAGE MODELS THAT WILL DRIVE MORE INFRASTRUCTURE SPEND, REGULATORY CONSTRAINTS, AND AS WE SAW WITH THE IMPACT, YOU'RE GOING TO HAVE DATA PRIVACY, FRONT AND CENTER, SO FROM AN ENTERPRISE STANDPOINT YOU HAVE TO EMBRACE COMPLEXITY. IT'S NOT GOING TO GO AWAY.
I THINK NOAH MENTIONED THIS PREVIOUSLY, AS WELL. IT'S NOT JUST A NETWORK ADMIN JOB. YOU HAVE TO FIGURE OUT HOW TO BRING THE BEST PRACTICES FROM SECOPS, DEVOPS, NETOPS, AND HAVE THE AGILITY TO MANAGE THESE EVER-CHANGING NETWORKS ON A DAILY BASIS. THAT'S GOING TO BE THE BIG CHALLENGE. >> INTERESTING. WITH RESPECT TO JANEY'S POINT AROUND GENERATIVE AI, YOU ARE ALLUDING TO MORE OF LIKE AN ENTERPRISE CHATGPT, I GUESS.
THAT COMES WITH OPPORTUNITIES AND CHALLENGES, AS WELL. WHAT ARE YOU SEEING WITH RESPECT TO HOW WE NAVIGATE THROUGH THE VELOCITY OF OPPORTUNITY WITH THESE APPROACHES, WHILE BUILDING VERSUS BUYING VERSUS INTEGRATING? HOW DO WE NAVIGATE THIS INTERESTING OPPORTUNITY IN FRONT OF US? >> IT IS SOMETHING WE THINK ABOUT EVERY DAY. GENERATIVE AI TOPICS, IT IS A FASCINATING TOPIC AND IT'S ONE THAT IS PROBABLY OPTIMIZED WHEN WE THINK ABOUT THESE THINGS. I THINK THE REALITY WHEN WE THINK ABOUT IT, AND I WILL TOUCH ON THIS IN A MOMENT, WE HAVE BEEN IN THE ENGINE ROOM FOR MACHINE LEARNING AND AI.
A LOT OF THE CORE TECHNOLOGIES OF POWER, WHAT WE ARE SEEING TODAY WITH THESE LINKAGE MODELS, FOR A LONG TIME. SOME OF THE TOPICS MENTIONED, THE SECURITY, HOW YOU MANAGE THAT, WE HAVE MADE INVESTMENTS IN COMPANIES WITH MACHINE LEARNING AND WE ALSO HAVE INVESTMENTS IN DATA SECURITY AND GOVERNANCE. THESE ARE ALL ISSUES WE THINK ABOUT AND I THINK THIS PROLIFERATES ACROSS THE ENTIRE SOFTWARE STAFF.
YOU MENTIONED OPEN SOURCE, AS WELL. SO THE INNOVATION, THERE'S REALLY A FEW DIMENSIONS TO IT. THE FIRST THING IS WE HAVE BEEN VERY SUCCESSFUL IN TERMS OF STANDING UP OUR OWN INNOVATION HERE INTERNALLY.
THERE'S ALSO A RECOGNITION, AND I WILL TAKE ON OPEN-SOURCE FOR A SECOND, THE MASSIVE LEVERAGE THAT YOU GET OF HAVING A GLOBAL COMMUNITY OF CONTRIBUTORS IS PRETTY AMAZING. WHEN WE THINK ABOUT CERTAIN AREAS, OBSERVABILITY, FOR EXAMPLE, OPEN TELEMETRY IS A TECHNOLOGY THAT IS KIND OF ON THE FORE OF HOW INTERNAL DEVELOP MUCH IS GOING. WE ARE ONE OF THE BIGGER CONTRIBUTORS OF THAT, A PRETTY AMAZING STATISTIC.
YOU CAN LOOK THAT UP. WHEN WE SEE ACROSS OUR TECHNOLOGY STACKS, WHETHER IT'S OBSERVABILITY OR DATA CENTER OR SECURITY, THERE'S MANY DIFFERENT WAYS TO ACCOMPLISH WHAT WE NEED TO ACCOMPLISH, AND THE ORIENTATION WE HAVE TODAY, WHEN WE THINK ABOUT THIS RATHER THAN BUILDING, THERE ARE SOME VERY EXCITING START-UPS THAT WE HAD THE OPPORTUNITY TO WORK WITH, AND SOMETIMES WE ARE THINKING ABOUT PROBLEMS FROM A DIFFERENT PERSPECTIVE. THEY ARE GENERALLY COMPLEMENTARY TO WHAT WE ARE DOING INTERNALLY FROM OUR OWN PRODUCT DEVELOPMENT PLANS.
WHEN YOU LOOK AT THINGS ON A CASE-BY-CASE BASIS, I THINK THAT IS THE ANSWER. THERE IS NO ONE TECHNOLOGY WILL LOOK AT AND SAY, HEY, LOOK, THIS IS SOMETHING WE ARE BETTER SUITED TO BUILD OURSELVES VERSUS BUY. I THINK WE TRY TO THINK ABOUT THE ENTIRE PORTFOLIO AND CONSIDER HOW THAT ALL FITS IN. >> YOU TOUCHED ON SOMETHING REALLY INTERESTING WITH RESPECT TO VISIBILITY AND THE OPPORTUNITY TO INGEST MULTIPLE DATA SETS TO PROVIDE A HOLISTIC VISIBILITY. WHETHER IT IS AN ASSET THAT WAS BUILT, AN ASSET THAT WAS BOUGHT, AN ASSET THAT WAS KIND OF A HYBRID OF THE TWO, AND THEREIN LIES A UNIQUE OPPORTUNITY TO PROVIDE A HOLISTIC VISIBILITY PERSPECTIVE. I THINK THAT'S WHAT I HEARD YOU SUMMARIZE, WHICH IS FASCINATING.
TO THAT POINT, JANEY, THINKING ABOUT OUR INVESTMENT PORTFOLIO AND MAYBE DOUBLE-CLICKING A LITTLE MORE INTO WHAT NOAH HAD SHARED WITH RESPECT TO OUR INVESTMENT, ANY OTHER INVESTMENTS WE HAVE MADE THAT YOU MIGHT WANT TO HIGHLIGHT THAT SUPPORTS SOME OF THE THINGS OUTLINED HERE WITH RESPECT TO INNOVATION AROUND THE OPPORTUNITY AROUND THIS NEW ERA? >> YES. LISTEN TO THIS CONVERSATION, TO YOUR POINT, THESE TOPICS, SOME OF THEM ARE THINGS THAT WE HAVE BEEN TALKING ABOUT. BUT WITH THE NEW GENERATION AND SET OF TOPICS, ALL THESE POINTS THAT WERE RAISED, RECODING EVERYTHING, WE HAVE DEFINITELY SEEN THESE GENERATIONS OF INNOVATION ACROSS THE BOARD. CYBERSECURITY HAS NEVER BEEN SLOW FOR INNOVATION.
JUST THE NATURE OF THE PROBLEM IS SUPER DYNAMIC, SO YOU END UP WITH A TON OF INNOVATIONS AROUND THAT. WE HAVE TWO SPEAKERS COMING UP. ONE, WE HAVE BEEN TALKING ABOUT AND FOCUSING ON SECURITY PROTECTIONS OF DATA APPLICATIONS. ON THE USER SIDE, WE HAVE INVESTMENTS, FOR EXAMPLE, CENTERED AROUND IDENTITY. ANOTHER INVESTMENT WE HAVE MADE IS CENTERED AROUND HOW YOU FOCUS ON HEALTH AND SECURITY.
98%, IS NOT A SURPRISE. AND YOU CAN ONLY IMAGINE. SO I THINK ALL OF THOSE THINGS ARE SUPER INTERESTING, AND CHRIS IS GOING TO COME BACK AND INTRODUCE.
THAT'S WHAT WE DO INVESTMENT. FOR OURSELVES, BUT WE ARE ALSO VERY OPEN TO SHARING THE DISCUSSION AND MAKING CONNECTIONS. BECAUSE THIS IS AN INNOVATION WHERE WE WANT TO HELP ACCELERATE, ENGAGE, AND PUSH THAT FORWARD AS WE LOOK AT ALL OF THESE DYNAMIC TRENDS. SO THAT'LL COME BACK AND WE CAN ENGAGE WITH THAT. >> OUTSTANDING.
YOU TOUCHED ON SOME ADVICE FOR THIS AUDIENCE ON HOW TO REALLY TAKE ADVANTAGE OF THIS NEW ERA, AND I THINK YOU SUMMARIZE SOME NICE ONES. ANYTHING ELSE YOU WANT TO ADD FOR THIS AUDIENCE? ANY ADVICE YOU WOULD GIVE THEM? >> IN THE FACE OF CHANGE AND THINGS THAT ARE UNPREDICTABLE, DYNAMIC, I HAVE LEARNED YOU'RE ALWAYS BEST OFF MOVING FORWARD INTO IT, AND TAKE AN OPEN STANCE TOWARD INNOVATION. THAT IS SOMETHING I HAVE ALWAYS BELIEVED. THAT'S THE ONLY WAY YOU CAN STAY AHEAD OF IT. NOT JUST ABOUT WHAT'S HAPPENING, THE WHAT IS HAPPENING NEXT YEAR OF THE YEAR AFTER.
I KNOW THERE ARE A LOT OF CUSTOMERS ONLINE. IT MAY IMPACT HOW THEY THINK ABOUT HOW THEY PLAN THEIR OPERATIONS. IT WAS A VERY PRACTICAL PROBLEM.
THOSE THINGS ARE PROBABLY ALREADY SHIFTING TODAY. SO YOU KNOW THAT'S GOING TO CONTINUE TO SHIFT, BECAUSE THESE ARE MAJOR TRENDS AND NOT SOMETHING THAT OUR OF MINOR IMPACT. SO I WOULD ENCOURAGE EVERYONE TO LEAN INTO IT. WE ARE HAPPY TO HELP MAKE A CONNECTION. YOU CAN LOOK AT WHAT'S HAPPENING TODAY ALONG WITH US AND HOW THAT INTEGRATES, AS WELL. >> OUTSTANDING.
ANYTHING FROM YOUR VANTAGE POINT? ONE OR TWO AREAS OF ADVICE HE WOULD GIVE AUDIENCE AROUND EMBRACING WHAT WE HAVE BEEN DISCUSSING HERE? >> I WOULD JUST SUMMARIZE IT THIS WAY. IF YOU THINK ABOUT TWO TRENDS THAT ARE IMPACTING, AND HERE TO STAY, IT'S A HYPER MOBILE WORKFORCE. THEY ARE GOING TO BE HYBRID, THAT'S A GIVEN.
IN A RECENT SURVEY, ON A WEEKLY BASIS BETWEEN PUBLIC CLOUD. SO IF YOU HAVE THESE TRENDS, YOU HAVE A HYPER MOBILE WORKFORCE AND A HYPER MOBILE WORKLOAD. THIS IS THE REALITY. SO ONE OF THE THINGS WE NEED TO FOCUS ON IN ORDER TO MANAGE THE COMPLEXITY, IT'S EMBRACING AUTOMATION, THAT'S A GIVEN.
I THINK ALL OF THESE EMERGING THINGS ARE GOING TO HELP US PHENOMENALLY OVER THERE. IT'LL ALWAYS COME DOWN TO SECURE CONNECTIVITY. BECAUSE WE ARE GOING TO BE OUTSIDE THE ENTERPRISE NETWORK.
SO YOU CANNOT MANAGE WHAT YOU CANNOT SEE, AND THIS IS WHERE THINGS LIKE THOUSANDEYES AND OTHER THINGS YOU HAVE FROM THE NETWORK VISIBILITY STANDPOINT FUNDAMENTALLY HAS CHANGED TO MANAGE AND USERS I USED TO BE INSIDE WITH HIS FULL VISIBILITY, AND NOW I AM WORKING FROM ALL OVER. AND THOUSANDEYES GIVES THEM THE VISIBILITY GAP THAT THEY HAVE IN TERMS OF OUR USERS ARE ACCESSING. NEC EVOLUTIONS OF THAT.
WE HAVE HEARD ABOUT IT FROM OUR NEXT SPEAKER. ALL THE WORKLOADS AND THE COMBINATION OF SECURITY FROM AN ACCESS STANDPOINT, VISIBILITY FROM A NETWORK STANDPOINT, OBSERVABILITY FROM AN APPLICATION STANDPOINT IS GOING TO BE PHENOMENALLY HELPFUL FOR ADMINS TO THINK ABOUT THE NEXT ERA OF ENTERPRISE NETWORKS. >> THAT'S REALLY HELPFUL. SHOULD WE BE THINKING ABOUT THIS WHERE SENIOR LEADERS OF LARGE ENTERPRISES ARE THINKING ABOUT HOW TO CREATE A CONSISTENT FRAMEWORK OR PLATFORM, IF YOU WILL, WHERE I CAN HAVE MY APP DEVELOPERS FOCUS ON BUSINESS LOGIC, AND WE CAN MAKE SURE WE PROVIDE A CONSISTENT -- WHETHER IT'S PUBLIC OR PRIVATE CLOUD ENVIRONMENT FROM A SECURE PERSPECTIVE? MEANING, HOW CAN I SCALE AN APP IN A SECURE WAY AND FOCUS ON BUSINESS LOGIC AND NOT WORRY ABOUT SECURITY AND NOT WORRY ABOUT THIS CONCEPT OF SCALING? WHETHER IT'S ON-PREM, IN A PRIVATE CLOUD, OR PUBLIC CLOUD? IS THAT WHAT YOU WERE ALLUDING TO IN THE RECOMMENDATION? >> JUST TO ADD A LITTLE BIT, IF YOU THINK ABOUT IT, I WILL GIVE YOU A PREVIEW OF WHAT WE ARE DOING WITH THE NEXUS CLOUD, FOR INSTANCE.
IT'S A GREAT TOOL TO MANAGE WORKLOADS THAT ARE INSIDE THE ENTERPRISE NETWORK AND POSTED IN PUBLIC CLOUDS. WE WILL BE ABLE TO SEAMLESSLY MANAGE ALL OF THOSE THINGS. YOU TALK ABOUT OPEN SOURCE, AS WELL. THIS IS WHERE I ACTUALLY THINK OPEN SOURCE CAN BE A GREAT COPILOT. IN THE SENSE THAT IT ALLOWS US TO EXPAND THE REACH OF OUR SOLUTIONS TO THIRD PARTIES.
FOR INSTANCE, NEXUS CLOUD ITSELF WORKS WITH ANSIBLE. SO WHEN YOU'RE DOING AUTOMATION ACROSS ALL OF THESE DIFFERENT EQUIPMENTS, YOU ARE LIKELY TO FIND QUITE A FEW THIRD-PARTY YEARS IN THE NETWORK. IN THE AUTOMATION FRAMEWORK MAY NOT ADDRESS THOSE. AND ANSIBLE IS AN OPEN SOURCE AUTOMATION TOOL. I'M PRETTY SURE THEY HAVE SOME ABILITY TO MANAGE THIRD-PARTY GEAR. AND NEXUS CLOUD SEAMLESSLY WORKS.
YOU HAVE AN ABILITY TO RUN YOUR AUTOMATION ACROSS NOT JUST CISCO PRODUCTS BUT THIRD-PARTY PRODUCTS, AS WELL. ONCE AGAIN, IT CAN WORK WITH THAT TO ALLOW YOU TO PROVISION WORKLOADS AND PUBLIC CLOUD. THAT IS WHERE WE TOUCHED UPON THIS, AS LONG AS YOU PROVIDE A SECURE FRAMEWORK AND GREAT CYBERSECURITY AND YOU GIVE THE FLEXIBILITY TO SEAMLESSLY MANAGE WORKLOADS, THAT IS GOING TO BE GREAT, BECAUSE THE COMPLEXITY IS PHENOMENAL UNLESS THEY HAVE THE TOOLS AND THE CAPABILITIES TO MANAGE THAT COMPLEXITY. IT'S GOING TO BE FAIRLY CHALLENGING FOR A LOT OF THE ENTERPRISE ADMINS. >> THANK YOU FOR THAT. I'M GOING TO COME BACK TO YOU HERE, NOAH.
ANY WORDS OF ADVICE FOR THIS AUDIENCE? WHAT'S BEEN SUMMARIZE FOR US? >> SURE. IT'S TOUGH TO FOLLOW BECAUSE THEY'RE SUCH GREAT INSIGHT INTO WHAT'S GOING ON IN THE MARKET. I WILL JUST LEAVE A COUPLE OF RECOMMENDATIONS.
NUMBER ONE, EMBRACE THE FACT THAT WE LIVE IN A HETEROGENOUS WORLD. OBVIOUSLY THERE IS COMPLEXITY THAT WE ARE GOING TO LIVE WITH EVERY DAY. NUMBER TWO IS TO GET YOUR HANDS DIRTY. TALK TO THE PEOPLE SOLVING THE PROBLEMS YOU'RE TRYING TO SOLVE.
PLAY WITH TECHNOLOGY, BECAUSE THERE'S SO MUCH, AND UNDERSTAND THAT, IN THIS WORLD WHERE THERE IS A PROLIFERATION OF TOOLS AND PROBLEMS, THEIR ANSWERS OUT THERE, AND LOOK TO THE FOLKS WHO ARE CLOSE TO THOSE PROBLEMS TO HELP SOLVE THEM. >> OUTSTANDING. THANK YOU SO MUCH. JANEY, THIS WAS A LOT OF FUN. ALEEM, ABSOLUTELY EXCITING TIMES IN FRONT OF US. WHAT AN OPPORTUNITY FOR US TO LEAN IN.
THE VELOCITY HAS CHANGED IN FRONT OF US AND IT'S AN UNPRECEDENTED OPPORTUNITY IN FRONT OF ALL OF US. I'M GOING TO HAND IT BACK TO YOU AND I THINK WE ARE GOING TO GO ON TO OUR NEXT SPEAKER. THIS HAS BEEN A LOT OF FUN.
WE LOOK FORWARD TO CONTINUING THE DIALOGUE WITH EVERYBODY. THANKS AGAIN. CHRIS, BACK TO YOU. >> THANK YOU.
WE REALLY APPRECIATE YOU TAKING THE TIME TO JOIN US. THANKS TO JANEY, NOAH, AND ALEEM FOR THEIR GREAT INSIGHTS, AS WELL. MOVING ON TO OUR NEXT SEGMENT, ENTERPRISES FACE MANY ISSUES AROUND FULL-STACK OBSERVABILITY AND A CLOUD-NATIVE WORLD, INCLUDING SHORTAGES, DISPARATE SYSTEMS, AND REDUCED BUDGETS. WE WILL HEAR HOW TO ADOPT AND IMPLEMENT A FULL-STACK OBSERVABILITY STRATEGY WITH CLOUD-NATIVE SERVICE LEVEL OBJECTIVES TO DEFINE RELIABILITY GOALS, FROM NOBL9 COFOUNDER AND CEO, MARCIN KURC.
TAKE IT AWAY, MARCIN. >> HI. I'M MARCIN KURC, CEO AND COFOUNDER OF NOBL9. I'VE BEEN IN THIS INDUSTRY FOR MANY YEARS GOING BACK TO MANAGING DATA CENTERS FOR MERCK, AND I'VE HAD AN OPPORTUNITY TO SEE MANY OF THE SHIFTS IN I.T. DURING THIS TIME. THE ADOPTION OF CLOUD-NATIVE TECHNOLOGIES INCLUDING KUBERNETES HAS EVERYONE RETHINKING SOFTWARE DELIVERY.
THAT'S WHY I'M EXCITED TO BE TALKING TO YOU ABOUT FULL-STACK OBSERVABILITY AND HOW THE MOVE TO CLOUD-NATIVE TECHNOLOGIES CAN MAKE OR BREAK YOUR REPUTATION AND HAVE A BIG IMPACT ON YOUR BUSINESS. NEARLY EVERY COMPANY I TALK TO IS WORKING TO ADJUST THE WAY THEY BUILD AROUND SOFTWARE AND UPDATING OPERATIONS TO TAKE ADVANTAGE OF COST SAVINGS AND OTHER INEFFICIENCIES. THAT SHIFT IS THE BACKDROP FOR WHY WE STARTED. WE OFFER A MANAGEMENT PLATFORM THAT STREAMLINES THE ADOPTION. THE SHIFT TO CLOUD-NATIVE PRESENTS NOVEL CHALLENGES FOR ORGANIZATIONS TO MAINTAIN, AND NO LONGER IS IT ENOUGH TO MONITOR RESOURCES. WE ARE LUCKY TO COUNT CISCO AS A CUSTOMER, A PARTNER, AND NOW AN INVESTOR, AND WE ARE EXCITED TO BE PART OF THE FULL-STACK OBSERVABILITY TRANSFORMATION.
THEY ARE BUILDING TO UNIFY SO MANY TECHNOLOGIES FOR THE BENEFIT OF CUSTOMERS. I FIRST BECAME FAMILIAR WHILE I WAS AT GOOGLE. MY COFOUNDER AND I HAD A PREVIOUS COMPANY ACQUIRED. WHEN WE GOT TO GOOGLE HE REALIZED THAT THEY HAD A VERY POWERFUL TECHNIQUE, BUT IT WAS REALLY HARD TO ADOPT THIS APPROACH. WE SAW A GAP IN THE MARKET AND DECIDED WE COULD BUILD SOMETHING THAT TOOK THE POWER OF ENGINEERING BUT MADE IT ACCESSIBLE TO ENTERPRISES, AND THAT IS HOW IT WAS BORN.
AS THE WORK BECOMES INCREASINGLY DIGITAL AND CLOUD-NATIVE, THE SERVICES WE USE AND TRUST NEED TO BE RELIABLE. WE TEND TO NOT NOTICE UNTIL IT IS A MAJOR CATASTROPHE, OF COURSE. IT SEEMS LIKE EVERY WEEK WE LEARN ABOUT A NEW OUTAGE OR WE RUN INTO SOFTWARE THAT DOESN'T WORK AS EXPECTED. WHETHER WE ARE TRYING TO BUY TICKETS, UPLOAD, WATCH OUR FAVORITE SHOW ON A STREAMING SERVICE, OR MANAGE A COMPLEX MANUFACTURING SUPPLY CHAIN. SOFTWARE OUTAGES ARE PART OF LIFE. NO ONE DOES THIS ON PURPOSE, OF COURSE, NO ONE CAN EXPECT PERFECTION, EVEN SOFTWARE TOOLS TO MEASURE ARE NOT IMMUNE TO THIS KIND OF IMPACT.
THE TRICK IS TO QUANTIFY CUSTOMER EXPECTATIONS AND BUILD THIS INTO OUR SOFTWARE. AND IT'S WHY WE CARE ABOUT FULL-STACK OBSERVABILITY IS A CRITICAL PART OF BUILDING AND RUNNING RELIABLE SOFTWARE. WE WANT TO MAKE SURE OUR TEAMS ARE FOCUSED ON WHAT TRULY MATTERS FOR CUSTOMERS AND OUR BUSINESS. NOW MORE THAN EVER. IF YOU MOVING INTO CLOUD-NATIVE TECHNOLOGY, YOU MUST HAVE A STRATEGY. YOU DON'T WANT TO END UP HERE, OF COURSE.
WHAT CAN YOU DO TO ENSURE RELIABILITY ACROSS ENTERPRISE? THE GOAL IS TO DELIVER RELIABLE SERVICES FASTER, CHEAPER, AND MORE PREDICTABLY. WHAT THIS MEANS IS THAT THE ORGANIZATION IS ABLE TO CAPITALIZE ON OPPORTUNITIES AND SERVE CUSTOMERS BETTER. WE HAVE MANY SURPRISES ACROSS A NUMBER OF INDUSTRY VERTICALS.
WE HAVE FOUND THAT THE DOWNTIME EQUALS DOLLARS. RETAILERS, FINANCIAL SERVICES, B2B SaaS. MANY CUSTOMERS. THEY ARE ACTIVE IN THE COMM COMMUNITY. THE TECH GIANTS LIKE META, NETFLIX, LYFT, GOOGLE, AND OTHERS. THIS QUICKLY LED TO DO-IT-YOURSELF PROJECTS IT A LOT OF ENTERPRISES.
THE KEY IS TO MARRY THEM. THE JOURNEY FROM PROACTIVE AND ADAPTIVE SYSTEMS STARTS BY SETTING GOALS FOR YOUR SERVICES THAT ARE ENABLED, BLESSED BY YOUR BUSINESS, AND TURNED OVER TIME. THINK OF IT THIS WAY. IF YOU'VE GOT A SELF-DRIVING CAR, YOU WOULD WANT TO KNOW THAT IT LEARNS THE RULES OF THE ROAD BEFORE YOU START DRIVING. IT'S LIKE DRIVING LESSONS FOR INFRASTRUCTURE AND I.T. OPERATIONS.
THEY GET THE GUIDELINES YOU CAN BUILD AUTOMATION AND RUN YOUR OPERATIONS CONFIDENTLY. EVEN AS CONDITIONS ARE CHANGING. ALL THE SUDDEN IT STARTS SLOWING, AND OUR GOAL TO STAY ON THE ROAD DOESN'T CHANGE. WE NEED TO KNOW WHAT NORMAL LOOKS LIKE, WHAT OUR CUSTOMERS EXPECT, AND WHAT LEVEL OF SERVICE WE ARE TRYING TO DELIVER. THAT'S THE ONLY WAY WE CAN EVER HOPE TO HAND THE KEYS TO THE AI POWER OPERATIONS TEAM. THAT'S THE JOURNEY WE SEE IN SO MANY COMPANIES.
THE GOOD NEWS IS THAT MOST OF THE COMPANIES ARE STILL IN THE EARLY DAYS OF THIS TRANSFORMATION. BUT THE CLOCK IS TICKING, AND THE MOVE TO CLOUD-NATIVE IS HAPPENING RAPIDLY, WHICH IS GETTING FULL-STACK OBSERVABILITY IN PLACE. THESE GOALS ACROSS ALL PARTS OF SERVICE, THEY CAN BE BASED ON CUSTOMER EXPECTATIONS AND BUSINESS NEEDS. EVERYTHING STARTS WITH FINDING GOOD SERVICE LEVEL INDICATORS. THINK OF THIS LIKE KPIS FOR YOUR VARIOUS SERVICES.
HOW DO YOU KNOW THE WEB PAGES ARE WORKING, OR THE DATABASE, OR THE APIs? WHO WANT TO KNOW WHAT WE ARE SEEING RELATIVE TO THE TOTAL NUMBER. IT'S NOT NECESSARILY BECAUSE OF BUGS. YOU MIGHT SEE ERRORS BECAUSE OF A NETWORK BLIP OR A SOFTWARE UPDATE THAT NEEDED A SERVER REBOOT. THE GOAL FOR YOUR SERVICE SHOULDN'T BE ARBITRARY.
BUT RATHER INFORMED BY USER EXPECTATIONS AND BUSINESS NEEDS. YOU TRY TO FIGURE OUT HOW MUCH YOU CAN LIVE WITH WHILE STILL KEEPING CUSTOMERS. THIS IS A MOVING TARGET AS THE SERVICE GROWS OR CHANGES.
SEE WANT TO KEEP UP-TO-DATE. YOU CAN USE THIS TO ALERT THE TEAM OR TRIGGER AUTOMATION. OR YOU MIGHT WANT TO SCALE UP A SERVICE IF YOU SEE A PERFORMANCE STARTS TO DEGRADE. IF ALL ELSE FAILS, YOU CAN ALERT THE TEAM. IT'S IMPORTANT TO HAVE A PLATFORM THAT IS FOCUSED ON REPORTING, BUT ALSO HAVING AN AUTOMATION COMPONENT THAT LETS YOU PRACTICE THE AUTOMATED RESPONSE ON INCIDENTS BEFORE IT HAPPENS. I WANT TO ILLUSTRATE THE POWER WITH THE REAL WORLD EXAMPLE.
WE HAVE A VENDOR THAT WAS NOT PROVIDING WHEN NEEDED. IN FACT, OUR CUSTOMERS ARE GETTING IMPACTED AND COMPLAINED ABOUT. THE VENDOR WAS SIMPLY HURTING HER BUSINESS. LUCKILY, OUR SYSTEM LET US, AND THE REAL IMPORTANCE OF THE THIRD-PARTY SYSTEM, AND SHARE WITH THE VENDOR. AS A RESULT, WE HAVE SIGNIFICANT FINANCIAL CONSIDERATION AS WELL AS A TECHNICAL SOLUTION.
WE DIDN'T HAVE TO FIGHT FOR IT. IT WAS ALL THERE IN THE DATA, AND WE COULD DO THIS FOR PRETTY MUCH ANY THIRD PARTY SERVICE. OUR CUSTOMERS ARE SEEING A MAJOR POSITIVE IMPACT, AND MASSIVE REDUCTION IN FALSE ALERTS NEEDS BETTER PRODUCTIVITY. IMAGINE THIS, YOU ARE ON A CALL AND YOU CAN SLEEP THROUGH THE NIGHT AND SAID GETTING PAGED AT 3:00 A.M. FOR LITERALLY NO REASON. THIS IS THE MOST FRUSTRATING PART OF BEING ON CALL.
YOU GET WOKEN UP, AND BY THE TIME YOU LOOK IN, THAT SHE HAS RESOLVED ITSELF. ON THE SMALL SCALE YOU CAN GET AWAY WITH PAGING THE TEAM AND IMPLEMENTING BETTER SAFE THAN SORRY POLICIES WITH INNOVATION. IN THE EDGE-TO-CLOUD AND AI, IS A WASTE OF RESOURCES.
BY HAVING ACCURACY AND STRONG SIGNALS IF ISSUES, YOU CHANGE THE GAME AND LET YOUR TEAM DEFEND THE SERVICE AND RELY ON THE RESILIENCE BUILT INTO CLOUD-NATIVE TECHNOLOGY. ONE OF OUR CUSTOMERS SYSTEMS EMBRACES THIS IN A BIG WAY. NOT ONLY DID THEY NEED TO KEEP THEIR OWN SERVICES UP AND RUNNING, BUT THEY ARE ALSO WRITING APPLICATIONS ON BEHALF OF THEIR CUSTOMERS.
THEY TAKE A VERY PROACTIVE STANCE AND CREATE FOR EVERY CUSTOMER ENVIRONMENT AS WELL AS THEIR OWN. THEY SMOOTH OUT SIGNALS TO QUIET THE NOISE AND THEY HAVE SEEN A 92% IMPROVEMENT IN ACCURACY. THIS MEANS BETTER MARGINS, FASTER TIME-TO-MARKET, AND HAPPIER. FOR EXAMPLE, IF YOU'RE RUNNING KUBERNETES, YOU REALLY WANT TO PAGE THE TEAM EVERY TIME IT FAILS TO START? OF COURSE NOT.
IT'S DESIGNED TO HAVE SOME AMOUNT TO FAILURE. THE TRICK IS TO DIFFERENTIATE BETWEEN THE EXPECTED FAILURE, THE ERA BUDGET, AND FAILURE OUTSIDE OF THE NORM. THAT IS EXACTLY WHAT THIS DOES, AND HOW THEY ENABLE FULL-STACK OBSERVABILITY FOR CLOUD-NATIVE WORK. WHAT'S FUN TO SEE HIS OVER THE LAST TWO YEARS A WAVE OF INTEREST IS BUILDING AND USING SLOs TO DRIVE IMPROVEMENT. THEY ARE BENEFICIAL IN SO MANY WAYS.
THEY HELP WITH ROAD MAPS, HELP BALANCE FEATURES OR TECHNICAL DEBT, OR IMPROVEMENTS. AND HELP WITH LONG-TERM PLA PLANNING. ONE OF THE MORE INTERESTING USE CASES I HAVE BEEN HEARING LATELY IS AROUND, WE ARE SEEING COMPANIES TRY FOR COMPLIANCE REGARDING RELIABILITY STANCE TO ENSURE CUSTOMERS ARE PERFECTED IN THE DOWNTIME.
EVERYONE IS NOW COMPLETELY RELIANT ON THEIR SMARTPHONES, AND ITS MOVE FROM BEING NICE TO CRITICAL. WE TAKE THIS RESPONSIBILITY VERY SERIOUSLY AND WE ARE ENCOURAGED TO SEE SO MANY COMPANIES AND GOVERNMENTS STEPPING UP TO IMPROVE SOFTWARE RELIABILITY ON A MUCH LARGER SCALE. AND PERSONALLY EXCITED FOR THE CHANGES WE HAVE SEEN IN THE SOFTWARE ECOSYSTEM REGARDING CLOUD-NATIVE TECHNOLOGY. FULL-STACK OBSERVABILITY, SERVICE LEVEL OBJECTIVES, AND AN OVERALL IMPROVEMENT TO THE STANDARDS ACROSS INDUSTRIES. IT'S A MAJOR OPPORTUNITY TO WORK CLOSELY WITH COMPANIES PRIORITIZING RELIABILITY. THEY NEED TO ENSURE THE SOFTWARE OR SERVICES ARE RUNNING, SECURE COMPLAINTS, AND CAN THINK ABOUT HOW TO DELIVER INNOVATION.
WE FOUND THAT THIS BRINGS CLARITY TO ORGANIZATIONS. RIGHT NOW IS THE TIME FOR LEADERSHIP AND SENDING UP A STRONG EXAMPLE FOR CUSTOMER EXPERIENCE, BUILDING TRUST WITH OUR LOYAL CUSTOMERS, AND BEING PREPARED FOR RISKS THAT MIGHT HURT OUR SOFTWARE AND TAKE US DOWN. NOW IT'S THE TIME TO ADOPT MODERN RELIABILITY PRACTICES.
LET ME JUST REVIEW WITH THIS. A YEAR EVERY DAY FROM CUSTOMERS ACROSS MANY INDUSTRIES, FINANCIAL SERVICES, RETAIL, AND MORE, THAT RELIABILITY REGULATIONS AND COMPLIANCE IS A TOP ISSUE FOR THEM. SOME HAVE EVEN SAID THAT IT REMINDS THEM OF WHERE SECURITY WAS ABOUT A DECADE AGO. THIS IS HAPPENING NOW, AND THE GOOD NEWS IS, IF YOU HAVE APPDYNAMICS OR THOUSANDEYES, YOU CAN START BUILDING SLOs WITH NOBL9 LATELY.
MY TEAM IS HERE TO HELP YOU AND I WOULD BE HAPPY TO CHAT WITH YOU ABOUT YOUR PRIORITIES AND SEE IF WE CAN HELP YOU WITH THE RELIABILITY AND PRODUCTIVITY YOU NEED TO START YOUR CLOUD-NATIVE JOURNEY AND PREPARE FOR YOUR FULL-STACK OBSERVABILITY. THANK YOU VERY MUCH. >> ALL RIGHT.
GREAT STUFF, MARCIN. WE APPRECIATE YOUR EXPERT INSIGHTS. IT'S AN AREA GARNERING A LOT OF ATTENTION FROM OUR CUSTOMERS AS OF LATE. WE WILL NOW MOVE FROM OBSERVABILITY TO WHAT SEEMS TO BE TOP OF MIND FOR EVERYONE THESE DAYS: SECURITY.
REHAN JALIL WILL DETAIL WHAT MEASURES AND PRACTICES TO IMPLEMENT TO ENSURE DATA AND APPLICATIONS ARE SECURED. OVER TU, REHAN. >> I'M REALLY EXCITED TO BE TALKING ABOUT THIS TOPIC HERE AT CISCO EXPLORER 2023, WHICH IS VERY INTERESTING TOPIC, TALKING ABOUT SECURITY OF DATA AND APPLICATIONS. FIRST OF ALL, TO UNDERSTAND THAT THIS TOPIC IS SO IMPORTANT IS TO UNDERSTAND THE PROBLEMS THAT ARE COMING AS WE GO TO OUR NEXT ITEMS.
WE ARE TRULY LIVING IN AN EAR WITH A MASSIVE VOLUME OF DATA THAT IS BEING GENERATED, AND OF COURSE THIS DATA IS EXTENDING IN ALL DIMENSIONS. THE DATA CLOUDS, ALREADY A TON OF DATA IN THE PRIVATE CLOUD AND THAT'S NOT GOING AWAY. MORE IMPORTANT TO THINK ABOUT IS, WHEN YOU SEE THESE BITS AND BYTES, IT'S IMPORTANT TO REALIZE THAT THESE ARE NOT JUST 1s AND ZEROs.
THESE ARE HUMAN LIFE, THEY OFTEN REPRESENT PROPERTY. THIS REPRESENTS BUSINESS LOGIC. IN FACT, IT REPRESENTS YOU AND ME AND OUR FAMILIES. IT COULD BE FINANCIAL INFORMATION, HEALTH INFORMATION, INTIMATE DETAILS OF YOUR LIFE. IT CAN BE WHERE YOU ARE TRAVELING. IN FACT, I WOULD SAY THAT ALL OF US ACTUALLY HAVE A DIGITAL FOOTPRINT LIVING IN THE ZEROS AND ONES.
SOMEBODY CONNECTED THESE THINGS, AND IT CAN REPRESENT US IN A VERY MEANINGFUL WAY. WHEN WE TALK ABOUT DATA, WE SHOULD NOT THINK ABOUT TH THIS -- IT'S RESENTING SOMETHING EXTREMELY VALUABLE, AND FOR THE SAME REASON, IT IS VERY VALUABLE FOR HACKERS AND PEOPLE WHO MAY WANT TO USE IT IN A MALICIOUS FASHION. SO IT CONTROLS THE DATA AND THE SECURITY OF THE STATE AND THE RESPONSIBILITY IS EXTREMELY IMPORTANT. THE OTHER IMPORTANT THING IS THAT, ON TOP OF THE DATA, THE FUNDAMENTAL USE OF APPLICATIONS AS THE NAME WOULD IMPLY, IT'S A VERY SPECIFIC LOGIC THAT SITS ON TOP OF THE DATA SYSTEMS TO DO SOMETHING.
WHETHER IT'S THE CRM, FINANCIAL APPLICATION, MARKETING APPLICATIONS. THEY REPRESENT SOMETHING. YOUR HR APPLICATIONS. BUT ESSENTIALLY THEY ARE DOING SOMETHING WITH THE DATA, AND THE CONTROLS ON THOSE APPLICATIONS ALSO BECOME EXTREMELY IMPORTANT. LET'S TALK A LITTLE FURTHER ABOUT THE COMPLEXITY. WITHIN THIS DATA, COMPLETELY JUMBLED UP IS ACTUALLY THE SENSITIVE INFORMATION THAT IS COMPLETELY JUMBLED UP.
IT IS CONSTANTLY GETTING PRODUCED AND IT'S DIFFICULT TO DO TO EXTRACT THESE THINGS OUT FROM THE REGULAR DATA. AND THE OTHER COMPLEXITY COMES IN, THE ACCESS TO THE DATA IS VERY DYNAMIC. SOFTWARE, PROCESSES, PEOPLE, A VERY DYNAMIC ENVIRONMENT, AND THIS MOVEMENT IS VERY DYNAMIC. LIVING FOR YOUR APIs OR THE WAY IT'S GETTING ACCESS.
AND THE OTHER DYNAMIC THING SITTING ON TOP OF IT IS THE GLOBAL REGULATORY LANDSCAPE, THE DATA PROTECTION LAWS GETTING CREATED ACROSS THE GLOBE. EVERY COUNTRY HAS THEIR OWN VIEW ON HOW THE DATA SHOULD BE, AND THAT'S NOT GOING AWAY. IT'S CHANGING ALL THE TIME AND INVOLVING ALL THE TIME. AS WE SEE MORE AI'S BECOMING FRONT AND CENTER, YOU CAN REST ASSURED THAT THE REGULATIONS ARE GOING TO BE EVEN MORE DYNAMIC AND COMPLEX ON TOP OF IT. THE OBLIGATION IS ACTUALLY ALSO GREAT.
AND THE OBLIGATIONS AS AN ORGANIZATION, NUMBER ONE, THE DATA HAS TO BE KEPT SECURE. IF THE DATA IS NOT KEPT SECURE, AS WE HAVE SEEN, IT IS A DIRECT IMPLICATION ON THE COMPANY, THE BRAND, THE FUTURE OF THE COMPANY. SO THAT'S REALLY THE BASELINE OF IT. BUT RIGHT NEXT TO IT IS HOW WE ARE USING THIS DATA. IT IS THE NEXT FRONTIER IN TERMS OF HOW TO CREATE VALUE, BUT IF YOU DO NOT USE IT IN A RESPONSIBLE FASHION, WHICH IS ALIGNED WITH YOUR OWN ETHOS OF THE COMPANY AS WELL AS THE GLOBAL REGULATORY REQUIREMENTS, IT COULD BE A BIG ISSUE, ALL THE PRIVACY REGULATIONS OUT THERE.
IT MAY NOT BE PROVIDING THE GUIDELINE BUT MAYBE HAVE GUIDELINES OF WHO SHOULD ACCESS THE DATA, OR AS AN EXAMPLE, ALL THE GOVERNANCE AND CONTROLS OF THE DATA THAT NEEDS TO BE AT PUT IN PLACE. OF COURSE COMPLIANCE GOES BEYOND PRIVACY REGULATIONS. DEPENDING WHICH INDUSTRY YOU ARE IN, YOU MAY HAVE HEALTH CARE DATA INTELLECTUAL PROPERTY, FINANCIAL INFORMATION FOR WHICH THEY WOULD BE SPECIFIC COMPLIANCE REQUIREMENTS. ESPECIALLY BECAUSE THE TRANSFORMATION OF THE DATA CLOUD AND ALL THESE THINGS GOING ON, IT CAN BE LOOKED THROUGH THE COMMON LENS OF UNIFIED DATA CONTROLS. WE CAN ADDRESS IT IN A MUCH MORE UNIFIED FASHION. TO GIVE YOU SOME EXAMPLES, WHAT ARE THE INGREDIENTS? FIRST OF ALL, THE ORGANIZATIONS NEED TO ACTUALLY HAVE A VERY CLEAR VIEW ON WHAT DATA SYSTEMS EVEN EXIST IN THE ENVIRONMENT.
THE PRODUCTION ENVIRONMENT, TEST ENVIRONMENT, SERVICES, PUBLIC CLOUD, PRIVATE CLOUD. WHATEVER THE DATA SYSTEMS, DO YOU HAVE A KIT CONNECT THE NUMBER OF DATA SYSTEMS COMING INTO THE ENVIRONMENT, YOU NEED TO ACTUALLY HAVE TODAY'S VIEW. RIGHT ON TOP OF IT, AMONG THESE DATA SETS, WHICH POSES THE HIGHEST RISK? WHAT SENSITIVE INFORMATION IS THERE? STRUCTURED, UNSTRUCTURED, DATA IN MOTION.
EVEN GOING TO THE EXTENT OF, HOW MANY AND WHAT KIND OF RECORDS? BECAUSE THE RISK, AND THE DAMAGE, IT IS ALL TIED TO EITHER THE VOLUME OF DATA, SENSITIVE INFORMATION TIED TO INTELLECTUAL PROPERTY OF THE COMPANY, BUT IF IT GOES TO THE REGULATORY SIDE, DIRECTLY PROPORTIONAL TO THE NUMBER OF PEOPLE IN THE RESIDENCY. THE COURSE THAT SITS INSIDE, ARE THE CONFIGURATIONS RIGHT? BECAUSE OF THOSE ARE NOT RIGHT, ALL THE DATA, EVERYTHING IS IN DANGER AT THAT POINT. AND CONFIGURATIONS ON THESE SYSTEMS, WHO HAS ACCESS TO IT INTERNALLY? IS IT OVERPRIVILEGED? TWO PEOPLE HAVE ACCESS TO SENSITIVE INFORMATION THEY ARE NOT ENTITLED TO? THAT VISIBILITY HAS TO BE THERE ALL THE TIME, NOT JUST AT ONE POINT IN TIME. AND THERE HAS TO BE AUTOMATED CONTROLS. IS IT GOING TO THE PLACES WE ARE SUPPOSED TO GO? CAN YOU ACTUALLY CONTROL IT? BECAUSE AFTER IT FLOWS, THIS HAS ALREADY HAPPENED, AND IT'S MUCH MORE DIFFICULT TO GO BACK AND FIND OUT WHERE IT STARTED AND CLEANUP. MONITORING SCREENING SYSTEMS, IT'S BETTER TO MONITOR THOSE.
IF YOU ARE A GLOBAL COMPANY, PARTICULARLY, THERE ARE SIGNIFICANT ISSUES, AS YOU CAN SEE, THE VERY TOP OF MIND TOPIC THAT IS EVOLVING AROUND DIFFERENT COUNTRIES, THEIR OWN DESIRE. ARE YOU COMPLYING WITH ALL THE DATA PROTECTION LAWS? YOU MAY HAVE PROTECTED THE DATA FROM SOME CYBERTHREATS, WHICH IS OF COURSE THE BASELINE, VERY IMPORTANT. BUT IF YOU BREAK OTHER LAWS, IT COULD BE A SIGNIFICANT RISK. A REPUTATIONAL RISK BUT ALSO A PURE FINANCIAL RISK.
TO YOU ACTUALLY HAVE GOOD UNDERSTANDING IF HE TO A BREACH HAPPENS? YOU VERY QUICKLY FIGURED OUT. THE IMPACT OF A BREACH IS DIRECTLY PROPORTIONAL TO THE NUMBER OF PEOPLE, THE RESIDENCIES, AND RELEVANT REGULATIONS THAT YOU WOULD BE DEALING WITH. AND OFTEN A LOT OF COMPANIES STRUGGLE TO FIGURE OUT WHAT THE IMPACT OF A BREACH IS, BECAUSE IT'S VERY HARD TO ASSERT FROM UNSTRUCTURED DATA TO FIGURE OUT HOW MANY PEOPLE, WHAT REGULATIONS APPLY, AND THAT HE WOULD BE ABLE TO RESPOND TO IT.
SO IT'S QUITE IMPORTANT TO HAVE THIS BE IN SOME WAYS PRIMED AND READY SO IF THERE'S AN INCIDENT YOU HAVE THE ABILITY TO FIGURE OUT WHAT THE IMPACT WOULD BE, HOW TO RESPOND, AND COMPLY WITH ALL THE NOTIFICATION OBLIG OBLIGATIONS. AND FOR THE SAME REASONS OF SECURITY AS WELL AS DATA GOVERNANCE, AND MANY ON THE USAGE OF DATA ITSELF, WHICH GOES BEYOND JUST THE PROTECTION AND PRIVACY SIDE OF THINGS. SIMILARLY, INSTEAD OF LOOKING AT ISSUES ONE AT A TIME, BECAUSE THAT COULD BE A HIGH VOLUME OF SMALL ISSUES THAT YOU COULD BE DEALING WITH, THERE'S THE BROADER RISK OF DATA SYSTEMS.
AND THAT CAN ACTUALLY HELP YOU FOCUS ON THE BIGGER ISSUES, PRIVACY, FROM THE LENS OF COMPLIANCE, GOVERNANCE. AND TO BE SITTING ON TOP OF YOUR DATA SYSTEMS. AS WE MENTIONED EARLIER, INSTEAD OF LOOKING AT THE SILOS, I THINK THE TIME IS RIGHT TO LOOK AT A MUCH MORE UNIFIED FASHION. AND THAT'S ONLY POSSIBLE IF YOU HAVE A COMMON SOURCE OF TRUTH. PERHAPS BASED ON THE UNIFIED GRAPH AROUND STRUCTURED, UNSTRUCTURED, THE SYSTEMS, AND THEY CAN BECOME A COMMON SOURCE OF TRUTH FOR SECURITY CONTROLS, FOR YOUR PRIVACY CONTROLS, AND SIMILARLY FOR GOVERNANCE CONTROLS AND SO FORTH.
NO QUESTION, THIS IS NOT ONLY FOR VISIBILITY. IT'S NOT ONLY TO FEEL GOOD. THERE'S NO WAY FOR US TO JUST HAVE INTELLIGENCE, IT HAS TO BE TOOLS, TECHNOLOGIES, AND CONTROLS IN PLACE WITH THE INTELLIGENCE THRIVES IN A MUCH MORE UNIFIED FASHION. I WOULD SAY THIS IS THE TIME NOW WHEN YOU CAN THINK OF, JUST LIKE NETWORKING TEAMS HAVE A NOC, MAYBE DATA ITSELF NEEDS A DATA COMMAND CENTER. FROM THE LENS OF DATA, A DATA COMMAND CENTER THAT GIVES YOU FULL VISIBILITY AND UNDERSTANDING OF THE DATA IN CONTEXT, REGULATORY IMPLI IMPLICATIONS, ACCESS AND ENTITLEMENTS, IT COULD BE BASED ON A COMMON GRAPH. ON TOP OF THAT, YOU CAN HAVE A DATA COMMAND CENTER THAT NOT ONLY PROVIDE YOU FULL CONTEXT AND VISIBILITY, BUT CAN ALSO PROVIDE YOU FULL AUTOMATED CONTROLS FROM THE LENS OF DATA, WHICH IS A VERY COMPLEX ISSUE IN ITSELF.
MOVING ONE STEP ABOVE IT, THE DATA IS SITTING IN SOME KIND OF A DATA SYSTEM. ON TOP OF THE DATA SYSTEMS, TO USE IT, YOU WILL ACTUALLY HAVE APPLICATIONS. IT COULD BE ONE OR MANY, OR TAPPING INTO MULTIPLE DATA SYSTEMS. BUT THEY HAVE A SPECIFIC PURPOSE. THEY CAN BE TIED TO APPLICATIONS, HR, MARKETING, IT COULD BE THERE. AND THE KEY THING, IT IS ANOTHER PIECE OF SOFTWARE THAT IS NOW GOING TO TALK TO YOUR VERY VALUABLE ASSETS, AND THE ENTIRE ECOSYSTEM OF THE SOFTWARE SITTING ON TOP POSES SIGNIFICANT RISKS.
TALKING ABOUT THAT, WE WILL ALSO TALK ABOUT WHAT ARE THE OTHER THINGS TO BE REALLY MINDFUL OF THAT, IF YOU'RE GOING TO BE PROTECTIVE OF THIS DATA, THAT IS NOT COMING THROUGH THE APPLICATION SITTING ON TOP OF THESE SYSTEMS. IN THE VARIOUS ASPECTS AND INGREDIENTS, WHAT ARE THOSE? THE APPLICATION ITSELF, WHETHER IT'S INTERNAL APPLICATIONS OR SaaS THIRD-PARTY APPLICATIONS, THEY'VE GOT TO BE CONFIGURED PROPERLY. OFTEN IT CAN POSE A BROAD RISK. AND THAT CAN BE EXPLOITED. INHERENTLY, THE APPLICATION IS GOING PROVIDE VALUE TO SOME PROCESS OR MACHINE.
THE ACCESS CONTROLS NEED TO BE ACHIEVED, PROPERLY MONITORED AND CONTROLLED, AND MAKE SURE THERE'S NO OVERPRIVILEGED IS ON THAT. THAT THE FRONT DOOR OF THE APPLICATION ITSELF IS PROTECTED PROPERLY. OFTEN IT'S A SIDE DOOR AND IT CAN BE VERY HIGH-BANDWIDTH THROUGH WHICH, IF THERE AND ISSUES NOT PROPERLY CONTROLLED, PROBABLY MUCH MORE HIGH-BANDWIDTH. AGAIN, A VERY IMPORTANT ASPECT TO CONTROL THESE APPLICATIONS.
AND THEN, THE COMPLEXITY COMES. YES, YOU PROVIDED THE APPLIAUTHENTICATION AND ENTITLE, THAT ARE THOSE THE RIGHT PEOPLE USUALLY TOUCH ANY SENSITIVE INFORMATION? KNOWING WHICH ACCOUNTS IN WHICH APIs HAVE ACCESS TO WHAT SENSITIVE INFORMATION, AND CONTROLLING IT REQUIRES A GOOD UNDERSTANDING THAT GOES BACK TO YOUR PREVIOUS DISCUSSION OF HAVING A GOOD DATA INTELLIGENCE. THE SOFTWARE, IF IT'S YOUR I IN-HOUSE APPLICATION OR SaaS SERVICE YOU'RE USING, IT'S CAN HAVE VULNERABILITIES.
KNOWING AND MONITORING THOSE VULNERABILITIES AND FIXING THEM IS ACTUALLY A VERY IMPORTANT PART OF THE REQUIREMENT. OFTEN THIS FACTOR IS GETTING EXPLOITED AND TO KNOW THAT IT COULD BE THIRD-PARTY SOFTWARE. THE SUPPLY CHAIN. UNDERSTANDING THE SUPPLY CHAIN AND WHAT VULNERABILITIES EXIST IN IT, AND THE ABILITY TO TRACK IT, FIX IT, GET IT FIXED AS PART OF YOUR OWN TO ENSURE YOUR APPLICATIONS ARE SAFE AND SECURE. AND THEN SHIFTING IT LEFT TOWARDS THE DEVELOPERS, THE BEST PRACTICES, AND PART OF THE PIPELINE, THE DEVSECOPS. CHECKING ACROSS IN A MUCH MORE AUTOMATED FASHION SO THAT HIS OWN ABILITIES ARE NOT ONLY DETECTED AFTER THE APPLICATION IS RELEASED BUT PART OF THE DEVELOPER AND LIFE CYCLE OF PRODUCT ITSELF.
AND UNQUESTIONABLY THESE APPLICATIONS ARE RUNNING ON TOP OF AN INFRASTRUCTURE, KUBE KUBERNETES, KNOWING THAT THE INFRASTRUCTURE IS AND ADDRESSING ANY INHERENT ISSUES AND VULNERABILITIES. CERTAINLY SOME MORE INFRASTRUCTURE SECURITY, AND BACK TO THE ROBUSTNESS OF THE SOFTWARE THAT IS TOUCHING THE DATA ITSELF. ESSENTIALLY, AS WE TALKED ABOUT EARLIER, THIS IS THE NEXT FRONTIER OF CYBERSECURITY. BECAUSE OFTEN WE TALK ABOUT NETWORK SECURITY, INFRASTRUCTURE SECURITY.
BUT DATA IS WHAT EVERYONE IS AFTER. AND DIRECTLY UNDERSTANDING THE DATA, THE LANDSCAPE, ESPECIALLY IN THE CONTEXT OF DATA LEAKS AND WAREHOUSES. WHERE THERE MAY NOT BE AN APPLICATION TOUCHING THE DATA, BUT MANY PEOPLE DIRECTLY TOUCHING THE DATA, AND THEN YOU HAVE HUNDREDS OF APPLICATIONS, THOUSANDS OF APPLICATIONS, ENSURING THAT ALL OF THESE ARE NOT POSING ANY THREAT TO THE UNDERLYING DATA. THANK YOU SO MUCH FOR INVITING ME FOR THIS SESSION ON THE NEXT FRONTIER FOR CYBERSECURITY, AND IF YOU ARE LOOKING AT DATA CONTROLS OR DATA SECURITY OR CONTROLS AROUND THE APPLICATION, PLEASE CONTINUE TO REACH OUT AT SECURITI.AI OR THE DATA CONTROLS
CLOUD. THANK YOU SO MUCH. >> GREAT. THANK YOU VERY MUCH, REHAN. IT'S ALWAYS A PLEASURE TO HEAR YOUR THOUGHTS. TRULY NOW MORE THAN EVER IT IS CRUCIAL THAT TEAMS ARE MOVING IN LOCKSTEP AND EMBEDDING SECURITY EARLY IN AN APPLICATIONS LIFE CYCLE TO ENSURE ORGANIZATION SUCCESS.
WE HAVE REACHED THE END OF OUR PROGRAM, AND WE WANT TO THANK EVERYONE FOR JOINING US HERE TODAY, EVEN IF IT'S A LITTLE BIT PAST 10:00. WE HOPE THAT YOU HAVE FOUND THE CONVERSATIONS ENGAGING IN INSIGHTFUL. THEY WILL ALSO FACE A DEGREE OF UNCERTAINTY AND TREPIDATION FOR DIGITAL SELECTIONS AS THEY CONTINUE TO RISE.
A CONTINUANCE OF INNOVATION, THEY CAN HELP FUTURE PROOF THEIR BUSINESS. YOUR FEEDBACK IS IMPORTANT TO US SO PLEASE TAKE A FEW MINUTES TO FILL OUT THE SURVEY BELOW, AND WE ENCOURAGE EVERYONE TO REACH OUT TO CISCO INVESTMENTS WITH ANY QUESTIONS OR INTEREST IN MEETING WITH OUR INVESTORS OR ANY OF OUR EXCITING PORTFOLIO COMPANIES. TO LEARN MORE ABOUT CISCO INVESTMENTS, VISIT US AT CiscoInvestments.com OR CONTACT OUR TEAM.
FOLLOWING TODAY'S EVENT WE WILL SHARE THE ON-DEMAND RECORDING, SURVEY LINK, AN EVENT RECAP THE EMAIL. FOR THOSE OF YOU WHO SIGNED UP FOR ONE-TO-ONE BRIEFINGS WITHOUT PORTFOLIO COMPANY, WE LOOK FORWARD TO HOSTING YOUR SESSIONS. THANKS AGAIN FOR JOINING US, AND ENJOY THE REST OF YOUR DAY. ♪ ♪
2023-04-16 08:29
Show Video
Other news