Expert Insights with Hikvision - Episode 01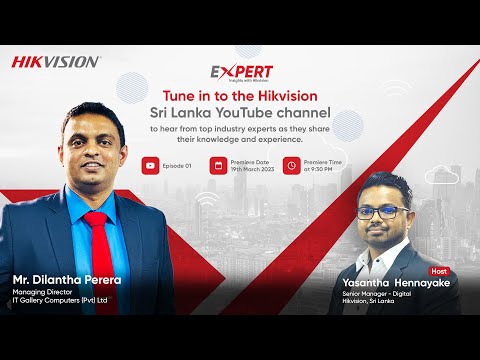 Show Video
Hello! You are joining us today with a very special program of Expert Insights with the Hikvision program series. Today we invite an incredibly special person to the program. It would be right if we say he is one of the persons that helped to change the direction of Sri Lanka's CCTV and security industry. So, since everyone in the CCTV industry knows, without further details, We welcome Mr. Dilantha Perera, Managing Director of IT Gallery Computers to this program. Hello to you. Hello Yasantha.
Mr. Dilantha. You have been able to turn IT Gallery Computers into a leading institution in Sri Lanka in a very short period of time. So, can you tell us about how you started your company? Yasantha, IT Gallery business started in 2007. This is a story with a big history. It was a really difficult time in those days. Before I started this business, I was actually a Software Engineer. I was in the software industry. Apart from that, I was also doing studies to complete my degree program. So, since those days I really had the sales skill within me.
I had contacts with importers of mobile phones, laptops, and electronic items in Sri Lanka, so, I used to sell these products to my friends, university students, batch mates, and people I know. So that I will have an extra income to actually pay my university fee and live a comfortable life. At that time Yasantha, I had a good friend named Shamaka, one day he asked me, Dilantha, "I have a closed shop. You are selling many products. So, wouldn't it be better if you start a business in my shop?" then I said it is good to set up a shop, but at this time I don't have money to rent a shop and no money to invest. But my friend wanted to keep his shop open. Then I thought about it and found out that I would at least need 500,000 to set up the shop.
So, with the need, I didn't have enough money at that time. I called my friend and asked if I could borrow some money to open a shop, and promised to pay the related interest. He helped me to get 500,000 at a five percent interest per month.
Even though the interest was a bit too much I thought I should take this opportunity to open a shop, so, I started the shop with a risk while doing my job. At the same time, I hired two people to manage the shop. I went every evening to check on the business. After two or three months, I understood that the location of the shop is not ideal, the reason being that it was located out of the city area. the business was also not stable there. Therefore, I wanted to move to a shopping mall. So, I moved to a known shopping mall in Ja Ela. When I was moving I checked the stock, I was surprised because the shop had only 300,000 instead of 500,000.
Although I was paying interest on the 500.000 which I borrowed earlier, I had to settle the initial amount as well. So I thought I should somehow pay this to my friend since I was committed to him. So, I was thinking I should somehow pay this to my friend. After that, I decided that I should be dedicated to my business.
Because I thought I was responsible for the risk which I have taken. So, within two months I informed my company, And I quit my job, then I came to IT Gallery and was sitting and thinking how I could initially make capital for this. Because the business required a cash flow and IT products needed to be sold. At that time, we were not a family with a lot of wealth.
We had a house from the land of 15 perches. I went to my mother and asked, can you give me seven and a half perches of bare land excluding the house area? Mother says alright the land you asked for was always yours. You may take it now. So, I talked to my banking partner HNB where I had bank transactions and applied for a loan of 600,000. I managed to obtain the loan. The first thing I did was pay the loan of 500,000 to my friend. After that, I was free from paying high interest. After that, I came to the business and developed the IT Gallery Company by maintaining the product supply with the distributors who were in the industry at that time. Meanwhile, I was working with many brands and products as a reseller.
Apart from that, I also sold software products because I had software skills. Then I got the opportunity to develop a software product for a big company in Sri Lanka, I managed to earn good revenue after developing this software. Also, I took the sub-distribution of another software done by a known software company to me. I also learned about their channel business, and how to sell these software products to sub-dealers.
When a business is doing well many others start doing the same thing. In that shopping mall, many similar businesses started around me. And the competition was also increasing. So, there was less margin and more competition than in the past.
So, I decided in 2011 that I have to move from reselling model to the next model which is the distribution First of all, in those days, my subject was computer accessories. I started importing computer accessories to Sri Lanka and started distribution through the channel we developed I saw a big demand for the global surveillance industry in 2011. It was a booming industry. It was a huge market when I read and searched for articles in those days. I thought that I should study it. I was from the software industry. I didn't know about the surveillance industry. So I learned a lot online and gained knowledge about the products and I developed my own OEM brand.
At that time, I started to study everything about chips and sensors, and I designed a camera model myself. I decided which features should be included. After doing all this, I imported the product. One of the challenges I had about was that all my partners at the time were IT partners. So, no one was into CCTV. Any partner who did CCTV wasn't willing to buy from me. Because there were already some market giants, and they had a good market share. So, I started to teach my partners how to do CCTV and I developed my own channel.
I have been doing this distribution for three to four years now. I felt that I cannot grow my business with OEM products. Because the knowledge of my partners is increasing, the requirements of the partners are increasing. When the requirements increase, I needed to supply products to them from a good brand. I needed to supply them with a good product. I needed to address the requirements of the market. At that time, I was still looking for what CCTV brand that I can start promoting, But already there were agents for many brands. There was no brand for me.
At that time I saw Hikvision and I spoke directly to Hikvision headquarters. After talking, I got the contact number of the sales manager of Sri Lanka. luckily, he was coming to Sri Lanka. He said that he will come to meet me.
On the first day when we met, he said, "If you hadn't spoken we would have never come to you". Because I wasn't a person doing business in Colombo. I was doing my business in Ja Ela. They never expected that someone from Ja Ela will ask to do a distribution. and then he said that he came because I spoke to him. Actually, the first order was placed after 15 to 20 minutes of discussion.
Because he was also looking for a good partner who could tie up with Hikvision at that time. So that opportunity was favorable for me. I was the one who reached out to them, and they responded to me. So with that opportunity, IT gallery joined Hikvision. In addition to that, we also joined with top brands emerging in the world and continued to grow our business.
It is clear from your speech that the IT gallery has taken a unique journey in a very short period of time, so, what kind of things will we see in the future of IT Gallery? Actually, Yasantha, with the current economic situation, one thing that we as an organization are looking at is how we can bring a dollar income to Sri Lanka. For that, we are venturing into new business areas since last year. In addition, if we take this surveillance industry, we often develop the skills of our partners. Because when they become Hikvision certified, they will be able to work in the global market at a higher salary. And also, another area we are looking forward to is our global expansion.
We have started operations in the Maldives, and we have also started operations in Singapore and Dubai. As a business that started from a very small shop in Ja Ela, it has now turned into a business that has spread all over the world and it's a reason to be proud of as Sri Lankans. As someone who always thinks about customer satisfaction, what has IT Gallery done to increase the customer experience? First of all, Yasantha, we opened the largest experience center in South Asia two years ago for Hikvision, With that, we are able to showcase the solutions that we can offer to our partners and customers They can visit and see how the implementations have been done and they can get an idea about how to fulfill their requirements. It should be the priority. Because most of the time we see CCTV is portrayed as fixing a camera. It has a huge range than that. But everyone cannot demonstrate the full range.
We have invested millions in this experience center and made this setup to develop the knowledge of our partners. So those guys, get a hands-on experience of how these things are actually done in this industry. The reason that we have arranged our meeting, and training rooms is our partners to bring their customers to hold meetings and conduct training programs. We are really a distribution company. In the distribution company, our main assets are the partners.
If we grow our partners, all of us can be successful together. We have developed that, and we provide lots of services to our partners through the RMA service center. In addition, because we are working with Hikvision, we really do not have any issues with the quality of the product.
Because we work with the world's number one CCTV camera brand. With the sell-out and the volume we have, the RMA ratios are extremely low. At the same time, we are really happy because we are working with Hikvision. I think our partners are also very happy with us.
With our distribution model, customers are also using our products, so I think they are also happy. Starting and running a business is not an easy task, so I am sure that you, may have faced many challenges in your journey with IT Gallery. Can you tell us about a unique challenge you faced and how you overcame that challenge? Actually, I think the whole world may have faced this challenge during the Covid period, suddenly Sri Lanka was also locked down and then all the businesses were closed. No one could move. Actually, we are a distribution company.
When we become a distribution company, we give credit to the partners. Then suddenly, within two or three months of the Covid period, our partners were not able to pay us. But we had to pay our suppliers. Because it's handled by the respective banking channels. Then even the bank was worried, because financial issues may arise in IT Gallery all of a sudden, and because the cheques given to us by our partners may become invalid. So, we said to our banks and partners, we had to overcome this together. I think we are the first company who started online partner training in Sri Lanka.
We thought of updating the knowledge of the partners. The partners didn't know what to do when they were at home. When I invited them online for the first program, more than 200 partners attended the online session. In addition, we looked at how we can provide solutions for Covid through the Hikvision brand. Then we saw cameras and face terminals which can effectively detect human skin surface temperature and such things. Apart from that, a new trend started to develop for online studies. We brought the necessary products, and we supplied those products to our partners.
In addition, partners were trained on how to implement these solutions. Through that, we started educating our partners on how to manage their finances. This was new for us and was new for the entire country. However, within 4 months we had recovered from all the challenges and our partners were back to normal.
In those days I was under a lot of pressure because I couldn't even imagine. Partners may need their money to afford their living for the next 4 months. We also had the commitment to pay the suppliers. However, we recovered from this in just 4 months. We also introduced a new Hikvision product line. Hikvision also released products to meet the needs of the world at that time, therefore we were able to come up with a survival plan. I think that Mr. Dilantha mentioned very clearly to us
how to convert a challenge into an opportunity and mitigate the risk, so, I think that today's discussion is very important for all the viewers who are watching this. Next, I would like to ask Mr. Dilantha, as a successful entrepreneur in Sri Lanka, what advice can he give to those who are currently starting businesses in Sri Lanka? So Yasantha. first, if you want to be successful, if you want to achieve something, you need to have a target and a dream. You need to dream about where you want to go So when you take my life, I often dream and work toward goals. So, I often like to say to someone who wants to be an entrepreneur, you can't be successful within a day. so, you have to work for your dream every day.
You can't always have a time limit to do what you want to do, and besides, when you do business, you can develop it by reinvesting what you earn. I have seen what has happened to businessmen many times. Some businessmen go bankrupt immediately. They use their funds for things other than where they earn money from, and increase their commitments more than the income of the business. I see the main thing is that you should have a purpose.
and you should reinvest the money that you earn for many years, then only you will be able to develop assets and wealth for yourself. So, if you work in that way, I think you can become a successful businessman. because most of the people in Sri Lanka today are trying to achieve everything quickly. If I take an example, A person starts a business and soon after starts to build a house. Then what really happens is, that he gets an external commitment, and he is liable for that commitment.
Then the money earned from the business is spent on the commitment. Then he cannot become a successful businessman, what he really needs to do is to invest his income in his business often and after a few years, he can see his PNL. If he can see now that he is in his comfort zone and now he can pay the suppliers, If he can run his business for ten months without any income. Then, it's okay to start external commitments. The best thing is to dedicate yourself, don't limit yourself to eight hours, even if it's usually ten to twelve hours, work for your own business and then it's also very important that you treat your team around you well. Because you can't run a business alone, you need a good team to run a business. You should also consider the team. You should understand how to grow the team.
If so, you can become a successful businessman. I think Mr. Dilantha has shared with us some very important ideas for all those who have started and are about to start businesses in Sri Lanka.
Next, I would like to ask you that as an expert in the CCTV and security industry, you mentioned that you have acquired a good knowledge of chips and cameras by working in this industry. So, what do you think about the future of this industry? Actually, if I give a global idea, the surveillance industry will have stable growth until 2030. It has a 15 to 20 percent growth year by year.
Second is artificial intelligence (AI), and machine learning (ML) technologies that everyone is talking about today. These technologies are definitely integrated with CCTV cameras. Then it will not be a CCTV camera, it will be an IoT product.
That is the future because what you see in the future is often going to be a lot of analytics. For example, a camera will be able to speak intelligently or do readings, or cameras will work like a barcode to do readings. Such technology is often considered to be emerging in the security industry. Now when it comes to energy, we are all talking about solar.
In the future, all these cameras will often be integrated with solar. It has already happened and will continue to develop. And we are talking about 5G. There will be cameras with 5G built-in. And we are now saving the recordings of the CCTV cameras on the hard disks. It will all be moved to the cloud in the future.
I see these things because I am with Hikvision. Hikvision is working for the future. They actually started working on these technologies a few years ago. I saw them start the SSD storage business three years ago and they saw that the hard disk replacement was coming. I think they recently launched Hikvision DVR with a built-in SSD. With this, the cost to implement a CCTV system will decrease. It's a new solution for customers. The device is very small.
We have seen their advantage and we see that they are coming to the cloud solution in the future. They have another sub-brand called EZVIZ and they have new technologies such as cloud storage which will be available all over the world. If we take an example, currently we are using cameras in factories for surveillance, but in the future, cameras will also be used to improve the production of the factory. Such things may happen in the future. With your explanation, it became clearer to us. how much the technology of CCTV and the security industry is updated every day.
So, as an organization, if this technology is adopted by you or any organization in Sri Lanka, they will be able to reduce the cost and increase their performance. So, what is your opinion regarding the adoption of this new technology by organizations? Actually, Yasantha, let me tell you this with a small example. Let's take a factory as an example. If the factory's security guards are placed all over the factory the manpower cost will be high. So, what can we do? We can deploy a good surveillance system. After that, a central monitoring system can be installed. We can reduce the cost and increase the visibility.
The chance of human error is less and the efficiency of the factory increases. If we take another example, let's take a supermarket. In the supermarket, we want to see the footfall. In which areas do most customers keep browsing? What products do they buy the most? We require access to these analytics to increase sales.
What products do we purchase? Today we have special cameras for them, we can use people counting, and heat mapping products and plan your business growth. So, if we take another example, smart classrooms. How can we implement it for our students? Current students need to learn with technology.
Smart education can have a hybrid approach with these types of devices such as smart boards For example, if a child is absent, he can attend his class online via a smart classroom system. we can stream all the video recordings. Through that, we can improve our efficiency and productivity. I think we need to increase awareness about these new technologies. Then we can develop even as a country. I see many countries growing with this technology. I think our success depends on the adoption of this technology as an organization and as a country and how quickly we adopt it.
So, Mr. Dilantha's explanation made it clearer to us. Next, I would like to ask you, why did you choose the brand called Hikvision as an organization? I will give a short and simple answer to this question. Hikvision is the number 1 CCTV brand in the world, it's a great product. They are a great partner. I think very briefly you have given three very clear points. Thank you very much for your appreciation.
So finally, I would like to know from you as you are an expert in the CCTV and security industry and also one of the persons who has made a huge impact in the industry, so many people are joining this industry so what advice can you give to the professionals in this industry? The Hikvision product line is growing widely. this includes many things like CCTV, non-CCTV products, alarm products, and special products for requirements such as smart classrooms. First of all, you guys need to have a good understanding of the product line, for that, you need to join online and offline training programs, take exams, and get certified.
Your profile will be updated through that. Then you can increase your sellout and you can increase the number of solutions you can offer. The best thing is to join our online training and offline training. and increase your knowledge and implement that knowledge in your projects for customers.
Then profits will definitely be generated for you guys through Hikvision products. I think with that explanation, all the professionals in the industry who are connected with us got a clear understanding of how to grow within the industry. Today we had Mr. Dilantha Perera who is the Managing Director of IT Gallery as the honored guest, and he shared very valuable ideas with us. Thank you very much. Thank you Yasantha.
2023-03-25 02:05
Show Video
Other news