EP #48 കൊടും ചൂടിൽ ഞങ്ങൾ തളർന്നു പോയി | Jaisalmer Vlog | Haunted Village, War Museum, Living Fort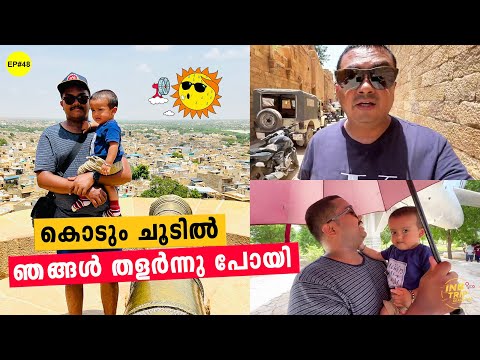 Show Video
Ok. We are going to start our video Are you ready Swetha? You should say hi to all Welcome to a new video of Tech Travel Eat Where are we now? Jaisalmer, Rajasthan! Today you will be seeing the beauty of Jaisalmer We have explored Jaisalmer when we came earlier. Apart from that, there are much more to see. Jaisalmer is near India-Pakistan border In the memory of many India-Pak wars, there is an India-Pak war museum We shall begin from there. Welcoming all of you to a new video on Jaisalmer.
Say hi It is very very hot. Have you apply sunscreen or powder? I didnt apply anything She didnt like that. I have applied sunscreen on my face Swetha has put make up without sunscreen How do you know if I have applied sunscreen or not? Seeing your face white, I thought you put makeup.
Everybody puts sunscreen before make up before going outside. Lets go to our first place of visit I am driving in the morning. It is 12km to war museum from the hotel we stay We had seen that yesterday while coming from Pokran That is the only place a bit away from city.. The rest we will be visiting are all in and around the city. My plans for Jaisalmer is to see in and around Jaisalmer today Tomorrow we are planning a desert ride and dinner at Thar desert. The day after that, we will go to India-Pak border, Tanot Last time we couldnt go to India-Pak border. We had gone to Longewala
That is our plans for 2-3 days in Jaisalmer. Then we would leave straight to Kashmir. After 3-4 days, we begin our Kashmir journey. You have only one umbrella. What will I use? My mother said I will tan if I walk in the sun So I will always walk only with my umbrella There is another one, take it.
We have parked our car at the war museum. Can see an army lorry here A person in there called us. Looked at us like this He asked us where are we from Wrote down our car number, phone number, number of travelers. I said 4. He looked at all and smiled when he saw Rishi He then said we could park. Let us take tickets and go inside. We took tickets. It is 30/- per head and another fee
Photos of people who were awarded Mahaveer chakra, Paramveer chakra Stories about them are also printed on the ticket. You have to take tickets from the Jaisalmer war museum reception A stone that has lots written is seen in the front. A tank is also seen. This place has a special ambience. India's largest army site is in Jaisalmer. It is the biggest Army camp. That is just next to this.
Photography is not allowed there. Here civilians are allowed so can take pictures India-Pak war took place in 1965 India-Pak war took place in 1971 too. It was known as Battle of Longewala You can see the hole there. When you go to Longewala, you can see more there Many things contributed and caught during the wars are displayed here.
We can take a lot of photos, see around.. We can pray for the people who have sacrificed their life for our country We can be proud of them. That is the main part of visiting such museums. He has begun to pull his glasses. Abhi, look at that tank. It is called Time 59 Main Battle Tank.
It is a Chinese version of the tank Chinese made it for Pakistan and was used at the 1971 Indo-Pak war. This was used during the war in 1971. It was captured and is kept here now. Pakistan lost in Battle on Longewala. Evenings there are light and sound shows here. You can come and see that in the evenings A nice feel listening to patriotic songs. When I went to Kargil war memorial, I felt very emotional.
It is not like this there. It is a memorial for those who sacrificed their lives at Kargil war Their names and details are given there. You feel touched reading them. You feel touched listening to the patriotic songs here too. Here there is a fountain and a knife is placed in between.
We can see our tri coloured flag high up there. That is really big. All these are captured from Pakistan. What vehicle is this? Looks funny. Look at that. Just like our Gypsy, Pakistanis would have used this. This is an anti aircraft gun The Indian army used this.
It was used to pull down fighter jets. It has shot many fighter jets. This was decommissioned in 1982.
We can see an army recovery vehicle used by Pakistan This was used to recover damaged vehicles at wars. It used 200 horse power engine in this. It has the capacity to carry 200 tons load It got destroyed at the Longewala war. Pakistanis left it there.
We took it and kept it here for display It is a left hand driving one. There are so many tanks here used at many wars You can see many tanks on the road side while coming. We saw many yesterday too.
You cannot roll or drive them on the road. The road will get spoilt It is taken on lorries or trucks You have trucks just for this. You can see them at Longewala. This flight is called Hunter MK 56. It is a single seater turbo jet engine flight.
You cannot call it a flight, it is actually a war flight. It worked for Indian Airforce from 1957-1998. A good aircraft that carried canon guns, rockets, iron bombs etc. A very important flight that worked at the 1971 Longewala war Its specifications are mentioned here. Its name is Hunter FGA MK 56 What are you doing? Why are you troubling him? What is your problem? This is massive. A ferocious faced vehicle.
It is P-15 radar. It was made by USSR. Indian Army used it from 1955 This was used in wars and as a radar for communications. The specification of P-15 radar is given here. Its maximum range is 150km.
It had the ability to find out targets flying at 3km altitude It looks like the trucks we see in English movies. Our army have many multi utility purpose vehicles Look at the size of the tyre. All these were left hand drive. This is an Humber Armoured Car It is so hot. All these are Pakistan's tank. I dont want to see them.
This is Longewala hall. We are not supposed to take video in there. All about Longewala war is written in there. All the details like people who took part in the war and ever other things in detail You should come here, see and understand all that. Wow! They have made it so nicely. The height of the flag is 108ft A writing here which is really great.
Wow! That is awesome. Names of the militarians who were were killed in wars at Rajasthan are given here. Details of who received Mahaveer Chakra, Paramveer Chakra, Ashoka Chakra Gallantry awards and many more. Rishi, do you know where have you come. Look at me. Do you know where have you come
He is feeling very hot. We have an umbrella but his eyes look small He is feeling sleepy. He hasnt faced this much of heat so far. There is an audio video theatre where they show us many videos. There is a store here with so many items. Abhi bought a cap and a key chain. Lot of beautiful items made of Jaisalmer stones.
We could have bought some if our flat work is over. So many things are there. We can use some along with interior designing. Once our flat work is over, we can make one more All India trip We can collect many things for our house.
Let us take a photo from here. The heat symbol is not seen here. Only I love Indian Army is seen. No heart.
We should try this technology. People have put their clothes, including underwear to dry That is an awesome idea. The child's dress on one side, father's underwear on the other side.
Mother's leggings on one side. It is very simple. When you park here, it dries in 10mts That is an army truck I had told you, they transport tanks like this. They transport their tanks on their trucks only. What all varieties of vehicles. Even the truck has a pilot. This is Pakistan's vehicle.
They may be taking it to keep it somewhere. The other vehicles dont have to stop. Only we are stopped. Even they were asked to stop, but they just went.
The Fortuner car number was 1. Some big person. Didnt stop at all. 2 policemen stopped us on the way. There were many of them He asked for our license and then asked about the dash camera All of them were standing in front of us. When a police asks you to stop, Stop in such a way that they are seen in front of the camera. If anything is there, including the sound will get recorded. Our dash camera has one inside too. I forgot to turn it, or we could have got his face
You will know is they are trying to trap you. This happens mainly in other states We have reached Jaisalmer fort. I have come here earlier. Now let them see what it is. All set? Why do you want my bag? There is no place to keep the bottle. I shall keep it. Passports are there in it. If it gets wet, it will be an issue.
As usual guides will come and approach you. We dont need that. We have taken an auto to go up to the fort. You wouldnt have seen such a fort till date. We would have seen many forts in Rajasthan. But this is different. That is the specialty of this fort.
The cars are parked down the fort. 60/- is the parking fee He asked us to pay 20 per head. Look at the way he is going Cars do come up to here but smaller ones. People staying this side park here. You should walk up. Only then you can enjoy the small vendors you see here.
We are not walking because it is difficult with Rishi. It is a beautiful place. A very photogenic place. A very beautiful place. Ganesh pol is the name of this entrance. You can see many like these here You can see many stalls like this. Jaisalmer fort is the best in Rajasthan
You get a special feel when you come here. Luckily it is less crowded here. You have an auto stand here. You can take an auto to avoid walking Those who like to can walk. It surely is a special feel Last time I didnt go to the Maharaja Mahal in here.
This is Jaisalmer fort palace museum and heritage. Last time I didnt go here. This time we shall go there. Raja ka Mahal. You have to take a ticket paying 200/- to enter this place.
You have 2 seasons here. Summer and winter. The timings for the season are mentioned here. 7.30am-6.30pm
This is what you see as you enter the museum. We have seen many forts. I am saying these for those who havent seen my old videos. You can see a temple here. Many houses are seen on that side.
Private houses and private properties are seen on that side. Forts were made to protect themselves from enemies. The story of Jaisalmer fort is also the same. A fort made to stay away from the attack of enemies.
But the difference in this fort is that all the locals lived here in this fort. When it became crowded, people moved to places down the fort and stayed there That is the specialty of Jaisalmer fort. Can you believe that nearly 4000 people live in this fort today. Their main income is tourism. Some do homestay, coffee shop, restaurant. etc..
Some run autorickshaws, some sell products People working for the temple and the fort etc.. 1/4 of Jaisalmer's population lives here only In 1756, Prince Rawal Jaisal built this fort. It went from many Kings to Mughals too. Upto 1762, this fort was under Mughal Kings. Most of the places in India were captured and ruled by them in that time There was an old silk route in those days. Jaisalmer was a part of it.
People who did trading through old silk route, used Jaisalmer fort and their main center They had silk and scents with them. They used to rest here and travel the next day Later when British came, the importance of the fort began to reduce. Later Bombay harbor opened and the old silk route closed slowly. We know many silk routes.
We have learnt and seen many silk routes too. You dont have to pay any money to see the fort. You pay to see the museum. You can come here and see the place, walk around, take pictures all for free. Be very careful with the guides. They will say they will take you for 50-100 around There are many shops where they get commission They make us buy things from there paying extra money.
Be careful not to fall into such traps. If you want to buy, buy on your own. All shops are not the same. Except for some. If you buy from those shops, they will cheat you for sure Come let us go inside and see. Can smell fish fry. True. Here he began to walk. His policy is to remove his shoes when he has to walk.
I wore a nice shoes for him. He removed it. He has at least worn socks. That is enough Coming? We are going We are going. Bye. You have to pay 200 per head to enter here You get an audio tour too. Let us go up there. It is a beautiful place. You wont feel like they have placed a net up there. They have done that to avoid pigeons coming here.
He is looking out of the window. He is looking out. What did you see? This is the house the King lived in A small palace They have preserved it in a good way till date. It is ruined slightly but still well maintained as possible. Isnt this totally different from all the other forts we have seen so far? Very different.
It is yellowish in colour. Golden colour. That is why it is called Golden city. It is called Swarna Nagari. You will get that feel all over here. Do you know the specialty of this stone? They build building even today with this stone.
You wont know how old it is Our hotel is more than 20 years old. But you wont feel it. You wont say that from inside. You may feel it from inside. That is the beauty of the stone. That is its specialty. They are very long lasting. It is a special stone found in this place. They make many things out of this.
Abhi, this is a beautiful photogenic place. You have to click some pics of ours. Rishi, get up and walk. Dont crawl He has cleaned the whole place. It is work for me only. He wants to be carried He wants to sit like us. He cannot drink water from down. He shall drink sitting on us.
We have such good behaviours sometimes. Sometimes Swetha should give, sometimes me, sometimes Abhi. It is all according to how he wants. Dont touch my glasses. I will hit you It is already with scratches. What do you want now? Umbrella? Look at him smiling seeing the umbrella.
Rishi, do you know that you are sitting near a gun? That is gun. You can see a place that has many knives and swords here. They have closed many places here. It would have been awesome if we could go up there and take photos. Many places are closed. What is it? He is thirsty You get a beautiful city view from here.
Shops selling handicrafts and antiques are sold down there. What you see there is Jaisalmer city. Doesnt those building look neat.
All in the same colour. In our country, if each city is given a design or colour, If they approve that only that should be followed, We can make many of our cities look beautiful in looks. In Gulf countries and many other countries, we have seen that. We have found a beautiful place to take photos. You can take from here. You can see another side of the city from here.
That is a part of this fort. You can see cafes and many restaurants up there. You have many places to stay here like airbnb and small homestays. It is beautiful at nights. You can see a beautiful view from here. Abhi, look at the railway station.
You can see Rani ka Mahal here. There are many Mahals in here. They were each person's houses You can see many places to sit here. These were made to enjoy the city view There are so many places like this in the fort You may get lost in here sometimes. You dont understand anything in here They have put arrows and numbers all over. We are just following them. They have written what all are happening where all. Some are under renovation It is absolutely beautiful.
You have to come to Rajasthan in winter. You should come from November-March That is the best time. When you come in summer, you become very tired Earlier do you remember how we used to play ludo? Now look at this.
4 of them are playing ludo on a mobile. We used to play on boards before. Now it is simple on the phone. Little Tibet restaurant. You have houses on top of the fort. This was built is 66 Full of shops downstairs and houses upstairs. People live like this here.
You have jewelry, dresses and many more. Beautiful and colourful You see more of colourful dresses. On top you have houses, coffee shops and restaurants.
Free Tibet Roof top restaurant board sign. How is it? Awesome. You got rid of your tiredness after seeing these, right? This is the best view point from this fort. It is called Jaisalmer fort view point. You can see the railway station from here. The airport is somewhere there
I can see the windmills there. It cannot be seen on camera but I can see it. Desert that side, a famous lake is seen there. Shops and houses. This is a main photo point near this gun and its surroundings You get a beautiful view at night.
We have come to one of the restaurants on top like the other ones. All of us are tired. Swetha is like she will fall now. Abhi fell in tiredness. Rishi is also tired. I am keeping my energy to shoot video. This is a restaurant on top of a house. Dining area here and up. But it's hot upstairs You get beer and drinks here. We have asked for water.
We shall order food too. It is not very expensive. Our juice has reached. Lemon soda, cocoa cola, fanta, a bottle of water, Kingfisher ultra We have ordered food. We have an artist here.
Awesome! He came here and told us that he is an artist. He asked if he could perform for us He entertained us for around 15mts People are finding ways to live. He is not cheating anyone.
He said I will sing a song. If you like it, you can give me something. I ordered a chicken chowmein Chowmein is noodles. Abhi ordered chicken cheese macroni. Lot of cheese on top of it. They made kichadi for Rishi. No idea whether he will have it or not.
Have fast. Nice macaroni. What is this different spring roll? They make a dosa like pancake, fill, roll and then fry it. It can be made like this or the normal way. This is rolled own, filled and made. Nice and crispy. We had food. Very good hospitality. All were so good.
To come to a place like this, spend and have food, you need at least 2 hours. They make only as per our orders. This is the top most floor You can sit here and eat in winter and not in summer. Or you can come and have dinner.
This is the top most of the fort It is a terrace. They stay in the 1st floor, shop in the ground floor, restaurant on top You can see all around from here. Awesome. All these are cafes. Look at how people live here.
They are very tourist friendsly. This is their house. Clothes are put to dry. You can see houses in between, travel agencies too. This is a fort and the top of the fort is where we are.
Awesome. Do come to Jaisalmer and enjoy. But dont come in summer It is very hot. You become tired and fed up. Come in winter. We had food for 1500/-. Nice ambience and lunch. It was really good.
On top of the fort, you have two types of people living. One is Brahmins and the others are Rajputs This place is where Rajputs live. You get nonveg food this side. On the other side of the fort, you have Brahmins. You wont get non veg food on that side. They are the people staying on top of the fort.
We are going back to our room. It is very hot and we are tired. Rishi and we have got in his favourite auto. We are going down to the parking place. Our car would be burning hot there. When we came down, the car was very hot. I have switched it on I couldnt press the button to open the window. It was that hot.
This has to cool down if I have to sit here. It is that hot. The car shows the temperature as 37 degrees. We have reached Kuldara village 1000s of people staying here left the city one day. All the people were missing in one day. There is a big story behind that. Why did the people living in that village leave the place in one day? I am taking you to that story now.
We are now in Kudhara village. It is now an archeological site. Just like Dolavira, this is also an archeological site today. It is a wide area. You can drive and see each from your car itself. Before going to the main place, what you see here is a well.
They have built steps to go down like this. When you go down, you find a deep well there. When it rains, water gets stored there. In olden days, water sources like pond and step wells were built and maintained Water is an all time important factor in our life.
You can see many things related to water. But now we can see beer bottles here. Even inside the well, it is full of plastic and beer bottles. So sad for that. You shouldnt be doing that. Now let us go to the main site and say the story
We have come him in Chowdry Sirs car with him Hi I think we can go there and see some good buildings. Rishi slept for 2 hours. Arent you drinking milk? Drink milk fast.
You can have from the car. You have a small parking fee when you come here. That includes the entrance fee You can see a huge gate when you come and a watchman will be there.
He is the only person living in this village for long People are scared to come and stay here. Some came and gave it a try to stay here at night. But htey had negative vibes That is what is said . After that nobody has stayed here. People are scared to stay here at night.
They have paid a good amount to place a security here is what I have known The history of Kuldhara and the map of the place is given here. You can pause the video and read this. I shall tell you the story too. When you come here, you can see some remains. All these are renovated and kept.
You can see it renovated to show how it was in those days You can see a wall made of mud behind me. It has paintings and pictures on it. Why did people leave the place one night after staying here for 7 decades I shall tell you that story. Before that, people came here in 1291. There is a place called Pali. It is near Bullet baba temple. There were many incidents that took place in Pali.
Many Brahmins left that place and came here to stay. Later many Brahmin families began to come here and stay. As each new person came and stayed here, they were given stone and gold Stone was to build house and gold was for them to do agriculture and make income This village was so planned in those days. You will know that when you walk around This Brahmin group was spread out in 84 villages. This Kuldhara was the main head of place for all.
This village had temples, banyan trees and many more cultural beliefs. People lived very happily in this village. Later what happened to this village? Shall tell you the story. In 1825, there was Salam Singh, Jaisalmer King's Diwan He came here with his servants.
He saw a girl taking water from the well here. She was a 16 year old daughter of a person here. He liked the girl. That is how it was in olden days That is how when big people come. They like a girl and decide to marry her. She is then forced to marry without looking at their age or situation.
That was the concept in those days. We have seen that in movies and all It was something that took place. He sent his people to the village heads house saying his wish. You automatically think it is a good one and shall proceed with it But here it wasnt like that. He was 50 years old and had 5 wives.
They were not interested in this proposal at all So many for Kundhara village went to him and asked him to forget about it. But he said no. He should get her or he will attack the whole village and kidnap her That night the whole village came to a decision. They had only 2 options. Either get her married to him. Or to face their attack and die with their hands. They were not interested to do both.
They decided to take what ever they could and leave the place It was their right and ego. They didnt want to bow in front of anyone. They couldnt fight back, they were Brahmins They are not used to wars They dont want to fight and loose. Escape was their next step. All of them left with whatever they could take with them We have heard that Brahmins curse is strong.
That is how people say. They cursed this place before leaving. They cursed that nobody will ever live here, nobody will prosper in this place again Even I feel a negative energy while saying this story. There were many people around but cannot see anyone now.
Can you feel it? I can feel the negative energy standing here. It might be my thoughts. That is the story behind this village It is said due to the curse of Brahmins, this village is now like this.
I dont know if you can believe it. But this is the story behind this place. Have you noticed that none of the houses here had roof tops. All are not covered on top. You can see many stones left like this. It seems they were houses.
It was an organized city once. Because it is under archeological society, they have maintained some well and kept You can see a temple here. This was the Brahmins temple here. There is no idol here. They took that also and fled the place.
It is like that only. When people migrate, they take their idols with them. Even in Goa it is like that. Those idols are in our place now. That is how it is. This is a place filled with negative energy.
You feel like that when you go to such sites. You feel haunted here. Pin drop silence and empty around. Smells odd and scary. Let us go. Good we didnt bring Swetha and Rishi here.
We shall stop today's video here. I will be clubbing all these ass Jaisalmer's 1st video What would be Jaisalmer's 2nd video? Dinner at the desert. All of us will be going for dinner to a desert.
We will have a desert drive and time with Madan Chwodhry Sir. How can you have dinner at a desert? Should I tell you what you are going to experience? Shall see that tomorrow then. Wait for it. Tomorrow at 12 noon. Do come and visit these places. Though I have come to Jaisalmer twice, I am seeing this for the 1st time There are so many places to see in each place each time you go. You wont finish seeing them.
Tomorrow you will see our desert trip. Rishi's first desert experience and dinner. Not only Rishi's but Swetha's and mine too. Swetha and I went for a desert drive in Dubai It is a first experience for Abhi and Rishi. After that we will be going to Pakistan border. Stay tuned for awesome videos. Until then bye bye
2022-08-09 16:57
Show Video
Other news