EMBARK - The Series: "All Hands on Deck" (Ep. 3)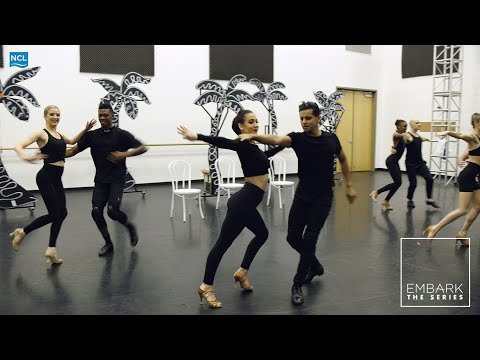 Show Video
It's all hands on deck as Norwegian Cruise Line announces its return to service. We are very excited about our return to sail. In every corner of the world, NCL teams have been working nonstop to prepare for this highly anticipated relaunch. Technology is always increasing and so, we always have to make sure that we're innovating as much as possible. From the board room and the phenomenal new Port Miami terminal, - We will be the first LEED Gold building in the United States for a port terminal.
to what's sizzling in the kitchen, - Our signature restaurant deserves only the best cuts and the best quality. and dazzling on stage, no stone has been left unturned. NCL is ready to set sail, and welcome their guests back to an elevated, safe, and incredible journey to dream destinations across the globe. EMBARK THE SERIES THE JOURNEY TO RELAUNCH CONTINUES EMBARK THE SERIES In Miami, at NCL's discovery lab, the relaunch team has gathered for a debrief on the return to service initiatives. The lab is, where NCL tests various technologies in a simulated ship environment, before they're rolled out to NCL's fleet.
All the various projects that we want to deploy out to the ship, we test them out here. Right now, the company is looking at over 30 different projects and initiatives as a part of return to service. All of these different programs and applications help us get into a safe environment for sailing. Most of the return to service initiatives is to support the CDC mandated requirements for us, to be able to sail efficiently and safely.
Inside the Discovery Lab, we're basically mimicking a ship so we can stage applications. We have a massive team of IT working on this. Today we were looking at FaceEx facial recognition. It's pivotal that FaceEx works perfectly, because that's how we know who's on and who's off the ship. It's a huge security requirement for us, to know when we're at a port of call, who's going to be leaving the ship, who's coming back on the ship, making sure that off those records we have everybody that we need on-board.
Now, if you can stand in front of the camera, and then it's going to record your temperature, as well as use your facial recognition to get you ashore, and you'll see the Fidelio account updated from zero shore side, to now one person shore side. It's cool that it can detect even with your mask on. Even with a mask on, yeah.
You can also use it with your glasses. The nice thing about having a facial recognition is, that at no time at all, does a passenger or a crew member have to be touching any kind of device. You don't even have to reach out for your card. We're also using it in partnership with the Customs Border Patrol, with CBP, in order to expedite the customs process, when passengers are on their final day of cruising and ready for debarkation. As technology is increasing, we're always looking at ways to better ourselves and improve our situation, provide a better experience for the guests and for crew, making sure that everybody feels safe, happy, comfortable, sailing.
Technology is always increasing, and so, we always have to make sure that we're innovating as much as possible. The food and beverage team is eagerly stocking up on all the necessary provisions for NCL's upcoming launch of cruises in Greece and Alaska. Preparation is key to ensuring that the guests' experience is beyond their expectations. My team sources everything food and beverage related.
We have a food and beverage supply chain team, a hotel supply chain team, and a marine and technical supply chain team. Together we provide the ships with everything they need. Preparing a ship to serve thousands of guests, requires experience and teamwork. It all begins with our culinary and beverage operations team. These teams are putting together the menus for each and every restaurant and bar on-board, and after those menus are created, the supply chain team goes out and sources the products.
Our suppliers bring in that inventory, the provision masters place the order, and once that product is delivered onboard, our crew is serving it to our guests. Our approach is based on experience what our guest would eat, which restaurants are frequented, which are most popular. If something might be delayed by a week or two, what is our plan B? There's a lot of thought process that goes into it and a lot of collaboration to make conscious decisions of having everything, to welcome our guests and serving the lifetime experience. We are very excited about returning to sail.
So, we're working with our suppliers here in South Florida, as well as reaching out to suppliers in each of our destinations. Our intentions are to support the local economies and source as much as we can locally. Nearby at NCL's test kitchen, Christian Pratsch and his team prepare to taste-test the new premium steaks for NCL's signature restaurant, Cagney's.
I'm really looking forward to this tasting today. Cagney's, our signature restaurant, deserves only the best cut and the best quality. We have partnered with Certified Angus Beef, short CAB, to have 100% of that product in our signature restaurant, Cagney's, our steakhouse. Now it's time to cook them off and taste these great steaks.
They all have been cooked the same time on the same grill. No flames allowed on the ships, so all electric. We have our grove grill, and then we finish it in the oven on high temperature. They're all cooked without salt and pepper. No seasoning for us, to determine the taste of the beef itself. -This one is really thick - Thicker.
and inconsistent. I like the size on those two. Although, I think they are very consistent, no? Flavor wise, very similar profile, beautiful marbling, so for me they are all approved. I think our guests in Cagney's, they will be very pleased with the product. It's an upgrade to our program.
It's a well known brand and we're proud to partner with CAB. At the warehouse, Michelle finishes prepping the containers for the Norwegian Jade. We have the list of everything that is expected by the ship.
We will compare that to the manifest, to make sure everything is physically present. We want to make sure that all food and beverage items have the proper expiration dates and nothing is damaged. Once all the product is checked, it gets loaded on a container and it will be off to Piraeus, Greece for the Norwegian Jade. So, we are very excited about returning to sail, but we've been waiting for this for a long time and we're ready.
After focusing for months on the re-imagined check-in process, Elizabeth Tauben is meeting up with Alicia Cuervo for a walk through of all the features that NCL's new state-of-the-art terminal has to offer. I'm so excited you're here. I can't wait to show you the terminal. I'm so excited to see it. Wow, this woodwork is beautiful. Yeah, this is a giant puzzle, thousands of pieces of wood that we put together right here on site.
- Looks great. - Gorgeous, right? It's our signature statement when you walk in. That's where the reception area is, over there, and then you can either take the stairs, or go up the elevator. - So, let me show you upstairs. - Great. Well, I think it looks beautiful already.
How long did it take to build this from start to finish? It's about a two-year project. Obviously, the pandemic got in the way in 2020, so we had some delays with materials, but we were on-site doing other tinkering here and there and just making it perfect. How big is it? It's 188,000 square feet, the terminal proper.
It has three pearls, or three nautical circles, and then we have the provisioning building, and we have the garage for 810 cars. So, it's pretty spectacular and huge. Wow, it's so big.
With Elizabeth preoccupied with embarkation under the new CDC guidelines, she's never been able to really appreciate what's been happening with the construction of this new building. There's almost 8,000 tons of steel in here, just imagine, a baby blue whale is 1,000 tons. - Wow. - I know.
So there's 8 baby blue whales in weight. That's pretty significant. We did all sorts of wind studies to ensure that there was no uplift, because the design is really unique, there's three cylinders.
So, we had to make sure specifically between the garage and this building, that it could take that load. That's why there's so much steel in the building. And it looks like there's a lot of glass, too. Yeah, there's 122,000 square feet of glass. Just as interesting, one side of the building and the other side of the building have a different color glass.
It's very slight, but that helps for cooling effect and where the sun hits. We will be the first LEED Gold building in the United States for a port terminal. Having received the esteemed LEED Gold status, NCL's new terminal is yet another example of how Norwegian is leading the pack, when it comes to defining a new era of cruising. I'm sure our security team is going to love this setup here. Well actually, the security team picked it out.
They traveled all over the world, I think this one is from London, Heathrow airport, where they picked the most stateof–the-art security baggage system check-in. This is amazing, right? We did a plethora of simulations, to make sure the passenger flow worked and it was optimum for operations. And it's got the return trays, which is really great, too.
Yeah, it looks great. In Tampa, at Creative Studios by NCL, the entertainment team is working feverishly in preparation for opening night on the high seas. We've all been waiting for the call. I could not wait to be back here, doing something that I love to do. You guys ready? Here we go! Being back here is one of the most fulfilling, breathtaking feelings, that I could have. To be back to work, doing what I love.
It's like a breath of fresh air. You're living again, so, it's a wonderful thing. I'm really happy to be back with Norwegian. To be working with the directors, to be back on stage, to be doing what I love, and to be back into my life. Here at the Creative Studios, it's an exciting thing, actually.
I mean, to be able to come into a space, knowing that you're creating something magical for an audience. It's amazing. We'll have six weeks here and then we usually have about two weeks on the ship. It's a huge process, but it's a lot of fun and you can feel the excitement from the team. The cast and crew of the Norwegian Jade have been perfecting every step for NCL's foot stomping salute to country music gold, Blazing Boots. A show like Blazing Boots, it's an extravaganza, it's amazing, it's the CMA awards without the commercials.
It's a show that's built for everyone. There's one moment after another, that's toe tapping and hand clapping. Blazing Boots is one of my favorite shows to do. It is a high energy, country...
It's a concert. It is one of the shows where I feel ike, I can kind of just let loose, everybody let's loose in that show. It's a punch of just energy. It feels like a Faith Hill or Tanya Tucker concert, it's really awesome. The performers have also been training hard and building up their stamina for one of NCL 's most physically demanding shows, Elements.
Elements is one of the largest shows that we put on, here at Creative Studios. It was put together having in mind a Cirque du Soleil type feel, but bringing to life the elements earth, wind, fire, water. The audience will walk out of it feeling revived, in awe, because of what the dancers are doing.
It's an amazing show. Elements is a signature show for Norwegian Cruise Line. It's incredible, it's high energy, it's more of a dance heavy show.
Our creative director, choreographer, has put a lot of time, effort, and energy into giving the audience something, that they'll really enjoy. From the costumes to the choreography, to the music, it's very intense, and once you see it, it's like something that's pulling you in, at the same time is making you catch your breath. Elements is an extremely physical show. We're going to give you that energy right away. The dancers are giving you turns and leaps and lifts.
The passion that they give you, the audience gets to their feet and they're just clapping and it's a pretty amazing moment. When the guests come back to cruising they can expect high level entertainment, I can't say that enough. It has been a really tough year and these guests are coming back to see Norwegian Cruise Line shows, which has a great reputation for being the best. We are going to give everything that we've got. I think a lot of people have been waiting for this. We've been wanting to be back on stage performing, it's not about the money, I think it's more about what's in our hearts and what's in our body, it's a passion, you know? Not everybody, I think, is born to do this and I think it's a gift.
Being the first ship to go out to witness that and know that I was a part of it, to make these performers just shine and be the stars that they are. For the first time in over a year, the NCL executive team, Frank Del Rio, Harry Sommer, and Robin Lindsay take a brief tour of the Norwegian Gem to review all of the upcoming maintenance and renovations. And with Frank Del Rio at the helm, nothing will go unnoticed. Did we do any work in the rooms here? Are we going to varnish these doors on the outside before service? Oh my God, look at this desk Harry. Look at this chair. Look at the white piano. Can you get it done before August, before she gets into operation? - Do we have an upholsterer on board? - No.
- Are you going to have one? - Sure. This is a penthouse, correct? - I mean, this is... - It's okay. It'll be fine.
When you build a bar, you got to have a lip. Did we do much here other than... Did we reupholster these at least? No. You know, I love to go on the ships and then I come away frustrated, because I want to do everything tomorrow. With the renovation list in hand, the Norwegian Gem prepares to set sail for her makeover.
Gentlemen, thank you. Safe travels. Inside the terminal, Alicia gives Elizabeth insight on NCL's design aesthetic. I don't know if you notice the carpet and the chairs.
The carpeting is supposed to tell the story of your vacation. The beach, the water, the sand and it sort of brings you into a sort of tropical, but yet relaxed environment. Looks great. So, Elizabeth you were instrumental in this area. Do you remember how many times we redesigned due to this odd shape of the building? Yes, and I think it came out great, it looks really good.
Good, I'm happy. We have a check-in test coming up, where we get to use this area for the first time. So, I'm excited to see what it looks like in action. And now on to NCL's exclusive lounge for suite class guests, the Haven. So, this is the VIP lounge. This is huge, this looks great.
So, we're still in the process of doing some deep cleaning and putting the furniture in place, that's all that's left up here, but everything is pretty much in place. I wanted to take a second and stop and look up. There's over 7,000 acrylic tube hanging here.
The terminal ceiling is lined with thousands of cylindrical acrylic tubes, that ignite and electrify the Miami skyline. It's very impressive. At night you see a whole lighting show.
We had a lighting specialist come in several times and really design the whole story behind it. It can be lit for Saint Patrick 's Day, for Breast Cancer Awareness Day, all different days and also have the Norwegian colors. - Awesome. - Yeah. Over here, pretty cool. This is an artist's piece. The gentleman's name is George Salas. What's super cool about this is, that this project has about $3.6 million worth of art in it.
This one was opened. They had proffered a piece, it was really expensive and very formal, and Frank wanted something a little more lighthearted, so right there in the conference room, the architect just started drawing what we wanted and this was born, and a local artist actually put it together for us. - So, it's beautiful. - I think it looks perfect there. In the terminal there's about five artists. There's Benoit Ferriére who's on the back wall. We've got a huge significant piece by Arranz Bravo, who is a renowned Spanish artist.
We've got a woman by the last name of Comte, who did the statues that you see in the garden. But what I think is really cool, is on the wall when we go outside, there's these tiles and those tiles were done by a gentleman by the name of Pardo. We got a nice array of artists in the building. Yeah, it all looks really nice. I'm so glad you came today, it was a lot of fun, right? Yeah, thank you for inviting me, I'm so happy to be here and finally see everything.
As service returns to the port of Miami so do the NCL corporate officers. Harry Sommer, the President and CEO of NCL, is meeting with his team to discuss the relaunch plans. Wow, it's so great to be back in the office.
I've missed every single one of you and I'm equally excited. We're just about a month out from starting out on the Jade. - It's gonna be fantastic. - Its time. I'd love to hear about how everything is going and you guys are the team. Mark, talk to us a little about health, health and safety. You and Frank had said it best, that this is going to be the healthiest and safest environment that guests could possibly be in.
All of our crew are vaccinated. We have protocols in place to make sure that all guests that embark have been vaccinated. We'll check their vaccination status and they'll be antigen tested at the pier. We have the rapid testing facilities all set up.
Getting onto the ship you have a level of comfort,knowing that everybody that's around you, is vaccinated. I think a lot of work has been put in by a lot of people, to ensure the health safety of our guests, but also the peace of mind. Just for them knowing, that when they come on board, that they are in a healthy and safe environment.
That's a lot of confidence for our crew too, you know? I know that we've been away from them for a while, but we do have a couple of visits for you. So, prior to actually having everybody embark on Jade, and having everybody embark on Encore, and actually getting in front of the crew face to face, we've been trying to keep everybody connected this past year, but it will be nice to hear it right from the Brand President that, you know, will be taking care of you and everybody else on board. So that feeling of safety, though really allows guests to fully experience everything on our ships. So, you're not sitting at a table and have to put your mask on in between bites. You're not having to stand, you know, a distance away from other people at bars so, it's essentially right where we left off, only better.
I have a very special person that's joining me on both cruises, my wife. - Alright. - [LAUGHING] So, we know the standards have to be very, very high for her. She will have a great cruise and she'll be very safe and very healthy.
I'm sure Mark. And the Itinerary I see, is just fantastic. Some of our guest's favorite. We know based on everything we've been hearing, we've been paying a lot of attention to what our guest feedback is and so Greek Isles was number one. Alaska was on there too, on this short list of places, people wanted to go, and those are some of the most popular places with our guests.
They are taking Encore, our newest ship. She didn't get a full year on water, it would be a really great story for us. It's so good to see the guests booking and putting their trust back in us.
I just can't wait. I'm just so excited. So would you tell me a little about the entertainment? What do we have planned for our guests on the Jade? We are super ramped up. We're rehearsing Blazing Boots, we will have Palace of Lights, and then our big show is Elements. So, they're all rehearsing and getting ready to go and they're super excited to be back. So tell Richard, anything new on entertainment for the Encore, for Alaska? No, we're going to have the full entertainment complement.
The boys from The Choir of Man - are going to actually be... - That is one of my favorites. Yeah, exactly. Its grab a beer, come in and sing with the boys or as they call them, "The Lads". You don't want to hear me sing.
- [Laughter] - That's a good idea. Wes, tell me about the food. What do we have in store for our guests? We're ready to go for the Jade, Harry. The orders have been placed in containers on the way over to Europe. Menus as you know have been revamped.
We're making a significant investment in food for our complimentary dining areas, the buffet, main dining rooms. So, the Jade will be the first one, our guests in the Jade to experience all those improvements. And then Cagney's, we've made improvements also, so Jade is going to be in great shape. So, what's the restaurant I have to go to, where do I gotta be? You know, everybody always wants to go to specialty restaurants, but I think you need to go to the main diner and see the improvements we've made there.
They are significant. I mean, I got to tell you, I'm really impressed with everything we're doing on the health and safety side, but even more impressed with the guest experience side. It just sounds like everything we're doing to upgrade and elevate the product, it's just going to create the best possible experience for our guests.
They're gonna come back and they're just going to rave about what they see. So really, commend the entire team on everything they've done, to make NCL the premium brand that it is. Thank you, we've been waiting for this, for what, 16 months now? [IN UNISON] It's time. Really guys, fantastic job.
Elizabeth Tauben and Simon Murray work with their teams to refine the check-in technology for the new and improved embarkation process. The new embarkation is going to be very exciting, because it will literally shave off a significant amount of time on what currently happens. It'll make it far more contactless. There'll be things that the guests will be doing before the cruise even starts, to make that embarkation even quicker.
We've actually added things in, because of the health and safety protocols and regulations, that weren't there and still, it's quicker than what it was before. So, we're making it a much better experience so their lives really are changed for the better. Some of the technology we looked at today, is the Ekroos Kiosk. Guests can go up to these kiosks and literally by standing in front of it for a couple of seconds, it'll take their temperature and it'll record that temperature, to make sure that all of the guests and crew are going to be in safe environments. When guests arrive at the terminal for the first time, they are going to notice a lot of differences when it comes to the traditional embark process.
It's going to be controlled, it's going to be efficient, it's going to be safe. That check-in process is going to be better than before. So, I just walk up to it, I don't need to press anything? Nope, just walk up to it, it should recognize you. - Yay, it found me. - See, it recognized you. After a successful internal test run, the new embarkation process is put to the test with a large scale simulated check-in.
We're simulating embarkation. So, this is our new terminal, it's brand new. This is the first time we're using it for a simulation of restarting cruises. We have about 200 people coming today. So how it's going to work is, this green card means you tested negative for COVID and you can move to the next step, which will give everyone a wristband. You need that wristband to get into the front door here.
After they checkin at the check-in counter, they're going to be directed to a keycard pickup location. [PEOPLE TALKING ALL AT ONE] Welcome back. We are getting ready to go through the embarkation process right now. - Thank you. - Enjoy your cruise. Hi, welcome to Norwegian Jewel, how are you today? I'm doing great, thank you, how are you? Very good, excellent. Let me see your vaccination card please.
Are you ready for your cruise? Yes, I am, I am so excited. Excellent. Alright ladies, so, you all checked in. Now you are going straight to pick up your room keys, okay? [IN UNISON] Thank you.
- Have fun. - [IN UNISON] Bye, thank you. Thank you guys so much for coming and for participating in this. It's really helpful to have everyone's feedback. Now we have a training with a few 100 people under our belt, which helps us a lot to know how fast we can actually check guests in, in a real-life scenario and we can't wait to get back to cruising. Norwegian Cruise Lines always been a leader in innovation in the cruise line industry and with this new check-in system, that will be no different.
We've been working with the company that's creating this for us, to completely personalize it, to make the Norwegian Cruise Line embarkation the best that it can be. We've been thrown a huge challenge. I think we're rising to the occasion. I couldn't be prouder of the team and what they're doing, to really take, you know, innovation and look at it in a very serious way, and really understanding what the requirements are, are crucially making sure we go back to service safely. Next time on Embark The Series, NCL is back and ready to hit the high seas. As the crew of the Norwegian Jade set sail for the Greek Isles, guests from around the globe gather once more, for the adventure of a lifetime.
Over a year in the making, this epic journey will define a new era of cruising. Norwegian Cruise Line is back and better than ever. EMBARK THE SERIES
2021-08-02 11:34
Show Video
Other news