DJI October 20th Launch Event - Here's To The Dreamers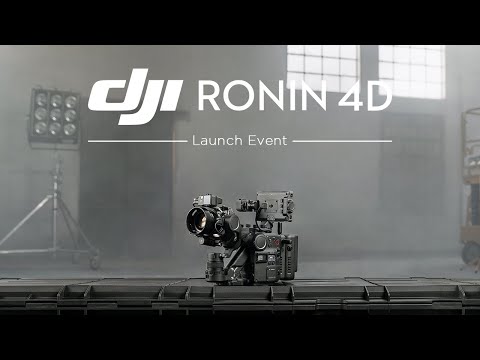 Show Video
Everybody quiet on set. Camera rolling, sound, lighting ready, and action! Hello. Welcome to today's DJI Pro Launch Event. When people ask what drives us to make the tools we create, the answer is simple. It's a complete focus on a single mission: to empower creators, giving them accessible, intuitive devices that let them capture and share the world exactly how they see it. The Inspire series transformed aerial cinematography with the first Super 35 sensor in a ready-to-fly platform. Our latest drones have given the world a new level of aerial intelligence with technologies like Time of Flight and vision sensors for obstacle avoidance, along with our video transmission system, which gave pilots reliable long-range control that is the best in its class.
Our Ronin 2 and Master Wheels provided cinema-grade stabilization solutions on the ground, which are used today on film sets all around the world. For as long as those products have been in use, we've worked closely with film production crews, gaining invaluable on-site experience that's helped us to continually improve and optimize our products. Combining the needs of today's filmmakers with DJI's cutting-edge technologies, we're thrilled to present a product that will revolutionize filmmaking. Today, we introduce DJI Ronin 4D, a comprehensive cinematography solution designed to reimagine what the next generation of filmmaking will be. From the exterior design to the way it feels balanced in your hands, to the gimbal camera, the LiDAR Range Finder and the wireless video transmitter, every inch of this new platform speaks to the heritage of DJI products. Before we dive into the details, let's watch a brief showreel by our brilliant content partners from all over the world, shot completely on Ronin 4D.
Based on countless rounds of feedback from industry professionals, we know what matters most to them on set, and that drove us to create Ronin 4D. Image quality, camera movement, focus control, and coordination are some of the key issues cinematographers face on every project. DJI Ronin 4D provides an integrated solution that covers all of them with a unique design.
It combines a cinema camera with an entire gimbal and control system along with monitoring, focusing, and wireless transmission modules. Crafted with carbon fiber and aluminum magnesium alloy, its solid light-weight body allows users to shoot in complex environments. The integrated design helps film crews avoid time-consuming setup and start shooting at a moment's notice.
Modules attached to the body like the Hand Grips and the High-Bright Main Monitor can be adjusted or detached easily and give users the flexibility they need to shoot in any scenario. In addition to the most common single-handed, dual-handed, and shoulder setups, Ronin 4D can also be mounted on all kinds of traditional fixtures like jibs, cable cams, suction cups, and other industry standard accessories. With a whole ecosystem of expandability at their disposal, users can configure Ronin 4D as compact or as complex as they need, leaving the door wide open for their shoot.
An intelligent image processing system has also been adopted on Ronin 4D. This delivers an internal 8K RAW codec with precise color reproduction, advanced assistive functions with a high-performance AI engine, and multi-link monitoring and control with low-latency image processing. All of this and much more is made possible by our flagship proprietary chip. As you can see, Ronin 4D provides a whole set of efficient, ready-to-use cinematography solutions, which have already been used on many feature films and commercial productions to great acclaim.
To learn more about Ronin 4D's imaging system, follow me to the color grading room. The imaging system is the core of any cinema camera. Ronin 4D is equipped with the all-new full-frame Zenmuse X9, available in two versions: X9-8K and X9-6K. Our Inspire 2 used the image processing system CineCore 2.1,
which we have now updated on Ronin 4D with CineCore 3.0. This new version includes a brand-new DJI-developed proprietary processor, which brings higher computing power and support for more video codecs. In addition to the commonly used H.264 codec, both X9 cameras can internally record Apple ProRes and ProRes RAW, leaving more latitude for editing in post.
It supports up to 8K/75fps, 6K/60fps, and 4K/120fps, giving creators multiple options for capturing cinema-quality footage. Between the two X9 cameras, the X9-8K delivers DCI 8K standard that retains stunning details. It also offers unprecedented creative flexibility for cropping and recomposition in post. X9-6K excels at capturing highlights and shadows. With a dual-native gain of EI 800 and 5000 along with over 14 stops of dynamic range, it records images with gorgeous color grades and natural transitions when shooting during sunset.
When shooting at EI 5000, it can capture clean footage at night even without assistive lighting setups. X9 also has nine built-in physical ND filters, from ND 2 to ND 512. These can be switched on the fly to fit your shooting needs. Ronin 4D's proprietary DJI Cinema Color System delivers natural skin tones, even in complicated lighting situations such as direct sunlight, overcast conditions, sunsets, neon lighting, or street lights. It also provides effortless compatibility with other cinema cameras for tonal consistency across a project. X9 is equipped with interchangeable lens mounts, including DJI's proprietary DL mount, Leica M mount, and other mounts with short-flange focal distances.
This provides extensive lens options, like ultra-large aperture lenses, anamorphic lenses, and vintage manual lenses. X9 can also provide wireless control and autofocusing for all these lenses with expansion modules. Your favorite lenses can now shine in a whole new way on Ronin 4D. Now let's take a walk over to our outdoor set where you can check out Ronin 4D's stabilization system. Stabilization has always been at the core of DJI. With the added Z-axis providing active vertical stabilization, Ronin 4D is an innovative outlier in the industry.
Before we talk about the Z-axis and why it makes 4D so unique, let's look at the 3-axis gimbal camera first. One of the ways it provides powerful stabilization is by keeping only the sensor and optical components necessary for imaging within the camera, separated from the main body. It also benefits from a symmetrical dual-motor design on the tilt axis, while leaving abundant motor power on pan and roll axes. It now achieves the best stabilization and responsiveness of the entire Ronin series, all within a compact and lightweight body.
Thanks to the integrated design, Ronin 4D can start recording instantly without the need for tedious adjustments, even when using lenses that shift balance during use. A shortcut button allows seamless transitions between Sport mode and Stabilization mode. In Sport mode, the gimbal quickly responds to the operator's fast movements while maintaining a very tight follow.
One of my favorite parts of Ronin 4D is the active vertical stabilization provided by the Z-axis. It works with forward and downward visual sensors, a dual ToF sensor, a barometer, and a gyro sensor to effectively eliminate vertical shake. This technology allows the operator to shoot while walking, running, or even moving around dynamically, with no need to practice pacing or rely on external equipment. Videos taken in complex spaces like stairways or uneven ground, for example, end up smooth without any trace of the operator's footsteps. Wide sliding shots can also be achieved easily without the need of a dolly.
With the additional Z-axis, Ronin 4D is still lighter and smaller than most cinema cameras mounted onto a professional three-axis stabilizer, reducing the size and complexity of a professional camera setup to something never seen before. ActiveTrack Pro can empower operators even more with our latest artificial intelligence. Cinematographers can now get advanced tracking shots easily and efficiently. The Pro version of ActiveTrack allows subjects to be tracked from longer distances and while adjusting composition. You won't believe these complex camera movements are achieved automatically on Ronin 4D. In addition to all of these impressive features, Ronin 4D uses a focusing system powered by LiDAR technology.
Follow me inside to see what it can do. Focusing is a challenge for nearly all video projects, and the tools to solve it can be overly complex. Ronin 4D includes a LiDAR focusing system that offers a more user-friendly and universally accessible focusing experience.
The entire system is realized by our newly designed LiDAR Range Finder, which can cast up to 43,200 ranging points simultaneously and reach a ranging distance up to 10 meters. It can locate subjects quickly and accurately, even in low-light environments. Another advantage of LiDAR is to realize faster focus speed without relying on visible surface textures or compromising image quality in any way. There are three focusing modes to choose from: manual focus, autofocus, and our own Automated Manual Focus. LiDAR Waveform allows Ronin 4D to handle manual focus with ease. This assistive focusing tool displays LiDAR ranging data on the main and remote monitors in a simplified top-down view.
Cinematographers can use this tool to locate focus points and pull focus with extreme precision. Even users with little or no experience with pulling focus can operate and excel at this feature in no time. In autofocus mode, Ronin 4D can maintain focus even when there is severe motion blur caused by subjects moving quickly.
This system not only empowers DJI's own lenses with advanced autofocusing capabilities, but it also enables 3rd party manual lenses to deliver autofocusing capabilities with the help of the X9 Focus Motor. When ActiveTrack Pro is turned on, X9 can track and autofocus on a subject continuously at the same time. This is especially convenient for solo camera operators and small crews. The AF/MF switch on traditional cameras sometimes creates a dilemma: trust autofocus completely or leave the job to yourself.
Ronin 4D's LiDAR focusing system combines the advantages of both autofocus and manual focus with Automated Manual Focus mode. When enabled, the focus wheel on the right grip will rotate automatically when the focus point moves, allowing users to jump in and focus manually. This gives cinematographers a physical sense of the distance change to adjust the focus at any time, providing a more practical and modern focusing solution for an intuitive experience that is unrivalled today. In professional projects with large crews, communication and quick feedback are absolutely critical. The powerful transmission system of Ronin 4D provides even more possibilities.
Let's explore the technology behind it. Ronin 4D uses the all-new DJI O3 Pro transmission system, which provides long-range transmission with ultra-low latency and improved anti-interference technology. The 4D Video Transmitter outputs a 1080p/60fps feed to remote monitors with a transmission range of up to 20,000 feet.
It features AES 256-bit encryption for protected video feeds. O3 Pro also supports the DFS frequency band, in addition to 2.4GHz and 5.8GHz with frequency hopping, which improves stability and anti-interference performance, even in crowded signal environments and locations that feature complex architectural structures.
O3 Pro provides incredible end-to-end low latency. The three major factors that contribute to latency are image processing, wireless transmission, and image display. Since the camera, transmitter, receiver, and monitor are all designed by DJI and integrated into one wireless system, Ronin 4D can optimize the entire transmission process, minimizing the latency and offering a seamless experience. And O3 Pro enables multiple receivers with just one 4D Video Transmitter, allowing users to switch feeds quickly between multiple Ronin 4Ds. DJI's new High-Bright Remote Monitor offers a compact design that integrates a 7-inch, 1,500-nit monitor with a wireless video receiver for optimum portability and quick setup.
It enables users to control everything they need remotely, like focus, gimbal movements, start/stop, and camera exposure. Mirror Control Mode empowers you even more, giving you full access to the same menu system as the main monitor, including all advanced features, from raw footage playback to camera settings. This mode allows users to make quick and easy adjustments when Ronin 4D is mounted on a jib, cable cam, or other rigs. Besides these features, we've added a built-in gyro sensor that turns the monitor into a motion controller for Ronin 4D with movement-based control.
It can also connect to the Hand Grips, DJI Master Wheels, DJI Force Pro, or the new DJI Three-Channel Follow Focus to modernize coordinated shoots. The remote monitor has a built-in microSD slot that supports independent recording of 1080p/60fps footage, allowing for convenient previews. When several remote monitors are used in conjunction, each monitor can play back material separately with independent LUTs loaded without interfering with other crew members. Now that we've finished shooting, let's transfer our files over to the DIT. That brings us to Ronin 4D's storage system. To meet the needs of a wide range of users, Ronin 4D offers three storage methods.
Among the three methods, USB SSD provides 4K projects with a cost-effective solution, CFexpress covers both compatibility and stability, and DJI PROSSD 1TB delivers the best performance and highest stability for internal recording at the maximum resolution and frame rate. In addition to reliable storage, users need excellent sound quality. Ronin 4D's built-in microphones support 2-channel 24-bit audio recording.
It also has a 3.5mm jack on the body and two XLR ports on the Expansion Plate for additional input options. Ronin 4D comes with a 5.5-inch, 1,000-nit main monitor that can be mounted onto different positions on the body and adjusted to any angle.
Common exposure assistance such as waveform, false color, and zebra can be enabled with just a tap on the grip. Just like Ronin 2 and Inspire 2, Ronin 4D uses the TB50 Intelligent Battery, which offers up to 2.5 hours of shooting time. Even in extreme environments, the TB50 battery is operational thanks to auto-heating technology.
Every detail you care about is addressed with these thoughtful designs. A dynamic product like this deserves dynamic protection. Ronin 4D comes with a 2-year international warranty allowing it to be quickly serviced at any authorized service center around the world. Users who need extra assurance can upgrade to DJI Care Pro. During the 2-year protection period,
you won't need to worry about any issues such as falling damage, water damage, or any other accidents. Access to our professional repair services will be provided within the coverage limit. Plus, factory maintenance ensures the optimal working condition of your We can go on and on about all the things that make Ronin 4D incredible. But the opinions that truly matter are from industry professionals. To give you a more comprehensive understanding of Ronin 4D and how it's used in feature films, we're honored to have four well-known DPs here to talk about Ronin 4D from their perspectives.
Let's hear what they have to say. If I had to describe this technology in one phrase, I'd say that it was exceptionally innovative towards betterment of cinematography. It does give you tools which allow for a new look at how you would normally film most situations.
Following the foundation of Ronin and Ronin 2, Ronin 4D is another giant technical leap. It fuels our visual creativity with greater possibilities. I've been waiting for more and more cameras to adopt a technology that simplifies shooting operation.
This camera does not require any extra equipment or a large crew but still can satisfy the needs of large-scale shooting scenarios. This is one of the core advantages of this camera. I could see this camera being exceptionally useful anytime you had car work, anything that's in motion, helicopters, horses, working in Westerns, there's a lot of motion where you need to control things. You want to go on a dirt bike alongside a horse at full gallop, you're going to need all the help you can get and this camera will give it to you.
Filmmaking is all about subjectivity and being experiential and so the idea that I could actually, physically skateboard with the camera and then have skateboarders bust the frame really allowed me to be their POV and have them enter it which is not something that I've had the opportunity to do. I think the Ronin 4D is a groundbreaking camera. It does embrace a lot of the technology that we've put together by parts by getting separate gimbals and so on and cameras have gotten smaller, people are handholding them, but to bring it all together from one manufacturer where you get, from top to bottom, you get the picture quality, you get it transmitted to you, you have full control of a very sophisticated device remotely is amazing. On behalf of everyone at DJI, we want to thank these DPs for being part of this event with such creative and compelling work.
This is really just the beginning of our in-depth collaboration with global DPs. Today, we're thrilled to announce we're expanding our partnership program, and working with more incredible industry leaders. We can't wait to see what they do with Ronin 4D. And today, we've also prepared a big surprise for you.
I believe most of you have probably seen Mindhunter, Fargo, and Legion. We've invited the man behind these works to join us. He also won this year's Academy Award of Best Achievement on Cinematography for his contribution on the film Mank.
Please welcome Erik Messerschmidt, ASC. As cinematographers we're, you know,  we're constantly in high-pressure situations. And we have to take responsibility  for equipment choices.
We have to fix the problems when  they arise, you know. So I'm very suspicious of this  particular tool, And I was pleasantly surprised. Much more so  than I expected, and not to say that I wasn't expecting to be, actually,  because DJI has consistently impressed me   you know, in the Ronin in particular  and the Inspire 2 and, I mean, it's   the track record for success is so high, but this particular thing, this camera, being that   it's a standalone camera and it's  not a gimbal, and it's not a drone is, felt like   such a departure from the product line that  I was a little bit suspicious, and in the end I could not be more impressed. ProRes RAW is, you know, it's totally new, for me anyway. You know I just started. That's a completely new format for me. We opened it in Baselight, which opens it natively.  
It seemed to have   plenty of dynamic range. It was sharp. Didn't see any aliasing issues. We didn't see any banding or breakup, you know, It's clearly...it's clearly got plenty of bit   depth and dynamic range and we were looking at it in HDR actually. So we looked at it in Dolby PQ in DCI-P3 and it looked fabulous, I mean, it was on par with anything else for sure.   I was really interested to see how it would handle the sodium vapor and the  mercury vapor stuff we had shot downtown.
those are always tricky colors to work with, especially these kind of narrow-band,   narrow-spectrum lights and skin tone, and how much how much room we have   in the skin tones to move it around. You never expected to be able to correct anything back to, you know, a normal, a normal full-spectrum skin tone. But I was curious to see how much I could manipulate the color, you know, taking   the sodium vapor from canary yellow up to orange, and how we how we could move that   around and where the image would start to break  because it it always does, you know, on every camera.  
And, you know, the camera had more color than I expected. There was no shortage of color, you know, which is refreshing because in many times, in many situations you end up with a   kind of pastel looks or desaturated looks in those kinds of situations because the camera can't   render all the colors accurately and it seemed to do, it was extremely good. I mean, that's the other thing. The highlight retention is spectacular and we were, we did some shots, we were on the beach, looking straight out to the sea with the setting   sun and it's reflecting in the water and in the DI, it really held up. You would normally    expect that to start to look a little bit digital  and clip around the edges and and look kind   of hard and it didn't. It rolled off in a really soft and smooth way, which I was surprised about. I think lens choice is a huge part of  the cinematographer's tool kit, and    how we help the director tell stories and  lenses have an enormous effect on the way the   image looks and also the resources that  are required to shoot scenes in many cases.  
For example, we were shooting in a downtown  location that was relatively low-light and   both didn't have a lot of  resources in terms of lighting. But also didn't want to use a lot because  I wanted to push the camera a little bit and, but I knew that I would probably  still need to shoot close to wide open in some   situations and I wanted a set of lenses  that would let me shoot at a 1.4 or 1.7 or, or what have you and so we went with the  Leicas, but they also, those lenses also have a   spectacular quality to them, especially  in terms of the bokeh and the softness, so it was exciting to give that a try. 
you know, but having the freedom to  make that choice to support both the resources   of the project we were doing, and also the  aesthetics that Will and I were going for   was important and and the fact that the  camera supported that opportunity was great.   I didn't have to do very much operating with that at all. If i set the camera up to follow my hand movements, and I could operate it much more like a   handheld camera and use the stabilization in the gimbal to absorb those, those movements and still allow me to operate the camera. So, you know, for example, in the short that Will and I did there's a shot looking down the staircase as the   the actress comes up the stairs, and we kind of just lift the camera up and pan with her. It would be a very difficult handheld shot to do with any other system,you know. And I tried it with the thumb  
wheel and it was  near impossible, and once we just kind   of locked the camera and I just held over  the edge and pulled it up, it worked great.   You know, I found that the Z-Axis is a really interesting concept that had never crossed my mind as being something   that would work but it works great, you know. We're so used to doing   passive Z-Axis stabilization, you know, like with  a Flowcine Black Arm or with a vibration isolator, or you know, even an arm car you know we're  absorbing all this with springs and dampeners, but to have it active and electronic was super interesting, and especially being   able to set the camera up to say, okay, I want the camera to stay here, regardless of   what I do. Or I wanted to dampen my move, you know,  I'm going to boom the camera here and I want the   camera to help me with that, help me keep that smooth, and learning when to apply those   settings was a new experience for me, but the result is fantastic. In my work I really think of focus as a critical storytelling tool, you know. It's really important as a method to   to tell the audience where to look, and it's a director's tool. So I love that DJI
thought to make a focus unit that an assistant  could use as a storytelling tool, not just about   focus but, you know, something that actually  functions like a piece of equipment we're used to using. But the fact that the autofocus works is great, and the fact that you can control and   adjust the autofocus from the assistant's handset  is really cool, you know it's, maybe you're doing a   quick, a really fast run up, or a tight insert, or you're shooting a six-year-old, you know. Those things come in incredibly handy. Wow, the video transmission is amazing. I've never seen anything like it. I want to take it  
off the camera and put it on all our other cameras, you know, it's so cool. It's so impressive. Being able to roll the camera remotely, which of course we can  do with other systems, but in an integrated way  is fantastic, you know. We're not bolting  aftermarket stuff on the camera. We're not,   there aren't a bunch of cables and brackets that are required, it's all self-contained. So being  
able to change NDs, roll the camera, set ISO, set color temperature, and ride color temperature   in between takes is a must at this point. I mean, I'm so spoiled now. It's like oh, I   can just, in between takes, you know, switch an ND  quickly and drop the color temperature   200 degrees and we're going again like  that and, I wish all cameras did that.   Every manufacturer these days, they're making,   you know, they make a box you put a lens on,  you know, and that's what it is and everyone   has a variation of their box with the lens  and that's perfectly great.  
I saw this thing and I was so excited because it's, at least in terms of what I'm used to, completely out-of-the-box thinking   in terms of how we, what we associate a camera as being, you know, because it takes the   the "box with the lens on it" idea and expands  on it and this in this really interesting way.   This tool takes all the things that I like, like stable, level horizon,  elegant camera movement, and puts it into a very mobile package,  and that's super fun. I like the freedom that handheld operating gives me as a filmmaker. I like the idea that I can, especially in a scene where the actors are very expressive, and it needs to be free and   open, and you're not relying on people to hit marks or be super precise, and it's sort of it. There has to be a fluidity to the storytelling  that supports the story and so in those situations, being handheld is great, I think.
The camera doesn't replace the dolly, you know,   and I wouldn't expect it to, but it does make the mobile, the process of moving  the camera and the resulting image of moving the   camera easier in many ways, especially if you're used to moving the camera with a gimbal,   you know. If you're carrying a traditional camera  in a gimbal with a cage and you have a,   you know, you're wearing a rig that's that's  suspending the gimbal in front of you so you can   manage the weight, you know, those things are cumbersome, and tedious, and heavy, and they affect   the shots you can do. So, if you want to work in that way, which we often do, myself included, this camera frees you up in an enormous way, I think, and makes it easier, for certain. It frees up the filmmaker in many ways and can free up the cast, I think, and allow you to experiment a bit, you know. I do believe in that, you know. I think it's really important to  
work with the actors, and work with the  director, and and think about staging and the relationships of the camera, and be able to just grab it and, well, what about from over here and   let's look at it from over here and, you know.  And during a rehearsal, for example, you know. In a traditional filmmaking environment  you might set up a shot with a a director's finder, and you get some positions, and you work it out with the actor and no one can see   it and you kind of, you find that shot, and then you commit to it. You lay the track and   you do that and that has its benefits. And I love working that way, and I usually do.   This particular tool gives filmmakers an opportunity to do things that   they otherwise wouldn't have been able to do with this much ease prior. Thank you, Erik, for sharing your experience with us.
Before we conclude today's event, we just want to point out one thing: the development of video shooting equipment has already come such a long way. From the first 35mm film cameras to the latest mirrorless setups, filmmaking has become more accessible to more creators throughout the years. But we think there are plenty of roads left ahead.
Not just in terms of the imaging technology itself, but also for the supporting technologies that make films the magic we see onscreen. These include Steadicams, gimbal controllers, follow focus, and video transmitters. All these and more deserve wider popularity and usage. We aim to break the boundaries of filmmaking by using the power of technology to make cinema-standard production more affordable, make the movement of cinema cameras more flexible, and make cinematic imaging available to an even wider range of creators. Ronin 4D will be available in two versions.
The 6K Combo of Ronin 4D retails at $7,199. It includes a main body, Zenmuse X9-6K Gimbal Camera, LiDAR Range Finder, High-Bright Main Monitor, Hand Grips, Top Handle, TB50 Intelligent Battery, and Carrying Case. The 8K Combo retails at $11,499. This combo features a more powerful Zenmuse X9-8K Gimbal Camera and includes a PROSSD 1TB.
The 4D Video Transmitter, High-Bright Remote Monitor, and DJI PROSSD 1TB are optional accessories and available separately. With Ronin 4D we hope more creators can unleash their vision and imagination. For film crews, this product line offers unlimited freedom to achieve unique camera language.
For studios and production houses, it allows commercial projects to shoot in the easiest and most efficient way possible. For solo filmmakers, it provides more potential to enrich creative expressions. In summary, Ronin 4D is DJI's answer to what the future of cinematography can and should be, providing you with an unparalleled solution that can bring creative visions to life. This marks the end of today's event.
If you have any questions about Ronin 4D, please check in on our live Q&A session following this event. Thank you so much for joining us. Have a wonderful day, and an even better tomorrow.
2021-10-24 11:15
Show Video
Other news