Discover how Strathclyde can support your business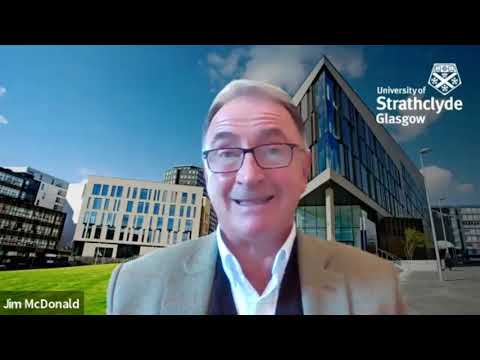 Show Video
TIM BEDFORD: Hello, my name's Tim Bedford. I'm the Associate Principal for Research and Innovation at the University of Strathclyde. I'd like to welcome you to the University of Strathclyde and to the launch of our new research clusters.
Strathclyde's got a long and proud history of industrial collaboration, bringing together the best academic research capabilities with colleagues from industry so that we can pull through the benefits of basic research, their impact on the economy and society, but also so that we can inspire new research from the challenges we are set by industry. Our existing clusters of advanced manufacturing, enabling tech and energy has shown how successful this approach of collaboration and partnership can be. What's more, the Technology Innovation Centre at Strathclyde, set in Glasgow's first Innovation District, the Glasgow City Innovation District has acted as a magnet for companies and innovation organisations and was highlighted by the UK government R&D roadmap.
But we don't stop at Strathclyde, and the next stage of the journey is the launch of our six research clusters, focusing collaboration between universities, university researchers, companies, public sector organisations, and innovation centres into six domains of industrial informatics, quantum tech, FinTech, 5G and advanced comms, space tech, and health tech. So today we launched these clusters and invite you to be part of this exciting journey. So it's a pleasure for me to open the event by asking our Principal and Vice Chancellor, Sir Jim McDonald to speak.
Over to you, Jim. JIM MCDONALD: ...Morning to our friends and colleagues at this important event. It's great to have so many of you join us today, and I do look forward to seeing you all before long in-person or on campus.
The last 18 months have been hugely challenging for everyone across society, but we've also seen incredible advances in innovation to help meet those challenges head on and create new opportunities that have emerged as a result. Many of you have already transformed the way in which you operate. We're seeing rapid adoption of technology at speeds previously thought impossible, and internationally, the vaccine programme has been an absolutely outstanding research and innovation effort that has exemplified the benefits of collaboration within the public, private and research communities.
But with the impacts of COVID-19 and the challenge of climate emergency, it has never been more important for organisations from across business, industry, academia, and government to work to solve the big challenges facing our society and to help our economy recover. The triple helix approach as we call it, to strategic collaboration is at the core of our technology and innovation zone, the very beating heart of the Glasgow City Innovation District. As many of you will know, our Technology and Innovation Centre, or TIC as it's known, was opened in 2015 by Her Majesty the Queen and was established in order to transform the way in which academics, business, industry, and the public sector work together. And together with the acquisition of the ANOVA building 2019, TIC rapidly became the catalyst for the creation of the Glasgow City Innovation District, launched only two years ago as Scotland's first innovation district. This was done in part with the Glasgow City Council, Glasgow Chamber of Commerce, Scottish Enterprise, and Entrepreneurial Scotland. The district has created a unique innovation ecosystem for Glasgow that is attracting businesses, startups, and investment into the city at a time when it is really needed, effectively magnetising Glasgow as an innovation hub.
GCAD is now home to more than 1,600 firms spanning a range of sectors, and it's been acknowledged as one of the most concentrated collections of innovative organisations in the UK, and those organisations with a presence here include several of the UK catapult network centres, including the High Value Manufacturing Catapult, the Offshore Renewable Energy Catapult, the catapults for Satellite Applications and Connected Places, along with a growing partnership with Energy Systems Catapult. Several Scottish innovation centres are headquartered or with bases here too, including the Industrial Biotech IC or IBioIC, the Digital Innovation Centre, the Data Lab and Census. We also have CMAC, the Centre for Continuous Manufacturing and Crystallisation revolutionising pharmaceutical manufacturing, and host the UK national facility for this activity here in the TIC building.
We have Scotland's 5G Centre, the Rolls-Royce UTC and electrical systems driving forward the electrical revolution for our colleagues there. The Weir Advanced Research Centre and Scottish Power and SSC working with us in the TIC Low Carbon Energy Programme. So these and many others. And of course, we're also delighted to host the UK's only Fraunhofer Centre, and indeed the Fraunhofer headquarters in UK are based in TIC also.
They've all chosen to locate in the district because of the unique ecosystem we've created here, access to world class skills and talent, leading edge research, high quality research infrastructure, and the thriving community of forward-thinking, innovation support organisations. And this approach has been referenced twice by the UK government recently, firstly in the UK roadmap published in summer of 2020. It was called the Strathclyde Innovation Ecosystem. And in the recently launched UK innovation strategy, which cited Strathclyde as home to the Fraunhofer Centre for Applied Photonics, and which included a case study of one of the university's spin out companies, 3FBIO, which develops sustainable protein as a food source.
But our inclusion in the innovation strategy document was not solicited by us, but rather by base itself. They proactively consulted with us and with academic teams or industry partners, representatives from the city and the Chamber of Commerce, all of whom gave evidence as to why innovation ecosystems work and what can be achieved when industry and academia work together to solve technological, organisation, and societal issues through collaborative thinking, co-investment, and co-location. And at the University of Strathclyde, this approach to innovation is deep in our DNA. Strathclyde was founded 225 years ago this year as a place of useful learning.
And that ethos continues to inform everything we do. And we always seek to do this with energy, with drive, and the commitment to entrepreneurial flair that you'd expect of an enlightenment startup. Now I mentioned this to research, to teach, and to be of benefit to society, and ultimately to reach outside the university, to make the world better educated, sustainable, prosperous, healthy, fair, and secure. Transformative innovation and impact are key goals under a vision 2025 strategy, but we cannot achieve this alone.
It is by working with business, industry and government and other academics from across the UK and worldwide that we can have the greatest impact in our city, also in Scotland, across the UK, as well as in the global communities that we serve. That's why our research clusters are industry led and bring together commercial partners to work with academia and the public sector to build upon our excellent research to develop new technologies and innovations to tackle the challenges we face in society. And that's why I'm particularly delighted that today we are launching six new research clusters in areas of priority for Scotland, the UK, and international communities, namely 5G, FinTech, health tech, industrial informatics, quantum and space. What Strathclyde brings is primarily centred on our great pool of talent. The people behind our world-leading research and expertise are now supporting our students to become highly qualified industry-ready graduates and graduates ready for the professions. And we combined these highly talented people with purpose and a distinct mission and provide them with the resources and support to make an impact.
In doing So we help to attract new partners, stimulate investment, and create new jobs, as well as to provide training and education opportunities. Now with both TIC and ANOVA at 100% capacity, we are moving ahead with the expansion of our technology and innovation zone through a planned 150,000,000 pounds investment in two new highly sustainable buildings, which will more than double the footprints of the zone and contribute to Glasgow's net zero ambitions. The first of these new buildings, TIC East, will be a 20,000 square metre facility giving Strathclyde the presence on the High Street and Ingram Street, helping to revitalise this historic quarter of our wonderful city in Glasgow. A second building, TIC West will be located behind the existing TIC building. So as a socially progressive institution, our clusters are also about investing in people and place, focusing on inclusive growth, aligning with Scottish government's fair work framework and health and wellbeing agendas.
The community benefits in what we do here in Glasgow itself, in Scotland, across the UK, and indeed in the wider world. It's always at the forefront of our thinking. The role of science, engineering, technology, and innovation has never been more important to support the economic recovery from the COVID pandemic to foster a clean recovery and to level up society. So we want to work with you on this next exciting chapter of Strathclyde's story, of our city's story, of the story that we're all trying to write together. And that's why we want to tell you more about our research clusters today.
So thanks once again for joining us today, and I hope you find the sessions useful and informative and a basis for future collaboration to our mutual benefit. Thank you. ELEANOR SHAW: ...Principal, and good morning everyone. My name is Eleanor Shaw.
I'm one of the Associate Principals at the university and I too am delighted to be welcoming you to today's event and to spending some time with you. Now as well as helping introduce you to our clusters and the activities that we're up to, my job is really quite simple. It's to host each of the panel sessions that we are going to have today.
I'm very much looking forward to those discussions. And I'm sure we'll all learn a lot. And as my colleagues have said, we're doing this virtually, and it's great, but I do hope it won't be too long until in a very safe way, we can be together in a face-to-face environment. So please allow me to introduce you to our first panel.
I'm delighted to welcome onto the panel, Professor Bob Stewart. Bob leads on our 5G and Advanced Communications Cluster. And Bob is joined by our industry partner, Stephen Speirs.
Stephen is Product Management Leader and Commercial Experience at Cisco. Welcome both of you to the panel. I'd also like to welcome to the panel my colleague, Professor Jeremy Ward. Jeremy is leading on FinTech - Sorry, on our quantum cluster and we are joined today - and this has been deliberately done to confuse me, but our other industry partner is also a Stephen, Stephen Duffy, who is CEO or Altar of Technology. Welcome Steven and welcome Jeremy to the panel. STEPHEN DUFFY: Good morning.
ELEANOR SHAW: OK, to get us started then, we've got about 20 minutes. So to get us started, can I please, first of all, got to Bob and to Jeremy, and can I ask you to talk about the benefits of collaborating with partners, particularly in terms of driving innovation in both the 5G and the quantum sectors? I don't know, Bob, if you want to respond to that first of all? BOB STEWART: Yes, Eleanor, I can respond to that. So I think at Strathclyde, maybe as the Principal outlined there, we have an extensive commitment to working with industry partners and with our comm tech building and other facilities coming along, and the opportunity to be collaborating with industry partners. And I might put them into the tier one category, and I'm delighted Stephen Speirs is here from Cisco or the SMEs, the kind of smaller companies.
What we are doing at Strathclyde, and we'll expand on, is finding mechanisms and ways to be working alongside those industry partners. And as the principal said, we can bring in our fantastic resources of students. We have lab facilities. We have projects
that I've been running for a number of years, and we have cross-cluster activity. And it really is a very fertile ground around Strathclyde around the TIC campus and the GCAD where we can welcome people to work alongside. And if we look at the type of support that's available from UK government and from Scottish government by the Scotland 5G Centre, it really encourages industry and academia to work together on current problems.
And we're kind of lucky. 5G is a bit of a tag. It's a bit of a catch-all thing. There's a lot more to 5G than what you might perceive as 5G and getting a new, faster phone.
It's the next generation. There are so many changes happening in communications, and whether it's working with mobile companies or companies like Cisco, or working with the SMEs, we want to build that environment here. And then a real key endeavour, Eleanor, is to be bringing those SMEs onto campus to work directly with us and join supported programmes. So the benefit to the university is a very vibrant atmosphere.
We have a great group of researchers, PhDs, key fellows, and it's just going from strength to strength. And again, the cross-cluster opportunity is something hopefully will come out today as well because 5G links in to FinTech, to quantum, to space. It's a real kind of network of capability that I think we're trying to share with people. ELEANOR SHAW: OK, brilliant, Bob, thank you.
Thank you very much. And certainly I think most of us would be very excited about being part of that vibrant atmosphere, and the sooner we can all come together and be part of that face-to-face, the better. But thank you so much for that.
Jeremy, can I ask you to share some of your comments about the quantum cluster and what you see the benefits of engaging with external partners to be? JEREMY WARD: Well, the academic programme that underpins the quantum cluster at Strathclyde really focused on really only the earliest stages of development. And the quantum world, it's all, does it work at all? So although we're working at very low TRLs, technology readiness levels, building apparatus works reliably in the quantum can be quite challenging. Even taking the apparatus outside, away from the lab can be quite difficult. And so it's getting over this first step of adoption that we need to work with industry to design and manufacture, such as very stable, narrow bandwidth lasers, or frequency combs or action traps, and even vacuum systems, building vacuum systems that work reliably at a quantum level turn out to be quite difficult. So it's really building this apparatus, which is the heart of quantum experimental work that we need to work with industry.
So these, let's call them supply chain components are really the building blocks to move to higher TRLs where we're starting to look at the application of some of these very exquisite sensors, develop using quantum technologies or perhaps quantum computing or quantum information processing, which have potentially huge benefits, but we've got to get working with our supply chain partners such as Alter Technology and the other, sort of the cluster of photonics industries that are based around Glasgow. This is what we've got to get right to that early stage so that we can build into those higher TRL applications. ELEANOR SHAW: Jeremy, thank you very much. And you quite rightly mentioned different technology readiness levels and clearly across the two clusters that we have here, I suppose fair to say that our 5G cluster is at a higher level of TRL than quantum, but both see the importance of working with external partners. So with that link, can I please go and let's go, first of all, to Stephen Speirs.
Stephen, with the work you've been doing with Bob and colleagues around 5G, can you talk a little bit about from your perspective what benefits you've found working with Bob, his team, and others across the university? STEPHEN SPEIRS: Sure. So let me give you a little bit of background on what has been done over, actually since about 2017. We started working together and looking for kind of projects to help connectivity in Scotland. And there was an opportunity to come up with some of the UK government-funded programmes via DCMS, Department for Culture, digital, et cetera.
And we embarked on what was a huge project, 5G, RuralFirst, and we built one of the first 5G networks in the UK. In fact, we have built and run the world's largest rural 5G trial, and even finishing well, in 2019, I think it was, Bob, that particular project, we've still never seen one of the scale and ambition of rural 5G in the world. So what were the benefits to us? Well, first of all, Cisco as a company, we are incredibly focused on innovation, but what we do realise, and you see this by the way that Cisco acquires different companies, we don't know it all.
We're the first people to admit that. So it's very important for us to get exposed to new ideas, wacky ideas, and 5G RuralFirst had them in spades. And this wasn't kind of a corporate initiative. It was something that I championed and brought into the bigger organisation and got Cisco overall to partly fund this via DCMS. DCMS put in some money, we put in some money, and we had an amazing array of partners.
So it let us build a big ecosystem of contacts throughout the industry. Cisco tends to be in the kind of backend of 5G if you will, in the core network. We really don't do much if you want to say at the front end with the use cases and what are the applications of 5G. And this particular project got us right into that forefront of the applications. Anything from connecting a salmon farm - salmon's a very high-tech industry, very prevalent in Scotland in terms of its economic impact - right through to some work on farms with more leads in sea networks, and looking at autonomous tractors and all the challenges of that.
And in terms of kind of benefits, you think about Cisco as a big company and a wee project here in Scotland. We took this particular project to Mobile World Congress, which is the biggest telecoms work trade show in the world in Barcelona about two years ago. And with this project with Bob and his team and some of the partners that we had. We had over 30 partners on this particular project. And that was a real challenge for us to manage as a group. We put that right in front and centre of Cisco's presence at Mobile World Congress that particular year.
And it was incredibly busy. It was incredibly exciting actually, to be honest, because we got so much attention for so many things. My one memory of that particular show was the interest that we got.
At Mobile World Congress, a lot of people go into rooms at the back and have discussions, but it was the number of people, senior officials from governments, telecoms who come out specifically to the front to speak to us on the 5G RuralFirst stand. So it gives us an immense amount of industry awareness of being a fairly 5G innovator. So that's the first thing I would say, and the second thing I think is something maybe you don't think about too much and that is about people development.
It gives our people a chance to engage on stretch projects, contribute in theory, it's 10%, but it's more like 50% and you end up working a lot of your own time on it. But actually it's incredibly powerful for employee development and giving people different kind of projects, especially to prepare you for entering new areas of businesses. We've exploited this particular project. So overall a fantastic experience.
ELEANOR SHAW: Stephen, thank you So so much. I mean, takeaways for me there, the idea of building this ecosystem of partners does seem like a really exciting, and fairly progressive way of looking at how we can come together across different organisations to make the advances that we'd like to see happening. And I know the impact that the 5G cluster, working with partners like yourself has had on, as you say, things like RuralFirst.
So that's fantastic to hear, but I'm also very pleased you did speak about people development and this notion of stretch projects. This commitment to lifelong learning and providing all partners and everyone involved in clusters the opportunity to continue to develop, I think is probably sometimes an unspoken but very important part of being part of that cluster and the collaboration. STEPHEN SPEIRS: Absolutely, absolutely.
You don't learn by sitting in your office. You learn by engaging with the external world, and Strathclyde brought a huge number of partners to this that we would never been able to get this Number together. We brought a few, but it was only one or two or three, but Strathclyde got about 20 different organisations together, which I felt was absolutely fantastic.
And that's the kind of environment you like to work in at Cisco without question. And really, the other thing I will say is having worked with a number of universities through 5G with RuralFirst, and obviously I highlight Strathclyde as being, and Bob and his team in particular have been very tuned to the needs of industry, and the question was, well, "is this going to work for Cisco?" came up more than a few times, whereas I felt with some of the other universities that there was, "OK, we're happy to take your money, but let's just get on with the technology and worry about if we're solving problems later," and we had to have some tough conversations with one or two other universities, I remember in terms of getting them aligned to let's solve your rural problems here. So we got excellent support and kind of real industry alignment from Bob and his team, without question. (indistinct) creating the place of useful learning. ELEANOR SHAW: Place of useful learning. STEPHEN SPEIRS: And at Strathclyde, that comes out without question.
ELEANOR SHAW: Well, that is brilliant to hear. Thank you so much, Stephen. And can I please now turn to Stephen Duffy. Stephen, welcome to today's panel. Can I ask you to speak about your experiences of working with the quantum cluster and the benefits that you've found? STEPHEN DUFFY: Sure, sure. So thanks, Eleanor.
It's great to be part of this event, really exciting event. I think from our perspective, the benefits of the cluster and the impact on our innovation from working with the cluster has truly been huge. And I think firstly from our perspective, our business in the UK was, and still is, a precision manufacturing service provider for photonics, quantum, and semioptic components. But we were challenged by our parent company on how can we grow? How can we double, triple the size of our business in Europe? And we focused on developing a range of products for quantum technology applications. And when we looked at our business capability, we recognised that we had world-class manufacturing here in the UK.
We had qualification in our sites throughout Europe. Our business unit, as Europe's largest component supplier or semioptic component supplier to the European space market, we had the routes to market, but what we lacked to really develop these world leading products was that design and technology expertise. And that was where we worked with the cluster. So working with the Fraunhofer Centre for Applied Photonics, working with the Strathclyde quantum optics and photonics group and the extended network, we were able to quickly combine the design technology expertise from the cluster with our manufacturing and test expertise and get a range of low TRL prototypes very, very quickly. So the benefits were tangible in terms of rapid - getting to market quickly, reducing the risk and, and reducing the cost in getting those prototypes. From those prototypes, we were then able to convince our parent company, TUV Nord, our parent company, TUV Nord is a multi-billion European company focusing on testing inspection and certification.
And they really saw what we were doing in Scotland with the Strathclyde cluster, and they got really excited on what we were doing and with the whole general hype around quantum technologies, and they wanted to make a significant investment in quantum and photonics technologies by creating a global design centre. They looked around a number of locations throughout Europe. Madrid, Berlin, rest of the UK as well, and their criteria for where they should set up the design centre was based on a number of factors that we've spoken about already during this discussion. The ecosystem, the access to skills, the funding landscape, culture, which is something we've not discussed yet, but that kind of culture that you get in the TIC zone is really key as well.
And as a result of those strengths from the Strathclyde cluster, we were able to secure that 6,000,000 euro investment in our global design centre within Scotland, and we decided to set that up in the TIC zone as well. So I think that kind of really illustrates a real world example of how that whole ecosystem cluster makes a big difference in terms of inward investment, job creation for the UK and Scottish economy. ELEANOR SHAW: Stephen, thank you so much.
That's just absolutely excellent to hear. I'm sure others will be very keen to hear more about the design centre. Can I ask you quickly just to say a few words about culture because that isn't something that we've so far discussed, and I think that's such an important point to raise, but do you mind expanding upon that a little? STEPHEN DUFFY: Sure.
Sure. ELEANOR SHAW: Thank you. STEPHEN DUFFY: Culture aspect for us was really key. So our DNA is in manufacturing services. So we had that decision, do we set up a design centre to be close to manufacturing? There's some advantages in that in terms of ease of transfer of design to manufacturing, or do you set up the kind of culture that kind of encourages a better risk-taking, good discussions with academia and RTOs? When we went to look at the TIC building, the feel, the culture in that environment is much more conducive to innovation than let's say our industrial state focusing on high volume manufacturing. So that culture that you get in the TIC zone with the right people around you, the right kind of risk-taking approach was key for us.
So I think that's the kind of key points on culture from our perspective. ELEANOR SHAW: Thanks, Steve. And I think we where the TIC zone is located as well, do you know, it's slap bang in the middle of the city centre. It's in a nice part of town, lots of great places to have coffee, et cetera. It's a lovely place to be.
It is very vibrant. So thank you for putting that to our attention. OK, I think we've got about five minutes left on this panel. So I'd like to actually put a question to all of you, please.
And I'd just like to ask you about, what does the future look like as you continue to collaborate? How do you see the weight or benefits of engaging across the different clusters that we have, and just what does the future look like in terms of your engagement? Any comments that you have on that? BOB STEWART: I went first before so I can go first again, Eleanor, if that's all right? ELEANOR SHAW: OK, OK. BOB STEWART: I mean, I heard Stephen say the term inward investment, which has always been very important really for Scotland and companies inward investing into different locations in Scotland in the '70s and '80s during the micro electronics boom. And it's still very important to see the companies from whatever part of the world choosing Scotland. But I think equally important is the companies we already have in Scotland, or maybe more local in the UK and trying to convince them that, but not even convince them, try to show them that where we are Strathclyde this is a perfect place to grow your business.
And the City Centre and the GCAD and the TIC East and West is absolutely perfect for SMEs to grow, for SMEs to partner with the university. And sometimes the education piece is to highlight really, look, here are the companies we currently partner with, the tier ones like Cisco and some of the SMEs, and here's the facilities we have, and here's the opportunities, and you're very welcome. You can come in, you can access the labs, you can access the facilities, you can be part of a joint project, and sometimes local SMEs just need that little bit of a leg-up. And if it's something that's at arm's length, then it's difficult to do, but we're actually not at arms length. The doors are very wide open for all the clusters, and you will be delighted to find a way to work with the SMEs.
So for me, what I see going forward is still relying on phenomenal relationships like we have with Cisco. I mean, without Cisco, we wouldn't be where we are today with the 5G momentum and maintaining that, we're bringing along that ecosystem and companies from abroad absolutely choose Scotland, but the local environment, bringing those folks along. ELEANOR SHAW: Brilliant, Bob, thank you. Thank you very, very much. Now, I do want to go to Stephen Duffy because I think Stephen, you were going to come in also. STEPHEN DUFFY: Yeah, so just in terms of where we see the future collaboration going.
Jeremy mentioned TRL levels. I think it's kind of recognised that quantum is still at an earlier stage. The potential is huge in many aspects of quantum from timing, sensing, computing, but it still needs to move from the lab into real world applications. And we believe that that the journey that quantum technologies are on will follow very closely the journey that semiconductor technology has gone. And even within the last several years, the benefits of semiconductor technologies into real lives has been enabled by miniaturisation, robustness of that technology, driven by Moore's law.
And I think from our perspective, taking those technologies, those quantum technologies out of the lab, miniaturising them, making them more robust, is the key to this really taking off. ELEANOR SHAW: That's brilliant, Stephen. Thank you very much. I think we've got about a minute left. So can I please go to Stephen and to Jeremy to ask if you have any final comments you'd like to add? STEPHEN SPEIRS: Yeah, just very, very briefly, we are continuing to invest with Strathclyde after 5G Rural first, we've run, two other projects, 5G New Thinking, and 5G RuralNext.
We're also setting in place Cisco Mobile Core in the TIC building, which Strathclyde will be able to use for their R&D and for various connectivity projects across Scotland. So we will continue to work with them on that. ELEANOR SHAW: Brilliant, Stephen.
Thank you very much, and Jeremy, I feel I need to just come to you finally. JEREMY WARD: So I agree with Stephen Duffy that it's a collaboration of making practical apparatus that we can give people and take out and try. That's really where the great collaborations, yeah, will help us. Both companies like Alter, but also I see the wider photonics industry across the central belt of Scotland, much of which is centred around the TIC building. So really these are very interesting times. ELEANOR SHAW: Thank you.
Thank you all very much. I suspect the themes that we've already started to explore around ecosystem and collaboration and culture and access to talent will continue throughout the day. But thank you all very much. I'd like to now hand it back to my colleague, Professor Tim Bedford. Tim, over to you. TIM BEDFORD: Really interesting discussion there, and actually it was great that we talked there about quantum because that's a great segue into the next slot.
And I'm delighted to introduce Simon Andrews, who's Executive Director of Fraunhofer UK Research. Fraunhofer contribute not only to photonics but also to a lot of Scotland's burgeoning quantum sector. So over to you Simon.
SIMON ANDREWS: Good morning. My name is Simon Andrews. I am Executive Director of Fraunhofer UK Research Limited. It's my pleasure to speak to you today and discuss how working with Strathclyde has been of great benefit to our organisation, and perhaps how it can be of benefit to you too. It's been a marvellous expedience for us over the last nine years. Fraunhofer UK started in... (NO AUDIO)
...be in partnership with Strathclyde, and also to be located in the Technology and Innovation Centre here in Glasgow City Innovation District. So since we moved in when the building was completed in 2015, we've continued to grow and develop what we do. Fraunhofer Centre for Applied Photonics is the UK's first Fraunhofer Centre.
It's neither university, nor industry, but a research and technology organisation which delivers very much applied research and development projects to industry and direct contracts, collaborative work. Oftentimes, we will be in partnership with Strathclyde, making good use of the expertise from our good colleagues in the Institute for Photonics. But also we've worked with a wide range of departments across Strathclyde, tapping into that expertise from the chemists and biologists, the business school, the space scientists, and one good example in particular would be with the colleagues in signal and image processing in the faculty of engineering. We had a joint PhD student together. They had some particular skills of great interest to us, and that student then went on to become a member of staff with us, such as the importance of that area to us.
And we continue to collaborate with that department doing joint projects together, and sometimes people will come to us with a specific piece of work which we pass on to them because they have the expertise required. Sometimes it's for us, sometimes it's together. So I think there's a lovely, flexible working relationship in how we collaborate and how we work together with industry. I see Fraunhofer as being an additional part of the broad offering of Strathclyde in Glasgow City Innovation District. And our home in the Technology and Innovation Centre is perfect for us. It's a warm, friendly, collaborative, innovative environment.
I think the myth of the lone inventor is long gone with the complexity of modern technologies. We really have to work together with all different disciplines and all different expertise to deliver what is required in the modern age to solve the problems, so many problems that the world has and to give industrial colleagues the next generation products and processes that they need to be competitive. So Centre for Applied Photonics, photonics, if you're not familiar, is all about lasers, LEDs, optical systems. So we work across a wide range of sectors, and in the clusters being identified in today's session, of particular interest to us are quantum technologies and space.
Now oftentimes they overlap. We've had three or four successful projects with European Space Agency, several more with UK Space Agency. Again, often in collaboration with Strathclyde, and in quantum technologies, we are the most collaborative organisation in the UK and the Innovate UK funding programme, while Strathclyde are involved with all four academic hubs in quantum technologies, but again, also engage directly with industry, and sometimes we engage directly together in collaborative projects, all for the greater good.
We also have strong interests in health technologies. We had a major project with NHS England looking at urinary tract infections again working with colleagues in biology in Strathclyde. Very successful outcomes there. And also in advanced communications.
Our communications work tends to be in very challenging environments, including space, but also underwater and difficult situations. We also do defence work and security work and work with a wide range of companies, most of which is confidential so I'll not have the time, and can't go into too many details of some of those aspects, but I think really for me, the benefits of working with Strathclyde, it has been fundamental to what we do because of the nature of our organisation for sure. The Centre for Applied Photonics is led by Professor Martin Dawson, who is a University of Strathclyde employee and Research Director at the Institute for Photonics and is 50% succonded to run the Fraunhofer Centre for Applied Photonics and give us a long-term technical vision that we need. But we see our industrial customers and collaborators wanting to locate here in TIC to tap into that sort of technical vision, to have those discussions over coffee and over lunch with a wide range of experts and a wide range of people to see where things are going, this is location to a huge number of very ambitious organisations and innovative organisations, industrial and not-for-profits too.
So I have to say the overall experience has been absolutely marvellous. It's a great place to work. The place has a real energy. It's thriving. As well as the expertise and the range of organisations, of course, there's also the equipment and the fact that being right in the middle of where it's all happening is always the best place to be.
So lovely to speak to you very briefly this morning, and I do hope we can meet in person at some point, and I do hope that you enjoy the rest of your day and consider working more closely with Strathclyde and perhaps Fraunhofer and all of us in the Glasgow City Innovation District, and especially here in the Technology and Innovation Centre. Thanks very much. ELEANOR SHAW: Thank you so much, Simon. Really great to hear your endorsement of what we're doing at Strathclyde and the benefits that you've outlined for us. I have to say, I was particularly pleased to hear you describe our TIC zone as a warm, friendly environment.
I think that really lies at the heart of what we're looking to do. And I think if we have a warm, friendly environment, then innovation and collaboration can only flourish. So welcome everyone to our next panel session. I'm delighted to be joined on this panel by my colleague, Billy Wallace, from our Industrial Informatics cluster. Welcome, Billy. Nice to see you.
And our industry partner, Paul Duddy, who is Chief Executive of Hypervine. Paul, many thanks for joining us today. It's great to have you with us on the panel. I'd also like to introduce you to Professor Max Vasile who is leading on our space cluster. Hi, Max, how you doing? MASSILMILIANO VASILE: Good, thank you. ELEANOR SHAW: Brilliant.
And our industry partner, Tom Walkinshaw, who is Chief Exec of Alba Orbital. Hi Tom, how are you? TOM WALKINSHAW: Hey, how's it going? ELEANOR SHAW: Great, brilliant to have you both. So first of all, I should say, Tom, many congratulations on winning the recently your Y Combinator funding.
We know that you've been collaborating with Strathclyde since before we started the process of building clusters. So given your experiences so far, I wonder if you could talk with us a little bit about what would help you to engage with the university today. TOM WALKINSHAW: Thank you. Certainly we're the first company to get Y com... take it to a different level now. I think...
The biggest challenge I think we faced was just sizing... There's a lot of obviously resources in the university, talented... things and I think it's always a challenge as a small company, who you want to talk to, who isn't able to talk to you is the key thing. So hopefully an event like...
It's pretty cool to sort of showcase the different stuff that Strathclyde can do to help, and engage on big projects. And sometimes you just need a hand just trying to find someone to fill a role, but it's all important. ELEANOR SHAW: OK. Tom, thanks very much.
Paul, can I come to you now please, and can I ask you - I'm aware that you've been working with the university in putting together a clustered approach. So you've been working with us for quite some time. Can I ask you what your journey with us has been like and how you would like to continue to work with the university going forward? If you could speak a little bit about that, that would be great. PAUL DUDDY: Yeah, yeah, I mean, so we started about two or three years ago, and actually since that point, universities have been something that we've always been sort of close to.
So we're actually based in Glasgow and we've actually, we started working with Strathclyde University in 2020. So before that we were actually working - we won an enterprise grant with, Oliver was our manager at that point. And we went with Napier University to learn a bit more about Blockchain at that point. But then following on from there, we actually appointed a internship with Strathclyde University and that meant we could work with the business school over summer.
And that helped us a lot with our work at Hypervine and also at Climate TRACE. And then from there, we've actually sort of, we've progressed out. That was a fantastic experience. We've progressed that, and then we've actually went into - now we're doing our Data Lab project with Strathclyde University, and then following on from there, we're actually going to be doing a KTP with them.
And we're looking at some other opportunities to work with Strathclyde University as well through the Data Lab. And this all sort of ties back into our business because we're a new company and we've just started out. Basically we started trading a couple of years ago, and what Hypervine actually does is that we use satellite data and mobile data to help the construction and mining industry save money and lower their carbon emissions. And on our journey, which universities have taken quite a large part on, is we've won framework bids or helped construction companies on framework bids, but it's kind of set to your bids. We've collaborated with the European Space Agency. And we've also co-founded Climate TRACE which is 10 organisations working together to monitor greenhouse gas emissions from every major industry in the world.
And that was backed by former U.S. Vice President Al Gore last year, and the next big step for us, which we're hoping as well to be partnering on and having the university playing some role in, is COP26 because Hypervine's based in Glasgow, Climate TRACE is going to be a big deal presented at COP26. So we're hoping to kind of make the best of that opportunity, and since Strathclyde's in Glasgow, and Hypervine's in Glasgow we're seeing this sort of journey together, basically. ELEANOR SHAW: OK.
And so Paul, from you talking with us about your journey so far, clearly you've collaborated across the university sector and you've done lots of different things at Strathclyde, and I know for example, that Kirsty has been a colleague who's helped you navigate, I suppose, who to speak with and what funding might be available. So I suppose a question I'd like to put to you, and then also please to ask, Tom, if he'd like to comment as well, how easy has it been to work with the university? Because I know sometimes, universities historically may not always be regarded as the easiest of institutions to work with. How have you found it working with us at Strathclyde? PAUL DUDDY: I've actually found it a brilliant experience. Kirsty's been amazing.
She's helped us a lot with it, with sort of kind of identifying departments and seeing what type of people we could work with. Interface online was actually really good for us because they would help kind of contact universities for us, which is really good and put us in touch. So that was a good sort of thing in between basically that helped us identify opportunities at universities. But we think that the universities are absolutely great to work with and think companies should work with them if they can, but they are super big organisations, so it can be kind of tricky to find what person's the right person you should speak to. Luckily enough, we knew Kirsty.
The last company I worked for as well did some academic research, and some of our team as well is from an academic background. So there's kind of that knowledge of working with universities and this collaboration between academia and industry is already sort of in the sort of blood of Hypervine, but not all companies would know that, I don't think. So it would be good to kind of get some more exposure for companies to kind of understand how they could access it. Data Lab's a really good one for that because they can also kind of put you in touch with them. But actually working with Strathclyde University, we found them to be like very, very engaging, very practical and just sort of world famous engineering skills. So that's some of the things that we really like about working with Strathclyde University is, not just the knowledge and skills, but the sort of attitudes towards collaboration and with Hypervine, we are super collaborative, and we work with 10 other companies since Climate TRACE.
So we're very much a collaborative company. So working with universities is quite a natural step for us. ELEANOR SHAW: Brilliant, Paul. Thank you very much. And Tom, can I come to you and to ask you about that? How have you found it so far working with the university? TOM WALKINSHAW: Yeah, so I think I met Billy at a networking event.
A RookieOven event which is sort of a thing for tech startups. So that's where I met Billy. So yes, so we worked on some stuff through that and (indistinct) project, basically (indistinct) at Strathclyde for satellites.
With them on... It hadn't been used that often since it came in. There was a fire in the building, and we helped kind of recommission it and get it operational again. And we were working with a bunch of different folks in there. We worked with Malcolm McDonald on a few things, who's the sort of, one of the leading space people at Strathclyde.
And Billy also, mostly being our sort of two main points of contact historically. And there used to be an organisation called Soxa, who were sort of I guess, some sort of, they were really close to (indistinct). I think they're a sort of an arms length kind of catapult centre.
So we worked with them when they were in business for a few years. So yeah, I mean, I think in general it's like... Obviously, like universities are large, so it's navigation is the challenge.
So I think Strathclyde can do to... I think even in Strathclyde, some people don't know what other people are doing, and so certainly more that can be done to try and signpost companies. Especially (indistinct) companies. I mean a lot on founders plates, and they're not going to like spend a lot of time trying to figure out the nuances of a super large organisation... The biggest barrier I think to collaboration is really just like finding the right person at the right time, and trying to work together and that that would be, and hopefully at an event like today is something that will help kind of showcase all the different stuff.
ELEANOR SHAW: OK, Tom, thank you so much. That's very helpful to hear. OK, can I turn now please, to Max and to Billy? So we do have some great SME representation with us on the panel today. So I'd like to ask you, what are each of your clusters doing to help SMEs in particular get easier, better access to our people, our skills, our facilities, and that sort of collaborative ethos that we nurture at Strathclyde? I don't know, Billy, if you want to go first? WILLIAM WALLACE: Yeah, I think the talking about SMEs is super important. It's just the whole COVID thing.
The post-COVID recovery is going to be driven by SMEs. Everybody acknowledges that's where the job creation is. We're a big organisation, so our role in that is to help the SMEs. I think we're probably still the biggest city centre employer in Glasgow. What that means is that it can be really difficult to find anyone in the university.
I think, was it Tom just said it's like, "I'm not sure Strathclyde even knows who's there." In my own department, I don't know who's available, or I know who's available, I know everyone in the department, but I don't necessarily know what their interests are right this second. So when you've got an organisation that's got like 3,500 super smart people with PhDs all working on very complex and sort of subtle research, how do you identify, particularly as an SME, how do you identify the right person? How do you know that you should be going to one department rather than another? And I think the thing that the clusters is doing is actually, and people said earlier that there's a cultural change here.
We've traditionally been very siloed. We do have these faculties, we've got our departments and the clusters are working across that. So Tom mentioned that we met in the pub. Literally Tom had been working with the guys in mechanical and aerospace engineering for two, three years. I didn't know that. I bumped into Tom at the RookieOven meetup.
When we were talking maybe five years ago, four or five years ago, Tom looked even younger than he does today. So the fact that I'm in a pub and you've got a guy who's launching his own spaceships made me kind of jealous, so young and had achieved so much already, but we met there rather than meeting through - I mean, I'd spoken to Malcolm, spoken to Max before, so how would I understand that? And if I can't understand it, how does anyone outside do it? How does a small company with a handful of employees find that right people? So one of the things about doing very, obviously, the word cluster is a clue that we're bringing it together and making it a bigger target. We're taking these areas of expertise and saying, "Hey, if you're interested in 5G, if you're interested in quantum, if you're interested in space, here's where to go."
So that kind of signposting makes it much more obvious. I mean, having people like Kirsty, that was mentioned earlier working in the IEEE Organisation, that makes it much easier where you can go to one place and you can say, "Hey, this is what I need." Now, bringing people together across faculties has meant that we've had to kind of map out the expertise we've got in university, but it's actually difficult and a bit... It's hard to do and keep up to date. So I keep thinking that that's someone who's worked in recommender systems for like a couple of decades.
And so I'm always thinking what we really need is a recommender system. I need someone to give me a bunch of funding to build a recommender system for us, so I can actually identify the right people and recommend them to the right people. So make those contacts the way that you would do if you were at an event and you were bumping into people, learn a bit about them and think, "Oh, hey, you should really be talking to Max because the stuff he's doing is super interesting for you." So I think coming out of COVID, those kinds of events are going to be super important. Again, this has been one of my bugbears for the last year and a half is that I can't go to road shows and workshops, and so the kinds of things we would like to set up, and we'll do that going forward.
So I hope that answers your question, Eleanor. ELEANOR SHAW: Billy, it does. Thank you very much. And I know that everyone, at some point on this call is going to want to know where and how they can get involved in RookieOven meetup if I'm saying that correctly (LAUGHS). WILLIAM WALLACE: Yeah, well, Michael Hayes set up - I actually, I think he was an ME again.
He did a KTP back in the day. Michael founded his own company, and it was a absolute disaster. He did all these classic, build a big company really quickly and got all the funding and it just crashed and burned. And he said, "Never again. Here's how you should do it." And he set up that organisation.
The same as a university, our ecosystem's great, but there's other organisations like that around in the ecosystem that are useful to know about. So we've not started up the events again and back in the pub. And it's not just Tom I've met there. If anyone saw my entry into images of research and you see the little statue, that's through bumping into a sculptor in that pub and talking about... but yeah. Michael would be the person to reach out to there.
ELEANOR SHAW: OK, fine. Thank you. Max, can I come to you now please, to talk about, I suppose, from the space cluster perspective, how do you see things developing? MASSILMILIANO VASILE: Well, so one thing is this change in culture that also Billy mentioned.
So we are trying to go from a situation in which the relationship was a one-to-one relationship between a company and an academic to a situation in which the company can have access to what we do more broadly as a university. And this requires on our side to do some mapping exercise. So we have to identify people, understand where they are going with their research and also understand better the landscape. So what the companies generally want and how we can match up the internal developments with the demand of the company's. And it's a very difficult process because our research is not necessarily evolving in a straight line, right? So there are things that are happening all the time.
So what we are trying to do is to capture this evolution so that companies can understand better what we do and have less genetic messages, and given the volume of things that we do and the diversity of things that we do, we are trying to find a way to communicate better to companies so that they know more specifically what we do in the area they are interested in. And in this way, we hope to be able to do what we've not be able to do so far, which is to have multiple people inside the university who can contribute to solving problems that SMEs have. And it's not necessarily true that one academic has all the solutions. There are multiple options that might need to be explored. And it's a way to do it is to have more workshops in which we can show our advances. The other way is to have more direct messages, in which we explain more specifically what each one of us does.
And we have to do it in a way that is more continuous, more keeping up with what we do in university. In the past it was a little bit too sporadic and diluted, and we need to have it better organised and better coordinated. ELEANOR SHAW: OK, thanks, Max. So really been speaking the same language as those SMEs that we want to engage with, doing whatever we can in terms of our communications with our smaller and medium sized companies to make it easy for them to work with us seems like a very sensible attitude to have. Colleagues, I think that is us for this particular planned session.
So thank you all very much for your time today. Again, ecosystems really coming out of this very, very strongly and collaboration across all parts of the ecosystem. So thank you so much for your time today, and I'm going to hand you back over to Tim. Tim, over to you.
TIM BEDFORD: Thanks very much. Another great discussion, really interesting. And SMEs are so important for the industrial growth, for the growth of the economy and around Glasgow and so on.
So great to hear those stories of how we're working together with all of those smaller groups, but the TIC zone and the TIC itself is obviously really making a big difference. It spreads wider than that. It goes through. We've got a Glasgow City Innovation District, and to give an overview of the activities across the TIC zone and the Innovation District, I'd like to hand over to my colleague, Dr. Olga Kozlova. OGLA KOZLOVA: Good afternoon.
I'm absolutely delighted to be here to talk to you about the first innovation district in Scotland, Glasgow City Innovation District. Mission of the Innovation District is that it's a vibrant areas within the primarily city centres where there is an environment for entrepreneurial company, technology company to come together, to create the critical mass it could deliver economic and social impact. When we talk about innovation districts, we quite often think about Barcelona or Toronto, but now Glasgow has emerged as a real innovation capital with three innovation district in it, and the first is Glasgow City Innovation District GCAD. GCAD is a partnership between the University of Strathclyde, Glasgow City Council, Entrepreneurial Scotland, and Glasgow Chamber of Commerce. And it is anchored around the University of Strathclyde with very easy transport links, very close to Queen Street Station and with easy access to the airport.
It's also close to the emerging city with all its vibrancy of retail and hospitality. So the district is really an area where you can work, live, and play. As I said, it is anchored by the university and the Principal has already mentioned our plans for Technology and Innovation Centre zone expansion. So what TIC is offering us is already a vibrant ecosystem of companies, researchers, and innovation, supported innovation, such as catapults and innovation centres, but the challenge we face, and it's a big challenge, is that we currently are at capacity.
There is continued interest in co-locating within the GCAD. So what we're planning to do is to expand the TIC zone, and to double the available space by building two buildings, additional 30,000 square metres, which will be the bigger TIC East building and a smaller TIC West building. And what we're looking to create is additional facilities for collocation of industry and academia, as it will be state of the arts, laboratory facilities, long-term commercial unit for rent, plenty of collaborative space where companies and researchers can come together on mixed projects.
Additional conferencing facilities, and also state of the art entrepreneurship hub, which will become a heart of our entrepreneurship strategy, Strathclyde Inspire where the companies will be able to locate in different zones, depending on what stage of entrepreneurial journey they're currently in, and be able to progress as they grow and develop. Also there will be a social innovation centre, which enable the community to come into the Innovation District and enjoy the benefits of it. Underpinning the growth of the TIC zone, and really the clusters that again, the Principal has mentioned previously, and the way we're defining clusters is really areas where there is a critical mass of multidisciplinary research expertise from across the faculties. This is all sectors where we envisage there will be a significant blow where we have strong links with companies, both SMEs and tier one partners, and connections to the research technology organisations, such as catapults and innovation centre. I think the message I want to give you at the end is that Glasgow City Innovation District is not an idea. It is existing, vibrant community.
It is here and now, and the reason we hosted the round table for base where tenants of GCAD have spoken about what the Innovation District means to them, and how it benefited their businesses. We have exciting plans for the Innovation District going forward, and I look forward to working with you all and making it a reality. Thank you very much.
ELEANOR SHAW: Thank you so much. I'm really loving hearing this morning, Glasgow City Innovation District being compared with innovation districts in Barcelona and Toronto. That makes me feel quite excited that we're up there with the very best cities providing that really vibrant ecosystem. So welcome to our third and final panel.
This panel, we are going to be looking at both our FinTech or health tech clusters, and I'm really delighted to join with me on this panel my colleague, Professor Matthew Revie, who is leading on our FinTech cluster. Hi, Matthew. How are you this morning? MATTHREW REVIE: All good, all good.
Hi, Eleanor. ELEANOR SHAW: Great to see you. And our Industry Partner, Nicola Anderson, who is Chief Executive of FinTech Scotland. Hi, Nicola, how are you doing? NICOLA ANDERSON: Hi, Eleanor, really well, thanks. ELEANOR SHAW: Thanks for your time today. Really great to have you here, and from our health tech cluster, can I please introduce my colleague, Professor Patricia Connolly.
Hi, Trish, how are you? PATRICIA CONNOLLY: Great, thanks. Good to be here. ELEANOR SHAW: Thanks very much for being with us today. And our industry partner, Peter Ellingworth, who is Chief Executive of the Association of British Health Industries.
Hi, Peter, how you doing? PETER ELINGWORTH: Fantastic. Great to be with you guys this morning. ELEANOR SHAW: Brilliant. Thank you all for your time, and it's really brilliant to have you with us. Can I go first of all, please, to Nicola and to Peter.
You work in exciting industries that are... You're moving at pace, but also industries which are quite heavily regulated, I suppose it would be fair to say given the status that you're operating in. So within those heavily regulated sectors, can I ask, what benefits you see working with your prospective customers in FinTech? First of all, Nicola, and then I'll come to Peter to ask about health tech.
NICOLA ANDERSON: A great question, thanks, Eleanor. I think we're really excited actually to be involved with Strathclyde developing FinTech cluster there. It's a really important part of Scotland's FinTech cluster more broadly, and I think actually there are probably three points that I would make about that kind of opportunity that the cluster presents, and that centres around innovation for absolute sure. It also helps us really think about the impact that we can have. And then we also really think about the opportunity for inclusion.
So it's innovation, impact, and inclusion. And I think that really sums up the opportunity that our cluster presents more broadly. And So from that innovation perspective, it's about ideas, it's about business connectivity, and it's about implementation of those ideas because we're bringing the expertise of the industry and the connection with the industry into that cluster. And that really helps then as we think about the impact that it presents and the opportunity that it presents. And I think really helping each other through knowledge share, learning through best practice and really understanding breadth of perspective, I think can't be underestimated either. How we transfer knowledge from one sector to another is also really, really important, and really valuable actually, we find in working with the team at Strathclyde and the FinTech cluster.
And that opportunity for innovation shouldn't be underestimated. It allows us then to really face into some of those big issues. You've mentioned regulation. And that actually, as we think about the inclusion point there, how do we learn from the other disciplines so that we can think about that expertise and move forward, how we learn across the different sectors, and then how we think about some of those issues that we want to make sure from a societal point of view that we're really addressing.
And that's what makes the cluster and the approach and the cluster really exciting. ELEANOR SHAW: Thank you, Nicola. And I'm so pleased that you've mentioned inclusion as being one of the three I's if you like. Can I ask you before we go to Peter just to expand upon that a little bit
2021-10-03 00:42
Show Video
Other news