Dane Mitchell | VCA Art Forum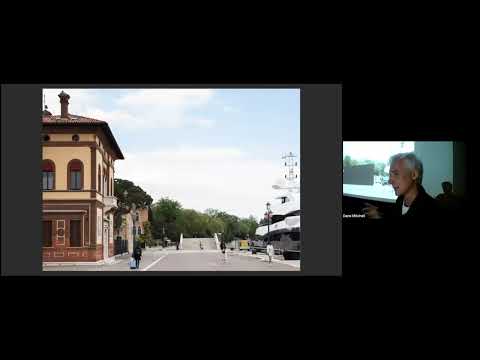 Show Video
Good afternoon everyone   and welcome to Federation hall. If you haven't met me before I'm   David Sequeira. I'm the Director of  the Fiona and Sidney Myer Gallery. I'm also the person that organises  Art Forum, and before we begin today,   I invite you to join me in grounding yourself  in the deep knowledge that for thousands of   generations before the existence of  the Victorian College of the Arts and   the University of Melbourne, the Bunurong  and Wurundjeri people of the Kulin Nation   lived and continue to live on these lands  and that sovereignty has never been ceded. The Bunurong and Wurundjeri people made paintings  and sculptures, they practiced song and dance.  
They raised families, shared stories and practiced  healing and these rituals continue today. So it is with joy and honour that I  acknowledge Bunurong and Wurundjeri  Elders past and present, and those that have yet to come, they acknowledge their resilience, and the gift of the profound relationship with country and the cosmos. Our guest speaker, over the course of 25 years, Dane Mitchell has developed an interest in forms of plastic invisibility, a term used to frame and invoke sensory and conceptual qualities which are unstable, dynamic, or transitional, as well as engaged technologies that underrate containment, and attempt to produce stability and permanence. This enables a broad, conceptually led practice-based investigation into things that contain, such as museums, encyclopedias, and language, and that which cannot be contained, such as vapours, forces, transmissions, eradication's, and contagions. Dane was Aotearoa New Zealand's representative at the 58 Venice Biennale in 2019. He has presented cell
exhibitions in Japan, Germany, France, Brazil, the Netherlands, Switzerland, Hong Kong, Australia, United States, New Zealand, amongst others. He has participated in a number of biennales, including Biennale of Sydney, Liverpool Biennial, Bangkok Biennale, Gwangju Biennale, Singapore Biennale, Thailand Biennale, Ljubljana Biennale, Busan Biennale, and TarraWarra Biennial. And of course, Dane is a lecturer in the drawing and printmaking department at the Victorian College of the Arts for the beginning of this academic year, here at the VCA.
Please, a big welcome to the new member of the VCA family, Dane Mitchell. sign languages. (inaudible) known pets (inaudible) Kia ora.  My name is Dane. It is great
to be here. Thank you for all of you for being here on your lunch time. If I can hear chewing, I would like to acknowledge the Bunurong and Wurundjeri people of the Kulin Nation. The traditional owners of the land on which we are meeting. And pay my respects to their Elders, past and present, and emerging. I am a new here to Melbourne.
I have to read this. I do apologise in advance for that. I will get there. I would also really like to acknowledge my colleagues at the VCA for being so welcoming, and generous, and making me feel at home here. And has been a wild few months
of moving country, finding a place to live, transporting a small dog over international border, and settling into the role here. I am grateful and honoured to be here with you. And I'm also grateful to all of you students from being here today, and really enjoying my time with you, getting to know you and your practices, and I look forward to the rest of the year to do that. What I have done, because I am aware what half an hour might represent in terms of what I might be able to get to our express to you about my work, because I focused on one project alone, one artwork that has had multiple outcomes, multiple ways of being presented and seen. I hope to open that up a little bit for you, and then also perhaps, to address other projects that orbited or came out of it. It is a large artwork. It was the exhibition that I made for the Venice Biennale in 2019, the Aotearoa New Zealand pavilion, and what you are hearing as you came in and sat down that you just listen to a small bit of now is really the index that is at the heart of the project. The heart of the
project is a list. And that is what I call the list of list, it is the index of all of these lists of names of things that I have built, handled the database, list of things that have vanished, disappeared, or in a state of withdrawal or state of elimination and goneness . It mimics sense encyclopedia, hold the world in a form, a list of things that are no longer , and the exhibition, the heart of it is it is what is read throughout the exhibition by an AI voice named Amy, which you had speaking now. Amy reads this list for the length of the exhibition.
I was determined the list would be as long as the exhibition. So when the exhibition began, the list was read, and it is read eight hours a day for six days a week, without repeat. So it is always calling out the name of another thing, entity, another form, force that is no longer with us or withdrawn from us in some way. It is a poetic list, it is a
subjective imagining of loss. The list is very difficult to read on the slide, I apologise for that. But it contains things which we think is self-evidently gone, such as extinct species and loss habitats, former currencies, but also it is a kind of subjective imaginative of loss in other ways too. And forms that have left the solar systems, so it lists all of the technical equipment upon voyage of 1 and 2, the only human objects that have left the solar system. It means things like discontinued fragrances, smells that you can no longer smell because they are no longer available in the marketplace. Things like loss lunar samples, when the Apollo space missions went to the moon, they brought back samples of moon dust and rock, and at the next administration gave -- gifted those two and some of those have gone missing.
It is grappling with gone things, and thinking about the kind of material weight of those vanishing is that somehow our present moments sit on top of all of this goneness. And that also, that present moment that sits on top of all of the obsolescence. The exhibition is titled Post hoc, which translates to after this, and I wanted to use Latin , it was an exhibition that took place in Italy, but it is the language of naming within that Western framework of encyclopedic thought and taxonomies.
So Post hoc translates to after this, and phrased Post hoc (Speaks foreign language), Which is death after this, which means we should be cautious do not assume causal link between events that precede others, so I think about this as it relates to the past and the future, the way we can never be certain of our effects as much as we can never be completely certain after effects moving backwards into time either. I was also interested in language being an object, this huge weight of encyclopedic language, and that naming is a kind of , is a way of, and attempt to control over something or power over something, so naming is kind of a violent act in some sense too. And this attempt to think about it as a performed event is being read throughout the exhibition was also came from a interest of the possibility of calling something out, conjuring, calling something out momentarily before it sits back, sits back down below us So, it is a very large project, it was a lot to try and collate and build this list. It took form over time, of me just trying to drift through my own thinking. It started with a very
self-evident list of things that I wanted to kind of include, and then through time and research, it just builds out, and built out and became this kind of enormous out of control, impossible, impossible encyclopaedia. And I do love that it is somehow an impossibility to try and name what once was , and in this absurdity of the act, something is gained. The voice of Amy is also somewhat indifferent to us. She reads, regardless of our listening. And so,
in a sense, I have never heard the whole work , and no one has. I do like this idea of the work somehow being, active without our listenership . What I am going to do now is try to flip through some images of the work. Alongside, what is happening here ? June, I might need your help. What did you press there? Was that down? OK. So, this unfathomably long list is expressed in two ways, it is red, spoken.
Three ways, sorry, it is also printed and transmitted. I would describe a little bit how that happens. I wanted to start with this image of where the project took place, , it is in Venice in the Palazzina Canonica building. It is this space that I claimed, relating to the marine environment.
New Zealand is different from Australia . Australia's participation in the Venice Biennale , we do not have a fixed time, so it is up to me to choose where it happened, this is right on the lagoon , and un- folded in several different spaces, you could look right towards the garden, or in this main building towards the left. This is where the voice originates. This is an anechoic chamber.
An anechoic chamber being one that is Eco free. -- echo-free , so the sound is only coming from the form or the entity that is making it. This is a tapered anechoic chamber, used by engineers to test fields of transmission, fields of electromagnetic energy, such as cell phones, and antenna . I am interested, as was said in the introduction, methods of transmission, beyond the physical, or that extend performance space, methods of transmitting out into the physical world, spreading beyond the physical thing, being contagious through the world, travelling through us, through physical architecture, through space and form. This was already to hand, all of these materials already exist in the world so there was very little invention in times -- in terms of invention at my own hands . This was built by an engineering firm, and in terms of where the voice originates, it has this beautiful wedding quality and -- poetic quality and also in terms of being inside a defined box. Any electromagnetic activity produced in that box never bounces back or echoes back on itself. So when you produce a sound or an omission inside a box of this kind, -- and emission of this kind, the ripples bounce back, resembling an infinite transmission , towards the horizon . This shows you a different view, giving you a sense of its form.
And you can look through a small window, to see the aperture in the door. And looking around the panoramic view of the chamber. Inside the chamber, it is filled with acoustic wages, a kind of -- acoustic wages, resembling a small -- accoustic wedges , resembling a small grotto or cave . And this is where the voice of Amy originates. It gives you this idea of something seeking and something listening. The utterance comes from the box, and there is the microphone, sending the voice out into the network.
Back into the garden, and taking you through into this small library, with the entryway , sorry, and going upstairs into a small library. And the library contains the incredible , a beautifully smelling room of 15th century manuscript , collected by the Institute. I had the library emptied, and sitting inside the empty library is a printer. And the printer is printing at the same speed at which the list is being read.
The list is red, and printed , and slowly fills the library. As the list is read out it prints about 24 km of paper, and it slowly fills up the space and continue to unravel and build up inside. This is kind of how it towards the end of the exhibition. So, this is actually on show right now in Brisbane, at the University of Queensland Museum , just the library , the printer itself. Not the library, I could not take that with me, just the printer itself, it is printing the list for the third time.
In the front, there is this very simple, formal , minimalist stack of the paper, preprints, that was then taken away to print the list. I like the shift from one state to another, and this does points to that . I will talk a little bit more about the paper in a second. That paper is then always kept, so it becomes this kind of ever-growing artefact of the act of the printing occurring, of the reading occurring . And they are kind of rolled up, and held together, bound in a form, and pulled together under pressure, each time it is shown, then it continues to grow , and grow. And this is an example of how this project continues, and continues to unfold for me. The other part of the project, Post hoc, was a network, a series of sites, where I procured some troublesome items. With cell towers, I am interested in forms of transmission and I was thinking about how these list might be transmitted and held in other sites around the city.
So, we worked really hard to secure these other sites for the exhibition and I was quite conscientious about wanting to touch each dark corner of Venice, and the lagoon somehow. And thinking about this horizontal feel of acclamation -- activation of the objects, which I will desire -- describe into more detail. There was the University of Minnesota, the hospital which I thought was interesting, -- the University of Venice , hospital, and there were no people on the list, the gardens, with a pack of remembrance . -- Park of remembrance. And the cell towers, very peculiar forms, camouflaged 5G cell network towers which allow us to communicate with our handheld devices that are disguised as trees. These started
appearing in our landscape in the 1980s as trees, coming out of Hollywood and set welding as a -- set building as a way to hide and disguise our cell communication network in the built environment. So these stealth cell towers appear in various landscapes. I don't know if we have them in Australia, we have few of them in New Zealand, but they run rampant all across the world.
So, in each of these sites, I had one of these stealth cell towers, which are all copies of nature, quite clumsy copies of trees. They are very kind of aesthetically jarring, and unusual, and again, much like the anechoic chamber , these come from a factory that produces these. A factory in China, which is a kind of manufacturing hub of the world. So much of our built environment comes out of this landscape and am really interested in these peculiarities of our human behaviour , and not just seeking to kind of mimic things, which is kind of an interesting history in relation to artistic practice , and thinking about the foundation modes of representing or mimicking nature, but also that we do this in order to somehow , I don't know… Be cloaked within the natural environment , but also it is somehow at the expense of it.
It is a very peculiar kind of human behaviour. This is another one of those cell towers. Each of these towers had speakers and tired of it -- inside of it. And it was also a closed network. When you are near a tree, within 300 m radius, you could connect with the network, with your handheld device, you could then listen to those words and carry them with you. These are just some photos of stealth cell towers that I took recently in the United States, to give you a sense of them in their natural habitat.
There is one here, and another. And this is some imagery here from the factory where they are produced, where I travelled to twice, and an image from a documentary that I produced, a 30 minute documentary about making the work. And this is in order that the company was sending out for 6000 Phoenix Palms for a freeway in India that would hide and conceal all sorts of technical apparatus for whether, for cellular network, for traffic control, just to give you a sense of what they do. And I was also interested in them as a very kind of agitation, these objects, they are not easy to look at in one respect.
And I also like this agitation around what the Venice Biennale way does in terms of national identity and presentation of nationhood through artistic practice, and I love the strange agitating idea that New Zealand is being represented by these seven … Because there were three at the home location of the pavilion , these seven kind of fake pine trees. New Zealand has a very peculiar relationship to pine. We grow an incredible amount of pine. once more. Our relationship to pine is it is not nature.
It is a technology, it holds capital value, we grow sways and sways of it. But at the moment, it leaves the compound -- confines in which it is technology, and it becomes New Zealand Lexicon, and it needs to be killed. We have a strange relationship to the actual pine as a tree, and I think the gap between these cell tower pine trees, and those that grow, that we grow as capital is less than we think.
So technology inside them and on top of them to prove -- produce these signals. These are some more images of those trees scattered through the Venetian landscape. When you are installing this one, it was highly visible on the lagoon. A number of people were swearing at us, and were angry that we were installing 5G towers, it seems incredible to me at this moment that installing from the Venice Biennale, which goes on over the city, which camouflages itself as not art. That was quite pleasing for me. This pine here sits
on top of the remembrance, sits at as its own species, a peculiar clumsy relation, and this is the one at the University. There was a huge storm at the end of the exhibition, and an actual pine that was situated very close to one of my towers fell over, collapsed, and was in a mess. This is another cell tower that I produce recently for an exhibition, at Tai Kwun Contemporary in Hong Kong, and it operates the same way, it is a 7 m height palm tree. Another part of this project is I was fortunate enough to be approached by an internet radio station called NTS, it's a very interesting online radio station, there is always more to 24-hour channel of content, and it moves across all sorts of genres of sound and music. I worked with them, I worked with them in order to transmit the list. The lists themselves
really inhabit a kind of universe that I am interested in. There is a lot of list that deal with forms of transmission, there is a list of radio choir zones, where note radio -- note radio Sten missions are allowed, -- no radio transmissions are allowed. All of these things that connect and draw out or allow the transmissions to occur. I was very much interested in working in this space of radio itself, and I love somehow it is a means to enter not just the ear of the listener, the car, the home, the private space of an unsuspecting viewer., so to speak. When we first started talking about this project, the issue we would do something short, and hour-long and special. But they wanted to do the
whole thing. So it operated a bit like there shipping news or the weather forecast, everyday for 365 days it was edited to fit a 12 month calendar. So there was 365 hours of transmission of the lists that occur on the radio station. It is a forecast of the past in many respects. I worked with several musicians to collaborate, to build sound responses to the work. I worked mainly with artists,
musicians, composers in New Zealand, such as Michael Morley, Hermione Johnston, Tobin Tilley, and also Max Eastleigh, who is a UK artist who works with sound really is something in the 70s under an obscure label. I also worked with a Japanese musician, G KG. and they each had a month of content and time in order to participate in this project. I am going to jump forward now and talk briefly , because I know we are just out of time. A little bit
about two other projects that came out of the past hock that are more recent. This work is called (Speaks foreign language), This is an unfilled space or a gap, or a cavity, in bone. This work, Lakuna finds its origin form, a museum holds objects in museum for a woolly mammoth. Inside this
kind of large sculpture, about 20 m long, about 5 m high, it sits on it this old theatre that was destroyed, and slowly being rebuilt in the Christchurch earthquakes. It is a mount for a woolly mammoth, and many other things that exploded, contracted, and amplified. There are mounts for books, insects, and all sorts of forms. I am interested in these
sorts of, technologies that underrate containment, such as museums and encyclopedias, how we attempt to hold the world in these field projects. Somehow these technologies extend to physical apparatus, to literal amounts, to how we literally mount things in order for us to study, understand, contend, and hold them static in time. in which business museums are doing. I think of Museum as a web of holes, it is punch out, so we are left with the scouts in the museum, and gaps in the world. Somehow, they presuppose absence, these forms are left empty and the priest dispose -- presuppose . You look at it like an enclosure, like an animal enclosure of a zoo, and it is set here, there are many missing windows. There were birds nesting
there at the time of the exhibition. So anyway, it holds the elephant in the room, really. Again, thinking about scaffolds, thinking about the museum as an exoskeleton form of itself. This work was under watch, and there were cameras that had a 24-hour live feed back to the museum, the dinosaur exhibit at the Canterbury Museum, so people would walk in and come across these 4 screens with objects and watched . And at this project, I only just exhibited for the first time in September last year, and it is cold Unknown Affinities, and again it uses this skeletal mount technology, an enclosure to think about a loss. These amounts are or to scale, anatomically correct, to hold every single known extinct species of birds in New Zealand, I've Aotearoa. Each one holds a holotype, the fossil, before skeletal remains, all of the taxidermied exhibits from museums. I worked with a matchmaker
to produce this. This follows a clear, linear, Western epistemology thinking of progress, size, or categorisation and starts with a large molar at the back and moves forward. The material, the handmade material that argues, which are used in a lot of my work. It is cast bubblewrap. It leaves a honeycomb gap, again a space for it, but the material used to contain, hold, and protect, and somehow allow for the kind of protection of an object.
It is plaster of Paris, so there were 190 of these tiles that hold all of these objects along. The show also contains other smaller objects, smaller works. I will flick through them. One of it is on the wall,
this is a functioning radio antenna. This is an antenna that produces a signal, an FM signal, so if you are driving past the gallery in your car and you are tuned into a particular FM bandwidth, you can tune into this radio station, and it was playing these incredibly sad beautiful archival recordings of bad songs, bad songs that are no longer, extinct birds. These recordings were made in the 1930s and 40s. It is on a 25 minute loop, so you can tune in and hear these bad songs. -- Bird songs. And that is me.
have plenty of time for questions. Dane, Jane, can you tell me how you want people to do questions? If you have got a question, this is for people in the Zoom land, come and meet gene. It has got a question for a Dane?  Alright, thanks. >> Just talk into the microphone. >> OK. I was just interested with the printer in Post hoc and the role of paper, I was just wondering how you got it too, was there a person that moved the paper as it rolled out so it could continue to pile or someone that loaded it, the printer with the rules from the room? >> So the paper fell on this liquid elegant way on itself, how it naturally came out of the machine, it was a calibration of the distance and the speed in which it was being printed. One role would last about three days. Epic
act of reloading the printer in three days. Actually one of the attendants, I think it was like a hairstyle, to up a bit. To slide things to the side of it, it was not a huge space, and I was conscious of people being able to enter the room, and not just view it from the doorway. Allowing movement in the room, so keeping it contained enough that people can move around the room. But it was very natural actually.
It is such a delight to have you with us with our PC family as David mentioned. One is an observation, and another is a question, but maybe it's too personal to reveal. But the observation was, when you are talking about the encyclopedic nature wanting to hold the world, I was thinking of that beautiful work by Douglas Kubler who wanted to photograph every living person. This incredible hubris, but at the same time, the degree of humility because of the impossibility of it, and there is something lovely about this project of yours. So that was the kind of observation. I am wondering
about this issue of loss in the practice, and whether you wanted to talk about, where that comes from. Because working up to be an artist, you come to art school, it takes a while to work out what your thing is. I am just wondering about the genealogy of that lost in your practice, and how that came to be. >> Good question.
>> You might not want to… >> I can try. That notion of impossible and the connection, your observation, tragic comedy kind of value to it. I acknowledge and I like the idea, the idea is it is just impossible, but somehow also Ernest. I am not interested in artworks being sanctimonious in knowledge, but I think there is something interesting about the work that attempts something in earnestness, in order to be that thing, but it is also very handmade. It was really handbuilt
, and so yes, it is always autobiographical, it always defined by the edges of my own filter bubble, and the access I have to my own knowledge but it database , and where I sit in the world. It always has me inside it , which makes it a difficult question. I'm not… There is a sense that I always follow my nose , I have always worked with other people. I am really interested in other people's knowledge. This project involves many other people and many other skills that's and forms of knowledge -- skill sets and forms of knowledge that are not necessarily fully attainable by me. So I think if I was to think about whether interest comes from, it comes from an interest in the world, I think. An interesting the
external world and my place in it, my kind of rubbing up against it, in a physical sense. And I have just always been really interested in enclosures, and containers , things that seek to kind of contain . And that extends to an interest , an early interest in my very early 20s , in the machinations of the art world, and those sorts of containers and galleries, and the kind of inner workings of that universe. And so I think I have always been interested in those unseen networks , and just kind of… One work, I think I tried to find , as I came out of post hoc, is that one interest leads to another.
Hi, Dane, I loved the talk and love the work. I was wondering, some of the ideas you have articulated, remind me of Denman and the work in the arcade process, and the dialectical image and I'm wondering about loss, and the images frozen in time, and you were kind of talking about ideas that reminded me of the ruin, and when an absence is implied, and anyway… that is a large influence. And I feel like it is some distance, having a kind of slightly unconscious place in my mind now . But I am also interested in graves, and gravesites , and something else, and I would really love to get to go and see his grave , actually. That is a site I would love to get to visit sometime. Thank you very much, Dane. I wanted to ask you a simple question, you mentioned the list was compiled by hand , and I am wondering if you … Where did you source these list ? And once you had sourced them, was it just a process of physically writing them down or compiling them into a very large document? Or did you use some kind of external tools or other methods? by hand. There is no kind of like
software that compiled it all specifically compiled it. The source for the information comes from all sorts of leases. -- Sorts of places.
I can give an example . There is a list of lost artworks and that reads for about eight days. It is a huge list. And it is beautiful but it is super evocative because it reads the title and the artist. The title, artist, the title the artist. And that list was really generously supplied by a business called The Arts Lost Register , and they are an organisation that sell this data and they were really kind just to give it to me. To track stolen and missing artworks.
And there is an organisation that track all of the abandoned oil platforms in the world, and there are thousands of them out there in the ocean, but there are leases of them from oil companies, and there is an organisation that keeps track of datasets. A guy who is completely obsessed by lighthouses. And he keeps track of all these abandoned lighthouses around the world and he was also generous. So there was a lot of reaching out through them, and actually the list, the subject of the list itself was a very kind of slow, glacial thing to unfold for me. So, I kind of had time , I had the luxury of a couple of years to work on that.
And more practically, to answer your , -- to answer your question, I have a newfound respect for XL -- Microsoft XL. Excel is a newfound friend, in organising and synthesising the data. And you know, call a friend.
I had a friend who teach -- taught me coding for the AI text-to-speech coding, and I was able to spell it out myself as speech. And it was handbuilt in that way. I did reach out to a few , to a couple of Amazon and Google who are interested in set of information for machine learning.
They are interested in the dataset that it will because it is -- that it built because it is so peculiar , and offers some strange kind of curiosity for them. (Laughs) thank you. Hi, Diane. I guess my
-- Dane . I guess my question follows from the previous one and is to do with people. You did mention there are no people on the list, but your work is so much about Pete and -- people and humanity, as all of your work is. And I am curious about your decision to include names or people? just felt like a political complicated … And already, there is all this aggressive , active… It is poetic and cultural but it is also a container, it is an encyclopedic form, and these attempts to put rules around a way of understanding the world, or material , or knowledge and the natural world. And there are things like languages, extinct languages , and extinct son languages, there is a shortlist . There are six extinct son languages.
There are many -- six extinct sign languages . And there is enough presence of the human in the work, beyond naming people that I don't necessarily have the right to name people , it was a very early and clear decision, and a demarcation of where this thing had an edge, and it was that no people would be named. It is sort of, I mean, I do use the word poem to describe it because there is a kind of hunch about it having an originality, when I was close to finishing it I could look at the whole thing and sense gaps, that there were things missing . Like feeling like there was not enough related to, let's say outer space, or there was not enough in the earth as opposed to on the earth. It was just a really intuitive sense of the shape of the thing. It was really how it felt. I am going to call it, but would you mind staying for a little bit ? There are people who are your groupies , and if you have a question , Dane is generous enough to wait here but I am conscious that there are classes starting soon. But please join me in thanking Dane . And June and I look forward to welcoming you back here
2023-04-07 20:41
Show Video
Other news