Dahua Full-color Cube Launch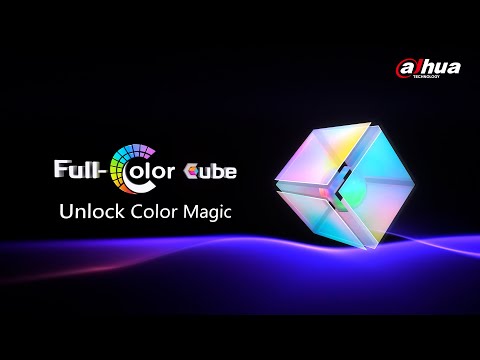 Show Video
Greetings Everyone! Welcome to the 2023 Full-color Launch Event: Full-color Cube – Unlock Color Magic! Hi! I'm Danny from the Dahua Overseas Product Marketing Department in Hangzhou, China. Thank you so much for joining us today. In 2018, Dahua launched its new Full-color Technology. Since then, Full-color technology has been continuously innovated and developed to meet various monitoring challenges in low-light conditions. In the beginning, Dahua wanted to develop a product could retain 24/7 color information and improve details at night.
Fast-forward a couple of years to TiOC, which integrated Full-color technology with AI and Active Deterrence. One year Later, we upgraded our full-color capabilities even further with Smart Dual Light technology which premiered in our TiOC 2.0 Series. Today, combined with AI, 4K, Zoom and other Dahua key technologies, the Full-color series and Smart Dual Light series cameras can do more than you could imagine.
It breaks the barriers of time and space and adapts to the habits of diverse users, providing more assistance and protection. Therefore, we have launched the Full-color Cube concept for 2023. A cube of color magic that combines Full-color and Smart Dual Light and other technologies into infinite possibilities of innovation.
It symbolizes panoramic vision, more personalized and flexible settings, intelligence at will, and future growth. Let's break it down. The inner core of this ever-growing technological cube is Full-color LED and Smart Dual Light technology.
Full-color LED provides us with 24/7 colorful surveillance. Smart Dual Light technology delivers a flexible solution to realize full-color recordings of key events, effectively reducing white light pollution. So, What happens when these two colorful monitoring technologies combine with other technologies? In Full-color Cube, we've combined Full-color LED with Duo cameras and PT cameras to achieve panoramic full-color monitoring. Our TiOC series is a milestone in the Full-color experience. We integrated Smart Dual Light technology, Active Deterrence, and AI into one solution to cover more complex scenarios and help users protect their properties.
We have also realized docking to third-party platforms and even upgraded the latest TiOC cameras to panoramic models. With Full-color LED and Smart Dual Light as its core, more technologies are combined to create a new dimension of the full-color experience. This is the Full-color Cube, the key to "Unlock Color Magic." Now, Let's check in with our colleague in the UK, where they will unlock Full-color Duo magic! Good morning, afternoon or evening wherever you are around the world.
I'm Michael Lawrence, marketing director of Dahua Technology UK and Ireland, and I'm delighted to share a little bit the fantastic Full-color DUO camera, an amazing addition to the Full-color Cube Portfolio. Let's start with the pain points. Many establishments suffer the dilemma with their traditional video surveillance systems of limited coverage, and blind spots. Addressing large spaces effectively requires multiple cameras, leading to high equipment and installation costs. So what's that with solution? It's the Full-color DUO camera.
It's equipped with dual F1.0 aperture lenses and 1/1.8" high speed CMOS sensors. With both right and left lenses to capture an image. Using standardized image correction technology, the camera calculates the feature values of the left and the right image to avoid warping and pixel loss. Dahua's advanced pixel-level metadata fusion verifies the feature data of the 2 images to produce a fusion image.
The result, it delivers a seamless 180 degree wide angled image. Capturing the whole scene in vivid color without missing any details. The duo camera adopts an f 1.0 aperture, this allows 2 and 1/2 times the amount of lighting in comparison with an F1.6
This ensures a brighter and clearer image in low light conditions. Thanks also to its 1/1.8" CMOS sensor, the sensing area is increased by 110 percent compared with 1/2.8" CMOS sensors. EPTZ, which stands for electronic pan tilt and zoom, delivers a panoramic image for a wider view of the scene as well as sub-images that focus on specific areas or targets, to realize real time tracking.
Linkage track can simultaneously zoom in and track multiple humans and vehicles that trigger alarms up to 5 in total. The camera's 4k resolution, maintains in large target clarity up to 5 sub-images can be shown simultaneously. This significantly reduces the number of cameras required as well as bringing convenience to deal with multitasking of the operator. With 3 axes of rotation, the eyeball camera provides an adjustable rotation of 360 degrees, a tilt of up to 90 degrees. This helps save installation time and is suitable for different installation areas to achieve a much better view.
On stairs, bridges… and other angled scenes, you can rotate the camera to any angle to achieve a perfectly horizontal image. On a corner you can adjust the field of view by panning the camera directly to focus on the overall scene. Let's take a look at the product models. Both the PFW and the PDW variants are Full-color and DUO cameras. They bring 180 degree wide views with 24 by 7 full-color images.
The image delivered is 4K at 25 frames per second. and we've integrated a microphone and speaker, realizing 2 way talk. They both deliver an overall scene image and can intelligent track targets and trigger alarms. So where might you install these products? Well, I'm hoping you've already got some scenarios in mind to add value to your customer sites.
This series is ideal for applications where you need full area coverage with no blind spots. Such as squares, car parks, parklands, halls, auditorium garages and hallways. Installing just one camera achieves a larger range of full-color monitoring.
Thank you for me, here in the UK. Next, with an amazing way to achieve the panoramic experience, Let's jump into the Full-color Pan Tilt section with my colleague in Mexico. Thank you! Thank you, my name is Eduardo Garcia from the Latin American offices. And today I have the honor to present the new Full-color PT camera Technology that Dahua has launched. How many of us have been presented with problems visualizing objectives beyond a camera's field of view? Or perhaps you've lost evidence due to the camera's minimal vision.
Well, these common CCTV problems have been solved. This evolution of PT cameras has multiple advantages. Apart from being able to visualize the complete scene through the Pan & Tilt function, to enrich the user experience, its installation is very simple.
By having blind spots, a typical camera has a lot of lost evidence in corners or corners that are difficult to access. With a Full Color PT camera, you can see the entire scene without loss of detail. Thanks to the ability to tilt the camera vertically and horizontally (0-90 degrees) and rotate it (0-355 degrees).
This gives you coverage of a much wider area, making it easy to capture evidence and avoid losing important details. Best of all, you can control it from the palm of your hand through your smartphone. The DMSS app makes it easy to see the panoramic image. You will no longer lose evidence, much less the details. By not having a fixed mounting system, the PT allows us to use rotation and tilt continuously, eliminating the need for adjustment to obtain a clear and efficient image. On the other hand, the device is very easy to mount in any scenario.
Likewise, its configuration is fast, connect it to an XVR or your DMSS APP, and you can even enjoy the view remotely. No matter the environmental variables, the multiple installation modes allow us to place the device on the wall, ceiling and even poles, significantly reducing labor or other expenses. Thanks to the greater viewing angle of this device, it is not limited to only parking lots. The number of scenarios goes beyond a single application, from residence entrances or departmental buildings and their lobbies and common areas, to supermarkets, schools, corporate offices, or retail stores. This technology is also designed for large-scale monitoring, such as factories, warehouses and industrial parks. Here are our available Full-color PT models with all the features mentioned pan & tilt function, an expanded field of vision, and easy installation.
With all these special features of the Full-color PT, Dahua continuously works towards enabling a safer society and smarter living. Next, let's turn our camera to Turkey to show you more about Smart Dual Light technology, which has upgraded and revived Full-color tecnology. Hello Everyone, Welcome to the official launch meeting.
This is Yusa from the Dahua Turkey team. Last year, we launched the Smart Dual Light series and have continued to enrich the product series. Dahua Smart Dual Light technology adopts a deep learning algorithm to detect targets, ensuring the illuminators switch more accurately to avoid false triggering.
Switch when you need to switch. As you can see in the example here, warm light turns on when a human is detected in the monitoring area. If no one is detected in the monitoring area, IR mode switches back on automatically.
Why develop Smart Dual Light? The following will give you the answer and tell you the main scene of Smart Dual Light. In the outdoor scene, the color information of key video events cannot be obtained with a basic IR illuminator. Meanwhile, constant white light may present excess light pollution. Dahua's Smart Dual Light technology can record key event color details for effective property surveillance. Additionally, it significantly reduces light pollution because the warm light is only on during critical moments.
Next, in an indoor scenario, finding key targets with basic IR illumination is challenging. Moreover, a constant white light will cause interference. Dahua Smart Dual Light technology can record color details of key events.
warm light can act as an active deterrent in critical moments. What else can we do with Smart Dual Light? There are different business hours in different bars(for example). Illumination Mode switching may vary depending on business hours. Based on this, we've developed Illumination By Schedule. Here's an example scenario.
During evening business hours, a bar uses infrared light only to maintain a dim-lit ambiance and avoid disturbing customers. Smart Illumination Mode is activated during off hours. It records colorful videos and drives away potential intruders.
The Dahua Smart Dual Light series provides a rich selection of products. As you can see, the IP Series, PT Series and HDCVI series offer the following features… Now, back to Hangzhou, let's unlock more with the TiOC section, which combines Full-color, AI and Active Deterrence into one solution! Welcome Back to Hangzhou, China! Thank you so much to all our friends from around the world for their wonderful presentations! Let's talk about the TiOC —providing full-time protection before, during, and after events. To start, TiOC is short for 'Three-In-One Camera.'
In true Full-color Cube fashion, it integrates Smart Dual Light, Active Deterrence, and AI into one camera solution. So, how can the TiOC protect people and property before, during, and after events? Before an event, effective AI monitoring helps reduce false alarms. With SMD 4.0 and Perimeter Protection, you'll get accurate human and vehicle target detection, reducing false alarms caused by small and large animals.
During an event, Smart Dual Light provides colorful event videos, and a voice alarm and red & blue flashing lights to act as an active deterrent warning off intruders. After an event, Smart Search helps you quickly find human or vehicle targets on the playback page. Perhaps you're already familiar with TiOC capabilities, but can we unlock more? Let's welcome the latest member of the Full-color Cube Family, the TiOC Duo camera! It combines a 180-degree wide-angle splicing image with an EPTZ function which can zoom in and track targets over an unprecedented monitoring range.
In other words, it can see in panorama and with multiple target details with just one camera incorporating the powerful functions of the TiOC. Check out more product information at our official website! As an all-in-one device, The TiOC's sound alarm and red & blue light active deterrent achieves a more suitable "alarm business" with third-party platform integration. Through Dahua Protocol or ONVIF standard protocol, TiOCs can access the third-party platform to realize live view, playback, video and audio parameter configuration, events received in the platform, and so on. Additionally, the TiOC supports the connection of an XVR or NVR to a third-party platform via the Dahua Protocol or ONVIF protocols.
Here are two platforms that are accessible with the Dahua TiOC and Dahua XVR/NVR. From the topology, you can see how the TiOC accesses the platform. OPTEX is a world-leading sensor manufacturer. The TiOC connects to the OPTEX bridge. Some of the features it supports are the ability to share video and receive instructions with key holders or emergency contacts, allow you to associate traditional security areas with cameras, and convert Dahua AI event triggers into Contact ID alerts and video events.
NetworkOptix is a powerful visual management system that the TiOC can access via the NetworkOptix Witness platform. Supported features include live view and playback, video and audio parameter configuration, and event receipt in the platform. We are actively working towards more cooperation with other third-party platforms. Follow our social media to stay up to date. The TiOC can be used in various settings: Private places like villas that want to ensure active deterrence and reduce light pollution, especially during late night hours.
We utilize the TiOC to identify real targets, accurately focusing on humans and vehicles to warn off intruders with a siren and light deterrent. It can notify users and provide colorful videos in real time via the app. Public areas such as fire exits, where unobstructed access is essential for public safety, can be kept secure through effective motion detection. Various TiOC Products are available, including the Vari-focal Series, Fixed-focal Series, and Duo Series. Our newly released and upcoming products include the Vari-focal Eyeball and TiOC Duo Series.
So keep an eye out for those. Don't forget to follow our social media platforms to stay up-to-date on all our news at Dahua Technology —Enabling a safer society and smarter living. This concludes the presentation. Stay tuned to hashtag #FullcolorCube on social media to keep up with our camera challenges around the globe.
Thank you so much for joining us! Hey guys! Welcome to Maidenhead. I'm Michael from the Dahua Technology UK & Ireland Team. HI! Welcome to Dahua Australia! I'm Kevin, and we are from overseas team.
Here's a challenge for the Full-color DUO Camera. Do you trust what you see? Today we're going to take a closer look at a video that was captured using a single lens camera. At first glance we see Colin walking and then disappearing out of the camera's monitoring range. However he returns back to where he started. Now this video may seem like a factual representation of what actually happened but let's dive deeper into the truth.
As we analyze the footage, we can clearly see that we're not one but 2 actors present in the scene. And here's the kicker, it wasn't Colin to return to the right side of the screen but it was actually me wearing the same outfit. Hi Everyone, Welcome to Jakarta! This is Annisa from Dahua Indonesia Product Marketing Team. This is Brave from Dahua Veitnam Technical Team.
So today we will have a challenge, but the challenge is quite unique. you know why? Because we will be challenging a camera, the Full-Color PT Camera! Now, we will play hide and seek with the Full-Color PT Camera and see if it can find the people hiding in the darkness. Ok! This time, we will use a fixed-angle camera to find us. On the count of ten, everyone should hide. Ready? 1 2 3 4 5 6 7 8 9 10 So, This fixed-angle camera can't find anyone hiding because it can't see any object outside its range. Now, we will challenge the Full-Color PT Camera.
We will give ten seconds to find the people who are hiding in the darkness Ok, let's count! 1 2 3 4 5 6 7 8 9 10 Hey guys, welcome to UAE Dudai. This is Ahmad from Dahua MENA regional products and solutions team. This is Yulduz from Dahua Overseas Product-Marketing Team. Welcome to South Africa! My name is Quintin Struppmann.
I'm from the Dahua Specialist Team. Here's the challenge for the Smart Dual Light camera: When a human enters the area, the IR light will switch to Warm Light in Smart Illumination Mode. Can you enter the area without triggering the light? The camera will not trigger the Warm Light Mode, when objects like balls animals etc. are detected. When humans or vehicles are detected, the rules will be triggered, and the warm light will turn on.
Challenge over! The Smart Dual Light camera wins! Stay tuned for more information about Dahua Full-color Cube. Unlock Color Magic!
2023-04-22 20:35
Show Video
Other news