Curing Coma - Day 2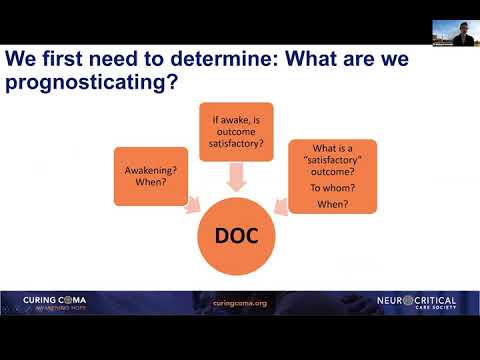 Show Video
>> GOOD MORNING, EVERYONE. WELCOME BACK TO THESE WONDERFUL CURING COMA VIRTUAL SYMPOSIUM. THIS IS DAY TWO TODAY. WE'RE ALSO GOING TO HAVE A VERY INTEREST ING PROGRAM. BUT FIRST I THINK I'M GOING TO HAVE GREGORY RICHARDS, WHO IS GOING TO GIVE YOU SOME HOUSEKEEPING ISSUES FOR THE DAY . GREG? >> THANK YOU. THIS MEETING IS BEING RECORDED. IF YOU ARE DISCONNECTED AT ANY
POINT, PLEASE RECONNECT USING THE SAME LINK YOU USED TO ENTER. IF FOR ANY REASON YOU'RE STILL UNABLE TO JOIN OR IF YOUR CONNECTION IS UNSTABLE, YOUR EMAIL INVITATION SHOULD ALSO INCLUDE A DIAL-IN INVITATION TO JOIN VIA THE PHONE. GENERAL ATTENDEES MAY ASK QUESTIONS RELATING TO THE PRESENTATION, SUBMIT COMMENTS OR REACH OUT TO TECHNICAL SUPPORT USING THE Q & A BOX AT THE BOTTOM OF YOUR SCREEN AND ASK THAT PANELISTS USE THE CHAT BOX TO POSE THEIR QUESTIONS. IT WILL ALSO BE OPEN DURING THE BREAK PERIODS TO CONVERSE. TO ENABLE CLOSED CAPTIONING, PRESS THE CLOSED CAPTION AT THE BOTTOM OF YOUR SCREEN AND SELECT SHOW SUBTITLES. IF YOU DON'T SEE THIS BOX, IT WILL BE UNDER THE MORE BUTTON WHICH WILL APPEAR AS GREE DOTS . DURING THE DESIGNATED PANEL DISCUSSIONS AND Q & A SESSION, TURN THEIR CAMERAS BACK ON. I'LL TURN THE MIC
BACK OVER TO JOSE . >> THANK YOU, GREG. WE'LL START WITH THE FIRST SESSION OF THE DAY, SESSION 4 ON NEUROPROGNOSTICATION AND WE HAVE OUR WONDERFUL CO-CHAIRS WHICH I'LL BE INTRODUCING, SO WE HAVE JED HARINGS, WHO IS A NEUROSCIENTIST, ALSO A PROFESSOR OF NEUROSURGERY AT UNIVERSITY OF CINCINNATI, AND JED AS WE ALL KNOW IS ALSO A MEMBER OF THE STEERING COMMITTEE OF THE COOPERATIVE STUDIES IN BRAIN INJURY . WE HAVE OUR FRIEND THERESA HUMAN, A CLINICAL PHARMACIST, SHE ACTUALLY HAS A PHARM D AND PH.D. DEGREE. SHE WORKS AT THE JEWISH HOSPITAL IN ST. LOUIS. SO JED AND THE RESA? >> THANK YOU, JOSE. I'LL INTRODUCE NOW TO START THE SESSION FIRST THE QUESTION AND ANSWER FACILITATOR S. WE HAVE TWO NURSES . SARAH FROM THE COLLEGE OF NURSING AT RUSH UNIVERSITY. SHE HAS EXPERTISE
IN STROKE AND NEUROCRITICAL CARE WITH 15 YEARS OF NURSING EXPERIENCE. OUR SECOND FACILITATOR IS ELIZABETH, A CLINICAL NURSE SPECIALIST IN THE NEUROSCIENCE CRITICAL CARE UNIT AT JOHNS HOPKINS HOSPITAL. SHE HAS SPECIAL INTEREST IN CEREBROVASCULAR PATHOLOGY AND NEW TECHNOLOGIES IN NEUROCRITICAL CARE. AND FOR THE PANELISTS FOR THIS SESSION ON NEUROPROGNOSTICATION, WE HAVE FIVE INDIVIDUALS. FIRST OF WHOM IS DR. WENDY
ZIAI, ANESTHESIOLOGIST AND CRITICAL CARE PHYSICIAN, AND AN ASSOCIATE PROFESSOR OF NEUROLOGY, MEDICAL DIRECTOR OF THE NEUROVASCULAR LAB AT JOHNS HOPKINS HOSPITAL. DR. BRANDON FOREMAN IS ASSOCIATE PROFESSOR OF NEUROLOGY AND REHABILITATION MEDICINE AND NEUROSURGERY AT THE UNIVERSITY OF CINCINNATI AND IS ASSOCIATE DIRECTOR FOR NEUROCRITICAL CARE RESEARCH WITH PARTICULAR EXPERTISE IN CLINICAL NEUROPHYSIOLOGY AND MULTIMODAL MONITORING.
DR. THOMAS BLECK IS A PROFESSOR OF NEUROLOGY AT THE NORTHWESTERN UNIVERSITY SCHOOL OF MEDICINE WHERE HE DIRECTS THE NEUROCRITICAL CARE FELLOWSHIP. TWO YEARS AGO, HE RETIRED AS EMERITUS PROFESSOR NEUROLOGICAL SCIENCES, NEUROSURGERY, INTERNAL MEDICINE AND ANESTHESIOLOGY AT RUSH MEDICAL COLLEGE. DR. DAVID GREER IS A PROFESSOR AND CHAIR OF THE DEPARTMENT OF NEUROLOGY AT BOSTON UNIVERSITY SCHOOL OF MEDICINE , AND IS CHIEF OF NEUROLOGY AT WHAT'S THE ROLE OF UNCERTAINTY AND IMPRECISION IN PROGNOSIS AND FINAL LY WHAT IS THE IMPACT, ULTIMATELY THE PROGNOSIS THE PATIENT IS PREPARING FOR. SO
THE FIS THING WE HAVE TO ASK IS, WHAT EXACTLY ARE WE PROGNOSTICATE ING? WILL PATIENTS WITH DISORDERS OF CONSCIOUSNESS AWAKEN AND WHEN? IF PATIENTS WITH DISORDERS OF CONSCIOUSNESS DO AWAKEN , WILL THEIR OUTCOME BE SATISFACTORY ? AND WHAT DOES THAT MEAN, WHAT DETERMINES SATISFACTORY OUTCOME AND TO WHOM, MORE IMPORTANTLY, AND AT WHAT TIME POINT DO YOU CONSIDER THAT OUTCOME TO HAVE BEEN ACHIEVED? SO WE'LL START WITH THE FIRST, AWAKENING. SO THE DEFINITION OF AWAKENING IS A FAIRLY -- YOU CAN OPERATIONALIZE IT A COUPLE OF DIFFERENT WAYS. ONE IS COMMAND FOLLOWING. THAT'S WHAT WE USE TO DEFINE CONSCIENCE -- CONSCIOUSNESS CLINICALLY IN THE ACUTE SETTING , THINGS LIKE THE GLASCOW COMA SCORE, THE MOTOR SUBCOMPONENT OF THAT DEFINES COMMAND FOLLOWING AND THAT'S BEEN USED IN LITERATURE TO DATE . ALTERNATIVELY WE'VE TALKED YESTERDAY ABOUT EEG AND MRI-BASED NON-CLINICAL COMMAND FOLLOWING , WHICH HAS BEEN DOCUMENTED IN ABOUT 15% OF PATIENTS WITH DISORDERS OF CONSCIOUSNESS. THE
OTHER POTENTIAL CONSIDERATION WOULD BE A MULTIDIMENSIONAL CLINICAL ASSESSMENT, SOMETHING THAT TAKES INTO ACCOUNT MULTIPLE FACETS OF AN EXAM. ONE EXAMPLE IS THE RECOVERY SCORE WHICH HAS 100% SPECIFICITY -- WHEN YOU HAVE A SCALE SCORE OF ABOUT 10. THAT'S BEEN USED PRIMARILY IN THE REHAB SETTING BUT IT HAS BEEN USED IN THE ACUTE SETTING AND FOR DIAGNOSIS, SO THAT'S ANOTHER POTENTIAL POSSIBILITY AS WELL TO DEFINE THIS CONCEPT OF AWAKENING. THE PROBLEM THAT WE FACE IN LOOKING AT THE LITERATURE REGARDING AWAKENING IS THE SELF FULFILLING PROPHECY. EARLY WITHDRAWAL OF CARE RESULTS IN THIS SELF-FULFILLING PROPHECY ACROSS ALL TYPES OF BRAIN INJURY. THIS HAS BEEN DOCUMENTED IN CEREBRAL HEMORRHAGE , TRAUMATIC INJURY AND OTHERS. FOR EXAMPLE IN HYPOXIC
BRAIN INJURY, AS MANY AS 60 THRIE% 63% OF PATIENTS -- NEARLY A THIRD OF THESE FOLKS WHO DID AWAKEN, AWAKE EPED A MEDIAN OF 93 HOURS AFTER THEIR ARREST. YOU CAN SEE WHEN THEY AWAKEN AND WHEN THEY'RE DOING SO, FAR BEYOND WHEN MANY OF OUR DECISIONS OCCUR OCCUR. WITHDRAWAL OF CARE LESS THAN 72 HOURS AFTER CARDIAC ARREST HAS BEEN IMPLICATED TO THE U.S. POPULATION AND MAY BE INDICATE ED IN UP TO 2300 AVOIDABLE DEATHS IN THE U.S. ALONE, OF THESE, 64% MAY HAVE HAD FUNCTIONAL RECOVERY. THIS SELF FULFILLING
PROPHECY OCCURS WITH A LOT OF VARIABILITY. WHAT YOU SEE HERE IN THE GRAPH ON YOUR LEFT ARE THE ODDS OF PATIENT UNDERGOING WITHDRAWAL OF CARE FROM CENTER TO CENTER. YOU CAN SEE THE VARIABLE VARIABILITY THAT OCCURS IN THE MAJORITY OF PATIENTS WHO UNDERGO WITHDRAWAL OF CARE, AGAIN, UP TO HALF OF WHICH OCCUR LESS THAN 72 HOURS. AND WHEN YOU LOOK AT THE CHARACTERISTICS OF WHO THOSE PATIENT ARE, THERE'S A LOT OF NON- INJURY-BASED CHARACTERISTICS THAT GO INTO THESE DECISIONS, THINGS SUCH AS RACE, REGION OF THE COUNTRY . TWO THIRDS OF THOSE PORTIONS -- WITH TBI AWAKEN DURING THEIR POST INTENSIVE CARE, POST CRITICAL CARE COURSE, INPATIENT REHAB. EACH THOSE WHO DON'T, THREE QUARTER MAY AWAKEN UP TO FIVE YEARS POST INJURY IF YOU GIVE THEM ENOUGH TIME. SO IT'S REALLY, REALLY CRITICAL TO UNDERSTAND THE SELF FULFILLING PROPHECY. THREE QUARTERS OF PATIENTS
WITH CEREBRAL HEMORRHAGE UNDERGO WITHDRAWAL OF CARE. A THIRD OF THOSE UNDERGO LIMITATIONS OF CARE WITHIN 24 LOWRS 24 HOURS OF THEIR HEMORRHAGE. SIGNIFICANTLY IMPACTED BY SCORES OUT IN THE LITERATURE. WE SEE A GRAPH IN THE BOTTOM
RIGHT, THE PREDICTED MORTALITY -- COMMONLY USED IN CLINICAL SETTING. YOU CAN SEE THE PREDICTED MORTALITY IS MUCH, MUCH HIGHER THAN THE ACTUAL MORTALITY OF THOSE PATIENTS WHO ARE OBSERVED TO THEIR NATURAL END POINT. THE GRAPH ON THE TOP RIGHT WHERE YOU SEE PORTIONS OF -- CRITICAL CARE UNIT AND IN THE DARKER PURPLE IS THE PORTION WHO UNDERGO WITHDRAWAL OF CARE, SO YOU CAN SEE THIS IS ACROSS ISCHEMIC AND HEMORRHAGIC STROKES. THE NEXT QUESTION IS WHAT OUTCOME IS SATISFACTORY ? >> BRANDON? THIS IS THERESA. I'M SORRY TO INTERRUPT YOU BUT YOUR SOUND IS DETERIORATING . CAN YOU MAYBE -- >> GOTCHA . >> I WOULD RECOMMEND DISABLING YOUR VIDEO TO POTENTIALLY INCREASE YOUR BANDWIDTH. >> THAT'S EXACTLY WHAT I'M GOING TO DO.
>> THERE WE GO. >> HOW IS THAT? >> I'LL INTERRUPT YOU AGAIN IF IT DOESN'T GET BETTER. >> PERFECT. THANK YOU SO MUCH. SO WHAT OUTCOMES ARE SATISFACTORY AND TO WHOM IS NEXT BIG QUESTION. COMMON SCALES SUCH AS THE GOSE, MODIFIED RANKIN, THESE DON'T CAPTURE QUALITY OF LIFE. THE GRAPH YOU SEE ON THE RIGHT IS DATA FROM CLEAR 3 WHICH ONE YEAR OUTCOMES ARE MAP PED BASED ON THE MODIFIED RANKIN SCORE ON THE X AXIS, BUT NOTICE THE QUALITY OF LIFE AT A YEAR IS ABOVE THE 50 MARK, ABOVE THE POPULATION MEAN FOR THOSE EVEN WITH THE MODIFIED RANKIN THAT PUT THEM IN THE DISABLED CATEGORY OF THE MODIFIED RANKIN 4 AND EVEN THOSE WITH A MODIFIED RANKIN OF 5 HAVE A QUALITY OF LIFE. SO IT'S REALLY IMPORTANT THAT WE'RE NOT CAPTURING MANY OF
THESE THINGS THAT FOR PATIENTS AND FAMILIES MIGHT BE A PRIORITY PRIORITY. I'LL REFER TO THIS COMMENTARY FROM DAVID IN WHICH HE ASKED THE VERY PERTINENT QUESTION, WHOSE LIFE IS IT ANYWAY, WHAT OUTCOME IS SATISFACTORY AND TO WHO? FINALLY THE IMPACT OF CRITICAL ILLNESS ON THINGS LIKE MENTAL HEALTH AND COGNITIVE RECOVERY, ALSO REMAINS UNCLEAR. QUALITY OF LIFE IS ONE ASPECT OF OUR OUTCOMES THAT ARE WORTH CONSIDERING BUT SO ARE THINGS LIKE NEW OR INCIDENT MENTAL HEALTH DISORDERS AND COGNITIVE DISORDERS, SOMETHING UNDER THE UMBRELLA OF POST INTENSIVE CARE SYNDROME. AND SO
WE REALLY FACE A HIGH BURDEN OF CO-MORBIDITY RELATED SIMPLY TO THE CRITICAL CARE THESE PATIENTS RECEIVE, SOMEWHERE ON THE ORDER OF 1 OF EVERY 4 PATIENTS DEVELOP NEW DISABILITY JUST FROM CRITICAL CARE ALONE. MULTIDIMENSIONAL OUTCOMES INCLUDING COGNITION ARE VERY LIMITED FOR PATIENT WHO HAVE SEVERE BRAIN INJURIES . PARTICULARLY PATIENTS WITH DISORDERS OF CONSCIOUSNESS. IN ONE STUDY OF PATIENT-REPORTED COGNITIVE OUTCOME , PIE NORTH, ONLY 11 1/2% OF THOSE PATIENTS WHO ARE ABLE TO COMPLETE COGNITIVE TESTING HAD A MODIFIED RANKIN OF 3 OR MORE. AND WHEN YOU TALK ABOUT IT. BI QUALITY OF LIFE, MANY OF THESE STUDIES ARE DONE WITH A FOLLOW-UP PERIOD OF MANY, MANY YEARS, SO NOT PRACTICAL FOR THINGS LIKE CLINICAL RESEARCH. BUT YOU CAN SEE THE BURDEN OF THESE NEW COGNITIVE MENTAL HEALTH DISABILITIES REALLY DO AFFECT QUALITY OF LIFE AND ARE SOMETHING WE DON'T TYPICALLY TAKE INTO ACCOUNT. WHAT YOU SEE ON THE GRAPH HERE IS THE INCIDENCE OF POST INTENSIVE CARE SYNDROME, THERE ON THE FURTHEST RIGHT AND THE DECREASE IN AVERAGE QUALITY OF LIFE THAT OCCURS IN THOSE WHO DEVELOP THIS COMPLICATION. SO WE'VE IDENTIFIED TWO GAPS
RELATED TO THE THINGS THAT WE'VE JUST TALKED ABOUT. GAP ONE IS THAT THE END POINT FOR PROGNOSTIC ASSESSMENT HAS REALLY NOT BEEN DEFINE ED. YOU'VE GOT TO DEFINE ONE, -- IT'S REALLY CRITICAL THAT BOTH OF THESE OCCUR AND THAT'S OUR FIRST GAP THAT WE IDENTIFY. THE SECOND IS WE
NEED METHODS THAT RELIABLY ASCERTAIN AND STATISTICALLY ADDRESS WITHDRAWAL OF CARE AND LIMITATIONS IN CARE. THIS COULD INCLUDE PROTOCOLIZED APPROACHES THAT LIMIT WITHDRAWAL OF CARE OR STUDYING POPULATIONS THAT DON'T ROUTINE LY PRACTICE WITHDRAWAL OF CARE, FOR INSTANCE, POPULATIONS IN BRAZIL AND OTHER COUNTRIES. NEXT CONCEPT IS THAT WE'VE GOT TO INTEGRATE THESE TESTS AND VARIABLES IN A COMPLEMENTARY WAY IN ORDER TO HAVE DATA THAT'S USEFUL FOR PROGNOSIS. A STUDY RECENTLY POINTED OUT THAT NO BEHAVIORAL SEROLOGIC, RADIO LOGIC OR ELECTROPHYSIOLOGIC TEST, CLINICAL OR INVESTIGATIONAL, NONE HAS SUFFICIENT PROGNOSTIC UTILITY TO STAND ALONE AND THAT'S REALLY THE CRITICAL PIECE OF WHAT WE'RE SHOWING HERE. REGARDLESS OF WHAT DATA POINT YOU'RE TALKING ABOUT, NONE OF IT CAN STAND ALONE, IT'S GOT TO BE COMBINED IN SOME WAY. AND THAT BECOMES A SIGNIFICANT
CHALLENGE FOR US TO FIGURE OUT EXACTLY WHAT KIND OF DATA THAT WE NEED TO USE, AND WHETHER. SO WE'VE GOT TO, IN GAP 3, WHAT WE'VE IDENTIFIED IS WE'VE GOT TO STANDARDIZE AND IMPROVE THE DIAGNOSTIC EVALUATIONS WE DO HAVE, AND ESTABLISH THE CORRECT TIME WINDOW. WHEN I SAY THAT , FOR INSTANCE, IS THE E EG AT 24 HOURS POSTCARD YAK ARREST THE MOST IMPORTANT OR IS IT AT 72 HOURS OR IS IT AT 2 WEEKS? WE'VE GOT TO DEVELOP THE COMMON DATA ELEMENTS FOR ESTABLISHED OR PROMPTING DIAGNOSTIC EVALUATIONS. DEFINING THE OPTIMAL TIME WINDOW IS GOING TO BE REALLY, REALLY CRITICAL, AND THEN CREATING NOVEL OR REFINING EXISTING DIAGNOSTIC MODALITIES THAT ADD PROGNOSTIC VALUE FOR THE MOST PEOPLE AT THE LOWEST COST. AND WE HEARD A LOT ABOUT VERY REFINED AND ELEGANT TECHNIQUES THAT ARE BEING DEVELOPED, BUT WE'VE GOT TO REMEMBER THAT THESE MIGHT NOT APPLY TO THE MAJORITY OF THE WORLD'S POPULATION AND REALLY WHEN WE TALK ABOUT CURING COMA, THAT IS A WORLDWIDE CHARGE SO THAT BECOMES AN IMPORTANT ASPECT OF THIS GAP AS WELL. WITH THAT, I'M GOING TO
TURN IT OVER TO COMPLETE THE REST OF OUR GAPS AND DISCUSSION. >> THANKS, BRANDON. I'M GOING TO HAVE YOU ADVANCE THE SLIDES FOR ME, PLEASE. SO OUR NEXT GAP WILL REALLY FOCUS ON THE MODELING, THE PREDICTION MODEL MODELING, AND HOPEFULLY EVERYONE IS AWARE, THE LEVEL OF UNCERTAINTY AND IMPRECISION, RIGHT? SO LET'S REALLY CRACK THIS DOWN. SO THE FIRST THING IS THAT THEY'RE REALLY TOO SIMPLISTIC, AND WHAT DO I MEAN BY SIMPLISTIC? SO WHAT YOU CAN SEE HERE ON THE LEFT IS AN INTERESTING STUDY DONE BY DAVID WANG AND HIS COLLEAGUES AT MGH WHERE THEY ASKED ATTENDINGS AND NURSES TO PRE PREDICT AN OUT DIAGNOSE COME IN THE FIRST 24 HOURS. THEY DIDN'T REALLY MAKE ANY RULES OR
RHYMES AS TO WHAT THEY COULD USE OTHER THAN THEY DON'T ROUTINE LY CALCULATE A SCORE TO DO THIS, AND ESTIMATE THE PATIENT'S THREE-MONTH OUT COME, AND THEN CORRELATED IT WITH THE ACTUAL THREE-MONTH OUTCOME, AND ON THE Y AXIS IS THE CORRELATION COEFFICIENT, THE HIGHER, BETTER THE COEFFICIENT WITH ACTUAL OUTCOME, AND YOU CAN SEE HERE THAT BOTH ATTENDINGS AND NURSES DID SIGNIFICANTLY BETTER THAN THE ICH SCORE AND THE FUNK SCORE IN TERMS OF PREDICTING ACTUAL OUTCOMES. WA WE'RE TRYING TO BRING ACROSS LEER IS THAT WHILE THE ICH SCORE HAS BEEN VALIDATED OVER AND OVER AGAIN, EVEN FOR 12-MONTH OUTCOMES, IT IS IMPRECISE AND WE HAVE TO BE VERY CAREFUL IN USING MODELS LIKE THAT THAT'S JUST AN EXAMPLE IN APPLYING THEM TO PATIENTS. SO WHAT THE STUDY SHOWED IS THAT THERE'S STILL SOMETHING THERE WHERE PHYSICIANS AND PROVIDER S JUST DO WHEN THEY ESTIMATE PROGNOSIS. NOW ONE COULD
ALSO SAY THAT, WELL, HOW ABOUT THE SELF-FULFILLING PROPHECY ? WHAT IF ATTENDINGS, YOU KNOW, KNEW THEY WERE GOING TO WITHDRAW CARE AND THEN ESTIMATE THAT. SO THERE WAS A SUBGROUP ANALYSIS DONE WHERE THEY ADJUSTED FOR THAT OR EXCLUDED THOSE PATIENTS AND FOUND THE SAME THING. ONE THING WE DO HAVE TO BE VERY CAREFUL ABOUT IS WHEN IT COMES TO THESE MODELS, THERE'S A LOT OF THINGS THAT'S NOT INCLUDED, RIGHT? THINGS, FOR EXAMPLE, AS PRE-EXISTING COGNITIVE FUNCTION THAT WAS THE STRENGTH OF THE FUNC SCORE BUT IS VERY SIMPLISTIC. HOW ABOUT OTHER THINGS, SUCH AS THE PATIENT'S
RESILIENCE, THE SOCIAL SUPPORT FOR RECOVERY, PRE-EXIST ING OR EVEN POST ICU MENTAL HEALTH. ONE THING ALSO THAT'S NOT INCLUDED IN THIS MODEL CURRENTLY IS THE ICU DATA, ICU COMPLICATIONS THAT MIGHT HAPPEN OR EVEN THE CONTEXTUAL PHYSIOLOGY. VERY RARELY US ED AND SLOWLY KIND OF COMING. THE POST ACUTE CARE AND HOW PEOPLE DO IN THE REHAB SETTING IS USUALLY NOT CONSIDER ED IN THESE PREDICTION SCORES BECAUSE MOST OF THE TIME, A PROGNOSIS IN SPEAKING WITH FAMILIES IS DONE WHILE THEY'RE STILL IN THE ICU. NEXT UP IS THAT OUR MODELS ARE BIASED. SO
WHAT DOES THAT MEAN? SO WE SELECT COHORTS UPON WHICH THESE SCORES ARE DEVELOPED, RIGHT? LET'S THINK ABOUT THE IMPACT SCORE, FOR EXAMPLE . IT'S A CONGLOMERATE OF CLINICAL TRIALS WHICH WE ALWAYS KNOW IS A HIGHLY SELECTED GROUP , SOME OBSERVATIONAL STUDIES WITH VARIOUS INCLUSION/ EXCLUSION CRITERIA, SO THAT ALONE, BECAUSE OF THE POPULATIONS FROM WHICH THESE SCORES ARE DERIVED , INCLUDE BIAS. AND THEY CERTAINLY HAVE UNEXPLAINED CONFOUNDERS IN THEM. THE OTHER THING TOO IS NOW AI, MACHINE LEARNING IS THE HOT TOPIC, AND EVERYBODY WANTS TO BE PART OF IT AND INCLUDE MACHINE LEARNING, AND THIS IS THE NEXT BIG THING TO IMPROVE THE POSITION, BUT WE HAVE TO BE VERY, VERY CONSCIOUSLY CAREFUL ABOUT THAT. FIRST OF ALL, A MACHINE CAN ONLY LEARN WHAT IT'S FED, AND IF WE FEED BIASED POPULATIONS OR EVEN BIASED PREDICTERS, YOU KNOW, THEN WHAT COMES OUT OF IT WILL BE BIASED AS WELL . -- RECENTLY LISTED A PAPER WHERE THEY EVEN COMPARED STANDARD REGRESSION WITH MACHINE LEARNING ALGORITHMS AND SHOWED THAT AT LEAST IN SEVERE TBI MACHINE LEARNING WASN'T DOING ANY BETTER . THEY ACTUALLY SUGGESTED THAT INSTEAD OF FOCUSING ON MACHINE LEARNING OR FOCUSING ON THESE NEW METHODS, IS THAT WE REALLY FIGURE OUT WHICH PREDICTERS MIGHT ADD INCREMENTALLY TO THE VALUE OF THE MODEL. FURTHERMORE, WE HAVE TO BE CAREFUL ABOUT UNCERTAINTY CALIBRATION, FOR EXAMPLE. SO WE ALL KNOW
ABOUT THE C STATISTIC WHICH REALLY DESCRIBES DISCRIMINATION , BUT WHEN IT COMES TO PREDICTING A PATIENT'S OUTCOME, WE SHOULD REALLY BE VERY CONCERNED AND MAYBE EVEN MORE CONCERNED ABOUT CALIBRATION. AGAIN, THE LINKSMA GROUP ALSO PUBLISHED A META-ANALYSIS OF MANY OF THE TBI PREDICTION MODELS AND SHOW THAT ONLY 50% OF THESE PAPERS EVEN REPORTED ON CALIBRATION. SO WE HAVE TO BE EXTREMELY CAREFUL, A MODEL CAN HAVE A GREAT AREA UNDER THE CURVE AND DO VERY POORLY IN TERMS OF CALIBRATION, AND THAT WE SHOULDN'T BE USING MODELS LIKE THAT . HOW ABOUT SHOWING MEASURES OF UNCERTAINTY . WHEN YOU GO TO ONLINE CALCULATORS, MAY BE THE IMPACT MODEL, CRASH MODEL, FUNC SCORE, NO MATTER WHAT, THE OUTPUT THAT YOU RECEIVE IS A BAR GRAPH OR SOME OTHER GRAPHIC, BUT RARELY EVER CONFIDENCE INTERVAL SHOW. SO WHEN WE USE THESE MODELS, WITH WE HAVE TO BE AWARE OF THE PREDICTABILITY , PHYSICIANS NEED TO BE AWARE OF THE UNCERTAINTY AND WE ALSO NEED TO EXPRESS THAT UNCERTAINTY TO FAMILIES IN A WAY THAT THEY UNDERSTAND IT AND THAT WE'RE VERY HUMBLE ABOUT THE FACT THAT WE CANNOT PREDICT OUTCOME PRECISELY. AND THE
LAST THING WE WANT TO EMPHASIZE HERE ON THE SLIDE IS MODEL VERSION ING. SO WHEN WE DERIVE MODEL S, PRACTICES CHANGE AND THOSE BIASES AND THOSE PRACTICE HABITS ARE REFLECTED IN THE PERFORMANCE OF THE MODEL, AND AS PRACTICE PATTERNS CHANGE, MAYBE NEW GUIDELINES COME OUT, CERTAIN OTHER TREATMENTS ARE CHANGED, IS THAT THE MODELS BECOME OUTDATE ED VERY QUICKLY. AND THAT WE HAVE TO BE VERY MUCH AWARE THAT WE CONSIDER THAT AS WE CHANGE PRACTICE.
SO GAP NUMBER 4 THAT WE IDENTIFIED IS THAT WE NEED PREDICTION TOOLS THAT USE A COMPREHENSIVE CLINICAL INFORMATION TO CREATE STATISTICALLY APPROPRIATE MODELS MODELS. SO FIRST OF ALL, WE NEED TO DEVELOP METHODS OF COMPREHENSIVELY CAPTURING THE RELEVANT ACUTE AND POST ACUTE CARE CLINICAL DATA , NOT JUST THE ADMISSION DATA AS CURRENTLY COMMONLY IS DONE WITH THESE MODELS. WE NEED TO FOCUS ON IDENTIFY ING PREDICT TERES THAT MAXIMIZE THE PREDICTIVE AK ARE SEE MUCH MORE THAN ADDING ANOTHER VARIABLE, AND WE HAVE TO FOSTER ROBUST CALIBRATION, VALIDATION AND REVALIDATION AND MODEL VERSIONING TO BALANCE THE BIAS AND VARIANCE TO MODIFY THE PREDICTIVE ERROR. NOW, WHERE DOES THIS LEAD US ? THE MAIN GOAL OF PREDICTION IS NOT JUST FOR PHYSICIANS TO KNOW WHAT MIGHT HAPPEN, BUT IS TO COMMUNICATE THAT TO FAMILIES. FAMILY
IES AND SURROGATE DECISION MAKERS ARE THE ONES THAT WILL ULTIMATELY MAKE THE DECISION ABOUT GOALS CARE AND WHAT TO DO, AND HOW CLINICIANS COMMUNICATE THE PROGNOSIS OFTEN DIFFERS FUNDAMENTALLY FROM WHAT FAMILIES NEED AND WHAT THEY MIGHT UNDERSTAND. SO HERE ON THE LEFT IS THE RESULT OF A QUALITATIVE STUDY IN SEVERE TBI -- WITH SURROGATES AND PHYSICIANS, WHERE WE SHOW THAT SURROGATES USUALLY WANT NUMERIC ESTIMATES AND PERCENTAGES BUT THAT PHYSICIANS SHY AWAY FROM SHOWING THEM. MOSTLY BECAUSE THEY DON'T THINK THAT FAMILIES WILL UNDERSTAND THEM PROPERLY AND UNDERESTIMATE WHAT FAMILIES AND SURROGATES MIGHT DO WITH IT. SURROGATES THINK THAT UNCERTAINTY IS FRUSTRATING BUT THEY UNDERSTAND THAT IT EXISTS, AND THEY JUST WANT IT EXPLICITLY STATED. PHYSICIANS, OF HOW , FEEL THAT UNCERTAINTY IS A NATURAL PART AND OFTEN OMIT IT, DON'T EVEN MENTION IT IN THEIR PROGNOSTICATION, AND SO IT LEADS TO THIS DISCORDANCE BETWEEN SUR DWATS AND PHYSICIANS AND OFTEN ALSO DISTRUST WHEN PHYSICIANS FEEL TOO CONFIDENT OR SURROGATES UNDERSTAND THEY'RE TOO CONFIDENT IF PREDICTING PROGNOSIS. SO I THINK
HOW WE EXPRESS UNCERTAINTY AND HOW WE COMMUNICATE PROGNOSIS IS NOT WELL-KNOWN AND NOT WELL STUDIED. SO THIS IS A SMALL STUDY THAT WE'VE UNDERTAKEN, AUDIO RECORDING GOALS OF CARE DISCUSSIONS AND FAMILY MEETINGS AND ALSO SHOWING HOW PHYSICIANS USE DIFFERENT APPROACHES AND IT'S NOT CLEAR AT ALL WHICH ONE IS THE RIGHT APPROACH. SO WE DO KNOW AND THIS HAS BEEN SHOWN MOSTLY IN THE NON- NEURO POPULATION AND SLOWLY ALSO IN THE NEUROPOPULATION THAT SHOWS SHOWSS THAT COMMUNICATION APPROACHES VARY GREATLY. WE ALSO KNOW FAMILIES
MAY MISUNDERSTAND THE PROGNOSIS BUT WHAT VARIABLES MIGHT LEAD TO THAT AND WHETHER IT'S THE PHYSICIAN LEADING TO IT OR THE FAMILY THEMSELVES OR A COMBINATION IS ALSO UNKNOWN . WE KNOW IN THE MEDICAL ICU, AND THIS IS A STUDY FROM DOUG WHITE, ET AL., IS THAT FAMILIES RARELY RELY ON THE CLINICIAN'S PROGNOSIS ALONE, BUT HOW IS IT IN DISORDERS OF CONSCIOUSNESS OR IN THE NEUROS.U. IN GENERAL? ONE WOULD THINK, BASED ON OUR OWN EXPERIENCES, THAT SURROGATE S WANT TO HEAR WHAT THE DOCTOR HAS TO SAY. BUT WHAT OTHER FACTORS MAY PLAY INTO THEIR DECISION-MAKING IS REALLY NOT WELL STUDIED. SO DESPITE ITS IMPORTANCE,
AT LEAST IN DISORDERS OF CONSCIOUSNESS, THE COMMUNICATION HASN'T BEEN STUDIED. SO THIS IS GAP NUMBER 5, IS THAT THE PROGNOSTIC COMMUNICATION ITSELF, AND ITS IMPACT ON FAMILIES' DECISION DECISION-MAKING IN DISORDERS OF CONSCIOUSNESS, IS UNDER STUDY IED. SO WE NEED TO UNDERSTAND THE CLINICIAN CLINICIAN'S CHARACTERISTICS IN COMMUNICATION APPROACHES AND HOW THEY'RE ASSOCIATED MAYBE WITH WITHDRAWAL OF CARE AND BIASES IN THESE DISCUSSIONS BUT WE ALSO NEED TO UNDERSTAND THE SURROGATE DECISION MAKER'S CHARACTERISTICS AND WHAT MIGHT BE ASSOCIATED WITH WITHDRAWAL OF CARE IN THESE PATIENTS, AND THEN, THEREFORE, FINALLY CREATE INTERVENTIONS MAYBE TO STANDARDIZE THE APPROACH OF COMMUNICATION, AND MOST IMPORTANTLY, UNDERSTAND AND MINIMIZE THE CLINICIAN BIAS AND HEURISTICS . SO THE FINAL SLIDE WE'RE GOING TO SHOW YOU HERE IS OUR GAP SUMMARY. THIS IS THE SUMMARY OF ALL THE GAPS WE'VE SHOWN YOU FOR PROGNOSTICATION. THIS WILL BE THE POINT OF DISCUSSION. NUMBER ONE, END POINTS FOR PROGNOSTIC ASSESSMENTS HAVE NOT BEEN DEFINED. NUMBER TWO, WE NEED METHODS TO
RELIABLY ASCERTAIN AND STATISTICALLY ADDRESS WITHDRAWAL OF LIFE SUPPORT AND THE SELF FULFILLING PROPHECY. NUMBER THREE, WE MUST STANDARDIZE AND IMPROVE THE DIAGNOSTIC EVALUATIONS AND ESTABLISH THE RIGHT TIME WINDOWS. NUMBER FOUR, WE NEED PREDICTION TOOLS THAT USE COMPREHENSIVE CLINICAL INFORMATION, BIOMARKERS AND EVERYTHING ELSE, TO CREATE STATISTICALLY APPROPRIATE MODELS. AND FINALLY WE NEED TO STUDY THE PROGNOSTIC COMMUNICATION AND THE IMPACT ON FAMILIES' DECISION-MAKING. THIS IS THE END OF OUR DISCUSSION AND WE'RE OPEN TO QUESTIONS AND THE PANEL DISCUSSION. >> SO THIS IS THERESA AGAIN, I WANT TO START BY SUMMARIZING WHAT WE'VE JUST DISCUSSED HERE IN THIS SESSION. FIRST OF ALL
, PANELISTS, THANK YOU SO MUCH, FOR PUTTING TOGETHER THIS AMAZINGS OVERVIEW OF NEUROPROGNOSTICATION. THANK YOU FOR DOING AP AMAZING JOB OVERSEEING ALL OF THIS, SO THANK YOU FOR THAT . I'D REALLY LIKE TO JUST GET DOWN TO THE NITTY GRITTY AND SORT OF SUMMARIZE WHAT THE SLIDE DECK REALLY SHOWED WAS REALLY THE RELEVANCE OF NEUROPROGNOSTICATION GETS TO THE CORE OF WHAT CURING COMA IS ALL ABOUT, AND IT'S REALLY ONE OF THE PRIMARY REASONS FOR THIS ENTIRE CAMPAIGN . PROPER NEUROPROGNOSTICATION ALLOWS CLINICIANS TO GUIDE THE CONVERSATION WITH CERTAINTY, AND HELP INCLUDE EXPECTATIONS FOR THE OUTCOMES REALLY FROM A SCIENTIFIC PERSPECTIVE. AS WAS OUTLINED, THERE ARE DEFINITELY LOTS OF IDENTIFIED GAPS THAT WE HAVE, INCLUDING WHAT ARE WE PROGNOSTICATING, WHAT ARE THE OUT COMES THAT ARE MEANINGFUL, WHAT'S MEANINGFUL TO A SCIENTIST AND A CLINICIAN AND WE UNDERSTAND IS VERY DIFFERENT TO CARETAKERS AND INDIVIDUALS THEMSELVES. SO WHAT ARE WE GOING TO
PROGNOSTICATE, AND THEN AGAIN, WHAT'S THE BEST TIME? YOU KNOW, WE HAD SOME CONVERSATION YESTERDAY WHEN WE WERE TALKING ABOUT CLINICAL TRIALS AND WHETHER IS THE BEST TIME TO EVEN BE DO ING RESEARCH ON THESE PATIENTS. IS IT IN THE HYPERACUTE STAGE , IS IT WHEN THEY'RE ON THE FLOOR, IS IT WHEN THEY'RE IN REHAB, IS IT AT A YEAR, AND I WOULD STILL -- DON'T REALLY UNDERSTAND, YOU KNOW, IS IT DURING THE INFLAMMATORY STAGE, IS IT NOT. SO WHEN SHOULD WE BE PROGNOSTICATING ON THESE PATIENTS? WE ALSO NEED STANDARDIZED COMPREHENSIVE TOOLS THAT ARE WAY MORE PRECISE, INCLUDES LOTS OF VARIABLES, BUT THESE TOOLS ALSO NEED TO BE FLUID. BECAUSE THERE ARE SO MANY, AS WAS TALKED ABOUT, THESE TOOLS DON'T NECESSARILY INCLUDE ALL OF THE ADVERSE EFFECTS THAT CAN HAPPEN WHILE THE PATIENT IS IN ICU OR COMPLICATIONS OR CHANGES IN THEIR CARE, EVERY SUBARACHNOID PATIENT DOESN'T HAVE THE SAME EXACT COURSE. SO THESE TOOLS NEED TO BE STANDARDIZED , COMPREHENSIVE, FLUID, INCLUDE LOTS VARIABLES IN ORDER TO ALLOW US TO BE MORE CERTAIN IN OUR NEUROPROGNOSTICATION. WE REALLY NEED TO ALSO
DEFINE WHAT OUTCOMES WE'RE LOOKING AT, SO AN OUTCOME FOR A SCIENTIST OR A CLINICIAN, WE MAY AS -- A GOOD OUTCOME IS SPEAKING, LIVING ON YOUR OWN, QUALITY OF LIFE, WHEREAS FAMILIES I THINK OFTENTIMES HAVE A VERY DIFFERENT IDEA OF WHAT A GOOD OUTCOME IS, AND SO I THINK -- THAT'S ALSO ANOTHER GAP WE DON'T REALLY UNDERSTAND AND ARE THESE OUTCOMES BEHAVIORAL , FUNCTIONAL, COGNITIVE, IS THERE A MENTAL HEALTH CONCERN. SO THERE'S LOTS OF THINGS WE NEED TO TALK ABOUT. AS THEY TALKED ABOUT YESTERDAY, NEUROPSYCHOLOGY IS REALLY SOMETHING WE SHOULD BE FOCUSING AS WELL ON THE OUTPATIENT AND THE RECOVERY PHASE AND REALLY WE DON'T HAVE THOSE RESOURCES IN PLACE AT ALL FOR THOSE, SO OTHER GAPS. REALLY AND THEN OUR OWN BIASES. THERE'S LOTS OF TIME TO FIGURE OUT WITHDRAWAL OF CARE, HOW DO WE TAKE THOSE PATIENTS OUT OF -- HOW DO WE KEEP IT FROM SKEWING AND BIASING OUR RESEARCH RESEARCH. AT THE SAME TIME, MAYBE OUR IMPLICIT BIASES ARE
WRONG, MAYBE THEY'RE RIGHT. IT'S HARD TO SAY, BUT HOW DO WE TAKE THOSE OUT. THEN LASTLY, I THINK SUSANNE WAS JUST SAYING COMMUNICATION WITH THE FAMILIES, THERE REALLY NEEDS TO BE SOME STANDARDIZED APPROACH, AND WE REALLY DON'T UNDERSTAND THE FULLNESS OR HOW EACH INDIVIDUAL CLINICIAN -- WITH FAMILIES, WE DON'T UNDERSTAND FAMILIES' ECONOMIC , SOCIAL, RELIGIOUS BACKGROUNDS, HOW WE SHOULD BE APPROACHING THESE, BUT REALLY IF WE HAD BETTER TOOLS TO PROGRESS NOS TI PROGNOSTICATE, THEN THAT CONVERSATION CAN BE STANDARDIZED, DEFINITELY NEEDS TO BE MORE RESEARCHED. SO AT THIS TIME, AGAIN, THANK YOU, THANK YOU, THANK YOU SO
MUCH. THAT WAS A WONDERFUL PRESENTATION FROM BOTH OF YOU. I REALLY -- AT THIS POINT WE'LL OPEN UP THE FLOOR FOR QUESTION S AND FOR THE PANELISTS TO ANSWER, PLEASE. >> WONDERFUL. THANK YOU. AND I ECO DR. HUMAN'S ACKNOWLEDGMENT, SO WONDERFUL PRESENTATION. FIRST QUESTION THAT YOU CAN USE THE Q & A
SECTION TO SUBMIT YOUR QUESTIONS TO KICK US OFF, YOU DID A REALLY NICE JOB OF SUMMARIZING THE WITHDRAWAL OF -- THERAPY QUANDARY, THE SELF FULFILL ING PROPHECY AND HOW IT IMPACT PROGNOSTICATION, AND I'M WONDERING IF THERE'S AN OPPORTUNITY TO BETTER QUANTIFY VARIABLES LIKE WHAT THE FAMILY WISHES, WHAT THE PATIENT MAY HAVE WANTED, AND EVEN OTHER FACTORS LIKE THE PATIENT'S RELIGIOUS BACKGROUND OR RELIGIOUS VIEWS , ECONOMIC STATUS, INSURANCE STATUS, THINGS THAT WE KNOW CLINICALLY ABSOLUTELY IMPACT DECISIONS ON PURSUING MEDICAL CARE, AND SHOULD THAT BE BETTER QUANTIFIED IN OUR STUDY SO THAT WE CAN SEPARATE THESE HUMAN FACTORS FROM THE MEDICAL ONES? >> I DON'T KNOW IF ANY OF THE OTHER PANELISTS WANT TO TALK BUT I'M HAPPY TO ADDRESS THAT A LITTLE BIT. THE SHORT ANSWER IS, YEAH, ABSOLUTELY, IT'S CRITICAL. THE PROBLEM HAS BEEN THAT TRADITIONALLY WE HAVEN'T ASCERTAINED THEM WITH ANY DEGREE OF ACCURACY, SO MOST OF OUR LITERATURE IS DOES NOT REPORT ACCURATELY WITHDRAWAL OF CARE AND WHEN THEY DO, IT SIMPLY IS A FUNCTION OF HERE'S OUR MORTALITY AND HERE MAYBE IS THE PROPORTION PROPORTION. WHEN IT COMES IT THESE FACTORS, THIS IS SOMETHING THAT'S JUST NOW BEING STUDIED IN THE BRAIN INJURED POPULATION , TO ONE OF THE STUDIES THAT I QUOTED WAS JUST PUBLISHED IN JAMA SURGERY THIS YEAR, AND SO I THINK A LOT OF THESE ARE HUGE OVERLYING QUESTIONS BECAUSE IT JUST SIMPLY HAS NOT BEEN QUANTIFIED, AND SOME OF THE DIFFICULTY THERE TOO IS WHEN YOU SAY SOMEONE HAS HAD A WITHDRAWAL OF LIFE SUSTAINING THERAPY VERSUS CARE LIMITATION VERSUS DO NOT ESCALATE, AND HOW DO THOSE EVEN -- DNR DECISIONS IMPACT PEOPLE'S PROGNOSIS AS WE'VE SEEN FROM THE ICH LITERATURE, SO EVEN TEASING APART SOME OF THOSE IN THEIR DIFFERENTIAL IMPACTS BECOME A CHALLENGE, AND AGAIN'D AGAIN ADDING ON THESE OTHER FACTORS WHICH ARE CRITICAL AND JUST REQUIRE MORE STUDY, BECAUSE THAT'S EXACTLY THE RIGHT POINT THAT UR OOO MAKING YOU'RE MAKING, WE'VE GOT TO UNDERSTAND THAT TO THEN ADDRESS THE ISSUE. >> SO I MAY ADD TO THIS, I WANT TO CONGRATULATE THE CURING COMA CAMPAIGN BECAUSE IN THE EFFORT OF CREATING COMMON DATA ELEMENTS, WHICH WE'RE INVOLVED IN, THERE IS A SUBGROUP THAT WAS FORMED AND I'M LEADING THIS, WHICH IS A FAMILY AND GOALS OF CARE SUBGROUP. SO WE ARE PUTTING
TOGETHER VARIABLES INCLUDING MODE OF DEATH TO CAPTURE EVEN THE DOCUMENTATION OF WITHDRAWAL OF CARE, AN ADDITIONAL -- MANY OTHER ADDITIONAL THINGS THAT YOU JUST MENTIONED PLUS MORE FOR THOSE THAT WANT TO STUDY THAT TO HAVE A CDE TO GO TO. >> I WOULD JUST ADD FROM A PRACTICAL STANDPOINT , WHAT WE DO IN THE ICU ON A DAILY BASIS, WE USE MULTI-MODALITY MONITORING. I DON'T KNOW IF THAT WAS EMPHASIZED ENOUGH. WHEN I SAY MULTI-MODALITY, YOU
MEAN ALL THESE DIFFERENT TOOLS THAT YOU COME AT THE PROBLEM FROM DIFFERENT DIRECTIONS, AND THEY HAVE TO JIVE, RIGHT? AND SO IF SOMETHING DOESN'T MAKE SENSE OR IF THE IMAGING DOESN'T MATCH THE ELECTROPHYSIOLOGY OR THE EXAM, YOU HAVE TO GO BACK TO THE DRAWING BOARD AND ASK YOURSELF WHY. I THINK THAT INFORMS YOUR DISCUSSIONS WITH FAMILIES ALSO. I'VE ALWAYS LIVED BY THE CRE DO THAT YOU TELL THEM WHAT YOU CAN WHETHER YOU CAN, AND IF YOU HAVE GOOD STRUCTURAL IMAGING, I USUALLY RELY ON IMAGING SUCH AS MRI OR CAT SCAN, AND WHEN YOU CAN SEE WHERE THERE'S INJURY, YOU CAN SAY, VERY LIKELY THIS PERSON COULD SURVIVE THIS, BUT THEY'LL BE DIFFERENT. THEIR PERSONALITY WILL BE DIFFERENT , THEIR COGNITION WILL BE DIFFERENT. I CAN SAY THAT WITH
CERTAINTY. SO THAT HELPS YOU TO HAVE SOME OBJECTIVITY TO WHATEVER ESTIMATION YOU'RE MAKING. SUSANNE BROUGHT UP THE CONCEPT THAT THEY WANT A PERCENTAGE. I ALWAYS TELL PEOPLE TO SHY AWAY FROM PERCENTAGES BECAUSE THAT ONLY APPLIES TO LARGE POPULATIONS OF PATIENTS. IT DOESN'T NECESSARILY
APPLY TO THE INDIVIDUAL WHO MAY OR MAY NOT FIT ON WHATEVER CURVE YOU'RE USING FROM WHATEVER STUDY. AND SO THERE'S A REASON WHY PHYSICIANS ARE GUN SHY ABOUT DOING THAT, AND I THINK IT'S A VERY GOOD ONE. >> ONE OF THE OTHER ISSUES IS THAT WE HAVE VERY CRUDE MEASURES, OF COURSE, OF EVALUATING PATIENT PREFERENCES , ESPECIALLY WHEN THEY ARE IN A COMA, AND WE REALLY DON'T KNOW HOW TO COMPARE THE SURROGATE DECISION AND THE SURROGATE PREFERENCES FOR THE PATIENT WITH THE PREFERENCES OF THE PATIENT THEMSELVES, AND SO WE SHOWED YOU A PICTURE OF THE VISUAL ANALOG SCALE FROM THE STUDY WHICH ASKED THE PATIENT TO RANK THEIR HEALTH ON A SCALE OF 1 TO 100, COMPARED TO THEIR PREMORBID STATE OF HEALTH, AND OBVIOUSLY THAT'S A VERY CRUDE MEASURE AND REALLY DOESN'T GET AT THE COMPLEXITY OF ALL THE POTENTIAL PREFERENCES FOR EACH PATIENT ON WHAT WOULD BE AN ACCEPTABLE QUALITY OF LIFE. >> GREAT. THANK YOU.
>> THIS QUESTION IS -- WE CAN DIRECT IT FIRST TO DR. MUEHLSCHLEGEL. THERE IS A SCHISM OF THAT DEFINITION OF GOOT ODD DUT GOOD OUTCOMES AND WHAT PATIENTS AND FAMILIES PERCEIVE AS WE TALKED ABOUT. HOW CAN WE LEVERAGE THE CURING CAMPAIGN IN YOUR OPINION TO BRIDGE THAT GAP ? >> SO I THINK FIRST OF ALL, I DON'T THINK WE UNDERSTAND IT -- I SEE IT IN OUR DAILY PRACTICE, BUT WE HAVE TO REALLY REMIND OURSELVES, AND THIS IS ME INCLUDED, WE'RE ALL VERY BIASED, RIGHT? SO WE OFTEN FEEL LIKE IF I WERE THE PATIENT, I WOULDN'T WANT THAT, AND OF COURSE THE FAMILY SHOULD WANT THAT, AND THEN WHEN THE FAMILY WANTS SOMETHING COMPLETELY DIFFERENT, THERE'S THIS KIND OF FRICTION BETWEEN WHAT WE THINK SHOULD LAP AND THE FAMILY THRINGS, SO I THINK THE FIRST WAY TO DO IT IS TO STUDY AND UNDERSTAND WHY SUCH A DISCONNECT, WHY SUCH A DISCORDANCE MIGHT HAPPEN. THERE ARE SO
MANY FACTORS. IT COULD BE PHYSICIAN BIASES, IT COULD BE HEURISTICS AND JUST BEING IN THE PLACE YOU ARE, AND WE'RE REALIZING THE VARIABILITY OF WITHDRAWAL OF CARE AND WHAT IS DRIVING THAT, RIGHT, IS THERE SOME LOCAL PREFERENCE OR SOME LOCAL CULTURE, BUT ALSO WHAT ABOUT THE FAMILIES THEMSELVES? IS THERE RELIGIOUS, ETHNIC, RACIAL THINGS THAT GO ON. AND I DON'T THINK WE REALLY HAVE A GOOD GRASP. WE ALL HAVE LIKE A HUNCH, BUT I DON'T THINK IT'S BEEN SYSTEMATICALLY STUDIED . SO I THINK IN GENERAL, WE SHOULD JUST STUDY TO UNDERSTAND IT BETTER. DOUG WHITE HAS DONE A FAIRLY GOOD JOB OF DOING THIS IN THE NON- NEUROPOPULATION BUT I DON'T THINK IT'S FAIRLY TRANSLATABLE. >> JUST TO ADD TO THAT REAL
QUICKLY, I THINK WE TEND TO FOCUS ON LONGER AND LONGER TERM OUTCOMES TO BE MORE COGNIZANT OF THESE MEASURES THAT ARE BEYOND FUNCTIONAL OUTCOME. BUT BEAR IN MIND TOO, I THINK THERE'S A BIG ROLE FOR MORE IMMEDIATE BIOMARKERS. IF YOU CAN ANSWER THE QUESTION, IS MY FAMILY MEMBER GOING TO WAKE UP, THEN TO SOME DEGREE, THOSE DECISIONS MAY COME OFF THE FAMILY AND THE PATIENT THEM SEFS MIGHT SEFS MIGHT BE ABLE TO ADDRESS THINGS IN THE FUTURE, BUT LEVERAGING AT LEAST IN MORE IMMEDIATE OUTCOMES WILL KIND OF ALLOW US TO SAY, WITH A LITTLE BIT BET TER CERTAINTY AT SOME POINT HOPEFULLY, YOU KNOW, THESE THINGS THAT MATTER TO PATIENTS WITH DISORDERS OF CONSCIOUSNESS, ALLOWING THOSE LONGER TERM OUTCOMES AS SOMETHING WE CAN DEFINE OVER TIME AS WELL. >> THROUGH. WE'VE GOT
THANK YOU. WE'VE GOT A LOT OF QUESTIONS. SHOULD PREDICTION MODEL S INCLUDE OUTCOME GOALS IN ADDITION TO ALL OF THE CLINICAL VARIABLES ? AND SPECIFICALLY, IF THE PATIENT PATIENT'S VALUES ARE TO BECOME FULLY INDEPENDENT, HOW DOES THAT GET PACK TORED IN TO PREDICTION MODELS COMPARED TO A PATIENT WHO VALUES, YOU KNOW, MAY BE MORE COMFORTABLE WITH A MODERATE LEVEL OF DISABILITY? SO REALLY INCLUDING THAT PATIENT PREFERENCE OR FAMILY PREFERENCE IN PREDICTION MODELS, AND THE PREDICTION TO ACHIEVE THOSE GOALS MAY VARY, IT MAY VARY GREATLY. SO HOW DO YOU ENVISION INCLUDING THAT PATIENT SPECIFIED OUTCOMES INTO PREDICTION MODELS? >> I CAN TRY TO ADDRESS THAT. I THINK IT'S REALLY IMPORTANT THAT WE MOVE AWAY FROM DICHOTOMIZING OUTCOMES. JUST AS DAVID MEN HAS SAID WHOSE OUTCOME , WHOSE LIFE IS IT ANYWAYS. SO I THINK IT'S IMPORTANT WE HAVE
MORE GRANULAR OUTCOMES. EVEN THOUGH YOU TAKE THE GO SE OF THE 8-POINT SCALE BUT THAT YOU CAN CHANGE A MODEL AND JUST PREDICT NOT A CONGLOMERATE OF ALIVE BUT VEGETATIVE AND DISABLED AND MODERATELY DISABLED, BUT THAT YOU CAN DO MAYBE AN ORDINAL REGRESSION OR MAYBE A SHIFT ANALYSIS OR PREDICTING ONE PART ON THAT SCALE. SO I THINK IT'S IMPORTANT THAT WE ASK ABOUT VALUES AND PREFERENCES . AND THAT WE INDIVIDUALIZE HOW WE ADDRESS THIS, WHETHER IT'S WITH A MODEL OR HOW WE TALK BASED ON THAT. I THINK IT GETS MUCH HARDER AT ALL OF THE
STUDY IES WHERE WHEN THEY'RE WELL AND HEALTHY, THEY WOULD NEVER WANT TO HAVE ANY DISABILITY AND ONCE THEY HAVE IT, THEIR PERSPECTIVE CHANGES, SO THERE'S THESE STUDY STUDIES IN POST HEMICRANE YEK TOE MEE PATIENTS, SURPRISING HOW HAPPY THEY ARE WITH THEIR QUALITY OF LIFE THAT THEY WOULD HAVE NEVER THOUGHT THEY WOULD BE HAPPY WITH WHEN THEY WERE HEALTHY AND ALIVE. >> SOME OF THESE STUDIES HAVE A REALLY NOVEL END POINT OF WOULD YOU GO THROUGH THAT AGAIN OR WOULD YOU HAVE THAT SURGERY AGAIN, SO LOOKING AT SOME OF THESE IDEAS OR, ARE YOU SATISFIED WITH YOUR OUTCOME, MAY BE MORE IMPORTANT THAN JUST WHAT IS THAT OUTCOME. >> THERE ARE A NUMBER OF TRADE-OFF SORT OF STUDY-TYPE QUESTIONS WHERE YOU ASK PATIENTS TO LOOK AT TRADEOFFS BETWEEN BENEFIT AND RISK AND IT'S ONE WAY -- IT'S A LITTLE BIT COMPLEX FOR A PATIENT WHO'S NOT QUITE WITH IT, BUT TO EVALUATE WHAT THEIR PREFERENCE WOULD BE IN TERMS OF A GOOD OUTCOME, A BAD OUTCOME AND HOW BAD THAT OUTCOME REALLY NEEDS TO BE BEFORE THEY WOULD SAY THAT'S ENOUGH . >> SO THERE ARE SHARED DECISION-MAKING TOOLS BEING DEVELOPED RIGHT NOW WHERE THE VALUES CLARIFICATION EXERCISE IS ONE PIECE OF IT. AND SO IT'S ESSENTIALLY BEFORE YOU GO IN TO TALKING ABOUT OPTIONS , IS TO FIRST CLARIFY VALUES . AND THEN CHANGING WHAT YOU SAY OR WHAT THE CHOICE MIGHT BE BASED ON THAT . >> GREAT. THANK YOU. >> SO THE NEXT QUESTION WE HAVE IS AROUND ANTECEDENT MEDICAL ISSUES OR COMORBIDITIES , AND HOW CAN WE BETTER ADDRESS THIS IN NEUROPROGNOSTICATION? >> SO SUPER IMPORTANT . WE'VE LOOKED AT THE ICH PATIENT IN THE TRIALS AND THE FIRST FEW WEEKS, PATIENTS DO TEND TO DIE OF CAUSES DIRECTLY RELATED TO THEIR HEMORRHAGE, BUT AFTER ABOUT A MONTH, THE CAUSES OF DEATH ARE PREDOMINANTLY MEDICAL RELATED, EVEN THOUGH THEY MAY INDIRECTLY BE RELATED TO THE -- HAVING HAD A HEMORRHAGE, SO I THINK THE MEDICAL COMORBIDITIES REALLY HAVE TO BE INCORPORATED INTO THE PREDICTION MODEL S IN A SINCERE WAY, AND I THINK IT'S NOT JUST WHETHER YOU HAVE ATRIAL FIBRILLATION LA OR YOU'VE HAD A PRIOR STROKE, BUT REALLY LOOK AT EVERY PRIOR MEDICAL CONDITION IN A SIGNIFICANT WAY AS FAR AS PREDICTING FUTURE RISK OF STROKES, HEART ATTACKS, RENAL DYSFUNCTION, DIABETIC COMPLICATIONS AND SO ON.
>> THANK YOU. >> AND THE NEXT QUESTION SPEAKS TO AN ITEM THAT YOU TOUCHED ON ALREADY, BUT FAMILIES ARE OFTEN UNFAMILIAR WITH THE POTENTIAL DISABILITY AND MAY THINK LIFE IS NOT WORTH LIVING UNDER A CERTAIN CIRCUMSTANCE , BUT THAT ATTITUDE OR BELIEF MAY CHANGE WITH EXPERIENCE. SO HOW DO YOU FACTOR IN BOTH TO STUDIES AND TO MODELS PATIENT AND FAMILY EXPERIENCE WITH DISABILITY AND POTENTIALLY EVOLVING OPINION OR BELIEF ? >> WELL, I'LL JUMP IN BECAUSE NOBODY ELSE IS. IT'S A REAL CHALLENGE, AND I THINK THAT IF THE CLINICIANS AND THE FAMILIES ARE WILLING TO SEE IT AS A SITUATION IN FLUX, WHERE THERE REALLY IS SIGNIFICANT UNCERTAINTY GIVEN A PERSON'S PROGNOSIS, AND YOU'RE WILLING TO GO THROUGH THIS PROCESS TOGETHER WITH PERIODIC UPDATES ON AN EVERY DAY OR EVERY OTHER DAY BASIS, IT'S A REALLY COLLABORATIVE WAY TO TRY TO CARE FOR THE PATIENT AND GET THEM TO THE BEST POSSIBLE OUTCOME. WE TEND TO SEE THESE FAMILY MEETINGS AS THIS BIG MEETING THAT YOU HAVE ONCE, AND REALLY IT SHOULD BE A DYNAMIC AND PROGRESSIVE PROCESS WHERE YOU'VE ESTABLISHED A RELATIONSHIP WITH THE FAMILY FROM DAY ONE, BUT THAT RELATIONSHIP GROWS AND THE TRUST GROWS OVER TIME SO IT'S NOT LIKE YOU HAVE THESE BIG WEIGHTY MEETINGS WHERE YOU'VE GOT TO COME TO A DECISION RIGHT THEN AND THERE, BUT WHEN DECISIONS ARE FINALLY MADE, THERE'S BEEN A TRUST THAT'S BEEN DEVELOPED OVER TIME. IT'S ALL WELL AND GOOD FOR ME TO SAY THIS IN THE COMFORT OF MY HOME OFFICE, TO ACTUALLY DO THE TIME THAT IT TAKES TO DO THIS WITH EVERY PATIENT EVERY DAY IN YOUR ICU , WITH PEOPLE DROPPING LIKE FLIES, ET CETERA , IT'S VERY CHALLENGING. BUT IF YOU WERE TO OPTIMAL
LY DO THIS, THAT WOULD PROBABLY BE FROM A COMMUNICATION AND COLLABORATION STANDPOINT, THAT WOULD PROBABLY BE UP WITH OF THE BEST WAYS TO DO IT, IN MY MIND. >> THANK YOU FOR THAT. OUR NEXT QUESTION IS AROUND -- IS KIND OF FOLLOWING THAT -- FOLLOWING CLOSELY TO WHAT YOU WERE JUST TALKING ABOUT, ABOUT RELATIONSHIPS WITH SURROGATE DECISION MAKERS, AND SOMETIMES THERE ARE CONFLICTS BETWEEN SURROGATE DECISION MAKERS AND MAYBE OTHERS THAT HAVE CLOSE RELATIONSHIPS WITH A PATIENT. AND DO YOU HAVE BEST PRACTICES FOR DEAL ING WITH THIS, AND MAYBE YOU COULD ALSO ADDRESS THE LEGAL CONSIDERATIONS.
IS THERE ANYONE THAT WANTS TO TAKE THIS ONE? >> WELL, I'LL GO AGAIN. >> ALL RIGHT. >> THERE'S A REAL VALUE TO THE SECOND OPINION, AND I CAN FEEL WHEN I HAVE A TENSION WITH THE FAMILY AND THEY'RE NOT EITHER TRUSTING WHAT I'M SAYING OR BELIEVING IT. AND THE POWER OF OFFERING THEM THE SECOND OPINION BEFORE THEY HAVE TO ASK FOR IT IS VERY, VERY HELPFUL. AND PEOPLE ARE OFTEN RELUCTANT TO DO THIS, ESPECIALLY JUNIOR PHYSICIANS JUNIOR CLINICIANS, BUT HAVING SOMEBODY ELSE COME IN, SOMEBODY WHO HAS PARTICULAR EXPERTISE IN THAT AREA, THERE ARE TWO THINGS THAT HAPPEN WHEN YOU GET A SECOND OPINION. ONE IS, THEY AGREE WITH WHAT YOU'VE
ALREADY SAID, EVERYBODY FEELS BETTER. TWO, THEY DISAGREE WITH WHAT YOU SAID AND YOU MIGHT HAVE A DIFFERENT COURSE ACTION THAT WILL MAKE EVERYBODY FEEL BETTER ALSO. SO THERE'S REALLY NO BAD THING THAT CAN COME FROM IT , AND YOU DON'T WANT TO COERCE THAT SECOND OPINION AND SAY, OH, IT'S A REALLY DIFFICULT FAMILY, JUST GOT TO WARN YOU BEFORE YOU GO IN THAT ROOM, THEY ARE REALLY CHALLENGING . AND IT'S VERY COMMON THAT WE HAVE THOSE CONVERSATIONS, BUT THEY'RE TOTALLY INAPPROPRIATE. THEY TOTALLY BIAS THE PERSON GOING INTO IT, AND YOU REALLY -- IF YOU WANT TO DO IT RIGHT, YOU HAVE TO SAY, CAN YOU PLEASE JUST TAKE AN OBJECTIVE LOOK AT THIS CASE, YOU KNOW, I DON'T WANT TO CLOUD YOUR THINKING, I JUST WANT TO MAKE SURE THAT WE GIVE THIS PATIENT AND THE FAMILY THE BEST EDUCATION AND INFORMATION POSSIBLE.
>> I FULLY AGREE WITH DAVE AND IT PROBABLY BECAUSE I LEARNED FROM DAVE, BUT I FULLY AGREE THAT BEING VERY HUMBLE ABOUT US PHYSICIANS DON'T KNOW IT ALL, AND ACTUALLY OPENLY SAYING THAT, THERE'S EVEN RESEARCH ON THAT, THAT THAT ADDS TO TRUST BUILDING. AND THEN IF YOU COME ACROSS AS THERE'S NO CHANCE THIS PERSON IS GOING TO WAKE UP, THAT'S IT, YOU'RE TRYING TO CLOSE THE DOOR, TRUST OR DISTRUST RISES. SO IT'S VERY IMPORTANT THAT WE OPENLY SAY, I'M BASING THIS ON THIS AND THIS AND THIS, LET ME SHOW YOU THE IMAGES, AND I DO THAT. I MAY NOT SHOW THEM AN EEG, BUT SHOWING THEM THE IMAGE, BEING VERY HUMBLE ABOUT IT, BASED ON THE EXAM, BASED ON THIS, I BUT I DON'T KNOW IT ALL, WHEN RESEARCH HAS LOOKED AT THOUSANDS OF THESE PATIENT, A SMALL PERCENTAGE DID THAT AND A LARGER PERCENTAGE DID THAT. BUT WHERE WILL YOUR LOVED ONE BE? WE DON'T KNOW THAT. OFFERING A SEC OPINION I THINK
IS A GREAT WAY TO DO IT. ALSO OPENLY OFFER ING THEM YOUR BUSINESS CARD SO THEY CAN LOOK YOU UP, SO THAT THEY UNDERSTAND YOUR CREDENTIALS AND REALLY COMING ACROSS AS YOU HAVE NOTHING TO HIDE, YOU REALLY MEAN IT WELL. I THINK IT'S ALSO IMPORTANT TO UNDERSTAND THE FAMILY'S PERSPECTIVE. ASK THEM, I FEEL THERE'S DISTRUST, WHERE IS IT COMING FROM? MAYBE THEY'VE HAD A PRIOR BAD EXPERIENCE. MAYBE THEY DON'T TRUST YOU BECAUSE OF RACIAL TENSIONS. MAYBE IT'S SOMETHING YOU
SAID OR SOMETHING A NURSE SAID OR SOMEBODY ELSE IN THE TEAM SAID. SO IT REALLY IMPORTANT THAT YOU DON'T SHY AWAY FROM VERY OPENLY ADDRESSING THE ISSUES. >> WE'VE OFTEN GONE TO -- CONSULTS IN THESE SITUATIONS AND IT'S RARELY THE CASE THAT YOU WANT TO BE AGGRESSIVE AND THE FAMILY DOESN'T WANT TO DO ANYTHING FURTHER, BUT THE MORE COMMON IS, OF COURSE, THAT THE FAMILY WANTS TO DO EVERYTHING, AT LEAST WHERE I WORK, AND YOU'RE A LITTLE BIT HESITANT ABOUT WHETHER THAT TRULY REPRESENTS THE PATIENT'S BEST INTERESTS OR THEIR PREFERENCES. BUT I FIND THAT THE ETHICAL CONSULTS, TAKES A COUPLE DAYS SOMETIMES, BUT IS WELL WORTH THE EFFORT. >> WENDY, YOU MAKE A REALLY GOOD POINT THAT IT'S BEEN YOUR EXPERIENCE THAT TYPICALLY WE WANT TO RESERVE -- FAMILIES WANT TO MOVE FORWARD WITH CARE AT ALL COST S. I'VE HAD A VERY DIFFERENT EXPERIENCE, WE HAVE REGIONAL VARIABILITY AND SOME OF THE CULTURAL ASPECTS OF THINGS THAT DO MAKE CONVERSATIONS, FOR INSTANCE, IN THE NORTHEAST, THE WEST, THE WEST COAST, POTENTIALLY C COMPLETELY DIFFERENT, SO IT LIE HIGHLIGHTS THAT THESE CAPS ARE SUPER CRITICAL FROM 1 TO 5 ALL THE WAY TOWN NO COMMUNICATE THINGS ULTIMATELY. >> 2 MINUTE WARNING. SARAH, I BELIEVE
YOU'RE MUTED. >> THANK YOU. OKAY. NEXT QUESTION, IS IT APPROPRIATE TO HAVE FAMILIES CONSIDER NON-MEDICAL ASPECTS SUCH AS LONG TERM FINANCIAL OR LIFESTYLE IMPACTS AS A PART OF PROGNOSIS FOR HOW LIFE FOR THE PATIENT AND FAMILY WILL CHANGE MOVING FORWARD? ADDITIONAL SUGGESTIONS WOULD INCLUDE HOME ENVIRONMENT, SOCIAL FAMILY SUPPORT FOR THE PATIENT, AND ALSO AGAIN BACK TO STUDIES AND MODELING, HOW THAT THEN IMPACTS OUTCOMES. >> IT HARD FOR US AS PHYSICIANS TO DO THAT BECAUSE OF THE PERCEIVED CONFLICT OF INTEREST, HOWEVER, IT IS IMPORTANT TO FAMILIES. I
THINK A MODEL FOR THIS IN SOME RESPECTS, AT LEAST IN MY MIND, IS THE TRANSPLANT LITERATURE, WHICH TALKS ABOUT KIND OF PRE-TRANSPLANT SUPPORT STRUCTURE S, MENTAL HEALTH, WHAT'S YOUR PREMORBID FUNCTIONING , AND THEY ROLL THAT INTO THEIR DECISION. OBVIOUSLY THERE'S A LOT OF DIFFERENCES WE'RE TALKING ABOUT, IN ACUTE BRAIN INJURY, WE DON'T HAVE THAT LUXURY, BUT I THINK JUST THE KNOWLEDGE OF WHAT TO EXPECT, AND THE SUPPORT STRUCTURE THAT PEOPLE HAVE ENDS UP BEING A REALLY CRITICAL PIECE OF THEIR PROGNOSIS ULTIMATELY . WE ALL HAVE A SENSE FOR THIS, BUT IT'S BEEN POOR LY STUDIED. THERE HAVE BEEN SOME PEOPLE WORKING ON THIS IN REALLY ELEGANT WAYS, AND I THINK IT NEEDS TO BE STUDIED A LOT MORE RIGOROUS. >> I WOULD ONLY ADD ONE THING, AND THAT
IS WE'RE NOT GRADED KNOWING WHAT THOSE BACKGROUND ISSUES ARE, IT'S VERY IMPORTANT THAT SOCIAL WORK BE INVOLVED. THEY ARE, IN MY EXPERIENCE, GREAT AT SLEUTHING OUT, IS THERE SOME KIND OF A FINANCIAL PROBLEM, WHICH IS OFTEN THE CASE, AND DO THEY HAVE A MISCONCEPTION ABOUT THE COSTS THAT ARE ASSOCIATED WITH SHORT OR LONG-TERM CARE, THAT CAN THEN BE ADDRESSED, SO YOU DON'T KNOW IF YOU DON'T LOOK FOR IT, AND WE'RE NOT VERY GOOD , AT LEAST I'M NOT VERY GOOD AT LOOKING FOR THIS, BUT THERE IS A GREAT PLACE WHERE SOCIAL WORK CAN BE VERY HELPFUL. >> AND JUST TO CLARIFY THE QUESTION AS WELL, IS IT APPROPRIATE, DOES THE PANEL FEEL THAT IT IS APPROPRIATE TO CONSIDER THESE FACTORS WHEN PROGNOSTICATING, OR WOULD YOU SAY, NO, IT SHOULD NOT BE CONSIDERED, IT SHOULD REALLY BE A SEPARATE CONVERSATION? >> I THINK IT MAKES -- I MEAN, IT MAKES FOLKS UNCOMFORTABLE , AND WHEN I SAY FOLKS, IT MAKES ME UNCOMFORTABLE IF I WERE TO ASK, WELL, LET'S FIGURE OUT YOUR FINANCIAL SITUATION AND THEN I CAN TELL YOU WHETHER YOUR GOAL IS APPROPRIATE OR EVEN ACHIEVABLE AND DOESN'T MEAN THAT IT SHOULDN'T BE ADDRESSED. SO YES, WE INVOLVE SOCIAL WORKERS TOO, BUT IN THE ACTUAL TALKING TO FAMILIES, DO WE BRING THIS UP, HEY, YOU GUYS DON'T HAVE THE FINANCIAL MEANS TO SUPPORT A PERSON THAT'S GOING TO BE DISABLED FOR THE REST OF THEIR LIVES, DO YOU REALLY WANT TO GO THAT WAY, IS PROBABLY NOT APPROPRIATE . AND AGAIN, AS BRANDON SAID, MIGHT EVEN BE PERCEIVED AS CONFLICT OF INTEREST, AND YOU'RE AFTER THE MONEY, AND I THINK IT MAY EVEN ADD TO MISTRUST. SO I'M USUALLY
VERY CAREFUL ABOUT IT AND DON'T DIRECTLY A DRESS IT UNLESS THE FAMILY BRINGS IT UP, WHICH HAS HAPPENED , THEY HAVE BROUGHT IT UP AND THEN I DO ACTIVELY ADDRESS IT BUT THAT'S JUST MY APPROACH. IT DOES MAKE ME A LITTLE UNCOMFORTABLE AND MIGHT MAKE ME APPEAR EVEN MORE BIASED IF WE CONSIDER THAT OPENLY. SHOULD IT BE PART OF IT? IT PROBABLY SHOULD. I DON'T HAVE A GOOD
SUGGESTION ON HOW TO APPROPRIATELY DO IT. >> SO AT THIS TIME, I WANT TO THANK THE PANELISTS AND THE FACILITATORS. I THINK THIS WAS AN AMAZING SESSION, SO THANK YOU FOR THAT. I'M GOING TO DO A QUICK WRAP-UP. I THINK YOU GUYS DID A WONDERFUL JOB
OF IDENTIFYING THE GAPS IN NEUROPROGNOSTICATION, WHICH STARTS EVERYTHING FROM HOW DO WE INCLUDE THE DYNAMIC VARIABLES THAT OCCUR DURING THE HOSPITALIZATION. I THINK THERE'S A GREAT CONVERSATION WE HAD ABOUT INCLUDING -- HOW DO WE INCLUDE THOSE SOCIAL AND OUTPATIENT AND QUALITY OF LIFE INTO OUR PREDICTION MODELS , BECAUSE IT CHANGES FOR EVERYONE, WHETHER THEY'RE HOMELESS, WHETHER THEY HAVE A GREAT SOCIAL SUPPORT, WHETHER THEY HAVE INSURANCE, WHETHER THEY DON'T, THOSE ALL CAN CHANGE WHAT THE CONVERSATION IS THEN IN THESE PATIENTS. AND THEN REALLY UNDERSTANDING, I THINK, AS WE TALKED ABOUT IT , IN THE DISCUSSION AS WELL, FAMILIES' IDEAS OF A GREAT OUTCOME ARE VERY DIFFERENT THAN HOURS OURS, SO WE REALLY NEED TO UNDERSTAND HOW TO COME TOGETHER WITH THAT AND UNDERSTAND AND HOW DO WE STUDY THAT, HOW DO WE UNDERSTAND BETWEEN ALL OF THOSE VARIABLES THAT ARE HAPPENING WITH EACH PATIENT, HOW DO WE CHOOSE WHAT THAT RIGHT OUTCOME IS FOR THOSE PATIENTS, AND HOW DO WE STANDARDIZE OUR DISCUSSIONS THAT WE HAVE. AND LASTLY I REALLY THINK THAT THE IMPLICIT BIAS THAT WE HAVE HAS GUIDED THE WAY THAT WE DISCUSS THIS WITH FAMILY FAMILIES AND HOW DO WE GET OVER THAT, HOW DO WE STUDY THESE PATIENTS WITH OUR OWN BIASES IN TAKING THAT AWAY, HOW DO WE TAKE INTO CONSIDERATION THE WITHDRAWAL OF CARE THAT IS OCCURRING AND FACTOR THAT IN TO OUR RESEARCH MOVING FORWARD. SO I THINK WE'VE REALLY IDENTIFIED A LOT OF AREAS THAT WERE LACKING AND SOME REALLY GOOD IDEAS ON HOW TO MOVE FORWARD. SO THANK YOU SO MUCH
FOR JOINING US TODAY. AND I WILL HAND IT OVER. >> OKAY, GREAT. THANK YOU VERY MUCH, EVERYBODY. I THINK WE HAVE A BREAK, SO WE'LL BE BACK AT 11:15. I ALSO WANT TO REMIND YOU ABOUT THE SPECIAL INTEREST TOPIC GROUPS. YESTERDAY WE HAD SIX GROUPS, WE HAVE ACTUALLY ADDED A SEVENTH GROUP TO LOOK INTO RESEARCH PRIORITIES FOR ETHICS. AND JOSEPH PHEN WILL BE THE FACILITATOR FROM WEILL CORNELL MEDICAL COLLEGE IN NEW YORK. SO THANK YOU VERY
MUCH AND WE'LL RECONVENE AT 11:15. >> JUST AS A MESSAGE TO EVERYONE, CHA THE IS NOW OPEN CHAT IS OPEN TO ATTENDEES DURING THE BREAK. THIS WILL BE OPEN DURING ALL BREAK PERIODS DURING THE MEETING TODAY.
I'M GOING TO STICK TO -- I ACTUALLY DID SOMETHING I DON'T USUALLY DO, I SCRIPTED THIS, SO I SHOULD BE VERY CLOSE TO THE FIVE-MINUTE MARK. >> AND I'M GOING TO SKIP THE CLIP, JOE. >> SAY IT AGAIN, AMY? >> I'M GOING TO SKIP THE CLIP. >> WELCOME BACK, EVERYONE, TO OUR NEXT SESSION ON LONG TERM RECOVERY. I WANT TO INTRODUCE OUR CO-CHAIRS, AMY WAGNER, M.D., TENURED
PROFESSOR, TRANSLATIONAL RESEARCH IN THE DEPARTMENT OF PHYSICAL MEDICINE AND REHABILITATION AT THE UNIVERSITY OF PIT BURG. SHE'S ALSO ASSOCIATE DIRECTOR FOR REHABILITATION RESEARCH AT THE SAFFAR CENTER FOR RESUSCITATION RESEARCH, AND JOE GIACINO, DIRECTOR OF REHABILITATION NEUROPSYCHOLOGY AND NEUROREHABILITATION LAB AT SPALDING RELABL TAITION HOSPITAL, CONSULTING NEUROPSYCHOLOGIST IN THE DEPARTMENT OF PSYCHIATRY AT MRNA GENERAL HOSPITAL AND SERVES ON THE TEACHING FACULTY ON THE CENTER FOR BIOETHICS AT HARVARD UNIVERSITY . AMY AND JOE WILL INTRODUCE THEIR PANELISTS AND QA FACILITATORS, SO AMY AND JOE . >> GREAT . I'M GOING TO TRY TO SHARE MY SCREEN HERE . CAN EVERYBODY SEE THAT OKAY? >> YEP. >> GREAT. ALL RIGHT. SO WELCOME TO THE LONG TERM RECOVERY SESSION. JOE GIACINO AND I WILL BE LEADING THE FIRST PART OF THE PRESENTATION TODAY WHERE WE'LL BE FEATURING DR. JOHN WHIET JOHN WHYTE, WHO WILL BE OUR MAIN PRESENTER COVER ING MOST OF THE CONTENT WE WANT TO PUT FORTH IN THIS SESSION. IN ADDITION, A SECOND PART OF OUR SESSION WILL
INCLUDE THE MODERATED DISCUSSION AS WE'VE HAD IN PREVIOUS SESSIONS . OUR MODERATORS ARE MARY KAY BADER, NERISSA KSM O, AND OUR DISCUSSANTS ARE KATHY BELL, THERESA GREEN AND MARTIN MONTI. SO THE TITLE OF OUR TALK HERE IS REALLY FOCUSED ON WHY IS LONG TERM RECOVERY RELEVANT TO CURING COMA. AND IN SORT OF THINKING ABOUT THIS TOPIC, I TRIED TO FIND A QUICK QUOTE TO REALLY BRING A LITTLE BIT OF A REHAB PERSPECTIVE ON LONG TERM RECOVERY AS I THINK IT RELATES TO THE CURING COMA CAMPAIGN AND FELT THAT CONFUCIUS SUMMED THINGS UP FAIRLY WELL BY SUGGESTING THAT YOU HAVE TO STUDY THE PAST IF YOU WANT TO DEFINE THE FUTURE. AND
WHAT I THINK IS IMPORTANT TO TAKE AWAY FROM THIS QUOTE IS THE PERSPECTIVE OF STARTING WITH THE END GOAL OF GOOD RECOVERY FOR EACH AND EVERY PATIENT WE SEE AND THEN EVALUATING FOR THOSE WHO DO MAKE A GOOD RECOVERY, HOW DO WE GET THERE . UP WITH OF THE WAYS WE HAVE GOTTEN THERE IS IN HISTORIC IMPROVEMENTS IN EARLY RESUSCITATION, TRAUMA AND SURGICAL CARE AS WELL AS ICU CARE, AND THAT'S REALLY IMPROVED SURVIVAL FOR MANY WITH SEVERE NEUROLOGICAL INJURY. BUT AS WE'VE LEARNED THROUGH SOME OF OUR PREVIOUS SESSIONS , THERE'S BEEN A FOCUS ON SHORT TERM SURVIVAL AND GROSS NEUROLOGIC FUNCTION THAT DOES NOT NECESSARILY INFORM LONG TERM RECOVERY AND QUALITY OF LIFE , PARTICULARLY WHEN WE ARE NEEDING TO UTILIZE PROGNOSTICATION AND OTHER DISCUSSIONS WITH OUR FAMILIES. AND I THINK, TOO, WE'VE TOUCHED IN PREVIOUS SESSIONS ON THE NEWLY REVISED DISORDERS OF CONSCIOUSNESS GUIDELINES, AND I'M SURE WE'LL CONTINUE TO TALK A LITTLE BIT MORE ABOUT THAT IN OUR DISCUSSION HERE IN THIS SESSION, BUT I DO WANT TO NOTE WHAT I THINK IS SO IMPORTANT ABOUT THESE TBIED LINES, WHICH IS THE IMPLICIT NOTION THAT MEANINGFUL RECOVERY FROM COMA CAN AND DOES OCCUR TO A GREATER DEGREE THAN WHAT WE ALL MIGHT REALLY THINK IS POSSIBLE, SO THE TREATMENT GUIDELINES ARE REALLY MADE WITH THIS ASSUMPTION THAT EACH AND EVERY PERSON MAY HAVE A SHOT AT GOOD RECOVERY, AND WE NEED TO GIVE THEM THAT BEST OPPORTUNITY . SO THE RECOVERY PERSPECTIVE I WANT TO LEAVE YOU WITH IS ONE WHERE WE LOOK TO STUDY WHAT IS POSSIBLE AND HELP US DEFINE WHAT BIOMARKERS EARLY TREATMENTS AND OTHER FACTORS MIGHT REPRESENT A GOOD RECOVERY. AND WITH THAT IN
MIND, YOU KNOW, I WANTED TO SHARE JUST A QUICK CASE OF AN INDIVIDUAL I CARED FOR, ALONG WITH A LARGE CRITICAL CARE TEAM, THAT DID HAVE A GOOD RECOVERY FROM ANOXIC BRAIN INJURY . THIS INDIVIDUAL WAS A 51-YEAR-OLD MAN WHO HAD AN OUT OF HOSPITAL CARDIAC ARREST, AND ACHIEV ED ROSC AFTER SELF ROUNDS OF SHOCKS AND MULTIPLE MEDICATIONS. VERY COMPLICATED HOSPITAL COURSE, SOME WORRY ISOME FINDINGS ON HIS MRI, AND BY DAY 13, THERE WAS A FIRST GOALS OF CARE DISCUSSION WITH THIS PATIENT REALLY HAVING ESSENTIALLY AN UNRESPONSIVE EXAM. BUT THE FAMILY DID WANT TO MOVE FORWARD AND SO THE PRIMARY TEAM DID START THIS PATIENT ON PROVIGIL AND AFTER 14 DAYS WITH NO EFFECT, THERE WAS A GOALS OF CARE DISCUSSION. THE FAMILY STILL WANTED TO MOVE
FORWARD SO THERE WAS REHAB INVOLVED. ON EXAM, WE FOUND THERE WAS NO RESPONSE TO PAPER OR OTHER STIMULI , THERE WAS MYOCLONIC ACTIVITY NOTED IN THE LIMBS. WE TOOK DISCONTINUED THE PRO PROVIGI LI. AND STARTED DON EPEZ DONEPEZIL. AFTER A FEW DAYS OF TREATMENT, THERE WAS SOME IMPROVEMENT IN BOTH THE AROUSAL AND REDUCED MYOCLONUS , HE DID HAVE SOME CRITICAL ILLNESS WEAKNESS BUT WAS CONTINUING TO IMPROVE AND BY DAY 36 WAS TRANSFERRED TO INPATIENT REHABILITATION. HE WAS BLIND, WEAK, NON-AMBULATORY AND DID HAVE SOME COGNITIVE DEFICITS STILL AT THE TIME OF TRANSFER BUT SPENT ABOUT SIX WEEKS IN INPATIENT REHABILITATION.
AND AT ONE YEAR POST INJURY, WE HAD AN OPPORTUNITY TO SEE THIS INDIVIDUAL AGAIN AND HE WAS DOING SO WELL . HE WAS BACK TO WORK AS AN INSURANCE AGENT , HE HAD A KILLER GOLF GAME, WAS SPENDING A LOT OF TIME ON THE GOLF COURSE, STILL SEEING THE SPEECH THERAPIST, AND WORKING TO WEAN OFF HIS REMAINING MEDICATIONS. AND SO THIS IS A CASE WHERE I THINK THE GOALS OF CARE DISCUSSIONS COULD HAVE GONE EITHER WAY, BUT HE WAS AN INDIVIDUAL THAT DESPITE HIS POOR START DID AMAZINGS AMAZINGLY WELL . WITH THAT, I'M GOING TO TURN THINGS OVER TO DR. JOHN WHYTE, WHO'S GOING TO TALK ABOUT THE STATE OF THE SCIENCE AND WHAT WE KNOW ABOUT LONG TERM RECOVERY, AND THAT WILL BE FOLLOWED BY A SUMMARY BY JOE GIACINO. >> THANKS, AMY. I WANTED TO SAY BEFORE I BEGIN THAT I'VE BEEN SURPRISED BY HOW MUCH OF WHAT WE HOPE TO PRESENT HAS BEEN TOUCHED ON ALREADY BY THE ACUTE CARE PROVIDERS WHICH SAYS TO ME SOME COMBINATION NON-RANDOM SAMPLING OF OUR PARTICIPANTS OR THAT THE POST ACUTE LITERATURE IS REALLY BEGINNING TO COMMUNICATE AND VICE VERSA, SO WHATEVER THE CAUSE, IT'S REALLY REWARDING TO SEE HOW MUCH ON THE SAME PAGE WE ALREADY ARE, AND I CAN ONLY HOPE WE'RE GOING TO GET EVEN MORE ON THE SAME PAGE GOING FORWARD . SO MANY PEOPLE SORT OF DATE THIS FIELD IN SOME WAYS TO THE INFLUENTIAL TWO PART ARTICLE IN THE NEW ENGLAND JOURNAL OF MEDICINE IN 1994 WHICH PRENLT PRESENTED DATA ON THE VEGETATIVE STATE, REALLY FOCUSED PRIMARILY ON GROSS FUNCTIONAL LEVEL MOSTLY AT ACUTE CARE DISCHARGE, SOME GROSS FUNCTIONAL OUTCOME S UP TO A YEAR, BUT ALMOST NOTHING LONGER THAN A YEAR, AND LESS THAN 100 CASES THAT HAD BEEN FOLLOWED LONGER THAN A YEAR AT THAT TIME. WE ALREADY
KNEW FROM THAT EARLY PBLCATION THAT THERE APPEARED TO BE DIFFERENCES IN PROGNOSIS BETWEEN TRAUMATIC AND NONTRAUMATIC BRAIN INJURIES, BUT OTHER THAN THAT, OUTCOMES WERE VERY POORLY DEFINED. AS WE'VE TALKED ABOUT MANY TIMES, THESE PESSIMISTIC OUTCOME PREDICTIONS ARE SUBSTANTIALLY SELF FULFILLING, NOT ONLY IN TERMS OF EARLY DECISIONS TO WITHDRAW CARE, WHICH WE'VE TALKED ABOUT A LOT, BUT IT'S COMMON PRACTICE CURRENTLY THAT IF A PATIENT IS NOT BEGINNING TO SHOW SIGNS OF CONSCIOUSNESS ON THE DAY THEY'RE READY TO LEAVE ACUTE CARE, THEY MAY NOT BE ACCEPTED INTO INPATIENT REHAB, AND TRANSFERRED EITHER TO A NONSPECIFIC NURSING HOME OR HOME CARE WITH SUPPORTS, AND THINK ABOUT THAT, THAT THAT DAY IS AN ARBITRARY DAY THAT RELATES TO WHEN THEY'RE MEDICALLY STABLE AND OTHER THINGS HAVE CALMED DOWN, SO IT'S NOT EVEN A PARTICULAR TEMPORAL POINT POST INJURY. THIS HAS ALSO HAD ENORMOUS IMPACT ON OUR ABILITY TO CONDUCT RESEARCH , BECAUSE YOU FOLKS CAN CONDUCT RESEARCH IN ACUTE CARE BUT HAVE TROUBLE FINDING OUT WHAT HAPPENS IN THE LONG RUN. WE CAN CONDUCT RESEARCH IN THE LONG-TERM CARE BUT WE DON'T KNOW WHAT HAPPENED ACUTELY, AND FOR THE MANY PATIENT WHO END UP IN NURSING HOMES OR FAMILY HOMES, THERE'S NO RESEARCH INFRASTRUCTURE AND NO WAY TO FOLLOW THEM AND CERTAINLY TO DO RESEARCH. NOW DESPITE THE STRONG DISINCENTIVE TO ADMIT SUCH PATIENTS TO INPATIENT REHAB IN THE UNITED STATES, THERE HAVE BEEN A HANDFUL OF ACUTE AND SUBACUTE REHAB FACILITIES OVER THE LAST COUPLE OF DECADES WHO DEVELOPED DOC PROGRAMMING AND WHO MANAGED TO NEGOTIATE WITH INDIVIDUAL INSURANCE COMPANIES AND OTHERS WHO MANAGED TO ADMIT A SMALL NUMBER OF SUCH PATIENTS, AND THOSE FACILITY OVERLAP SUBSTANTIALLY WITH THE NIDILRR FUND ED PROGRAM. IN ADDITION, THERE ARE SOME ACADEMIC CENTERS IN EUROPE WHICH
HAVE MORE COHERENT HEALTHCARE SYSTEMS AND HAVE BEEN ABLE TO GENERATE MORE POPULATION-BASED DATA, SO A LOT OF OUR CONCLUSIONS COME FROM THESE SOURCES. JUST A FEW CAVEATS BEFORE I GET INTO SOME OF THE ACTUAL RESULTS. FIRST OF ALL, WE STILL KNOW MUCH MORE ABOUT IT. BI THAN NON-TBI IN TERMS OF OUTCOMES, AND THAT'S PARTLY , AGAIN, RELATED TO THIS SYSTEM OF CARE ISSUE, THAT THERE'S NO SORT OF COHERENT SYSTEM OF CARE FOR A GIVEN POPULATION GROUP, IT'S VERY DIFFICULT TO DO LONGITUDINAL OUTCOMES RESEARCH. NOW WE MIGHT
BE CONCERNED WHEN WE LOOK AT THE TRAUMATIC GROUP ABOUT THE SELECTION BIAS IN THIS DATASET BECAUSE IT'S A REHAB POPULATION . IS IT A PROGNOSTICLY SKEWED SAMPLE ? THAT'S POSSIBLE BUT OF COURSE WE DON'T KNOW HOW TO ESTIMATE -- IF WE'RE DRAMATICALLY SKEWING THE POPULATION, WE MUST KNOW SOMETHING THAT WE DON'T KNOW WE KNOW. MORE RELEVANT , MAYBE, IS ARE WE SHIFTING THE MIX OF NATURAL HISTORY AND TREATMENT HISTORY. IN OTHER WORDS, ARE THE OUTCOMES THAT WE SEE IN INPATIENT REHAPPEN REPRESENTATIVE OF THE OUTCOMES OF EVERYONE? VERY LIKELY NOT, BUT WHAT WE'RE INTERESTED IN AT THIS POINT IN TIME IS WHAT ARE THE POSSIBLE OUTCOMES, NOT WHAT ARE THE OUTCOMES OF A POORLY DESIGNED AND INCOHERENT SYSTEM OF CARE. THEN WE TALKED QUITE A BIT ABOUT INTERPRETATION AND COMMUNICATION OF THE EMPIRICAL RESULTS, WE'RE OFTEN LIMITED WHEN STUDY IES REPORT THE OUTCOMES AS JUST GOOD OR POOR , FAMILIES ARE INTERESTED USUALLY IN MORE FUNCTIONAL MILESTONES , WE'RE BEGINNING TO GET SOME DATA ON WHAT ARE THE ODDS OF WALKING INDEPENDENTLY, DRESSING INDEPENDENTLY, LIVING INDEPENDENTLY AND SO ON, BUT THAT'S BEEN MORE RECENT IN COMING. THEN WE'VE ALSO ALLUDED TO SYSTEMATIC DIFFERENCES IN INTERPRETATION OF THE QUALITY OF LIFE BY YOU A CUTE CARE PROVIDERS VERSUS PATIENTS AND FAMILIES, AND EVEN BY PATIENTS AND FAMILIES WHO ARE INEXPERIENCED IN LIVING WITH DISABILITIES AND IMAGINE TO BE A MORE CATASTROPHIC PHENOMENON THAN IT MAY BE. WITH THOSE DISCLAIMERS, IN THE SAMPLE OF ABOUT 400 PATIENT THAT WE HAVE MANAGED TO FOLLOW IN THE TBI MODEL SYSTEM WHO ARE DEFINED BY ABSENCE OF COMMAND FOLLOWING AT THE TIME THEY WERE ADMITTED TO REHABILITATION, AS YOU CAN SEE, ABOUT TWO THIRDS OF THEM WERE ABLE TO FOLLOW COMMANDS BEFORE DISCHARGE, ALMOST A QUARTER HAD ALREADY CLEARED POST-TRAUMATIC AMNESIA, WERE NO LONGER IN A CONFUSIONAL STATE AND TWO THIRDS WERE DISCHARGED TO THE COMMUNITY. AND EVEN IN INPATIENT
REHAB, SOMEWHERE BETWEEN 7 AND 14 PATIENTS DEPENDING ON THE SKILL AREA, WERE ALREADY INDEPENDENT IN CERTAIN SELF CARE TASKS BY THE TIME OF REHAB DISCHARGE, AND MANY MORE BECAME INDEPENDENT OVER TIME. THE OTHER THING THAT'S WORTH THINKING ABOUT IN TERMS OF A CARE SYSTEM FOR CERTAIN IS WHAT'S THE MEDICAL MANAGEMENT, WHAT ARE THE MEDICAL MANAGEMENT NEEDS OF THIS PATIENT POPULATION. AND WHAT WE ALSO KNOW FROM A NUMBER OF STUDIES IS THAT WHEN AVAILABLE, THE USE OF SPECIALTY MEDICAL CONSULTATION IS VERY FREQUENT IN THE EARLY DAYS AND WEEKS POST INJURY . IN THE AMANT ADINE CLINICAL TRIAL THAT JOE AND I RAN WHERE WE WERE COLLECTING ADVERSE EVENT DATA, WHICH TURNED OUT JUST TO BE NATURAL MEDICAL CO-MORBIDITY DATA, WE HAD A HIGH RATE OF NEW ONSET COMORBIDITIES, ABOUT ONE EVERY TWO WEEKS , MANY OF WHICH WERE SERIOUS, MANY OF WHICH WERE BRAIN INJURY -SPECIFIC, AND INTERESTINGLY, THESE COMPLICATIONS DECLINED OVER TIME, AND WHEN WE REGRESSED THE RATE OF COMPLICATIONS AGAINST INK REAL OR AGAINST TIME OF POST REHAB ADMISSION, SUGGESTING THAT MEDICAL MANAGEMENT MAY BE CAUSALLY INVOLVED IN STABILIZING AND CONTROLLING THESE MEDICAL COMORBIDITIES.
WHEN WE LOOK AT LONG TERM FUNCTIONAL OUTCOME , 3.3% OF THE PATIENTS ADMITTED TO REHAB ARE DEAD BY ONE YEAR, WHICH IS LOWER THAN THE QUOTE-UNQUOTE NATURAL HISTORY STUDIES. BY FIVE YEARS , EVEN THREE QUARTERS OF THE PATIENTS DISCHARGED FROM REHAB UNCONSCIOUS HAD REGAINED CONSCIOUSNESS . ABOUT 20% WERE ABLE TO LIVE AT HOME WITHOUT SUPERVISION OR WERE RATED AS POTENTIALLY COMPETITIVELY EMPLOYABLE BY FIVE YEARS AND EVEN BY 10 YEARS, THERE WERE SMALL BUT MEASURABLE TBAINS IN INDEPENDENCE, PARTICULARLY THOSE FOR WHOSE RECOVERY CONSCIOUSNESS WAS MOST DELAYED. SO EVEN IN THE STUDY WHERE WE LOOKED AT PATIENTS ADMITTED TO INPATIENT REHAB, IF YOU REGAIN CONSCIOUSNESS SOON AFTER BEING ADMITTED VERSUS NOT UNTIL AFTER YOU WERE DISCHARGED, THAT MADE A HUGE DIFFERENCE IN TERMS OF YOUR ULTIMATE FUNCTIONAL LEVEL MANY YEARS LATER. NOW IN NONTRAUMATIC CASES, THE DATA SOURCES ARE A BIT DIFFERENT BUT MUCH LIAR DEATH RATE, A QUARTER IN THE FIRST 24 HOURS, THREE QUARTER OF THE DEATHS HAPPEN ED BY SEVEN DAYS, AND 85% OF THE IN-HOSPITAL DEATH
2021-02-15 16:02
Show Video
Other news