Credit Suisse Chaos | Bloomberg Technology 03/15/2023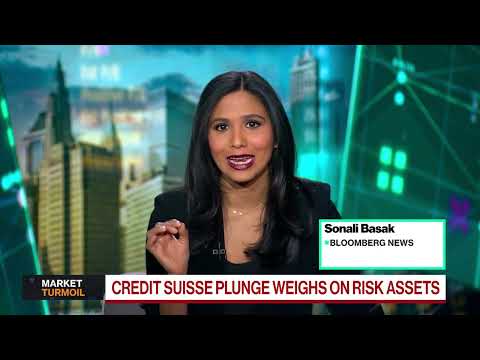 Show Video
>> FROM THE HEART OF WHERE INNOVATION, POWER, AND MONEY COLLIDE THIS IS BLOOMBERG TECHNOLOGY WITH CAROLINE HYDE AND ED LUDLOW. CAROLINE: I AM CAROLINE HYDE AT BLOOMBERG'S WORLD HEADQUARTERS IN NEW YORK. ED: I AM ED LUDLOW IN SAN FRANCISCO. THIS IS A SPECIAL EDITION. CAROLINE: WE WILL COVER THE MARKET CHAOS FROM U.S. TO EUROPE AND BEYOND. THE MACRO PICTURE AND HOW IT AFFECTS YOUR TECH EXPOSURE. ED: HOW THE SVD COLLAPSE AND BANK CRISIS CONTAGION COULD LEAVE THE RATTLING OF FINTECH.
CAROLINE: THE OUTLOOK ON RISK SENTIMENT BROADLY. THE STATE OF VENTURE CAPITAL AS CLOUDS LOOM OVER THE INDUSTRY. ALL THAT AND SO MUCH MORE COMING UP. LET'S DEEP DIVE INTO THE MARKETS BECAUSE IT'S UGLY OUT THERE.
WERE LOOKING AT THE TECH SECTOR MANAGING TO OUTPERFORM. WE HAVE TO FOCUS ON WHERE THE HEART OF THE PROBLEM IS. CREDIT SUISSE IS THE SPILLOVER EFFECT. THE EURO AS I LAST SAW, THE KEY REDHEAD LINE COMING ACROSS THE BLOOMBERG TERMINAL WAS A TWO MONTH LOW SEEING THE BIGGEST ELEPHANT THE EURO DATING BACK TO THE HEART OF THE COVID CRISIS MARCH 2020. SO MUCH TO DIG INTO WHEN WE ARE
LOOKING AT SOME OF THE READ ACROSS. INTERESTINGLY THE BOND SECTOR IS WHERE WE ARE TRAINING OUR EYE AND WE LOOK AT THE SIGNIFICANT MOVE DAY AFTER DAY, FOUR STRAIGHT DAYS OF 25 BASIS POINT MOVES ON THE U.S. TO-YEAR. THIS IS EXTRAORDINARY THE CONTAGION EFFECT ACROSS THE BANKING SECTOR. ED: WE'RE THINKING ABOUT THE POLICY SENSITIVE PARTS OF THE MARKET. THERE'S PROBABLY SOME OUTPERFORMANCE. DRAGGING DOWN THE NASDAQ 100. THERE COULD BE A FLIGHT TO
SAFETY ALTHOUGH 24 HOURS AFTER GPT FALL WAS INTRODUCED BY OPENING YOU WONDER IF THAT STOCK IS GETTING A BOOST. WE HAVE TO FOCUS ON THE BANKS AND GO TO FIRST REPUBLIC. A SIGNIFICANT DROP LOWER AFTER A NUMBER OF CREDIT RATINGS, AGENCIES CUT THE STOCK, THE RATING TO JUNK. WE ARE DOWN 16% ON FIRST REPUBLIC. THERE'S A LOT OF READ THROUGH WHAT IS HAPPENING IN THE UNITED STATES, CONCERNS ABOUT LIQUIDITY, SHORING UP THE BANKING SECTOR, PLAYING OUT IN EUROPE. CREDIT SUISSE SHARES RECORD DROP HITTING A RECORD LOW.
CREDIT DEFAULT INSURANCE AGAINST DEFAULT TRADING ABOVE CRISIS LEVELS. LET'S GET MORE FROM ZURICH. WHAT ARE THE LATEST MOVES WHEN IT COMES TO CREDIT SUISSE AND WHAT WE KNOW ABOUT THE HEALTH OF THIS BANK? >> WE HAVE ABOUT HALF AN HOUR UNTIL THE MARKET CLOSES SO WE WILL SEE WHERE THE STOCK INS UP, BUT IT HAS BEEN PLUMMETING OFF OF THE BACK OF COMMENTS FROM ONE OF THEIR ANCHOR INVESTORS AT THE SAUDI NATIONAL BANK TALKING ABOUT THEIR STAKE IN THE BANK AND THEIR NON-ABILITY TO INCREASE IT MORE THAN 10%. IN REALITY WHAT WE ARE SEEING IS A BROAD REACTION ACROSS THE EUROPEAN BANKING SECTOR WITH ALL STOCKS DOWN OFF OF THE BACK OF SOME UNCERTAINTY WITH WHAT HAPPENED AT SILICON VALLEY BANK IN THE U.S. AND HOW STABLE EUROPEAN BANKS ARE.
WITH CREDIT SUISSE YOU HAVE TO ADD A LAYER WITH THE FACT THAT IT'S GOING THROUGH A DIFFICULT RESTRUCTURING AND HAS LOST A LOT OF CONFIDENCE IN ITS INVESTORS AND CLIENTS. CAROLINE: GREAT REPORTING. BRINGING THAT EXCLUSIVE WHICH SPARKED THE WHOLE CONCERN OVER CREDIT SUISSE, MARION, THANK YOU VERY MUCH INDEED. MAYBE YESTERDAY WE THOUGHT MAYBE THAT WORST WAS BEHIND US WHEN IT CAME TO SILICON VALLEY BANK AND NOW WE ENTER FURTHER CONTAGION WHEN IT COMES TO EUROPEAN FINANCIALS? >> THIS IS NOT A BANK FAR FAR AWAY THIS IS A SYSTEMIC FINANCIAL INSTITUTION WITH A BIG PRESENCE IN THE UNITED STATES IN COUNTERPARTIES AND CLIENTS ACROSS THE WORLD. THIS IS A VERY SERIOUS SITUATION TO SEE A BANK UNDER THIS KIND OF STRESS BECAUSE ANY WAY THAT YOU CUT THE PIE YOU HAVE THE SHARES TRADING AT RECORD LOWS, YOU HAVE THE BONDS REALLY TRADING VERY LOW FOR A GLOBALLY SYSTEMIC INSTITUTION.
A LOT OF RECORDS ARE BEING FACED BY CREDIT SUISSE, AND THEREFORE CAUSING CONCERNS IN THE MARKET ABOUT IT. THERE ARE SOURCES THAT SAY THAT THIS FEELS WORSE THAN THE SILICON VALLEY BANK IN A LOT OF WAYS. FOR GLOBALLY SYSTEMIC FINANCIAL INSTITUTION THERE ARE BACKSTOPS HERE, BUT THERE IS REALLY INTERESTING COLOR WORTH NOTING, CAROLINE. I SOURCES SAY FOR SILICON VALLEY BANK, FOR EXAMPLE, IF THINGS MOVED QUICKLY AND THE PURSUIT OF A SALE BEFORE THE DEPOSITOR FLIGHT IT WOULD HAVE BEEN EASIER TO GET THE JOB DONE. YOU HAVE TO WONDER ABOUT WHAT THAT LOOKS LIKE FOR CREDIT SUISSE.
AT WHAT POINT DO YOU REACH A POINT WHERE THINGS GET SO BAD, SO HARD TO TURN AROUND? RIGHT NOW THEY ARE STILL, OBVIOUSLY, FINE WHEN IT COMES TO THEIR OWN LIQUIDITY. WE HAVE TO KEEP AN EYE ON WHAT THE DEPOSITORS DO AT THE END OF THE DAY GIVEN THEIR CAPITALSOURCE IS HERE LOOK VERY STRAINED. CAROLINE: THE READ ACROSS FOR THE TECH COMMUNITY IS THE IDEA THAT EVERYONE WAS SORT OF TOO CONCENTRATED OF THE RISK. WHAT IS THE READ ACROSS FOR
CREDIT SUISSE AND OUR OWN TECHNOLOGY COMMUNITY? ED: WE KNOW THAT VENTURE FARMS LARGE AND SMALL ARE STILL TRYING TO FINALIZE THEIR BANKING. THE READ THROUGH TO SVB TO CREDIT SUISSE IS THE OUTFLOW RISK. THAT'S WHERE WE ARE LOOKING, WHETHER IT IS EUROPE OR THE FIRST REPUBLIC IN THE UNITED STATES. SONALI: SOMETHING CRAZY, PEOPLE FORGET CREDIT SUISSE IS ONE OF THE BIGGEST MEMBERS OF THE MARKET WHEN IT CAME TO FINANCING. SOME WERE WORRIED ABOUT SILICON VALLEY BANK AND HIS EXIT FROM THE MARKET.
CREDIT SUISSE IS ONE OF THE BIGGEST UNDERWRITERS IN THE MARKET AND BANKER TO A LOT OF THE WORLDS'S TECHNOLOGY FIRMS. THEY HELPED TO DISSEMINATE THE PRE-IPO SHARES AND EQUITY TO FOUNDERS ACROSS THE WORLD, BILLIONAIRES ACROSS THE WORLD THAT WERE ABLE TO GET IN EARLY ON A LOT OF THE TRAITS. IT HAS HUGE RAMIFICATIONS TO FINANCING MARKETS WITH THE EXIT OF A BANK LIKE THIS. CAROLINE: ALSO, WE HAD THE CEO OF CREDIT SUISSE SAYING THAT THEY DID WELL FROM THE DEPOSITS COMING FROM SILICON VALLEY BANK TO THEIR OWN LENDER. ED: WHAT YOU NEED TO REALIZE, ALL
OF THIS STARTED HAPPENING IN THE FOURTH QUARTER OR SOONER WHEN IT CAME TO CLIENT ASSETS AND LIQUIDITY CONCERNS. THE LAST FIVE DAYS HAVE BEEN ASTONISHING. YOU ARE COMING BACK LATER IN THE HOUR. I WANT TO BRING IN JOHN ROE. JOHN, LET'S START HERE. ARE WE SEEING A DE FACTO TIGHTENING IN THIS MARKET? IS THAT WITH THE CONCERN IS? -- I THINK THAT WE LOST JOHN SO I WILL JUMP IN -- I THINK YOU'RE BACK. CARRY ON. JOHN: SORRY.
I THINK THAT WE ARE SEEING A TIGHTENING OVER SEVERAL QUARTERS. NOT JUST IN THE AMERICAN MARKET, WE SEE IT IN EUROPE AS WELL WHICH MEANS THERE IS LESS U.S.-EUROPE RATE HIKES BECAUSE TIGHTENING CAN BE DONE THROUGH TIGHTER LENDING STANDARDS. CAROLINE: THE FEDERAL RESERVE IS HAVING TO HIKE RATES AND IT WILL BREAK THINGS. HOW BAD WOULD A CREDIT SUISSE BREAKAGE BE? JOHN: ON THE INFLATION SIDE WE HAVE HAD IMPROVED PARTICIPATION IN THE U.S., SO THE U.S. LABOR MARKET DATA HAS BEEN
QUITE GOOD AND THERE HAS BEEN SOME SOFTENING IN THE DATA BEFORE TODAY TO THE UPSIDE. -- CAROLINE: WE ARE HAVING TECHNICAL DIFFICULTIES WITH JOHN AT THE MOMENT AND WE WILL GET BACK TO HIM. ONE OF THE KEY ISSUES IS THINKING ABOUT THE BROADER IMPACT ACROSS ASSET, THE BOND MARKET MOVE. JOHN HAS EXPOSURE NOT ONLY TO NASDAQ FUTURES BUT WITHIN HIS MULTI-ASSET FUNDS HE LOOKS AT THE BOND MARKET.
WHEN WE SEE YIELDS MOVE SO MUCH IT IS ABOUT CONTAGION RISK WHEN IT COMES TO BANKS, BUT ALSO IN LARGE PART TO SOME OF THE PPI READING WE GOT TODAY, THE MACRO DATA POINTS WE STILL GET. ED: IT GOES BACK TO THE FED, WHICH IS WHY THE RESET ON EXPECTATIONS WAS SO IMPORTANT. IT IS A REALLY BASIC IDEA, HIGHER RATES CASH FLOWS, BUT WE ARE FOCUSED ON THE SHORT END WHEN IT COMES TO POLICY SENSITIVE STOCKS.
SONALI BASAK COME YOU'RE STILL WITH US IN NEW YORK. WHAT ARE YOU WATCHING BROADLY IN THE SECTORS THAT YOU COVERED? FORGET CREDIT SUISSE AS AN ISOLATED INCIDENT. WHAT ARE YOU HEARING FROM THE U.S. SECTOR IN PARTICULAR? SONALI: I ASKED, WHAT ARE THE PAIN TRADES? I AM HEARING GOLD.
IT IS SO TOUGH THAT EVEN SAFE DOESN'T FEEL SAFE RIGHT NOW. CREDIT TRADES, INVESTMENT GRADE TRADES. ARE THESE UNDER PRESSURE IN A MARKET LIKE THIS? EVEN SOME OF THE BIG REGIONAL BANKS, REMEMBER WE FACED THE DOWNGRADE FOR FIRST REPUBLIC. FIRST REPUBLIC WAS ALSO A BANK THAT MANY PEOPLE MOVED MONEY TO IN THE WAKE OF SILICON VALLEY BANK BUT THE PRESSURE ON DEPOSITS IS WHAT CAUSED THE DOWNGRADE. THE BONDS AND STOCK HAVE BEEN TRADING LOWER. AFTER THE REBOUND YESTERDAY. WHAT IS SAFE IS A HUGE QUESTION IN THIS MARKET.
ANOTHER THING I'M CURIOUS ABOUT IS THE PAIN THAT MIGHT BE FELT. AT THE END OF LAST YEAR WE SAW ALL OF THE TECH COMMUNITY FEEL A LOT OF PAIN IN THE HEDGE FUND WORLD THAT THE MACRO TRADERS CAME ROARING BACK BECAUSE OF THE VOLATILITY IN INTEREST RATES AND COMMODITIES AND ASSET CLASSES AROUND THE MACRO WORLD. NOW, IT LOOKS LIKE SOME OF THOSE TRADES ARE UNWINDING AND THEY ARE LEVERED TRADES WHICH MEANS THAT THEY ARE USED OFTEN ON BORROWED FUNDS. WE ARE EXPECTING A LITTLE MORE PAIN AMONG INVESTORS AND A BROADER SET OF INVESTORS, EVEN THE ONES WHO HAD ONE OUT LAST YEAR. TO THE EXTENT THAT PAIN COULD BE IS A HUGE QUESTION MARK. CAROLINE: HINDSIGHT IS A BEAUTIFUL THING.
WE'VE HAD SOME OF THE BIGGEST NAMES IN FINANCE WEIGH IN. YOU HAD LARRY FINK TALK ABOUT THE DOMINOES. YOU HAVE HEARD FROM THE LIKES OF BRIDGEWATER ASSOCIATES FOUNDER TALKING ABOUT HOW MAYBE SVB WAS A CANARY IN A COAL MINE. AND CATHIE WOOD WEIGHING IN ON TWITTER YESTERDAY OF COURSE SHE SAYS THAT IT'S NOW GLARINGLY CLEAR THAT SOME SORT OF BANK CRISIS WAS COMING OUR WAY. ULTIMATELY, DID YOU FEEL THAT?
SONALI: IT WAS SO HARD TO TO TELL BECAUSE PEOPLE GOT SO COMPLACENT WITH THE MARKET. YOU LOOK AT THE FEDERAL HOME LOAN BANKS, WHICH IS NOT STATED BEHAVIOR TO SEE IN THE BILLIONS AS WAS DONE IN THE LAST YEAR OR SO. THERE WAS A LOT OF IT. IT'S HARD TO CALCULATE. YOU WOULD HAVE TO GO THROUGH THE REGULATORY FILINGS OF EACH BANK SEPARATELY TO REALLY GET A SENSE OF HOW MUCH WAS BORROWED AT THE END OF THE DAY AND WHICH BANKS WERE BORROWING TO THAT EXTENT TO MAKE SURE THAT THEY HAD LIQUIDITY ON HAND IN THE CASE OF A DIRE MOMENT. THESE ARE DIRE MOMENTS. I THINK WHAT IS HARD FOR ME AND I HAVE A CRITICISM FOR THIS, THIS IS NOT 2008. BECAUSE THERE HAVE BEEN SO MANY
MICRO CRASHES LEADING UP TO THIS MOMENT AND THERE HAS ALREADY BEEN FEDERAL INTERVENTION IN THE UNITED STATES. WHAT THAT LOOKS LIKE IN EUROPE AS WELL AND HOW MUCH GLOBAL LEADERS HAVE TO STEP UP AND STEM SOME OF THESE CONCERNS, THAT CREATES A ROCK AND A HARD PLACE WHEN THE MARKET IS STILL WORRIED ABOUT THE FED, INFLATION, AND THE TRAJECTORY OF INTEREST RATES. EVERYWHERE YOU LOOK THERE ARE ISSUES TO GO AROUND. CAROLINE: WE HEARD THAT IF YOU LOOK AT THE BOND MARKET THAT IS SHOWING TFC 2008 WORRIES. MAYBE THE EQUITY MARKET NOT SO MUCH. WE ARE THANKFUL FOR YOUR EXPERTISE. COMING UP WE WILL TURN DOWN MORE INTO THIS STORY.
ELAINE STOKES OF LOOMS SALES AND COMPANY ABOUT THE READ ACROSS WITH THE TWO YEAR YIELD HAS BEEN DOING, SEISMIC SHIFTS IN THE GOVERNMENT BOND, AND DOWNWARD PRESSURE ON THE LIKES OF EUROPEAN STOCKS IN PARTICULAR. THE EUROPEAN STOXX 600 OFF BY 2.7%. WE'VE GOT SOME ROLLING NEWS IF YOU'RE LUCKY ENOUGH TO HAVE A BLOOMBERG TERMINAL. YOU CAN GO TO TLIV <GO>. ED: THIS IS THE POWER OF BLOOMBERG, CONSTANT MARKET ANALYSIS ACROSS EVERY ASSET LAST. THIS IS BLOOMBERG. ♪
ED: WELCOME BACK TO A SPECIAL EDITION OF BLOOMBERG TECHNOLOGY. I AM ED LUDLOW IN SAN FRANCISCO. CAROLINE: I'M CAROLINE HYDE IN NEW YORK. WE HAD THE REPERCUSSION OF A
DEBT CUT FROM S&P TO THE FIRST REPUBLIC BANK. WE WANT TO GET INTO THAT WITH KRITI GUPTA. KRITI: A LOT OF PAIN. YOU ARE SEEING THIS ACROSS THE BOARD FOR REGIONAL BANKS. IN THE PREMARKET ALL OF THESE
NAMES WERE HIGHER BY EIGHT PERCENT TO 10% AND NOW YOU'RE SEEING THE CREDIT SUISSE STORY TURN IN AROUND. FIRST REPUBLIC AND IS OUR POSTER CHILD FOR SOME OF THE PAIN GIVEN HOW SIMILAR OF A PROFILE IT HAS TO THE SIGNATURE BANK STORY PUTTING IT IN FOCUS WHEN IT COMES TO WHERE THE REGULATORY CONCERN MIGHT LIE NEXT. YOU'RE SEEING A MOVE OF 18% LOWER ON THAT STOCK, LEADING THE CHARGE. ONE STOCK YOU WANT TO KEEP AN EYE ON IN THE GREEN'S WESTERN ALLIANCE COMING OFF OF A 5.3% STAKE FROM KEN GRIFFIN AT CITADEL.
THAT'S THE ONLY REASON IT'S IN THE GREEN AND NOT FOLLOWING THE TREND. I WANT TO GO BACK TO FIRST REPUBLIC, BECAUSE LOOK AT WHAT IT'S DONE IN THE LAST YEAR. DRAMATIC DROP DOWN 80%. A LOT OF THAT LOSS IS REALLY COMING IN THE LAST WEEK OR SO REALLY SHOWING HOW MUCH IT HAS FALLEN FROM GRACE WHEN IT COMES TO THEIR PRICE-TO-BOOK RATIOS. STILL NOT CATCHING A BID FOR THAT REASON. TO ADD A LITTLE SALT TO THE WOUND YOU'RE SEEING THE DOWNGRADE CUT TO JUNK OVER IT S&P.
IT IS NOW A DOUBLE B PLUS THEY'RE WORRIED ABOUT THIS MASSIVE BANK RUN, FIRST REPUBLIC BEING HIT NEXT AFTER THE CHAOS YOU SEEN FROM SVP AND SIGNATURE. THERE IS CONCERN ABOUT THEIR STRUCTURE ON NET INCOME INSTEAD OF THEIR FEE INCOME. THAT IS SOMETHING THAT SETS FIRST REPUBLIC APART FROM SOME OF ITS PEERS AND WHY IT IS GETTING HURT EXTRA WHEN IT COMES TO THE SCRUTINY FROM REGULATORS AND CREDIT AGENCIES. ED:
THANK YOU SO MUCH. LET'S KEEP IT GOING AND BRING IN ELAINE STOKES. ELAINE, I WILL ASK YOU THE QUESTION WE TRIED TO POSE EARLIER. IS THIS PROBABLY A DEFECTIVE TIGHTENING THAT WE ARE SEEING PLAY OUT IN FRONT OF US? ELAINE: I THINK THAT'S EXACTLY WHAT WE ARE SEEING. WE ARE FINALLY GETTING THROUGH
-- FINALLY GETTING PROOF. THE FED IS GETTING PROOF THAT THEY ARE AFFECTING MORE THAN JUST THE HOUSING MARKET. THEY ARE AFFECT THING THE LENDING MARKETS ACROSS THE BOARD. CREDIT SUISSE WE STILL HAVE TO
DEAL WITH OVER THE NEXT COUPLE OF DAYS TO FIND OUT HOW FAR THAT CONTAGION GOES, WHAT HAS HAPPENED WITHIN THE U.S. AWAY FROM CREDIT SUISSE TOLUSE: HAD ALREADY PROVED THE POINT THAT LENDING HAS CHANGED AND PEOPLE ARE NOT AS WILLING TO BE IN TOLUSE . YIELD HIT A POINT WHERE THEY DON'T NEED TO. CAROLINE: WHAT HAVE YOU BEEN DOING WHEN YOU SEE THE ENORMOUS VOLATILITY NOT JUST IN CORPORATE DEBT. IN U.S. TREASURIES WHEN WE HAVE ONE DAY I MORE THAN 25 BASIS POINT MOVE THAT HAS BECOME A FOUR DAYS STRAIGHT FROM THE UPSIDE TO THE DOWNSIDE IN TERMS OF BORROWING COSTS. ELAINE: IT'S FUNNY.
IN TIMES LIKE THIS WE EXPECT TO BE REALLY, REALLY ACTIVE. AND IT HAS BEEN A LITTLE BIT DISAPPOINTING. WE WERE RUNNING NEUTRAL IN OUR FUNDS AND IT HIT A POINT WHERE WE WENT TO AN OVERDONE PLACE SO QUICKLY THAT I DON'T NECESSARILY THINK THAT WHAT THE TREASURY MARKET IS PRICING INTO THE MARKET IS REALITY. TO REALLY THINK THAT THERE ARE GOING TO BE 125 BASIS POINTS OF CUTS? WHY JANUARY? THAT SEEMS A LITTLE OVERDONE.
CAROLINE: THAT IS EXACTLY WHAT OUR TECHNOLOGY VIEWERS ARE TRYING TO GET TO GRIPS WITH. FOR OUR VIEWER THE CONTEXT IS LOOMIS SAYLES HAS A STORIED HISTORY IN BOND MANAGEMENT AND YOU'RE TRYING TO READ THE TEA LEAVES OF ULTIMATELY WITH THE FED DOES IN THIS SCENARIO. DOES THE FEDERAL RESERVE FOCUS MORE ON FINANCIAL ISSUES, CONTAGION AND BANK RISK, OR MORE ON INFLATION AND SOME OF THE CONCERNS THERE THAT ULTIMATELY MEANS THEY HAVE TO HIKE RATES? ELAINE: I DO THINK THAT THE FED PROBABLY HASN'T MADE A DECISION AND THAT THE FED IS GOING TO WATCH WHAT HAPPENS OVER THE NEXT COUPLE OF DAYS. DOES CREDIT SUISSE AND WHAT IS HAPPENING THERE TAKE US TO -- RIGHT? THEY KNOW MORE THAN WE DO, BUT THEY DON'T KNOW WHAT THE MARKETS ARE GOING TO DO HERE.
I THINK IF THEY WERE GOING TO BE MAKING A DECISION TODAY WITH WHAT THEY KNOW, ECONOMIC NUMBERS THAT DON'T LIE BUT ARE DISTORTED BY THE WEATHER, BY SOME OTHER FACTORS, AND THE AMOUNT OF FEAR THAT'S IN THE MARKET RIGHT NOW, I THINK THAT THEY WOULD HOLD OFF . WE COULD SEE SOMETHING HAPPEN IN THE NEXT COUPLE OF DAYS THAT SETTLES THE MARKETS DOWN AND ALLOWS THEM TO DO THAT 25 BASIS POINTS. THE MARKET RIGHT NOW SAYING IT'S A 50-50 CHANCE. THAT'S WHAT THE TREASURY MARKET IS SAYING, IT'S ROUGHLY A 50-50 CHANCE THAT THE FED IS GOING TO CUT 25 BASIS POINTS.
I DO THINK SOMETHING -- GO AHEAD. ED: I WANT TO TIE THIS TOGETHER. I WANT TO UNDERSTAND WHY THIS IS HAPPENING. LET'S GO TO THE BLOOMBERG TERMINAL AND LOOK AT CREDIT SUISSE TRADING AT FINANCIAL CRISIS, ABOVE FINANCIAL CRISIS LEVELS TO ENSURE AGAINST DEFAULT. THIS WAS HAPPENING AT CREDIT SUISSE IN THE FOURTH QUARTER IN TERMS OF CLIENT ASSET OUTFLOWS.
SVB HAPPENED AND IT SEEMED LIKE EVERYONE SUDDENLY REALIZED AGAIN THAT BANK LIQUIDITY IS IMPORTANT . WHY IS THIS HAPPENING WEDNESDAY, RIGHT NOW? WHAT IS THE CATALYST FOR YOU? ELAINE: CLEARLY, WHEN THE LARGEST SHAREHOLDER COMES OUT AND SAYS THERE IS NO WAY OF PUTTING -- YOU FEAR THEY KNOW SOMETHING YOU DON'T KNOW. RIGHT? THAT IS THE FEAR THAT'S GOING THROUGH THE MARKET. EVERYTHING THAT WE KNOW IS THAT CREDIT SUISSE IS A BANK THAT HAD A DIFFERENT TYPE OF REGULATION THEN SVB. IT SEEMS TO ME TO BE A VERY DIFFERENT SITUATION. IT WAS REALLY ALL ABOUT THAT
LACK OF CONFIDENCE. IT WAS ALL ABOUT A LACK OF CONFIDENCE FOR THE BANKING SYSTEM. IF THAT REVERBERATES WE ARE GOING TO SEE MORE CREDIT SUISSE, MORE FIRST REPUBLICS. THE CREDIT MARKETS DON'T SEEM TO BE SAYING DEEP, DARK RECESSION RIGHT AWAY. CAROLINE: VERY DIFFERENT SIGNALS COMING FROM VERY DIFFERENT ASSET CLASSES. ELAINE STOKES, YOU ARE ACROSS THE CORPORATE CREDIT WORLD AND GOVERNMENT BOND WORLD AND WE WANT TO THANK YOU FOR SPENDING TIME WITH US. THANK YOU.
STAY WELL. SO MUCH MORE AHEAD ACROSS THE CONTAGION FROM CREDIT SUISSE, THE MARKET REPERCUSSIONS NOT ONLY WHEN IT COMES TO PPI INFLATION DATA, BUT MORE BROADLY ACROSS EUROPE AND THE U.S. >> THERE IS AN ELEMENT WHERE THIS IS LESS ABOUT IMMEDIATE CONTAGION. THE GREAT FINANCIAL CRISIS, CAROLINE: WELCOME BACK TO THIS SPECIAL MARKETS EDITION OF BLOOMBERG TECHNOLOGY. LET'S TAKE A QUICK LOOK AT THE MACRO PICTURE. THE REPERCUSSIONS OF AN INVESTOR THAT WON'T PUT AN EXTRA SENT INTO CREDIT SUISSE. THE CONTEXT TO THE SVB CRISIS
AND MARKET CONTAGION MEANS THAT EUROPE AND THE STOXX 600 IS HAVING ITS WORST DAY IN A YEAR BUT THE EURO IS HAVING ITS WORST DAY IN TWO YEARS, ITS LOWEST LEVELS IN TWO MONTHS. THE FLIGHT TO QUALITY, SOARS UP A PERCENTAGE POINT. SOVEREIGN BONDS OUTPERFORM.
ED: THE TECH SECTOR AND EQUITY MARKETS, RISK OFF BUT NO OBVIOUS MOVE TO SAFETY. GOLDMAN SACHS, PROFITLESS TECH. SEMICONDUCTORS, THE STOCKS DOWN MORE THAN 3% AT THIS POINT, CAROLINE. CAROLINE: REPERCUSSIONS ARE FAR AND WIDE. IT IS INTERESTING THE TECHNOLOGY SECTOR SOMEWHAT OUTPERFORMS THE FLIGHT TO THE BOND MARKET STOP THE VOLATILITY IS ONE YOU HAVE TO KEEP AN EYE ON AND THIS AFFECTS EVERY RISK TAKER OUT THERE. WHAT DOES THIS MEAN FOR INVESTING IN TECHNOLOGY MORE BROADLY? IT IS NOTABLE THAT SOME KEY TECH STOCKS OUTPERFORM AND BITCOIN IS REMARKABLE AMID THE DOLLAR STRENGTH.
CAROLINE: WELCOME BACK TO A SPECIAL MARKETS EDITION OF BLOOMBERG TECHNOLOGY. 4:30 P.M. IN LONDON AND WE HAVE TO KEEP A KEY I ON THE RIPPLE EFFECT. IT HAS BEEN A REMARKABLE DAY OF TRADING IN EUROPEAN ASSETS. YOU HAVE THE LATEST? ED: BANKS ARE THE MAIN DRIVER. DOWN 8.5%. THE BIGGEST ROUTE FOR THE BANKS COLLECTIVELY SINCE MARCH OF 2020 WHEN THE PANDEMIC IT.
CREDIT SUISSE WAS NOT TRADED WITHIN THAT INDEX. THE BIGGEST DROP ON RECORD, IT STOPPED TRADING AT ITS LOWEST LEVEL ON RECORD. MOVEMENT AND CURRENCY MARKETS, WE ARE OFF BY TWO PERCENTAGE POINTS ALMOST. WHAT A VOLATILE WEEK IT'S BEEN IN EURO-DOLLAR IF YOU THINK ABOUT IT.
WE ARE DEBATING ON THE SHOW IF THERE IS A FLIGHT TO SAFETY, BUT YOU LOOK AT THE SHORT END OF THE GERMAN TO YOUR BUND, TWO POINT 83%. BANKS, BANKS, AND MORE BANKS. CAROLINE: WHAT IS HER MARKABLE IS THE RELATIVE STRENGTH OF TECHNOLOGY OFF BY THE LEAST IN TERMS OF BENCHMARKS, 1.1% ON THE NASDAQ. LET'S BROUGHT INTO THE MOVEMENT IN EUROPEAN ASSETS, THE READER CROSS TO THE U.S. AND GLOBAL FINANCIAL SECTOR. GUY JOHNSON IS WORKING LATE FOR
US IN LONDON, SONALI BASAK IN NEW YORK. GUY IN LONDON, THE CONTAGION CONCERNS AROUND CREDIT SUISSE FELT AS THOUGH IT IS A BLOOMBERG INTERVIEW THAT SPARKED THIS THIS MORNING. GUY: IT WAS. THE INTERVIEW THIS MORNING SPARKING THE LATEST CRISIS FOR CREDIT SUISSE. SOMEONE PUT IT TO ME EARLIER THAT THIS HAS BEEN A SLOW TRAIN WRECK.
CREDIT SUISSE HAS BEEN HAVING PROBLEMS FOR A LONG TIME AND YOU HAVE TO REMEMBER THAT THIS IS A GLOBALLY SYSTEMIC IMPORTANT BANK. THE LIQUIDITY CONCERNS WE'VE SEEN IN SILICON VALLEY ARE NOT THERE. THIS IS A CRISIS OF CONFIDENCE THAT HAS BEEN EMERGING. I THINK WHAT IT'S DOING, CAROLINE, IS FORCING EUROPEAN INVESTORS TO RETHINK WHAT IS HAPPENING MORE BROADLY. LOOKING AT THE ECB TOMORROW AND THINKING ABOUT THE POSSIBILITY OF WHETHER OR NOT THE ECB IS GOING TO GO BY 50 BASIS POINTS. TALK ABOUT TIMING CREDIT STANDARDS, AND ECONOMIC SLOWDOWN. THE RIPPLE EFFECTS INTO OTHER
BANKS MAY HAVE LESS TO DO WITH CONTAGION AND MORE WITH THIS IS THE REPRICING OF POTENTIAL EARNINGS GOING ON. LOOK AT WHAT IS HAPPENING IN EUROPEAN BANK BONDS AND LESS OF A RIPPLE EFFECT WHICH TELLS YOU MAY BE THAT STORY AS WELL. THE CREDIT SUISSE STORY HAS BEEN SIGNIFICANT, BUT IT'S HAVING A WIDER EFFECT, MAYBE A WAKE-UP CALL AS TO THE ULTIMATE IMPACTS OF THIS INCREDIBLY FAST-PACED RATE CYCLE WE ARE CURRENTLY SEEING. ED: WHAT I AM HEARING IS IN EUROPE OR THE UNITED STATES LIQUIDITY OF BANKS IS IMPORTANT, WE SHOULD TALK ABOUT THAT AGAIN. HOW IS THIS PLAYING OUT ON WALL STREET, IN U.S. FINANCIAL MARKETS? SONALI: YOUR MEMBER A COUPLE OF DAYS AGO WE WERE WORRIED ABOUT THE HEALTH OF A LOT OF BANKS BECAUSE THEY WERE FACING DEPOSITOR RUNS.
THAT WAS EVEN AFTER THIS IDEA HERE THAT YOU SAW SELLOFF. AFTER THE IDEA THAT SUNDAY NIGHT YOU SAW THE FBI SEE RESCUE. WHEN WE ARE SEEING THESE STRAINS AGAIN THERE IS CERTAINLY A WORRY ABOUT THE FUNDING AND LIQUIDITY BEHIND THESE SMALLER BANKS IN PARTICULAR. EARLIER IN BLOOMBERG'S PROGRAMMING HE MADE AN INTERESTING POINT THAT THIS IS ALREADY PROBLEMATIC WHEN YOU SEE A GLOBALLY SYSTEMIC FINANCIAL INSTITUTION GO THROUGH THIS STRAIN, BUT THE BIG STRAIN, AND THIS IS WHAT WE ARE NOT SEEING IMPORTANTLY, IS THE SAME KIND OF STRAIN GO TO THE OTHER GLOBALLY SYSTEMIC FINANCIAL INSTITUTIONS.
WHAT WE ARE SEEING SO FAR UNTIL NOW AND ARE STILL HEARING VERY MUCH SO IS THAT THERE HAS BEEN A FLIGHT TO SAFETY. THE BIG BANKS HAVE BEEN TAKING IN SO MANY DEPOSITS THAT THEY OFTEN CAN'T TELL US HOW MANY THEY HAVE. BECAUSE THINGS ARE MOVING SO QUICKLY. I THINK THAT THAT LEAVES QUESTIONS ABOUT EVERYBODY ELSE.
GUY: THE IMPORTANT THING HERE IS THAT YOU ARE NOT SEEING LIQUIDITY AS A CONCERN FOR CREDIT SUISSE. THIS IS CONFIDENCE. CREDIT SUISSE IS BASICALLY WE UNDERSTAND FROM THE FINANCIAL TIMES GOING TO THE SWISS NATIONAL BANK AND SAYING THAT WE NEED O A VOTE OF CONFIDENCE. IT'S BUYING THIS BANK TIME TO EXECUTE ITS PLANS. THE RULES ARE IN PLACE FOR REASON AND THE DIFFERENCE BETWEEN SILICON VALLEY BANK AND WHAT IS HAPPENING WITH CREDIT SUISSE IS THAT YOU ARE NOT SEEING THE LIQUIDITY PRESSURE. THIS IS A BANK THAT IS STILL ABLE TO FUNCTION WITH THE LIQUIDITY THAT IT HAS. MAYBE THAT'S THE BIG DIFFERENCE.
WHAT IT DOES TELL YOU IS THAT THERE MAY BE A BIGGER EFFECT ON FINANCIAL CONDITIONS. THIS IS MAYBE THE WIDER MARKET REACTION. BANKS ARE GOING TO TIGHTEN LENDING STANDARDS, BE POTENTIALLY SPOOKED BY THIS, AND POTENTIALLY THAT LEADS TO LOWER EARNINGS THAT ARE BEING PRICED IN TODAY. CAROLINE: IT IS WHAT SYSTEMICALLY IMPORTANT MEANS. THEY MAY NOT HAVE THE WALL OF SUPPORT FROM TWITTER BUT THEY ARE CERTAINLY BEHIND THE SCENES TRYING TO GET A WALL OF SUPPORT FROM CERTAIN REGULATORS. IN THE WORLD REPORTING, THE WORLD OF DISCLOSURE, WHAT ARE WE WAITING FOR TO PUSH THE STORY FORWARD? SONALI: A FEW THINGS.
GUY'S POINT IS IMPORTANT, THEY HAVE A LOT OF MONEY AND A LOT OF STICKY CLIENTS. THERE AREN'T A LOT OF WEALTH MANAGERS AROUND THE WORLD THAT ARE THIS BIG. THEY HAVE LOANS TIED TO ASSETS AROUND THE GLOBE. THAT IS ALL VERY IMPORTANT. THE GUY'S POINT, THESE KINDS OF STRINGS TIGHTEN FINANCIAL CONDITIONS SEVERELY, AND THAT IS THE COMMONALITY BETWEEN CREDIT SUISSE AND WHAT IS HAPPENING IN THE UNITED STATES. THERE IS A WORRY ABOUT
EXTENDING CREDIT, ABOUT WHERE PEOPLE KEEP THEIR MONEY, AND WHAT WE WERE SAYING BEFORE THAT THERE IS A REWRITING OF WHAT IS A SAFE ASSET. CAROLINE: AS YOU TWEETED EARLIER, "WE ARE ALL BANK REPORTERS NOW ARE, THIS HAS RIPPLE EFFECTS TO THE WORLD OF TECHNOLOGY. ED: IT IS NOT THE MEGA CAP TECH THAT GETS HIT BUT EVERYONE TELLS US THIS COMES OUT OF SVB AND WE WILL SEE FAILURES IN STOCKS AND THEY WILL HAVE A WORKING CAPITAL CRUNCH. YOU HAVE TO LOOK AT THE PRIVATE MARKETS AND SAY HOW IS THIS PLAYING OUT ON MAIN STREET OR SILICON VALLEY IN SAN FRANCISCO? I JOHNSON, SONALI BASAK, TEAM EFFORT. WE CONTINUE WITH THE BANKING CRISIS AND HOW THE GLOBAL LENDER CONCERNS COULD UNRAVEL FINTECH. FIRST REPUBLIC HAS REALLY BEEN
THE FOCUS AFTER A NUMBER OF AGENCIES CUT CREDIT RATINGS, DOWN 24%. THE KBW BANK INDEX IS ALSO SOFTER. THEY HAVE A DIVERSITY OF NAMES THAT TRADES WITHIN IT. THIS IS BLOOMBERG. ♪
CAROLINE: WELCOME BACK, I'M CAROLINE HYDE IN NEW YORK. ED: ED LUDLOW IN SAN FRANCISCO. HOW COULD THE SVB COLLAPSE AND LENDER CONCERNS UNRAVEL FINTECH? YESTERDAY YOU IB'D ME. YOU ARE LOOKING AT THE FUNDING ENVIRONMENT NOW AS A RESULT OF WHAT IS HAPPENING. WHAT IS YOUR CONCLUSION? >> THE FIRST PART, I'M KIND OF SURPRISE THAT PEOPLE ARE TALKING ABOUT CONTAGION AND THE BANKING SECTOR AND HOW INVISIBLE THE VALUES CONCERNS ARE AT THE MOMENT.
I WAS AMAZED UNTIL SUNDAY EVENING. WE WERE WAITING AND WATCHING WHAT IT DOES. SVB LEAVES A HUGE HOLE. 65,000 STARTUPS. SUNDAY WE HEARD ABOUT DEPOSITS BEING TAKEN CARE OF.
WHAT ABOUT CREDIT? I DON'T THINK THAT PEOPLE APPRECIATE WHAT A BIG GAP THIS IS AND HOW FEW ALTERNATIVES THE VALLEY HAS. ED: YOU ARE COVERING FINTECH IN SAN FRANCISCO BUT YOU SPENT A LOT OF TIME LOOKING AT BANKS AND I'M TRYING TO GET THE READTHROUGH SVB TO CREDIT SUISSE. WHAT DO YOU MAKE OF IT ALL? DIKSHA: IT HIT CLOSER TO HOME FOR ME. I WAS AT LEHMAN WHEN THE BANK WENT UNDER AND I'M AMAZED AT HOW LITTLE WE'VE LEARNED OVER THE YEARS. BY SUNDAY IF YOU SEE ALL THE DEPOSITS ARE PROTECTED WE ARE GOOD. THIS IS NOT LEHMAN, THIS WON'T HAVE FOUNDATION IN FACT WILL STOP WERE WE REALLY THAT SHORTSIGHTED? AT LEHMAN WE THOUGHT LET'S MAKE AN EXAMPLE OUT OF THIS ONE BANK AND THEN WE WILL SEE HOW THIS GOES, RIGHT? WITH AS BB THIS IS ONE BANK DISCUSSING MORAL HAZARD. SHOULD WE USE TAXPAYER MONEY TO
BUILD THIS BANK OUT? WHEN YOU HAVE A FIRE IN YOUR HOUSE, WHAT DO YOU DO? HOW DO YOU THINK ABOUT IT? DO YOU THINK LET ME PUT OUT THAT FIRE FIRST OR DO YOU ACTUALLY THINK, IF I PUT THIS FIRE OUT THE PERSON WHO LIT THE FIRE WILL NEVER REALIZE WHAT MISTAKE THEY MADE? THAT IS THE DISCUSSION THAT WE HAD ON SUNDAY. I'M AMAZED HOW LITTLE WE LEARNED WITH WHAT HAPPENED WITH LEHMAN AND HOW IN THIS ENVIRONMENT ANY CONFIDENCE CRISIS THE WAY THAT HE CAN BLOW UP. I AM AT A LOSS OF WORDS. CAROLINE: IT THEN BECOMES A LESSON FOR REGULATORS TOO.
AT THE MOMENT THIS IS THE DIFFERENCE, SVB NOT SYSTEMICALLY IMPORTANT BUT WAS TOO BIG TO IGNORE, WHEREAS MANY ARE NOW WONDERING IF CREDIT SUISSE IS TOO BIG TO BAILOUT IN MANY WAYS. IT IS CERTAINLY TOO BIG TO FAIL. I'M INTERESTED IN THE REPERCUSSIONS OF A REGULATORY PERSPECTIVE FROM BANKS AND FINTECH TOO. DIKSHA: VERY SIMPLE. FIRST THINGS FIRST. THESE COMPANIES, THESE START UPS, THIS IS THE REASON THE BANK GREW TO THE SCALE IT GREW. IT'S NOT LIKE SAID HE THERE WITH OPEN ARMS AND SILICON VALLEY WAS POACHING THEM. IT IS REALLY HARD FOR BIG BANKS TO BANK WITH STARTUPS.
THIS UNDERSTOOD THE VALLEY, UNDERSTOOD THE COMPANIES THAT THEY WERE BANKING, AND THEY WERE SUPPORTING FOR 40 YEARS. OPERATIONALLY THERE ARE VERY FEW COMPANIES THAT CAN FILL IN THAT GAP. NOW TALKING ABOUT THE SYSTEMIC IMPACT OF THIS, RIGHT, IF I AM NOT SURE IF MY DEPOSITS ARE SAFE -- PEOPLE WERE THINKING THAT SILICON VALLEY'S DEPOSITS WOULD PROBABLY MOVE TO FRB OR OTHER BANKS, BUT DO YOU THINK THAT AS I STARTED FOUNDER I'M COMFORTABLE PUTTING MY MONEY ELSEWHERE WHEN I'M NOT EVEN SURE IF I'M GOING TO GET THAT BACK FROM THE FIRST BANK THAT WE HAD? OBVIOUSLY, THERE IS A CONFIDENCE CRISIS, AND I THINK IT'LL BE A WHILE BEFORE WE CAN FIX THIS PROBLEM. CAROLINE: WE SEE IT REFLECTED IN EQUITY MARKETS WITH THE BIGGEST FALL ON RECORD IN EUROPE AND IT CONTINUES TO TRADE IN THE U.S. WE ARE LOOKING AT PUBLICLY
TRADED FINTECH AND SOME PRIVATELY OWNED ONES. BRINGING HER HISTORY AND CONTEXT WITH LEHMAN AS WELL. FURTHER INTO THE WORLD OF PRIVATE MONEY ALLOCATION, BUT ALSO A HISTORY OF SOMEONE WHO WORKED AT THE FEDERAL RESERVE ITSELF. LET'S GO TO THE FOUNDER AND PARTNER AT MILLENNIUM CAPITAL FOCUSED ON TECH AND PRIVATE MARKETS. YOU HAVE FINTECH'S LIKE ROBIN HOOD, AND YOU HAVE HUGE JUGGERNAUTS IN THE PRIVATE SPACE LIKE SPACEX. YOUR PERSPECTIVE ON THE
REGULATORY REPERCUSSIONS OF WHAT'S HAPPENING WITH CREDIT SUISSE IN EUROPE AND SWITZERLAND BUT WHAT HAPPENED WITH SVB IN THE U.S.? >> SINCE THE FED BEGAN TIGHTENING FINANCIAL CONDITIONS OR YEAR AGO I THINK THAT IN THE VALLEY MANY COMPANIES HAVE BEGUN TO READJUST. FOR THOSE WHO HAVEN'T I THINK WHAT HAPPENED LAST WEEK WILL BE A WAKE-UP CALL.
BY NOW MOST MARKETS ARE PREPARING FOR A SLOWDOWN IN THE MARKETS AND ECONOMY. NOW, IN THE SHORT TERM MANY FOUNDERS, THE ONES THAT I'VE SEEN, HAVE BEEN OPENING NEW ACCOUNTS, GETTING NEW ACCESS TO A LINE OF CREDIT, AND CUTTING COST. LONG-TERM WHAT THE RAMIFICATIONS ARE, I THINK ONE IS THAT THERE'S DEFINITELY GOING TO BE NEW GROWTH FROM THE FED, THE TREASURY, TO TIGHTEN BANK OPERATIONS. I THINK FINTECH LIQUIDITY, I WOULD SAY THAT THIS YEAR WILL BE A TEST OF WHAT COMPANIES ARE GOING TO SURVIVE AT THIS POINT IN THE BUSINESS CYCLE. IN MY VIEW THE ONES WHO SURVIVE
WILL COME OUT FINE. MOST FOUNDERS ARE ON TOP OF WHAT'S GOING ON. CAROLINE: YOU SAY THAT THERE WAS A SUDDEN NEED TO DIVERSIFY WHERE YOUR MONEY IS KEPT.
WHEN I'M TALKING TO FOUNDERS, VCS, THEY ARE SAYING THAT IT'S EASY FOR A FOUNDER OF A COMPANY TO WALK INTO JP MORGAN AND SAY THAT I USED TO BANK WITH SILICON VALLEY BANK I NEED TO PUT FUNDS IN WITH YOU. HOW DIFFICULT IS IT TO DIVERSIFY IN TERMS OF WHERE YOU PUT YOUR MONEY IN TERMS OF CREDIT SUISSE OR LOOKING OUTSIDE OF THEIR AT SILICON VALLEY BANK? JOE: ACROSS YOUR PORTFOLIO WE HAVE RUN AN ANALYSIS. THE LARGER UNICORNS, MORE IN CASH, THEY HAVE BEEN BANKING WITH JP MORGAN AND CITIBANK EVEN BEFORE SVB'S INCIDENT.
THE SMALLER COMPANIES, THEY HAVE BEEN BANKING WITH SVB WHICH TENDS TO HAVE A LOWER THRESHOLD FOR MINIMUM ASSETS. THE LATER STAGE COMPANIES ACTUALLY WORKS AS EXPOSED TO SVB VERSUS THE EARLIER STAGE COMPANIES. A LOT OF THE EARLIER STAGE COMPANIES HAVE BEEN TRYING TO OPEN ACCOUNTS NOW. DO YOUR POINT IS NOT EASY TO
OPEN AN ACCOUNT WITH SOME OF THE LARGER BANKS WITH A HIGHER THRESHOLD. AS A RESULT YOU'RE SEEING SOME OF THE EARLIER STAGE COMPANIES GOING TO BE FIRST PUBLIC. CAROLINE: YOU HAVE BEEN REPORTING DAY IN DAY OUT ON NOT ONLY THE IMPACTS OF THE STARTUPS BUT THE VENTURE FUNDS THEMSELVES. ED: IF YOU ARE A FIRM WITH SIZABLE FUNDS YOU HAVE MORE THAN ONE BANK ACCOUNT PER FUND, AND OPERATING CASH FLOW FUND, YOU HAVE DE-RISK INITIATIVES AND FUNDS. WE HAVE BEEN TALKING ABOUT
TIGHTER FINANCIAL CONDITIONS. HOW DOES THAT IMPACT VENTURE FIRMS AND THEIR ABILITY TO MOVE? JOE: WE HAVE SEEN THIS AS EARLY AS A YEAR AGO, LONGER THAN A YEAR AGO, WHERE YOU HAVE A FEW CHANNELS OF THE FED HITTING THE REAL ECONOMY IN THE LAST YEAR OR SO. ONE IS LPS, THEY HAVE BEEN ALLOCATED WAY MORE. IT IS A HIGHER GUARANTEE OF RATE RETURN FOR RISK. THE SECOND THING IS I THINK THE DECREASE IN VALUATIONS HAVE HURT SOME OF THE RETURN PROFILES. I THINK THAT THE LAST THING IS MOST LPS, LIKE PENSION FUNDS, HAVE THE BUDGET FOR WHAT EQUITY MIXED INCOMES.
VENTURE AND TECH HAVE BEEN OUTPERFORMING, THEY HAVE GONE OVER BUDGET. THEY WERE PULLING BACK, AND WITH WHAT HAPPENED LAST YEAR THEY HAVE PULLED BACK. YOU ARE SEEING A SLOWING FUNDING . LAST WEEK SOME OF THE VCS HAD THEIR FUNDS TIGHTEN UP AT SILICON VALLEY BANK. THEY WOULD EVEN HAVE TROUBLE
FUNDING STARTUPS. IT HAS BEEN AN INTERESTING YEAR FOR INVESTORS. ED: JOE' ZHAO, THANK YOU FOR YOUR INSIGHT. A LOT MORE IS COMING UP. WE WILL CONTINUE THE
CONVERSATION AROUND VENTURE AND PRIVATE MARKETS. A LOT HAPPENING IN THE PUBLIC SECTOR AND PUBLIC MARKETS AS WELL. THIS IS BLOOMBERG. ED: WELCOME BACK.
CHIME ED LUDLOW IN SAN FRANCISCO. LET'S GET TO THE MARKETS. >> ALL OF THE ACTION IS CENTERED IN THE BOND MARKET. THE S&P 500 DOWN HALF A PERCENT OR SO BUT THEN YOU LOOK AT THE TREASURY MARKET. THE HAVEN ASSET OF THE WORLD STEALING A PHRASE FROM JON FERRO HAS BEEN TRADING LIKE A PENNY STOCK. YOU LOOK AT THE TWO-YEAR
TREASURY STOCK, THAT'S AN EXPECTATION OF WHERE THE FED IS GOING TO GO. IT IS DOWN 41 BASIS POINTS TODAY, IT WAS UP 27 BASIS POINTS YESTERDAY. THAT TELLS YOU THAT ALL OF THE ATTENTION IS ON NEXT WEDNESDAY. WHAT IS JEROME POWELL GOING TO DO? IT FEELS LIKE NO ONE KNOWS.
ED: THANK YOU. LET'S KEEP THE CONVERSATION GOING WITH CLEO CAPITAL MANAGING DIRECTOR. YOU WERE ONE OF MANY WHO BREATHED A COLLECTIVE SIGH OF RELIEF SUNDAY NIGHT. YOU MUST BE QUITE WORRIED ABOUT WHAT IS HAPPENING IN THE BANKING SECTOR? >> YOU DON'T WANT TO WAKE UP AFTER SVB IS A LITTLE BACK ON TRACK AND PEOPLE ARE GETTING MONEY OUT, FIRST REPUBLIC HAS STABILIZED, AND THEN YOU WAKE UP TO THIS NEWS OUT OF CREDIT SUISSE AND HEARING THAT THEY DON'T REALLY HAVE ANOTHER PLACE TO GO TO GET MORE CAPITAL. THAT'S NOT GOOD AND THE MARKET IS REFLECTING THAT. ED: THAT HAS BEEN THE CONVERSATION, TIGHTER FINANCIAL CONDITIONS. HOW DOES THAT IMPACT EARLY
STAGE COMPANIES IN PARTICULAR? HAS THE FUNDING DRIED UP? SARAH: IT WILL BE A HARD QUARTER TO PITCH IN. GETTING FUNDING OUT OF VC'S THAT DON'T HAVE AN OBLIGATION WITH THE MONEY THEY PUT WITH YOU WILL BE HARDER THAN EVER. IT DOESN'T MEAN THAT IT IS TOTALLY DRIED UP AT THERE WILL BE A TON OF PEOPLE STARTING GREAT NEW COMPANIES, BUT THIS'LL BE A DIFFERENT FUNDRAISING ENVIRONMENT THAN EVEN A FEW MONTHS AGO. CAROLINE: WHAT HAS BEEN REMARKABLE HAS BEEN THE RESILIENCE OF CRYPTO, BITCOIN. YOU ARE IN GEMINI, YOUR PORTFOLIO IS LOOKING AT CRYPTO, IS THIS GOING TO WEATHER THE STORM? SARAH: CRYPTO IS A HEDGE THAT DOESN'T ALWAYS ACT LIKE ONE. IN THESE MOMENTS WHEN PEOPLE
ARE LOOKING FOR YIELD, LOOKING FOR WHAT IS NOT CORRELATED TO THESE LARGE MARKET MOVES, BITCOIN DOES GET POPULAR AGAIN. I THINK THAT THERE HAS BEEN A FLIGHT TO BITCOIN AWAY FROM SOME OF THE STABLECOINS AFTER THE CIRCLE DEBACLE LAST WEEK. CAROLINE: ALSO WHAT IS INTERESTING IS THE RESILIENCE OF SOME BIG NAMES LIKE MICROSOFT. MANY WONDER IF THAT IS THE CHAT GPT FOR ANNOUNCEMENT. I KNOW THAT YOU ARE IN AN AI COMPANY.
WE HAVE TIME TO THINK ABOUT AI AT THE MOMENT? SARAH: WE DO HAVE TIME TO THINK ABOUT AI. ALPHABET, GOOGLE ANNOUNCED REALLY COOL INNOVATION AND THEY ARE BARELY DOWN TODAY. THE SAME WITH MICROSOFT. I THINK THAT THESE NEW TECHNOLOGIES THAT HAVE A TON OF POTENTIAL WILL BE THE BRIGHT SPOT FOR LITTLE WHILE MOVING FORWARD. ED: WE WERE TALKING ABOUT CHECKS
BEING WRITTEN. THERE WAS MOMENTUM BEHIND AI. DOES THAT CONTINUE DESPITE THE ENVIRONMENT WE ARE IN? SARAH: I THINK PEOPLE WILL WRITE CHECKS TO THE COMPANIES THAT ARE DOING WELL AND AI IS FEELING LIKE IT'S DOING WELL. PEOPLE WANT BRIGHT SPOTS. THE VC'S DO HAVE DRY POWDER TO DEPLOY AND THEY ARE GOING TO GO AFTER THE THINGS THAT FEEL LIKE THE HIGHEST POTENTIAL RETURN BETS. CAROLINE: HAVE YOU THOUGHT ABOUT YOUR BANKING RELATIONSHIPS OF LATE JUST TO BRING IT FULL-CIRCLE? I'M LOOKING AT HEADLINE TREASURY DEPARTMENT IN THE U.S. REVIEWING U.S. BANK EXPOSURE TO CREDIT SUISSE AND OFFICIALS ARE IN TOUCH WITH EUROPEAN REGULATORS AS WELL. SARAH:
I THINK THAT EVERYONE LEARNED WHAT A SWEEP ACCOUNT WAS AND JUMPED TO THEM. WE HAD BEEN UTILIZING A LOT OF THOSE SAVINGS AT CLEO CAPITAL. LIKE EVERYONE WE ARE PAYING MORE ATTENTION TO DIVERSIFYING OUR BANKING RELATIONSHIPS BECAUSE IT DOESN'T HURT. IN SITUATIONS LIKE THE LAST
COUPLE OF WEEKS CAN VERY MUCH HELP. ED: ONE OF THE MANY PEOPLE WHO RACED ACROSS TOWN TO JOIN US FOR THE SPECIAL PROGRAM. CAROLINE: AN EXTRAORDINARY AMOUNT OF INFORMATION GARNERED FROM HER, PERHAPS EVEN SOME RESILIENCE AND CRYPTO OVERALL. FOR NOW THE RESILIENCE IS THE SAFETY OF THE U.S.
DOLLAR AND U.S. TREASURIES. ED: THIS IS WHY YOU HAVE PRIVATE MARKET PARTICIPANTS IN. WE SEE HOW IT PLAYS OUT IN THE PUBLIC MARKETS BUT THE REAL TERM IN FACT ON THE FOUNDERS AND THE TECH COMPANIES, WE ARE HAVING ALL OF THOSE ON THIS SHOW. CAROLINE: DAY THREE OF OUR TIME CHANGE AND WHAT AN EXTRAORDINARY DAY FOR SPECIAL MARKETS ADDITION OF BLOOMBERG TECHNOLOGY. ED: SO MUCH TO RECAP. WE HAVE A PODCAST ON THE BLOOMBERG TERMINAL AS WELL AS APPLE, SPOTIFY, WHEREVER YOU GET YOUR PODCASTS. WE WILL TRACK TECH AND THESE MARKETS. THIS IS BLOOMBERG.
2023-03-20 20:15
Show Video
Other news