Chengdu Metro and Tianfu Airport | The Art of Infrastructure | Sichuan, China | 4K HDR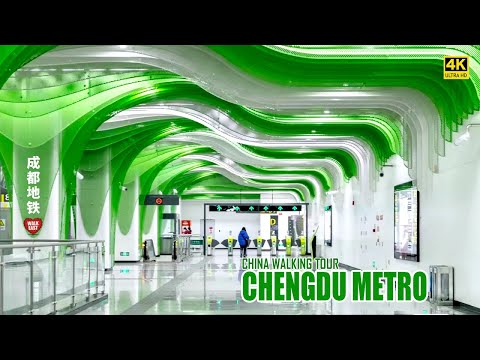 Show Video
June, 2022, by chance, I came to a metro station in Chengdu. At that time, I couldn't stop saying "wow" and impressed by the station for its beauty. At that time, I decided to shoot a Chengdu Metro video for everyone. The subway is the standard configuration of top-class cities, and it is also a symbol of strength.
In theory, the more subways are built in a city, the more developed the city will be. The reason is that subway construction not only has strict GDP, population, and financial thresholds, but also the construction cost and operation of subways are extremely expensive. Without a strong economy as a support, the subway would be impossible to talk about. In the past ten years, Chengdu's urban energy level has improved significantly, and the rapid development of the city has also driven the expansion of rail transit. The Chengdu Metro is the rapid transit system of Chengdu, the capital of Sichuan, China.
The system consists of 12 subway lines and 1 light rail line. Chengdu Metro refers to urban rail transit serving Chengdu, Sichuan Province, China. Its first line, Chengdu Metro Line 1, was officially opened on September 27, 2010, making Chengdu the twelfth city in mainland China to open rail transit. In December 2021, Chengdu Metro will open a total of 12 lines with a total length of 518.96 kilometers, all of which use the subway system, with a total of 373 stations in operation and 46 transfer stations. At the same time, Chengdu has become the first city in China to open five new subway lines at one time, and it is also the city whose subway operation mileage has exceeded 500 kilometers in the fastest ten years, officially becoming the "fourth city" of domestic rail transit.
By the end of 2024, Chengdu will form a rail transit network (including trams and rail transit Ziyang Line) with a total length of over 700 kilometers. On April 2, 2021, the single-day passenger volume of Chengdu Rail Transit exceeded the 7 million mark for the first time, reaching 7.036 million passengers, and Chengdu achieved the sixth passenger flow breakthrough on the subway operation day in 2021. On April 30, 2021, the passenger volume of Chengdu's rail transit network reached a new record of 7,224,300 passengers. Chengdu Tianfu International Airport is an airport serving Chengdu, the capital of China's Sichuan province and a major air hub.
The site of the airport was chosen at Lujia Town, Jianyang, Chengdu, 51 kilometers south-east of the center of Chengdu. China's long-awaited Chengdu Tianfu International Airport has officially begun operations, offering travelers a new gateway to the home of giant pandas. Its inaugural flight, operated by Sichuan Airlines, took off at 11:10 a.m. on Sunday, bound for Beijing. Chengdu, the capital of Sichuan province, is now the third city in the country to have two international airports, joining Shanghai and Beijing. Constructed at a cost of about 70 billion Chinese yuan ($10.8 billion), phase one of the massive aviation hub has the capacity to handle up to 60 million passengers per year, further opening up the country's southwest region.
Three runways and two terminals, covering a total area of 710,000 square meters, are in operation. State media outlet Xinhua reported the airport will eventually house terminals covering 1.4 million square meters, capable of handling 120 million passengers annually. The new Chengdu Tianfu International Airport was designed by a consortium made up of the China Southwest Architectural Design and Research Institute, China Airport Construction Group Corporation and French architectural firm ADP Ingenierie. Phase one took five years to complete and features an array of cutting-edge technologies, including facial recognition software, self-check-in kiosks, smart security systems, self-boarding gates and AI robot concierges. A metro line connects the airport with the city center.
Hitting speeds of up to 140 kilometers per hour, the train journey takes from 37 to 44 minutes. A metro line connecting the new facility to the Chengdu Shuangliu International Airport is due for completion in 2023.
2022-06-16 22:29
Show Video
Other news