BRAIN Director's update to the Multi-Council Working Group (Jan 2021)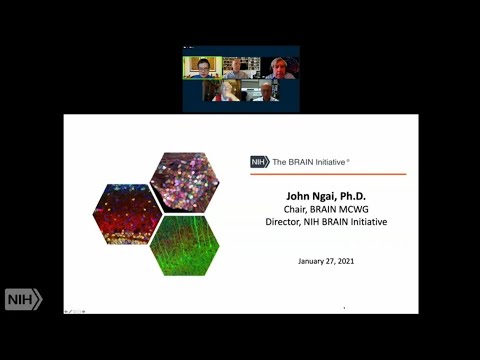 Show Video
WELCOME TO DAN FROM NYU HE REPRESENTS NIDCD COUNCIL AND HAS BEEN A LEADER IN THE FIELD. I'VE HAD A CHANCE TO SPEAK WITH DAN AND I THINK YOU'LL GIVE GREAT CONTRIBUTIONS TO US AND WE LOOK FORWARD TO WORKING WEDGE -- WITH YOU. WE HAVE SAYING GOOD-BYE TO DAVID TODAY AND HAS BEEN INSPIRATIONAL TO THE FIELD AND HIS SCIENCE NEEDS NO INTRODUCTION HERE. DAVID HAS BEEN INVOLVED WITH THE BRAIN INITIATIVE SINCE ITS BIRTH. HE WAS A MEMBER OF THE ORIGINAL WORKING GROUP THAT GAVE RISE TO THE BRAIN 2025 REPORT A STRATEGIC PLAN FOR THE INITIATIVE.
HE SAW THE BRAIN INITIATIVE THROUGH ITS INFANCY, CHILDHOOD, ADOLESCENCE AND I THINK YOUNG ADULTHOOD RIGHT NOW. DAVID, AS WITH ANY GOOD PARENT, YOU KNOW YOUR JOB IS NEVER DONE. AFTER SIX YEARS OF GREAT INSIGHT, INPUT AND WISDOM I HOPE I CAN CALL ON YOU FOR ADVICE AS WE NEED TO GOING FORWARD DURING THIS EXCITING NEXT PHASE WHICH I WOULD SAY YOU HELPED GET US TO THIS PLACE HERE. THANK YOU VERY MUCH.
I CAN'T OVERSTATE MY APPRECIATION FOR ALL YOU'VE DONE FOR US AND I HOPE YOU WILL TAKE MY PHONE CALLS AFTER TODAY. I'VE HAD THE PRIVILEGE OF WORKING WITH A GREAT STAFF. WE AN ACTING BRAIN DIRECT AND WE HAVE SENIOR ADVISORS [LISTING NAMES] AND THEN IT DOES TAKE A VILLAGE.
OVER 100 PEOPLE AT NIH POUR THEIR HEARTS AND SOULS INTO THIS EFFORT ON A VOLUNTEER BASIS. THEY DO IT BECAUSE THEY WANT TO AND LOVE IT. WE HAVE EIGHT PROJECT TEAMS, COORDINATING TEAM MEMBERS, A VAST NUMBER OF OTHER SUPPORT STAFF THAT MAKE THINGS HAPPEN FOR US AND FOUR. -- FOR YOU. WE HAVE EIGHT PROJECT TEAMS AND YOU'LL HEAR FROM TEAM TIE LATER TODAY.
THAT WAS CHRISTENED AS TEAM T.D. FOR TRAINING AND DIVERSITY AND FOUND A BETTER DESCRIPTION AND NOW THEY'RE KNOWN AS TRAINING INCLUSION AND EQUITY. I HOPE YOU'LL JOIN ME IN LOOKING FORWARD TO THEIR PRESENTATION AFTER I GET THROUGH MY INTRODUCTORY REMARKS. NOW, COVID IS ON EVERYONE'S MIND, HOW CAN IT NOT BE.
I WANT TO REMIND ALL OF US AS THE SITUATION CONTINUES TO EVOLVE AND HOPEFULLY GETS US TO A BETTER PLACE, YOU CAN SEE ON THE NIH'S WEBSITE WHAT WE ARE DOING TO HELP OUT RESEARCHERS THAT ARE GETTING INTO A BIND BECAUSE OF THE PANDEMIC AND BRAIN IS HANDLING ISSUES ON A CASE BY CASE BASIS BUT PLEASE VISIT THIS SITE, TALK TO US AT THE BRAIN WEBSITE IF YOU'RE A BRAIN AWARDEE, TALK TO YOUR PROGRAM OFFICER IF YOU'RE HAVING ISSUES WITH THE PROGRESSION OF YOUR PROJECT. WE'VE ALSO GRANTED TWO RECEIPT CYCLE EXTENSION FOR NOW FOR ELIGIBILITY FOR PROSPECTIVE APPLICANTS. WE'RE DOING WHAT WE CAN TO HELP EXTRAMURAL RESEARCH COMMUNITY AND CONCERNED ABOUT OUR TRAINEES AND JUNIOR INVESTIGATORS AND HOPE FOR NOW THIS EXTENSION WILL HELP ALLEVIATE SOME OF THE STRESS AROUND ELIGIBILITY ISSUES. NOW, THERE IS OPPORTUNITY FOR THE NEUROSCIENCE COMMUNITY TO ADDRESS THE COVID CRISIS. I WANTED TO POINT OUT TO YOU SOME FUNDING OPPORTUNITIES SPECIFIC FOR COVID-19 THAT MAY BE OF INTEREST AND RELEVANCE TO FOLKS IN THE NEUROSCIENCE COMMUNITIES. TAKE A LOOK ON THE NIH WEBSITE.
WE DON'T HAVE TIME TO GO THROUGH THEM IN DETAIL BUT WANT TO DRAW YOUR ATTENTION TO THE IDEA THAT WE CAN CONTRIBUTE TO THIS TERRIBLE PANDEMIC AND GET TO A MUCH BETTER WAY. HOW ABOUT GOOD NEWS? THE GOOD NEWS IS WE RECEIVED FOR BRAIN AN INCREASE IN OUR APPROPRIATION FOR THIS YEAR. IT WINDS UP BEING A NET INCREASE OVER FISCAL YEAR 2020 OF $60 MILLION.
AND THAT CAME ABOUT DUE TO A $100 MILLION ADDITION TO OUR BASE FUNDING AND THAT WITH CURES ACT FUNDING BRINGS $560 MILLION TO INVEST IN FISCAL YEAR 2021. RECALL THE BRAIN 2025 REPORT RECOMMENDED $500 MILLION WOULD BE A GOOD PLACE TO BE AND HAS BEEN A GOOD PLACE TO BE AND THIS SETS THE STAGE FOR MOVING AHEAD. YOU'LL NOTICE THAT IF ALL GOES TO PLAN AND THAT'S AN ASSUMPTION WE'LL HAVE A BIG INCREASE BECAUSE OF THE CURES ACT FUND EXPECTED TO BE OVER $500 MILLION AND WITH THIS INCREASE IN MEEND WE LAST YEAR PREPARED OURSELVES FOR LAUNCHING TRANSFORMATIVE PROJECTS. AS YOU MAY RECALL WE DECIDED TO MOVE AHEAD WITH THREE LARGE PROJECTS. I WANTED TO UPDATE YOU ON WHERE THINGS STAND IN THE CONTEXT OF THIS FUNDING OUTLOOK.
SO THE ADDITIONAL FUNDS WILL ENABLE THE ACCELERATED LAUNCH OF IN PARTICULAR THIS CELL SPECIFIC ACCESS TUMORS AND HERE AGAIN THE GOAL IS TO DEVELOP TOOLS FOR CELL ABSCESS IN RODENT AND NON-HUMAN PRIMATE BRAIN AND DEVELOPING NEW THERAPEUTICS FOR HUMAN BRAIN DISORDER. THE FIRST RSA IS ESH YOU'D -- ISSUED THERE'S ANOTHER RECEIPT DATE IN OCTOBER. WE'RE VERY EXCITED ABOUT THIS. $20 MILLION OF THE ADDITIONAL FUNDS TO BE RECEIVED THIS YEAR ARE EARMARKED FOR THE PROJECT.
WE'VE TALKED A BIT ABOUT THE BRAIN CELL CENSUS PROJECT BASED ON THE PROGRESS IN THE FIELD WE ARE PLANNING TO LAUNCH A LARGER PROJECT FOCUSSING ON THE HUMAN BRAIN, THE DEVELOPING COMPREHENSIVE BRAIN CELL ATLAS AND AGAIN $40 MILLION OF OUR INCREASE FUNDING THIS YEAR ARE EARMARKED TO HELP US ACCELERATE THE LAUNCH OF THAT PROJECT. ONGOING ARE DISCUSSIONS ABOUT DEVELOPING NEXT GENERATION TECHNOLOGIES FOR BRAIN MICRO CONNECTIVITY AND WE'RE MOVING AHEAD ON THE PLANNING PHASES OF THAT. SO WHAT ELSE ARE WE UP TO THIS SPRING? WE HAVE A LOT OF WORKSHOPS COMING. WE HAVE A SERIES OF FIVE WORKSHOPS FOCUSSING ON BRAIN CONNECTIVITY THAT WILL ADDRESS THE STATE OF THE ART IN COMPLETE CIRCUITS AND OPPORTUNITIES FOR ADVANCING THE FIELD, CHALLENGES AND WHAT WILL IT TAKE TO MAP AN ENTIRE MAMMALIAN BRAIN AT SCALE WE HAVE BEEN IN DISCUSSION WITH THE DEPARTMENT OF ENERGY AND CO-HOSTING THIS WORKSHOP. YOU CAN GO TO THE WEBSITE TO GET MORE INFORMATION AND I ENCOURAGE YOU TO DIAL IN AND ATTEND ALL THE CONFERENCES I'M ABOUT TO DESCRIBE TO YOU WILL BE HELD VIRTUALLY.
NEXT WE HAVE A HUMAN BRAIN CELL CENSUS WORKSHOP FOCUSSING ON TISSUE QUALITY FOR HUMAN BRAIN SAMPLES. THIS WILL FORM THE BASIS OF STANDING UP A SUCCESSFUL COMPREHENSIVE BRAIN CELL PROJECT. I'D LAKE TO UNDER SCORE MANY ISSUES WE DISCUSSED ABOUT ENSEWERING DIVERSITY IN OUR -- ENSURING DIVERSITY IN OUR HUMAN SAMPLE COHORT WERE TAKEN INTO ACCOUNT IN THE PLANNING OF THIS WORKSHOP AND WE'LL SEE MEASURABLE IMPACT FROM THE DISCUSSIONS WE HAD LAST.
FINALLY WE HAVE A NON-INVASIVE IMAGING TECHNOLOGIES. THE FIRST DEALING WITH THE TOPIC OF DISSEMINATING TECHNOLOGIES THAT WERE DEVELOPED UNDER BRAIN INITIATIVE AWARDS AND SECOND IS UNDER IDENTIFYING POTENTIALLY REVOLUTIONARY TECHNOLOGIES. THAT WORKSHOP WILL BE HELD IN MARCH AND OF COURSE THE BIG EVENT IS THE BRAIN INVESTIGATORS MEETING TO BE HELD JUNE 15 AND JUNE 17 AND YOU'LL BE GETTING E-MAILS ON THAT. THE BRAIN DATA SHARING POLICY IS NOW IN EFFECT. ALL THE APPLICATIONS WILL HAVE TO COMPORT TO THIS NEW POLICY. THERE'LL BE A REQUIREMENT TO SUBMIT DATA TO THE BRAIN DATA ARCHIVES.
THERE NEEDS TO BE A SPECIFIC RESEARCH SHARING PLAN APPROVED AND WE ARE ALLOWING COST TO FACILITATE THIS DATA SHARING. YOU'LL BE HEARING MORE ABOUT THES AS WE ROLL A -- THIS AS WE ROLL ALONG AND STAFF WILL WORK WITH INVESTIGATORS. I WANED TO TAKE A COUPLE -- WANTED TO TAKE A COUPLE MINUTES TO HIGHLIGHT TWO CONCEPT ADVANCES I THINK ARE COOL. THEY'RE DIRECTIONS WE CAN GO TO IN THE STUDY OF NEURO CIRCUITS AND THE ROLE OF BEHAVIOR. HERE'S A STUDY RECENTLY PUBLISHED AT U.C. DAVIS AND
DR. TAN HAS BEEN A PIONEER IN NEURO SENSORS NEURO TRANSMITTERS AND BASED ON PREVIOUS WORK HERE WE HAVE A SO-CALLED RED LIGHT WHICH IS A SENSOR FOR DOPAMINE BUT SHIFTED TO THE RED END OF THE SPECTRUM MEANING IT CAN BE USED SIMULTANEOUSLY WITH G CAN TO SENSE CALCIUM LEVELS AND NEURO TRANSMITTER DOPAMINE AND THIS OPENS THE WAY TO STUDY THE DYNAMICS OF NEURAL CIRCUITS INVOLVED IN FOR FOR EXAMPLE, EATING DISORDER AND REWARD AND ADDICTION AND LOOKING AT NEURSCRO TRANSMITTER LEVELS AND THE CIRCUITS. THIS OPENS UP A LOT OF NEW INTERESTING AF NEWS FOR RESEARCH. -- AVENUES FOR RESEARCH. RECENTLY THERE'S BEEN A REPORT WHERE PATIENTS ARE IMPLANTED WITH AN ELECTRODE AND USE IT TO RECORD ACTIVITY FROM THE HUMAN SUBJECTS WHO ARE REALLY RESEARCH PARTNERS AND TO SEND THE DATA TO B BACPAC AND MONITOR OTHER BIOMARKERS SUCH AS EMOTION, HEART RATE, PERSPIRATION, RESPIRATION AND TRACKING AND EKG AND GLOBAL POSITIONING. THEY CAN MONITOR THE NEURAL ACTIVITY THAT OCCURS WHILE A PERSON IS WALKING AND NAVIGATING A SPACE AND WHAT THEY FOUND WAS AN A HIGH [INDISCERNIBLE] IN THE TEMPORAL LOBE AND AS A SIMILAR ACTIVITY WAS PATTERN WHEN SUBJECTS OBSERVED ANOTHER PERSON NAVIGATING TO THE SAME SPOT.
IT GETS TO THE NOTION OF REPRESENTATIONS OF SELF AND OTHER WHILE LIMITED BECAUSE OF THE NUMBER OF PATIENTS THAT CAN BE STUDIED, IT OPENS UP A NEW VISTA FOR STUDYING THE ROLE OF NEURO CIRCUITS. TODAY'S OPEN SESSION WILL BE FOCUSSED ON THE ROLE OF BRAIN AND HENN -- NIH IN ENCOURAGING DIVERSITY AND EQUITY IN THE WORKFORCE AND WE'LL TALK ABOUT THE BRAIN PORTFOLIO IN SUPPORT OF THE MISSION AND WE'LL HEAR FROM DR. MARIE BERNARD IN THE OFFICE OF SCIENTIFIC WORKFORCE DIVERSITY TO HEAR ABOUT THE LARGER EFFORTS GOING ON WITH NIH AND FOLLOW THAT WITH AN HOUR-LONG DISCUSSION BASED ON THE PRESENTATIONS.
LET ME WALK THROUGH WITH YOU QUICKLY SOME THINGS WE'RE DOING IN BRAIN, OTHER ACTIVITIES AT NIH AND I'LL TRY TO PUT THAT IN THE CONTEXT OF WHAT'S GOING ON [INDISCERNIBLE]. STARTING WITH BRAIN WE RELEASED A REQUEST FOR INFORMATION TO ENHANCE THE WORKFORCE. IT'S AN ENHANCE WORKFORCE DIVERSITY AND INCLUSION THROUGH A VARIETY OF MEANS AND FUNDING MECHANISMS, INCREASED TRAINING PROGRAMS AND BROADER COMMUNITY ENGAGEMENT AND HIGHLIGHTED WAS THE NEED FOR EQUITY AND GRANTS REV REVAU -- REVAU -- REVIEW PROCESS AND WE NEED A TRANSPARENT TRACKING OF DIVERSITY METRICS FOR GRANT APPLICATIONS AND AWARD. I'LL STATE WE HAVE THE PREMISE DIVERSE PERSPECTIVES LEAD TO BETTER SCIENTIFIC OUTCOMES AND BASED ON GOOD EVIDENCE AND DATA.
WE'RE WORKING ON WAYS TO PUT THESE WORDS IN ACTION AND WE'LL HAVE MORE AT HE MAIN MEETING ON THE BROADER NIH LEVEL THERE'S THE CHALLENGE PROGRAM TO REWARD PRIZES TO INSTITUTIONS THAT DEVELOP CAUSES FOR ENHANCING AND SUSTAINING DIVERSITY WITHIN THE INSTITUTIONS. YOU CAN FIND THE DETAILS HERE AT CHALLENGE.gov. AGAIN WE'LL BE HEARING FROM DR. BERNARD ON THE EFFORTS THAT NIH IS TAKING AND I'LL ENSURE DR. BERNARD WILL TAKE US THROUGH THAT AGAIN, WHAT WE'RE DOING NOT DONE IN A VACUUM.
I'M PLEASED TO SEE THE SCIENTIFIC COMMUNITY ORGANIZE TO ADDRESS THE ISSUES OF RACIAL AND GENDER DISPARITIES IN THE SCIENTIFIC WORKFORCE AND HERE'S A DECLARATION AFFIRMING THE PRESSING NEED FOR FOSTERING FAIR AND DIVERSE INCLUSION AND YOU CAN HEAR MORE ABOUT THE WEBSITE AND AGAIN THE KEY TO EFFECTIVE CHANGE IS TO ORGANIZE THE COMMUNITY AND I'M PLEASED TO SEE THE COMMUNITY ORGANIZE THIS WAY. THIS HAS NOW EXTENDED TO THE PUBLISHING WORLD. THERE'S A STRONG STATEMENT PROMOTING AND IDENTIFYING AND PROMOTING DIVERSITY AND EQUITY IN THE TEAMS PERFORMING THE RESEARCH IS CRITICAL TO THE SCIENTIFIC MISSION AND THERE'S CHARACTERISTICS OF THE TEAM AND RESEARCH WITH DIVERSITY AND INCLUSION WILL NOW BE INCLUDED AND THE DATA WILL BE HELPED NOT ONLY TO MONITOR PROGRESS TO KEEP ALL OF US HONEST IN OUR QUEST TOWARDS ENHANCING DIVERSITY AND INCLUSION IN ALL WE DO. WITH THAT I'LL STOP.
I KNOW WE MAY BE RUNNING LATE AT THIS POINT BUT IF THERE'S HANE -- ANY QUESTIONS WE'RE HAPPY IT TAKE THEM NOW. >> I DON'T SEE HANDS RAISED. DID YOU HAVE SOMETHING? >> THERE WAS A RECENT PAPER PUBLISHED THAT ARGUED PAPERS WITH SENIOR FEMALES DID LESS WELL ON CITATIONS. I WONDERED WHETHER ANYONE WAS INTERESTED IN FOLLOWING THAT UP WITH ANOTHER STUDY.
THE EFFECTS WERE SMALL BUT NOTICEABLE BUT 40 YEARS IN IT SEEMS THAT SHOULD HAVE FLUSHED OUT. ADRIAN FAREHALL AND I WROTE A COMMENTARY ABOUT THAT. I DON'T SEE ANYTHING TO CHANGE THE DECISION MAKING PROCESS. >> ONE ARGUMENT DEBBIE SWEET MADE IS WE NEED TO START TRACKING THE DATA IN ORDER TO BE ABLE TO FIEND OUT WHERE WE ARE AND THEREFORE TO IDENTIFY WAYS WE CAN MOVE THE NEEDLE AND BE ABLE TO ASSESS WHETHER WE'RE GETTING CLOSER. IF YOU CAN POP A LINK IN THE CHAT THAT'D BE GREAT.
>> I HAD A QUESTION ABOUT DIVERSIFYING SAMPLES. ONE THING WE'RE EXPERIENCING NOW AT THE STANLEY CENTER AT BRODE AS WE I HAVE TO DIVERSIFY, IPS, CELL COLLECTS, ANY TERB -- TISSUES GLOBALLY AND IN THE INDIGENOUS POPULATIONS AND THERE'S NATURAL LAWS AND LEGAL RESTRICTIONS SOMETIMES ON THE MOVEMENT OF TISSUES, SOMETIMES ONLY ON IDENTIFIABLE PERSONABLE LEVEL DATA, SOMETIMES ON BOTH. I'M JUST WONDERING, A, ABOUT THE EFFORT IN BRAIN HOW DRIEFIVERSE WILL COLLECTION BE AND CAN NIH HELP COME UP WITH AGREEMENT TO PERMIT TIRB TUESDAY AND INFORMATION -- TISSUES AND INFORMATION TO CROSS BORDERS? >> GREAT QUESTIONS, STEVE. IT'S A WORK EN PROGRESS. I'M HOPING SOME ISSUES CAN BE FIRST OF ALL IDENTIFIED AND WRITTEN DOWN SO THEY DON'T GET FORGOTTEN AT THE WORKSHOP.
IT'S ACTUALLY -- THIS GOING TO BE THE FIRST OF TWO IF NOT MORE WORKSHOP. WE'RE ALSO ENGAGING OTHER PARTNERS IN THIS ENDEAVOR. THERE'S INTEREST IN THE SPACE AS PART OF BUT NOT SYNONYMOUS WITH THE HUMAN CELL LAB PROJECT AND WE'D BE INTERESTED IN TALKING TO YOU ABOUT YOUR EXPERIENCES AS WELL AND TRUE DIVERSITY WILL INCLUDE REACHING INTO SAMPLE POOLS NOT WITHIN OUR BORDERS BUT WE'LL CONSIDER THE ISSUES TO NAVIGATE.
>> THE HUMAN ISSUES ARE SOMETIMES HARDER THAN THE OTHER ISSUES.
2021-08-19 08:47
Show Video
Other news