Bloomberg The Open 10/19/2023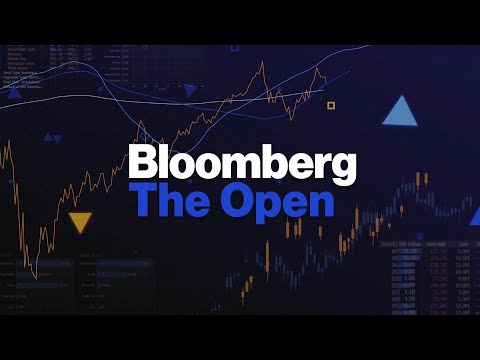 Show Video
JONATHAN: LIVE FROM NEW YORK CITY, GOOD MORNING. YOUR EQUITY MARKET POSITIVE .2%. THE ECONOMIC DATA LOOKING GOOD. THE COUNTDOWN TO THE OPEN STARTS NOW. >> EVERYTHING YOU NEED TO GET SET FOR THE START OF U.S.
TRADING. THIS IS "BLOOMBERG: THE OPEN" WITH JONATHAN FERRO. JONATHAN: LIVE FROM NEW YORK, COMING UP THE LABOR MARKET DATA LOOKING ROCKSOLID. BOND YIELDS CLIMBING TO MULTI-DECADE HIGHS. LOOKING TO THE FED CHIEF TO ADDRESS WALL STREET.
WE BEGIN WITH THE BIG ISSUE, CHAIR POWELL. >> POWELL IS THE MOST IMPORTANT VOICE TO LISTEN TO. >> MORE CLARITY FROM POWELL. >> I THINK IT WILL BE FAIRLY HAWKISH.
>> WE HAVE READ FAR TOO MUCH INTO RECENT FED SPEAK. >> THE TENOR HAS SHIFTED AND BECOME MORE HAWKISH. >> POWELL CAN POINT TO THAT MOVE AND SAY THE BACK END IS DOING A LOT OF WORK FOR US. >> DOING SOME OF THEIR WORK FOR THEM.
>> THE RATIONALE FOR DIALING IT DOWN AND TOUCHES THE HUGE BACKUP AND LONG-TERM YIELDS. >> THE THREAT OF ANOTHER HIKE. >> LESS INCLINED TO HIKE FURTHER. >> OUR VIEW IS THEY ARE PROBABLY DONE. >> I THINK THE FED WILL BE PATIENT.
>> THE HUMAN EFFECT OF ALL OF THEY ARE DOING. JONATHAN: JOINING US TO DISCUSS IS PRIYA MISRA AND JOB OF AN. PRIYA: IF YOU LOOK AT THE RECENT DATA, WE ARE NOT SEEING THAT IN THE DATA. WHAT THE FED IS TRYING TO DO IS BY TIME. THEY WANT TO LOOK FOR THE DATA. THE RECESSION PLAYBOOK IS NOT WORKING OUT. THERE HAS BEEN A RISE IN REAL
RATES. THE COVID SAVINGS BUFFER IS GONE AND THE CONSUMER CONTINUES TO POWER AWAY. I WOULD ARGUE THE SET UP FOR A RECESSION IS THERE BUT HOW LONG DOES THAT TAKE? WE DO NOT KNOW THAT.
THE MARKET IS PUTTING THE RECESSION DATE MUCH FURTHER OUT. IT IS NOTABLE THE SHIFT FROM THE FED IN THE LAST WEEK, CHAIR POWELL IS LIKELY TO EMPHASIZE THAT THE MARKET HAS DONE SOME WORK FOR THE FED BUT ARE WE RESTRICTIVE ENOUGH? THAT IS WHY I THINK HE WILL NOT TAKE ANOTHER HIKE OFF THE TABLE. THE URGENCY FOR THE FED TO CONTINUE HIKING INFLATION IS COMING DOWN. I THINK THEY WILL BUY TIME AND WAIT FOR DECEMBER. IF THE DATA CONTINUES TO POWER
THROUGH I THINK NEXT YEAR WE MIGHT BE LOOKING FOR MORE HIKES. I THINK IT IS TOO EARLY FOR THE FED. I EXPECT ANOTHER MESSAGE OF LET'S BE CAUTIOUS, WE TO PROCEED CAREFULLY.
THERE HAS BEEN A BIG TIGHTENING ON THE REAL RATE SIDE. JONATHAN: A BIG MOVE IN THIS BOND MARKET. 10-YEAR, FIVE-YEAR, 30 YEAR, ALL LOOKING AT NEW CYCLE HIGHS. THE 10 YEAR UP TO 4.93%, ALMOST A 5%.
THIS IS THE QUESTION ANDREW HOLLENHORST IS ASKING. HOW WILL THE FED WAY THIS RECENT DATA RELATIVE TO THE BOND MARKET SELLOFF? JEAN: I THINK THEY ARE FOCUSED ON THE SELLOFF AND I AGREE WITH A LOT OF WHAT MY COLLEAGUE JUST SAID. AS A RESULT WE WILL NEED A FEW MONTHS WHERE WE WILL SEE SIGNALS GOING IN ALL DIRECTION.
THAT IS WHY WE NOW EXPECT HIGH VOLATILITY, TWO WAVE MOVES ON THE 10 YEAR. WE HAVE BEEN UNDERWEIGHT U.S. TREASURIES FOR THE LAST THREE YEARS AND THIS WEEK HAVE STARTED TO TURN NEUTRAL. NOT BECAUSE WE THINK RATES WILL GO HIGHER BUT NOW WE ARE IN A WORLD WHERE THE FED DOES NOT KNOW WHAT IT IS DOING. YOU HAVE SEEN THAT THROUGH THE SPEAKERS. I DO NOT KNOW WHAT CHAIR POWELL WILL SAY BUT I THINK THEY ARE CONCERNED ABOUT GETTING OUT OF CONTROL AND THAT WILL DOMINATE THE DATA. JONATHAN: WE HEARD THAT FROM NEEL KASHKARI.
HE WAS PERPLEXED BY THE MOVE. DO YOU THINK THEY HAVE A DECENT UNDERSTANDING OF WHAT IS DRIVING THIS? PRIYA: THEY LOOK AT BOND MARKET MODELS AND THEY ARGUE IT IS PREMIUM. IF YOU LOOK AT WHY HAS TERM PREMIUM INCREASED, IT IS THE BUYERS THAT HAVE STEPPED AWAY. WE HAVE HEARD FROM THE FED LOUD AND CLEAR HIGHER FOR ELONGATE -- HIGHER FOR LONGER. THE FED IS NOT LOOKING AT FORWARD LOOKING INDICATORS. I THINK THE BUYERS COME AND WE WERE BUYING EARLY ON IN THE MOVE AND ONCE WE BROKE THOSE TECHNICAL LEVELS WE TOOK A STEP BACK. I THINK WE ARE NEARING THE PEAK.
BACK TO YOUR QUESTION ON WHAT DROVE THE MOVE, I THINK IT WAS TO A LARGE EXTENT THE BUYERS GETTING NERVOUS. IF YOU SITTING OUT IN CASH YOU ARE EARNING 5%, 6%. WHY EXTEND OUT THE CURVE? THE DATA HAS NOT SUPPORTED IT. FED SPEAK PUSHBACK AGAINST IT. THE FED IS TRYING TO UNDO SOME OF THE DAMAGE BUT THEY HAVE NOT GOTTEN THERE.
I DON'T THINK THE FED UNDERSTANDS HOW HAWKISH THAT SEPTEMBER FED MEETING WAS WHICH TOOK ALL OF THE BUYERS AND PUT THEM ON THE SIDELINES AND EVERYONE DECIDED WE HIDE OUT IN CASH. JONATHAN: RETAIL SALES A BIG UPSIDE SURPRISE. LET'S TALK ABOUT JOBLESS CLAIMS. MICHAEL MCKEE HAS THE DATA. MICHAEL: I THINK WE WERE BOTH GOB SMACKED BY WHAT WE SAW TODAY EVEN WITH A UNITED AUTO WORKERS STRIKE. THE REFERENCE PERIOD FOR
OCTOBER JOBS CAME IN AT 198,000. THAT IS A DECLINE FROM 211,000. IT KEEPS GOING LOWER AND LOWER. WHEN YOU LOOK AT THE ONGOING JOBLESS CLAIMS, THE PEOPLE STILL GETTING BENEFITS, 1,734,000, A RISE OF ONLY 34,000, IT IS THE HIGHEST IN THREE MONTHS BUT HISTORICALLY LOW.
JOBLESS CLAIMS WOULD TELL THE FED THAT THE LABOR MARKET IS STILL PRETTY TIGHT AND THERE IS STILL A LOT OF STRENGTH OUT THERE. WHAT DO THEY DO ABOUT IT? THAT IS ONE OF THE BIG QUESTIONS GIVEN THE DATA HAVE COME IN STRONGER-THAN-EXPECTED. IF YOU LOOK AT WHAT THE FED WILL BE DOING WE DID HAVE A POP IN NOVEMBER FROM 5.6% TO 7% CHANCE OF A RATE INCREASE.
34% FOR THE DECEMBER MEETING. THAT IS HEDGING THEIR BETS. THE MARKET LEANING AGAINST ANY KIND OF FED MOVED BY THE END OF THE YEAR. INTERESTING TO SEE WHAT JAY POWELL HAS TO SAY. VERY STRONG GROWTH.
YOU HAVE THE ATLANTA FED AND NOW BLOOMBERG ECONOMICS BOTH CONVERGING ON THE IDEA OF ABOUT 5% GROWTH FOR THE THIRD QUARTER. THE CONSENSUS LOWER THAN THAT. THAT MAY COME UP AS WE GET CLOSER TO THE GDP REPORT. KEEP AN EYE ON THAT AND THEN YOU HAVE TO ASK THE QUESTION, AND MAY DAVID WESTIN WILL. GIVEN THESE KIND OF STRONG NUMBERS, WHY ARE YOU CONSIDERING NOT RAISING RATES? IS IT BECAUSE THERE ARE HIGHER REAL RATES OR YOU THINK YOUR RATES NEED TO GO UP? HOW HIGH IS HIGHER AND HOW LONG IS LONGER IF YOU WILL BE HIGHER FOR LONGER? WHAT IS OUT THERE THAT WE SHOULD WORRY ABOUT? COMMERCIAL REAL ESTATE? THANKS? RECESSION? DO WE SEE INTEREST RATES GO BACK DOWN? JOHN WILLIAMS THINK SO. AND SINCE THIS IS BY HIT I WILL HAVE A QUESTION I WANTED TO ASK, SINCE WE KNOW JAY POWELL IS A DEAD FAN, WHAT IS HIS FAVORITE SONG? JONATHAN: OPENING QUESTION ON THE GRATEFUL DEAD. DAVID WESTIN SITTING DOWN
ALONGSIDE CHAIRMAN POWELL AT NOON EASTERN. THE FED SPEAK BEYOND POWELL, PARKER, LOGAN, THE REST OF THE WEEK MASTER. WE HEARD THIS FROM GOVERNOR WALLER. "I BELIEVE WE CAN WAIT. WATCH AND SEE HOW THE ECONOMY EVOLVES BEFORE MAKING DEFINITIVE MOVES ON THE PATH OF POLICY. IT IS TOO SOON TO TELL." THE PRUDENT MONETARY POLICY MOVE NOW GOING INTO NOVEMBER. IS IT WAIT AND THEN RESET IN DECEMBER? JEAN: FROM MY PERSPECTIVE I AM NOT SURE IF WEIGHTING WOULD BE THE PRUDENT MOVE.
PRUDENCE GOES ON BOTH SIDES. THE INFLATION STORY IS NOT OVER BUT THEY HAVE THE FINANCIAL SIDE THAT IS FRONT AND CENTER. PRUDENCE IS TRYING TO SEE WHAT IS HAPPENING IN TERMS OF TIGHTENING FINANCIAL CONDITIONS. THAT IS THE FRAME THEY ARE APPLYING AND THEY ARE CONCERNED ABOUT WHAT THAT WILL IMPLY MORE BROADLY. A LOT OF TIGHTENING IS BEING DONE FOR US. I'M NOT SURE THAT IS THE CASE.
I THINK THIS IS ABOUT RESETTING TO A NEW REGIME. WE HAVE BEEN TALKING ABOUT THAT FOR A LONG TIME. WE HAVE A DIFFERENT VIEW ON WHAT IS HAPPENING. JONATHAN: YOU AND THE TEAM HAVE PUT OUT A NEW NOTE POST-PANDEMIC. IS THIS THE NEW NORMAL, THE OLD NORMAL, WHAT IS IT? JEAN: I THINK IT IS THE NEW NORMAL.
ONE OF THE FEATURES OF THIS REGIME IS WE ARE EXPECTING RATES TO RESET HIGHER. THE LAST DECADE WAS PRETTY ABNORMAL. IN SOME SINCE THE NEW REGIME IS GOING BACK TO SOMETHING MORE NORMAL. WE THINK WE ARE IN THIS WORLD. A 5% TO 10 YEAR YIELD MAKE IN THIS WORLD. THE NEXT FIVE YEARS THIS WILL
BE WHAT IT LOOKS LIKE. THAT LEADS TO A PROFOUND ADJUSTMENT. WE THINK FOR INVESTORS THE OPPORTUNITIES ARE PROBABLY MORE BY HARNESSING WHAT THE MEGA FORCES WILL DO IN ONE OF THEM IS HOW THE FINANCIAL SYSTEM ADJUSTS TO THIS ENVIRONMENT WHEN WE MADE BIG CHANGES IN 2008.
THERE BEEN FUNDAMENTAL CHANGES THAT WE HAVE NOT SEEN THE IMPACT UNTIL RATES START TO GO UP. NOW WE ARE STARTING TO SEE THAT. THE ROLE OF BANK ISSUING CREDIT IS EVOLVING. CREDIT WILL HAVE TO COME TO OTHER PLACES IN THE FINANCIAL SYSTEM AND THAT IS A STRUCTURAL TECTONIC SHIFT THAT I THINK WE NEED TO FOLLOW AND WHERE RETURNS WILL BE. JONATHAN: DOES THAT A VIEW YOU SHARE?
PRIYA: I WOULD ARGUE THERE ARE ELEMENTS OF 2008 TO 2019 THAT WERE ABNORMAL. YOU LOOK AT A LOT OF OTHER TRENDS, PRODUCTIVITY, IS THE FED GOING TO BE AS AGGRESSIVE? ARE THEY GOING TO TAKE RATES DOWN TO ZERO? I THINK IT WILL TAKE A BIG SHOCK TO GET THERE. I THINK THERE ELEMENTS OF THE PRE- GFC WORLD THAT WILL BE MORE RELEVANT. ONE OF THE THINGS THAT ARE HARD TO MARK IN IS THE LAGS WILL BE LONGER. I KNOW THE FED ARGUES THE LAGS ARE SHORTER. I WOULD ARGUE THE LAGS ARE MUCH LONGER. THE FACT BUSINESSES, HOUSEHOLDS, EVERYONE TURNED
DOWN THEIR DEBT. THE HOUSING MARKET WILL GET FRO GOOD -- WILL GET FROZEN. I WOULD ARGUE THAT 5% IS STILL ATTRACTIVE. A FLAT CURVE WHEN CASH IS GIVING YOU 5%, I THINK EXTENDING DURATION AND SIGNIFICANTLY LOOKING AT CORPORATE BALANCE SHEETS, ACTIVE MANAGEMENT WILL BECOME IMPORTANT BECAUSE COST OF CAPITAL WILL BE HIGHER IN THIS NEW NORMAL.
I AM NOT CONVINCED WE WILL NOT GO DOWN IN TERMS OF RATES. JONATHAN: I'M NOT CONVINCED WE FULLY REALIZED THE SHOCK WE HAVE SEEN ASSOCIATED WITH THE RATE MOVES IN THE LAST THREE YEARS. THINK ABOUT WHAT HAS HAPPENED. WE HAVE HAD YIELDS AT MULTI-DECADE HIGHS IN THE LOWEST RATES EVER IN THE SPACE OF THREE YEARS. 30 YEAR ISSUED IN 2020. WHEN THAT WAS ISSUED, LOOK AT THE MOVE WE HAVE HAD SINCE THEN, A MOVE OF SOMETHING LIKE 50% TO 60% LOWER IN PRICE. CAN WE GO BACK OVER SOMETHING UNITE HAVE TOUCHED ON BEFORE? WE REALIZE THE PAIN ASSOCIATED WITH THE LOSSES IN BONDS OVER THE LAST FEW YEARS? PRIYA: I WOULD ARGUE NOT. FIXED INCOME PORTFOLIO MANAGERS
MAY BE, BUT IF YOU ARE IN THE REAL ECONOMY YOU ARE A COMPANY THAT HAS TURNED OUT YOUR DEBT, YOU ARE A HOUSEHOLD THAT HAS LOCKED IN LOW MORTGAGE RATE, IT WILL JUST TAKE A WHILE. AT SOME POINT YOU MOVE YOUR HOME AND YOU HAVE TO DEAL WITH AN 8% MORTGAGE RATE OR YOU HAVE TO REFINANCE YOUR DEBT. EVERYONE HAS BEEN HOPING FOR INTEREST RATES TO FALL NEXT YEAR. IF THE FED WILL CUT RATES, I THINK IT WILL START TO IMPACT. THE HARD THING FOR US IS THAT A SIX MONTH OR A ONE YEAR LAG FROM HERE? WE HAVE TO LIVE THROUGH THIS PERIOD AND START TO THINK ABOUT HOW TO POSITION FOR WHERE THE REAL RATE -- I WOULD SAY IT IS NOT THE NOMINAL RATE. LOOK AT REAL RATES. THE 2.5% REAL RATE IS A PRE- GFC AVERAGE.
THAT THEME OF HIGH REAL RATES WILL BE FELT OVER TIME AND YOU HAVE TO SURVIVE THIS PERIOD WHILE THE PAINT IS STILL NOT BEING FELT. JONATHAN: HOW ARE YOU THINKING ABOUT THE SAME THING? JEAN: THE FIRST THING I WOULD SAY IS WE DO NOT THINK THIS IS AN EXPANSION. WE HAVE BEEN RESTARTING. I THINK THAT IS THE LENS THAT CHANGES EVERYTHING. EVEN WHEN YOU LOOK AT THE TIGHTNESS OF THE LABOR MARKET, IT IS TIGHT, IT IS NOT STRONG.
WE ARE ADJUSTING TO A NEW STRUCTURAL REALITY. THAT IS TAKING SOME TIME. WHEN I THINK ABOUT RATES AND LONG-TERM RATES, I THINK I WANT TO DISTINGUISH BETWEEN WHAT WILL HAPPEN TO THE RISK-FREE RATE AND THE POLICY RATE. THEY WILL STAY AT THE LEVEL THEY ARE FOR THE NEXT FIVE YEARS. I AGREE WITH PRIYA THAT THAT WILL LIKELY REQUIRE ADJUSTMENT. THAT DOES NOT MEAN THE 10 YEAR
WILL GO DOWN. THERE IS A COMPENSATION FOR HOLDING THE RATIO THAT INVESTORS ARE CLEARLY LIVING THROUGH. THE VOLATILITY IS COMPLETELY SURREAL. WHEN YOU EXPERIENCE THAT
THERE'LL BE AN ONGOING TERM PREMIUM THAT WILL HAVE TO REAPPEAR. YOU GET TO A PLACE WHERE THE REAL RATE CAN GO DOWN AND AT THE SAME TIME LONG-TERM RATES CAN STAY AROUND 5% BECAUSE THERE IS A NEED FOR GREATER COMPENSATION FOR HOLDING THAT DURATION. JONATHAN: WHAT IS YOUR RESPONSE TO THAT? PRIYA: WHEN RISK-FREE RATES RISE OR TREASURY RATES RISE IT IS A TIGHTENING IN CONDITIONS ACROSS THE BOARD. TWO BONDS COME BACK AS I DIVERSIFIER? IF ECONOMIC DATA STARTS TO WEAKEN AND RISK ASSETS START TO STRUGGLE, THAT TERM PREMIUM STARTS TO COME BACK DOWN. NOW I WANT TO BE IN 10 YEAR TREASURIES OVER THE STOCK MARKET OR HIGH-YIELD CREDIT OR PRIVATE CREDIT. I WOULD ARGUE THERE IS A CYCLICAL COMPONENT TO TERM PREMIUM AS WELL SO THAT COMPENSATION FOR DURATION STARTS TO GO DOWN IF THE ECONOMY STARTS TO WEAKEN AND RISK ASSETS START TO STRUGGLE. THAT DIVERSIFIER ASPECT CAN BE
AN OFFSET. I STILL PREFER THE FIVE-YEAR OVER THE 10 YEAR. WE HAVE NOT SEEN ENOUGH IN THE DATA. IF THE DATA STARTS TO TURN I THINK COMPENSATION STARTS TO GO DOWN BECAUSE YOU WANT TO BE IN THAT RISK-FREE 10 YEAR TREASURY. JONATHAN: COP. ON THE BOND MARKET.
PRIYA MISRA AND JEAN BOIVIN ON THE LATEST ON BONDS. RIGHT NOW EQUITIES POSITIVE .2%. LET'S GET YOU SOME MOVERS. ABIGAIL: BENEATH THE CALM SURFACE WE HAVE BIG MOVERS, STARTING WITH SHARES OF NETFLIX, LOOKING AT THE BEST DAY SINCE JANUARY 2021. NOW WE MIGHT BE HIGHER THAN
THOSE LEVELS. THEY ADDED 8.70 6 MILLION SUBSCRIBERS, ONE OF THE BEST QUARTERS RELATIVE TO SUBSCRIBER ADS IN YEARS. THE PASSWORD CRACKDOWN HELPING AND THEY WILL BE RAISING SOME PRICES. VMWARE DOWN ON A REPORT THAT CHINA IS TRYING TO HOLD UP ITS BUYOUT BY BROADCOM. TESLA TO THE DOWNSIDE 6.6%. THEY MISSED EARNINGS BY 10% MARGINS BELOW WHAT HAD BEEN SET AS A FLOOR BY THE PREVIOUS CFO. THE GROWTH OUTLOOK ALSO TEMPERED ON RISING RATES. TWO DIFFERENT DIRECTIONS FOR
THOSE FIRST COMPANY REPORTS WE HAVE OUT. JONATHAN: COMING UP NEXT, THE LATEST ON THE PRESIDENT. PRES. BIDEN: MY AMBASSADOR IS IN CAIRO AND HE WILL COORDINATE THIS AND DO WHAT IS NEEDED TO GET IT DONE.
JONATHAN: TEAM COVERAGE IS UP NEXT. PRES. BIDEN: OUR GOAL WAS MULTI FOLD BUT BASICALLY TO GET HUMANITARIAN AID INTO GAZA. OPEN THE GATE TO DO TWO THINGS. LET UP TO 20 TRUCKS THROUGH TO
BEGIN WITH. MY AMBASSADOR IS DOWN THERE IN CAIRO NOW. HE WILL COORDINATE THIS. HE HAS MY AUTHORITY TO DO WHAT IS NEEDED TO GET IT DONE. JONATHAN: PRESIDENT BIDEN ATTEMPTING TO ENSURE AID ENTERS GAZA, CAPPING HIS TRIP TO ISRAEL WITH A PRIMETIME ADDRESS FROM THE OVAL OFFICE LATER THIS IS THE -- LATER THIS EVENING.
ALL OF THIS IS THE U.S. EASES SANCTIONS ON VENEZUELA, LIFTING RESTRICTIONS ON THE COUNTRY'S OIL PRODUCTION IN RESPONSE TO DRAMATIC DEMOCRATIC DEVELOPMENTS AND POTENTIALLY AN OPEN ELECTION. TEAM COVERAGE STARTS NOW WITH OLIVER CROOK AND ANNMARIE HORDERN. OLIVER:
THE FOCUS IS SQUARELY ON AID. THE U.K. PRIME MINISTER IS HERE TALKING TO PRIME MINISTER BENNETT YAHOO! -- TALKING TO PRIME MINISTER NETANYAHU. THE AIDE IS NOT MOVING. THAT WILL BE THE NUMBER ONE FOCUS. IN TERMS OF THE RISK RADAR WE SHOULD SAY A NUMBER OF WESTERN COUNTRIES ARE WARNING THEIR NATIONALS INSIDE LEBANON TO PREPARE THEMSELVES FOR VACATING.
WE HAVE ALSO HAD HAMAS CALLING FOR ANOTHER DAY OF RAGE TOMORROW. THAT STOP THAT DID NOT HAPPEN IN JORDAN WHERE BIDEN WAS SUPPOSED TO MEET WITH ARAB LEADERS, THEY'RE SUPPOSED TO BE AN ARAB LEADERS SUMMIT IN EGYPT SO PERHAPS WE CAN GET A UNIFIED FRONT THERE. JONATHAN: CAN HE GET A UNIFIED FRONT AT HOME IN AMERICA IN WASHINGTON WITHIN HIS OWN PARTY? ANNMARIE: THAT WILL BE THE PITCH THIS EVENING. THE PRESIDENT WILL BE GIVING A RARE OVAL OFFICE ADDRESS, GOING INTO THE HOMES OF AMERICANS, MAKING THIS DIRECT APPEAL. IT WILL NOT JUST BE ABOUT ISRAEL. WE NOTE THAT THERE ARE VERY
LEFT MEMBERS OF THE PROGRESSIVE WING OF THE DEMOCRATIC PARTY THAT ARE STRUGGLING WITH THE PRESIDENT'S MESH IT'S ON ISRAEL. HE WILL ALSO MAKE A PITCH ABOUT UKRAINE. HOW THE UNITED STATES NEEDS TO FUND THE NATIONAL SECURITY CONCERNS OF ALL THEIR PARTNERS. WE KNOW THIS IS ON THE HEELS OF
THE PRESIDENT ABOUT TO ASK CONGRESS FOR $100 BILLION IN AID FOR ISRAEL, UKRAINE, AND ALSO COUNTRIES LIKE TAIWAN AS WELL AS SECURITY FOR THE SOUTHERN BORDER. GIVEN THE FACT THERE IS A LOT OF DISAGREEMENT AMONG A LOT OF THESE NATIONAL SECURITY ISSUES, ESPECIALLY WHEN IT COMES TO UKRAINE, THE WHITE HOUSE WILL CAST A WIDE NET AND HOPEFULLY WITH ALL OF THESE ISSUES IN ONE BILL IT COULD GARNER ENOUGH SUPPORT. JONATHAN: A REALLY DIFFICULT POLL FOR THE PRESIDENT OF THE UNITED STATES FROM US TEAMING UP WITH MORNING CONSULT. WHAT IS YOUR READ? ANNMARIE:
THE READ IS THE PRESIDENT HAS A LOT OF WORK TO DO EVEN THOUGH WE ARE YEAR OUT FROM THE ELECTION. THE PRESIDENT HAS A LOT OF WORK TO DO IF HE WANTS TO REMAIN IN THE WHITE HOUSE AFTER NEXT NOVEMBER IN THE SWING STATES, ESPECIALLY THE FACT THAT HE WON THE MAJORITY OF THEM. HE HAS A LOT OF WORK TO DO WHEN IT COMES TO THE ECONOMY. THE ECONOMY RANKED AS NUMBER ONE TOP OF MIND OF VOTERS, ESPECIALLY INFLATION, WHERE VOTERS FEEL LIKE IT IS EATING INTO THEIR DISPOSABLE INCOME. JONATHAN:
THE LATEST ON THE GROUND IN WASHINGTON AND IN ISRAEL. EQUITIES POSITIVE .1%. UP NEXT THE MORNING CALLS. LATER BARRY BANNISTER SAYS JONATHAN: FIVE MINUTES AWAY FROM THE OPENING BELL. STOCKS LOWER ON THE RUSSELL, HIGHER ON THE S&P.
COWAN DOWNGRADING CANADA GOOSE TO MARKET PERFORM SEEING LIMITED UPSIDE. BANK OF AMERICA DOWNGRADING PELOTON TO UNDERPERFORM, POINTING TO AGING SUBSCRIPTIONS AND DECLINING ENGAGEMENT. THAT STOCK DOWN 5%. KEYBANK UPGRADING NETFLIX TO OVERWEIGHT, EXPECTING THE COMPANIES PAID SHARING FEATURE TO BOOST SUBSCRIBERS THROUGH THE NEXT YEAR. COMING UP, BARRY BANNISTER DISCUSSES HIS OUTLOOK FOR BIG TECH AS EARNINGS SEASON GETS UNDERWAY. FROM NEW YORK, THIS IS BLOOMBERG. JONATHAN: 25 SECONDS AWAY FROM THE OPENING THIS MORNING. PUSHING HIGHER .1%. TOUGH DAY ACROSS THE BOARD. NASDAQ BOUNCING BACK.
WE TALKED ABOUT THOSE NUMBERS IN JUST A MOMENT. THE OPENING BELL IN NEW YORK CITY, WE LOOKED LITTLE SOMETHING LIKE THIS ON THE 10 YEAR, YIELDS UP THREE BASIS POINTS. VERY CLOSE TO 5% EARLIER IN THE SESSION ON A TWO YEAR MATURITY. FIVE-YEAR, 10 YEAR, 30 YEAR,
TAKE YOUR PICK. THE DOLLAR HAS SHOWN A TOUCH OF WEAKNESS. THE EURO 1.0 567. EASING SANCTIONS ON CRUDE PRODUCTION IN VENEZUELA. CRUDE PULLING BACK A TOUCH. 30 SECONDS INTO THIS SESSION. THEY LIVED ON THE S&P .2%, ON NASDAQ .3%. ONE STOCK TO WATCH, TESLA. SHARES UNDER PRESSURE.
ELON MUSK SAYING "TESLA IS AN INCREDIBLY CAPABLE SHIP. WE WILL NOT SINK BUT EVEN A GREAT SHIP IN A STORM HAS CHALLENGES." ED LUDLOW HAS MORE. ED: AT THIS LEVEL IS ON TRACK FOR THE BIGGEST DECLINE SINCE JULY, TRADING AT ITS LOWEST LEVEL SINCE AUGUST. THE STORY IS IT IS A DIFFICULT ENVIRONMENT. A NUMBER OF FIRMS HAVE QUITE --
HAVE CUTPRICE TARGETS AND NOW STARTS THE REEVALUATION FOR 2024. THE READERS EXPECTATIONS GOING TO THIS QUARTER FOR TESLA WERE LOW. WHAT CAME OUT WAS EVEN LOWER THAN THE LOW EXPECTATIONS.
ADJUSTED EPS, $.66 A SHARE. THE STORY OF THE YEAR HAS BEEN PRICE CUTS AND WE HAVE SEEN HOW THAT HAS IMPACTED THE BOTTOM LINE. ON THE TOP LINE REVENUE OF $23.4 BILLION WAS BELOW THE SALES ANALYSTS WERE EXPECTING. THE KEY METRIC PIECE YOU
WATCH'S AUTOMOTIVE GROSS MARGINS EXCLUDING REGULATORY CREDITS. THAT DATA POINT CAME IN AT 16.3%, THE LOWEST LEVEL IN FOUR YEARS, WELL BELOW THE FLOOR ZACH KIRK WANTED TO PUT IN PLACE AND NOW STARTS THE DEBATE OF EVALUATING TESLA AS A CAR COMPANY OR TECHNOLOGY COMPANY.
WALL STREET WAS LOOKING FOR AUTOMOTIVE GROWTH. YOU AND I WILL TALK LATER ABOUT THE BIGGER PICTURE NARRATIVE FROM ELON MUSK, THE GROWTH TRAJECTORY, THIS IS A BIG MOVE LOWER IN TESLA, DOWN 6%. JONATHAN: THE VALUATION QUESTION IS THE QUESTION. THERE IS A VIEW FROM THE SELL SIDE, DAN IVES CUTTING THE PRICE TARGET TO 310. "WE WOULD CHARACTERIZE LAST NIGHTS CONFERENCE CALL AS A MINI DISASTER.
THE STREETS WANTED TO GET THEIR ARMS AROUND THE CONSTANT PRICE CUTS INSTEAD WE HEARD FROM A MUCH MORE CAUTIOUS ELON MUSK FOCUSING ON HIGHER INTEREST RATES AND THE DIFFICULT PATH FOR CYBER TRUCK PRODUCTION." THE STOCK LOWER IN EARLY TRADING , DOWN 5% TO 6%. YOUR SECOND STORY IN THE OTHER DIRECTION. NETFLIX RAISING PRICES AFTER POSTING ITS BEST QUARTER IN YEARS. THE COMPANY WRITING THIS.
"WE HAVE SHOWN THAT WITH DISCIPLINE AND A FOCUS ON THE LONG-TERM YOU CAN BUILD A STRONG SUSTAINABLE STREAMING BUSINESS." ABIGAIL: INVESTORS LIKE WHAT THEY HAVE DONE WITH THE PAST QUARTER AND THE OUTLOOK. THE STOCK IS HAVING ITS BEST DAY SINCE JANUARY 2021. UP 18%. THE BEST DAY SINCE OCTOBER 2016. A BIG REWARD FOR RESULTS. INVESTORS ARE HONING IN ON THE BIG SUBSCRIBER AT. 18.6 MILLION SUBSCRIBERS WERE ADDED IN THE THIRD QUARTER AND
IT IS ONE OF THE BEST QUARTERS FOR SUBSCRIBER ADS IN YEARS. IT PUTS THEM ON TRACK TO ADD 20 MILLION SUBSCRIBERS THIS YEAR. WHEN YOU COMPARE THAT TO 9 MILLION IN 2022, IT IS MORE THAN A DOUBLING. IT SHOWS THEIR PASSWORD CRACKDOWN IS WORKING AND THEY ARE SAYING THERE STRONG CONTENT IS HELPING OUT THE RESULTS.
THREE DOLLARS TO $20 FOR ITS BIG PLAYER IN THE U.S.. THEY WILL DO SIMILAR RAISES IN THE U.K. AND FRANCE. A COUPLE OF ANALYSTS ON THE STREET VERY EXCITED AND POSITIVE ON THIS. MORGAN STANLEY UPGRADING SHARES TO OVERWEIGHT AND RAISING THE PRICE TARGET TO 4.75. BIG RESULTS OUT OF THE STREAMING COMPANY. JONATHAN: 396 AND STILL CLIMBING. LAS VEGAS SANDS OFFERING A 2
BILLION-DOLLAR BUYBACK PROGRAM. THE CEO SAYING WE ARE PLEASED TO SEE THE RECOVERY IN TRAVEL AND SPENDING TOURISM AND WE REMAIN OPTIMISTIC. KATIE HAS THE STORY. KATIE: TWO FACTORS PUSHING LAS VEGAS SANDS HIGHER. THE FIRST QUARTER WAS A BEAT -- THE THIRD QUARTER WAS A BEAT BUT IT IS THE 2 BILLION-DOLLAR BUYBACK DRIVING THE SHARES. THIS FOLLOWS LAS VEGAS SANDS REINSTATING ITS DIVIDENDS LAST QUARTER WHICH HAD ALSO BEEN HALTED IN 2020. YOU TAKE THOSE TOGETHER AND IT
IS A CLEAR SIGNAL OF MANAGEMENTS CONFIDENCE. YOU LOOK AT WHAT THE SELL IS SAYING. CITIGROUP NOTES THAT -- WHERE THE STOCK IS TRADING NOW DOES NOT REFLECT THE COMPANY'S FUNDAMENTALS WHILE BARCLAYS HAS CALLED IT A NICE SURPRISE AND NOTED THE THIRD QUARTER RESULTS WERE BETTER THAN FEARED. ALL OF THAT WORKING THROUGH THE SHARES. CURRENTLY ALMOST 4% HIGHER. STILL LOWER ON THE YEAR. JONATHAN:
LET'S TURN TO THE TELECOM SPACE. AT&T RAISING ITS ANNUAL CASH FLOW GUIDANCE AFTER TOPPING MOBILE SUBSCRIBER ESTIMATES. THE CEO SAY WE ARE GAINING PROFITABLE CUSTOMER RELATIONSHIPS AND BECOMING MORE EFFICIENT POWERING OUR STRONG BUSINESS PERFORMANCE. SIMONE FOXMAN HAS THIS ONE. SIMONE: THE BEAT AND RAISE DRIVING SHARES HIGHER, THE MOST SINCE JULY ON AN INTRADAY BASIS.
A LOT OF THIS WAS AROUND THE FOUR YEAR CASH FLOW OUTLOOK THAT WAS ABLE TO INCREASE. NOW SEEING THE FULL YEAR CASH FLOW AT $16.5 BILLION VERSUS THE $60 BILLION ANTICIPATED. THIS SPEAKING TO THE SUCCESS OF THE COMPANY'S COST-CUTTING PROGRAM, ALSO ABLE TO RAISE EARNING GUIDANCE. ALL OF THOSE ON THE BACK OF THE GAINS IN SUBSCRIBERS. 468,000 NET NEW MOBILE SUBSCRIBERS IN THE THIRD QUARTER AFTER FOUR CONSECUTIVE QUARTERS OF DECLINING SUBSCRIBER GROWTH. THERE IS A LOT OF COMPETITION, BROADER HEADWINDS IN THE INDUSTRY, ESPECIALLY AT&T LAGGING THE FIVE YEARS -- IT HAS A HEAVY DEBT LOAD AND WE DO NOT KNOW WHAT THE COSTS ARE GOING TO BE OF CLEANING OUT THE LEAD FROM ITS OLD COPPER PHONE NETWORK.
CITI SAYING THE STRONG GROWTH POSTPAID SUBSCRIBERS IS A POSITIVE NET DATA POINT FOR THE INDUSTRY. WE SEEM TO BE WATCHING VERIZON SHARES RALLY IN SYMPATHY AND THIS IS BEFORE THE ACCOUNTING FOR A LOT OF THOSE IPHONE SUBSCRIPTION SALES AND PROMOTIONS WE SAW AT THE END OF SEPTEMBER. MAY MORE POSITIVE NEWS AHEAD AND THAT IS WHY WE ARE SEEING THIS JUMP. JONATHAN: IN THE EQUITY MARKET, POSITIVE .1%. ON THE NASDAQ UP .2%. IN THE BOND MARKET PLENTY TAKING PLACE. CYCLE HIGH ON THE TWO YEAR YIELD.
CURRENTLY YIELDS UP AT THE LONG END A TOUCH ON THE 30 YEAR BY A COUPLE OF BASIS POINTS, THREE BASIS POINTS HIGHER. THE 10 YEAR GETTING CLOSER AND CLOSER TO THE LINE IN THE SAND. THAT 5% LINE, 4.94%. BARRY BANNISTER SEEING LIMITED UPSIDE FOR EQUITIES, WRITING "OUR VIEW REMAINS THE S&P 500 PEAKED IN THE SUMMER OF 2023 AND SEE MID FOR THOUSANDS THROUGH THE MIDDLE OF 2024." BARRY JOINS US NOW.
FANTASTIC TO CATCH UP. FOR PEOPLE NOT FAMILIAR WITH YOUR CALL LET'S WORK THROUGH IT TOGETHER. WHY DO YOU SEE THAT PEAK IN THE SUMMER AND MUTED PRICE ACTION FOR THE YEAR AHEAD? BARRY: WE GOT OFF THE BULLISH TRAIN IN THE SUMMER OF 2023. OUR VIEW IS 4400 AT YEAR END THIS YEAR. PROBLEM HAS ALWAYS BEEN THE NORMALIZATION OF INTEREST RATES.
IF YOU LOOK AT THE 10 YEAR REAL YIELD, THE TREASURY INFLATION PROTECTED SECURITY, WHEN IT BURSTS THROUGH 2000, THE MARKET CAUSES TROUBLE. PRIOR TO THE ARE 2000 IT WAS 3%. 2000 WAS A SEMINAL YEAR AND BEGIN FIVE DEFLATIONARY SHOCKS IN 20 YEARS. NOW THE FED IS LEAVING THAT DEFLATION BEHIND. WE ARE NORMALIZING RATES. IF WE GO TO A 3% TIP SEALED IT KEEPS PRESSURE ON THE PRICE EARNINGS MULTIPLE. JONATHAN:
IS THAT A BIGGER PROBLEM FOR CERTAIN PARTS OF THE MARKET VERSUS OTHERS? BARRY: SURE. WHAT WE CALL LONG-DURATION EQUITY OR HIGHER P MULTIPLE GROWTH STOCKS, THEIR VALUATION SUFFERS MORE IS THAT REAL 10 YEAR YIELD GOES UP. IF YOU LOOK AT THE YIELD GOING UP, IT WILL KEEP PRESSURE INTO NEXT YEAR, TOWARDS THE MIDDLE OF THE YEAR, WHEN WE HAVE TO START WORRYING ABOUT SOME OF THE ECONOMIC DATA. UNEMPLOYMENT CROSSING OVER 4%. THESE WILL BE PRECURSORS TO
RECESSIONARY CONCERNS IN THE BACK HALF OF 2024. JONATHAN: TO HAVE THOSE CONCERNS YOU ARE JUST PUSHING THEM OUT, WITH THAT IN MIND, IS THERE A WINDOW TO LOOK FOR SOME KIND OF CYCLICAL REBOUND YOU CAN GET EXPOSURE TO IN STOCKS? BARRY: WHAT WE HAVE BEEN SEEING IS A PAIR TRADE. LONG CYCLICAL VALUE, SHORT CYCLICAL GROWTH.
CYCLICAL VALUE IS ENERGY, CAPITAL GOODS, FINANCIALS, MATERIALS. CYCLICAL GROWTH WOULD BE THING LIKE MEDIA, ENTERTAINMENT, SEMICONDUCTORS, TECH HARDWARE, AND AUTOS. THAT IS ALPHABET, NVIDIA, APPLE, AND TESLA. YOU ARE SHORT ON A CYCLICAL
BASIS. YOU GET A CYCLICAL REBOUND. THE PMI MANUFACTURER GOES OVER 50 SOON. INDUSTRIAL PRODUCTION HAS BEEN STRENGTHENING.
NO RECESSION ON THE CYCLICAL SIDE. THE OTHER THING IS STICKY INFLATION. WAGES AND COMMODITIES DO NOT LOOK SO BAD TO US. WE THINK THEY WILL STAY ALOFT. NO RECESSIONARY DECLINE. WHEN YOU GET THAT REBOUND BOTTOMING FOR INFLATION, YOU WANT TO BE IN THE MORE CYCLICAL PROFILE AND THE GROWTH STOCKS ARE CONTINUOUSLY HAMMERED BY THAT RISING REAL YIELD AS THE FED NORMALIZE THIS THE LONG END OF THE CURVE. JONATHAN: IS ENERGY THE HEAD SHARE FOR YOU? BARRY: ENERGY IS A CALL OPTION ON A TIGHT MARKET. THE GEOPOLITICS HAVE FILTERED
INTO ENERGY. SAUDI ARABIA COULD DECIDE TOMORROW TO BRING THE PRICE OF OIL DOWN BUT THEY HAVE CHOSEN TO KEEP IT UP. 80 TO $90 A BARREL, THEY ARE PROBABLY SATISFIED. UP TOWARDS $100 A BARREL THEY COULD EASILY INCREASE PRODUCTION AND LOWER THE PRICE. THEY ARE BEING RATIONAL ACTORS IN TERMS OF THE WAY THEY ARE ACTING. THE IRRATIONAL SIDE IS WHAT WOULD HAPPEN IN 2024 WITH RUSSIA, MAYBE IRAN ON THE OIL FRONT. REMEMBER RUSSIA HAS A PRESIDENTIAL ELECTION, I
BELIEVE IT IS MARCH 2024. WE HAVE ONE IN NOVEMBER 2024. THEIR BEST OPTION FROM A GAME THEORY PERSPECTIVE WOULD BE TO CAUSE OIL TO SKYROCKET INTO THE SUMMER AND FALL OF 2024. HIGHER OIL PRICES WITH ENERGY STOCKS IS A CALL OPTION ON THAT, NOT TO MENTION IT IS A CYCLICAL GROUP. JONATHAN: GOOD TO GET YOUR VIEWS IN AN UPDATE. BARRY BANNISTER THERE. BRENT $90.84, WTI $87.69. COMING UP, TESLA EARNINGS
MISSING THE MARK. >> TESLA HAD A DISPROPORTIONATELY LARGE SHARE OF THE MARKET. FIRST MOVER ADVANTAGE DOES NOT LAST FOREVER. JONATHAN: PIERRE FERRAGU JOINS US NEXT ON TESLA.
THIS IS BLOOMBERG. >> THERE ARE A LOT OF OTHER CAR COMPANIES THAT CAN MAKE ELECTRIC VEHICLES. TESLA HAD A DISPROPORTIONATELY LARGE SHARE OF THE MARKET BECAUSE IT DID HAVE FIRST MOVER ADVANTAGE. FIRST MOVER ADVANTAGE DOES NOT LAST FOREVER. DOES NOT AFFORD A COMPETITIVE ADVANTAGE. YOU HAVE TO KEEP RUNNING TO
STAY AHEAD. WHAT WE ARE SEEING IS THE COMPETITION IS CATCHING UP AND TESLA IS FORCED TO LOWER PRICES AND DEAL WITH LOWER MARGINS JUST LIKE OTHER CAR COMPANIES. JONATHAN: TESLA EARNINGS MISSING ESTIMATES. ELON MUSK SAYING WE DUG OUR OWN GRAVE WITH THE CYBER TRUCK, SPECIAL PRODUCTS THAT COME ALONG ONLY ONCE IN A WHILE ARE INCREDIBLY DIFFICULT TO BRING TO MARKET AND BE PROSPEROUS. ED LUDLOW HAS MORE. ED: THERE IS A LOT LONG-TERM TO RECONFIGURE. INTEREST RATES WAS TOP OF MIND
FOR ELON MUSK. GIVE A SPECIFIC EXAMPLE OF HOW THAT MANIFESTS ITSELF. TESLA HAS PLANS TO BUILD A NEW FACTORY. WHAT ELON MUSK HAS SAID IS THEY WILL DECELERATE THAT PROCESS. EXPANSION WILL PICK UP PACE IF AND WHEN INTEREST RATES DECLINE.
IT IS ONE OF THOSE THINGS WERE SUDDENLY YOU HAVE MARKET ANALYSTS GOING BACK TO LOOKING AT THE DOT PLOT. IN TERMS OF THEIR RESPONSE, A LOT OF FOCUS ON AUTOMOTIVE GROSS MARGIN EXCLUDING REGULATORY CREDITS COMING IN AT THE LOWEST LEVEL IN FOUR YEARS. THEY ARE FOCUSING ON COST-CUTTING INTERNALLY ACCORDING TO THE ENGINEERING CHIEF. THEN THERE IS THE BITING OFF MORE THAN YOU CAN CHEW ELEMENT. THE CYBER TRUCK IS TWO YEARS DELAYED. IT WILL SHIP STARTING NOVEMBER 30 BUT IT WILL TAKE TWO YEARS ACCORDING TO ELON MUSK UNTIL THEY ARE SHIPPING AT VOLUME. A LOT OF NARRATIVE ABOUT HOW
BAD THIS EARNINGS CALL WAS FROM AN INVESTOR PERSPECTIVE, GOING BACK TO 2018. A LOT OF PEOPLE FOCUSING THAT ZACH KIRK'S DEPARTURE AS CFO IS MORE OF A CONCERN. JONATHAN: THANK YOU. APPRECIATE YOUR COVERAGE OVER
LAST ONE HE FOUR HOURS. PIERRE FERRAGU JOINS US NOW. LET'S GET STRAIGHT TO IT. GIVEN THE DIRECTION OF MARGINS, THE QUESTION I HEAR A LOT THIS MORNING, HOW TO VALUE THIS COMPANY? LIKE ANY OTHER AUTOMAKER? WHAT IS IT? PIERRE: IT IS A VERY GOOD QUESTION. IF YOU LOOK AT THE LAST 12 MONTHS, TESLA REDUCED ITS AVERAGE SELLING PRICE, WE CAN ROUGHLY TRANSLATE THAT INTO PRICES MORE THAN 15%. GROSS MARGINS CAME DOWN JUST OVER 10 POINTS.
WHAT IS INTERESTING IS IT IS NOT SO MUCH A QUESTION OF COMPETITION OR ANYTHING LIKE THAT. I THINK IT IS VERY MISINFORMED COMMENTS. THE REASON TESLA HAS BEEN GETTING PRICES AGGRESSIVELY IS BECAUSE YOU HAVE LESS PEOPLE BUYING CARS AND YOU NEED TO RAISE PRICES NOT BECAUSE YOUR COMPETITORS ARE HURTING BIT BECAUSE YOU ARE TAKING SHARE AND WANT TO CONTINUE TO GROW AND FIND VALUES. WHAT IS INTERESTING IS PRICES ARE DOWN 16% AND YOU HAVE THE INCOME DOWN 10%, THAT MEANS YOU TOOK YOUR COSTS DOWN FOUR POINTS, 4%. THAT IS PRETTY MUCH HAPPENING. TESLA IS CUTTING PRICES MUCH
FASTER THAN THEY CAN REDUCE COSTS. THE GOOD THING IS THESE PRICE CUTS, THEY FIND A BOTTOM AT SOME POINT. WHAT MAY BE THE COMPANY TELEGRAM LAST NIGHT, WE'LL NEED TO SEE A STABILIZATION, BUT IF WE SLOW DOWN OUR GROWTH, THAT IS ALL RIGHT. THE THING IS THAT WHEN PRICES START SLOWING DOWN, I THINK THE UNDERLYING COST CUTS, FOUR POINTS A YEAR IS EXTREMELY SUSTAINABLE AND THIS IS WHAT MADE THINGS TESLA AND A POSITION IN THE MARKET BECAUSE THEY HAVE INABILITY WITH NEW BATTERIES AND NEW PHONES AND NEW MANUFACTURING TECHNOLOGIES THAT IS UNPRECEDENTED IN THE INDUSTRY.
THE OF THE ABILITY TO MAINTAIN THEIR CARS AND IMPROVE IT OVER TIME. TO ANSWER YOUR QUESTION, IT IS A LONG-WINDED ANSWER, TESLA WILL GET BACK BETWEEN 20% AND 25% GROSS MARGIN IN AUTOS. WHEN YOU ASK HOW DO YOU VALUE THEM, I PLUG IN A 22.5% GROSS MARGIN AND I LOOK AT WHAT KIND OF EARNINGS THAT REFLECTS IN 2024 AND I AM LOOKING AT THE MULTIPLE ON THAT, SO IT IS A VERY SAFE VALUATION. A BUSINESS GROWING VERY FAST IS A GOOD LOW END OF THE VALUATION. IT WILL TAKE TIME FOR RATES TO COME DOWN AND CONSUMERS TO ADJUST TO IT AND COME BACK TO THE MARKETS WITH THE NEW REALITY OF HOW MUCH IT COSTS TO OWN A CAR OR MORE TIME FOR POLICIES TO COME DOWN EVEN MORE TO RE-TRIGGER THAT INCREASED ADOPTION.
ON THE FUNDAMENTAL STORIES, THE FACT THAT TESLA IS A MASSIVE PRODUCT LEADER IN THE AUTO INDUSTRY -- IT IS STILL A GOOD GROWTH BUSINESS AND A BUSINESS THAT HAS A STRONG RIGHT TO MAKE MONEY. JONATHAN: I HAVE ABOUT ONE MINUTE LEFT SO I WANT TO SQUEEZE IN ANOTHER QUESTION. I THINK IT IS THE QUESTION. I WANT TO TALK ABOUT DEMAND FOR EB. YOU TALK ABOUT ALL OF THESE
UNSOLD EB'S PILING UP. I THINK -- JONATHAN: I THINK ELON MUSK ARTICULATED THAT VERY WELL. NORMAL PEOPLE WHO HAVE TO BE ON AN INTEREST RATE HAS GONE THROUGH THE ROOF. IF ANYTHING, THE BROADER AUTO
MARKET IS NOT SUFFERING MORE THAN IT IS TODAY. I EXPECT THE BROADER AUTO MARKET TO LOOK BOARD MORE DISAPPOINTING. THE REASON WHY WE HAVE THESE EXACT MEASURES AND BROUGHT PULLBACK IS AUTOS IS BECAUSE WE HAVE BEEN RUNNING VERY LOW ON DEALER INVENTORIES AND THINGS LIKE THAT. THE INDUSTRY IS VERY INTERESTING. JONATHAN:
THAT IS BRUTAL. THEY ARE SCREAMING AT ME. I WILL SAVE MORE CONVERSATION. JONATHAN: FROM NEW YORK, HERE THE TRADING DIARY. JAY POWELL SPEAKS AT NOON. HARKER, LOGAN SPEAK LATER. THE HOUSE EXPECTED TO HOLD A
THIRD VOTE FOR THE SPEAKERSHIP AND PRESIDENT BIDEN ADDRESSING THE NATION AT 8:00 EASTERN. FROM NEW YORK CITY, THAT DOES IT FOR ME. THANK YOU FOR CHOOSING BLOOMBERG TV. THIS WAS THE COUNTDOWN TO THE
OPEN.
2023-10-26 03:49
Show Video
Other news