Bloomberg Technology 12/15/2022 - Musk Sells More Shares, Tiktok Ban, Trump NFT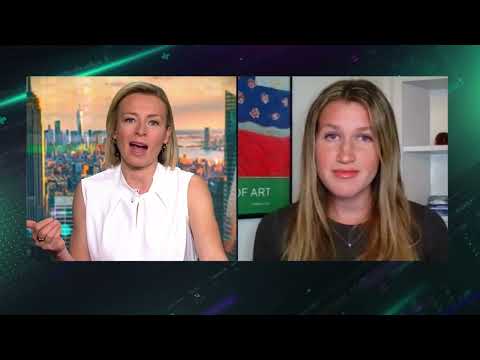 Show Video
>> I AM CAROLINE HYDE. THIS "BLOOMBERG TECHNOLOGY". ELON MUSK OFFLOADS $3.6 BILLION IN TESLA SHARES AFTER SAYING HE WAS DONE. HOW THIS COULD REFLECT THE PRESSURE ON FINANCES FOR TWITTER.
TIKTOK HAS BEEN BANNED FROM ALL GOVERNMENT ISSUED PHONES AND DEVICES. WE HAVE THE IMPACT. FORMER PRESIDENT DONALD TRUMP MAJOR ANNOUNCEMENT WEEKS AFTER DECRYING A THIRD MAJOR RUN, HAWKING DIGITAL TRADING CARDS IN AN NFT MARKET. DETAILS LATER. LET'S GET BACK TO, SHALL WE SAY, THE TRADITIONAL FINANCE PART OF THE MARKET. WE ARE PLEASED ON THIS POST-FED DATE TO HAVE KATIE JOINING US FOR MORE.
>> A GLOBAL CENTRAL BANK SORT OF DAY. UGLY DAY IN THE STOCK MARKET. S&P 500 DOWN 2.5% OR SO, EVEN WORSE FOR BIG TECH PEERED THE NASDAQ 100 ALL 3.4% OR SO, AS TWO-YEAR YIELDS RISE A LITTLE BIT, MAKING SENSE AFTER THE HAWKISH FED WE GOT YESTERDAY, BUT IF YOU LOOK AT THE ARC INNOVATION ETF, THIS FUND HURT THE MOST, DOWN ALMOST 5%. WE KNOW THAT CATHIE WOOD IS BULLISH ON TESLA AND THAT SHE HAS BEEN CONTINUING TO BUY TESLA , EVEN AS ELON MUSK CONTINUES TO SELL TESLA, FOR SOME REASON HIGHER TODAY, BUT IF YOU LOOK AT TESLA OVER THE LAST COUPLE OF DAYS OR SO I'M STILL JUST A DROP IN THE BUCKET, TESLA DOWN 12% OVER THE PAST FOUR DAYS OR SO, SO REALLY A ROUGH STRETCH FOR THE CARMAKER COME ABOUT LET'S MOVE ON AND TALK ABOUT WHAT WE HAVE BEEN SEEING YEAR-TO-DATE, BECAUSE WE ARE ALMOST A 2023, AND YOU LOOK AT THE WORST PERFORMANCE ON THE YEAR, TECH, CONSUMER DISCRETIONARY THE COMMUNICATION SERVICES.
ALL OF THAT WE TEND TO LOOP INTO THE BROAD BUCKET OF TECH, A LOT OF DECLINES IN AMAZON IN PARTICULAR IN ADDITION TO TESLA, SO IT HAS BEEN ROUGH ALL AROUND. CAROLINE: VALUATIONS, ARE WE STILL SEEING THE MILK ON -- NOT ON MOVEMENT, RATES HIGHER, FEAR OF FED PUSHING UP RATES, AND TECHNOLOGY FALLS, OR ARE WE SEEING THE COMPARISON TO THAT LINKAGE BREAKING DOWN IN ANY WAY? KATIE: THAT IS THE DEBATE BY HERE WHEN I TALK TO INVESTORS. AT WHAT POINT DO VALUATIONS BECOME ATTRACTIVE ENOUGH THAT YOU COME BACK INTO THE BIG MEGA CASH, OR DO THE FUNDAMENTAL SKILL YOU WAY WHEN YOU THINK ABOUT WHAT THE FED IS TRYING TO ACCOMPLISH AND HOW THEY MAY STAY THERE. HONESTLY, THE MESSAGE I'VE BEEN GETTING IS YOU STILL HAVE TO PAY ATTENTION TO THE FUNDAMENTALS AND THEY HAVE YET TO REFLECT THAT IN VALUATIONS. CAROLINE: VALUATIONS. FED, ECB, EVERYTHING YOU WERE LAYING OUT EARLIER. KATIE ON THE MACRO PERSPECTIVE.
WE WANT TO GO MORE MICRO. SHE TEASED US AND TOLD US ABOUT TESLA. THE STOCK IS UNDER PRESSURE. MAY BE MORE EVIDENCE AS TO WHY. ELON MUSK, THE BIGGEST HOLDER OF STOCK, SELLING, 3.6 BILLION DOLLARS OF SHARES, IN FACT, BRINGING THE TOTAL AMOUNT HE HAS OFFLOADED SINCE LATE LAST YEAR ALMOST $40 BILLION. WE HAVE SOMEONE HERE FOR MORE.
IT IS INTERESTING. WE WERE WONDERING WHY IT WAS UNDER PRESSURE, MANY FEELING THE RETAIL INVESTOR WAS A LITTLE BIT WORRIED ABOUT HIS DISTRACTION AND OTHER PURCHASES BUT NOW IT SEEMS CLEAR THAT MAY BE THE SELLING PRESSURE IS COMING FROM HIM HIMSELF. >> EXACTLY, THE MARKET MOVING HIGHER MONDAY AND TUESDAY, THE TEST OF THE BIGGEST DRAG ON THE S&P 500 AND NASDAQ 100 IN THOSE TWO DAYS. THIS IS SOUNDING AN ALARM FOR INVESTORS. STILL, CONCERNS ABOUT WHAT IS
ELON MUSK FOCUSED ON AND WHERE IS HIS HEAD AT? SPACEX IS SUCCESSFUL. TESLA IS SUCCESSFUL. DID HE BITE OFF MORE THAN HE CAN CHEW WITH TWITTER AND MASSIVE DEBT LOADS AND HOW DOES THAT IMPACT THE FUNDAMENTAL BUSINESS OF TESLA, GIVEN HOW LARGE OF A STAKE HE HAS AND HOW LONG HE WILL CONTINUE TO SELL SHARES. HE DID SAY EARLIER IN THE YEAR HE WAS NOT DONE SELLING, AND 3.5 BILLION IS NOT BEEN SELLING. CAROLINE:
WE WERE TALKING ABOUT A REAL MACRO FIELD TO THE MARKETS AND THE FACT THE FEDERAL RESERVE IS OFTEN THE ONLY GAME IN TOWN PEERED NOW ELON MUSK HIMSELF CAN BE A MACROECONOMIC COMMENTATOR, AND HE LAID A FEW, SHALL WE SAY, TRAILS, BREAD COMES THING LOOK, YOU SHOULD BE WORRIED ABOUT DEBT IF USING THE FED AND ABOUT HIS DEBT ON THE TWITTER STEP? >> INTEREST RATES ARE GOING HIGHER. WHEN YOU LOOK AT TWITTER AND YOU LOOK AT THE TAKEOUT, THAT DOES COME WITH MASSIVE DEBT LOAD, WITH PRETTY HIGH INTEREST RATES THAT ARE GOING TO CONTINUE NEED TO BE PAID COMES OF THAT THE MAIN QUESTION, IS ELON MUSK SELLING SHARES TO BUY THE DEBT? TO INVEST MORE IN TWITTER? TO HELP COVER SOME OF THOSE INTEREST PAYMENTS? NO WINDOWS AND NO ONE REALLY UNDERSTANDS OTHER THAN ELON MUSK, BUT THERE ARE SOME QUESTIONS GIVEN HOW TIED THESE COMPANIES CAN BE, GIVEN WHERE THEY ARE AND WHERE THEY ARE TRADING, AND AGAIN, WITH THE SELLING PRESSURE WE ARE SEEING SO FAR THIS WEEK FOR TESLA STOCK IN PARTICULAR. CAROLINE: MANY CALL HIM AN ENTREPRENEUR, VISIONARY. HE SEEMS TO HAVE TO BE AN INVESTMENT BANKER AT THE MOMENT. THANK YOU. ON THE MONEY WHEN IT COMES TO TESLA. MEANWHILE, LET'S TURN TO THE
BROADER TECH VALUATIONS COME IN TURN TO THE MACRO THAT ELON MUSK HAS BEEN COMING ON PEERED LET'S TURN TO OUR ANALYST COME HERE TO GIVE US YOUR, AT THE MOMENT, THE FEDERAL RESERVE FROM THE ECB, BANK OF ENGLAND ALL HIKING RATES TO THE TUNA .5 0%, ALL APART FROM THE BOE, HAWKISH ABOUT WHERE RATES HAVE TO GO TO TACKLE INFLATION. GIVE OUR AUDIENCE WHO IS SO AWARE OF THE MACRO IMPLICATIONS UNDER HOLDINGS WHAT THIS MEANS IN TERMS OF THE OVERALL DESIRE TO BE BUYING STOCKS RIGHT NOW. >> SO GOOD EVENING, THANK YOU FOR HAVING ME ON.
YEAH, WITH THE U.S. AT LEAST, WITH THE FED THIS WEEK, I DON'T THINK THE SURPRISE WAS REALLY WITH THE AMOUNT THAT THEY RAISED RATES THIS WEEK. EVERYBODY WAS EXPECTING A .50% INCREASE, BUT WHERE PEOPLE WERE SURPRISED WITH HOW FIRM THEY WERE WITH THEIR INTENT TO CONTINUE RAISING RATES AND WHERE THEY EXPECT RATES TO BE OVER THE NEXT YEAR. I THINK WITH THE TWO
CONSECUTIVE MONTHS OF POSITIVE INFLATION SURPRISES, SOME WERE THINKING THE MESSAGE WOULD BE SOFTENED A LITTLE BIT, BUT WE DID NOT SEE THAT THIS WEEK SO FAR. CAROLINE: WHEN WE GOT THE FEDERAL RESERVE RATE HIKE, WE GOT UPDATED PERSPECTIVE ON WHERE THEY SEE THE ECONOMY GOING AND WHERE THEY SEE WHAT ARE CALLED TERMINAL RATES GOING, HOW HIGH OVERALL THE FEDERAL RESERVE THINKS RATES WERE HIT, 5.1% OVERALL, WHAT ARE THE IMPLICATIONS OF YOUR PERSPECTIVE ON THE LABOR MARKET, IN PARTICULAR, WHETHER YOU ARE SEEING CRACKS FROM THE TECHNOLOGY PERSPECTIVE? >> CERTAINLY HEADING INTO 2023, THE LABOR MARKET IS SOMETHING TO WATCH CLOSELY AND I'M SURE THE FED WILL BE WATCHING IT CLOSELY. IT IS ONE FACTOR THAT COULD EVENTUALLY PROTECT THE TRAJECTORY OF THE RATE INCREASES, POTENTIALLY HAVE THEM CHANGE THEIR PATH, ESPECIALLY IF UNEMPLOYMENT WERE TO PICK UP SIGNIFICANTLY, WHICH WE REALLY HAVE NOT SEEN SO FAR PEERED ONE QUESTION IS HOW MUCH OF THAT HAS TO DO WITH THE FACT THAT LABOR FORCE PARTICIPATION HAS REMAINED LOW. THAT IS AN OPEN QUESTION, WHERE
SHOULD LABOR FORCE PARTICIPATION BE AFTER THE PANDEMIC? IF WE CONTINUE TO SEE UNEMPLOYMENT STAY SOLO, THEN THAT GIVES THEM MORE LEEWAY TO CONTINUE WITH THE RATE INCREASES. CAROLINE: SOME OF THE NERVOUSNESS IN THE MARKET TODAY, I THINK IN MANY WAYS, WE ARE TUNED TO THE MARKET BEING BAD NEWS IS GOOD NEWS, THE FEDERAL RESERVE WILL HAVE TO PUMP ON THE BRAKES, THEREFORE WE BIDE STOCKS TODAY, THERE WAS JUST BAD NEWS OPENLY IN THE ECONOMY WHEN IT CAME TO RETAIL SALES. I KNOW YOU LOOK AT THE CONSUMER, SO TALK TO US BY HOW RESILIENT THEY ARE WHEN MANY ARE LOOKING AT E-COMMERCE IN PARTICULAR. >> THAT IS A ANOTHER THING TO WATCH.
EACH MONTH I REALLY LOOK AT THREE SORT OF INDICATORS FOR CONSUMER SPENDING. WE HAVE OUR OWN SPENDING DATA WE GET TO LOOK AT THE FIRST WEEK OF THE MONTH, IN THE MIDDLE OF THE MONTH TODAY, RETAIL SALES, MUCH MORE GOODS-FOCUS, AND THEN AT THE END OF THE MONTH, OF COURSE, PERSONAL CONSUMPTION EXPENDITURES, ONE OF THE BROADEST MEASURES, BUT TWO OUT OF THE THREE THIS MONTH SO FAR HAVE SHOWN A PRETTY STRONG NEGATIVE SIGNAL FOR NOVEMBER. ACTUAL DECREASES IN SPENDING IN REAL AND NOMINAL TERMS. WHICH IS A BIT OF A REVERSAL FROM WHAT WE HAVE SEEN IN OCTOBER CERTAINLY AND REALLY 20 22 OVERALL, THAT CONSUMERS BINNING HAS BEEN HOLDING UP, SO THE EXTENDED DOES SO IN 2023, THAT IS AN IMPORTANT THING TO WATCH, BUT AS CONSUMERS WORKED THEIR WAY THROUGH SOME OF THAT SAVINGS THEY HAVE ACCUMULATED DURING THE PANDEMIC, IT IS UNCLEAR HOW LONG THAT BOOST WILL LAST. CAROLINE: IT REALLY DOES FEEL A REALLY EXTRAORDINARY TIME TO BE TRYING TO READ THE TEA LEAVES, THE U.S.
ECONOMY, THE GLOBAL ECONOMY, AND SO MANY WAYS WITH THE RESILIENCE, THE JOBS DATA SHOWING TIGHTNESS, BUT EVERYWHERE ELSE IN THE IT FEELS LIKE SOFTENING. AND YOU GIVE US A GRADE ON THE HEALTH OF THE U.S. ECONOMY RIGHT NOW AND WHERE IS YOUR HEAD OUT? >> THAT IS A GREAT QUESTION. I HAVE PROBABLY GIVEN IT A B. WERE SEEN MIXED SIGNALS. IT IS HARD TO GIVE IT A GRADE
BECAUSE THERE IS SO MUCH UNCERTAINTY. THERE ARE A LOT OF MOVING PARTS, AS THERE ALWAYS ARE, BUT CERTAINLY SOME THINGS I'D LOOK AT, LIKE AN HOURGLASS RUNNING OUT, AND THE QUESTION IS, INFLATION, WHICH IS HEADING IN THE RIGHT DIRECTION, IS THAT GOING TO FIX ITSELF BEFORE WE RUN OUT OF TIME WITH SAVINGS UNDER FULLY RUN OUT OF TIME WITH THE STRONG HEALTHY LABOR MARKET? SO THERE ARE THESE COMPETING FORCES, AND IT IS UNCLEAR REALLY WHO WILL WIN OUT IN THE NEXT YEAR. CAROLINE: I LOVE HOW YOU GAVE US THE KEY DATA YOU ARE WATCHING. THANK YOU FOR THAT. HER MACRO PERSPECTIVE.
MEANWHILE, COMING UP, LET'S TALK ABOUT SOME OF THE MORE ADMINISTRATIVE PERSPECTIVES IN THE MICRO, IN PARTICULAR TIKTOK, WELL, SOME FOCUS ON RESTRICTIONS ON THIS COMPANY, IN PARTICULAR THE SENATE VOTING TO BAN IT ON GOVERNMENT PHONES. NETFLIX AS WELL. THE SHARES DOWN MORE THAN 9%. WE HAVE AN UPDATE ON HOW THAT NEW MOVE FOR ADVERTISING IS GOING FOR THIS BUSINESS, UNFOLDING THIS ADVERTISING AREA, OF COURSE YOU GET A DIFFERENT TIER OF ADVERTISING. THEY SAID THE LAUNCH IS SUCCESSFUL.
IT SEEMS THAT ANALYSTS ARE CONCERNED PERHAPS WITH THE STRENGTH OF ADVERTISING THUS FAR. AND MAYBE THEY ARE REFUNDING ADVERTISERS AS IT MISSED SOME GUARANTEES. THIS IS BLOOMBERG. CAROLINE: SO, THE U.S. SENATE VOTED TO BAN TIKTOK FROM
ALL GOVERNMENT-ISSUED PHONES AND DEVICES, OF COURSE, AS THE BIDEN ADMINISTRATION IS CONSIDERING RESTRICTIONS ON THE PLATFORM. JOINING US FOR THE INSIDE TRACK IS OUR GUEST. TALK US THROUGH THE IMPACT OF THE SENATE VOTE. IT HAPPENED BEFORE. TALK TO US ABOUT WHETHER THIS
REALLY MATTERS. >> IT MATTERS TO THE EXTENT THAT THIS IS CONTINUE PRESSURE ON THIS NATIONAL SECURITY REVIEW. OF COURSE THIS BILL WOULD HAVE TO PASS THE HOUSE AND BE SIGNED BY THE PRESIDENT TO COME INTO ACTION, BUT I THINK THERE IS ANOTHER POINT OF CONTACTS THIS WEEK THAT UNDERPINS THE MOMENTUM AGAINST TIKTOK AND CONGRESS RIGHT NOW. THAT BILL PASSED AT THE SAME TIME MARCO RUBIO AND SOME COLLEAGUES IN THE HOUSE OF REPRESENTATIVES ALSO INTRODUCED A BILL THAT WOULD BAN TIKTOK OUTRIGHT. CONGRESS SEEMS TO BE GETTING A LITTLE BIT IMPATIENT OR THESE VOCAL MEMBERS WHO HAVE BEEN ANTI-TIKTOK ARE GETTING IMPATIENT WITH THIS NATIONAL SECURITY REVIEW THAT IS GOING ON UNDER THE BIDEN ADMINISTRATION WITH TIKTOK TO TRIED TO COME TO AN AGREEMENT OF HOW TO GET TIKTOK TO WORK IN THE U.S. IN A WAY THAT MAKES FOLKS WHO
CARE ABOUT NATIONAL SECURITY WHO ARE WORRIED ABOUT THE COMPANY'S GOVERNMENT INFLUENCE ON THE PARENT COMPANY TO MAKE SURE IT'S OPERATING IN A WAY THAT IS SAFER U.S. USERS AND THEIR DATA, SO THIS VOCAL GROUP THAT WE HAVE HEARD THROUGHOUT THE PAST FEW MONTHS, MARCO RUBIO, JOSH HAWLEY, AND CONGRESS BEING REALLY LOUDER NOW TAKING ACTION, AND THAT IS WHY I THINK THERE IS A LITTLE BIT OF AN INFLECTION POINT HERE FOR SOME OF THIS MOMENTUM AGAINST TIKTOK. CAROLINE: TALK US THROUGH THAT. IT IS INTERESTING. WE WENT TO OUR OWN AUDIENCE. YOU OFTEN JOIN OUR TWITTER SPACES AND YOU ARE ACTIVE ON TWITTER AND WHEN WE GO TO OUR OWN AUDIENCE ON TWITTER ASKING THEM VIA THE BLOOMBERG TECHNOLOGY HANDLE WHETHER THEY THINK THIS WILL IMPACT THEIR OWN USE OF TIKTOK, AND 62% DID THINK THAT THE BAN IS COMING TO THEIR PHONE NEXT. WHAT ARE THE WAYS IN WHICH
TIKTOK ITSELF IS TRYING TO NAVIGATE THESE WATERS AND TRYING TO ENSURE THAT REGULATORS ARE REGULATING IN A WAY -- >> ASIDE FROM MAKING PROMISES THE DATA WILL NOT GET INTO THE HANDS OF THE CHINESE GOVERNMENT, THEY ARE WORKING ON SCENES WITH ORACLE, BASICALLY MIGRATING ALL OF THE DATA FROM U.S. USERS ON TWO SERVERS IN THE U.S. -- ONTO SERVERS IN THE U.S. THEY SAY ORACLE, CONTENT MODERATION POLICIES, THEY THINK THAT IS ENOUGH TO KEEP THE DATA SAFE. NOW THAT PROCESS, THAT REVIEW HAS COME TO A STANDSTILL. BLOOMBERG HAS REPORTED THAT THE
DOJ SAVES THE CURRENT STATE OF THE AGREEMENT IS NOT GOOD ENOUGH FOR HIM WAS SO OBVIOUSLY THERE ARE SOME FOLKS IN THESE AGENCIES INVOLVED IN THIS REVIEW THAT SAY IT IS NOT ENOUGH. WE ALSO HEARD THE FBI DIRECTOR CHRISTOPHER WRAY COME OUT IN RECENT WEEKS SAYING THAT, YOU KNOW, IT'S NOT QUITE THERE YET, SO THAT IS WHAT TIKTOK HAS PROMISED THEY WOULD DO. WHETHER OR NOT THAT ENDS UP BEING THE END RESULT, AGAIN, THESE VOICES ARE PUSHING AGAINST HIS PROCESS IT IS NOT A GOOD SIGN FOR THAT IDEAL SITUATION FOR TIKTOK. CAROLINE: WE THANK YOU ALWAYS. IT WAS A GREAT LESSON YOU PUT OUT, ALL THINGS TIKTOK TODAY, AND WE THANK YOU FOR YOUR THINKING.
MEANWHILE, LET'S TALK ABOUT THE ADMINISTRATION'S IMPACT ON TECHNOLOGY ELSEWHERE, PARTICULAR WHEN IT COMES TO M&A, BECAUSE M BRAD SMITH THE PRESIDENT OF ACTIVISION BLIZZARD STILL EXPECTS THE DEAL WILL GO THROUGH IN 2023. HE SPOKE IN WASHINGTON, D.C. >> AT THE END OF THE DAY, THESE DECISIONS ARE MADE UNDER LAW, NOT JUST UNDER PEOPLE, AND THE LAW IS WHETHER THE U.S., U.K.,
E.U., THEY ARE CLEAR, IT'S ALL ABOUT WHETHER AN ACQUISITION WILL PROMOTE COMPETITION. AND IN OUR VIEW, WE ARE COMPETING WITH SONY, MICROSOFT XBOX, IF YOU PUT IT HEAD-TO-HEAD WITH SONY PLAYSTATION AND WE HAVE 70%, WE HAVE 30%. WE ARE THE SMALL ENTRANT. THEY HAVE 286 EXCLUSIVE TITLES WE HAVE 59.
WE NEED SOME MORE FIRST PARTY GAMES IN ORDER TO BE A HEALTHIER AND STRONGER COMPETITOR, AND WE NEED TO DO IT OF COURSE IN A WAY THAT DOES NOT IMPEDE COMPETITION ALONG THE WAY. ALL OF THESE CONCERNS ARE BASICALLY FOCUSED ON ONE TITLE, A GREAT TITLE, THE GAME CALL OF DUTY, BUT WE SAID WE ARE PREPARED TO COMMIT CONTRACTUALLY UNDER A CONSENT DECREE OR UNDERTAKING THAT THAT WILL BE AVAILABLE FOR SONY ON COMPARABLE TERMS TO XBOX FOR THE NEXT DECADE, SO I LOOKED AT THIS AND SAY, THIS WILL BE GOOD FOR COMPETITION AND WE HAVE A SOLUTION TO THE ONE PROBLEM THAT SEEMS TO BOTHER PEOPLE THE MOST. AND MY ONLY REAL COMPLAINT OR CONCERN, IF YOU WILL COME ABOUT WHERE WE ARE IN WASHINGTON, D.C. IS WE HAD THE FTC VOTE TO BLOCK THIS WITHOUT GIVING US EVEN A SINGLE MEETING AT WHICH TO SIT DOWN WITH THE FTC STAFF AND TALK ABOUT THE CONSENT DECREE PROPOSAL AND SOLUTION WE HAD PUT ON THE TABLE. I DO NOT THINK THAT IS APPROPRIATE. I DO NOT THINK THAT IS RIGHT. I DO NOT THINK WE SHOULD HAVE
GOVERNMENTS REJECTING POTENTIAL SOLUTIONS WITHOUT AT LEAST FIRST HAVING A REAL CONVERSATION ABOUT THEM. THAT IS NOT A RECIPE THAT WILL ADVANCE COMPETITION. >> WHAT HAPPENS NEXT THEN? >> WE HAVE A PROCESS IN WASHINGTON, D.C.
WHERE LAWYERS ARGUE BEFORE A JUDGE, AND THIS STILL GOES FORWARD IN OTHER COUNTRIES. >> RIGHT. >> IT STILL HAS A LONG WAYS TO GO. WE WILL SEE. NOBODY HAS A CRYSTAL BALL TO PREDICT THE FUTURE WITH 100% CERTAINTY, BUT WHEN I LOOK AT WHAT THIS ACQUISITION WILL BRING, I THINK IT WILL BRING GOOD THINGS TO THE MARKETPLACE. IT WILL DEFINITELY BE GOOD IN OUR PEOPLE WHO DEVELOP GAMES, CONSUMERS WHO PLAY GAMES. THAT IS, AFTER ALL, THE REAL FOCUS OF WHAT THE COMPETITION LAW IS ALL ABOUT.
>> ANTICIPATING THE DEAL TO GO THROUGH IN 2023 OR? >> WE ORIGINALLY SAID WHEN WE ANNOUNCES IN JANUARY THIS YEAR, 2022 THAT WE WERE LOOKING AT IT IN 2023, AND THAT IS STILL THE WAY WE ARE LOOKING AT IT. CAROLINE: THE MICROSOFT PRESIDENT BRAD SMITH ALONG WITH OUR OWN REPORT APPEARED COMING UP, 200 COMPANIES BASED IN CHINA AND HONG KONG MAY NO LONGER BE FACING A THREAT OF BEING BOOTED OFF AMERICAN STOCK EXCHANGES. CAROLINE: -- >> IT IS A COVID STORY FAMILIAR AROUND THE WORLD, AND CHINA IS NOT IMMUNE.
AS RESTRICTIONS THESE, CASES RISE IN WORKERS: SICK. HALF THE CURRENCY TRADERS AT ONE BANK IN BEIJING CALM AND SICK ON MONDAY, SOARING ABSENTEEISM SLOWING DOWN THE PROCESS OF EXECUTING AND CONFIRMING TRADES, AGGRAVATING THE USUAL SEASONAL DIP AND ACTIVITY SEEN AT THE END OF THE YEAR. THE SUDDEN UPTICK IN TRADERS STAYING HOME SICK IS SEEN AS ONE OF THE REASONS FOR A DROP IN ONSHORE VOLUMES TO LEVELS NOT SEEN SINCE APRIL. THERE ARE SIGNS OF NORMALITY AND CHINA WITH PEOPLE RETURNING TO THE STREETS AND PUBLIC TRANSPORT , AND SIGNS OF DISRUPTION AS WELL WITH LONG LINES OUTSIDE HOSPITALS AND PEOPLE STRUGGLING TO FIND MEDICINE. THE ROAD OUT OF LOCKDOWNS WAS NEVER GOING TO BE SMOOTH.
FINANCIAL INSTITUTIONS HAVE BEEN LEFT TO THEMSELVES IN TERMS OF NAVIGATING THAT ROAD, WITH LITTLE OFFICIAL GUIDANCE FROM AUTHORITIES. BLOOMBERG UNDERSTANDS THAT SOME LENDERS ARE RETAINING THE SPLIT TEAMS APPROACH OVER THE PAST THREE YEARS BUT MOST ARE JUST ADVISING WORKERS WHO FEEL SICK TO STAY HOME. AND AS THAT ADVICE IS HEATED, SLOWDOWNS AND SHORT STAFF ARE PART OF THE NEW COVID NORMAL IN CHINA. PAUL ALLEN COME BLOOMBERG. CAROLINE:
LET'S STAY ON CHINA NOW BECAUSE WELL, MAY TRADING IS DOWN A BIT, BUT ACTUALLY SOME STOCKS RALLIED TODAY BECAUSE THE THREAT OF BEING DELISTED OFF THE U.S. STOCK EXCHANGE IS EASING FOR SOME BIG NAMES, ALIBABA, JD.COM. TURNING IS NOW IS OUR GUEST TO COVERS THE CHINESE MARKETS AND SOME OF THESE NAMES, AND THE REASON THEY RALLIED IS BECAUSE OF AN UPDATE AS TO WHETHER ON NOT THEY WOULD BE DELISTED, AND IS THE THREAT DIMINISHING SOMEWHAT? >> YES, FOR SURE. THIS IS A VERY IMPORTANT STUFF RESULTING THIS LONG-STANDING DISPUTE BETWEEN THE U.S.
AND CHINA IN ONE INVESTOR DESCRIBED IT AS AN EARLY CHRISTMAS GIFT, BECAUSE THEY THOUGHT DELISTING WAS THE BIGGEST CONCERN AS THEY SEE FOR THE CHINESE ADR NAMES FROM ALIBABA TO JD.COM, AND THE UPDATE TODAY -- CAROLINE: THAT BEING? THAT DOES IT FOR THIS EDITION OF "BLOOMBERG TECHNOLOGY." ULTIMATELY WHAT AUTHORITY? >> THE AUDITING WATCHDOG. CAROLINE: AH. >> THEY PUT OUT A STATEMENT AND WERE FINALLY ABLE TO GET THE FULL AUDITING ACCESS OF THOSE CHINESE COMPANIES, AND IT IS THE FIRST TIME IN HISTORY, BEFORE BEIJING WAS TRYING TO DENY ACCESS FOR NATIONAL SECURITY CONCERNS, SO BEIJING, AND REMEMBER BEIJING AND WASHINGTON REACH LIKE A LUMINARY DEAL DURING THE SUMMERTIME, BUT THEN THEY DID A RUN OF INSPECTION CHECKS JUST TO MAKE SURE THAT THESE COMPANIES DELIVERED WHAT THEY PROMISE, RIGHT? SO THIS IS AN UPDATE AFTER THAT INSPECTION, AND THE MARKET HAS BEEN WAITING ON IT FOR A WHILE, AND IT IS A POSITIVE OUTCOME, SO FOR SURE THE STOCKS LIKE ALIBABA AND JD.COM ARE
RALLYING, AND AT ONE POINT, 3.5%, THE OVERALL MARKET SLUMP, WE SEE IT TODAY AMONG THE TECH NAMES. CAROLINE: VERY BRIEFLY, IS THAT IT? ARE WE DONE? RISK-FREE? THAT DOES IT FOR THIS EDITION OF "BLOOMBERG TECHNOLOGY." >> NO, WE ARE PROBABLY NOT THERE YET BECAUSE IT IS GOING TO RESTART THE CLOCK FOR THREE YEARS.
WE WILL CONTINUE TO KEEP THESE COMPANIES AND CHECK FOR MORE YEARS TO COME, AND THE SEC IS STILL AUDITING WHAT IS TO BE DONE, BUT OVERALL, MOVING TOWARDS A POSITIVE DIRECTION. CAROLINE: CERTAINLY THAT WAS THE STOCK MOVE TODAY. THANK YOU. MEANWHILE, COMING UP, THOUSANDS OF WORKERS HAVE BEEN LAID OFF BY TECH GIANTS RECENTLY, AND SOME OF THEM ARE TALKING TO OTHER INDUSTRIES, AND WE WILL BE TALKING PERHAPS ABOUT THAT MOVEMENT, BUT ALSO WHAT ABOUT IMMIGRANTS CURRENTLY HIT BY THE LAYOFFS? WHAT ABOUT TEMPORARY WORK VISAS AND H-1B IN PARTICULAR? WE HAVE TWO GREAT EXPERTS TO TALK US THROUGH THESE TEAMS -- THEMES. FROM NEW YORK, THIS IS BLOOMBERG. FOR COMPANIES THAT MAYBE HAVE TOO MANY PEOPLE, THEM LAYING OFF CAROLINE: TALENT IS CAROLINE: AN OPPORTUNITY FOR OTHER COMPANIES WHO NEED TECH TALENT.
WELCOME BACK. LET'S KEEP TALKING ABOUT LAYOFFS. A GLOBAL HEAD OF TALENT ACQUISITION IS HERE TO TALK ABOUT HOW ALTERNATIVE ASSET MANAGEMENT IS PERHAPS A LEADING DESTINATION FOR THESE TYPES OF WORKERS. TALK TO US ABOUT HOW MANY TECH-RELATED ROLES YOU HAVE HIRED FOR THIS YEAR AND HOW MANY MORE YOU HAVE TO FILL. >> WE HAVE PUT 294 TECHNOLOGISTS TO WORK THIS YEAR WITH 100 OPENINGS ON OUR CAREER SITE.
I HAVE ONLY SEEN A FEW OF THESE DISRUPTIONS AND I'M HAPPY TO SAY MILLENNIUM CAN BE A DESTINATION FOR THOSE FINDING THEMSELVES ON THE JOB MARKET. CAROLINE: WHAT KIND OF CANDIDATES ARE YOU LOOKING FOR? >> IT STARTS ACROSS ALL LEVELS. WHETHER YOU ARE BEGINNING YOUR CAREER OR YOU WANT TO BE IN THE SENIOR GLOBAL POSITION, WE ARE RECRUITING ACROSS ALL OF THOSE LEVELS. ALSO ACROSS TECHNICAL COMPETENCIES THAT ARE SO ATTRACTIVE.
SECURITY ENGINEERING, CLOUD ENGINEERING. THE ROLES THAT REQUIRE UNBELIEVABLE AMOUNTS OF DATA. WE SEEK THOSE INDIVIDUALS THAT CAN SOLVE PROBLEMS, THAT ARE SCRAPPY ACROSS A WIDER RANGE OF OPPORTUNITIES. CAROLINE: I CAN SEE IF I WAS A TECHNOLOGIST BEING LET GO, THAT I CAN GET INTELLECTUAL STIMULATION WITH MILLENNIUM.
WHAT ABOUT CULTURE? SOME WOULD SAY IN AN UNINFORMED AND NAIVE WAY, BUT FINANCE ON ONE SIDE HARD WORKING LONG HOURS IN THE OFFICE, WHAT DO YOU HAVE TO EDUCATE PEOPLE ABOUT IN TERMS OF YOUR CULTURE? >> WHAT WE OFFER IN THE AGGREGATE IS REALLY POWERFUL AND SPECIAL. IT'S NOT JUST THE TECHNOLOGY OPPORTUNITY, THE CONNECTION TO OUR BUSINESSES, THE IMPACT YOU CAN PROVIDE, IS THE RESPECT FOR THE INDIVIDUAL AND THE COLLABORATION ON SITE AND THE RESPECT AND THE WAY WE GO ABOUT WORKING WITH EACH OTHER IS EXTREMELY POSITIVE. I WOULD LOVE THE CHANCE TO TALK TO THOSE WHO MAY BE THINK IT WOULD BE OTHERWISE. CAROLINE: LET'S THINK ABOUT BEING IN THE
OFFICE OR NOT. IF I'M USE A HYBRID CULTURE OR FULLY REMOTE, HOW ARE YOU THINKING ABOUT WHERE THE TALENT IS THAT YOU CAN HIRE? >> FROM A LOCATION PERSPECTIVE GLOBALLY, WE ARE BUILDING OUT MIAMI, DUBLIN, TEL AVIV, AND GALORE. WE ALSO HAVE TRADITIONAL OPPORTUNITY IN LONDON, NEW YORK, SINGAPORE.
WE ARE MAKING SURE WE ARE VERY FOCUSED ON KNOWING -- THIS TALENT KNOWING THERE IS FLEXIBILITY. WE ARE ENJOYING RETURNING TO THE OFFICE. WE CAN BE FLEXIBLE AS WELL AS GLOBAL LOCATION FLEXIBILITY. CAROLINE: WHEN YOU SAY MIAMI, I IMMEDIATELY THINK OF CRYPTO. DOES IT MATTER WHICH SECTOR, WHICH PART OF TECHNOLOGY? DOES IT MATTER WHAT TYPE OF COMPANY THESE PEOPLE ARE COMING FROM? >> IN SHORT, NO. IF THE SKILLS ALIGN, WHATEVER SECTOR ANY TALENT THAT IS INTERESTED IN WHAT WE'RE DOING, THE DOMAIN IS NOT A PREREQUISITE.
CAROLINE: WE'VE TALKED ABOUT THE NEED FOR DIVERSITY, PIPELINE. I IMAGINE TECH KNOWLEDGE HE FIGHTS THAT GOOD FIGHT ALSO FAKING SURE THEY HAVE DIVERSITY IN THE WORKPLACE. HOW ARE YOU THINKING ABOUT THAT? >> IT'S EXTREMELY IMPORTANT. WE HAVE SEEN GREAT ACTIVITY IN
TERMS OF FEMALES IN THE TECHNOLOGY SPACE GOING INTO UNIVERSITIES AT GREATER RATES AND COMING OUT OF THE PROGRAMS AT GREATER RATES. CULTURAL AND RACIAL DIVERSITY IS INCREDIBLY IMPORTANT TO US. WE GET DIVERSITY FROM ALL DIFFERENT POCKETS. WHETHER IT'S THROUGH AFFINITY NETWORKS, PAID FOR PROGRAMS, MAKING SURE WE ARE IN THE RIGHT POCKETS WITH FOLKS THAT HELP US AS THIRD PARTIES TO IDENTIFY WHERE THE TALENT MAY SIT IS REALLY IMPORTANT. IT'S GOING TO MAKE US BETTER. CAROLINE: WHAT ARE THE WAYS IN WHICH YOU HAVE TO BE CREATIVE? THAT YOU HAVE TO HIRE? SOME OTHER BIG ASSET MANAGERS ARE DOING SOMETHING SIMILAR. HOW ARE YOU LOOKING FOR ALTERNATIVE TYPES OF PEOPLE TO COME TO YOU? >> AT MILLENNIUM, WE DO A GOOD JOB OF CASTING A WIDE NET.
WHETHER IT'S HAVING STRATEGIC RELATIONSHIPS WITH SEARCH FIRMS, USING LINKEDIN, USING OUR VAST EMPLOYEE NETWORK, THINKING ABOUT WHERE THESE POOLS OF TALENT MAY BE THAT COULD BE ATTRACTIVE TO US THAN ADVERTISING ACCORDINGLY TO THOSE POOLS OF TALENT, THERE'S NOTHING YOU COULD THINK OF THAT WE DON'T DO. WE WANT TO DO THE BEST -- WE WANT TO GET THE BEST TALENT SO THERE'S NOTHING WE WILL TRY. CAROLINE: A LOT OF THEM ARE SAYING BUT I'M WORRIED ABOUT THE ECONOMIC ENVIRONMENT, IS THIS THE RIGHT TIME TO BE MANAGING MONEY IN THIS SPACE? >>'S FIRST MILLENNIUM IS CONCERNED, IT'S AN INCREDIBLE STABLE 30 PLUS YEAR TRACK RECORD WITH COMPLEX BUSINESSES. IT'S DECEMBER 15 AND WE ARE STILL WORKING ON 100 OPEN POSITIONS, MY TEAM IS NOT GETTING A BREAK. CAROLINE: TO THAT POINT, IT'S INTERESTING WHEN WE LOOK AT LABOR DAY TO UNEMPLOYMENT STILL REMAINING SOLO BUT TECH RULES BEING ERODED IN TECHNOLOGY, IS THE TALENT WHOLE -- TALENT POOL TYPE? >> IT IS BUT WE HAVE SEEN SIGNIFICANT APPLICATIONS THE SECOND HALF OF THIS YEAR. TO OUR PLATFORM, BECAUSE OF
EVERYTHING HAPPENING IN 2022. THAT PENDULUM IS SWINGING AND IT HAS SWUNG TOWARDS US A BIT BUT IT IS STILL A COMPETITIVE MARKET OUT THERE FOR TOP TALENT. CAROLINE: MEANWHILE, WE WANT TO STICK WITH THIS THEME. THE MOVE OF TECH TALENT TO OTHER SECTORS IS NOT THE ONLY IMPACT TO THE LATEST LAYOFFS. IMMIGRANTS FOUND THEMSELVES IN
A PRECARIOUS SITUATION. H-1B VISAS, THE TICKING CLOCK ATTACHED TO WHEN YOU LOSE YOUR ROLE. OUR NEXT GUEST IS HERE TO TALK US THROUGH IT. AND IMMIGRATION LAWYER BASED IN
CALIFORNIA. I PERSONALLY FINALLY GOT MY GREEN CARD, EUPHORIA. THERE WAS AN ELEMENT BEFORE THAT, A WORRY. HOW ARE YOU SEEING H-1B VISAS AND TEMPORARY TALENT BEING AFFECTED BY LAYOFFS? >> THANK YOU FOR HAVING ME AND A HUGE CONGRATULATIONS TO YOU ON YOUR GREEN CARD. THAT SUCH AN IMPORTANT MILESTONE IN THE LIFE JOURNEY OF ANY IMMIGRANT WHO IS TRYING TO CREATE SOMETHING IN THE UNITED STATES. PEOPLE INTACT, WE JUST SAW THE NUMBERS ON THE SLIDE THE LAYOFFS IN NOVEMBER OVER 50,000. I'M ESTIMATING THAT 20%-30% OF
THE LAID-OFF TECH WORKERS ARE ON A NONIMMIGRANT WORK VISA. THEY HAVEN'T GOTTEN A GREEN CARD YET AND THEY ARE SOMEWHERE IN THE PROCESS. WHAT THAT MEANS FOR THEM IS THEY HAVE A 60 DAY GRACE.
-- 60 DAY GRACE PERIOD AND IF THEY CAN'T FIGURE OUT ANOTHER STATUS, THEY HAVE TO LEAVE THE UNITED STATES. CAROLINE: THOUSANDS OF PEOPLE ARE AFFECTED HERE. >> NOBODY REALLY HAS THE NUMBERS, BUT IT COULD EASILY BE 10,000-15,000 OF THE WORLD'S MOST BRILLIANT PEOPLE. CAROLINE: HOW ARE COMPANIES BEING THOUGHTFUL ABOUT THIS? SOME ARE NOT AWFUL, THEY'RE JUST GETTING RID OF PEOPLE. OTHERS ARE THINKING HOW CAN I PROTECT YOU? WHAT ARE THE WAYS COMPANIES ARE DEALING WITH IT? GUEST: WHEN THE LAYOFFS STARTED IN NOVEMBER LIKE WITH THE TWITTER FOR EXAMPLE, THEY WERE ACROSS-THE-BOARD LAYOFFS THE LAST DAY OF EMPLOYMENT THE WORD IS CESSATION IN THE LEGAL REGULATIONS. SOME PEOPLE WILL CONTINUE TO
GET PAYCHECKS INTO JANUARY, BUT THE 60 DAY CLOCK STARTED TICKING IN NOVEMBER. SOME EMPLOYERS HAVE STARTED WAKING UP TO THIS IMMIGRATION REALITY AND EVEN IF THEY HAVE TO MAKE THIS DIFFICULT DECISION BASED ON ECONOMICS TO LAY PEOPLE OFF, I AM STARTING TO SEE MORE COMPASSION IN THE LAYOFF PROCESS FOR NONIMMIGRANTS WITH EMPLOYMENT LAWYERS CREATING DIFFERENT OPTIONS LIKE INSTEAD OF A SEVERANCE PACKAGE, HOW ABOUT IF WE AGREE TO KEEP YOU WORKING ON PAYROLL INTO THIS STATE IN THE FUTURE THEN YOU'RE 60 DAYS WILL START THEN BUT YOU CAN START LOOKING FOR A JOB NOW AND THAT WILL TRY TO HELP YOU GET TO THE HOLIDAYS AND THE HIRING PHRASES -- FREEZES AND HAVE A CHANCE IN FINDING YOUR NEXT ROLL SO YOU CAN STAY IN THE UNITED STATES THEIR FAMILY. I AM SEEING COMPASSIONATE -- COMPASSION AROUND THE HOLIDAYS. CAROLINE: I'M NOT SAYING THE SOCIAL MEDIA AND PUTTING VIDEOS OUT THERE OFTEN STIRS COMPASSION.
I DID PREVIOUSLY DO A TIKTOK ON THE IMPACT ON H-1B VISA HOLDERS. A LOT OF THE RESPONSES WERE GOOD. MORE JOBS FOR THOSE WHO ARE AMERICAN.
HOW ARE YOU SEEING THAT EVOLVING? HOW ARE WE SEEING THE REPERCUSSIONS FOR THIS SET OF LAYOFFS? WILL IT BE COMPANIES ARE MORE RETICENT TO GO THROUGH THE H-1B VISA PROCESS BECAUSE THEY DON'T WANT TO LEAVE PEOPLE IN THE PRECARIOUS SITUATION IF THEY HAVE TO MAKE LAYOFFS? >> ECONOMICALLY IT'S VERY COMPLICATED AND CERTAINLY THAT H-1B PROCESS AND VISAS AND IMMIGRATION IS A LIGHTNING ROD FOR CONTROVERSY IN THIS COUNTRY. EMPLOYERS ARE STILL ECONOMICALLY INCENTIVIZED TO HIGHER IMMIGRANTS FOR A VARIETY OF STRUCTURAL REASONS. POLITICALLY, WHEN THIS COMES UP THERE ARE ALWAYS QUESTIONS ABOUT OUR THE H-1B HOLDERS TAKING JOBS AWAY FROM AMERICANS? THESE ARE ALL VERY IMPORTANT DISCUSSIONS TO HAVE. AT A NATIONAL LEVEL, I HOPE
THAT IMMIGRATION WILL CONTINUE. THERE IS A STORY BY THE WASHINGTON POST A FEW HOURS AGO SAYING THAT DUE TO THE IMMIGRATION SLOWDOWN OVER THE LAST TWO YEARS, 1.7 MILLION IMMIGRANTS HAVEN'T BEEN ABLE TO COME INTO THE COUNTRY WHICH IS WHY WE ALSO HAVE A SHORTAGE OF AVAILABLE WORKERS WITH THE SKILL SETS THAT WE NEED. FROM A HOLISTIC ECONOMIC LEVEL FOR THE COUNTRY, IMMIGRANTS ARE CRITICAL. THEY ARE BRILLIANT, THEY PAY FULL TUITION TO GET MASTERS AND OTHER PHD'S FROM OTHER U.S. COLLEGES AND UNIVERSITIES. THEY HAVE DEEP STEM KNOWLEDGE
INCLUDING ARTIFICIAL INTELLIGENCE WHICH IS SO CRITICAL TO CREATING JOBS FOR AMERICANS. TECHNOLOGY POWERS OUR NATIONAL SECURITY. CAROLINE: ELON MUSK HIMSELF IS AN IMMIGRANT TO THE U.S..
COMING UP, WITH THE COLLAPSE OF FTX SPOOKING SOME CRYPTO TRADERS, WHAT WILL THIS MEAN FOR DIGITAL ASSETS AS 2023 DRAWS CLOSER? CAROLINE: BEARISH TRADERS ARE SIGNALING THE CRYPTO LOSSES ARE LIKELY TO CONTINUE NEXT YEAR. MY NEXT GUEST CAN GIVE US A BROAD PERSPECTIVE. TALK TO US ABOUT TRADING OPPORTUNITIES IN THE CRYPTO SPACE. OUR INSTITUTIONS PULLING BACK? >> IT'S A QUIET TIME IN CRYPTOCURRENCY RIGHT NOW. WE DEPEND ON A LOT OF VOLUMES AND WE ARE NOT SAYING THAT.
OVER THE COURSE OF THE PAST 18 MONTHS, TRADITIONAL SHOPS HAVE COME INTO CRYPTO. I THINK THEY WERE DOING GREAT FOR A BIT BUT THEY ARE FINDING THOSE NOT THAT MUCH TO GO AROUND ANYMORE. CAROLINE: TALK TO US ABOUT WHAT YOU NEED WITH TRADING VOLUMES. WHAT IS NECESSARY TO BUILD THEM
BACK? OBVIOUSLY A LITTLE BIT OF DESIRE TO GET IN A BULLISH SENTIMENT. IS THERE SOMETHING MORE WITHIN CRYPTO ITSELF THAT NEEDS TO COME BACK TO BRING BACK THE TRADING VOLUMES? >> THE NUMBER ONE THING WE NEED IS TRUST. PEOPLE NEED TO FEEL SAFE. IF WE ARE ON AN EXCHANGE, OUR MONEY IS GOING TO STAY THERE. ADJUNCT TO TRUST, WE NEED PROPER REGULATION. THAT SOMETHING THAT GUYS LIKE
US HAVE BEEN CRYING OUT FOR FOR A LONG TIME. UNFORTUNATELY, THIS DISASTER HAD TO HAPPEN BEFORE WASHINGTON, D.C. WOULD TAKE NOTICE. CAROLINE: A LOT OF THE FEAR AND UNCERTAINTY SURROUNDS THE EXCHANGES WHETHER IT BE THE LENDING THAT MIGHT HAVE BEEN DONE ON GENESIS, WHAT YOU ARE HEARING FROM THESE EXCHANGES AND OTHER LENDING PROTOCOLS AND THE LIKE, ARE YOU BUILDING TRUST? DO YOU FEEL MORE CONFIDENT AROUND IT OR KNOW? >> WE ARE TAKING STEPS TOWARDS TRUST AND WE ARE SEEING EXCHANGES DO MORE TO CREATE TRANSPARENCY TO SAY THIS IS WHERE OUR RESERVES ARE AND YOU CAN VERIFY IT ON THE BLOCKCHAIN. THAT'S A GOOD FIRST STEP BUT WE NEED TO DO MORE. WE NEED TO SEE FULL AUDITS OF EXCHANGES AND WE NEED THEM TO BE ACCOUNTABLE TO REGULATORS WHO CAN GET INSIDE THE BUILDING AND SEE WHAT HAPPENING WITH THE BALANCE AT ASSETS. CAROLINE: TALK TO US ABOUT REGULATORS. THERE IS A BIT OF A SQUABBLE IN
THE U.S.. FOR ME AS A EUROPEAN, THEY ARE ALREADY GETTING THROUGH THIS REGULATION AND PUTTING IT INTO ACTION. WHAT DO YOU MAKE OF WHAT'S HAPPENING GLOBALLY? GUEST: THE EU WANTS TO CAPTURE A LOT OF THIS CRYPTOCURRENCY MARKET BECAUSE LONG-TERM, THEY SEE A FUTURE. LEGISLATION IS A BIG HELP. IT LAYS OUT THE DEFINITIONS OF THE DIFFERENT TYPES OF CRYPTOCURRENCY ASSETS. THEY'RE ALSO SENDING OUT REQUIREMENTS FOR CRYPTO SERVICE PROVIDERS. SO THAT AGAIN RETAIL CAN FEEL
SAFE AND REGULATORS CAN BE SURE THAT EVERYONE'S HOUSE IS IN ORDER. CAROLINE: THAT HAS A REALLY INTERESTING ECHO FOR ME WITH WHAT HAPPENED WITH DATA THE FACT THAT EUROPE DIDN'T JUST GET THERE FASTER, IT WAS EXTRAORDINARY GIVEN THEY ARE NOT ONE COUNTRY, THEY ARE A GROUPING OF DIFFERENT COUNTRIES A VERY MUCH DIVERSE THOUGHT. IS YOUR POINT TO LEAD THE CHARGE AND IS THAT ULTIMATELY A GOOD THING WITH THEM SETTING REGULATION ELSEWHERE? GUEST: I THINK IT'S A GOOD THING FOR THEM TO LEAD THE CHARGE IF THEY CAN. ONE THING I ADMIRE ABOUT THE EUROPEAN PROCESS IS THEY WORK WITH INDUSTRY LEADERS TO MAKE SENSE OF THIS COMPLEX AND NEW TECH KNOLOGY. IT'S HARD FOR REGULATORS TO
WRAP THEIR HEADS AROUND WHAT THE RISKS ARE. IN THE U.S., THEY HAVE BEEN SLOWER TO GET AROUND THIS HARD PROBLEM. I HOPE IN THE U.S. THEY WILL ENGAGE WITH INDUSTRY
LEADERS. CAROLINE: WHAT'S INTERESTING IS THAT WHILE WE WORRY ABOUT THE CENTRALIZED BIT OF CRYPTO, HOW IS DECENTRALIZED FINANCE THRIVING OR NOT? OUR INSTITUTIONS MORE WILLING TO LOOK THERE? GUEST: DEFI IS STILL MOVING ALONG. WE HAVE SEEN VOLUME SHIFT AWAY CENTRALIZED EXCHANGES.
THERE'S A LOT OF JUICE TO BE HAD THERE, BUT YOU HAD DIFFERENT TRUST ISSUES. YOU WORRY MORE ABOUT HACKS, ABOUT THE TAIL RISK EVENTS THAT CAN GET YOU INTO TROUBLE AND YOU HAVE TO BE CAREFUL WHEN YOU'RE TALKING ABOUT SELF CUSTODY. CAROLINE: GREAT TO HAVE SOME TIME WITH YOU. COMING UP, AVATAR. THE WAY OF THE WATER IS GOING VIRAL ON SOCIAL MEDIA. BEFORE WE HAD TO BREAK, HERE'S SOMETHING ELSE GOING VIRAL.
TRUMPS NFT COLLECTION. THE TOKENS MINTED ON POLYGON CAROLINE: HOW DO YOU LIKE TO WATCH A MOVIE? IN THE THEATER? AT HOME? IT'S PERHAPS A DEBATE BECAUSE WERE NOT SURE HOW MOVIES ARE BEING AFFECTED AND NOT ALL OF THEM ARE THE SAME. IN 2009, THINK ABOUT AVATAR. IT WAS A WATERSHED EVENT FOR IMAX IN PARTICULAR.
NOW THE RELEASE OF THE LONG-AWAITED SEQUEL HAS UNDERLINED WHAT INVESTORS SEE AS A STRONG CASE FOR SHARES OF THE MOVIE THEATER CHAINS. AT A TIME WHEN MOVIEGOING SEEMS TO HAVE LOST ITS LUSTER, IMAX SHARES HAVE FALLEN LESS THAN ITS RIVALS. AMC IS DOWN BY TWO THIRDS. IMAX BENEFITS FROM AN ENVIRONMENT THAT IS SPLIT BETWEEN SMALLER FILMS THAT INCREASINGLY GO DIRECT TO STREAMING AND THE BLOCK BUSTERS, THE ONES YOU WANT TO GO SIT IN A THEATER, YOU WANT TO EAT YOUR POPCORN AND HAVE AN IMMERSIVE EXPERIENCE.
THE RELEASE FRIDAY OF THE NEW AVATAR COULD PROVE TO BE THE MOST FOREMOST EXAMPLE OF THE LATTER. U.S. BOX OFFICE RECEIPTS ARE ONE THIRD LOWER THAN 2019 LEVELS. VERY DIFFERENT IF YOU THINK ABOUT HOW AIRLINES HAVE RECOVERED. SUCH A CHANGE SUCH A WAY IN WHICH DISNEY PLUS, NETFLIX HAS UPENDED THE WAY WE CONSUME SOMETHING LIKE AVATAR. YOU CAN'T EXPERIENCE IT AT HOME. YOU HAVE TO GET TO A THEATER,
PUT ON YOUR GLASSES OR WHATEVER WAY IN WHICH YOU WANT TO CONSUME. MEANWHILE, FOOD FOR THOUGHT AND THAT DOES IT FOR THIS EDITION OF BLOOMBERG TECHNOLOGY. DON'T FORGET TO CHECK OUT OUR PODCAST. FROM NEW YORK, WISHING ED A WONDERFUL TIME OFF IN LONDON. WE MISS HIM. BLOOMBERG.
2022-12-20 20:03
Show Video
Other news