Bloomberg Technology 10/27/2023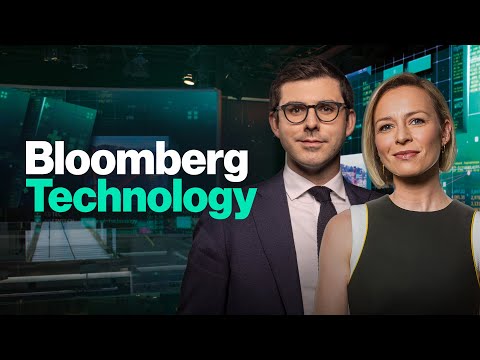 Show Video
>> FROM THE HEART OF WHERE INNOVATION, MONEY, AND POWER COLLIDE. IN SILICON VALLEY AND BEYOND, THIS IS BLOOMBERG TECHNOLOGY WITH CAROLINE HYDE AND ED LUDLOW. CAROLINE: I'M CAROLINE HYDE AT BLOOMBERG''S WORLD HEADQUARTERS IN NEW YORK. ED: I AM ED LUDLOW IN SAN FRANCISCO. THIS IS "BLOOMBERG TECHNOLOGY."
INTEL SHARES POP AS MOMENTUM IS GAINED. WE WILL DISCUSS WITH PAT GELSINGER. ED: WE WILL CONTINUE WITH EARNINGS COVERAGE AS AMAZON'S RESULTS SHOW A BOOST IN ITS CLOUD. CAROLINE: ONE YEAR SINCE ELON MUSK TOOK OVER THE COMPANY FORMERLY KNOWN AS TWITTER, HE PLANS TO TAKE ON THE LIKES OF YOUTUBE, LINKEDIN, AND PUSH IN PAYMENTS MORE. WE WILL DISCUSS THAT AND MORE. LET'S CHECK IN ON WHAT IS A
RALLY TO FINISH UP THE WEEK. WE ARE SEEING A RALLY ACROSS STOCKS AND BONDS. WHICH ARE USUALLY AT ODDS. INFLATIONARY PRESSURES BUILDING FROM A MACRO PERSPECTIVE.
CONSUMERS ANTICIPATED TO SEE MORE INFLATION. SAYS THE UNIVERSITY OF MICHIGAN NUMBERS. AND THE ALL IMPORTANT PCE NUMBER COMING IN STRONG.
CHECK ON TOP. DOES IT HAVE TO DO WITH EARNINGS? NASDAQ AT 1.2%, BUT DOWN FOR THE WEEK. TWO YEAR YIELD PULLING IN A
LITTLE BIT MORE. MORE FLAT, BUT ABOVE THE 5% LEVEL. IS THERE A RISK AVERSION TOWARDS THE WEEKEND AMID ONGOING GEOPOLITICAL CONCERNS, PARTICULARLY THE MIDDLE EAST. COMMERCIAL OFF BY A QUARTER OF A PERCENT DESPITE THE INFLATION GAUGE. BITCOIN HAS BEEN ON A TEAR. UP SOME 14%.
IS IT A DESIRE FOR HAVEN? PROBABLY NOT. IT IS MORE A FOCUS, HOPE, PRAYER, REALITY THAT AN ETF AND SPOT BITCOIN IS COMING SOON? ED: IT IS A BROAD RISK ON SENTIMENT. IT WAS ABOUT TECH BEING ON TOP AND EARNINGS IS THE DRIVER.
INTEL GAVE A SALES FORECAST FOR THE CURRENT PERIOD. AT THE TOP OF THE RANGE WAS WAY ABOVE EXPECTATIONS. THE STORY THEY ARE TRYING TO TELL IS THE PC MARKET HAS BOTTOMED OUT. PC CHIPS ARE THEIR BIGGEST VOLUME SALES. THAT HAS BEEN IMPORTANT.
WE WILL SPEAK TO PAT GELSINGER LATER IN THE SHOW. IN THE SESSION, ONE OF THE BIGGEST JUMP SINCE JANUARY OF 2021. ALSO THE THIRD STRAIGHT QUARTER WHERE INVESTORS HAVE LOOKED AT INTO AND SAID "WE LIKE IT, WE BELIEVE THE TURNAROUND IS HAPPENING."
THE OTHER BIG NAME IS AMAZON. WITH AMAZON, WE HAVE PAIRED SESSION GAINS. WE WERE UP A LITTLE MORE THAN THAT. STILL UP SIGNIFICANTLY.
THE STORY WAS BEAT ACROSS THE BOARD, APART FROM AWS, RELATIVE TO EXPECTATIONS. YOU LOOK AT THE BOTTOM LINE, THE CLOUD UNIT BROUGHT IN ALMOST $1.5 BILLION OF OPERATING. MORE THAN THE STREET WAS EXPECTING. THEY ADDED, AND GENERATIVE AI WILL BE A DRIVER OF GROWTH AWS. THE CASH COW OF AMAZON'S
BUSINESS FOR YEARS TO COME. THAT IS THE STORY JESSE WANTED TO TELL. THAT'S GET MORE WITH BLOOMBERG INTELLIGENCE. WHAT DO THE NUMBERS TELL YOU? >> THE NUMBERS ACTUALLY LOOKED REALLY GOOD. FROM A RESULTS PERSPECTIVE, Q3 WAS STRONG. THE 12% GAME WAS IN LINE. THE RETAIL BUSINESS DID MUCH
BETTER THAN EXPECTED, WHICH BODES WELL GOING INTO THE ALL IMPORTANT HOLIDAY SEASON COMING UP . CAROLINE: CONSUMER LOOKING MORE RESILIENT, WHAT WAS IT THAT ANDY JASSY GOT ACROSS THAT STIRRED NERVES AROUND AWS AND CLOUD IN PARTICULAR? POONAM: FOR AWS, THE IMPORTANT THING WAS HIS TONE. THE FACT HE SAID THE DEAL WAS GOOD AND THINGS WERE NOT SLOWING FURTHER. IT IS LIKE THE TREND IS CONTINUING TO STABILIZE. IT IS ENCOURAGING AND IN CONTRAST FROM WHAT WE HEARD FROM OTHER CLOUD PROVIDERS EARLIER. THAT REALLY TOOK THE STOCK UP DURING THE CALL.
I THINK THAT IS WHAT YOU ARE SEEING. THE CONFIDENCE IN THE CLOUD BUSINESS NEAR-TERM. AND FOR THE LONGER-TERM, WE REMAIN OPTIMISTIC ON THE CLOUD BUSINESS. BOTH ON THE MARGIN SIDE AND THE TOP LINE. ED: POONAM, THANK YOU VERY MUCH. NEWS CROSSING THE BLOOMBERG TERMINAL I HAVE BROKEN WITH COLLEAGUES AROUND THE WORLD IN THE LAST FEW MINUTES. AESC, A JAPANESE BATTERY MAKER,
HAS JUST CLOSED $1 BILLION SERIES B LED BY GIC, SINGAPORE'S WEALTH FUND. WHAT I'M HEARING FROM SOURCES IS THEY ARE ALSO WORKING ON A SERIES C WITH BANKERS AND ADVISERS THAT WOULD VALUE THEM IN THE BILLIONS OF DOLLARS. THIS IS A BATTERY COMPANY THAT MAKES CELLS THAT GOES INTO EVEY'S. IT HAS DEALS WITH BMW AND MERCEDES IN THE U.S.. SOME AUTOMAKERS IN THE U.K..
HERE'S THE NEXT STEPS SOURCES TELL US. THEY ARE LOOKING AT A U.S. IPO DOWN THE LINE, AS WELL. IT IS INTERESTING, IT STARTED BETWEEN NISSAN AND NEC IN 2007, IN 2018, A CHINESE ENERGY TECHNOLOGY COMPANY BOUGHT A CONTROLLING STAKE.
THE FOUNDER AND CEO IS ALSO THE CHAIRMAN OF AESC. A LOT OF QUESTIONS FROM INVESTORS AND INSIDERS ABOUT HOW THAT OWNERSHIP AND CHINESE RELATIONSHIP IS PERCEIVED, ESPECIALLY IN THE CONTEXT OF THE IRA. CHECK THAT OUT ON BLOOMBERG.COM. CAROLINE: A GREAT SCOOP. SOMEONE ELSE IS BUSY AT THE MOMENT. SAM BANKMAN-FRIED HAS TAKEN A STAND IN THE FTX FRAUD TRIAL.
THIS TIME IN FRONT OF A JURY. WE UNDERSTOOD THERE WAS A FOCUS WHERE THE JUDGE HAS -- ON FTX DATA RETENTION BEFORE THIS JURY. AT THE MOMENT, HE'S DISCUSSING THE TERMS OF SERVICE CREATED BACK IN MAY OF 2022. DOCUMENTS CURRENTLY BEING DISPLAYED ON THE MONITOR IN THAT PARTICULAR COURT. HE SAID HE SKIMMED OVER A FEW TIMES OVERALL AND HE WENT THROUGH PARTS OF IT IN MORE DETAIL WHEN THEY WERE RELEASED. HIS UNDERSTANDING WAS IT WAS REFERRING TO TWO DIFFERENT FEATURES ON THE PLATFORM. LIQUIDATION OF USER ACCOUNTS,
AND CALLBACKS OR SOCIALIZING LOSSES. THIS IS ALL ABOUT EXPLAINING HOW MAYBE FUNDS WERE USED, PARTICULARLY WHEN IT COMES BETWEEN ALAMEDA RESEARCH, HEDGE FUND, AND FTX. ED: PART OF WHAT HE WAS TRYING TO EXPLAIN WAS THE ROLE THE FTX LAWYERS HAD LEADING UP TO THE COLLAPSE.
ON THE EXPERIENCE AS A PARALLEL, THE FOUNDERS TRIAL ON SECURITIES FRAUD. I RAISED IT BECAUSE MILTON CHOSE NOT TO TESTIFY, OR HIS LAWYERS ADVISED HIM NOT TO. IT IS UNUSUAL. NOT ONLY THEY ARE TESTIFYING, BUT YOU ACTUALLY -- TWICE AND PUT IT ALL ON THE LINE. SO WE WILL CONTINUE TO COVER THAT. >> CAMERAS INSIDE THE COURTROOM, THAT IS WHAT WE SEE SO MUCH DRAWING ON ALL OF THIS. BUT WE HAVE GOT REPORTERS ON
THE GROUND, WE ARE GETTING A TLIV BLOG TO YOU. IT IS ONE OF THE MOST READ STORIES. TLIV IF YOU ARE LUCKY ENOUGH TO HAVE A BLOOMBERG.
A BLOW-BY-BLOW BLOGGING ACCOUNT OF WHAT IS GOING ON IN THAT TRIAL. COMING UP, WE HAVE A REALLY IMPORTANT CONVERSATION RIGHT NOW. INTEL SHARES ARE TEARING. THE TURNAROUND IS GAINING MOMENTUM.
WE WILL BE SITTING DOWN WITH THE CEO, PAT GELSINGER. THIS IS "BLOOMBERG TECHNOLOGY." ♪ ED: WELCOME TO OUR BLOOMBERG TV AND RADIO AUDIENCES WORLDWIDE. INTEL SHARES HAVE BEEN POPPING
AS THEY PREDICTED A RETURN TO SALES GROWTH. FUELED BY A REBOUND IN THE COMPUTER MARKET, BUT A MORE COMPETITIVE PRODUCT LINEUP. JOINING US IS INTEL CEO PAT GELSINGER. THERE WAS A LONG LIST OF THINGS INVESTORS CHEERED. THIS IS THE THIRD QUARTER WHERE THE MARKET SAID WE BELIEVE YOU ON THE TURNAROUND STORY. BUT ON YOUR TO DO LIST, WHERE DO YOU THINK YOU ARE AND WHAT DO YOU HAVE LEFT TO DO ON THAT TURNAROUND STORY? PAT: THANKS.
IT WAS A GREAT, A CLEAN BEAT AND RACE ON ALL OF THE FINANCIAL METRICS. BUT EVEN MORE IMPORTANT WAS THE OPERATIONAL PERFORMANCE. THOSE WHO SAID GETTING BACK TO PROCESS LEADERSHIP. WE DELIVERED KEY MILESTONES.
WE STILL HAVE AT LEAST ANOTHER YEAR OR TWO AGO TO GET THAT DONE. BUT MAJOR MILESTONES TO DELIVER FOUNDRY CUSTOMERS. I PROMISED ONE AT THE START OF THE YEAR, NOW HAVE THREE ON OUR MOST ADVANCED PROCESS TECHNOLOGY. MAJOR PACKAGING WINS.
AND THE PRODUCT EXECUTION. CLEAN LAUNCH OF THE AI PC GENERATION. BUT ALSO THE SERVER BUSINESS. GETTING BACK TO PROFITABILITY AHEAD OF SCHEDULE. A LITTLE BETTER PERFORMANCE THERE. AND DELIVERING THE AI EVERYWHERE MESSAGE WITH OUR ACCELERATORS, SERVER PRODUCT LINE. A REALLY EXCELLENT QUARTER.
I'M GRATEFUL FOR THE INTEL TEAM. IT HAS BEEN A JOURNEY AND WE ARE CLEARLY COMING BACK. ED: YOU HAVE TALKED TO INVESTORS AND CAROLINE AND I ABOUT THESE NEW CUSTOMERS FOR THE FOUNDRY BUSINESS. WHEN DO WE GET NAMES? WHEN ARE YOU GOING TO ANNOUNCE WHO THESE CUSTOMERS ARE? PAT: TWO THINGS. ONE, IT IS NOT GENERALLY THE PRACTICE OF THE FOUNDRY INDUSTRY FOR THE FOUNDRY TO BE DECLARING THEIR CUSTOMER NAMES. ONE, IT IS NOT PRACTICE. AND ALSO, MANY CUSTOMERS
CONSIDER IT CONFIDENTIAL IN PART OF THEIR COMPETITIVE ADVANTAGE AND HOW OR WHAT TECHNOLOGIES THEY CHOOSE. I CANNOT PROMISE NAMES, BUT WE WILL CHARACTERIZE THEM AS BEST WE CAN. THESE ARE HIGH-PERFORMANCE AND AI CUSTOMERS, AND WE HAVE SEEN A SURGE OF INTEREST USING THE INTEL TECHNOLOGIES AND FOUNDRY FOR DIFFERENT AI OFFERINGS IN THE MARKETPLACE. THAT IS BOTH A WAY FOR, BUT ALSO A PACKAGING, AND THIS IDEA OF ADVANCED PACKAGING. IN ADDITION TO THE THREE ON THE WAIVER SIDE, WE HAD TWO ADVANCED PACKAGING CUSTOMERS. THAT REVENUE MATERIALIZES MORE RAPIDLY AND SIX MORE IN THE PIPELINE.
OVERALL, A SUBSTANTIAL QUARTER IN THE AI SPACE IN PARTICULAR, THEY HAVE SEEN THE MOST ENTHUSIASM. CAROLINE: LET'S TALK ABOUT THE AI SPACE. THE RUNNING OF AI MODELS IS WHERE YOU SEE FUTURES. NOT JUST ABOUT THE FOUNDATION MODELS, BUT THE RUNNING OF THEM, NOT JUST THE BUILDING. CAN YOU RELIEVE THE ANXIETY COMING FROM INVESTORS ABOUT LACK OF CLARITY? WHAT IS IT THAT THEY NEED TO HEAR FROM YOU? WHAT MORE CAN YOU ARTICULATE THAT MAKES IT CLEAR TO THEM THEY ARE FRONT AND CENTER IN THE AI RACE? PAT: FIRST, LET'S CHARACTERIZE WHAT WE ARE TALKING ABOUT. THIS IDEA OF CREATING THESE FRONTIER OR FOUNDATION MODELS. VERSUS USING.
AND THE TRAINING AND INFERENCING AGAINST THOSE MODELS. I COMPARE IT TO THE WEATHER MODELS. NOT MANY PEOPLE GENERATE WEATHER MODELS, BUT A LOT OF PEOPLE USE THEM. THAT IS HOW WE THINK ABOUT THE NEXT PHASE OF AI. HOW WE MAKE THE INFERENCING OR THE USE OF THE MODELS PROBABLY AVAILABLE. THAT WILL BE IN THE CLIENT. IF YOU TALK ABOUT THE AI PC.
IT WILL BE AT THE EDGE IN RETAIL AND MANUFACTURING AND SUPPLY CHAINS. IT WILL ALSO BE AN ON PREMISE DATA CENTER. TAKING MY DATA TOO -- INSTEAD OF TAKING MY DATA TO THE CLOUD, I WANT TO BRING THE AI TO MY DATA CENTER WHERE THE DATA IS ALREADY. AND FINALLY, WORK IN THE CLOUD. FROM THE DATA CENTER PROPER, IT TALKS ABOUT WE KNEW WE WERE GOING TO LOSE MARKET SHARE. THOSE LOSSES HAPPENED LAST YEAR AND ARE PLAYING OUT IN THE MARKETPLACE. BUT OUR ROADMAP IS STRONG.
WE OVER EXECUTED IN THE QUARTER ON OUR NEXT GEN, GEN4 PRODUCT, BUT DID BETTER THAN WE THOUGHT IN A LOT OF AI USE CASES IN THIS AREA. THE NEXT GENERATION, GEN 5, WE ARE RAMPING THAT IN PRODUCTION. IT WILL GET ANNOUNCED IN DECEMBER. NEXT YEAR'S PRODUCTS, WE ARE
SEEING GREAT HEALTH AND WE ARE AHEAD OF SCHEDULE. THEY IMPROVE OUR COMPETITIVENESS. THE 25 PRODUCTS WILL GO INTO FAB IN THE FIRST QUARTER OF NEXT YEAR. OUR ROADMAP AND EXECUTION HAS REALLY IMPROVED. WE START TO SEE OUR SELF REGAINING MARKET SHARE IN 2024. I THINK THAT WILL BE THE FINAL PIECE OF THE TURNAROUND STORY. WHEN THE MARKET SEES DATA
CENTER IS BACK STRONG, THEY ARE WINNING IN THE AI SPACE, THAT WILL BE THE END OF THE TURNAROUND STORY. PEOPLE WILL SAY "OK, THEY DID IT." CAROLINE: GOING BACK TO THE BUILDING, THE TRAINING OF DATA. TALK ABOUT STABILITY OF AI. WHAT YOU HAVE TO DO TO BUILD THE AI SUPERCOMPUTER.
WAS THAT REALLY GOING TO BE PROVIDED OVER WHAT NVIDIA WOULD, OR YOU WANT TO REALLY BE OFFERING THEM SOME CARROTS IN A SITUATION TO HELP WITH THE TRAINING OF THE MODEL? PAT: NOW WITH GAUDI, WE ARE DELIVERING PERFORMANCE AND BENCHMARKS AS GOOD AS THE BEST IN THE INDUSTRY. WE HAVE GOTTEN OUR PERFORMANCE THERE. THERE WAS ALSO WORK THAT THE MODELS WERE CREATED AND MUCH OF THE SOFTWARE INDUSTRY WAS WORKING ON THE NVIDIA PLATFORM.
SO WE HAD TO DO SOME OF THE SOFTWARE WORK TO GET THEM RUNNING ON THAT PLATFORM. AND THEY ARE LOOKING FOR MORE COST-EFFECTIVE CHOICES AND ONES THAT ARE SUPPLY CHAIN AVAILABLE IN THE INDUSTRY. AS WE ARE RAMPING OUR PRODUCT LINE, GETTING THE SOFTWARE WORK DONE, THEY ARE PRICE MORE COMPETITIVELY, CUSTOMERS WILL SAY I CAN DO THAT WORK AND DO IT AT A MUCH LOWER POWER PERFORMANCE ENVELOPE THAN THE OTHER ALTERNATIVES AND HAVE A MUCH MORE COST-EFFECTIVE MODEL TRAINING AND INFERENCING AT SCALE. YOU ARE SEEING A REAL SURGE OF INTEREST. WE DOUBLED OUR
PIPELINE OF CUSTOMERS THIS QUARTER. LIKE OTHERS IN THE INDUSTRY, WE ARE SUPPLY CHAIN CONSTRAINED. WE ARE RACING TO CATCH UP TO THAT DEMAND ON OUR GAUDI PRODUCT LINE. ED: FOR OUR BLOOMBERG RADIO AND TELEVISION AUDIENCE, WE ARE SPEAKING TO THE CEO OF INTEL, PAT GELSINGER.
THE STORY OF THIS WEEK HAS BEEN CHIP COMPANIES ENTERING THE PC PROCESSORS MARKET ON ARCHITECTURE. HOW DO YOU HOLD OFF THOSE NEWCOMERS? ATTENTION ON APPLE THIS COMING MONDAY, THEY HAVE DONE WELL IN THAT DOMAIN. PAT: I THINK OF THE A.I. PC AS AN EXCITING CATEGORY. IT IS ONE WE ANNOUNCED, WE HAVE BEEN THE FIRST COMPANY ON THAT. WE ARE RAMPING OUR FIRST GENERATION AI PC PRODUCTS CALLED THE CORE ULTRA. THEY ARE TALKING ABOUT WHAT THEY MIGHT DO IN A YEAR OR TWO. WE ARE RAMPING PRODUCTS IN THE
MARKETPLACE. WE ANNOUNCED OVER 100 ISVS IN OUR AI ACCELERATION PROGRAM. THEY ARE COMING ON BOARD. BEFORE OTHERS HAVE PRODUCTS
SHIPPING IN THE MARKETPLACE, WE WILL BE LAUNCHING OUR NEXT GENERATION, OUR LUNAR LIKE PRODUCT, WHICH WE HAVE DEMONSTRATED FOR NEXT YEAR. PANTHER LAKE, OUR 2025 PRODUCT, WE ARE SENDING THAT INTO FAB. ON OUR LEADERSHIP INTEL PROCESSING TECHNOLOGY. I THINK WE HAVE A VERY STRONG
ROADMAP. THE IDEA OF AN ARM-BASED PC, THEY HAVE ALWAYS BEEN SORT OF NICHE AND LOW END WITH THE EXCEPTION OF APPLE. IT IS APPLE AND THEIR ECOSYSTEM. FOR THE BROADER WINDOWS, OUR MARKET HAS ALWAYS BEEN PRETTY LOW WIND AND INSIGNIFICANT IN THE BIGGER CONTEXT.
AS LONG AS WE DELIVER OUR ROADMAP, I FEEL CONFIDENT IT IS ANOTHER SURGE IN THE AI PC SPACE. IT IS A LIFT TO THE OVERALL PC MARKET AND WILL BE UNIQUELY POSITIONED TO BENEFIT FROM THAT. ED: GOING BACK TO STABILITY IN THE A.I. SUPERCOMPUTER, ARE YOU ABLE TO CONFIRM IT IS A PAID RELATIONSHIP WHERE STABILITY PAYS YOU FOR USE OF GAUDI? PAT: YES, IT IS A MAJOR CUSTOMER , THEY ARE WORKING CLOSELY WITH THEM. THIS IS A PAID CUSTOMER RELATIONSHIP. WE ALSO SEE QUITE ANOTHER SET AROUND OUR OEM'S.
WE ANNOUNCED A MAJOR PARTNERSHIP WITH DELL FOR GAUDIS AS THEY COME ON PRESENT -- PREMISE IN THEIR CLOUD OFFERINGS. WE SEEN A BIG UPSURGE IN GAUDI INTEREST IN THE DEVELOPER CLOUD. A 5X INCREASE ON THE DEVELOPER CLOUD. MUCH ON THE GAUDI PLATFORM. WE SAW WELL OVER $1 BILLION. LAST QUARTER, WE HAVE DOUBLED THAT. THIS QUARTER OF GAUDI DEMAND WORLDWIDE. THOSE ARE LARGELY PAID CUSTOMER
ENGAGEMENTS. OVERALL, WE ARE SEEING A SURGE OF INTEREST WITH STABILITY, A.I. , DELL, AND MANY OTHERS. ED: EVERY EARNINGS LOOK TO YOUR FORECAST FOR THE PC MARKET. YOU ARE SLIGHTLY MORE POSITIVE THAN CONSENSUS IN TERMS OF HOW MANY PCS YOU THINK WILL SHIP AROUND THE WORLD THIS YEAR.
I GUESS PART OF THAT IS BAKED INTO YOUR SALES FORECAST FOR THE CURRENT PERIOD AS WELL. WHAT GIVES YOU THAT CONFIDENCE? WHY IS IT CONSUMERS WILL RETURN TO BUYING PCS? PAT: THERE ARE PROBABLY THREE DIFFERENT FACTORS. ONE IS WE GAVE IT 270 MILLION PCS SOLD THROUGH THIS YEAR. WE SAID THAT EARLY IN THE YEAR. MANY THOUGHT THAT WE WERE TOO OPTIMISTIC. WE LOOK AT IT TODAY, WE ARE
ALMOST SPOT ON WITH ACCURACY ON THAT FORECAST. SECOND, WE HAVE SEEN THE INDUSTRY. NOT JUST INTEL, BUT THE INDUSTRY OVERALL, INVENTORY LEVELS ARE HEALTHY. WE LOOK AT OUR SELLING RATE VERSUS SELLOUT RATE. THE PRODUCT IS SELLING THROUGH. I WOULD ALSO SAY WE ARE OFF TO A GOOD START IN Q4, AS I SAID ON THE EARNINGS CALL, REALLY GOOD START TO Q4 AS WELL. SEASONALITY IS A BIT ABOVE IN
Q4 HISTORICAL LEVELS. WE ALSO HAVE END OF SERVICE COMING FOR MICROSOFT. MICROSOFT ABOUT TO RELEASE THEIR COPILOT AND PRODUCTS. I WOULD SAY THE SIZZLE IN THE MARKETPLACE IS AROUND THIS AI PC. BROAD NEW USE CASES FOR THE PC. I'VE COMPARED IT TO THE CITRINE A MOMENT OF 20 YEARS AGO WHERE THEY USHERED WI-FI AT SCALE INTO THE STREET.
IT WILL BRING THE AI PC, IT WILL BE A DRIVER OF NEW APPLICATIONS AND USE CASES FOR THE PC, BRINGING MORE EXCITEMENT AND ACCELERATION. MORE USERS COMING INTO THE MARKETPLACE. IT WILL GET SIGNIFICANT NEW CAPABILITIES TO PC USERS. CAROLINE:
DOES IT GIVE YOU YOUR GROSS MARGIN OF 60%? IS THAT WHERE THE CONFIDENCE COMES FROM? PAT: TO GET THE OVERALL GROSS MARGINS ABOVE 60%, I NEED TO HOLD BUSINESS TO IMPROVE. WE ARE MAKING GOOD PROGRESS IN THE PC. I ALSO NEED TO IMPROVE MY FACTORY NETWORK. AS WE GET BACK TO LEADERSHIP,
WE FINISH THIS SUPER AGGRESSIVE FIVE NOTES IN FOUR YEARS, CHURNING THROUGH CAPITAL VERY RAPIDLY TO GET BACK TO LEADERSHIP. GETTING THE DATA CENTER BUSINESS HEALTHY. GOING BACK TO ONE OF YOUR EARLIER QUESTIONS. ANOTHER FACTOR GETTING BACK TO OUR MARGIN STRUCTURES. ONE OF THE OTHER THINGS WE DID WAS ALSO HAVE GREAT OPERATIONAL SUCCESS ON OUR COST-SAVING INITIATIVES. WE SAID WE WOULD RESULT IN 3
BILLION SAVINGS. WE ALSO CLEANED UP THE COMPANY. I'VE EXITED 10 BUSINESSES SINCE I'VE BEEN HERE. NOW WE THINK WE ARE FINISHED WITH THAT PHASE. WE ARE FOCUSED ON GROWING THE COMPANY AGAIN TO THE FUTURE. PART OF IT IS GROWTH, PART OF IT IS FOCUS AREAS ACROSS BUSINESSES, PART OF IT AS INCREASED OPERATIONAL DISCIPLINE. THIS QUARTER'S RESULTS, WE ARE ON OUR WAY TO ACCOMPLISHING THAT. CAROLINE:
YOU TALKED ABOUT OPERATIONS, WE DID NOT TALK ABOUT IT. YOU HAVE OPERATIONS IN ISRAEL, WE THINK OF YOUR EMPLOYEES AND YOUR INFRASTRUCTURE AT THIS TIME. THANK YOU FOR SPENDING TIME WITH US AND WALKING US THROUGH YOUR NUMBERS. INTEL CEO, PAT GELSINGER.
ED: COMING UP. ELON MUSK ANNOUNCES PLANS TO TAKE ON THE LIKES OF YOUTUBE AND LINKEDIN. WE WILL DISCUSS THAT STORY NEXT. THIS IS BLOOMBERG. ♪ ED: TIME FOR TALKING TECH.
APPLE GETTING READY FOR THE LATEST IMAC AND IBOOK PRO. THEY WILL LIKELY INCLUDE THE NEW M33 NANOMETER PROCESSORS. THE LAST OF 2023 THIS UPCOMING MONDAY.
PLUS HUAWEI MAKES A SMART BREAKTHROUGH, DRIVING AS THEY DOUBLE IN THE MOST RECENT QUARTER. ADDING TO SIGNS THE CHINESE TECH LEADER IS STEADYING A BUSINESS ROCKED BY U.S. SANCTIONS. ELON MUSK SETTING HIS SIGHTS ON YOUTUBE AND LINKEDIN.
EXECUTIVES TOLD STAFF THEY SEE THE TWO SIDES AS FUTURE COMPETITORS. MUSKA ALSO PLANNING TO CREATE A NEW SERVICE CALLED X WIRE THAT WOULD RIVAL NEWSWIRE. INTERESTING FROM US OVERNIGHT. CAROLINE: FROM YOU OVERNIGHT. THIS IS COMING DOWN TO WANTING TO BE THAT GLOBAL TOWN HALL. WANTING TO BE THE PLACE WHERE YOU GO TO X FOR NEWS. IN PARTICULAR, A LOT OF CONVINCING OF BUSINESS OF CORPORATE'S TO WANT TO BE FILING PRESS RELEASES. ED:
A LOT OF BATTLEGROUNDS. THIS IS THE ONE YEAR ANNIVERSARY OF MUSK CLOSING THE DEAL TO TAKE TWITTER PRIVATE. NOW X. THIS IS THE FIRST TIME THEY'VE DONE A JOINT ALL HANDS TOGETHER. IT IS INTERESTING DATA COMING
OUT OF THAT ONE. CAROLINE: ALSO, SO MUCH ABOUT PAYMENTS AND WHETHER WE WILL BE NEEDING BANKS IN THE FUTURE. CONFIDENCE NEEDED TO BE BUILT THERE. CAROLINE: WELCOME BACK TO "BLOOMBERG TECHNOLOGY." I'M CAROLINE HYDE IN NEW YORK. ED: I'M ED LUDLOW. WE MADE IT TO THE END OF A MEGA
WEEK FOR MEGA CAP TECH EARNINGS. INTERESTING TO SEE HOW THE MARKET LOOKS RIGHT NOW. NASDAQ 100 ON A FIVE DAY BASIS. DOWN FOR A SECOND CONSECUTIVE WEEK 2%. UP 1% IN FRIDAY'S SESSION. AMAZON A BIG PART OF THE MOVERS. ON THE WHOLE, IT IS KIND OF WE ARE WAITING FOR THE NEXT TWO, APPLE AND NVIDIA. WE WENT INTO THE EARNINGS SEASON SAYING THE BIG FIVE WOULD BRING ALL OF THE EPS GROWTH, THE S&P 500. TAKE OUT THE BIG 5, 3 OF WHICH
REPORTED THIS WEEK, AND NVIDIA AND APPLE TO COME, THE S&P 500 WOULD HAVE AN EARNINGS GROWTH DECLINE OR LACK OF GROWTH AROUND 5%. WE HAVE BEEN WAITING, THERE IS MORE TO COME. DIGGING IN ON AMAZON GOING GANGBUSTERS THIS FRIDAY. THE PERFECT GUEST TO TALK ABOUT AMAZON. BRINGING IN THE PORTFOLIO
MANAGER AT WEALTH ENHANCEMENT GROUP. YOU HEARD MY PREAMBLE ON THE BIG FIVE TECH NAMES. WHAT IS YOUR SCORECARD FOR THE THREE THAT HAVE GONE SO FAR? >> CLEARLY, MICROSOFT IS A BIG WINNER DURING EARNINGS SEASON.
AMAZON WAS NOT TOO SHABBY. IT IS REALLY THE STORY OF AI AND THE IMPACT AI IS GOING TO HAVE GOING FORWARD. AMAZON DID A GREAT JOB ON THEIR CONFERENCE CALL TALKING ABOUT THE IMPACT OF AI AND HOW IT WILL ADD TENS OF BILLIONS OF DOLLARS OF REVENUE FOR AWS. IT IS SOMETHING INVESTORS REALLY LIKED TO HEAR. CAROLINE: WHAT THEY DON'T LIKE TO HEAR IS CONSUMER CONCERN, OR MACRO CONCERNS. THAT WAS A BUSINESS MACRO PERSPECTIVE WE GOT THAT LET US DOWN.
ON THE META FRONT, MAYBE ON ALPHABET. WHAT DO YOU THINK ABOUT THE RESILIENCE OF THE MACRO PICTURE WITH THESE NAMES RIGHT NOW? AYAKO: FROM AN OVERALL STANDPOINT, ALL OF THESE COMPANIES HAVE VERY STRONG BALANCE SHEETS. IT HAS BEEN A FIGHT TO QUALITY TO A CERTAIN DEGREE FOR MANY INVESTORS WHO ARE CONCERNED ABOUT THE OVERALL MACROENVIRONMENT. HAVING COMPANIES THAT HAVE HIGH-QUALITY BALANCE SHEETS THAT HAVE CASH THAT IS NOW GENERATING 5% PLUS, THAT IS A HUGE RELIEF FOR A LOT OF INVESTORS THAT THEY CAN RELY ON.
DESPITE VALUATIONS BEING ELEVATED IN THE NEAR TERM. CAROLINE: WHAT WE HAVE SEEN OVER THE COURSE OF THIS WEEK IS THE IDIOSYNCRATIC NATURE OF BIG TECH. SOME DOING WELL ON EARNINGS AND LEADING GAUGES HIGHER. THE MACRO PERSPECTIVE, PUSHING BACK. OVER THE COURSE OF THE WEEK, NASDAQ LOWER. IS A.I. THE SILVERLINING NECESSARY TO
ALLOW COMPANIES TO CONTINUE TO GO UP AND TO THE RIGHT? AYAKO: ABSOLUTELY. ONE OF THE THINGS ANDY JASSY HIGHLIGHTED ON THE AMAZON CALL YESTERDAY WAS THE IMPACT OF SOME OF THESE A.I. TECHNOLOGIES. WHETHER IT IS CODE WHISPERER FOR AWS, DUET FOR GOOGLE, COPILOT FOR MICROSOFT.
ALL OF THESE ARE GOING TO PRODUCE PRODUCTIVITY GAINS. YOU ARE JUST REMOVING SOME OF THE REPETITIVE CODE FOR DEVELOPERS. I THINK THAT WILL BE A BIG GAME CHANGER AND SPEED UP THE ACCELERATION OF THE CHANGES AND IMPACT A.I. CAN BRING ACROSS -- NOT JUST
FOR THESE THREE COMPANIES -- BUT ACROSS THE BOARD FOR EVERY COMPANY. ED: IT IS HARD TO BELIEVE WE ARE ALREADY BASICALLY IN NOVEMBER. CAROLINE AND I HAVE BEEN THINKING ABOUT THE END OF THE YEAR. WE STARTED WITH MASS LAYOFFS ACROSS BIG TECH AND CUTTING BACK COSTS. HOW MUCH OF THAT IS SHOWING UP NOW? PARTICULARLY ON THE BOTTOM LINE WITH TET? THAT -- TECH? THAT THE PAIN THEY WENT THROUGH BENEFITED FINANCIALLY? AYAKO: YOU HEARD ALL OF THESE COMPANIES TALKING ABOUT CLOUD OPTIMIZATION. THAT IS REALLY THEIR CUSTOMERS
DIALING BACK ON HOW MUCH CLOUD USAGE THEY ARE GOING TO HAVE WITH THESE BIG PROVIDERS. BECAUSE OF THAT, A LOT OF THESE IN MICROSOFT, META, AMAZON, THEY PULLED BACK ON THEIR OWN SPEND. I THINK YOU SAW THEM SEE THE BENEFIT AT THE LOWER EXPENSES. ESPECIALLY WITH AMAZON. THEY TALKED ABOUT THE LOWER HEADCOUNT IN AWS AND FEWER ENGINEERS THERE. IT WAS A HUGE POSITIVE AND CONTINUES TO STRENGTHEN THEIR OVERALL FINANCIAL POSITION. ED:
IT MAY SEEM PREMATURE, BUT I'M GOING TO DO IT ANYWAY -- WHAT DOES 2024 LOOK LIKE FOR BIG TECH, IN YOUR MIND? AYAKO: A LOT OF IT WILL DEPEND ON THE OVERALL MACROENVIRONMENT. I THINK IT IS DIFFICULT TO SLOW DOWN THE IMPACT OF A.I. AND CLOUD IS STILL RELATIVELY EARLY IN ITS JOURNEY. THERE ARE STILL WORKLOADS THAT NEED TO MIGRATE TO THE CLOUD. IT WILL ACCELERATE BECAUSE OF A.I.. 2024 WILL BE DETERMINED BY
OTHER FACTORS OTHER THAN JUST A.I.. BUT I THINK A LOT OF THESE COMPANIES CAN WHETHER THROUGH THAT OVER THE LONG-TERM. CAROLINE: THE REASON WHY YOU ARE SUCH A GREAT GROUP VOICE TO HAVE ON, NOT ONLY DO YOU HAVE TO NAVIGATE -- I THINK WEALTH ENHANCEMENT GROUP HAS THOUSANDS OF HOUSEHOLDS OF WEALTHY INDIVIDUALS WHO MANAGE THEIR MONEY. YOUR RELATIONSHIP, HAVING BUILT UP THE RESEARCH ANALYSIS AND MOVING IT INTO PORTFOLIO MANAGEMENT, YOU HAVE A HOST OF TECH COMPANIES.
ARE THERE ANY THAT ARE OVERLOOKED, OR HOW DO YOU THINK ABOUT THE FEEL THAT NVIDIA AND SOME OF THE BIG CAP NAMES ARE TOO OBVIOUS WHEN IT COMES TO THE A.I. PLAY? AYAKO: SURE, LIKE A LOT OF THE VALUE-ORIENTED TECH NAMES, ORACLE HAS BEEN IN THAT SPACE. ORACLE HAS BEEN TALKED ABOUT, THEIR CLOUD EVOLUTION HAS COME A LONG WAY. THERE ARE OTHER NAMES OUTSIDE OF JUST THE BIG MEGA CAP TECH THAT WE LIKE. ACCENTURE IS ANOTHER NAME WE LIKE IN THE SPACE AND TECHNOLOGY. THEY HAVE CONSULTANTS WHO WILL HELP ALL OF THESE COMPANIES ADOPT NEWER TECHNOLOGIES LIKE A.I. THERE ARE OTHER TECHNOLOGY
NAMES OUTSIDE OF JUST THE BIG FIVE THAT WE CONSTANTLY TALK ABOUT. ED: IT WOULD NOT FEEL WEAK IF WE DID NOT SPEAK FED SPEAK. FOR THE ALREADY AND'S, GIVE YOUR PERSPECTIVE ON WHY RATES AND THE FED AND THE OUTLOOK FOR RATES IS YOUR DECISION ABOUT YOUR ALLOCATION TO TECHNOLOGY NAMES IN A PORTFOLIO. AYAKO: WE GET THIS A LOT. WHY DO WE FOCUS ON THE FED AND INTEREST RATES? I GO TO VALUATION 101.
DISCOUNTED CASH FLOWS. YOU HAVE TO LOOK AT THE RISK-FREE RATE. THE 10 YEAR TREASURY RATE AND WHAT WE SEE IS WHAT IS USED TO DISCOUNT THOSE LONG-TERM CASH FLOWS BACK TO THE PRESENT.
THAT IS WHY THERE IS A HUGE FOCUS ON WHAT THE FED WILL DO AND HOW THE TREASURY CURVE WILL REACT TO FED ACTION. IT IS SOMETHING WE CONTINUOUSLY TALK ABOUT. IT IMPACTS NOT JUST TECH VALUATIONS, BUT VALUATIONS ACROSS THE BOARD. IN EQUITIES AND REAL ESTATE IN OTHER MARKETS. CAROLINE: GREAT TO HAVE TIME WITH YOU.
AYAKO YOSHIOKA, OF WEALTH ENHANCEMENT GROUP. THANK YOU. WE ARE GOING TO KEEP TALKING ABOUT A.I. AND HOW MACHINE LEARNING CAN HAVE A MAJOR IMPACT ON HOW COMPANIES AND GOVERNMENTS HANDLE CLIMATE CHANGE QUESTIONS.
THE HEAD OF CLIMATE SUSTAINABILITY AT GOOGLE DEEP MIND SPOKE ABOUT IT, THE USE CASES IN PARTICULAR. ALSO ITS ORIGINS IN GAMING. TAKE A LISTEN. >> ALPHA GO WAS A SYSTEM WE DEVELOPED THAT HOPEFULLY FOLKS ARE FAMILIAR WITH. GAMES ARE A REALLY INTERESTING PLACE TO TEST AI. THEY HAVE VERY CLEAR GOALS, SUCCESS METRICS, CLEAR BENCHMARKS, AND A LOT OF DATA. THAT IS THE KIND OF SYSTEM THAT IS INTERESTING FOR A.I. BECAUSE IT IS A PERFECT TEST
BED. ONE OF THE THINGS THAT WAS INTERESTING ABOUT ALPHAGO, EVEN THE WE HAVE PLAYED IT FOR HUNDREDS OF YEARS, USING AN A.I. SYSTEM TAUGHT US INFORMATION WE DID NOT KNOW ABOUT THE GAME BEFORE. WE REALLY EXPANDED THIS IDEA INTO OTHER SYSTEMS LIKE ALPHA FOLD. IT IS A SYSTEM THAT TAKES IN AMINO ACID SEQUENCES AND TELLS US HOW PROTEINS ARE FOLDED. WE DEVELOPED A DATABASE THAT
BASICALLY WORKS LIKE GOOGLE SEARCH FOR PROTEINS. WE WERE ABLE TO GIVE THAT TO THE RESEARCH COMMUNITY IN ORDER TO FURTHER THEIR RESEARCH. IF YOU LOOK AT THE DEVELOPMENT OF SYSTEMS LIKE ALPHA FOLD, YOU CAN SEE SOME OF THE SCIENTISTS THAT MIGHT USE THAT WOULD UNDERSTAND PROTEINS. IF THEY ARE ENGINEERING ENZYMES. WE WORK WITH A PARTNER WHO IS
LOOKING INTO ENZYMES THAT BIODEGRADE PLASTICS AND ARE ABLE TO DO THEIR WORK MORE QUICKLY BECAUSE THEY HAVE ACCESS TO THE LIBRARY ALPHA FOLD PROVIDES. >> DEEP MIND CEO IS A BIG ATARI FAN. I ASSUME YOU LET YOUR KIDS PLAY VIDEO GAMES -- >> HOW DO YOU GO FROM ALPHA GO TO CLIMATE SCIENCES? YOU GO VIA 200 MILLION PROTEIN, WHICH IS GREAT.
IN THE EPISODE YOU ARE IN NEXT MONTH, WE TAKE A VERY GLOBAL VIEW. IT IS A GLOBAL SHOW. WE ARE HERE IN THE U.K. WITH OUR FANTASTIC CLIMATE AND WEATHER. IT IS LOVELY TODAY. CAN YOU TELL US ABOUT SOMETHING YOU HAVE DONE HERE THAT YOU HAVE SEEN AND THAT IS GOING TO EXCITE EVERYBODY? >> YOU TALKED ABOUT THE WEATHER. SINCE THE U.K. TALKS ABOUT THE WEATHER, ESPECIALLY RAINFALL -- I WILL GO WITH THAT EXAMPLE -- WE DID A PARTNERSHIP WITH THE MET OFFICE, WORKING WITH METEOROLOGISTS FOCUSED ON HEAVY RAINFALL. HEAVY RAINFALL CAUSES DAMAGE TO
PEOPLE AND PROPERTY. WE DEVELOPED A SYSTEM THAT WAS A GENERATIVE A.I. SYSTEM. WHEN YOU LOOK AT THE WEATHER, AND YOU SEE THOSE BEAUTIFUL PICTURES ON SCREEN WITH COLORS OF WHERE RAIN IS GOING TO HAPPEN, WHERE IT WILL BE HEAVY, HOW IT WILL MOVE THROUGH THE U.K. WE BASICALLY FED THAT RADAR DATA TO OUR SYSTEM. IT WATCHED IT LIKE A MOVIE, EFFECTIVELY. A PREDICTED THE NEXT FRAME.
THIS IS SOMETHING WE CALL PRECIPITATION NOWCASTING. FORECASTING TWO HOURS AHEAD OF TIME. SHORT-TERM FOR FORECASTING. WE WORKED WITH THE MET OFFICE. THEY WERE UNENCRYPTED PARTNER. 99% OF THE COUNTRY HERE IS COVERED BY THE RADAR DATA. ED:
THAT WAS SIMS WITHERSPOON, CLIMATE AND SUSTAINABILITY LEAD AT GOOGLE DEEPMIND. IONQ SHIFT INTO COMMERCIALIZATION IS A SHIFT. WE WILL TALK TO PETER CHATMAN ABOUT DEPARTURES AND ONE ROLLER COASTER STOCK RIDE. THIS IS "BLOOMBERG TECHNOLOGY." CAROLINE: QUANTUM COMPUTING COMPANY IONQ IS PLACING BIG BETS ON ITS SHIFT INTERNATIONAL SECURITY. THEY ARE TEAMING UP WITH THE U.S. AIR FORCE RESEARCH LAB TO DEVELOP AND APPLY QUANTUM SYSTEMS. THIS NEWS COMES IN THE
WAKE OF THE COFOUNDER'S DEPARTURE FROM THE COMPANY. THIS RATTLED THE STOCK. WE WANT TO GET PARITY TO PICTURE FORWARD WITH NONE OTHER THAN THE CEO, PETER CHAPMAN, WHO JOINS US NOW. GOING BACK TO BASICS, YOUR AIM
AT THE COMPANY IS TO BUILD THE BEST QUANTUM COMPUTERS AND BASICALLY SOLVE SOME OF THE MOST COMPLEX TASKS. YOU CAME OUT OF UNIVERSITIES, OUT OF THE LABS, INTO THE REAL WORLD. YOU ARE A CHIEF OFFICER, GOING BACK INTO THE LABS, RESEARCH, AND UNIVERSITIES. ANALYSTS ARE WORRIED ABOUT THE TIMING AND REASONING. EXPLAIN THE TIMING AND REASONING FOR US.
>> THE COMPANY WAS COFOUNDED BY TWO COLLEGE PROFESSORS. ORIGINALLY FROM THE UNIVERSITY OF MARYLAND AND DUKE. BOTH TODAY ARE AT DUKE UNIVERSITY.
IN CHRIS' CASE, HE STILL TEACHES CLASSES AT DUKE. THEY RUN DUKE'S QUANTUM LAB, WHICH IS A SIGNIFICANT UNDERTAKING UNTO ITSELF. WE HAVE A RELATIONSHIP WITH DUKE UNIVERSITY WHERE THE WORK THAT THEY DO THEIR, FUNDED BY THE GOVERNMENT, IS EXCLUSIVELY LICENSED AND ROYALTY-FREE TO THE COMPANY. SO CHRIS IS GOING BACK TO DUKE
UNIVERSITY TO LEAD THAT PROGRAM. BUT THE RELATIONSHIP BETWEEN DUKE AND CHRIS IS REALLY NOT CHANGED IN ANY WAY. CHRIS WOULD BE THE FIRST TO TELL YOU THAT THE PHYSICS FOR WHAT IT IS WE ARE DOING WOULD SOLV -- WAS SOLVED LONG AGO. IF YOU LISTEN TO CHRIS FROM SEVERAL YEARS AGO, YOU WILL FIND TAPES WHERE HE SAYS EXACTLY THAT. WHERE THE COMPANY IS TODAY IS NO LONGER ABOUT ACADEMIC RESEARCH. IT IS NOT ABOUT FUNDAMENTAL
PHYSICS. THAT IS ACTUALLY QUITE A DIFFERENCE BETWEEN IONQ AND MANY OF OUR OTHER COMPETITORS. THEY ARE STILL WORKING ON FUNDAMENTAL PHYSICS. AND WE ARE NOT. WE ARE ACTUALLY MIGRATING OUT OF AN ACADEMIC PHASE AND INTO AN ENGINEERING AND PRODUCT PHASE. WE ARE IN THE MIDDLE OF THAT TRANSITION. ED: ONE OF THE ANALYSTS CAROLINE
REFERENCED WAS BENCHMARK'S DAVEY WILLIAMS. HE SAID THE TIMING AND MOTIVATION OF CHRIS' DEPARTURE IS CURIOUS. JUST ON THE TIMING. CAN YOU EXPLAIN WHY NOW? THE PROCESS YOU JUST OUTLINED IS BEING ANNOUNCED THIS WEEK? PETER: I'M NOT SURE I WANT TO SPEAK FOR CHRIS, BUT THERE'S A NUMBER OF LIKELY FACTORS. ONE, HE STATED HE WANTS TO GO BACK TO HIS ACADEMIC ROOTS. HE SEEMS TO ENJOY THAT. THAT IS EXACTLY WHAT IT IS HE'S
DOING. THE OTHER ASPECTS, IN TERMS OF THE COMPANIES OFTEN OUTGROWING THEIR FOUNDERS. WE ARE AT A PLACE WHERE IT IS NO LONGER AN ACADEMIC ENDEAVOR. IT IS AN ENGINEERING AND PRODUCT BASED ENDEAVOR.
I THINK CHRIS FELT HIS SKILL SET IS BETTER ON THE ACADEMIC SIDE OF IT. CAROLINE: LET'S TALK ABOUT THE APPLICATION OF THE TECHNOLOGY. WHERE DO YOU FEEL THE BOARD OF YOUR INVESTORS START TO PUSH IN ON? WE WERE TALKING ABOUT APPLICATIONS IN NATIONAL SECURITY, FOR EXAMPLE. PETER:
WE ARE ON THE VERGE -- WE JUST ANNOUNCED A NEW SYSTEM THAT IS GOING TO HAVE ENOUGH -- WE CALL THEM ALGORITHMIC CUBITS. 64 ALGORITHMIC CUBITS. YOU CAN EXPLORE OUR COMPUTATIONAL SPACE OF 2 TO THE 64 IN PARALLEL. IT IS 18 QUINTILLION DIFFERENT POSSIBILITIES, STATES, IN A SINGLE INSTRUCTION IN A FRACTION OF A SECOND.
SIMILAR TO THE INSTRUCTION SPEEDS YOU HAVE ON YOUR LAPTOP. THIS WILL ALLOW APPLICATIONS TO BE DEVELOPED WHICH CAN TAKE ON THE WORLD'S LARGEST SUPERCOMPUTERS. QUANTUM IS NOT GOOD FOR EVERYTHING.
IT STRANGELY HAS A TOUGH TIME ADDING ONE PLUS ONE. AT THE SAME TIME, MAYBE IT IS GOOD FOR SOLVING DIFFERENTIAL EQUATIONS. IN TERMS OF APPLICATIONS WE HAVE SEEN SO FAR, MACHINE LEARNING IS CERTAINLY ONE AREA WHERE QUANTUM SEEMS TO HAVE A HUGE ADVANTAGE. MY GUESS WOULD BE STRONG AI WOULD BE ANOTHER AREA.
THE ORIGINAL PREMISE OF QUANTUM IS EXPLORING THE NATURAL WORLD, WHICH IS NOT DIGITAL, IT IS NOT ANALOG, IT IS QUANTUM. YOU NEED A QUANTUM COMPUTER TO BE ABLE TO MODEL MOTHER NATURE. IT HAS BEEN THOUGHT THAT AT ABOUT 96 ALGORITHMIC CUBITS, YOU CAN MODEL THE PHOTOSYNTHESIS AND BE ABLE TO UNLOCK HOW PLANTS CAN TURN SUNLIGHT INTO ENERGY. THAT WOULD PRODUCE THE NEXT GENERATION OF SOLAR CELLS THAT WOULD BE 4 TIMES MORE EFFICIENT THATN WHAT THEY ARE -- THAN WHAT THEY ARE TODAY. ED: OUR GLOBAL AUDIENCE DOES THINK IN -- THEY ARE JUST UNMANAGEABLE TO THE HUMAN BRAIN. THINK IN LAMEN'S PERSPECTIVE, WHAT IS PROPRIETARY TO YOUR TECHNOLOGY. QUICKLY. PETER: WE USE ATOMIC CLOCKS.
I ACTUALLY HAVE ONE OF THEM HERE. IT IS A CHIP SITTING IN A VACUUM CHAMBER. IT IS USING 32 TO 64 ATOMS FOR COMPUTATION. WHAT IS UNUSUAL ABOUT IT IS IT CAN RUN AT ROOM TEMPERATURE. WE ARE DOWN AT .02 NANOMETERS. THE STANDARD SILICON AT SEVEN NANOMETERS IS WAY UP FROM WHERE WE ARE.
AND WE USE LIGHT TO PROGRAM THE ATOMS. WE SHINE LASERS ON THESE ATOMS AND PUT A SPIN ON THEM AND ENTANGLE THEM TO DO THE COMPUTATION. ED: PETER CHAPMAN, THANK YOU FOR YOUR TIME. CEO OF IONQ. COMING UP, ECONOMIC POWER, A DEVOTED CUSTOMER BASE, AND A CEO. WE ARE NOT TALKING ABOUT APPLE.
IT IS THE BUSINESS OF TAYLOR SWIFT. WE WILL BREAK DOWN BLOOMBERG ESTIMATES ON THE SENIOR'S WEALTH NEXT -- SINGER'S WEALTH, NEXT. ♪ >> IT IS OFFICIAL, TAYLOR SWIFT IS A BILLIONAIRE. ♪ >> WELCOME TO THE ERAS TOUR. >> HER ERAS TOUR ALONE IS A PARTY, GENERATING HUNDREDS OF MILLIONS OF DOLLARS. A NATIONAL CONGLOMERATE WITH
THE WORLD'S MOST DEVOTED CUSTOMER BASE AND ULTRA CHARISMATIC CEO. SWIFT HAS MADE HER FORTUNE ALMOST EXCLUSIVELY FROM HER MUSIC. BLOOMBERG ESTIMATES SWIFT HAS MADE $125 MILLION OVER THE YEARS FROM RECORD SALES.
>> WE ESTIMATE HER TOTAL INCOME FROM STREAMING IS $175 MILLION. >> THE BIGGEST PART OF EARNINGS IS UNDOUBTABLY HER CONCERT REVENUE. >> WE ESTIMATE TAYLOR NETS ABOUT 35% OF TICKET SALES PROFITS, ABOUT $500 MILLION FROM TOURING OVER THE YEARS. >> HER TORS, RECORD SALES, AND STREAMING ROYALTIES ARE ALL EARNINGS. SHE ALSO HAS ASSETS, INCLUDING
HER RECORDING CATALOG. >> WE ESTIMATE HER CATALOG IS WORTH ABOUT $400 MILLION. >> THEN THERE'S HER ACTUAL PROPERTY. >> THAT INCLUDES A CONDO AND ESTATE IN NASHVILLE, ESTATE IN LOS ANGELES, LARGE APARTMENT IN TRIBECA IN NEW YORK CITY, A SUMMER HOUSE IN RHODE ISLAND. THE TOTAL VALUE OF HER
PROPERTIES IS ABOUT $110 MILLION. >> SUBTRACT EXPENSES, STAFF COSTS, AND SO ON, YOU GET A NET WORTH OF $1.1 BILLION. ED: SOME REPORTING FROM THE BLOOMBERG BIG TAKE TEAM ON SWIFT'S INFLUENCE AND WEALTH. NEVER IN HER WILDEST DREAM WOULD SHE THINK SHE WOULD BE WHERE SHE IS NOW. CAROLINE: YOU NEVER KNOW, SHE MAY HAVE
THOUGHT IT FROM A YOUNG AGE. BIG AMBITIONS. MAYBE HER SUCCESS IS NOT ALWAYS PAYING OFF COMPLETELY TO UNIVERSAL MUSIC GROUP. SHE IS THEIR BIGGEST SELLER IN TERMS OF ARTISTS. BUT THEIR NUMBERS CAME OUT, UNDERWHELMING. THEY SAW A LOT OF GROWTH THAT DID MISS ANALYST ESTIMATES OVERALL. BUT MIDNIGHT ALBUM'S RELEASE WAS THE BIGGEST IMPACT.
THAT IS IT FROM "BLOOMBERG TECHNOLOGY." ED: CHECK OUT THE PODCAST WHEREVER
2023-10-29 02:03
Show Video
Other news