Bloomberg Technology 10/13/2023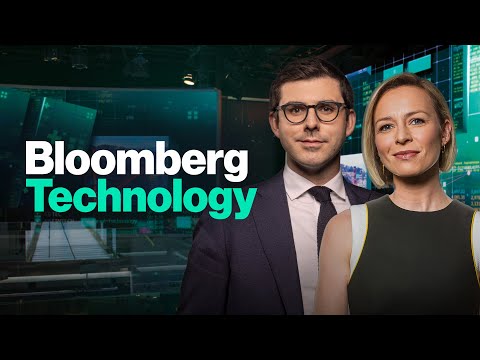 Show Video
ANNOUNCER: FROM THE HEART OF OUR INNOVATION, MONEY, AND POWER COLLIDE IN SILICON VALLEY AND BEYOND. THIS IS "BLOOMBERG TECHNOLOGY" WITH CAROLINE HYDE AND ED LUDLOW. ED: I AM ED LUDLOW IN SAN FRANCISCO. CAROLINE HYDE IS OFF. THIS IS BLOOMBERG TECHNOLOGY. COMING UP, THE LATEST UPDATES FROM THE ISRAEL HAMAS WAR AND SPEAK WITH ISRAEL'S FIRST-EVER CHIEF TECHNOLOGY OFFICER. MICROSOFT AND ACTIVISION CLOSE THE DEAL AFTER NEARLY TO THE YEARS OF FIGHTING FOR THE SIX TO $9 BILLION TRANSACTION TO GAIN FULL APPROVAL.
WE HAVE FULL COVERAGE. PLUS MORE FROM OUR INAUGURAL SCREEN TIME EVENT AND HEAR FROM THE CEOS OF NETFLIX, YOUTUBE, AND THE HEAD OF THE KARDASHIAN CLAN. FIRST, A QUICK CHECK IN FINANCIAL -- ON FINANCIAL MARKETS. WE ARE CONSCIOUS OF WHAT IS
HAPPENING IN THE MIDDLE EAST, THE FOCUS OF ISRAEL AND HAMAS. NASDAQ 100 DOWN 1.3% ON A WEEKLY BASIS JUST ON TRACK FOR A WEEKLY GAIN. ITS THIRD SUCCESSIVE WEEKLY
GAIN , LONGEST RUN OF WEEKLY GAINS GOING BACK TO EARLY JUNE. LET'S SEE IF THAT IS WHERE THE HOLDS -- WHERE THAT HOLDS. U.S. 10 YEAR YIELD 3.6 PERCENT, AS OIL CONTINUES TO CLIMB. IF YOU ARE IN THE TECH SECTOR, A LOT OF THE CONVERSATION, OIL AND ENERGY IF WE RISE HIGHER, WHAT DOES THAT MEAN FOR INFLATION AND WHAT DOES THAT MEAN FOR THE FED AND WHAT DOES THAT MEAN FOR TECHNOLOGY SECTOR. BITCOIN AROUND 27,000 U.S. DOLLARS. HOW MANY TIMES HAVE I SAID THAT SO FAR IN RECENT WEEKS AND MONTHS.
THE MAIN STORY IS WHAT IS HAPPENING IN THE MIDDLE EAST. I WANT TO GET TO THE LATEST DEVELOPMENTS IN THE ISRAEL HAMAS WAR. JOINING US FROM TEL AVIV IS BLOOMBERG CORRESPONDENT OLIVER CROOK. LET'S BE FRANK, A LOT HAS HAPPENED THIS FRIDAY. OLIVER: IT HAS BEEN INTENSE 24 HOURS, STARTING ON 5:30 6:00 WHEN WE GOT THE EVACUATION ORDER FROM THE ISRAELI DEFENSE FORCES WHERE THEY TOLD THE RESIDENTS OF GAZA CITY IN NORTHERN GAZA BUT THEY SHOULD LEAVE THE AREA AND THAT IS HOW THE DAY BEGAN AND THE U.N. SAID THAT IS BASICALLY AN IMPOSSIBILITY, IT IS IMPORTANT TO GET THESE PEOPLE OUT SAYS THE ISRAELI DEFENSE FORCES BECAUSE THEY WANT TO MINIMIZE CIVILIAN CASUALTIES.
WE ARE TALKING ABOUT DISPLACEMENT OF 1.1 MILLION PEOPLE, ABOUT HALF OF THE POPULATION OF GAZA. TO THEN COMPRESS THEM INTO ABOUT 50% OF THE SPACE THEY BEGAN WITH IS SOMETHING THE U.N. IS SAYING WILL TURN TRAGEDY INTO CATASTROPHE AND THE TRAGEDY WE ARE TALKING ABOUT IS A DEATH TOLL EXCEEDING 1500 PEOPLE IN GAZA.
THE HEALTH CARE SYSTEM IS ENTIRELY OVERWHELMED, THEY HAVE NO WATER, ELECTRICITY, FOOD, INTERNET, AND ISRAEL OVERNIGHT CONTINUED TO STRIKE 750 MILITARY TARGETS IN RESPONSE TO THE ATTACKS ON SATURDAY THE LEFT NOW WE KNOW 1300 EDGE ISRAELIS DEAD -- 1300 ISRAELIS DEAD MOSTLY CIVILIANS. ED: AN INCREDIBLE LIST OF DEVELOPMENTS. AS YOU SAY IT HAS BEEN A 24 HOUR PROCESS.
THERE'S A BIGGER QUESTION ABOUT THE MIDDLE EAST AND YOU HAVE AN ON THE GROUND THERE IN TEL AVIV BUT ALSO THINKING ABOUT NEIGHBORS AND WHAT ELSE IS IN THE NEW CYCLE. >> THE GEOPOLITICAL COMPLEXITIES ARE ABSOLUTELY VAST SO IT COMES WITH A LOT OF SUPPORT FROM WESTERN ALLIES TO ISRAEL, SO STARTING WITH ANTONY BLINKEN YESTERDAY. WE HAVE THE U.S. DEFENSE SECRETARY TODAY BUT YESTERDAY BLINKEN'S MESSAGE OR TWO OF THEM, ONE, A TOTAL AND UNCONDITIONAL SUPPORT WITHIN THE SECOND MESSAGE AND THAT WAS ABOUT HOW ISRAEL GOES ABOUT TAKING OUT HAMAS IS GOING TO BE IMPORTANT. WHAT BLINKEN SAID AS IT IS SO IMPORTANT EVERY POSSIBLE PRECAUTION TO AVOID HARMING CIVILIANS IS TAKEN AND WE MOURN THE LOSS OF EVERY SINGLE INNOCENT LIFE. THIS IS THE BACKGROUND TO ALL OF THE MEETINGS BLINKEN HAS CONDUCTED TODAY RIGHT NOW AND ANTONY BLINKEN JUST GAVE A PRESS CONFERENCE WITH THE QATARI FOR YOU -- FOREIGN MINISTER, MEETING WITH THE SAUDI'S, EGYPTIANS, THE UAE, AND THIS IS THE CONVERSATION YOU WILL HAVE. AS ISRAELIS ARE SEEING THESE
HORRIFIC PICTURES ON THEIR PHONES AND THAT PUT PRESSURE ON THE GOVERNMENT EVEN MORE, ALL OF THE ARAB WORLD IS SEEING WHAT IS GOING ON IN GAZA AND YOU'VE SEEN PROTESTS IN IRAQ WHERE THEY HAVE -- THEY HAVE BEEN BURNING ISRAELI FLAGS BUT RUNNING THE PALESTINIAN FLANKS -- FLAGS. IRAN HAS BEEN MEETING WITH THE LEADERSHIP IN HEZBOLLAH AND HAMAS IN LEBANON TODAY. A REALLY VERY COMPLEX SITUATION AND THESE COUNTRIES ARE GOING TO COME UNDER IMMENSE PRESSURE THEMSELVES. ED: LATER IN THE PROGRAM, WE WILL CONTINUE ON THE CAUSATION OF SOCIAL MEDIA AND BLOOMBERG IS REPORTED EXTENSIVELY. WE DISCUSSED ON THIS PROGRAM THERE IS VIDEO CONTENT ON LOTS OF PLATFORMS CIRCULATING, THAT PURPORTS TO BE ONE THING, AND IN FACT IS ANOTHER. IT IS NOT WHAT IT PURPORTS TO BE.
EXPERTS, THE GOVERNMENT URGING CAUTION ON THAT FRONT. THERE IS AN ISSUE OF LOGISTICS AND MECHANICS AS WELL THAT YOU ON THE GROUND ARE STARTING TO COVER AND UNDERSTAND AND EVACUATION AND DEFENSE, THE ROLE OF TECHNOLOGY, WHAT HAVE YOU LEARNED SINCE ARRIVING IN TEL AVIV? BOBBY: THERE IS A QUESTION OF IRON DOME AND COULD BE OVERWHELMED. THIS HANGS OVER -- WE UNDERSTAND SOME OF THE AMMUNITION FOR THE U.S. APPLIES HERE IN ISRAEL WAS TRANSFERRED TODAY. WE KNOW THE U.S.
HAS SENT EQUIPMENT AND THERE IS MORE ON THE WAY BUT IT IS NOT REALLY KNOWN HOW MANY ROCKETS HEZBOLLAH HAS IN LEBANON AND MANY ARE FAR RANGE ROCKETS. I HEARD THE FIRST AIR RAID SIREN GO OFF IN TEL AVIV ABOUT TWO HOURS AGO. THIS IS THE FIRST WHEN THEY HAVE HAD SO FAR AND THAT APPARENTLY WAS FIRED FROM GAZA. IT REALLY HIGHLIGHTS THE RISK, PARTICULARLY AS ISRAEL IS SEEMINGLY GEARING UP FOR WHAT COULD BE A GROUND INVASION. YOU HAVE MORE THAN 300,000 TROOPS STATIONED NEAR GAZA. THE GOVERNMENT HAS NOT SAID
WHETHER OR NOT THEY WILL LAUNCH THE ATTACK YET BUT THEY HAVE ASKED TO EVACUATE THE NORTHERN PART OF THE CITY AND IF THEY DO ATTACK, IT OPENS UP A WHOLE OTHER SET OF QUESTIONS ABOUT HOW THEY GO ABOUT THIS AND THEY RELINQUISH MANY OF THEIR TECHNOLOGICAL AND MILITARY ADVANTAGES ONCE THEY GET INTO AN URBAN COMBAT ZONE. EVEN IF THEY LIMIT HAMAS, WHAT TO THEY DO NEXT? WHAT IS THE AXIS STRATEGY? WHAT COMES AFTER THAT? THESE ARE THE QUESTIONS WE HAVE TO ASK FOR THE NEXT DAYS AND WEEKS. ED: OLIVER CROOK, STAY TUNED TO BLOOMBERG, THANK YOU FOR REPORTING. WE STAY WITH THE STORY OF THE ISRAEL HAMAS WAR BUT THINK ABOUT TECHNOLOGY. JOINING US IS A PERSON WHO SERVED AS ISRAEL'S FIRST CTO AND LET'S START THERE. I THING IRON DOME AND
PARTICULAR , YOUR ASSESSMENT OF THE ROLE TECHNOLOGY IS PLAYING IN THE ISRAELI RESPONSE TO THE WEEKEND'S EVENTS. >> FIRST OF ALL, THANK YOU FOR HAVING ME ON THE SHOW. THE EVENTS THAT STARTED SATURDAY MORNING WITH THIS ISIS-TYPE MASSACRE OF INNOCENT CIVILIANS NORTH OF 1200 PEOPLE HAVE REALLY CHALLENGED ISRAEL BUT TO PARAPHRASE FROM THE AMERICAN NATIONAL ANTHEM, ISRAEL IS THE LAND OF THE FREE AND HOME OF THE RESILIENT AND I'M SURE WITH TECHNOLOGY WE ARE GOING TO PERSEVERE, WE ARE GOING TO WIN THIS AND CONTINUE TO CONTRIBUTE TO THE WAY IN WHICH GLOBAL HUMANITY IS DEALING WITH ITS SOFT CHALLENGES THROUGHOUT TECHNOLOGY. THIS IS NOT JUST TECHNOLOGY AND DEFENSE, ISRAEL IS A POWERHOUSE OF TECHNOLOGY IN SOLVING SOME OF THE BIGGEST PROBLEMS FACING HUMANITY AND OUR SYSTEM IS COMMITTED TO THAT, ITS ROLE, WITHIN THIS GLOBAL CONTEXT. ED: ONE AREA OF THE TECHNOLOGY DISCUSSION IS IN INTELLIGENCE AND DATA AND A DEBATE THAT HAS TAKEN PLACE ON THE SHOW THIS WEEK WAS ABOUT THE PREPAREDNESS OF ISRAELI INTELLIGENCE FORCES.
WE HAD ONE ACADEMIC ON THE SHOW WHO SAID IT WAS NOT A LACK OF INTELLIGENCE WOULD SIMPLY A LACK OF IMAGINATION AT THE SCALE OF WHAT HAMAS WOULD HAVE BEEN ABLE TO DO. PLEASE REFLECT ON YOUR EXPERIENCES AS THE CHIEF TECHNOLOGY OFFICER OF THE COUNTRY AND SHARE WITH OUR AUDIENCE WHAT YOU KNOW ISRAEL HAD IN PLACE IN RECENT TIMES IN THE AREAS OF DEFENSE INTELLIGENCE. >> I THINK YOU ARE TOTALLY RIGHT AND SPOT ON. ISRAEL DEPLOYED NUMEROUS TECHNOLOGY. I THINK THE CORE WAS IRON DOME. I REMEMBER MAY 2009 I WAS ON THE PRESIDENT'S TEAM AS WE CAME TO MEET PRESIDENT OBAMA IN THE WHITE HOUSE AFTER THE INAUGURATION. TECHNOLOGY WAS A BIG PART OF
THAT, DEFENSE TECHNOLOGY WAS A BIG PART OF THAT. I THINK YOU ARE TOTALLY RIGHT ABOUT THE LIMITATIONS OF TECHNOLOGIES AS TO THE IMAGINATION CAP. TECHNOLOGIES PROVIDE US WITH DATA, THEY PROVIDE US WITH SIGNALS IF YOU WILL BUT IT IS AT THE END OF THE DAY THE HUMAN INTERPRETER THAT NEEDS TO PUT IN THE SIGNAL, THE NOISE RATIO, AND FIGURE OUT WHAT IS THE POSSIBLE SCENARIO IF YOU WILL. I WOULD LIKE TO EQUATE THAT WITH WHAT HAPPENED IN 9/11 IN AMERICA , THE CIA, FBI, WE KNOW THAT FROM OUR INVESTIGATIVE COMMITTEE POST 9/11 HAS HAD A SIGNIFICANT DEGREE OF INTELLIGENCE BUT WAS ABOUT PUTTING THE BITS AND PIECES TOGETHER AND ANTICIPATING PEOPLE WOULD GO INTO AND TRANSFORM AN AIRLINER INTO A BOMB AND CRASH IT INTO THE TWIN TOWERS AND TARGETS IN THE U.S.. I THINK YOU ARE SPOT ON ON THAT. YOU CAN BE A SUPERPOWER THE SIZE OF THE U.S., A TECHNOLOGY SUPERPOWER THE SIZE OF ISRAEL,
AND DEPLOY FRONTLINE TECHNOLOGIES BUT AT THE HEAD OF THE DAY IT IS ABOUT THE ABILITY TO IMAGINE WHAT COULD BE THE HUMAN FACTOR USAGE OF THOSE SIGNALS IN THE TERROR CONTEXT. ED: I WOULD POINT OUT THE VIEWPOINT THAT IT WAS A LACK OF IMAGINATION RATHER THAN INTELLIGENCE WAS THE VIEWPOINT OF PROFESSOR FREILICH OF INTELLIGENCE -- OF COLUMBIA, A FORMER INTELLIGENCE TO YOUR COUNTRY. WE TALKED ABOUT THE HARDWARE TECHNOLOGY RESPONSE AND SOFTWARE RESPONSE. LET'S TALK ABOUT THE INDUSTRY. YOU YOURSELF ARE A STARTUP
FOUNDER, ISRAEL'S ECONOMY HAS DEEP ROOTS IN TECHNOLOGY. WHAT IS IT LIKE RIGHT NOW TO OPERATE A STARTUP, A SMALL STARTUP IN ISRAEL, WITH WHAT IS HAPPENING IN THE COUNTRY? BOBBY: FUNDAMENTALLY, ISRAEL HAS HAD OVER THE LAST WEEK A $10 TRILLION WORTH OF MARKET CAPITAL VOTE OF CONFIDENCE BETWEEN MICROSOFT, APPLE, GOOGLE, AMAZON , NVIDIA WHO ALL DEPLOYED SIGNIFICANT PARTS OF THEIR R&D AND APPLE RUNS PART OF ISRAEL WITH SEMICONDUCTORS AND SODAS INTEL. GOOGLE HAS A PROFOUND FACEBOOK R&D. AND ANDY JASSY AT AMAZON, SUNDER PICHAI, THE LEADERSHIP OF THOSE COMPANIES HAVE UNEQUIVOCALLY SUPPORTED ISRAEL AND THE SYSTEM HERE, TWO TO $3 TRILLION MORE OF SUPPORT IN WHAT IS GOING ON HERE, THE LIFE-SIZE OF THE INDUSTRY IN CYBERSPACE INDUSTRY.
PART OF WHAT ENABLES OUR CONVERSATION NOW AND FOR THE VIEWERS AT HOME FROM THE MOMENT THEY WOKE UP UNTIL NOW IT WOULD HAVE PROBABLY USED AN ISRAELI TECHNOLOGY SO WE CONTINUE TO PERFORM, WE CONTINUE TO DEVELOP AND PART OF THAT IS HOW DO WE MANAGE THE EMERGENCY SITUATION IN ISRAEL AND OUT OF EMPATHY FOR THE WORKFORCE, TO THE BROADER COMMUNITY, BUT HOW DO WE REMAIN COMMITTED TO SOLVING THE GREATEST CHALLENGES, EVEN WHEN WE ARE UNDER WAR AND UNDER ATTACK OF THOUSANDS OF ROCKETS. THIS INSIDIOUS ATTACK, ICES CLASS FROM LAST SATURDAY. THAT IS WHAT WE ARE COMMITTED TO DO. ED: FOUNDER AND CEO OF HEALTHY I/O AND THE FORMER -- NVIDIA HAD BEEN DUE TO HOLD ITS AI SUMMIT IN TEL AVIV SUNDAY AND MONDAY BUT IT WAS CANCELED GIVEN THE EVENTS OF THE WEEK. COMING UP ON "BLOOMBERG
TECHNOLOGY," WE TURN TO M&A AS THE BIGGEST DEAL IN GAMING HISTORY HAS FINALLY COME TO FRUITION AFTER U.K. REGULATORS APPROVED MICROSOFT'S REVISED OFFER TO BUY ACTIVISM, BLIZZARD. WE WILL HAVE THE DETAILS NEXT. THIS IS "BLOOMBERG TECHNOLOGY." >> MICROSOFT BROUGHT FORWARD THIS FUNDAMENTAL CONCESSION, FUNDAMENTAL RESTRUCTURE OF THE DEAL WHICH NOW PUTS ALL OF THE CLOUD STREAM IN RELATION TO ACTIVISION'S GAMES CONTENT, ALL OF THE GAMES AVAILABLE NOW BUT ALSO ANY CONTENT CREATED THE NEXT 15 YEARS AND THOSE RIGHTS ARE PUT IN THE HANDS OF UBISOFT, AN INDEPENDENT CAPACITOR, AND THAT BREAKS THE STRANGLEHOLD WE WERE CONCERNED MARK ZUCKERBERG WOULD HAVE OVER THIS IMPORTANT CLOUD GAMING SECTOR. ED:
THAT WAS THE U.K. CMAC CEO ON THE DEAL JOINING OUR COLLEAGUES EARLIER TODAY. FOR MORE, LET'S TURN TO CECELIA, OUR VIDEOGAME REPORTER AT BLOOMBERG. IT HAS HAPPENED. IT IS DONE. LET'S GO BACK TO THE ORIGIN OF THIS BECAUSE EVERYONE FORGETS BECAUSE THE DISCUSSION ABOUT REGULATORS ABOUT CLOUD, THIS IS ABOUT MOBILE GAMES, RIGHT? WHAT IS IT MICROSOFT WILL HAVE TO DO WITH ACTIVISION TO CATCH UP TO MOBILE GAMES? >> A LOT HAS CHANGED IN THE MOBILE GAMING LANDSCAPE SINCE THE DEAL WAS ANNOUNCED. MOBILE GAMING HAS BEEN A BEHEMOTH FOR A LONG TIME, MICROSOFT HAS BEEN BEHIND ON CAPITALIZING ON INTEREST IN MOBILE GAMES, CASUAL GAMES, FREE GAMES FOR SMARTPHONES AND NOW WITH CANDY CRUSH, WHICH ACTIVISION MAKES, THEY HAVE IN THEIR HANDS ONE OF THE MOST IF NOT THE MOST BLOCKBUSTER MOBILE GAME -- GAMES IN THE WEST. IT IS INTERESTING BECAUSE OF THE SAME TIME THE MOBILE GAMING INDUSTRY HAS EXPERIENCED A CONTRACTION, IT IS OVERSATURATED.
IT WILL BE INTERESTING TO SEE HOW MICROSOFT LEVERAGES THEIR POWER TO CAPITALIZE ON CANDY CRUSH AND OTHER MOBILE GAMES UNDER ACTIVISION. ED: WHAT WE LEARNED ABOUT MECHANICS OF WHAT HAPPENS NEXT? A HEADLINE ON THE BLOOMBERG TERMINAL IS A PERSON WILL LEAVE THE JOINT ENTITY AFTER 2023. >> BOBBY HAS LED THE COMPANY FOR DECADES AND BROUGHT IT TO WHERE IT WAS TODAY AND HE HAS SAID HE WILL STEP DOWN AT THE END OF THIS YEAR AND, UNTIL THAT TIME, WILL BE WORKING UNDER MIKE IS OFF GAMING CHIEF PHIL SPENCER WHO BECAME FAMOUS THROUGH STEWARDSHIP OF THE XBOX. ED:
WHEN LAST IT WAS DISCLOSED, ACTIVISION HAD LIKE 13,000 EMPLOYEES. THIS DEAL HAS DRAGGED ON, TAKING ACTIVISION, AND MERGING IT WITH MICROSOFT, WILL NOT BE STRAIGHTFORWARD. AS A BEET REPORTER WHO KNOWS THE INDUSTRY INSIDE AND OUT, HOW DO YOU THINK THAT WILL GO? >> I MEAN CONSOLIDATING TWO COMPANIES IS NEVER EASY FOR TWO COMPANIES LIKE THIS ESPECIALLY WITH THE MICROSOFT THAT HAS SO MANY DIFFERENT CAPABILITIES ACROSS SO MANY DIFFERENT PLATFORMS AND TECHNOLOGIES, I THINK IT WILL BE AN IMMENSE CHALLENGE. MICROSOFT IS NOT IMMEDIATELY
ADDING ACTIVISION'S GAMES TO GAME PASS WHICH I THINK HAS BEEN ONE OF THE REALLY BIG EXCITING THINGS THAT PHIL SPENCER AND BOBBY HAVE TALKED ABOUT OVER THE LAST COUPLE YEARS AND THAT SHOULD SHOW YOU THAT THERE IS A LOT TO GET IN PLACE BEFORE WE CAN REALLY SEE HOW BIG AND IMPACTFUL THE DEAL WILL BE FOR MICROSOFT. ED: CELIA COME ALL ACROSS THIS DEAL FOR MONTHS AND MONTHS, THANK YOU VERY MUCH. COMING UP, WHAT THE FUTURE OF STREAMING HOLES. OUR CONVERSATION WITH THE
NETFLIX CEO OUT OF BLOOMBERG SCREEN TIME. THIS IS BLOOMBERG. ♪ ED: TIME FOR TALKING TECH. THE KING OF K POP IS BUILDING THE NEXT BTS IN L.A.. THE FOUNDER AND CHAIRMAN OF HIGH B WANTS TO REPLICATE THE FORMULA THAT CHANGED THE POP MUSIC INDUSTRY WHILE THE WORLD'S BIGGEST BOY BAND IS ON HIATUS AND HE DISCUSSED THE ROLE OF AI IN K POP WITH SUE CHEM AND LUCAS SHAW. >> [SPEAKING OTHER LANGUAGE] ED: ONE FOR THE K-POP FANS, NOW THE NETFLIX CEO ALSO SPOKE AT THE BLOOMBERG SCREEN TIME EVENT ON A WIDE RANGE OF TOPICS INCLUDING THE ACTORS TRY, CRACKING DOWN ON PASSWORD SHARING, AND REFLECTING ON THE PACE OF STREAMING IN THE INDUSTRY. HAVE A LISTEN.
>> SAVED THIS INDUSTRY BECAUSE WHERE WE WERE HEADING AT THAT TIME, WHEN WE STARTED THIS BUSINESS OF STREAMING WE STARTED LICENSING CONTENT FROM THE NETWORKS AND AT THE TIME WE WERE LICENSING, WE COULD ONLY GET WHAT WAS AVAILABLE WHICH WAS NOTHING. SO WE WERE LICENSING FROM THE BOTTOM OF THE BARREL, THINGS THAT HAD NO REVENUE FOR ANYBODY. SHOWS THAT DID NOT GET TO SYNDICATION, THINGS THAT WERE NOT OTHERWISE SOLD. KIND OF LIKE WHAT TO BE ANOTHER SERVICES GAME AROUND STARTED.
>> AND WE GAVE IT AWAY WITH THE DVD BUSINESS. YOU GOT WHAT YOU PAID FOR BACK THEN. I WOULD SAY THAT CREATED A WHOLE NEW REVENUE STREAM FOR THE NETWORKS AND STUDIOS, IT'S CREATED A NEW RESIDUAL STREAM FOR ACTORS, PERFORMERS THAT PERFORMED IN THE SHELF AND REALLY GOT THE BALL ROLLING IN A WAY THAT OBVIOUS AT THINK THESE THINGS CAN TAKE DECADES TO BUILD. BUT WITH MEANINGFUL BUSINESSES, THAT IS A GOOD INVESTMENT. AND IT IS A GOOD BUSINESS FOR US, 32 MILLION DOLLAR REVENUE, $6 BILLION OF PROFIT, AND WE HAVE BEEN GROWING THE BUSINESS DRAMATICALLY QUICKLY.
WE ARE NOT GROWING AS FAST AS WE WANT TO BUT WE ARE STILL GROWING THE BUSINESS. >> I'M CURIOUS ON THAT POINT, AND YOUR REMARKS I FIGURE LAST EARNINGS REPORT TALKED ABOUT HOW YOU ARE STILL NOT GROWING AS QUICKLY AS YOU WOULD LIKE TO. THERE WAS A POINT IN TIME WHERE EVERY YEAR LIKE CLOCKWORK NETFLIX WOULD ADD 25 MILLION TO 30 MILLION CUSTOMERS. POST-PANDEMIC THAT HAS COME WAY
DOWN. WHAT YOU DOING ABOUT THAT AND DO YOU THINK YOU CAN GET BACK TO THE LEVEL OF GROWTH YOU ARE AT THREE TO FOUR YEARS AGO? >> I THINK THE KEY IS GROWING REVENUE AND FOR US THAT IS A COMBINATION OF PUTTING A GREAT PRODUCT ON THE BOARD. WHEN YOU TALK ABOUT HIS STREAMING A GOOD BUSINESS, IT IS IF YOU DO WELL AREA I WOULD SAY THE TEAM AT NETFLIX IN TERMS OF PROGRAMMING, HER TEAM IS PHENOMENAL ON FOCUSING ON WHAT PEOPLE LOVE. AND THE CREATIVE TEAM IS
CREATIVE AT DELIVERING WHAT PEOPLE LOVE. THE TEAM THAT DELIVERS THE UI SPIRITS OR SOMETHING THAT HAPPENS AT NETFLIX THAT IS ALL MOST IMPOSSIBLE ANYWHERE ELSE AND I WOULD SAY BECAUSE OF OUR DISTRIBUTION FOOTPRINT AND RECOMMENDATIONS THAT YOU HAVE THE ABILITY IF YOU ARE TELLING THE STORY FROM THE CAREER THAT YOU ARE TELLING THE BIGGEST TELEVISION SHOW THE WORLD AND THAT CAN ONLY HAPPEN ON NETFLIX. IT IS NOT JUST TAKING OBSCURITY AND MAKING IT BIG. IMAGINE SOMEBODY AS BIG AS DAVID BECKHAM WHO RELEASES HIS DOCUMENT RE-ON NETFLIX AND IN DAYS GROSSES SOCIAL MEDIA FOLLOWING BY HALF A MILLION PEOPLE. I THINK THIS HAPPENS OVER AND OVER AGAIN WITH A COMBINATION OF OUR DISTRIBUTION FOOTPRINT AND RECOMMENDATION.
WHICH I THINK IS WHAT THE STING WHICH IS THE BUSINESS. THE WAY YOU GROW IT IS KEEP DOING THAT, BETTER AND BETTER. THE OPPORTUNITY TO GROW IT IS ENORMOUS. WE ARE ABOUT 10% OF SCREEN TIME WHEN PEOPLE ARE USING IT TO WATCH ON THEIR TV AND AT HOME, TIME -- ABOUT 10% IN OUR PENETRATIVE MARKETS IN THE U.S.. AROUND THE WORLD, SIGNIFICANTLY SMALLER, ABOUT 5% OF CONSUMER SPENDING IN BUSINESSES WE ARE IN WHICH IS PAY TELEVISION, ADVERTISING SUPPORTED TELEVISION, AND GAMES. AS YOU LOOK AT THAT, WE ARE JUST IN OUR INFANCY IN THOSE BUSINESSES.
ED: FOR OUR TV AND RADIO AUDIENCES WORLDWIDE, IT IS OFFICIAL, MICROSOFT HAS COMPLETED ITS $69 BILLION PURCHASE OF ACTIVISION BLIZZARD AFTER NEARLY TWO YEARS FIGHTING WITH GLOBAL REGULATORS WHO THREATENED TO HALT AND STOP THE DEAL. THIS IS THE BIGGEST EVER ACQUISITION IN THE VIDEOGAMES INDUSTRY. I AM DELIGHTED TO BRING IN ACTIVISION BLIZZARD CEO, BOBBY KOTICK. THANK YOU FOR YOUR TIME JOINING US FROM NEW YORK CITY. >> THINGS FOR HAVING ME. ED: YOU AND I HAVE BEEN TALKING
ABOUT VIDEOGAMES INDUSTRY, WE HAVE BEEN TALKING ABOUT CLOUD, THE ORIGIN OF THIS DEAL WAS MOBILE GAMING. I JUST ASK YOU TO REFLECT IF NOW THAT IT IS SAID AND DONE MICROSOFT WILL BE ABLE TO MAKE SOME PROGRESS IN MOBILE GAMING. BOBBY: I THINK THERE WERE A LOT OF GREAT REASONS FOR THIS MERGER. MOBILE IS AN IMPORTANT PART. I THINK ONE OF THE THINGS THAT WE HAVE ALL BENEFITED FROM IT IS AS SMART PHONES BECAME THE DOMINANT FORM OF DELIVERY DEVICES FOR VIDEOGAMES, WE STARTED TO SEE DEMOCRATIZATION OF VIDEO GAMES. FOR MOST OF THE 30 SOME YEARS I HAVE BEEN RUNNING THE COMPANY, WE MADE GAMES FOR CONSULS AND PCS AND THOSE WERE REALLY LIMITED TO PEOPLE WHO WERE MIDDLE-CLASS CONSUMERS IN DEVELOPED COUNTRIES. OVER THE LAST 10 YEARS, WHAT WE HAVE SEEN IS THE DRAMATIC EXPANSION OF GAMES TO TODAY WE HAVE PLAYERS, ABOUT 350 MILLION PLAYERS ON A HUNDRED 90 COUNTRIES, SO THIS DRAMATIC -- DRAMATIC TRANSPORTATION -- DRAMATIC TRANSFORMATION IN BUILDING THIS BASE OF PLAYERS IS I THINK SOMETHING MICROSOFT WILL CONTINUE TO DEVELOP AND ENHANCE AND WE ARE EXCITED ABOUT THE FUTURE OF GAMING AS A RESULT.
>> I KNOW YOU ALSO ENGAGE WITH THE GAMERS, THE COMMUNITY. WE ASKED THE QUESTIONS TO THE COMMUNITY WHAT WOULD YOU ASK BOBBY KOTICK. I THINK THE RESOUNDING QUESTION IS WHAT IS IT THAT MICROSOFT COULD OFFER ACTIVISION GAMERS PLAYING DIFFERENT TITLES THAT YOU GUYS CANNOT OFFER ON YOUR OWN IF HE REMAINED A STANDALONE COMPANY? BOBBY: I CAN'T SAY THERE ANY SPECIFIC THING THAT MICROSOFT WILL OFFER THAT WE COULD NOT. WHAT I WOULD SAY IS THE MOST IMPORTANT IS ACCESS TO TALENT. AS THE MARKET CONTINUES TO GROW, AS YOU SEE THE INTENSIFIED COMPETITION COMING FROM SO MANY COMPANIES WITH ASPIRATIONS TO MAKE AND SELL VIDEOGAMES, ONE OF THE THINGS WE WERE REALIZING IS ACCESS TO TALENT WAS GOING TO BE INCREASINGLY MORE COMPETITIVE AND DIFFICULT AND IT IS THE SAME TYPE OF TALENT, AI AND MACHINE LEARNING TALENT, DATA ANALYTICS, USER INTERFACE, AND USER EXPERIENCE TYPE TALENT THAT IS NOW IN SUCH HIGH DEMAND. I THINK OUR HOPE IS, OVER TIME, WE WILL BE ABLE TO ATTRACT PEOPLE FROM THE ENTERPRISE SIDE OF MICROSOFT TO BE EXCITED ABOUT WORKING IN GAMING BUT I THINK, ON A COMBINED BASIS, IT GIVES US A GREATER CHANCE TO COMPETE AGAINST THE MANY COMPETITORS THAT ARE OUT THERE TODAY. ED:
THAT IS THE TECHNOLOGY SIDE AND GREAT TECHNOLOGIES, THERE IS A COST. I REMEMBER YOU SAYING AT TIMES ACTIVISION WAS NOT LOOKING TO SELL, IT DID NOT NEED TO. WHEN THIS DEAL CAME TOGETHER IN THE OUTSET, WAS IT BECAUSE THE FINANCIAL POSITION HAD CHANGED AND ACTIVISION DID NEED TO SELL? BOBBY: NO, BUT WE MERGED WITH A STELLAR BALANCE SHEET AND STRONG FINANCIAL PERFORMANCE. IT REALLY WAS OUR PRINCIPAL RESPONSIBILITY IT HAS PROVIDING A RETURN TO OUR STAKEHOLDERS AND WHEN MICROSOFT APPROACHED US, THEY MADE AN OFFER THAT WAS IN THE BEST INTEREST OF THE SHAREHOLDERS, 90% OF THE SHAREHOLDERS VOTED FOR THE TRANSACTION SO THAT IS OUR PRINTABLE RESPONSIBILITY, AS A BOARD, AND FOR ME AS A CEO. EXCITING THING IS WE SOLD TO A
COMPANY THAT HAS A HISTORY ALMOST AS LONG AS OURS OF MAKING VIDEOGAMES, AND IF YOU THINK BACK TO THE EARLY YEARS OF FLIGHT SIMULATOR, THERE IS A COMPANY THAT HAS BEEN IN THE GAMES INDUSTRY FOR A LONG TIME, PEOPLE ARE PASSIONATE ABOUT GAMING AT THE COMPANY, SO, WHEN YOU THINK ABOUT A PERFECT HOME FOR THE NEXT GENERATION OF GAMING, MICROSOFT WILL BE A FANTASTIC PLACE FOR OUR INCREDIBLY TALENTED PEOPLE TO HAVE OPPORTUNITIES. ED: BOBBY, HOW IT DID THIS DEAL COME TOGETHER? WHAT IS THE ORIGIN STORY? BOBBY: IT CAME TOGETHER QUICKLY. PHIL GAVE ME A CALL AND SAID THEY WERE EXCITED AND ENTHUSIASTIC ABOUT THIS AS AN OPPORTUNITY AND IS IT SOMETHING THAT OUR BOARD WOULD CONSIDER AND I OF COURSE SAID ABSOLUTELY. IT DID NOT TAKE LONG AFTER THAT TO SEE THE LOGIC OF IT. IT IS A PERFECT COMBINATION. LIKE I SAID, GIVEN THE INTENSE
COMPETITION YOU ARE SEEING FROM EVERY BIG TECHNOLOGY COMPANY, NOT JUST THE U.S. AND EUROPE BUT CHINA AND JAPAN, I THINK THIS GIVES US ON A COMBINED BASIS THE OPPORTUNITIES TO DEVELOP BASIC FRANCHISES, TO TAKE ADVANTAGES OF THE TITLES IN THE LIBRARY THAT HAVE NOT DEVELOPED A LONG TIME. RIGHT NOW, IT IS A GREAT MOMENT IN GAMING. THERE IS ENORMOUS INNOVATION TAKING PLACE, WE ARE ABOUT TO LAUNCH A NEW CALL OF DUTY GAME IN THE NEXT FEW WEEKS AND A NEW SEASON OF DIABLO AND YOU CAN SEE THE CHANGES AND BENEFITS OF NEW TECHNOLOGY IN GAMES LIKE CALL OF DUTY. WE ARE SEEING AN EXPANDED REACH OF GAMES LIKE CANDY CRUSH WHICH NOW IS PROBABLY 130 MONTHLY MILLION -- 130 MILLION MONTHLY ACTIVE USERS.
THIS IS AN EXCITING TIME TO BE IN THE GAMING BUSINESS AND MORE EXCITING TIME NOW THAT WE HAVE THIS TRANSACTION COMPLETED FOR MICROSOFT. >> WELCOME TO OUR GLOBAL BLOOMBERG TELEVISION AND RADIO AUDIENCES, SPEAKING WITH ACTIVISION'S CEO BUT IT WAS ANNOUNCED THAT YOU WILL WORK WITH MICROSOFT UNDER PHIL SPENCER, JUST THROUGH TO THE END OF 2023. THIS IS THE BIGGEST DEAL IN VIDEOGAMES HISTORY.
ACTIVISION HAS MORE THAN 10,000 STAR -- STAFF. I GUESS MY QUESTION, WHY NOT STAY ON LONGER? YOU HAVE RUN THIS COMPANY FOR ALMOST THREE DECADES. BOBBY: IT IS PROBABLY APPROPRIATE FOR ME BEING SIT HERE AT BLOOMBERG RIGHT NOW, BUT MIKE BLOOMBERG IS ONE OF THE MOST INSPIRING PHILANTHROPISTS I HAVE EVER HAD THE PLEASURE TO KNOW AND I JUST TURNED 60 LAST YEAR AND I AM PERSONALLY REALLY EXCITED ABOUT THE OPPORTUNITY TO HELP REFORM K-12 EDUCATION, THINK ABOUT HOW DO WE REDUCE HATRED AND INTOLERANCE IN THE WORLD, FOCUS ON BRIDGING RELATIONSHIPS WITH COUNTRIES LIKE CHINA, SO THESE PHILANTHROPIC INTERESTS I HAVE ALWAYS HAD THAT I REALLY WANT TO FOCUS ON AND MAKE MY PRIORITY TODAY. ED: A REMINDER TO OUR GLOBAL AUDIENCE, MIKE BLOOMBERG IS THE FOUNDER MAJORITY OWNER OF BLOOMBERG LP WHICH OF COURSE OWNS BLOOMBERG TELEVISION. BOBBY, 24 HOURS AGO, AN INDUSTRY COLLEAGUE OF YOURS OF ELECTRONIC R2 I BELIEVE YOU KNOW WELL WAS ON THE SHOW. ON THE CLOSE OF THE DEAL, EA WILL BECOME THE LARGEST INDEPENDENT STUDIO LEFT AND YET SHE GAVE A GLOWING REVIEW OF THE DEAL. I AM PARAPHRASING BUT BASICALLY
SAID THIS PUTS VIDEOGAMES ON THE MAP IN THE CONTEXT OF THE ENTERTAINMENT INDUSTRY. SHE ALSO CONCEDED THAT EA IS A TARGET AND I WONDERED IF YOU WOULD REFLECT ON THE YEARS OF NEGOTIATING REGULATORS GETTING THIS DEAL DONE IF YOU THINK EA CAN REMAIN INDEPENDENT FOR IF THIS OPENS THE DOOR TO CONSOLIDATION. >> EA IS A FANTASTIC COMPANY. I STARTED MY CAREER AS A
DEVELOPER OF SOFTWARE FOR ELECTRONIC ARTS SO I WILL ALWAYS HAVE A GREAT REFERENCE IN RESPECT AND APPRECIATION FOR THE COMPANY. IT IS AN START DAIRY COMPANY AND I THINK THEY CAN REMAIN INDEPENDENT AND CONTINUE TO BE A SUCCESSFUL AS THEY HAVE BEEN SINCE THEY WERE FOUNDED IN 1983. WE ARE LUCKY TO HAVE COMPANIES LIKE ELECTRONIC ARTS WHO HAVE WHAT WE HAVE, A WORKFORCE THAT IS ENTHUSIASTIC, PASSIONATE, AND SO COMMITTED TO ADVANCING THE ART FORM OF GAMING. >> GIVING A REAL ANSWER HERE, MICROSOFT BUYS ACTIVISION, IS THIS KIND OF THE SIGNAL OF WHERE WE ARE AT WITH THE VIDEOGAMES INDUSTRY, THE STUDIOS AND CREATORS HAVE DO LIVE WITH A MUCH BIGGER TECHNOLOGY ENTITY BECAUSE OF AI, THE NEED FOR CLOUD COMPUTING? BOBBY: I DON'T THINK THAT IS THE CASE AT ALL. YOU LOOK AT THE EXAMPLE OF A COMPANY LIKE ROADBLOCKS, IT WAS A START UP NOT LESS THAN 10 YEARS AGO AND THEY BUILT AN EXTRAORDINARY BUSINESS. THERE IS ENORMOUS ACCESS TO CAPITAL FOR VIDEO GAMES START UPS STILL TODAY.
I THINK IN FACT PROBABLY MORE VENTURE CAPITAL HAS GONE INTO VIDEOGAME COMPANIES IN THE LAST FEW YEARS THAN EVER BEFORE. THE COMPETITIVE ENVIRONMENT STILL FAVORS ENTREPRENEURS WITH BIG IDEAS AND VISIONS AND THE ABILITY TO EXECUTE, SO I THINK THAT WHETHER YOU ARE LARGE OR SMALL, THERE IS GOING TO BE CONTINUED OPPORTUNITIES FOR INNOVATION AND NEW TYPES OF COMPANIES. I THINK FOR A COMPANY LIKE OURS, BUT WE JUST DID WAS IN THE BEST INTEREST OF OUR SHAREHOLDERS AND OUR ALMOST 15,000 IN CREDIT LEE TALENTED EMPLOYEES AROUND THE WORLD. ED: SO IF SOME BUT HE BUYS A IT IS A HYPOTHETICAL, IT LEAVES VERY FEW OPTIONS. WHAT DO YOU THINK THAT ENTITY
LOOKS LIKE? >> I'M NOT SURE I UNDERSTAND THE QUESTION. ED: IT TOOK MICROSOFT TO SPEND $70 BILLION TO BUY ACTIVISION. IF THERE WILL BE CONSOLIDATION IN YOUR INDUSTRY AND YOU HAVE LEAD IN THIS INDUSTRY FOR THREE DECADES, WHO DO YOU THINK COULD BUY APPLE, BASED ON YOUR -- BY EA BASED ON YOUR EXPERIENCE OF THE LAST TWO YEARS. BOBBY: I WOULD NOT WANT TO SPECULATE. THERE ARE SO MANY BUSINESS COMBINATIONS THAT ARE POSSIBLE AND I DON'T HAVE AN INFORMED VIEW OF THAT SITTING HERE TODAY. ED: PHIL SPENCER, WHAT TASK DOES HE HAVE TO TAKE ALL OF THE PEOPLE WORKING AT ACTIVISION AND BRING THEM INTO MICROSOFT? DO YOU THINK THERE IS ANYTHING HE CAN LEARN FROM YOUR COMPANY? BOBBY: WE HAVE A FANTASTIC COMPANY WITH AN EXTRAORDINARILY TALENTED WORKFORCE. PEOPLE ARE PASSIONATE,
MOTIVATED, ENTHUSIASTIC, EXCITED ABOUT THIS MERGER, AND PHIL IS AN EXTRAORDINARY LEADER. I COULD NOT THINK OF A BETTER PERSON TO GIVE THE REINS TO FROM THE BUSINESS. HE IS A PASSIONATE GAMER, HE HAS BEEN INVOLVED IN THIS INDUSTRY SINCE 1989, HE IS INCREDIBLY TECHNICALLY CAPABLE, VISIONARY LEADER, PEOPLE LOVE WORKING WITH HIM, AND I THINK IT WAS ONE OF THE REALLY APPEALING PARTS OF THIS TRANSACTION WAS TO KNOW THAT THE PEOPLE I HAVE WORKED WITH FOR THREE DECADES ARE GOING TO HAVE A LEADER WHO IS EXTRAORDINARILY CAPABLE AND PASSIONATE AND COMPASSIONATE AND WILL DO A WONDERFUL JOB LEADING THE COMBINED COMPANIES. ED: WE ARE SPEAKING WITH BOBBY KOTICK, THE ACTIVISION BLIZZARD CEO HERE ON BLOOMBERG TELEVISION AND RADIO. AS WE DISCUSSED, YOU WILL STAY
UNTIL THE END OF THE YEAR AND THEN FOCUS IT SOUNDS LIKE ON PHILANTHROPY. TO THOSE THAT DO NOT KNOW YOU AS WELL, THE VIDEOGAMES INDUSTRY MARKET IS HUGE BUT THERE WILL BE PEOPLE THAT DO NOT KNOW YOUR BACKSTORY. IT STARTED IN SOFTWARE, RIGHT? IT STARTED -- THERE IS A TIEBACK TO THE EARLY DAYS OF APPLE.
YOU HAVE BEEN ABLE TO WORK WITH MICROSOFT NOW AND THE STORY OF THE YEAR IS GENERATIVE AI. I WONDERED IF YOU COULD GIVE US EXAMPLES OF HOW YOU THINK THEIR WORK ON AAI WILL READ TO TO VIDEO -- READ THROUGH TO VIDEOGAME DEVELOPMENT. ON PCS AND CUSTOMIZATION. BOBBY: AI, WHEN YOU THINK ABOUT THE TALENTED THAT WILL BE REQUIRED TO MOVE THE ARTFORM FORWARD AND TO BE ABLE TO CREATE NEW INNOVATION, AI AND MACHINE LEARNING ARE GOING TO BE THE IMPORTANT NEW TECHNOLOGIES THAT ARE GOING TO BE TRANSFORMATIVE FOR THE FUTURE OF -- FEATURE TYPES OF GAMES IT WILL CREATE. THERE ARE SO MANY IMPORTANT APPLICATIONS WHETHER IT IS GENERATING ART AND ANIMATION, ONBOARDING PLAYERS, CREATING GREATER EXPERIENCES FOR PLAYERS THROUGH BETTER TOOLS LIKE PLAYER MATCH.
THERE IS AN ENORMOUS AMOUNT OF BENEFIT THAT WILL COME FROM THE EVOLUTION OF AI. THE EARLY INNINGS OF FIGURING OUT HOW TO TRANSLATE WHAT IS THE AVAILABLE TECHNOLOGY TODAY INTO PRACTICAL SOLUTIONS FOR GAMING BUT I THINK THIS IS ONE OF THE BIG AREAS OF OPPORTUNITY FOR US ON A COMBINED BASIS, AS MICROSOFT IS CLEARLY RIGHT NOW THE LEADER IN AI AND MACHINE LEARNING. AND I WANTED TO SAY THANK YOU FOR THE OPPORTUNITY TO HAVE ME TODAY. I REALLY APPRECIATE IT. AND I LOOK FORWARD TO CONTINUING THE CONVERSATION, AND IT WAS GENEROUS OF YOU TO INCLUDE ME. ED:
BOBBY KOTICK, ACTIVISION CEO, FOR NOW, THANK YOU. THIS IS BLOOMBERG TECHNOLOGY. THANK YOU. ♪ ED: LET'S GO BACK TO SOME OF THE BLOOMBERG SCREEN TIME HIGHLIGHTS, SOME OF WHAT THEY WERE JUST WATCHING. THE YOUTUBE CEO SPEAKING ABOUT HIS PRIORITIES WHEN IT COMES TO LIVE SPORTS COMPETITIONS FOLLOWING YOUTUBE TV, WINNING THE RIGHT TO BROADCAST THE RIGHT TO BROADCAST NFL SUNDAY TICKET GAMES IN DECEMBER. HE SAT DOWN WITH LUCAS SHAW TO
TALK ABOUT WHAT WAS GOING ON. >> IT IS VERY EARLY ON. WE ARE A FEW WEEKS INTO THE SEASON BUT I FEEL REALLY GOOD. I FEEL THAT THE FIRST AND
FOREMOST, MY PRIORITIES FROM THE DAY WE SIGNED THE DEAL WAS ON THE USER EXPERIENCE, OUR FAN EXPERIENCE ON YOU TOO, JOIN FANS OF THE NFL AND YOUTUBE. WE HAVE MILLIONS AND MILLIONS OF SPORTS FANS ON THE PLATFORM AND THE WHOLE POINT OF SUNDAY TICKET WAS TO SUPER SERVE THOSE FANS, SO EVERYTHING FROM WHAT GETS THE HEADLINES WHICH IS MULTIVIEW AND KIND OF FOUR GAMES AT ONCE AND WHAT HAVE YOU TO LATENCY, TO THE CLARITY OF THE PICTURE AND THEN ALL OF THE FEATURES AND THINGS LIKE THAT WE HAVE -- USERS OF YOUTUBE TV HAVE KNOWN AND LOVED ON SUNDAY TICKET SO REALLY FOCUSING ON THAT AND THAT HAS GONE, KNOCK WOOD, REALLY WELL FROM THE FEEDBACK WE HAVE SEEN SO I FEEL GREAT ABOUT THE PRODUCT WE PUT OUT THERE. >> YOU LIKE THE MULTIVIEW? >> I USE THE MULTIVIEW EVERY WEEK MYSELF. I LIKE THE MULTIVIEW, ESPECIALLY THE ONE WITH RENZO, ONE OF THE WINDOWS FOR ME. AS A HUGE SPORTS FAN, THAT IS LIKE THE PERFECT NIRVANA EXPERIENCE FOR ME. >> HE TALKED ABOUT BEING A PLATFORM ON SPORTS AND HAVING DIFFERENT RIGHTS AS I UNFAIRLY MENTIONED AT THE TOP YOU ARE BIG AND BE A FAN. THOSE RIGHTS ARE COMING UP.
ARE YOU INTERESTED? >> I WILL SAY WE ARE TAKING IT ONE STEP AT A TIME. RIGHT NOW, THE NFL SUNDAY TICKET IS A BIG AREA OF FOCUS FOR US AND GETTING THAT VIEWER EXPERIENCE RIGHT, MAKING THAT GAME DAY EXPERIENCE SUNDAY FLAWLESS AND SEAMLESS AND YOU SHOULD EXPECT FROM US A LOT MORE HAVE A IN TERMS OF PRODUCTS, IN TERMS OF CREATOR INTEGRATIONS. ALL OF THE THINGS OUR FANS, ESPECIALLY YOUNGER FANS OF THE NFL AND YOUTUBE, EXPECT. YOU SHOULD SEE MORE OF THAT THROUGH THE SEASON AND MANY SEASONS TO COME SO THAT IS THE FOCUS. REGARDING THE NBA, THEY HAVE BEEN LONGTIME PARTNERS AND OPERATE ONE OF THE LARGEST CHANNELS ON OUR PLATFORM.
MY 50-YEAR-OLD IS A HUGE -- 15-YEAR-OLD IS A HUGE SPORTS FAN LIKE ME, HE WATCHES A LOT OF NBA HIGHLIGHTS AN ON YOUTUBE THROUGH THE LENS OF A LOT OF HIS FAVORITE CREATORS. WE HAVE A LONG PARTNERSHIP WITH THEM BUT IN TERMS OF OUR FOCUS, IT IS ABOUT THIS NFL EXPERIENCE. ED: THAT WAS YOUTUBE'S CEO NEIL MOEN. YOU CAN CATCH MORE OF THAT CONVERSATION ON LLAMA --
ONLINE, WRAPPING UP OUR COVERAGE FROM THE SCREEN TIME EVENT IN HOLLYWOOD, WE SAT DOWN WITH THE MATRIARCH, THE KARDASHIANS -- OF THE KARDASHIAN FAMILY AND DISCUSSED WHAT LED TO THE PIVOT TO STREAMING. >> I FELT LIKE STREAMING WAS IN THE CARDS FOR US AND MY FAMILY REALLY WANTED TO TRY AND -- TRY TO TAKE A STAB AT THAT BECAUSE THAT WAS REALLY THE FUTURE IN OUR MINDS, WE WANTED TO ELEVATE WHAT WE WERE DOING AND STREAMLINE THE SHOW AND HAVE A NEW AUDIENCE. NOW IT IS HULU AND DISNEY PLUS AROUND THE REST OF THE WORLD AND THE SHOW HAS ALWAYS BEEN IN SO MANY COUNTRIES IN SOME LANGUAGES AND WE HAVE SUCH AN AMAZING FOLLOWING AND THAT TRANSITIONED FOR US, WE WERE VERY LUCKY BECAUSE WE CAPPED THAT AUDIENCE AND GAINED NEW FRIENDS AND STILL HAVE A WONDERFUL RELATIONSHIP OVER AT E, THEY'RE AIRING SOME OF OUR SHOWS SO IT MAKES IT NICE BECAUSE NOW IT IS A MUCH BROADER AUDIENCE. >> YOU KEEP SAYING LUCKY. IT IS INTERESTING BECAUSE IT WAS NOT LUCK THAT FIRST BROUGHT YOU TO THINKING ABOUT INFOMERCIALS, ABOUT SEEING WHAT PERHAPS YOU HAD NOT SEEN AT THE TIME WHICH WAS A CHAMPION, YOU ARE MARRIED TO, THAT YOU WANTED TO LEAN ON THAT RELATIONSHIP WITH THOSE WHO APPRECIATED HIS SPORTS AND IT BECAME LINEAR TELEVISION AND THE TRANSITION TO SCREENING. HOW HAVE YOU BEEN ABLE TO SEE
WHERE THE CONSUMERS GOING? >> I THINK I DO LIKE TO LEAN INTO OPPORTUNITY. I DO LIKE TO THINK ABOUT WHAT THE NEXT THING TO LOOK LIKE. IN THOSE DAYS WHEN IT WAS ABOUT WE HAVE BILLS TO PAY, KIDS, SCHOOL GOING ON, AND HOW IS THIS GOING TO HAPPEN, I JUST HAD TO FIGURE IT OUT. AND WHEN I CREATED KEEPING UP WITH THE KARDASHIANS AND BROUGHT IT TO RYAN SEACREST AND BROUGHT IT TO E AND 30 DAYS LATER WE WERE FILMING, I WAS JUST VERY PERSISTENT ABOUT THE DIRECTION I KNEW I WANTED TO GO IN AND I THINK WE WERE PREPARED FOR, BUT IT TAKES A VILLAGE AND I THINK WHAT IS SO -- WHEN I SAY LUCKY, I FEEL LUCKY, I FEEL BLESSED TO HAVE OPPORTUNITY THAT I CAN EXTRACT THIS AMAZING CAREER OUT OF, YOU KNOW? AND ALSO SHARE THAT WITH MY FAMILY AND THEY HAVE TAKEN THIS AND RUN WITH IT. WHEN YOU THINK ABOUT SOMEBODY IN THE ENTERTAINMENT BUSINESS, USUALLY THEY DO IT AND THEY THRIVE AND GROW AND PERFORM ON THEIR OWN AND, WITH ME, WE GET TO DO IT ALTOGETHER.
IT IS NOT JUST ONE OF US TRYING TO DO IT ALL BY OURSELVES AND CREATE THIS WORLD FOR THE WHOLE FAMILY BUT WE GET TO HAVE A PART IN OUR PRESENT AND FUTURE AND WHAT WE ARE GOING TO DO, SO THERE ARE LOTS OF FAMILY MEETINGS AND WE DISCUSS WHAT NEXT STEPS WILL BE AND THE KIDS HAVE GOT AMAZING WORK ETHIC AND NEVER STOP, SO I FEEL LIKE IT TAKES A VILLAGE, IT TAKES ALL OF US TOGETHER, AND I THINK THAT IS THE MAGIC. ED: KRIS JENNER FROM OUR FIRST EVER SCREEN TIME EVENT IN LOS ANGELES. THAT DOES IT FOR THIS EDITION OF "BLOOMBERG TECHNOLOGY." DON'T FORGET, CHECK OUT THE PODCAST WHEREVER YOU GET YOUR PODCAST. APPLE, SPOTIFY,
IHEART, AND OF COURSE ON ALL OF THE BLOOMBERG PLATFORMS. THAT WRAPS IT UP FOR WHAT HAS BEEN ONE MASSIVE WEEK IN THE WORLD OF TECHNOLOGY. CAROLINE IS OFF TODAY AND WILL BE BACK NEXT WEEK. FROM HERE IN SAN FRANCISCO AND SILICON VALLEY, WHEREVER YOU ARE IN THE WORLD, THIS IS "BLOOMBERG TECHNOLOGY." ♪
2023-10-15 12:22
Show Video
Other news